Original Link: http://www.anandtech.com/show/1334


With the demise of Comdex, Computex has become even more important and thus it should be no surprise to you, the AnandTech reader, that there's tons of coverage in store. All this week you'll be reading live coverage from the show floor, in addition to reviews of some highly anticipated products being launched at Computex.
We managed to score some very interesting information right before the official start of the show, so much in fact that we decided to start our Computex coverage early. Want to see pictures and read specs of NVIDIA's NV45? How about a whole slew of PCI Express chipsets? Quad Band Memory and BTX motherboards, both for the eyes to feast upon and more, all in our first installment of Computex 2004 coverage.
We'll spare you the boring introduction, we all know Computex is a wonderful show and that Taipei is incredibly humid this time of the year, but what we don't know is all about a little chip called NV45...
NVIDIA's NV45
The surprise of the show was a brief encounter with NVIDIA's upcoming NV45, NVIDIA's PCI Express successor to the strong performing NV40 (GeForce 6800 Ultra).
At first glance, the NV45 card looks like a normal 2-slot NVIDIA graphics card: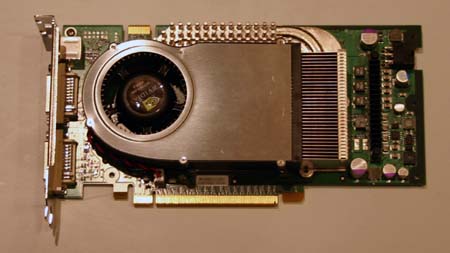 Click to Enlarge
Upon closer look you'll notice that this particular card has a PCI Express x16 interface, but with no bridge chip. It looks like the rumors of a bridgeless NV45 were true.

Click to Enlarge
Glare at the card even more and you'll see that the card only has one power connector and it's not a standard power connector at that. The new NV45 connector is a 3 x 2 power connector, definitely not one we've seen on any other component before.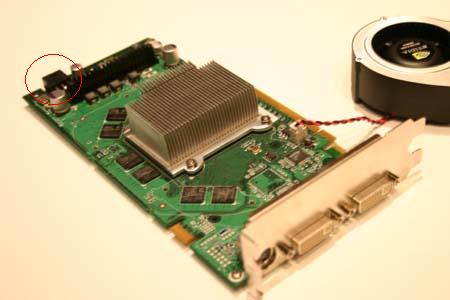 Click to Enlarge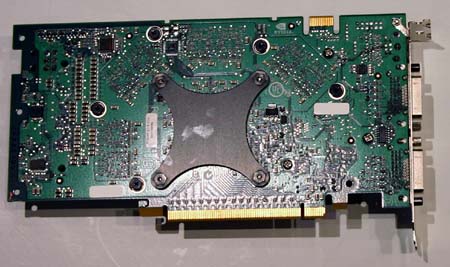 Click to Enlarge
Here's what we do know about NV45, it's currently running at a 450MHz core clock with 1.1GHz GDDR3 memory; this particular card uses Samsung chips. The 450MHz clock speed is a 12.5% increase in core clock speed over the GeForce 6800 Ultra, with memory speed remaining unchanged.
We're going to try to get much more information about NV45 tomorrow, so check back for more.
More PCI Express Graphics
The most exciting graphics card at Computex is NVIDIA's NV45, but there were also some other cards that drew our attention.
ATI had PCI Express boards spread out all over the show floor, with the PCI Express Radeon X600 XT showing up at Gigabyte's booth:

Click to Enlarge
The X600 XT is basically a PCI Express version of the Radeon 9600XT with a higher memory clock (740MHz vs. 600MHz). We will have more details on the X600 in an upcoming article.
ASUS also had a X600 XT solution at their booth: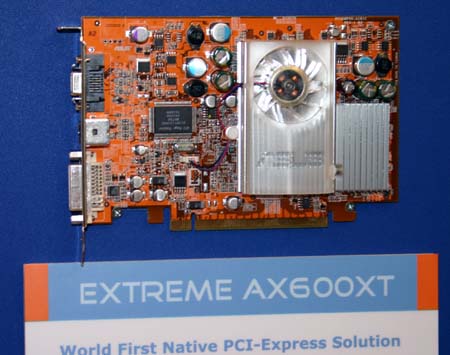 As well as a dual-DVI PCI Express X800 card: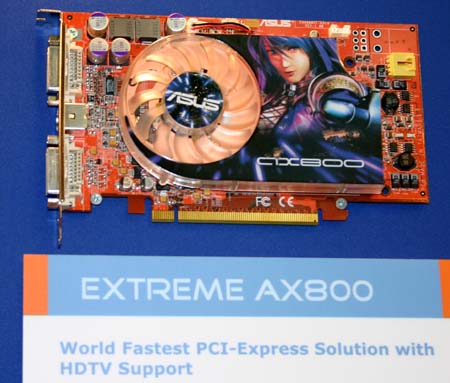 Remember that the PCI Express X800 is based off of a slightly different chip than the AGP X800, known internally as the R423 (R420 is the AGP version).
Not launched, but everywhere: Intel's 9xx Chipsets
Although Intel isn't actually launching anything at the show, you'll find more Intel based motherboards on the floor than anything else. We found this to be quite interesting, especially after hearing how many problems motherboard manufacturers have had with the 915 and 925 chipsets thus far.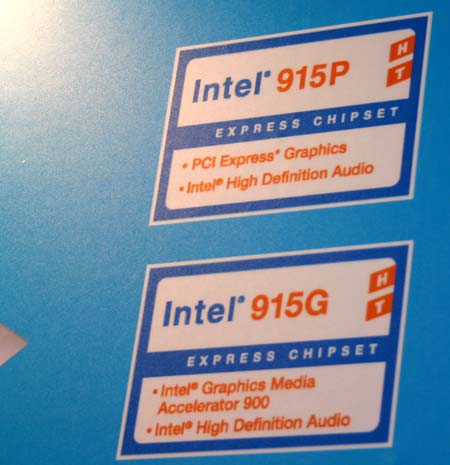 The majority of the problems seem to reside with the 925X and its support for DDR2 memory, which has been through numerous revisions.We believe that the 925X being shown off at Computex is the fourth incarnation of the chip, which is pretty bad for Intel, especially considering that even in its current revision the chipset does not support ECC - a planned feature for the chipset.
The other complaints we've been hearing about from motherboard manufacturers involves Intel's LGA-775 socket. Since the pins have been moved off of the CPU and onto the socket itself with the LGA-775 interface, motherboard manufacturers have been reporting extremely high failure rates with those sockets. The pins on the socket itself are spring-loaded, and installing a CPU obviously causes the springs to compress. What seems to be happening however is that after a handful of CPU installations, the springs don't want to spring back to their original position - resulting in premature socket failures. The problem does seem to be a solvable one, but we'll have to wait and see what the motherboards we get our hands on are like. You better believe that we'll be testing socket reliability as soon as we get LGA-775 boards and CPUs in house.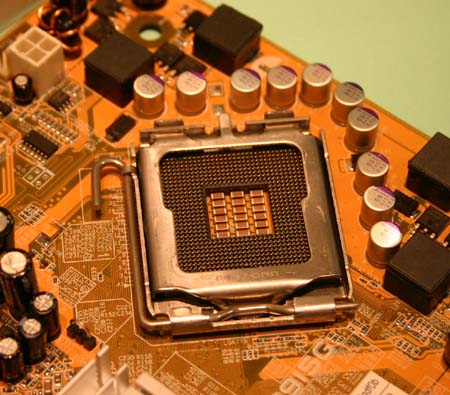 Click to Enlarge
The other complaint we've been having is that of bent pins on the socket, but just like bent pins with CPUs, that seems unavoidable.
We've seen numerous 915 and 925X designs during our pre show coverage already, so let's just start flipping through them.
PCI Express slots are quite common on these motherboards as can be seen on this Gigabyte board with three x1 and one x16 slot: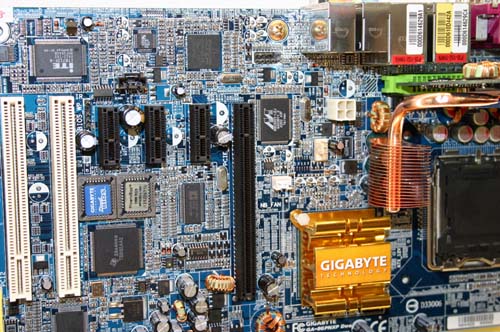 Click to Enlarge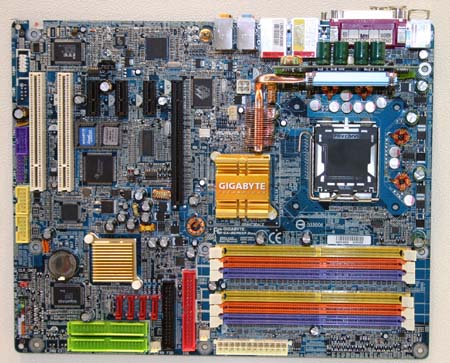 Click to Enlarge
Gigabyte also had a number of boards that offered both DDR and DDR2 support on the same board: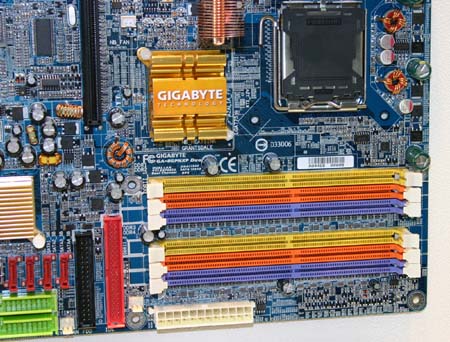 Click to Enlarge
As you can see from the picture above, the yellow slots are DDR2 slots and the orange/blue slots are DDR slots.
Gigabyte continued their push for manufacturing flexibility with this Intel based board that has both an AGP slot and a PCI Express x16 slot: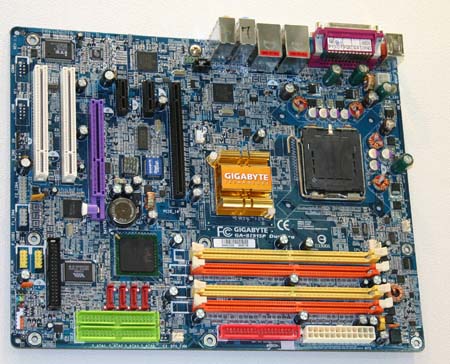 Click to Enlarge
What's interesting about this solution is that it is an Intel chipset but with both PCI Express x16 and AGP 8X slots on board, something that was supposedly not possible with Intel chipsets. It may be that Intel rethought their PCI Express transition strategy and decided to include AGP support on their chipsets, we will find out more asap. Update 6/4/04: We've discovered the real story behind this motherboard - read our new article on the topic - AGP on Intel 9xx Chipsets? We explain how.
Foxconn, a manufacturer who produces boards for Gigabyte and now for themselves, also had a number of 9xx based motherboards on display: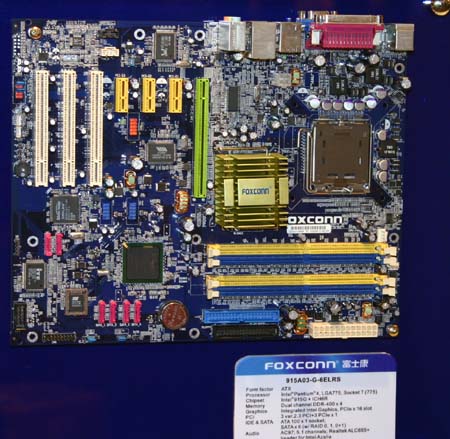 Click to Enlarge
SiS and VIA with PCI Express Chipsets
Although Intel dominated the ranks of PCI Express chipsets, solutions from both SiS and VIA are definitely out in the open at Computex.
Here we see a SiS PCI Express reference board, also with a LGA-775 socket: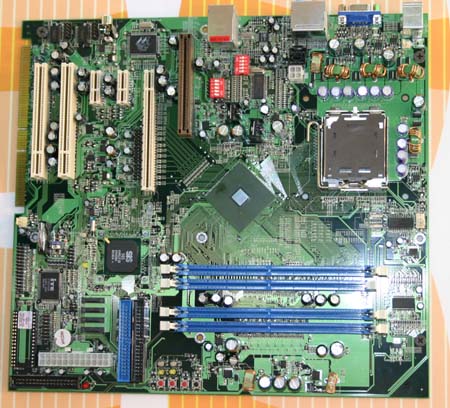 Click to Enlarge
Intel isn't the only platform that PCI Express chipsets exist for, here we have a SiS 756 Socket-939 reference board with PCI Express support: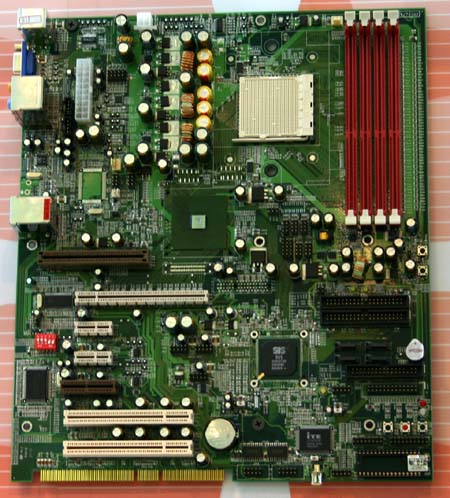 Click to Enlarge
What's interesting about the SiS 656 and 756 boards is that it too features both PCI Express x16 and AGP 8X slots, something that our original SiS roadmaps said was not going to happen. Maybe SiS' plans changed in response to VIA? Combined with the fact that we have seen an Intel 9xx chipset board with AGP 8X, it seems that VIA's AGP/PCI Express strategy may not be quite as unique anymore. Update 6/4/04: We've discovered the real story behind this motherboard - read our new article on the topic - AGP on Intel 9xx Chipsets? We explain how.
ASRock puts Two Sockets on Motherboards
ASRock is displaying an interesting board that caught our eyes; the K8 Combo board features both a Socket-939 and a Socket-754 socket. Astute AnandTech readers will know that Socket-754 Athlon 64s only have one Hyper Transport link and thus cannot support multiple processors, so something must be up. Indeed the K8 Combo isn't a multiprocessor board, rather its a motherboard that can support either a Socket-939 CPU or a Socket-754 CPU, but not both. The flexibility offered by the board is interesting, as it provides a decent upgrade path for current Socket-754 users, granted it may be a bit extreme.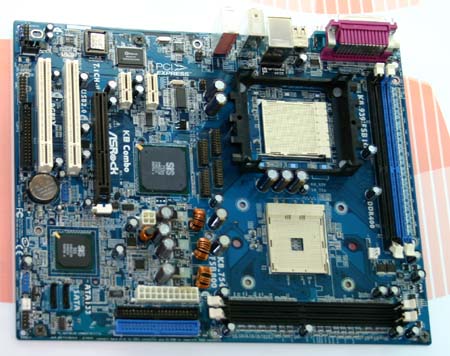 Click to Enlarge
This does not appear to be the only multi socket transition motherboard planned by ASRock; a Socket-775/Socket-478 board is also in the works.
VIA Demos QBM
About a year and a half since we first wrote about it, VIA was finally demoing Quad Band Memory on a P4 platform at their booth. You'll want to read our tech article on QBM to understand more of how it works, but basically it offers twice the bandwidth of DDR using a phase shift of the clock signal to effectively achieve two DDR transfers per "clock."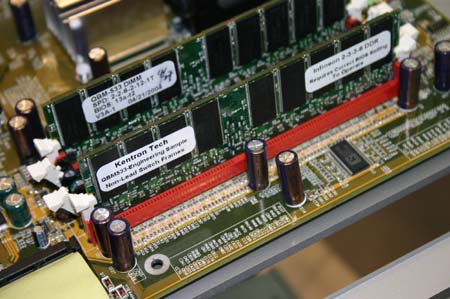 Click to Enlarge
We weren't able to catch the demo in action, but we will hopefully be reporting more on this later during the show.
BTX Motherboards
The last bit of interest at the show were two BTX motherboards that we saw on display.
Foxconn's picoBTX board is seen below: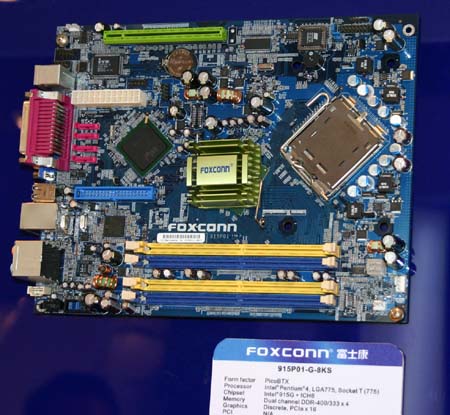 Click to Enlarge
You can see that the layout is significantly different from what we're used to with ATX. Moving the memory slot out of the way definitely cleans the board layout up considerably.
FIC also had a picoBTX board that we took a look at, the layout of which was understandably similar to the Foxconn board:

Click to Enlarge
We were particularly intrigued by the fact that we didn't see more BTX boards on display, it does not bode well for a quick transition to BTX. Couple that with lower than expected initial demand for Intel's 9xx series of chipsets and this is beginning to sound more like an AMD friendly 2004.
Final Words
For us, it's on to the show. There's so much more to talk about that we haven't touched yet, including follow ups to everything we've discussed here already. Check back, because we're expecting to have much more information in the next 24 hours....
It's good to be back at Computex.