Original Link: http://www.anandtech.com/show/1653


Introduction
Depending on your technical prowess, configuring and building a PC can take as little as a few hours or as much as weeks of angst and hair-pulling as you try to decide what's best. Our
Buyer's Guides
are meant to help with choosing the components, but there are still quite a few people who prefer to get a built-to-order system that runs out of box. All of the large OEMs provide such systems, but their quality, features, customization, etc. are often more limited. PC-Club has sent us a complete system for review that offers many unique features, and so we've put it through the paces.
In terms of direct competitors, the best market for the Silencer is probably the Small Form Factor arena. The case is taller and deeper than most SFF designs, but it's also flatter and offers more in the way of expansion. More importantly, however, is that noise levels are a primary consideration. The case is actually a micro-ATX form factor, so at the very least, it will take up less space than your typical mid-tower chassis. One of the advantages for end users is that the components are all off-the-shelf parts, so upgrading or replacing components shouldn't pose a problem. Then again, you don't usually buy a pre-built system if you're really concerned about upgrading and tweaking the internals.
Given the similar target audience, we're going to run the Silencer system through the same review process that we use in evaluating SFF cases. We'll even provide some benchmarks with the included hardware as well as with the SFF platform hardware, just to see how it compares. Suffice it to say, if you're looking for something out of the norm, the Silencer is an interesting product that addresses a growing desire of computer owners. What audience does it target? The name should give you a clue.
Aesthetics
Note: PC-Club has started offering an alternative case for the Silencer since we received our initial unit for testing. The new case is a CoolerMaster ATC-620, and it is black in color. The internals remain the same, and given our comments on the LCD, we think that the CoolerMaster case is an acceptable alternative. This review, however, is using the Athenatech case and so we cannot comment on the actual build, aesthetics, etc. of the CoolerMaster. Also, the images in this article are rather grainy, and for this, I apologize. Unfortunately, it is a limitation of my current camera (which I will hopefully replace in the near future). The case and other components should not have the speckled look seen in the images, if that's any help. Here's a quick digital camera mini-review: do not purchase a Fuji S5000 - the ISO speeds are limited to 200 and 400, which results in grainy or grainier images. 10X optical zoom is nice, but it doesn't make up for the low quality sensor.
 
 
Click images to enlarge.
The exterior of the Silencer is relatively interesting. It's a thinner design and it could blend in quite well as a HTPC (Home Theater PC) system. As configured, that is not the intended market; but with the addition of a TV-tuner card, that is definitely one potential use. The case is made of silver plastic and steel with blue highlights. Opinions will differ, but we find it to be just different enough from the standard case to be attractive, without going into the realm of the gaudy. The top of the case (or side, depending on how you set it up) has a ventilation area that is above the CPU region at the rear of the case. It should help a bit in getting cool air into the case, allowing for the use of fewer fans.
The front panel has silver doors covering the optical drive and front ports, with a sliding blue door hiding the floppy drive. Power and reset buttons are located in the center blue area of the case, and in the lower right are three buttons for adjusting the front LCD. The remaining sections in the top-left, top-right, and middle right are simple covers that are fixed in place. What was that about an LCD? That's right, there's a small LCD located at the bottom of the blue stripe. Information on the temperatures of the CPU, HDD, and system is displayed, as well as the time and hard drive activity. The LCD is back-lit by a moderately bright blue light. If you want a dark case, you probably won't care for the LCD, but enterprising users can probably figure out how to disable the light. Also shown in the LCD is the current time and date, and you can set an alarm as well.
(Who puts an alarm on a computer case? Am I alone in thinking this is just a little odd? It's something that I would expect from a $5 digital watch, not a moderately expensive computer case.)
One item to be aware of is that while the case appears to be designed with the ability to function in either a tower setup or lying flat, it really doesn't do either perfectly. In a vertical orientation, you'll need to worry about the DVD drive and take care when inserting and removing CD/DVD discs. Using it in the desktop orientation seems to be a good idea, but the temptation to block the vents on the top of the case with papers or - heaven forbid! - a monitor might be too much for some people. An LCD would probably be fine sitting up there, but we definitely wouldn't recommend placing a CRT on top of the case. The other problem with laying the case flat on its side is that the LCD on the front is made for the vertical orientation, so the text would be sideways. This doesn't prevent the use of the case in such a configuration, but again, it is a small concern that will affect certain users.
Features
Moving on to the internals and features, we find many areas of interest. Here's the brief overview.
PC-Club Silencer EN-SI1

Dimension
(w)146 mm x (h)368 mm x (d)381 mm
CPU Support
Celeron/Pentium M socket 479 up to 2.13 GHz model 760
Memory Support
PC1600/PC2100/PC2700/PC3200 up to 2GB; 2 DIMM slots
Motherboard
Aopen i855GMEm-LFS
Intel 855GME/ICH4-M Chipsets
400/533 FSB with 1:1/3:4/3:5 memory ratio
Expansion Slots
1 x AGP 4X; 3 x PCI
Power Supply
450W A+ GPB/Athena Power PSU
3 x 4-pin Molex; 1 x 4-pin FDD; 2 x SATA
1 x 20-pin ATX; 1 x 4-pin ATX12V
Internal Connections
2 x SATA; 2 x IDE; 1 x FDD; 1 x S/PDIF
Audio
Realtek 655 AC'97 5.1 channel
LAN
2 x 10/100/1000 Mbps
Drive Bays
1 x 3.5 External (Floppy)
2 x 3.5 Internal (HDD)
1 x 5.25 External (CD/DVD)
Front I/O
2 x USB 2.0
MIC, Head-phone
Power & Reset buttons
LCD with 3 temperature indicators, time and date, HDD activity, and an alarm clock
Rear I/O
4 x USB 2.0, 1 x IEEE1394 (6-pin)
PS/2 KB, PS/2 Mouse, VGA
1 x Serial port, 1 x Parallel port
2 x RJ-45 GbE LAN Port
Center/Sub, L/R Front, L/R Surround
Overclocking
CPU bus 100-400; CPU Ratio 6X-Max; AGP 66/75.43/88;
PCI 33/37.72/44; Vcc 0.700V-1.340V; DDR 1:1/3:4/3:5 ratios
Graphics
Integrated Intel Extreme 2;
eVGA 6800GT plus AC Silencer OC to 400/1100
Hard Drives
WD 74GB Raptor 10,000 RPM SATA;
WD 200GB 7,200 RPM SATA
DVD+RW
Aopen 16X DVD+RW with Dual-Layer
Floppy
3.5" Mistsumi Floppy Drive
Speakers
Logitech X-530 5.1
Keyboard/Mouse
Logitech Cordless MX with Optical Mouse, Bluetooth Edition
Extras
LCD front panel;
Far Cry (6800GT)
Full Image Set
PC-Club Silencer (4.9MB)
Manufacturer Link
PC-Club Silencer EN-SI1
As you can see, the system as equipped could quite easily be duplicated without the need to go through PC-Club. (We'll actually take a look at pricing at the end of the review.) The most interesting aspect, right off the bat, is the use of a Pentium M processor and motherboard. While our own analysis of the performance of Pentium M CPUs shows that they aren't as fast as the latest Pentium 4 and Athlon 64 chips in many tasks, the maximum heat output of 22W is certainly something to take into consideration. We didn't have a power meter on hand, so we can't actually say what the system's power draw ended up being, but we can do a bit of quick math for the theoretical usage.
Assuming a 20W average power draw for the Pentium M compared to 75W for a speedier Athlon 64, what sort of power savings are we looking at over the course of the year? It will vary by location, of course, but for our SFF labs, the power bill comes to roughly 7 cents per Kilowatt-Hour. If we assume 24/7 usage of the system, then we can calculate the power savings over the course of a year.
Always On Power Usage
Pentium M
Athlon 64
Watt Use
20
75
Hours/Day
24
24
Days/Year
365
365
$0.07/KWHr
$0.07
$0.07
Cost/Year
$12.264
$45.99
Even with unrealistic figures - i.e. constant power usage running 24/7 - the power savings simply from the CPU alone do not amount to much. $34 over the course of the year is nothing, particularly when compared with the power used by refrigerators, washers and dryers, lights, TVs, etc. Even the remainder of the computer system will use a lot more power than the CPU. So, as far as power savings are concerned, the Pentium M isn't that big of a deal. It's great for laptops, of course, where the batteries are typically rated at 50 to 90 WHr at best - cutting power draw by 30W would extend battery life substantially. This isn't a laptop review, unfortunately. Then again, getting a heat sink to cool a 22W chip is a lot easier than cooling a 100W chip like the 3.8GHz Prescotts. Less heat means that even passive cooling of the CPU is an option, and even with a low speed fan, the noise levels should be next to nothing. That's where the Pentium M really attracts our attention. Also included are some overclocking controls in the BIOS, which we'll take a look at later.
Our SFF testing has shown that designing a reasonably quiet system isn't too difficult, but the graphics card often ruins the end result. This is particularly true of the high-end graphics cards like the X800 and 6800 series. PC-Club has decked out their Silencer with a relatively high-end graphics card, but in order to make it mesh with the rest of the system and the "Silencer" name, they picked an eVGA 6800GT with an Arctic Cooling Silencer attached. If you've never had the chance to see and hear such a cooler in person, they're a great way to reduce noise levels. It is certainly possible to perform the installation of the Arctic Cooling Silencer on your own, but with the PC-Club setup, you don't have to worry about voiding any warranties, and you save yourself a bit of work.
The Arctic Cooling Silencer isn't completely silent, but when compared with our standard X800 Pro cards it does reduce noise levels noticeably. An added benefit is that the Silencer cools both the GPU core as well as the RAM, and PC-Club shipped the system to us with the 6800GT overclocked to 425/1100. We encountered some stability issues, unfortunately, and so we dropped the speed down to 400/1000. We could have probably pushed the card to at least 1100 on the RAM, but we were more interested in getting the benchmarking done. (PC-Club confirmed that they are shipping the units at 400/1100 clock speeds now, so performance in GPU bandwidth limited situations should be slightly higher than our results.)
PC-Club sent us a system with two SATA hard drives, a Western Digital 74GB Raptor and a Western Digital 200GB. To be honest, we really have to question the use of the Raptor in such a system. Sure, it's faster on HDD tasks than the 7200 RPM drives, but the seek noise is also
much
louder. At one point, while running a disk defrag, the whole case was resonating at 50+ dB due to the drive heads seeking back and forth. Add to this the cramped quarters and the presence of a second hard drive less than a centimeter away, we can't help but worry about the long-term prospects of the system. Even if the heat output of the Raptor isn't a problem, we'd still prefer a drive with less seek noise. Samsung drives in particular have very little seek noise, although Seagate, Maxtor and Western Digital aren't much louder.
The remainder of the system is pretty typical of most computer setups, albeit with a high-end slant. The Athenatech case used will normally come with a 200W power supply when purchased on its own, but PC-Club has installed a 450W A+ GPB (Athena Power) in its place. The PSU is a standard sized ATX model with SATA power connections, as well as the standard molex, floppy, and motherboard connections. It's not a brand that we've seen much, but in our use it was very quiet and seemed to have no problems. The rear of the PSU was slightly warped by one of the screws, but this appears to be due to the tight fit rather than metal fatigue. A quick search online indicates that pricing on the PSU is relatively high ($70+), so it should be of good quality. Besides, worst case scenario, the PSU has to power two hard drives, a DVD, the graphics card, and a low power CPU.
Click images to enlarge.
On the rear panel, we have the USB, audio, Firewire, and networking ports. Integrated graphics are also present, courtesy of the i855G chipset, but since PC-Club only sells the system with a 6800GT, it's something of a moot point. The Aopen motherboard used was designed more for blade servers, and as such, it includes two GbE ports. That's overkill for typical home use, and unfortunately, audio also takes a back seat. The front panel does include headphone and microphone plugs, but they cannot be used simultaneously with the rear ports. Plugging in headphones on the front of the case will disable the matching rear port. We did find that the sound was clear on both the rear and front panel ports, which is definitely a plus. Unfortunately, there were no S/PDIF connections and there are only three standard 1/8" jacks, which can be configured for up to 5.1 audio support. An internal header for S/PDIF support is present, but that would cost extra and would use up yet another expansion card slot. If you wanted to use the PC as part of a home theater, the lack of optical connections may be cause for concern. On the bright side, there are a couple of extra PCI slots that could be used to house an audio card or TV tuner. (You'd have to give up the Firewire connection to fit two PCI cards, unless you go with a graphics card that doesn't include the large Silencer HSF.)
Wrapping things up, PC-Club included a floppy drive and an Aopen 16X DVD+RW drive, both with black bezels. Since PC-Club sent us an
entire system
- including everything but the monitor - we should also mention those items. They sent us some Logitech X-530 5.1 speakers. We've recommended them (and their predecessor Z-640) in many of our budget to mid-range Guides. They're certainly capable of producing acceptable sound, although they aren't going to put any reasonable home theater to shame. The keyboard and mouse are a different story, as PC-Club includes the Logitech Cordless Desktop MX for Bluetooth package. At times, the responsiveness of the mouse was a little slow, particularly after letting it sit for a while. It seemed to take a second or two to "wake up". However, the range of the Bluetooth devices was very good, working easily from the couch as well as from up to 30 feet away (at which time we lost sight of the screen). Serious gamers might prefer a corded mouse still, but we think that the keyboard and mouse combination works very well for HTPC use - provided that you have some convenient place to set them when you're not controlling the PC; a keyboard makes for a very large "remote control".
As usual, nothing is perfect, and there are a few areas where we feel that the features are a bit lacking. We've mentioned the onboard audio solution. A Realtek 655 AC'97 audio solution is not uncommon, but it's nothing special either. The lack of support for S/PDIF and line-in/microphone is a bit more problematic; we wish that the Firewire mounting bracket had included some S/PDIF connections at the very least. Finally, the use of cheap Logitech X-530 speakers is also at odds with the rest of the system. The Z-5300e would have been a better match, or even the Z-5500 (assuming S/PDIF was included or you purchase an add-in sound card). As a whole, the current audio subsystem in the Silencer could use a slight upgrade.
The Firewire support is also somewhat problematic; it
is
included, but it comes via a mounting bracket as opposed to being located on the rear I/O panel or on the front of the case. (This is Aopen's decision, of course, not PC-Club's.) Having a micro-ATX board is an advantage relative to most SFF configurations, as up to three PCI slots are available. Using two of those slots with the Firewire bracket and the GPU Silencer negates the advantage.
Some people might also find the lack of a flash card reader to be a drawback, although it's not a huge problem - 9-in-1 readers can be found for $25 these days. Still, it might have been nice to have one integrated into the case somewhere. Just don't replace the floppy drive, as it is definitely a necessity. The onboard SATA controller is not provided via the chipset, but comes from a Promise FastTrack controller. While the system comes pre-loaded with the OS, you will need a floppy with the SATA drivers if you ever want to reinstall Windows XP.
Finally - and we've mentioned this in recent articles - the entire package is relatively high-end, with something of a gamer slant. Our
own testing of the Pentium M
shows it to be a decent but not outstanding gaming CPU. Even with the new
socket 478 adapter from ASUS
and some overclocking, Pentium M on the desktop is niche product. The 2.0 GHz model 755J provided in the review system costs almost as much as an Athlon 64 4000+. Needless to say, the 4000+ is substantially faster in the majority of benchmarks. The use of Mushkin 2.5-3-3-7 RAM seems a bit odd at first, and you are limited to two DIMMs. Mushkin is a respected brand, but pairing a $450 CPU with $100 memory is unusual. As you'll see in our testing, however, even RAM with 2-2-2 timings didn't make a very big difference in performance, so the Mushkin is a good fit.
Construction and Setup
The overall external build quality is generally good. Long-term durability should present no problem, although the case did have/develop a few scratches. It arrived at our location with some areas on the sides where the silver paint had worn off as well as a small ding. We're not sure if these happened during construction, with a previous reviewer, or perhaps due to our own negligence in handling the case, but we mention them nonetheless. As with most computer equipment, we would advise some care in handling the system. Hopefully, such blemishes are not coming from PC-Club, and we'll give them the benefit of the doubt. As we move to the internals, remember that
our comments here will only affect you should you choose to try and upgrade the system
, so we're not terribly concerned with the flaws in the internal design.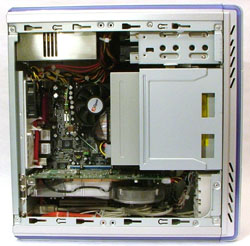 Click images to enlarge.
Once we open up the case, we encounter some good design aspects as well as some potential problems. On the good side of things, we have thumbscrews used for several items. Two secure the cover, and there are two more each for the optical/floppy bay, and each hard drive cage. The use of drive cages is also convenient, as it becomes easier to mount the HDDs without worrying about cables or other items getting in the way. The only complaint we had was that getting the cables connected to the rear of the drives was a little tricky in the cramped confines of the case. A little more slack on the SATA power and data cables would have helped, but that might also get in the way of airflow once the drives are secured in place.
 
 
Click images to enlarge.
All is not well with the HDD setup, however. It's no secret that heat helps to kill hard drives. Last summer, in 100 F weather and a house without AC, I had a six-month-old Samsung HDD fail on me. It was placed in an Antec case with two other drives, and even the presence of a fan in front of the drives wasn't enough to keep them cool. We generally like to have at least a centimeter of open space above and beneath our hard drives, and a low RPM fan in front of the drives helps. The case does not have a fan at this location, although the power supply should provide for some circulation. As for proximity, with both hard drive bays filled, there is very little room for air circulation. We didn't have any issues during testing, but we were only using the system for a few weeks as opposed to months, so problems aren't likely to occur. Long-term - particularly in areas that get hot during the summer months - we are very concerned with the use of a 10,000 RPM Raptor in such a cramped space. Should you choose to purchase such a system from PC-Club, our advice would be to stick with two 7200 RPM drives at most, preferably models with fluid dynamic bearings. They're quieter and run cooler, which seems to be the better fit for such a system.
In a similar vein to the HDD heat concerns, the location of the RAM is right underneath the optical drive - completely obscured by the drive, in fact. Air flow to this area will not be very good; although with the maximum of two DIMMs, things should be okay. The inclusion of CL2.5 Mushkin RAM may be intended to lower heat output, and even with a 3:5 memory ratio, the RAM will be run at PC2700 speeds and overclocking won't get the RAM up to more than PC3200 speeds. We would be more concerned if there were four DIMMs and faster memory could be used, but in this design, the relatively confined quarters for the RAM shouldn't matter too much.
There are some other issues near the RAM, however. The floppy and IDE cables in the area create more "clutter", and while rounded cables help somewhat, they're on the long side. We would prefer the use of some shorter IDE cables instead. There is no room for a second IDE device near the DVD+RW, so a short, flat IDE cable would tuck away quite nicely, and the same goes for the floppy cable. Shuttle and several other SFF manufacturers have such cables, and even though PC-Club may not manufacture most of their components, procuring different cables should be simple to do. (The unit arrived with the floppy cable detached, incidentally - it appears to have come loose during shipping, likely due to the length and weight. Perhaps shorter cables would have avoided this problem.) One of the advantages of a pre-built system is that the system integrator should be able to tailor the build to the specific needs, and we don't think that PC-Club did as well as they could have in this instance.
The final point that we would like to make on the construction has to do with the fans. We are not advocates of smaller fan sizes; quite the opposite, in fact. Obviously, you can't always fit a 120mm or even 80mm fan in every chassis, but the Athenatech case included one 40mm fan in the rear with space for a second fan to be added. The 40mm fan was spliced into the same power source as the CPU fan, allowing both fans to run off of one source. While the CPU fan was a 60mm model that spun at a low RPM and was nearly silent, the same cannot be said of the 40mm fan. It was by far the largest noise source in the system. After consulting with PC-Club, we unplugged the fan and were much happier with the result. Perhaps a different fan would generate less noise, and PC-Club says that the fan is not necessary, especially if you go with a single hard drive configuration. That would be our advice as well. For those who want to go to the other extreme, you could add a second 40mm fan in the rear as well as an 80mm fan on the front panel behind the LCD. We're not sure why you would want to do that, but the case does allow for it.
Overall, then, the construction of the case has a few minor problems. If PC-Club were designing their own cases, power supplies, and motherboards, we would suggest some alterations to the design. However, as they are simply a system builder, there's not much that they can do other than select different components. If you were to remove the optical drive and hard drives frequently, it would be very annoying. For the intended customers, it's not really a problem. Most users aren't going to open a system such as this and play with all the internals the way that we at AnandTech tend to do, and with PC-Club doing the system setup, you should be fine. We just wouldn't want to be the ones on the PC-Club assembly line, although we'd probably say that about
any
assembly line job.
BIOS and Software Setup
For most people, the software and BIOS setup are going to be a non-issue. Yes, you can access the BIOS and tweak things as you see fit, but it really isn't necessary. PC-Club set up and installed the OS and software and everything was ready for use. Just plug it in and you can get to the important stuff (like running benchmarks) in a matter of minutes. Of course, we're not typical users, so we dug a little deeper. We've included pictures of all of the BIOS screens in our
full set of images
, although we'll only be touching on the major areas here.
Click images to enlarge.
With the latest R1.07 BIOS revision, we are greeted with the standard Award/Phoenix BIOS screen. The Standard CMOS Features menu offers little in the way of interest as the auto IDE device detection is typically sufficient. Unless you're using IDE hard drives, all you'll find there are the floppy and optical drives as well as a few other miscellaneous items like the time, date, and error notification. Moving on to the Advanced BIOS Features menu, we have a few areas that might need tweaking, were you building such a system yourself (or upgrading the PC-Club components). Specifically, changing the boot order, boot devices, and perhaps the HDD S.M.A.R.T. and BIOS logo settings are available. Some people say S.M.A.R.T. can cause issues – specifically with overclocking – but if it can potentially save you from losing data, we think that it's best left enabled.
initial look at the Pentium M
desktop offerings explored the overclocking performance offered by the platform, and while we won't run many overclocking benchmarks with the PC-Club system, we will make a token effort. The Frequencies/Voltages submenu is where we can make certain adjustments. The CPU voltage on the Pentium 755J that we were using was already at the maximum of 1.340V, so we really couldn't try to increase the voltage in our overclocking attempts. The voltage does not appear to present a problem, but without the ability to bump it up to, say, 1.360V, we can't tell for sure. Like the Athlon 64 processors, the multiplier on Pentium M chips is downward unlocked, allowing us to use other multipliers besides the default 20X. This provides for more flexibility in tuning performance, and we'll examine this more later on when we tackle overclocking.
Most of the other menus don't offer much of interest, so we'll skip the Integrated Peripherals, Power Management, PnP/PCI, and Silent BIOS screens. You can store and retrieve your own custom settings using the last two menu items (Save/Load EEPROM Defaults), which can come in handy. Power settings are limited to enabling or disabling the smart fan mode, but we couldn't really tell any difference between the "Smart" setting and the "Full Speed" setting. Either way, the CPU fan was near silent. That's not too surprising, given the size of the heat sink and the low heat output of the processor – quite a change from the Pentium 4 and Athlon CPUs that we're used to dealing with.
That takes care of the main BIOS, but there's still another area that we need to talk about. Should you want to install your own OS (or reinstall the OS) , you will need the SATA driver disk for the Promise FastTrack controller (press F6 at the first screen of the XP installation). The SATA drive detection also adds several seconds to the boot time of the system, and when we swapped in our own Seagate SATA drive for "SFF compatible testing" , we were a little surprised at how the FastTrack controller works. Usually, SATA RAID controllers will run in either RAID or non-RAID modes. Since we were using a single drive, we expected the controller to simply run with a single drive and no RAID. However, it failed to do so.
We found that it was necessary to press Ctrl+F to enter the FastTrack setup menu and then define a RAID array that included the single hard drive. After that, we told the controller to simply store the definition, but not create the actual array on the drive, and the final configuration showed us as running a RAID 1+0 setup. We would prefer a solution that lists it as "Non-RAID" or something similar, as calling a single drive RAID 1+0 is odd. Still, once we exited the FastTrack menu, the system started to work as we expected, with a single non-RAID hard drive.
Besides the oddities in the SATA controller, installation was pretty typical, and the Aopen driver disk with its "EZ Install" option went smoothly. Again, PC-Club customers probably won't need to worry about any of this as the system comes pre-configured, but it's good to know how to proceed should you ever need to reinitialize your Windows installation.
Testing Configuration
For our testing, we will be comparing the PC-Club to our previous SFF systems. Right now, we'll only include the recent Shuttle SN25P, although we'll be adding other setups in the near future. You'll be able to see how the Silencer compares to other SFF systems (even though it's not technically a SFF) in upcoming articles. We have a few more socket 939 systems coming, as well as a Pentium M SFF and the socket 775 SFF roundup.
For this review, we will actually have several sets of benchmarks, depending on the test. First, we have the system as configured by PC-Club. We will then have a separate test using the 6800GT with our own OCZ Rev.2 Platinum (Samsung TCCD blanks) RAM running 2-2-2-5 timings and our 80GB Seagate SATA HDD that we use in our SFF tests. In this setup, we will unplug the extra case fan, as it should not be necessary with a single 7200 RPM HDD environment. Finally, we will include results for the system using our complete set of SFF equipment, which means that we'll swap the 6800GT Silencer out for a Sapphire X800 Pro. We'll also provide a few tests using the onboard graphics, primarily as a means to reduce noise levels and heat output.
Of course, you can't purchase the Silencer in most of these configurations from PC-Club without doing a custom order, and we wouldn't actually recommend several of them. The SFF configuration is included in order to get an apples-to-apples comparison with our SFF setups – at least insofar as the graphics card, RAM, and hard drive are concerned. The IGP represents the minimum noise configuration, but unless you have no interest in any 3D or TV application, we wouldn't bother with that setup. Our recommended setup is to keep the 6800GT, as it is both faster and quieter than the X800 Pro. Then, go with a single hard drive, or if you want to take a risk, simply unplug the case fan.
We will label the Silencer configurations as follows: "Stock" is the default configuration and will be shown in blue; "CL2" will use our OCZ RAM with the Seagate drive and will be in green; "X800Pro" will also use the OCZ and Seagate parts only with an X800Pro graphics card, and it will be in red; and lastly, "IGP" will use the Intel Integrated Graphics with the OCZ RAM and Seagate and will be in yellow. (The SN25P will be in black.)
Performance Test Configuration
Processor(s):
AMD Athlon 64 3800+ (2.4GHz 512KB cache) Socket 939
Intel Pentium M 755J (2.0GHz 2MB cache)
RAM:
2 x 512MB Mushkin 2.5-3-3
2 x 512MB OCZ PC3200 Platinum Rev. 2
Hard Drive(s):
Western Digital Raptor 74GB 10000RPM SATA
Western Digital 200GB 7200RPM SATA
Seagate 80GB 7200 RPM SATA (8MB Buffer)
Video AGP & IDE Bus Master Drivers:
nVidia nForce 6.39
Intel 855 Chipset Drivers 6.3.0.1007
Video Card(s):
eVGA 6800GT Silencer 400/1000
Sapphire X800 Pro PCIe VIVO
Video Drivers:
NVIDIA ForceWare 71.84
ATI Catalyst 5.2 without CCC
Operating System(s):
Windows XP Professional SP2
Systems:
PC-Club Silencer EN-SI1
Shuttle XPC SN25P
If it seems unfair to match up the Pentium M 2.0GHz against a 2.4GHz Athlon 64, remember that the current retail pricing puts the
Pentium 755
at $450 while the
Athlon 64 3800+
can be had for $375 and the
Athlon 64 4000+
can be had for $540. Price-wise, the Athlon 64 system is actually cheaper than the Pentium M, and it is certainly the better buy (assuming that it outperforms the Pentium M as we expect).
General Performance and Encoding
We'll start with the WinStones 2004 results. The real world application of these scores is dubious, as most business/office applications tend to spend most of their time waiting on the user. However, we include them as a general indication of system performance. For more detailed benchmarks, we recommend that you look at our full coverage of
Pentium M on the Desktop
.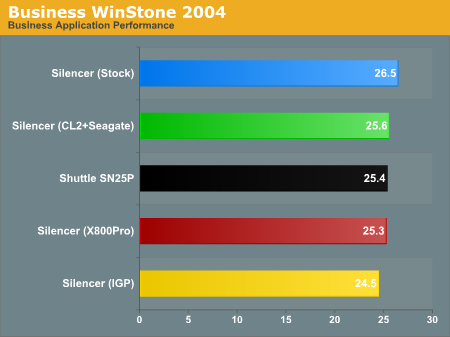 In business performance, the Pentium M 755 does well, helped in large part by the fast 2MB L2 cache. Differences between the tested configurations of the Silencer are, as expected, negligible. Using 2-2-2 RAM improves performance by a few percent, but the change in graphics cards and hard drives has little to no effect on performance. One interesting footnote for the Business WinStones scores is that the Pentium M showed a large amount of variance between runs when we used the onboard graphics. 3% or less is acceptable and with a graphics card, the variance was usually 2% or less. The Silencer with IGP enabled had variance of 11%, in addition to running slightly slower than the discrete graphics configurations. Even with such a large (relative) difference between benchmark runs, we doubt that anyone would notice which system was faster in everyday use.
The Content Creation side of things is even closer in terms of the Silencer performance. Not even the IGP configuration really differs that much in performance. Here, however, we see the handicap of the Pentium M architecture. The Athlon 64 is noticeably faster, topping the highest configuration of the Silencer by just over 20%.
For our encoding test, we use AutoGK to encode a chapter from the "Sum of All Fears" DVD to 75% quality without audio, using both the DivX and Xvid codecs. These are one-pass encoding runs, which don't get the best conversion quality, but they do provide a look at the video encoding performance of a system. As a more realistic re-encoding benchmark, we'll also include the time required to encode the sample video that we used in our
Socket 478 and 745 SFF roundup
to a target size of 5 MB, this time including stereo audio and with a fixed video width of 640 pixels. There are 900 frames in the video clip, so you could try to calculate an overall FPS rate for the conversion. We prefer to look at the total time rather than just a single pass, however, as AutoGK 1.60 ends up doing three complete passes plus some miscellaneous work to arrive at the final result.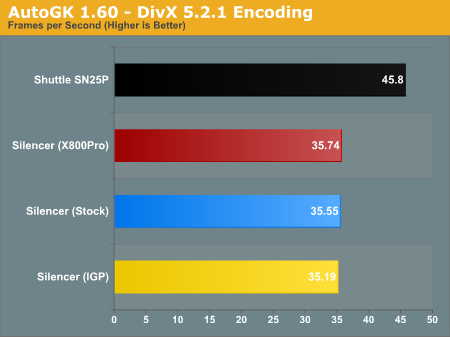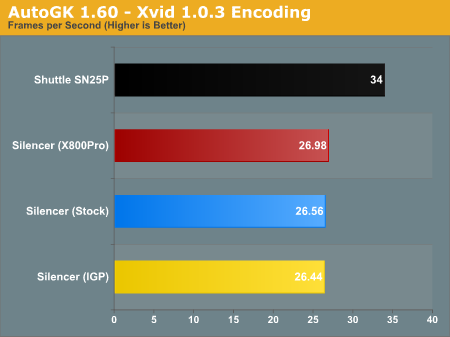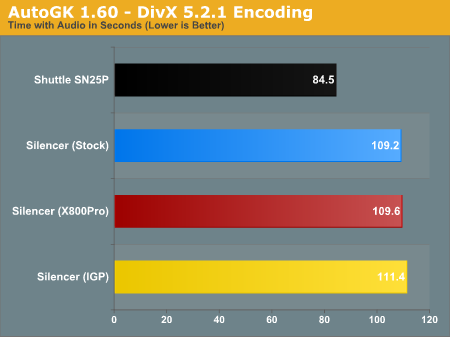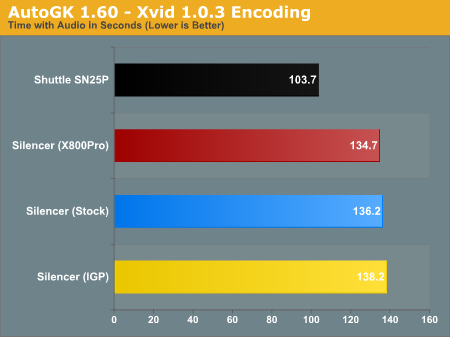 DivX and Xvid are both very demanding of the memory subsystem as well as floating point/SSE performance. The Pentium M architecture with single channel DDR333 memory is simply not able to compete well with the more powerful desktop chips (although it is still probably faster than the Athlon XP). The SN25P with Athlon 64 3800+ beats the Silencer by 25% to 30% in our AutoGK tests – not even a healthy overclock is going to close the gap.
Gaming Performance
Gaming performance will be interesting on the Pentium M. The large L2 cache helps out quite a bit. Although, we expect the 3800+ to still win by a decent margin.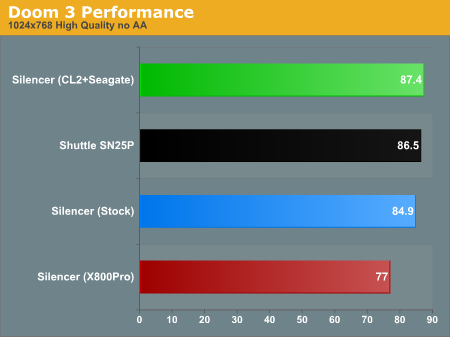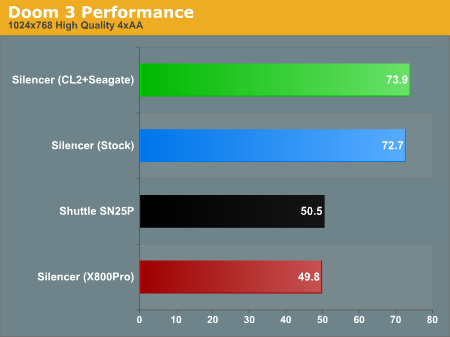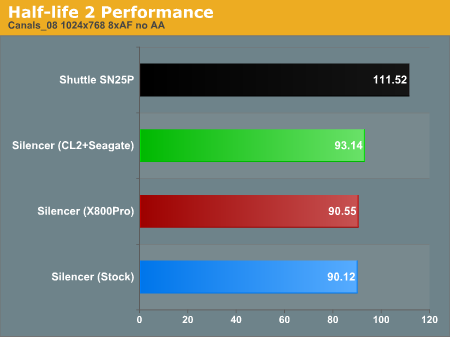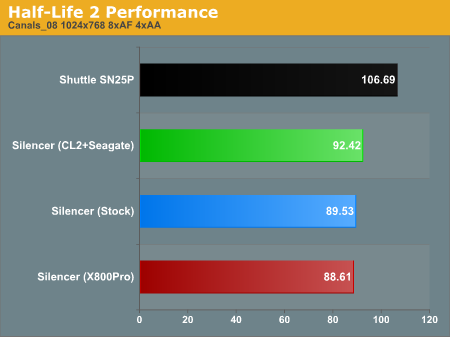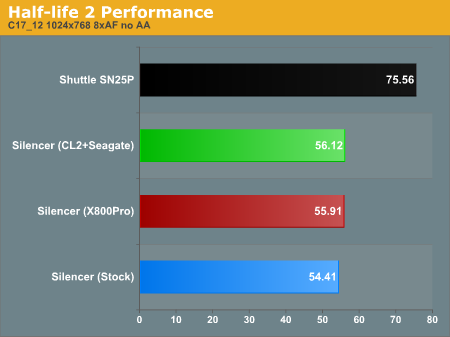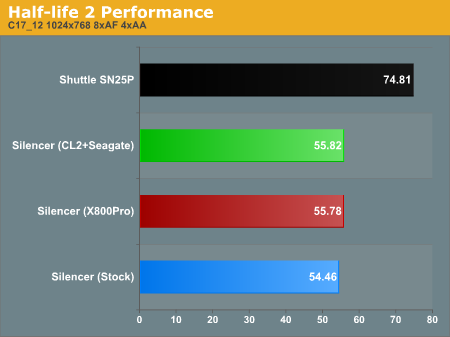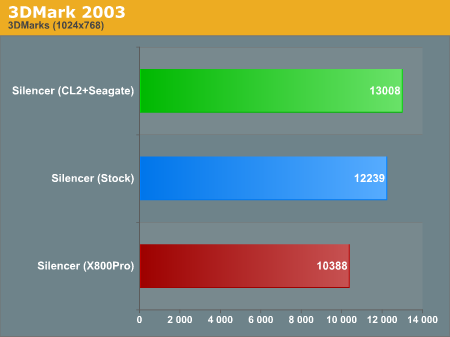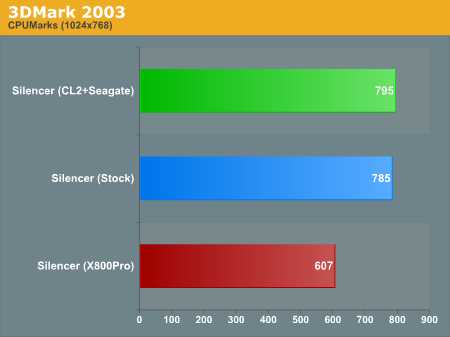 With the 6800GT, the Silencer tends to outperform the SN25P by a small amount in Doom 3, and the gap becomes a gulf when we enable 4xAA. This is typical of Doom 3, of course. While Doom 3 is more GPU limited, Half-Life 2 is clearly running into a CPU limitation. The City 17 map in particular hammers the CPU, and the SN25P comes out ahead by as much as 35%. In all of the tests, the use of CL2 RAM had a very minor impact on performance – around 3%, and sometimes even less. At present, then, there's not much reason to fault PC-Club's decision to use cheaper CL2.5 RAM.
We threw in 3DMark03 scores just for fun. We use 3DMark03 in a looping mode for our stress test, so we figured that we might as well give you the numbers. It's not a surprise that the 6800GT comes out faster than the X800Pro, particularly since it's running with the 6800Ultra clock speed on the GPU. What
is
interesting is that the CPU scores also show a large advantage with the 6800GT configuration. CPU benchmarks don't generally depend on the graphics card in our experience, which is why we don't put too much stock in the 3DMark results.
Noise Levels
We usually run two sets of noise tests, in order to provide a more comprehensive picture of how loud each SFF is. Our standard test uses the same setup as our performance benchmarks. For our low-noise test, we install a fanless GPU into the system; or for systems with integrated graphics, we will use those. Mid-range to high-end graphics cards can contribute substantially to the amount of noise that a system emits, and using a lower performing graphics card will frequently reduce noise levels to the point where our SPL meter can no longer produce accurate readings. In such a case, we will simply put 30 dB as the value, and for most people, this will be close enough to silence that the system will not be noticed. Here are the results for the Silencer, with four tested configurations: standard as shipped, then without the case fan and with a single Seagate HDD, then running the X800 Pro with the Seagate, and finally, using the onboard graphics with the Seagate.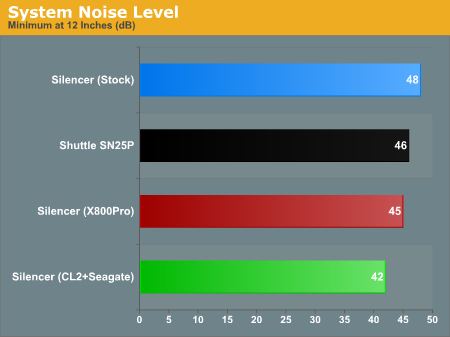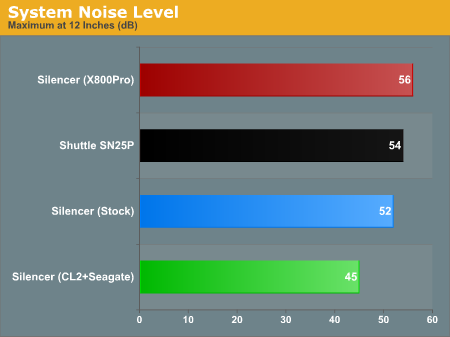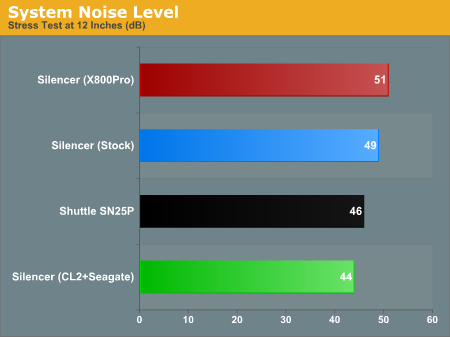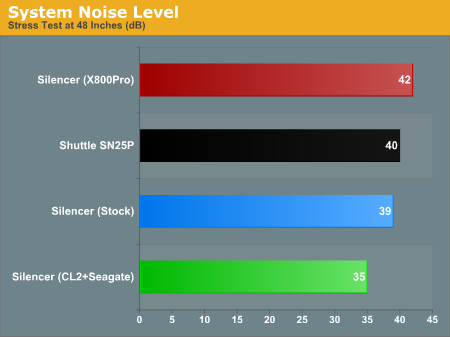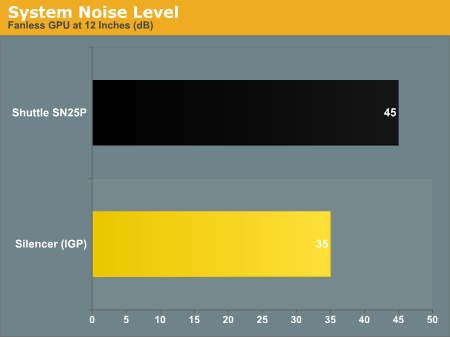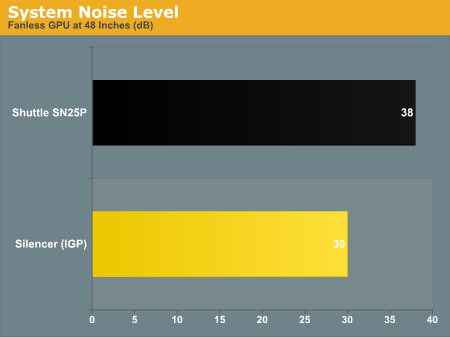 As we've alluded in the earlier parts of the review, the system case fan is tremendously noisy for such a small component. It may be necessary if you're running multiple hard drives – and even then, it may not be sufficient for two drives in such close quarters – but it really ruins the "Silencer" name. The X800Pro also manages to make quite a racket in the case, which brings us to the clear winner in terms of configurations: the eVGA with Arctic Cooling's Silencer.
With the case fan unplugged, the Silencer is able to beat all other options in terms of noise to performance ratios. 35 dB for a fast system is almost unheard of! It's nearly as quiet as running with the integrated graphics, and of course, it is many times faster than the IGP in gaming situations. Even after prolonged gaming, the Silencer kept the GPU at acceptable levels and didn't increase fan speed enough to be noticed. There were periodic noise level increases of around 3 dB, but they would usually only last 15 seconds before the fan speed would drop back down to normal.
One thing that we've mentioned before is the noise level of the Raptor drive, particularly when doing a lot of head repositioning. We didn't include the results in our noise charts, but at a distance of 12", the Raptor registered as high as 55 dB on our SPL meter – and that's
with
the case fan unplugged. Ouch! Loading Doom 3, HL2, other games, and booting XP all produced this amount of noise, and we think that most people who are interested in a "Silencer" PC would prefer a quieter hard drive as well, rather than increased HDD performance.
Heat Output
For the heat test, we use a laser thermometer to record the temperatures of various key components. It is important to note that these are surface temperatures only and not a reliable means of determining core temperatures. Most system BIOSes report temperatures for the CPU, but in the past, we have found that differences in BIOS programming can cause a difference of 10 C or more. What is really important with any pre-configured system (SFF or otherwise) is that the system functions as advertised. Slightly higher system temperatures are often accompanied by lower noise levels, which we feel is a fair compromise. For the Silencer, we actually don't expect much in the way of high temperatures due to the lower heat output of the Pentium M processor. The CPU heat sink remained, at most, lukewarm to the touch during testing.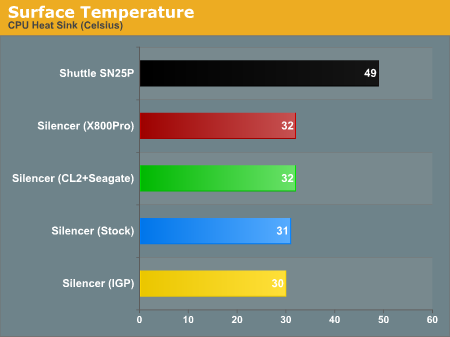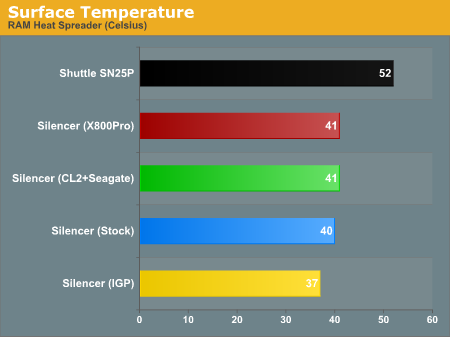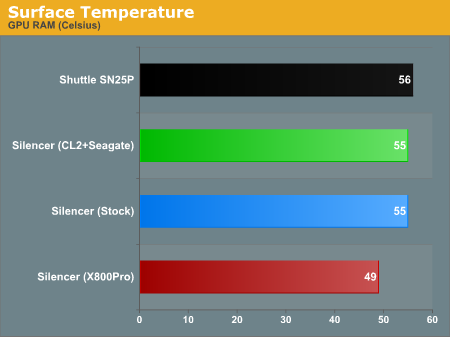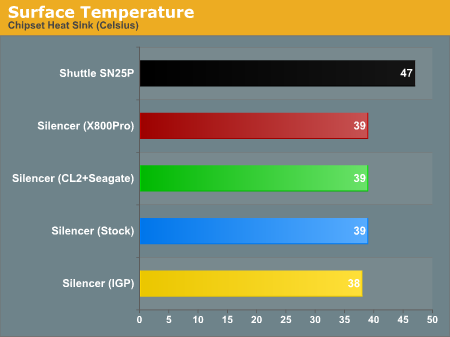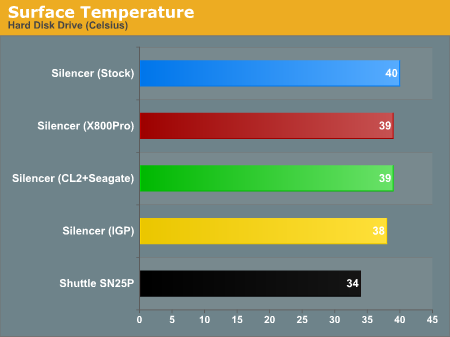 We did not experience any issues during testing, even with the Raptor and 200GB HDDs installed. The PSU intake fan located just behind the hard drives appears to provide sufficient cooling. We would even go so far as to question whether the rear case fan is necessary at all. Using two ultra-low RPM case fans on the rear of the case would be another option that might be interesting to pursue, as two <1000 RPM fans should still provide enough airflow to be safe while adding little in the way of noise.
In terms of heat, we can immediately see the benefits of the Pentium M platform. Even with lower noise levels and fewer fans, the Silencer system is substantially cooler than the SN25P in most areas. The only area where the SN25P wins out is in the HDD temperature, which isn't too surprising, given the arrangement of the HDDs in the Shuttle P chassis. The higher HDD temperature does give us pause, however. If you have an air conditioned home, you should be fine. If you lack such amenities and live in an area where indoor temperatures can break 90 F, we would recommend that you shut your system off during the day if at all possible. (This is good advice in general - losing a hard drive is never fun.)
Overclocking
Given that the Silencer uses the same Aopen board used in our first
desktop Pentium M article
, we would expect similar overclocking results. While we achieved similar results to Anand's initial testing, there was some variance. This is not too surprising, as your mileage will vary depending on the specific CPU, HSF, motherboard, and RAM. Here are our overclocking results with some CPU-Z screenshots.
CPU Overclocking
 
 
Click images to enlarge.
We were able to hit 2.4GHz with a 133MHz bus and an 18X multiplier without much trouble, other than an adjustment to the RAM ratio. At the initial 3:5 ratio, a 133 MHz bus would have put the RAM at around DDR443, but it simply refused to boot. (Worth noting is that holding down the "Home" key on the keyboard while powering on the system will reset the CMOS settings - much faster than attempting to remove the battery or locate the CMOS reset jumper on the motherboard! This is not mentioned anywhere in the documentation, but we managed to stumble upon the combination through trial and error based on previous motherboard experiences.) We eventually gave up on the 3:5 ratio and moved to the 3:4 ratio. With the CPU bus at 133MHz, this puts the RAM at DDR356 - below the RAM's spec, but at least the system would boot! 2.4 GHz is a 20% CPU clock speed increase, and the added bandwidth helps as well. As we proceeded into testing, unfortunately, we discovered that the overclock wasn't entirely stable. AutoGK in particular would crash the system within a minute of starting to encode a video.
 
 
Click images to enlarge.
Dropping to a 120 MHz bus with a 20X multiplier gave us the same 2.4 GHz (slightly higher, since the bus showed up as 120.8 MHz), only with a lower memory speed (still using the 3:4 ratio). AutoGK seemed slightly more stable - we were actually able to complete a few of our encoding tests - but it still continued to crash. Whether the problem was with our particular CPU, the heat sink, or some other factor, the end result was that 2.4 GHz was not fully stable. Oddly enough, we could actually POST and start to boot Windows at 2.53 GHz. Completing POST generally means that you're getting close to a successful overclock. Our guess is that even with the fine tuning that went into the design of the Pentium M, there are still pathways that are more susceptible to problems as clock speed is increased. AutoGK happens to stress one of these pathways more than other applications, most likely in the SSE and floating point units.
While a 2.4 GHz overclock was nearly reached, we eventually backed off to 2.26 GHz for further testing. Trying to overclock while using the integrated graphics met with even less success - not that most people would try this, but we mention it nonetheless. This isn't too surprising, as the IGP should cause increased stress on the chipset and memory subsystems. We would assume that the attainable clockspeeds will be similar to our earlier results - i.e. 2.3GHz to 2.5GHz maximum without exotic cooling - and that luck of the draw in terms of the CPU will play a part. Since we're more interested in the Pentium M as a quiet computing alternative than for raw performance, we'll leave our maximum overclocking results at that. Besides, this isn't our hardware that we're testing.
Memory Overclocking
Having settled on a 2.26 GHz clock speed, we decided to take a look at another area of overclocking: the memory bandwidth. Initial thoughts were that the Pentium M was bandwidth starved, and while that does appear to be the case in some applications, our
second look at desktop Pentium M performance
using the ASUS socket 478 adapter showed some interesting results. The chipset certainly impacts performance, and so does the memory bandwidth. Workstation benchmarks in particular (SPECviewperf) showed some large gains by moving to a dual-channel memory controller. With the thought of using the Silencer as a HTPC, we decided to focus on AutoGK encoding performance.
We ran a total of four similarly clocked setups through our AutoGK benchmarks to see how various bandwidth settings affected performance. First, we have three tests with the CPU bus set to 113 MHz and a 20X multiplier. We ran with the memory at 1:1, 3:4, and 3:5 ratios, giving us memory speeds of DDR227, DDR303 and DDR389 respectively. We also ran with the CPU bus set to 133 MHz and a 17X multiplier, giving us DDR356 using a 3:4 ratio.
While we never reached DDR400, the chipset and motherboard only officially support up to DDR333, so this was expected. There were slight variations in CPU speed between the 17X and 20X multipliers, but otherwise, we're only changing the FSB and RAM speeds. Now we want to see how this impacts the encoding performance. We'll label each configuration by the final memory speed and multiplier, along with the baseline performance from our earlier charts.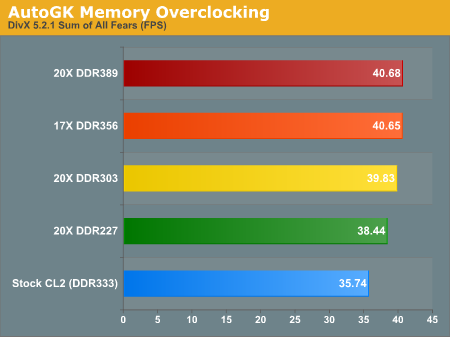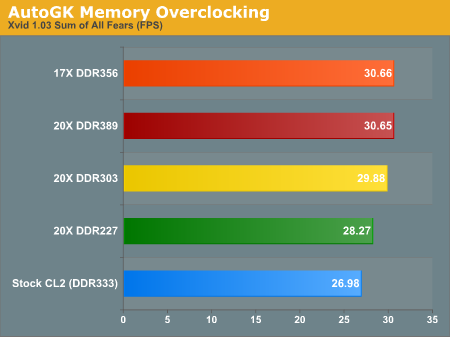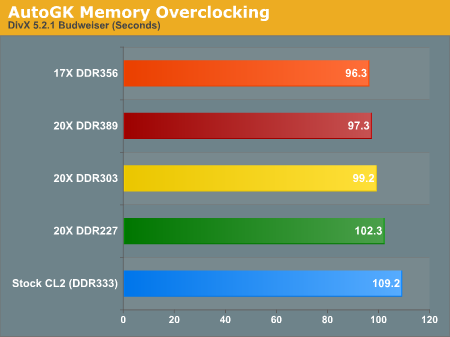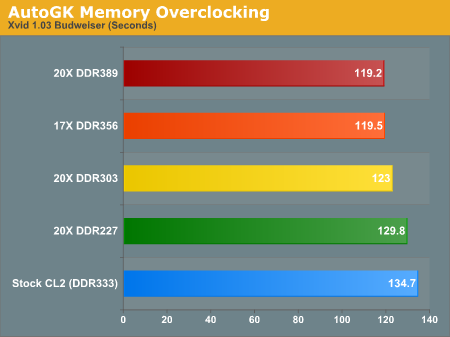 It shouldn't be too surprising to see that the higher memory bandwidths provide the fastest performance. However, note that dropping to a 3:4 ratio with higher CPU bus speed and a lower memory bus speed yield relatively similar performance. The drop to DDR303 doesn't hurt performance too much, while further reducing the memory speed to DDR227 begins to have a more noticeable impact.
Looking at the configurations above, the total difference in performance between DDR389 and DDR356 is virtually non-existent - 1% or less is well within the margin of error for AutoGK. Dropping to DDR303 does show up as a slight difference, but we're still only looking at a 3% advantage for the higher memory speeds. Finally, the difference between DDR227 and DDR389 is about 6% in DivX and 9% in Xvid. Other benchmarks could show more of an impact with increasing bus speeds, but architecturally, it seems safe to say that the large L2 cache is able to overcome the relatively low memory bandwidth in AutoGK encoding. This isn't too surprising, as Intel has been applying this exact principle with their Xeon processors for years:
If you can't easily increase the memory bandwidth, add more cache !
As a whole, our "easily attainable" overclock improved AutoGK performance by about 14%. That's certainly a respectable performance gain, and it represents slightly better than linear performance scaling. If you have a bit of luck, you could actually get some very acceptable performance out of the Pentium M platform without spending an arm and a leg. We haven't done any testing of the Pentium M 725J for overclocking, but it has a 16X multiplier. If you are able to hit a 145 MHz bus speed (we'll assume that DDR390 is the maximum that you're likely to reach), you would have a 2.32 GHz processor. More likely than not, the 725J won't be able to run stably at that speed, but we wouldn't be too surprised to see a 2.13 GHz to 2.25 GHz overclocking result out of the chip. More importantly, with a cost of $215 rather than $450,
if
it can reach 2.4 GHz, it would be an interesting alternative. (The 735J is also worth consideration, given the small price premium, as the 17X multiplier may be more useful.)
The problem, unfortunately, isn't just the cost of the processors. The high priced motherboards also come into play, so it's still more expensive than the current darling of overclockers, the Athlon 64 3200+ Winchester core. As we've said in other articles, the Yonah core is really what many are waiting for from Intel. Overclocking using the PC-Club Silencer yields reasonable results, but it certainly isn't the best option that we've seen for such an endeavor.
Conclusion
As a high-end but near-silent system, we really like the Silencer. Performance in some tasks is going to be hindered by the Pentium M processor, but overall, it manages to hold its own. The power savings are not particularly meaningful - think of running a single 60W light bulb for a year and you'll have a decent picture of the difference in power draw between the Pentium M and a Prescott or Newcastle - but the lower heat output is good. We had some issues with the Athenatech case, and perhaps similar complaints from customers are what prompted PC-Club to offer the Silencer with a CoolerMaster case as an option. Unless the LCD/alarm issues are fixed, we would have to recommend against using the Athenatech case. That's unfortunate, as we think it's an attractive case otherwise.
Here's the real question:
would we purchase such a system?
There are two parts to our answer. First, let's take a look at all the components and see what they would cost if you were to buy them and build the system yourself. (Prices are obtained from our
Real Time Pricing Engine
as well as our various partners and represent what we would list in a typical
Buyer's Guide
article.)
Home Built Silencer Alternative
Hardware
Component
Price
Processor(s):
Pentium M 755J 2.0GHz
$435
CPU HSF:
Copper socket 478/479 compatible
$25
Motherboard:
Aopen i855GMEm-LFS
$233
Memory:
2x512MB Mushkin CL2.5
$100
Video Card:
eVGA 6800GT
$370
Video Card HSF:
Arctic Cooling Silencer
$35
Hard Drive:
Western Digital Raptor 74GB
$176
Hard Drive 2:
Maxtor 200GB SATA
$108
Optical Drive:
NEC DVD+RW 3520A
$61
Floppy Drive:
NEC; Sony; TEAC; Samsung; etc.
$8
Case:
Athenatech A106
$63
Power Supply:
A+ GPB 450W
$75
Speakers:
Logitech X-530 5.1
$56
Keyboard and Mouse:
Logitech Optical Desktop Combo
$156
Operating System:
Windows XP Professional SP2
$140
Bottom Line:
$2041
PC-Club Price (as of 3/24/05) - not including tax!
$2150
Looking at that chart, you can see that PC-Club is essentially charging you $100 (give or take) to assemble and test the equipment for you. That's actually a very reasonable price, as many shops will charge a $100 fee (or more!) to assemble a PC for you, often not including the software installation. Unfortunately - according to how you view the situation - PC-Club will also charge you sales tax if you live in a
state where they have retail locations
. Taxes could add as much as $175, although you'd pay the same fee if you purchased locally (and technically you're supposed to pay sales tax regardless, although most people probably don't bother reporting online purchases). Still, if you don't like fiddling with computer hardware or feel your time is too valuable, we feel PC-Club offers an acceptable price.
There's more to it than just the price, of course. Pentium M desktops have an air of exclusivity that some may be willing to pay extra for. More importantly, the components in the Silencer are all industry standard designs, including the motherboard and power supply, and can you name any major OEMs that offer overclocking in their BIOS? If you're seriously thinking about getting a Dell (dude!) or other OEM system, PC-Club is definitely worth a look. For peace of mind, PC-Club also offers a 3-year extended warranty for an additional $210. Frequent upgraders probably wouldn't bother with such a long warranty, but those who only purchase a new PC when their current system is woefully outdated will appreciate such an option.
We did have some issues with the PC-Club system configurator. First, we'd just as soon ditch that and go with two 250GB drives instead, especially given the loud seek noise of the Raptors.
(Update: this is now possible, so we've edited the text slightly.)
Additional options for the GPU and speakers would also be good, as the X-530 are really budget speakers. The "Help Text" is also seriously outdated, mentioning such things as the difference between the GeForce 4Ti vs. 4MX, the Duron vs. Athlon XP, and SDRAM vs. RDRAM. It could certainly use an update to their 2005 product line.
The problem is the platform, really. Our Pentium M desktop articles covered this before, and the simple fact of the matter is that as attractive as Dothan is for notebooks, it really doesn't compete that well in the desktop market. The motherboards are currently
far
more expensive than boards with desktop chipsets, and the processors aren't cheap either. We like the overall package, but the price is simply too much.
Our suggestion to PC-Club is to offer a version of the Silencer with a few changes. Swap out the Aopen 855 motherboard for the new MSI RS480M2-IL with the ATI Xpress 200 chipset. That's a micro-ATX board even, so it will still fit nicely in the Athenatech case. (Overclocking does not appear to be an option on that motherboard, unfortunately - at least not with the current BIOS.) Add an Athlon 64 3500+ 90nm processor - or wait for a faster 90nm Athlon 64 to appear - and a PCIe graphics card, and you should have similar heat and power characteristics with better performance, all while shaving about $250 from the price.
The other area where we see some potential for the Silencer is in the HTPC market. It's a reasonably quiet case, and with the ATI Xpress 200 chipset, we can get TV-Out from the integrated graphics. Take out the Raptor hard drive and put in two larger drives and a TV tuner, and you would have a formidable HTPC setup for a very reasonable cost. We'd certainly be interested in seeing such configurations from PC-Club in the near future! (PC-Club does offer a HTPC system with different components already, but we'd like to see more options.)
Our overall verdict is that while we would be more than happy to recommend PC-Club as a system builder - somewhat similar to Alienware or Falcon NW, although with less pizzazz and a lower price - we would have a hard time recommending the current version of the Silencer. It will certainly appeal to some people, but we would really like the ability to customize the system configuration a bit more.
Check out their web site
if you're looking for a pre-built system, however, as this is only one of numerous system configurations that they have to offer. If you give them a call, you can probably even get a customized PC built for a moderate fee.