Original Link: http://www.anandtech.com/show/1788


Introduction
An interesting policy inside Sun is that you retain your badge number for life. Andy Bechtolsheim retained badge ID #1 at Sun, even after he went on to found Granite Systems and Magma Design Automation. Andy's golden touch extended out to several small companies including a promising little search engine called "Google" as well as academia with Andy's investments into Carnegie-Mellon Universities WCC campus. What does this have to do with Sun's new servers? Well, Andy has some pretty big plans for Sun these days.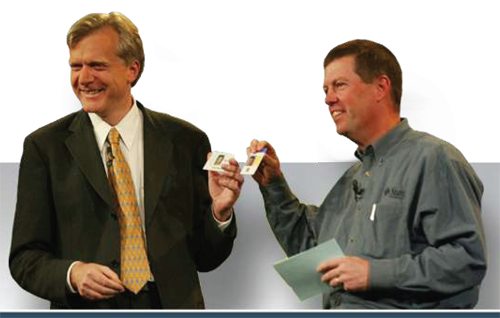 Eighteen months ago, Andy's return to Sun marked the company's Renaissance of new ideas, strategies and philosophies. Everything about Sun is getting a new image, from company motto all the way down to the entry level server designs. Mr. Bechtolsheim is personally responsible for the company's drive towards x64 and x86 processors; the V40z, V20z and W2000z were all children of his push for lower cost servers that relied on efficiency and innovation. Given that Andy only had 6 months to get the initial Opteron servers and workstations online, there wasn't much time to develop everything from scratch, which is why the older Sun x64 workstations and servers are mostly based on Newisys designs and components.
Today is the first x64 server for Sun that is totally unlike anything else on the market. While today is also the mark of Sun's Galaxy server line, the SunFire X2100 model (code named "Aquarius") that we are looking at today will become Sun's entry level sub-$1000 server. Vertical markets will be able to use the Aquarius as a completely storage-less application node, while horizontal markets will be able to use the X2100 as a low cost, high density application or web server. We have some upcoming analyses of the Galaxy lineup, but today, we are very excited to bring the first look at Sun's entry level "Aquarius", or SunFire X2100.
Sun's entrance into the sub-$1000 market isn't an easy one. At the sub-$1000 level, whitebox units generally are the brand of choice for most small and medium businesses, while HPC orders get to go to the IBMs and Dells of the world based on volume. With the SunFire X2100, Sun becomes a viable alternative in both the horizontal and vertical markets. By default, the X2100 is configured best for a diskless cluster or high availability application. Once the SunFire X2100 becomes available
en masse
in the US, we could actually pre-configure the machine for storage and a faster processor instead, making it a very capable web server instead.
Similar to Sun's approach to the V20z and V40z, there will be several different configurations of the X2100, from Small to Extra Large. We actually have an Extra-Large configuration for testing today, which comes out to $2295. Sun tells us the Small configuration comes out to
$745
; although it doesn't have a hard drive or the beefiest of Opterons, $745 is a bargain for what most companies spend on blades. The Large configuration is priced at $1676. Barring any availability problems from AMD, we should see several versions of the SunFire X2100 in the future with Opteron 154 and 180 processors.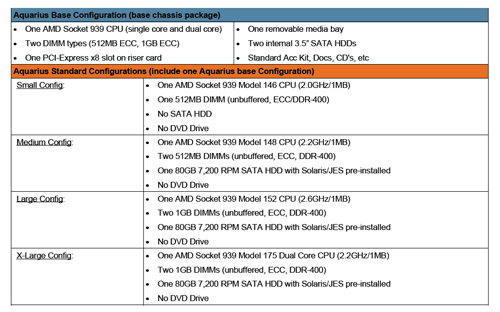 The industrial look of the SunFire X2100 is best described as the true nostalgic Sun look. A look at the front reveals the epitome of form following function.

You'll notice two forward USB ports (something new for Sun), a slim line DVD drive and two hot swappable SATA drive bays. The two hard drives can be set up for RAID 0 or 1 via the BIOS.

The rear reveals more USB ports and a serial interface. You'll also notice the complete lack of any legacy input connectors, including PS/2 keyboard and mice interfaces. The SunFire X2100 requires a USB keyboard/mouse for direct console access. The diagnostic lights on the front and back of the machine signal whether or not the machine is on/off or if there is a component failure. Since the indicator lights are featured on both sides of the server, it's easy to pick out a failed server from either side of the rack. The Aquarius weighs in just under 30lbs, so it is well suited for the included roll-out rack rails.
Also present is a half-height 1- to 8-lane PCIe expansion bay, two Gigabit Ethernet connectors and a single analog video output. The PCIe expansion is unique in the fact that the entire expansion bay is removable from the chassis when the bay cover is removed; no more scratched PCBs when replacing or installing an expansion card.
The V40z and V20z were innovative in their own rights, but much credit was due to Newisys, the company that designed and built many of the components in those servers. Today, however, the Aquarius (and Galaxy) servers are 100% Sun designed and manufactured. The server takes all of the better computing principles of Opteron, and combines them into a state of the art half depth 1U.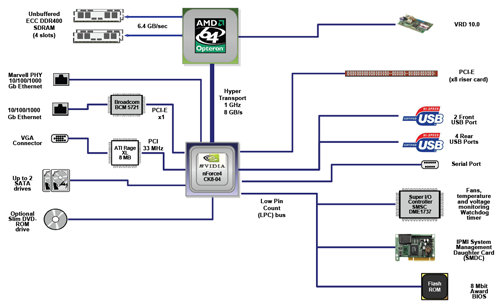 Sun is the first Tier 1 component manufacturer to produce a server based on NVIDIA's nForce4 Ultra, the quintessential Athlon 64
desktop
chipset. Several server and workstation motherboards on the market today use the nForce4 Professional series chipsets, but without the need for 32 PCIe lanes, nForce4 Ultra works just fine and also cuts down on the cost. nForce4 also supports other features like legacy PCI, but the SunFire X2100 does not include any PCI interfaces. In fact, most of nForce4's features have been stripped out or disabled for the SunFire; specifically, PATA support, NVIDIA ActiveArmor and much of the USB support.
Aquarius is also unique in the fact that the server uses Socket 939 1xx Opterons. These new Socket 939 Opterons have only a single HyperTransport link as opposed to three, which keeps the cost of the chip down. The Socket 939 Opterons also features organic packaging, rather than the traditional ceramic packaging on Socket 940. A peripheral benefit of Socket 939 is that the CPU does not require expensive registered memory; off-the-shelf unbuffered ECC PC-3200 works just fine. The SunFire X2100 actually works just fine without ECC memory either, but with the cost of PC-3200 so cheap these days, why not? The Socket 939 Opterons are a little less picky with the memory configurations; mixing 1GB DIMMs with 512MB DIMMs is perfectly acceptable, but the DIMMs will have to be matched in order for the Opteron to enable dual channel mode.
NVIDIA's nForce4 controller forms the backbone of the Aquarius. There is only a single x8 PCIe lane, and a single HyperTransport lane from the MCP to the Socket. Only two of nForce4's SATA channels are utilized in the X2100, but from what we could tell in the BIOS, all RAID functionality still works. A single PCIe lane is dedicated to the Broadcom BCM 5721 controller giving the system two dedicated Gigabit Ethernet controllers (the other Gigabit Ethernet is located on the nForce4 chip).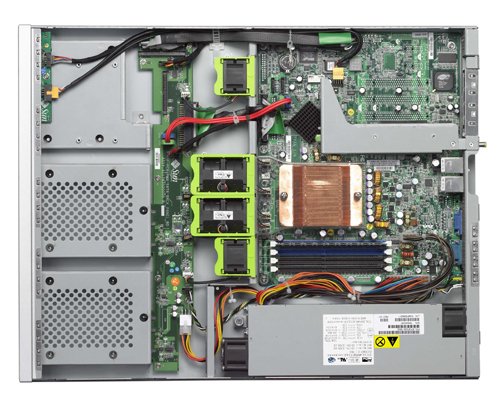 Opening the Aquarius reveals even more interesting components. The first thing to notice is the all copper, fanless heat sink over the socket. Four 40mm brushless fans are responsible for pushing air across this heatsink through the rear of the system. Two more fans push air across the memory and PCIe expansion. Each of these six fans are controlled independently by the nForce4 chipset, but can also be adjusted via the IPMI interface. Our only suggestion would be to place the fan control interfaces out of the path of the cooling duct to increase airflow.
Sun's attention to detail scored a lot of points in previous analyses, particularly with regard to system management. The SunFire's X2100 system processor - a QLogic Zircon - sits on a dedicated System Management Daughter Card (SMDC). Initial samples of the Aquarius did not have SMDC boards installed on them, but we lucked out and received one of the first samples in the US with the controller.
Via the IPMI 1.5 protocol, we can remotely trigger any of following commands:
Power Up, Power Down
System Reset
System Power Cycle
System NMI
Request Message Redirection
Aside from remote control, the SMDC is also responsible for sensing inside the server. Voltage, temperature, fan speed and chassis intrusion are all monitored on the Zircon chip, which in turn then issues commands to the BIOS and core logic. The SMDC can be controlled from Sun's N1 System Manager, thus tying the functionality of each server on the network into a seamless "control plane". Through N1, a system manager can apply BIOS updates and OS patches without even taking the system down.
In true Sun fashion, the SunFire X2100 is hardly a quiet device. We measured the device in excess of 60dBA from twelve inches away during heavy operation, but since the majority of the X2100's life will be spent in a server room, that's not a problem. On the other hand, the Opteron 175 stayed under 50 degrees Celsius during normal operation according to our SMDC.
The Test
Using data from previous Linux and Solaris servers, we will attempt to analyze the performance of our X2100.
Test Configurations
Machine:
SunFire X2100 "Aquarius"
Processor:
(1) AMD Opteron 175
RAM:
4 x 1024MB PC-3200
Hard Drives
120GB Seagate Barracuda 7200.8 SATA
Memory Timings:
Default
Operating System(s):
SLES 9 SP2
RHEL 4
Compiler:
linux:~ # gcc -v
Reading specs from /usr/local/lib/gcc/i686-pc-linux-gnu/3.4.2/specs
Configured with: ./configure
Thread model: posix
gcc version 3.4.2
Our SunFire X2100 came with Seagate's 80GB 7200.7 SATA drive. We have a specific hard drive image that we use for the majority of our Linux testing, so we opted to swap the stock hard drive for a 7200.8.
We only had the opportunity to test our configuration with SLES 9 SP2 and RHEL 4 during the X2100's stay at the AnandTech labs. The server is fully supported under Solaris 10, with advanced optimizations for dual core processors in the upcoming Solaris 10 u1 (Solaris 9 has no dual core optimizations). Windows Server 2003 32 and 64 are both optimized for the SunFire X2100 as well. Solaris 10 came pre-installed on our Aquarius, but in order to save time, we swapped the drives with our standard Linux benchmark drive instead.
The majority of the other systems in our analysis today are other Sun workstations and servers that we have looked at in the past.
Database & Apache Benchmarks
MySQL 4.0.20d
MySQL has been a staple of our Linux tests since its inception. Even though it does not carry high relevance for a workstation test, we still regard it as the
de facto
free, open sourced benchmark for Linux. Below, you can see our results for
sql-bench
on both the 64-bit Red Hat kernel. Below, we ran the
sql-bench
insertion and select tests.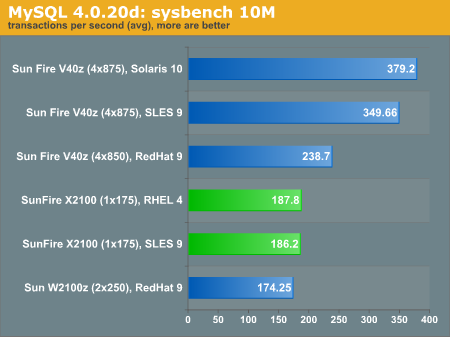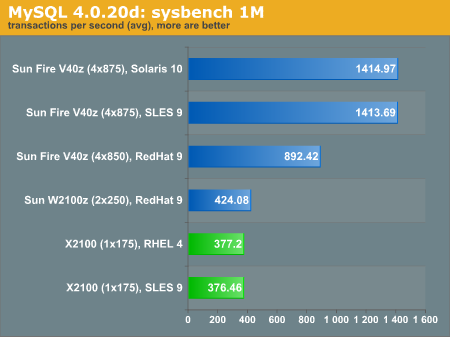 In a web server configuration, Apache immediately becomes the HTTP daemon of choice for anyone using Linux. Apache's ApacheBench is a relatively synthetic benchmark that can give us some baseline performance ideas without straying too far into the realm of artificial. We ran both configurations under 10 and 100 concurrent threads to demonstrate the number of requests per second that the server can handle.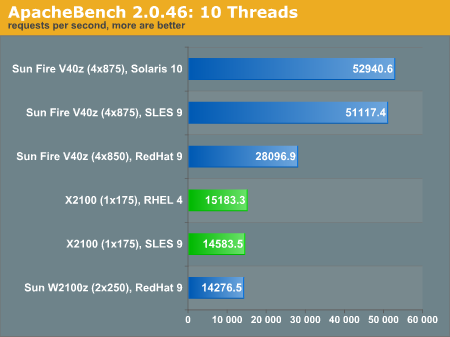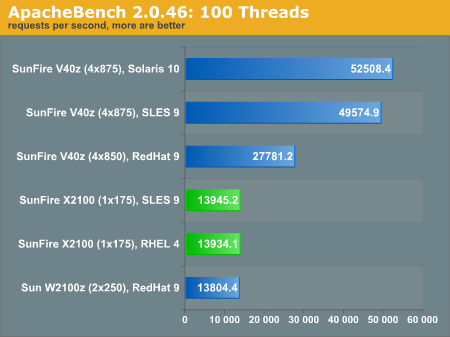 The X2100 serves considerably fewer pages than the bigger SunFire V40z, but what the X2100 lacks in performance here can be made up for in the wallet. A single SunFire V40z can outperform four X2100s, but even in the most expensive configuration, buying four X2100s is still a fraction of the cost of a V40z. For applications that scale well, such as web serving, the X2100 makes perfect sense. For applications that don't scale as well, like databases, you're better off with the heavier lifting V40z.
Rendering Benchmarks
Mental Ray 3.3.3
Below, we are running the 32-bit binaries provided by Alias Wavefront. You may be interested to see how some single CPU setups perform on the same test render
here
. Once again, we are running the same Maya benchmark
file
found in our other reviews. We ran Mental Ray via Maya using the command:
# maya_render_with_mr -file Benchmark_Mental.mb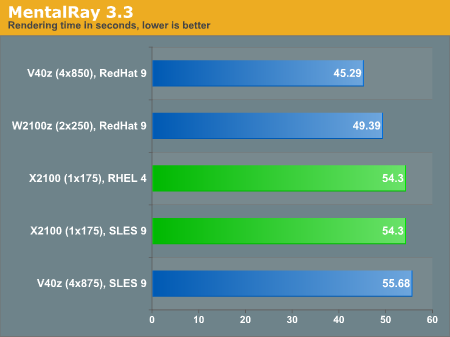 Notice that there is a minute difference in performance between the X2100 and the V40z, even though both are essentially running a single core 2.2GHz processor. Some of this is due to the Aquarius's advantage of unbuffered DDR, but also, the different core logics play a part in each system's performance.
Shake 3.5c
We are planning on moving this benchmark to Shake 4.0, but since we had all of our existing benchmarks in 3.5c, we opted for 3.5c one last time. We took the opportunity to run a benchmark script by Lindsay Adams, which you can download
here
. The benchmark script renders 10 frames under various effects using one or multiple CPUs. We sum the render times and display them below. The times recorded are the averages of three runs. The command run for this benchmark is:
# shake -exec hardware_test_v01.shk -vv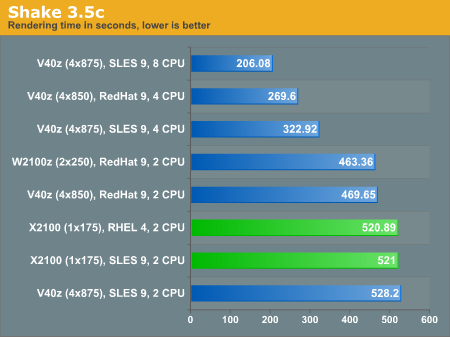 Our SunFire X2100 actually took a bit of a performance hit on this test, something that we hadn't expected; although, we had a similar issue when running the four socket V40z in 2CPU render mode.
Compiling
We expect our X2100 to take the largest hit in performance here, during the compiling tests. Our previous analyses have shown that hard drives are often the bottleneck on heavy compiles. Our Aquarius uses SATA rather than SCSI, a performance hit for any server doing heavy compilations. Then again, the Aquarius also has a lighter core logic when compared to other systems that we've looked at in the past, as well as faster unbuffered memory.
GNU Make 3.79.1 / GCC 3.4.2
While GCC isn't multithreaded, we can run multiple jobs using the
-j
command in
make
. Below, you can see the significant improvement on performance going from 1 to 3 jobs. We used the commands as below to compile the Linux 2.6.4 kernel from kernel.org:
# yes "" | make config
# time make -jX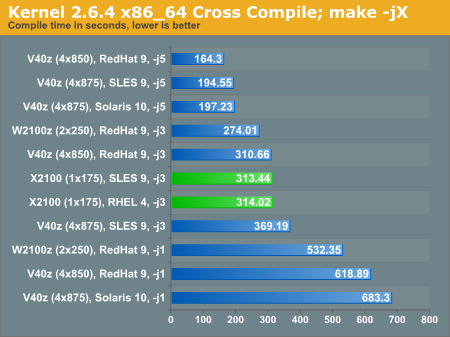 We also threw in some compile tests of entire GCC base, which take significantly longer than the Linux kernel to compile.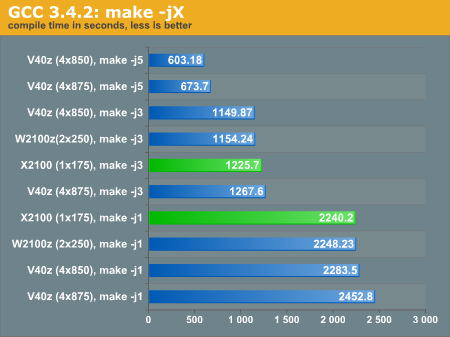 Even though our compile tests were a little better than what we originally expected them to be, also consider the fact that we swapped the older Seagate 7200.7 hard drive featured in the shipped unit for a Seagate 7200.8. The differences between the drives are minor, but the 7200.8 does have a slightly faster seek, which could explain for the better-than-expected results.
Final Thoughts
Today's look at the SunFire X2100 was one of the most exciting system launches that we've seen in a while. The SunFire X2100 takes all of the better elements of nForce4, Opteron and IPMI, and combines them into a very affordable, scalable node. Sun manages to cut the cost of many of the more expensive components in favor of efficient, cutting-edge tech instead. Particularly impressive is Sun's ability to sell these components at such a reasonable cost. Yes, as ironic as "Sun" and "reasonable cost" sound together in a sentence, the low end Aquarius servers are actually a very good value. Whiteboxing the components alone for Sun's "small" configuration of the X2100 would generally run in the neighborhood of $500, but other amenities like the roll-out rack rails, hot swap SATA drive bays, Solaris 10, and IPMI service processor quickly escalate the price further.
The performance of our "extra large" configuration was nearly on par with dual Opteron servers and workstations that we've looked at in the past, but at a fraction of the cost and footprint. Using Sun's N1 and other management tools actually make it much more cost effective to buy four Aquarius nodes (perhaps only one with a hard drive even) rather than a single quad Opteron server (if your particular application scales, that is).
Another interesting position of Sun's new direction includes the prospect that end users will probably reconfigure the hardware (particularly the entry level components), as soon as they get them. Even though Sun is happy to provide clients with bleeding edge hardware off the factory floor, during my conferences with Sun, there seemed to be an expectation that end users buying a few of these new SunFires will add a few more sticks of memory, or a PCIe InifiniBand adaptor - particularly on the entry level x64 servers like the one that we saw today. Sun doesn't seem too upset about this either; the company's new direction seems very clearly laid out toward selling efficient and innovative technology as a bottom line rather than gouging repeat customers on proprietary hardware.
Now that Mr. Bechtolsheim's influence has started to propagate through all levels of Sun again, the new products and services of the company are clearly redefining themselves with his direction. Sun is clearly using their size to reclaim a lot of territory that they lost after the dot-bomb, and products like the SunFire X2100 will continue to get them back to that point.