Original Link: http://www.anandtech.com/show/2232


About three years ago DDR2 memory first appeared on the desktop PC scene. It would be impossible to say it burst on the scene since it was introduced with the unimpressive Intel NetBurst processors. In that market DDR2 was more like a trickle since it was mainly a curiosity for a processor that was running a distant second place to the leading AMD Athlon chips, which were still powered by DDR memory.
DDR2 finally became the universal standard last May/June when AMD switched to DDR2 on their new AM2 platform and Intel introduced Core 2 Duo, the new CPU performance leader. Core 2 Duo resided on socket 775, which also was fed by DDR2. While it sometimes seems like centuries ago, it is worth remembering that Intel Core 2 Duo regained the CPU performance crown less than a year ago, and the two years prior to that all the fastest systems used AMD Athlon 64/X2/FX processors.
We
compared performance of DDR2 on the new platforms
in July of last year. AM2 provided better bandwidth with DDR2, but the better AM2 bandwidth did not translate into better performance. Since Core 2 Duo was faster at the same timings, it appeared the Intel Core 2 Duo architecture was not particularly bandwidth hungry and that it made very good use of the DDR2 bandwidth that was available with the chipset memory controller.
Since last May/June DDR2 has finally turned the market, and it has made some remarkable transformations along the way. The early 5-5-5 timings at the official DDR2-800 speed have since been replaced by several high performance memories capable of 3-3-3 timings at DDR2-800. The best memory at DDR2-1066 can now operate at 4-4-3 timings, and the fastest DDR2 is now around DDR2-1266 and still getting faster.
Perhaps even more remarkable, in the last year DDR2 memory prices have dropped to half of what they once were (sometimes more), and today DDR2 is often cheaper than the DDR memory it replaced. Compared to the very expensive prices at launch and into the holiday buying season we see DDR2 is now the memory price standard in the desktop computer market.
Fast forward a year and Intel is now launching their first chipsets to support DDR3 memory. In one of the sloppiest NDA launches in recent memory we already have P35 boards for sale since early May. The official chipset introduction is scheduled for May 21
st
and boards are "officially" launching into the retail channel on June 4
th
.
We can tell you that Intel does not really have an NDA, but they have been very aggressive in holding first tier manufacturers to a May 21
st
performance embargo and retail distribution on June 4
th
. Despite that, people around the world have been able to buy P35 boards from several retailers. We have retail boards we bought on the open market, which makes the 21
st
NDA a moot point in our opinion. Still, we value our relationship with both Intel and the major board makers, so this will
not
be a full P35 launch review. You will see that coming on May 21
st
.
What this review does address is the performance of the new DDR3 memory that is launched with P35. The new Intel P35 chipset, known as
Bearlake
during development, supports either DDR2 or DDR3 memory. This presented a perfect opportunity to look at the performance of both DDR3 and DDR2 on the new P35 chipset. We were also able to compare performance to a Gold Editors' Choice Intel P965 motherboard. The results of these comparisons provided interesting results about the capabilities of the new P35 memory controller. It also answered the question of whether you should care about DDR3 in any upcoming system purchase.
What is DDR3?
To provide compatibility and interchangeability for computer memory, the structure and form factor are controlled by a standards organization known as JEDEC. JEDEC specifies voltages, speeds, timings, communication protocols, bank addressing, and many other factors in the design and development of memory DIMMs. Taking a closer look at publications at
www.jedec.org
can provide insight into what DDR3 brings to the market and where it might go. Comparing DDR2 and DDR3 several interesting points stand out.
Official JEDEC Specifications
 
DDR2
DDR3
Rated Speed
400-800 Mbps
800-1600 Mbps
Vdd/Vddq
1.8V +/- 0.1V
1.5V +/- 0.075V
Internal Banks
4
8
Termination
Limited
All DQ signals
Topology
Conventional T
Fly-by
Driver Control
OCD Calibration
Self Calibration with ZQ
Thermal Sensor
No
Yes (Optional)
Please keep in mind that JEDEC specs are official. They are a starting point for enthusiast memory companies. However, since there was never a JEDEC standard for memory faster than DDR-400 then DDR memory running at faster speeds is really overclocked DDR-400. Similarly DDR2 memory faster than DDR2-800 is actually overclocked DDR2-800 since there is currently no official JEDEC spec for DDR2-1066.
DDR speeds ran to DDR-400, DDR2 has official specs from 400 to 800, and DDR3 will extend this from 800 to 1600 based on the current JEDEC specification. Initial DDR3 offerings will be 1066 and 1333 will quickly follow. The 1333 speed is important because it matches the 1333 bus speed of the new Intel processors. The 1333 processors can run any speed of DDR3 or DDR2 memory, but 800 and 1067 will be overlap speeds with DDR2. 1333 will be the first DDR3 speed to offer enhanced memory speeds to current and future processors.
Since DDR3 is designed to run at higher memory speeds the signal integrity of the memory module is now more important. DDR3 uses something called "fly-by" technology instead of the "T branches" seen on DDR2 modules. This means the address and control lines are a single path chaining from one DRAM to another, where DDR2 uses a T topology that branches on DDR2 modules. "Fly-by" takes away the mechanical line balancing and uses automatic signal time delay generated by the controller fixed at the memory system training. Each DDR3 DRAM chip has an automatic leveling circuit for calibration and to memorize the calibration data.
DDR3 also uses more internal banks - 8 instead of the 4 used by DDR2 - to further speed up the system. More internal banks allow advance prefetch to reduce access latency. This should become more apparent as the size of the DRAM increases in the future.
DDR3 further reduces the memory voltage. In the past few years we have moved from 2.5V with DDR to 1.8V with DDR2. DDR3 drops memory voltage to 1.5V, which is a 16% reduction from DDR2. There are also additional built-in power conservation features with DDR3 like partial refresh. This could be particularly important in mobile applications where battery power will no longer be needed just to refresh a portion of the DRAM not in active use. There is also a specification for an optional thermal sensor that could allow mobile engineers to save further power by providing minimum refresh cycles when the system is not in high performance mode.
There is even more to DDR3, but for most enthusiasts looking at a new desktop system DDR3 can provide higher official speeds, up to 1600MHz. The higher speeds are available at lower voltage, with 1.5V as the official specification. There are many features that will not make much difference in DDR3 performance until we begin to see even faster and higher capacity memory. The question, then, is whether DDR3 memory provides better performance for the computer enthusiast than current DDR2?
DDR3 Memory
DDR2 moved the "notch" to a different location so DDR2 could not be mounted in a DDR slot by accident, and vice versa. DDR3 provides a third notch configuration, designed to prevent mounting in older DDR and DDR2 slots.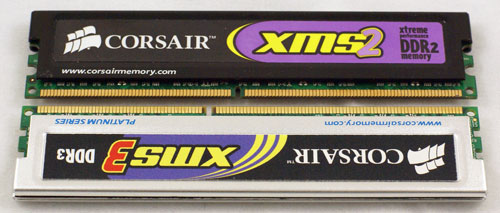 The first DDR3 memory to show up in our labs is from Wintec, who will market the DDR3 kit under their AmpX brand name.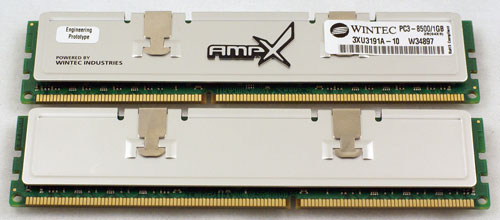 Corsair has also been at the forefront of DDR3 development and provided a Corsair 2 GB DDR3 kit for evaluation.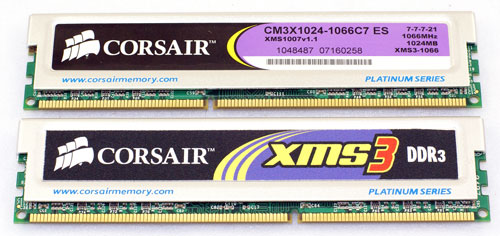 Both the Wintec and Corsair parts are rated at DDR3-1066 at 7-7-7-20 timings. Corsair also has a 1333 part that should be released in the next two weeks. We will follow up with that 1333 rated memory as soon as it is available.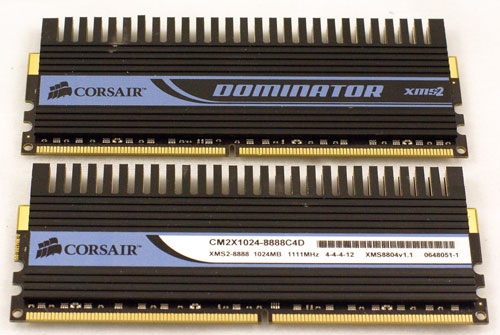 DDR2 memory was also needed for the older P965 and new P35-based ASUS P5K Deluxe. Corsair Dominator DDR2-1111 was chosen for the wide range of available DDR2 memory speeds and the excellent timings available at DDR2-800 and DDR2-1067.
P35 Motherboards
Since the primary goal was to compare DDR2 and DDR3 performance it was important to find P35 motherboards that supported DDR2 and DDR3 in as similar a configuration as possible. ASUS will be marketing a pair of premium motherboards that differ only in the memory each motherboard supports.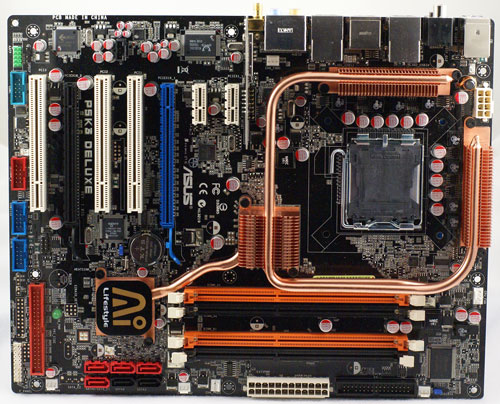 Click to enlarge
The ASUS P5K3 Deluxe is powered by the Intel P35 chipset and fully supports DDR3 memory to an official DDR3-1333 speed.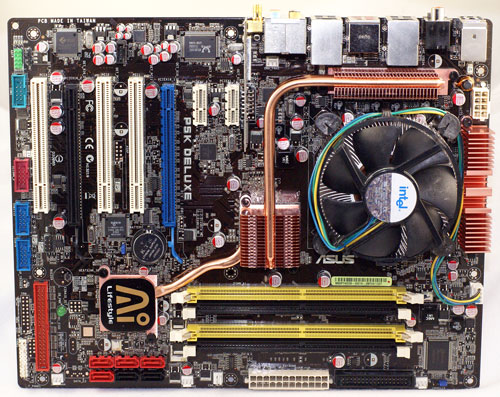 Click to enlarge
The ASUS P5K Deluxe is based on the same P35 chipset but supports DDR2 memory. There are other minor differences in the two boards, but they are basically the same board supporting different memory types. This is exactly the configuration needed for our comparison.
For comparison to a current Intel chipset, the ASUS P5B Deluxe was used.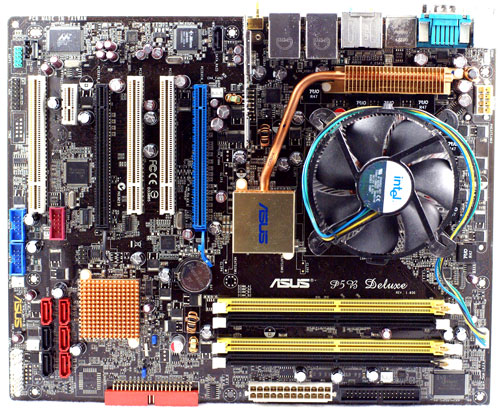 Click to enlarge
This excellent motherboard received the Gold Editors' Choice in the conclusion to our recent P965 motherboard roundup. It also supports a wide range of memory voltages and speeds which make it ideal for comparison testing to the P35 motherboards.
Memory Test Configuration
The comparison of DDR3 and DDR2 used exactly the same components in the same test bed wherever possible. For the fairest comparison to the P35, both the P5K and P5K3 motherboards were powered by an Intel E6420 processor running at a 1333 FSB (333 quad pumped). All that was required to do this was increase the base CPU bus to 333, leaving the default multiplier at 8. We did not even need to increase the CPU voltage and left it at the default setting. This simple setup allowed us to run the 2133MHz (8x266) Core 2 Duo E6420 at a new speed of 2666MHz. This is equivalent to an E6700 Core 2 Duo in speed. Due to issues with memory ratios on the P965 we were forced to use an E6700 for comparison. This CPU also runs at 2666MHz using a 10x266 configuration.
Memory Performance Test Configuration
Processor
Intel Core 2 Duo E6420
(x2, 2.66GHz, 8x333, 4MB Unified Cache)
Intel Core 2 Duo E6700
(x2, 2.66GHz, 10x266, 4MB Unified Cache)
Intel Core 2 Quad Q6600
(x4; 2.4GHz, 9x266; 3.0GHz, 9x333; 2.66GHz, 8x333; 8MB Unified Cache)
RAM
Corsair CM3X1024-1066C7
(2GB Kit - 2x1GB)
Wintec AmpX PC3-8500
(2GB Kit - 2x1GB)
Corsair Dominator CM2X1024-8888C4
(2GB Kit - 2x1GB)
Hard Drive
Samsung 250GB SATA3.0Gbps (8MB Buffer)
System Platform Drivers
Intel - 8.3.0.1013
Video Card
Leadtek WinFast 7950GT 256MB
Video Drivers
NVIDIA 93.71
CPU Cooling
Intel Retail HSF
Power Supply
Corsair HX620W
Motherboards
ASUS P5K3 Deluxe (Intel P35 DDR3)
ASUS P5K Deluxe (Intel P35 DDR2)
ASUS P5B Deluxe (Intel P965 DDR2)
Operating System
Windows XP Professional SP2
Bench Software
SiSoft Sandra XI SP2
CPU-Z 1.39.4
CPU-Z 1.40
Everest 4.0
SuperPi 1.5
Far Cry - HOC River Demo
While memory timings were matched to the same memory speed wherever possible, there were a few settings where the chipsets did not allow a direct comparison. DDR3-800 runs at 6-6-6-15 timings. The P965 has options to set 6-6-6-15 timings but the board would not boot under any settings or voltage we fed it at 6-6-6 timings. The closest timings that would work on the P965 at 800 speed were 5-6-6-15. The P5K DDR2 board, based on the P35 chipset, would allow setiing and running 6-6-6-15 timings. This is reflected in our charts with the line ID of 5/6-6-6- for timings. We also tested DDR2 at the fastest timings it could achieve with complete stability on both the P5B Deluxe and P5K Deluxe. This was 3-3-3-9 at DDR2-800 and 4-4-3-11 at DDR2-1066.
It is a noteworthy advantage with the P35 chipset motherboards that every Core 2 Duo and Core 2 Quad processor we tested on the P35 boards ran at 1333 FSB speeds at the stock multiplier without the need to increase voltage. This is a significant, free, and pain-free overclock provided courtesy of the new 1333 bus speed option. The only exception to this was our top-line X6800 which did require a mild voltage boost to run at 333x11 (3.67GHz).
All of the CPUs listed above in our table are 1066 FSB processors, but all ran fine at 1333 FSB at default multiplier and default voltage. Of course this is the FSB frequency Intel will be introducing on their soon-to-be-announced processors. This little side effect will make the P35 with DDR2 a favorite overclockers' board with current Intel Core 2 Duo and Core 2 Quad processors. A $189 E6420 can perform even better than an E6700 just by selecting a 1333 bus on P35 and leaving everything else at default. Likewise, a $500 Q6600 will outperform the ~$1000 QX6700 with just a bus speed change.
This little side effect will certainly be noticed by Intel. We have to wonder how fast the 1066 processors may start disappearing with this kind of free, painless overclocking available with the new P35 boards.
Bandwidth and Memory Scaling
One of the surprises in comparing DDR2 performance on AM2 and Core 2 Duo was the much better memory bandwidth found on the AM2 platform courtesy of the on-chip memory controller. Unfortunately, this did not translate into significant performance improvements compared to a similar AMD processor running DDR. At that point we concluded that Core 2 Duo was not particularly bandwidth sensitive, since it made very good use of the memory bandwidth available.
In our earlier review we were really comparing the DDR2 memory controller on AM2 to the 975X chipset memory controller, since Intel continues to place the memory controller in the chipset. We have speculated since then whether an improved memory controller in a socket 775 chipset would bring with it improved performance.
P965 brought very minor changes, mainly in the straps and overclocking ability of the memory. The NVIDIA 680i/670/650 actually shows decreased buffered bandwidth, but unbuffered bandwidth is about the same as P965. This reinforced the notion that memory bandwidth didn't matter much with Core 2.
To begin our investigation into DDR3 performance, we compared Standard or Buffered bandwidth on the P965 running DDR2, the new P35 running DDR2, and the new P35 running DDR3. As you can see the results are very interesting.
Standard (Buffered) Sandra XI.SP2 Memory Bandwidth - 2.66GHz
Memory Speed
P965
ASUS P5B Dlx
P35 DDR2
ASUS P5K Dlx
P35 DDR3
ASUS P5K3 Dlx
DDR2-800 3-3-3-9
5531
6456
-
DDR2-800 5/6-6-6-15
DDR3-800 6-6-6-15
5207
6143
6156
DDR2-1067 4-4-3-11
5782
6811
-
DDR2-1067 5/6-6-6-15
5712
6621
-
DDR3-1067 7-7-7-20
-
-
6613
DDR3-1333 9-9-9-25
-
-
6757
While the purpose of this review was to compare DDR3 and DDR2 performance, something completely different emerged from the memory bandwidth tests. Namely, the memory controller on the P35 is definitely an improvement over the P965 memory controller. This is evident whether the P35 is running DDR2 or DDR3 memory.
In those cases where we can run timings the same or close to the same, as in 800 memory speed performance, DDR2 and DDR3 results are virtually identical. By 1067 the current slow DDR2-1067 timings of 7-7-7-20 are performing just as well as DDR2 running at 6-6-6-15. The superior timings of DDR2-1067 at 4-4-3 still provides the best bandwidth at that speed. Of course, DDR3 is currently alone at the 1333 memory speed, but even with the current slow 9-9-9-25 timings it performs nearly as well as DDR2-1067 at 4-4-3 timings.
We normally also test memory with buffering schemes like MMX, SSE, SSE2, SSE3, etc. turned off. While these features do provide apparent improved bandwidth, we have found the unbuffered bandwidth to correlate better with real-world application performance. Unbuffered performance does not always follow the patterns of buffered memory performance.
Unbuffered Sandra XI.SP2 Memory Bandwidth - 2.66GHz
Memory Speed
P965
ASUS P5B Dlx
P35 DDR2
ASUS P5K Dlx
P35 DDR3
ASUS P5K3 Dlx
DDR2-800 3-3-3-9
4226
4536
-
DDR2-800 5/6-6-6-15
DDR3-800 6-6-6-15
3668
3975
4098
DDR2-1067 4-4-3-11
4608
4926
-
DDR2-1067 5/6-6-6-15
4389
4557
-
DDR3-1067 7-7-7-20
-
-
4547
DDR3-1333 9-9-9-25
-
-
4702
Unbuffered results show the same basic pattern as buffered results in this case. Here DDR3 is clearly the best performer at the same slow timings at DDR2-800, with DDR2 on the P35 behind about 3% and DDR2 on P965 about 12% lower. DDR2 is still faster at the better timings available with current DDR2 memory.
In Standard/Buffered memory bandwidth, the P35 (Bearlake) chipset is providing a 16% to 18% improvement in memory bandwidth compared to the P965. This is a significant improvement. The Unbuffered improvement is smaller, in the range of 4% to 8%. These bandwidth improvements may or may not translate into improved system performance. We will examine that in the SuperPi and Gaming benchmarks.
Latency
As discussed earlier, one of the long term potentials of DDR3 is improved memory latency. To better evaluate whether this is evident with early DDR3 we used the latest version of Lavalys Everest, which is now 4.0. The Memory Latency benchmark was run on both DDR2 and DDR3 test beds at each relevant speed.
Everest 4.0 - 2.66GHz
Memory Latency in ns - Lower is Better
Memory Speed
P965
ASUS P5B Dlx
P35 DDR2
ASUS P5K Dlx
P35 DDR3
ASUS P5K3 Dlx
DDR2-800 3-3-3-9
64.7
63.3
-
DDR2-800 5/6-6-6-15
DDR3-800 6-6-6-15
71.2
72.7
72.7
DDR2-1067 4-4-3-11
58.5
59
-
DDR2-1067 5/6-6-6-15
60.5
62.2
-
DDR3-1067 7-7-7-20
-
-
63.9
DDR3-1333 9-9-9-25
-
-
63
Latency test results did not really show us any improvement in the P35 chipset or DDR3. At this early stage of DDR3 the promised latency improvements are not evident. As DDR3 memory speeds increase in the future, and DDR3 memory timings improve, improved latency should be more evident.
We conclude that memory latency is currently all but identical at the same memory speed and timings, whether using DDR2 on P965, DDR2 on P35, or DDR3 on P35. DDR2 cannot yet reach the 1333 speed, while this is an easy target for DDR3. Perhaps higher speed DDR3 and lower timings will allow DDR3 to break away in latency comparisons.
Number Crunching and Gaming
We now know that that the only real improvement in our tests is a 16% to 18% improvement in memory bandwidth on P35, whether it is running DDR2 or DDR3. The next question is whether that bandwidth improvement translates into any real improvement in system performance.
To look at pure number crunching, SuperPi 1.5 was run in all memory test configurations. SuperPi is a very simple program as it merely calculates the value of Pi to a designated number of decimal positions. In this case we chose 2 Million places.
Super Pi 1.5 - 2.66GHz
Time in Seconds - Lower is Better
Memory Speed
P965
ASUS P5B Dlx
P35 DDR2
ASUS P5K Dlx
P35 DDR3
ASUS P5K3 Dlx
DDR2-800 3-3-3-9
46.05
45.06
-
DDR2-800 5/6-6-6-15
DDR3-800 6-6-6-15
47.28
46.08
45.96
DDR2-1067 4-4-3-11
45.39
44.47
-
DDR2-1067 5/6-6-6-15
45.72
45.02
-
DDR3-1067 7-7-7-20
-
-
45.11
DDR3-1333 9-9-9-25
-
-
44.96
It is interesting to see that the improvement in memory bandwidth on the P35 does translate into faster scores on SuperPi 1.5. As stated many times memory is just one part of a complete system, so a 16% to 18% improvement in memory bandwidth will translate into much smaller increases in system performance.
With pure number crunching, the P35 yields a 2% to 3% improvement in SuperPi results. While this is a small improvement, it is consistent across speeds and test results. As seen in the memory bandwidth results, the performance difference is the P35 chipset, and not the DDR3. It really doesn't matter if you run DDR2 or DDR3 on the P35; you will get slightly better number crunching performance with P35.
Gaming
A standardized game benchmark was chosen from our memory test suite to determine if the better P35 memory bandwidth improved gaming performance. The Far Cry - River demo was run for 3 loops and results in FPS were averaged over the 3 runs.
Far Cry - HOC River
Frames Per Second - Higher is Better
Memory Speed
P965
ASUS P5B Dlx
P35 DDR2
ASUS P5K Dlx
P35 DDR3
ASUS P5K3 Dlx
DDR2-800 3-3-3-9
101.26
102.91
-
DDR2-800 5/6-6-6-15
DDR3-800 6-6-6-15
97.76
99.93
100.27
DDR2-1067 4-4-3-11
103.04
108.02
-
DDR2-1067 5/6-6-6-15
102
106.61
-
DDR3-1067 7-7-7-20
-
-
102.29
DDR3-1333 9-9-9-25
-
-
103.18
We were really surprised at the gaming test results. We really did not expect the bandwidth improvement of P35 to have much impact on gaming results, but Far Cry showed a 2% to 5% improvement in performance just comparing P35 to P965 under the same conditions. It really didn't matter whether P35 was running DDR2 or DDR3; the improvement was essentially the same.
Having said that it should be clear from these results that gaming responds well to lower (faster) memory timings, which is why the 800 3-3-3 and 1067 4-4-3 results top the results charts. However, the promise of DDR3 is evident in the fact that 1067 at the slow 7-7-7-20 timings performs nearly the same as the P965 at 4-4-3, and at the very slow 1333 9-9-9-25 DDR3 outperforms DDR2 4-4-3 on the P965. Results for DDR2 on P35 at these same fast timings are, however, the fastest test results in the comparison.
At the same speed and timings DDR2 and DDR3 perform virtually the same in gaming on the P35, and they are faster than DDR2 on the P965. DDR3 at the same timings may have a very slight performance advantage over DDR2 on the same platform, but it is too early to reach that conclusion. The results for DDR3 at 1067 and 1333 timings do make us look forward to DDR3 at faster memory timings. It is good now, and with better timings DDR3 will likely be great at these higher speeds.
Conclusion
The purpose of this comparison of DDR3 and DDR2 was to determine whether DDR3 really brought any better performance to the Core 2 platform. However, the test was designed so that any performance improvements that were brought by the new P35 (Bearlake) chipset would be captured and could be isolated. P35 supports either DDR2 or DDR3, and we found no real difference in current performance of DDR2 and DDR3 on the P35 platform. Both were equally
faster
than the same DDR2 on the P965 chipset.
That means the real performance surprise in these tests is that the revised memory controller in the Bearlake chipset improves buffered memory bandwidth by 16% to 18%, with a real-world improvement in gaming and application performance of 2 to 5%. This is a pretty impressive improvement for a memory controller update. To repeat an old saying please remember that memory is just one small part of the system, so a 2% to 5% increase in gaming from the memory controller alone means the P35 memory controller is significantly improved over the P965 chipset.
DDR3 at introduction is saddled with pretty dismal memory timings. As you can see in our test bed chart, SPD timings are 6-6-6-15 at DDR3-800, 7-7-7-20 at DDR3-1066 and 9-9-9-25 at DDR3-1333. Despite the slower timings DDR3 runs at higher speeds than any DDR2 we have tested, and we will have official JEDEC timings for DDR3 to 1600 with the current JEDEC standard, and possibly ever faster with any future JEDEC update.
Even at slow timings, DDR3 shows a great deal of promise. It is as fast as very fast DDR2 on the P965, but it can't match the same DDR2 memory performance on the P35. DDR3 can run at higher speeds than DDR2 and as faster memory timings inevitably appear DDR3 will be the right choice for computer enthusiasts looking for the best performance. While we can't prove better latency or significantly better performance with the slow timings of launch DDR3, the evidence is all there in these tests. DDR3 will get faster in speed and will provide the best performance in the long term.
That brings up the more difficult question: what to buy today? That is a much more complicated question. If you are looking for a new system, definitely choose the new P35 chipset over the P965, as it is a better memory performer. At launch we are told DDR3 will be much more expensive than DDR2. Prices are expected to be about $480 for a 2GB DDR3 kit. At that lofty price it is difficult to recommend DDR3 over DDR2, when DDR2 performs just the same on the P35 chipset and decent 2GB kits can be had for under $150 now.
Two conditions would shift the recommendation to DDR3 instead. When DDR3 prices come close to DDR2 then buy DDR3 instead. More significantly, when DDR3 becomes available at higher speeds and/or faster timings then definitely choose DDR3 if you are looking for performance - even if the price is higher.
We asked many memory vendors when they thought price parity and fast DDR3 timings might be available. The more skeptical said not until late 2008, while the more optimistic felt it would happen by the end of 2007. Until either or both events happens there is no compelling reason to buy DDR3. However, there is no doubt at all that DDR3 is in your future as the top-performing memory you can buy. Some will also buy it because it is the future and they can likely carry their DDR3 supporting board a little further into the future.
AMD's launch of their Phenom processors will also be something to consider for it's potential impact on DDR3 adoption. Phenom will initially launch with DDR2 only. If AMD can regain the performance crown, the shift to DDR3 may be further delayed, just like what happened with the DDR to DDR2 shift.
The winner for now is the P35 chipset, whether you feed it DDR2 with fast timings or higher speed DDR3. The 1333 bus speed introduced by P35 is also a winner - at least in terms of overclocking. As stated in the review, almost every Core 2 Duo and Core 2 Quad we tried in the P35 ASUS P5K and P5K3 ran at 1333 FSB at the default multiplier and default voltage. The only processors that required any voltage increase were the top line Core 2 Extreme processors. This free 25% overclock, which still allows everything else in the system to run at default values, is exciting. It is so exciting we have to wonder how long Intel will allow this in the marketplace.
DDR3 may not be in your buying plan today, but it will certainly be there in the future. As DDR3 prices drop and/or timings improve, it will be the performance choice. For today, the best performance choice is either today's DDR2 or tomorrow's DDR3 on the P35 chipset instead.