Original Link: http://www.anandtech.com/show/2249


AMD's Barcelona: Why we haven't published benchmarks
A month ago we were able to present to you a rare look at AMD's forthcoming roadmap, detailing everything from new plans for the mobile space to giving a better idea of AMD's reasoning behind the ATI acquisition. We left that article with a positive and hopeful note for AMD:
"For a while we had lost confidence in AMD, like many of you had as well, and although AMD's position in the market hasn't changed we are more confident now that it can actually bounce back from this. Intel seemed to have the perfect roadmap with
Conroe
,
Penryn
and
Nehalem
all lined up back to back, and we saw little room for AMD to compete. Now, coming away from these meetings, we do believe that AMD may have a fighting chance. Over the coming months you'll begin to see why; it won't be an easy battle, but it will be one that will be fought with more than just price."
A strong roadmap alone does not make for a successful company; we need to see near term execution as well. For AMD, that means
Barcelona
has to be competitive. The interesting part of AMD's disclosures as of late is that as much information as AMD has given us about its roadmap for 2008, 2009 and beyond, we have little to no details about when we can expect
Barcelona
and how fast it will be.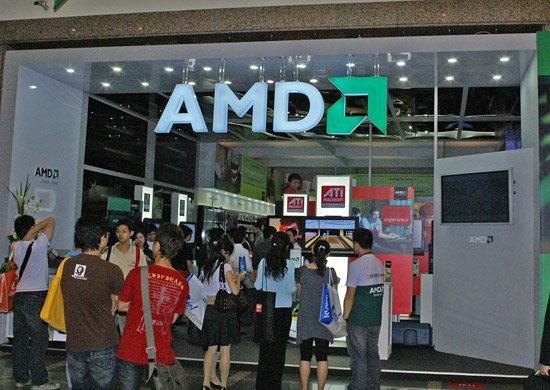 When we headed out to Taiwan, a country of leaked processors and benchmarking opportunities, for Computex we surely expected to return with some
Barcelona
performance figures. We were hoping we'd come back with the very data that AMD hadn't allowed us to get ourselves when we visited the company over a month ago. And while there were some performance results reported from Taiwan, there was an eerie silence about AMD's updated micro-architecture.
We were determined not to leave the island without running at least one test on
Barcelona
. We worked long and hard, and we were finally able to spend some time alone with
Barcelona
in Taiwan. But the story doesn't end there; it's unfortunately not that simple.
Motherboard Problems
We know that
Barcelona
works and runs benchmarks, as we saw back at AMD in May. But the demos that AMD ran were on its own motherboards, not on motherboards from its partners. AMD's partners just recently received their first "production quality"
Barcelona
samples, and as expected, the current boards required some heavy BIOS work before the new chips would even work, much less perform up to the expectations set by AMD.
The motherboard we tested on had minimal HT functionality and wouldn't run at memory speeds faster than DDR2-667; most 3D video cards wouldn't even work in the motherboard. Memory performance was just atrocious on the system, but the motherboard manufacturers we worked with attributed this to BIOS tuning issues that should be fixed in the very near future.
In the end, performance was absolutely terrible. We're beginning to understand why AMD didn't let us test
Barcelona
last month. It's not that AMD is waiting to surprise Intel; it's that the platform just isn't ready for production yet.
Barcelona Clock Speed and Release Schedule
The CPUs themselves work, once again, as we've seen from AMD's own demos. But the real question we've been asking has been "at what clock speed?" The chips we saw at Computex ran at either 1.4GHz or 1.6GHz, the latter being the latest B01 stepping. AMD's Tier-1 server partners are starting to see 1.8GHz chips, but that's the fastest we've heard of at this point. We understand from the motherboard partners that AMD should hit 2.0GHz by September for the Barcelona launch, but according to AMD the partners will see at least 2.3GHz by the end of summer.
The motherboard makers we talked to are divided about how many more silicon revisions they expect before an official launch for
Barcelona
. Some expect to see two more revisions, while others expect a single rev after B01. If the next revision of the core yields are high enough, AMD may do a very limited "public" release in July at 1.6GHz - 1.8GHz just to get product out there for release purposes.
None of the partners we talked to are really impressed with
Barcelona
yet, but then again none of the true potential of the chip and chipsets have been realized due to CPU stepping issues, BIOS maturity, and generally low clock speeds. AMD simply hasn't gotten the process under control yet and after hearing our friends at the motherboard companies talk, AMD is close to near/total panic mode right now as the Q3 Barcelona product launch schedule rapidly approaches.
The general consensus is that until AMD gets to at least 2.0 - 2.3GHz, we will not see any significant volumes of Barcelona chips in the channel. Alternatively, AMD may delay the actual launch until September, with true volumes hitting the channel and partners by November. If this worst case scenario pans out, we're hearing that
Agena
would be pushed out to Q1 '08, or a slightly better option being a small trickle of
Agena
into the channel by December to keep AMD's Christmas promise.
Continuing on the worst case scenario track, some partners don't expect to see 2.3 - 2.6GHz Barcelona parts in volume until Q2 next year, and based on AMD's simulations the processor doesn't come "alive" until it hits the 2.6GHz mark. At the same time, others have said that an earlier stepping of the core was overclocked from 1.8GHz to 2.5GHz without too much trouble. All in all it's tough to say what clock speeds will be possible and when, but we do know for a fact that what we saw at Computex (Barcelona) ran slower than 2.0GHz.
One interesting rumor that we heard on the plane back home is that Agena parts are likely to scale to higher speeds quicker than Barcelona. The reason for this is getting the server oriented Barcelona to work reliably in 2P or above configurations is a leading factor in the reduced core speeds expected at launch. According to our sources, AMD seems very confident at this point that a 2.6GHz Agena part is likely when this processor series launches on the desktop. Of course, the question being just when is AMD planning the launch of Agena. We expect the product to be introduced publicly in the October time frame but actual availability dates and volumes is anyone's guess at this point.
The biggest story in all of this is that AMD is just not ready yet, the chips are not scaling well, and today it's looking like Intel may eat their lunch the rest of this year. AMD seems very optimistic with internal roadmaps showing 2.9GHz cores by Q1 2008, but everything we've seen or heard today makes this seem unlikely. However, as the original Athlon64 launch showed, AMD is certainly capable of surprising us and we certainly hope they do. For all of us who have been crying for
Barcelona
benchmarks, you really don't want to see them yet. Performance will improve quickly over time, but it's just not there today.
More Show Coverage
Besides our time spent with
Barcelona
, we decided to take the last day of Computex and take a last walk around the various halls looking for products or demonstrations that impressed us over the course of the last week in Taiwan. We've got some additional Computex coverage including a few interesting demonstrations behind closed doors, but first we need to catch a flight back home.
In terms of performance or excitement, we have to say that this year's show was again dominated by Intel based products. This is not to slight AMD, but the green team really did not bring its upcoming firepower to the show. This is not because they did not want to, but as we discussed already
Barcelona
/
Agena
as well as
RD790
are just not mature enough yet to make the same kind of splash that Core 2 Duo did for Intel last year - and that early
Penryn
/X38 previews are doing to a lesser degree this year.
It would take several hundred pages of coverage to provide details on all of the products on display at this year's Computex. The vast majority of products we witnessed, touched, or tested have already been announced or even released so this year's show was a bit anti-climatic. Still, let's take a quick look at a few products that impressed us before we finish up our coverage and return home.
Team Group
Team Group
is a well-known manufacturer of high performance memory and they had several demonstrations at their booth but we found these two to be extremely interesting.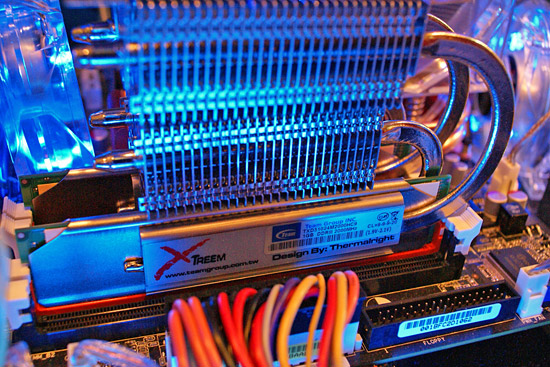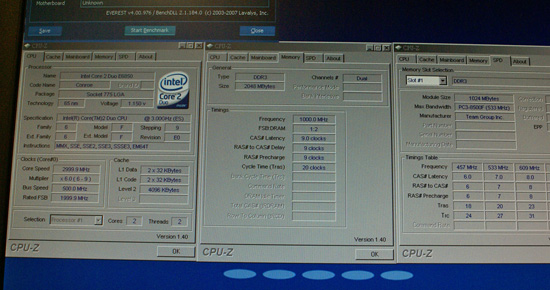 Click to enlarge
The new Team Xtreme TXD3102-4M2000HC9 is a 1GB DDR3 module rated at 2000MHz. The modules are cooled by a custom Thermalright heatspreader and feature 9-9-9-20 timings at 1.90V~2.1V. This voltage is quite high for DDR3 memory but the modules feature Micron's new 8x128 ICs on a proprietary board design. While there has been plenty of screenshots showing DDR3 memory running above 2000MHz, those have generally been completed with a single module or custom 512MB modules in dual channel mode. In contrast, Team has managed to qualify this 2GB memory kit on the ASUS P5K3-Deluxe in dual channel mode up to 2100MHz.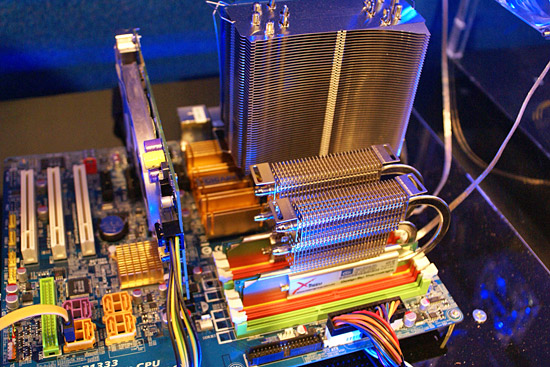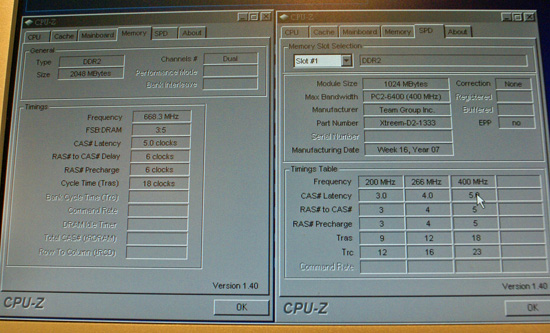 Team Group
also had their new TXDD1024M1333HC5, which is a 1GB DDR2 module rated at 1333MHz (on P35) with 5-6-6-18 timings at 2.35V~2.45V. This memory was installed on a Gigabyte GA-P35C-DS3R board with voltage set to 2.40, E6600 running at 6x400FSB, and the memory set at a 3:5 ratio with the timings listed above. While impressive for DDR2, we will have to wait to test the memory ourselves as chipset and memory strap latencies are fairly reduced on the Gigabyte board at this FSB setting.
abit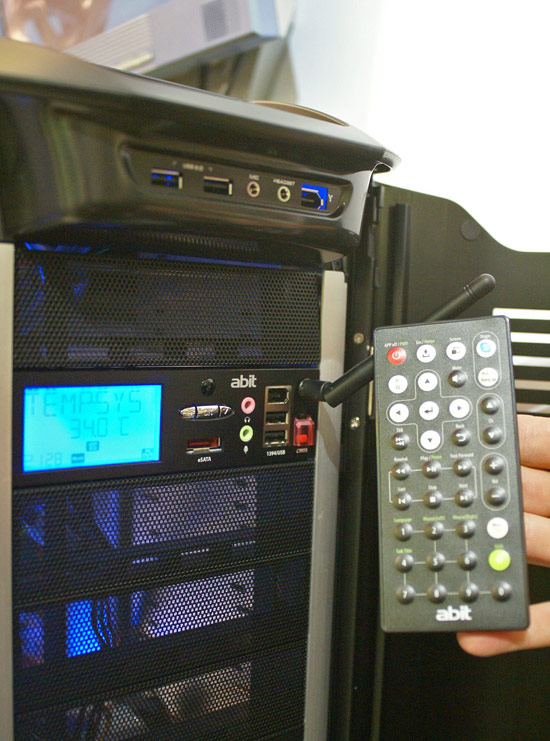 abit
was displaying the new version 3.0 of their µGuru panel that features WiFi support. This enables you to control tuning aspects and software applications with the new remote control unit from anywhere in the room. So, if you're sitting in a recliner on the other end of the room and suddenly feel the need to modify your system overclock, you no longer need to get up and cross the room.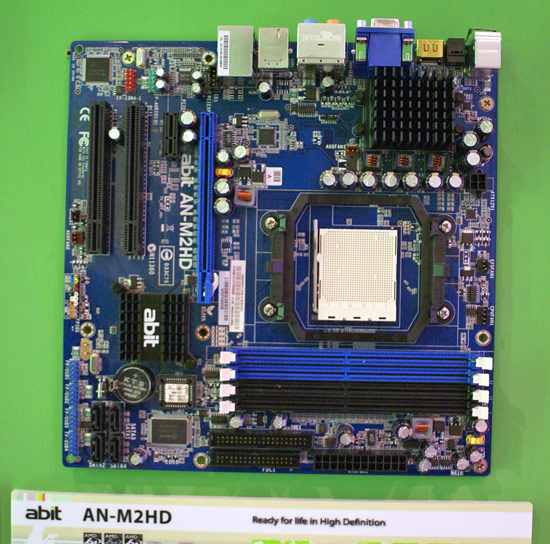 While abit showed off an impressive lineup of P35 motherboards that we will review shortly, we found a little gem hiding in the back room of the display booth. The new AN-M2HD is based on the just released NVIDIA 7050/630i chipset combination and should be an excellent overclocker for current AM2 processors as verified in early testing. We will have more on this motherboard and the X38 lineup shortly.
ASUS
ASUS
offers a complete line of products for the PC and always has some interesting technology to view at the various tradeshows.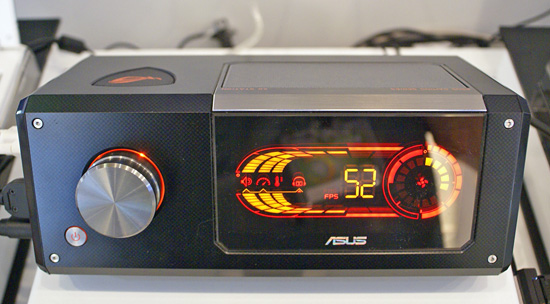 The ASUS XG Station was first shown at CES this year and is a complete external drop in solution for your notebook. The system was demonstrated with an NVIDIA 8600GT and should be ready for market shortly. The delay was caused by additional programming requirements for Vista compatibility along with certification for the latest video card choices.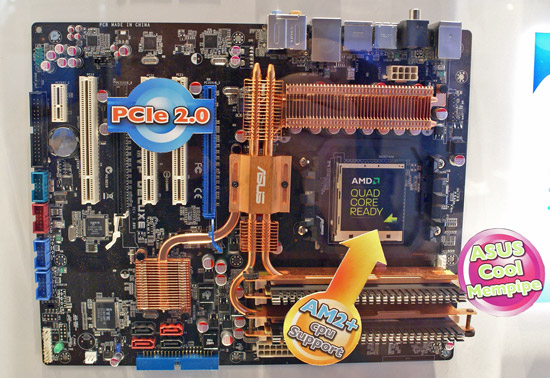 The ASUS M3A32-MVP Deluxe is based on the upcoming AMD RD790 chipset that features full support for AM2/AM2+ processors, HyperTransport 3, CrossFire, and DDR2-1066. The chipset is coming along well although we expect a couple of additional silicon spins before an estimated release date in late September of this year. Hopefully, AMD will be on schedule this time with a chipset introduction, though as mentioned earlier the new
Agena
based processors may not be available until December. One of the new features that ASUS was touting is the memory heatpipe system that is attached to the Northbridge heatpipe unit. Whether this will make it into in production is unknown at this time, but early thermal results are promising. Unfortunately, the current system only works with two DIMM slots occupied.
MSI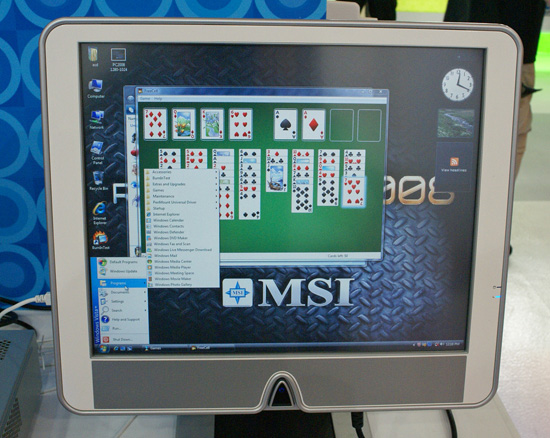 MSI
had several new products in their booth this year but the Crystal 945 Touch panel PC caught our eye for those who like an all-in-one PC combination. The unit features the 945G/ICH7 chipset combination, 2GB of DDR2-667 memory, Pentium 4/D support, an 8-in-1 flash card reader, support for 2.5" IDE HDD and Slim design ODD units with a 17" touch screen panel. We found the system was very responsive and intuitive to use for a Windows based PC and it offers a fairly small footprint.
Shuttle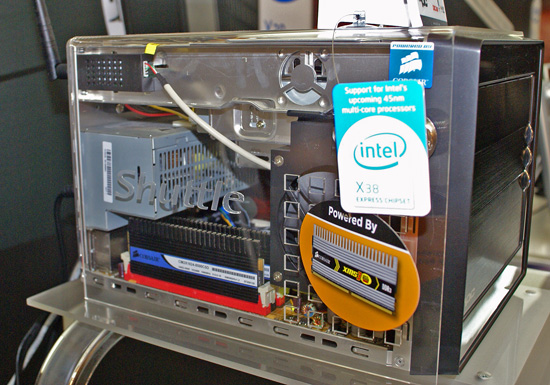 Shuttle
was very excited to show off their new SFF unit, the SX38P3 Deluxe. The SX38 is based on Intel's new X38 chipset. Shuttle has managed to fit this chipset along with CrossFire capabilities into a revised SFF case that features their OASIS cooling technology. The system also features dynamic overclocking, 802.11 b/g WiFi, Bluetooth, Fingerprint recognition, and an 80%+ efficient certified power supply.
Hitachi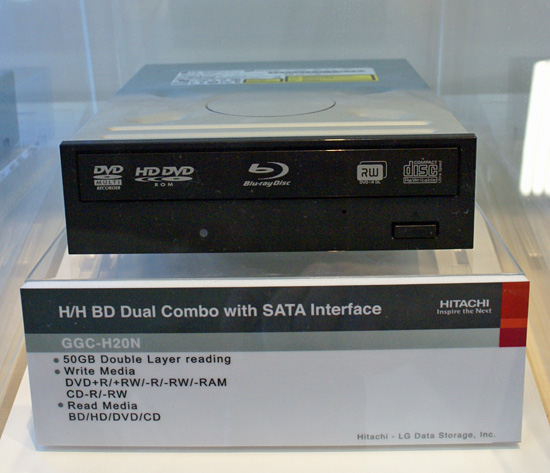 Hitachi was showcasing several new CinemaStar drives with capacities up to 1TB in the 7k1000 family but we were most interested in their new GGC-H20N optical drive that features DVD/CD writing and Blu-ray, HD-DVD, DVD, and CD read capabilities in a native SATA interface. While it lacks the ability to write to either the Blu-ray or HD-DVD standards, the drive would make for a very good playback device in an HTPC.
Super Talent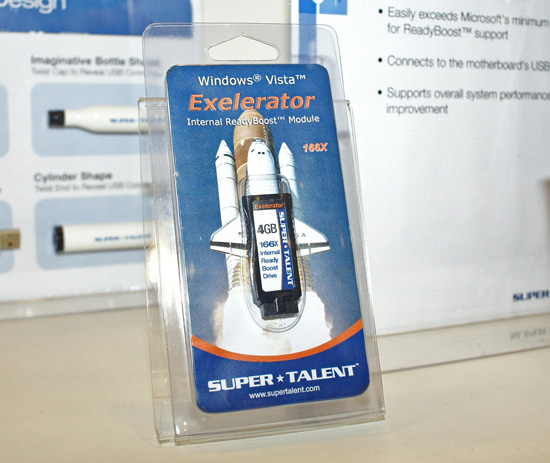 Super Talent
was displaying several new USB flash drives but one stood out from the rest. Their new Exelerator series is a high speed USB flash drive that comes in capacities up to 4GB, is Windows Vista ReadyBoost approved, and attaches directly to the USB header port on your motherboard thus freeing an additional USB port on the back panel.
AMD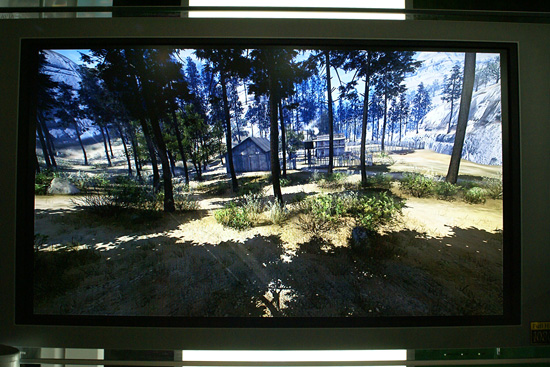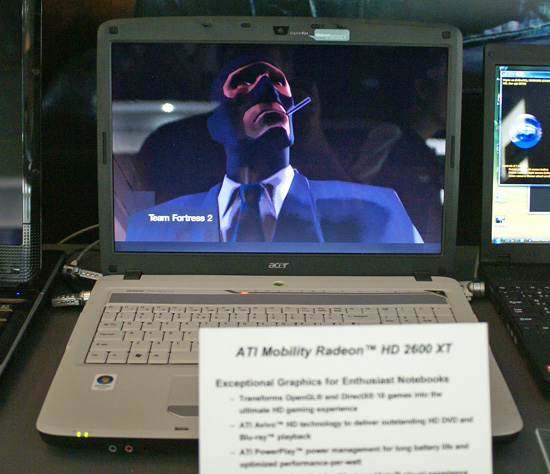 While it wasn't
Barcelona
,
AMD
had several product demonstrations with Call of Juarez being shown on several R600 CrossFire Systems in full DX10 glory. Also making an appearance was Team Fortress 2 on several notebooks featuring the ATI HD 2600XT graphics solutions.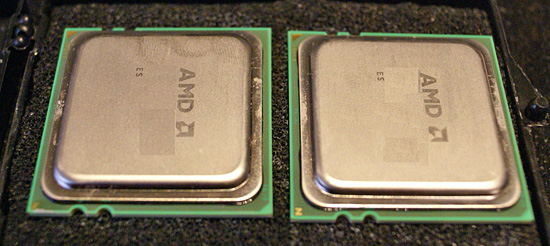 Oh yeah, after scouring several computer shops in the greater Taipei area we happened to find a pair of Barcelona chips available. Okay, maybe we broke into an engineering lab and ran off in the middle of the night with them but hey, nobody caught us.
(Ed: and you thought all that time playing Ghost Recon was useless....)
Once we get proper motherboard/BIOS support, we'll be ready to actually discuss performance.
SeaSonic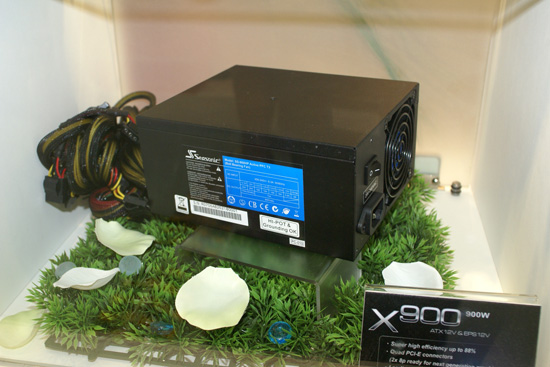 SeaSonic
had several power supplies at the show but focused our attention on their new X900 that features true 900W output, comes with four dedicated PCI-E connectors with two 8-pin adapters, and claims an efficiency rating up to 88%.
Arctic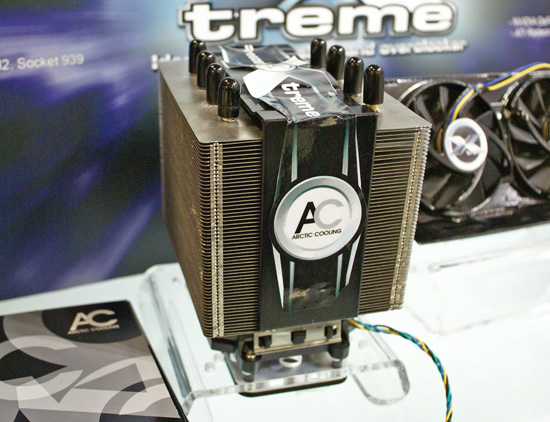 Arctic Cooling
introduced their new X-treme lineup of cooling products with the 8-heatpipe design being the one designed for overclocking. The unit features a 226 fin twin tower design, a 120mm fan, patented fan holder to eliminate humming, push-pin install design (
yeah, we know...
), and a six year warranty. The unit should be available shortly with an estimated street price around $50~$60.
Thermalright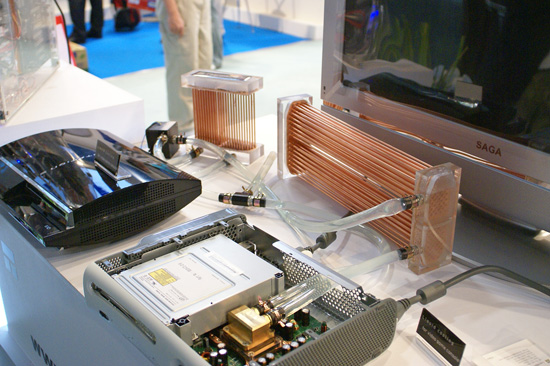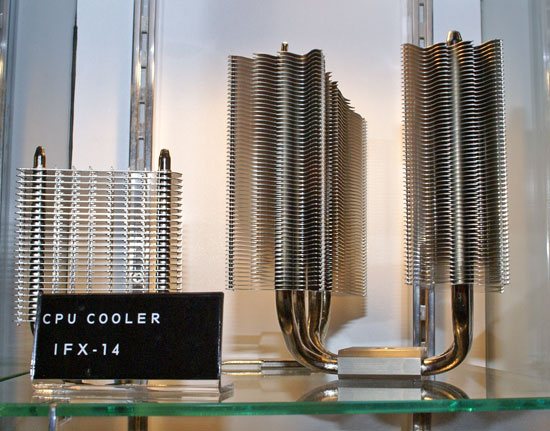 Thermalright
had samples for their upcoming IFX-14 twin tower heatsink that is expected to improve upon the already class leading
Ultra-120 eXtreme
unit. However, the hit of the show was the much needed water cooling unit designs on display for the Playstation 3 and Xbox 360 game consoles.
CoolIT Systems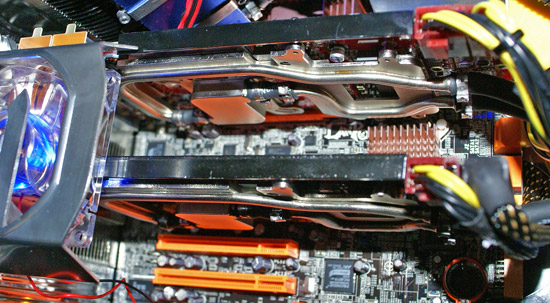 CoolIT Systems
showcased their new
Liquid Cooling system
for the AMD R600 reference design video cards that was jointly designed with AMD. The system is self contained; the main cooling system fits in a dual 5.25" drive bay and allowed an easy overclock to 950/983 in our RD600 CrossFire demonstration run. The cooling plates fit any standard reference design R600 card and will support the upcoming 1GB GDDR4 equipped XT cards. Estimated street price will be around $299 with availability next month.
More to Come?
Like many, we always want more, and in this case we want more information about how
Barcelona
will truly perform. Oh, we got some initial benchmarks, but performance is so clearly off at this point that it's not worth showing results. We do intend to get updated performance results once the BIOS/motherboards are up to speed, but for now we have to wait. We'll be working on a few final updates from the show on our return flight, but for now we leave you with this parting shot of a really cool
(Ed: sorry!)
booth, perhaps even with a booth babe just visible if you look close enough....