Original Link: http://www.anandtech.com/show/2746


Introduction
They say that beauty is in the eye of the beholder. The Dell Studio XPS 16 is certainly an attractive laptop - fingerprint collecting ability notwithstanding - but what will really catch your eye is the LCD. As mentioned in an earlier blog, the LCD on the Studio XPS 16 has the highest color gamut of any display that we have tested to date, and this is definitely something you notice when using the laptop.
If you've been looking for a laptop with a good LCD, you can probably stop reading this review right now. Yes, the display on the Studio XPS 16 is that good. Of course, we need to clarify that we are talking about the upgraded LCD and not the default 720p option. The upsell is a 1080p LCD with RGB LED backlighting, which tacks on a hefty $250 to the price. Is it worth the money? That depends on how much you use your laptop for graphics work, watching movies, etc. Keep in mind that you can find plenty of desktop LCDs that are larger and offer similar quality for not much more than $250. However, you can't really use that sort of display while you're on the road.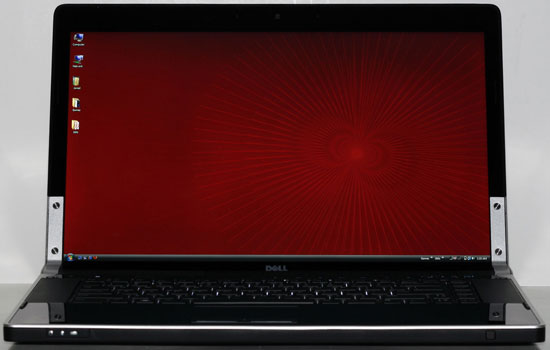 Before we get into the actual review, it might be good to review Dell's overall classification of the Studio XPS line. At the top of the performance and price spectrum, Dell caters to enthusiasts with their Alienware brand products. The XPS and Studio XPS offerings come next, targeting computer users interested in performance and features without breaking the bank. The remaining options come under a variety of names, with the Studio line focusing on consumers that are interested in styling. There are other consumer and corporate/business brands, but the main thing to keep in mind is that the XPS/Studio XPS products are upper midrange or high-end offerings.
So what does the Studio XPS 16 offer in terms of features and performance, and how much will set you back? Let's take a closer look.
Notebook Overview
The Studio XPS 16 comes in a 16" chassis, similar to the Acer 6920G we reviewed last year. In fact, there are many similarities between the two products, with multimedia functions definitely being a key component. The Dell Studio XPS 16 tends to focus a bit more on performance than the Acer 6920 line, with a higher performance GPU included in all models. As with the majority of Dell products, you can also custom build a Studio XPS 16 rather than choosing among several different preconfigured models. We'll start with an overview of the configuration options.
Dell Studio XPS 16 Specs and Configuration Options
Processor
Core 2 Duo P8600, P8700, T9550, T9800 (subject to change)
Chipset
Intel PM45 + ICH9M
Memory
2x2048MB up to 2x4096MB DDR3-1066
Graphics
ATI Mobility Radeon HD 3670 512MB
Display
16.0" Edge-to-Edge Glossy White LED 720p (1366x768)
16.0" Edge-to-Edge Glossy RGB LED 1080p (1920x1080)
Hard Drive
Up to 256GB SSD or 500GB 7200RPM
Optical Drive
8x DVDR SuperMulti or 4X Blu-ray Combo Drive (DVDR + BD-ROM)
Networking
Broadcom Gigabit Ethernet (BCM5784M PCI-E)
Intel WiFi Link 5100 or 5300
Bluetooth v2.0 (optional)
Mobile Broadband of AT&T, Sprint, or Verizon (optional)
Audio
2-Channel Sigmatel 9273 HD Audio (2.1 Speakers)
Optional ExpressCard Sound Blaster X-Fi Xtreme
Battery
6-Cell 56Whr, 9-cell 85Whr
Front Side
None
Left Side
Kensington Lock
VGA
Gigabit Ethernet
DisplayPort
HDMI
2 x USB 2.0
Microphone, 2 x Headphone
Right Side
ExpressCard/54
SD/MMC/MS Pro reader
1 x Mini FireWire
Slot-load Optical Drive
1 x eSATA/USB 2.0
Power Adapter
Back Side
Heat Exhaust
Operating System
Windows Vista Home Premium 32/64-bit
Windows Vista Ultimate 32/64-bit
Dimensions
16.2" x 12.0" x 1.7"-2.5" (WxDxH)
Weight
6.41 lbs (with 6-cell battery)
Extras
2.0MP Webcam
87-Key Backlit Keyboard
15-month McAfee, Norton, or Trend Micro Internet Security (free)
Warranty
1-year standard; up to 4-year extended (add up to $700 with Complete Care)
Price
Starting at ~$1100 online
At the heart of the XPS 16, you can select from several different dual-core processors. These range from the 2.4GHz P8600 up to the 2.93GHz T9800. Note that the 8000 series processors include 3MB of cache while the 9000 series includes 6MB, so even at the same clock speed you can expect a 5 to 10% performance boost. The unit we received for testing includes the least expensive P8600, but it's unlikely most people will need more processing power in a laptop. If you do need more power, you might want to look at offerings that allow you to select a quad-core CPU, like the Gateway P-7808u FX or Toshiba X305 - both of which are larger and cost more than a standard Studio XPS 16.
Graphics duties are handled by the ATI Mobility Radeon HD 3670 512MB, which is capable of handling most modern games at moderate resolutions. As you might expect, playing through demanding titles at the native 1080p resolution of the upgraded LCD often results in very poor performance, but you can always run games at 720p or 1366x768 - or with lower detail settings - to improve the situation. In terms of overall performance, ATI's HD 3670 will generally outpace most of the midrange mobile NVIDIA products; you need to get into the 9700M, 9800M, or the GT 200M GPUs to clearly surpass the HD 3670.
Of course, besides the performance question there's also the matter of drivers, and NVIDIA has really stepped things up in that area by offering reference mobile drivers for most NVIDIA laptops. We didn't encounter any issues with the included ATI drivers on the Dell Studio XPS 16, but we know from past experience that such problems can and do occur, and it would be great if users could find updated drivers from ATI/AMD rather than waiting on the manufacturer. To their credit, Dell is usually pretty good about releasing updated drivers, at least early in the product lifecycle; however, we know plenty of users that have been left out in the cold in the past, especially once a laptop is more than a year old.
As a side note, the drivers initially installed on the laptop were version 8.512-080703a - if that doesn't make sense, the second field is apparently the date of the driver build, which in this case is July 3, 2008. Yeah, that's a bit out of date, considering this laptop wasn't even available for purchase until early 2009. Dell has released updated drivers (version 8.59-090213, available from Dell as of March 29, 2009), but we're not sure how the old original drivers ended up on the laptop in the first place. This is supposed to be a standard retail build, so hopefully this was just an oversight on our test system. The latest drivers do improve performance somewhat, but it's only a difference of about 3-5% in spot testing of several games. Rather than delay this article further, we kept the testing results from the original drivers.
The remaining specifications are about what you would expect from a modern midrange to high-end notebook. Our sample laptop shipped with a Blu-ray drive and the upgraded LCD - and again, we can't stress how much we like the high-end LCD option. SSDs are available in sizes up to 256GB, which is quite large for a $400 SSD! It's not an Intel or Indilinx model, but one reader indicates the SSD uses a new Samsung controller and performs quite well. We'll reserve final judgment until we can personally test it, but a price of "only" $1.56 per GB for a good quality SSD would be a great deal.

We have to applaud Dell in regards to memory options on the Studio XPS 16. Even the entry-level $1100 configuration comes standard with 4GB (2x2GB) of DDR3-1066 memory. Upgrading to even more memory is possible, but the price hike is steep starting at $400 for 5GB (1x4GB + 1x1GB). That's not too surprising, as 4GB SO-DIMM modules are quite a bit more expensive than their 2GB counterparts. 2x2GB will cost somewhere between $50 and $75; a single 4GB DDR3 SO-DIMM on the other hand currently sells for over $350. Ouch! So unless you really need more memory, we recommend sticking with 2x2GB for now.
As configured, our test system has a price of around $1600 with the default 1-year warranty. That includes a 320GB 7200RPM HDD, Blu-ray drive, Bluetooth, and the 1080p LCD. If you start with the basic $1100 model and just add the LCD, you can get everything we really want from the Studio XPS 16 for $1350.
Design and Appearance
For whatever reason, 16:9 aspect ratio displays and notebooks are becoming all the rage. What's odd about this is that most multimedia content (i.e. Blu-ray movies) target even wider aspect ratios like 2.35:1. Personally, I wouldn't consider 16:9 any better than 16:10, but it's not worse either. The Dell Studio XPS 16 is a 16" chassis with one of these "new" 16:9 displays.
The Studio XPS 16 sports a stylish black exterior, with a glossy plastic finish and a leather patch on the lower half of the LCD cover. Whether that's to make carrying the laptop more comfortable or simply for styling purposes, we do think the overall appearance is quite nice. At least, it looks great initially... once you start using the laptop all the dark glossy surfaces quickly accumulate fingerprints and smudge marks. Dell is kind enough to include a cloth to help you wipe away those fingerprints, but many people are getting tired of dark, glossy laptop finishes.
Fingerprints are also a problem with the display, which has an edge-to-edge glossy sheet of plastic covering the panel. The surface of the display is highly reflective in the wrong lighting conditions, although that's balanced somewhat by this being the brightest LCD panel we have used in a laptop to date. Some people will absolutely love the design but others would prefer the option of selecting a matte LCD finish. Apple offers such an option with their MacBook Pro, which is one area where Apple can claim a victory in terms of the LCD.
Another rather odd design decision also involves the LCD cover. If you look at the pictures above showing the rear of the laptop, you can see the only ventilation is at the back-left corner. The problem is that when you open up the laptop, the bottom edge of the panel blocks this exhaust port. We didn't have any issues with instability, but Studio XPS 16 does tend to get rather warm at times and we can't help but feel the position of the top panel relative to the exhaust is partly to blame.
If it sounds as though we are being overly harsh on the Studio XPS 16, most of these complaints are relatively minor. Fingerprints and smudge marks aren't the end of the world, and only the obstructed ventilation port is a real issue. The chassis is otherwise quite good, and we like that Dell has used metal instead of plastic on the bottom. It's probably no surprise that we still give the nod to Apple in terms of style and build quality, but the Studio XPS 16 is better than most laptops.
Upgradeability and Internals
We like to dismantle our laptops, just for fun, so we pulled out our screwdrivers and started in on the XPS 16. A single large cover on the bottom provides access to everything you might actually want to upgrade. If you want to continue dismantling the XPS 16, you will need to remove the two covers on the sides of the battery compartment. They slide inward and then back - no need to remove any more screws.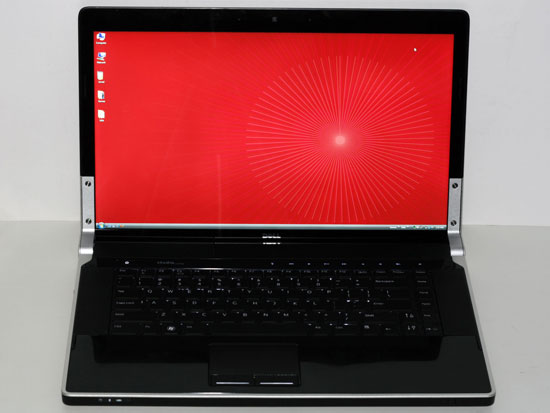 Upgrading the processor is relatively simple compared to other notebooks. After removing the bottom panel and the plastic piece that covers part of the cooling heatsink, you can remove the system fan and heatpipe and replace the CPU. There's not much need to actually do that, however, as it is unlikely Dell will support anything faster than the current T9600 CPU option. (Adventuresome individuals could always try one of the quad-core mobile Penryn chips I suppose, although with the system already running warm I wasn't willing to do so.)
The hard drive can also be upgraded with relative ease. Changing out the optical drive requires quite more work, since you will have to remove the keyboard. You will also need to find a slot load optical drive, which isn't quite as easy as finding regular notebook drives. Some people love slot load drives, but they seem to be a case of aesthetics winning over functionality, since you can't use nonstandard discs and the eject mechanism is quite noisy. Those are minor concerns, of course.
Subjective Evaluation
Using the Studio XPS 16 on a day-to-day basis, mostly the experience is what you would expect. Performance is more than fast enough for all but the most demanding users, and the only area where performance might be a concern is if you want to play 3D games.
As always, the first thing we did after booting up the laptop was to remove all the extra software that we didn't want - things like Norton Internet Security, for example. We were still left with a lot of miscellaneous processes, but most are typical tools that you would use on a notebook and don't consume a lot of resources: drivers for the GPU, audio, Intel chipset, touchpad, and power saving and keyboard shortcuts. With a dual-core processor, 4GB of RAM, and a 64-bit OS, we're not overly concerned about shutting down every extra process.
Once we had all of our applications and benchmarks installed, we began using the Studio XPS 16 on a regular basis. Two features stood out from other laptops, with the most noticeable being the LCD. As we've already hinted, this is without doubt the best laptop LCD we've used. Colors are vibrant and noticeably better than on other notebooks, and they're good enough to rival many desktop LCDs. Our only complaint is that the LCD is still a TN panel. Some might say that TN panels have more limited viewing angles, which is desirable for a notebook since you don't want people looking over your shoulder all the time. Honestly, if that's what you're worried about you could pick up any of the hundreds of other notebooks that also use TN panels. Personally, we would love the option to purchase a laptop with a PVA or IPS LCD - or perhaps we'll just need to wait for OLEDs to come down in price.
The other feature that we came to appreciate was the keyboard with its backlighting. The backlighting makes it easier to use the laptop in dark environments without fishing for keys - something you can really appreciate at presentations and conferences. We also just like the overall feel of the keyboard and the key placement. Opinions differ about the location of certain keys, as well as whether or not number keypads should be included on larger notebooks. Dell has always done very well when it comes to notebook keyboard layouts, and given the choice between the clean layout of the Studio XPS 16 and a layout that manages to cram in a number keypad, we'll take the Studio XPS 16. Of course, it's also possible to get the best of both worlds and get a clean layout along with a number keypad, but that might require something larger than a 16" chassis.
One item that's a bit odd at first involves the LCD backlighting. Most laptops change brightness levels quickly at the touch of a button. The RGB LEDs apparently don't change intensity as far as CCFLs or white LEDs, so there's a lag of a couple seconds between when you adjust the brightness and when you see the result. If you start at maximum brightness and quickly change to minimum intensity, you get a slow fade with colors that temporarily distort. It only lasts a few seconds, but the first time it happens you might think something is wrong. Once the backlight intensity stabilizes, however, things are great. In fact, outside of the first few seconds the backlight stabilizes much faster than other LCDs - CCFLs for example need 30 minutes or more to "warm up", but the RBG LEDs appear to hold steady within a minute or two of changing the intensity.
Our only real complaint about the XPS 16 is an old refrain: battery life. Frankly, we were a bit surprised that battery life wasn't longer, as most of the components are rather tame as far as power requirements go. Once again, we can only wish that more laptops allowed users to disable the discrete GPUs in order to conserve battery life. The Mobility Radeon HD 3670 isn't a high-end GPU, but it definitely uses more power than integrated graphics, and the technology now exists to provide both graphics performance as well as battery life.
Dell provides a 9-cell upgraded battery option, which improves battery life by roughly 60% over the standard 6-cell battery. The extended battery raises the back of the laptop about an inch, but the design is clever and manages to keep the laptop balanced. The problem is that even with the extended battery, maximum battery life tops out at less than four hours, or just over two hours with the regular battery. That's with the display brightness turned down most of the way; crank up the brightness to maximum and idle battery life checks in at a paltry 108 minutes - but admittedly, at almost 300 nits there's rarely a need to run at maximum brightness.
While the Studio XPS 16 isn't perfect, looking at the whole package there's still a lot to like... or rather, there's one aspect that we really like a lot. The LCD alone makes this laptop worth the price of admission for those who value quality displays. That's not to say the display is perfect, but so far we haven't seen anything better. Obviously, if Dell can go out and purchase this LCD, other manufacturers can as well. Prices and other features might vary slightly, but we wouldn't count on finding this sort of display in a laptop that doesn't cost close to $1500.
Test Setup
Below is the test configuration for the Studio XPS 16. We will compare its performance with other recently tested notebooks, although if you've read the review so far you probably already know whether or not this will fit your needs. We still need to put the overall performance in perspective, though, so we'll be comparing the XPS 16 with a selection of previously reviewed notebooks. (Please look at articles in our Mobile section for the specifications of any other notebooks.)
Dell Studio XPS 16Test System
Processor
Core 2 Duo P8600 (Dual-Core 2.40GHz, 3MB Shared L2, 1066FSB)
Memory
2x2048MB Hynix PC3-8500 @ DDR3-1066 7-7-7-20
(Hynix HMT125S6AFP8C-G7)
Graphics
ATI Mobility Radeon HD 3670 512MB
Driver version 7.14
GPU/RAM Clocks: 680/1600 MHz (128-bit)
Display
16.0" 1080p (1920x1080) RGB LED Glossy
Seiko Epson M077D/160HT (?)
Hard Drive
Seagate Momentus 7200.3 320GB 7200RPM 16MB (ST9320421ASG)
Optical Drive
4x DVDR/BD-ROM Slot-load (Sony Optiarc BC-5600S)
Battery
6-Cell 54Whr, 9-cell 85Whr
Operating System
Windows Vista Home Premium SP1 64-bit
We used ASTRA32 to collect information on the monitor, and the best we could come up with is that Seiko Epson makes the LCD panel. The model number is given as "M077D€160HT", but we were unable to find any additional information for that part on the Internet. It could be that ASTRA32 is reporting incorrect information. More likely is that Seiko Epson just doesn't make information on their displays readily available to the public - I spent over an hour searching their sites to no avail. If anyone has a link with additional details I would like to see it. (Seiko Epson also appears to be leaving the small to medium LCD market, which may account for some of the difficulty in finding information.)
We run all of the standard application tests at the native LCD resolution - 1920x1080 for the Studio XPS 16. For the gaming tests, we will compare the Dell Studio XPS 16 to other notebooks using a standard resolution of 1680x1050. We will also include results at 1280x800 and 1920x1080 to show how the XPS 16 scales to lower and higher settings. This will allow us to provide an apples-to-apples comparison with other laptops while also showing the performance range you can expect by lowering or increasing the resolution.
Gaming Performance
We've chosen to focus on "reasonable" settings for the games below. That means we run Assassin's Creed and Company of Heroes in DX9 mode at maximum detail setting - DX10 reduces performance by quite a bit in AC and by a much larger amount in CoH. We run Crysis at Medium settings (for reference, High detail drops performance almost in half: 8.8 FPS for the XPS 16 at 1680x1050). The remaining games are at maximum detail settings, but without any anti-aliasing.
Again, we chose to focus on 1680x1050 as a baseline performance comparison, and we will do so with other laptops going forward. If necessary, we will use an external LCD to run at that resolution. Besides 1680x1050, we will also include results at the native LCD resolution, and for less powerful laptops like the Studio XPS 16 we will add 1280x800 performance. (Note that performance at 1366x768 - a 16:9 aspect ratio - is virtually identical to results at 1280x800.) Ideally, you would want to run any laptop at the native LCD resolution, but depending on the game and your hardware that may not be practical.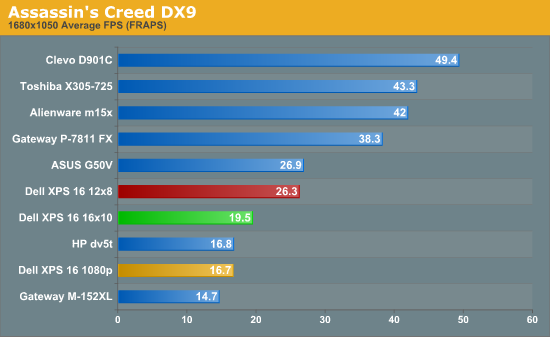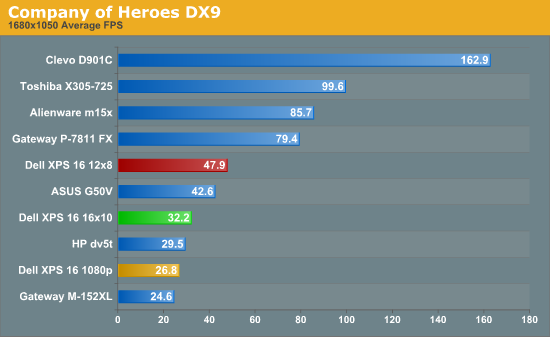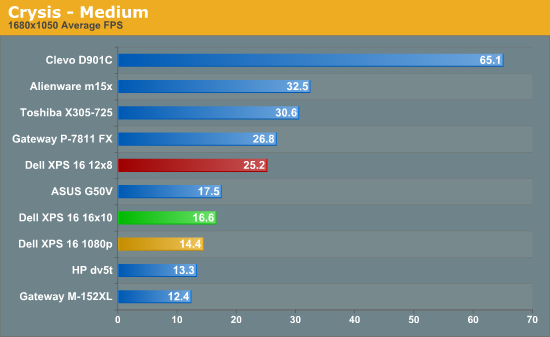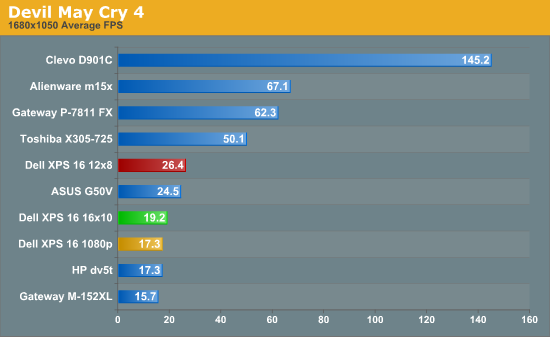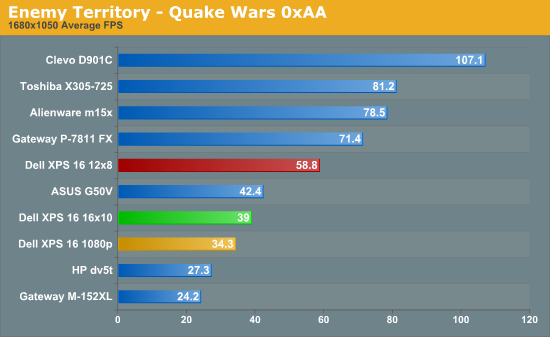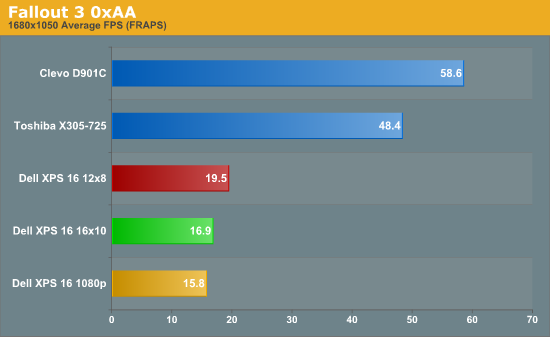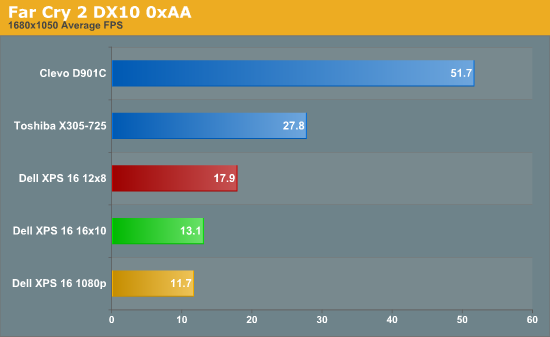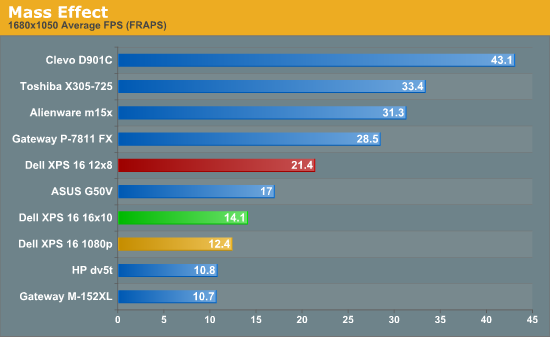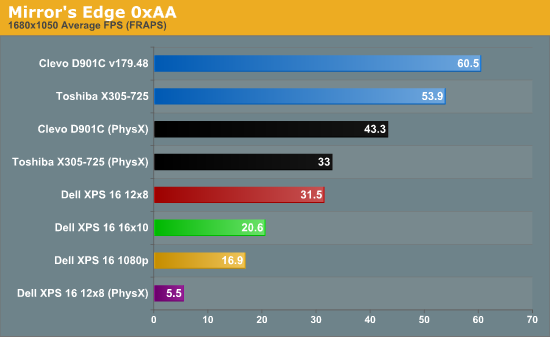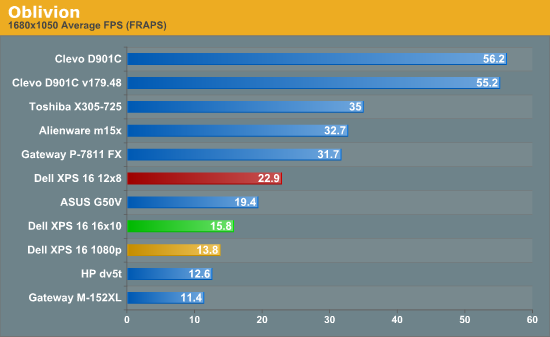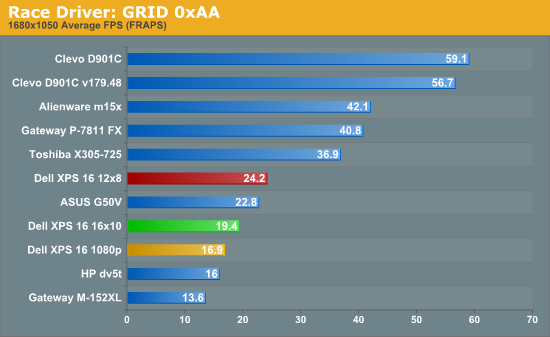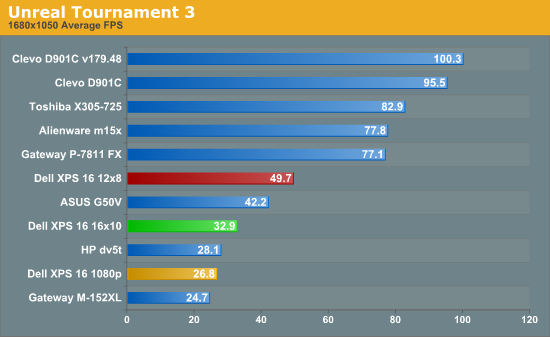 The gaming results are what you would expect from a Radeon HD 3670. If you look at the green bar, which represents equivalent performance at 1680x1050, the Studio XPS 16 is slower than the GeForce 9700M GT in the ASUS G50V but stays well ahead of the GeForce 9600M GT in the HP dv5t. Another way of looking at it is that performance at 1280x800 is almost equal to what you can get from the 9700M GT at 1680x1050; conversely, 1080p performance essentially matches the 9600M GT at 1680x1050.
As we mentioned earlier, we performed the initial benchmarks using outdated drivers. Updating to the latest drivers from Dell's website improved performance by 3-5% in several titles that we checked (Far Cry 2, Crysis, and Unreal Tournament 3). That's not a big enough change to affect the standings or our recommendation, but if you get an XPS 16 you'll want to verify that you're running the latest drivers.
Put simply, if you are interested in purchasing a laptop that can provide reasonable gaming performance, you really need at least a GeForce 9700M and preferably a 9800M - or a Mobility Radeon HD 4650 and preferably a 4830 from the ATI side. It's not that you can't game on lower end graphics solutions, but there are plenty of titles where you will need to drastically reduce resolution or detail settings in order to provide acceptable frame rates. As far as ATI versus NVIDIA goes, the latest ATI products do a great job at closing the performance gap that has existed for a while now in the mobile sector - we will have a look at a notebook in the near future that might even take the performance crown from NVIDIA.
The driver situation muddies the waters greatly, however, and we would really have a difficult time recommending against NVIDIA for a high-end gaming laptop unless and until ATI begins to offer "mobile reference drivers". Yes, it's possible to hack desktop drivers and make them work, but that definitely isn't the preferred solution. It's also a little disconcerting that when you go to ATI's website and look for Mobility Radeon drivers, many options aren't even listed - for example, the 3600 series used in the Studio XPS 16 is entirely absent. NVIDIA also has CUDA and PhysX to further tilt the scales in their favor, if you buy into the marketing. Overall, the Mobility HD 3670 is decent, but there are now better options. Unfortunately, adoption of new mobile GPUs often lags behind their official release by several months, which is why this new Studio XPS 16 uses a GPU that launched early last year.
3DMark Results
We also ran the ubiquitous 3DMark benchmarks from Futuremark. Performance in these tools mirrors some game engines, but ultimately they are a measure of 3DMark performance and not of games. We would place more weight on the previous page, but these utilities do provide an easy way of comparing systems if you don't want to get bogged down in details.
In order to make the comparisons valid, we run all 3DMark tests at the standard resolution: 1024x768 for 03/05 and 1280x1024 for 06/Vantage. Some laptops have 1280x800 displays and can't support the necessary resolution, in which case we connect an external LCD.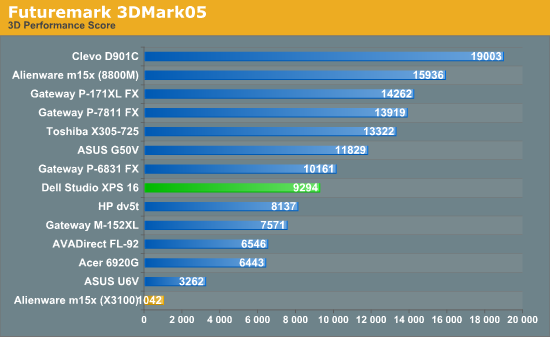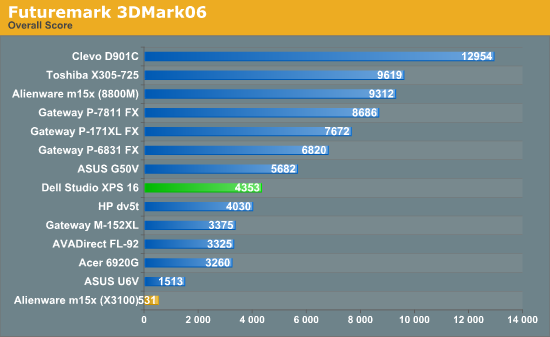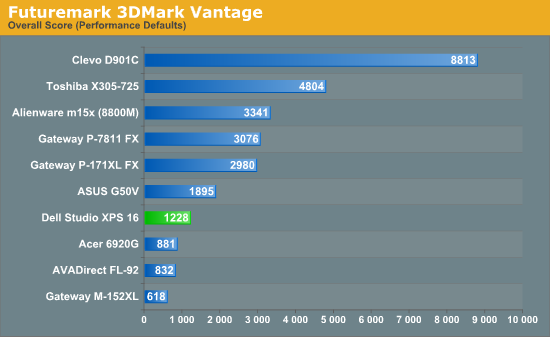 3DMark places the Studio XPS 16 right where you would expect based on the gaming performance. It's faster than the HP dv5t and Acer 6920G, but can't match the performance of the ASUS G50V or Gateway FX laptops.
General Application Performance
Wrapping things up with our performance testing, we have results from the Futuremark PCMark suites as well as some of our own application benchmarking. When it comes to running your office, multimedia, and Internet tasks, most modern laptops are more than fast enough. What follows are a few of the more strenuous application benchmarks - 3D rendering and video encoding - that put more of an emphasis on high CPU speeds. If you don't do that sort of thing on your computer, you will probably find that just about any current dual-core processor is sufficient.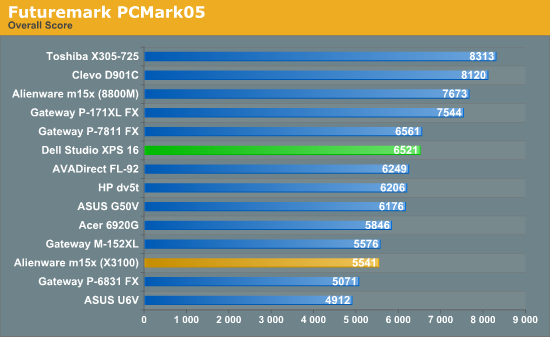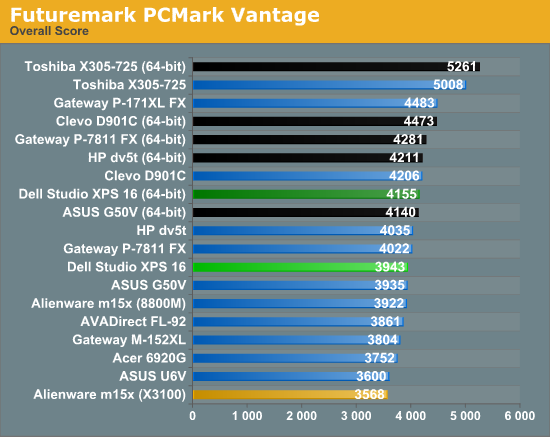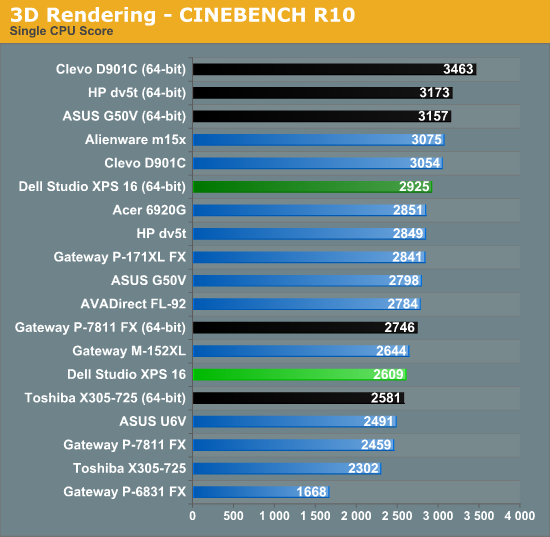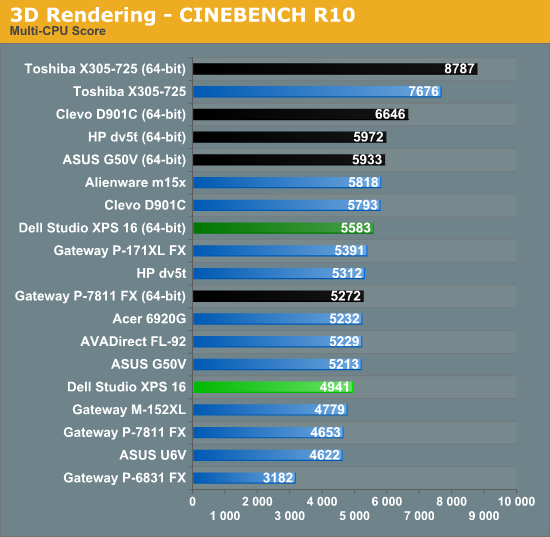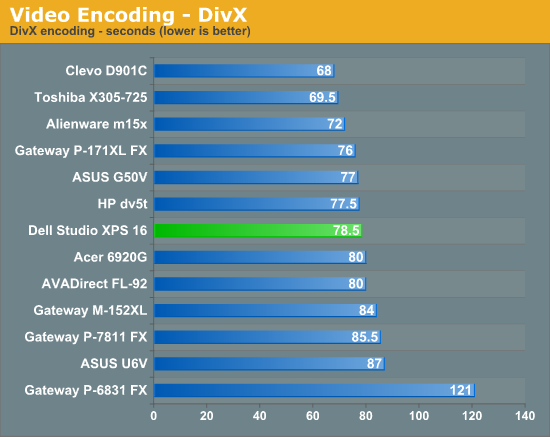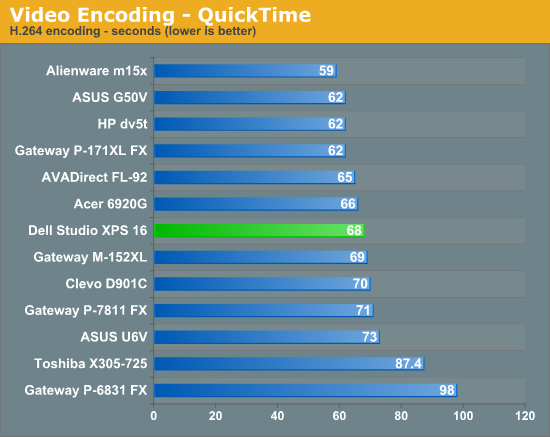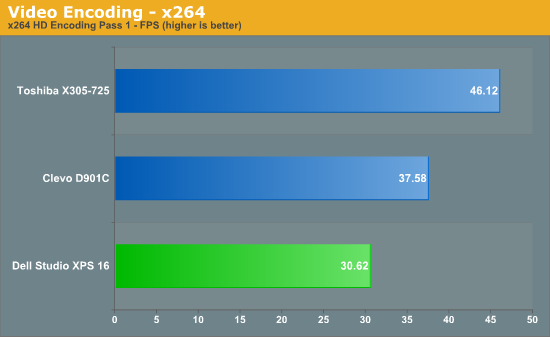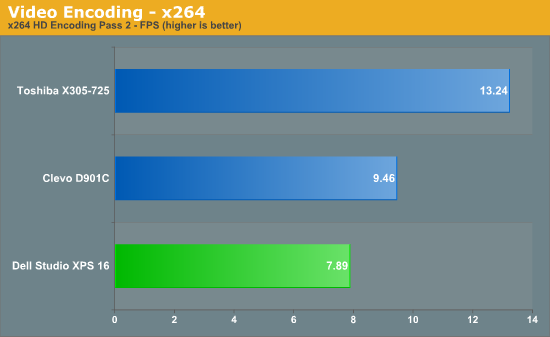 The Studio XPS 16 continues to offer middle of the pack performance, just as you would expect given the components. For Internet, office use, or image editing, you shouldn't have any difficulties utilizing the XPS 16. If you want to do more CPU intensive work, particularly stuff that can make use of multiple CPU cores, you should consider some of the laptops that are now shipping with quad-core CPUs. The Toshiba X305-Q725 shows what you can expect from laptops with a 2.0GHz Q9000, where 3D rendering and x264 encoding clearly benefit from the additional CPU cores.
Battery Life
For battery life testing, we run all laptops at around 100 nits brightness. If you choose to run your LCD at maximum brightness, you may lose anywhere from 10 to 60 minutes depending on the laptop and the display. In the case of the Studio XPS 16, maximum brightness is 280 nits and uses 9W more power, so the impact on battery life is quite significant (see the idle chart below for reference).
We run several different battery life scenarios: Internet surfing (load several webpages using the wireless adapter every minute until the battery dies), DVD playback, x264 playback, and idle (maximum) battery life. For x264 playback, we copy a 720p file to the hard drive and loop playback using Windows Media Player Classic Home Cinema; we will include scores from other laptops, but it's worth noting that we did not have GPU accelerated x264 decoding enabled in previous laptop tests. We have battery life results for Blu-ray playback on laptops that ship to us with a Blu-ray drive. We've also included web surfing results (and DVD for the MacBook Pro) for the latest Apple MacBooks as a point of reference.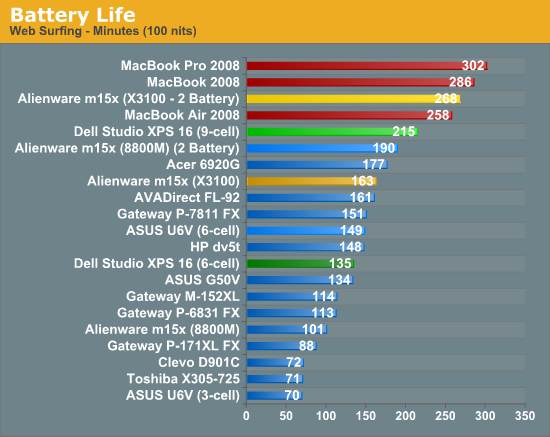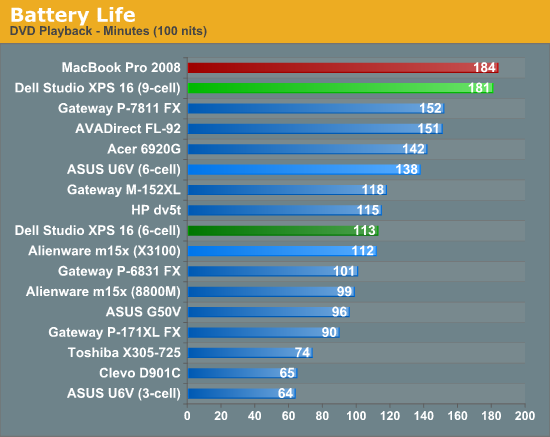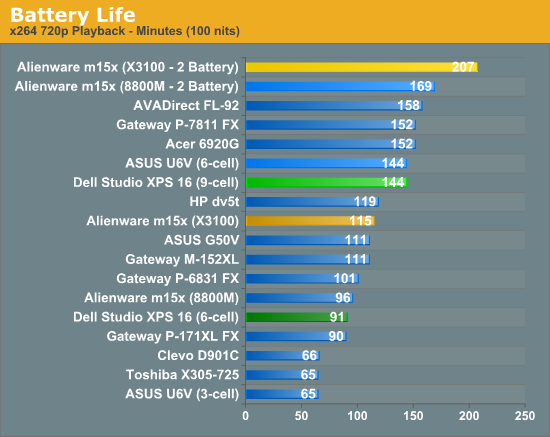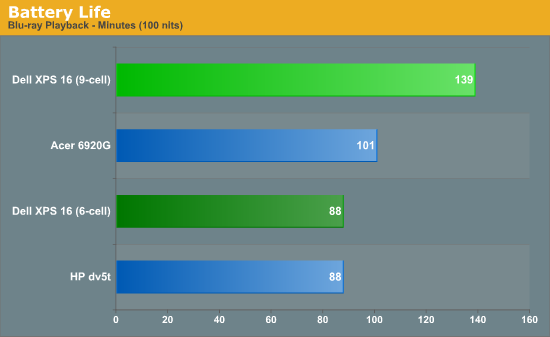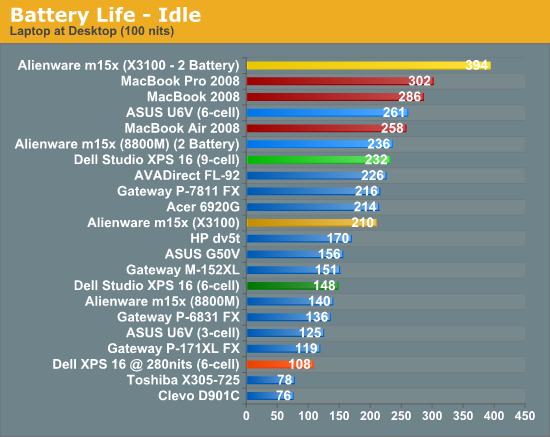 Battery life is nothing special, particularly when compared with similarly equipped notebooks. Purchasing the extended capacity battery does allow you to reach over three hours of battery life, but the same can be said of other notebooks. You can also see what happens if you turn up the display brightness. At maximum brightness sitting at the desktop, you only get 108 minutes of battery life. Perhaps that's just the price we have to pay for the beautiful LCD.
As we've mentioned in the past, Apple's MacBook and MacBook Pro provide an almost untouchable amount of battery life. To give you a true apples-to-Apples comparison, we've calculated the amount of battery life you get per Whr (Watt Hour) of battery capacity: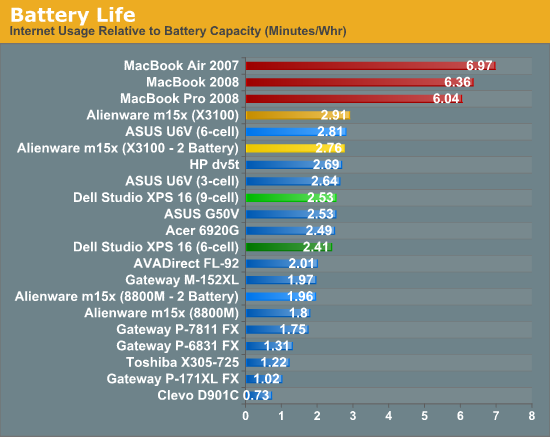 We can only hope that Windows 7 will help improve the battery life situation and level the playing field. However, we also suspect that the hardware manufacturers could be doing a lot more to improve battery life on their laptops. The closest we have come to matching the Minutes/Whr score of the MacBooks was with an ASUS N10JC netbook, which isn't even on the same continent in terms of performance. Apple is getting over six minutes per Whr, and most similarly equipped Vista notebooks are luck to come close to 3 min/Whr. Note that testing a MacBook with Vista using Boot Camp also cut the Apple battery life roughly in half.
Power Requirements
Power requirements with a laptop plugged in don't necessarily reflect power requirements when a laptop is on battery power. In particular, high-end GPUs run at lower maximum clock speeds when using the battery. Keep this in mind when looking at the following numbers. We test under idle conditions, with a 100% load placed on the CPU via Folding@Home SMP, and finally at maximum load by running FAH SMP at the same time as we loop 3DMark06 (at the native LCD resolution).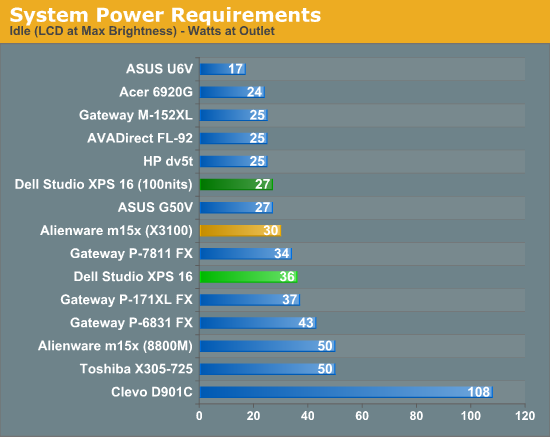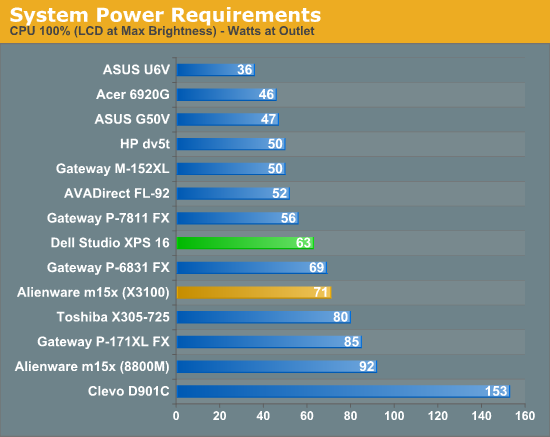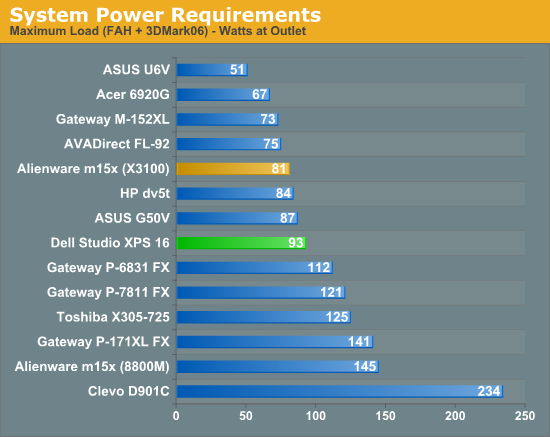 Our power measurements are with the LCD at maximum brightness, which isn't necessarily a fair way of doing things as some LCDs are much brighter than others. Unfortunately, we don't have most of the laptops around to retest. You can see that the Dell Studio XPS 16 uses 9W more power running at maximum brightness, which represents an increase in power draw of 33%. We verified that 9W figure on the other tests, but we didn't include those results in the charts. We don't know if the RGB LEDs inherently use more power than regular laptop backlights, but obviously increasing the backlight intensity requires more power. Luckily, you can often get by running the XPS 16 LCD at around 30-40% brightness (100-130 nits).
Noise Levels
We also ran noise testing using an SPL meter at 24" under the same conditions as our power tests.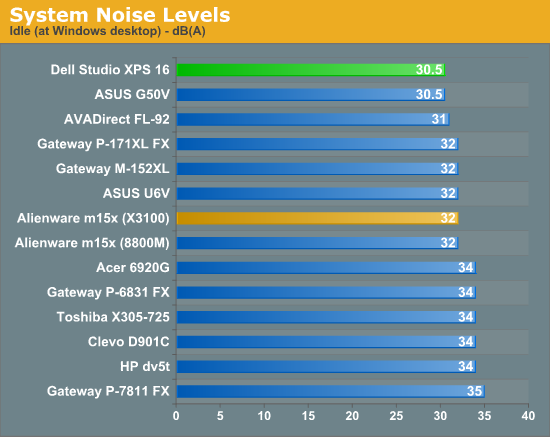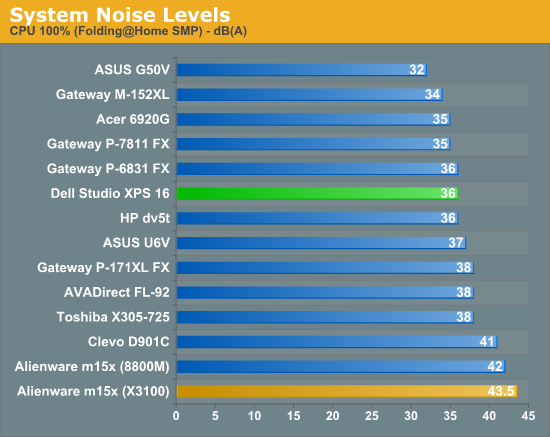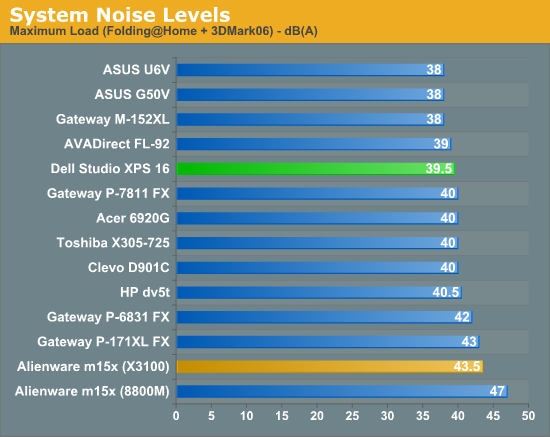 The Studio XPS 16 does reasonably well in terms of noise levels, almost reaching the noise floor of our testing environment (around 28 dB). Once you start to put a load on the system, it does get a bit louder, and extended gaming will usually reach maximum noise levels after a few minutes. The system also takes a while to quiet down after you remove the load, which is likely influenced by the top panel partially blocking the exhaust port.
Temperatures
We didn't create any charts, but we wanted to give a quick rundown of the temperatures you might expect from the Studio XPS 16. We placed a maximum load on the system for 30 minutes and then measured temperatures, so these results are something of a worst-case scenario. Then again, the testing environment was only 67°F, so in warmer conditions it might not be as difficult to make things toasty. We have heard some complaints from users about the XPS 16 getting excessively hot; we wouldn't go that far, but it definitely doesn't run cool to the touch all the time.
We measured temperatures of ~45°C at the exhaust, which isn't too bad. However, temperatures on the bottom of the laptop range from 35° to the 45° as well, with large portions of the bottom measuring above 40°C. The keyboard and palm rest weren't quite as hot, ranging from 30° to 40°C with most of the keyboard staying under 35°. Just to put things in perspective, those temperatures are higher than what we measured on the Toshiba X305-Q725, a result of the smaller chassis with fewer fans.
Display Quality
The last area we want to test is the display quality. We have stated in the past that laptop LCDs pale in comparison to typical desktop LCDs, but the Studio XPS 16 tries to buck that trend. We've hinted that it succeeds, and here you can see the results of our testing.
We test color accuracy using ColorEyes Display Pro, and we test with two different colorimeters, a DTP-94 and an i1 Display2. We test the laptops with both colorimeters using ColorEyes Display Pro, generating both LUT and Matrix color profiles. The reason we do this is that some displays respond better to LUT profiling while others work better with Matrix profiling. We select the best result out of the four tests for our color accuracy charts.
Besides the color accuracy, the generated profiles allow us to determine color gamut, using GamutVision. We use the matrix color profiles for gamut, as they usually have ~10% higher gamut volume. We will also report the maximum LCD brightness and contrast ratio.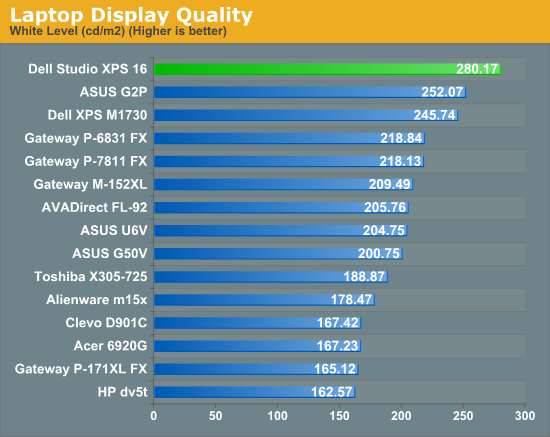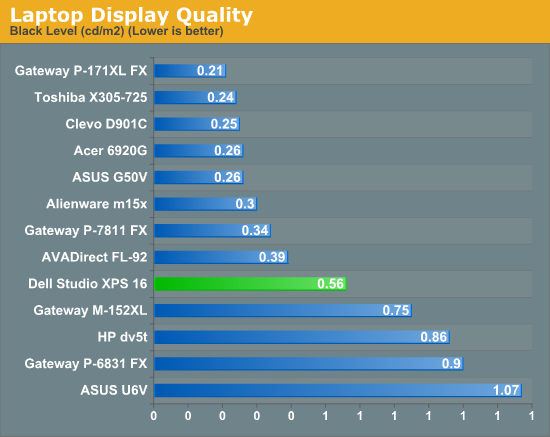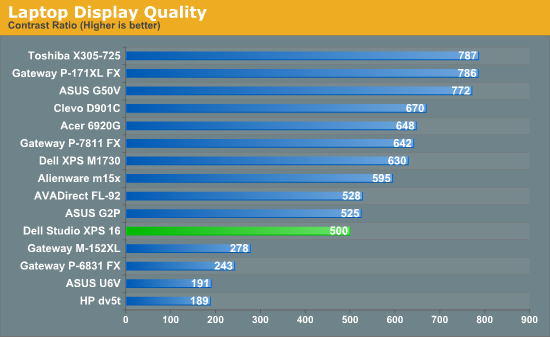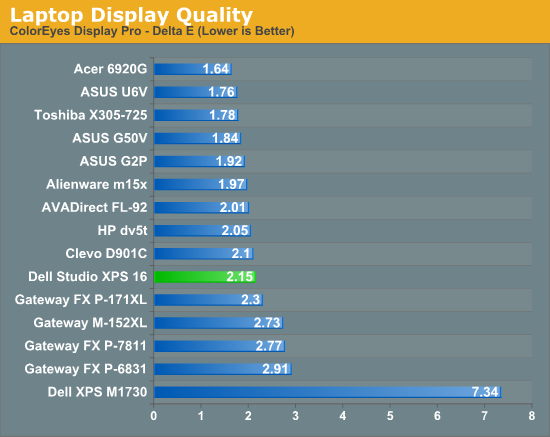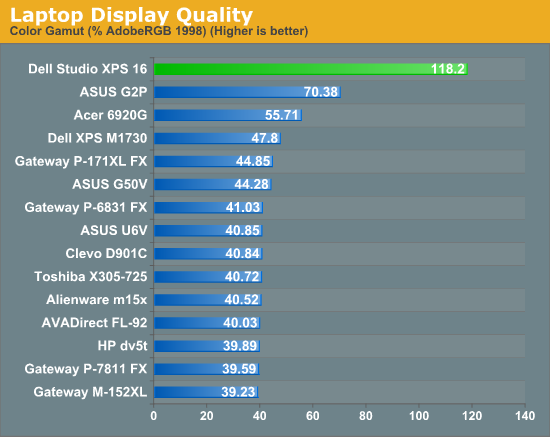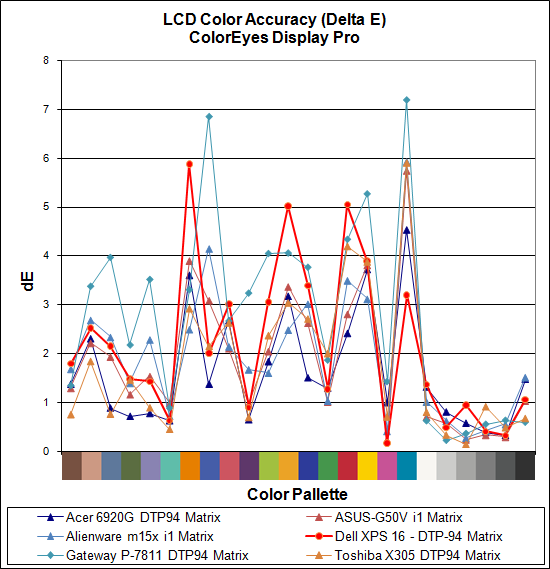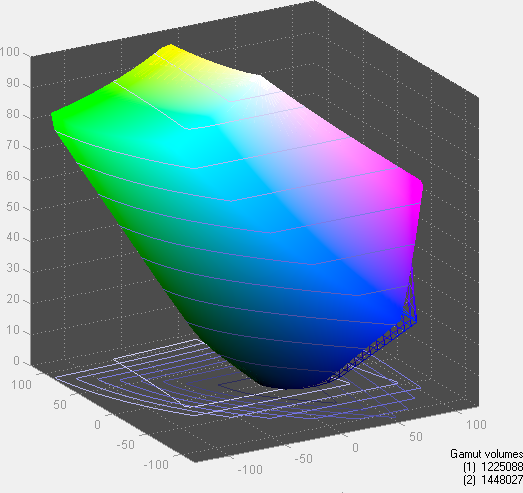 If you just scan over those graphs quickly, you might not be very impressed by the Studio XPS 16 LCD. Color accuracy is middle of the road, and contrast ratio and black levels are nothing special either. The maximum brightness is at the top of the charts, but again that's reflected with the higher than average black level. Here's the catch: contrast ratios above 500:1 are definitely a case of diminishing returns. It's very easy to look at something like the Gateway P-6831 and the Studio XPS 16 and see that the P-6831 has a poor contrast ratio. However, eyeballing the difference between the XPS 16 and any of the higher contrast ratios and determining which is "better" is far more difficult.
The big deal with the RGB LED backlighting is in the last chart. A color gamut of over 100%? In a laptop LCD? You can't be serious! Granted, we haven't tested every single laptop LCD out there, but the vast majority of laptops we've looked at have displays that can't even reach 50% color gamut. In fact, we haven't even tested a desktop LCD that has hit 118% (though Dell's 2480WFP came close and newer display have almost certainly surpassed that mark).
The ASUS G2P was one of my favorite laptops for a long time simply because of the LCD. The Acer 6920G impressed me by offering an image that was visibly better than other laptops, even though it couldn't compete with desktop LCDs. The RGB LED 1080p display on the Studio XPS 16 offers over twice the color gamut of the Acer 6920G. Again, there's a case of diminishing returns - anything beyond about 80% doesn't usually impact how you see colors unless you're really picky. However, this is the first laptop LCD to break the 80% barrier, let alone surpassing any desktop LCD that we've currently tested.
Even though the color gamut is much better than any other laptop we've tested, we do need to contain our enthusiasm somewhat. At its heart, this is still a TN panel, which means the overall quality can't match PVA, MVA, or IPS panels. Dell - or Seiko Epson if you prefer, as they're the panel manufacturer - has taken the first step by offering an improved color gamut on a laptop display. We're still a little baffled as to why no one seems to be interested in making new PVA or IPS laptop panels, as the combination of a high gamut backlight with an IPS panel would be ideal. This is still a great display, but when I want to do some serious image editing I'm still going back to my S-IPS desktop LCD.
Conclusion
So just how good is the Dell Studio XPS 16? That really depends on what you want to do with your laptop. If you're just a typical business user writing email and surfing the web, it can certainly do everything you need… but then so can pretty much any other modern laptop. It has a good set of features, looks reasonably attractive, and performs well. It's not too expensive, but then it's not inexpensive either. As a portable multimedia platform, picking up one of the models with a Blu-ray drive will allow you to wander over to your friends' houses and watch movies on their HDTVs. Just don't plan on watching any Blu-ray movies without the power adapter - or the 9-cell battery at the very least.
For most users then, the Studio XPS 16 is a good laptop that's worth a look. Many people are concerned about price these days, so ultimately they might have to look elsewhere. Take a walk down the aisles of any electronics store and you're likely to see numerous laptops selling for under $1000 that can do pretty much everything you need. They might have a slightly slower processor, no discrete graphics chip, and/or no Blu-ray drive, but most people don't need those things - especially if it means decreased battery life. But that's the summary for "most" people.

There's another category of users where our recommendation changes dramatically. If you happen to spend most of your time in Photoshop (or similar programs were color quality matters) and you want a laptop that won't hold you back, you seriously need to consider the Dell Studio XPS 16. Maybe you just want a high quality laptop display, since that's what your eyes will look at when you're using the computer. For either class of user, you should look at competing notebooks that use the same display or something very close to it. (The Dell Precision M6400 and Sony VAIO AW are also supposed to have great LCDs, but they're also larger and heavier.)
I'm not going to give the Dell Studio XPS 16 a general Editors' Choice award, since there are aspects of the laptop that I think could be better (temperatures being my primary concern). However, if you happen to fall into the second category of users I just described, it definitely deserves a gold medal. Yes, the RGB LED panel in the Studio XPS 16 is that good. In a word: wow! This may be as good as it gets in the world of laptop LCDs until OLEDs become mainstream. If you're like me and have been repeatedly disappointed with lackluster laptop displays, the Studio XPS 16 may finally restore your faith in humanity. This is change that even I can believe in!
Update: If you're interested in the Studio XPS 16, Dell is currently offering a special price of $1250, which includes the 1080p RGBLED display. It's a total savings of $343 and is only available for two days, so you'll need to act fast! Incidentally, that special price doesn't have Blu-ray by default. Still, it's worth snapping up if you have the money available!