Original Link: http://www.anandtech.com/show/2877


The catch however is that what we don't have is a level of clear domination when it comes to single-card solutions. AMD was shooting to beat the GTX 295 with the 5870, but in our benchmarks that's not happening. The 295 and the 5870 are close, perhaps close enough that NVIDIA will need to reconsider their position, but it's not enough to outright dethrone the GTX 295. NVIDIA still has the faster single-card solution, although the $100 price premium is well in excess of the <10% performance premium.
-From Our Radeon 5870 Review, On The GTX 295 vs. The 5870

Let's get straight to the point, shall we? Today AMD is launching the 5970, their dual-GPU card that finishes building out AMD's technical domination of the high-end market. With it AMD delivers the absolute victory over NVIDIA's GTX 295 that the Radeon 5870 couldn't quite achieve and at the same time sets the new high water mark for single-card performance.
This also marks the last AMD product introduction of the year. The rest of the Evergreen series, composing the sub-$100 low-end parts, will be launching next year.
| | | | |
| --- | --- | --- | --- |
| | AMD Radeon HD 5970 | AMD Radeon HD 5870 | AMD Radeon HD 5850 |
| Stream Processors | 2x1600 | 1600 | 1440 |
| Texture Units | 2x80 | 80 | 72 |
| ROPs | 2x32 | 32 | 32 |
| Core Clock | 725MHz | 850MHz | 725MHz |
| Memory Clock | 1GHz (4GHz data rate) GDDR5 | 1.2GHz (4.8GHz data rate) GDDR5 | 1GHz (4GHz data rate) GDDR5 |
| Memory Bus Width | 2x256-bit | 256-bit | 256-bit |
| Frame Buffer | 2x1GB | 1GB | 1GB |
| Transistor Count | 2x2.15B | 2.15B | 2.15B |
| TDP | 294W | 188W | 151W |
| Manufacturing Process | TSMC 40nm | TSMC 40nm | TSMC 40nm |
| Price Point | $599 | $400 | $300 |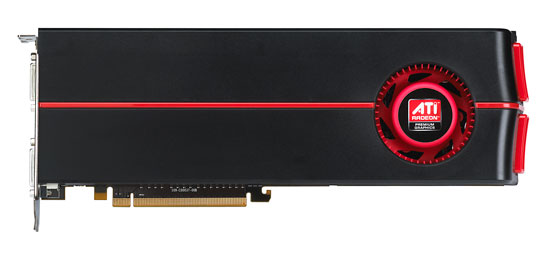 The 5970 serves as the nowadays obligatory dual-GPU part. It is 2 Cypress dice mounted on a single, dual-slot video card. AMD clocks it at 725MHz core and 1GHz (4GHz effective) for the GDDR5 memory. The card comes equipped with 2GB of GDDR5, which is split between the two GPUs, giving it an effective memory capacity of 1GB. The card will be selling for $600, at least so long as vendors and retailers hold the line on MSRP.
In practice this makes the card something between a 5850 in Crossfire mode and a 5870 in Crossfire mode. The clocks are the same as the 5850, but here all 20 SIMD units are enabled. This is a 15% clockspeed difference between the 5970 and 5870CF, so officially the 5870CF will continue to be the faster setup. However as we'll see in a bit, looking at the stock 5970 can be a bit deceiving.
This also brings up the matter of the name of the card. We asked AMD what happened to the X2 tag, and the answer is that they didn't want to use it since the card was configured neither like a 5850 nor a 5870 – it was closer to a mythical 5860. So rather than call it an odd (or worse yet, wrong) name, AMD just gave it a new model number entirely. We suspect AMD wanted to be rid of the X2 name – their processors go up to X4 after all – but there you go as far as an official reason is concerned. It looks like special multi-GPU tags are now gone in both the NVIDIA and AMD camps.
Moving on, for power, the 5970 uses an 8pin and a 6pin power connector (although the 6pin sits on top of a spot silk-screened for anther 8pin). The TDP is 294W, bringing it in just under the 300W ATX limit. Idle power is 42W, thanks to AMD's aggressive power optimizations present in the entire 5000 series.
As some of you may have noticed, in spite of the fact that this card is at least a pair of 5850s, it consumes less than the 320W (2x160W) such a setup would. In order to meet the 300W limit, AMD went and binned Cypress chips specifically for the 5970, in order to find chips that could operate at 725MHz at only 1.05v (the 5850 runs at 1.088v). Given the power creep coming from the 4800 series, binning for the best chips is the only way AMD could get a 300W card out.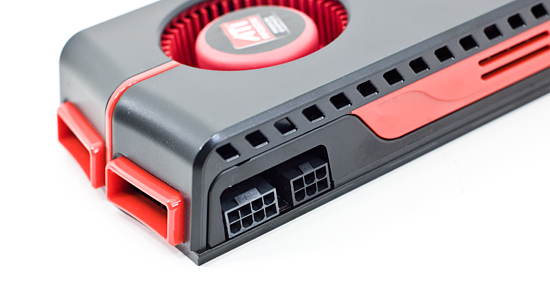 AMD's official guidance for this card is that the minimum requirements are a 650W power supply, and they recommend a 750W power supply. The recommended power supply will become more important later on when we talk about overclocking.
Finally, AMD is also launching Crossfire Eyefinity support with the 5970, and thus far only the 5970. Currently Eyefinity doesn't work with Crossfire mode on any of AMDs cards due to driver limitations. The drivers that the 5970 will be shipping with enable Crossfire Eyefinity support on the 5970 for 22 games – currently AMD is using whitelisting and is enabling games on a case-by-case basis. Crossfire Eyefinity will make its way in to the mainstream Catalyst drivers and be enabled for other cards early next year.
Meet The 5970
To cool the beast, AMD has stepped up the cooler from a solid copper block to a vapor chamber design, which offers slightly better performance for large surface area needs. Vapor chambers (which are effectively flat heatpipes) have largely been popularized by Sapphire, who uses them on their Vapor-X and other high-end series cards. This is the first time we've seen a vapor chamber cooler on a stock card. AMD tells us this cooler is design to keep up with 400W of thermal dissipation.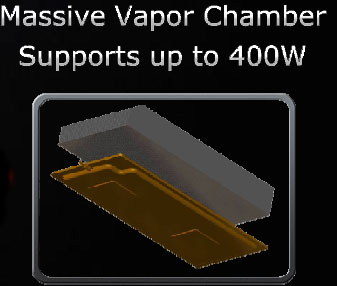 With the need for such a cooler, AMD has finally parted with their standard 5000 series port configuration in order to afford a full slot to vent hot air. In place of the 2xDVI + HDMI + DisplayPort configuration, we have 2xDVI + MiniDisplayPort, all on one slot. MDP was just approved by the VESA last week, and is identical to DisplayPort in features, the only difference is that it's smaller. This allows AMD to continue offering Eyefinity support, and it also conviently solves any questions of how to plug 3 monitors in, as there are now only as many DVI-type ports as there are available TMDS encoder pairs.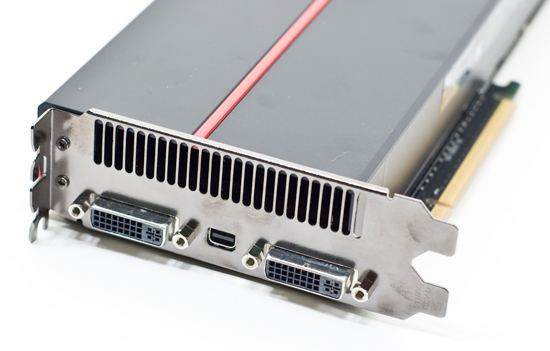 Finally, as dual-GPU cards are always bigger than their single-GPU brethren, and the 5970 is no exception to this rule. However the 5970 really drives this point home, being the largest video card we've ever tested. The PCB is 11.5" long, and with the overhang of the cooling shroud, that becomes 12.16" (309mm). This puts it well past our previous record holder, the 5870, and even father ahead of dual-GPU designs like the 4870X2 and GTX 295, both of which were 10.5". The only way to describe the 5970 is "ridiculously long".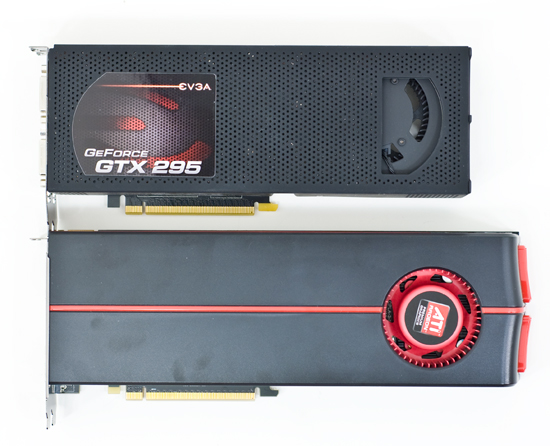 With such a long card, there are going to be some definite fitting issues on smaller cases. For our testing we use a Thermaltake Speedo case, which is itself an oversized case. We ended up having to remove the adjustable fan used to cool the PCIe slots in order to make the 5970 fit. On a smaller and more popular case like the Antec P182, we had to remove the upper hard drive cage completely in order to fit the card.
In both cases we were able to fit the card, but it required some modification to get there, and this we suspect is going to be a common story. AMD tells us that the full ATX spec calls for 13.3" of room for PCIe cards, and while we haven't been able to find written confirmation of this, this seems to be correct. Full size towers should be able to accept the card, and some mid size towers should too depending on what's behind the PEG slot. However – and it's going to be impossible to stress this enough – if you're in the market for this card, check your case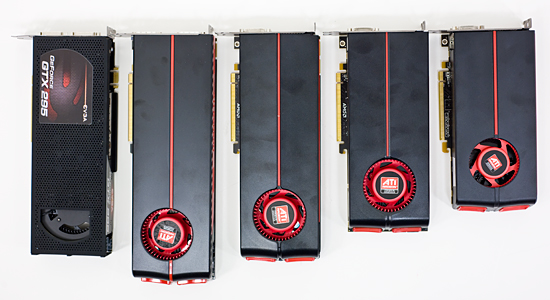 GTX 295, 5970, 5870, 5850, 5770
On a final note, while the ATX spec may call for 13.3", we hope that we don't see cards this big; in fact we'd like to not see cards this big. Such a length is long enough that it precludes running a fan immediately behind the video card on many cases, and quite frankly at a 294W TDP, this card is hot enough that we'd feel a lot better if we had a fan there to better feed air to the card.
40nm Supply Redux
If you have seen our Radeon 5800 supply article, then you know that AMD is currently trying to come to terms with a significant shortage of Cypress dice. Since the 5800 series launched in September, TSMC's yields have taken a hit as the company ramps up 40nm production. And while this is resulting in more usable chips per week than when AMD started, it's lower than it was supposed to be. Compounding matters is high demand for these cards thanks to their performance, features, and a lack of significant competition from NVIDIA at this time.
So when we were briefed about the 5970, we asked AMD point-blank whether it was a good idea to be launching another Cypress based card so soon, and at a time when they already don't have enough chips to go around. Their answer was equally straightforward: why not?
The design is done and AMD is already capable of building the 5970. For AMD, there is no benefit in waiting; no matter what they do, anything with a Cypress chip in it today is going to sell out. Holding back may be slightly more egalitarian, but as the 5970 is a luxury part, it's not a high-volume part anyhow, so its introduction isn't going to significantly disrupt 5800 shipments even if it does use 2 GPUs per card. Ultimately I don't think we would even be having this discussion unless the profit margin on the 5970 is higher than the 5870, so at some point this comes down to AMD doing what is most profitable for them.
At $600, AMD isn't going to sell a ton of 5970s, and the launch numbers reflect this. While the 5800 series cards launched with tens-of-thousands of cards, the 5970 launch will simply be with thousands of cards. Even as a low-volume part, we're expecting the 5970 to sell out just as fast as any 5800 card did. But depending on what AMD does with future chip shipments though and what TSMC's yields do, this may be the first product line where demand finally gets met in the near future.
We also had a chance to talk to AMD about the overall 40nm supply situation. AMD of course isn't very pleased with the situation, but this is something they've apparently planned for, after their first 40nm test chips came back as being less impressive than their 55nm and 65nm test chips were. Besides TSMC's subpar yields, AMD is unable to get as many wafer starts as they'd like, which is compounding the issue.
Finally, we're told that the TSMC situation is continuing to improve, and that AMD currently expects the Cypress chip supply to pick up in December. To what level of production "pick up" goes with we're not sure, but it's likely less than demand. In talking to AMD, they didn't seem confident in being able to keep any Cypress-based products in stock through Christmas. Supplies will improve through the end of the year, but it sounds like it's going to be 2010 before supply and demand finally balance out.
The Card They Beg You to Overclock
As AMD equipped 5970 with a fully functional Cypress core, one particularly binned for its excellent performance, it's a shame the 5970 is only clocked at 725MHz core, right? AMD agrees, and has equipped and will be promoting the 5970 in a manner unlike any previous AMD video card.
Officially, AMD and its vendors can only sell a card that consumes up to 300W of power. That's all the ATX spec allows for; anything else would mean they would be selling a non-compliant card. AMD would love to sell a more powerful card, but between breaking the spec and the prospect of running off users who don't have an appropriate power supply (more on this later), they can't.
But there's nothing in the rulebook about building a more powerful card, and simply selling it at a low enough speed that it's not breaking the spec. This is what AMD has done.
As a 300W TDP card, the 5970 is entirely overbuilt. The vapor chamber cooling system is built to dissipate 400W, and the card is equipped entirely with high-end electronics components, including solid caps and high-end VRMs.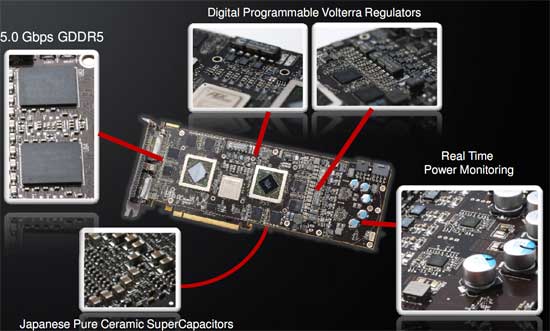 Make no mistake: this card was designed to be a single-card 5870CF solution; AMD just can't sell it like that. In our discussions with them they nearly (as much as Legal would let them) promised that every card will be able to hit 850MHz core (after all, these chips are binned to be better than a 5870), and memory speeds were nearly as optimistic, although we were given the impression that AMD is a little more concerned about GDDR5 memory bus issues at 5870 speeds.
So with the card that is a pair of 5870s in everything except the shipping specifications, AMD has gone ahead and left it up to the user to put 2 + 2 together, and to bring the card to its full potential. The card ships with a much higher Overdrive cap than AMD's other cards; instead of 10-20%, here the caps are 1GHz for the core and 1.5GHz for the memory, a 37% and 50% cap respectively (in comparison, on the 5850, the caps were set below the 5870's stock speeds). The card effectively has unlimited overclocking headroom within Overdrive; we doubt that any 5970 is going to hit those speeds with air cooling.
One weakness of Overdrive is that it doesn't let you tweak voltages, which is a problem since AMD has to ship this card at lower voltages in order to meet the 294W TDP. In order to rectify that, AMD will be supplying vendors with a voltage tweaking tool specifically for the 5970, which will then be customized and distributed by vendors to their 5970 users.
Normally any kind of voltage tweaking on a video card makes us nervous due to the lack of guidance – a single GPUs doesn't ship at a wide range of voltages after all. For overvolting the 5970, AMD has made matters quite simple: you only get one choice. The utility we're using offers two voltages for the core, and two for the memory, which are the shipping voltages and the voltages the 5870 runs at. So you can run your 5970 at 1.05v core or 1.165v core, but nothing higher and nothing in between. It makes matters simple, and locks out the ability to supply the core with more voltage than it can handle. We haven't seen any of the vendor-customized versions of the Overvolt utility, but we'd expect all of them to have the same cap, if not the same two-setting limit.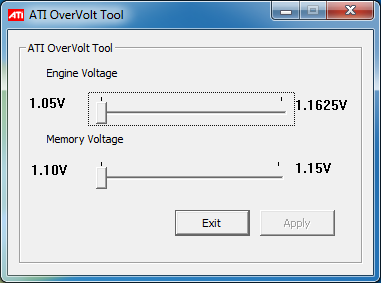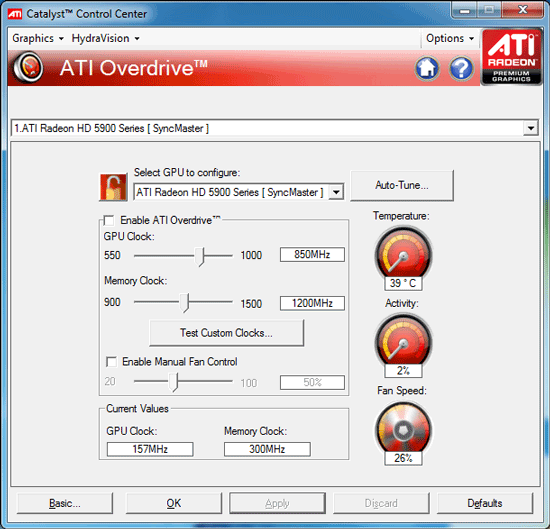 All of this comes at a cost however: power. Cranking up the voltage in particular will drive the power draw of the card way up, and this is the point where the card ceases to meet the PCIe specification. If you want to overclock this card, you're going to need not just a strong power supply that can deliver its rated wattage, but you're going to need a power supply that can overdeliver on the rails attached to the PCIe power plugs.
For overclocked operation, AMD is recommending a 750W power supply, capable of delivering at least 20A on the rail the 8pin plug is fed from, and another 15A on the rail the 6pin plug is fed from. There are a number of power supplies that can do this, but you need to pay very close attention to what your power supply can do. Frankly we're just waiting for a sob-story where this card cooks a power supply when overvolted. Overclocking the 5970 will bring the power draw out of spec, its imperative you make sure you have a power supply that can handle it.
Overall the whole issue leaves us with an odd taste in our mouths. Clearly AMD would have rewritten the ATX spec to allow for more power if it were that simple, and we don't believe anyone really wants to be selling a card that runs out of spec like this. Both AMD and NVIDIA are going to have to cope with the fact that power draw has been increasing on their cards over time, so this isn't going to be the last over-300W card we see. I would not be surprised if we saw a newer revision of the ATX spec that allowed for more power for video cards – if you can cool 400W, then that's where the new maximum is going to be for luxury video cards like the 5970.
Last, but certainly not least, there's the matter of real-world testing. Although AMD told us that the 5970 should be able to hit 5870 clockspeeds, we actually didn't have the kind of luck we were expecting to have. We have 2 5970s,one for myself, and one for Anand for Eyefinity and power/noise/heat testing. My 5970 hit 850MHz/1200MHz once overvolted (it had very little headroom without it), but the performance was sporadic. The VRM overcurrent protection mechanism started kicking in and momentarily throttling the card down to 550MHz/1000MHz, and not just in FurMark/OCCT. Running a real application (the Distributed.net RC5-72 Stream client) ultimately resulted in the same thing. With the core overvolted, our card kept throttling on FurMark all the way down to 730MHz. While the card is stable in terms of not crashing, or verdict is that our card is not capable of performing at 5870 clockspeeds.
We've attempted to isolate the cause of this, and we feel we can rule out temperature after feeding the card cold morning air had no effect. This leaves us with power. The power supply we use is a Corsair 850TX, which has a single 12V rail rated for 70A. We do not believe that the issue is the power supply, but we don't have another unit on hand to test with, so we can not eliminate it. Our best guess is that in spite of the high-quality VRMs that are on this card, that they simply aren't up to the task of powering the card at 5870 speeds and voltages.
We've gone ahead and done our testing at these speeds anyhow (since overcurrent protection doesn't cause any quality issues), however it's likely that these results are retarded somewhat by throttling, and that a card that can avoid throttling would perform slightly better. We're going to be retesting this card in the morning with some late suggestions from AMD (mainly forcing the fan to 100%) to see if this changes things, but we are fairly confident right now that it's not heat related.
As for Anand's card, his fared even worse. His card locked up his rig when trying to run OCCT at 5870 speeds. VRM throttling is one thing, but crashing is another; even if it's OCCT, it shouldn't be happening. We've written his card off as being unstable at 5870 speeds, which makes us 0-for-2 in chasing the 5870CF. Reality is currently in conflict with AMD's promises.
Note: We have since published an addendum blog covering VRM temperatures, the culprit for our throttling issues

STALKER: Call of Pripyat – A Peak at More DX11
For the 5970 launch, AMD sent over a special benchmark version of STALKER: Call of Pripyat, which has since then been made public at the GSC Game World STALKER website. STALKER is another one of AMD's big DX11 titles, as it's technically the 2nd DX11 title to launch and the first such title to implement most of the major DX11 features. The Russian version actually shipped back in October, and the German version shipped 2 weeks ago. However we're told that these versions only had an early-stage implementation of the DX11 feature set, and that the demo is more representative of where the game is after patching and what it will be like when it finally launches in the rest of the world early next year.
Since it's an unplayable demo, we're going to forgo any competitive benchmarking (it's not as if anyone else has a DX11 card anyhow) but we will look quickly at the performance impact of these features, since this is the closest thing we have to a playable game using them at this point in time.
STALKER makes use of 3 major DX11 features.
High Definition Ambient Occlusion using compute shaders
Tessellation
Contact hardening shadows
We've already seen HDAO with Battleforge, and it's no different here in STALKER. And we've covered tessellation in-depth in our look at DirectX 11.
So today, let's talk about contact hardening shadows. Shadowing has been on a path of particularly noticeable evolution. The first real shadows, seen in such titles as Doom 3, had very hard edges. Stencil buffering was used to determine where a shadow would fall, and that was it. Diffusion was never taken into account. Newer games have since taken diffusion into account to generate soft shadows, but these shadows aren't necessarily accurate. Currently soft shadows are implemented with a fixed degree of softness around the entire shadow, which isn't how shadows really work.
With diffusion, the softness of a shadow increases with the distance of the casting object from the surface the shadow is being displayed on. AMD loves to use a light pole as an example, as the top of the shadow should be softer than the bottom. These shadows are referred to as contact hardening shadows, and the use of them in games has been limited by the expense of calculating them using the DX10 feature set. STALKER allows for contact hardening shadows with DX10.1 and DX11 mode.
Unfortunately a moving benchmark makes for a poor source to take screenshots, so we're going to stick with AMD's reference shots here. Only contact hardening shadows are particularly noticeable in the benchmark; tessellation and HDAO are there, but are virtually impossible to catch given the zoomed-out nature of the benchmark and the fact that it's constantly in motion.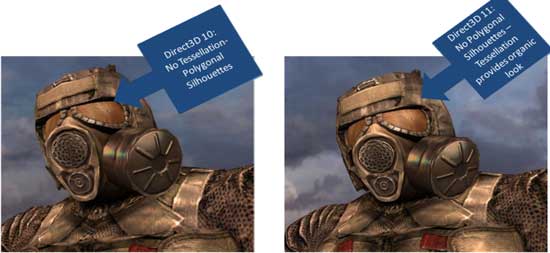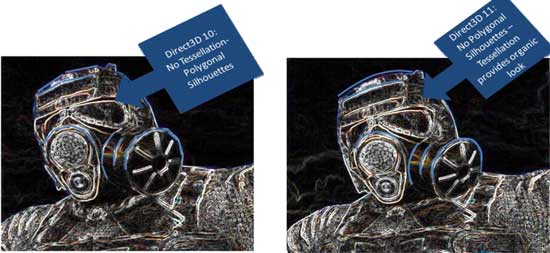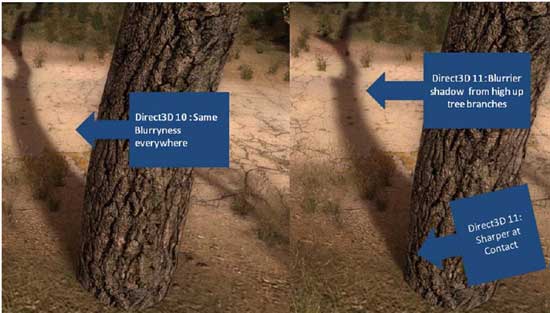 The benchmark comes with 4 different flybys, each under different environmental conditions: day, night, day with rain, and day with sun shafts. We've gone ahead and benchmarked the game during the "day" flyby, once with the DX11 feature set enabled, and once with it disabled. This means for DX11 mode tessellation, contact hardening shadows, and Ultra HDAO were enabled; and for DX10 tessellation and contact hardening shadows were disabled, and High HDAO was used.
| | | |
| --- | --- | --- |
| STALKER: Call of Pripyat, Day Benchmark | DX10 | DX11 |
| Average FPS | 31.4 | 35.1 |
| Minimum FPS | 17.7 | 21.2 |
Enabling all of these features actually causes performance to rise, thanks to the more efficient implementation of HDAO as a compute shader as opposed to a pixel shader. Ultimately what this means is that unless HDAO is disabled entirely, STALKER is going to be faster on a DX11 card running the entire DX11 feature set than it will be when running the DX10 feature set.
The biggest performance hit, and the reason we're not breaking 40fps here even with a 5970, is due to how anti-aliasing is implemented in STALKER. As it uses deferred rendering, the game does its own anti-aliasing. We used 4X MSAA here along with per-pixel alpha transparency testing (basically Adaptive/Transparancy AA). Disabling anti-aliasing improves performance dramatically.
Radeon HD 5970 Eyefinity on 3 x 30" Displays: Playable at 7680 x 1600
TWiT's Colleen Kelly pestered me on twitter to run tests on a 3 x 30" Eyefinity setup. The problem with such a setup is twofold:
1) I was worried even a 5970 wouldn't be powerful enough to drive all three displays at their full resolution (a total of 7680 x 1600) in a modern game, and

2) The Radeon HD 5970's third video output is mini-DP only.
The second issue is bigger than you think, there are currently no 30" displays that accept a mini DP input, only regular DP. And to convert a miniDP to DP/DL-DVI, you need an active adapter, a bit more expensive than a standard converter cable. Apple makes such a cable and sells it for $99. The local store had one in stock, so I hopped in the batmobile and got one. Update: AMD tells us that in order to use all three outputs, regardless of resolution, you need to use an active adapter for the miniDP output because the card runs out of timing sources.
Below we have a passive mini-DP to single-link DVI adapter. This is only capable of driving a maximum of 1920 x 1200: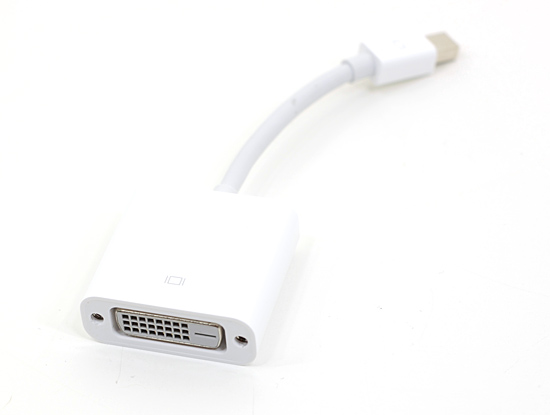 This cable works fine on the Radeon HD 5970, but I couldn't have one of my displays running at a non-native resolution.
Next is the $99 mini DP to dual-link DVI adapter. This box can drive a panel at full 2560 x 1600: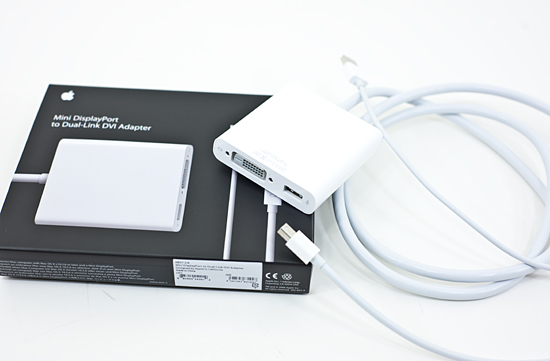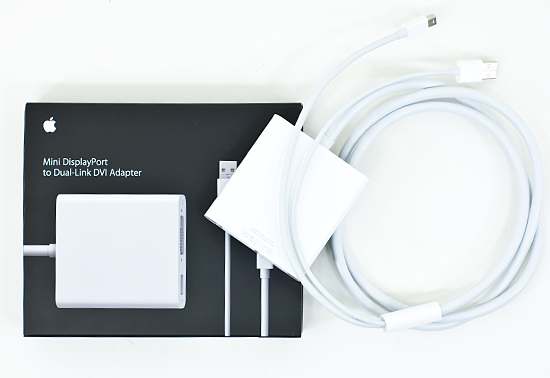 User reviews are pretty bad for this adapter, but thankfully I was using it with a 30" Apple Cinema Display. My experience, unlike those who attempt to use it with non-Apple monitors, was flawless. In fact, I had more issues with one of my Dell panels than this Apple. It turns out that one of my other DVI cables wasn't rated for dual-link operation and I got a bunch of vertical green lines whenever I tried to run the panel at 2560 x 1600. Check your cables if you're setting up such a beast, I accidentally grabbed one of my DVI cables for a 24" monitor and caused the problem.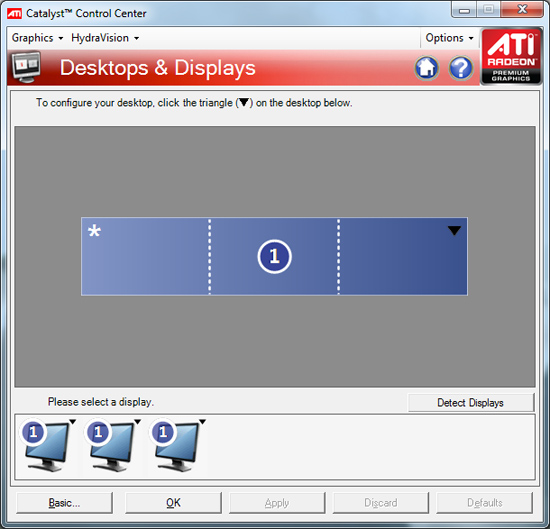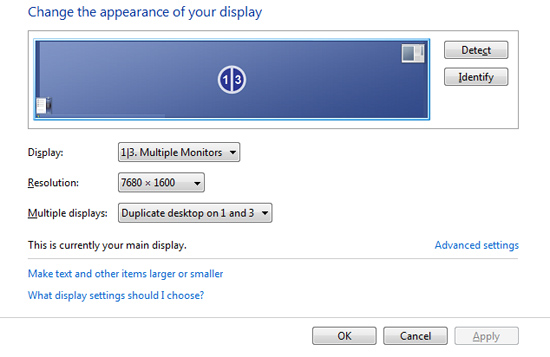 Windows detected all of the monitors, I used the Eyefinity configuration tool to arrange them properly, grabbed a few 7680 x 1600 wallpapers and was at a super wide Windows desktop.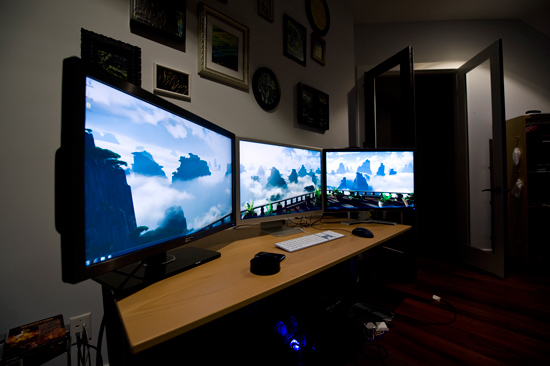 Click to Enlarge
The usual Eyefinity complaints apply here. My start menu was around 3 feet to the left of my head and the whole setup required nearly 6 feet of desk space.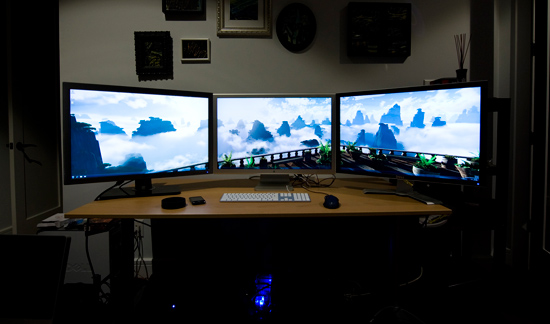 Click to Enlarge
In game menus and cutscenes are also mostly borked. They are fixed resolution/aspect ratio and end up getting stretched across all three 30" panels. Case in point is Call of Duty Modern Warfare 2: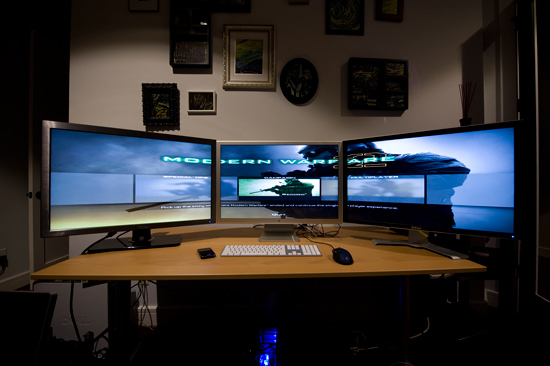 Click to Enlarge
While most games will run at the 7680 x 1600 resolution enumerated by ATI's driver, they don't know how to deal with the 48:10 aspect ratio of the setup (3 x 16:10 displays) and apply the appropriate field of vision adjustments. The majority of games will simply try to stretch the 16:10 content to the wider aspect ratio, resulting in a lot of short and fat characters on screen (or stretched characters in your periphery). Below is what MW2 looks like by default: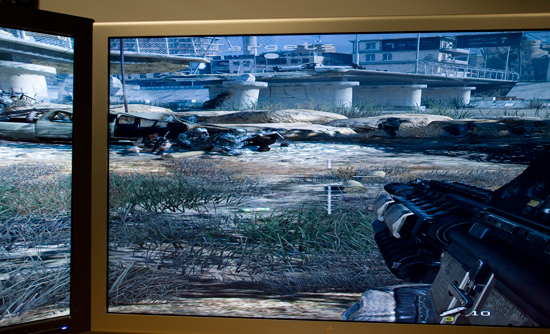 Click to Enlarge
All of the characters look like they have legs that start at their knees. Thankfully there's a little tool out there that lets you automatically correct aspect ratio errors in some games. It's called Widescreen Fixer and you can get it here.
Select your game, desired aspect ratio and just leave it running in the background while you play. Hitting semicolon will enable/disable the aspect ratio correction and result in a totally playable, much less vomit inducing gaming experience. Below we have MW2 with correct aspect ratio/FOV: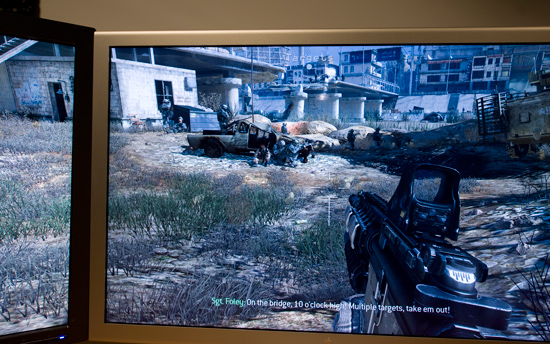 Click to Enlarge
Take note of how much more you can see as well as normal the characters now look. Unfortunately Widescreen Fixer only supports 11 games as of today, and four of them are Call of Duty titles:
Battlefield 2
Battlefield 2142
BioShock
Call of Duty 2
Call of Duty 4: Modern Warfare
Call of Duty: World at War
Call of Duty: Modern Warfare 2
Darkest of Days Demo
SEGA Rally Revo
Unreal Tournament
Wolfenstein
There's absolutely no reason for ATI not to have done this on its own. There's a donate link on the Widescreen Fixer website, the right thing for ATI to do would be to pay this developer for his work. He's doing the job ATI's Eyefinity engineers should have done from day one. Kudos to him, shame on ATI.
Performance with 3 x 30" displays really varies depending on the game. I ran through a portion of the MW2 single player campaign and saw an average frame rate of 30.9 fps with a minimum of 10 fps and a maximum of 50 fps. It was mostly playable on the Radeon HD 5970 without AA enabled, but not buttery smooth. Turning on 4X AA made Modern Warfare 2 crash in case you were wondering. The fact that a single card is even remotely capable of delivering a good experience at 7680 x 1600 is impressive.
I also noticed a strange issue where I couldn't get my video to sync upon any soft reboots. I'd need to shut down the entire system and turn it back on for me to see anything on the screen after a restart.
With corrected aspect ratios/FOV, gaming is ridiculous on such a wide setup. You really end up using your peripheral vision for what it was intended. The experience, even in an FPS, is much more immersive. Although I do stand by my original take on Eyefinity, the most engulfing gameplay is when you find yourself running through an open field and not in games that deal with more close quarters action.
Just for fun i decided to hook my entire 3 x 30" Eyefinity setup to a power meter and see how much power three 30" displays and a Core i7 system with a single Radeon HD 5970 would consume.
Under load while playing Modern Warfare 2 the entire system only used 517W. Which brings us to the next issue with Eyefinity on the 5970: most games will only use one of the GPUs. Enabling Eyefinity with Crossfire requires a ridiculous amount of data to be sent between the GPUs thanks to the ultra high resolutions supported. Doing this isn't quite that easy given some design tradeoffs made with Cypress (more on this in an upcoming article). Currently, only a limited number of titles will support the 5970 running in dual-GPU mode with Eyefinity. Dual-card owners (e.g. 5870 CF) are out of luck, the current drivers do not allow for CF and Eyefinity to work together. This will eventually get fixed, but it's going to take some time. With a second GPU running you can expect total system power consumption, including displays, to easily break 600W for the setup I used here.
The difficulties most games have with such a wide setup prevent 3 x 30" Eyefinity (or even any triple-monitor configuration) from being a real recommendation. If you have three monitors, sure, why not, but I don't believe it's anywhere near practical. Not until ATI gets a lot of the software compatibility taken care of.
The Test
For the 5970 launch, AMD is launching the card with a special set of drivers based on the Catalyst 9.10 branch, version 8.663.1. These drivers have had a lot of work put in to their Crossfire abilities, both to enable Crossfire Eyefinity support on the 5970, and to improve overall Crossfire performance. The Crossfire performance improvement also cascades down to the 5800 series, where we've seen CF performance improve in Crysis and Dawn of War II, while we've seen Resident Evil 5 performance dip some. So we've rerun our 5850CF and 5870CF numbers with the new drivers an updated them accordingly; single card performance remains unaffected.
Also, for most of these games we've gone ahead and dropped all resolutions besides 2560. Crysis is the only game that even remotely struggles with the 5970 (and less so thanks to these drivers). Everything else gets 60fps or more at 2560.
Finally, we've gone ahead and benchmarked the 5970 at both stock at overclocked 5870 (850MHz/1200Mhz) speeds. Bear in mind that we did encounter VRM throttling at 5870 speeds however.
CPU:
Intel Core i7-920 @ 3.33GHz
Motherboard:
Intel DX58SO (Intel X58)

Chipset Drivers:
Intel 9.1.1.1015 (Intel)

Hard Disk:
Intel X25-M SSD (80GB)
Memory:
Patriot Viper DDR3-1333 3 x 2GB (7-7-7-20)

Video Cards:

ATI Radeon HD 5970
ATI Radeon HD 5870
ATI Radeon HD 5850
ATI Radeon HD 4870 X2
ATI Radeon HD 4890
ATI Radeon HD 4870 1GB
ATI Radeon HD 4850
ATI Radeon HD 3870
NVIDIA GeForce GTX 295
NVIDIA GeForce GTX 285
NVIDIA GeForce GTX 275
NVIDIA GeForce GTX 260 core 216
NVIDIA GeForce GTS 250
NVIDIA GeForce 8800GT


Video Drivers:

NVIDIA ForceWare 190.62
ATI Catalyst Beta 8.663.1
ATI Catalyst Beta 8.66
ATI Catalyst 9.9

OS:
Windows 7 Ultimate 64-bit
Crysis: Warhead
As Crysis is the only game that particularly struggled under even a single 5870, this is the only game we've gone ahead and captured data for at resolutions other than 2560.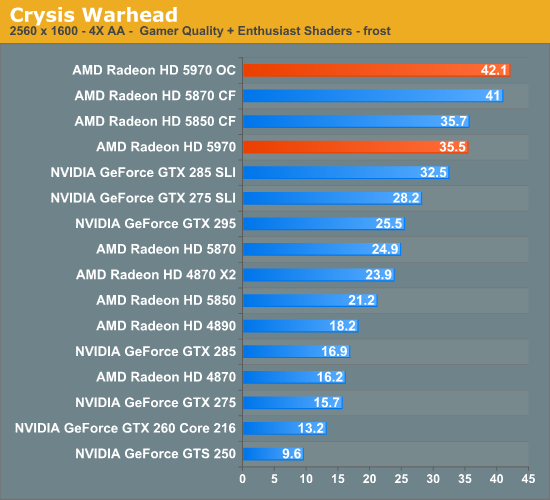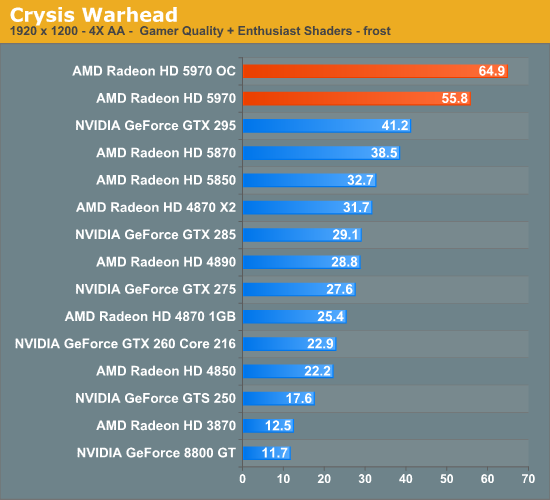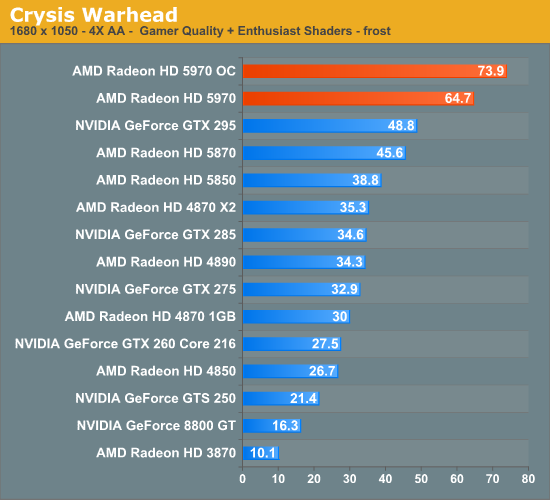 The 5970 gains the distinction of being the only single-card setup we have tested that can break 30fps on Crysis at 2560 – it's enough to at least push Crysis in to playable territory here, even though we'll gladly take more performance if we can get it. So Crysis hasn't quite fallen yet, but it's very close. It's also something where the 5970CF results would be quite interesting if we had them.
Interestingly, the 5970 manages to lose not only to the 5870CF, but the 5850CF by a very slight amount. The 5970 is clocked exactly the same as the 5850CF and has 2 more SIMDs, so we certainly aren't expecting it to lose here. This may be driver related or it may be PCIe bandwidth related (each half of the 5970 only gets 8x bandwidth) but we aren't sure which.
Meanwhile the GTX 295 sees the first of many falls here. It falls behind the 5970 by 30%-40%. The 5870 gave it a run for its money, so this is no surprise.
Finally, overclocking the 5970 to 5870 speeds nets you another 14%-18% in performance, which is quite interesting since the theoretical difference is only supposed to be 15%. But these numbers are repeatable; the 5970 likes being overclocked here.
Far Cry 2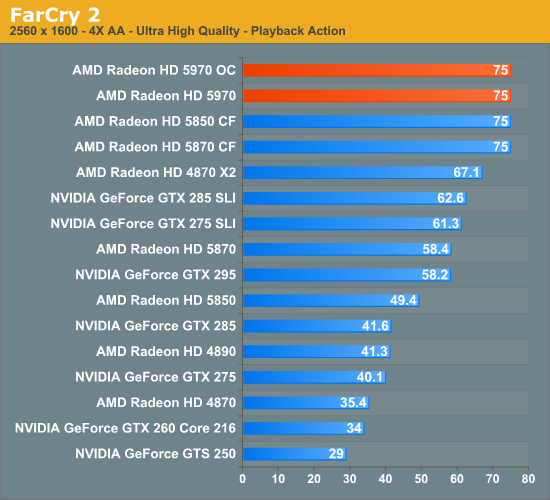 Even at 2560, Far Cry 2 is CPU-bound. 75fps is all you get here, and not a frame more. This flattens out the difference between our top cards, with any pair of 5800/5900 GPUs topping out. It also keeps the 5970 advantage over the GTX 295 at 28%.
Battleforge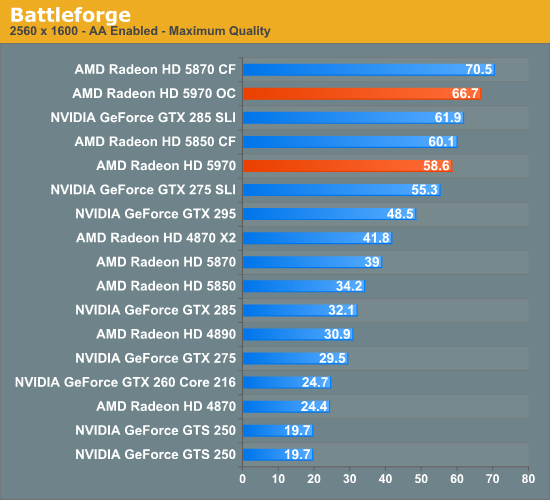 The 5970 doesn't quite crack 60fps in Battleforge, although since this is an RTS we're already approaching overkill levels. We also see the 5970 once again lose to its 5850CF rival, this time by 2%. Overclocking the 5970 picks up another 13% in performance.
As for the GTX 295, the 5970's lead over it is only 20%. This is one of the better scenarios for the GTX 295.
HAWX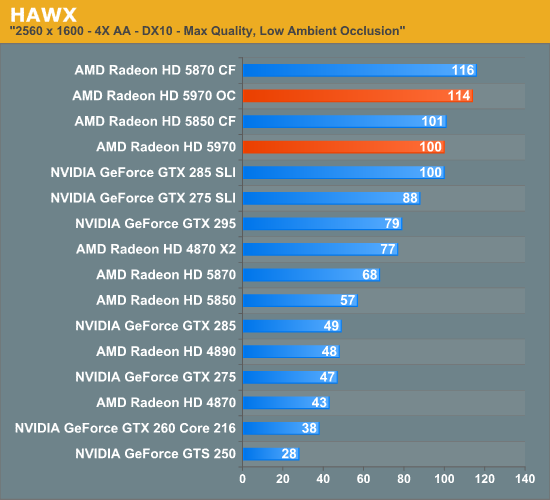 HAWX hasn't yet reached a CPU ceiling, but it still gets incredibly high numbers. Overclocking the card gets 14% more, and the performance advantage over the GTX 295 is 26%.
Dawn of War II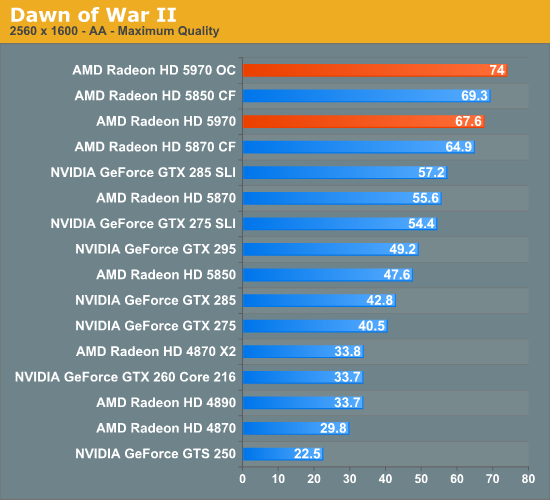 Dawn of War II is the other game that saw some significant driver improvements under Crossfire mode. As a result performance is up for all of our 5000 series cards in CF mode, and it gets the 5000 series out of the CF disadvantage that we saw with the 5800 series launch.
The CF performance improvement proves to be somewhat counterproductive here though, as the 5850CF with these new drivers now slightly outperforms the 5970, leaving the 5970 back by around 2%. And yes, we know that the 5850CF is outperforming the 5870CF. That's what we really get - there are driver bugs to solve methinks.
Meanwhile overclocking the 5970 is good for another 9%, and the stock 5970 is 37% faster than the GTX 295.
Resident Evil 5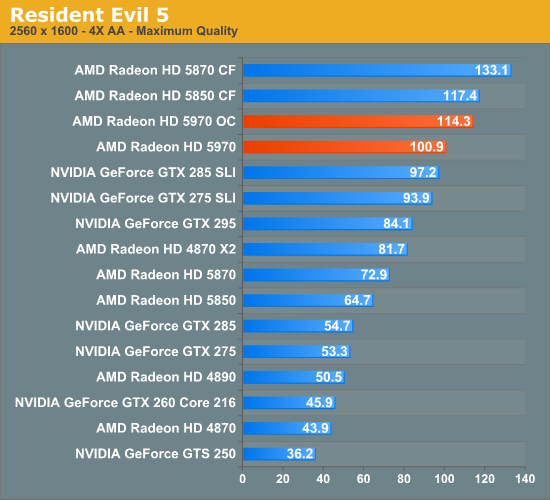 Resident Evil 5 actually took a bit of a performance drop in CF mode, which wasn't something we were expecting. However since even the single-card 5800 setups get over 60fps, the drop is immaterial. For now we continue to list our RE5 data from our launch article for these cards, on the assumption that this is a fluke – the 5850CF for example dropped from 117.4fps to 101.1fps.
Overclocking picks up another 13% in performance, and the GTX 295 gap is back to 20% here.
Batman: Arkham Asylum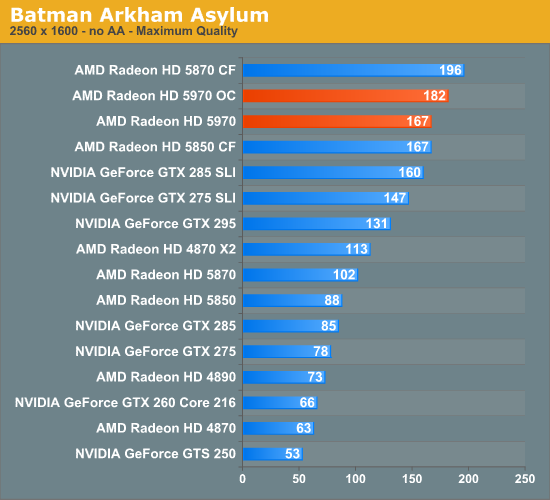 Due to the differences in how anti-aliasing is implemented between AMD and NVIDIA cards in Batman, we run this game without it. As a result the performance here approaches silly levels with the 5970.
Just in case 167fps isn't quite enough for you, overclocking the card picks up another 9%. The GTX 295 gap on this, one of NVIDIA's most favored games, is 27%.
Left 4 Dead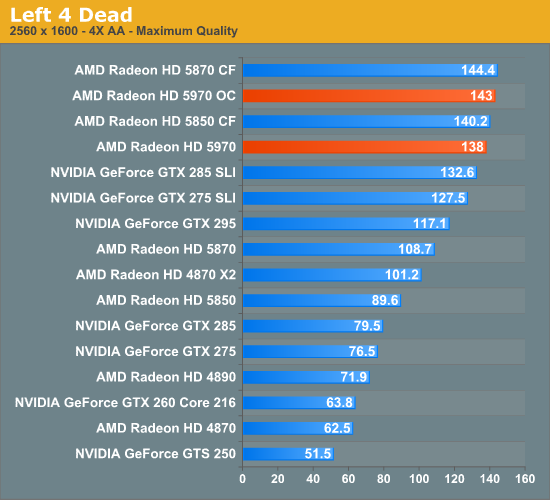 Finally we have Left 4 Dead, another title that's fairly easy on the GPU. The game is approaching (if it has not already hit) a CPU limitation, even with multi-core rendering. 145fps appears to be the approximate cap, and our cards quickly approach this. Because of this cap, the overclocking advantage is only 3%, and the 1% difference between the 5970 and 5850CF is practically immaterial.
Finally the GTX 295 gap is only 17% here, thanks to these cards coming up against our CPU limitation.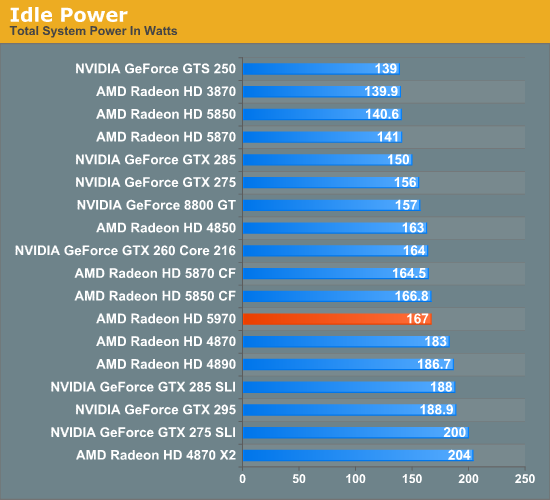 Thanks to AMD's aggressive power optimizations, the idle power of the 5970 is rated for 42W. In practice this puts it within spitting distance of the 5800 series in Crossfire, and below a number of other cards including the GTX 295, 4870X2, and even the 4870 itself.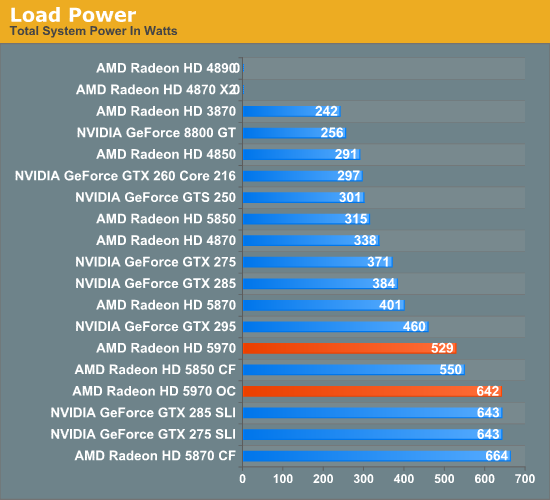 Once we start looking at load power, we find our interesting story. Remember that the 5970 is specifically built and binned in order to meet the 300W cap. As a result it offers 5850CF performance, but at 21W lower power usage, and the gap only increases as you move up the chart with more powerful cards in SLI/CF mode. The converse of this is that it flirts with the cap more than our GTX 295, and as a result comes in 69W higher. But since we're using OCCT, any driver throttling needs to be taken in to consideration.
Looking at the 5970 when it's overclocked, it becomes readily apparently why a good power supply is necessary. For that 15% increase in core speed and 20% increase in memory speed, we pay a penalty of 113W! This puts it in league with the GTX series in SLI, and the 5870CF, except that it's drawing all of this power over half as many plugs. We're only going to say this one more time: if you're going to overclock the 5970, you must have a very good power supply.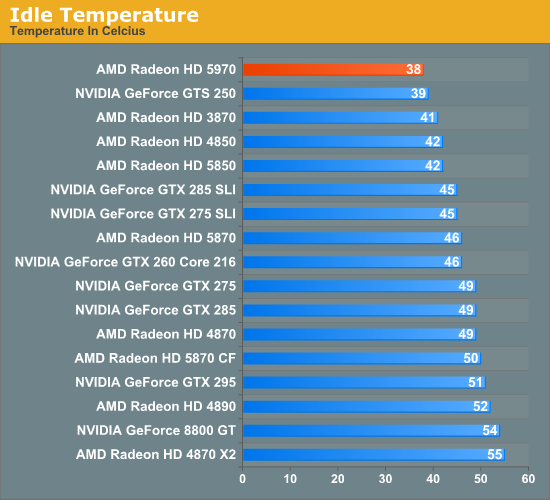 Moving on, the vapor chamber cooler makes itself felt in our temperature testing. The 5970 is the coolest high-end card we've tested (yes, you've read that right), coming in at 38C, below even the GTS 250. This is in stark opposition to previous dual-GPU cards, which have inhabited the top of the chart. Even the 5850 isn't quite as cool as a 5970 at idle.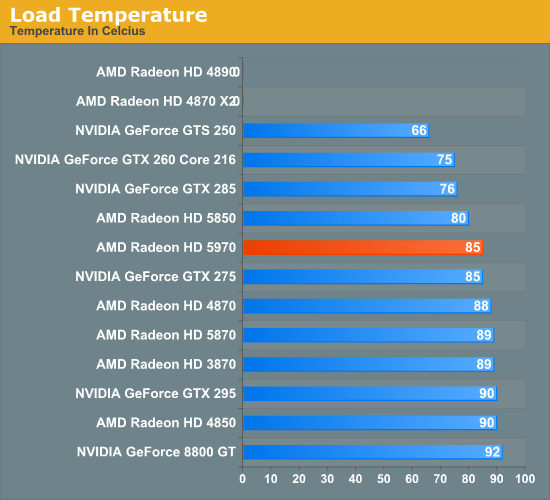 At load, we see a similar but slightly different story. It's no longer the coolest card, losing out to the likes of the 5850 and GTX 285, but at 85C it hangs with the GTX 275, and below other single and dual-GPU cards such as the 5870 and GTX 295. This is a combination of the vapor cooler, and the fact that AMD slapped an oversized cooler on this card for overclocking purposes. Although Anand's card failed at OCCT when overclocked, my own card hit 93C here, so assume that this cool advantage erodes under overclocking.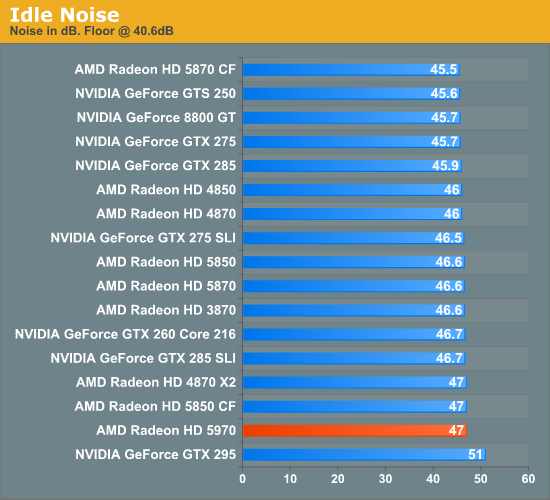 Finally we have our look at noise. Realistically, every card runs up against the noise floor, and the 5970 is no different. At 38C idle, it can keep its fan at very low speeds.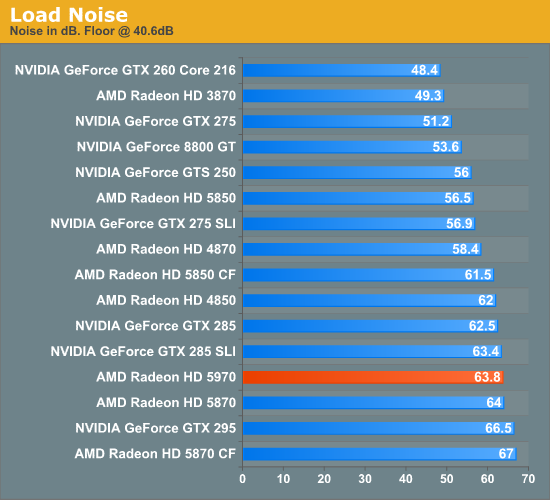 It's at load that we find another interesting story. At 63.8dB it's plenty loud, but it's still quieter than either the GTX 295 or 5870CF, the former of which it is significantly faster than. Given the power numbers we saw earlier, we had been expecting something that registered as louder, so this was a pleasant surprise.
We will add that on a subjective basis, AMD seems to have done something to keep the whine down. The GTX 295 (and 4870X2) aren't just loud, but they have a slight whine to them – the 5970 does not. This means that it's not just a bit quieter to sound meters, but it really comes across that way to human ears too. But by the same token, I would consider the 5850CF to quieter still, more so than 2dB would imply.
Conclusion
There are two things that become very clear when looking at our data for the 5970
It's hands down the fastest single card on the market
It's so fast that it's wasted on a single monitor
AMD made a good choice in enabling Crossfire Eyefinity for the 5970, as they have made a card so fast that it basically shoots past everything on the market that isn't Crysis. All of our action games that aren't CPU limited do better than 100fps at 2560x1600, and RTSs are doing just under 60fps. The 5970 is without a doubt Overkill (with a capital O) on a single monitor. This will likely change for future games (i.e. STALKER), but on today's games it's more power than is necessary to drive even the largest single monitor. The 5970 still offers a good performance boost over the 5870 even with a single monitor, but with the 5870's outstanding performance, it's not $200 better.
So that leaves us with Eyefinity. So long as GPUs are outpacing games, AMD needs something to burn up extra performance to give faster cards a purpose, and that's Eyefinity. Eyefinity is a strain - even 3 smaller monitors can result in more pixels being pushed than a single 2560. Having Crossfire Eyefinity support gives an AMD card the breathing room it needs to offer Eyefinity at playable framerates across a wider spectrum of monitors and games. Given the price of 3 20"+ monitors is going to approach if not exceed the $600 price of the card, the 5970 is the perfect match for Eyefinity gaming at this time.
When AMD originally told us about this card, I was surprised to see that they slapped only a $600 price tag on it. As the fastest of the fast cards, AMD can basically charge up to 2x the price of a 5870 for it, and they didn't. After seeing the performance data, I understand why. In our benchmarks the 5970 is practically tied with the 5850CF, and a pair of such cards would sell for $600 at this time. I still expect that we're going to see a performance gap emerge between the cards (particularly if the 5970 is held back by drivers) but right now the $600 price tag is appropriate.
What this does call into question though is what's better to have: a pair of 5800 series cards, or a 5970. If we assume that the 5970 is equal to a 5850CF in performance and in price, then the differences come down to 3 matters: Heat/noise, power, and Crossfire Eyefinity. The 5970 enjoys lower power usage and it doesn't need a power supply with 4 PCIe plugs, but the cost is that by compacting this into one card it's hotter and louder than a 5850CF (which really, is true for all dual-GPU cards). The biggest advantage to the 5970 right now is that it's the only card to support Crossfire Eyefinity, which means it's the only card to even consider if you are going to use Eyefinity right now. Ultimately if you can run 2 cards and only will be driving a single monitor, go with the 5850CF, otherwise go with the 5970. And if it's 2010 and you're reading this article, check and see if AMD has enabled Crossfire Eyefinity for the 5850CF.
Next, we're left with the prospects of overclocking the 5970. Only one of our two cards even runs at 5870 speeds (850MHz/1200MHz), and while we're willing to entertain the idea that our 1 cranky card is a fluke, we can't ignore the fact that none of our cards can run a real application at 5870 speeds without throttling. Ultimately our experience with the working card has called into question whether the VRMs on the card are up to the task. Since this is a protection mechanism there's no risk of damage, but it also means that the card is underperforming. Overclock your 5970 to 5870 speeds if you can bear the extra power/heat/noise, but don't expect 5870CF results.
Last, that leaves us with the 5870CF, and the 5970CF. Thanks to VRM throttling, there's still a place in this world for the 5870CF. For a 2-GPU setup, it's still the best way to go, but keep in mind it comes at a $200 premium and lacks Crossfire Eyefinity support. Meanwhile with the 5970CF, while we didn't get a chance to test it today, we can safely say that it's entirely unnecessary for a single-monitor setup. There's a market out there for $1200 in video cards, but you had better be running 3 30" monitors in Eyefinity mode to make use of it.