Original Link: http://www.anandtech.com/show/6414/cougar-challenger-case-review-is-competitive-performance-enough


Introducing the Cougar Challenger
It's fun to review the big enthusiast-class cases like the NZXT Phantom 820 and the Mini-ITX and Micro-ATX custom marvels like the BitFenix Prodigy and SilverStone SG09, but the fact is that cases like those aren't doing the grunt work on the market. That job is usually handled by standard ATX cases in the sub-$100 bracket, where bang for the buck matters most. Hovering around the $80 price point there are often good deals to be had, and that appears to be true again with the Cougar Challenger we have on hand today.
Selling for $86 on NewEgg, the Cougar Challenger is capable of offering a pretty healthy performance profile along with a couple of added perks like the hotswap SATA tray on the top of the case. But what was sacrificed to reach the sub-$100 price point, and might you still be better off spending up a bit on a different mainstream enclosure?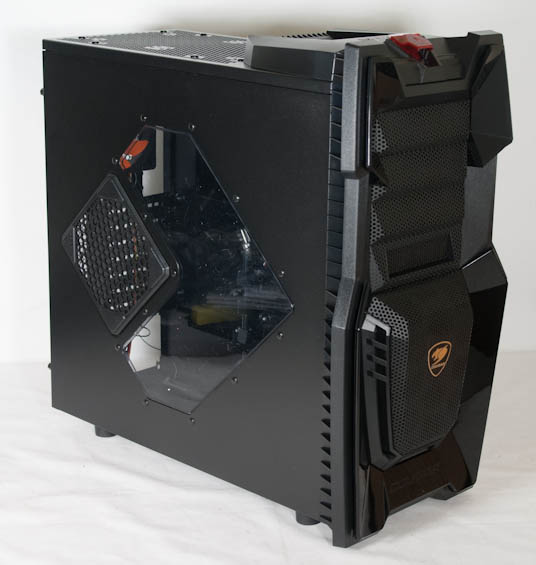 Cougar got in touch with us to see if we'd be interested in reviewing the Challenger; they're a fairly young company based out of Germany, and I have a very soft spot for underdogs and startups. I championed BitFenix pretty hardcore and still do, because these smaller companies are often very hungry for your business and are typically willing to take risks. The result is that oftentimes you can find diamonds in the rough and bring to light a product that people might otherwise miss.
Cougar Challenger Specifications
Motherboard Form Factor
Micro ATX, ATX
Drive Bays
External
3x 5.25", 1x 3.5"
Internal
7x 2.5"/3.5"
Cooling
Front
1x 200mm intake fan; supports 2x 120mm/140mm
Rear
1x 120mm exhaust fan
Top
2x 120mm/140mm fan mounts (or 1x 180mm/200mm)
Side
1x 120mm/140mm fan mount
Bottom
1x 120mm/140mm fan mount
Expansion Slots
7
I/O Port
2x USB 3.0, 1x Headphone, 1x Mic, SATA hotswap bay
Power Supply Size
Standard ATX
Clearances
HSF
170mm
PSU
220mm
GPU
16" / 410mm
Dimensions
10.6" x 20.2" x 20.6"
268mm x 514mm x 523mm
Special Features
USB 3.0 connectivity via internal headers
Toolless 5.25" drive bays and 3.5" drive sleds
Integrated SATA hotswap tray
Removable drive cage
Price
$86
Feature-wise the Cougar Challenger is fairly strong, particularly thanks to the SATA tray. Stock cooling is also healthy, with a 200mm red LED intake fan and a 120mm exhaust fan, allowing for a basic positive pressure design. For all intents and purposes, this is a modern ATX enclosure. So why am I feeling kind of underwhelmed by it?
In and Around the Cougar Challenger
I was actually surprised by the aesthetic of the Cougar Challenger. More ostentatious designs like this one tend to be more the province of Taiwanese companies like NZXT while European engineering tends to look more like Fractal Design's hardware. In my experience, Western consumers tend towards simpler designs that are functional, attractive in that "black goes with everything" kind of way, but still have a hint of style. Plastic is seldom well-received. Cougar actually offers the Challenger with accents in three colors: white, black, and orange. When they asked me which one I'd like to review, I felt like the white would go over best, but surprisingly they told me that the white one wasn't being marketed in the United States, and they felt the orange would go over better. I respectfully disagreed and if my hunch is correct, most of you do too.
Cougar is going for a jet-fighter kind of motif with the Challenger, with hard angles and honeycomb-patterned intakes on the front. That motif culminates with the flip-up cover over the power and reset switches at the top of the case, not too far off from Corsair's Vengeance C70. I've been mostly trying to stay neutral when judging the aesthetics of the cases I review, because I'm not necessarily an arbiter of taste and I have known people who prefer flashier designs like this one, but the Challenger's awkward angles and the way the fascia juts out in almost every direction just feels too busy. Flashier designs like NZXT's Phantom 820, those I can understand, but the Challenger seems like too much.
The side panel comes with the 120mm/140mm fan mount completely open; Cougar includes a magnetic snap-on filter that covers it up and seems to get the job done, but it's a clunky solution to a problem most other case manufacturers have already solved. That mount winds up being slightly more than a quarter of the diamond-shaped side window, but the rightmost corner of that window overlaps the drive cages while leaving the CPU area mostly covered up. When I was a windowed case kind of guy, I would've wanted to see the beefy cooler on the CPU.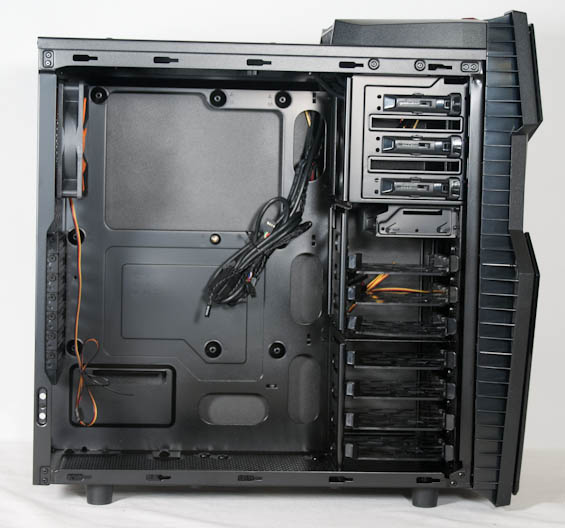 Perplexing design decisions unfortunately continue when you remove the side panels. They're secured with thumbscrews, but are the types of panels that require lining up multiple small extrusions into grooves to slide onto place, making them frustrating to remove and replace. Interestingly, when you get inside the Cougar, the whole design becomes remarkably staid. You've seen this before: toolless optical drive bays, two drive cages (the top of which is removable), motherboard tray with holes for routing cables. Where Cougar gets it really right, though, is by including a peg in the center mounting hole for the motherboard tray, making installation much easier. The typical mounting points are also extruded and built into the tray itself, so no standoffs are required for basic ATX boards.
Where things get wonky again is with the removable center drive cage. The two screws used to secure it face towards the back of the case, making them incredibly awkward to get to. They're not thumbscrews either, just garden variety screws. I'm not sure why this was designed the way it was, but if you're going to remove the cage you'd better do it before the motherboard goes in, otherwise the innermost screw is going to be basically impossible to remove.
Reviewing the Challenger visually is tough because I don't want to rag on them, but the problem is that their internal design is extremely conservative while the exterior design is gaudy almost to a fault. There are good touches here and there, but while working on it I often found myself feeling like I'd seen everything here before. If you're just hawking cases by the truckload to boutiques like NZXT does, that's not necessarily an issue, but if you're a smaller company trying to get your foot in the door in the States, a design that doesn't actually stand out much from the garden variety gaming enclosures can be fatal.
Assembling the Cougar Challenger
While the Cougar Challenger may not be very exciting to look at, there's at least something comforting and familiar about assembling a build in a well established layout. The Challenger offered minimal hiccups in assembly and largely came through. Barring the oddly frustrating side panels, this is a fairly easy case to work with.
As I mentioned before, the motherboard tray includes a peg that makes lining up the motherboard a breeze, and if you're using a standard ATX board the extrusions in the tray should ensure that you won't have to install a single standoff. Our testbed board went in pretty easily, though it's worth mentioning that the Challenger's not one of the bigger enthusiast ATX cases. That means headroom over the motherboard is at a bit of a premium, and the AUX 12V line can be a little more difficult to connect.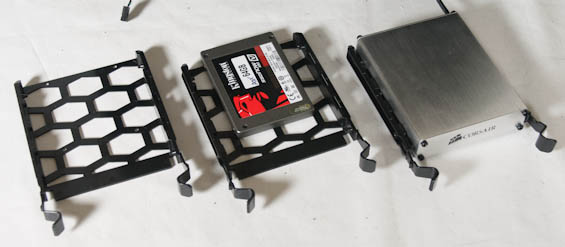 Drives also go in fairly easily. The drive trays have holes for mounting 2.5" drives, and plastic extrusions built into them for snapping into 3.5" drives. This is a common solution and it gets the job done. Meanwhile, to install a 5.25" drive you'll have to remove the front fascia, but it snaps on and off fairly easily and taking out the shields is a breeze. The toolless mechanism used to secure 5.25" drives is also a pretty stable one and I probably wouldn't fret too much over having to use it.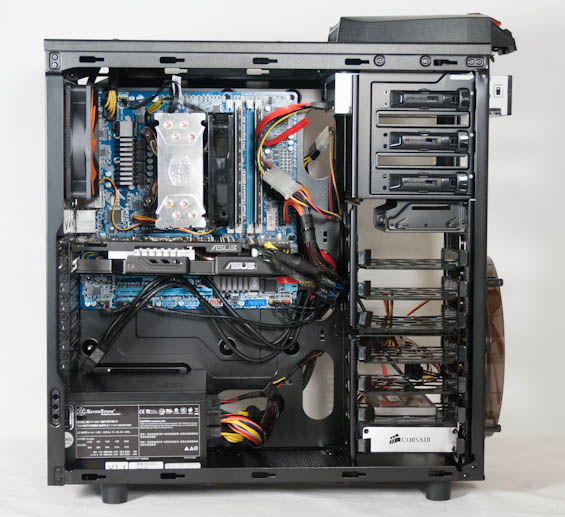 Surprisingly, Cougar doesn't use thumbscrews for the expansion slots. This doesn't bother me that much; typically the thumbscrews are secured so tightly I have to use a screwdriver anyhow, but it's still odd. Installing the video card and power supply went fairly swimmingly, though.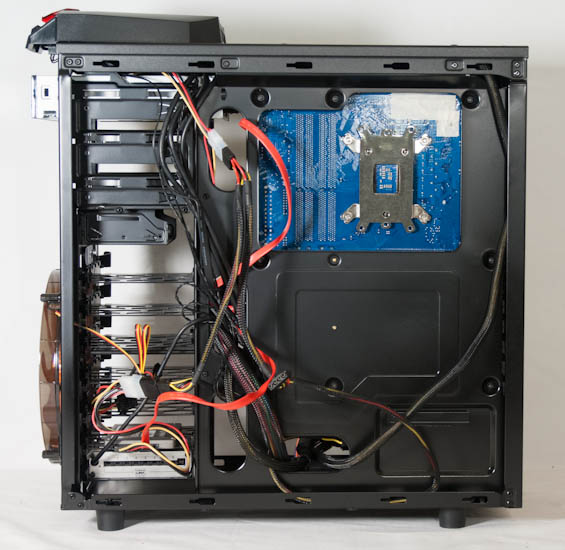 Cabling was also actually a bit easier with the Challenger. The gap for routing the AUX 12V line is tight, but the routing holes in the motherboard tray do their job. Cougar's designers also allowed for a very healthy amount of space behind the tray for routing and stashing cables. The front fan includes both a molex lead and a 3-pin lead, and the USB 3.0 header cable actually includes an alternate USB 2.0 header built into it, both convenient features.
The Challenger's interior may be Case Design 101, but sometimes that's okay. This is for the most part a very easy case to work in, and the first time builder that decides it's the case for him or her shouldn't be too overwhelmed by it (as opposed to advanced level cases like most of what SilverStone produces). Cougar didn't try to reinvent the wheel here, so there are no curveballs to be concerned with.
Testing Methodology
For testing Micro-ATX and full ATX cases, we use the following standardized testbed in stock and overclocked configurations to get a feel for how well the case handles heat and noise.
Each case is tested in a stock configuration and an overclocked configuration that generates substantially more heat (and thus may produce more noise). The system is powered on and left idle for fifteen minutes, the thermal and acoustic results recorded, and then stressed by running seven threads in Prime95 (in-place large FFTs) on the CPU and OC Scanner (maximum load) on the GPU. At the end of fiteen minutes, thermal and acoustic results are recorded. This is done for the stock settings and for the overclock, and if the enclosure has a fan controller, these tests are repeated for each setting. Ambient temperature is also measured after the fifteen idle minutes but before the stress test and used to calculate the final reported results.
Thank You!
Before moving on, we'd like to thank the following vendors for providing us with the hardware used in our testbed.
Noise and Thermal Testing, Stock
My misgivings about the Cougar Challenger's somewhat garish aesthetic and abnormally staid internal design culminated around one central thought during the entire assembly process: "I really hope this case performs." So far Cougar hasn't offered a case that's actually bad (assuming the looks don't bother you), but they haven't offered anything that's really exceptional either. Yet there's promise in the cooling design, with the beefy 200mm intake fan. As it turns out, that promise is mostly fulfilled.
Ambient temperature during testing was between 22C and 23C; Indian Summer and fall are duking it out here in California.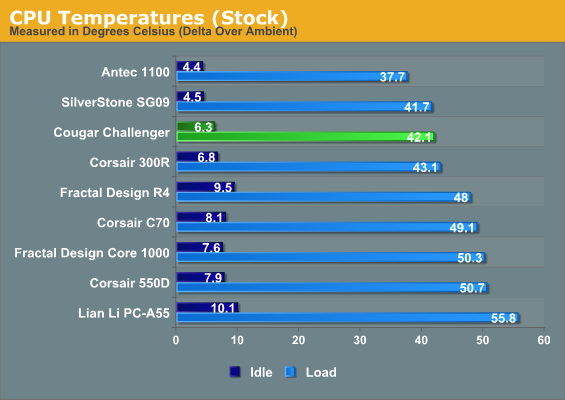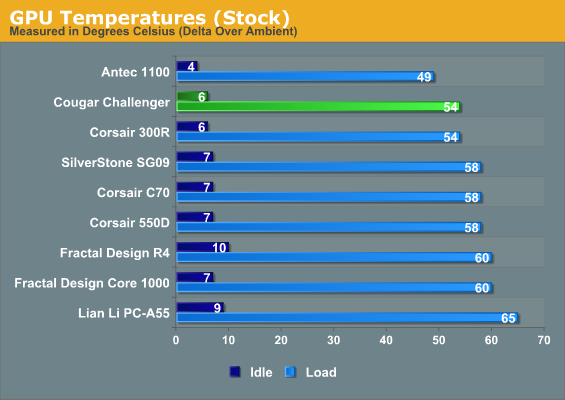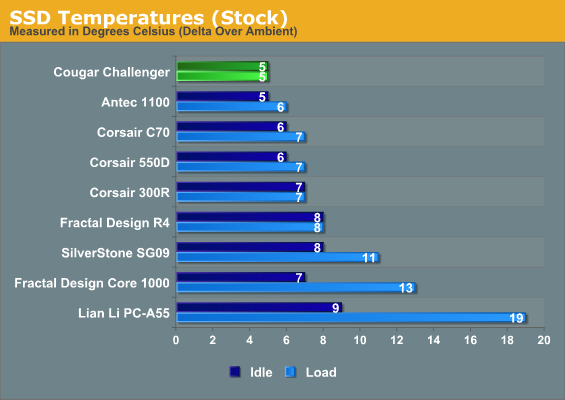 Thermal performance at stock settings was actually very good. The Challenger produces very low temperatures on both the CPU and the graphics card, easily competitive with the best mainstream cases we've tested.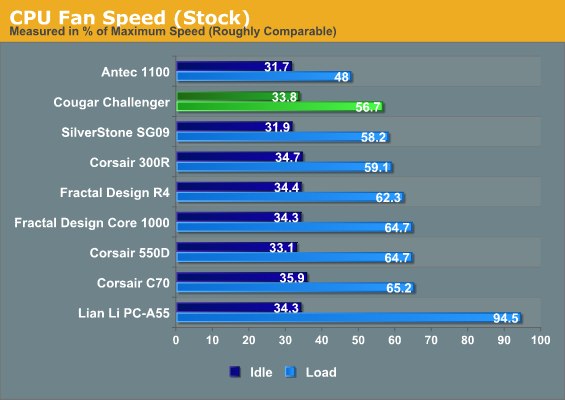 Fan speeds tell the same story. Airflow is not a problem with the Cougar Challenger, as the CPU and graphics card fans don't have to work too hard to keep their components cool.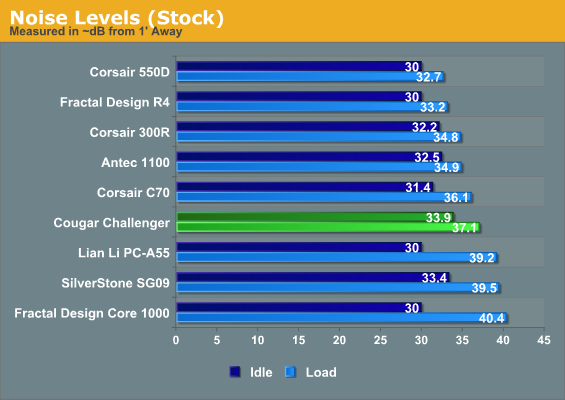 Unfortunately, this is where you see the sacrifices. Thermal performance is great, but the Challenger isn't the quietest case in the shop. That front fan is basically running full bore the whole time, and though the copious ventilation is great for temperatures, it's lousy for containing noise.
Noise and Thermal Testing, Overclocked
Given that the Cougar Challenger offers excellent thermal performance at a noise level that I still consider pretty reasonable when using stock components, I'm fairly optimistic that it'll continue to acquit itself well with our overclocked testbed. Cases that focus more on dampening noise and less on ventilation tend to wind up hurting the most here, when airflow becomes much more important. I expect the Cougar's middling acoustics to seem less harsh.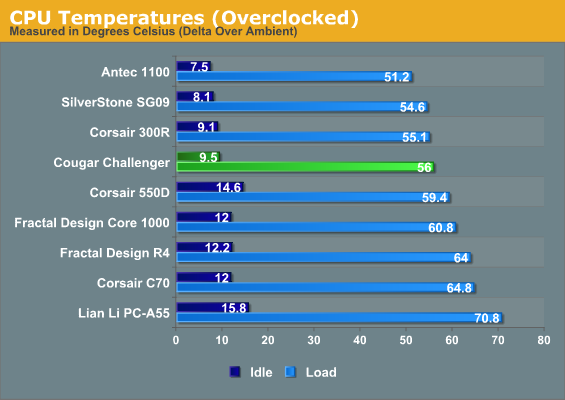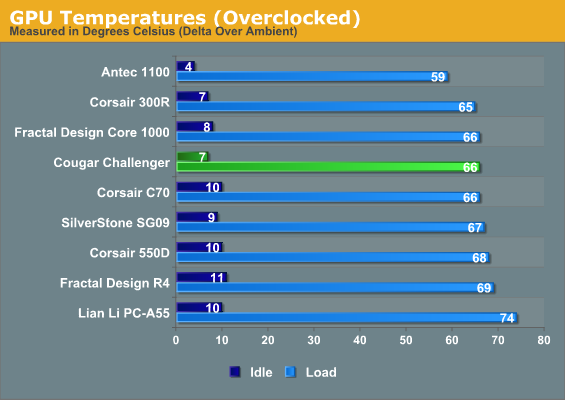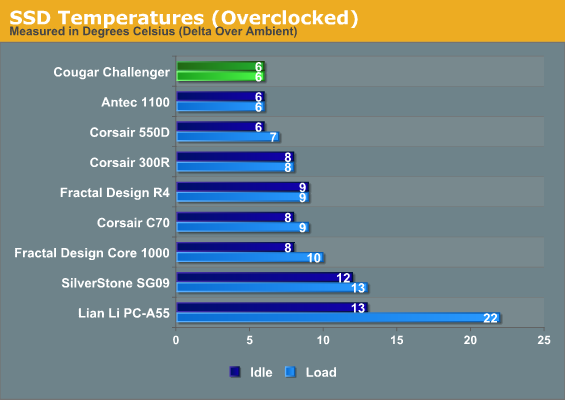 Thermal performance continues to be strongly competitive, though the Challenger does slip a little bit. Its main competitor turns out to be Corsair's budget-oriented Carbide 300R. That's bad news for Cougar, because the Carbide is hanging out at roughly the same price tag with a window in place and a good $10 cheaper without.
Fan speeds are essentially competitive. The Challenger holds a negligible lead on the Carbide 300R, mostly within the margin of error.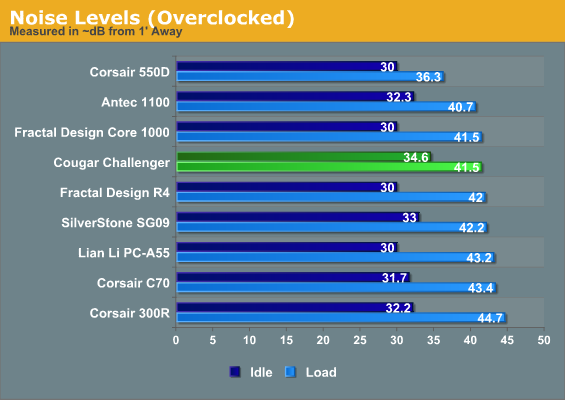 Idle noise is among the worst we've tested, but load noise is comparatively not so bad. This is one place where the Challenger does boast a substantial lead on Corsair's Carbide 300R; load noise is a good 3dB lower for roughly the same performance.
Conclusion: Entering a Crowded Marketplace
Undoubtedly you've detected a certain tone of ambivalence through the course of this review. That's because I'm placed in an uncomfortable position with the Cougar Challenger. The Challenger is by no means a bad case, but the problem is that it's not a great case, either. Let's break things down.
The upsides are pretty obvious with the Challenger. The included hotswap SATA tray is a welcome feature, thermal performance is excellent, and the case is easy to build in. Easier than most, in fact. Noise is fairly middle of the road, but coupled with the thermals, it's certainly tolerable. Build quality is solid, too, if unexceptional. Cougar has managed to deliver all of these things at a reasonably competitive price point, and I actually think it's positioned right where it should be.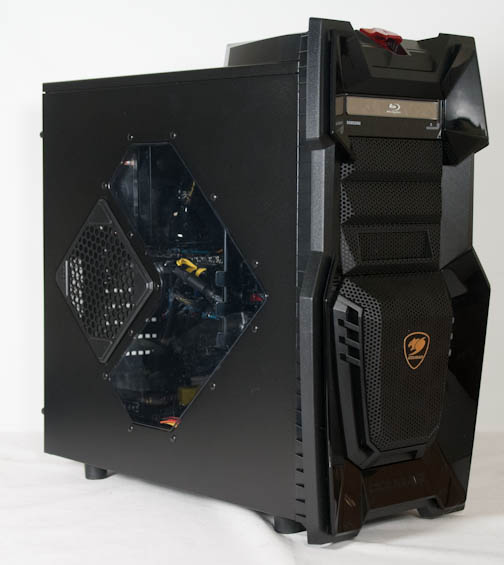 So what's the problem? Unfortunately, the Challenger does very little to distinguish itself in a crowded market. They're not offering anything new, and in some places they seem to actually have regressed a bit. The placement of the screws on the removable drive cage is baffling, and while the magnetic filter on the side panel is secure enough, it feels unnecessary. The fascia and its glossy plastic seem to be relics of a bygone era, too.
Cougar needed to offer some kind of killer feature or something distinctive to make their mark on the mainstream case market, but the Challenger is an amalgam of things we've seen before arranged in a very conventional way. Case design is something that's progressing at a fairly regular rate, and there's still a lot of room for innovation and improvement. Neither of these things are present here; this is a "me too" product that lands squarely in the middle of the road.
If the Cougar Challenger appeals to you I wouldn't dissuade you from buying it. The price is appropriate and the performance is there. My only issue is that it's serving customers who have already been taken care of by established products like Corsair's Carbide 300R and the BitFenix Shinobi. If Cougar wants to start grabbing that kind of mindshare, they need to produce something more aggressive and more distinctive or risk being an "also ran."