Original Link: http://www.anandtech.com/show/6429/ipad-mini-review


Over the last two months, Apple has updated almost all of its core product lines, with the addition of a 13" model to the Retina MacBook Pro line and new silicon for the iPad and Mac mini to go with ground up redesigns for the iPhone, iMac, iPod touch, and iPod nano. But the biggest story from the "little more" event was definitely the introduction of the iPad mini, a 7.9" counterpart to the 9.7" tablet that started it all.
We've been hearing whispers of a 7" Apple-built tablet since even before the original iPad was shown off in January 2010. By late 2011, the speculative consensus seemed to center around a 7.85" iPad targeted at the then-new Kindle Fire, with a 1024x768 resolution that would give it the same pixel density as the iPhone 3GS and a resolution that matched the regular 9.7" iPad. We've basically been hearing about this new device every two weeks since then. Apple's "veil of secrecy" is almost entirely gone at this point, something that is getting more obvious with every new product launch and a fact I think is worth mentioning because we've essentially known what the iPad mini was going to be, design and component-wise, since late summer.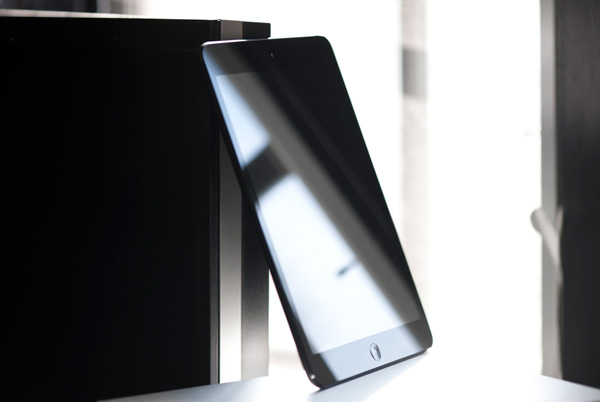 The result is a healthy blend of parts-bin engineering, a device that shares features and components with many other iOS devices. The design language is nearly identical to that of the fifth generation iPod touch, as is the SoC (the 32nm shrink of A5, also shared with the iPad 2,4) and camera - a 5MP sensor with Apple's five-element, f/2.4 optical system. With the same aspect ratio and screen resolution as the iPad 2, the iOS software stack is pretty straightforward too.
The Retina display technology is one that very prominently didn't trickle down to the iPad mini; with seemingly the entire rest of Apple's mobile lineup going Retina, from the iPod touch all the way up to the 15" MacBook Pro, the lack of a super-high resolution panel is noteworthy. We're left with a 7.85" IPS panel (rounded to 7.9" in Apple's marketing material) that runs a 1024x768 resolution and a pixel density of 163. That's the same as the first generation iPhone (as the 3G/3GS), which was cutting edge back in 2007, and half that of the iPhone 4/4S/5. I'll talk more about the display later on, but it's safe to say that the Retina display is the single biggest omission from the iPad mini feature list.
iPad Specification Comparison
Apple iPad mini
Apple iPad 4
Apple iPad 3
Apple iPad 2
Apple iPad
Dimensions
200 x 134.7 x 7.2mm
241.2 x 185.7 x 9.4mm
241.2 x 185.7 x 9.4mm
241.2 x 185.7 x 8.8mm
243.0 x 190.0 x 13.4mm
Display
7.85-inch 1024 x 768 IPS
9.7-inch 2048 x 1536 IPS
9.7-inch 2048 x 1536 IPS
9.7-inch 1024 x 768 IPS
9.7-inch 1024 x 768 IPS
Weight
308g (WiFi)
652g (WiFi)
652g (WiFi)
601g (WiFi)
680g (WiFi)
Processor
1GHz Apple A5 (2 x Cortex A9, PowerVR SGX543MP2)

Apple A6X (2 x Swift, PowerVR SGX 554MP4)

Apple A5X (2 x Cortex A9, PowerVR SGX 543MP4)

1GHz Apple A5 (2 x Cortex A9, PowerVR SGX543MP2)
1GHz Apple A4 (1 x Cortex A8, PowerVR SGX 535)
Connectivity
WiFi , Optional 4G LTE
WiFi , Optional 4G LTE
WiFi , Optional 4G LTE
WiFi , Optional 3G
WiFi , Optional 3G
Memory
512MB
1GB
1GB
512MB
256MB
Storage
16GB—64GB
16GB—64GB
16GB—64GB
16GB—64GB
16GB—64GB
Battery
16.3Wh
42.5Wh
42.5Wh
25Wh
25Wh
Starting Price
$329
$499
-
$399
-
Unlike previous releases of the 9.7" iPad, which have all come with new SoCs or otherwise significant internal upgrades, there's not much in the way of silicon-level innovation. Each iPad has come with a new SoC, with A4, A5, A5R2, A5X, and A6X all showing up first in the various iPads, and the only major Apple SoC release in that time to not ship first in an iPad was A6, which of course came alongside the iPhone 5 two months ago. The iPad mini, on the other hand, is on paper basically just an iPad 2,4 in miniature form, plus better cameras, optional LTE, and new industrial design.
The mini is available with the same color schemes as the iPhone 5, with the black or white bezels being joined by slate and silver anodized aluminum chassis, respectively. NAND options are the usual 16/32/64GB, with LTE-enabled models available through AT&T, Verizon, and Sprint. Pricing starts off at $329, with NAND going for $100 per step and $130 for LTE, as on the other iPads. This is a major point of contention with the mini, because the most obvious rivals in the Android world, the Nexus 7 and Kindle Fire HD 7", start at $199 and charge less for NAND upgrades. A 32GB Nexus 7 will run you $249, same with the 32GB Kindle Fire HD, while a 32GB iPad mini goes for the rather princely sum of $429. You could buy two 16GB Nexus 7s and a bundle of paid apps for the same as a 32GB mini.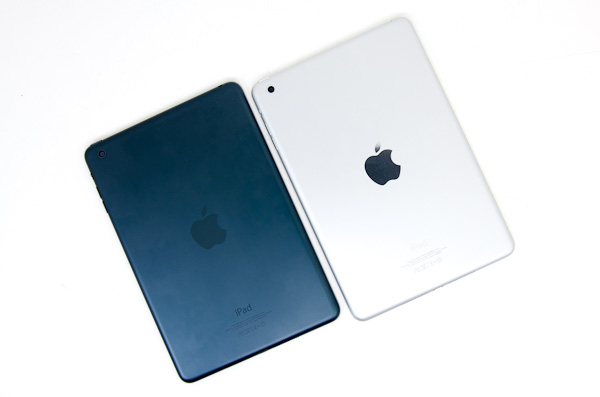 But here's the thing - I don't consider the iPad mini a competitor to the Nexus 7. The Nexus 7, to me, is what I buy if I'm in the market for a $199 tablet or I want a 7" Android device. It's a completely different experience than the iPad mini. In my mind, the closest competitors for the iPad mini are, in order, the iPad 2, the Kindle Fire HD 8.9", and the Nook Tablet HD+. The iPad 2 is obvious because these are the two lowest priced iOS tablets right now, and with similar underlying hardware, they're actually pretty closely matched. I think the latter two are especially interesting comparisons to make, because all three exist in the ~$300 "small premium tablet" niche that has suddenly appeared.
Consider it like the Mini Cooper equivalent in the tablet world - a premium experience offered at a very attainable (if not particularly value-oriented) price point. Obviously, that game plan has worked very well for BMW in the automotive world, and certainly if any company could use it successfully in consumer electronics, it would be Apple. The business case for it almost writes itself, but does it result in a truly stand-out product or a half-hearted me-too attempt by Apple to grab a share of the budget tablet market? With relatively little in the way of new hardware to talk about, a lot of this review will center around the user experience, and that's really what will determine how successful it is. Let's start with the major differentiating factor brought by the iPad mini, the new form factor.
Ergonomics
We've always thought the iPad was on the heavier side for prolonged use, particularly for one handed use. This was something more true for the 1st/3rd/4th gen iPads than for the comparatively svelte iPad 2, but at 1.33-1.5lbs, they were all too heavy for truly ultramobile use . The mini changes that in a big way, introducing a chassis that has 60% of the footprint and 47% of the weight of the latest 4th gen iPad in a 25% thinner frame, but even versus the iPad 2, the mini is a featherweight. It's thinner than both the 4th generation iPod touch and iPhone 5, though not as ridiculous as the 6.1mm frame of the latest iPod touch. At 7.2mm thick and 0.68lbs, the mini has the size and weight part absolutely nailed.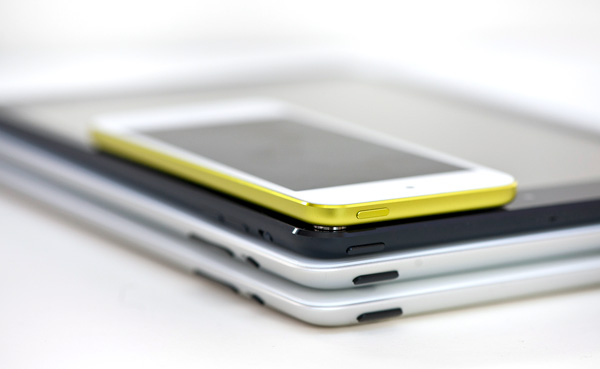 From top to bottom: iPod Touch (5th gen), iPad mini, iPad 2, iPad 4
Part of this is due to the smaller screen, but the bezel around the display has also been whittled down significantly, particularly on the sides, so it's actually possible to grip in portrait mode with one hand if you don't have particularly small hands. I wouldn't necessarily call it comfortable to do, certainly not as natural as on a 7" 16:10 widescreen Android tablet. It's definitely possible, but about 10mm too wide to do it properly.
The best way that I found, actually, was to hold it like a paperback book - pinky underneath for vertical support, thumb on the side for horizontal support, and the rest of the hand spread across the back. The mini is actually light enough that this is a perfectly natural way to do it no matter which hand you prefer holding the tablet in.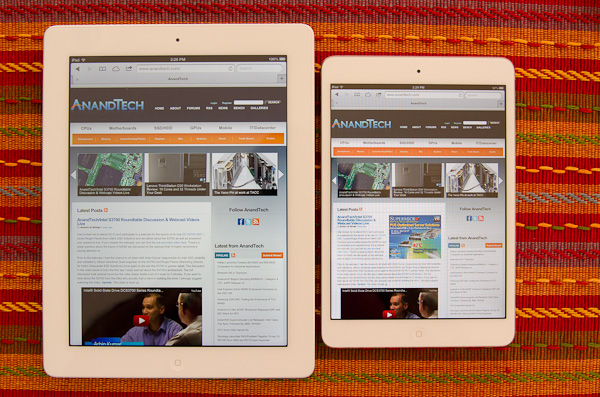 It's just an absolute joy to carry, the weight and thickness really make a big difference in the ergonomics as well as the portability. The footprint, too, has opened up some more mobile use-cases. You can easily use the iPad mini when walking around, something I found exceedingly difficult to do with the 9.7" iPad or any other 9-10" tablet without looking out of place and feeling like I was going to drop it every time I tried to walk at a normal, semi-rushed urban pace. The mini fits more readily in car gloveboxes and center console bins too, and it generally is a much more handy device.


iPad mini (left) vs Nexus 7 (right)
It's about a centimeter too wide to fit into the back pockets of my jeans and about 5mm too much for the inside pocket of my jacket, but with baggier clothes it's a non-issue. The N7 does fit into my jeans, though not comfortably (is there any situation in which a pocketed tablet does?). The mini will fit really easily in most purses, and fits in most suit jacket inner pockets, so it's about as portable as you can get. I already have CES plans that involve stashing a mini in my suit and relying on that and my phone for web publishing from the show floor.
If you're familiar with 7" Android tablets or, my previous favorite portable tablet form factor, the 7.7" devices from Samsung and Toshiba, this really isn't news. The smaller tablets, particularly the Nexus 7 and the Galaxy Tab 7.7/7.0+, have excelled at bringing a content consumption experience that is as good or better their larger 10.1" counterparts in a cheaper, more portable package. This is new to iOS though. Previously, there was a pretty gaping hole between the pocket-friendly iPod touch/iPhone and the notepad-sized iPad, and I think the mini does a great job of filling that hole. It's smaller than the iPad by enough to make it worth considering for the size alone, but not enough to take away from the user experience, and that makes it all the more tempting.
Design & Smart Cover
The smaller screen of the mini is joined by the super-slim industrial design from the fifth generation iPod touch that debuted a couple of months ago. I'm actually a pretty big fan of the direction Apple's mobile design teams have taken recently, the overall visual style is much cleaner and focused now, with less pronounced radiusing and more rectangular profiles across the board. The edges are rounded enough for a very smooth in-hand feel, but the front edge has the same highly polished, chamfered ring around the bezel as the iPhone 5.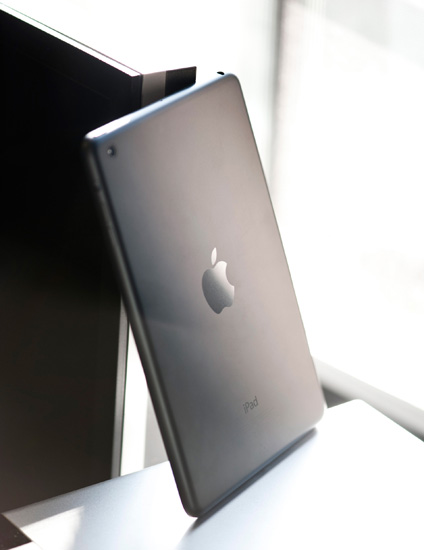 The dark monochromatic look is very sleek; combined with a brightly colored Smart Cover like the red one, the effect is pretty striking. The white/silver colour scheme, as on the iPhone 5, is elegant, but nowhere near as visually striking as the uniformly dark mini.
The face should be very familiar to iDevice users - a front facing camera centered at the top, an ambient light sensor to the left of it, and a home button at the bottom. The home button has been shrunk, though it's set far enough away from the screen that I feel like they could have easily kept the same home button that is used in the other iDevices. I'm assuming there's a reason for the downsizing, probably relating to the placement of the hardware around the display, because this isn't the type of thing typically overlooked by Jony Ive and Co.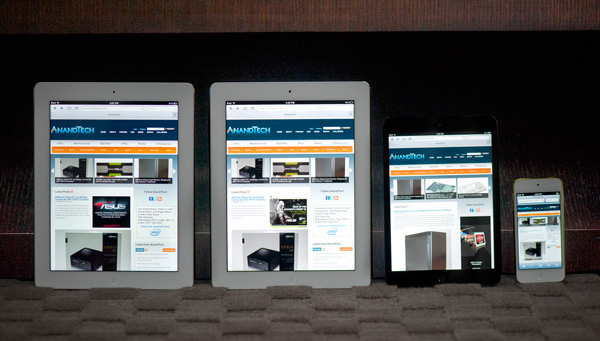 From left to right: iPad 4, iPad 2, iPad mini, iPod Touch (5th gen)
The bezel has been reduced considerably in size in all four directions, but more so on the sides than to the top and bottom. The result is a device with a slightly different physical aspect ratio than the 9.7" iPad - 4.45:3 instead of 3.90:3 (where, in both cases, the display has an aspect ratio of 4:3). The narrower bezel looks good - cleaner and more modern, and I think the iPad mini is better proportioned aesthetically. Of course, the smaller footprint is also one of the main factors in the awesome in-hand feel, so it's a functional decision as much as an aesthetic one. Surprisingly enough, the lack of bezel on the sides of the mini doesn't impact normal use. Apple tweaked iOS a bit to improve touch rejection along the edges of the mini.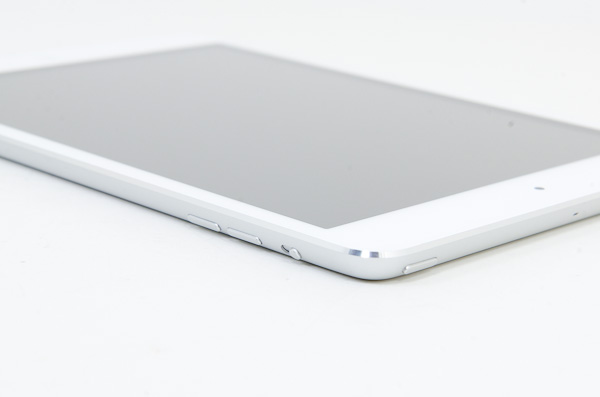 Button and port placement is identical to the preceding iPads, with a few minor but important changes. The silence/rotation lock slider in particular feels much more robust than in previous editions. The top edge has the power button on the right and headphone jack on the left, with volume buttons on the right edge, next to the camera. The buttons themselves are now metal, and offer better feel and feedback than the plastic buttons of the 9.7" iPad.
Coming around the edge to the bottom, we see that the 30-pin dock connector has been replaced by the new Lightning port, centered as always. The mono speaker in the right corner of the back is now gone, superceded by a pair of speakers set on either side of the Lightning port. That's right - the iPad finally has stereo speakers, and they're actually pretty decent. Clean sound output, and loud enough to fill a 400 sq ft room without distorting at high volumes. As with most mobile devices, the sound is a bit thin, but a decent improvement over my admittedly low expectations.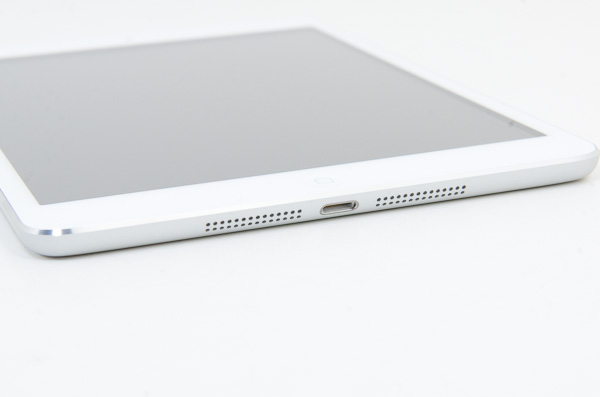 Given that the iPad mini shares the same colors and materials as the iPhone 5, I was curious to see whether the paint would be as fragile and whether we'd see a repeat of the quality control issues Apple had with it at launch. Thankfully, the anodization seems far more robust and significantly more resistant to scratching, even on the polished aluminum band at the front. I didn't see any material or paint defects when I unboxed it, even after a thorough going over, and through two weeks of not particularly gentle use, I haven't seen any scratching. It's a very different experience than my iPhone 5, which came out of the box with the front panel not properly clipped into the aluminum frame and scratched whenever I looked at it wrong. This isn't a device that needs any other kind of case unless you plan on abusing it, and I feel like a larger case would undo some of the benefit of the ultralight chassis.
Apple does built a custom Smart Cover for the mini, available in a number of colors. Unlike the bigger Smart Cover, the mini's cover integrates the magnetic hinge into the same material as the rest of the cover, resulting in a very cohesive design: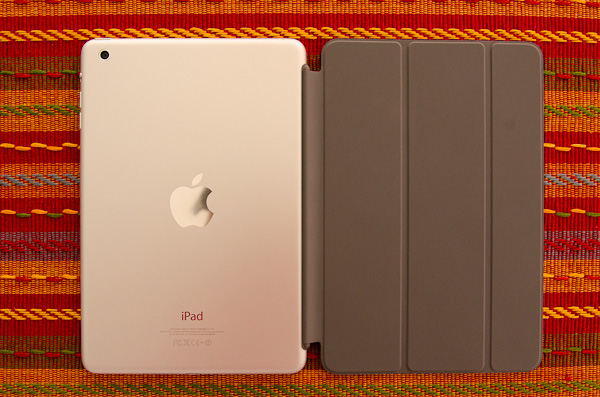 The big benefit of the Smart Cover is the ability to use it as a stand: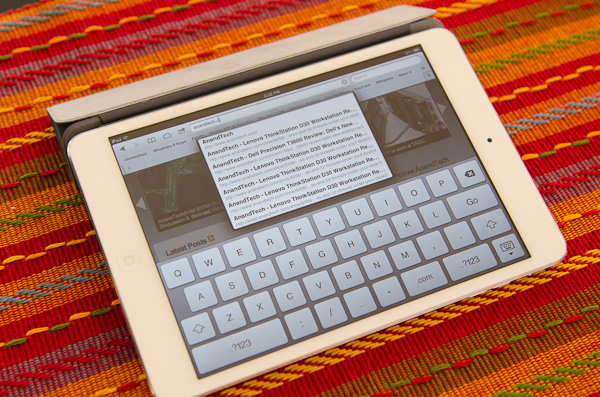 The angle of the folded Smart Cover is considerably larger than on the standard iPad, making the iPad mini lean back more vs. standing upright on the bigger model: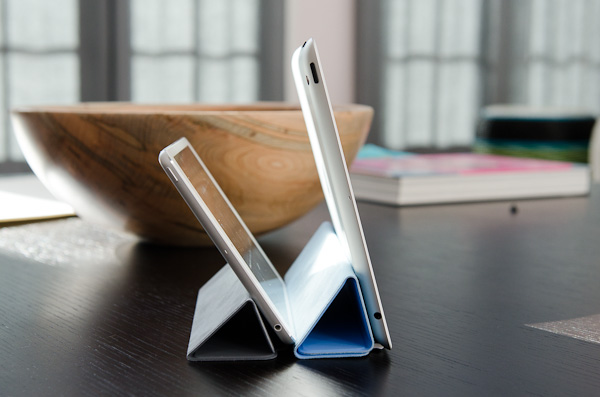 I would recommend getting a Smart Cover for the versatility of the stand and to have some form of protection for the screen. Plus, the black iPad mini + red Smart Cover combination just looks awesome.
Display Analysis
As with a discussion on performance in mobile devices these days, the iPad mini's display requires both an experiential analysis and an objective performance analysis. I'll begin with the experience.
Without a doubt, the iPad mini presents an evolution in form factor and nothing else. Everything from silicon to display technology are known quantities at this point. While it's true that in many senses, even Apple's previous generation mobile hardware is pretty good, the fact of the matter remains that the mini doesn't push the envelope in anything but form factor. That's not necessarily a bad thing, it's just reality. I should also point out that many smaller-versions-of-bigger-things follow this same approach of not pushing the performance envelope for obvious reasons.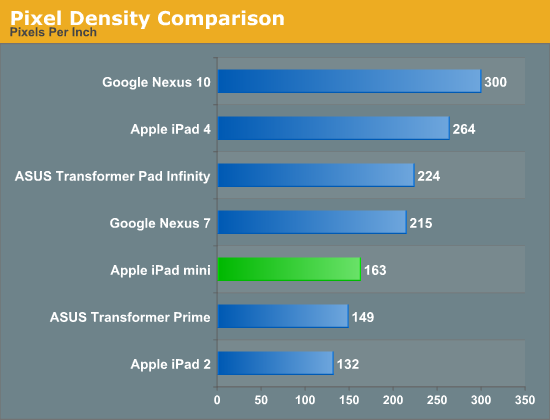 Doing the math on the mini's 1024 x 768 display results in a pixel density of 163 pixels per inch. A tangible improvement compared to the original iPad's 132 PPI, but keep in mind the smaller screen may have to be held closer to your eyes. Compared to other tablets, the mini's display resolution isn't anything to write home about. In practice, the mini's makes reading small text a problem: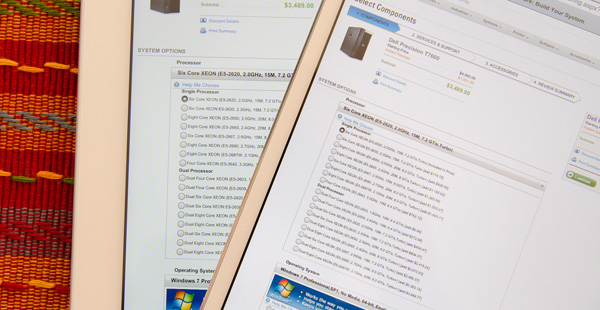 While the 3rd and 4th gen iPads have a large enough display at a high enough resolution to make it possible to view the Dell configurator in the photo above without zooming, the same can't be said for the iPad mini. You're going to need a double tap.
Although reading text is one area where the absence of insane numbers of pixels is clearly obvious, it's visible in some photos as well.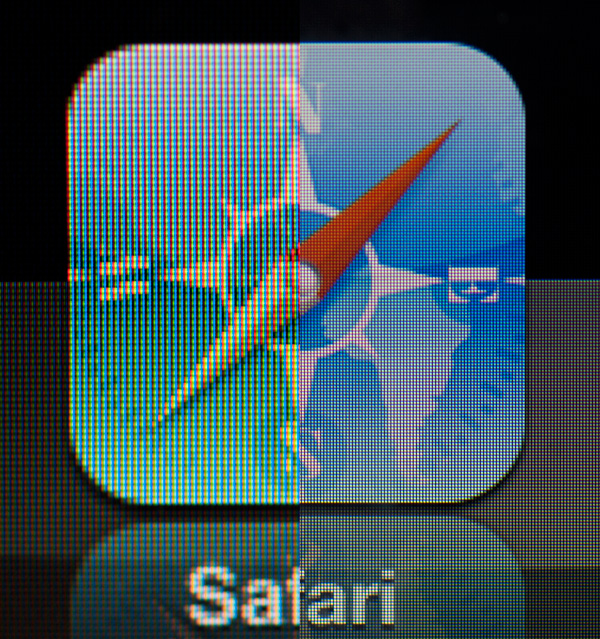 iPad mini (left) vs. iPad 4 (right)
Where a lack of fine detail doesn't get you, the physical size of the display may. I was pleasantly surprised by the usefulness of Apple's 7.85-inch display, but given my early affinity towards 8-inch tablets it's not too shocking. Despite how useful the mini's display is, I found myself having to double tap to zoom in on most desktop websites just to make the reading a bit better. It's not that the process of zooming in on a website in mobile Safari is particularly cumbersome, it's that the fact that I have to makes me feel like I'm using more of an iPod Touch and less of an iPad. I do admit the feeling is quite irrational as I prefer keeping the iPod Touch (or iPhone in the case of, reality) holstered and using the mini instead. This is less a criticism of the iPad mini and more guidance for those deciding between mini and regular sizes of the iPad.
Compared to a true 7-inch tablet like the Nexus 7, the additional screen size is definitely appreciated - particularly when reading web pages: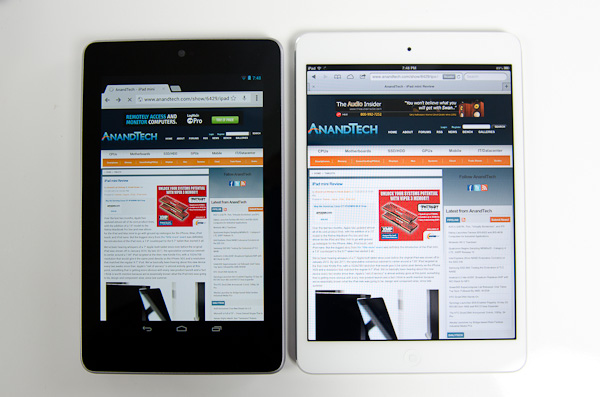 Nexus 7 (left) vs iPad mini (right)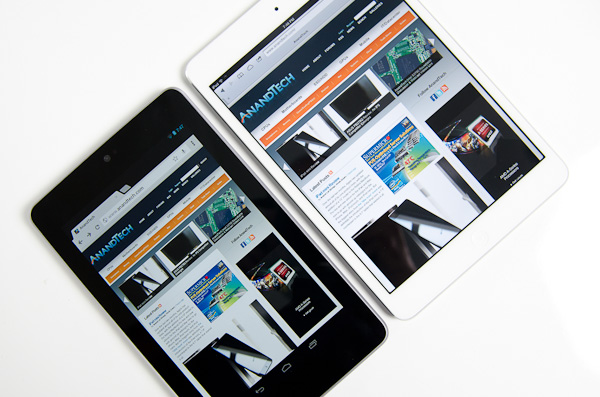 Nexus 7 (left) vs iPad mini (right)
When Vivek and I brought up the topic of the mini's lower pixel density on the Podcast, our own Brian Klug pointed out the obvious: we're spoiled. How impressed/unimpressed you are with the iPad mini's display really depends on what other displays you've been exposed to. In a vacuum, the iPad mini's display is fine. Brightness, black levels and contrast are all reasonable (and much better than most notebooks). Color reproduction isn't bad either. In the spectrum of all displays available at the mini's price point, this 7.85-inch 1024 x 768 panel isn't bad. Spend any appreciable time with the bigger iPad's Retina Display however, and your opinion will quickly change.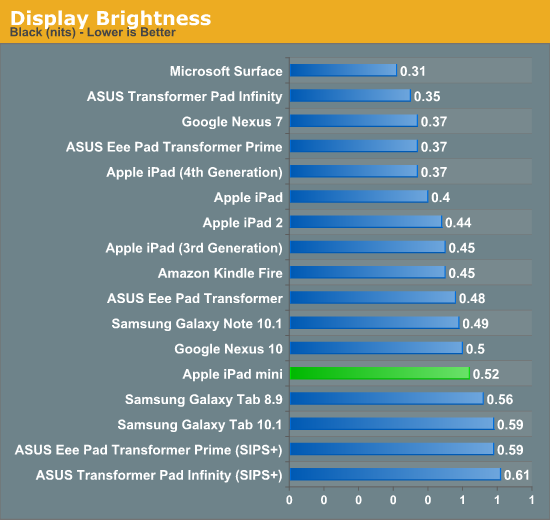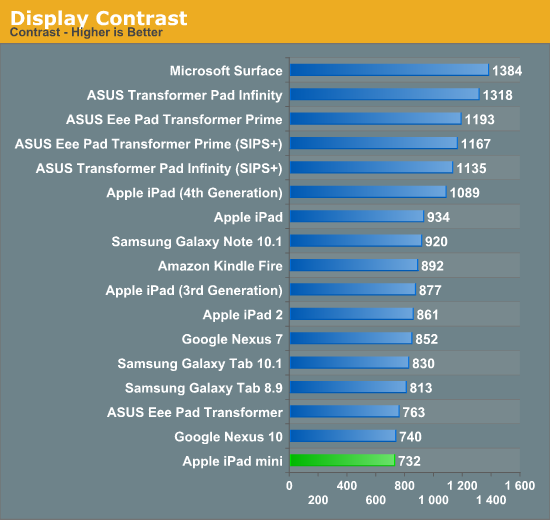 In our Surface review I titled the display section "Not Retina, But Still Good". Compared to the Surface display, the mini has better color accuracy but clearly loses out in black levels thanks to Microsoft's laminated display + cover glass stack.
To evaluate color accuracy I turned to our own Chris Heinonen's CalMAN smartphone/tablet workflow. We'll start off by looking at the calibrated white point for these tablets. What you're looking for here is a number close to 6500K:

The mini doesn't really diverge from other iPads here, although Microsoft comes closer to 6500K at 200 nits.
The next three charts look at accuracy represented as a difference between various source colors and what's reproduced on the display. The results are presented as average dE2000, with lower numbers being better.
First up is Grayscale performance, here we're looking at the accuracy of black, white and 19 shades of gray spread in between the two extremes: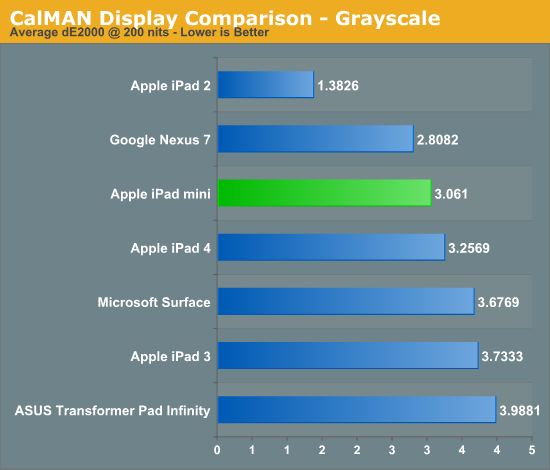 The mini does reasonably well here, it actually ends up a bit better than the 4th gen iPad. Grayscale accuracy doesn't seem to be too difficult for most folks to get right, but what happens when we start looking at colors?
First in our color accuracy tests is a saturation sweep. Here we're looking at 20%, 40%, 60%, 80% and 100% saturations of red, blue, green, magenta, yellow and cyan.

Now we start to see the retina equipped iPads pull away from the mini. Compared to the iPad 2 and even Microsoft's Surface, the mini looks pretty good, but if you compare it to the Nexus 7 or newer iPads it's clearly at a disadvantage. All of these displays are significantly better than the average notebook panel. As I mentioned earlier, it all boils down to perspective and expectations.
Gamut CIE Chart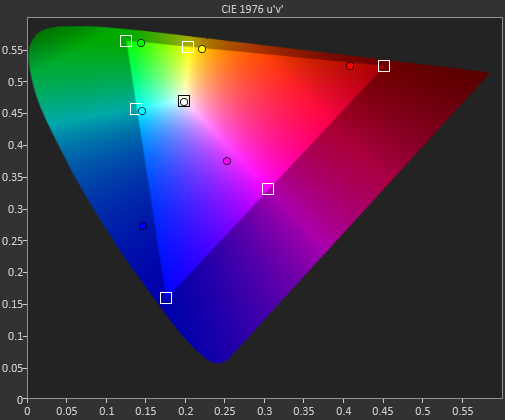 Saturation CIE Chart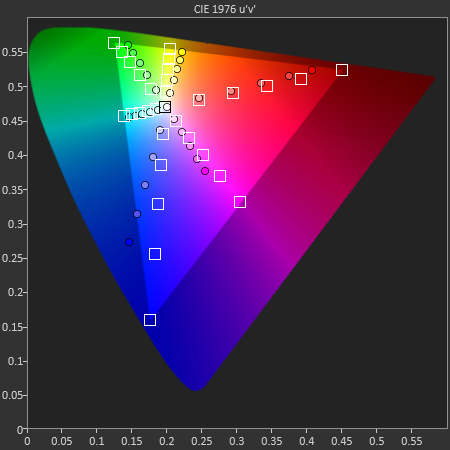 For our final accuracy test we're looking at the difference between a Gretag Macbeth colorchecker chart and the rendered swatches on these displays. Once again, lower numbers are better.

Once again, the iPad 3/4 can't be touched here, with the iPad mini falling significantly behind. Colors simply look better on the bigger iPads. The Nexus 7 does better here as well. Subjectively I found colors on the Nexus 7 to look appreciably more accurate than on the mini.
GMB Color Checker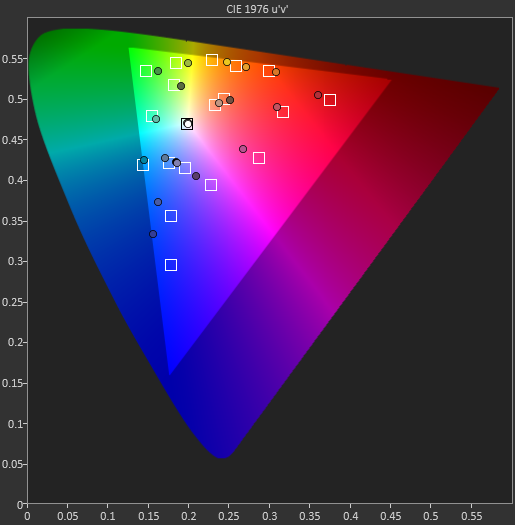 With regards to the quality and accuracy of the images rendered on the mini's screen, I feel the same way about it as I do the display on Surface: it's not a Retina display, but still good.
A Retina mini?
I prefer reading text and browsing the web on the bigger iPad, but in terms of actually holding the device the mini wins hands down. One iPad is better to look at and one is better to hold. It's a real problem. The obvious solution would be to give the iPad mini a Retina Display. Once again, in our Podcast on this topic, Brian offered poignant insight: a Retina Display likely won't come to the iPad mini.
There are three routes Apple has to enable a Retina Display on the iPad mini:
1. Double horizontal and vertical resolution (4x the number of pixels, similar to what was done for the iPad 3/4)
2. Pick a new, in-between resolution that isn't an outright doubling in each dimension but maintain the 4:3 aspect ratio
3. Pick a new resolution that isn't an outright doubling, also pick a new aspect ratio in the process
With the exception of the iPhone 5, Apple has preferred outright quadrupling of pixel count (2x in each dimension, option #1) to create a Retina Display. With the mini's display using a 1024 x 768 resolution, this option would give it a 7.85-inch 2048 x 1536 panel. That would be the same resolution as the iPad 3/4, but in a much smaller display giving it a pixel density of 326 PPI (vs ~263 for the iPad 3/4). Apple could do this, but it would then need to make all of the same changes it made in going to the iPad with Retina Display, primarily the introduction of a larger battery and much larger SoC. The bigger battery is needed to drive the more powerful backlight, and the X-series of SoCs is needed to actually render the UI and games at such a high resolution. Both of these things would increase the size and cost of the mini, which would make it distinctly un-mini.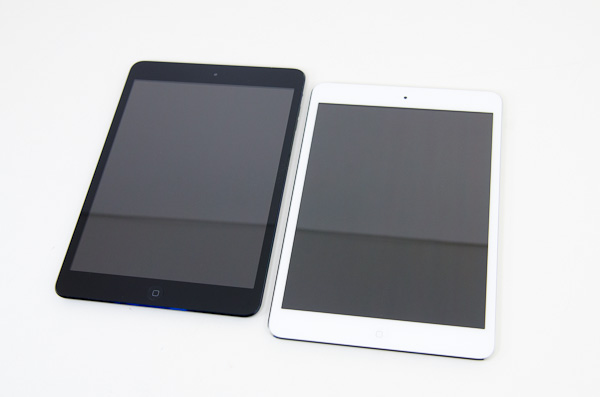 The second option would be to pick a new resolution that wasn't an integer multiple of the current one, say 1600 x 1200. You could maintain the same aspect ratio, but you'd just get greater pixel density. The problem with this approach is iOS for the iPad projects points in screen space to one of two resolutions: 1024 x 768 or 2048 x 1536. Picking a non-integer multiple of those resolutions would force Apple to do some scaling and filtering to hit the new resolution, which could reduce quality. Apple does this on the MacBook Pro with Retina Display to enable higher resolution modes. To maximize image quality however, Apple renders the desktop offscreen at 4x the resolution and then scales down to fit the panel. There are obvious performance concerns here as well.
The final option would be for Apple to take the iPhone 5 route and just pick a new resolution and enable support for it. The only downside to this option is that developers would have to target yet another type of display. As we've seen with the iPhone 5, that can be done but it also means a number of applications may take a while to get updated, if they are at all.
None of these options is particularly enticing for Apple, especially given the low (for Apple), starting price for the iPad mini. If you're expecting next year's mini to have a Retina Display, I wouldn't hold your breath.
CPU Performance
As I mentioned before, the bulk of the innovation in the iPad mini is around form factor - the hardware platform itself is mostly a reuse of previous designs to keep costs low. The mini retains the 32nm A5r2 SoC as the iPad 2,4 and 5th gen iPod Touch. Despite the smaller size, it also uses the same 1GHz CPU clocks as its bigger brother. Performance is thus identical to the iPad 2,4, and a bit faster than the iPhone 4S. I found that the increase in clock speed does help to mask the fact that this isn't a Swift based platform, although going between the iPad mini and 4 does reveal an appreciable performance difference.
We're still very limited in good, cross-platform CPU benchmarks. We, once again, turn to JavaScript tests run in the browser. For all of the tablets tested here we're using Chrome for Android and Mobile Safari for iOS.
SunSpider has been a part of all of our mobile performance testing for quite a while now. It's not the perfect benchmark, but the test ends up being a good measure of browser performance as well as cache latency and CPU performance.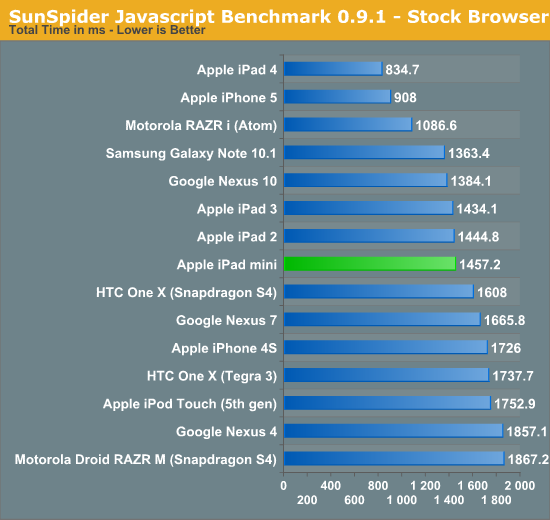 The iPad mini's two Cortex A9 cores running at 1GHz give it performance that is pretty much identical to the iPad 2 and 3, which also feature the same CPU. In the grand scheme of things however, the mini's performance is decidedly last generation. That's not to say that it's bad, it's just that the Swift based architecture in the A6/A6X is significantly better.
Google's Octane benchmark is a much larger test than SunSpider, but we're still looking at JavaScript performance. Octane includes all 8 of the tests from Google's older V8 benchmark but adds 5 new ones including a PDF reader, 3D bullet physics engine and portable 3D game console emulator all built in javascript.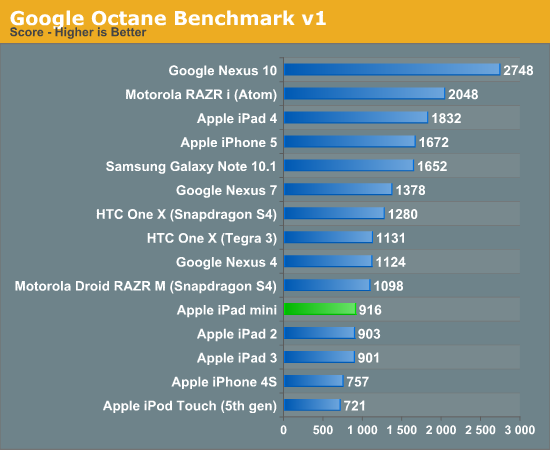 Here the mini shows its age a bit, but mostly because of its conservative CPU clock speeds. Google's Nexus 10 is finally able to flex its muscle here and show just what the Cortex A15 is made of, even outperforming Intel's Atom in the RAZR i. Also note the performance increase compared to the iPhone 4S/iPod Touch, that's purely due to the clock speed advantage (1GHz vs 800MHz). I don't believe Apple picked the wrong clocks for the A5 in the mini as battery life remains a primary concern for this device.
Finally we have Kraken, a seriously heavy javascript benchmark built by Mozilla. Kraken focuses on forward looking applications that are potentially too slow to run in modern browsers today. The result is much longer run times than anything we've seen thus far, and a very CPU heavy benchmark: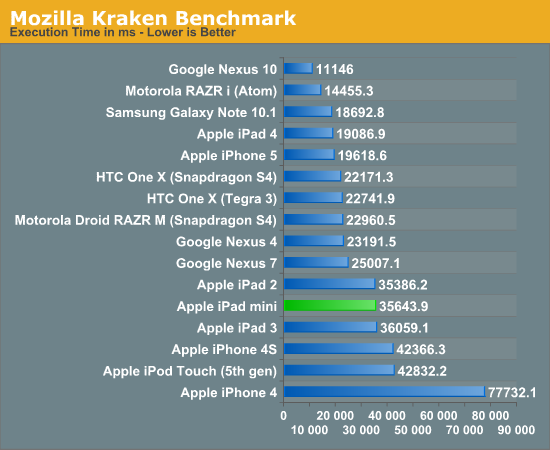 Once again the mini equals the performance of the iPad 2 and 3, but remains appreciably slower than the iPad 4/iPhone 5. Google's Nexus 10 absolutely dominates in this test, continuing to outperform Intel's Atom based RAZR i.
GPU Performance
Although most of the industry has done a great job in pushing CPU performance forward, Apple remains largely uncontested when it comes to mobile GPU performance. This isn't really due to some unsurmountable advantage, but rather a willingness to spend on SoC die area and incorporate big GPUs into its designs. The graphics IP all comes from Imagination Technologies, and although it's very well integrated by Apple, there are other SoC vendors that could push the envelope here - they simply have chosen not to.
Things are beginning to change as we saw with the introduction of Qualcomm's Adreno 320 based Snapdragon S4 Pro. NVIDIA's Wayne (Tegra 4?) SoC is expected to be much more competitive on this front as well.
As a result of many of the competing devices using slower GPUs, the mini looks a lot better in our GLBenchmark tests than its competitors.
We'll start out with the raw theoretical numbers beginning with fill rate: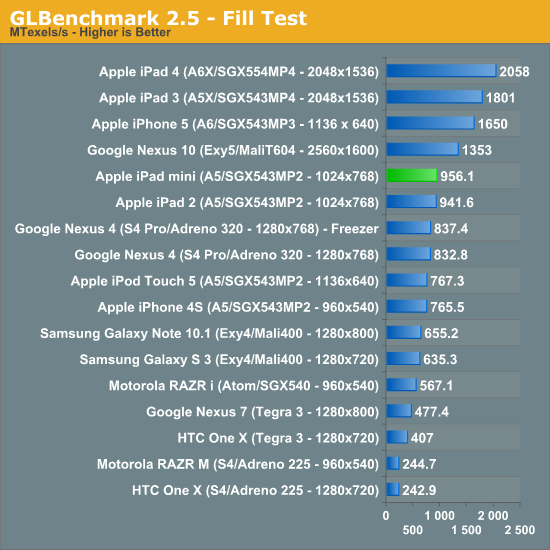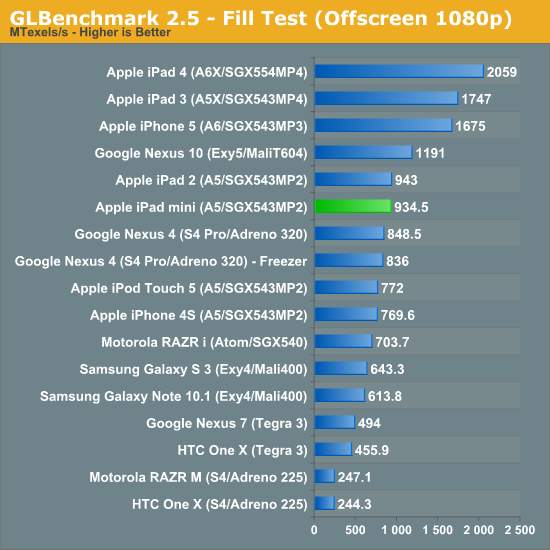 Other than the Nexus 10, the only devices that outperform the iPad mini here are other iPads or the iPhone 5. The mini's low native resolution will help ensure that gaming performance remains high for any currently available content.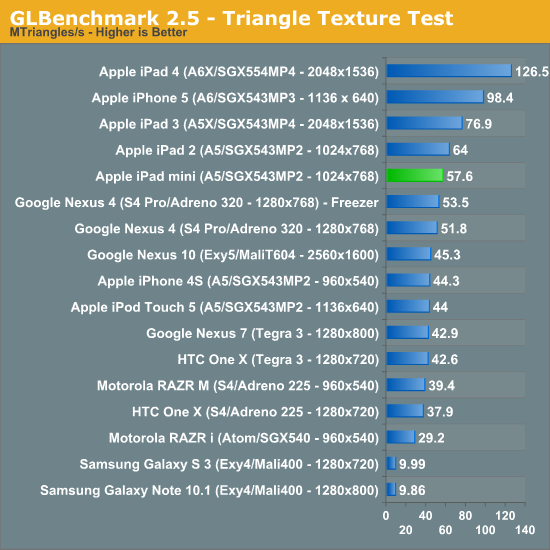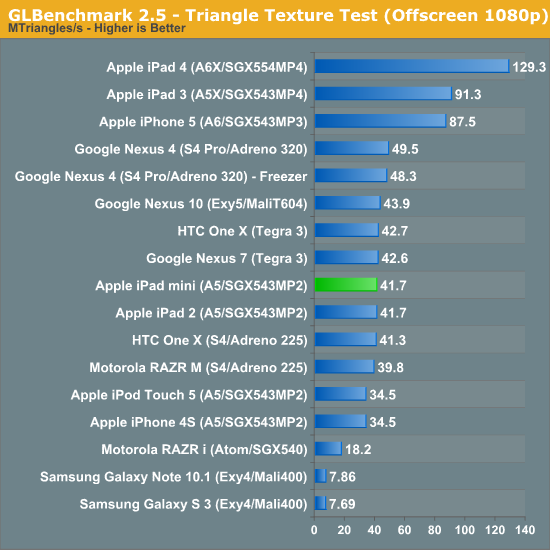 Triangle throughput looks very good here although the Tegra 3 based Nexus 7 is able to pull ahead on the offscreen test.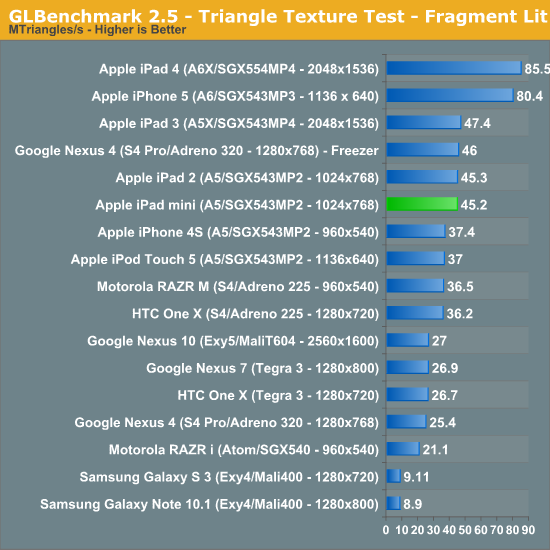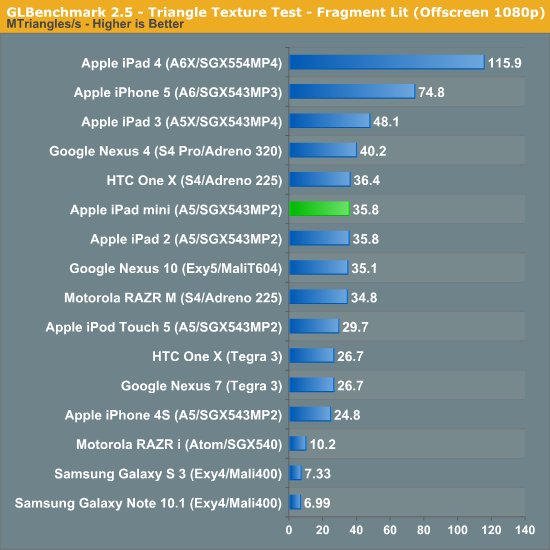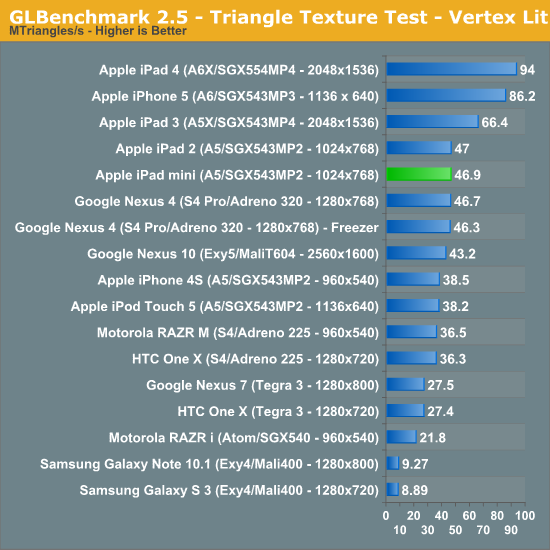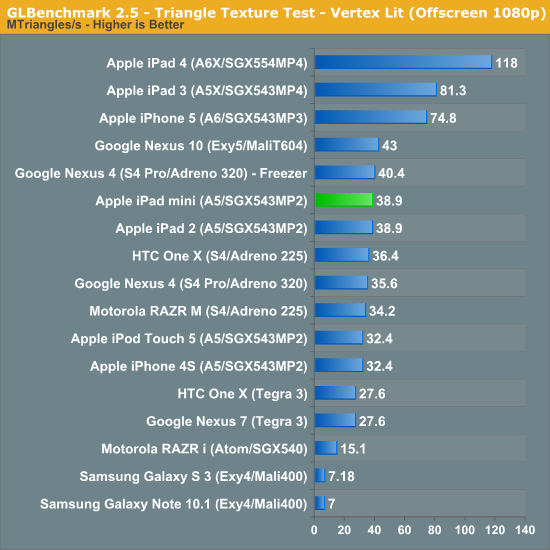 The mini continues to do quite well here vs the competition, although in the heavier triangle tests we see a clear difference between it and the A5X/A6/A6X based iOS devices.
With the synthetics out of the way, we can look at simulated game performance using the Egypt HD and Egypt Classic benchmarks. Remember the on-screen tests are run at native resolution with v-sync enabled, while the offscreen tests are run at 1080p with v-sync disabled for an architectural apples-to-apples comparison.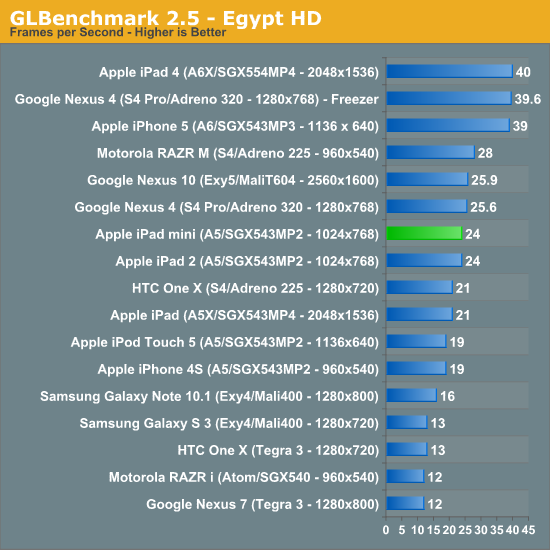 The mini does reasonably well running Egypt HD, which is a good indicator of future gaming performance on the device (perhaps ~2 years out for high end titles). The iPad 4's GPU does a good job of keeping up with its insane display resolution. The Nexus 7 doesn't fare nearly as well. Tegra 3 manages to run most current games just fine, looking forward though the GPU will probably not age too well.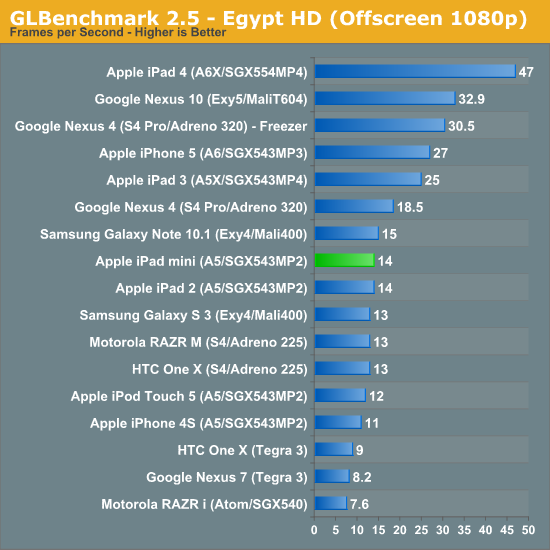 The offscreen tests show us what everything is really capable of given equal footing, and here the mini looks a lot more middle-of-the-road.
The Egypt Classic test is a much lighter workload, as a result most of these devices hit 60 fps at their native resolution: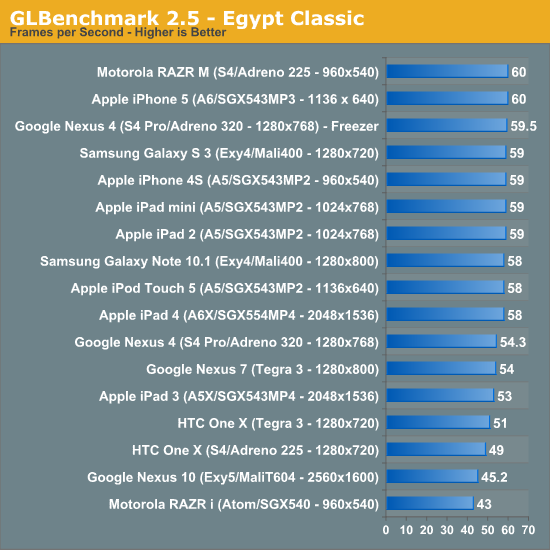 Although Egypt HD is a bit overkill for today's games, Classic undershoots by a good amount. The offscreen test however does provide some guidance as to whether or not these devices would be able to hit 30 fps on an appreciably heavier workload: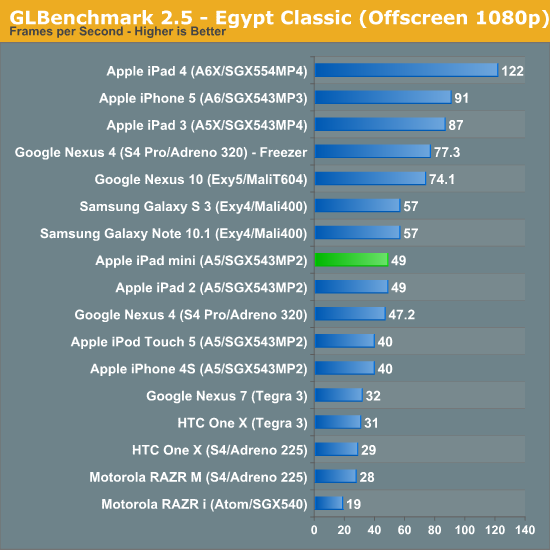 The mini does a good job here, although the iPad 3/4 and iPhone 5 are clearly quicker.
Overall the mini isn't a performance slouch. If you thought the iPad 2 was fast enough, the mini won't dissappoint. Its GPU remains very good and should be able to handle both present and upcoming iOS games. That being said, if Apple remains true to its typical cadence and gives next year's mini an A6 SoC I think that will end up being a much better match of price/performance.
Battery Life and Charging
The iPad mini features an integrated 16.3Wh battery, easily smaller than the 43Wh unit in the iPad 3/4 but even smaller than the 25Wh used in the iPad 2. Given that the mini has roughly the same internals as the iPad 2,4, but with a substantially smaller battery, you can expect a corresponding decrease in battery life. The display is also smaller, which should reduce some of the power requirements a bit.
We've started running our new smartphone web browsing battery life test on tablets as well. If you missed its introduction in our iPhone 5 review, here's a bit about the new test:
We regularly load web pages at a fixed interval until the battery dies (all displays are calibrated to 200 nits as always). The differences between this test and our previous one boil down to the amount of network activity and CPU load.
On the network side, we've done a lot more to prevent aggressive browser caching of our web pages. Some caching is important otherwise you end up with a baseband/WiFi test, but it's clear what we had previously wasn't working. Brian made sure that despite the increased network load, the baseband/WiFi still have the opportunity to enter their idle states during the course of the benchmark.
We also increased CPU workload along two vectors: we decreased pause time between web page loads and we shifted to full desktop web pages, some of which are very js heavy. The end result is a CPU usage profile that mimics constant, heavy usage beyond just web browsing. Everything you do on your device ends up causing CPU usage peaks - opening applications, navigating around the OS and of course using apps themselves. Our 5th generation web browsing battery life test should map well to more types of mobile usage, not just idle content consumption of data from web pages.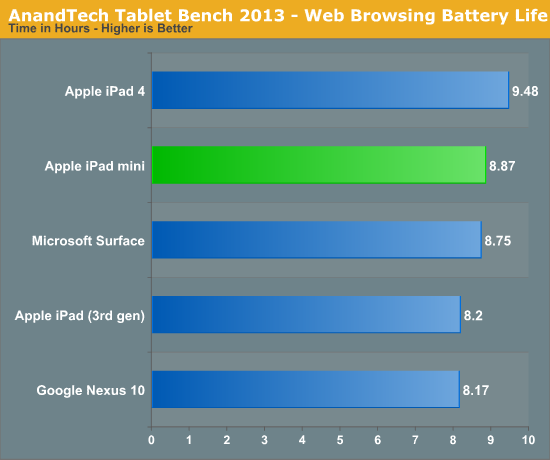 The mini actually outlasts the 3rd gen iPad in our heaviest WiFi web browsing battery life test, but the 4th gen iPad's move to a 32nm SoC solves that problem. Under load however both the new iPad and the mini are fairly close in terms of battery life.
We haven't yet rerun our new test on all of the tablets, so we turn to our older 4th gen test to provide some additional reference points: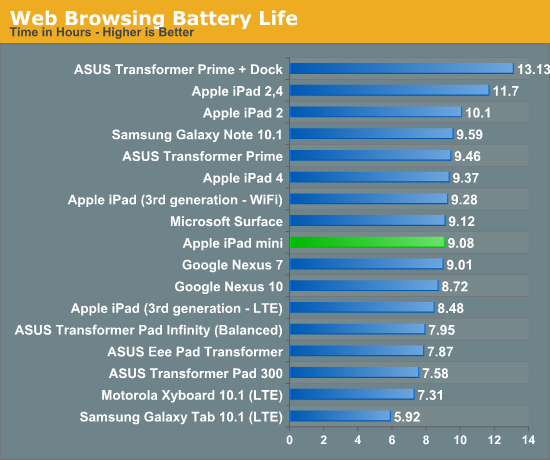 If we look back at our older test we get good perspective on everything. The iPad 2,4 still remains the king of single battery tablets, and the mini just barely makes it over 9 hours of use on a single charge. The mini still lasts long enough for it to be more of an all-day device than a notebook.
Our video playback test remains unchanged from previous tablet reviews. Here I'm playing a 4Mbps H.264 High Profile 720p rip I made of the Harry Potter 8 Blu-ray. The full movie plays through and is looped until the battery dies. Once again, the displays are calibrated to 200 nits: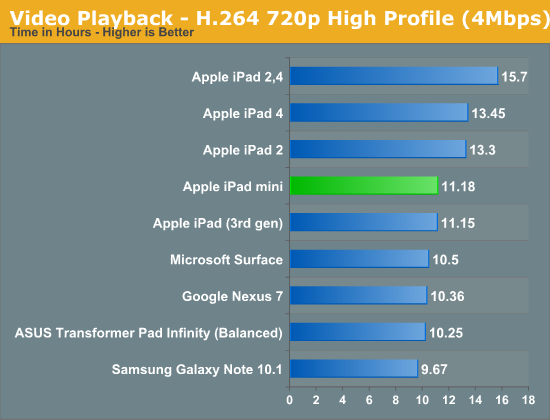 Apple's video decode hardware implementation has always been stellar, as a result the mini manages to do very well here. At over 11 hours of video playback on a single charge, the mini is only bested by some of its larger iPad brethren. The iPad 2,4 remains insanely awesome here.
Our final cross-platform battery life test is the new GLBenchmark 2.5.1 Egypt HD test. Here we have a loop of the Egypt HD benchmark, capped to 30 fps, running on all of the devices with their screens calibrated to 200 nits.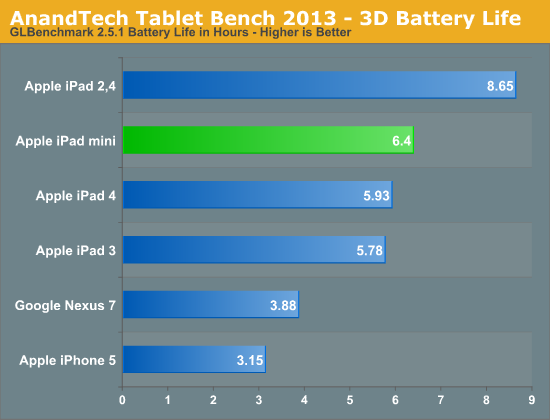 I no longer have a 45nm iPad 2 so I don't have results for it here, but the combination of the small 1024 x 768 display and 32nm A5r2 silicon gives the mini better battery life than the iPads equipped with a Retina display. The iPad 2,4 continues to offer amazing battery life here.
The GLBench battery life test gives us a reasonable minimum for the iPad mini's battery life, with the video playback test giving us a good maximum. You can expect to see 6.4 - 11.2 hours out of a single charge from the mini.
The mini comes bundled with a 1A charger identical to what you get with an iPhone 5 or a 5th gen iPod Touch. Using the new Lightning connector it'll take about 4 hours to complete a charge on the iPad mini.
Camera
The iPad mini features a 1.2MP front facing FaceTime HD camera and a 5MP rear facing iSight camera. The rear camera shoots photos at 2592 x 1936, the same resolution as the 4th generation iPad. Both of the new iPads have the same f/2.4 lens, however the mini features a wider field of view thanks to its shorter 3.3mm focal length.
Camera Comparison
Sensor
Resolution
Compressed JPEG Size
Aperture
Focal Length
Apple iPad 4
5MP
2592 x 1936
3.4MB
f/2.4
4.3mm
Apple iPad 2,4
0.7MP
960 x 720
344KB
f/2.4
2.0mm
Apple iPad mini
5MP
2592 x 1936
3.1MB
f/2.4
3.3mm
Apple iPhone 5
8MP
3264 x 2448
3.1MB
f/2.4
4.1mm
Apple iPod Touch 5
5MP
2592 x 1936
3.1MB
f/2.4
3.3mm
Still performance of the rear facing camera is very similar to the 5th generation iPod Touch, and not as good as the 4th generation iPad.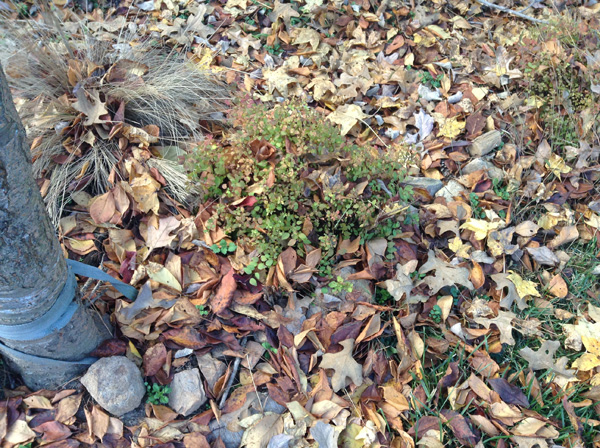 The front facing camera is also similar to what you find in the iPhone 5 and 5th generation iPod Touch:
Camera Comparison
Sensor
Resolution
Compressed JPEG Size
Aperture
Focal Length
Apple iPad 4
1.2MP
1280 x 960
426KB
f/2.4
2.2mm
Apple iPad 2,4
0.3MP
640 x 480
105KB
f/2.4
1.8mm
Apple iPad mini
1.2MP
1280 x 960
372KB
f/2.4
2.2mm
Apple iPhone 5
1.2MP
1280 x 960
400KB
f/2.4
2.2mm
Apple iPod Touch 5
1.2MP
1280 x 960
406KB
f/2.4
2.2mm
Performance of the front facing camera is decent, and a significant improvement compared to the iPad 2 (you can see comparison shots in the gallery above):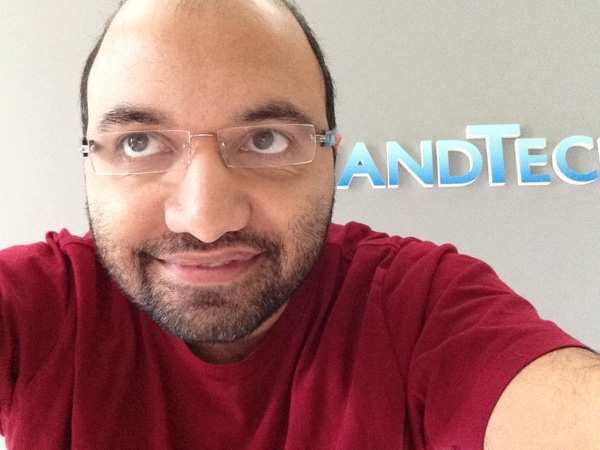 Although I'm continually impressed by folks using tablets as their primary cameras at trade shows and press events, I don't believe the same standards apply to tablets as they do to smartphone camera systems. That being said, it's good to see continued improvements here.
Video
The iPad mini shoots 1080p video from its rear camera and 720p on the front. It looks like Apple is borrowing from the iPhone 5's encoder improvements here as video shot with the rear camera is encoded using High Profile H.264 (L4.1) at 17.1Mbps. The improvement in encode quality is possibly unlocked through software/firmware rather than an actual hardware change since this is still running on A5r2 silicon. In our iPhone 5 review, Brian pointed out that the A6 uses the same encode/decode hardware as the A5 but its full capabilities weren't unlocked until the A6. Given that encode quality has also improved on the A5r2 based iPad mini, it would seem that Apple limited earlier designs either due to a lack of time or to stagger its improvements across generations.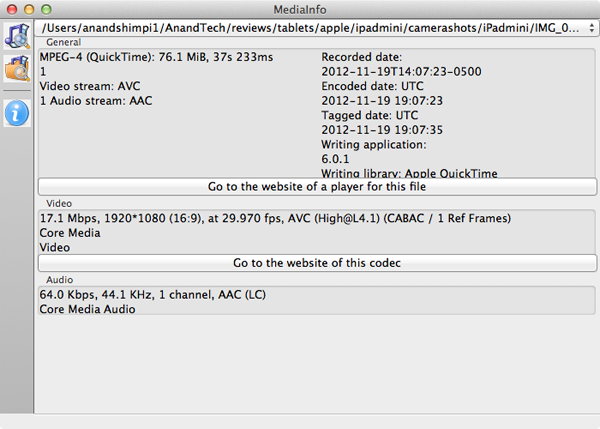 The front facing camera shoots baseline video at roughly 10.6Mbps, a huge improvement over the iPad 2 and iPad 3: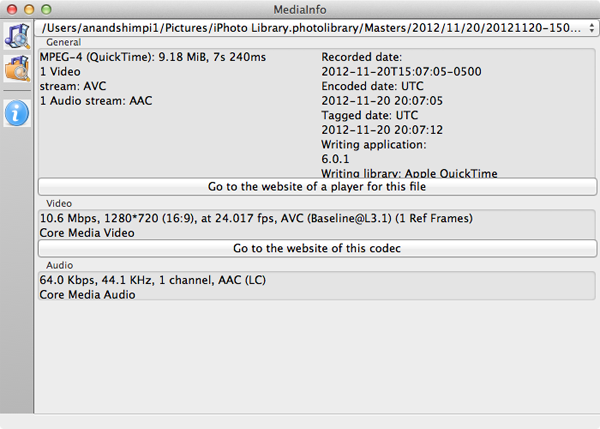 Video quality is definitely good enough for web use:
WiFi Performance
The mini uses the same Broadcom BCM4334 WiFi controller as the iPhone 5. The WiFi stack supports dual-band 802.11n as well as fallback to 802.11b/g.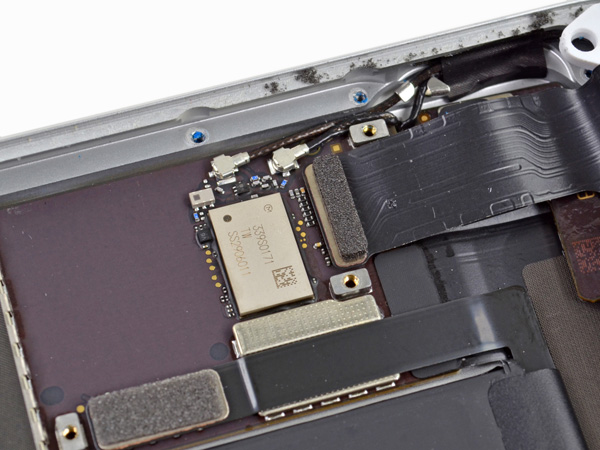 iPad mini WiFi controller - image courtesy iFixit
Since the mini uses the same WiFi stack as the iPhone 5, you get support for 40MHz channels on 5GHz networks (20MHz on 2.4GHz). The maximum PHY rate supported is 72Mbps on 2.4GHz and a whopping 150Mbps on 5GHz.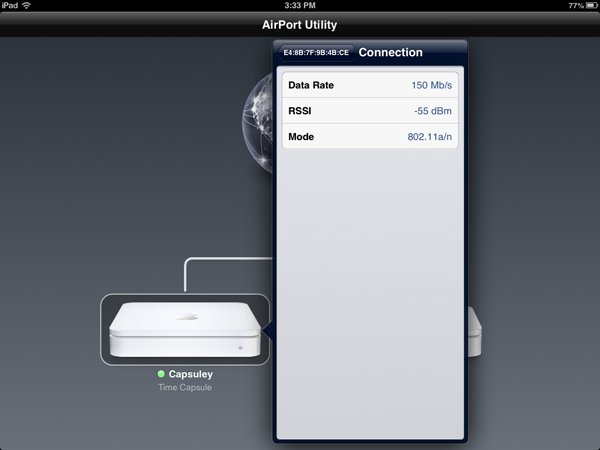 In terms of actual performance, this works out to be a maximum of just under 100Mbps on a 5GHz network with 40MHz channels. In practice I wasn't able to get higher than 91Mbps, although Brian managed a very nice 95.7Mbps on the iPhone 5 in his tests. On average I pulled nearly 78Mbps on the mini on a 5GHz network. Move down to 2.4GHz and performance is cut roughly in half (peak performance is around 41Mbps).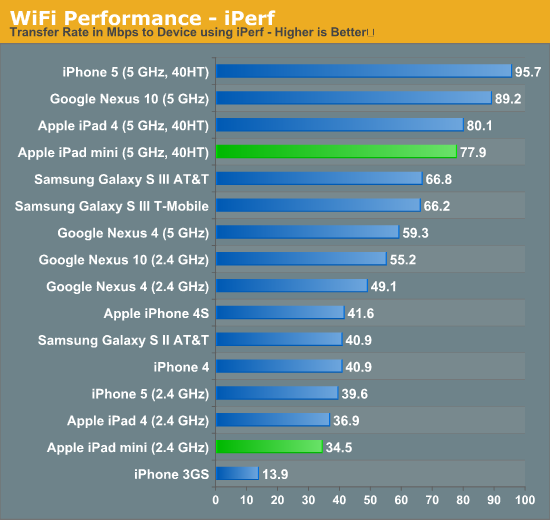 I didn't have any issues with WiFi reception or performance in my testing of the iPad mini. The only complaint I really have at this point is I would love to see more intelligence when it comes to switching between multiple known APs of varying signal strengths. This is a problem on pretty much all devices I play with, they tend to want to stay on an existing network even if its performance drops significantly and there is another, better performing network that could be jumped to. I feel like some more intelligence in this department (testing nearby networks, looking for an ability to seamlessly switch and get better performance) would help mitigate a lot of the inevitable "hey my WiFi is broken" complaints we often see with a move to a new WiFi stack. You could also argue that we just need better designed WiFi deployments.
Final Words
In my first week with the iPad mini, it quickly became the iPad I actually wanted to carry around. The mini's form factor is really where all of the innovation is. It's thin, light and an almost perfect balance of functional screen size and portability. I really love this form factor. In my life, a tablet is really an augmentive device rather than something that takes the place of a larger notebook. As such, I actually want something even more portable than the current Retina iPad and the mini delivers just that. It's small enough that I don't mind taking it with me, and it retains nearly all of what made the iPad such a great consumption device. I say nearly all because there are some definite tradeoffs when moving to the smaller display. Mainly all UI elements shrink in size, which can be a bit annoying when tapping small widgets (especially at the corners of the display). There's always something to be given up in pursuit of ultimate portability.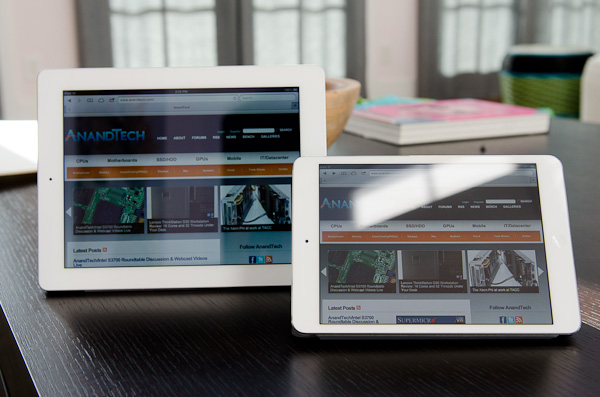 From a performance standpoint, the iPad mini is basically the same as the iPad 2. You do lose out on the battery life front (especially compared to the newer 32nm iPad 2,4), but in terms of repsonsiveness the mini is no different. Thanks to just how power hungry the iPad 3 and 4 are, the mini's battery life isn't really much worse despite the significantly smaller battery. In general you can expect anywhere from 6.5 - 11 hours on a single charge depending on what you're doing with the mini.
Unlike most brand new ultramobile devices, I don't necessarily see buying the mini today (vs. waiting for the 2nd generation) as a bad idea. We'll likely get A6 based silicon next year, perhaps even an update to the WiFi stack (802.11ac anyone?) but I'm not expecting significant changes. As always, I wouldn't recommend buying a fully loaded mini as Apple tends to charge way too much for NAND upgrades, but I don't have any problems recommending the mini today. It's a very well designed iPad that would act as a great companion tablet. Ultimately if you're buying this as your primary consumption device, I'd probably recommend the bigger iPad instead, but for someone like me the mini works wonderfully.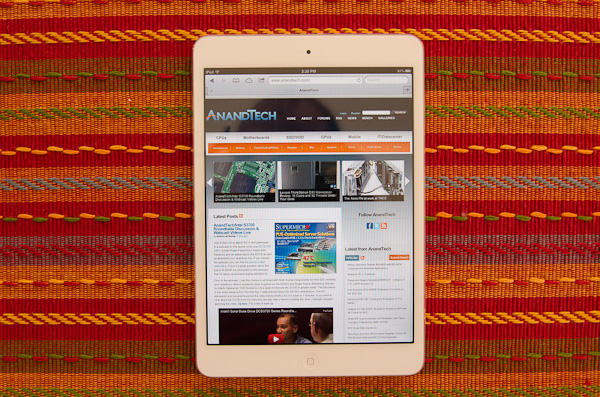 The biggest issues with the iPad mini really boil down to display and price. Despite boasting a higher pixel density than the iPad 2, anyone exposed to the iPad 3 or 4 will be let down by the iPad mini's display. Colors aren't as accurate, black levels aren't as good and the lower pixel density does impact reading small text. These are all things you can get used to, but they are all aspects where you give up performance compared to the big iPad. I don't know that there's a quick solution to this problem, as a doubling of resolution won't happen to the mini anytime soon without ruining the excellent form factor. If you haven't been exposed to (or aren't constantly bombarded by) the big iPad's Retina Display, this likely won't be an issue. It pains me to say it, but compared to most similarly priced notebooks, the iPad mini's display is amazing.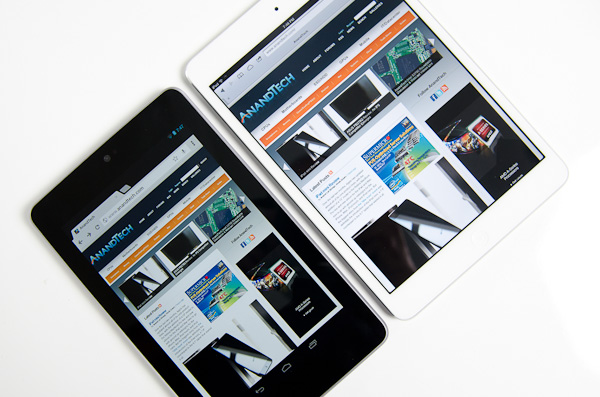 Nexus 7 (left) vs iPad mini (right)
At $329, the iPad mini is $130 more expensive than Google's Nexus 7. I do like the form factor better than the Nexus 7, but whether or not the difference in price is worth it to you depends entirely on how much you value iOS. If all you want is a small tablet, the Nexus 7 is a much more affordable solution to that problem. In many ways this is the same discussion we've been having on the Mac vs PC side. The Apple premium tends to come from build quality, component selection and software. In the case of the mini, component selection isn't necessarily a huge advantage as there are better displays offered at similar if not cheaper prices. Build quality is excellent and materials choice is pretty unique at this price point, but the Nexus 7 is also very well built. The form factor is special enough however that I can see it pushing some folks to the mini over a competing tablet. I know that's true for me personally.
If you're not as enthralled by the mini's form factor however, you're really left with software as the main differentiator between the iPad mini and other 7 - 9" tablets. Once again, this brings us back to the question: how much do you value iOS? I don't know that I can answer that for you, as everyone has different priorities and preferences. If you're already in the Apple ecosystem (e.g. if you have a Mac, iPhone and/or additional iPads), then the choice is pretty simple. This is exactly why Apple spends so much on software development and by integrating things like iCloud into everything, to keep you in the family.