Original Link: http://www.anandtech.com/show/6440/google-nexus-4-review


The Nexus One was a groundbreaking device. It was the defining moment that Google got serious about making both a real consumer electronic, and pitting the Android platform against the incumbent iOS. While you could make the case that the original T-Mobile G1 was the original Google phone, it really was with Nexus One that Google set out on its path for defining a smartphone platform and distribution model of its own.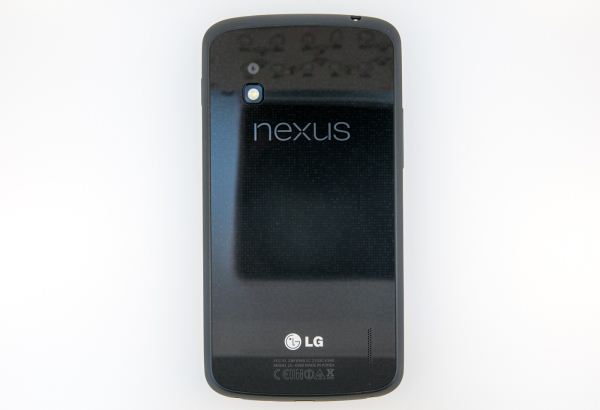 While the success of that particular handset was limited and Google's aspirations perhaps a bit unrealistic, the truth is that the Nexus platform itself has been a growing success. Each year we see essentially the same pattern — Google chooses one OEM, one SoC vendor, and sets the Android team free toward building a tailor-made version of the next major release of Android for that combination. We've now had three generations of Nexus smartphones, with the Nexus 4 deriving its name from the obvious fourth incantation of the same goal — an unadulterated version of Android free from OEM skinning and carrier politicking.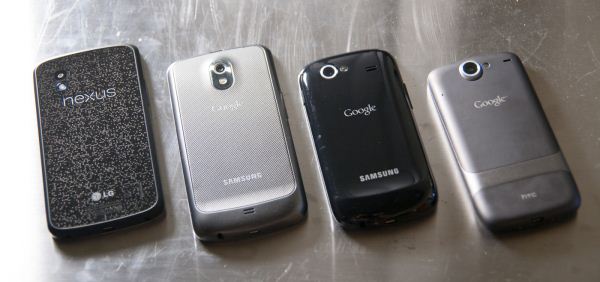 Left to right: Nexus 4, Galaxy Nexus, Nexus S, Nexus One
A little over a month ago, LG flew me to Korea to check out the LG Optimus G, their latest smartphone based around Qualcomm's APQ8064 quad core Krait SoC and MDM9x15. The combination of those two alone already were enough to excite me purely because I was eager to see who would be first to market with an APQ8064 handset. Myself and a number of other western tech press were given LG Optimus Gs to play around with for a week on Korean LTE network U+, and while I'm still working on my review of a Korean version of the Optimus G, that particular hardware is surprisingly great.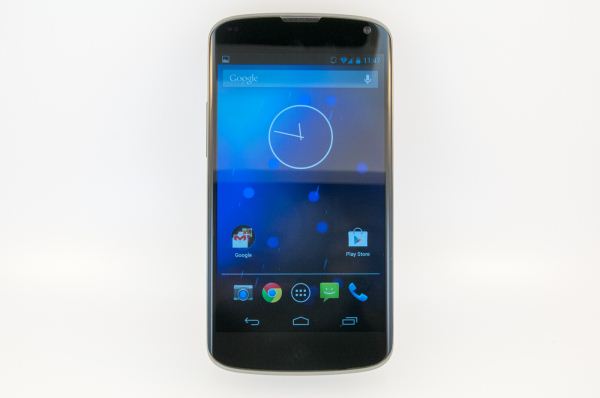 While I was on that trip, I heard that a smartphone based on the Optimus G would be the next Nexus phone and was quite simply blown away. Nexus has rarely been first to the latest and greatest in terms of hardware platforms, and certainly there was no way that combination would be inexpensive. For Google to nail the next Nexus phone it would have to be a combination of both. At the time I joked that the G in Optimus G stood for Google (among a few other things) and anxiously awaited the final hardware. The next real question was what balance of both Nexus DNA and LG's own would combine to form the next Nexus handset. In the case of the Nexus 4, the blend is almost exactly one part Google Nexus, one part LG Optimus G, and that's honestly a very good thing.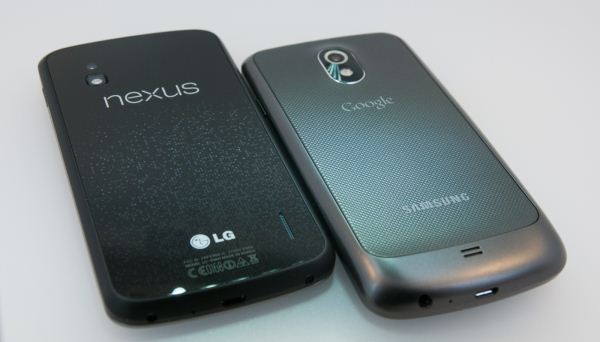 The Nexus 4 is undoubtedly based on the Optimus G, but it isn't nearly as obvious as you'd think. Where the Optimus G is a very square and rectangular phone, the Nexus 4 preserves the rounded gentle curves and overall shape of the Galaxy Nexus. In fact, side by side with the Galaxy Nexus, the Nexus 4 almost looks like it has the exact same shape, save being slightly wider and flatter. Material choice is also undoubtedly better than the Galaxy Nexus, which was a decidedly Samsung-y combination of polycarbonate plastic and soft touch battery cover. This is where the Nexus 4 deviates from the Optimus G as well — around the edge and below the chrome is a rubbery soft-touch band that extends to the glass back. It's this rubber perimeter that forms the majority of the in-hand contact with the Nexus 4, and results in a great grip and excellent in hand feel. My fingers wrap perfectly around to the rubber lip on the other side making holding the Nexus 4 feel very secure. Google talked a lot about how the majority of their work with ASUS on the Nexus 7 was getting the edge chamfer correct and adding a textured pattern to the soft touch material, which made that device feel classy in spite of having a solid plastic back that actually was a snap-on construction. It's clear to me that the same emphasis was placed on the Nexus 4 as well, as this in-hand feel is flawless here, where so many other handsets come off feeling plasticky. It's always interesting how build quality doesn't necessarily map one to one with in-hand feel. In the case of the Nexus 4 however I believe both are rock solid.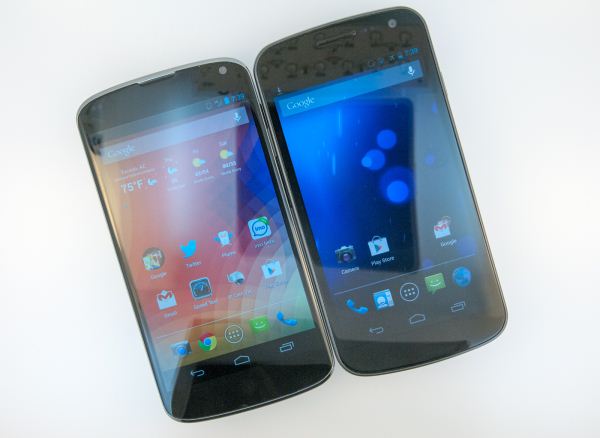 Like the Optimus G, the Nexus 4 backside is one unbroken piece of glass, which is bound to elicit strong feelings from everyone. The Optimus G and Nexus 4 both use the same type of glass on the front and back — Corning Gorilla Glass 2. Having a glass back definitely is eerily reminiscent of the iPhone 4/4S era design, but does add a certain level of rigidity to the device without adding a lot of thickness, and again also is RF transparent, which is important in a device that combines both NFC, Qi Wireless charging, WiFi, Bluetooth, and pentaband WCDMA. Having the glass back was something LG felt strongly about for the Optimus G and does anchor the Nexus 4 back to that design, so I have a feeling that there were strong feelings about this on LG's part for preserving some of the original Optimus G industrial design. The problem with large plane-defining glass surfaces is if the handset gets placed flat on a surface it often can pick up fine scratches (called sleeks) from even dust or grains of dirt between the interface and the glass. I wish the Nexus 4 had a larger lip between the glass and the circular rubber band to raise the glass further away from surfaces and prevent annoying sleeks from forming. On my Nexus 4 review unit the lip is quite thin, definitely under a millimeter, and there are already a number of sleeks.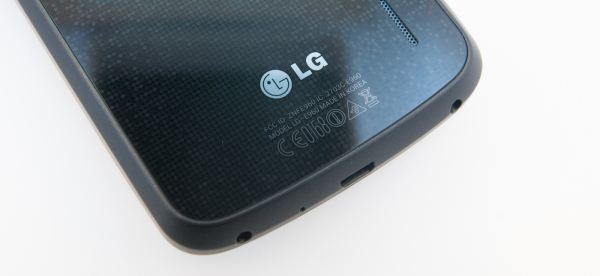 Underneath the glass is the same 'crystal reflection' treatment as the Optimus G which creates a unique reflective shimmery appearance under different angles of incident light. The pattern on the Nexus 4 is different from the 3D Escher-esque repeating diamonds on the Optimus G. Instead the Nexus 4 has a grid of repeating sparkling circles which reflect at different random angles all over the back, which look spectacular under the right incident angles. It really does look striking under different kinds of direct lighting. Google has also now replaced the "Google" on other Nexus devices with the word "Nexus" on the entire new lineup, and this along with LG at the bottom are the only markings on the Nexus 4 other than the regulatory markings. It's an odd decision to see no more Google branding anywhere on the handset given its presence on the previous three Nexus phones, but Google is trying hard to build the Nexus line as its own brand and this is the right way to do it.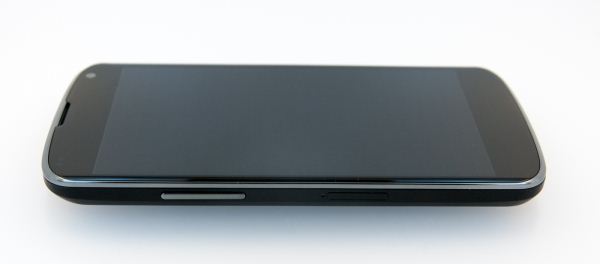 Alongside all the other Nexus phones we can see that Google has done a pretty good job keeping their own industrial design around. Rounded edges with a large radius gets kept around, as does the primarily black or dark grey color scheme. The Nexus 4 does away with the chrome ring around the camera aperture, however. Again the largest deviation is the removal of "Google" branding in place of "Nexus" on the backside.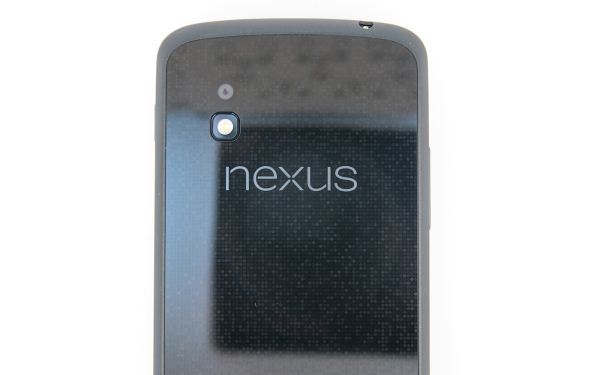 There's a vertical slit for the speakerphone on the back at bottom right. Top left is where the Nexus 4 locates the 8 MP camera and LED flash. This is the same camera module and system as what's in the 8 MP LG Optimus G configuration, which has no bulge at all. Only the 13 MP system (which is an option) has a bulge.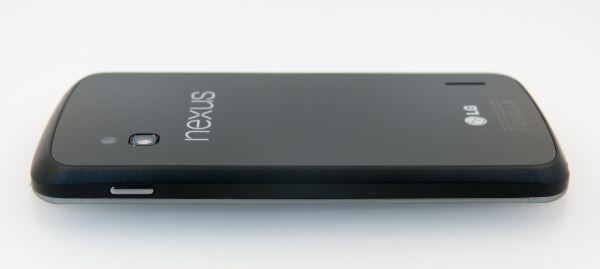 The Nexus 4 eschews the face-hugging curved glass which begun with the Nexus S, carried over to the Galaxy Nexus, and always struck me as being a bit of a gimmick. It might have made the phone slightly more ergonomic during phone calls, but really most of smartphone use these days isn't calling, it's interacting with the display. Moreover, that vertical curve always did create some weird total internal reflections in the glass that constantly bugged me when the sun was at a critical angle. Instead the Nexus 4 has a small radius of curvature lip at the left and right side, making interacting with the extreme left or right easy. My fingers roll off the left or right instead of into a sharp plastic ridge like with the Galaxy Nexus.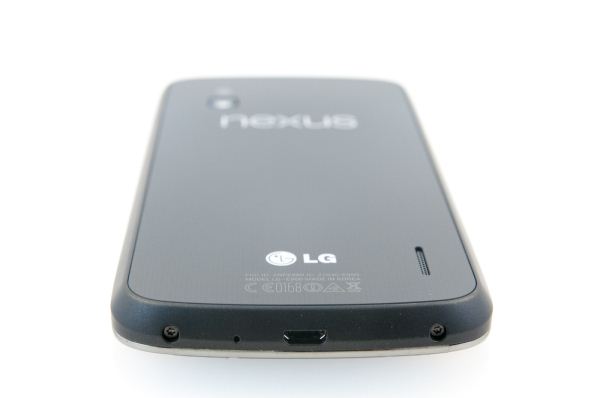 The other common design element between the Optimus G and Nexus 4 is that nonconductive metallic plastic ring which extends around the perimeter of the device. This is something that comes off as tacky in the US market but (I'm told) is still a somewhat attractive motif in the Korean market. There's actually a process whereupon the plastic is impregnated with this nonconductive silvery material, and again it has to be nonconductive to not impact any RF characteristics of the handset. The front facing camera is top right, in the same position as the Galaxy Nexus. Earpiece is a recessed notch at the top between the chrome lip and the glass. Oh, and the Nexus 4 still contains the same three-color notification LED bottom center as the Galaxy Nexus, which is just as well done and disappears into the black surrounding material when not glowing.
Button placement on the Nexus 4 is the same as the Galaxy Nexus, with a volume rocker at left, power/standby at right. For ports, everything is mostly the same, with microUSB at the bottom and a microphone pair (one primary microphone at top, one secondary at bottom for noise rejection). Nexus 4 does mix things up and stick the headphone jack at the top as opposed to the bottom which Galaxy Nexus went with.
The Nexus 4 lacks a removable battery door, although the back of the phone is easily separated from the rest of the phone by removing the two Torx T4 bits at bottom and prying up with a plastic separator tool or guitar pick. Underneath is a 2100 mAh 3.8V battery (8.0 Whr) battery and the numerous antenna connector springs required to connect to the inductive antenna coil for NFC, wireless charging, cellular diversity, and WLAN/BT. The Nexus 4 also moves the land of Nexus to a microSIM via an ejectable tray in place of the miniSIM used on its predecessors, so people upgrading will either need to borrow a SIM cutter or make a trip to their local carrier store for a new micro sized USIM.
Physical Comparison
Apple iPhone 5
Samsung Galaxy S 3 (USA)
Samsung Galaxy Nexus (GSM/UMTS)
LG Nexus 4
Height
123.8 mm (4.87")
136.6 mm (5.38" )
135.5 mm (5.33")
133.9 mm (5.27")
Width
58.6 mm (2.31")
70.6 mm (2.78")
67.94 mm (2.67)
68.7 mm (2.7")
Depth
7.6 mm (0.30")
8.6 mm (0.34")
8.94 mm (0.35")
9.1 mm (0.36")
Weight
112 g (3.95 oz)
133g (4.7 oz)
135 g (4.8 oz)
139 g
CPU
1.3 GHz Apple A6 (Dual Core Apple Swift)
1.5 GHz MSM8960 (Dual Core Krait)
1.2 GHz OMAP 4460 (Dual Core Cortex A9)
1.5 GHz APQ8064 (Quad Core Krait)
GPU
PowerVR SGX 543MP3
Adreno 225
PowerVR SGX 540 @ 304 MHz
Adreno 320
RAM
1 GB LPDDR2
2 GB LPDDR2
1 GB LPDDR2
2 GB LPDDR2
NAND
16, 32, or 64 GB integrated
16/32 GB NAND with up to 64 GB microSDXC
16/32 GB NAND
8/16 GB NAND
Camera
8 MP with LED Flash + 1.2MP front facing
8 MP with LED Flash + 1.9 MP front facing
5 MP with AF/LED Flash, 1080p30 video recording, 1.3 MP front facing
8 MP with AF/LED Flash, 1.3 MP front facing
Screen
4" 1136 x 640 LED backlit LCD
4.8" 1280x720 HD SAMOLED
4.65" 1280x720 SAMOLED HD
4.7" 1280x768 HD IPS+ LCD
Battery
Internal 5.45 Whr
Removable 7.98 Whr
Removable 6.48 Whr
Internal 8.0 Whr
Overall the Nexus 4 hardware impresses me quite a bit. The Galaxy Nexus couldn't ever quite shake the plasticky feeling for me, in spite of Samsung including a battery cover with soft touch material and texture. The odd thickness of the Galaxy Nexus always also bugged me. With almost the same overall dimensions and shape, the Nexus 4 pulls off a much more sophisticated in-hand feel with the rubber perimeter, and I'm willing to deal with the glass back in light of the alternative. The part about removable battery covers is a worthy complaint, though we're seeing all OEMs head in this direction gradually in an effort to deliver smaller and smaller profiles. In addition, the microSD card ship sailed a long time ago for Nexus phones (back in the Nexus S days) and wasn't ever coming back. The front glass roll-off at left and right on the display contrast starkly to the Galaxy Nexus' sharp plastic ring and really help the Nexus 4 feel great.
I'm very impressed with the direction that Google is taking Nexus in general. The Nexus 7 was impressive to me with its design and attention to in-hand feel, and the Nexus 4 is likewise a substantial improvement over the Galaxy Nexus. The Nexus 4 is also simultaneously different enough from the Optimus G to not be either confused with it or be accused of just being a reused design.
Battery life in the Nexus 4 is a big concern for many, especially since the Nexus 4 isn't designed to have a user replaceable battery. What's inside is a 2100 mAh 3.8V battery which is 8.0 watt-hours. I had been wondering for a while what the chemical compound used in the 3.8V battery cells we're seeing emerge was, and finally got a tad more info at least about the LG Chem approach. This is the higher voltage chemistry from LG Chem which is Lithium Cobalt Oxide (LiCoO2) based and includes electrolyte additives to prevent gas generation in the cell which affects lifetime during high temperature periods. Although getting the back off of the Nexus 4 is relatively easy and requires just removing two Torx 4 screws and prying up on the plastic, I doubt anyone is going to make a back to accommodate an extended battery due to the presence of 4 antennas which are integrated into the back cover.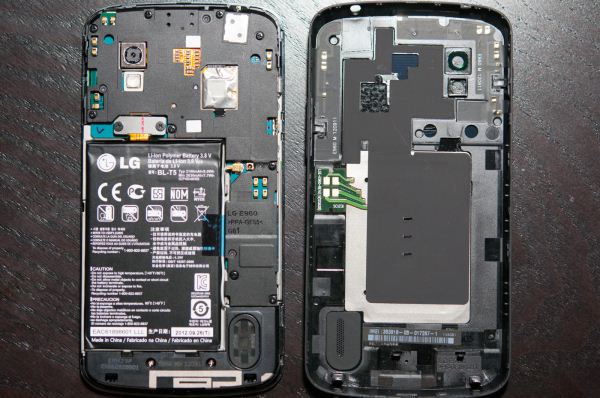 The Nexus 4 incorporates wireless charging into that back alongside NFC. For wireless charging the Nexus 4 uses a TI BQ51051b wireless power Li-Ion charger receiver. I've been pretty remiss in looking into wireless charging and actually trying it myself, so I went ahead and bought a two-position Energizer Qi compliant charging mat.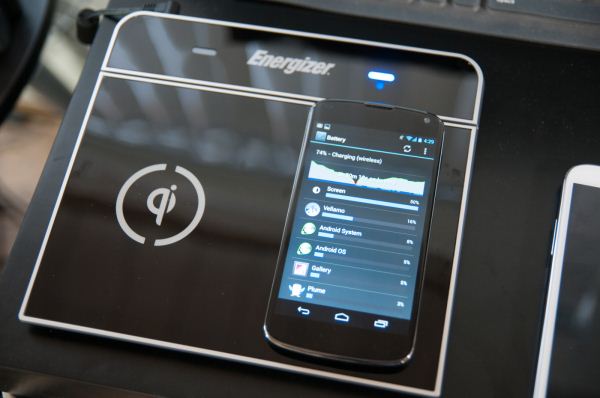 The Nexus 4 is Qi 1.1 wireless charging forum compliant, so any charger that is Qi compliant or includes the logo will charge it. Aligning the Nexus 4 on the Energizer mat is a bit tricky since the surface is slick and angled down, and the back of the Nexus 4 is primarily glass, but it isn't difficult after you know where to align. The Nexus 4 charges from fully discharged to completely charged in 3.033 hours on the Qi mat, which is basically the same charge time as I saw off of microUSB on a BC 1.2 charger.
In Android you'll see Charging (Wireless) when this mode is employed. I used the Palm Pre touchstone charger a lot back in the day and saw that get pretty hot during a charge cycle. The Nexus 4 doesn't get nearly as warm. I've noticed that at the top of the charge cycle you'll see the Nexus 4 selectively draw power from the charging dock since there doesn't seem to be an equivalent trickle charge mode or something, but this is normal.
Battery Life
I've had the chance to run more battery life tests on the Nexus 4, and run the cellular test a few more times. The results are quite consistent and we don't see that result change very much at all. I've also added the call time test and tethering results.
We regularly load web pages at a fixed interval until the battery dies (all displays are calibrated to 200 nits as always). The differences between this test and our previous ones boil down to the amount of network activity and CPU load.
On the network side, we've done a lot more to prevent aggressive browser caching of our web pages. Some caching is important otherwise you end up with a baseband test, but it's clear what we had previously wasn't working. I've made sure that despite the increased network load, the baseband still has the opportunity to enter its idle state during the course of the benchmark, we're not destroying the RRC states with too aggressive of a load time.
We also increased CPU workload along two vectors: we decreased pause time between web page loads and we shifted to full desktop web pages, some of which are very JS heavy. The end result is a CPU usage profile that mimics constant, heavy usage beyond just web browsing. Everything you do on your smartphone ends up causing CPU usage peaks - opening applications, navigating around the OS and of course using apps themselves. Our 5th generation web browsing battery life test should map well to more types of smartphone usage, not just idle content consumption of data from web pages.
As always we test across multiple air interfaces (3G, 4G LTE, WiFi), but due to the increased network load we actually find that on a given process technology we see an increase in battery life on faster network connections. The why is quite simple to understand: the faster a page is able to fully render, the quicker all components can drive down to their idle power states. All Android tests use Chrome and 5GHz WiFi unless otherwise listed.
The tethering test still consists of four tabs of the webpage tests in conjunction with a 128 kbps streaming MP3 radio station over the smartphone's personal WiFi hotspot.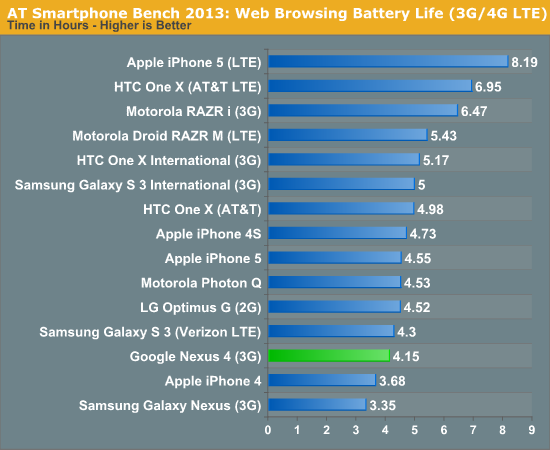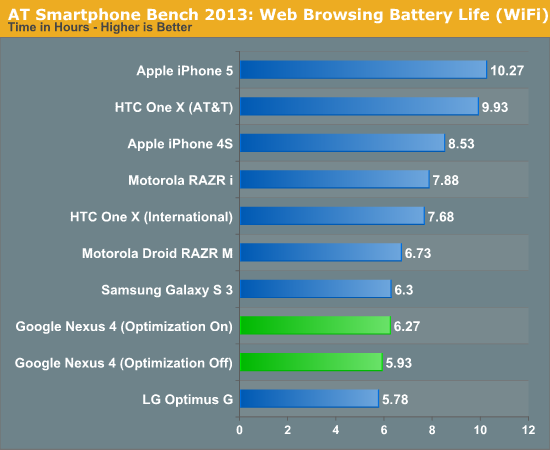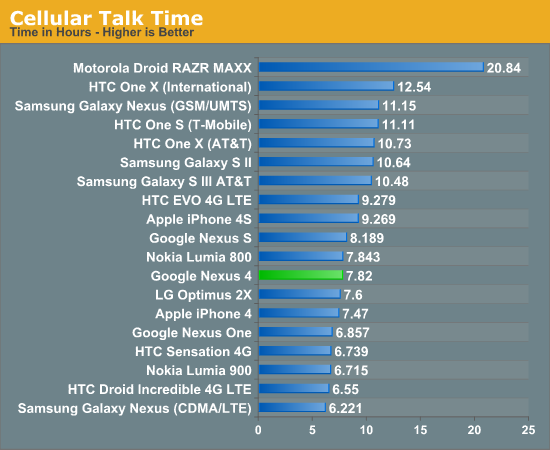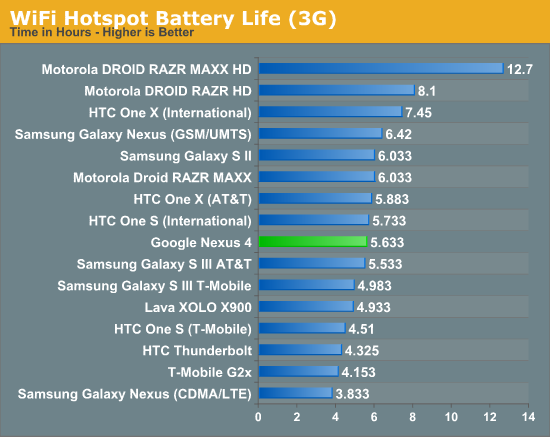 I've run and re-run the battery life tests on the Nexus 4 and they haven't changed since our preview a whole bunch. The result is battery life that isn't really chart topping, yet in my time with the Nexus 4 I haven't really been want for more battery life at any point. I'm able to get through a single day with the device set on auto brightness.
The Nexus 4 is based around a 1.5 GHz Qualcomm Snapdragon S4 Pro SoC, the quad core Krait APQ8064 with Adreno 320 GPU, which is still built on a 28nm process. The combination of APQ8064 for AP and MDM9x15 for baseband is Qualcomm's Fusion 3 platform, and the Nexus 4 and Optimus G are the first phones to market based on that platform. This is a relatively unique opportunity for Nexus, which until recently wasn't really first to market with the latest and greatest silicon.
A while ago we posted our Nexus 4 and Nexus 10 performance preview. At that point we still had a lot of testing to perform, and many people noted that the Nexus 4 performance was far behind the LG Optimus G despite it being based on the same platform. Later, some people noticed that I had uploaded another set of results from GLBenchmark 2.5 to the online result browser with much better performance. The difference wasn't some over the air software update but rather that I was running some of the tests with the Nexus 4 in a ziplock bag inside the freezer to mitigate any condensation problems, and simultaneously nail down any possible thermal throttling.
I've re-run everything and can confirm obviously that there was thermal throttling going on affecting some of the results, and have included the new results wherever there was a deviation from previous. For those wondering why the LG Optimus G wasn't affected in spite of it having the same platform, the reason is because the results from the Optimus G were run in parts due to some instability affecting its ability to run a complete set of tests without crashing. The Nexus 4 has newer drivers that don't crash during a full GLBenchmark 2.5 run but as a result run the device long enough for thermal throttling to kick in.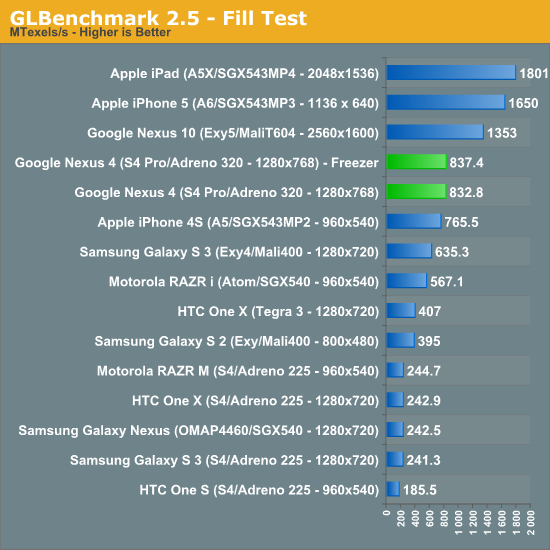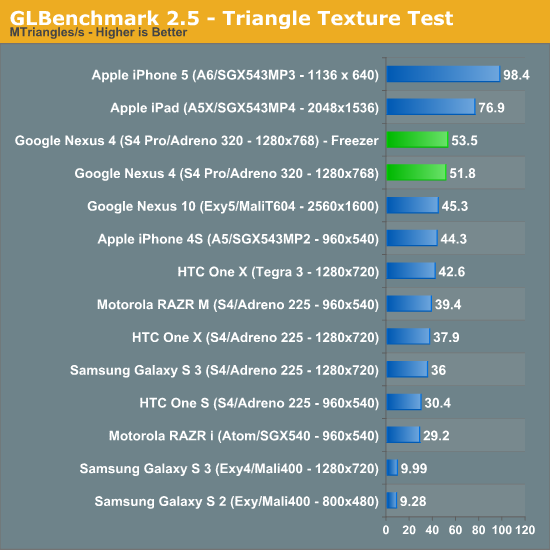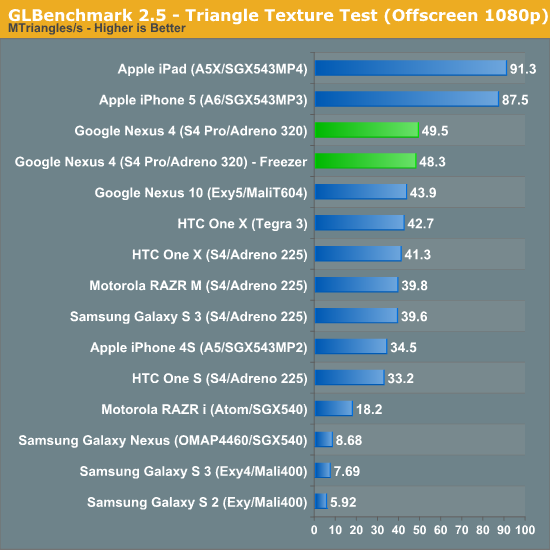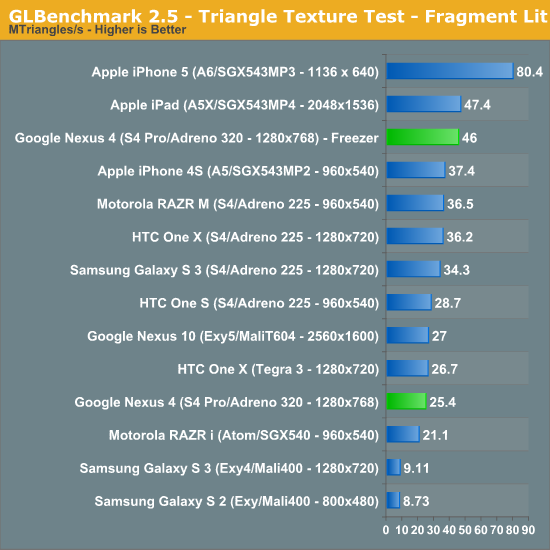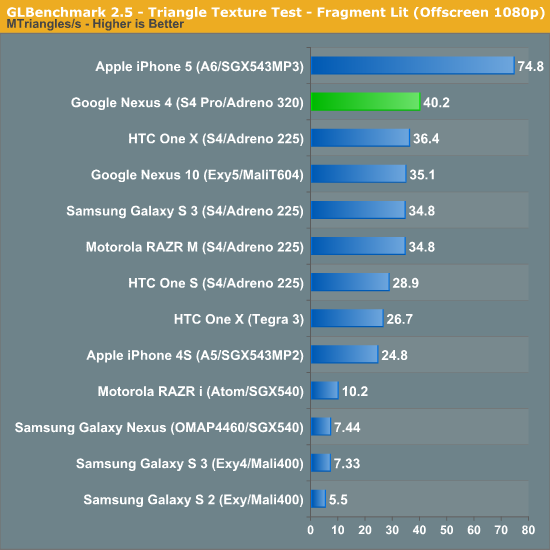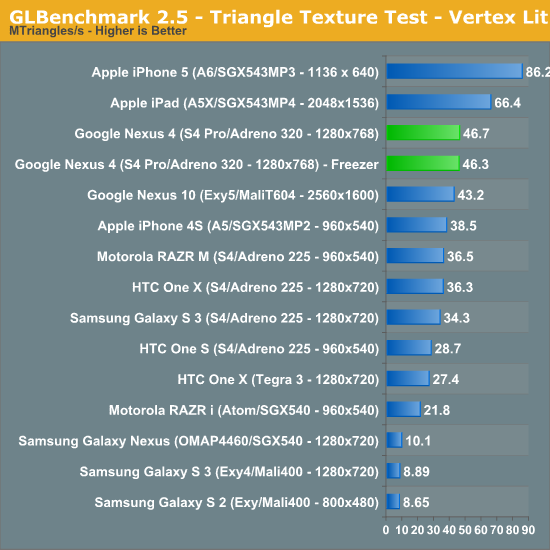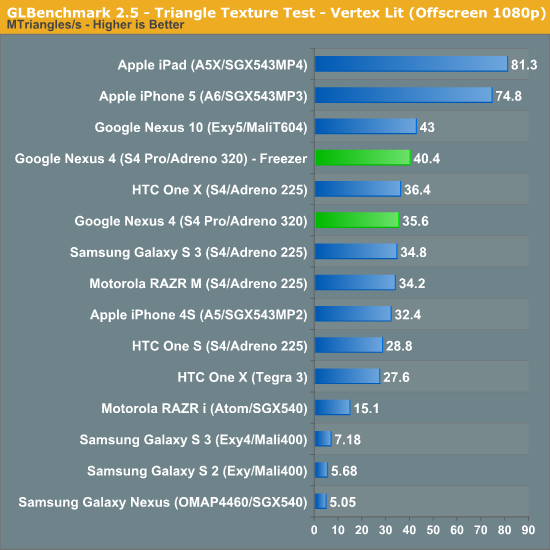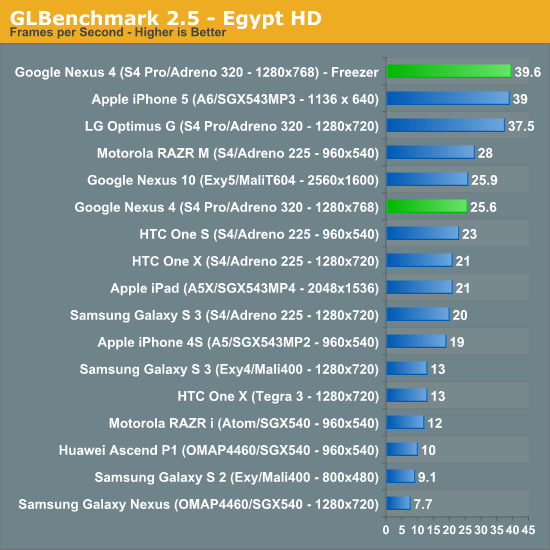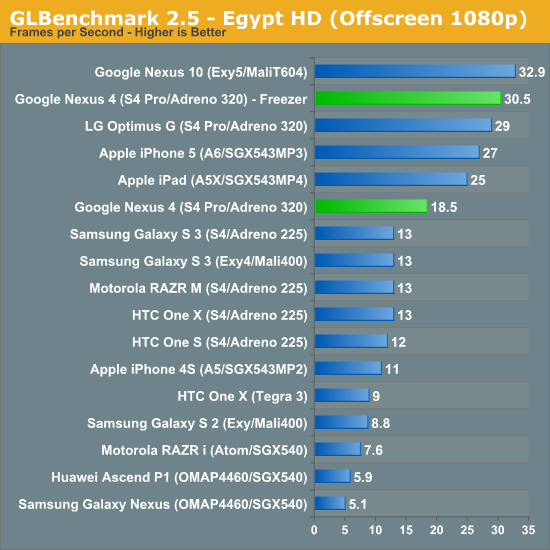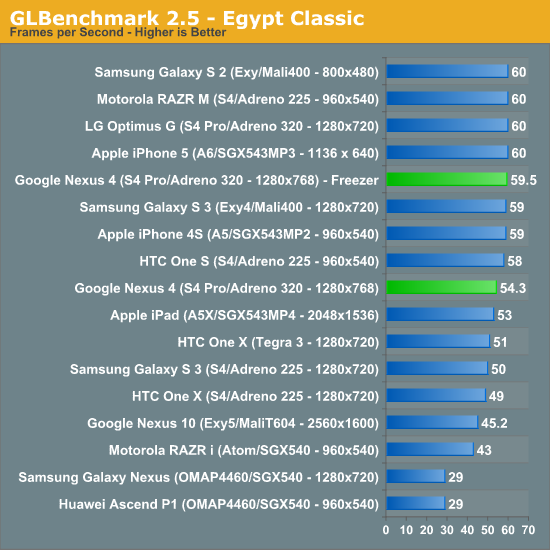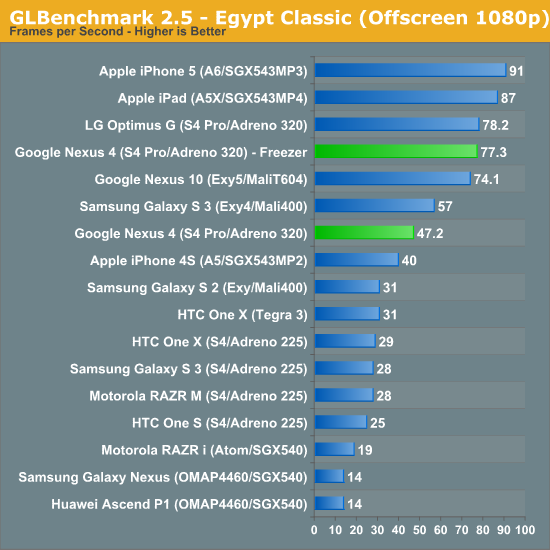 The result of the tests in the freezer results that are much closer to what we'd expect based on the APQ8064 MDP/T runs and the Optimus G numbers I saw in Korea.
When it comes to the CPU side of things there were results also affected by thermal throttling. I spaced some of those runs out (unintentionally) enough that performance didn't change, but for other things it did affect performance. I can't tell what GPU clocks end up being when the SoC decides to throttle, but it is possible to nail down what CPU performance state APQ8064 settles down into when there's throttling going on by looking at the state tables.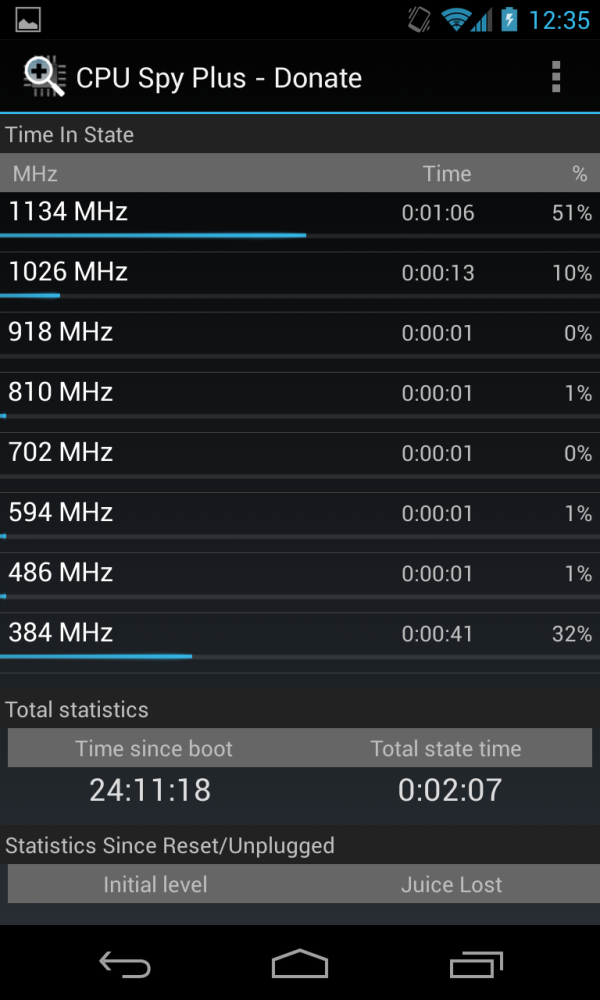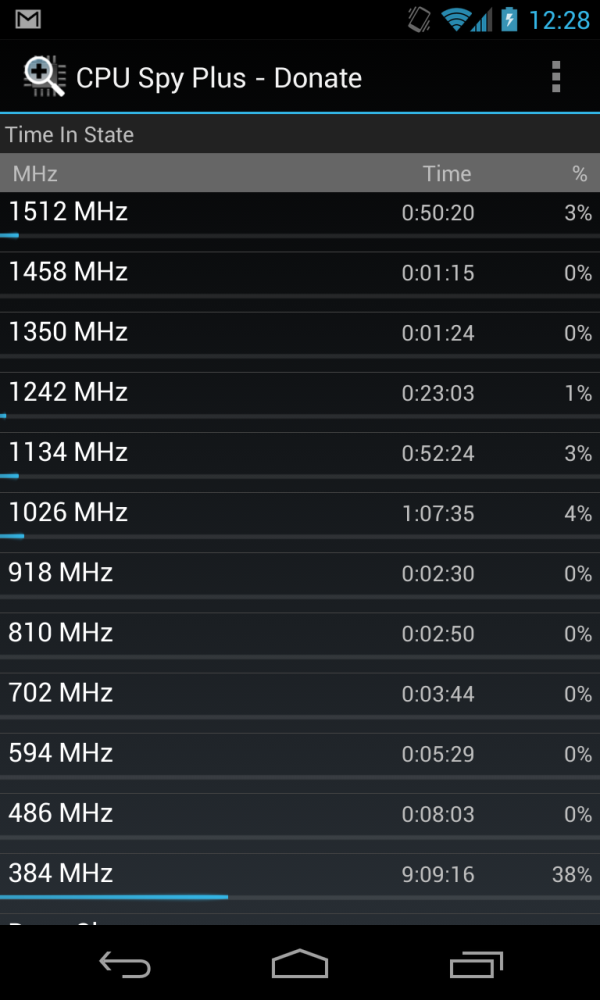 Left - 1.134 GHz during throttling (running tests), Right - All the performance states
I can see the Nexus 4 not use any of the performance states above 1134 MHz when it's getting hot, as shown in the images above. I've tweeted a link to the pastebin for thermald.conf which I believe configures the thermal cutoffs and will be interesting to kernel hackers trying to play with these values.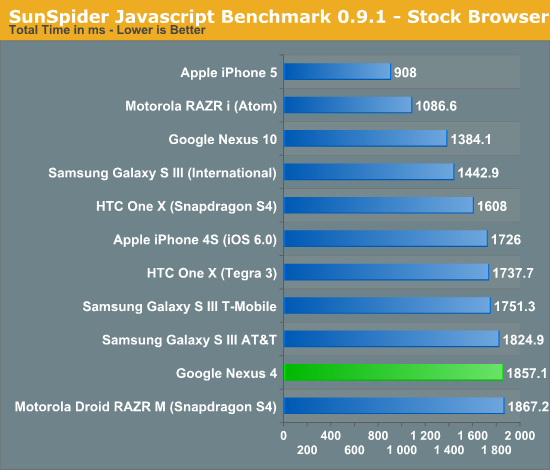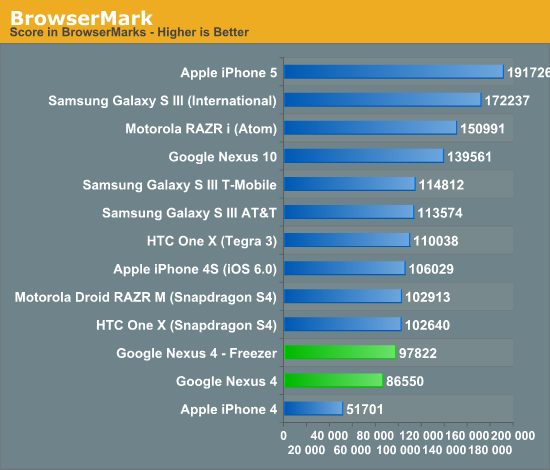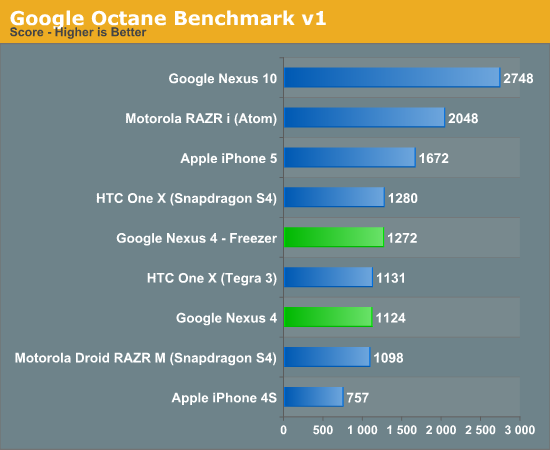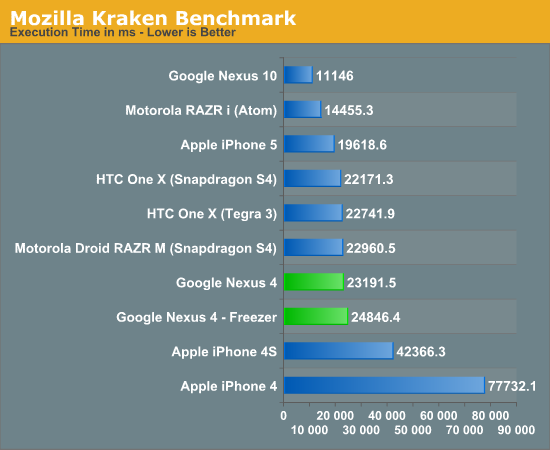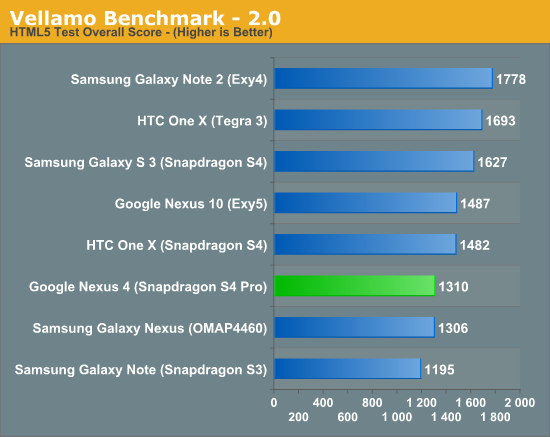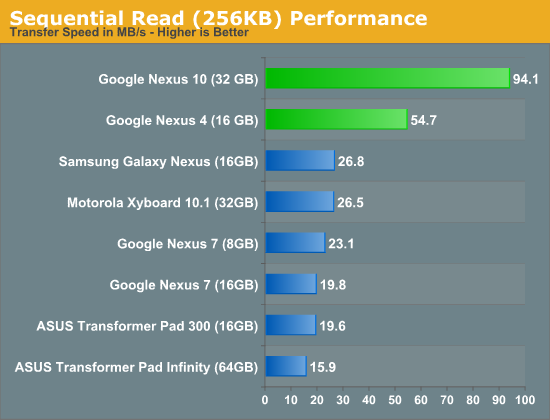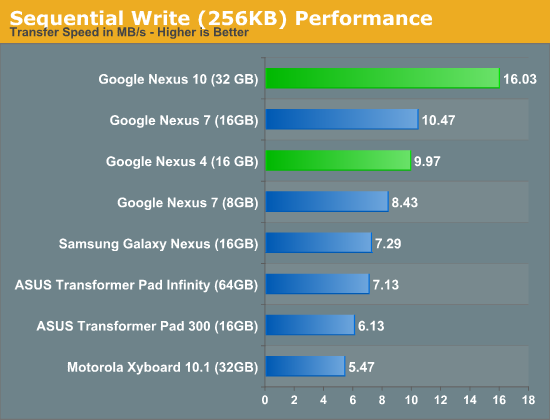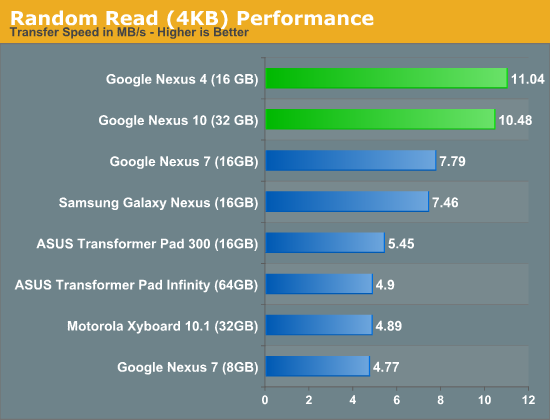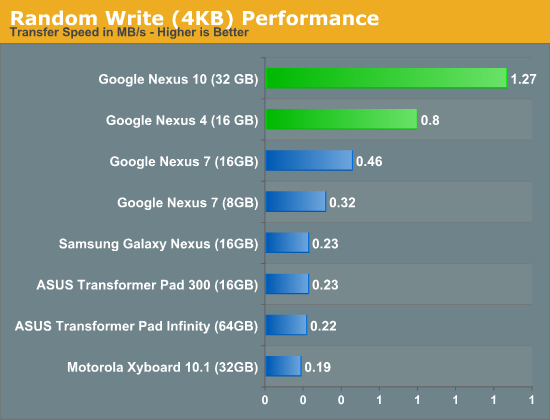 Our CPU performance side is unfortunately still dominated by JavaScript performance tests. The story there is that the Nexus 4 ships with Chrome (and originally shipped with a newer build of Chrome than what was on the market - we were running that updated version all along) and thus the mainline version of the V8 JavaScript engine. OEMs perform their own optimizations to the V8 library, and try to upstream whatever they can into the main project, but in the case of Chrome for Android that means V8 sans secret OEM sauce.
Part of each Nexus release is the simultaneous unveiling of the latest and greatest version of Android. Google picks an SoC vendor, an OEM, and tailors the next version of Android to that combination of things. This time around the revision isn't quite as huge as previous jumps, it's still Android Jelly Bean, but gets a bump from 4.1 to 4.2 — Google calls it a new flavor of Jelly Bean, which is pretty apropos since it's largely the same thing but with some notable improvements and new features.
Notifications - More expandable
Probably the single most relevant new feature for me are the improvements which have been made with the notifications shade and notifications themselves. First, Android 4.2 now integrates a quick settings page in the notifications shade. To the right of the dismiss all button is a new one which gives access to this settings quick access view — tap it and the whole thing flips over revealing toggles for brightness, WiFi, bluetooth, and other shortcuts into the appropriate settings pages.
I like how Android 4.2 has struck the right balance here and not taken up vertical space on the notifications shade with toggles, which is how all the other OEM-custom implementations integrate settings toggles. It's hidden behind an additional tap, but still gets the job done and includes pretty much everything I find myself wanting to access frequently.
In Android 4.1 Google introduced notifications that could be expanded and reveal more information, in Android 4.2 this is further improved upon with more first party notifications that can be expanded. The pinch to zoom gesture shrinks or expands these items in the list. You have to experiment around to find whether a particular notification can be expanded, but mostly this exposes some toggles or other options. For example Google Play Music exposes more playback controls, and the new Android 4.2 clock will give you controls if you're using stopwatch.
I think Android has notifications executed better than the rest of the competition, and including these settings access shortcuts is an extremely functional bonus.
Daydream - Screensavers
A curious new feature is the inclusion of Daydream, which is essentially a set of screensavers for Android. This is also what has become of the docked mode as far as I can tell, as you can toggle Daydream to come on when the device is docked or charging or both.
I can see this maybe being useful with the Nexus 10 on its gorgeous display, but on the Nexus 4 it isn't immediately obvious why you'd want this. In fact having the photo table daydream going will slow down charging on that device somewhat dramatically if you're not careful. The photo table daydream reminds me a lot of one of the Playstation 3 slideshow views.
Improved Google Now
Google Now gets some improvements in Android 4.2, which is part text to speech with Google search for Android and part prescient Google assistant. If you're familiar with what Siri does, Google Now is a rough equivalent that arguably does better when it comes to voice recognition and nailing queries. Google Now silently parses everything from Chrome to Gmail and pops up cards with relevant information pertaining to what it thinks you're going to be doing in the future or is relevant to your interests.
Depending on how much you live in Google's domain, the information that pops up in Google Now tiles (and as notifications) can go from uncannily useful to downright prescient. For example, Google Now will tell you the time it will take from your current location to drive to your home, when weather events are going on that are noteworthy. Examples of more interesting things include reminders to go to the airport if it parses a flight confirmation email in your inbox, or information about points of interest near you or from your previous search queries. Vivek mentioned a number of scenarios on the podcast where Google Now has brought down relevant cards based on information from Gmail and Google Chrome. Again, how useful this ends up being is a function of how much you live in Google's domain.
I'm continually impressed with Google Now's voice recognition accuracy, at a high level as an ASR (Automatic Speech Recognition) engine, it's shockingly good. As a tie-in with the corpus of data Google already has through "Knowledge Graph" (semantic web) and through things like Maps, it's second to none. Nailing this kind of data problem is really Google's core competency, and voice search in previous version of Android pre–4.1 was already shockingly good, so Google Now being as polished as it is isn't a surprise.
Gesture Typing
Google has been making steady improvements to its stock keyboard since the earliest Android days, and while recently I've switched to using Swiftkey almost exclusively, the improvements with Gesture Type are pretty compelling. Gesture Type in Android 4.2 is essentially Google's implementation of the very popular Swype keyboard. The concept is simple — slide your fingers over the keys used to spell the word you're typing instead of lifting and tapping. Above the swyped trace is the word the keyboard is guessing you mean, and releasing selects it.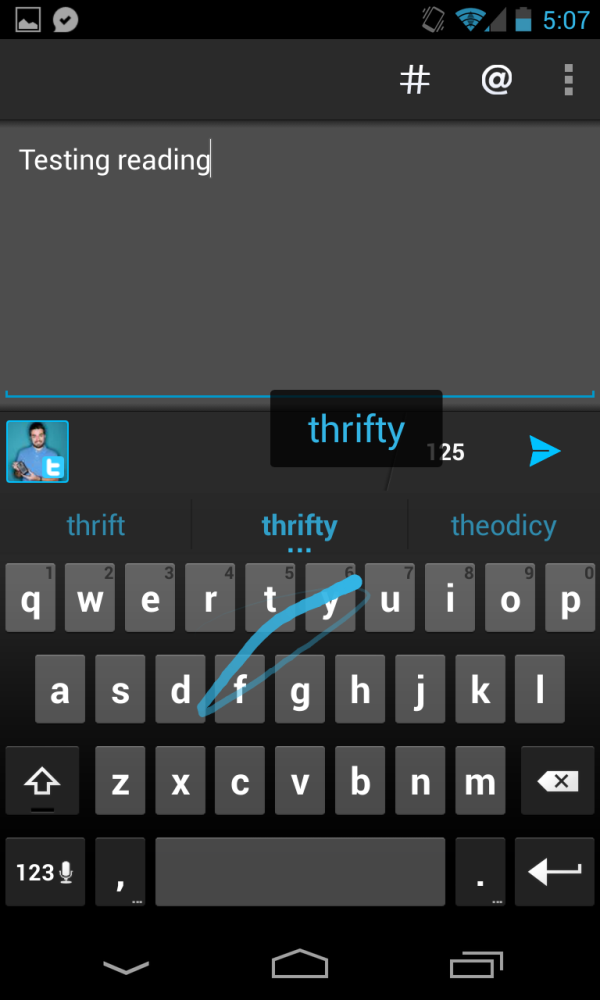 At the same time you can still tap type normally like prior keyboards. I have no complaints with Gesture Typing in Android 4.2, it is compellingly smooth and Google seems to have expanded the stock dictionary for US English with additional words requisite for prediction to work well. The previews above the gesture work well, and the trail behind characters is smooth and useful. I've found myself using Gesture Type a surprising amount on the Nexus 4, and on Nexus 10. I still wish that there was a better stock keyboard option for 10-inch tablets, similar to the split thumb keyboard that iOS has now.
Wi-Fi Display - Miracast
Miracast is essentially the open alternative to Apple AirPlay, and is a Wi-Fi Alliance standardized version of Intel's WiFi Wi-Di. Android 4.2 now includes first party support for Miracast, and there's a relevant toggle for it under Display in Settings as well as a shortcut that appears under the quick access Settings page from Notifications. Miracast hopefully will gain traction as that open analogue of AirPlay for Android, though at present there really aren't any Miracast standardized receivers. I tried a Netgear model which was pre-certification but couldn't get the Nexus 4 to attach, although I'm told Netgear will update the NTV300SL to support Miracast by mid-December. I'd expect that the rest of their lineup will be ready around then.
Until we have Miracast sinks everywhere there's really no way for me to test how this works on the Nexus 4. The Nexus 10 doesn't include Miracast support, I'm guessing because of memory bandwidth reasons possibly involved in scaling and encoding 2560x1600.
I find myself wondering why Google doesn't turn the ill-fated Nexus Q into a combination Miracast sink and Google Play endpoint. It seems like the obvious thing to do with a product that never fulfilled its promise as the home entertainment anchor for Google Play but already is out in the wild — my Google I/O Nexus Q sits completely idle. OMAP4460 would have no issue handling the decode of formats for Miracast.
Gmail - zoom and swipe
Although it isn't necessarily strictly a part of Android 4.2, Gmail gets a hugely-requested and needed new feature with Android 4.2 — ability to use pinch to zoom and swipe/translation inside Gmail messages. Interestingly enough this doesn't actually ship enabled, you have to go into settings inside Gmail and tick "Auto-fit messages" to turn this on.
There's also the ability to swipe messages to delete or archive them in the setting just above.
Photo Sphere
I'm going to go over the bulk of camera UI changes in the camera section, but another huge change in Android 4.2 is yet another revision of Google's camera, and one new feature is a revamped panorama shooting mode called Photo Sphere.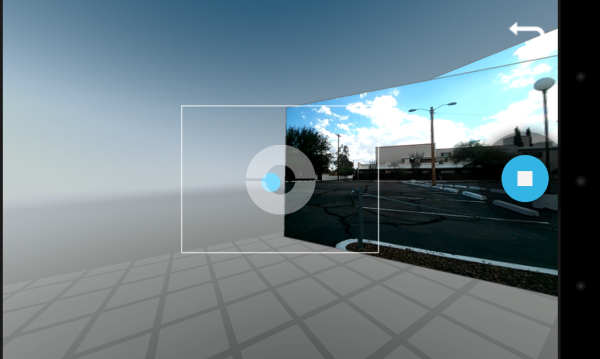 As the name implies, Photo Sphere lets you take photos which can then be mapped as a 2D JPEG or viewed in the gallery in a 3D viewer. The panorama interface guides you through capture by giving you a series of targets to aim at in preview and captures photos at those appropriate points automatically. This interface is very responsive and no doubt leverages a lot of MEMS sensor fusion. After you've captured as much or as little of what's around you as you want, you can stop capture and the stitched panorama 2D and 3D views will render in the background.
What's cool from there is that in addition to sharing the 2D image, you can also share the 3D perspective for viewing online as part of Google Maps and Google Plus. I've already shared one taken on Sentinel Peak in Tucson, another at the video bench location, and at the northernmost end of Campbell avenue. It's actually pretty neat being able to share these from the device and view them in the browser in a 3D viewer rather than just share a 2D projection with weird perspective correction.
Functionally, Photo Sphere is great and the tie-in to Google services like Plus and Maps is admirable. The resulting resolution of the resulting images however leaves a lot to be desired, and I find myself wishing that this was much, much higher both in the 3D viewer on the web and 2D rendered projections. The stitching and exposure matching that Photo Sphere does is actually pretty good unless you're confronted with hugely different exposure regions (like the sunset and terrain in my Sentinel Peak sample), the end result just needs to be higher res than the roughly 4700 x 1500 (for one-high) that it ends up being.
Developer Options
Developer options is no longer visible by default in Settings, unless you un-hide it. To do this, tap 7 times quickly on the build number under About which will let you know you are now a developer with access to the pane. This has slowly been getting more and more toggles with new features over time, and hiding it makes a lot of sense for minimizing potential damage that regular uses can cause by enabling debugging or turning off the new app verification policies for apps installed over adb.
I bring this section up because there are some new features in here I find extremely useful. First among those is a new overdraw visualization option. Check this and you'll see blue, green, light red, or red for minimal to worst overdraw in Android applications. Combatting overdraw is a huge deal on mobile devices and especially for high resolution devices like the Nexus 10 where memory bandwidth is at a premium. This is a hugely important debugging and performance optimization tool for developers and really illustrates for me the overdraw issues in some applications with subjectively lacking performance. For example the Play Store performance in my opinion still is lacking, and unsurprisingly in many views is awash with red. In Plume you can also see that they're drawing the left bar underneath all their views and taking an overdraw penalty there as well. There are just a lot of interesting observations you can make with this enabled, and giving developers better tools to visualize performance problems is a big part of Project Butter with 4.x.
Another new toggle is a force 4x MSAA checkbox for OpenGL ES 2.0 games. Tick this and, no surprise, you'll get 4x MSAA forced in OpenGL ES 2.0 apps if the GPU on your SoC supports it.
Odds and Ends
Inside wireless and networks is a new menu titled Cell broadcasts which allows you to customize which emergency broadcast alerts the handset can receive. These are essentially broadcast SMS (SMS-CB) messages that generally contain emergency alert information and other relevant local or national alerts. I've been seeing more and more OEMs include this in their handsets, and it was only a matter of time before it appeared in stock Android as well. Users can opt out of every message type except Presidential.
Under Wi-Fi and the Advanced menu is another new checkbox. Under the Wi-Fi frequency band checkbox is a new one called "Wi-Fi Optimization" which purports to minimize battery usage when the interface is turned on.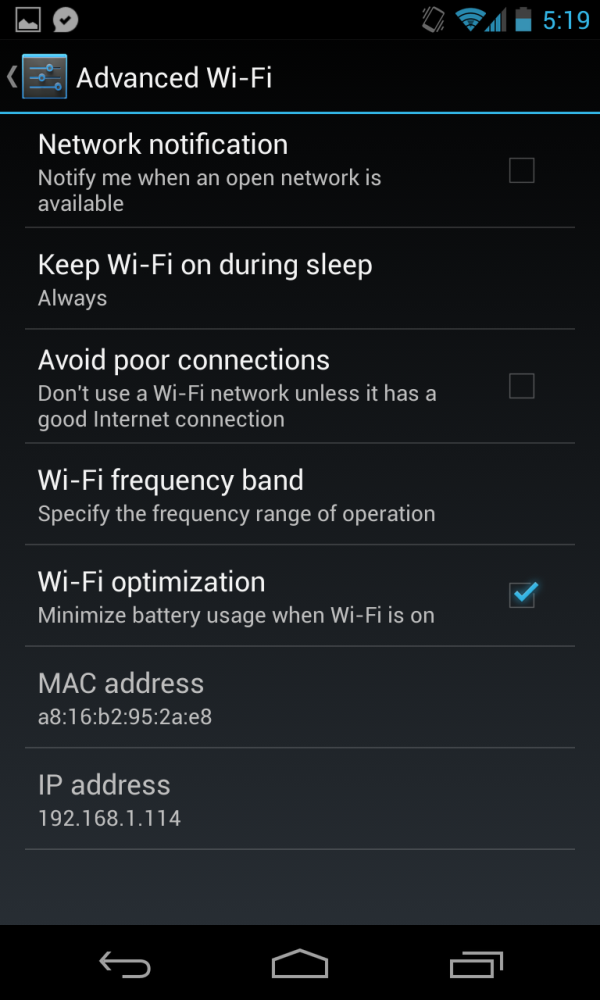 This is ticked by default at present and changes things like the DTIM interval so the client can sleep more, as well as a few other tweaks. I haven't noticed any degradation of throughput when the box is checked, however.
Lock Screen Widgets
The Nexus 4 lacks multi-user support (that's reserved for the Nexus 10), but does however include support for lock screen widgets. The entire lock screen actually gets changed in Android 4.2, this isn't a minor thing. The normal unlock gesture which previously had shortcuts to Google Now, Camera, and unlock, now just becomes unlock. Down below it is a small hatched circle which signals the shortcut to Google Now. Dragging out from that bottom circle brings up Google Now, dragging up from the lock icon unlocks the device.
Getting to the camera from the lock screen now involves dragging to the rightmost hidden pane, where a small preview of the entire camera UI is shown.
By default there aren't any lockscreen widgets already added, scrolling to the left gets to a menu where you can add widgets, which as of this writing are all stock. Third party developers will be able to make their own widgets as well which will populate this list. The clock for the lock screen now matches the Android 4.2 clock which got a significant typographical overhaul as well, with the hour in a bold font and minutes in a much slimmer style. I have to admit I like this new style for both the lock screen and clock application.
Camera - Stills and Video
The Nexus 4 includes the same 8 MP optical system as the 8 MP configuration on the LG Optimus G. It's interesting to me that Google went with the 8 MP system for its Nexus, as the 13 MP system is an option for the Optimus G and seems to have gained a lot of traction on some carriers and in some regions. The tradeoff is the 13 MP option incurs a z depth penalty and results in the module sticking out about one millimeter or two from the back of the device, the infamous "camera bump" that everyone is spending tons of money and time trying to eliminate. The 8 MP option however lies flush with the back of all Optimus G designs I've seen, and it's this one Google chose for the Nexus 4. Both the 8 and 13 MP Optimus G configuration use 1.12 µm square pixels and a 5 P (5 plastic elements) optical system. The difference in optical format (the 13 MP CMOS is physically larger, 1/3.06" for 13 MP vs 1/4.0" for 8 MP) is what necessitates a larger z depth for the optical system, hence the z-height penalty and infamous camera bump.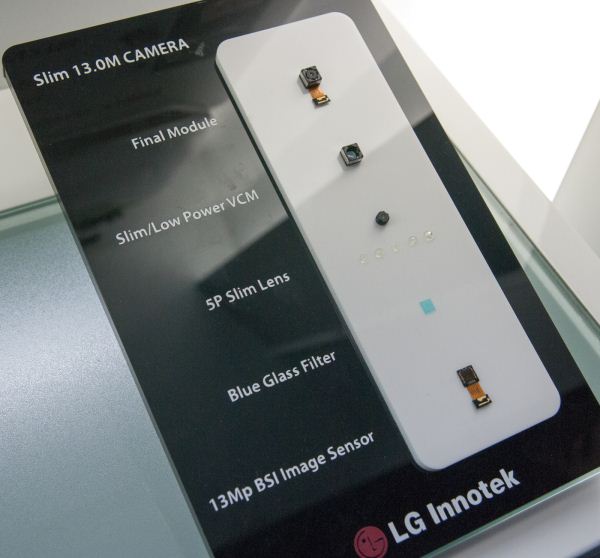 LG Optimus G - 13 MP Camera system, 8 MP system inside Nexus 4
I've done my digging on the Nexus 4 and found that it has a Sony IMX111 (PDF) CMOS for the rear facing camera, which again is 1/4.0" optical format with 1.12 micron square back-illuminated pixels. The focal length on the Nexus 4 is 4.6mm according to EXIF, and curiuosly enough there's no F/# given. I highly suspect that the 13 MP Optimus G uses the IMX091 from this same family.
The front facing camera is Sony IMX119 which has 1.4 micron pixels, 1/7.8" format, and 1.3 MP overall resolution. This matches up nicely with some comments from Googlers about the Nexus 4 having a Sony BSI CMOS sensor.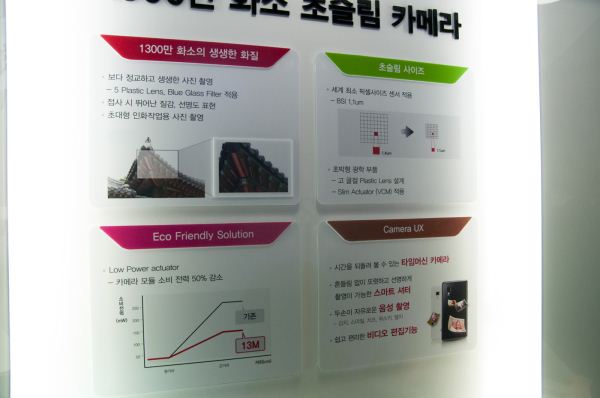 I wager for most people the Nexus 4 will be the first real exposure to the 1.1µm class of pixels. Over the course of my time paying attention to smartphone camera optics as a reviewer (outside of the optical engineering context) I've seen mobile CMOSes go from 1.75 micron pixels to 1.4 micron and now to 1.1 micron over the course of a few generations. If we consider an incoming photon in the red, thus with a wavelength of around 700 nm (0.7 microns) that's a step from 2.5 waves, to 2 waves, to 1.5 waves — it's now obvious where those pixel pitch numbers came from. Pixel geometry can't really get much smaller than one wave in the red (the longest wavelength in the visible) without odd quantum nonsense happening, so I suspect 1.1 micron will stick around at least for a while. Of course the benefit of this smaller pixel geometry is smaller overall CMOS size, and the possibility to deliver thinner devices, the downside is less area to integrate over, higher noise from higher drive voltages, potentially less dynamic range, and an even more challenging Rayleigh criterion for already very constrained camera optics to meet.
I mentioned that Google has made a number of changes to the camera UI in Android 4.2. That's putting it lightly, as the UI is almost completely redesigned now. Settings are accessed either by pressing on the circle or tapping and holding on the preview. Settings can then be modified by either tapping or holding and dragging to the setting you're interested in. This is a nice new take on settings for camera UIs, and includes access to manual exposure control, front facing camera, flash settings, white balance, HDR shooting which is new in Android 4.2, and additional settings (shooting scenes, location storage, and resolution). I think the UI design here is nicely done.
When it comes to the preview however, I still feel like Google's execution is less than perfect. First, the preview resolution could be higher. I'm not sure what subsampling or resolution this preview is, but part of having users perceive your smartphone as having a good camera is presenting a high resolution, high framerate preview, and this seems to be something many Android phones still don't nail. It doesn't have to be native, just high enough resolution that users can tell whether the image is in focus or not. Going into HDR shooting mode results in an even lower resolution preview as well. And that is my problem with the Nexus 4 — the preview isn't high enough resolution to tell whether you've nailed focus, and the AF routine running on the camera seems to often miss focus. Tapping to re-focus often also doesn't always trigger another autofocus run if the reticule is showing green (when the camera thinks it's in focus). With the Nexus 4 I often have to completely recompose in order to refocus, even when I know the camera isn't focused. Google went through a number of iterations of this behavior with the Galaxy Nexus, so I have no doubt the same will play out here with the Nexus 4.
My other main gripe with the Nexus 4 camera UX is a big one, and it's something I felt very passionately about in our iPhone 5 camera review. The Nexus 4 makes the same annoying UX decision as the iPhone 5 and shows an aspect-crop in its preview instead of the full field of view. Put simply, the top and bottom of the image are cropped off in the preview, but appear in the image. I realize that this eliminates letterboxing in the preview and makes it take up all of the usable display space, but what you see is not what you get at all when taking pictures on the Nexus 4. This is a huge problem, since taking compositionally good photos requires, surprise, being able to properly frame a photo based on your viewfinder or preview.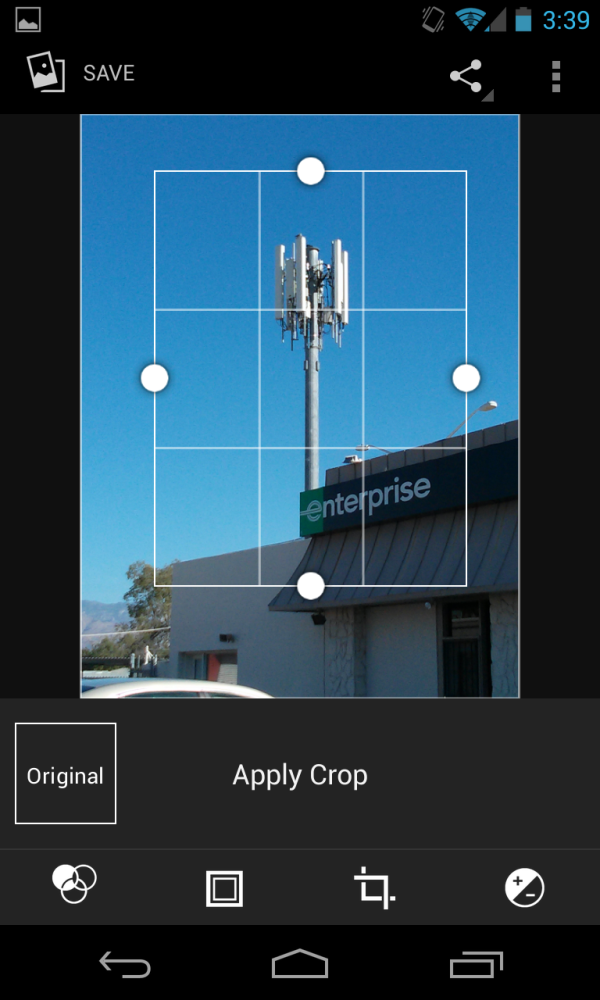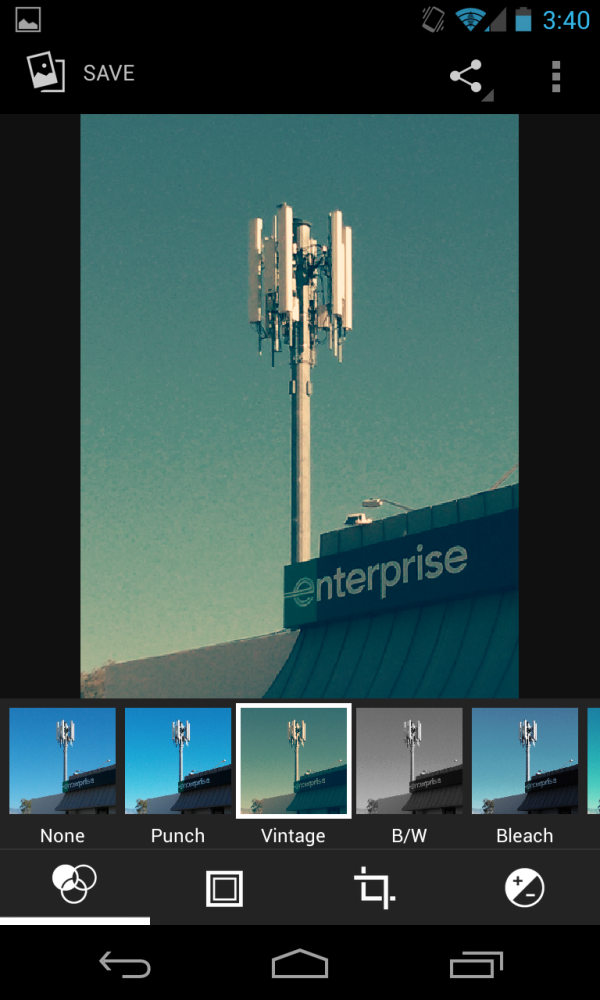 New filters in Gallery from Android 4.2
Viewfinder accuracy is a huge deal for DSLR shoppers, and having an LCD preview that represents 1:1 the CMOS imaging area is a huge advantage with digital cameras, so it absolutely blows my mind that trend with showing a crop because otherwise there would be bars is a thing for smartphone camera UX lately. The aspect ratio difference between camera photo and preview is pretty extreme because almost all camera CMOSes are 4:3 aspect ratio and 16:9 (720p) or 15:9 (1280 x 768) has won for most mobile displays, but this trend of showing some kind of crop needs to stop now for smartphones. An alternative is for UX designers to go with the default camera preview showing a crop, but give an aspect-correct option where the preview represents the framing you're going to get out of the camera actually taking photos.
So how does the Nexus 4 fare at capturing still images? For this we turn to our usual smartphone camera test set, which consists of photographs taken of a test scene in a lightbox with the lights on and off, of three tests charts; ISO12233, distortion, and the GMB colorchecker card, photos at the usual smartphone bench testing locations, and finally miscellaneous photos taken during my time with the Nexus 4.
Starting with the misc. photos I've taken with the Nexus 4, I find myself thinking that camera performance is really quite bimodal. In broad daylight the Nexus 4 can take some surprisingly decent shots as long as you're not looking at them at 1:1 resolution. Viewed like that, you can see just how aggressive the anti-noise smoothing is even in good lighting on the Nexus 4. The Android 4.2 HDR mode also makes a significant difference in end results too, for example with HDR turned off, and with HDR turned on. Indoors in lower light however the Nexus 4 definitely struggles to produce well exposed results or even hit focus. Again I have to note that I have many duplicates from where my Nexus 4 missed focus and I was forced to take a few more shots to get one totally in focus.
Distortion is well controlled on the Nexus 4, colors and white balance in my test lightbox are definitely off however and have a very yellow cast of both the lights on scene and the GMB colorchecker card. I took an ISO12233 chart sample, but again thanks to the fact that the preview isn't the end result I wasted a lot of time trying to align and get a photo with it properly cropped for actual comparisons.
I don't want to sound negative about the Nexus 4 camera experience, since this is a huge step forward for Google over the Galaxy Nexus both in terms of UI and imaging quality. At the same time there's a lot of opportunity for iterative improvements even in just software that will dramatically help the Nexus 4 imaging experience.
Video
Video encode on the Nexus 4 uses Qualcomm's encoder onboard APQ8064, which is capable of encoding up to 20 Mbps baseline, mainline, and high profile H.264. Like the Optimus G, Google has selected H.264 1080p30 at 12 Mbps baseline for encode on the rear facing camera.
I recorded my rear and front facing test videos at the usual location and when I got home was very shocked to see that the rear facing video had many dropped frames and had a resulting bitrate significantly below the encode target.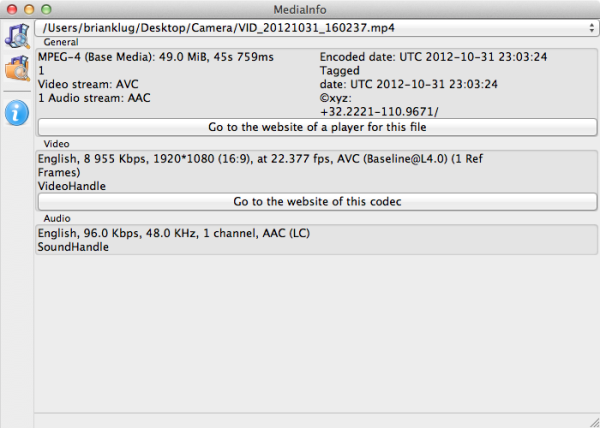 MediaInfo Pre-Nov 13 OTA Update
The video noticeably stutters and is not acceptable quality at all from a mobile device, clearly there was something wrong with either priority or parameters set for the encoder. You can grab the original videos from the Nexus 4 from our servers here. I pinged Google about this when I first saw it and as I write this the final 4.2 OTA has been pushed out to the Nexus 4 which appears to fix this encode quality issue. I'm going to hold off on saying much more until I get the chance to go re-shoot video at the test location, but this does appear fixed based on a video I recorded in my office quickly. I should note that there were some video electronic image stabilization issues with Galaxy Nexus that went much the same way back when I was working on that review.
Google has also improved the time lapse video record functionality on the Nexus 4 and lets you set even more arbitrary time lapse intervals in the video UI. I recorded a number of time lapse videos on the device, both of me driving down Campbell and doing a homebrew pumpkin beer bottling with friends. These don't have any issues with encode (no dropped frames) and nail the 12.0 Mbps 30 FPS target, unsurprisingly.
Update: I promised I would re-shoot the Nexus 4 bench video now that the final release OTA image is out. This time, the video recorded on the Nexus 4 doesn't have dropped frames and shows the 12 Mbps H.264 1080p30 that I expect. I've uploaded the Nexus 4 video to our servers (60 MB) and also to YouTube.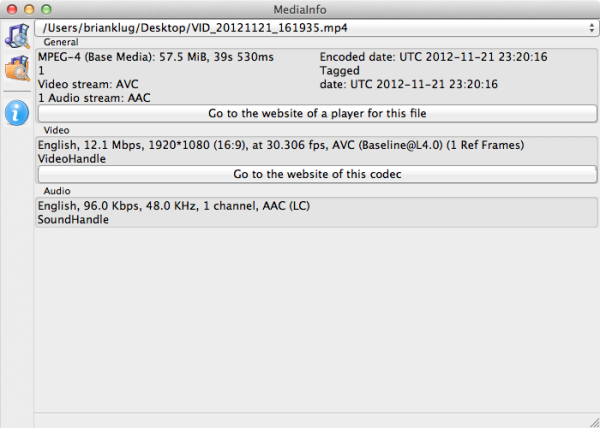 The Nexus 4 video quality is now adequate by no longer dropping frames left and right, but isn't what I'd call best in class among smartphones that record 1080p30. I can see compression artifacts in the shadows and audio is still single channel AAC that still sounds like it was recorded under water.
The display on the Nexus 4 is another shared component between the Optimus G, and is a 4.7-inch IPS WXGA (1280x768) LCD, which is of course home to an RGB stripe and in-cell touch, or as LG calls it, "zerogap" touch. LG Display unsurprisingly knows how to make LCD displays, and the Nexus 4 display looks subjectively very good. At 320 PPI I can't see any pixels, and don't think we need to get into the whole visual acuity discussion again, it's very good on the Nexus 4. The added width over straight 720p is something I noted was actually very refreshing on the Optimus G when playing with that device in Korea. Most apps scale appropriately and take advantage of it without any issue, and the extra width definitely is noticeable in Chrome, Plume, and all my daily drivers.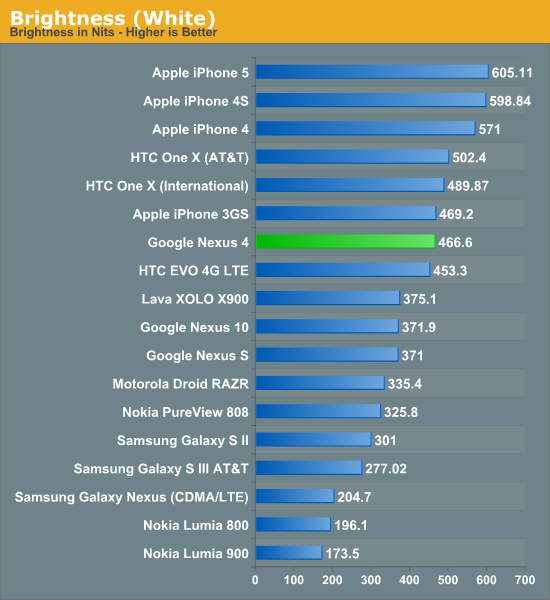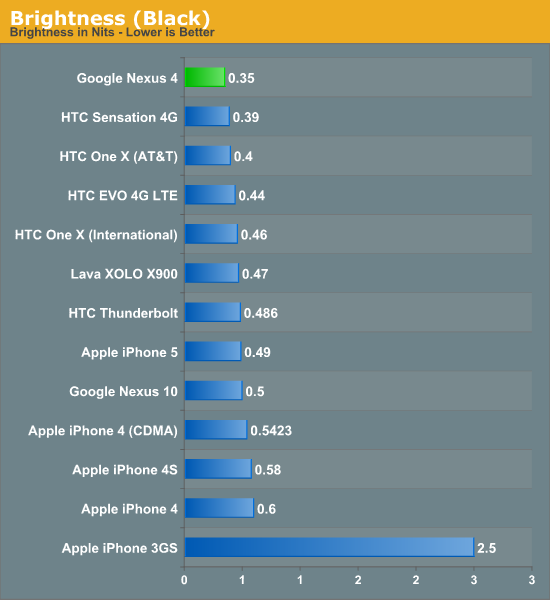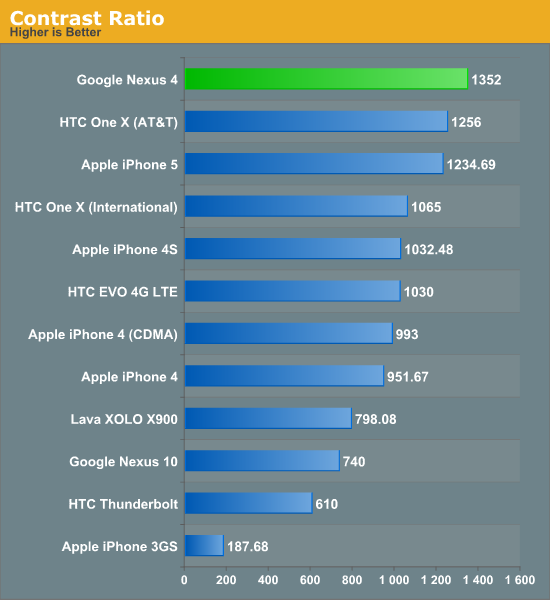 The Nexus 4 display goes very bright, at 466 nits, and achieves a contrast ratio of 1352:1 at that maximum brightness setting. This is a huge step over the barely 200 nits that the Galaxy Nexus could eek out.
CalMAN Display Comparison
Metric
iPhone 5
iPhone 4S
HTC One X
Samsung Galaxy S 3
Samsung Galaxy Note 2
Google Nexus 4
Grayscale 200nits Avg dE2000
3.564
6.162
6.609
4.578
5.867
7.686
CCT Avg (K)
6925
7171
5944
6809
7109
8506
Saturation Sweep Avg dE2000
3.591
8.787
5.066
5.460
7.986
8.517
GMB ColorChecker Avg dE2000
4.747
6.328
6.963
7.322
8.185
7.531
I've mentioned that Google continues to struggle at calibrating their displays. The truth is that everyone except for Apple, HTC, and occasionally Samsung, struggle at calibrating mobile displays. This continues to be the case with the Nexus 4, and the result is that accuracy could be better. I'm convinced the results that we're getting out of the Nexus 4 basically represent no attempt at calibrating the display, and as a result the numbers suffer.
I usually take apart smartphones I'm sampled just because I like knowing what's inside, even if I already know the majority of component choices through other purely software means. In the case of the Nexus 4 this was also motivated by my desire to find out whether it would be possible to replace the battery easily and also to get a look at some of the RF components for cellular.
Taking apart the Nexus 4 is surprisingly simple, so much so that I've taken my Nexus 4 review unit apart fully, twice. There are two Torx T–4 screws at the bottom which come out, after which the back cage pulls off after you use a plastic separator tool to get past some clips holding it on. If you're interested in replacing the battery you can pretty much stop here, there are two screws holding the battery connector onto the mainboard, and the battery is held in place with a square outline of double sided tape. The back side of the case has many gold pads for antennas, NFC, and the inductive charging coils.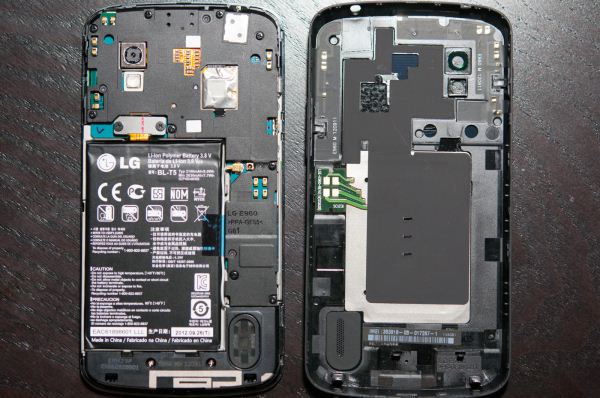 Further disassembly involves removing the plastic covering the PCB, then a few screws and the mainboard lifts out. Construction here is very standard fare for smartphones lately, with an L shaped mainboard and battery sitting in the cavity next to it.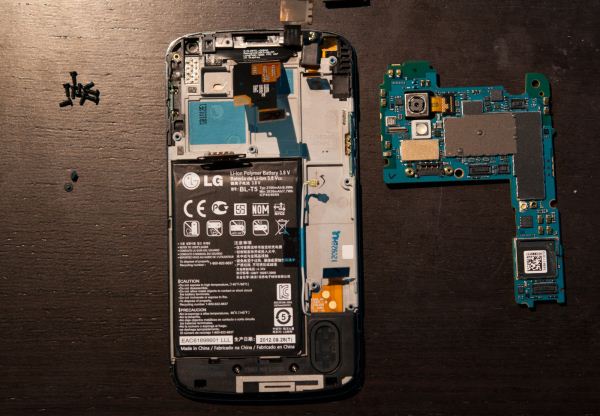 After you get the PCB out things are very easy to identify. I popped the EMI cans off wherever possible as well.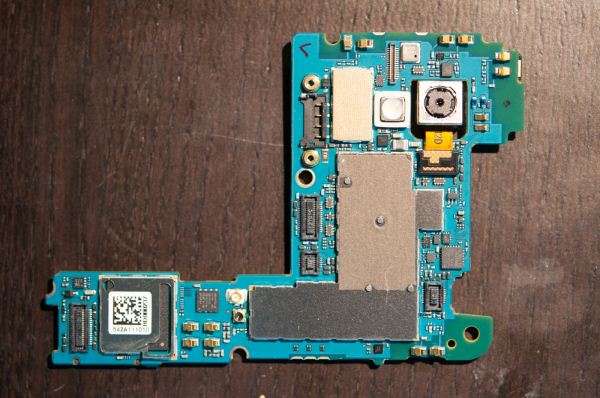 First off on the backside we can see the DRAM PoP atop APQ8064, which in this case is Samsung 2x32-bit LPDDR2–1066, 2GB courtesy of 4 x 512MB die at 1.2V. Below that is the Qualcomm MDM9215 baseband, to the left we can see the baseband PMIC (PM8821), and to the left of that the PMIC for APQ8064, PM8921.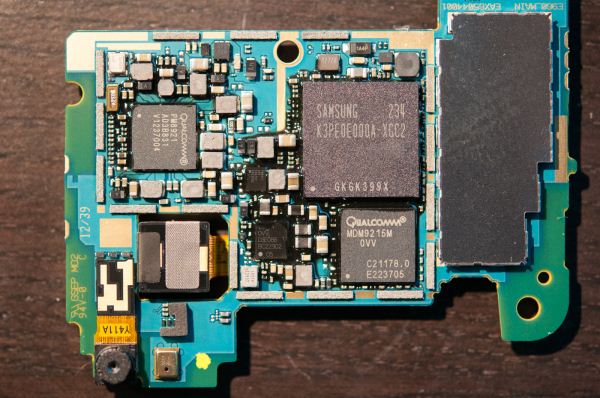 On the long underside of the mainboard we can see the TI BQ51051b wireless power Li-Ion charger receiver I mentioned earlier, and above it Qualcomm's WCD9310 Audio codec in a sea of epoxy. Inbetween those two is a BCM20793 NFC controller instead of the ubiquitous NXP PN544 part.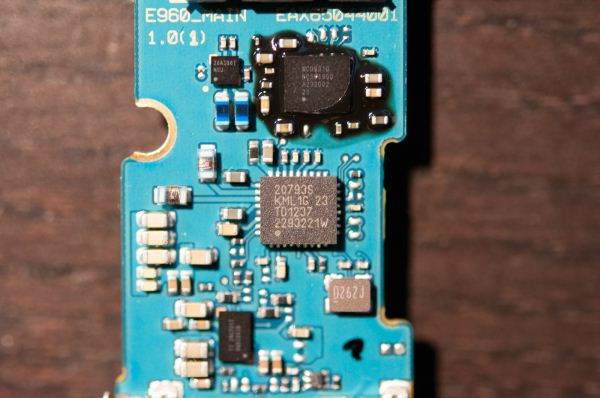 My main goal when taking apart the Nexus 4 was nailing down what power amplifiers and RF architecture the phone had, and under the EMI cans on this side are a few relevant parts.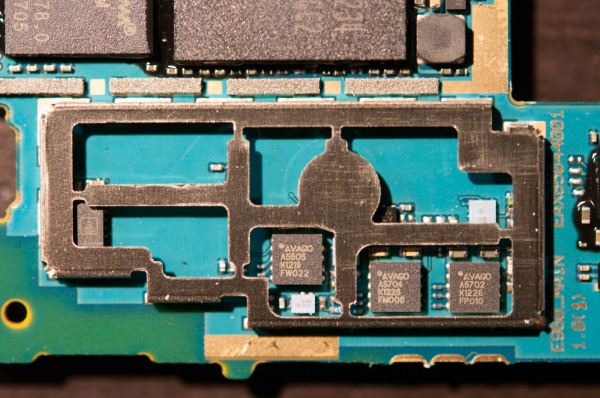 There are three Avago power amplifiers, and an RFMD switch at left. We can see Avago A5505 (Band 5 - UMTS), A5704 (Band 4 - LTE/UMTS), A5702 (Band 2 - LTE/UMTS), and at far left an RFMD 1156 single pole 5 throw switch hiding under a lip of the EMI can.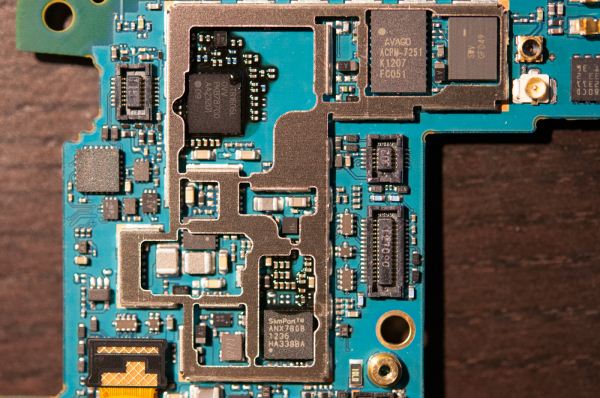 Flipping the PCB over and removing the other large EMI can reveals more parts of the puzzle. I can identify an Avago ACPM–7251 (Band 1, 5, Quad band GSM/EGE) power amplifier, and another package near it marked "GFD49" which is probably another switch just next to the antenna feed for the bottom transmit antenna.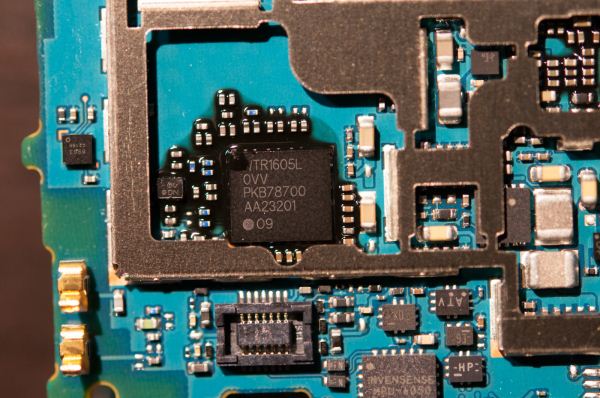 Nexus 4 also has the latest and greatest Qualcomm transceiver onboard, WTR1605L, which we're going to talk at length about in another piece. It's actually somewhat surprising to see the latest and greatest here considering the Nexus 4 doesn't include LTE support, even though it does have the hardware for it on bands 4, 2, and 1 in theory.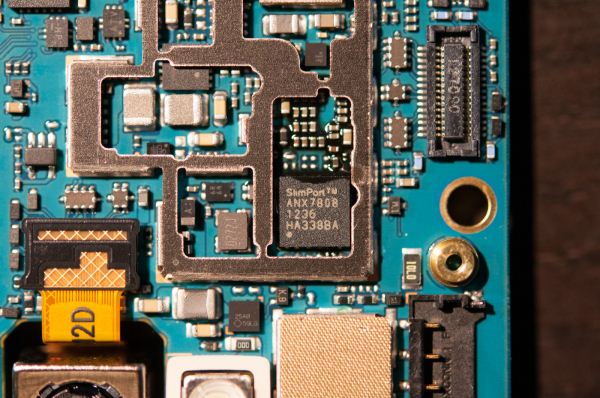 Also under this can is the SlimPort ANX7808 which enables HDMI, VGA, DVI, or DisplayPort out on the Nexus 4 instead of the USB-MHL that we've been seeing getting adoption pretty rapidly. This is actually an interesting choice for the Nexus 4 considering again the relative ubiquity of MHL. I don't have any SlimPort cables or dongles so I can't test it first hand, but there's the transmit package on the PCB that enables it.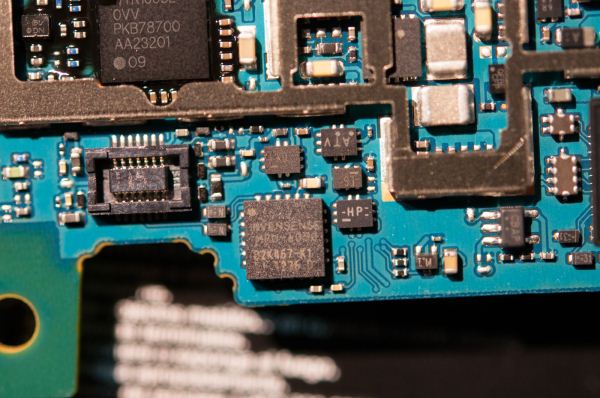 I can also identify an InvenSense MPU–6050 six axis gyro and accelerometer at the very top of the PCB.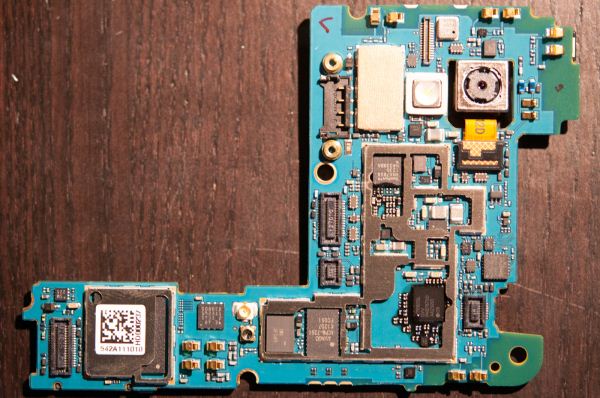 I couldn't get the can off of what appears to be the eMMC (the only remaining large package), we'll have to see if anyone else wants to do some destructive digging to get that one. Finally the Nexus 4 also has a linear actuator vibrator which you can see in the FCC teardown photos.
Cellular, Wi-Fi, GNSS
Let's talk about cellular on the Nexus 4, which is for many people the main point of contention with the device. Google didn't do itself any favors by initially posting incorrect specs for cellular compatibility, when in fact the Nexus 4 was capable of much more. Initially, that spec table showed inclusion of only HSDPA 21.1 (single-carrier WCDMA with 64 QAM), when in fact the Nexus 4 supports pentaband WCDMA up to HSDPA 42.2 (dual-carrier WCDMA with 64 QAM) courtesy of MDM9215. Of course, what gets left out is LTE support, and the reality of that choice is a device completely detached from carrier involvement. The realities of engineering hardware to support both LTE Bands 17 and 13 (for both AT&T and Verizon in the USA, respectively) basically necessitate at least two SKUs, and I have a feeling that Google just wasn't ready to make that commitment. Band 4 (AWS) could essentially be supported with the power amplifiers and transceiver that already are onboard the Nexus 4, but again it ultimately comes down to a particular OEM choice whether these get supported. The rest of the LTE band support situation is similarly complicated, to say nothing of the political involvement required to support LTE and whatever CSFB (circuit switched fallback) or legacy hard handover is required for each carrier at present. I have a feeling that Google wanted to get the Nexus 4 out the door quickly and without making a million and one models it would have to build images and OTA delta updates for, and the result is a pentaband WCDMA phone with DC-HSPA+ support.
When I heard that LG would be making the next Nexus, I also heard that it would be WCDMA only. Honestly I thought it was obvious that those two go hand in hand to minimize carrier involvement in Google's purest form of Android. The original goal of Nexus was to change the way that users shop for handsets, primarily in the USA. The goals were lofty at that time and the reality was that Google didn't yet have the necessary infrastructure (like the Play Store) to do it, nor was hardware at the level required to deliver a single-SKU solution for all the UMTS bands out there. Galaxy Nexus was the first pentaband Nexus, thus it only makes sense for the follow up to likewise be pentaband WCDMA.
Internationally, DC-HSPA+ has widespread support, the reality is that in the USA AT&T's lack of support for DC-HSPA+ is more of an aberration than the norm for UMTS networks across the globe. Not having LTE support would be much easier to stomach for AT&T subscribers if the carrier enabled DC-HSPA+. T-Mobile has always been something of a silent (or not so silent) target for Google's Nexus phones, with the G1, Nexus One, and Nexus S all coming in AWS-flavors before 850/1900 (Cellular/PCS) flavors for AT&T, and T-Mobile has had DC-HSPA+ rolled out to nearly all of its WCDMA footprint for months now.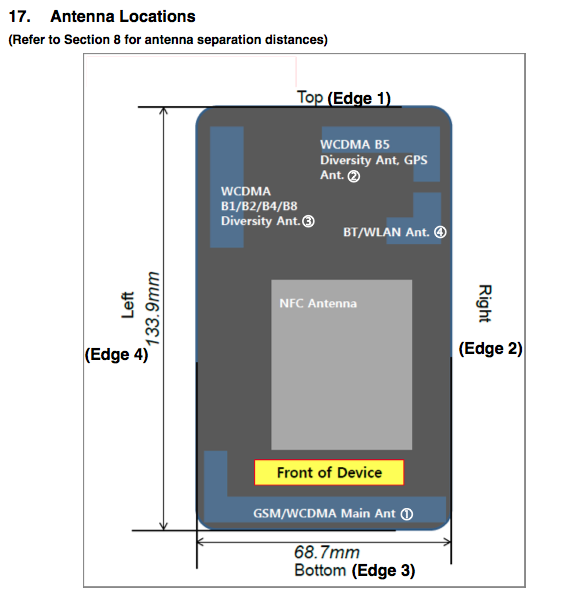 In reality, the cellular and RF architecture of the Nexus 4 is a dramatic improvement over the Galaxy Nexus, which was based on the still-ubiquitous Intel XMM6260 65nm baseband and lacked receive diversity or interference cancelation in its implementation. I was never really fully satisfied with RF performance on the Galaxy Nexus, and although I carried it as my daily driver for months, I could never shake that thought at the back of my head that I could definitely be achieving higher throughput with almost any of my other handsets even on AT&T (up to HSDPA 14.4, single carrier 16 QAM).
Google Nexus 4 - Network Support
GSM/EDGE Support
850 / 900 / 1800 / 1900 MHz
WCDMA Support
850 / 900 / 1700 / 1900 / 2100 MHz
Baseband Hardware
Qualcomm MDM9215M + WTR1605L
UE Categories
HSDPA Category 24 (43.2 Mbps), HSUPA Category 6 (5.76 Mbps)
Anyhow, the Nexus 4 is a dramatic improvement. It includes the latest and greatest 28nm Qualcomm baseband (MDM9215M), their flagship transciever (WTR1605L) and includes full receive diversity on all WCDMA bands.
Anritsu recently loaned me an MD8475A signaling tester base station emulator for testing devices, and I decided to go and check out the maximum theoretical performance difference between the Galaxy Nexus and Nexus 4 just for illustrative purposes. In this test I corded up the Galaxy Nexus (since it has external antenna ports) and placed the Nexus 4 on top of an antenna, and setup a simulation running an HSPA+ 3GPP Release 8 network running on UMTS Band 4 (AWS). I tested using UDP over iperf on this simulated network. There were additional cabling losses due to me not being able to cable up the Nexus 4 so I adjusted Tx power appropriately.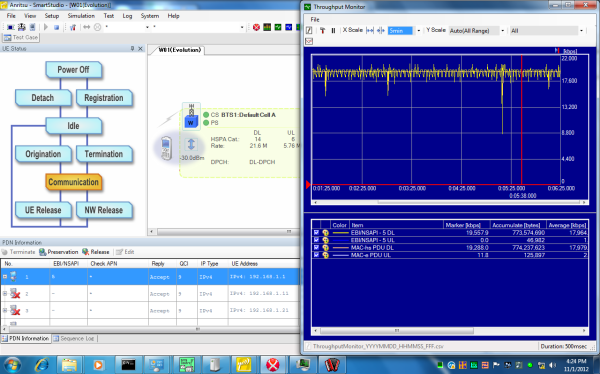 Galaxy Nexus - HSDPA 21.1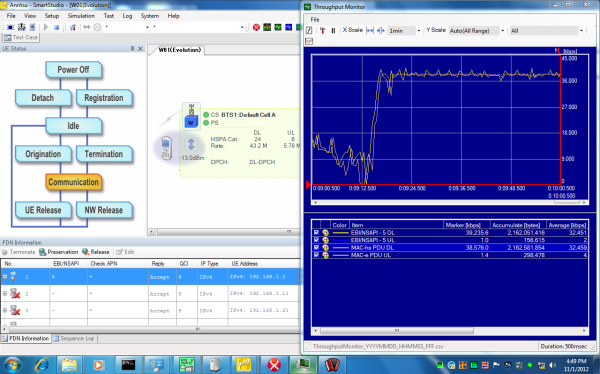 Nexus 4 - HSDPA 42.2 (Dual Carrier)
Corded up, the Galaxy Nexus can eek out just over 19 Mbps on 64QAM single carrier WCDMA which is the maximum that hardware supports. Moving to dual carrier on the Nexus 4 buys the device unsurprisingly roughly double the throughput at just shy of 40 Mbps. This is of course in basically an ideal signal environment for both devices.
In real world performance testing I turned to speedtest.net and running a bunch of tests, then making a few histograms of the resulting data. I'm still a big fan of the fact that T-Mobile has always been first to these upgrades to WCDMA, first with 64QAM, then with dual carrier (DC-HSPA+).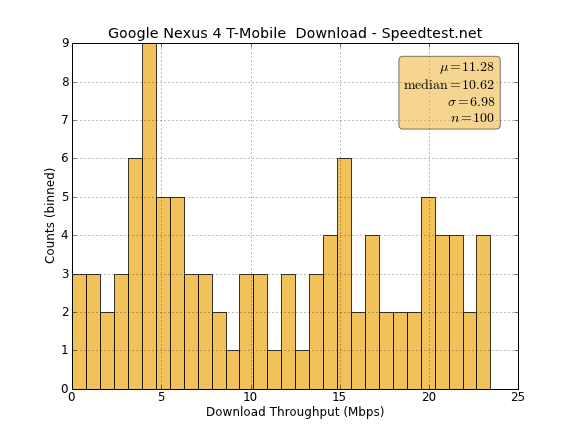 Stats Download Throughput (Mbps) Avg: 11.28, Max: 23.43, Min: 0.01, StDev: 6.98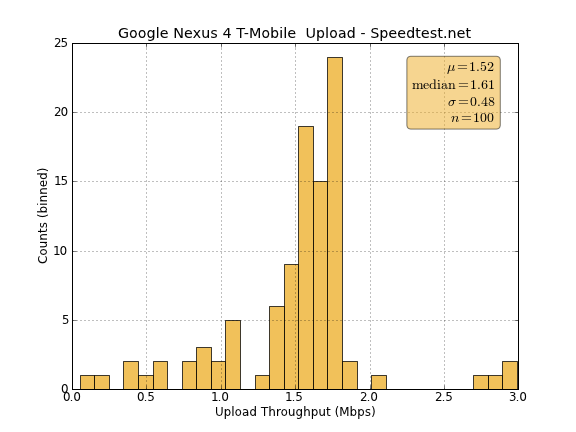 Stats Upload Throughput (Mbps) Avg: 1.52, Max: 2.99, Min: 0.05, StDev: 0.48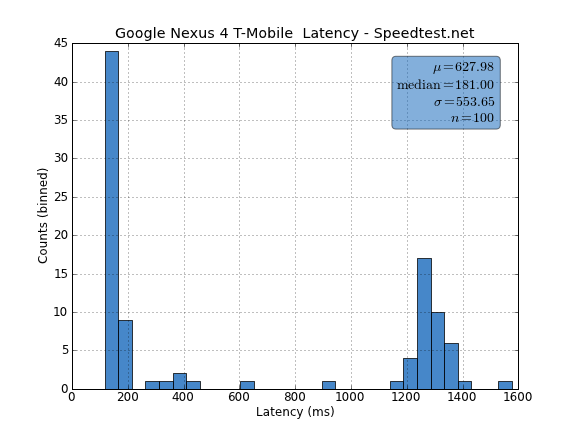 Stats Latency (ms) Avg: 627.98, Max: 1577.00, Min: 117.00, StDev: 553.65
The speeds I see out of the Nexus 4 on T-Mobile are on par with my expectations for that network. The maximum downstream throughput we see at just shy of 24 Mbps is essentially the result of the maximum bitrate with two 16QAM WCDMA carriers aggregated together. Again getting to 64QAM on the downlink can be quite difficult, I've seen breakdowns where 64QAM only gets used sub 10% of the time in the real world for WCDMA. At cell edge the improvement that receive diversity brings should be dramatic for users upgrading from Galaxy Nexus to Nexus 4.
GNSS
GNSS (Global Navigation Satellite System) is supplied courtesy MDM9215 on the Nexus 4, which offers GPS and GLONASS support. I've talked at length about this in other reviews, and like other implementations based around Qualcomm's GNSS, the Nexus 4 locks very fast even indoors. There's really nothing more to add about GNSS on the Nexus 4 except to note that it performs very well just like other MDM9x15 based devices I've played with.
There's an Avago 3012 GNSS front end with LNA and filters for GPS and GLONASS on the Nexus 4 PCB that I was able to identify as well right near the GNSS antenna feed.
Wi-Fi
The Nexus 4 includes dual band (2.4 and 5 GHz) Wi-Fi support, which as far as I can tell is supplied by the Qualcomm "WCNSS" solution leveraging the digital baseband onboard APQ8064 and some external RF. I have no doubt the actual package is hidden under the last remaining EMI can I couldn't remove on the Nexus 4 PCB right near the Wi-Fi antenna feed.
I noted that there's an optimization toggle under Advanced for the Nexus 4 which changes some things around. There still is a band preference toggle as well. I tested the Nexus 4 the same way I always do with iperf on my myriad 802.11n networks and made some graphs.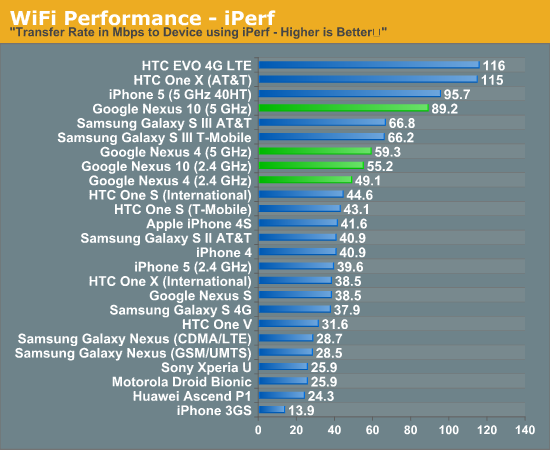 What's curious to me is that the 5 GHz support for Nexus 4 doesn't include 40 MHz support, instead the Nexus 4 attaches at 72 Mbps (the 20 MHz, short guard interval rate) on both 2.4 and 5 GHz. Likewise we see similar throughput on both bands. I have no complaints about range, the Nexus 4 is on par with my expectations.
Speakerphone and Audio
The Nexus 4 has a small vertical notch cut out of the back glass for its speakerphone port. The unfortunate part is that when the Nexus 4 is laid display-up like I always place phones for testing under our digital sound level datalogger, it is quite muted since there is no gap in the cavity for sound to escape through.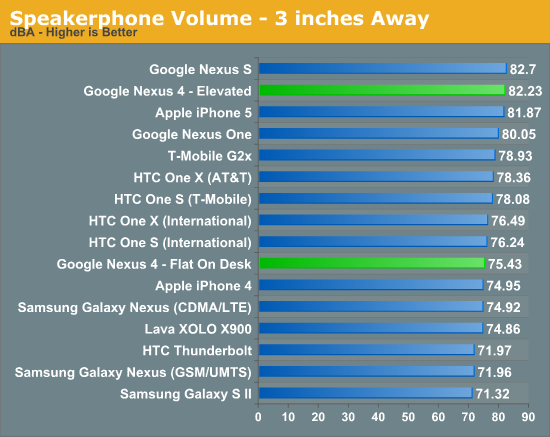 With the phone raised, however, the Nexus 4 turns out to be decently loud, which matches my subjective impressions using the device for Google Navigation over the past few days.
Noise Suppression
The Nexus 4 has a pair of microphones for noise suppression both when on calls, and also for the increasingly important task of reducing noise on ASR (Automatic Speech Recognition) workloads like Google Now. I believe the Nexus 4 is using Qualcomm's Fluence for this task, which is an adaptive beamformer system.
To test its efficacy, I turned to the industry standard babble track and ramped volume in front of a pair of speakers to 94 dBA (very loud) and then back down while recording the mobile-terminated end of the call on my PC. I should note that when I run these tests I always originate and terminate the call on the same mobile operator (in this case T-Mobile) if possible.
The Nexus 4 does a pretty decent job at canceling noise on my test call. The Galaxy Nexus noise rejection performance quite honestly never was that spectacular, and getting better noise filtering is going to be an increasingly important part of the speech recognition battle on these platforms.
Audio
Inside the Nexus 4 is a Qualcomm WCD9310 audio codec, which we've seen in other devices like the MSM8960-based Galaxy S 3s and a few other phones. Measuring sound quality is probably the number one requested addition to our reviews, and still is a rather nebulous thing to measure at times. For this I worked together with the ever-awesome François Simond (@supercurio) to measure sound quality on the Nexus 4 using RMAA on my desktop equipped with an ASUS Xonar Xense sound card.
Subjectively the Nexus 4 doesn't sound terrible to my ears on a pair of SE535s and listening to music at half volume or less. Objectively however the results are less than awesome thanks to a combination of things. First, audioflinger is set to 48 kHz which results in software resampling causing artifacts for 41.1 kHz source material. Second, there appears to be different modes that the Nexus 4 switches into depending on your volume level, and the frequency response plots show these different plots at the number of different volume levels we tested. We're going to update with some thoughts from Francois about the Nexus 4 soon, for now I think the Nexus 4 sounds ok at least when it comes to the most glaring of things — I couldn't detect any background hiss or whine as the SoC changes states, which is a huge percentage of what I normally wind up hearing on smartphones.
With the Nexus 4 conclusion I really have to finish the way I started, namely by noting that this is now the fullest realization of Google's original strategy laid out for Nexus at its inception. The Nexus One had extremely aspirational goals for a first-gen Googlephone — it tried to change the way that phones are sold in the US and tried to deliver a fully carrier-agnostic reference platform for developers and OEMs to build out from. The end of that story is something everyone is familiar with, however — the Nexus One was largely a commercial failure. Little did we all know it would take several more iterations of the Nexus hardware and Android platform to get close to delivering on those goals, and Google has inched closer each time.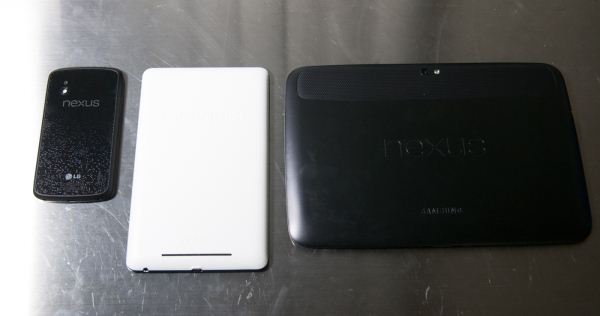 Nexus 4, Nexus 7, Nexus 10
The next revisions of Nexus built on this platform, but only with Galaxy Nexus and its pentaband WCDMA radio and Nexus 4 do we see the fullest realization of this dream. Over time Google has built up the infrastructure required to deliver on its goals with things like the Play Store, a reputation among hardware vendors, and the right combination of hardware and software cadence to make this all work. The price point with the Nexus 4 is now low enough to not make off-contract sale an impossible to swallow deal.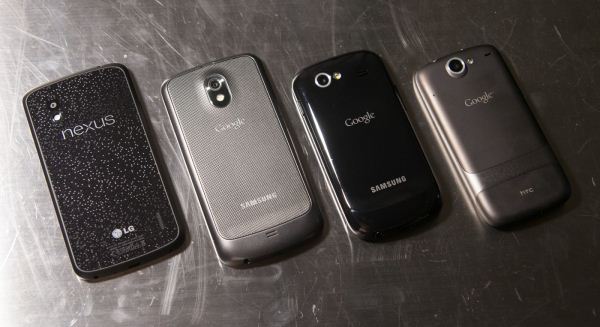 With the Nexus 7 I felt like we were truly seeing the Nexus line come into its own. With Nexus 4 and 10 we're now seeing Google finally deliver a product lineup with offerings in each of the major size tiers. We now have a form factor of device for every two inches of diagonal difference.
With the Optimus G, LG truly went all the way toward delivering the best of everything it had to offer from all the different parts of LG — LG Chem, LG Innotek, LG Display. I'm very positive about the Optimus G hardware and very positive about the Nexus 4 as its close relative. LG's execution in the smartphone space has primarily been held back by its software approach and skins, and until recently a lack of updates. Getting a win for LG in the Nexus space basically mitigates that, as the software burden becomes entirely Google's, and obviously Nexus will continue to mean the latest and greatest Android platform updates for quite some time.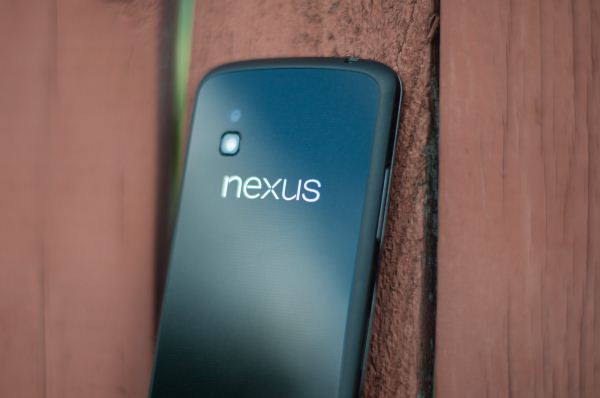 You can go back and read what I've written about the Nexus 4 hardware — in a word it's superb. In-hand feel is awesome thanks to the rubber ring running around the perimeter of the Nexus 4, and build quality is also very good. I've fully disassembled my Nexus 4 three times and put it together without issue, and the Nexus 4 has taken a few trips to the floor (my fault) without any adverse effects.
Finally, there's also the matter of price. For $299 you can get the latest and greatest hardware and 8 GB of storage, and for $349 you can get double that storage with 16 GB (12.92 GB usable). Both are fully unlocked and carrier-agnostic, and at those prices the Nexus 4 pretty much blows the doors off of any other unlocked or out of contract smartphones, which usually end up being priced at around $600 or more.
If you're an Android enthusiast, the Nexus 4 is obviously the phone to have right now. The combination of APQ8064 and MDM9x15 is excellent in spite of some unfortunate thermal throttling, and we'll be seeing many more Fusion 3 based devices in time at prices well above the Nexus 4 out of contract. At a fundamental level there is quite literally no better vehicle out there for Google to communicate its smartphone platform via than the yearly Nexus refresh. On its own, the Nexus 4 would otherwise be phenomenally great hardware. As a Nexus, it's a level even beyond that.
Google has come an exceptionally long way since that first Nexus One.