Original Link: http://www.anandtech.com/show/6460/asus-pb278q-review-an-ips-competitor-emerges


ASUS PB278Q Introduction and Specifications
Every 27" panel that I have reviewed this year has had two things in common: the panel was IPS based, and it was made by LG. The vast majority of IPS panels are made by LG, and so most high-end monitors use the same panels but have major differences in their electronics and design. In the past two years Samsung has entered the market with an alternative to IPS called PLS, or Plane-Line Switching.
While similar to IPS, PLS is designed to have a advantages over traditional IPS. First, it has a higher level of transmittance, so more light gets through each individual cell. This allows you to use either a lower powered backlight, or to have a brighter display, both of which lower the power output required for a certain screen brightness. Second, as each cell allows more light though, you can pack them tighter allowing for displays with a higher pixel-per-inch count while keeping light output higher. PLS also claims to have better viewing angles for color and contrast in comparison to IPS.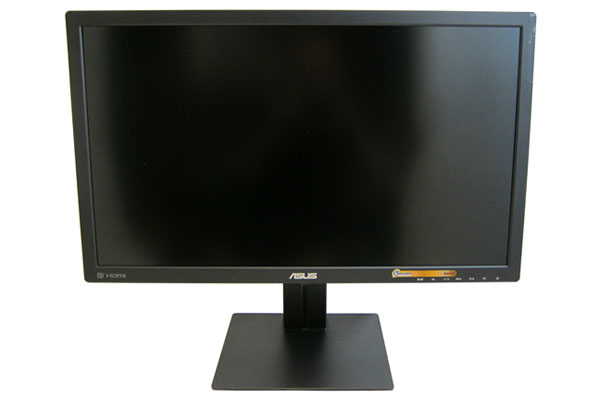 So far Samsung has been the main vendor to use PLS in products, but ASUS has also come out with the new PB278Q panel, which has a 27", 2560x1440 PLS panel with LED backlighting. The I/O options you would expect to find are present with DSub, DisplayPort, HDMI, and DVI inputs. One annoyance here is there is a lip just below the inputs, so if you have a really thick cable, it can be hard to connect it to the PB278Q in the space provided. The HDMI input is also HDMI 1.4 compatible and with a recent NVIDIA or ATI card you can do the full 2560x1440 resolution with an HDMI cable. There is a 3.5mm audio input for the integrated stereo speakers, and a 3.5mm audio output to use with headphones or speakers.
The design of the ASUS PB278Q is finished off by a nicely adjustable stand that allows for height, pivot, tilt, and swivel adjustments. A small channel on the back of the stand allows for routing cables out of the way as well. Controls for the OSD are located on the lower right of the display and are labeled with white text on black plastic. There are markings around the display for use with ASUS' QuickFit software, which we will look at later. Overall the PB278Q has a very utilitarian look, much like monitors from Dell, and I certainly prefer utility to some of the flashy, ergonomic disasters that other companies have released recently.
The OSD for the ASUS PB278Q is decent but still a bit behind other manufacturers that have been improving in this regard. The main flaw is continuing to use one set of arrows, which move up and down, while having adjustments that go from left to right. Main menu and sub-menu selections are done using Up and Down, but individual adjustments move in a different direction and just add confusion. The labels for the OSD are on the monitor bezel and don't have labels that pop-up on screen while in use, so adjusting the display in a dark room is difficult unless you have memorized the position of each button.
The OSD menu does contain a good amount of adjustments for end users. There are multiple preset modes, with the sRGB one being the closest to the targets we use for calibration and the one that I selected for initial measurements. The User mode allows for a two point white balance where most displays still only offer a single point, but omits the CMS system that is found in their ProArt monitors. The PB278Q offers more adjustments than most monitors do in the OSD, and overall it was pretty easy to use, but it could still be improved upon.
Looking at viewing angles on the PB278Q, they are very good, much like an IPS monitor. You see some contrast shifts at the extremes, but you aren't seeing the color shifts that you do with a TN panel. Even set up in portrait mode and working very close to the PB278Q I didn't notice this shift during real world use, and I can't imagine that most users would ever notice them unless they are looking at another user's monitor.
ASUS PB278Q
Video Inputs
HDMI 1.4, DispayPort 1.2, DualLink DVI, Dsub
Panel Type
PLS
Pixel Pitch
0.233 mm
Colors
16.7 Million
Brightness
300 nits
Contrast Ratio
80,000,000:1
Response Time
5ms GTG
Viewable Size
27"
Resolution
2560x1440
Viewing Angle
178/178 Horizontal/Vertical
Backlight
LED
Power Consumption (operation)
< 60W
Power Consumption (standby)
< 0.5W
Screen Treatment
Anti-Glare
Height-Adjustable
Yes
Tilt
Yes, +20~-5 degrees
Pivot
Yes
Swivel
Yes
VESA Wall Mounting
Yes, 100mm
Dimensions w/ Base (WxHxD)
23.3" x 21.7" x 8.5"
Weight
19.4 lbs.
Additional Features
3.5mm audio input and output, Kensington lock port, 3W stereo speakers
Limited Warranty
3 years, part and labor
Accessories
DVI cable, VGA cable, Audio cable, DisplayPort cable, HDMI cable, Power cable
Price
$699 (10/17/2012)
On paper the PB278Q and its PLS panel seem to offer everything that we need in a 27" display, but can it perform as well as IPS in our testing environment? Let's see how the PB278Q fares.
ASUS PB278Q Brightness and Contrast
ASUS says that the PB278Q can do 300 nits at maximum brightness, and that spec hits it right on the head. With a full white screen and the brightness pushed up all the way, I got exactly 300 nits of light output from the display. One of PLS' advantages over IPS is supposed to be the ability to let more light through, though this number is very close to what other 27" displays achieve. It might be able to do this using a lower powered LED backlight, and we will test that out in power usage later to see if that is the case.
With the brightness at minimum, we get 58 nits of brightness which should be low enough for virtually every user. The lowest that most users might set a display to is probably 80 nits, and so as long as a display goes below that level I think that is a perfectly acceptable minimum brightness level. This range from 58 to 300 should also accommodate virtually all users for their brightness requirements.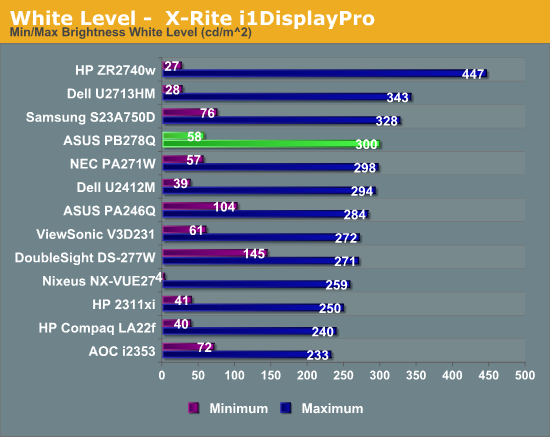 Before measuring the black level, I made sure to disable dynamic contrast, as it would likely just disable the LED backlight and give a result of 0 for a black screen. Since no one really uses an all black screen in this way, I don't feel that testing it is appropriate. With the backlight at maximum the black level was 0.32 nits, and at minimum it was down to 0.062 nits. This is a decent minimum black level for a display, and good for IPS, but not as exceptional as some displays can manage.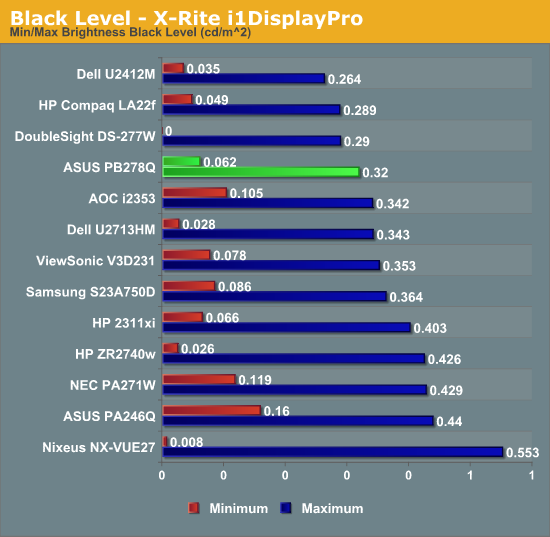 The black level looks better when used to calculate the contrast ratio of the display here. With a contrast ratio right around 935, this is right around what we see for other 27" IPS displays. The PLS display seems to be equal to what other IPS displays can manage, not really much better or worse, but right down the middle of the range.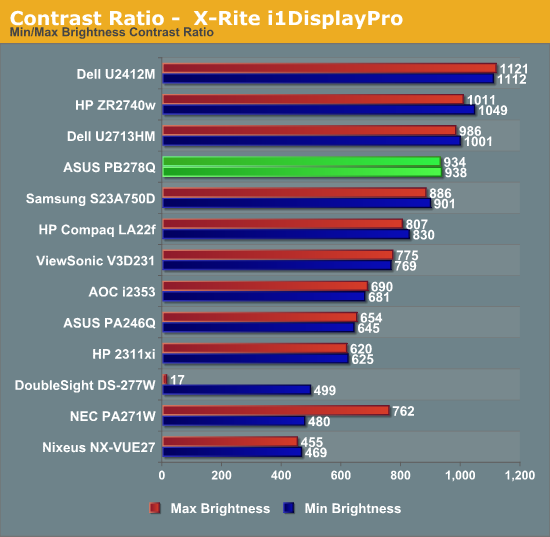 Brightness and Contrast details are right in line with what we expect from an IPS display, and since PLS is very similar to IPS we see very similar results. The peak brightness is lower than some IPS displays, but most people don't use more than 300 nits and we will see later if this enabled ASUS to use a lower power backlight.
ASUS PB278Q Color Quality
The PB278Q ships with an sRGB preset in the display, but unlike the ProArt line this doesn't come with a guarantee of a DeltaE < 5 for color quality. Since the ProArt DeltaE didn't meet that standard in my testing (and I don't have enough details to know what color points they are even testing to get that number), this was a fine change by me. Compared to all the other preset modes, sRGB was by far the most accurate, so I used it for our uncalibrated, 200 nits profile testing.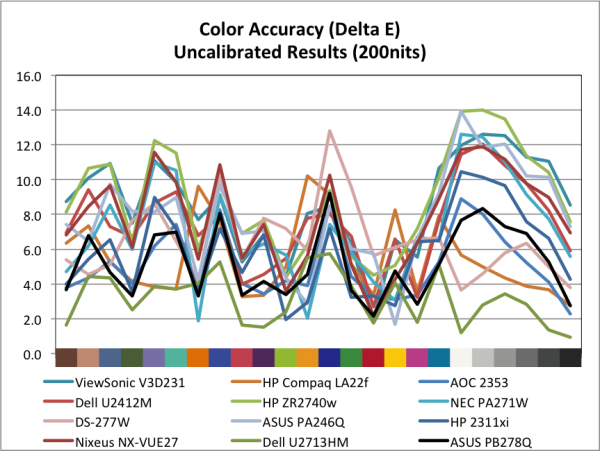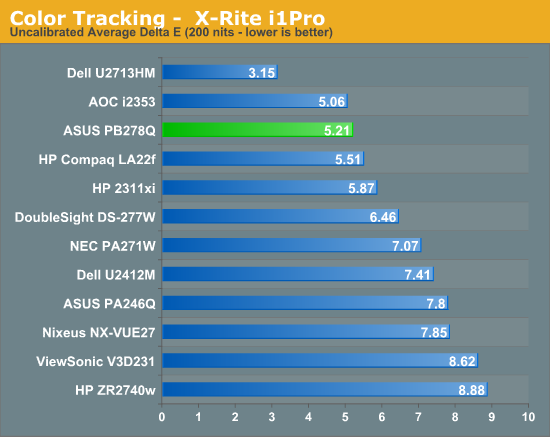 Our average uncalibrated dE is 5.21, which is actually very good for a 27" display right out of the box. You will notice that some 27" displays that were tested prior to my taking over display testing, like the Dell U2711, are not here in the graphs. This is intentional as those were tested with a different combination of hardware that can produce results that look better than they actually are. All of the displays in this chart now are measured using an i1Pro for every measurement except for black level, which an i1DisplayPro is used because of its more accurate low light readings.
Moving past that, the sRGB mode isn't incredibly accurate in comparison to the recently reviewed Dell U2713HM display, but it is better than every other 27" display I have put onto the bench.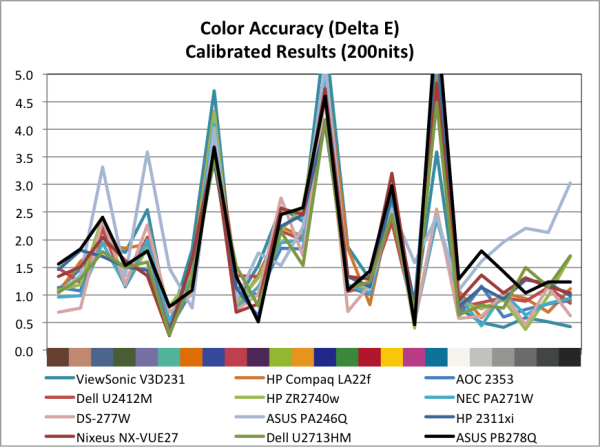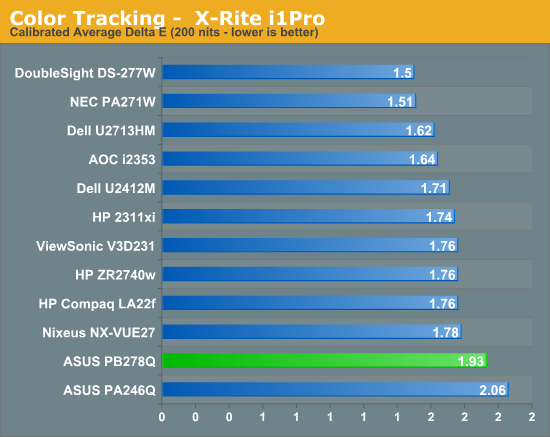 After calibration the PB278Q improved but not as much as some of the other displays have. What is really throwing this off is one shade of blue that has a dE over 6, which pulls that average up. Looking at the median error we still see a worse result than the other 27" displays out there and a grayscale that has a higher dE across the board than the other displays. This is getting picky, since all of these dE values mean that you probably won't see any difference between the displays, even side by side, but it still doesn't perform quite as well after calibration.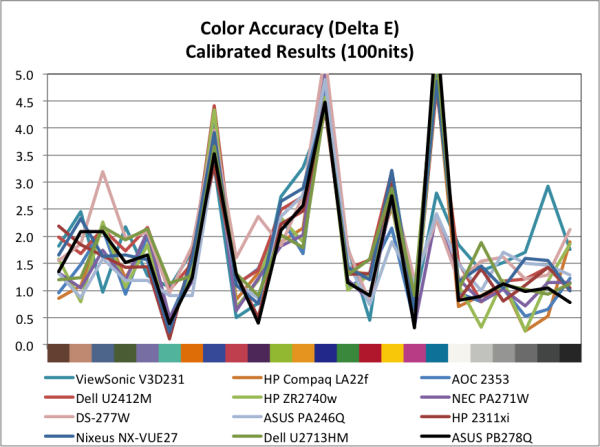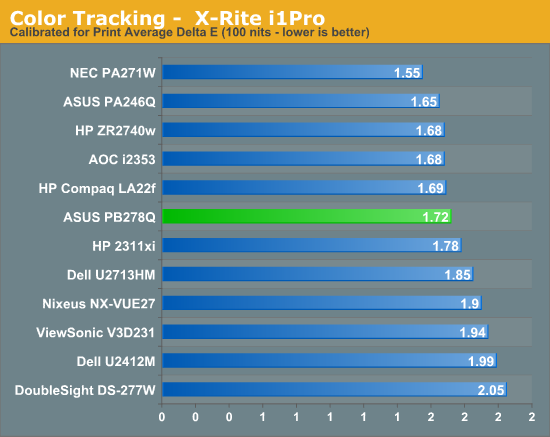 With the brightness range of the PB278Q it was easy to get the ASUS down to 100 nits for our print calibration testing without having to manipulate the LUT to do so. Here we see a bit of an improvement over the 200 nits numbers, and we manage to do better than the other 27" displays we have tested. The NEC is still the leader for low light image quality, but the ASUS is right behind it and would do a good job for those that need to do print work at lower light levels.
The color gamut on the PB278Q is going to be limited to sRGB due to the use of an LED backlighting system that uses while LEDs, and we see it has 79% of the AdobeRGB gamut available. There's nothing at all surprising or different about this; it's exactly what we expected to see.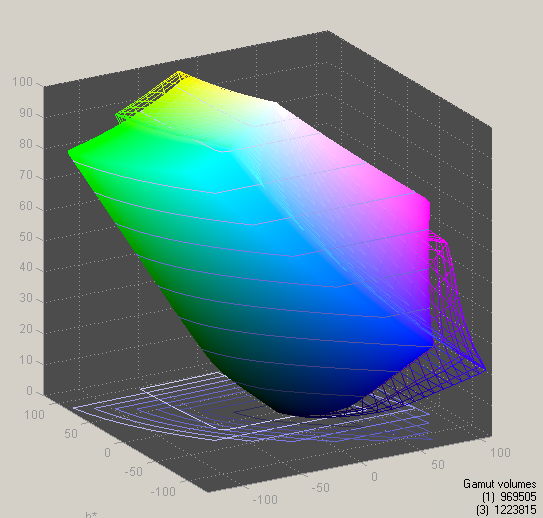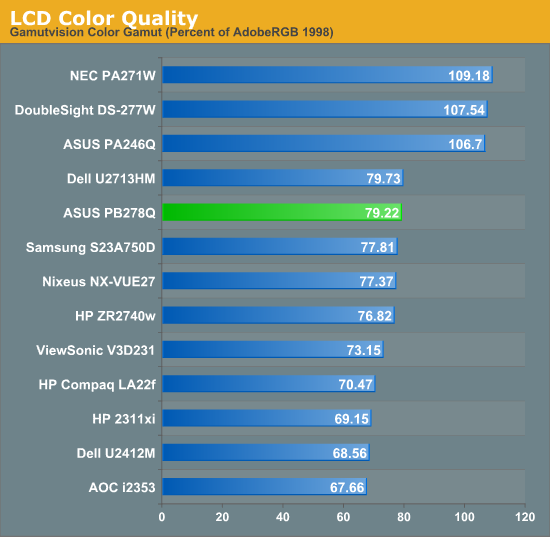 Overall the PB278Q does a pretty good job on the color quality testing. The default sRGB mode is better than most and will be good enough for those that want to have more accurate colors but aren't willing to pay a premium for the hardware to do a full calibration. The 200 nits calibrated numbers are a little worse than I had hoped, but they are so close to others you likely won't be able to tell at all, and the 100 nits numbers are very good.
ASUS PB278Q Screen Uniformity
The larger the display, the more concerned I am about how uniform the display is. There is more room for uneven backlighting as they have a larger area to illuminate, and users will view the display at wider angles that already will cause some drop in light output. Here again I am measuring this using a 5x5 ANSI pattern using the i1DisplayPro to provide better real-world results and prevent dynamic contrast from creating totally irrelevant results.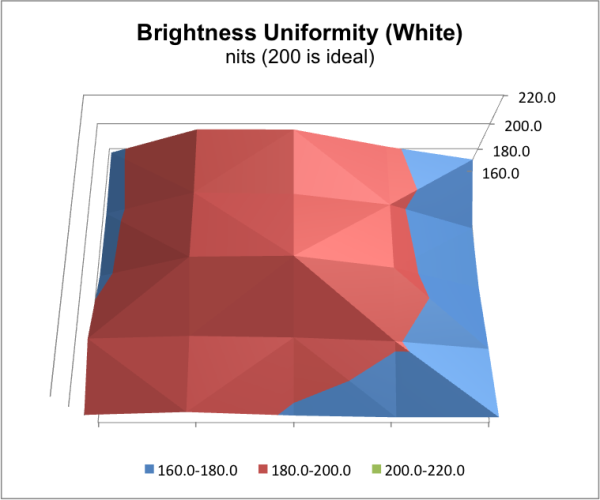 With the center at 200 nits plus the surrounding eight measurements, it averages out to 190.6 nits. When looking at the whole display we see an average of 182 nits with a pretty good roll-off on the right side and the upper-left area of the screen. These areas fall down to as low at 157 nits, which is almost a 25% drop off from the center of the screen. I really like displays to stay within 15% at the outer edge, which would be 170 nits here, but the ASUS can't quite do this. The average brightness level for the outside edge is 178 nits because the top of the screen averages 196 nits, but the right side drops down pretty far.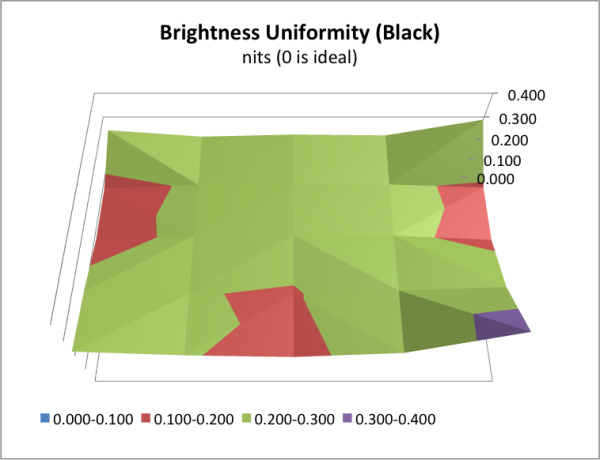 With the black measures, we see some light bleed in the upper right and lower right corners. The black level is bit higher, all the way up to 0.356 nits in the lower right, compared to the 0.212 nits in the center of the screen. The center of the screen is very close to the same, with an average difference of only 0.004 nits. The outside does worse with an average difference of 0.012 nits compared to the center. If those corners weren't bright this would be a very uniform black screen, but those two measurements really cause an issue here.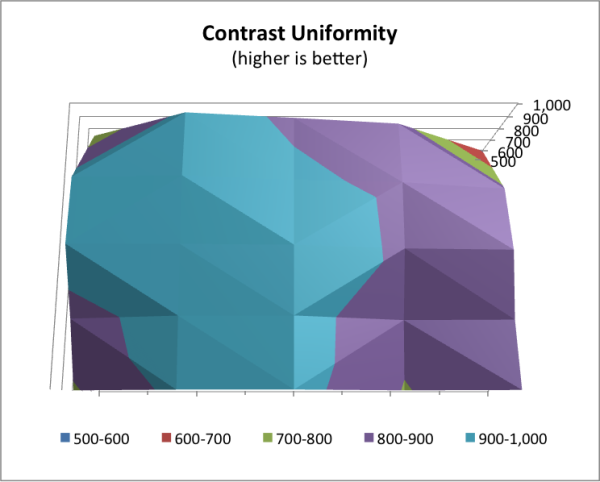 Contrast uniformity is mostly good with exceptions in the corners of the screen. The center is 942:1 and the average of the surrounding area is 916:1, but the average contrast of the outside edge falls down to 850:1 for an overall 25-point average of 874:1. This is really undone by the corners that have an average of 746:1. Where the Dell U2713HM had 16 locations that managed a contrast ratio of 950:1 or better, there were only 3 measurements on the ASUS that were at the same level.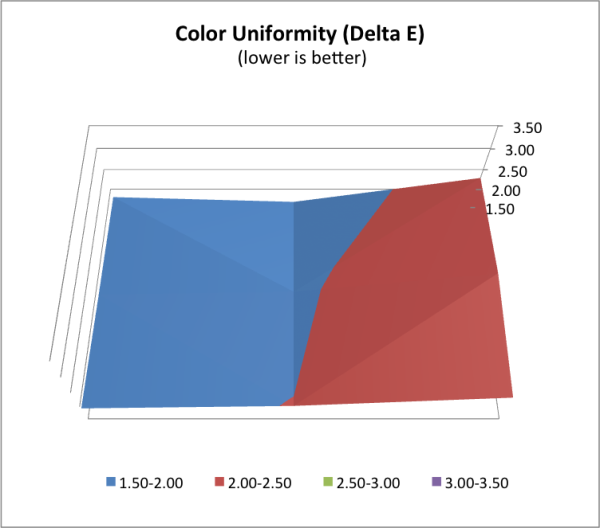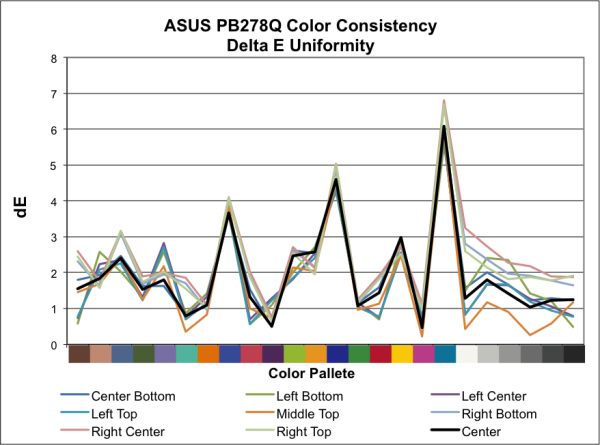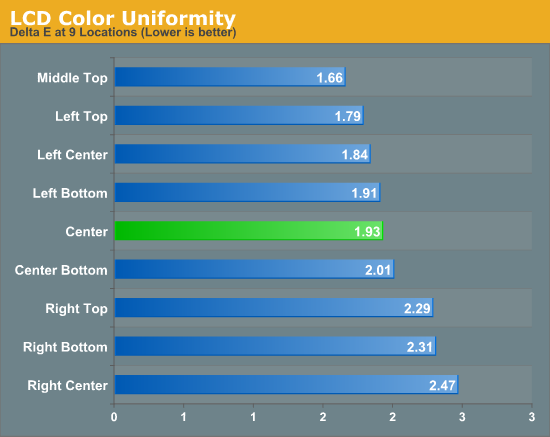 The dE uniformity was very strange, with a large jump in the dE on the right side of the screen, just like we had a fall off in light level. I made sure to run this multiple times after seeing these results but they were consistent across the different measurements. For the center and left side of the screen, the dE measures were fine, staying at 2.0 or below. On the right side the grayscale values were far different than the rest of the screen, with the white dE going from around 1.5 to around 3.0, and the rest of the shades being worse as well. The color numbers are pretty close, but the uneven backlighting on the right side seems to also influence the grayscale uniformity here and leads to a higher error level than I would like to see.
Overall the center of the PB278Q scores very well for uniformity, but once we get to the outside edge there are issues with bright corners and light fall-off on the edges that leads to worse overall results. I don't think that any of the issues are deal breaking, but they seem to indicate an issue with the backlighting system in the PB278Q.
ASUS PB278Q Input Lag and Power Use
Unlike the prior 27" displays that we've tested, the ASUS has a 1:1 pixel mapping mode and a full stretch mode for 1920x1080 content. This finally allows me to test and see if the issue with higher lag on 27" displays is being caused by stretching the 1920x1080 signal to fill a 2560x1440 screen, or if it's the inputs and other hardware causing the issue. The lag numbers for the PB278Q are right about what we've been seeing for 27" displays, with 16.7 ms of input lag and 11.5 ms of response time for the pixels. This gives us a total overall delay of 28.2 ms using the DVI input. Switching from Full to 1:1 gives no change in the results at all.
Because of this, it seems that the lag in the 27" displays isn't caused by running at non-native resolution, at least in this case, but more likely by the electronics that deal with display settings and input switching. So even if you run the ASUS at 2560x1440 instead of 1920x1080, I would guess you will see the same results for lag, which is around 1.5 frames in real-world use.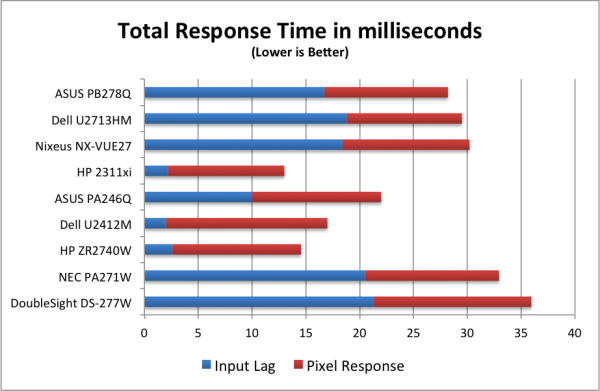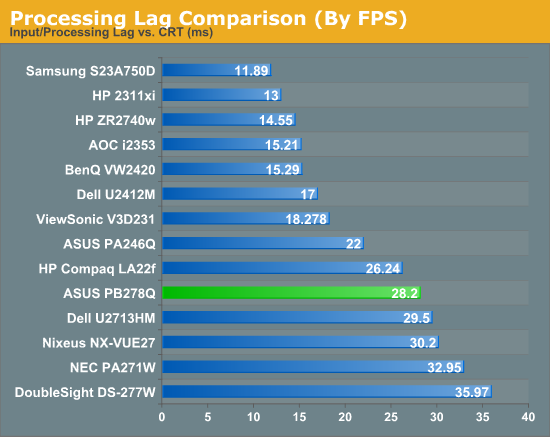 I also did some testing of the TraceFree options using the PixPerAn program to see how that impacts motion blur. The default setting is 60 (and why a control goes from 0-100 but only allows 6 settings is a whole different discussion) and that provided the best results to my eyes. Settings below that lead to more blurring of the pixels behind the car, and settings above that lead to artifacts around the car. TraceFree offers no change to the lag timing but does provide an improvement for motion blurring.
Power use on the ASUS is almost as good as I have seen on a 27" display to this point. With a full white screen it is a little lower than the Dell U2713HM, and with a black screen it is only 1 watt more. Of course the Dell has a higher level of light output than the ASUS does, so if I were to test it at 300 nits it would likely use even less power than the ASUS does for the same level of light output. This is probably only a difference of 1-2 watts at the most, so they really use the same amount of power.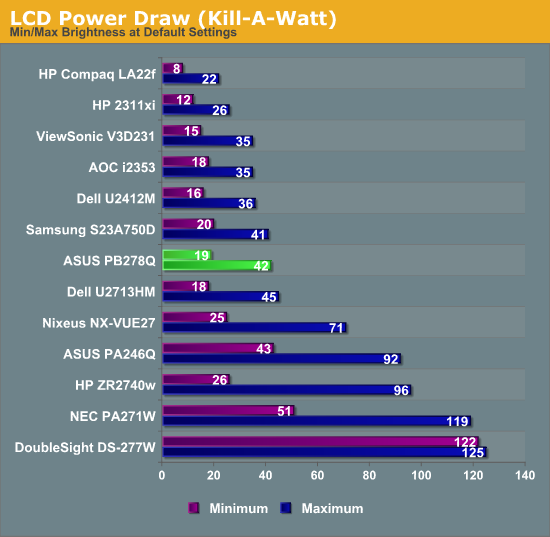 Even if the Dell is the same for power use, the ASUS still uses very little power relative to almost any other 27" display out there, and it will do a good job of keeping your power draw low.
ASUS PB278Q Conclusions
I was very happy to see that Samsung was going to start making their own flat panels with a new technology so that someone could put some pressure on LG to innovate more or reduce prices on their panels, which only helps consumers. The new PLS panels should in theory excel at these higher resolutions compared to IPS because they allow more light through, which allows for smaller pixel sizes without losing light output, or needing a more complex backlighting system to provide the same light output.
Due to only having a single PLS panel so far to test, it is hard to make a determination on whether the performance is due to the panel or the electronics, as we've seen the same IPS panel perform very differently on various monitors due to the backlighting and electronics involved. The contrast ratio on the ASUS PB278Q isn't up to the level of the Dell U2713HM that last passed through here, but it is still good and better than most of the IPS panels that have come through. The sRGB quality is also not quite to the level of the Dell, but it's better than everything else and at a level that most users will probably find acceptable.
Calibrated at 200 nits, the performance is slightly behind other displays while it's ahead at 100 nits, but both are so close to other displays that they are basically a wash. The main area for concern is the panel uniformity on the right side of the panel, where we had a good amount of light fall-off. Most large displays suffer from this, unless you pay the big bucks for an NEC or Eizo, but this particular LCD is worse than most. PLS also seems to have the same input lag issue that most 27" displays suffer from, though it has helped me narrow this down to probably being due to the multiple input board and not scaling.
The 27" display that this comes closest to in use is the Dell U2713HM. Both have the same set of inputs, a mild level of anti-glare coating that isn't bothersome, LED backlighting, very adjustable stands, and reasonably well calibrated sRGB modes, though the Dell is a bit better there. The Dell also does slightly better with contrast ratios and has a USB hub, but it also sells for $100 more than the ASUS display. The OSD on the Dell is slightly better as well, but in no way is the ASUS the interface disaster that many displays are. Both also have very nice, 3-year warranties that provide good replacement policies.
Coming down to price, for most users the extra $100 probably won't be worth it. The Dell sRGB profile is more accurate than the ASUS, but since most users probably don't calibrate at all, the ASUS will still be better than what they are running today. The USB hub is nice as is the slightly better OSD, but those aren't enough to convince me to pay the extra money. The main differences are in contrast ratio and the dimmer right edge, but in practice I didn't find those to be an issue for normal use, though they are a bit unfortunate in a display that costs almost $700.
The ASUS PB278Q is a very nice 27" display, and is a good debut for PLS but not an outstanding one. Perhaps if used in one of the ASUS ProArt models with higher end calibration and backlighting we could see if PLS can offer superior, not just equal, performance to IPS panels. Hopefully this marks the start of a race for features and performance in higher end LCD panels that will benefit consumers. As it is, the PB278Q is one of the two 27" displays I can easily recommend now and it costs $100 less than the Dell, making it a great choice for those that want a high performance monitor.