Original Link: http://www.anandtech.com/show/6515/corsair-carbide-200r-case-review-how-low-can-you-go


Introducing the Corsair Carbide 200R
Corsair entered the enclosure business from the top with a measure of care to establish a solid brand identity. The Obsidian 800D was released as a flagship product and signalled that Corsair was serious about case design and not just looking for another revenue stream, and for the most part it was well received. Since then they've gradually trickled their designs down, with the Carbide series aimed at more frugal users. Yet the least expensive Carbide, the 300R, still runs $79 when most people would peg the price of a "budget" case as closer to $50 or $60. Enter the 200R.
The Carbide 200R is the ultimate trickling down of Corsair's case line. Coming in with an MSRP of $59 and available for just $49 as of this writing, the 200R is Corsair's shot at the extreme value consumer, but this is a very tricky market to address. The balancing act of features, performance, and price becomes substantially more difficult to manage, and Corsair has a reputation to maintain. Were they able to get the price down while keeping up with their standards for ease of use and solid performance, or did they have to sacrifice too much?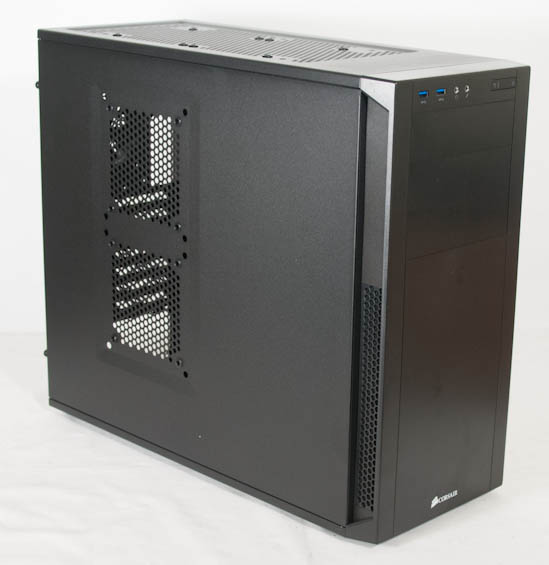 Corsair has historically been approaching their case (and to an extent, power supply and cooling) lines with a pretty clear philosophy of quality first, price second, which makes the 200R a very intriguing proposition. That low price point can become very restrictive in short order, and while companies like BitFenix have been able to strike an excellent balance by producing custom designs for each market, Corsair has been operating on a kind of trickle-down evolution that may not have been able to extend this far down. The result is a case that has a lot of familiar Corsair technology, but some newer innovations too that come with having to adapt to the low price tag.
Corsair Carbide 200R Specifications
Motherboard Form Factor
Mini-ITX, Micro-ATX, ATX
Drive Bays
External
3x 5.25"
Internal
4x 2.5", 4x 3.5"
Cooling
Front
1x 120mm intake fan, 1x 120mm fan mount
Rear
1x 120mm exhaust fan
Top
2x 120mm/140mm fan mount
Side
2x 120mm/140mm fan mount
Bottom
1x 120mm/140mm fan mount
Expansion Slots
7
I/O Port
2x USB 3.0, 1x Headphone, 1x Mic
Power Supply Size
ATX
Clearances
HSF
165mm
PSU
180mm
GPU
14" / 360mm
Dimensions
16.9" x 8.3" x 19.6"
430mm x 210mm x 497mm
Weight
15.8 lbs. / 7.17 kg
Special Features
USB 3.0 via internal header
Toolless installation for all drives
Price
$49
As you can see, Corsair's design isn't necessarily barebones as far as features go, but it's definitely stretched. Corsair has done with they can to allow for any type of expansion the end user may want to enjoy, including higher end closed-loop liquid cooling systems. The toolless installation for 5.25", 3.5", and particularly 2.5" drives is also welcome, but you'll see later on it doesn't work quite as well as we'd like.
In and Around the Corsair Carbide 200R
The Carbide 200R takes Corsair's design cues and refines them down to their most basic degree. In this market, oftentimes the best you can hope for is a black box with clean lines and fairly smart aesthetics, and that's what we have. It's been tough for me to really figure out exactly what sells and what doesn't since I mostly only have your reactions to cases to go by, and AnandTech readers are by default going to be a bit more well-informed than the garden variety consumer. I can't say if the gloss that's common from other manufacturers in this bracket sells well or not, but I'm never happy to see it. The clean matte plastic that Corsair uses for the fascia is appreciated and matches the black SECC steel used for the remainder of the enclosure well.
You can see the front of the case is fairly spare, but the flat surface is appreciated and should be good for deflecting some noise. Air intake is handled through the sides of the fascia, while Corsair includes a fairly standard three 5.25" drive bays. Note also that they've included USB 3.0 instead of 2.0, which is welcome in a $49-$59 case. The I/O, power, and reset switches are at the top of the front of the case, positioned for whether you plan to use it on or under your desk.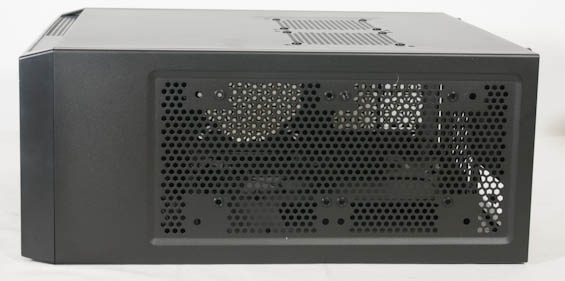 The rest of the 200R's exterior is pretty bog standard, though. The top features dual 120mm/140mm fan mounts with rubber grommets, and the 120mm mounts are oriented more towards the left side of the case to provide additional clearance for a 240mm radiator. Meanwhile the left side panel includes two more 120mm/140mm mounts in case the end user wants to add directed cooling over the video cards. Finally, the back sports a 120mm exhaust fan.
Opening up the Carbide 200R involves removing four thumbscrews and sliding off the notched side panels, and the interior is familiar for Corsair fans. They include a version of the recessed motherboard tray with dedicated cable routing channels that we saw in the Vengeance C70, as well as a mounting post and pre-installed standoffs for the motherboard itself. There's also a clear and open channel for air to travel from the intake fan through the case, but beneath it is one of Corsair's new designs, presumably a compromise between price and usability.
Integrated is a hard plastic drive "cage" that supports four 2.5" drives and four 3.5" drives, all toollessly. At the risk of spoiling the review, if the 200R has an achilles heel, it's this cage, which mostly seems like a good idea in theory but is an exercise in absolute frustration in practice.
All told, though, the design of the Carbide 200R feels mostly par for the course for Corsair and I appreciate the continued extra mile of convenience that's been a hallmark of their cases. Other manufacturers would do well to follow their example. It's not the kind of attitude that sells cases on its own, but it's worth continuing to mention and it's not a bad thing to build a reputation on.
Assembling the Corsair Carbide 200R
I can't believe I'm saying this, but installing our testbed into the Corsair Carbide 200R was actually somewhat fraught. Corsair cases are usually what I work on when I need a break, when I want something relaxing, but the Carbide 200R was surprisingly frustrating.
Things started as well as they usually do. The built-in motherboard tray centerpost allows you to easily line the motherboard up with the standoffs, and the tray itself already has the standoffs installed. You can also manually remove them and move them depending on the type of board you're installing. For what it's worth, getting the video card and power supply in is also pain free.
The custom designed plastic toolless drive cage in the bottom of the case is a nightmare, though. As is typical of cases, the included cardboard box of accessories (screws and so on) is mounted in one of the 3.5" bays. Unlike other cases, though, the box required a tremendous amount of force to remove, so much that it actually snapped some of the plastic on the right side of the cage. Drives are essentially supposed to be held in place by a combination of the pressure of the cage and a peg on the left side that's attached to a tab. Forcing out the box and then forcing our Corsair Link box into the bay was way too difficult; it would've been quicker and easier just to use thumbscrews in a conventional mounting scheme.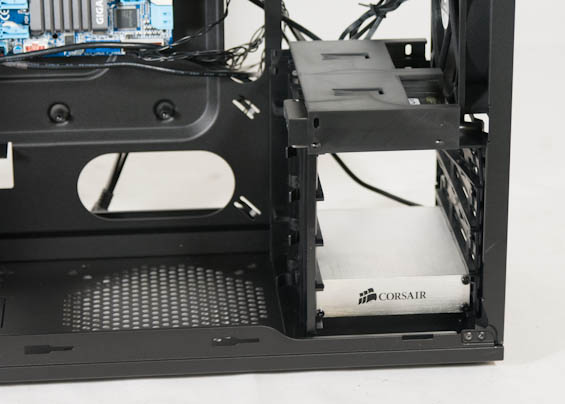 Installing a 2.5" drive is a lot easier, with a single plastic wedge holding the SSD in place. 2.5" drives are stacked on top of and next to each other in a two-by-two layout, but their power and data connections face the interior of the case instead of behind the motherboard tray. I'm not sure how I feel about orienting them this way (ignoring how questionably secure the drive was); it makes it easier to run a power cable from the optical drive in the top of the case, but also clutters the interior in ways I'm again just not used to seeing in a Corsair product.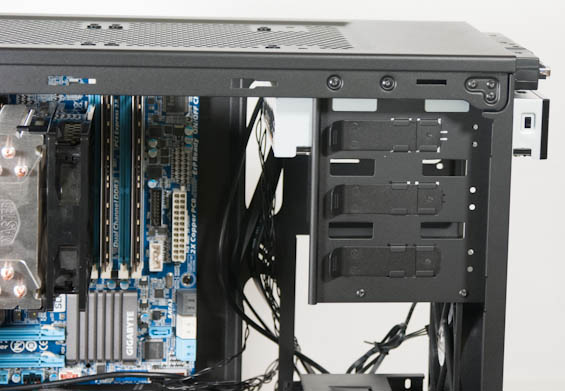 As for the 5.25" bay, the metal latches used seemed more stable in other case designs, but in the 200R they're about as secure as a 14-year-old nerd in a high school locker room. Corsair also only includes them on one side instead of both sides. You're going to want to use screws to lock the drive into place, as I fear it might be too easy to push the drive past the latches and into the case.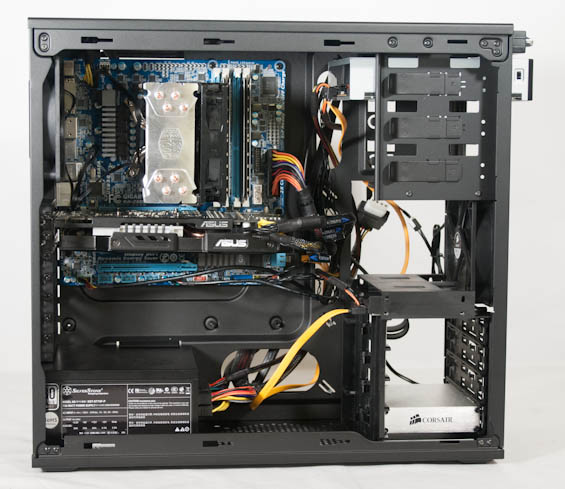 Finally, cabling went fairly smoothly, but the two fans in the 200R only include 3-pin headers and no molex adapters. For most users this isn't going to be a problem, but our testbed motherboard only features one additional fan header beyond the CPU header. That meant having to fish out a spare adapter (thankfully kept on hand for just such an event). Also, again, note that because of the orientation of the 2.5" drive bays, wiring up SSDs is going to busy up the interior of the case a bit more than I'd like.
I recognize I have a habit of nitpicking, but Corsair falls victim to their own standard when it comes to assembling the Carbide 200R. The toolless drive cage was a source of incredible frustration and feels completely out of step with the rest of the case, and while it's good for companies to at least experiment and try new things, I think a more conventional cage would've been a better choice even if it meant sacrificing some capacity. Everything else comes together fairly smoothly, but a molex adapter for at least one of the case fans along with a smarter drive cage design (and smarter toolless designs for the optical drive bays as well) would've gone a long way towards living up to expectations.
Testing Methodology
For testing Micro-ATX and full ATX cases, we use the following standardized testbed in stock and overclocked configurations to get a feel for how well the case handles heat and noise.
Each case is tested in a stock configuration and an overclocked configuration that generates substantially more heat (and thus may produce more noise). The system is powered on and left idle for fifteen minutes, the thermal and acoustic results recorded, and then stressed by running seven threads in Prime95 (in-place large FFTs) on the CPU and OC Scanner (maximum load) on the GPU. At the end of fiteen minutes, thermal and acoustic results are recorded. This is done for the stock settings and for the overclock, and if the enclosure has a fan controller, these tests are repeated for each setting. Ambient temperature is also measured after the fifteen idle minutes but before the stress test and used to calculate the final reported results.
Thank You!
Before moving on, we'd like to thank the following vendors for providing us with the hardware used in our testbed.
Noise and Thermal Testing, Stock
When testing something like the Corsair Carbide 200R that sells for just $49, expectations need to be adjusted. While cases above the $150 mark should be expected to provide both excellent cooling and excellent acoustics, a case like the 200R is mostly just expected to "get the job done." The goal is a tougher balance of noise, thermals, and overall build quality; we're just looking to maximize value here.
Ambient temperature during testing was between 22C and 23C.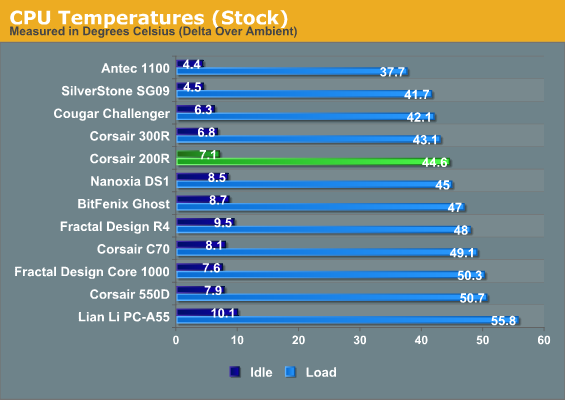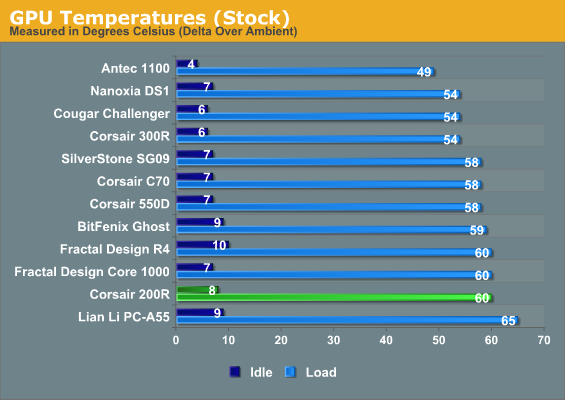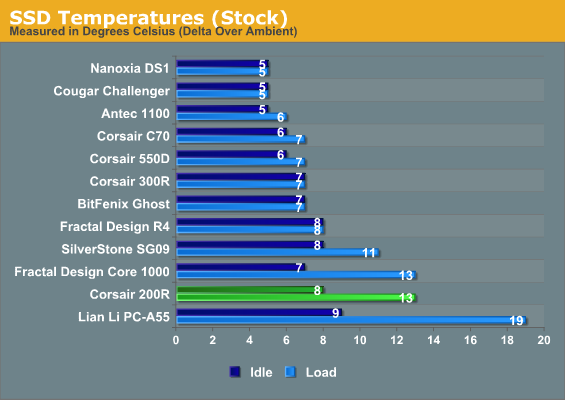 The 200D offers good cooling for the CPU, but the direct intake on the GTX 560 Ti in our testbed just doesn't seem to work out as well as we'd hope. Honestly I'd be surprised if there wasn't some kind of issue with turbulence. The 200D is actually fairly competitive if you really look at the numbers, though.
On the other hand, SSD heat is a surprisingly serious issue, and I suspect that has at least something to do with the plastic cage design. Plastic does a pretty terrible job of dissipating heat, making me increasingly skeptical of a drive cage which will both pack drives together fairly densely and likely trap heat inside the cluster.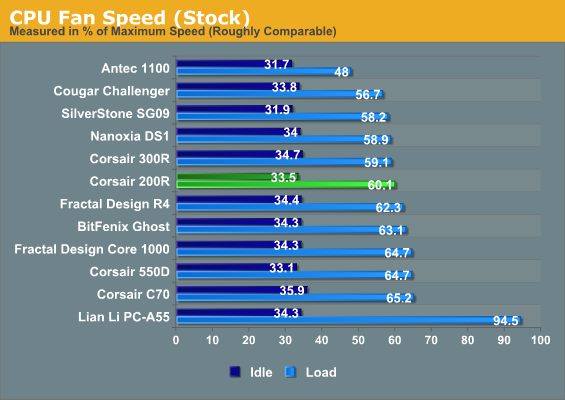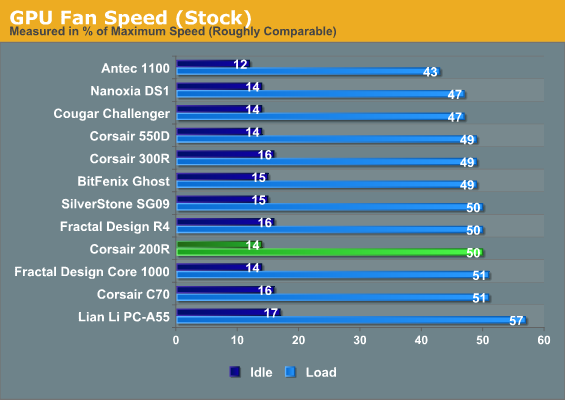 Fan speeds aren't exciting, but they're at least competitive, which is all you can ask for.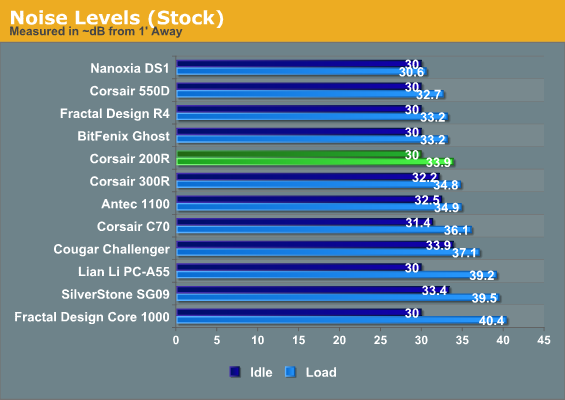 On the other hand, noise levels are surprisingly good for such an open design. The Carbide 200R does a fair job of keeping the components cool along with a fair job of keeping them quiet.
The closest competitor on all of these charts for the 200R is the Fractal Design Core 1000, and in each test the 200R at least meets the Core 1000's performance if not outright beating it entirely.
Noise and Thermal Testing, Overclocked
The limited cooling capabilities of a budget case keep our expectations in check, but it's important to keep in mind that historically enthusiasts were about getting the most bang for their buck they could (essentially the purpose behind overclocking in the past). By that token, it's important to see if the Corsair Carbide 200R leaves your system any room to stretch its legs. Theoretically an end user should be able to take an inexpensive unlocked Vishera or Trinity CPU and motherboard, a solid budget cooler like one of Cooler Master's Hyper 212s, and get a healthy amount of performance for their dollar.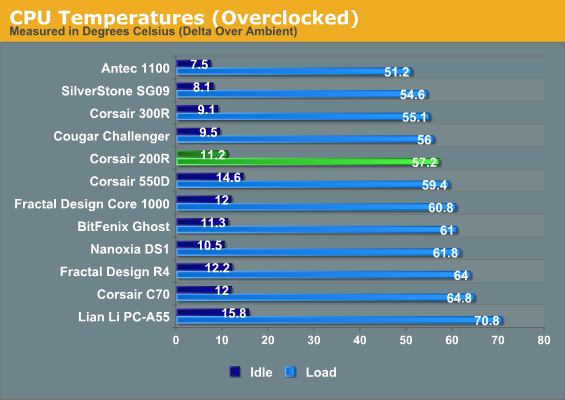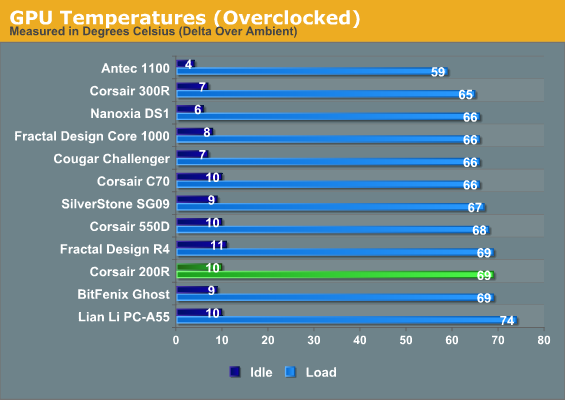 You're not liable to get much extra latitude out of your video card in the Carbide 200R, and SSD temperatures continue to be incredibly problematic, but you can definitely score some additional mileage out of your CPU. The Carbide 200R's CPU performance isn't stellar, but it's strong enough.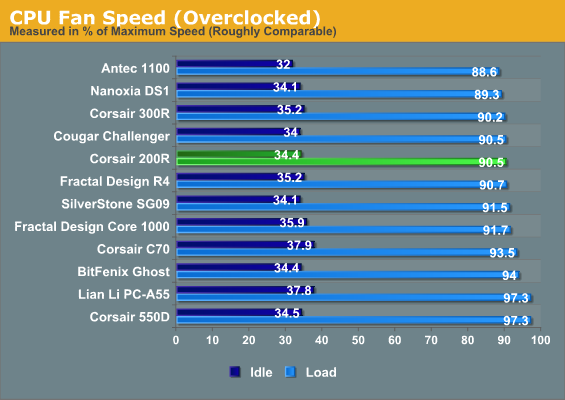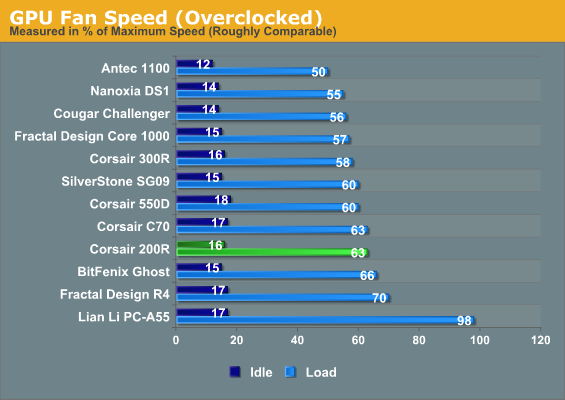 Fan speeds aren't ideal, but they're at least still on the lower end of competitive.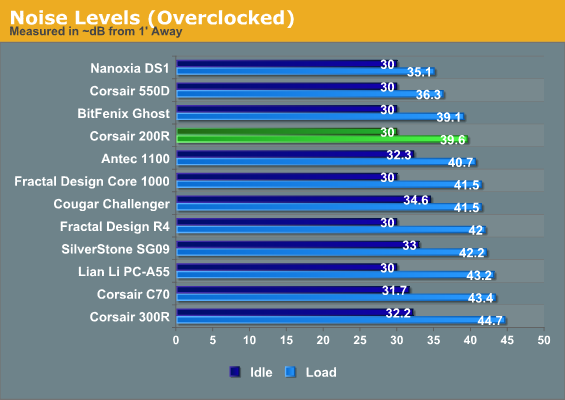 Noise levels also aren't particularly good, but they're not awful, either. Nobody's going to accuse the Carbide 200R of being a quiet enclosure. That's not what it's designed for, though, so we can let a little bit of noise slide.
Conclusion: But Why the Drive Cage?
I feel like Corsair has ultimately acquitted themselves fairly well with this, their least expensive enclosure. I get nervous whenever a manufacturer relatively well known for producing quality hardware decides to chase the bottom dollar; we saw what that approach did when Lenovo took over the ThinkPad brand. The Carbide 200R is a solid budget option that mostly offers good value at the $49 price point it's hitting in retail, but I really don't want to see, say, a 100R anytime soon.
We'll start with what Corsair got right. Their aesthetic continues to be top notch, and the interior design of the Carbide 200R has a lot of the things I've come to expect and appreciate from Corsair. The dedicated cabling channel surrounding the motherboard tray may not have worked miracles in my admittedly lackluster assembly, but it's one of their best and smartest innovations, making efficient use of the interior space available and allowing them to get the case just a little bit smaller. I want to see more designers employ that channel as well as integrating the motherboard alignment post. It looks like having the closed front of the case and moving the intakes to the sides helps mask some of the noise as well, and the cooling performance, at least on the CPU, is excellent.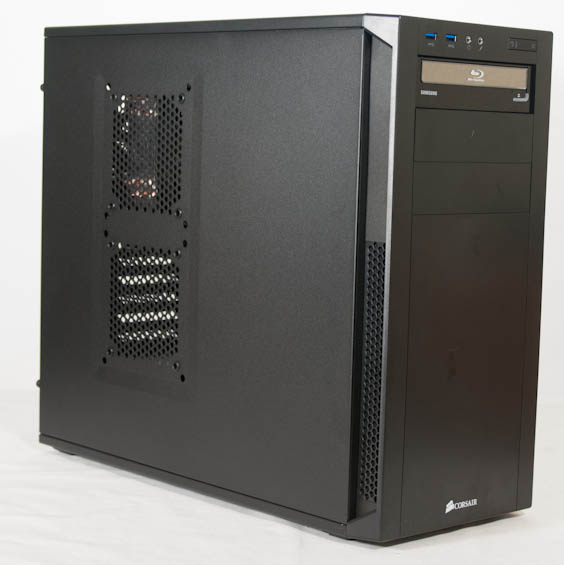 Unfortunately things start to fall apart when we get to the drive cage. I hate to nitpick on a single issue like this, but the pursuit of a toolless design has resulted in what could conceivably become a serious hot spot. We're talking about an SSD reaching temperatures of close to 40C in a mid tower; that's within spec, but what happens when you start adding more drives? The cage traps heat, is staggeringly difficult to use, and is even actually a little fragile.
If you're just planning on putting a single drive in and calling it a day, the Corsair Carbide 200R potentially has a lot to offer a frugal user. While Corsair's next case up, the 300R, is notably louder than the 200R, it also offers substantially better performance and doesn't have a glaring weakness (outside of noise) like the 200R's design does. Users in an extreme pinch would probably be well served by the 200R, but I think I'd still recommend tracking down a BitFenix Merc Alpha or Merc Beta instead. Those enclosures are cheaper still, but offer more well rounded performance.