Original Link: http://www.anandtech.com/show/6519/hp-elitebook-8570w-notebook-review-the-other-side-of-the-coin


Introducing the HP EliteBook 8570w
We recently reviewed Dell's top of the line Precision M6700 mobile workstation and found that the overall design left something to be desired compared to HP's high end EliteBooks, but that the price was definitely right for the performance. The M6700 is likely to remain a good value for the enterprise sector (much as Dell's desktop workstations continue to be), and the 10-bit PremierColor display uses a similar LG panel to the ones HP employs in their DreamColor displays. Can we get something like that in a smaller form factor, though?
As it turns out, theoretically at least, we can. We have an HP EliteBook 8570w on hand for review, and the 15.6" 1080p DreamColor display threatens to hit the sweet spot for productivity, with a smaller chassis footprint than larger workstations like the M6700 and EliteBook 8760w/8770w. But is the 8570w able to hit the same value propositions as Dell's mobile workstations, can it offer similar performance, or is our memory of the HP EliteBook line a little rosier than reality?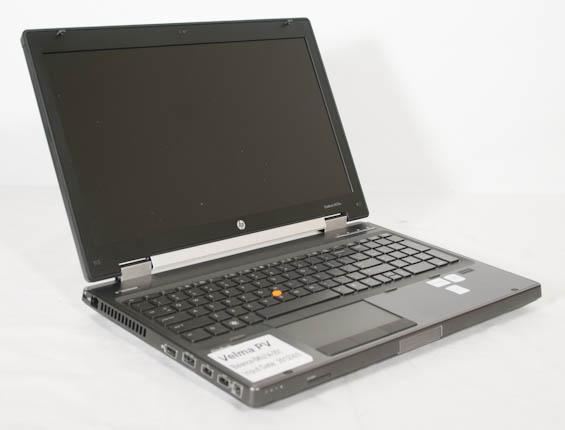 The HP EliteBook 8570w is pretty much as high end as you can get in a 15.6" form factor; the only competition comes from Dell's Precision M4700 and Lenovo's ThinkPad W530, and unfortunately neither of these notebooks can be ordered with a 10-bit full gamut IPS panel like the 8570w can. Invariably someone is going to mention Apple's MacBook Pro, but it must be said that the MBP does not necessarily compete in the same markets as these mobile workstations do. If a user has need of a professional, workstation-class GPU, the MBP is immediately ruled out.
With all that in mind, let's see how the EliteBook 8570w we were sent is configured.
HP EliteBook 8570w Notebook
Processor
Intel Core i7-3720QM
(4x2.6GHz + HTT, 3.6GHz Turbo, 22nm, 6MB L3, 45W)
Chipset
Intel QM77
Memory
4x4GB Elpida and Hynix DDR3-1600 (expandable to 4x8GB)
Graphics
AMD FirePro M4000 1GB GDDR5
(512 GCN cores, 675MHz/4GHz core/memory, 128-bit memory bus)
Display
15.6" LED matte DreamColor 10-bit IPS 1080p
LGD0220
Hard Drive(s)
Hitachi TravelStar 7K750 750GB 7200-RPM SATA 3Gbps HDD
Optical Drive
HP UJ160 BD-ROM/DVD+-RW
Networking
Intel 82579LM Gigabit Ethernet
Intel Centrino Advanced-N 6205 802.11a/b/g/n 2x2
Bluetooth 4.0
Audio
IDT 92HD81B1X HD Audio
Stereo speakers
Mic and headphone jacks
Battery
8-Cell, 75Wh
Front Side
Latch
SD/MMC card reader
Right Side
Headphone and mic jacks
2x USB 3.0
SmartCard
Optical drive
VGA
Left Side
Ethernet
Vent
DisplayPort
eSATA/USB 2.0 combo port
2x USB 2.0
4-pin FireWire
ExpressCard/54 slot
Back Side
Modem
AC adapter
Operating System
Windows 7 Professional SP1 64-bit
Dimensions
15" x 10.1" x 1.59"
382mm x 257.5mm x 40.4mm
Weight
6.94 lbs / 3.1 kg
Extras
DreamColor display
Flash reader (SD/Mini SD, MS/Duo/Pro/Pro Duo)
USB 3.0
Optional WWAN
Fingerprint reader
Backlit keyboard
Trackpoint
Warranty
3-year parts and labor
Pricing
Starts at $1,399
As configured: $3,360 ($2,688 after e-coupon)
Taking it from the top, the HP EliteBook 8570w is able to cram most of what you want in a mobile workstation into a slightly smaller form factor than the typical 17.3" monster, but there are definitely some sacrifices. While our larger Precision M6700 review unit could support Intel's fastest mobile processors, the 8570w is only able to go up to the Intel Core i7-3840QM, and our own review unit ships with the i7-3720QM. That chip sports a 2.6GHz nominal clock speed, able to turbo up to 3.4GHz on all four cores or 3.6GHz on a single core. The i7-3920XM and i7-3940XM and their 55W TDPs are just too much for this cooling system to handle, and you'll see even the i7-3720QM's 45W TDP can be a bit much sometimes.
HP was able to include a healthy amount of memory and storage capacity, though. The 8570w includes four DIMM slots for up to 32GB of DDR3, and there's an mSATA bay to go along with a single 2.5" storage bay; the optical drive bay can also be converted to host a second 2.5" drive. Our review unit comes with 16GB of DDR3-1600 split between two vendors (oddly), but the mSATA bay goes unoccupied and we have to make do with a single 750GB 7200-RPM mechanical hard disk from Hitachi. HP is still behind the curve with mSATA; the only configuration option on their site is a 24GB caching drive.
Handling workstation graphics duties, the 8570w's base configuration calls for an AMD FirePro M4000 with 1GB of GDDR5. The 1GB of video memory feels small for a workstation, but the M4000 is a 28nm, GCN-based part, the workstation equivalent of a desktop Radeon HD 7750. That means 512 GCN cores and a 128-bit memory bus attached to the GDDR5; the core itself is clocked at 675MHz while the GDDR5 runs at an effective 4GHz. Reviews of AMD's FirePro hardware are generally mixed, with drivers being the primary issue, but our review unit handled our benchmarks just fine and Maya users in particular will want to note that the FirePro can be a particularly good value. Moving to an NVIDIA Kepler-based Quadro K1000M (with slow DDR3 memory) adds another $100 to the price tag of the 8570w, and the K2000M (also with slow DDR3) adds $300.
Connectivity on the 8570w is frankly pretty impressive. A total of five USB ports (two USB 3.0, one combo with eSATA, and one charging port), coupled with a 4-pin FireWire port, a full-size DisplayPort, and even an old school dial-up modem. Our review unit also enjoys a combo BD-ROM/DVD+-RW drive.
Finally, the big selling point the 8570w has over the competition is the ability to upgrade to a 1920x1080, 10-bit IPS DreamColor display. This is something that will probably never not be worth upgrading to, although HP smartly includes a 1600x900 TN panel display as standard. DreamColor is a $525 upgrade, but on the 8570w it's plainly one of the best-looking screens I've seen on a notebook if not the best.
In and Around the HP EliteBook 8570w
The HP EliteBook 8570w carries over the design language HP introduced with their 8x60 refresh, and it's a very sound one. The old 8740w was, frankly, a pretty hideous tricolor mish-mash of different styles that didn't go together well. While I'd like to see HP refresh and refine this design a bit more, it definitely still has legs.
For this, one of HP's top-of-the-line enterprise notebooks, it starts with a gunmetal-colored aluminum lid with an illuminated HP logo when the system is powered on. There's a strip of plastic along the top for the antennas colored to match the rest of the lid, and then the hinges of the notebook are silver. It bears mentioning that HP reinforces the hinges of the notebook with a bar built into them, and the hinge itself is incredibly sturdy and not the least bit prone to wobbling.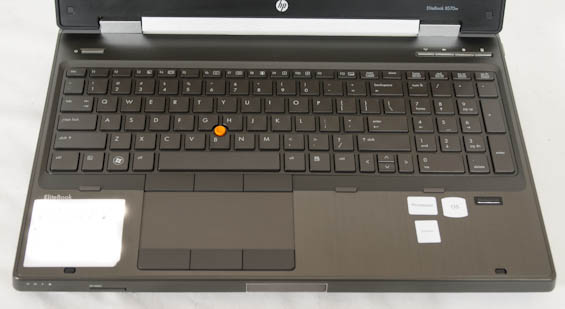 Pressing the latch and opening the 8570w reveals a black matte plastic bezel for the display along with the gunmetal-colored brushed aluminum interior surface. The white LED backlit chiclet keyboard is the same color. It's my understanding the keyboard was a point of contention in my review of the M6700 (among other things), but I'm still adamant that this more standardized layout is much more ideal. The keys themselves are responsive with no flex, but HP's double-high left and right arrow keys, while aesthetically appealing, still feel odd. HP makes good use of the available real estate in the palm rest for a sizable touchpad with a smooth, very pleasing finish. Above and below it are the trio of dedicated mouse buttons, and in the center of the keyboard is the orange trackpoint nub.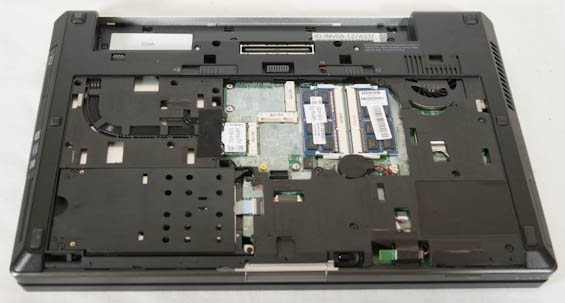 The trim of the notebook is a single band of aluminum with the necessary ports cut out of it, while the bottom is matte plastic. HP continues to use the quick release panel here in the 8570w; slide the lever to the left and the large bottom panel pops off. It's secure but also convenient for servicing the notebook.
I continue to be bullish on HP's current enterprise notebook aesthetic. Much as Dell's current desktop workstation line very clearly has a lot of thought put into it regarding both usability and overall looks, the HP enterprise notebooks balance an attractive, professional style with comfort and ease of use. It's very easy to upgrade the internals of the 8570w, although you'll notice the cooling system isn't particularly robust. As you'll see, this is going to turn out to be the notebook's biggest weakness.
Application and Futuremark Performance
While our review unit has a reasonable fast processor, the GPU is a relative unknown on the mobile side, and the PCMarks are going to drop like rocks due to the lack of an SSD or even SSD caching. The lack of switchable graphics in the HP EliteBook 8570w also means users won't get the benefit of Quick Sync, but the AMD GPU makes it a poor choice for doing video editing anyhow due to the lack of AMD support in the current version of Adobe's Mercury Playback Engine.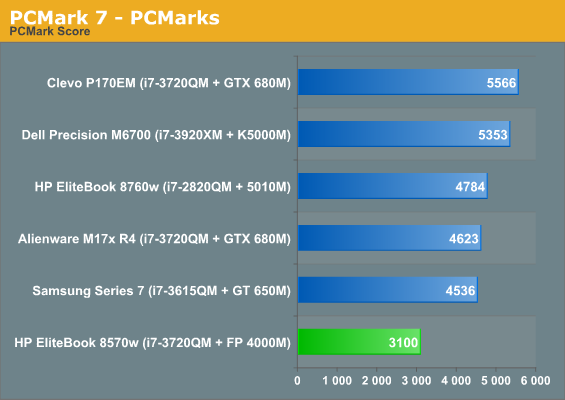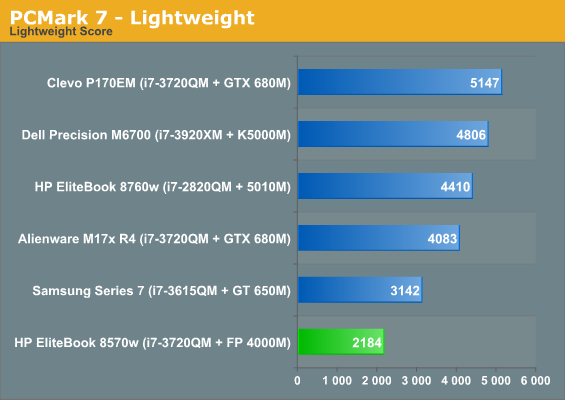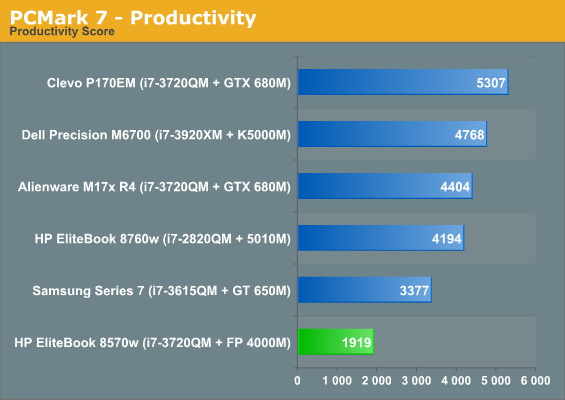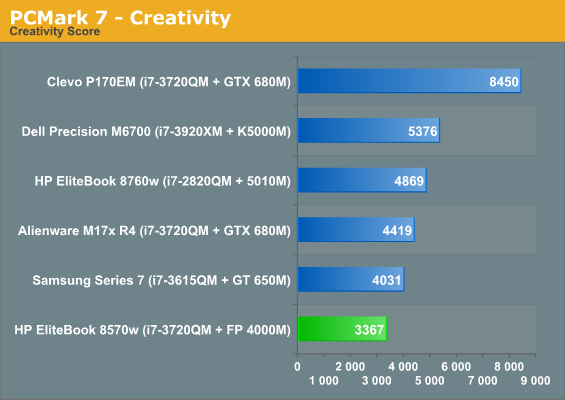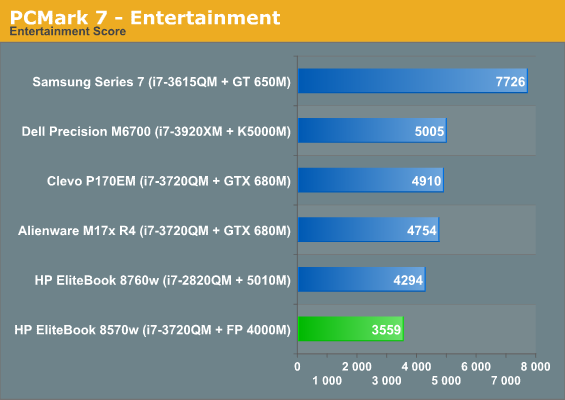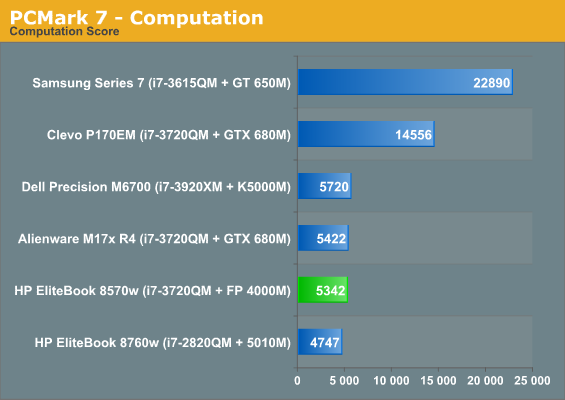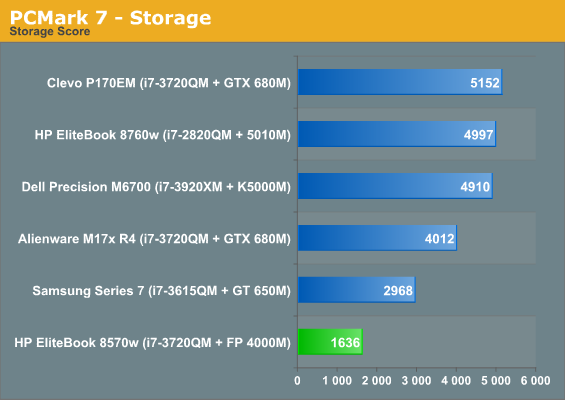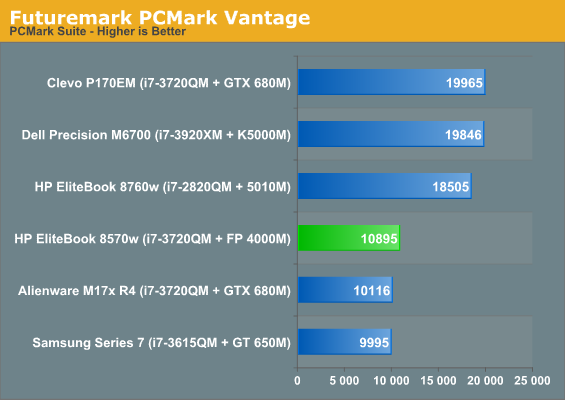 The lack of an SSD or any kind of caching absolutely kills the test results in the PCMarks. Remember that you can order the 8570w with either an SSD cache or a system SSD, although you can't order it with a system SSD in the mSATA slot (something Dell does allow you to do).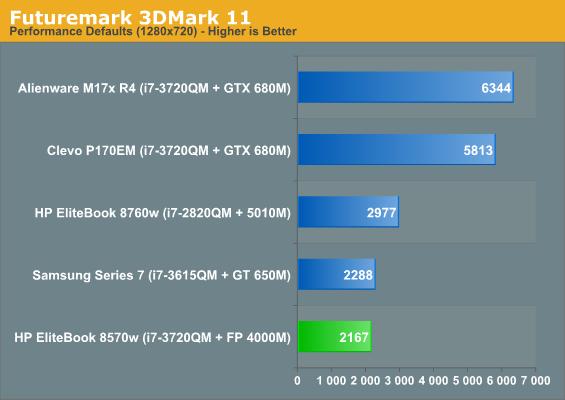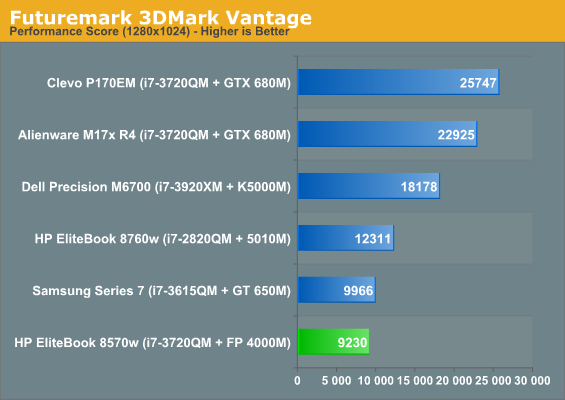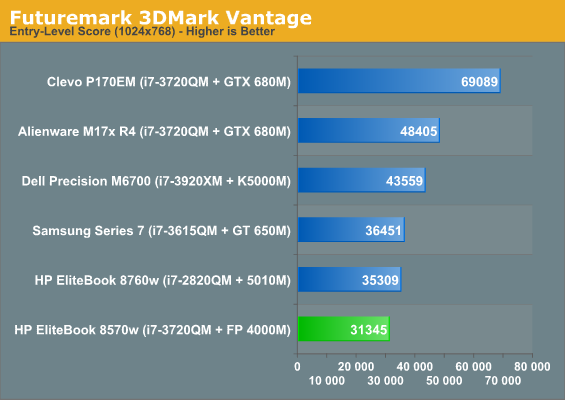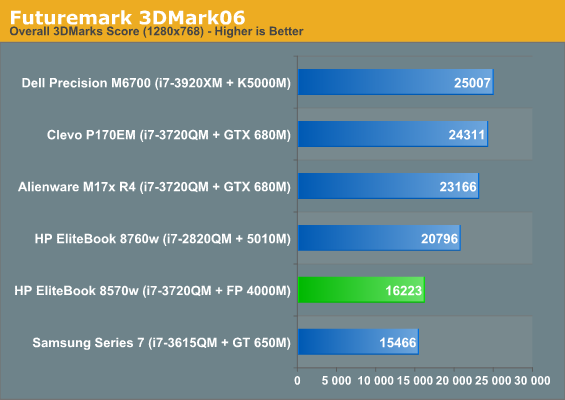 It turns out that the AMD FirePro 4000M is also a mite slower than the other graphics options, and roughly on par with the GeForce GT 650M in the Samsung Series 7, at least where graphical horsepower is concerned.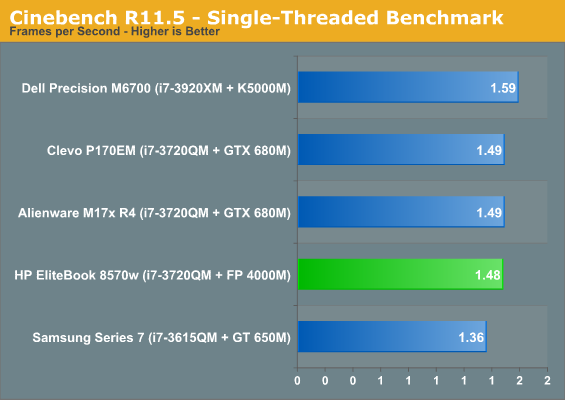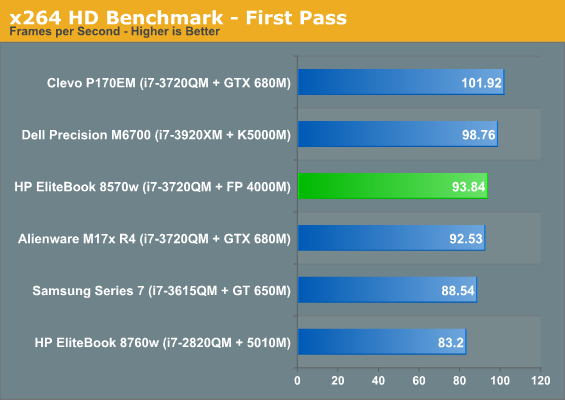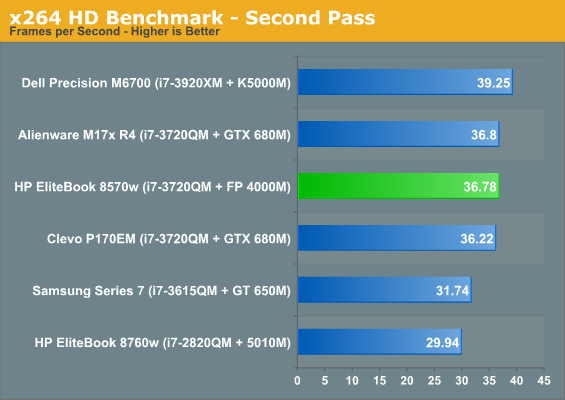 When we start pushing just the CPU, though, the EliteBook 8570w starts to come into its own, offering performance comparable to ther i7-3720QM-based systems. Though I've mentioned my concerns with heat (more on that in a bit), it doesn't seem to be seriously affecting overall system performance as the 8570w is lining up just fine.
Workstation Performance
As the mobile workstation results we've accumulated thus far are fairly limited, I'm including my entire workstation result spreadsheet to give you at least a baseline of how the HP EliteBook 8570w stacks up with its entry level workstation GPU, the AMD FirePro M4000.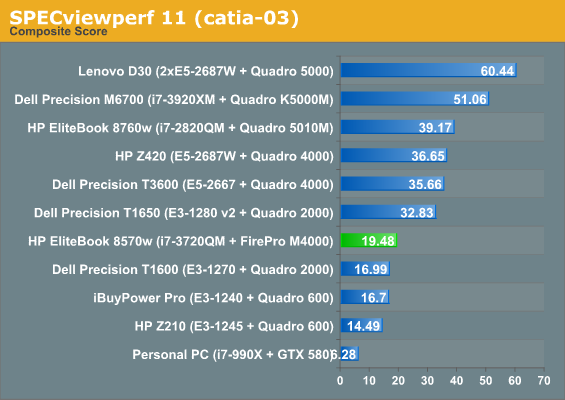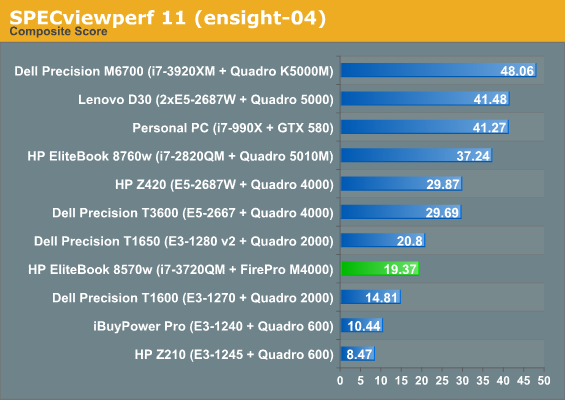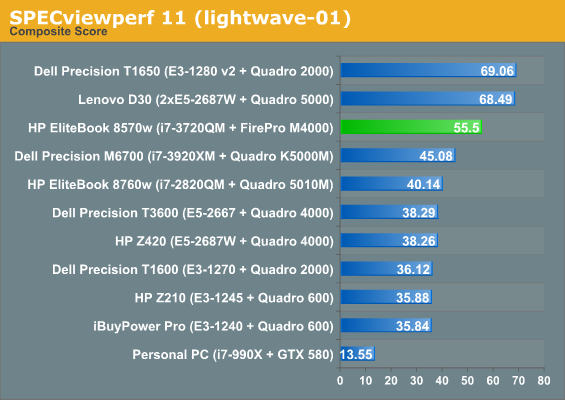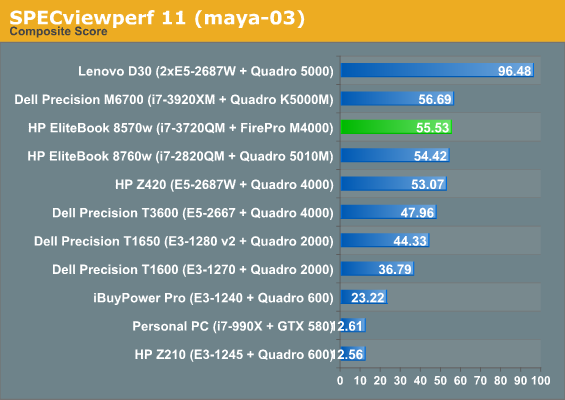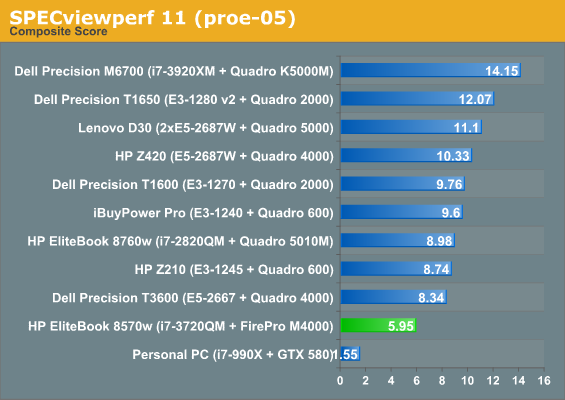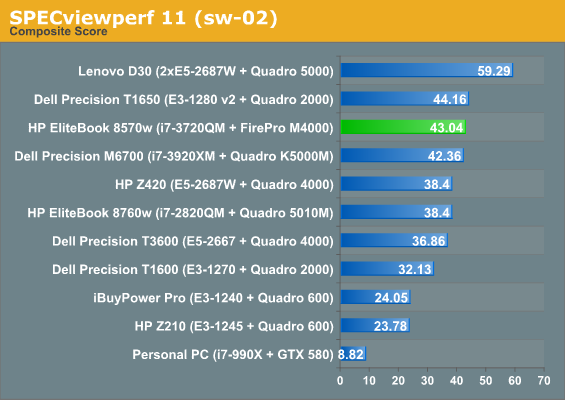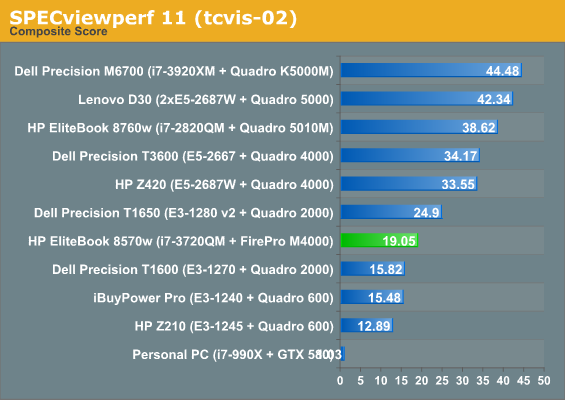 As you can see from our SPECviewperf results, the FirePro M4000 is potentially a killer value. The performance on offer in Maya, in particular, is frankly outstanding and does line up somewhat with how I've seen the desktop GCN-based FirePros perform. Overall performance is kind of all over the map, and when the M4000 loses it can lose pretty big. Bottom line, if you have need of a workstation card, it's good to tailor your hardware selection to the applications you intend to use.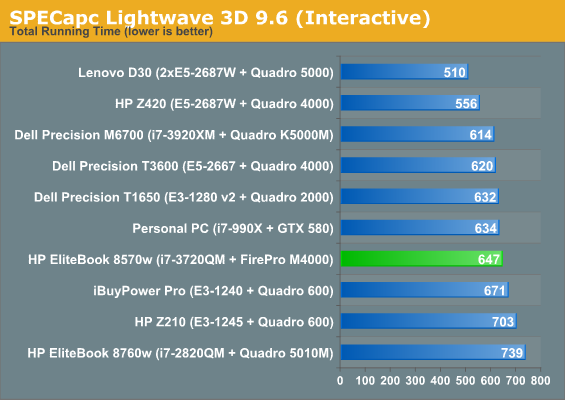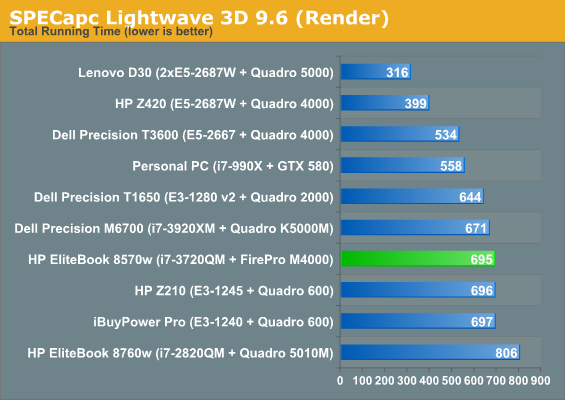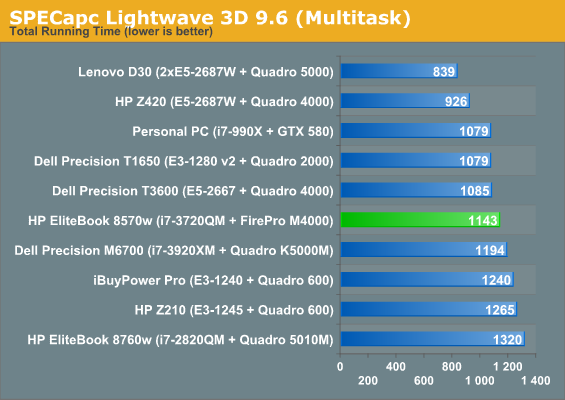 With Lightwave 3D performance almost exclusively CPU bound, the EliteBook 8570w loses a little bit of steam but still remains fairly competitive.
Display Quality
The HP EliteBook 8570w is capable of being outfitted with a 10-bit IPS display that HP dubs DreamColor, and the high color gamut can be a sight to behold. On top of that, we're looking at a 1920x1080 display in a 15.6" form factor, a pixel density much appreciated in notebooks. It appears that LG Philips is manufacturing the majority of these high end panels that are being used, as Dell's Precision M6700's PremierColor display is also using one of their panels.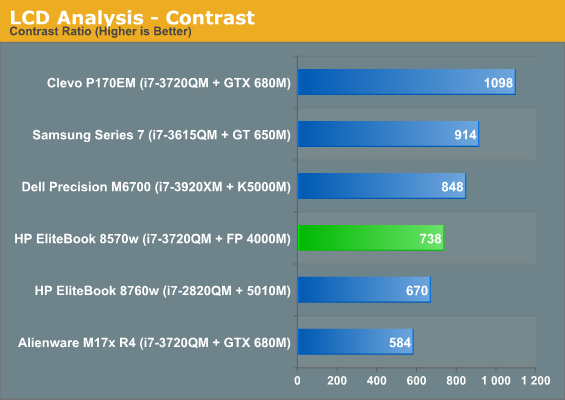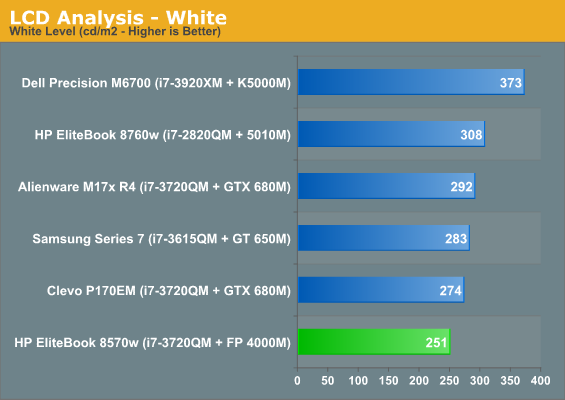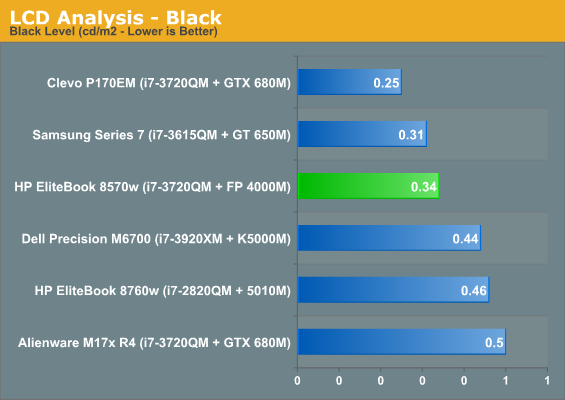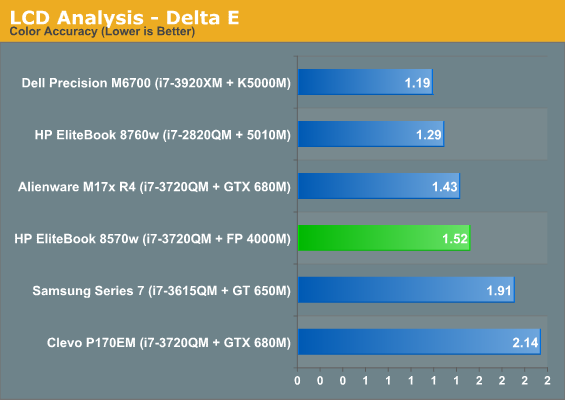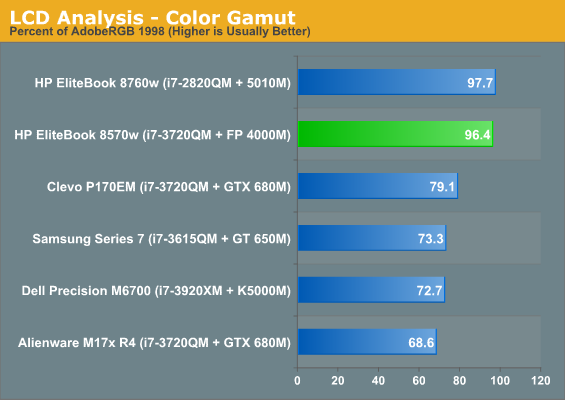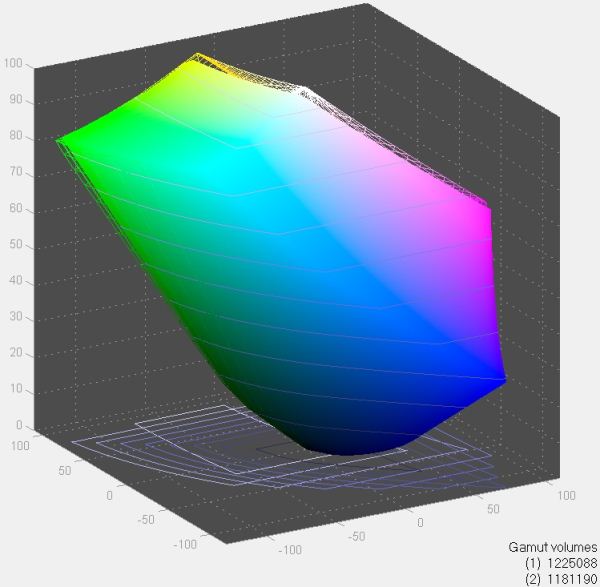 The 8570w's display isn't particularly bright, but it's bright enough, and the colors are incredibly vibrant and crisp. Note that we had to calibrate the M6700's display at a gamma of 1.8 instead of our typical 2.2, and its test results do suffer as a result. I'd argue that, size notwithstanding, the M6700's display quality is actually comparable, and you benefit from their PremierColor software which allows for changing color gamut on the fly.
You can see, though, the 8570w is able to produce almost the entirety of the AdobeRGB 1998 color gamut, with fine contrast and good (though not exceptional) color accuracy.
Battery Life
As many of you pointed out in the last review, the use of a 10-bit IPS panel precludes any kind of switching graphics technology. The result is a notebook that takes a substantial hit to running time. Unfortunately, that hit is exceptionally evident with the HP EliteBook 8570w.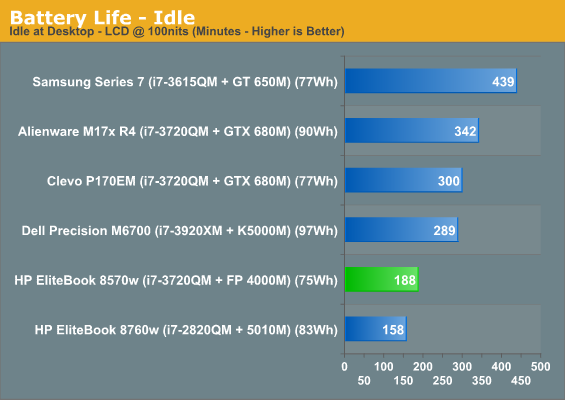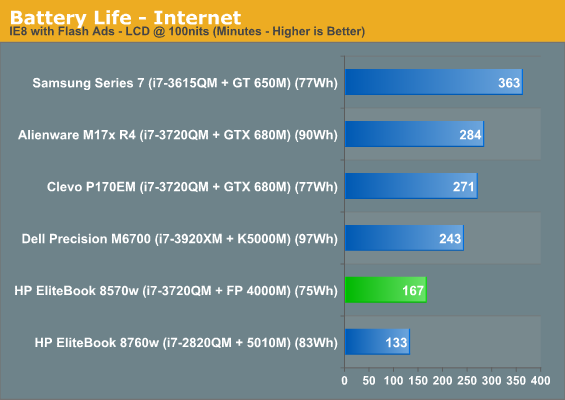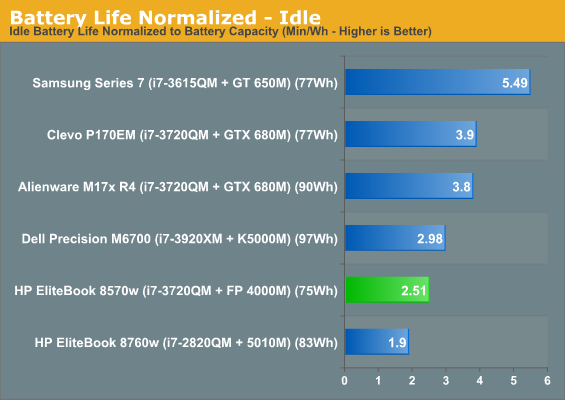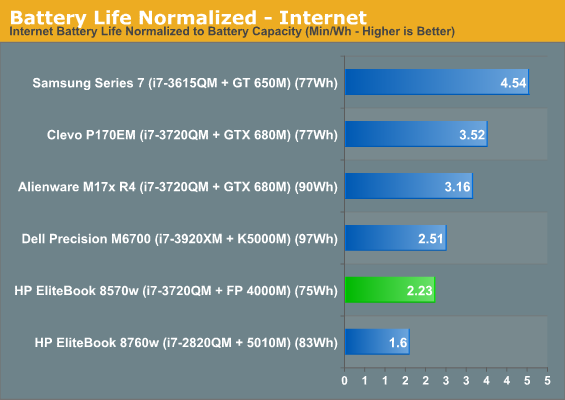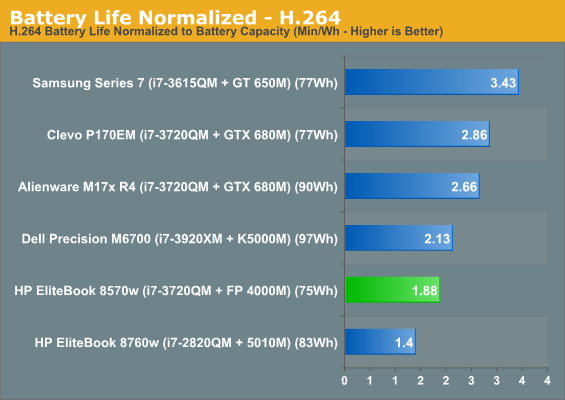 As you can see, you're just not going to be using the 8570w on the battery that often. Even the normalized results are pretty poor, inexplicably ranking below the results of the larger Dell Precision M6700 despite that notebook's larger display and hotter CPU and GPU. In this day and age, a useful running time below three hours is almost inexcusable.
Heat and Noise
You remember how I mentioned that heat was the primary weakness of the HP EliteBook 8570w's design? It's finally time to check in on it, and as you'll see, it's not a happy picture.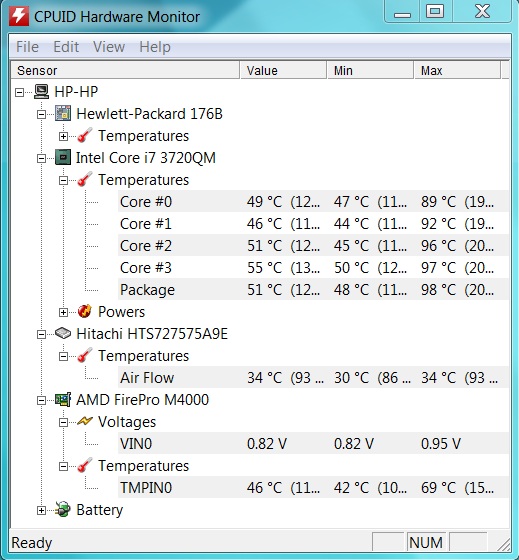 While the FirePro M4000 doesn't heat up that much (and shouldn't, really), the i7-3720QM's cores encroach on the high 90s, just too high for comfort. When we opened up the bottom of the 8570w, you saw how modest the cooling system design was, and now you see how that plays out. Because of the high temperatures, the 8570w is also capable of producing quite a bit of fan noise. At idle, the fan is almost constantly spinning, albeit quietly. Under sustained load, it begins to develop a high-pitched fan whine and becomes increasingly audible, easily peaking above 40dB.
The CPU itself actually overheats a little and starts to throttle. Under AIDA64's stress test, the CPU throttled by as much as 14% after just five minutes. It's no surprise HP elected not to offer the 55W Ivy Bridge quads in the 8570w; the notebook can barely handle 45W.
Conclusion: Fifteen Inch DreamColor, But Is It Worth It?
As much as I adore the current aesthetic HP is employing with their enterprise class notebooks, their design may have run into a bit of a wall with the EliteBook 8570w. Build quality remains solid, the keyboard and touchpad are both excellent, and I still love how easy the access panel is to remove. There are a lot of really smart design cues included with the 8570w, and HP is the only company offering a 10-bit IPS panel in a 15.6" form factor.
Performance is for the most part there, and throttling doesn't seem to have really affected it in any of our benchmarks. Both SPEC workstation benchmarks take a long time to run, but they don't hit the CPU with quite the same sustained load as the AIDA64 stress test; in CPU bound situations, the results were pretty consistent with what we'd expect. Meanwhile, AMD's FirePro M4000 turns out to be an excellent budget alternative to the pricy mobile Quadro GPUs. Though AMD still has some work to do ekeing performance out of the GCN architecture, applications like Maya can benefit tremendously from it. The M4000 was able to perform as well as a Kepler GPU with more than twice its power budget in that test.

Unfortunately, the EliteBook 8570w has two major problems: heat, and price. Thermally, the CPU can get so hot it throttles. You'll see varying opinions around here as to how much of an issue this is. When he reviewed the original Razer Blade, Vivek was willing to overlook that notebook's heat issues on the CPU since the CPU is capable of protecting itself from thermal damage; it runs as fast as it can, then cuts speed to keep from cooking. I'm not as willing to overlook that kind of problem, especially in an enterprise notebook. Out of the box, the 8570w runs as well as it ever will. If it's throttling now, it stands to reason that as dust starts invariably starting to collect inside the notebook, thermal issues will only increase over time. That may or may not be an issue depending on how often the fan is cleaned out, but I'm not big on it.
As for price, you're really paying to be able to get a 15.6" DreamColor display. That may very well not be worth it. If you're willing to go for a more conventional 1080p display, Dell's Precision M4700 comes in at $400 less for roughly the same performance, and ditches potential SSD caching in favor of just flat out offering mSATA SSDs for storage. Meanwhile, Lenovo's ThinkPad W530 is able to undercut HP's offering by a brutal $800, but you do have to sacrifice the FirePro, blu-ray, and some storage to get there.
Where mobile workstations are concerned, I'm not convinced the 8570w is the way to go. In my opinion, the primary reason to buy it would be because you absolutely must have DreamColor at 15.6" instead of 17.3". If you're in the market for a mobile workstation and need a quality panel, I'd seriously consider spending up on either the Dell Precision M6700 or HP's own EliteBook 8770w. This isn't a bad notebook, but it's not a homerun either, and I think it asks too many compromises.