Original Link: http://www.anandtech.com/show/6522/the-clover-trail-atom-z2760-review-acers-w510-tested


Microsoft's Windows 8/RT launch has been a bit choppier than expected. I remember hearing rumors that the OS release could slip into next year, but it seems that the solution to the problem was to launch as devices were ready rather than delay everything. Surface was among the first out of the gate, and I was generally pleased with the tablet, but Microsoft's partner devices have been slower to release. ASUS held its VivoTab RT launch on the same day as Surface RT, but there were many key absences from the launch week in late October.
Among those missing from launch week were any x86 Windows 8 tablets. Although for most of the year Intel had been quite confident in its Windows 8 tablet story, the fact that I had to secretly borrow one just to get some rough performance numbers in our Surface RT story was a problem.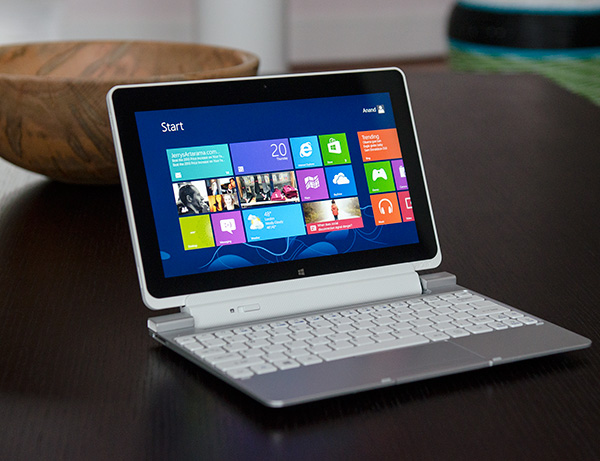 A little over a month later and things are beginning to change. Contrary to popular belief, driver problems aren't what kept the first Atom Windows 8 tablets out of the market at launch. A bug (not related to power management) caught several months ago caused schedules to slip by about a month and a half. Depending on whose design the OEM followed (Intel's or their own), the implementation of the fix could come quickly or would take a bit longer. In this case, Acer and Samsung found themselves on the right side of the fence. We've had Atom based Windows 8 tablets from both companies for weeks now. Vivek is working on our review of the Samsung ATIV Smart PC, while I'll kick things off with Acer's Iconia W510.
The W510 features Intel's Atom Z2760, the SoC more commonly associated with the codename Clover Trail. While Intel's Core series of CPUs will be used in high-end Ultrabooks, tablets and convertibles, doing battle at the lower price points against ARM is the Z2760/Clover Trail. Down here, Intel promises all of the power efficiency of ARM, similar pricing, better performance and of course backwards compatibility with older Windows applications.
Although Intel has largely lost the advantage x86 compatibility promised to bring to the smartphone space years ago, that advantage is alive and well under Windows. With Windows RT devices, Microsoft has the somewhat difficult job of explaining that your brand new Windows device won't run older Windows applications. For an Atom based Windows 8 platform however, that caveat just isn't there. Meanwhile you get all of the benefits of a Windows RT device, including connected standby - a feature that won't be present on Core based Windows 8 tablets until Haswell rolls around in the second half of 2013.
Acer's W510 is a 10-inch Windows 8 tablet designed to compete in a market crowded by ARM based solutions running Android, iOS and Windows RT. Backwards compatibility with decades of x86 applications is a clear point of differentiation.
The W510 is available in two different capacities: 32GB and 64GB. Acer sent along a 64GB version, which is divided into a 46.6GB user partition and 11.05GB recovery partition. Of that 46.6GB that you get to begin with, nearly 13GB is taken up by Windows, leaving you around 30GB free to begin with. This isn't anything unusual for folks buying a Mac or PC, but if you're comparing to lightweight mobile OSes you're going to end up with substantially less usable storage than is advertised.
While Microsoft has definitely help cut down on the amount of bloatware installed on Windows 8 systems from the factory, there are still some culprits. Acer ships McAfee Internet Security trial-ware on the W510 by default). Spotify comes pre-loaded on the machine, as are direct links to Amazon and Ebay for some reason. The tradeoff in buying a Windows 8 tablet instead of an ARM based Windows RT tablet is that you don't get Office Student/Home Edition 2013 for free. Acer makes it easy for you to get an Office 2010 trial, but that's about it.
Tablet Specification Comparison
Acer W510
Apple iPad 4
Google Nexus 10
Microsoft Surface RT
Samsung Ativ Smart PC
Dimensions
10.2 x 6.6 x 0.3"
9.5 x 7.31 x 0.37"
10.39 x 6.99 x 0.35"
10.81 x 6.77 x 0.37"
11.97 x 7.46 x 0.39"
Display
10.1-inch 1366 x 768 IPS
9.7-inch 2048 x 1536 IPS
10.1-inch 2560 x 1600 PLS
10.6-inch 1366 x 768 PLS
11.6-inch 1366 x 768 PLS
Weight
1.27 lbs
1.44 lbs (WiFi)
1.33 lbs
1.5 lbs
1.64 lbs
Processor
Intel Atom Z2760 (2 x 1.8GHz Atom, PowerVR SGX 545)

Apple A6X (2 x Swift, PowerVR SGX 554MP4)

Samsung Exynos 5 Dual

NVIDIA Tegra 3

Intel Atom Z2760 (2 x 1.8GHz Atom, PowerVR SGX 545)
Connectivity
WiFi
WiFi , Optional 4G LTE
WiFi
WiFi
WiFi , Optional 4G LTE
Memory
2GB
1GB
2GB
2GB
2GB
Storage
32-64GB
16GB—64GB
16GB or 32GB
32GB or 64GB
64GB
Battery
27.0Wh
42.5Wh
33.75Wh
31.5Wh
30.0Wh
Starting Price
$499
$499
$399
$499
$599
Although the official MSRP of the W510 is $599, you'll find the 32GB model at $499 and the 64GB model will set you back another $50 on top of that. Each capacity is available as a standalone tablet or bundled with the keyboard dock.
Like Microsoft's Touch/Type Covers for Surface, the W510's keyboard dock isn't cheap. Acer lists the dock at $150, and that's roughly what I've seen it cost online as well. Acer will sell you the dock separately through its online store but I haven't seen it widely available elsewhere (as of writing this the dock is out of stock at Acer as well).
Design & Build Quality
I've been saying this a lot privately, but Acer's recent transformation reminds me a lot of HTC. From a design standpoint, the products Acer was putting out two years ago look absolutely nothing like what it's shipping today. Design is now a priority at Acer, and it shows.
The W510 is all plastic and glass, but it doesn't feel cheap. The back is an aluminum colored plastic that looks good and feels durable. Around the edge is a nice looking white plastic border and up front there's the usual bezel and glass treatment. The result is a black frame with white border aesthetic that isn't fundamentally new, but surprisingly rare in modern tablets.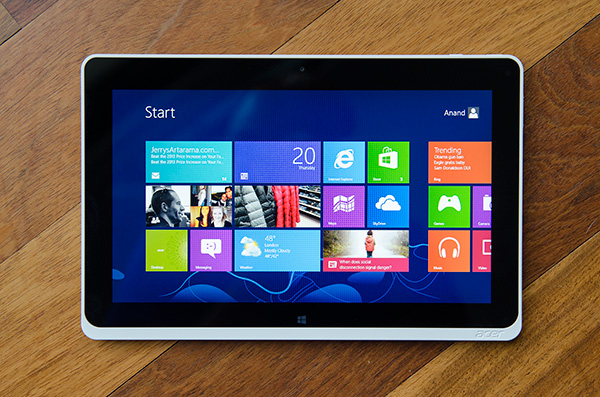 There is a hint of flex in the chassis that's barely enough to make a creaking sound if you try and flex the W510 at its corners. Where the back and border plastics meet isn't particularly well engineered either – the two meet in a relatively neat fashion but run your finger along the border and you'll feel the unevenness of the levels they meet at. None of these things are deal breakers, but Acer is playing in a different league now – with much higher standards.
The W510 is a fairly light device, at least for a 10-inch tablet. At 1.3 lbs it's lighter than the big iPad, Surface and the Nexus 10. The weight (or lack thereof) is immediately noticeable, and makes carrying the W510 a pleasure. The 16:9 aspect ratio of the tablet isn't the most natural unfortunately. Despite the light weight, the W510 ends up feeling a bit long as a result. There's nothing that can be done about that unfortunately.
Optimizing around 16:9 delivers a much better video viewing and multitasking experience, at the expense of pretty much ruining portrait mode aspirations and making for a slightly awkward in-hand feel.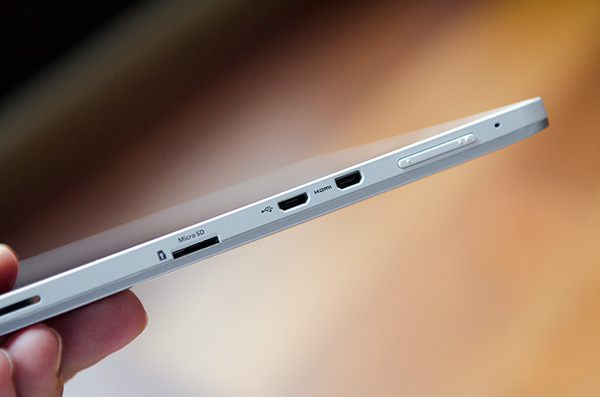 As the W510 is a Windows 8 tablet, it comes full of IO around the edges. On the right edge there are micro HDMI, micro USB and micro SD slots. The trio of micro IO ports are joined by a volume rocker. Up top there's the usual 1/8" headphone jack, rotation lock slider and power/lock button. Acer's proprietary dock/charging connector is at the bottom of the tablet.
The Dock Experience
For $150 Acer will sell you a keyboard dock that gives you a full sized USB 2.0 port, a QWERTY keyboard, trackpad and integrated 27Wh battery. The dock charges the tablet, and the tablet powers the dock once the dock's battery is exhausted. If this sounds familiar it's because it's exactly what ASUS has been offering since the first Eee Pad Transformer in 2011.
The tablet/dock mating process is actually one of the smoothest I've seen thus far. The tablet just slides in and locks in place - there's no struggling or any real pain points in the process. Once connected the tablet seems pretty secure. As the dock uses the charging port to connect to the tablet (for both power and data), the dock gets its own charging port on the left side that you can use to power the setup.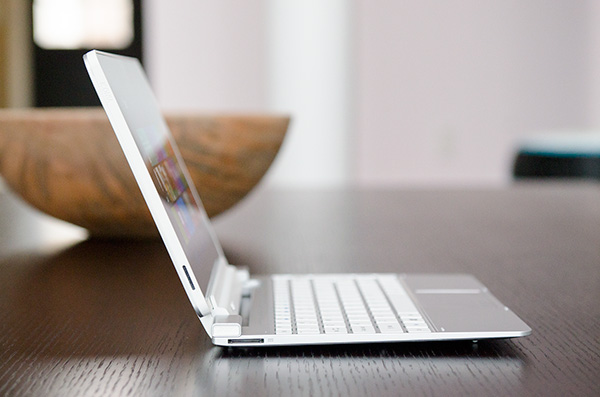 The docking hinge can rotate up to 295 degrees, letting you face the W510 away from you with the keyboard pointing down. The keyboard is disabled once you hit opposite lock on the hinge, and what you end up with is an approximation of Surface's mild-tilt-away operating mode. It's good for presenting content to someone else or watching a video, but the angle is a bit too small to make it useful on a surface that's significantly lower than you.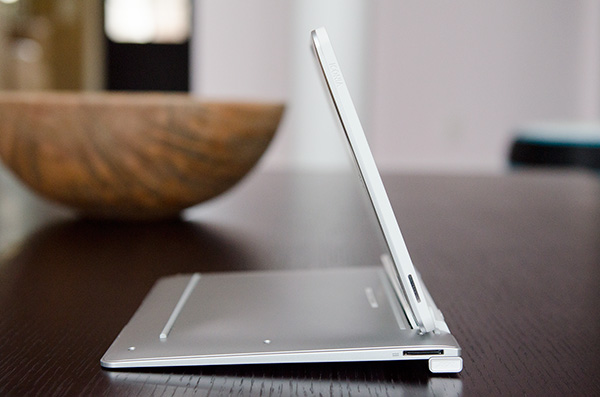 When assembled the tablet+dock loses the svelte form factor of the W510 itself. The combination grows to 13mm at its thinnest point and 23mm at its thickest. The weight more than doubles to 1265g (up from 568g for the tablet alone). The resulting device isn't reminiscent of a tablet and instead reminds me a lot of a netbook. Ultimately where you fall on this issue depends on whether or not you want more of a tablet or notebook experience. The Surface approach retains the tablet experience while giving you some of the benefits of a standard clamshell notebook via the touch/type covers. The Acer/ASUS approach on the other hand gives you more of a flexible notebook experience, with the benefit of added battery life and IO expansion. As with most things, it's a trade off.
Keyboard & Trackpad
In presenting Surface RT, Microsoft talked about the path that took it to building a fairly uncommon 10.6-inch tablet. The motivation behind the unique form factor was two fold: 1) Microsoft wanted to deliver a good multitasking experience under Windows 8's Modern UI, and 2) it wanted to deliver a good typing experience with the touch/type cover attached. With a 10-inch tablet Microsoft felt the keyboard experience would suffer too much, but at 10.6-inches it could design a keyboard with big enough keys to approximate a good notebook keyboard.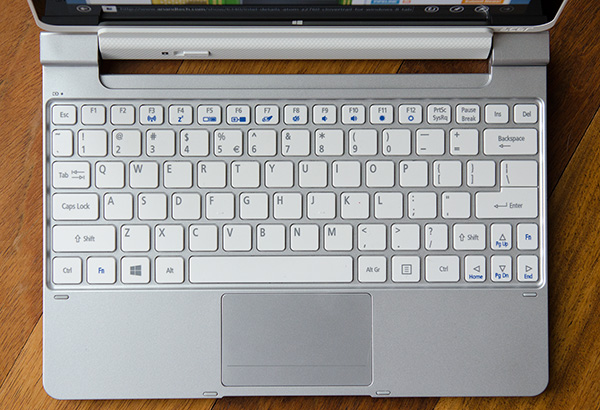 There's no better proof that Microsoft was right than to use the W510's keyboard dock. While typing on Surface felt laptop-like from a size perspective, the W510's dock feels more netbook-like. The alphanumeric keys measure around 13 x 14mm, compared to 16 x 16mm on Surface's Touch Cover (71% coverage) and 17 x 17mm on Type Cover (63% coverage). That's not to say that you can't get used to it, it's just immediately apparent that the keyboard is smaller than normal.
Key travel is pretty decent but the feel is mushier than I would like. Key placement is solid though, I didn't have any trouble just jumping into the W510's dock and finding my way around without staring at keys. Transitioning between the W510 and other physical keyboards wasn't an issue either. I did occasionally have an issue where a key would repeat itself a bunch when typing (e.g. hellllllllllllllllllllllo instead of hello), but I'm not sure if that was a dock or Windows 8 problem.
What I couldn't get used to however is the trackpad. It's almost 2013 and we're still having issues delivering good PC trackpad experiences. The hardware, firmware and software to do this right is out in the wild and it's not all that expensive, it just seems underutilized for whatever reason.
The W510's trackpad is actually a clickpad, with no dedicated buttons but rather a horizontal line below which depressing the pad registers as a click. As with most clickpads, if you're the type of user who rests a thumb near the "button" while you mouse around with your index finger you're going to have a bad time. The W510 dock's clickpad does a horrible job of rejecting any resting fingers/thumbs and instead you get very erratic, almost unusable tracking. Single finger operation is mostly ok, but even then there are issues. The clickpad seems to do a terrible job of rejecting noise in general. Sometimes just having a finger near the trackpad will be enough to throw off tracking.
Overall the clickpad is where the dock experience breaks down. The keyboard works well enough, but the clickpad is nothing short of frustrating. The good news is that you get a full USB 2.0 port from having the dock, so you can always plug in an external mouse, but that seems like a solution to a problem that shouldn't have existed in the first place. I don't know why we're still dealing with clickpad issues, but I'm going to have to think up something creative to deter them in the future.
Software & Stability
The W510 ships with a full install of 32-bit Windows 8. As I mentioned earlier, there's no free-Office with Windows 8 - that's a Windows RT exclusive. On the plus side, you can still install traditional desktop mode applications which you can't do on Windows RT.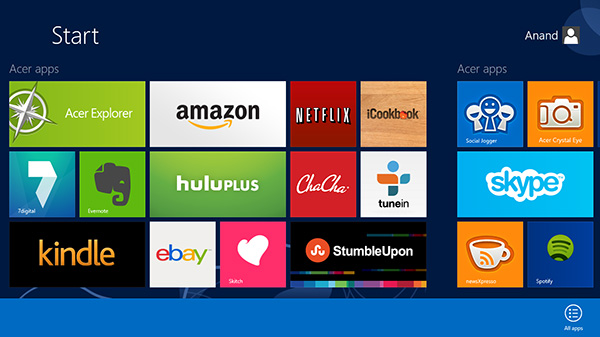 Acer doesn't do a whole lot to customize the Windows 8 experience, but there are a bunch preloaded apps that come on the system. The good news is that most of these apps aren't things that run in the background at startup.
The bigger issue I had with the W510's software experience had to do with stability. If I left the camera app running and the system went to sleep I'd frequently come back to a machine that had to reboot itself. Most of my stability issues seemed related to the camera app but every now and then apps would crash or I'd encounter an unexpected reboot. It's clear to me that there are still a lot of rough edges with Windows 8, although interestingly enough I didn't seem to have as many stability issues with Surface RT as far as I can remember.
The Display
Acer uses an LG sourced 10.1-inch 1366 x 768 IPS panel for the W510. Viewing angles are great as are the rest of the basics. Max brightness is pretty low at just under 300 nits, but the flip side of that coin are very low black levels resulting in great contrast. Compared to the netbooks that Acer was shipping just a few years ago, the W510 is worlds better.
The low max brightness makes the W510 not ideal for use outdoors in bright sunlight: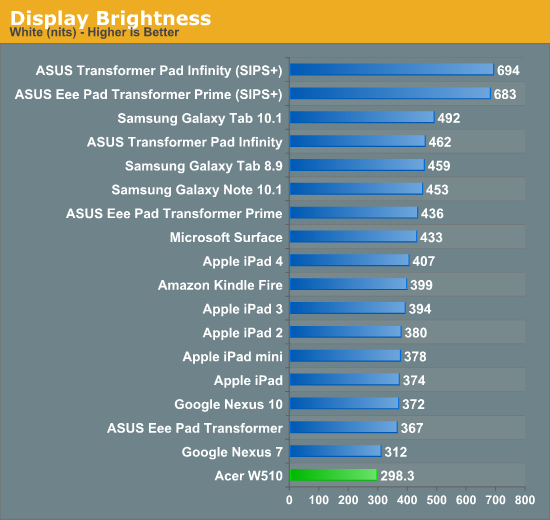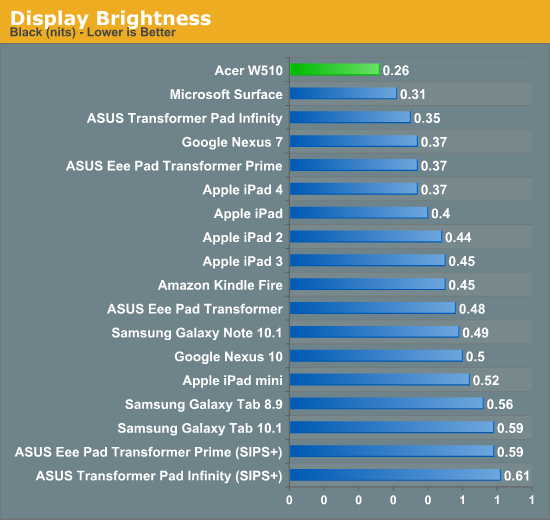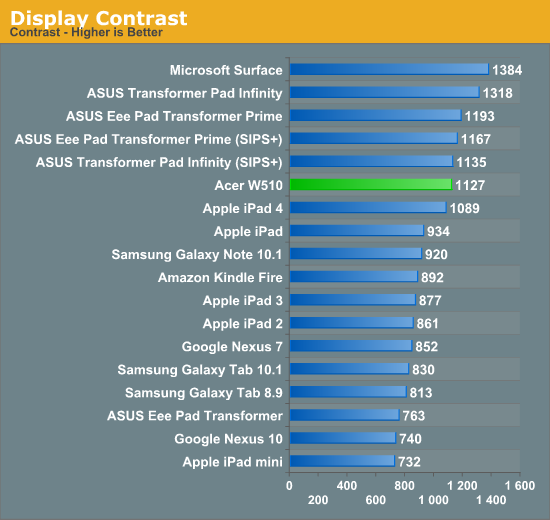 Color accuracy out of the box isn't great, but it's really no worse than something like the Nexus 10 if you look at our CalMAN results.
Once again I turned to our own Chris Heinonen's CalMAN smartphone/tablet workflow. We'll start off by looking at the calibrated white point for these tablets. What you're looking for here is a number close to 6500K: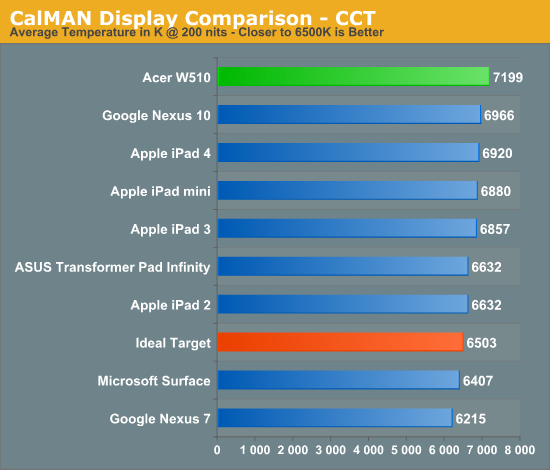 The next three charts look at accuracy represented as a difference between various source colors and what's reproduced on the display. The results are presented as average dE2000, with lower numbers being better.
First up is Grayscale performance, here we're looking at the accuracy of black, white and 19 shades of gray spread in between the two extremes: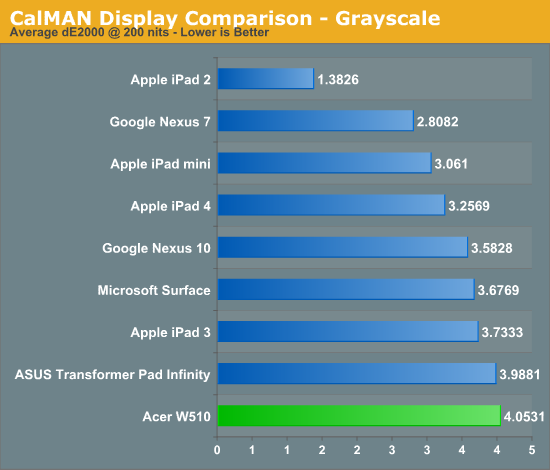 First in our color accuracy tests is a saturation sweep. Here we're looking at 20%, 40%, 60%, 80% and 100% saturations of red, blue, green, magenta, yellow and cyan.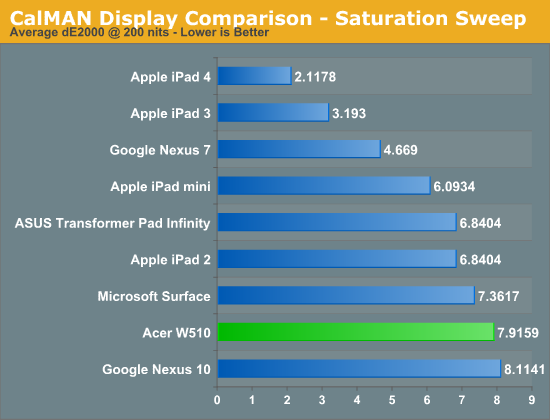 Gamut CIE Chart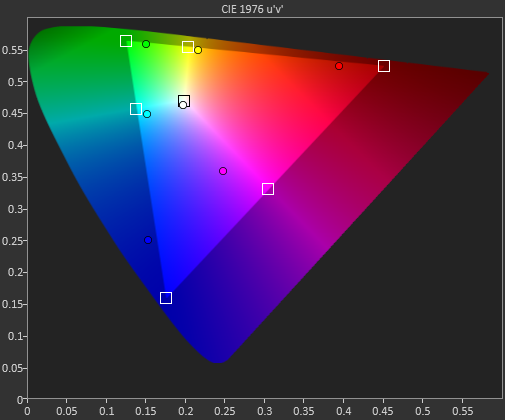 Saturation CIE Chart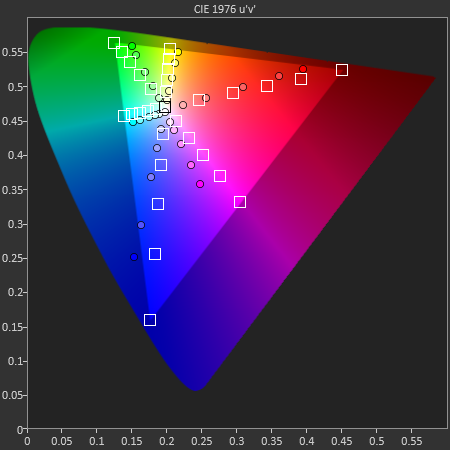 For our final accuracy test we're looking at the difference between a Gretag Macbeth colorchecker chart and the rendered swatches on these displays. Once again, lower numbers are better.

GMB Color Checker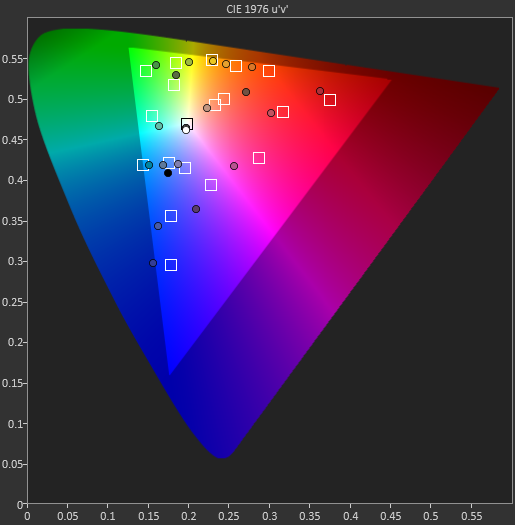 Acer doesn't really make an effort to calibrate the display at the factory, but there's not too much room for improvement here based on my calibration passes (I managed to get dE down to the mid 4s compared to the GMB chart). Nothing about the W510's display really looks bad, but it does lack that extra oomph of Apple's 3rd and 4th gen iPad with Retina Display. Microsoft did a better job on color accuracy with the panel in Surface RT. On the bright side, the display really is such a huge improvement over what we're used to seeing from a Windows PC priced at $499.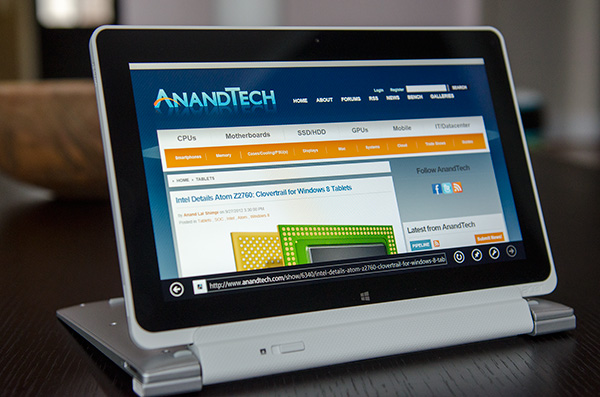 The relatively small display size means the native resolution isn't really too much of a problem. More resolution would always be appreciated, but in this case Clover Trail doesn't really have the GPU to drive it. In my experience with the W510 I didn't really find myself wishing I had a higher resolution display, although I'd be very surprised if the next-generation of these tablets didn't ship with something higher res.
CPU Performance
The heart of the Clover Trail advantage is really Intel's two 32nm Saltwell Atom cores that are integrated into the Cloverview SoC. Each core is Hyper Threaded making the machine a 2 core, 4 thread beast similar to what we've seen from Intel's other dual-core processors for years now. Despite the 32nm process, these Saltwell cores are direct descendants of the original Bonnell Atom core, first built at 45nm back in 2008. The fact that in five years the Atom core has only progressed by a single process node tells you a lot about how much of a priority this architecture has been for Intel. To Intel's credit, Cloverview is built on an SoC process at Intel's fabs that's slightly different from the standard process used for the Core line of processors. Intel's low power SoC process roadmap has historically lagged behind the high performance roadmap, although at some point in the not too distant future Intel expects these two to happen in near lockstep.
Medfield vs. Clovertrail
Intel Atom Z2460
Intel Atom Z2760
Platform Codename
Medfield
Clovertrail
OS/Platform Target
Android Smartphones
Windows 8 Tablets
Manufacturing Process
32nm SoC (P1269)
32nm SoC (P1269)
CPU Cores/Threads
1 / 2
2 / 4
CPU Clock
up to 2.0GHz
up to 1.8GHz
GPU
PowerVR SGX 540
PowerVR SGX 545
GPU Clock
400MHz
533MHz
Memory Interface
2 x 32-bit LPDDR2
2 x 32-bit LPDDR2
The fundamental architecture of each Atom core hasn't changed. This is still a 2-wide in-order machine with a bunch of power and performance efficiency tricks that make it hit much higher than you'd otherwise expect. As you'll see in the benchmarks to come, this five year old Atom architecture is still faster than every single ARM based core on the market today with the exception of the Cortex A15. Hampered mostly by really inefficient software and a lack of good platforms, Atom never really had the opportunity to shine in the past. Even with Windows 8 things are better but still not perfect for the soon-to-be-replaced core.
Each core features its own private 512KB L2 cache and can clock up to 1.8GHz. These cores could technically support 64-bit operation, but Intel specifies them as supporting the 32-bit x86 ISA. Windows 8 with Connected Standby (S0ix baby) support only currently exists in a 32-bit version, and Clover Trail is only designed to support Windows 8 at this point which is why these are effectively 32-bit cores.
Backwards compatibility is a major selling point for the Clover Trail platform as being able to run existing Windows applications is something no competing ARM platform can offer. There are two limitations however: 1) Keep in mind that this is still an Atom based SoC, so just because you can run (virtually) all applications it doesn't mean they will perform well, and 2) These Atom cores only support SSE1/2/3/3S, the newer extensions to x86 aren't supported (no SSE4 or AVX). The latter isn't too big of a deal given that those extensions are rarely required for older applications, but it's a distinction worth noting.
Despite looking at lot like Intel's Medfield platform, Clover Trail does differ in some fundamental ways. Intel doesn't have a lot of documentation about this but the memory controller on the Cloverview SoC has been significantly improved over Medfield. It better supports prioritizing GPU accesses to main memory, which in turn helps deliver a very smooth Modern UI experience in Windows 8. The Cloverview/Clover Trail memory controller enhancements will make their way into Medfield's successor on the smartphone side, as well as future derivatives of Intel's Atom for tablets.
I mentioned this in our initial Clover Trail analysis piece, but the SoC doesn't support SATA - only eMMC. Only USB 2.0 is supported as well.
As we make our way into 2013, at least on the Windows side of things, I'll be able to move away from js based performance comparisons between tablets. For now, we start off with some of the latest JavaScript tests we've been using in our mobile reviews. All of these were run in Modern IE10 on the Windows devices. I threw in some of our iPad 4 and Nexus 10 for comparison:
JavaScript Performance
Time in ms (Lower is Better)
Kraken
SunSpider
RIA Bench Focus
Acer W510 (Atom Z2760 1.8GHz)
33220.9ms
730.8ms
3959ms
Microsoft Surface (Tegra 3 1.3GHz)
49595.5ms
981.1ms
5880ms
Samsung ATIV Smart PC (Atom Z2760 1.8GHz)
33406.0ms
721.3ms
3752ms
Apple iPad 4 (A6X)
19086.9ms
834.7ms
-
Google Nexus 10 (Exynos 5 Dual)
11146.0ms
1384.1ms
-
Although CloverTrail manages a win over all platforms in SunSpider, Kraken paints a different picture. In the case of the iPad 4 it's likely showing us browser performance superiority, while in the case of the Nexus 10 it's a combination of that and a simply faster pair of CPU cores.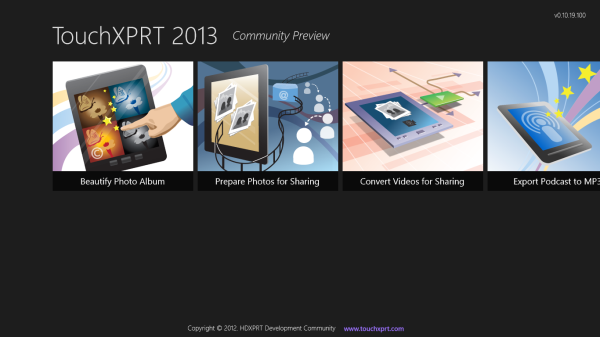 Principled Technologies, apparently featuring some of the same folks who were responsible for building the old Winstone benchmarks from over a decade ago, actually put out the first cross platform Windows RT/8 benchmark with some help from Intel. Despite Intel's influence the test appears to have no native code, instead relying on just a heavy workload of large images and videos for its tests.
TouchXPRT 2013
Time in Seconds (Lower is Better)
Photo Enhance
Photo Export
Video Transcode
MP3 Transcode
Photo Slideshow Creation
Acer W510 (Atom Z2760 1.8GHz)
205.83s
73.0s
52.07s
96.02s
85.31s
Microsoft Surface (Tegra 3 1.3GHz)
306.12s
116.36s
87.27s
160.99s
125.06s
ASUS VivoTab RT (Tegra 3 1.3GHz)
312.14s
109.89s
89.69s
155.84s
122.65s
The PT folks also put together a suite of HTML5/js tests, once again giving us the opportunity to test cross-platform performance. As these tests are run in the browser, there's good opportunity for browser optimizations to play a role here as well as platform performance:
WebXPRT 2013
Time in ms (Lower is Better unless otherwise noted)
Overall (higher is better)
Photo Effects
Face Detection
Stocks Dashboard
Offline Notes
Acer W510 (Atom Z2760 1.8GHz)
220
2437.2 ms
2590.3 ms
1091.5 ms
1832.4 ms
Microsoft Surface (Tegra 3 1.3GHz)
168
2790.7 ms
3482.1 ms
1696.3 ms
2288.1 ms
Apple iPad 4 (A6X)
182
4331.2 ms
4136.8 ms
786.0 ms
1942.6 ms
It doesn't really matter where you turn, the CPU side of Clover Trail is clearly ahead of anything we've seen thus far in the Windows RT camp. Modern UI performance is great, clearly better than Surface, but the Windows 8 desktop experience falls short. UI performance can be sluggish in desktop mode. Scrolling through Control Panel animates at < 30 fps, the same goes for highlighting a group of icons on the desktop. Moving windows around tends to be pretty smooth however, which makes me wonder how much of the UI performance issues are driver related.
On the CPU side of things, you have to keep in mind this is still an Atom based platform. Although things have improved since the original Atom, we're still talking about a fairly old architecture. Although you can run Photoshop or 3dsmax on here, I wouldn't recommend it. As with the old netbooks, whether or not Atom is enough depends mostly on what you're doing.
All of the Office 2010 applications ran wonderfully on the W510. They all launched reasonably quickly and were responsive. Outlook, a major component missing from the Windows RT experience, had no problems running on the W510. The experience does suffer the moment you try to run something truly CPU intensive (by modern notebook standards), but for light office work the W510 excels.
The high CPU utilization under Word 2013 does still exist even on Clover Trail: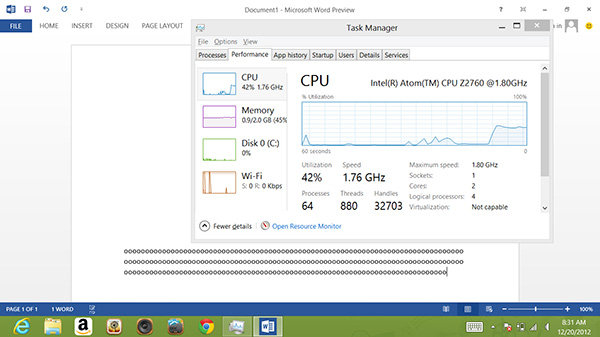 I ran our Excel MonteCarlo simulation script on the W510 to get an idea of how a hefty Office workload would fare on the tablet. The result was surprisingly decent thanks to hardware support for 4 threads, but still much slower than a modern CPU: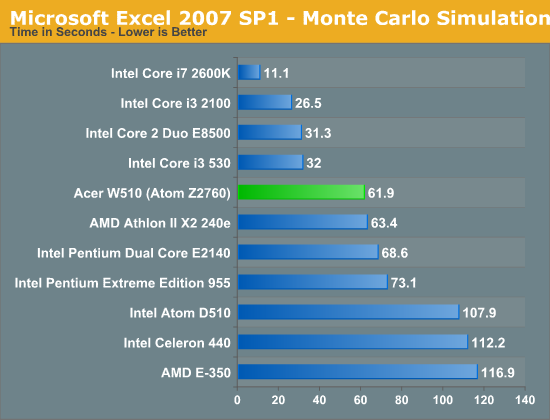 To really put the W510's performance in perspective I compared it to a handful of notebooks: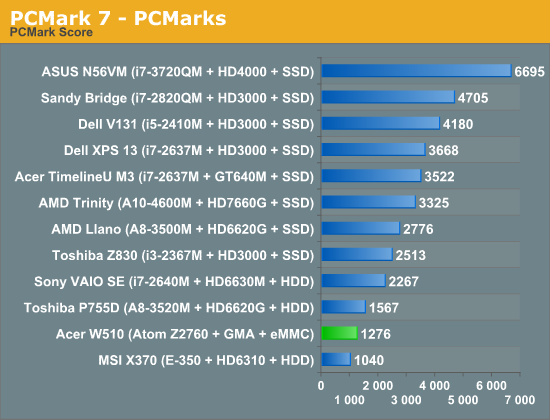 Better performance than AMD's original Brazos platform isn't bad, but in the grand scheme of things you're looking at a much slower system than anything Core based. The W510 comes surprisingly close to the Llano based Toshiba P755D, but I suspect a big part of that is the storage solution. The blessing and curse of the W510 is that it does use solid state storage, so performance will never be as bad as the old netbooks that used 5400RPM hard drives. The solid state storage comes in the form of an eMMC solution, which doesn't do a great job of delivering high random IO performance.
GPU Performance
Contrary to popular opinion prior to its launch, the Clover Trail platform and Cloverview SoC feature a PowerVR SGX 545 GPU. The rumored PowerVR SGX 544MP2 won't show up until Clover Trail+ next year. The SGX 545 is clocked at a fairly aggressive 533MHz.
Architecturally the 545 is very similar to the PowerVR SGX 540 used in Intel's Medfield smartphone platform, with a handful of additions. The shader array remains unchanged at four USSE pipes. The 545 adds four more 10-bit integer pipes, doubles the triangle setup rate and doubles the number of depth test units as well. DirectX 10 class texture hardware is also a part of the mix, as well as everything else needed to officially support DirectX 10 (D3D feature level 9_3).
Compared to what's shipping in the latest iPads however, Clover Trail is horribly under-specced. We don't have good cross-platform (Windows RT/8) GPU tests yet, but based on what I've seen thus far it looks like the GPU here is a bit slower than what you get in a Tegra 3.
Mobile SoC GPU Comparison
PowerVR SGX 545
NVIDIA Tegra 3
PowerVR SGX 543MP2
PowerVR SGX 543MP4
PowerVR SGX 554MP4
Used In
Clover Trail
Tegra 3
iPad 2/mini
iPad 3
iPad 4
SIMD Name
USSE
"core"
USSE2
USSE2
USSE2
# of SIMDs
4
12
8
16
32
MADs per SIMD
2
1
4
4
4
Total MADs
8
12
32
64
128
GFLOPS @ 300MHz
4.8 GFLOPS
7.2 GFLOPS
19.2 GFLOPS
38.4 GFLOPS
76.8 GFLOPS
Looking at raw FP performance tells us a lot of the story. The 545's high clock helps it punch above its weight, but it's still significantly less powerful than the 543MP2 used in the iPad 2/mini (and it's nothing compared to what's in the iPad 3/4).
Tegra 3-class GPU performance may have been acceptable a year ago running Android, but it's just too little too late today. Since Clover Trail has full backwards compatibility with older Windows applications, I can put its GPU performance in perspective. Turning to 3DMark03 and 06, we can get a good idea of the class of performance we're looking at. For complete (and consistent) comparison points, I've tossed the W510's results into Bench so you can compare to any notebook/mobile GPU you want to there.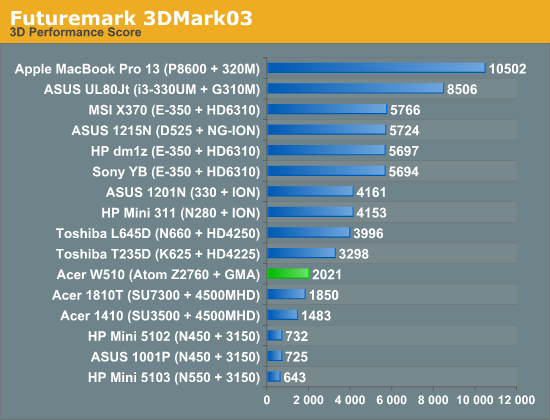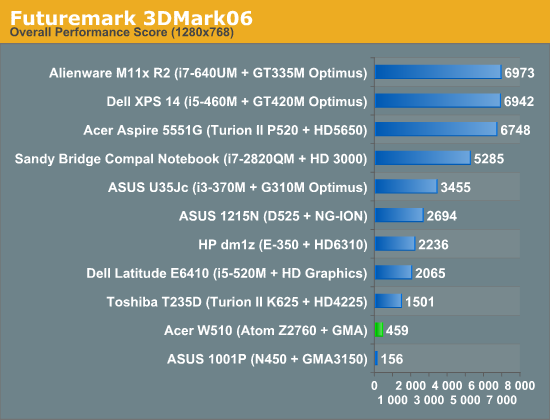 Compared to the old Atom platform with Intel's GMA 3150, the PowerVR SGX 545 based GMA is around 3x faster. Even Intel's old mobile G45 graphics are actually slightly slower. Performance is still far behind everything else modern though. The GPU is more than adequate for Modern UI acceleration, but if you have secret hopes of being able to run some of your older games on Clover Trail you'll want to stash those dreams away.
None of this is really Imagination's fault - Intel remains generations behind in implementing competitive GPUs in its ultra mobile SoCs. Even the jump to PowerVR SGX 544MP2 next year will happen just as Apple likely moves to Img's Series 6 (Rogue) architecture. It's definitely a problem if you're a silicon company that delivers slower silicon than what your customers can put together.
WiFi
Connected over the Atom Z2760's SDIO interface is Broadcom's 4330 WiFi solution. The 4330 is a single-stream, dual-band (2.4/5GHz) 802.11n device. Wireless performance is reasonable - I was able to pull a maximum of 34Mbps down on a 5GHz network - but not great compared to the likes of the iPad 4 and Nexus 10.
Reception was comparable to most tablets of this size but I have been seeing a weird issue where Windows 8 claims there's limited connectivity on a known network even if there aren't any problems. Disconnecting and reconnecting always fixes it. I don't know if this problem appeared more frequently after one of the latest Windows 8 updates, because I don't remember having it much when I was testing Surface RT. Occasionally I've seen an issue where 5GHz networks won't appear to the W510 without toggling airport mode. I've been chalking these issues up to early Windows 8 problems, but again I don't remember having them with Surface so it's unclear how much of this is specific to the W510.
Camera
The W510 features a rear facing 8MP camera (3264 x 2448, 1.4 - 2.5MB compressed JPEG size) and a front facing 2.1MP camera (1920 x 1080, ~600KB compressed JPEG size). Neither is particularly amazing at shooting photos, but like with most tablets the rear facing camera can produce passable results for web use:
The camera UI and preview frame rate are both solid for stills, but there is a strange behavior where you'll get a split second of live view after you've taken a shot using the rear camera before you're shown a preview of the shot you just took.
Video is recorded in Main Profile (4.0) AVC at around 15Mbps with 2-channel stereo audio: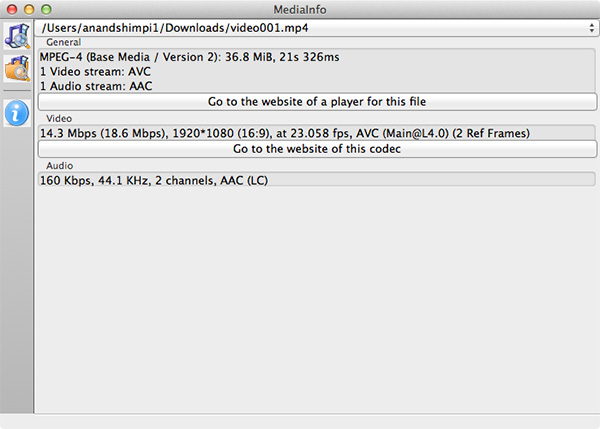 Maintaining 30 fps while shooting 1080p video isn't possible it seems. Video quality is average at best for a tablet using the rear facing camera:
Charging, Battery Life & Dock Power
Both the W510 and its optional dock feature integrated 27Wh batteries. As a result, with the dock attached you can expect a near doubling in battery life. It's not an outright doubling because the dock itself obviously draws some power.
With the dock attached Windows 8 recognizes both batteries and displays individual charge details in desktop mode: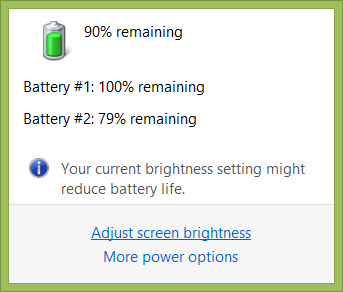 Battery 1 is the W510 tablet, Battery 2 is the dock
The lock screen displays the combined charge percentage across both batteries to keep things simple.
Similar to how things worked with ASUS' Transformer series under Android, the dock is used to charge the tablet's battery. Only once the dock's charge is depleted will the W510's internal battery start to drain, at which point it will power both the tablet and the dock.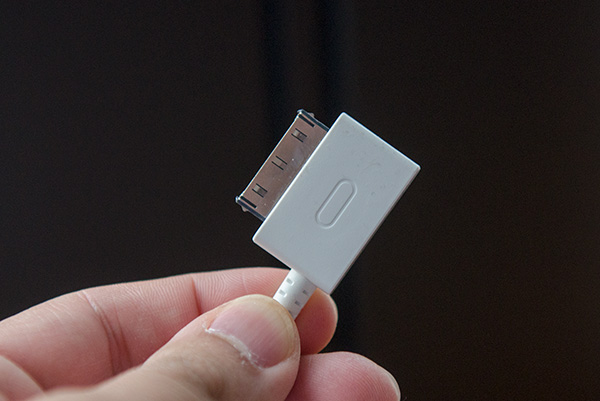 As is the norm with most modern tablets, the W510 introduces Acer's own proprietary power connector. The connector itself is reminiscent of similar connectors from Apple (prior to Lightning), ASUS and Samsung. Both the tablet and the optional dock feature a power input so you can charge the system regardless of whether or not it's docked. The same power connector is used to connect the tablet and dock so it functions for both power and data delivery.
Acer bundles an 18W power adapter with the W510. The power adapter itself isn't anything remarkable, however Acer did use a nifty removable plug that easily twists on/off. The W510 only ships with the plug for whatever region you purchased it in so I'm not sure how useful this feature is, but it's nice to see design innovation from Acer here.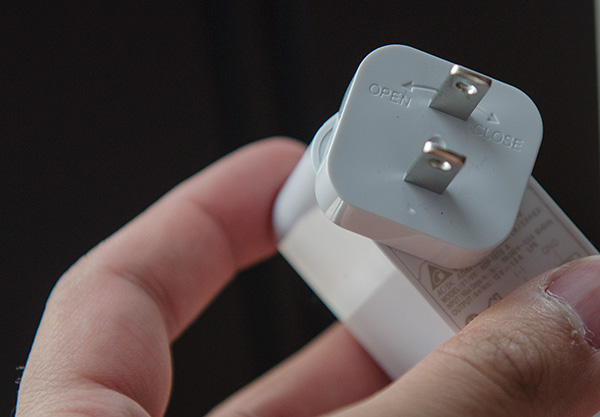 Charge time on the W510 is pretty reasonable for a 10-inch tablet. I clocked in a full charge from 0% with the tablet off at 3.632 hours. Peak power draw during the charge was 16.74W at the wall.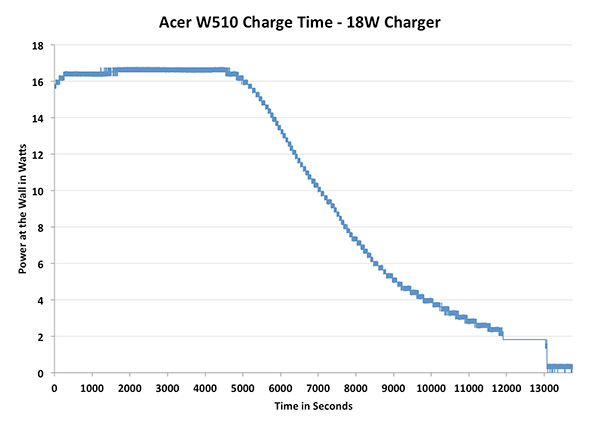 Note that this is just how long it takes to charge the W510 itself. The dock contains another 27Wh battery which should roughly double charge time.
Intel's Atom Z2760 inside the W510 is passively cooled, but under load the upper right corner of the tablet can get fairly warm. I measured a max surface temperature of 38.2C under a heavy CPU load.
Battery Life
We've started running our new smartphone web browsing battery life test on tablets as well. If you missed its introduction in our iPhone 5 review, here's a bit about the new test:
We regularly load web pages at a fixed interval until the battery dies (all displays are calibrated to 200 nits as always). The differences between this test and our previous one boil down to the amount of network activity and CPU load.
On the network side, we've done a lot more to prevent aggressive browser caching of our web pages. Some caching is important otherwise you end up with a baseband/WiFi test, but it's clear what we had previously wasn't working. Brian made sure that despite the increased network load, the baseband/WiFi still have the opportunity to enter their idle states during the course of the benchmark.
We also increased CPU workload along two vectors: we decreased pause time between web page loads and we shifted to full desktop web pages, some of which are very js heavy. The end result is a CPU usage profile that mimics constant, heavy usage beyond just web browsing. Everything you do on your device ends up causing CPU usage peaks - opening applications, navigating around the OS and of course using apps themselves. Our 5th generation web browsing battery life test should map well to more types of mobile usage, not just idle content consumption of data from web pages.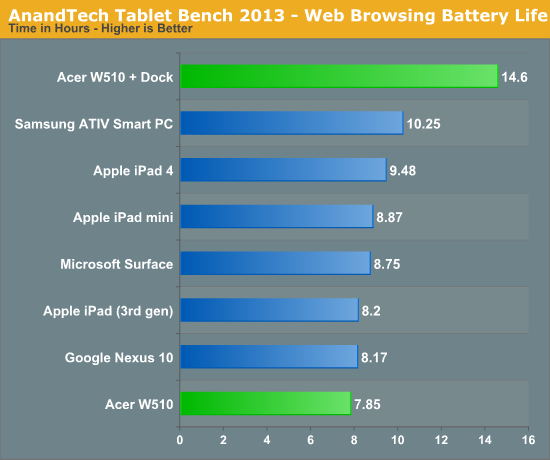 With only a 27Wh battery, the W510 delivers our shortest runtime in our new test thus far. Normalizing for battery capacity however and the W510 looks quite competitive. Note the huge advantage that Samsung's Clover Trail tablet enjoys here however. I suspect there's something more than just a smaller battery holding the W510 back. Running the same test with the dock attached increases battery life by 86%.
Our video playback test remains unchanged from previous tablet reviews. Here I'm playing a 4Mbps H.264 High Profile 720p rip I made of the Harry Potter 8 Blu-ray. The full movie plays through and is looped until the battery dies. Once again, the displays are calibrated to 200 nits: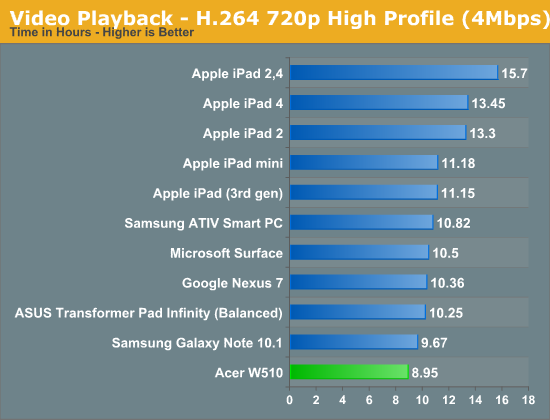 Video playback battery life is a similar story. Equipped with a fairly small battery for its screen size, the W510 weighs in at just under 9 hours of continuous playback. Samsung's 30Wh Clover Trail based ATIV Smart PC does much better by comparison.
Reflecting on Windows 8
In our Surface, VivoTab RT and Windows RT reviews both Vivek and I were fairly positive on Windows RT and the new modern user interface that Microsoft introduced with it and Windows 8. My feelings on the OS haven't really changed since then, I still believe Windows 8 is a good step forward for Microsoft. The improvements to the underlying OS make it a good upgrade for current desktop/notebook users, while the modern UI makes it a great solution for tablets.
Windows RT/8 have sold me on touch when it comes to a notebook or notebook hybrid. I do wonder how much having a good touch experience is necessary when your trackpad experience isn't perfect, but I find myself touching the screen on older notebooks more than ever before when switching between Windows RT/8 and other systems. I don't believe ubiquitous touch is going to spell certain success for Microsoft, but it's a good move.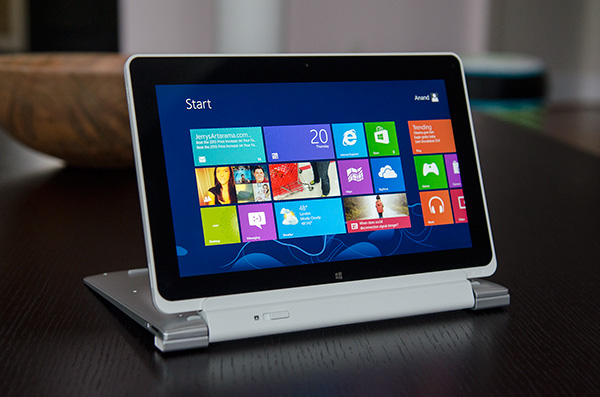 I also can't stress enough how big of a deal it is that Microsoft has delivered a power efficient OS capable of hanging with Android and iOS. It wasn't that long ago where idle battery life on PCs significantly lagged behind even OS X, and now we're talking about Windows experiences that rival ultra mobile OSes.
The big issue with Windows RT/8 is that the experience as a whole seems to be unfinished. Microsoft has done nothing to advance the traditional desktop UI paradigm. Keyboard/mouse navigation within the modern UI is functional, but it feels like more of a concession rather than an optimized experience. Microsoft of course needs to push the modern UI in order to quickly ramp up its app library. It's a difficult position to be in and I don't necessarily know of a better solution that delivers what MS wants while prioritizing the end user experience. Microsoft was one of the first companies to learn that for each device vertical, a custom user experience is necessary (e.g. Media Center Edition, Xbox). Wherever it has failed to keep those learnings in mind, things eventually end up going south. Sometimes it takes a while (Windows Mobile) and sometimes it's apparent almost immediately (Tablet PC Edition). The fact that tablets/smartphones are the new high-growth markets definitely tilts things in Microsoft's favor this time around, but that doesn't mean that Microsoft is out of the woods.
Transitioning between modern and desktop UIs remains abrupt. I wanted to write about this in our Surface review but ran out of time. There's this weird bimodal UI paradigm that exists within Windows RT/8. Microsoft forces you into the modern UI by default, but sometimes it'll vomit you out into the desktop UI without warning depending on what you click. Want additional connection properties about your WiFi network? You're back in desktop mode.
Even within the modern UI there are some things that don't seem well thought out. If you want OS/firmware updates, you'll have to navigate to Windows Update - but if you want to update your apps you need to go through the Store app for those.
When it comes to performance, there are still quite a few annoyances. IE10 is better than expected, but it's in dire need of a performance boost. The swipe to go back to a previous page gesture is great for example, but the time it takes to switch from a pre-rendered screenshot to the actual page is unacceptably long.
Many fundamental tasks/apps still take way too long to respond with no real indication of what's going on. I noticed I had 32 updates in the Store, clicked on the updates link and got this screen for minutes without anything happening: The same is true for Mail, here's a screen i was faced with while mail tried to connect to my mail server. The process wasn't quick, i was faced with this screen for dozens of seconds:

The problem when this happens is there's usually no way to easily back out of the task or even get an idea of the progress of the task. The obvious solution here is there shouldn't be so many situations where activity happens but no progress is made for a while. The issues aren't always common but when they happen, they're annoying and seem to be far less present on Android/iOS. Things just feel like they were rushed.
Microsoft needs to think about winning over Apple/Android users in a major way, as well as addressing their existing user base. There's clearly potential with Windows 8, but the usual model of minor updates that focus on under the hood fixes with major UI updates saved for major releases of the OS needs to go. I don't even know if an annual UI tweak is enough for MS to make up ground here. Microsoft has 12 - 18 months before Apple throws its hat into the converged tablet/notebook game, that's the window of opportunity to make Windows RT/8 a success. Otherwise, the exodus continues.
Microsoft had better not treat Windows 8 like it did Windows Phone 7 and not substantially update the UI for 2 years.
Final Words
This is a tricky conclusion to write, because as always there's a lot of concluding that has to be done. On the one hand, we have Intel's Clover Trail platform. On the other we have Acer's Iconia W510 tablet itself. And on a magical third hand we have to conclude on behalf of Microsoft's Windows 8.
I'll start with the Intel hand.
Clover Trail is good. I only have NVIDIA's Tegra 3 to compare it to at this point, and there Intel wins hands down. Performance is clearly better, tasks complete quicker, the modern UI is even more responsive. Power efficiency, once again, seems like a non-issue. The W510 in particular uses a smaller battery than most, but its battery life per watt-hour is very similar to Surface RT. Samsung's ATIV Smart PC actually seems to be a better showcase of what Clover Trail can do from a power efficiency standpoint. If we haven't squashed the notion of Intel being unable to build low power SoCs by now, Clover Trail should help drive the nail into that coffin. The debate is no longer about whether or not Intel can build something competitive with ARM on the power front, but whether Intel can execute quickly enough to defend its marketshare.

Backwards compatibility is a hit or miss advantage for Clover Trail. If you use it for the flexibility of being able to run nearly every Windows application available, then you'll be pleased. Small apps that I've relied on for years just run without issue on Clover Trail. I don't need to find modern replacements, my library of tools just work. I suspect this advantage will appeal in enterprise markets where custom applications are often on very long development cycles.
However if you're expecting to be able to enjoy a similar experience to what you currently have on your Ultrabook, you'll be sorely disappointed. Atom isn't Core, the performance delta is dramatic. The Windows 8 desktop experience on Clover Trail is like using a notebook from several years ago. Performance is at least consistent thanks to the lack of any mechanical storage, but running intense workloads on the platform is hardly quick. Being quicker than most of the ARM platforms on the market today isn't enough, Intel has to deliver a good experience across all applications. The experience is further hampered by sub-par UI performance in desktop mode. It actually feels like Tegra 3/Surface RT are faster when it comes to desktop UI performance. This highlights a disturbing trend within Intel's ultra mobile products. The company continues to under-spec its ultra mobile GPUs. If Intel is really serious about both the tablet and smartphone markets it needs to build the best SoCs in the world, and that means delivering the best CPU and GPU performance.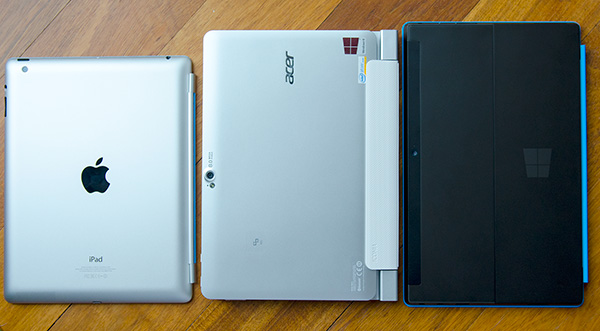 I was impressed by the unique combination of closed box tablet OS and flexible/customizable desktop OS that Windows RT delivered. Windows 8 on Clover Trail takes that feeling to a completely new level. Being able to install and run nearly any weird, old application in one breath and then switch over to a fairly well optimized tablet experience in the next is pretty awesome. Where the experience falls short is really the performance of desktop mode and most of the applications I'd like to run unfortunately. Scrolling isn't smooth, response time is pretty bad if you're running anything demanding. You have to keep in mind that, at best, we're talking about mainstream notebook CPU performance from around 2005. Until Intel revs Atom (which should happen next year, thankfully enough), the backwards compatibility story won't be as awesome as it could be.
On the Acer side of things, the dock experience (particularly the troubles I had with the clickpad) also contributes to the W510 not being the perfect tablet+notebook in one. As a standalone tablet I prefer the W510, it's got a great form factor and I love its light weight. As a docked system however, Samsung's ATIV Smart PC seems to be the better choice.
The W510 itself is well executed, but overall the experience seemed a bit less polished than with Microsoft's Surface RT. This is where things get really complicated. I want the SoC from the W510 but in the overall device experience that Microsoft's Surface delivered. I even think Acer might have a form factor advantage in the W510 since it's just so light. It's a shame that the only x86 Surface device will be the bigger Pro model.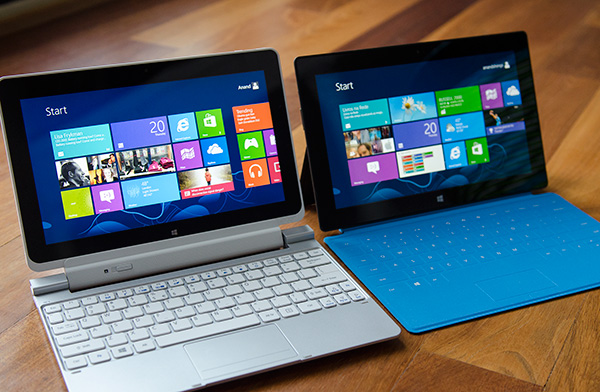 Ultimately my conclusion about the W510 in particular is a lot like what I felt about Surface RT. You know it's going to be made obsolete in less than a year's time, so you have to be ok with that fact if you're going to pull the trigger today. Even then, the experience isn't perfect. Microsoft still needs some updating on the Windows side to address bugs and quirks with the OS. Performance isn't as big of a problem on the W510 as it was on Surface RT, but I'd still like to see more on that front as well.
Much of the same goes for Windows 8. Although its execution hasn't been perfect, I really do like the OS and I see a lot of potential in these converged notebook/tablet devices. Especially for users who travel a lot, being able to have the best of both worlds in an extremely portable device is a wonderful dream. I think Microsoft has the right vision, but what we need to see are more revs to the OS to fully realize it. The real question is whether or not Microsoft will be able to deliver significant updates to Windows 8 as quickly as the market needs it.