Original Link: http://www.anandtech.com/show/6532/fractal-design-node-605-case-review-is-fractal-design-ready-for-primetime


Introducing the Fractal Design Node 605
Media center enclosures can be a very tricky business. 25 years ago, horizontally-oriented cases were the norm, but the ATX standard complicates things. We're also dealing with hotter components now than we were then. To top everything off, having a PC in your living room introduces even more new wrinkles: it shouldn't look out of sorts next to other home entertainment electronics, and it can't be loud or intrusive in any way. Producing a good HTPC case is a surprisingly tall order, and it's one that Fractal Design has elected to take a crack at with the larger of their new Node cases.
While the smaller Node 304 lacks any optical drive bay of any kind and is geared for home server work, the Node 605 is designed to be a media center first and foremost. Hiding behind the drop-down door on the front are a slim-line optical drive bay, a card reader, and assorted connectivity. And like the Node 304, Fractal Design built the Node 605 to be flexible, able to support up to four storage drives and a full ATX motherboard. So is this case ready for a spot in your entertainment center, or did Fractal Design produce a rare misfire?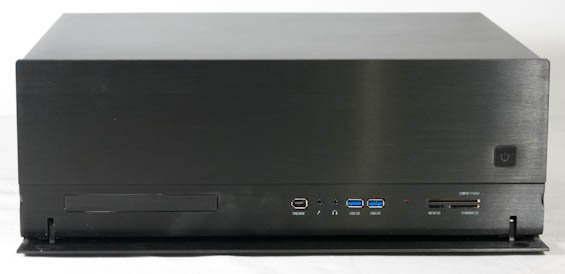 When I opened the Node 605 I had a brief pang of regret. Recently I built a pair of media centers for my living room and my bedroom in the SilverStone FT03 and FT03 Mini, and the Node 605, at least outwardly, looks like an almost perfect enclosure. This looked like the refinement I had been asking for since I built my first major media center in the SilverStone GD04. Fractal Design built a case that supports a lot of different types of components, but not necessarily all simultaneously, and they built something that's fairly simple to get started with.
Fractal Design Node 605 Specifications
Motherboard Form Factor
Mini-ITX, Micro-ATX, ATX
Drive Bays
External
1x Slimline Optical
Internal
4x 2.5"/3.5"
Cooling
Front
-
Rear
2x 80mm fan mount
Top
-
Side
1x 120mm intake fan on each side; 1x 120mm fan mount on right side
Bottom
-
Expansion Slots
7
I/O Port
2x USB 3.0, 1x Headphone, 1x Mic, 6-pin FireWire, Card Reader
Power Supply Size
ATX
Clearances
HSF
125mm
PSU
180mm (190mm with one drive cage removed)
GPU
180mm, up to 290mm
Dimensions
17.5" x 6.5" x 13.7"
445mm x 164mm x 349mm
Weight
13.23 lbs / 6kg
Special Features
USB 3.0 via internal header (includes built-in 2.0 adapter)
CF/SD/MMC card reader
Three-speed fan controller
Acoustic padding in top panel
Price
$159
The Node 605 features an integrated card reader that hides behind a flip-down door on the front of the case, and I cannot stress enough how much I like seeing vendors include card readers. A card reader is included almost as a matter of principle on notebooks, yet continue to be rarefied in desktop cases. Also appreciated is the three-speed, three-channel fan controller.
What isn't appreciated is the frankly outlandish price tag. I can tell you right off the bat that this isn't a cheaply made case, enjoying sturdy aluminum in the fascia and thick steel in the sides and body, but Fractal Design is competing with established designs from SilverStone. SilverStone's Grandia enclosures fill much the same niche the Node 605 does, and the GD04 even does so at ~$50 less.
In and Around the Fractal Design Node 605
Where the Fractal Design Node 605 excels is in the same place Fractal Design typically excels: external design. The aesthetic of the Node 605 is beautiful, symmetrical, and can be had in any color you want so long as that color is black. The brushed aluminum finish of the fascia will only look out of place in your entertainment center if the other electronics you have are substantially cheaper looking (and often can be). Plastic is kept at an absolute bare minimum in this chassis.
Lighting is equally minimal, and that's appreciated. There's a soft blue LED behind the power button, and the red IDE activity LED is hidden behind the small drop-down door in the front of the case. That door also hides all of the I/O. Two USB 3.0 ports are on tap, and again I'm happy to see the built-in card reader. What may throw some people for a loop is the 6-pin FireWire port. FireWire is a dying standard, but many older video cameras use it, so I can see why Fractal Design would opt to include it on a modern case. I don't know that it will see much use, but it's there.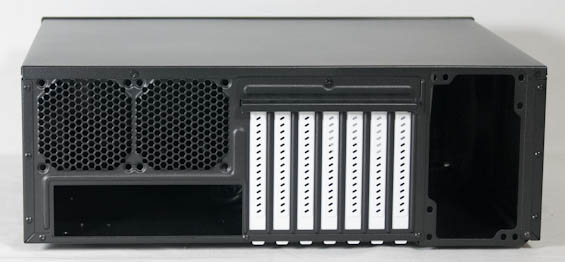 The sides of the Node 605 both feature 120mm vents; two of these vents conceal 120mm intake fans, while one conceals a mount and the fourth is for cooling the power supply. When you move to the back of the case, you can see how Fractal Design arranged everything, and it's pretty simple: ATX motherboard support on the right side of the case, power supply standing on its side on the left.
Opening the Node 605 is as easy as removing two screws from the back of the case. The top panel slides off easily, and features a large acoustic pad on its underside. Note that there are no thumbscrews used anywhere in this design: nothing in the Node 605 is toolless.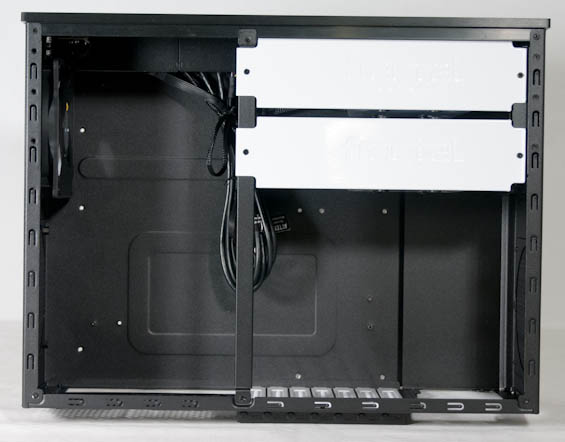 Opening the Node 605, I was frankly surprised at just how simple the interior layout really was. I'm coming from the SilverStone Grandia GD04, which was incredibly involved to work inside. The Node 605 is remarkably straightforward, though: motherboard mounting points are obvious, as is the power supply bay. The pair of drive cages hang off of a single rail in the middle of the case, and all of this is easy to remove with a Phillips head screwdriver.
Superficially, the Node 605 just looks like an almost strictly better GD04. It's unfortunate I can't directly compare the two in performance; the GD04 was my second case review here and I've actually refreshed the testbed twice since then. There's the same positive-pressure internal design, but the Node 605 ditches the large 5.25" optical drive bay in favor of a slimline one at the bottom of the case. It also, and this is important, is missing the third intake fan. The GD04 features an intake fan that blows almost directly on the CPU, but the Node 605 doesn't include it, instead offering an empty fan mount.
Assembling the Fractal Design Node 605
The Fractal Design Node 605, when opened up, looks like it's going to be pretty easy to assemble a system inside. Thankfully that turned out to be true; the Node 605 is probably the easiest media center case I've ever built. What absolutely must be kept in mind is something I mentioned earlier: the Node 605 supports a lot of different hardware, but it does not necessarily support it all at once. So while you can definitely mount an ATX motherboard in the Node 605, the heatsink on our ATX/MicroATX testbed wouldn't fit, so as with the SilverStone Grandia GD07 I elected to go with the mITX testbed. That turned out to be absolutely the right choice when testing came around.
Fractal Design doesn't have any studs or standoffs pre-installed, so you'll have to put those in for your motherboard yourself. This is a convenience I've been starting to see on less and less expensive cases, and given the high price of the Node 605 I'm tempted to ding them at least a little for not including it. Getting the motherboard in and everything hooked up was fairly simple, though, but note that cable management is basically non-existent in this case.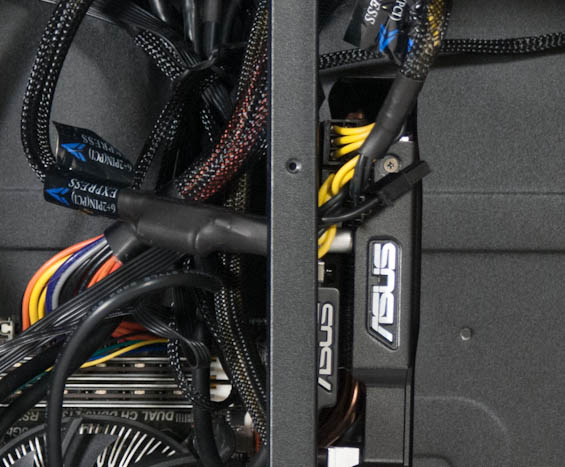 Installing the power supply was easy, too, but where things got heady was when I installed the GeForce GTX 560 Ti. To install a video card, it's best practice to remove the bar in the center of the case with the two drive cages so you have more room. Where things got dicey was when I had to reinstall the bar: the top-mounted power leads for the 560 Ti actually conflicted with the bar. You can see in the photo how clearance became an issue.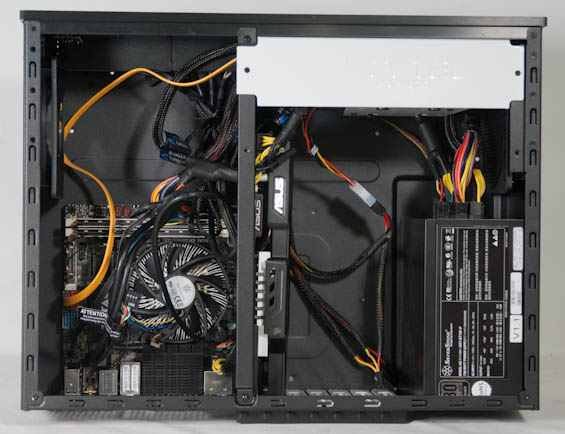 The drive cages themselves are easy enough to use, as Fractal Design carried over the design from the Node 304. What I said about the Node 605 supporting a lot of hardware but not necessarily simultaneously comes up again here; take a look at the clearance issues potentially posed by the placement of the drive cages.
Wiring the Node 605 up was easy, but as I said there's virtually no allowance made for cable management. You can see that the leads from the power supply run in front of the fan and circle around to the motherboard. Some zip-ties could certainly go some of the way towards cleaning up cabling, but there's just nowhere to put the cables themselves. What I'd really like to see is an HTPC enclosure that has space beneath the motherboard tray for routing cables.
Putting the Node 605 together resulted in a couple of hiccups but nothing serious. Just because the case can fit a full ATX motherboard doesn't mean you should, though; the mITX board looks roughly the right size and I'd hesitate to install anything bigger than a Micro-ATX board. It's true that using a Micro-ATX or ATX board with the PCIe x16 slot one space down might alleviate clearance issues with the center retaining bar, but remember that you then have to contend with the drive cages, and in my assembly I'm already working with one of them missing.
Testing Methodology
For testing Mini-ITX cases, we use the following standardized testbed in stock and overclocked configurations to get a feel for how well the case handles heat and noise. Again, note that while the Fractal Design Node 605 can technically fit a full-size ATX motherboard, it's not tall enough to allow for our testbed's tower cooler. Because of the discrepancies that would make for in testing, plus the fact that media center cases are often mini-ITX designs, we have chosen to use our mini-ITX testbed rather than going with a specialized (e.g. not something you can compare directly to our other cases) ATX build.
Each case is tested with just the Core i3's integrated graphics as well as with a discrete graphics card. The system is powered on and left idle for fifteen minutes, the thermal and acoustic results recorded, and then stressed by running four threads in Prime95 (in-place large FFTs) on the CPU, and OC Scanner (maximum load) is run when the dedicated GPU is installed. At the end of fiteen minutes, thermal and acoustic results are recorded. If the enclosure has a fan controller, these tests are repeated for each setting. Ambient temperature is also measured after the fifteen idle minutes but before the stress test and used to calculate the final reported results.
We try to maintain an ambient testing temperature of between 22C and 24C. Non-thermal test results aren't going to be directly comparable to the finest decimal point, but should be roughly comparable and give a broader idea of how the enclosure performs.
Thank You!
Before moving on, we'd like to thank the following vendors for providing us with the hardware used in our testbed.
Noise and Thermal Testing, IGP
The mITX testbed we use typically isn't particularly stressful; a case would have to be really dire to produce bad results here, and the Fractal Design Node 605 should handle this just fine. For basic home theater PC use, a CPU with equivalent or lesser wattage would be ideal along with a Micro-ATX board. We'll see what happens when dedicated graphics are added on the next page, but for now things should be pretty smooth.
The Node 605 was tested at each of its three fan settings with an ambient temperature of ~21C.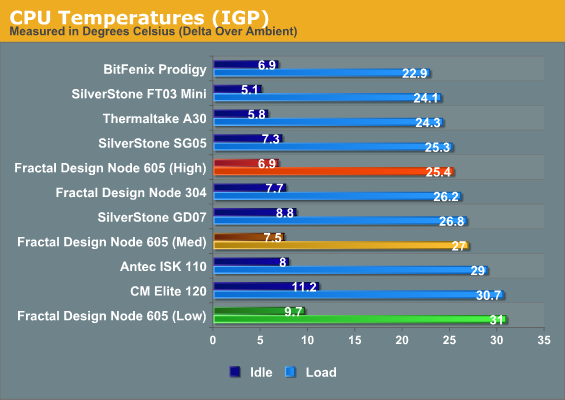 And here's where the bad news starts. The Node 605's thermal design is somewhat lacking. Fractal Design uses filters on all of its fans, but the problem is that the fans themselves aren't particularly powerful to begin with. If you bump up to the high setting you can get more mileage, but the case is definitely audible at that point as you'll see below.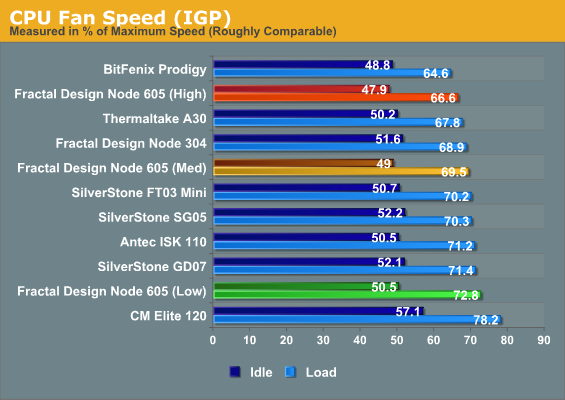 Fan speed is capable of being competitive; Cooler Master's Elite 120 Advanced has a harder time keeping the CPU cool, but it's also half the size and a quarter of the price of the Node 605.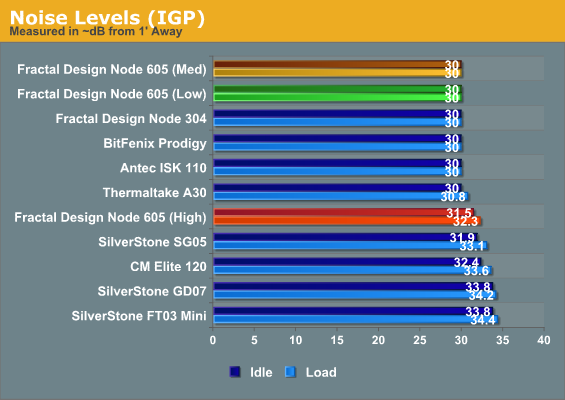 The Node 605's low and medium settings are competitive, but the high setting is too noisy for HTPC use.
With just the bare minimum hardware installed, the Node 605 is already struggling a little bit. CPU thermals are mediocre at best, but to get those thermals you have to ramp up the fans some, otherwise they're just bad. Perhaps more damningly, the smaller Node 304 actually produces better thermals and noise than the 605 does.
Noise and Thermal Testing, Dedicated GPUs
The Fractal Design Node 605 is capable of offering at least a passable performance with our bone stock mITX testbed, but it's really not leaving the end user much headroom to upgrade. Now we're going to add dedicated graphics cards to the mix: the sub-75W Zotac GeForce GTS 450 Eco, and the more robust ASUS GeForce GTX 560 Ti. Unfortunately, you'll see the Node 605's fortunes don't really improve.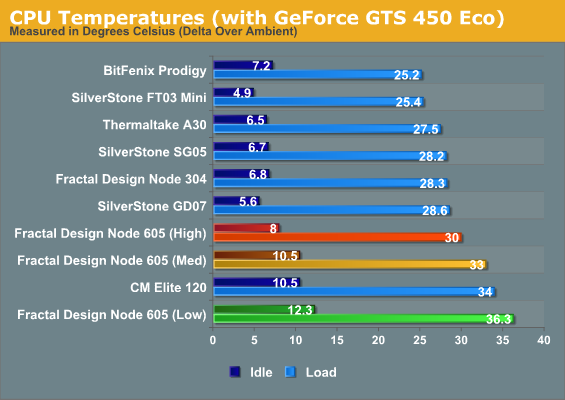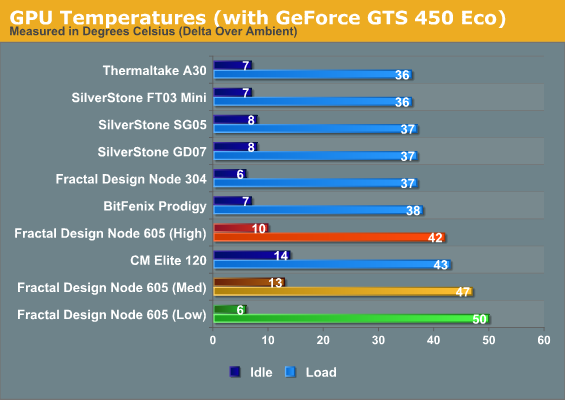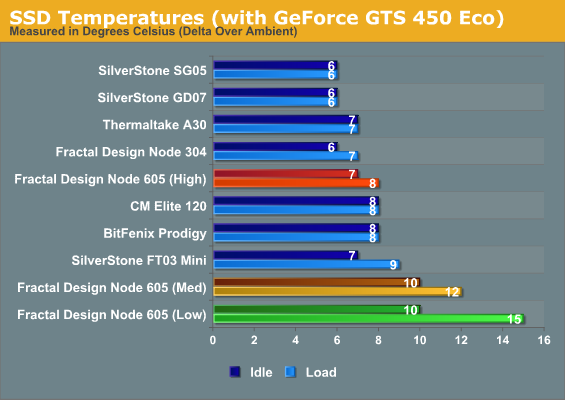 Add in a video card and thermals go straight to hell. Even the high fan setting can't seem to salvage it, and our SSD is producing some of the hottest temperatures we've yet recorded. You can see the GTS 450 Eco typically runs pretty cool, but in the Node 605 it's hotter than we've ever seen it, and heat seems to be getting trapped between the card and the CPU.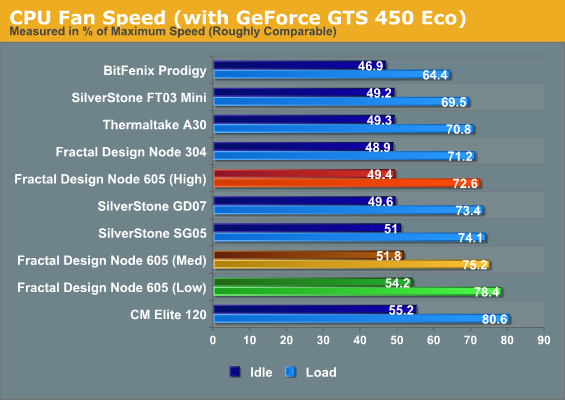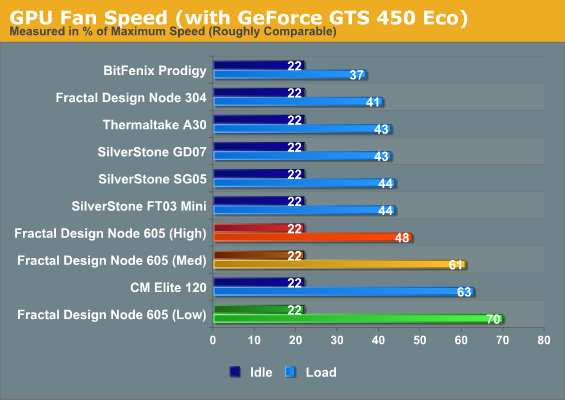 Fan speeds are up there, too. Nothing in the Node 605 is actually overheating, but it's clear this case's cooling design needs to go back to the drawing board.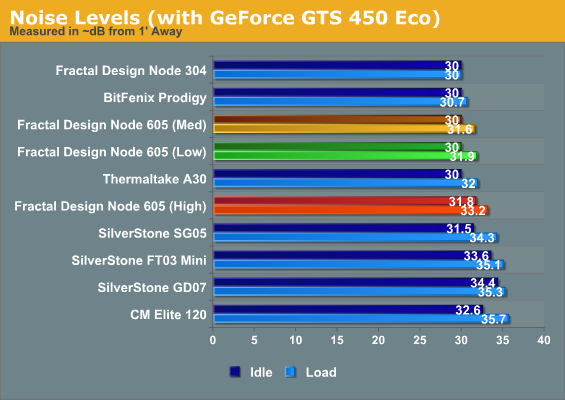 The Node 605 is able to at least run quieter than a lot of the competition, but embarassingly the substantially smaller Node 304 continues to offer superior performance across the board.
The Fractal Design Node 605 was already having issues with a modest card like the Zotac GTS 450 Eco, so you can probably guess how things went with the GTX 560 Ti installed.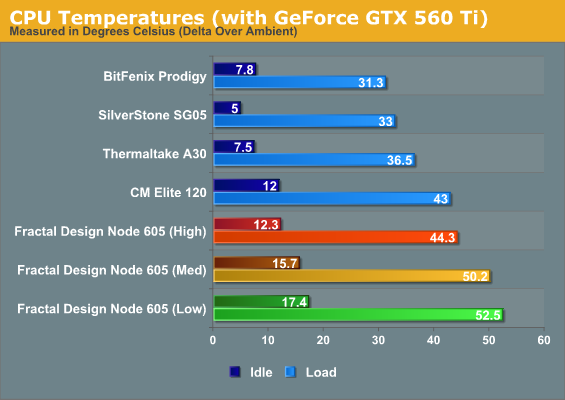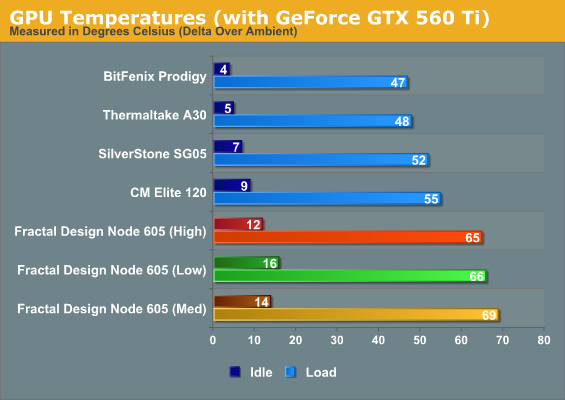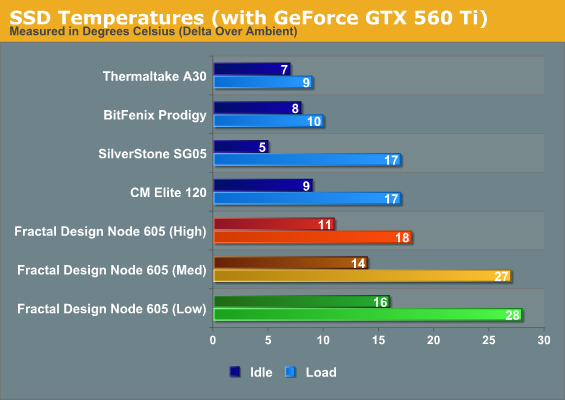 Thermals shoot through the roof. Even with the fan set to high, the Node 605 is beaten in every test. Again, nothing is overheating (except possibly the SSD, which reported a high temperature of a blistering 51C), but it's clear the Node 605 isn't very efficient at moving heat.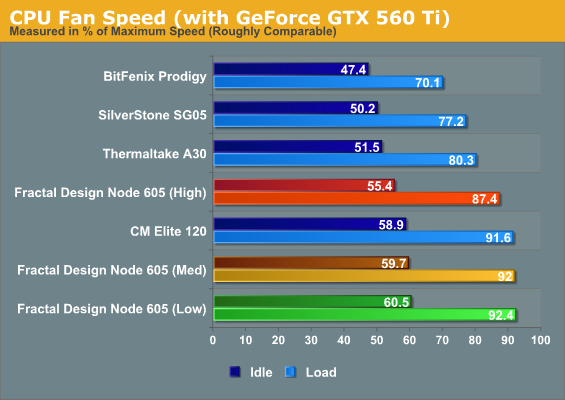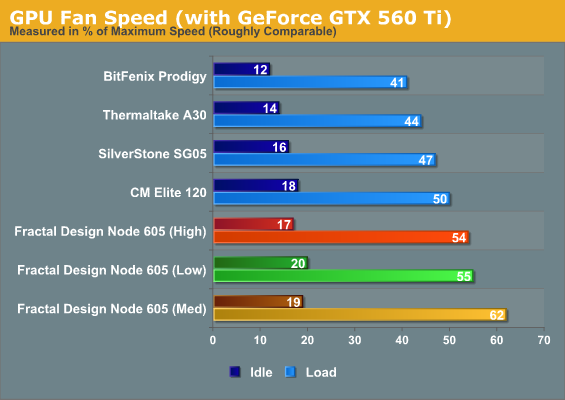 Fan speed measurements just reiterate what we already know: the Node 605 has very limited thermal headroom, and it's having trouble competing with cases half its size.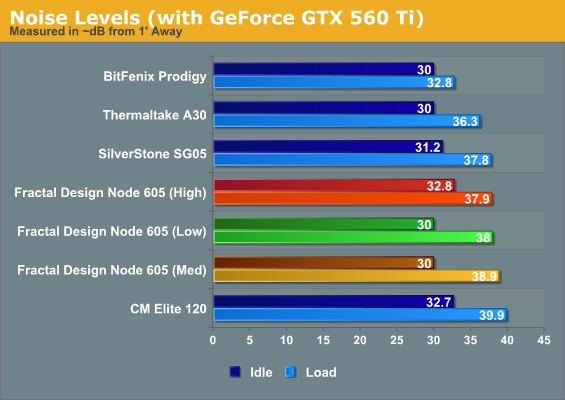 With this much of a thermal load placed on it, the Node 605 just can't stay quiet.
During testing I actually ran the system with the top panel open to make sure the fans were spinning, and they were, even on the lowest setting. The problem was that you could barely feel any air coming off of them, and this translated to a poor showing in testing.
Conclusion: Every Family Has One
Like many of you I've been a pretty big fan of Fractal Design's cases up to this point. Some of their designs underperformed a little, but the Define series have continued to be solid options for users looking to build a silent, decently-performing system. The smaller of the two Node cases, the 304, positively bristles with potential and offers solid thermals and acoustics to match. So what happened with the 605?
First, we'll start with what Fractal Design got right. The aluminum fascia and overall build quality is frankly top notch. This is a beautiful case and it feels very sturdy, so it at least looks like it belongs in your entertainment center. I'm also happy to see the integrated card reader, and though the FireWire port is bound to be mystifying to some users, I can see where they were going with it. Hiding the slimline optical drive bay behind that door in the front was also a great choice; many of these cases forget that the activity light on an optical drive will blink regularly while you're watching a DVD or blu-ray, and being able to hide that is a surprisingly important convenience.
The Node 605 is also incredibly simple to assemble. It may not be toolless, but it's not too complicated to put together, and I never had to look at the instruction manual during testing.
So where did Fractal Design go wrong? Even their weakest cases have typically been at least solid and usable, but the thermals of the Node 605 start off mediocre and get progressively worse, taking acoustics right along with them.
Interestingly, I think you can trace a decent amount of the problem to the price tag. Asking $159 for this case is ridiculous. This is actually the most expensive Fractal Design case on NewEgg by $40; they typically offer good value but that value is sorely lacking here. Even before you take thermals and acoustics into account, Fractal Design has priced themselves out of competition, so the fact that the fan intake next to the CPU is empty is inexcusable. To provide halfway decent performance, this case is going to need that fan.
Competing cases with comparable or superior performance (not to mention build quality) can be had closer to the $100 mark, and this is a territory SilverStone has staked out and served well. What Fractal Design needs to do to at least get the Node 605 competitive is to add that third fan, probably replace all of the fans with more efficient models (or at least figure out why these ones are underperforming as much as they are), and drop the price to $129 tops. At that point, you could make a convincing argument for the Node 605. As it stands, this is unfortunately the first real disappointment I've seen from Fractal Design, and can't be recommended.