Original Link: http://www.anandtech.com/show/6684/rosewill-armor-evo-case-review-sometimes-performance-isnt-everything


Introducing the Rosewill Armor EVO
As NewEgg's house brand, Rosewill has been growing in very interesting ways. Being the house brand of a major electronics retailer means dipping your toe into a lot of different markets, and Rosewill has expanded dramatically, to the point where their products are starting to crop up on other vendors' sites. At the same time, those products are gaining attention in their own right. Rosewill's own Thor v2 may not be the best built enclosure, but it's a dynamite performer and can oftentimes be found at a bargain.
Rosewill has also been fairly aggressive about pursuing enthusiasts. It's not enough to simply have a product and offer it; you don't see Best Buy sending out Dynex or Insignia televisions to websites for review. There's also sweet money to be had in chasing mid-to-high end buyers, and that's where the Armor EVO comes in. The EVO is a fairly modestly sized tower capable of supporting E-ATX motherboards and promises healthy cooling performance. It also comes with an unusually optimistic MSRP: $119. Is it worth the money, or did Rosewill misfire?
The company has made a habit of producing no frills products at competitive prices; their mechanical keyboards are absolutely killer deals for users who want a basic, comfortable keyboard but don't want to fork out the bread for a high end gaming keyboard. Their cases have been more hit and miss, though: the Thor v2 is fantastic, but the Ranger we reviewed left a lot to be desired. They're fairly young as a case manufacturer to be sure, and unfortunately with the Armor EVO, they may yet have a ways to go.
Rosewill Armor EVO Specifications
Motherboard Form Factor
Mini-ITX, Micro ATX, ATX, E-ATX
Drive Bays
External
3x 5.25" (includes 5.25"-to-3.5" adapter)
Internal
7x 2.5"/3.5"
Cooling
Front
2x 120mm intake fan (supports additional 2x 120mm behind drive cage)
Rear
1x 120mm exhaust fan
Top
2x 120mm exhaust fan (supports 2x 140mm)
Side
1x 230mm intake fan (supports 4x 120mm)
Bottom
1x 120mm/140mm fan mount
Expansion Slots
7
I/O Port
2x USB 3.0, 2x USB 2.0, 1x Headphone, 1x Mic
Power Supply Size
Standard ATX
Clearances
HSF
170mm
PSU
220mm
GPU
320mm
Dimensions
8.62" x 18.58" x 22.4"
219mm x 472mm x 569mm
Weight
21.6 lbs. / 9.8 kg
Special Features
USB 3.0 connectivity via internal headers
Toolless 5.25" drive bays and 3.5" drive sleds
Support for 240mm/280mm radiator in top of enclosure
Toggleable red LED lighting on front fans
Price
$114
What's important to note about the Armor EVO is what's specifically missing from the spec table: a fan controller. You can turn the LEDs on and off, but you can't actually control the multitude of included fans. This is not the EVO's biggest problem, but it is definitely a problem because as you'll see later, the EVO has a tremendous amount of thermal headroom.
One of the other things the EVO has to worry about is another case in Rosewill's own stable: the Thor v2. I don't have comparison results for it as the Thor v2 was reviewed on our old testbed, but on the spec table, the only thing the EVO can consistently beat the Thor v2 with is size.
In and Around the Rosewill Armor EVO
Generally when I receive a review unit from a vendor that's in any state of disrepair, I'll contact them and request a replacement. Unfortunately with the Rosewill Armor EVO, the problem wasn't any specific physical damage, it was just poor build quality in the first place. I'll get there in a moment.
First, the aesthetic for the Armor EVO is for the most part pretty staid. "Gamer" enclosures have been getting progressively less ostentatious as of late (thankfully), and the Armor EVO is more of a stylized black box. It doesn't greatly stand out but doesn't need to, it merely needs to look decent and serve its purpose. The red LED fans behind the front grill add a nice bit of flair to the EVO, and the whole front being done as a mesh is an attractive, uniform design.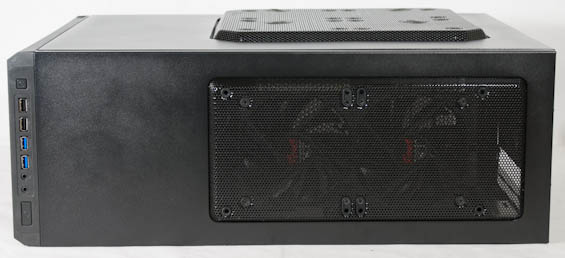 Move to the top of the case and you see the I/O panel and what is both the best and worst design decision in the EVO: the extruded fan grill. As a means of increasing interior space to allow headroom for a 240mm radiator, this is a great idea. I don't think it looks particularly bad either; mesh is a specific design motif for the EVO, so it makes sense that it would appear here as a functional accent. Where it goes horribly south are the rubber grommets used to hold the fans in place. Simply put, they barely work. Jostling in transit caused one of the fans to fall into the case. Reaffixing it revealed the same fundamental problem: with a bit of force, you can actually pull the grommets (and thus, the screws) through the grill and inside the case. So while there's space for a radiator, I wouldn't dare mount one as I don't believe the existing mounts can actually support the weight. This is a fatal flaw in the EVO's design.
The side panels are held in place with four thumbscrews (two each) and unfortunately, Rosewill employs a notched mounting mechanism instead of a hinge or any other design. Working with the Armor EVO, I'm actually starting to take this design as a personal affront; the steel notches on the panels themselves are easy enough to bend that if you try to jam the panel back onto the case without applying equal pressure to almost the entirety of the panel, you'll basically dig them into the side panel itself and have to bend them back out with a screwdriver.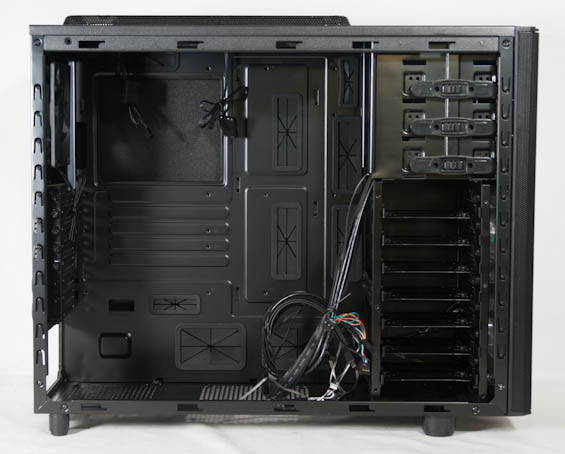 The EVO's interior is mostly smartly designed but still pretty bog standard for an ATX case. Rosewill includes seven laterally oriented drive sleds, and the drive sleds themselves are metal (NZXT, take note) and very sturdy. The toolless mounting mechanisms for the 5.25" bays are also nice and secure, and they're on both sides of the cage instead of just on the left. There are also the typical grommet-lined routing holes in the motherboard tray.
Honestly, it's difficult to press on with a review when you're dealing with such a glaring flaw as the mounting used for the top fans. I believe it's adequate to support the weight of the two included 120mm fans so long as they're not jostled, and if you opt to use screws with wider heads you can probably short circuit the problem. But the fact is, this seriously undermines the Armor EVO and needs to be fixed in short order.
Assembling the Rosewill Armor EVO
I'll just get it out of the way now and hopefully not have to repeat myself later: while assembly of the Armor EVO went mostly smoothly, I absolutely loathe the notched side panels. Maybe it's because they're a royal pain to replace, maybe it's because one actually drew blood when I tried to close up, I'm not sure. These aren't specific to Rosewill; other case designers like BitFenix (case designers who should know better) have employed them in recent designs as well. This is a tired, old, impractical mounting system that needs to be put out to pasture.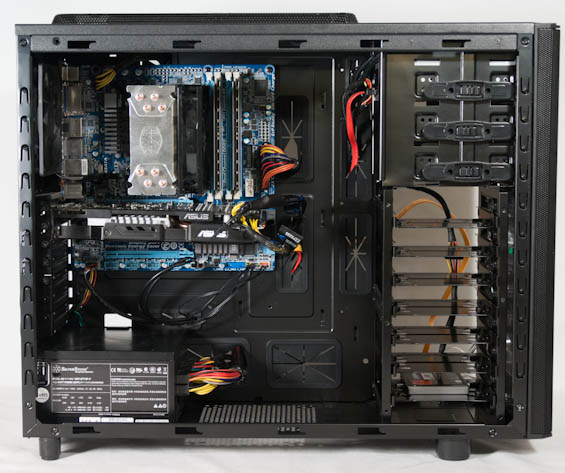 With that grievance out of the way, motherboard installation went mostly smoothly. You'll have to install the standoffs yourself, but that's more a convenience issue than anything seriously meaningful. Drive installation went better, actually; the drive trays that Rosewill uses in the EVO are nice and sturdy, and the mechanisms for securing the optical drive in the 5.25" bay are both easy to use and very firm. Actually, even getting the expansion card and power supply into the EVO was mostly a breeze.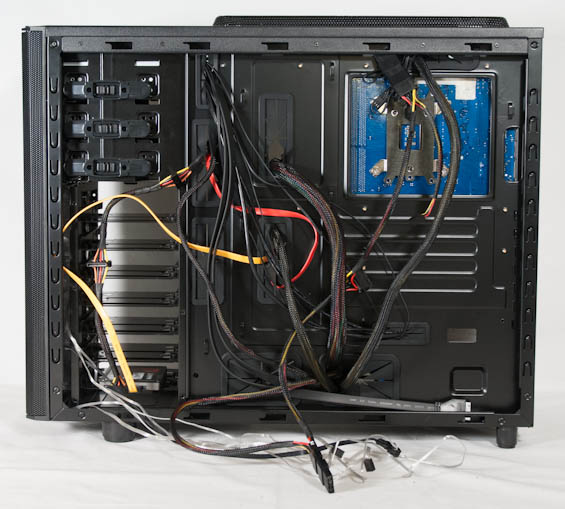 Cabling was a little more fraught but not by much. I feel like the routing holes for the motherboard headers could stand to be a bit bigger, and the opening for the AUX 12V line is still getting caught on the side panel rail behind the motherboard tray, but cabling mostly went pretty easily. The fans all include both 3-pin headers and molex connectors, and the molex connectors can be daisy chained. Really the only problem child as far as the fans go is the side panel fan; NZXT includes an extension cable for this that runs back to their hub in the pricier (and more awesome) Phantom 630, but in the EVO you're on your own and there's no easy place to daisy chain it unless you run more fan cables into the inside of the case instead of keeping them behind the motherboard tray.
If you've assembled an ATX case before, the Armor EVO isn't going to have any surprises for you apart from the struggle to close it back up without putting it on its side. Like I said before, the design of the EVO is pretty bog standard; there are no great innovations and outside of the fans and side panels no major steps backward. This is a pretty brute force design: install your system and then let six fans move a boatload of air.
Testing Methodology
For testing Micro-ATX and full ATX cases, we use the following standardized testbed in stock and overclocked configurations to get a feel for how well the case handles heat and noise.
Each case is tested in a stock configuration and an overclocked configuration that generates substantially more heat (and thus may produce more noise). The system is powered on and left idle for fifteen minutes, the thermal and acoustic results recorded, and then stressed by running seven threads in Prime95 (in-place large FFTs) on the CPU and OC Scanner (maximum load) on the GPU. At the end of fiteen minutes, thermal and acoustic results are recorded. This is done for the stock settings and for the overclock, and if the enclosure has a fan controller, these tests are repeated for each setting. Ambient temperature is also measured after the fifteen idle minutes but before the stress test and used to calculate the final reported results.
Thank You!
Before moving on, we'd like to thank the following vendors for providing us with the hardware used in our testbed.
Noise and Thermal Testing, Stock
If the Rosewill Armor EVO has one thing going for it, it's that it's a smaller ATX enclosure that's packed to the gills with fans. It's well ventilated, and that should allow it to produce some really good thermal performance. The weak point is the same one that hampers Antec's otherwise excellent (but also year old) Eleven Hundred: no fan controller.
Ambient temperature during testing was ~21C.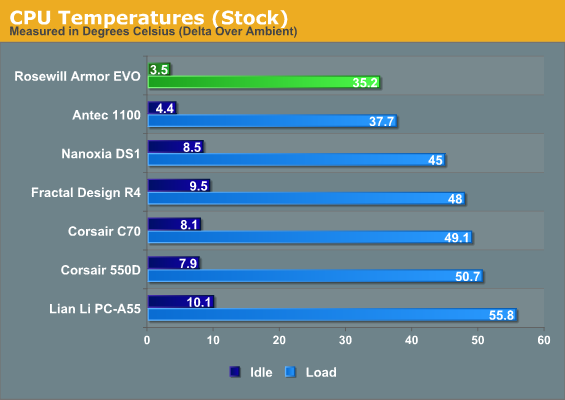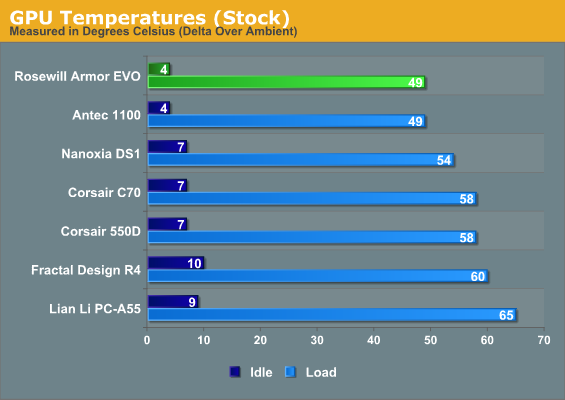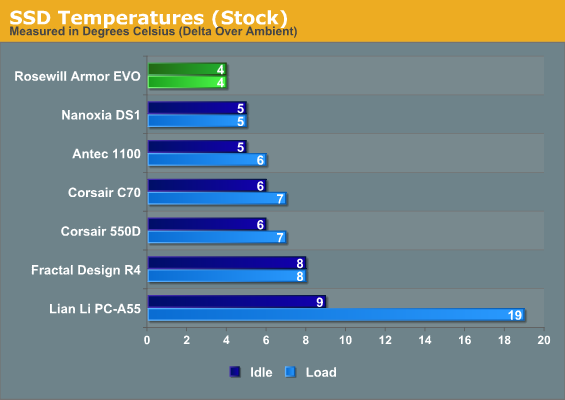 It's surprising to see a case beat the Antec Eleven Hundred, but there you have it. The Rosewill Armor EVO simply pushes more air, a frankly ridiculous amount of air, just like the Thor v2 does.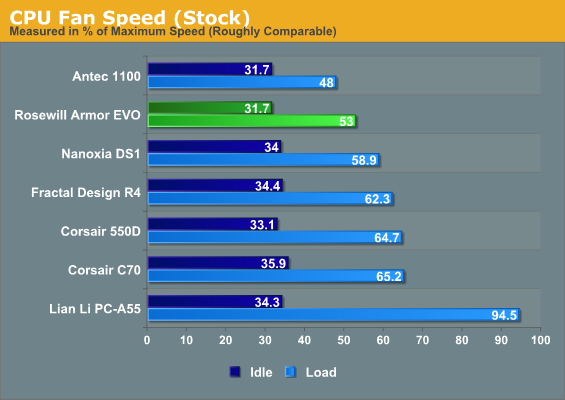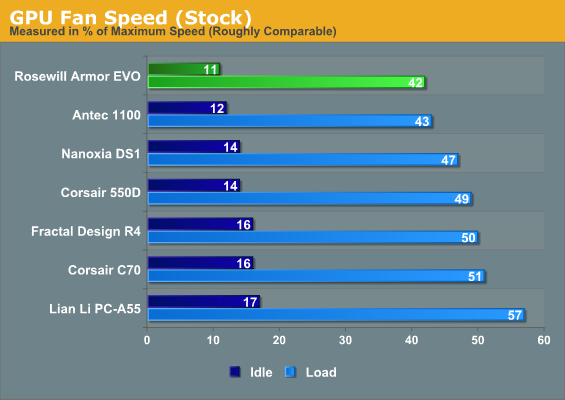 Fan speeds are competitive. The Eleven Hundred seems to be able to run its CPU fan a bit lower, but the Armor EVO is still keeping the CPU cooler overall.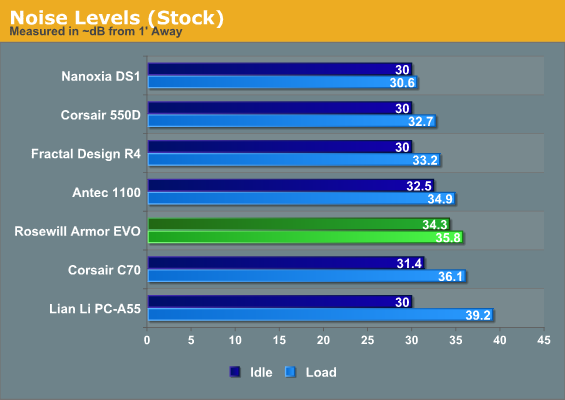 Unfortunately noise is a serious problem, so while the Armor EVO is able to beat the Eleven Hundred in thermal performance, the Eleven Hundred is able to do its job more quietly.
Noise and Thermal Testing, Overclocked
Since Rosewill's Armor EVO is obviously more than a match for the stock testbed, overclocked and overvolted components would seem to be the order of the day. Again, though, expect pretty much the same results as before: a case that runs cooler than Antec's class leading Eleven Hundred, but also runs louder in the process. We're talking about two 120mm fans and a 230mm fan pulling intake duty and three 120mm fans handling exhaust. The 230mm fan, in particular, is blowing directly on to the GPU.
Ambient temperature remains roughly the same at ~21C.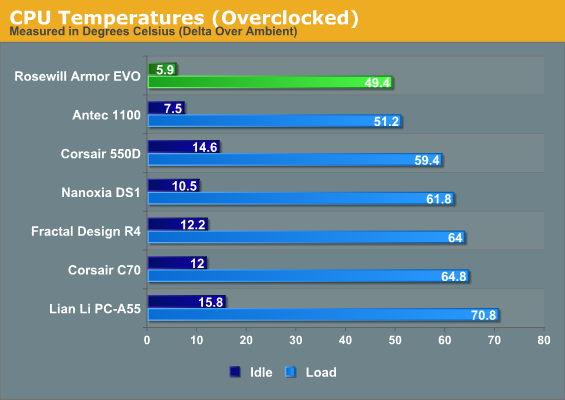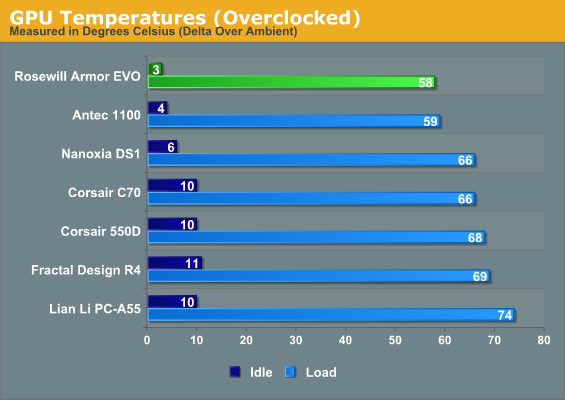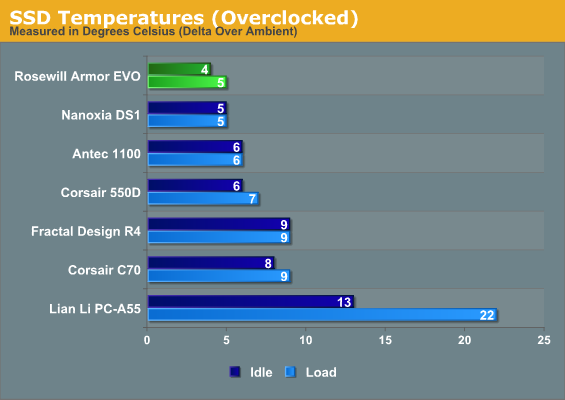 The Armor EVO's thermal performance continues to be pretty tough to beat. You'd really have to go past the $150 price point to find cases that can compete with it (outside of the Eleven Hundred), and even then you're talking about performance roughly on par with lower noise levels.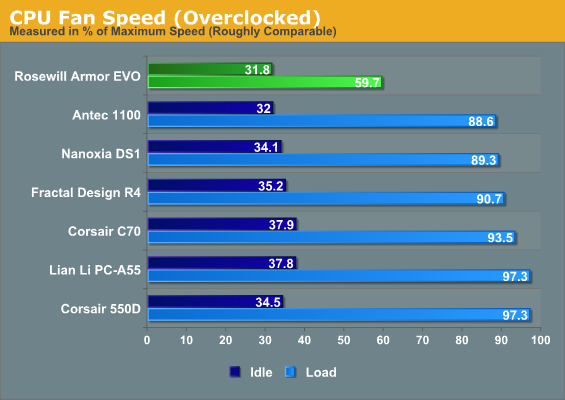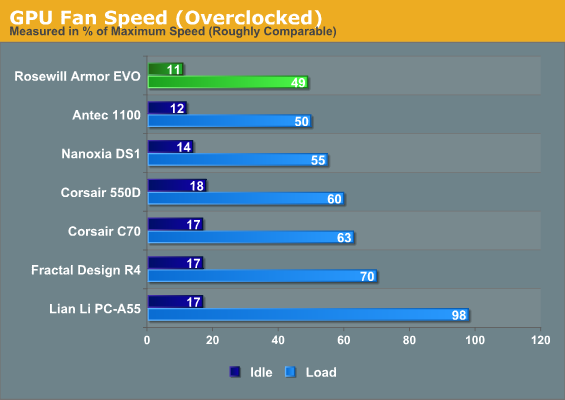 The astonishingly low temperatures of the CPU cores keep the CPU fan from having to ever reach its inflection point, where it starts having to go full bore. GPU fan speed is also ridiculously low.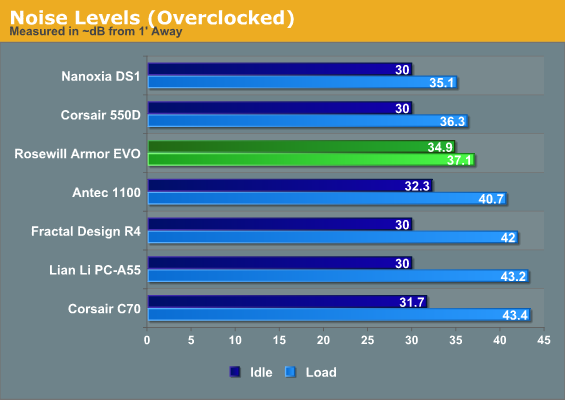 Idle noise on the Armor EVO is a bitter pill, but the stellar airflow keeps load noise from being too much of a menace, and it sweeps the Eleven Hundred. The Armor EVO does such a good job of keeping the components cool that the heatsink fans just never have to spin up that far.
Conclusion: Excellent Performance, Questionable Quality
I'll be clear: I don't expect the world of build quality from Rosewill's cases. These are as consumer grade as it gets, and corners must be cut. That's fine, I understand, and my expectations are adjusted accordingly. Parts of the case can look fairly chintzy (pretty much anything plastic), but basically, the case can serve its purpose.
It isn't a bad looking case, but where the Rosewill Armor EVO excels is in its thermal performance. There are very few other cases out there that move as much air as the Armor EVO does, and odds are you're going to have to spend up to get to them. Can NZXT's Phantoms do it? Sure, if you've got an extra $60 or so to blow on one. The Antec Eleven Hundred comes close and costs slightly less, but it doesn't have as much thermal headroom as the Armor EVO does. All that, and the Armor EVO still manages to fit in a basic ATX mid tower footprint.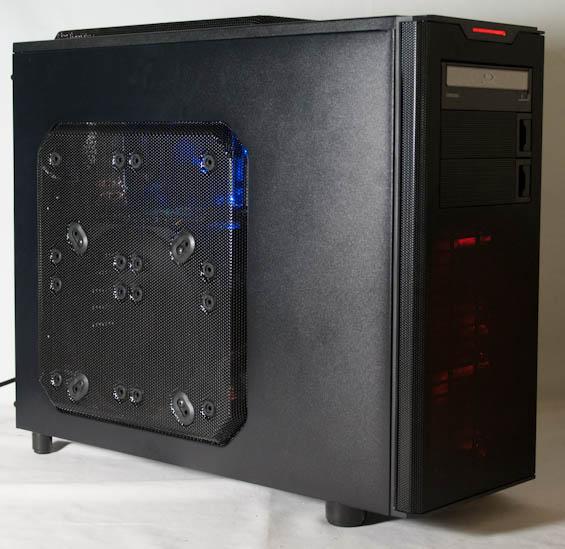 The problem is that there are a few flies in the ointment. At or around MSRP, the Armor EVO gets eaten alive by Rosewill's own Thor v2, a case that's built better and has been around for a while. The Thor v2 may be bigger, but it works, and it has built-in fan controllers, something the Armor EVO sorely lacks. As of this writing, you can actually get the Thor v2 for $25 less than the Armor EVO.
What we run into with the Armor EVO are two major problems: build quality is frustrating with the side panels but fatally flawed with the fan mounts in the top of the case. I shouldn't be able to simply pull the fans out like that, and they shouldn't fall out in transit. That tells me the case can't actually support any top-mounted radiators without risking having them fall onto the internal components and potentially break something. The other problem is the price tag. Rosewill is a house brand, and however much they may be expanding, they run into the same problem the bulk of the PC industry does: you can't charge Apple prices for Dell products. The Armor EVO needs to be $99 or better.
There's undoubtedly a good system to be made out of the Armor EVO, but I can't recommend it. Even if the noise isn't an issue to you, the questionable build quality and especially the falling fans make the case a very hard sell. If Rosewill fixes these problems in a revision and adds a fan controller, I'll be happy to recommend it. Until then, I'd stick with the tried and true Antec Eleven Hundred or go for Rosewill's own Thor v2.