Original Link: http://www.anandtech.com/show/6714/acer-t232hl-touch-comes-to-the-desktop


Introduction, Design and Specs
Windows 8 has brought about its shift in how we use our computers and its focus on having a more unified experience for phones, tablets, laptops, and desktop PCs. As those first two systems are primarily touch-oriented, desktop computers are suddenly seeing a large number of touch displays appearing. In an environment that is used to a keyboard and mouse for input, how well is touch going to fit into that setting?
The availability of touchscreens has rapidly increased with the launch of Windows 8 last year. Where touchscreens were rare or expensive before, now they are much easier to find with the availability of a mainstream, touch-oriented operating system. The first one that I have had a chance to use for an extended period is the T232HL from Acer, a 23" 1080p display with an IPS panel and a glossy screen finish.
There is a kickstand in the back to adjust the angle of the screen, but no other ergonomic adjustments are available. On my review sample the kickstand was too tight and I had to remove the cover to loosen the mechanism, but this might not happen on the shipping units. There are 100mm VESA mounting holes, if you wish to have more adjustments or get the display off your desk.
The inputs are limited to HDMI, DVI, and DSub, with no DisplayPort to be found. With DisplayPort being more and more common now, and the Acer selling for around $500, I think adding a DP input would be appropriate. There is also a 3.5mm audio input for the internal speakers, and a USB 3.0 hub with three ports on the left side of the display. It also uses an exterior power brick, a big pet peeve of mine.
Being an IPS panel, the viewing angles are very good on the Acer T232HL. The problematic issue is the glossy finish of the screen that reflects a lot of light. The glossy finish might help to hide fingerprints from using the touch features, or it might be necessary due to the touch sensors, but it makes that angle adjustment even more important as you try to eliminate reflections. You can see the reflection that is present in the lower-angle shot, as for all the other shots I worked hard to find an angle where reflections were less visible.
I mistakenly forgot to capture images of the on-screen display before returning the display to Acer, so unfortunately I had to resort to pulling images of the OSD from the manual to provide examples of how it works. Screen controls are mounted to the right side of the display, with an OSD that pops up once you press a button. This sort of arrangement has been my favorite from Dell, but in that case the buttons are mounted right beside the screen and it is clear which label applies to which button. In this case with them hidden to the side, I often hit the wrong button when making an adjustment.
Acer T232HL
Video Inputs
HDMI, DVI, Dsub
Panel Type
IPS
Pixel Pitch
0.265 mm
Colors
16.7 million
Brightness
250 nits
Contrast Ratio
1000:1 Typical
Response Time
5ms GTG
Viewable Size
23"
Resolution
1920x1080
Viewing Angle (H/V)
178/178
Backlight
LED
Power Consumption (operation)
25 Watts
Power Consumption (standby)
0.5 Watts
Screen Treatment
Glossy
Height-Adjustable
No
Tilt
Yes, 8-60 degrees
Pivot
No
Swivel
No
VESA Wall Mounting
Yes, 100mm
Dimensions w/ Base (WxHxD)
21.5" x 17.9" x 1.9"
Weight
12.6 lbs.
Additional Features
10-point Touch, 3 Port USB 3.0 Hub, Stereo Speakers
Limited Warranty
3 Years
Accessories
DVI cable, HDMI cable, Dsub cable, 3.5mm cable, USB cable
Price
$500 (2/05/2013)
The specifications on the Acer are in line with most 23" IPS displays, except for the additional touch features. How does Windows 8 perform at home with a touch-screen monitor then?
Windows 8 and a Touch Screen in Daily Use
More than anything, how the Acer performs is also going to be driven by how well a touchscreen works with Windows 8, and for that I had to build a whole new testing PC with Windows 8 on it. Coming into this I had zero experience with Windows 8, none with a Windows tablet, and none with a Windows Phone. I've been using Windows since 3.0 was released but hadn't branched out into those newer areas yet. I found the experience a bit strange and even often, and I imagine many people moving onto Windows 8 may have a similar initial reaction.
Typically any monitor I have in for review is assigned as my main display. I want to use it as much as I can, do all of my work on it, and focus on it directly. Flanking the monitor in for review are a 27" LCD and a 24" CRT to serve as secondary displays, with the 27" filling in as my primary display when there is nothing here for review. Usually this is fine, but when using a touchscreen with Windows 8 as my main screen in a multi-screen environment I found this to not work as well.
Putting the touchscreen with the start menu seems good, and it seems you would want that in the center of your desk, but you quickly run into issues with Metro applications. As they are all now going to open on the monitor with the Start screen on it, that means secondary apps like the integrated Calendar or Mail are now filling your main display instead of being flanked to the side on a secondary display. You can move them to the side, but that moves the Start menu over there as well, which takes it off the touchscreen.
With a single display, this isn't an issue. Everything stays on the touchscreen and you view what you are working on. With multiple monitors, touch is best relegated to a secondary display. You can keep your start menu there and your Metro applications, but you can have your real work on our other displays. It seems silly that Windows 8 has been designed without taking multiple monitors into account, but it almost feels that way to me. Trying to make the user experience the same across all the platforms seems to have focused on the average user and not the power user.
Now none of this is Acer's fault, as they aren't designing Windows, but it means that you're possibly paying $500 for a monitor that is best as a secondary display, or it has to be your only displays, to get the full value out of it.
When using the touch features, the Acer was very responsive and accurate with my input. Moving around the Start screen, selecting applications, and moving them around was very easy to do with the display. I worried a lot about fingerprints and smudges with the glossy finish, but I didn't find myself having to clean it that often, and typically they were hidden away well. Entering data with the on-screen keyboard worked, but I would never pick it over a regular keyboard for entering more than a couple of words. It did lead me to wanting to find a way to build my own Sooloos-style media server for my music room, but not as much for regular work.
So much for the Windows 8 side of the experience. Let's get to the display characteristics and see how the Acer stands up to other displays we've reviewed.
Brightness and Contrast
The Acer T232HL uses an IPS panel with LED lighting, so my main curiosity on it was if the touch layer would have a negative impact on brightness and contrast ratios. We've seen phones and tablets that maintain very good contrast ratios, but they utilize much smaller screens. With a 23" display I expect to have a good amount of light output, and here the Acer only managed to produce 219 nits with the backlight at maximum. This comes in a bit behind other 23" monitors that I've reviewed recently and well behind all the 27" displays that I've seen. With the backlight at minimum I managed to get 32 nits out, so you can reduce the light output as much as you would likely want to be able to.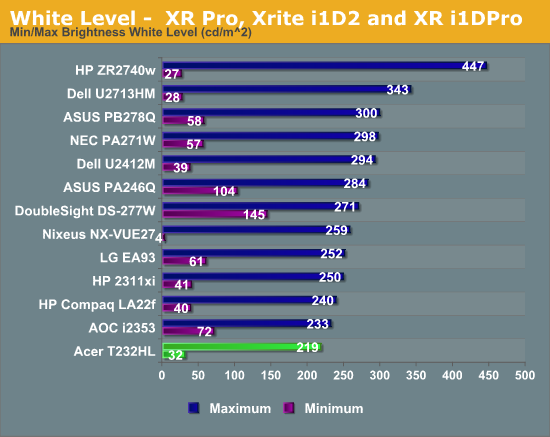 Black level is 0.212 nits with the backlight at maximum and down to 0.032 nits with the backlight at its minimum value. These wind up being really good for a smaller IPS panel, as they typically are a good amount higher. Going back to the touch layer, I've no way to test it but if that layer is absorbing 0.1 nits of light, that would lead to almost no change at the white level, but a huge change in the black level.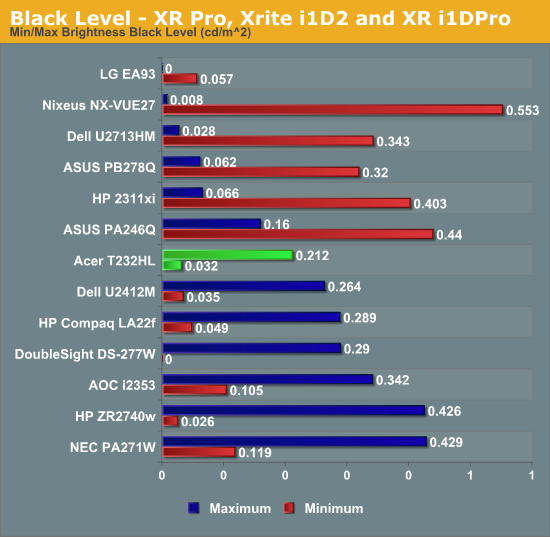 This small change would make a large change in the contrast levels, and that might account for the contrast levels that I saw in the Acer. Maximum backlight had a contrast of 1033 and minimum had a level of 1004. These are really nice levels and lead to an image with a lot of dynamic punch. The glass front helps to accentuate this a bit as well in comparison to a matte finish, making the Acer really stand out.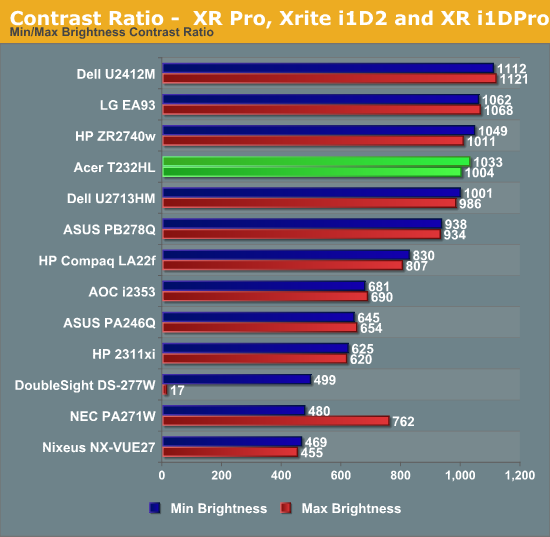 I wish the peak brightness on the Acer was better, as 250-300 nits should be the minimum that a monitor can deliver in my opinion. The reflective nature of the glass makes this even more important to me since if you are getting reflections from your lighting, you'll want to crank the panel backlight up to compensate. If you don't have glare issues, then the Acer produces contrast numbers that are really nice to see.
Color Quality and Gamut
Straight out of the box, the best numbers that the Acer can produce on our Gretag Macbeth test are pretty poor. The average dE is over 8, and the grayscale numbers are the worst that I've measured. The only shade even close to being an ideal number is yellow, with everything else having an error of 5 or above.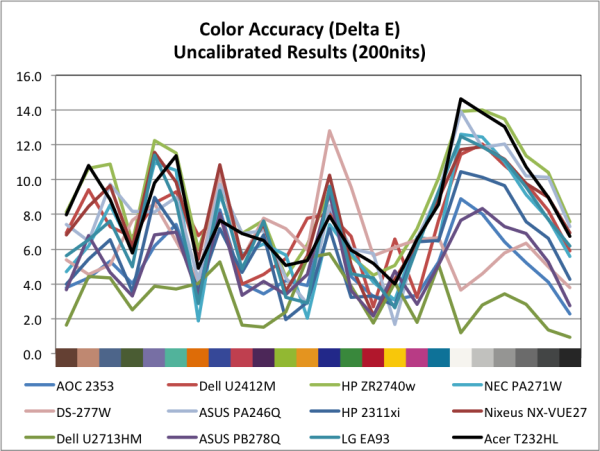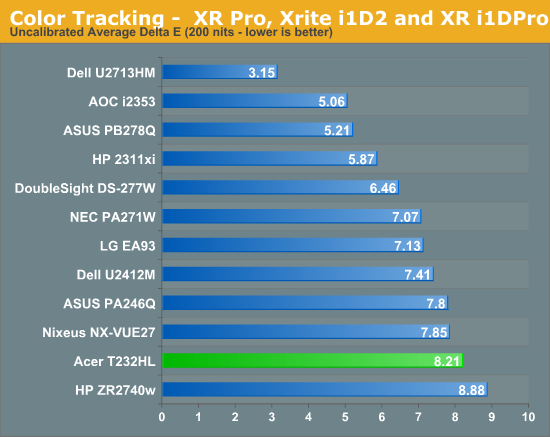 For our calibration tests we use ColorEyes Display Pro, an i1Pro meter, and we target 200 nits of light output, a gamma of 2.2, a white point of D65, and the minimum black level we can hit. Any adjustments that we can make in the monitor to correct white balance or colors are done before the calibration, and the best starting mode is used. I always try calibrations with and without DDC enabled in ColorEyes Display Pro, but haven't run into a result in a long time where hand tuning it was better than using DDC; they are usually identical.
After calibration, the Acer is really improved. The grayscale has gone from abysmal to very accurate, and the remaining flaws are in shades of blue that almost always cause monitors trouble. If you care about color quality, you really do need to calibrate the Acer as without a calibration, the colors are just far from ideal.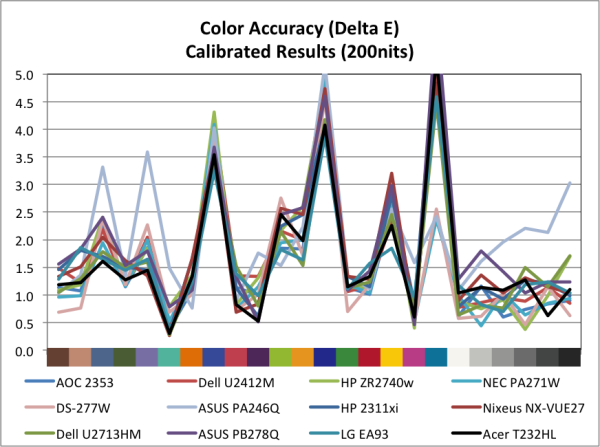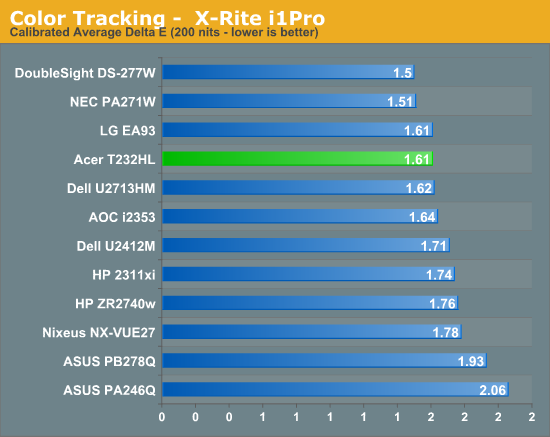 After that calibration we target 100 nits, which is more likely to be used with print or paper work than with on screen design work. We don't get quite as good of results here, and the grayscale error is a good bit higher than before as well. It isn't poor, but it's not as good as other monitors can do, but this display also isn't targeted towards print professionals.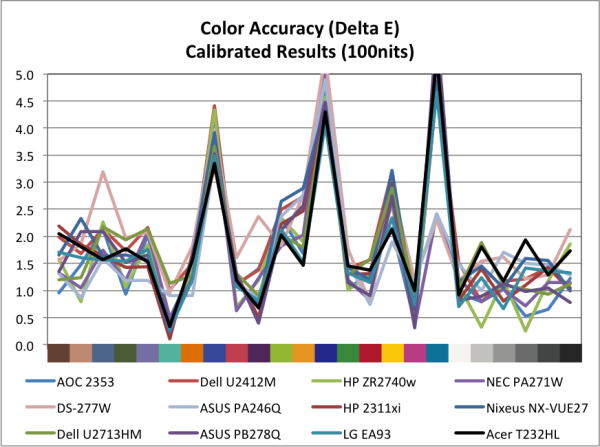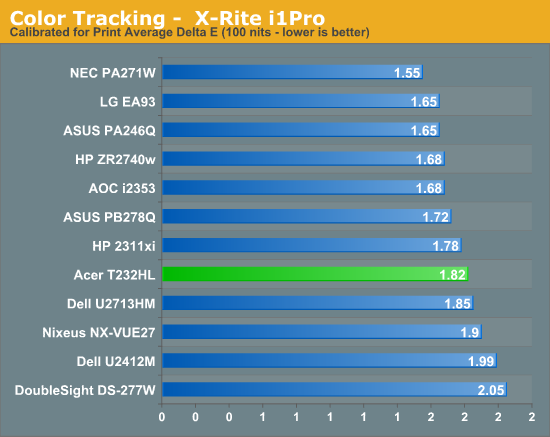 So we have really poor initial color, very nice post-calibration color, and so-so calibration color for print work. If you really care about color quality then you're going to want to calibrate it, and even if you don't the level of error is high enough that it might be a bit distracting, especially since the grayscale is so bad.
The gamut is supposed to be sRGB and here it comes up just a little bit short. We look for 71% of AdobeRGB to be equal to sRGB, but we only get 68% of the AdobeRGB gamut here. This also comes in near the bottom of the monitors recently reviewed, and isn't too unexpected due to the LED lighting which often falls short.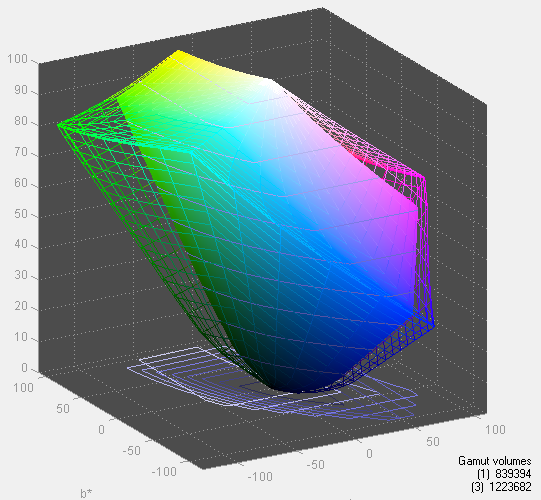 Display Uniformity
For some reason, display uniformity is where I see a big issue with the Acer T232HL. Using a 5x5 ANSI grid, there is a clear drop in light output on the right side of the screen. While the center is at 200 nits, this whole column of values is below 180 nits, for at least a 10% reduction in light output.
Top
Left
218.2
215.4
197.2
172.3
188.1
Right
206.1
206.4
192.9
179.9
188.9
213.2
207.3
199.7
179.0
179.5
207.5
206.1
193.4
180.8
187.9
217.9
209.8
187.5
167.9
193.5
Bottom
Additionally the left side of the screen is really bright, leading to variations across the screen of up to 50.3 nits. This is a huge difference and one that is easily noticeable by average users. I really haven't seen anything come close to this before, as usually the smaller differences in screen brightness are something I can accept. Looking strictly at the average values the screen looks good, but with the raw values and the surface chart you can see that something is clearly wrong here.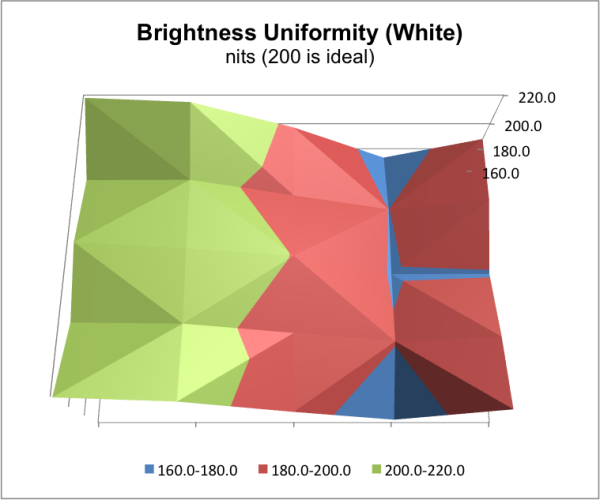 Looking at the black uniformity this issue is still there. It's not as easy to see because of the lower numbers, but you can see it drop in the same area as before. The incredibly bright spot at the bottom is a bit strange, but I did the reading multiple times to verify that it was correct. All of the corners except for the upper-right have a good bit of light bleed in them as well.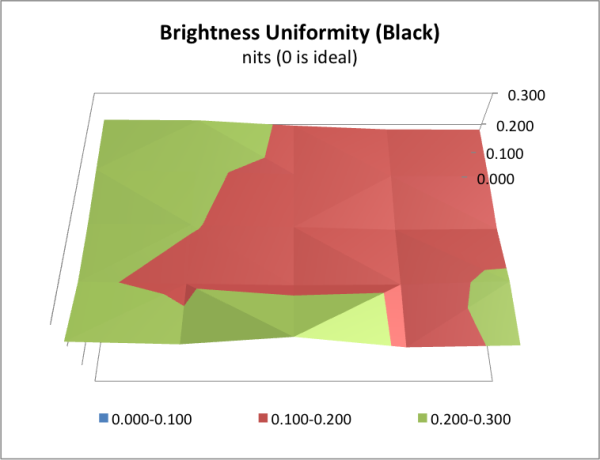 Because both black and white levels have issues in the same part of the screen, contrast uniformity is actually pretty good on the Acer! That's a bit of damning with faint praise, but since the contrast ratios are very good, it is a bit of a bright side. There is a big drop in the center-bottom reading, but overall the contrast stays pretty close to the 1000:1 level that we measured earlier.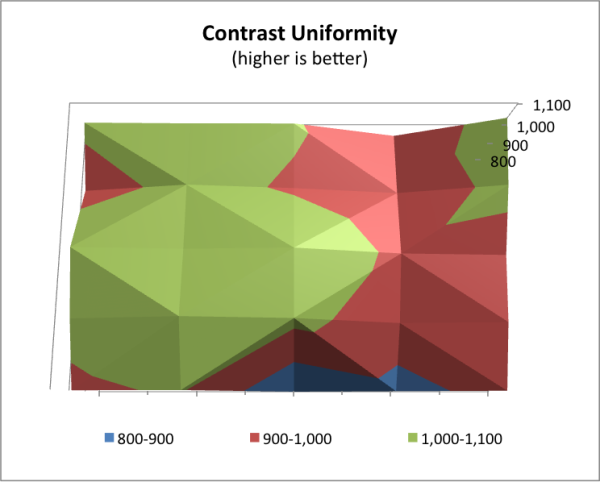 As expected, the weird uniformity issues are here to mess with the color uniformity as well. The average dE for the screen is 1.77 relative to the 1.61 for the center, but the average for the right side is 2.16, a good amount above the center figure. The largest issue seems to be in the grayscale, as the right side produces the three worst results for the grayscale on the whole. All of the values stay at or below 3.0, but it is still much worse on that side than on the center or left side of the display.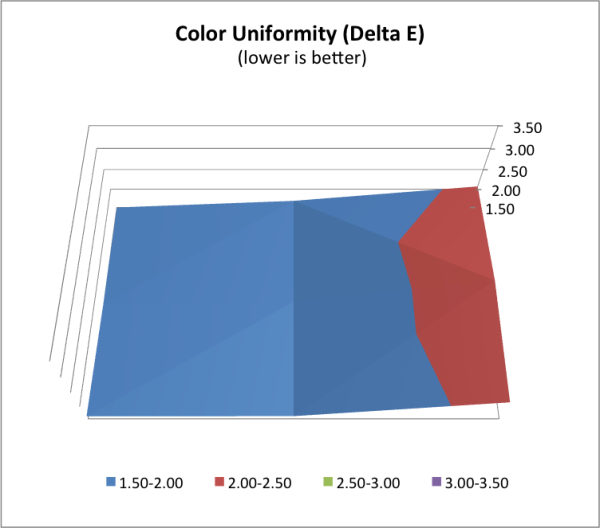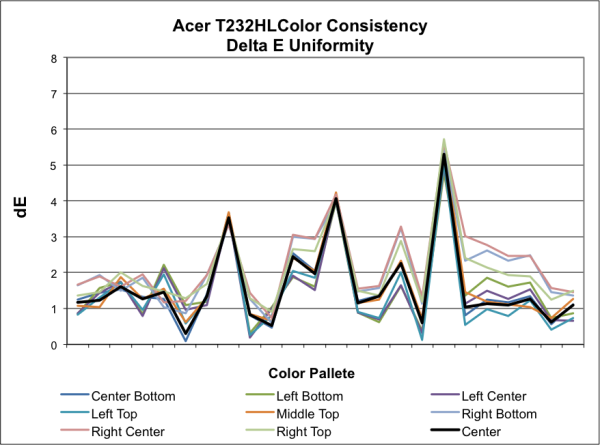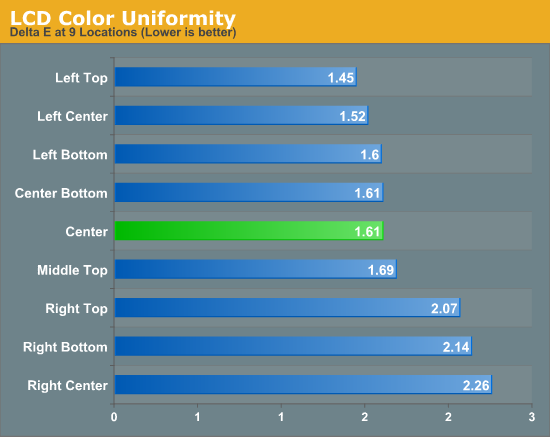 Unfortunately, the Acer has a serious issue with panel uniformity, one that could be the result of a number of things. In the end, it is a serious flaw on the display and one that I haven't seen be so bad in the past.
Input Lag and Power Use
Finally, we have another 1080p display so I can avoid the usual caveats about testing for lag on a 27" monitor! On the Acer lag is not an issue for you. It measured out at 1.7ms of input lag and at 11.2ms of pixel lag, for a nice low total of 12.91ms of lag. If you want to game, the Acer isn't going to be holding you back.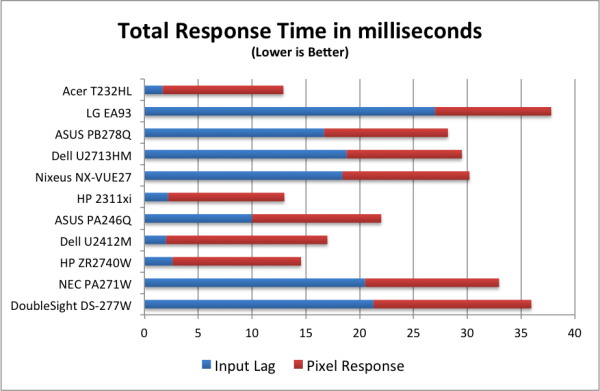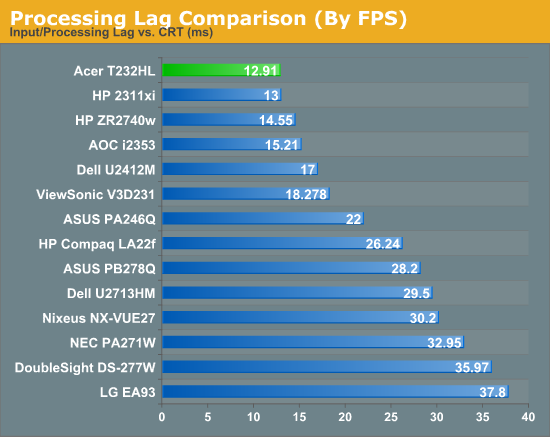 It's also a miser when it comes to power use. It uses only 27 watts with a white screen at full backlight and 13 watts with a white screen at minimum backlight. Other 23" panels are at the same level of power use, but they aren't driving the touch-layer on the panel either, so the Acer comes out looking good here.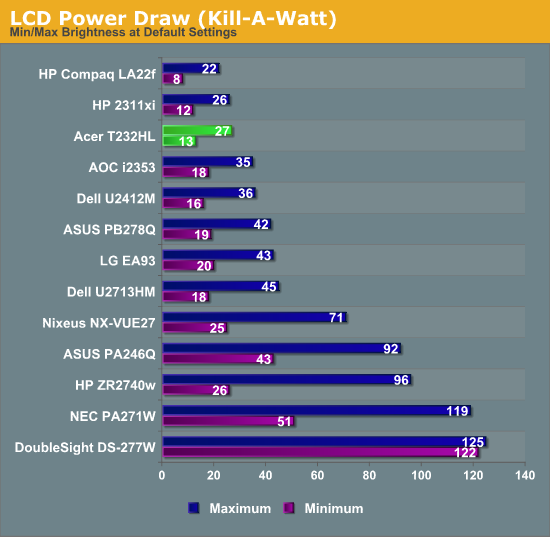 Acer T232HL Conclusions
I've tried hard to separate my feelings for Windows 8 from the Acer T232HL display, but they are still linked together somewhat. Anyone buying a touchscreen display is likely buying it for Windows 8 now, and if the interface only supports it so well, and not that well with multiple-displays, that could be a killer for some people. Even beyond that, there are issues with the T232HL that go beyond Windows 8.
The glossy screen is a choice that I am not a huge fan of, but I understand that some people will be. The fact is that with only a tilt adjustment available to the user, there is a higher likelihood of reflections than with other displays. Some people will be happy with this screen finish choice, but I'm not one of them. I'd be happier with it if the Acer could produce 300-350 nits of light output to help overcome the extra glare, but it peaks at 219 nits, making overpowering lights something that is unlikely to happen.
The larger concern is the big uniformity issues that I ran into with my sample. We have areas of the screen that are more than 50 nits different from each other, and when we are trying to hit 200 nits, that means one section of the screen might be 25% darker than another area. This sort of variability is clearly visible to users and is not an acceptable level to me. I find 10-15% to be the most that I can accept in a consumer display, but 25% is just too much.
Finally we have the issue of value here. For $500 I would expect a display with greater than 1080p resolution and with a highly adjustable stand, and DisplayPort inputs should come standard as well. I am certain that being a touch display is adding a good amount to the cost, but $500 is really high for a 23" monitor. The Dell U2312HM, which is also IPS and performs better on all tests, is available for $225 online. It lacks touchscreen capability but is better as a display. You can also pick up a 27" WQHD display for under $500 now which will also lack touch capability, but will offer far more room for working in comparison to the Acer.
With how Windows 8 is designed, I feel the Acer needs to either be your only monitor, or be a secondary display to better use the updated Start screen and its Metro apps. As a dedicated display, the uniformity issues make me not want to use it, as well as the glossy appearance. As a secondary display, I have a hard time recommending a $500 1080p display for that purpose.
Maybe I'm just an old guy that doesn't want to touch his monitor that often on a desktop, but unless the price:performance ratio improves on the Acer, I can't really recommend it unless you really need a touch sensitive display. If that's the case, while I suspect there are better touchscreens out there, the only options that currently cost less appear to be using TN panel. A better approach right now would likely be waiting for additional offerings and competition to drive prices down, and perhaps once WIndows 8 SP1 comes out some of the concerns I have with multiple monitor setups will get addressed.