Original Link: http://www.anandtech.com/show/6754/hands-on-with-the-htc-one-formerly-m7


HTC is in an interesting position as a result of this last product cycle. While the previous HTC One series' industrial design and performance was top notch, other OEMs still managed to eclipse the One series in terms of market adoption and consumer perception. Getting back to being a solid performer and cementing a place as at least the dominant number three player in the smartphone space is HTC's mission for 2013, and the flagship device it's starting that out with is the device previously known as M7, now known simply as the HTC One.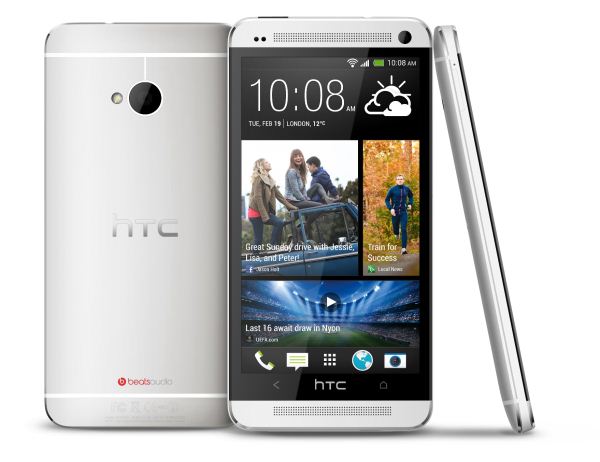 Design and Construction
The choice of the HTC One name really emphasizes how much this launch means to HTC — this is the canonical One. This is the fullest expression of HTC's view for what the One lineup should mean, this is their flagship. The One is a clear evolution of the industrial design first begun with the Butterfly and DNA, except instead of plastic the One is machined from a single solid block of aluminum. There are over 200 minutes of CNC machine cuts per device, which is a unibody construction. Plastic is injected into the aluminum block after certain cuts are made for the back case, which then gets machined into the final form. The One uses the top and bottom aluminum strips for antennas, both of which are actively tuned to mitigate unintended attenuation from being held. There's a plastic insulative strip in-between the two antennas and the main body. In spite of being aluminum, the One also includes NFC, whose active area surrounds the camera region. There's no wireless charging from Qi or WPC, however.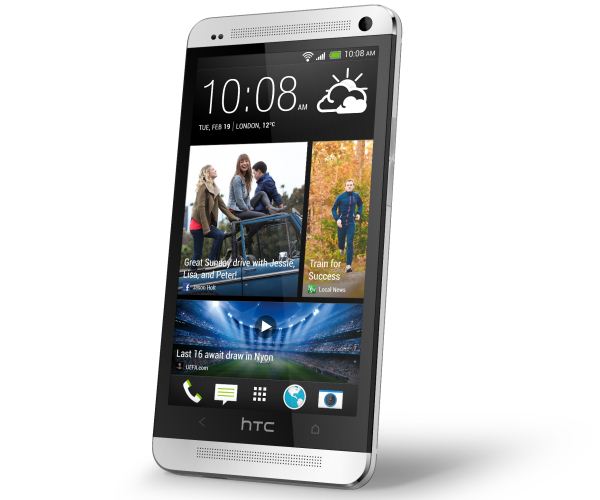 In the hands the HTC One has the kind of fit and finish that I'd expect from a high end device. I thought that the One S was perhaps the best industrial design of 2012 in part thanks to the metal backside, unique concave shape, and size. The truth is that the HTC One feels even better than that. There's something inescapable about metal — HTC described it as expensive and luxurious feeling, like a well crafted tool. Other OEMs with metal phones like to evoke imagery of watches or high end jewelry. I think at some fundamental level metal does imply value, and as a result it conveys a much higher end in-hand feel than other entirely polycarbonate plastic designs. There's a thin strip of plastic which runs around the edge of the device, and it's here that the microSIM tray, ejection port, primary microphone, microUSB port, power/lock button (which doubles as IR transmit and receive), earphone jack, and volume rocker sit. The front has two aluminum pieces which serve as the speaker, microphone, and earpiece grilles. The HTC One will come in both an uncolored silver version, and anodized black.
The One is topped with a 4.7-inch 1080p Super LCD 3 display. We've said that 2013 is going to be the year of 5-inch phones, and 4.7 is just shy. I think there's something almost optimal about the device size that results with a 16:9 display size just short of 5-inches diagonal. It's still possible to one hand if you have medium sized hands, easy to pocket, and still not laughably huge.
The HTC One at first glance might seem reminescent of another big metal unibody device, but in the hand couldn't feel any more different. The convex rounded back side gives the One an entirely different in-hand feel, and the edges have a slight negative angle to them in addition to two chamfers.
Rather than place the primary speaker on the backside of the One, HTC has placed a set of speakers on the front of the device, one at top, one at bottom, behind the two grilles. These two provide stereo sound, and placing them on the front instead of the bottom or back makes a lot of sense for things like watching video, Google Navigation, and listening to music. The One also has dual microphones for noise rejection on calls, and also two different microphone pairs for accommodating low volume and high volume environments when recording audio. For example the commodity microphones generally included in a smartphone saturate around 70 dBA, HTC claims the dual microphone system on the One can accommodate up to 120 dBA SPL (Sound Pressure Level) without saturating.
The Internals: Snapdragon 600 On-Board
At the core of the HTC One is a Snapdragon 600 (APQ8064Pro) SoC at 1.7 GHz. This is quad core Krait 300 (as opposed to 200 in MSM8960 or APQ8064) which brings a 15 percent increase in IPC as well as higher clocks (from 1.5 to 1.7 GHz), for about 20–30 percent higher overall CPU performance. This is still built on a 28nm LP process, and is analogous to the MSM8960Pro change from Krait 200 to 300, but for APQ8064. HTC One includes 2 GB of LPDDR2 RAM on a PoP in a 2x32 configuration. For storage, there's no microSD card slot, but instead 32 or 64 GB of internal memory with no option for lesser 16 GB configurations. For connectivity the HTC One uses the same MDM9x15 baseband we've seen in Fusion 3 phones and in other places, and as expected the HTC One will come in LTE-enabled flavors for the appropriate operators. There's still no magical single SKU that will do every region, but the most important band combinations are supported. On the WiFi side the HTC One is the first device I'm aware of to include 802.11ac support as well, alongside the usual a/b/g/n, this is provided by Broadcom's latest combo, BCM4335.
The One continues to use the pyramidal internal stacking of display, then battery, then PCB which started with earlier designs. As a result the One includes an internal 2300 mAh 3.8V (8.74 Whr) battery which should be more than adequate in conjunction with Snapdragon 600 to provide good battery life.
HTC One Specifications
Device
HTC One
SoC
1.7 GHz Snapdragon 600
(APQ8064Pro - 4 x Krait 300 CPU, Adreno 320 GPU)
RAM/NAND/Expansion
2GB LPDDR2, 32/64 GB NAND
Display
4.7-inch SLCD3 1080p, 468 ppi
Network
2G / 3G / 4G LTE (Qualcomm MDM9x15 UE Category 3 LTE)
Dimensions
137.4 x 68.2 x 9.3mm max / 4mm min, 143 grams
Camera
4.0 MP (2688 × 1520) Rear Facing with 2.0 µm pixels, 1/3" CMOS size, F/2.0, 28mm (35mm effective), 2.1 MP front facing
Battery
2300 mAh (8.74 Whr)
OS
Android 4.1.2 with Sense 5
Connectivity
802.11ac/a/b/g/n + BT 4.0, USB2.0, GPS/GNSS, MHL, DLNA, NFC
Misc
Dual front facing speakers, HDR dual microphones, 2.55V headphone amplifier
Abandoning the Megapixel Race and Shooting for Quality
I've buried it a bit, but one of the biggest headlining features of the HTC One is inclusion of a camera system that definitely goes against the prevailing industry smartphone imaging trend, in a very positive way. The trend has been smaller and smaller pixels on a smartphone CMOS for some time now, and as generations have marched on we've seen pixel sizes shrink from around 2 microns, to 1.65, to 1.4, to 1.1 which seems poised as the flavor of the year. More of smaller pixels lets an OEM sell a phone with more megapixels, but it's fairly obvious that beyond 8 MP there's not much sense in going way higher. In fact, even with the best possible diffraction limited optics operating under the constraints of a smartphone package, it's impossible to resolve pixels that small. For so long megapixels has been the only figure of merit presented to consumers, and continually increasing that number, at the expense of other things arguably might not make sense. In a world increasingly dominated by photo sharing services which downscale images aggressively instagram (600 x 600) or pic.twitter (1024 x 2048 for the first party image sharing target) or Facebook, does 13 MP make sense?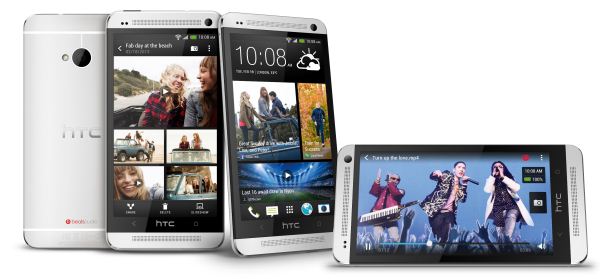 HTC made camera a big emphasis with the previous One X, S, V, and other One series cameras with the first F/2.0 optical system which was shared across all devices. With the new HTC One has taken a huge risk and gone against the trend by keeping CMOS sensor size the same (1/3"), and moving to bigger 2.0 micron pixels, with the same F/2.0, 28mm (35 mm effective) optical system. The result is a camera that trades resolution we arguably can't realize to begin with for dramatically better sensitivity in low light and better dynamic range. In addition, the HTC One includes optical image stabilization (OIS) with +/- 1 degree of accommodation in pitch and yaw to enable even longer exposures without hand shake, as well as for stable video. On the video side, the HTC One also includes HDR video capture at 720p30, normal dynamic range video at 720p60 or 1080p30, and this time video is encoded using the full capabilities of the SoC (high profile, 20 Mbps).
There's a new shooting mode as well which HTC has coined Zoe mode, short for zoetrope. This simultaneously captures a few seconds of 1080p30 video while bursting still image captures at full resolution. The combination is a short video and series of photos at full size which can be shared. This then can be used with a new gallery feature called the Highlights reel which combines this media into a short, computationally edited 30 second video with other photos and videos from the same day. There are a number of different video themes to choose from, and in practice the videos that result are impressively well put together.
Software & Sense
The HTC One runs Android 4.1.2, a choice which might seem alarming, but was done for stability and quality reasons, although 4.2 is coming. I think it might sound bad to ship with 4.1, but even Google acknowledged that 4.2 was primarily a release with more tablet features than something for smartphones, after all both are still Jelly Bean. Sense 5 replaces Sense 4 or 4+ which shipped on the One X and X+, and brings a radically different themed UI this time. I was able to survive with Sense 4, and Sense 4+ brought a lot of improvements, what we've seen of the new Sense 5 looks like it follows more Holo design rules than any of the other OEM skins I've seen so far. All of the Sense UI fonts and system fonts are Roboto, the font Google made for Android 4.x, though it's often one of the lighter condensed weights. In Sense 5, all the first party HTC applications now also use the pivot bar, which was a key design element introduced as part of the Holo guidelines. Icons and menus are now very flat in Sense 5, giving it a much more modern look, though there are still some gradients if you hunt around for them.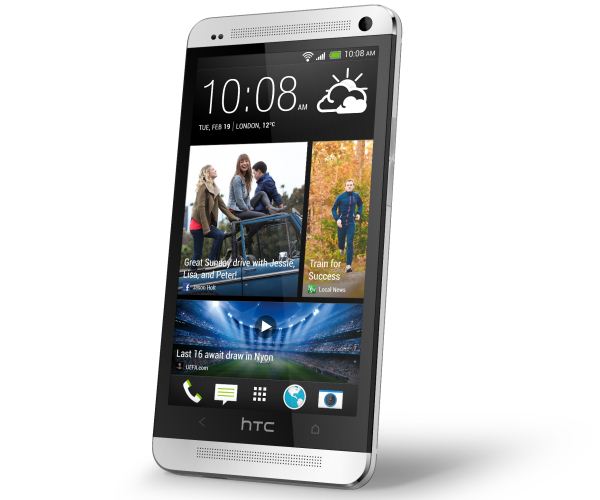 Probably the only huge deviation from Android is the inclusion of a completely new homescreen. Instead of having a grid of icons, the leftmost pane is home to a new feature called the Blinkfeed, which aggregates together content from a variety of online sources, media on the device (photos, videos, events), calendar events, and social media from linked accounts. The idea is to provide a quickly parsed visual menu of information to consume while glancing at the device. There are still widget panel homescreens, and the menus are sticky so that pressing home returns to the homescreen you were last on, in case you want to primarily use a widget panel as home instead of Blink.
The launcher also gets changed around in Sense 5. By default applications come sorted into logical folders, both to hint to users this is possible, and also to reduce anxiety for new users first diving into the launcher. The default view is a 3x4 grid which actually looks very refreshing, there's still an option for a 4x5 grid for those wanting more density. Perhaps the biggest, most welcome improvement is that by default all operator applications will ship inside of a folder, rather than scattered all about the grid.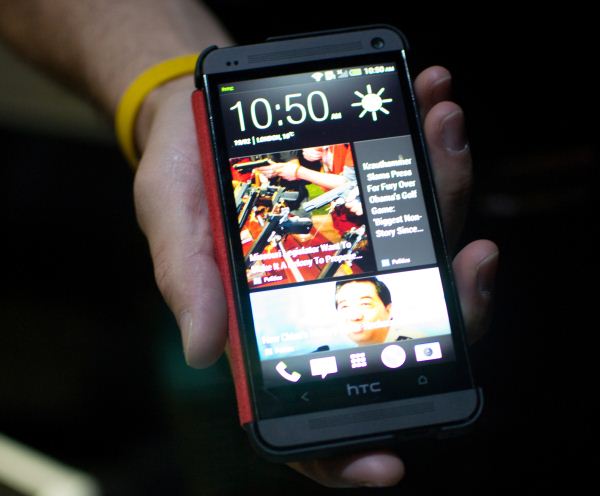 Another interesting choice is the decision to go with two capacitive buttons at the bottom of the HTC One instead of three. Last cycle, HTC got burned by following the Google guidance and doing away with the menu, err, "action overflow" button, leaving an on-screen action button in the overwhelming majority of Android applications that have yet to move away from this model. As a result, other players who included the menu button saw no black bar at the bottom. There's also no app switcher button on the HTC One. Instead, just back and home. To get to an application switcher (which is now a 3x3 grid of thumbnails), one has to double tap the home button. Menu can be optionally enabled as a long press on the back button in a menu similar to what was added later in the One X. I think getting rid of a button is potentially risky, but probably simplifies things for new users.
Final Words
The HTC One industrial design is without a doubt the most striking I've seen from an Android phone to date. Unibody metal construction is something that at the high end we've only really seen out of Apple, and with the One, HTC has a major opportunity to set itself apart with a dramatically different in hand feel. Actively tuned antennas to make this possible without unintended attenuation, as well as improved CNC manufacturing volume are really the two enablers here.
Second only to the aluminum unibody story that is of the camera on the HTC One. HTC is taking perhaps the biggest risk of all with the camera, by choosing what is almost undeniably the right course of action and going against the prevailing trend of increasingly smaller and smaller pixels to drive the number of megapixels up. Megapixels is really the only number that has been sold to consumers, and with a 4.0 MP sensor, it's instantly easy to see how the messaging will have to be set right for average consumers to appreciate that they're getting around the same approximate size sensor as ship in other smartphones, if not slightly larger, but with dramatically bigger pixels. The result is, from my short time holding the HTC One next to a One X+, a dramatic difference in low light sensitivity, noise, and dynamic range indoors. The inclusion of optical image stabilization further improves things, and from a camera point of view the HTC One appears to be without a doubt the most serious Android smartphone camera experience.
HTC is announcing that in the USA the HTC One will be coming to AT&T, T-Mobile, and Sprint as the HTC One. Notably absent from that list is Verizon, unfortunately. Internationally HTC has an impressive list of operator partners, which I'll spare going over in excruciating detail. The problem with the HTC One X wasn't so much hardware as it was marketing and the fact that it only existed on one operator in the USA by that name. This time around, it's one name, one brand, with no adulteration.
To say that the HTC One takes some bold risks is putting it lightly, but the hardware I've seen is impressive and without a doubt the best out of HTC, or any Android handset maker for that matter, to date. It's too early to call who will be on top after this next cycle, but HTC seems well positioned with the HTC One at the top.