Original Link: http://www.anandtech.com/show/6827/samsung-ativ-smart-pc-revisiting-clover-trail-convertibles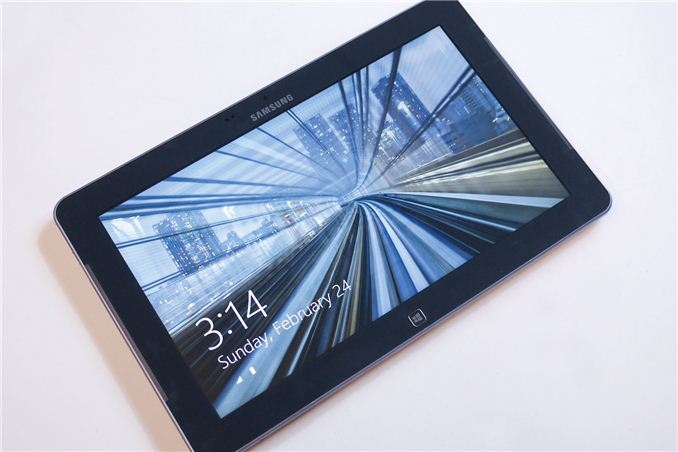 Samsung ATIV Smart PC: Introduction
The Windows 8 tablet space at launch consisted exclusively of Tegra 3-based or Core i5/i7 ULV-based systems. That changed with the release of Krait and Clover Trail tablets like the ATIV Tab and Acer W510, respectively, but with 7W IVB and AMD Z60 on the very near horizon, we're seeing the Windows 8 tablet market start to expand and evolve quite rapidly. After a very positive initial experience with the Windows RT slates, I was very eager to get my hands on an x86-based tablet. So when Anand gave me the chance to review one, I jumped at the opportunity.
And so we have the Samsung ATIV Smart PC, which is also known as the Samsung Series 5 Slate 500T in other parts of the world. It's an 11.6" 1366 x 768 Clover Trail tablet that ships with Windows 8, 64GB of NAND, a laptop dock, and an MSRP of $749, and shouldn't be confused with the more expensive ATIV Smart PC Pro (11.6" 1080p, Core i5, 128GB, Windows 8 Pro) or the no-longer-available ATIV Tab (10.1" 1366 x 768, Krait, 32GB, Windows RT). It's pretty bad, though not quite as ridiculous as ASUS trying to make the distinction between the VivoTab (Clover Trail 11.6"), VivoTab Smart (Clover Trail 10.1"), and VivoTab RT (Tegra 3 10.1").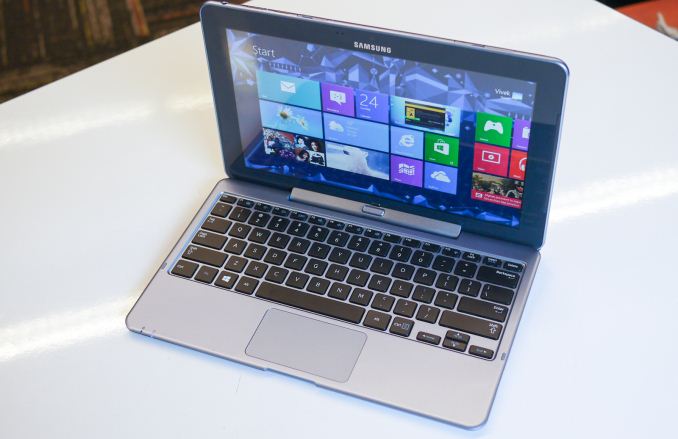 Somehow, nobody has broken it to many manufacturers that the name of a product does really matter and just tacking on a suffix like RT or Smart PC means nothing if people don't grasp the difference between them. The confusion generated by the naming schemes in use is a major factor in the somewhat lukewarm market response to many of the high profile Windows 8 devices. Part of the reason is down to the confusion generated between Windows 8, Windows RT, Metro, Modern UI, and the various other brand names used by Microsoft in relation to the latest Windows release, but the manufacturers haven't helped things along much either. Microsoft itself can be pointed to as a culprit here as well, unless you think "Microsoft Surface with Windows RT" and "Microsoft Surface with Windows 8 Pro" roll off the tongue easily.
Nomenclature concerns aside, I was actually pretty excited to check out the ATIV Smart PC. It, along with the VivoTab TF810C, were the two slates I had marked as most interesting in my mind during the lead up to the Windows 8 launch. Clover Trail meant good battery life and x86 compatibility, the inclusion of Wacom active digitizers were exciting, and the 11.6" PLS/S-IPS displays seemed promising. The two are very comparable devices, though the ASUS is priced higher at $799, and doesn't include the laptop dock anymore (it did at launch.) That gives the Samsung a pretty sizable price advantage, as $749 is only about $50 more than the 64GB Windows RT tablets when the keyboard accessory cost is included—more than worth it given the disparity in features and capability. This is even more true when you consider that the street price of the ATIV Smart PC has been fallen to $549 without the laptop dock or $729 with (though we've seen it at $649 at Amazon on occasion).
Tablet Specification Comparison
Samsung ATIV Tab
Apple iPad 4
Google Nexus 10
Microsoft Surface RT
Samsung ATIV Smart PC
Dimensions
10.46 x 6.62 x 0.35"
9.5 x 7.31 x 0.37"
10.39 x 6.99 x 0.35"
10.81 x 6.77 x 0.37"
11.97 x 7.46 x 0.39"
Display
10.1-inch 1366 x 768 IPS
9.7-inch 2048 x 1536 IPS
10.1-inch 2560 x 1600 PLS
10.6-inch 1366 x 768 PLS
11.6-inch 1366 x 768 PLS
Weight
1.26 lbs
1.44 lbs (WiFi)
1.33 lbs
1.5 lbs
1.64 lbs

Processor

Qualcomm APQ8060A

Apple A6X

Samsung Exynos 5 Dual

NVIDIA Tegra 3

Intel Atom Z2760

Connectivity
WiFi
WiFi , Optional 4G LTE
WiFi
WiFi
WiFi , Optional 4G LTE
Memory
2GB
1GB
2GB
2GB
2GB
Storage
32-64GB
16GB—128GB
16GB or 32GB
32GB or 64GB
64GB
Battery
30.0Wh
42.5Wh
33.75Wh
31.5Wh
30.0Wh
Starting Price
$499?
$499+
$399+
$499+
$549
It seemed like the ATIV Smart PC would offer a good compromise between the mobility of the ARM-based slates and the power and features of the Intel Core-based ones, something aiming for the sweet spot of the Windows tablet lineup. After spending an extended amount of with it, I think it's close, but there are some definite areas of improvement.
Samsung ATIV Smart PC: Design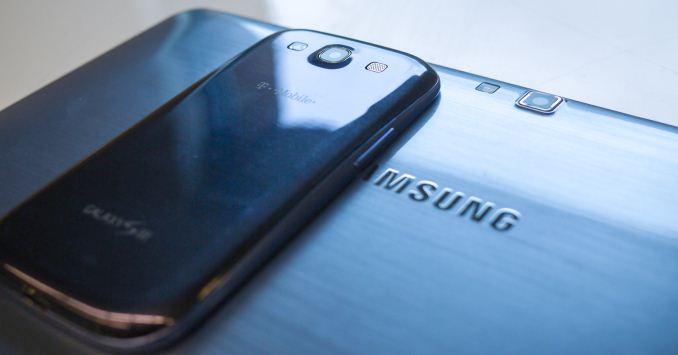 The ATIV Smart PC is unmistakably a Samsung design, for better or for worse. The front face is dominated by the display, along with details like the chrome-ringed Windows button, speakers placed on the right and left edges in similar fashion to the Galaxy Tab and Nexus 10, and the webcam and Samsung logo centered above the display. The bezel is uniformly three-quarters of an inch thick all the way around the screen, which allows for comfortable handling of the device without adding too much bulk to the footprint. The body is entirely glossy plastic, with contours similar to the rest of Samsung's recent mobile industrial design language. The brushed plastic aesthetic in particular will be very familiar to anyone who has handled a pebble blue Galaxy S III or Galaxy Note II in recent times. This isn't as dark a blue, but they're clearly related products.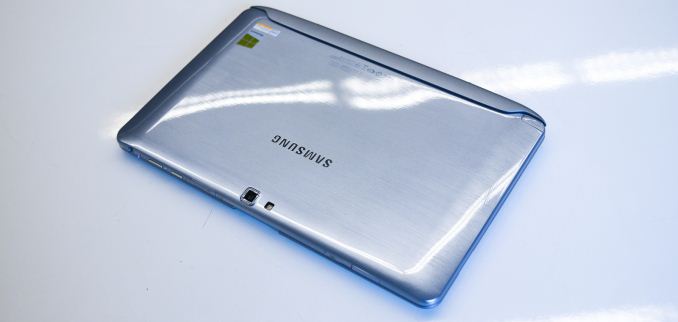 The ATIV Smart PC is kind of chunky though, with a width of 12" and a weight of 1.65lbs. It's not that thin, either, though it does feel thicker than 9.9mm. It's too big for ideal one handed use, and the dimensions of 10.1" slates (10.5" wide, roughly 1.25lbs) tend to be much better suited for that ergonomically. The problem though, with this slate in particular, is that it feels both bulky and not that well built. The plastic body offers pretty poor in hand feel, with a disconcerting amount of flex exhibited in normal day-to-day handling.
Samsung's build quality on their plastic products has never thrilled me, particularly the original Galaxy S and Galaxy S III. They clearly know how to design a good looking computer, with their Series 7 and Series 9 notebooks and all-in-ones featuring attractive and well built aluminum bodies. The ATIV doesn't even cut it from a plastic standpoint, with noticeable seams between the various injection molded plastic pieces that comprise the chassis. Next to the VivoTab, the Samsung feels bloated—the aluminum body of the ASUS is far higher quality and the thinner chassis is much better ergonomically. And compared to tablet design benchmarks like Surface and the iPad, it's not even on the same planet.

Button and port placement is a bit haphazard, with microHDMI and volume controls on the right side, a USB port, 3.5mm combo jack, microSD card, and microSIM slot located on the top of the device, along with two chrome buttons (power and rotation lock) that are easy to confuse. One, the idea of a SIM slot on a device that doesn't have a cellular radio is downright baffling. Two, all the ports have flaps. Three ports, a dummy SIM slot, and four flaps. It's unclean, fiddly, and an industrial design faux pas in this day and age. I'm not necessarily the biggest fan of the top-mounted USB port, but at least it's better than the ASUS VivoTab's easy-to-lose and hard-to-replace dongle. Other miscellaneous design details: the raised chrome detailing around the webcam is very Galaxy S III-esque, the Wacom stylus on the side can be difficult to remove from the silo at times, and the Windows and Intel logo stickers on the back are the height of uncool.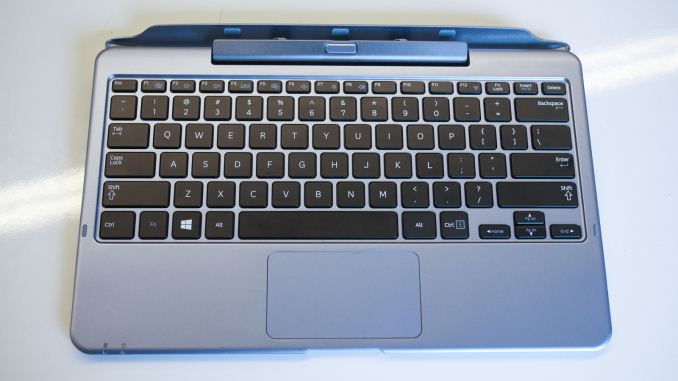 The keyboard dock is a definite bright spot. When you add it to the slate, the total size goes up to 3.1 pounds and 0.85" thick. It's made of a matte plastic that feels better and more solid than the tablet, with a spacious and comfortable chiclet-style keyboard along with a buttonless ELAN multitouch trackpad. The dock also has two USB ports, one on either side, and both are covered by flaps (tragic).
The tablet connects to the dock with two clips and a 13 pin trapezoidal connector, and disengages with a button located at the center of the hinge. It's a bit buggy at times—something about the electrical connection between dock and tablet occasionally goes on the fritz, resulting in a series of disconnections and reconnections usually fixed by adjusting the hinge angle or removing and reinserting the tablet. Unlike ASUS keyboard docks, the Samsung docks don't include a battery. This results in a thinner, lighter dock, but having a second battery in the dock would probably be worth the extra bulk, for reasons I'll discuss in the battery life section.
The ATIV Smart PC design and hardware is adequate, but honestly, based on the Windows tablets I've been dealing with in the last six months, I'd put Samsung behind Microsoft, ASUS, Vizio, and even Acer when it comes to Windows 8 tablet hardware design. Compared to the level of industrial design and quality we've come to expect from the current crop of tablets and ultrabooks, Samsung has really missed an opportunity to even be competitive here.
Samsung ATIV Smart PC: Display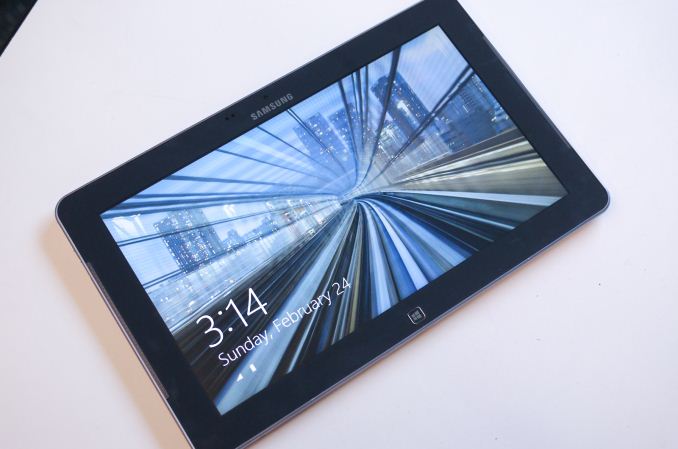 The ATIV Smart PC uses an 11.6" 1366x768 PLS capacitive multitouch display, with a Wacom digitizer. On paper, this is perfectly good, but there's a problem here—like many of the older tablet PCs, there's a grainy quality to the panel. When I say grainy, I'm referring to a slight sparkle or shimmer to the display, almost as though there are a number of specks in the panel. It's not due to the active digitizer—Wacom's EMR (electromagnetic resonance) system sits behind the display, as opposed to N-Trig digitizers which sit in front of the panel, so this is likely due to the Atmel capacitive touch digitizer.
The Smart PC Pro has a similar problem with screen grain (though to a lesser degree), but interestingly enough the Microsoft Surface Pro, which also has a Samsung-sourced PLS 1080p panel and an Atmel capacitive touch digitizer, has almost no digitizer grain. It's really distracting, and I'm not sure why it isn't mentioned more often. It's actually really rare to see panels with digitizer grain now that the days of passive digitizers are over, and I seem to be seeing it more and more often with Samsung products (the Series 7 All-In-One is another one with noticeable grain). It's a somewhat concerning trend, because it's been a legitimately long time since this has been an issue on devices with capacitive touchscreens.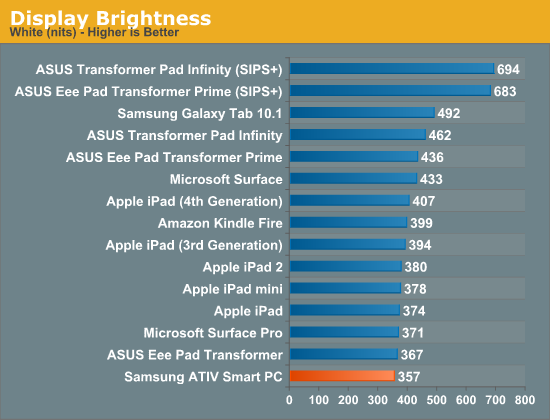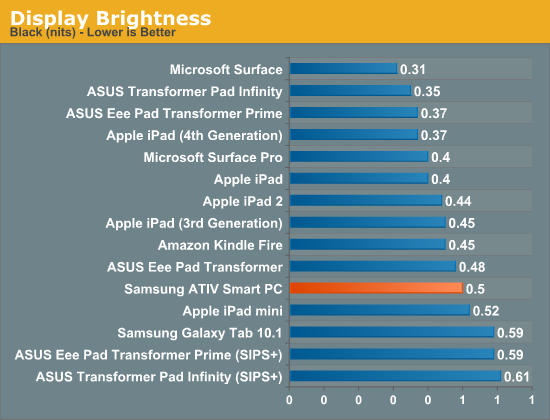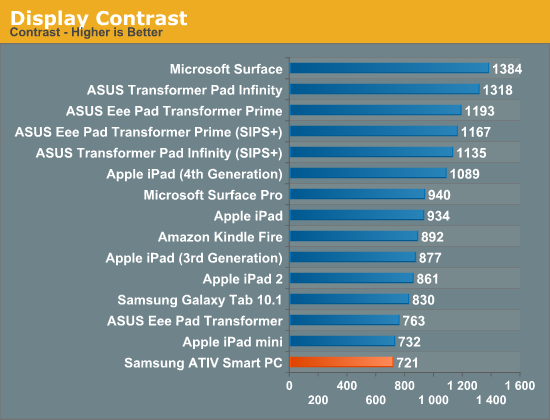 It's a shame, because the performance is actually not bad—regardless of how the graphs look, the panel is pleasantly contrasty, with good color accuracy and a solid if not blinding maximum brightness. Every high end tablet these days has to come with a fantastic display, and even a tablet with a comparatively mediocre display like this one would still be one of the single best notebook/ultrabook panels out there. But yes, with a resolution of 1366x768 on an 11.6" panel, it does lag behind in terms of pixel density as well as performance compared to the cream of the crop of the tablet class.
Because this is Samsung, it's a Super PLS (Plane-to-Line Switching) panel instead of IPS (In-Plane Switching). PLS was developed by Samsung and derived from IPS and supposedly offers a number of incremental improvements, including lower panel cost and higher brightness, but it's quite hard to tell the difference between the two display technologies in day-to-day use. I do like that with the merging of small ultraportables and tablets, it's getting much more common to find small and inexpensive mobile computers containing wide angle display technologies.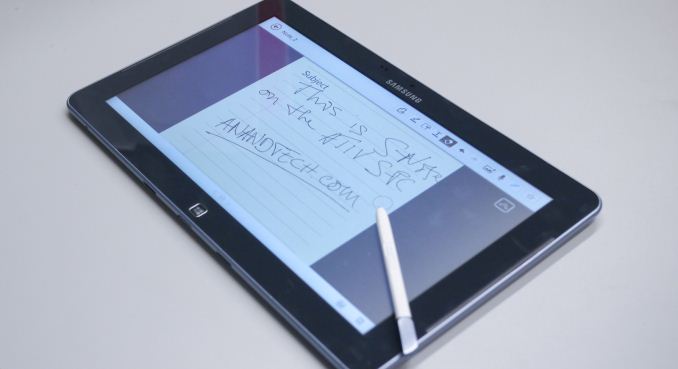 The Wacom digitizer is also a great feature to have, and I'm glad to see a resurgence in the number of Wacom-enabled devices hitting the market since the launch of Windows 8. Obviously, the most prominent of the lot is Surface Pro, but many of the other Intel-based tablets (ATIV Smart PC and Pro, VivoTab, ThinkPad Tablet 2, etc.) are coming with active pen support as well. I can't remember the last time we had so many consumer focused active-digitizer tablets on the market, to be honest. For Samsung, this clearly ties in with their inking efforts with the Galaxy Note lineup on the Android side of things, and so we see digital inking applications like S-Note bundled in with the ATIV. And if you rely on OneNote for, say, notetaking in class, it's a pretty wonderful inclusion.
Samsung ATIV Smart PC: Performance
Anand covered the CPU and GPU performance of the Atom Z2760 really thoroughly in his Clover Trail platform review with the Acer W510. At this point, Z2760 is pretty familiar to us—two Hyper-Threaded Saltwell cores at 1.8GHz, along with PowerVR's SGX 545 GPU clocked at 533MHz. Saltwell is the 32nm shrink of Bonnell, which you probably better remember as the heart of the much beloved Atom N270 netbook processors. (I'm kidding about the much beloved part.) The new 22nm microarchitecture cannot come soon enough. Here's a rehash of Clover Trail performance, which is generally identical to the Acer W510.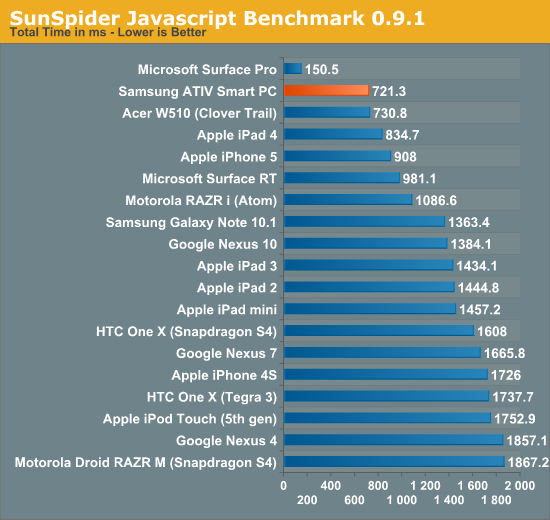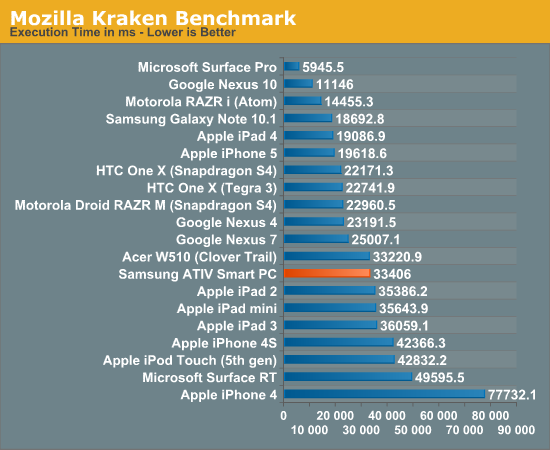 For the first time, we're seeing Intel lose its performance edge to Cortex-A15 based SoCs, but for now Clover Trail is still competitive from both compute and power efficiency standpoints. That's more than can be said for SGX 545, even at such a high clock. Clover Trail+ changes that though, with the inclusion of two SGX 544 cores, and should offer graphics performance that is in the same range as Adreno 320, as well as being much more competitive with Apple's recent SoCs. But CT+ hasn't arrived yet, so for now we're left with good old Clover Trail. I'm leaving Surface Pro's numbers in the following graphs, just so that you can see how much faster the ultra-low voltage IVB parts are when compared to Clover Trail. It's a pretty huge difference, even when looking at just the Core i5.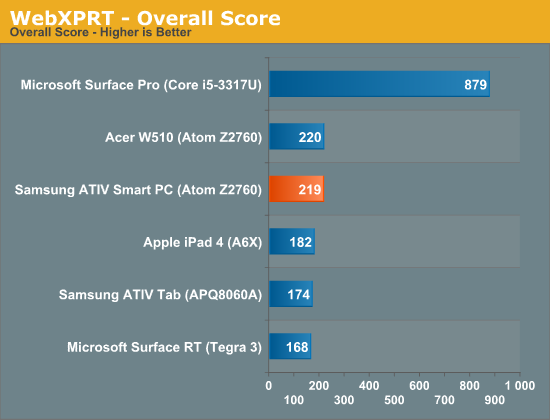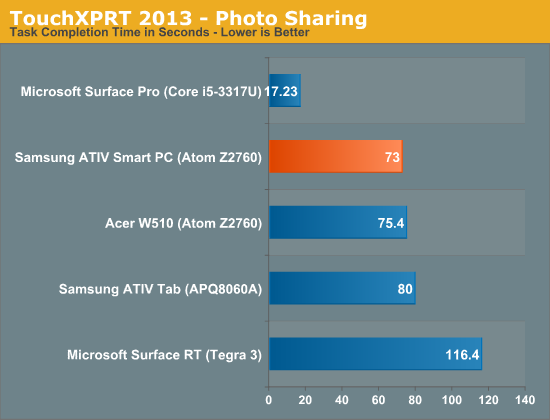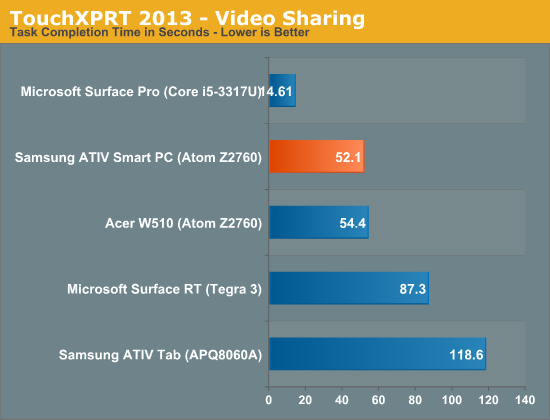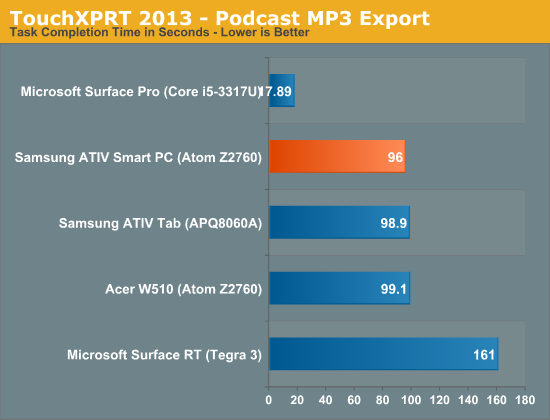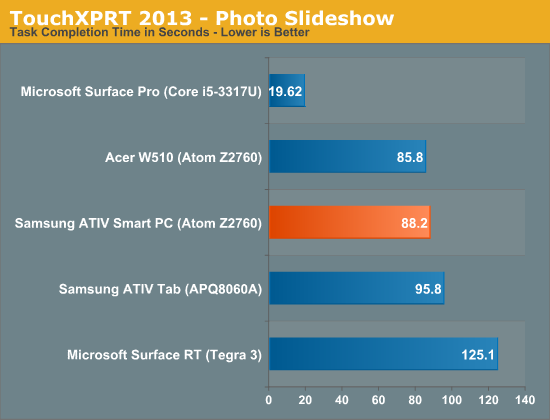 Samsung ATIV Smart PC: Battery Life
The battery life this platform offers is fantastic. The 31Wh battery gives over 10 hours of runtime in our internet browsing test, which is in the same ballpark as the Tegra 3 Windows RT tablets, but also better than the iPad from a power efficiency standpoint. It's worth noting that the iPad has a much higher resolution display that results in a significantly higher power draw, but offers almost the same 10 hour battery life with a much larger 42.5 Wh battery.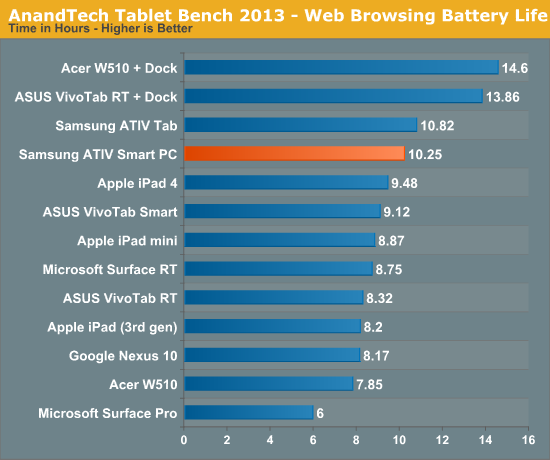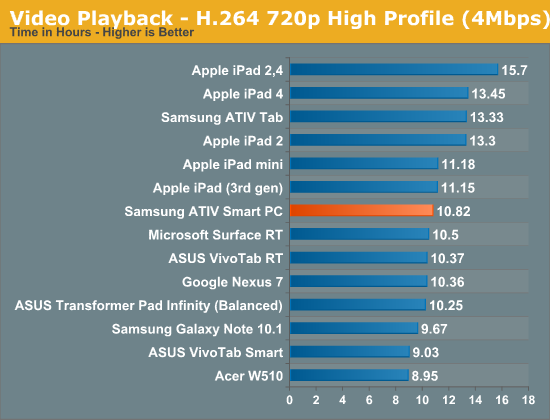 I do wish that the notebook dock contained a second battery, though. The ASUS VivoTab with the dock has 55Wh of combined battery capacity (30Wh in the tablet, 25Wh in the dock) and is rated to have 19 hours of total battery life. If you get even 75% of that in real world use, you're still looking at a Windows 8 system with nearly 15 hours of battery runtime, which is incredibly valuable. The lack of a secondary dock has a bigger impact in the Ivy Bridge-based ATIV Smart PC Pro than it does here, because the Pro has relatively mediocre battery life (I'll get to that in the 700T review) and could really use another couple of dozen watt-hours. Even without the second battery, the 500T still has excellent battery life, but it's a bit of a missed opportunity to be sure.
Concluding on Clover Trail for Windows
I used the ATIV Smart PC as my main system on the CES show floor. It worked out relatively well, though part of that was due to the fact that I didn't actually spend much time using it there. My CES scheduling this year ended up in back-to-back-to-back meetings for a large portion of my three days there. Much of my writing ended up being done back in the hotel room where I had my trusty Samsung Series 7 Chronos to rely on. But honestly, the ATIV was pretty solid. I had relatively modest expectations for it on the way in—"last all day, give me a solid writing tool, and run Lightroom so I can publish decent posts on the go." That's what I said I wanted out of it in the CES gear article I posted in Pipeline the day I left, and the ATIV did all I asked of it with nary a complaint or hiccup in the process.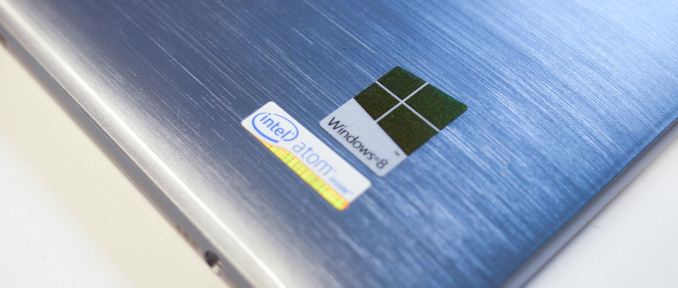 As I type this, my roommate is sitting behind me playing StarCraft II on the ATIV Smart PC, albeit rather slowly. And honestly, that's the story for me with Clover Trail. You really get the best of both worlds with regards to PC application compatibility and battery life. Performance, at times, can be a bit pokey, particularly on the GPU side of things. But Clover Trail really brings all day computing to the world of x86 tablet PCs. It isn't the fastest or most interesting SoC in the world. But in a mobile companion, if having 10 hours of battery life matters, you cannot beat the Clover Trail/Windows 8 combination as a tablet platform. It's just so much more versatile than iOS or Android in terms of replacing a small notebook, and when you factor in the battery life parity that we see in Clover Trail, that's a legitimately valuable proposition.
Just based on pricing, it becomes quickly evident that the Atom-based tablets offering the best value right now are the ATIV Smart PC and ASUS' VivoTab Smart. You can get either in 64GB form in the $500-550 range, making them cheaper than most Windows RT devices offering equal amounts of storage space (though it's worth mentioning that you can get a VivoTab RT for less than $400 pretty readily). As a value proposition, you have to think about it—would you rather pay $499 for a 16GB iPad, a 32GB Nexus 10, or a full fledged Windows Tablet PC with ~35GB of unused storage space? Put in terms like that, it's pretty awesome.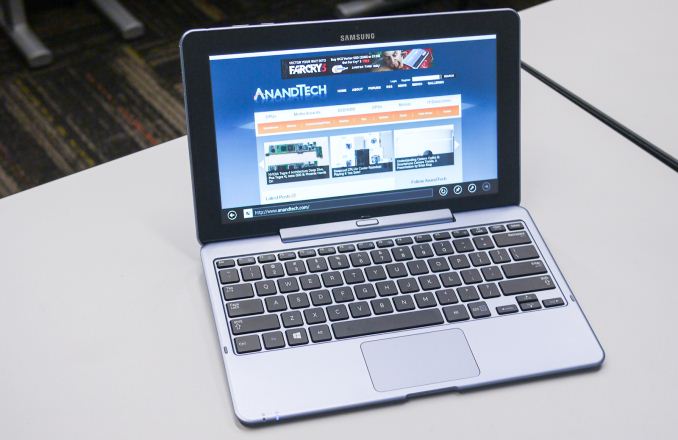 The ATIV Smart PC is a decent tablet, and taken on its own it's a good device. But there are some really key missteps that were made with the hardware—design, build quality, and display. Given the cost and overall usability of the device, it's possible to overlook these flaws, but the comparison to the VivoTab Smart is where the ATIV Smart PC starts to fall down. The ASUS has a nicer 10.1" form factor with a better display, along with better styling and build quality. The ATIV does have one trump card—the active digitizer. Other than that, the 10.1" VivoTab Smart is just a better piece of hardware, more elegant and nicer to use. Honestly, unless you really want the Wacom digitizer, you're better off going the direction of the ASUS.