Original Link: http://www.anandtech.com/show/6832/samsungs-galaxy-s-4-introduction-hands-on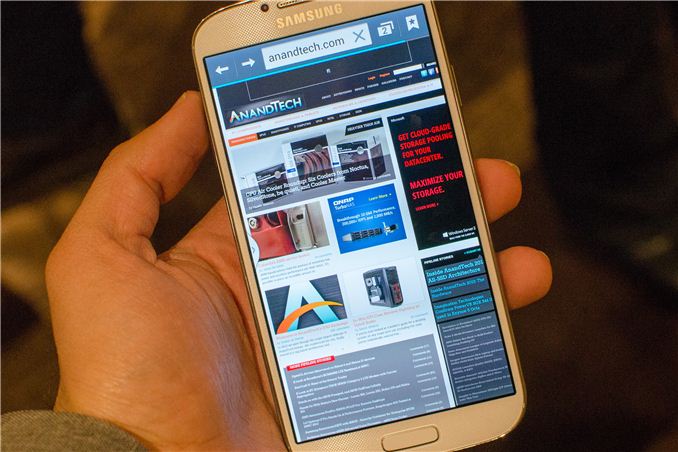 Since 2010 Samsung has grown to become not only the clear leader in the Android smartphone space, but the largest smartphone manufacturer in the world. Its annual iteration of the Galaxy S platform is now arguably one of the most widely anticipated smartphone launches each year.
Like clockwork, tonight Samsung announced the Galaxy S 4: a 5-inch 1080p smartphone, and the new flagship for the Galaxy brand. We just finished learning about the device and spent a short time playing around with it.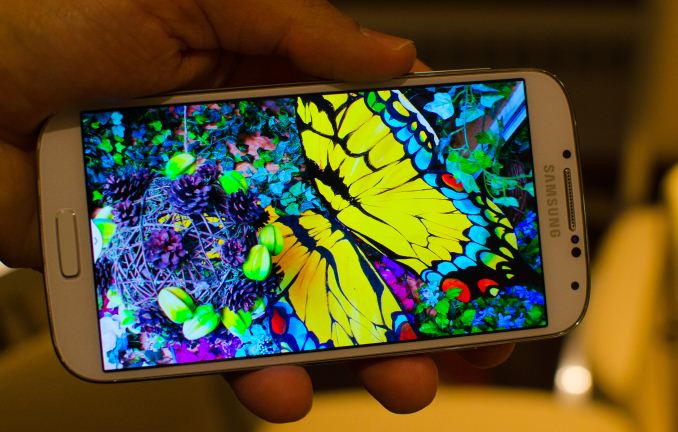 Most of the hardware specs are known quantities. The 5-inch Super AMOLED display features a 1080p resolution, for a pixel density of over 441 ppi. The chassis is plastic with a metallic looking rim around the edge. Like most Samsung devices, the Galaxy S 4 feels well built although the plastic construction makes it the polar opposite of HTC's One - and truthfully in a different league altogether. I don't personally believe Samsung's use of plastics is terrible, but it definitely doesn't lend itself to the same sort of remarkable designs we see from HTC or Apple. On the plus side the SGS4 feels very light (it's even lighter than the SGS3). The tradeoff between material feel and weight is one that has a spectrum of solutions. Samsung remains on prioritizing weight and cost, which is understandable given the success the company has seen thus far.
The SGS4 feels surprisingly comfortable in hand, partly due to weight and party due to the device's proportions. I didn't mind the size at all.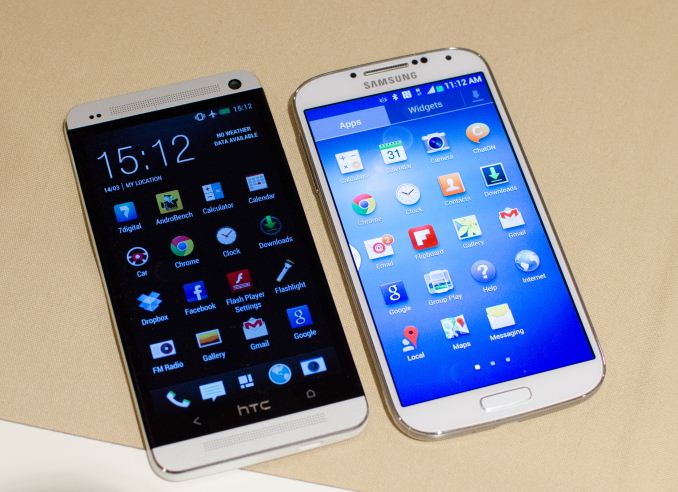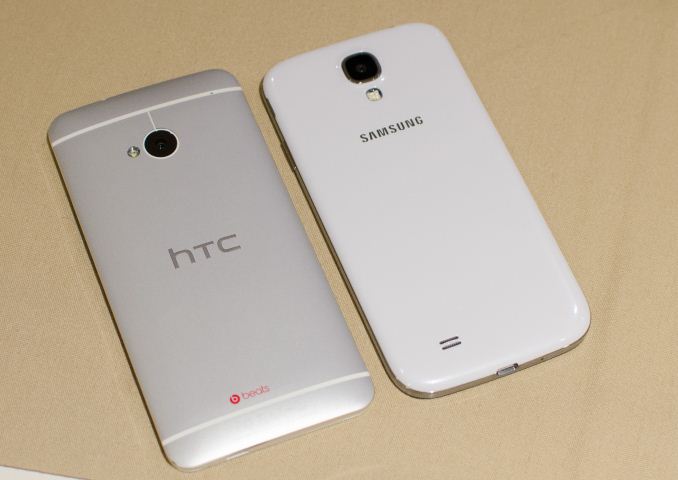 The Galaxy S 4 is available in two colors: white frost and black mist. I played with an international SGS4 variant in white frost.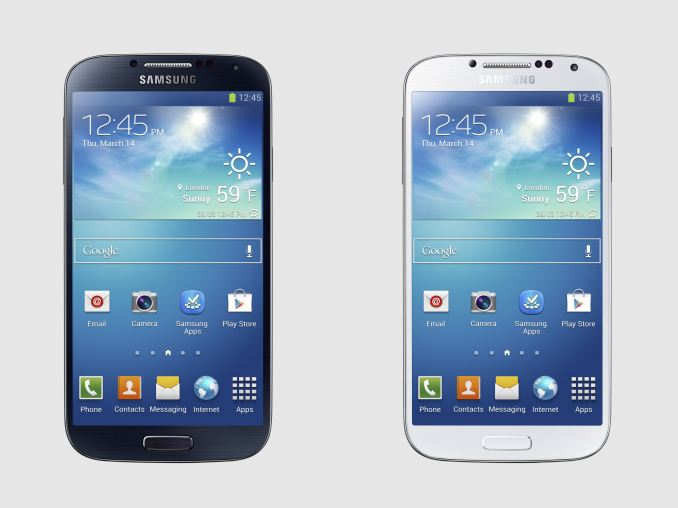 Smartphone Spec Comparison
Apple iPhone 5
HTC One
Samsung Galaxy S 3
Samsung Galaxy S 4
SoC
Apple A6 1.3GHz
Snapdragon 600 1.7GHz
Snapdragon S4 1.5GHz
Exynos 5 Octa (1.6/1.2GHz) or Snapdragon 600 1.9GHz
DRAM/NAND/Expansion
1GB LPDDR2, 16/32/64GB NAND
2GB LPDDR2, 32/64GB NAND
2GB LPDDR2, 16/32GB NAND, microSD
2GB LPDDR3, 16/32/64GB NAND, microSD
Display
4.0-inch 1136 x 640 LCD
4.7-inch SLCD3 1080p, 468 ppi
4.8-inch Super AMOLED 720p, 306 ppi
5-inch Super AMOLED 1080p, 441 ppi
Network
2G / 3G / 4G LTE Cat 3
2G / 3G / 4G LTE Cat 3
2G / 3G / 4G LTE Cat 3
2G / 3G / 4G LTE Cat 3 (depending on region)
Dimensions
123.8mm x 58.6mm x 7.6mm
137.4mm x 68.2mm x 4mm - 9.3mm
136.6mm x 70.6mm 8.6mm
136.6mm x 69.8mm x 7.9mm
Weight
112g
143g
133g
130g
Rear Camera
8MP
4MP w/ 2µm pixels
8MP
13MP
Front Camera
1.2MP
2.1MP
1.9MP
2MP
Battery
Internal 5.45 Wh
Internal 8.74 Wh
Removable 7.98 Wh
Removable 9.88 Wh
OS
iOS 6.1.2
Android 4.1.2
Android 4.1.2
Android 4.2.2
Connectivity
802.11a/b/g/n, BT 4.0, USB 2.0, GPS/GNSS
802.11ac/a/b/g/n + BT 4.0, USB2.0, GPS/GNSS, MHL, DLNA, NFC
802.11a/b/g/n, BT 4.0, USB 2.0, NFC, GPS/GNSS, MHL
802.11a/b/g/n/ac (HT80) + BT 4.0, USB 2.0 NFC, GPS/GNSS, IR LED, MHL 2.0
The back cover remains removable, as does the 9.88Wh battery: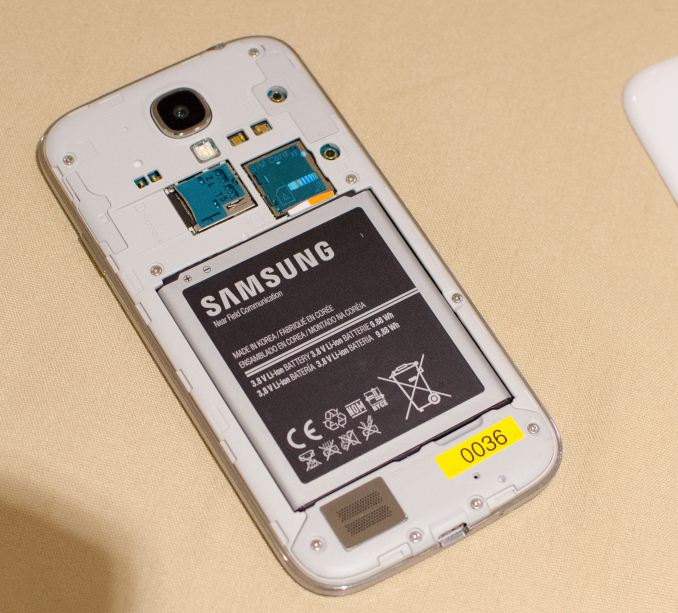 Internally, there's 2GB of memory and 16 - 64GB of on-board NAND, with a microSD card slot for optional storage expansion.
As expected, the SoC will vary depending on region. Samsung will offer either its own Exynos 5 Octa or a 1.9GHz quad-core Snapdragon SoC from Qualcomm. Given the clock speed and the timing, I would assume Samsung is talking about a Snapdragon 600 but the only official word from Samsung is the 1.9GHz quad-core Snapdragon. Update: Qualcomm has confirmed that this is a Snapdragon 600.
The Exynos 5 Octa side is a bit more interesting. Samsung is calling the SoC a 1.6GHz Octa-core part, but that appears to be the clock speed for the four Cortex A7 cores. The four Cortex A15 cores will run at up to 1.2GHz, which should help keep power consumption manageable. We've been wondering for a while what clock speeds we'd see the Cortex A15s run at in smartphones, and I believe this is the first line drawn in the sand. If we go back to Samsung's ISSCC disclosure of Exynos 5 Octa power consumption, it looks like peak CPU power consumption should be somewhere around 2W - definitely better than what we saw from Exynos 5 Dual in the Nexus 10. Again, no surprises here given that we're talking about a smartphone - it's just interesting to see. Update: There seems to be some confusion as to whether or not the A7/A15 clocks are 1.6/1.2 or 1.2/1.6. I was told the former and that's what I wrote down, but it's entirely possible that the information given wasn't correct. I'm awaiting for further confirmation. Although 1.2GHz makes sense for a max clock for the A15s, 1.6GHz is a bit high for A7s if they're truly to be used to keep power consumption down. I can see it working either way.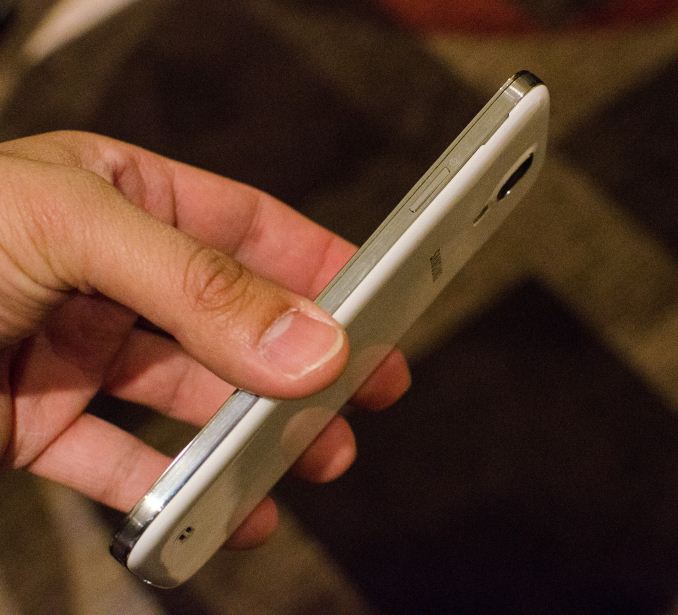 Samsung isn't ready to talk specifics about what SoCs will end up in what regions. We weren't allowed to run any downloaded applications or benchmarks on the hardware at the event, nor were we told what SoCs were used in the demo hardware. Both SoCs should be good choices though.
Similarly, there's no disclosure on what baseband silicon is being used although LTE support will be offered depending on the region. It's highly likely that we're looking at another MDM9x15 with a discrete applications processor (Snapdragon or Exynos 5 Octa). All of the expected wireless connectivity options are present including 802.11ac and BT 4.0. Samsung is claiming support global LTE roaming (up to six different bands) and FDD/TDD LTE.
As is the norm these days the Galaxy S 4 comes with both a front and rear facing camera. The front facing camera features a 2MP sensor and is capable of recording video at 1080p30. The rear facing camera sees a move to a 13MP sensor with flash. No word on the max aperture or focal length of the camera systems at this point.
The Galaxy S 4 will ship with Android 4.2.2. It will be available both internationally and in the US starting sometime in Q2 (Update: first shipments will be in April). US operators signed up to carry the Galaxy S 4 are AT&T, T-Mobile, Sprint, Verizon, Cricket and US Cellular.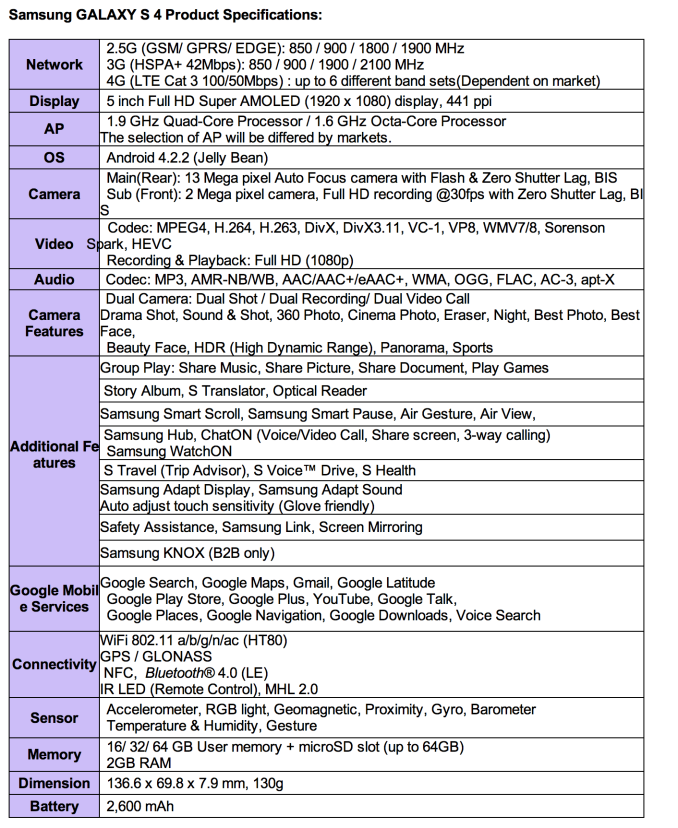 Software - Camera
Samsung spent comparatively little time talking about the Galaxy S 4 hardware and instead chose to focus mostly on software. While Android 4.2.2 is the underlying OS, Samsung's customizations are very visible and present throughout the Galaxy S 4 experience.
The user interface and experience is distinctly Samsung. The Touchwiz icon stylings and water sounds that permeate the experience remain intact and mostly unchanged. UI performance is finally at the point on most of these modern devices where it's just amazingly smooth throughout everything. The Galaxy S 4 is no exception here.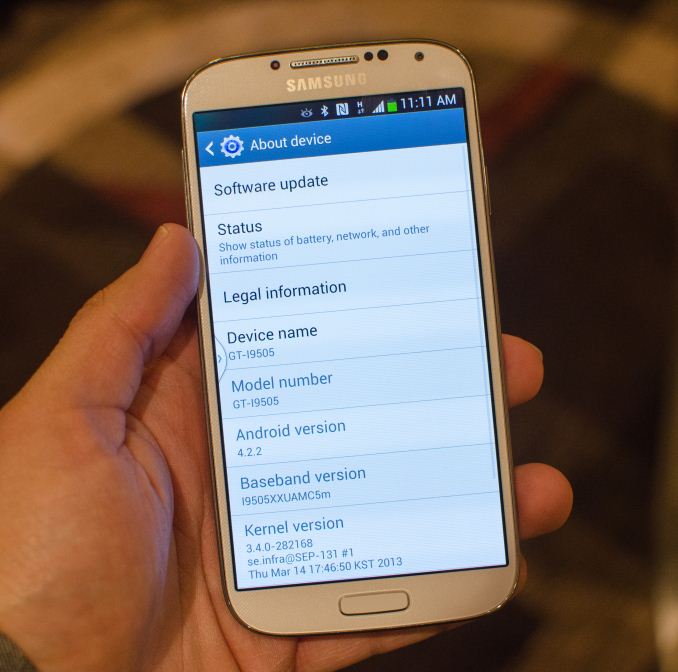 Samsung spent a lot of time adding functionality to its camera app, which now includes the ability to shoot stills and video out of both cameras simultaneously. This is similar in nature to an LG feature we covered last month at MWC, Samsung calls it Dual Camera.
Dual Camera is very easy to activate (there's a dedicated button in the top left of the camera app). Once activated you can choose from various filters/effects, including a basic split screen mode.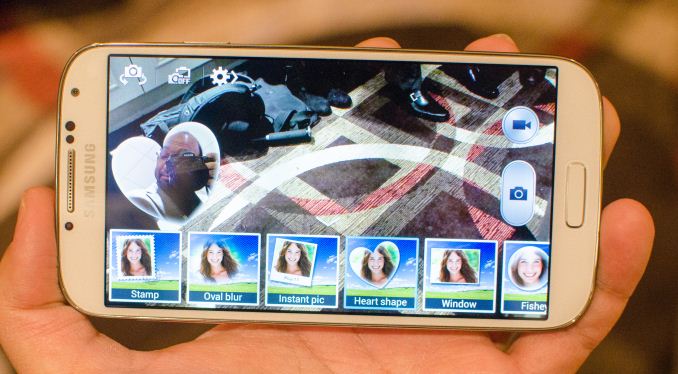 As a way of enhancing stills, Samsung includes support for Sound & Shot - a feature that captures up to 9 seconds of audio alongside a still image.
There's a new mode dial that allows you to switch between shooting modes, including some new ones like drama shot which lets you take multiple stills in a burst mode and combine them all together to show character progression in a still frame.
Burst shooting can also be used to erase a photo bomb with eraser mode, a feature we've seen before (highlight and remove a character from a scene).
On the video side, the Galaxy S 4 introduces Cinema Photo - a feature that lets you shoot a video, highlight areas that you want to continue in motion and have the rest remain static - resulting in an animated gif.
In its final new camera feature is the ability to create, group and stylize albums of your photos. You can create albums locally on the Galaxy S 4, style them with templates, and send them off to print via Blurb. There's Trip Advisor integration to pull in highlight information about the locations you've taken photos at.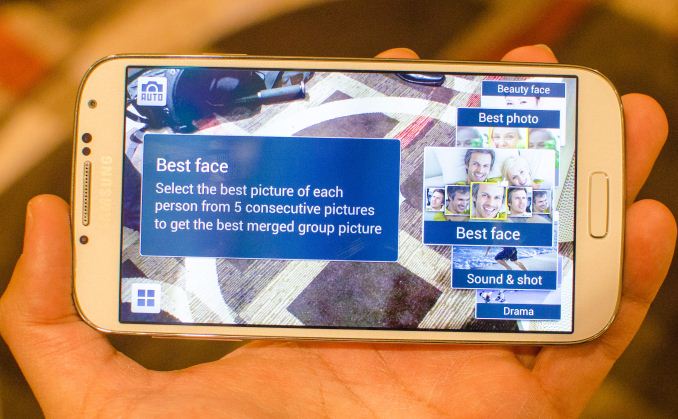 The camera software features are aimed at bringing as much of the photo processing/organization experience onto the smartphone as possible. Samsung clearly has the point and shoot market in its crosshairs and it is leveraging the fact that modern smartphones are sophisticated computing platforms in order to go after that market.
S Translator
Samsung is shipping its own cloud based translation app on the Galaxy S 4 called S Translator. Chinese, English (US/UK), French, German, Italian, Japanese, Korean, Portuguese and Spanish languages are all supported at launch.
You can type or speak sentences to be translated and either read the translation or have your phone speak it. This functionality has been enabled by Google Translate for a while now, but turning it into a feature and making it very obvious on the Galaxy S 4 is a clear attempt to hit a broader audience.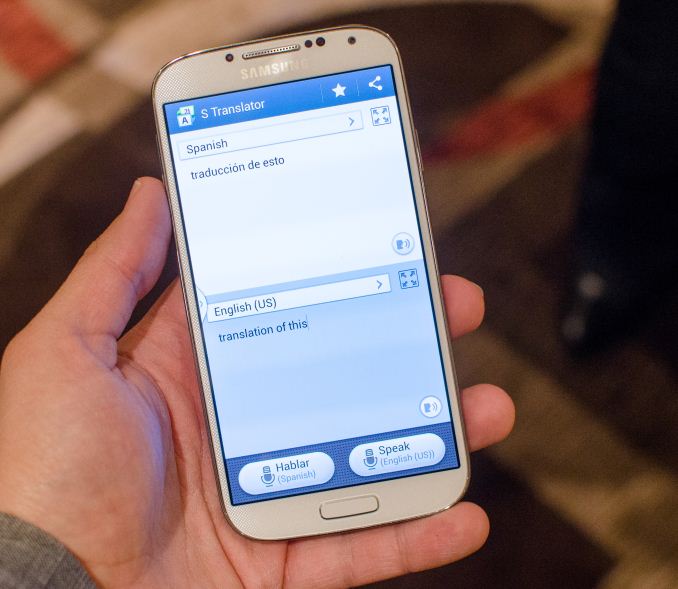 Based on my limited experience with the translation, it seems like the bulk of the work is being done in the cloud. Samsung isn't announcing what partner it's using to do the actual translation at this point.
S Translator is also supported in the Email and ChatON apps.
Group Play
The Galaxy S 4 supports wireless streaming of music to up to 8 other SGS4 devices with a feature called Group Play. What Group Play does is allows you to wirelessly tether multiple SGS4s together to all play the exact same song. The idea is to leverage multiple devices to fill a room up with audio.
It's not clear what application/DRM limitations exist here, but I can see this being the new tap-to-share for encouraging groups of friends to all buy Galaxy S 4s.
Air View & Air Gesture
With the Galaxy Note series of devices, Samsung enabled hover support with the S Pen. Holding the S Pen above the screen would enable you to preview video, peek at the contents of an email, etc... With the Galaxy S 4, Samsung enables the same functionality - but without the S Pen. It's called Air View.
Through some clever tuning of the capacitive touch stack, the Galaxy S 4 is able to sense the presence of your finger up to about a centimeter away from the display. Air View works in Samsung's web browser as a magnifying lens or to trigger a preview of open tabs. It also works in the email and gallery apps as well. Update: You can also use the SGS4 with gloves on, similar to Nokia's Lumia 920.
The Galaxy S 4 also supports Air Gesture, which leverages the IR gesture sensor to enable large hand gestures for UI control. You can swipe your hand in front of the smartphone to switch songs, move between tabs in the web browser, or scroll up and down a web page. You can also use Air Gesture to answer a call, which Samsung views as a good solution for SGS4 owners that have their smartphone in a car dock while driving.
Smart Pause & Smart Scroll
With the Galaxy S 3 Samsung introduced Smart Stay, another feature that leveraged the front facing camera to detect when you're facing the smartphone and keep the screen on as a result. With the Galaxy S 4, Samsung expands the use of the front facing camera to enable pausing/unpausing of video playback depending on whether or not you're looking at the display, and enabling tilt to scroll if the camera detects that you're looking at it.
I tested both features and they seemed to work intermittently, although I'm not a fan of making judgement calls on software until final builds are available.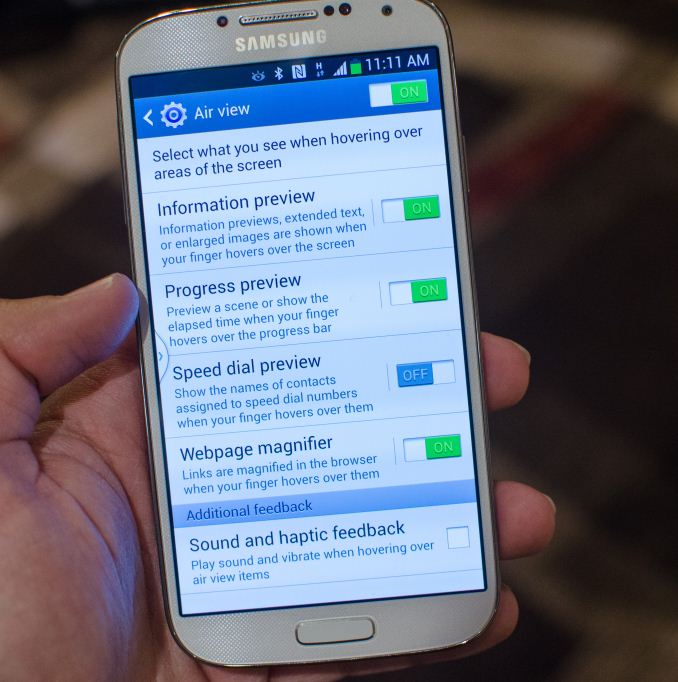 All of these gesture and camera based user interface features can be enabled/disabled, many on a per application basis but at minimum on a global level. Samsung does have a good amount of control/granularity in the SGS4 software for these features.
Samsung Optical Reader
The SGS4 will ship with some form of optical character recognition, allowing you to scan business cards and automatically populate your contact list with elements from the card. The Samsung Optical Reader app also supports reading QR codes.
S Health
The final new software feature of the Galaxy S 4 is called S Health. S Health includes support for an integrated pedometer, temperature and humidity sensors in the SGS4. The S Health app is supposed to be able to track distance traveled and give you local identification of current temperature and humidity. The app also includes the ability to act as a meal tracker, just look up foods you've eaten and it'll keep a running tally of calories consumed. The S Health app and functionality is a clear attempt to integrate 3rd party pedometer hardware and apps into the phone itself - an obvious next step for any vertically integrated smartphone manufacturer.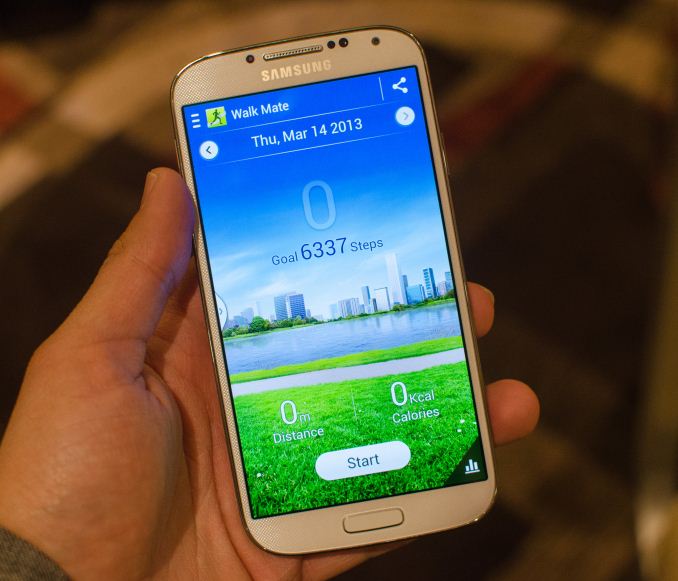 Samsung will offer a line of Bluetooth health accessories that can interface with S Health, including a wrist band pedometer (S Band) so you can leave your SGS4 at home when you go for a walk/run, weight scale and heart rate monitor.
The S View Cover
Samsung will also have a new first party cover for the Galaxy S 4 called the S View Cover. This is a standard flip cover but with a small window cut out of the front of it. When the SGS4 detects that the cover is closed, it'll display a small rectangle of information on its display (visible through the cutout in the cover). In this mode the display will give you the current time, battery/SMS/music status, caller ID and the ability to accept/reject calls. The S View Cover is a pretty neat offering from Samsung and one I see being very popular with anyone who used a flip cover with Samsung's phones in the past.
Final Words
With a release scheduled for sometime in Q2 of this year, today's announcement is more of a preview. We're sure to have more details on hardware and software in the coming months. For now, the Galaxy S 4 seems like a logical evolution of the Galaxy S lineup. Faster hardware and a larger higher-resolution display were both expected and delivered upon.
Power users will be pleased by the modern SoC integration, and I'm sure there are some that will still be happy with the removable battery and micro SD card slot.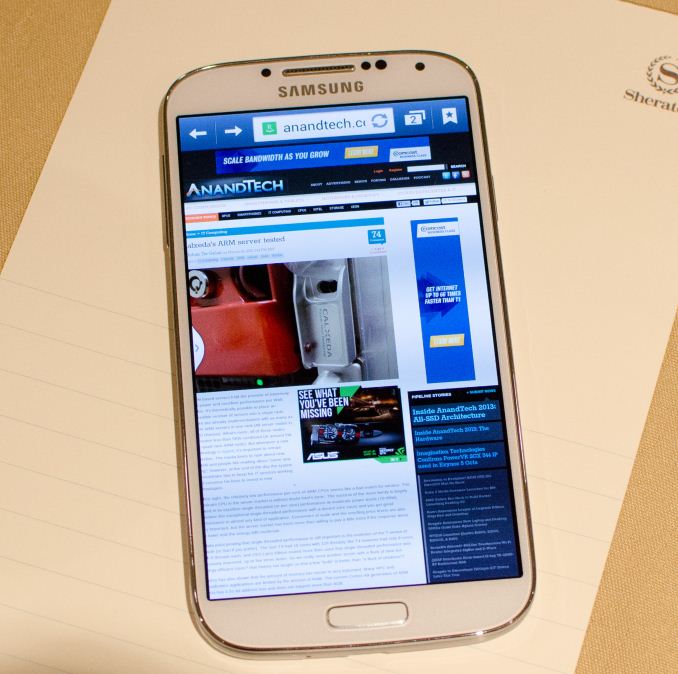 Samsung has continued to increase its focus on delivering enhancements through software, which is very obvious based on the list of launch features for the Galaxy S 4. Although I'm sure power users will still prefer unmodified Android, it's important to note that many of the features Samsung is introducing with the Galaxy S 4 will be very easy to market to mainstream consumers. The ability to control your smartphone without ever touching it or pause/unpause video with a glance are marketing messages that are very clear and easy to deliver.
The same is true for the enhancements to the camera app. While Samsung continued down the path of the megapixel race, truth be told it will have an easier time selling the Galaxy S 4 to mainstream consumers based on specs and the added features enabled by the new camera app.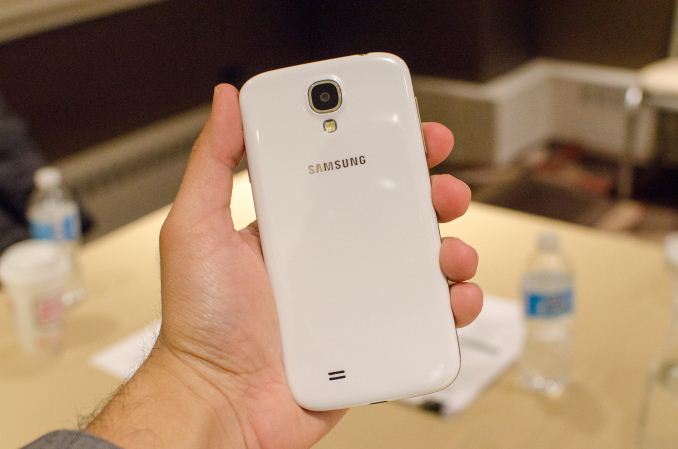 Round it all up with S Translate and S Health, two more features that aren't really new but definitely speak directly to consumers. It's Apple's Siri strategy, but coming from many different angles. Samsung's consumer focused strategy is one that has done very well and I see the Galaxy S 4 continuing that. The real question is how well all of these features will perform/work in final software. Conceptually the Galaxy S 4's software suite makes a lot of sense, the proof as always will be in the execution and how long it takes Samsung to get to the appropriate level of polish.