Original Link: http://www.anandtech.com/show/6854/rosewill-blackhawk-ultra-case-review-were-it-not-for-competition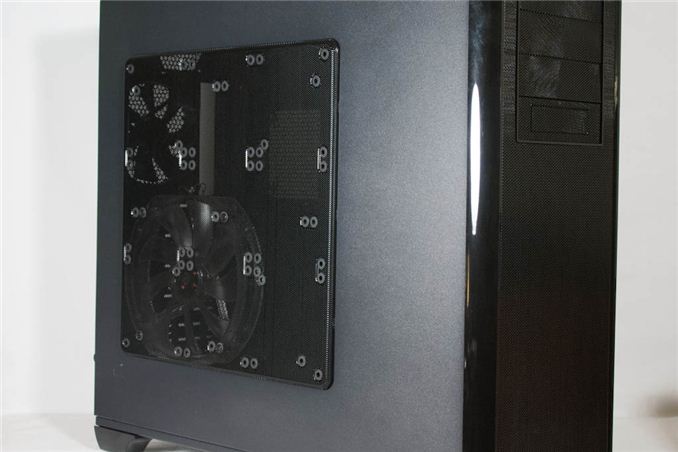 Introducing the Rosewill Blackhawk Ultra
We've long maintained that Rosewill's Thor v2 is one of the best deals floating around for enthusiasts. In that enclosure, Rosewill has a product that's fairly feature rich, quiet, and offers stellar performance. Yet the Thor v2 isn't the flagship of their enclosure line, but today we have that flagship in house. Given its predecessor's stellar performance, expectations are pretty high for the Blackhawk Ultra.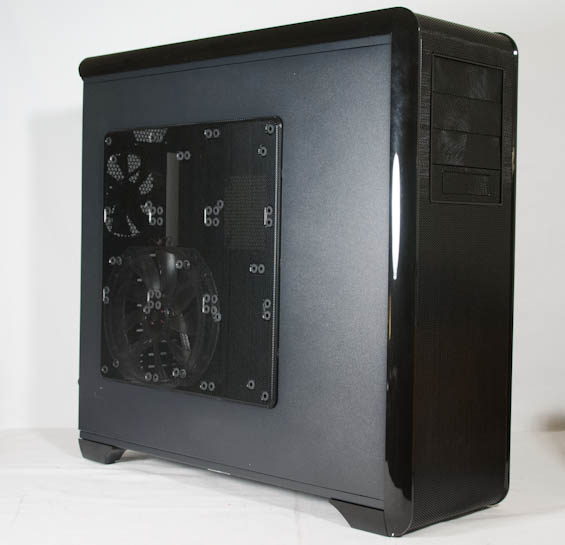 This case is huge, enthusiast class through and through, but it's far less ostentatious than the Thor v2. Our rep at Rosewill has repeatedly cited the Blackhawk Ultra as a bestseller and consistently highly rated enclosure, and it's not hard to see why users might buy it without a second thought: in every sense of the word, this case has a lot of fans. Just about anywhere Rosewill could put a fan, they did, and you'll see when I start breaking it down exactly what I mean.
Rosewill Blackhawk Ultra Specifications
Motherboard Form Factor
Mini-ITX, Micro-ATX, ATX, E-ATX, XL-ATX, HPTX
Drive Bays
External
4x 5.25" (5.25" to 3.5" adapters included)
Internal
10x 3.5"/2.5"
Cooling
Front
2x 140mm red LED intake fan, 2x 140mm intake fan (behind drive cage)
Rear
1x 140mm exhaust fan (supports 120mm)
Top
2x 230mm red LED exhaust fan (supports 2x 180mm, 3x 120mm/140mm)
Side
1x 230mm red LED intake fan (supports 9x 120mm)
1x 120mm/140mm fan mount behind motherboard tray
Bottom
1x 120mm/140mm fan mount
Expansion Slots
10
I/O Port
4x USB 2.0, 2x USB 3.0, 1x Headphone, 1x Mic
Power Supply Size
ATX
Clearances
HSF
170mm
PSU
220mm
GPU
404mm
Dimensions
9.45" x 25" x 25.99"
240mm x 635mm x 660mm
Weight
36.6 lbs. / 16.6 kg
Special Features
USB 3.0 via internal header
Hotswap SATA bay
Secondary power supply bay
Internal fan hubs
Price
$179
Rosewill cites the Blackhawk Ultra as supporting the Corsair H100, which is almost like saying something might explode in a Michael Bay film. The reality is that the Blackhawk Ultra has very healthy radiator support, and a lot of that is due to the substantially increased height as a result of the secondary power supply bay at the top of the case. This bay is blocked off initially, and you'll have to remove one of the 230mm fans from the top to use it.
In keeping with the Thor v2's design, though, it's interesting to see just how much mileage Rosewill is willing to get out of these enormous 230mm fans. Suffice to say that cooling shouldn't be a huge issue, but at eight fans installed stock, it's easy to suspect the Blackhawk Ultra will have trouble with noise. That trouble may be compounded by the one feature the Thor v2 has that the Blackhawk Ultra lacks: a fan controller. Rosewill opted instead for a pair of fan hubs inside the enclosure that support five fans apiece, and the whole thing comes wired and ready to go for the most part.
In and Around the Rosewill Blackhawk Ultra
Interestingly, Rosewill's aesthetic for the Blackhawk Ultra is very staid and conservative, which is welcome. There's a glossy plastic trim which looks a little chintzy, but the predominate motif is "ventilation." The entire front and top of the enclosure is essentially just a black mesh grill, and that includes the shields for the 5.25" bays.
Given the sheer size of the Blackhawk Ultra, I'm surprised Rosewill only included four 5.25" bays. This isn't necessarily a bad thing; I've maintained that 5.25" bays are essentially an albatross hanging around the neck of modern enclosures, and one of the only things they're truly needed for that can't be handled by an external enclosure and a USB cable is for storing coolant reservoirs. Certainly you could install a healthy liquid cooling system in the Blackhawk Ultra, but I suspect that's not what the case was truly intended for. If you pop off the front fascia, though, you can see they did something interesting with the 5.25" bays: outside of the standard bay shields, the metal pop-out plates inside feature mounting points for another 120mm fan and can be reinstalled after they've been removed.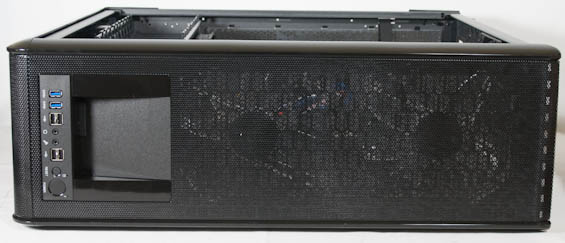 The top of the case is roughly as minimal as any other part of it; the I/O cluster features a healthy four USB 2.0 ports and two USB 3.0 ports, and there's an inclined SATA hotswap bay. On the back are a substantial number of radiator hose routing holes, but the most notable feature is probably the secondary power supply bay in the top of the enclosure. There's a shield already in place, but it can be removed, though as I mentioned you'll have to remove one of the top 230mm fans to use it.
Rosewill secures the side panels with thumbscrews per usual, but frustratingly, the side panels are notched. This is baffling given that the Thor v2 uses hinged panels, and hinged panels (or another solution) should really be standard when you're paying this much for a case. The Blackhawk Ultra is enormous, and having to spread yourself out to place pressure on all four corners of a side panel to secure it is difficult to say the least. They couldn't help adding more fan mounts to the side panels, though; if you're so inclined you can actually mount nine 120mm fans to the left panel and even another 140mm one behind the motherboard (located directly behind the CPU.)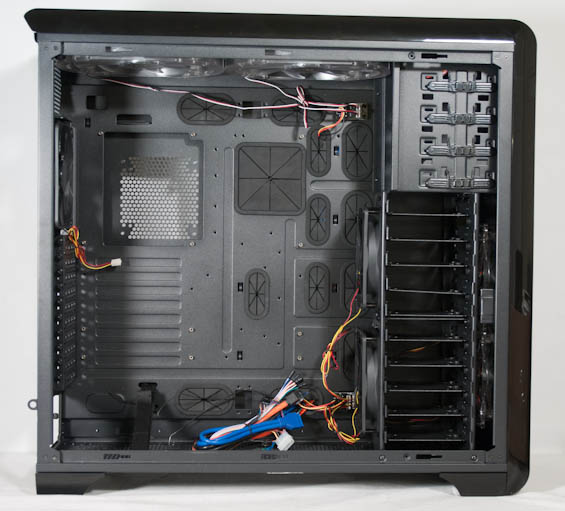 When we do look inside the case, there aren't actually that many surprises: this is a giant ATX case. Rosewill has toolless clamps for the 5.25" bays and ten metal drive trays that use rubber grommets to dampen vibration from 3.5" drives. There are routing holes for all motherboard sizes from ATX on up, but when you're looking at the size of the holes and how they're arranged, something should be sticking out: the ones near the power supply bays. Power cables are the thickest ones in the system, yet these holes are actually fairly small. You'll see later that this materializes into exactly the kind of problem you'd expect.
There's also one major omission in the Blackhawk Ultra's design that was forgiveable in the essentially value-priced Thor v2 but less so here: fan filters. There's only a single removable filter on the bottom of the case for the PSU; all of the other vents in the case are filter-free. I've seen what can happen to a Thor v2 when the grills aren't dusted out regularly, and I can't imagine the Blackhawk Ultra will fare much better on that front.
All in all there aren't too many surprises with the Blackhawk Ultra's design; that wouldn't be an issue ordinarily, but remember that this is a $179 case. In that light, it can seem strangely conservative and even a bit archaic in some ways.
Assembling the Rosewill Blackhawk Ultra
One of the nicest things about working with a case the size of the Blackhawk Ultra is that it's huge: you very seldom find your hands getting cramped into uncomfortably narrow gaps, and so getting everything installed an in place can be a lot easier. One of the worst things about working with a case the size of the Blackhawk Ultra is that it's huge: whenever you have to move the case itself, it's unwieldy, and it's heavy. This case is 36.6 pounds before anything is even installed in it; our full fat testbed can bring the system weight to roughly sixty pounds, or a little under half of my body weight.
Rosewill ships the Blackhawk Ultra with motherboard standoffs installed for an XL-ATX board, and it's a consideration that's appreciated. I had to move three standoffs to get our ATX board installed, which is still a lot better than having to install each one by hand. Users who do opt for a standard ATX board in this case will be treated to a lot of clearance and healthy cable routing options surrounding the tray itself.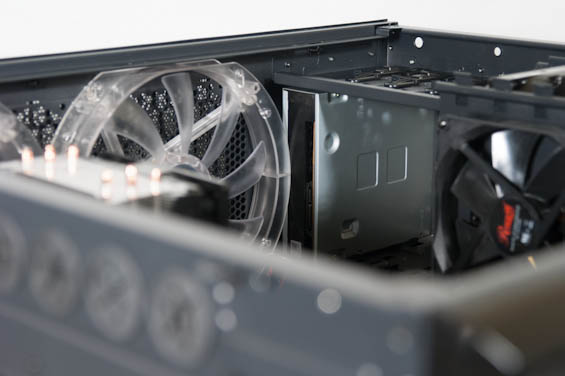 Installing 3.5" drives involves screwing them into the bottom of the fairly rigid metal drive trays; 3.5" drives benefit from rubber grommets for dampening noise. 2.5" drives are also screwed into the bottom of the trays. Meanwhile, installing a 5.25" drive can be more problematic. The size of the front fascia makes it a bit difficult to remove, but with the proper application of force to the bottom it comes off, and you must remove it to remove the bay shields. The blu-ray drive we use for our testbed ran into a clearance issue with one of the 230mm fans, though; it fits, but it's pressed snugly against the fan. The toolless mechanism Rosewill uses at least feels secure, though I have to wonder if at least a little bit of that stems from the drive simply not having anywhere else to go.
Getting our video cards and power supply into the Blackhawk Ultra was also basically a breeze, though it's worth noting that side-oriented SATA ports can put undue pressure on cables when you try to route them, and this seems to be a common problem. Case designers place a routing hole next to where the SATA ports will be, and that's good, but the hole is narrow and doesn't really take into account the way one might have to bend the cables if the motherboard orients them facing outward as our test board and indeed most enthusiast boards do.
Where things start to go awry with the Blackhawk Ultra is where I said they would, and where they usually do. In the Blackhawk Ultra it's a little more egregious, though: this is a case designed to accommodate a boatload of hardware, and boatloads of hardware demand a lot of power leads, so why are the routing holes next to the power supply bays so small? Cabling everything should've gone at least a little easier than this, but I found myself having to really work the modular leads through the holes and I'm not looking forward to when I have to tear down this build to do the next case review. The fan hubs also use traditional 4-pin molex connectors, and honestly I'd really like that standard to just die in favor of SATA power leads. Closing up also proved to be a bit of a challenge, but that stemmed more from the notched side panels coupled with the sheer mass of the Blackhawk Ultra.
It's not that assembling a system in the Blackhawk Ultra was difficult so much as that it could've been much, much easier. I can forgive the fan clearance issue with the optical drive; our blu-ray drive is actually a bit deeper than optical drives typically are. Rosewill also does a lot right by nipping fan cable management in the bud. Yet the power cables proved to be a real sore spot, and notched panels just don't belong on a case this size.
Testing Methodology
For testing full ATX cases, we use the following standardized testbed in stock and overclocked configurations to get a feel for how well the case handles heat and noise.
Each case is tested in a stock configuration and an overclocked configuration that generates substantially more heat (and thus may produce more noise). The system is powered on and left idle for fifteen minutes, the thermal and acoustic results recorded, and then stressed by running seven threads in Prime95 (in-place large FFTs) on the CPU and OC Scanner (maximum load) on the GPU. At the end of fiteen minutes, thermal and acoustic results are recorded. This is done for the stock settings and for the overclock, and if the enclosure has a fan controller, these tests are repeated for each setting. Ambient temperature is also measured after the fifteen idle minutes but before the stress test and used to calculate the final reported results.
For the "full fat" testbed, the GTX 560 Ti is swapped out for a pair of GTX 580s, and three hard disks are added to fill out the case.
Thank You!
Before moving on, we'd like to thank the following vendors for providing us with the hardware used in our testbed.
Noise and Thermal Testing
When I saw the Rosewill Blackhawk Ultra lacked a fan controller, I immediately became much more skeptical about its performance. Thermally it should do a stellar job, but with no way to modulate fan noise, Rosewill basically has to count on the fans being quiet at stock. An integrated fan controller is practically essential at this price point, so they have to make up a lot of ground to be competitive.
Unfortunately things get a bit worse here, too. The Phantom 630 (which earned our Bronze Editor's Choice) is sitting at the exact same price point, and if you're not running bigger than XL-ATX, NZXT's vastly more feature rich enclosure may prove to be a very difficult competitor to beat.
Ambient temperatures during testing were almost 22C on the dot.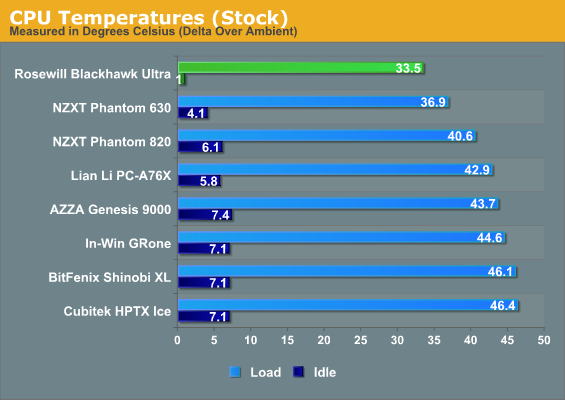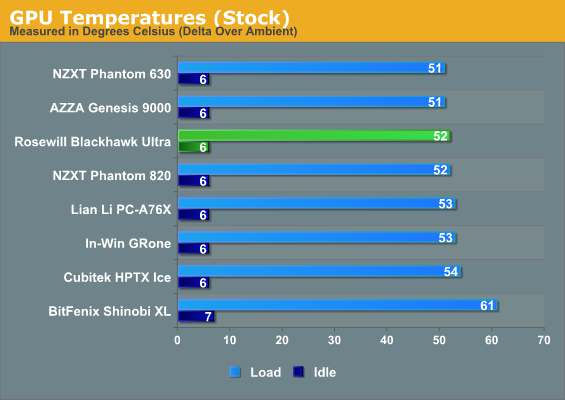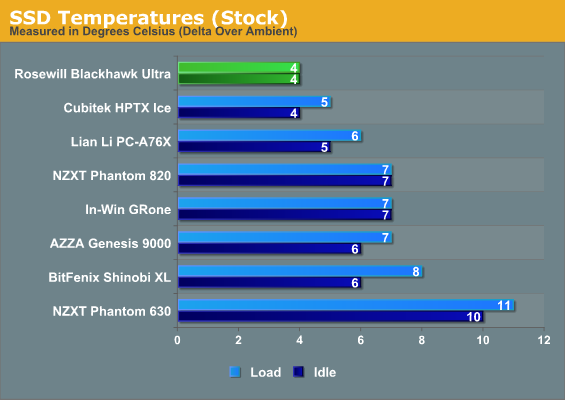 At our stock settings, Rosewill's offering is at least able to put up the thermal performance it needs to in order to be competitive. It's unlikely anyone using this case will run their hardware at stock, but it's good to know the cooling capacity is definitely accounted for.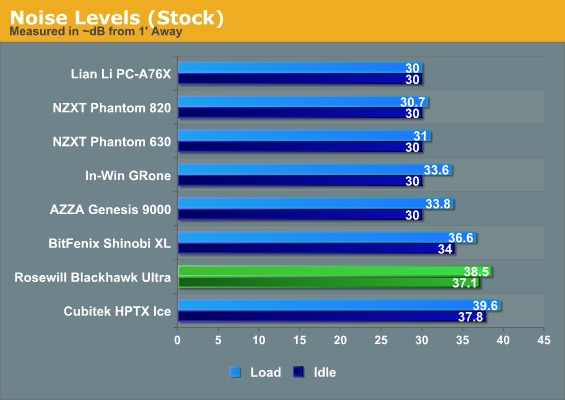 Unfortunately, noise levels turn out to be a real issue. In the Blackhawk Ultra's defense, while the measured 37.1 dB of idle noise is pretty loud, the character of the noise is actually pretty tolerable. It's very low-pitched due to the size of the fans used; the case essentially sounds like a box of low wind. NZXT's Phantom 630 runs a lot quieter, though, with only a minor three degree uptick in CPU temperatues.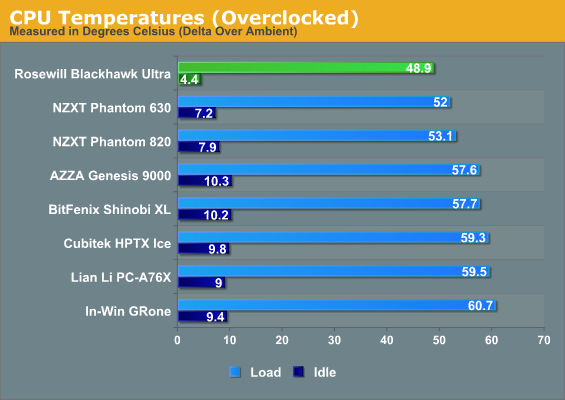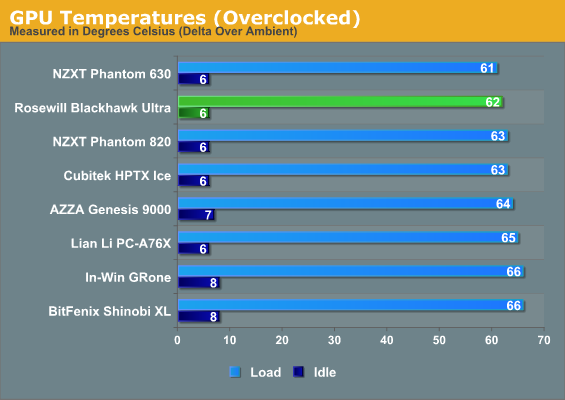 Overclock the system and temperatures begin to compress a little, but Rosewill also continues to perform near the top.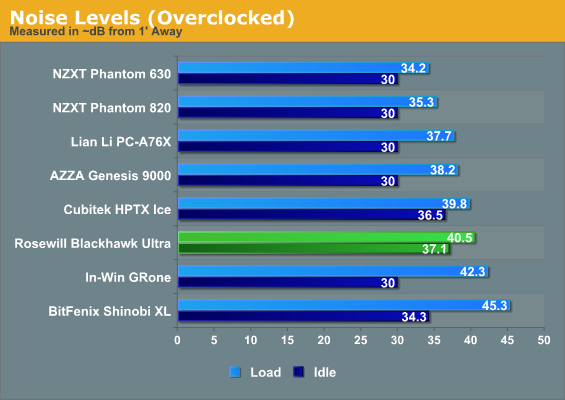 Despite its excellent airflow, though, Rosewill just can't keep the noise levels down. A large part of that is simply due to the fact that the case's noise floor is 37.1 dB, loud enough to drown out most of the other components in the first place.
Unfortunately I don't have results for the NZXT Phantom 630 in our full fat testbed, where I do think the Blackhawk Ultra promises to acquit itself better. The only cases I've tested so far with that testbed are in different price brackets, but this should at least illuminate why spending more on a case isn't a bad idea if you're going for a high end build.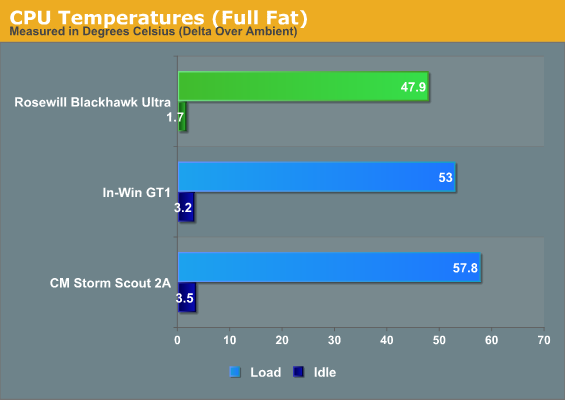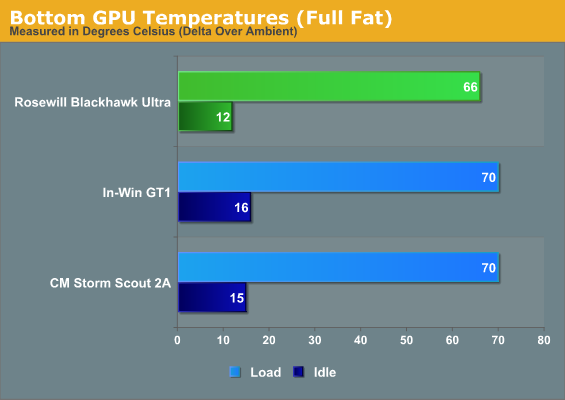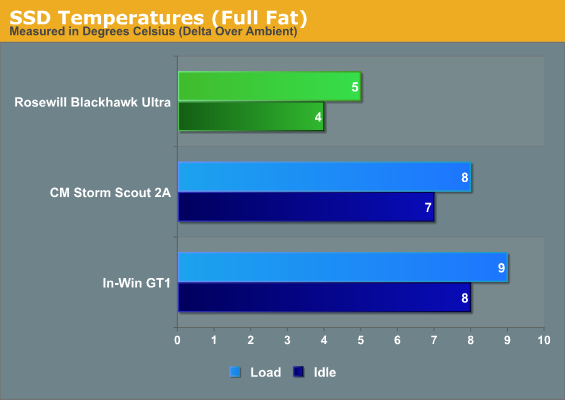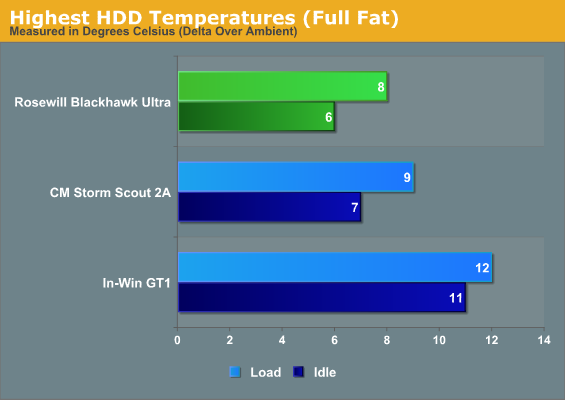 Rosewill's case gets you a not-inconsiderable five degree delta over the In-Win GT1 on the CPU, and GPU thermals are also down by a couple of degrees. In an SLI configuration, the GeForces are going to be pushing their fans to hit a target temperature of 88-90C, so thermals in that instance won't be as telling as noise levels will be.
And here's Rosewill's ace in the hole. While idle noise is still unpleasant, load noise is worlds better than the competing cases. This is why you buy an enthusiast class case for a high end build; the superior airflow keeps the fans on the GeForces from having to go at full tilt, and as a result, the noise level is actually comparatively tolerable.
Conclusion: Thermal Performance at Any Cost
The brute force approach to cooling that Rosewill has taken with the Blackhawk Ultra case is almost kind of awe inspiring. They've essentially thrown so many fans at the cooling problem and offered such flexibility in arranging the cooling system that it's hard to really beat them on that front. This case moves a tremendous amount of air, and when you install a very high end system in it, the power of all of those fans becomes apparent.
I also have to credit Rosewill for producing a case that's actually pretty conservative in a lot of the right ways. The things you'd expect to be really obnoxious turn out to be less so: the red LEDs in the fans are actually pretty muted, and for having eight fans with no throttle, the Blackhawk Ultra could've been a lot noisier. If you want to see how cooling can go horribly wrong, go back and look at the Cubitek HPTX ICE's results. They also know how big their case is, and amusingly enough, they include casters you can install in the bottom of the case so you can roll your giant computing beast wherever you need to.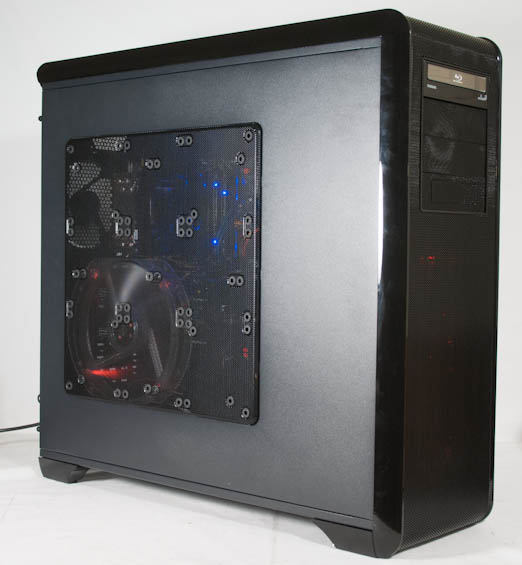 So if the Blackhawk Ultra is nigh unstoppable on the thermal front, why doesn't it get a glowing recommendation? For starters, it may be quieter than I expected, but that doesn't mean it's actually quiet. That wouldn't be a problem if the case was competing in the same market the Thor v2 does, but it's not. My mantra has been that once you get past $150 you should be expecting both excellent thermals and great acoustics, not one or the other. You're paying the premium so you don't have to choose. The lack of fan filters also means the Blackhawk Ultra is going to be high maintenance.
There are really a couple of flies in the ointment here. First, unless you need the form factors the Blackhawk Ultra supports (or you really want to be able to roll your case around), the case is essentially beaten on two fronts. You can get basically the same case, but cheaper and in some ways better, by buying Rosewill's own Thor v2 for $40-$50 less (ignoring frequent discounts from sales.) At the same price point, the Blackhawk Ultra is hanging out in the same neighborhood as NZXT's Phantom 630, and outside of a couple of degrees of raw thermal performance, the 630 is in most ways a superior case. Even with its fans turned all the way up, it's measurably quieter than Rosewill's case.
Ultimately I can see why the Blackhawk Ultra is selling well and reviewing well. Users who want a beefy rig for a decent price will take one look at the brute force cooling of this case and click "Add to Cart," and when they get it, by and large they probably won't be disappointed. Yet this is precisely why comparative reviews are important; the Rosewill Blackhawk Ultra looks fantastic on paper, but there are demonstrably better cases out there.