Original Link: http://www.anandtech.com/show/6858/the-razer-edge-review


This story starts in a dark meeting room in the back of Razer's booth at CES 2012. I'm sitting with CEO Min-Liang Tan, who is walking me through the intriguing Project Fiona concept gaming tablet. A number of major manufacturers announced Tegra 3 and OMAP4-based Android slates at CES 2012, but Project Fiona stood out – instead of an ARM SoC, it ran a Core i7 CPU, Nvidia graphics, and Windows 7. At the time my guess was an i7-2617M ultra-low voltage processor and an Nvidia GT 520M, though I never got a confirmation on either spec from Razer. In addition to the powerhouse specs, the tablet had handles resembling two Wii nunchucks attached to either side. Even with a small 10.1" display, the performance-oriented silicon and gamepad combined for a tablet that was big, hot, and heavy. Clearly, not an ideal solution, but the concept had obvious potential and was almost a lock to reach production eventually. It walked away from Las Vegas with a handful of awards.
Eventually turned out to be today, and so we have the Razer Edge. It's the final production version of Project Fiona and comes with a few very key refinements, including updated silicon and a removable gamepad controller. There are really two angles to cover with the Edge. One is that it's far and away the most powerful tablet on the market, the other is that there are a full complement of accessories that can transform it into a portable gaming machine, a console, a desktop, or (eventually) a notebook PC. With the range of add-ons available, the Edge turns out to be a pretty versatile system that can fit a number of usage models.
Razer tried an interesting tactic with Project Fiona – they turned to their Facebook and Twitter followers late last year to get feedback on what exactly the final product should look like. The choices offered were a thin, light, inexpensive ARM-based Android tablet, a Windows tablet with Ivy Bridge and integrated graphics, Ivy Bridge and a mid-range dGPU, as well as the when-pigs-fly option of a GTX-class graphics card. Based on the responses Razer got back from their crowdsourcing efforts, Min-Liang Tan posted the final spec on his Facebook: "Over 10,000 PC gamers voted to say that it should be feature an Intel Core CPU, mid-range discrete graphics card, up to double the thickness and weight of the new iPad, detachable controls and be priced at US$1200-$1400."
Considering that the initial design concept shown at CES basically hit those marks (save for the detachable controls) I'd say that the result was unsurprising, but it was a good show from Razer to actively engage the community and listen to their feedback. The Edge was submitted to the FCC almost two weeks before Razer even started asking for feedback on their forthcoming tablet, and was given approval a week before the crowdsourced spec was announced, so it's unclear how much the responses played into the final product beyond the marketing angle that Razer has been playing up.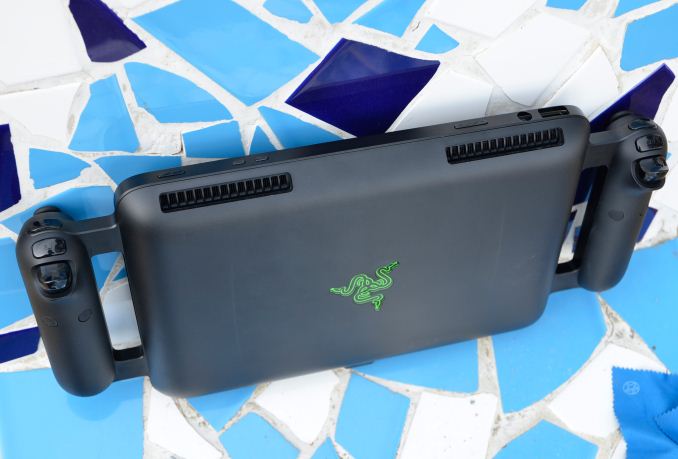 From a hardware standpoint, the Edge is a monster. Anytime you start talking Ivy Bridge and dedicated graphics in a 10.1" tablet, the result is going to be slightly unhinged. Razer went with the proven Ivy Bridge ULV/Kepler combination, and for good reason, because it has been an absolute godsend for mobile products. All variants of the Edge come with Nvidia's GT 640M LE graphics card, which serves as the major silicon-level differentiator between the Edge and other IVB-based tablets like Microsoft's Surface Pro and Samsung's ATIV Smart PC Pro 700T. The GT 640M LE is the lowest end of the Kepler totem pole, with Optimus, 384 cores, 16 ROPs, 32 TMUs, and core clocks of 500MHz with GPU boost pushing that to 570MHz. In this guise, there's 2GB of DDR3 VRAM clocked at the reference 900MHz with a 128-bit memory interface. Interestingly enough, this is the same graphics core as the 2nd-gen Blade, except with lower clock speeds and far slower memory.
The power draw question is an important one – the ultra-low voltage IVB parts have a 17W TDP, while the GT 640M LE has a TDP in the 20W range (between the various speed and memory configurations, it's hard to be exact). Toss in additional loads from the display, SSD, RAM, WiFi, and then we're talking real numbers. It's hard to find workloads that peg both CPU and GPU, so expecting a 40W draw during typical gaming situations wouldn't be unreasonable. That's a *lot* for a handheld device. And so, naturally, the Edge is quite a bit thicker than other tablets at 19.5mm (0.8") – compare that to Surface Pro at 13.5mm, or to jump into the ARM tablet realm, the iPad at 9.4mm and the Nexus 10 at 8.9mm. Hell, the Edge is thicker than my Zenbook Prime when closed (18mm at its thickest point).
It simply needs to be that thick to dissipate heat effectively – 40W thermal loads are no joke. But it's not just thick in the z-direction, the footprint is also pretty large considering that the screen is only 10.1" diagonally. The x and y-dimensions are actually a bit larger than the Surface Pro (which has a 10.6" display) and far beyond normal 10.1" tablets, though they are still well short of the 11.6" tablets out there. The Edge is unsurprisingly heavy by tablet standards, but matches Surface Pro at 2 pounds even with a larger chassis and significantly more computing horsepower on board.
Other specs include Intel's Centrino-N 2230 wireless card (2.4GHz only, no dual-band 5GHz fanciness here even though it really should be mandatory for anything costing more than $500), a 10.1" 1366x768 IPS display sourced from LG, a Synaptics capacitive touchscreen, and a 41.44Wh Li-poly battery. A note about the display – while most of the other Ivy Bridge-based slates and convertible tablets playing in this price range feature 1080p panels, I'm actually alright with the Edge having a low-res panel because GT 640M LE will absolutely choke at anything higher than 768p. Given the additional constraints on power consumption and thermal dissipation, it was likely just easier (and cheaper) to ship a 1366x768 panel.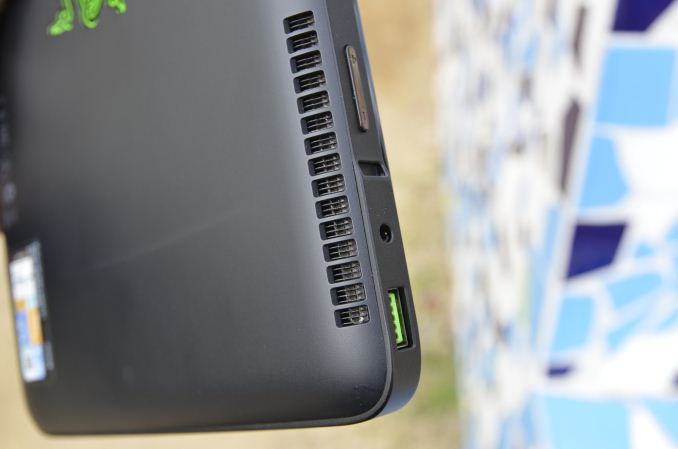 As far as on-tablet port selection goes, there's a USB 3.0 port, a combo 3.5mm jack, and the dock/power connector. That's it. When you consider that Surface Pro has a mini DisplayPort video connector as well as an SD card slot in addition to USB 3.0 port in a slimmer chassis, it's truly disappointing to see that there are basically no ports beyond the lone USB. I understand that when mobile, it's rare to need more than one USB port, but the lack of on-device video out is a pretty crucial oversight. At present, the only way to get video out from the Edge is to buy the HDMI docking station. There simply needs to be an easier way to do it without resorting to bringing the dock everywhere you go, even if it means an adapter from mini to full size HDMI. I'd actually even be okay with a dock connector to video out adapter, the way Apple does it.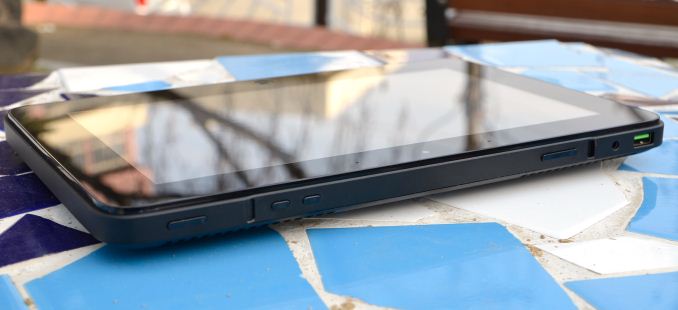 In an interesting side note, Razer is also announcing a partnership today with Valve to preinstall Steam on the shipping Edge units. It'll likely be one of the first pieces of software installed on the Edge (it certainly was for me), so it's a move that makes sense for both companies, especially since Razer is marketing the Edge as a portable open console.
The Edge comes in two flavors, base and Pro. The entry-level SKU has an i5-3317U (1.7GHz), 4GB of DDR3, and a 64GB SSD for $999, while the Edge Pro bumps that up to an i7-3517U (1.9GHz), 8GB, and a 128GB SSD for $1299. Upgrading to a 256GB drive costs a further $150. The evaluation unit we received was the full-tilt Edge Pro 256GB, which has an SF-2200-based ADATA XM14 mSATA SSD. The pricing makes sense, with the base Edge coming in at a $100 premium over an equivalent 64GB Surface Pro. You lose the 1080p display and Wacom digitizer, but the graphics card makes for a pretty potent trump card.
With that said, I'd certainly hesitate to get the base model with just 64GB of storage; after taking out the chunks for recovery partitions and Windows, you might have half that space remaining. Considering the size of games these days, it's not really a workable solution. I've installed maybe 10 games on my Edge review unit (the seven in our 2012 benchmark suite, plus a couple more) and there's only 90GB of free disk space left. The 128GB Pro seems to be the sweet spot in the Edge lineup, particularly when bundled with the gamepad controller for $1499.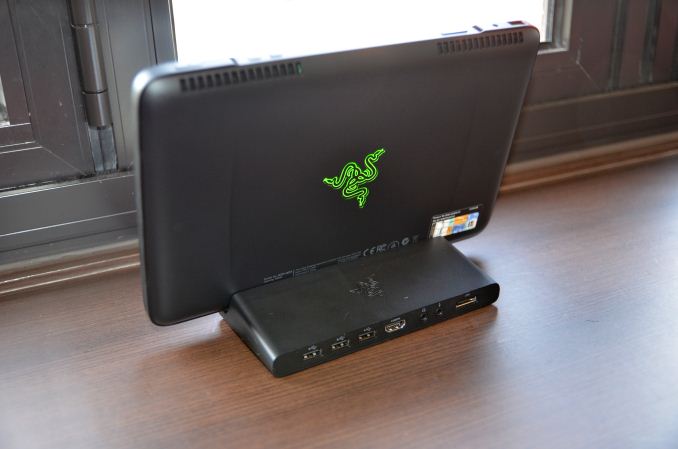 That brings us to the other side of the story: the range of accessories Razer is releasing alongside the Edge. The most prominent among them, of course, is the gamepad controller, as well as a docking station that provides an HDMI and three USB ports. Both are available now alongside the tablet, while the third piece of the accessory puzzle, a mobile keyboard dock, will not show up until Q3. In typical Razer fashion, the accessory costs are borderline highway robbery - the gamepad controller retails at $249, the HDMI dock goes for $99 and the laptop dock will end up at least $150 when it does release eventually. That doesn't even factor in the $69 for the secondary 41.44Wh battery that slots into the gamepad and laptop dock. It all adds up, and eventually the reasonable cost of the tablet hardware starts to look not so reasonable anymore. But we'll get there.
Design
The Edge will be pretty familiar to anyone who has seen or spent any time with Razer systems in the past – consider a tablet with the same design language as the Blade and you'll be on the right track. Like the Blade that came before it, the design is clean and understated. The matte black anodized aluminum chassis looks actually like a shrunken version of the Blade lid, with the same vertical ridges flanking a glowing green Razer logo. The edges are all radiused, with two large vents on the right and left sides of the top edge (intake on the left, exhaust on the right). The sides of the tablet are unadorned, while the bottom has the dock/power connector located in the center and a pair of speakers located at the corners. The top edge of the tablet has buttons for power, keyboard, rotation, and volume, as well as a 3.5mm combo jack and a USB 3.0 port accented in the traditional Razer green. The front face is completely clean other than the webcam at the top and the circular Windows button located just under the display.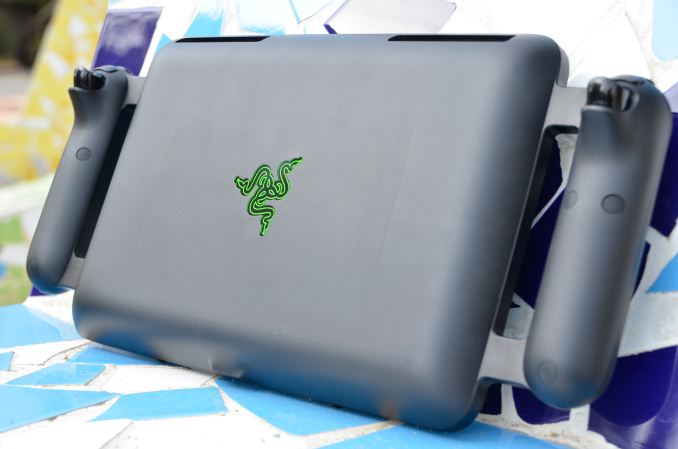 When you first pick it up, it seems pretty antithetical to the slim ARM-based tablets that we've gotten used to over the last few years. Even Intel-based tablets like Surface Pro have tried really hard to reach that level of thinness, but the Edge practically flaunts its chunky design. The thickness isn't the problem I thought it would be going into the review, because quite honestly, the size doesn't make it uncomfortable to use. The curved sides make for a good in-hand feel, and the Edge feels more comfortable than Surface Pro does. My biggest issue with Surface Pro is that it felt really heavy, but because the Edge weighs just as much and has a significantly larger chassis, it doesn't have that same dense feel to it. The ridges on the back also play into the in-hand feel, the subtle curvature acts almost like a grip that helps you hold the tablet. It just has a nice, solid, reassuring feel to it when you pick it up.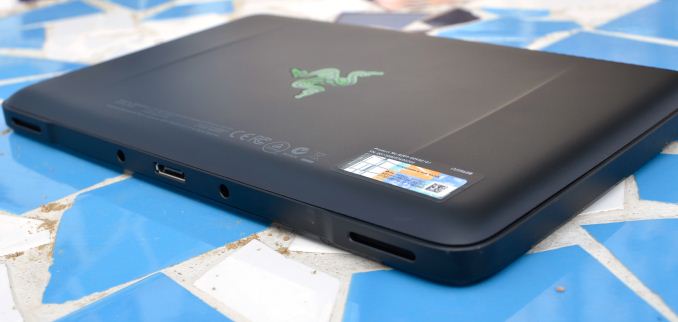 Razer made a big deal out of the speakers when I last saw the Edge at CES. Tablet audio has been overlooked for the last few years, though it's finally starting to get its share of attention. The Edge has enough room in the chassis to pack a pair of surprisingly good stereo speakers. Any time you get solid midrange and any semblance of bass out of a tablet or ultrabook, you should be thrilled – it doesn't happen very often. The speakers on the Edge are clearly and distinctly louder and more defined than any tablet or ultrabook I've spent time with in recent times – iPad (even the mini, which has stereo speakers), Surface Pro, ATIV Smart PC and Smart PC Pro, Zenbook Prime, Aspire S7, you name it. They're legitimately better than any other prominent device in this class.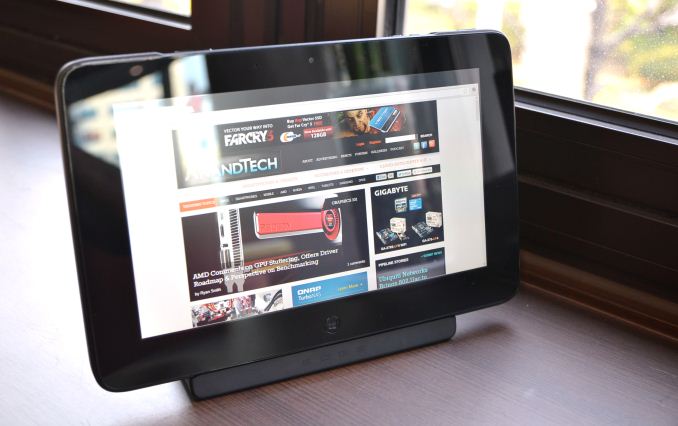 I have a couple of nits to pick with the design. The first is the bezel around the display – it's huge. Tablets tend to have larger bezels than we like on notebooks, and the display edge gestures in Windows 8 also have a role to play here, but there's something to be said for the elegance of a slim bezel. The Edge has a bezel that's just over an inch wide all the way around. That's pretty substantial, even compared to the healthy 0.75" width of the iPad's bezel. The generous bezel means that you're never worried about accidentally touching the display, but I'd like to see a display closer in size to Surface's 10.6" panel in this same size chassis. I'm not sure how feasible it is for a company like Razer to get a somewhat irregularly sized panel, though. I'd also be interested in seeing how much bigger the chassis would need to be to fit an 11.6" display, and I'm sure John Wilson and his team kicked that idea around before settling on the 10.1" panel. It's clear that the ideal display size for Windows tablets is somewhere between 10.1" and 11.6", so it'll be interesting to see if more manufacturers take Microsoft's lead and start shipping devices later this year with displays in the 10.6"-11.1" range.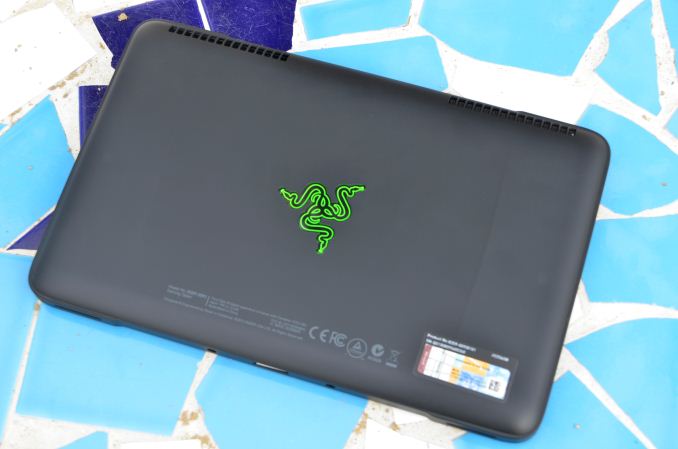 The other is the Windows sticker on the back – I think they'd have been better off integrating that into the power brick the way ASUS has been doing with their design-oriented systems for some time now. Perhaps I was spoiled by the sleekness of the Blade's 120W brick, but in comparison the off-the-shelf Chicony 65W AC adapter is ugly and looks like a cheap touch on an otherwise very polished product. I'd like to see something slimmer, like a downsized version of the Blade adapter, with the product stickers integrated to really complete the clean aesthetic the rest of the device has.
The Gamepad
The gamepad controller is obviously the game-changer here, since it really does redefine portable gaming usage models. That sounds like marketing hyperbole at first, but it's actually true – you can take the Edge around with the gamepad and play real PC games on it basically anywhere, as though it's a huge PSP or some crazy Ben Heck experiment to weld the two halves of an Xbox controller to a tablet. It's simply awesome, there's absolutely no question in my mind about that.
The gamepad controller is like a case that the Edge docks into, with a springloaded clip with the dock connector and two pins on either side to hold it in place. The inner surface of the gamepad features two rubber pads with springs behind them to pop the tablet up out of the case when the clip is released. Inserting and removing the tablet from the gamepad is a two-hand job, as both sides of the bottom clip need to be released before the tablet pops up.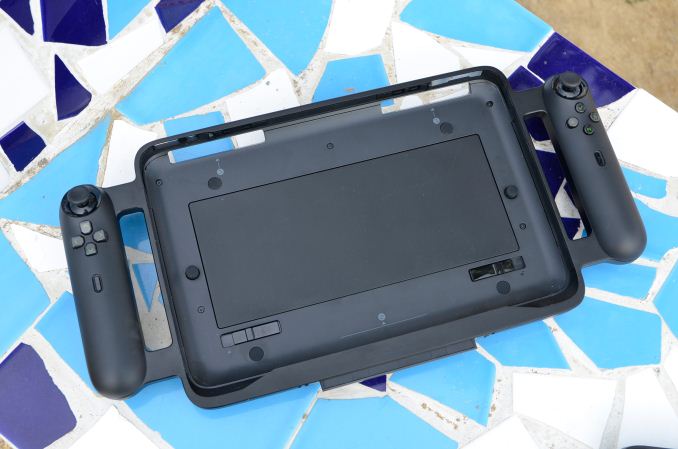 The frame is made of anodized aluminum, with the controls and backplate being matte black plastic that looks very similar to the aluminum in terms of aesthetic. Everything attaches to the aluminum skeleton though, so the entire piece feels very solid in your hands. It actually reminds me a bit of the controller cases for iPhone that turned it into something resembling a high-tech Gameboy. The frame has contours on the inner bottom edge, redirecting output from the downward-firing speakers out towards the user.
With the extended 41.44Wh battery, the full kit weighs about 3.25 pounds. Ergonomically, this is a two-handed device – there's too much weight and holding just one handle won't work due to the rotational moment of inertia. Basically, it just wants to rotate around the axis of the handle unless you're holding both of them. The weight means that the easiest way to game is to place the back of the tablet on your lap and just crane over it to play. It just isn't feasible to hold upright for any sustained period of time without resting it against something. The IPS panel helps with the viewing angles, so thankfully that isn't an issue. The nice thing about the gamepad controller is that it does shield the worst of the heat – the top right corner of the gamepad does get pretty toasty when gaming or benchmarking for a length of time, but it's not as bad as touching the tablet directly.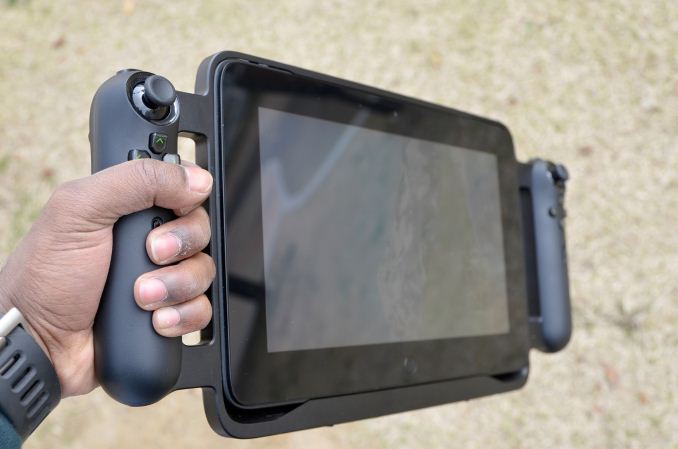 The controller has two analog sticks prominently featured at the top of each side, directional buttons on and a back button on the left side, the four action buttons (A, B, X, Y) and start button on the right side, two sets of right and left shoulder/bumper buttons, and two analog triggers. It has basically the same controller layout as the Xbox 360, with one key difference – the right analog stick is placed above the action buttons instead of below. This is a little annoying, because the natural instinct is to put your thumb on the analog instead of the action buttons where they would normally be. If you don't adjust the position of your hand on the right side, this can result in discomfort during extended gaming sessions (yes, I know this from experience.)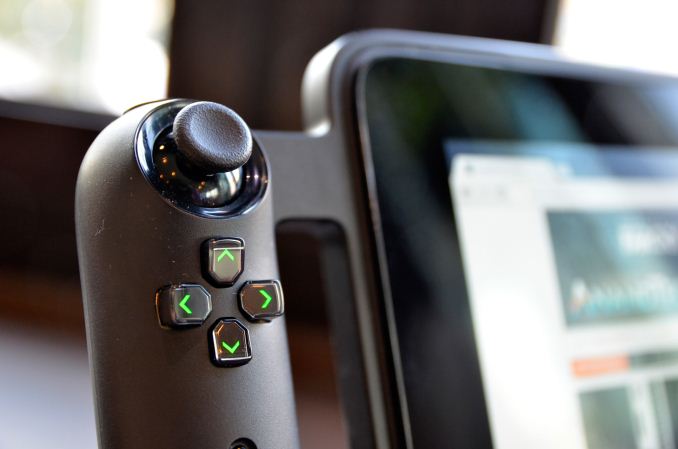 The system recognizes the gamepad as an Xbox 360 controller, so there are no questions about compatibility or setup. It just works. You can even install JoyToKey to emulate a mouse using the analog sticks, though I wish Razer had included a first-party way to do this. When properly set up, it's pretty interesting to use the gamepad for standard Windows input.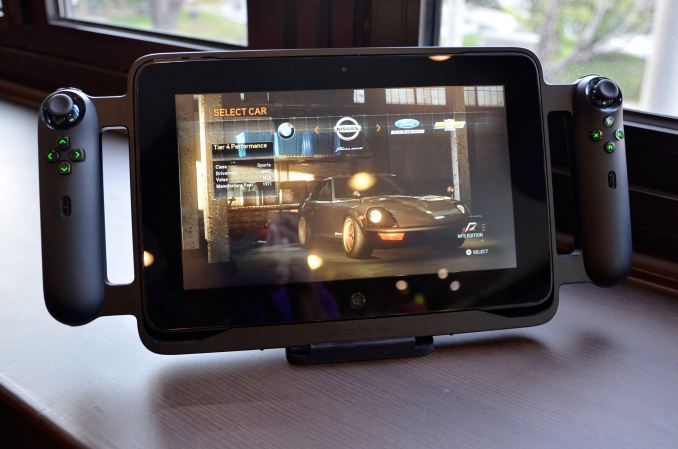 In general, the Edge's gamepad controller shockingly simple to use and easy to get used to, the adjustment isn't nearly as much as one would think considering that your Xbox controller has suddenly mutated and grown a 10.1" display. You start playing games everywhere – buses, cars, planes, coffee shops, subways, libraries, basically anywhere you can pull out a tablet. Early on in the review process, I was driving to dinner with a friend of mine who was playing Half-Life 2 on the Edge in the passenger seat. It was incredibly distracting, mostly because I really wanted to play too. (A small piece of advice: don't drive and play Need For Speed during stoplights, regardless of how tempting it might be to do so.) But it's awesome – places where it would be awkward or impossible to play PC games are no longer so, you can just take the Edge and play Skyrim or Dirt 3 as easily as one would play Angry Birds on an iPad. Bam, mobile PC gaming, redefined.
Dock and Keyboard
The docking station is pretty simple, just a wedge-shaped plastic part with a rubberized base that features a dock connector and two pins to hold the Edge in place. The back has a power connector, separate 3.5mm jacks for line in and audio out, an HDMI port, and three USB 2.0 ports. It's worth stating this again, but the dock is actually the *only* way to get video out from the tablet. The lack of USB 3.0 ports is related to a bandwidth limitation for the dock connector and not a case of Razer being cheap with their port selection, though I'd still have liked to see at least one of the three ports be USB 3.0.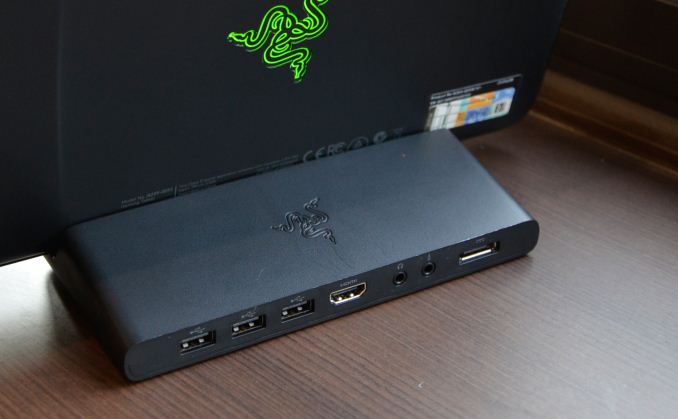 There are two primary use cases for the dock that I can see it serving pretty well – hooked up to a TV and Xbox controllers in what Razer calls "console mode", as well as at a desk with an external monitor, keyboard, and mouse. Razer had a number of Edges set up as consoles at CES both in their booth as well as in their meeting room suite – they also announced the Sabertooth controller for Xbox 360 at CES, so it made for a nice two-in-one product showcase. It worked pretty well, though it's worth mentioning that the displays were mirrored at 1366x768. This goes back to GT 640M LE being not suited at all to gaming at resolutions above that – running new games at 1080p on anything lower than a GT 650M can be a bit painful. But if you're willing to play at the native resolution of the tablet and not the native res of the TV, it's a pretty enjoyable way to game. I spent an evening with some of Razer's marketing guys playing Dirt Showdown on a docked Edge hooked up to a 60" TV and a few Sabertooths, and the Edge acquitted itself well in this type of situation. If you just leave the dock hooked up to the TV and controllers, it's really easy to just drop the tablet into it when you want to play.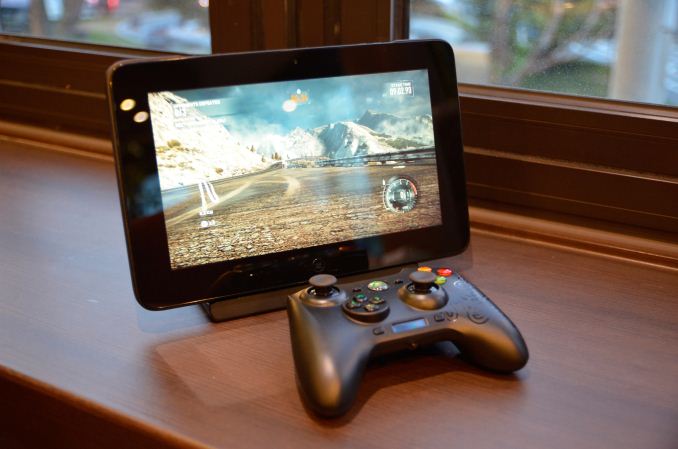 The desktop use case is the other one where the dock is ideally suited. Connected to an external display and a Bluetooth keyboard and mouse, it makes for a decent setup. This is one of the few tablets powerful enough that I could use it as a main day to day work machine, especially in the i7/8GB/256GB configuration I have here. Now, I'm not going to give up the M18x I'm currently using at my desk, but if you had to use a tablet as your primary machine, wouldn't the Edge be very close to the top of your list?
The only remaining piece of the puzzle is the keyboard dock, which we saw displayed in very early preproduction form at CES. Back in January, it was a really rough build – the keyboard was tiny, there was tons of flex, the hinge was questionable, and the mechanism to keep it closed was a very high tech elastic band. Rough is probably understating it. I know that Min was using one during the show, but it looked like the primary intent of those hand-built preproduction units was to have the keyboard dock on display and not necessarily in a usable form. The final keyboard dock is slated for Q3, and will likely look pretty similar to the one shown previously (though with a substantially different latching mechanism). I feel like the keys will need to be bigger for the keyboard to be comfortable, and there's enough number of perfectly good tablet-size keyboards out there for Razer to look at. I'd like to highlight, in particular, the Surface Type Cover and any ASUS 10.1" keyboard since, say, 2008, as good examples. Borrow liberally from those designs and it'll be great.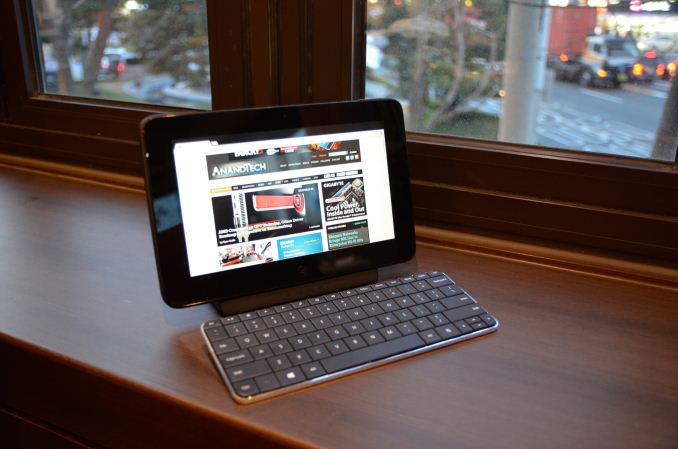 In absence of the keyboard, I've turned to Microsoft's Wedge mobile Bluetooth keyboard and paired it with the HDMI docking station to come up with a workable temporary solution for portable typing. When it arrives, the keyboard dock will be compatible with the extended 41.44Wh battery that works with the gamepad controller, offering a potential 10 hours of usable battery life in netbook mode. Given the pricing of the accessories we've seen thus far, I'd expect the dock to come in at no less than the $129-149 price range.
Performance
Now for the good parts. We're actually pretty familiar with the computing platform behind the Edge. The ultra-low voltage IVB parts are commonly found in ultrabooks and are some of the AT mobile team's favorite mobile processors right now. I'm not the only one, Dustin just rhapsodized about the ULV Core i5s in his review of the updated Dell XPS 13 last week. The usable performance and reasonable power draw on offer are just that fantastic, and these CPUs really represent the sweet spot of the market right now. I'm not sure that the additional CPU headroom of the i7s is really necessary or worth the additional cost; the 100-200MHz clock speed bumps are pretty incremental. The only really compelling thing about the i7 SKUs is their ability to hit 3.0-3.1GHz on Turbo, a solid 400MHz higher than the corresponding i5 parts.
The other thing is that I'm seeing a lot of cases where there will be two SKUs on offer – one with an i5, 4GB RAM, and a 64GB/128GB SSD, and then a high end one that offers spec bumps across the board – i7, 8GB, and 128GB/256GB. We're moving away from the early 2000s Dell/HP/Gateway-era of pick your component computing, so the decision between i5 and i7 chips might actually be hinge on the rest of the package, as is the case with the Edge.
Anyways, that's diverging a bit. We're very familiar with both of the CPUs used by the Edge from various ultrabooks; in particular, the i5-3317U is the heart of my trusty ASUS Zenbook Prime and I just recently looked at the i7-3517U in my review of the Vizio CT15. The i7-3517U has a base clock speed of 1.9GHz and a max turbo of 3.0GHz, along with HD 4000 onboard graphics (350MHz base clock, 1.15GHz max). It performs roughly where we'd expect, and I'd also like to highlight the relative lack of differences between the i5 and i7 ULV SKUs here.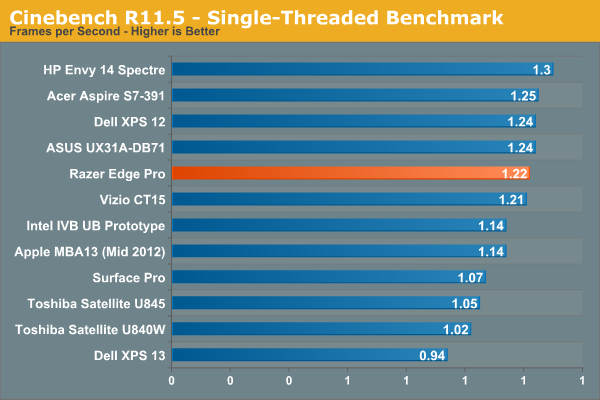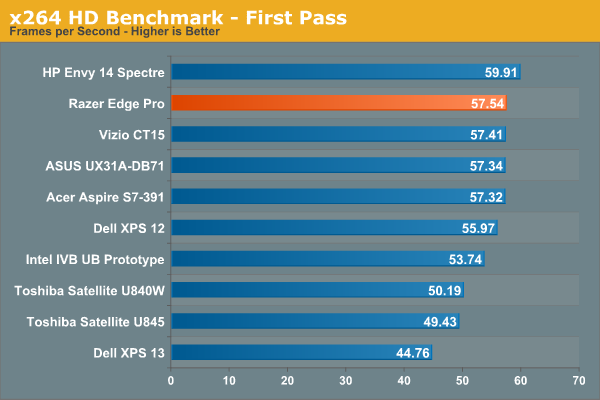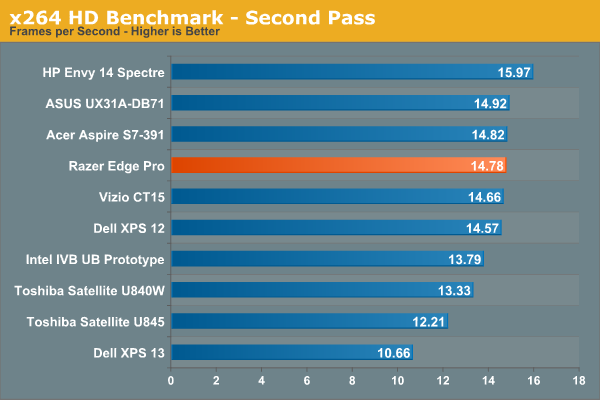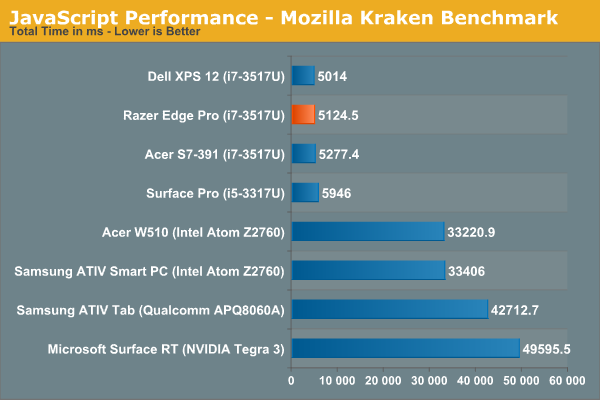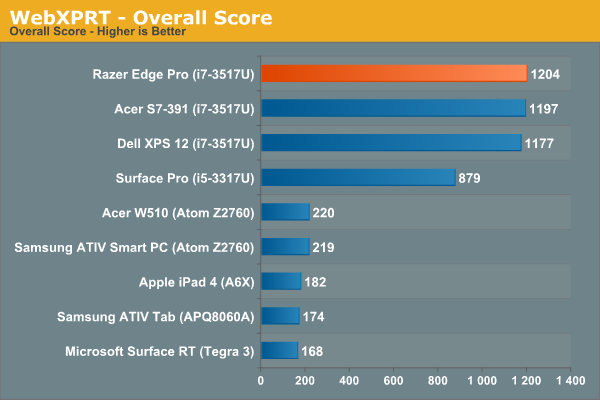 Graphics Performance
Nvidia's mobile GPU heirarchy can get very, very convoluted, particularly at the low end, with a mix of new, old, and gap-bridging parts all under the same name. As such, there are many variants of GT 640M and GT 640M LE, with a mix of SKUs spanning the 28nm Kepler, 40nm Fermi, and 28nm die-shrunken Fermi cores. An interesting and related side-note: a few days ago, Anand asked the mobile team if we had seen any Kepler-based GT 630M notebooks. It took a bit of searching, but eventually it was determined that none of the GT 630M SKUs are actually Kepler based, only 28nm and 40nm variants of the Fermi core. When the lineups are so jumbled that even we can't keep track of them, there's something wrong. Why are some GT 640Ms so slow, while others are nearly equal to the DDR3 GT 650M? Why are there still 40nm GeForce 600M parts? I wish Nvidia could simplify and streamline their mobile GPU lineup, it'd make our lives easier as well as being a lot more transparent for consumers.
The GT 640M LE in the Edge is thankfully a Kepler part, so a 28nm GK107 core with 384 cores, 16 ROPs, and 32 TMUs, just like all Keplers from the GTX 660M on down. This is the absolute bottom of the range, so it has the slowest memory configuration (900MHz DDR3) and a 500MHz core clock, with boost up to 570MHz. The next big hardware jump comes with GDDR5 VRAM in the GT 650M, and a combination of clock speeds and GPU boost make up the differences between SKUs.
The 1366x768 panel comes into play here – Kepler, even at 500MHz, is more than capable of pushing 768p displays at high settings in modern games. High quality textures really start to tax the slower memory in the low-end Kepler cards as you increase resolution, so even with higher clock speeds, 1080p gaming will be non-ideal at best and downright bad at worst. Don't expect much to be playable, as even the DDR3 variant of the GT 650M basically failed the 1080p portion of our gaming tests. The GDDR5 GT 650M and the GTX 660M (which comes in GDDR5 form only) do better here, but there's a pretty substantial gap between those two chips and the rest of the GK107 mobile parts at 1080p.
We haven't yet finalized our 2013 Gaming test suite, so I just ran our 2012 test suite. I did almost all of my testing on the road, sans access to 1080p displays, so I only have 1366x768 gaming results (that's our value gaming suite, which runs medium detail settings at 768p). I also ran at high detail settings, to see what kind of differences there would be. Once our new suite is finalized, I'll update with results at 1600x900 and 1080p.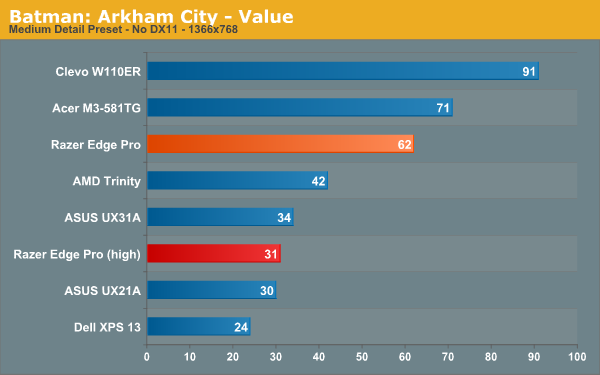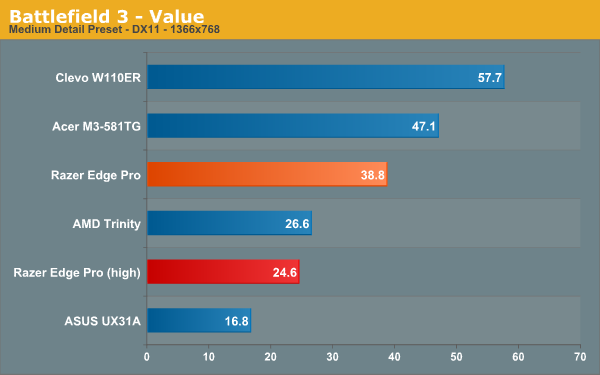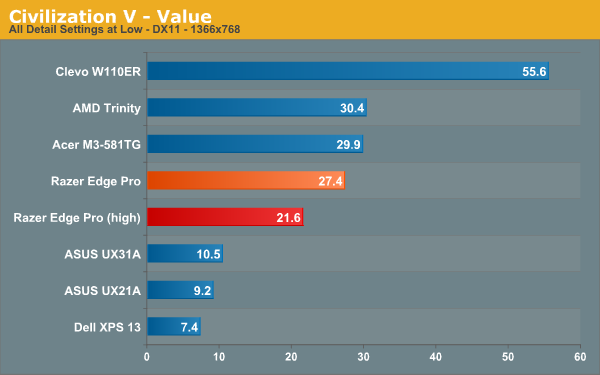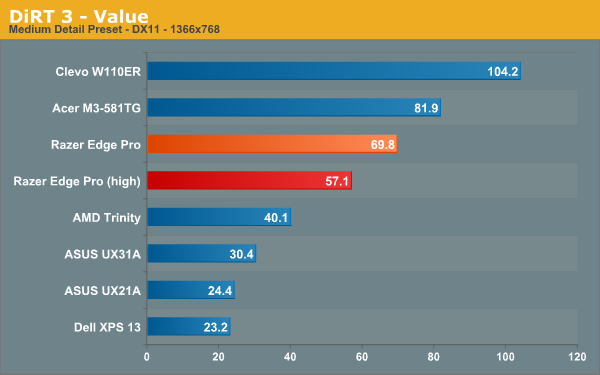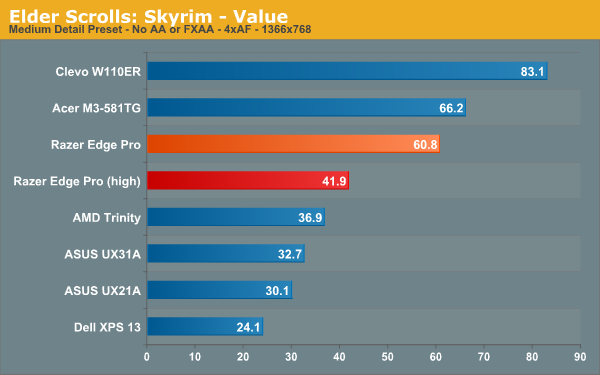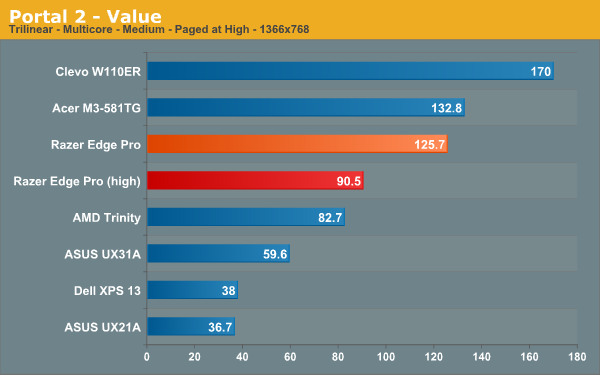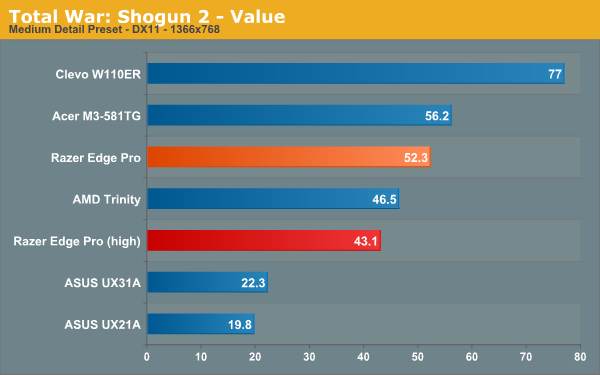 The Edge does pretty well, honestly – Kepler is a great mobile GPU, even clocked so low. At high settings, almost everything was playable, except for Battlefield 3 and Civ 5. I think Civ 5 is CPU limited on the Edge, while BF3 is one of the more strenuous games we test, so both of those were expected. Lower the settings to medium, and pretty much everything is playable.
The higher clock speeds of the GT 650M (DDR3) in the Clevo W110ER really make themselves felt, with substantially better gaming performance than the Edge throughout our benchmark suite. For a comparison with Surface Pro and the other IVB tablets, look at the ASUS Zenbook Primes - the UX31A with the 1.15GHz HD 4000 (i7-3517U) and the UX21A with the same HD 4000 clocked at 1.05GHz (i5-3317U). There's a small performance delta between the two due to the maximum frequency difference, but either way, HD 4000 seriously struggles to be playable in most of our benchmarks unless you lower either the resolution or detail settings. Again, Kepler at 500MHz is still a pretty capable card at 1366x768, so concern over frame rates is probably a moot one unless you're gaming on an external display.
Battery Life and Mobile Gaming
This is the section that probably will garner the most scrutiny. The Edge comes with a 41.44Wh battery, and in normal usage situations, it does about as well as one could expect from an Ivy Bridge-based tablet. Surface Pro comes with a similarly sized battery, and we saw pretty similar runtime from the two tablets (Surface Pro, on average, had about 15-20 minutes more life in any given test). Considering that IVB ultrabooks don't fare too much better (or, in some cases, significantly worse – looking at you Acer) I guess it's hard to complain here; until we see Haswell and its significant idle power reduction later this year, ARM and Clovertrail tablets are going to slaughter IVB tablets in this category.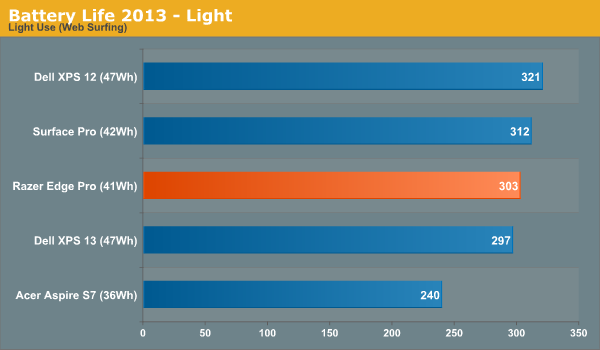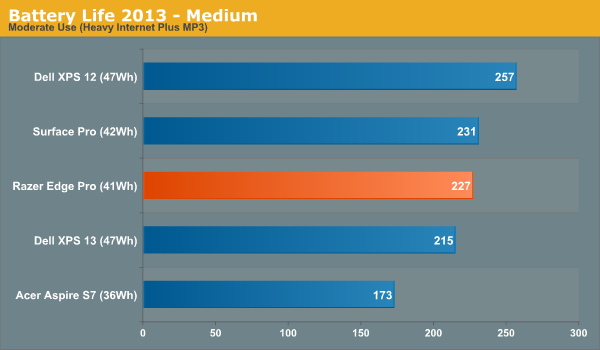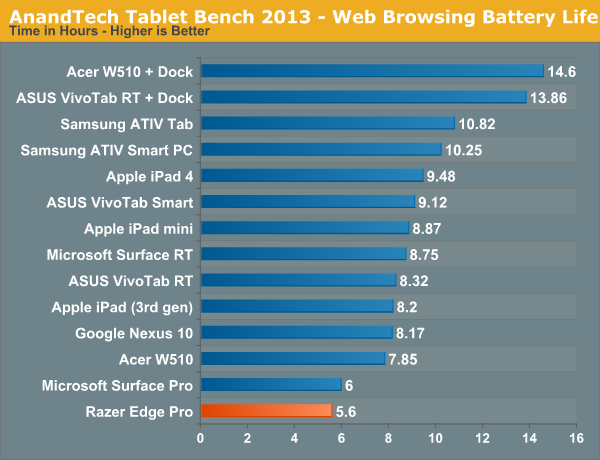 There's an additional wrinkle with the Edge – the mobile gaming aspect. I broke down the typical gaming power draw in the introduction, and it's worth bringing back up: pair a 17W CPU and a 20W GPU, consider that almost no reasonable workload will peg both at the same time, toss in loads for the display, SSD, RAM, WiFi, chipset, and all the other auxiliary components, and a 40W total system draw estimate in gaming workflows is pretty reasonable. If you're using the Edge in the gamepad controller with the extended battery, there's a total of 82.88Wh of battery power onboard. This sets up a pretty simple equation to estimate the gaming battery life: 82.88Wh/40W = ? hours. Do the simple division, and you're looking at a hair over two hours, which is where Razer's "two hours of gaming battery life" claim comes from. (I had John Wilson, Razer's VP of System Engineering, walk me through the math here, and he confirmed that 80 divided by 40 did in fact equal two.)
Naturally, a good amount of testing was in order, so I unplugged the Edge, went to a nearby coffee shop, and played Dirt 3 until the battery died. I did this multiple times in the interest of generating as much data as possible (I love my job.) I was initially planning on using a timedemo or looping a benchmark, but I thought it would be more fun to actually game on the Edge – I also needed some real world mobile gaming experiences, so it killed two birds with one stone.
I spent most of my time in Dirt 3 and Need For Speed: The Run. The latter isn't part of our benchmark suite and it's not the most recent NFS title (it was a holiday 2011 release), but the Cannonball Run-esque storyline intrigued me and I've been meaning to play through it for some time without ever getting the chance to do so. The Edge review just gave me the excuse I needed to get into it.
The two hour estimate is pretty fair, depending on brightness levels, power plan, and graphics settings I saw anywhere between 1:45 and 2:30 in the newer games. I also fired up Quake III: Arena for curiosity's sake, to see how much less strenuous a 12 year old game would be, and got 3:12 of playing time out of it. It's worth noting that I wasn't hitting network at all, either, so that's another thing to consider.
In the "Balanced" power plan and a brightness of 200nits (55%), playing Dirt 3 with medium settings at the native 1366x768 resolution, the Edge lasted for 136 minutes (2:16) before running out of juice. That's pretty much in line with what we expected, and lowering the brightness can help extend that. I wouldn't recommend high or ultra settings due to the additional power draw, while the Power Saver profile throttles the GPU far too aggressively for smooth gameplay even at medium settings. The Balanced power profile and medium settings made for a nice compromise in mobile use cases.
Thermals
The thermal story here is pretty interesting. Obviously, with a huge thermal envelope for such a small form factor, the first concern I had was for heat. Razer has a fair bit of experience shoving a lot of hardware in tight spaces, though with the Blade the problem construction was different. The Blade chassis is very thin, but has a lot of room in terms of footprint. The sheer amount of surface area top and bottom, as well as all the venting on the bottom and sides, help the Blade (especially the 2nd generation one) effectively cool itself even though there's relatively little volume available.
The Edge, by comparison, has a tiny footprint and hence needs to be much thicker than competing tablets; it's actually also thicker than the bottom casing of the Blade, so there's that too. Airflow is extremely key here, since there's very little surface area to let heat dissipate convectively. The heat pipe, too, is key, as tablets have far more orientations that need to be designed for when compared to notebooks. Orientation matters for heat pipes, as their effectiveness depends on how much working fluid can be transported from the condenser to the evaporator. Operating against gravity is always a losing proposition, and as such there's an inverse correlation between transport capacity and operation against gravity (ie, as the angle of operation against gravity increases, the transport capacity of the heat pipes typically decrease.)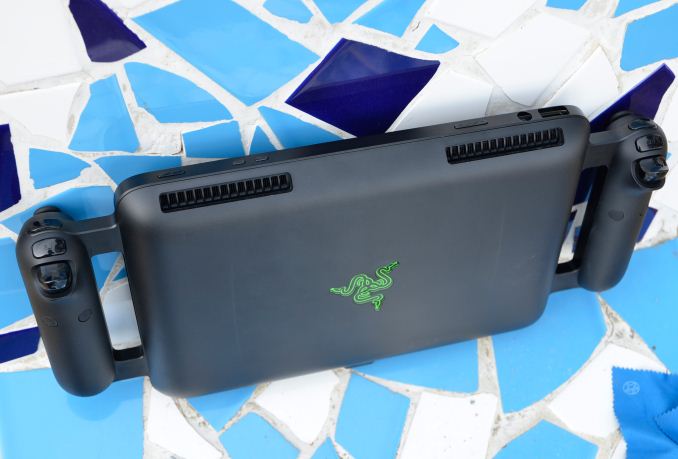 At some point in the future I'll do a much more thorough article on how heat pipes and the cooling systems in mobile computers work, but for now this will have to suffice. The TL;DR version as pertinent to this article: if you have enough compute horsepower in a tablet to require active cooling, you're in for a hell of a time. Tablets are much harder to cool actively than notebooks.
Which is why thermal performance was, for me at least, the major concern with the Edge prior to launch. The 0.8" thickness helped alleviate my fears somewhat, because that gets you a significant amount of volume to work with compared to something like the Surface Pro. Ivy Bridge ULV and Kepler are also pretty good as far as thermal performance goes, so I wasn't concerned at all about how it would behave under light usage cases, particularly ones that didn't have the GPU turning on. But when the system is stressed, what then?
To find out, I fired up my 100% system load test – Furmark 1080p and wPrime 1024M (4 threads) looping, which maxes CPU and GPU – and let it run for a sustained period of time. I saw GPU temps hit 85C with ease, while CPU got up to 95C. The GPU temperature stabilizes in the 87F region at 0.887V (the voltage at 500MHz). CPU temp stabilizes in the low 90s, which is interesting because we typically see CPU temperatures that are lower than the GPU temps. CPU power draw hovers around 14.7W when both cores are loaded. The Edge reaches thermal equilibrium before it starts throttling the GPU, which is a good sign.
I also ran my real-world gaming situation with the Dirt 3 benchmark, and like last time, ran it 50 times in a row, this time on high settings with 2xMSAA at 1366x768, my graphics setup of choice for playing the game when the Edge was plugged in. The results were pretty interesting – while average framerates stayed in the 52-56 fps range for a majority of the tests, the minimum framerate told a good bit of the story. There are three primary speeds and voltages the GPU runs at: the default 500MHz (0.887V), 570MHz (0.912V), and 405MHz (0.813V). In many of the runs in the 55-57fps range, the minimum framerate would be around 45-46fps, while some of the runs that had average fps on the low end (51-52fps), the minimum framerate would be below 40, sometimes as low as 35 fps. This happened every three or four runs, with consistency, with the GPU clocking down to the lower voltage performance state when necessary in order to maintain thermal equilibrium. At no point was there an extended period of throttling, which is why performance remained mostly constant for the roughly two and a half hours it took to go through 50 runs of the benchmark. That's pretty impressive, considering the amount of thermal stress the GPU puts on a system of this size.
Display
The display was always a key part of the gaming tablet idea, and I was glad to see Razer spec a 1366x768 IPS panel, sourced from LG Display. The lack of 1080p is initially a disappointment given the price point, but I've discussed the reasons for a 1080p panel being unnecessary. The emphasis on display panel quality in the tablet market has been great to see, since it's led to the widespread adoption of various wide-angle panel types. When Razer first talked to me about the Edge, I was told it had a TN panel. I basically threw a fit about the display choice, but when the preproduction units were shown at CES, they were clearly using IPS panels. Whether I was initially misinformed by Razer by accident or if the panel actually changed between early December and CES, I am not sure, but either way, it worked out.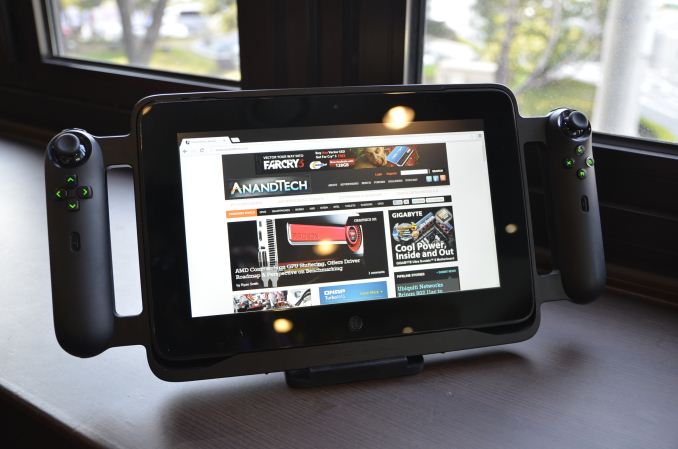 Performance is pretty good – the contrast ratio is solid at 708:1, while the maximum brightness of 358 nits is also competitive. The uncalibrated colour temperature is a pretty neutral 6600K. I'd like to see lower black levels, but that's the next step. The IPS panel offers the standard 178 degree viewing angles, which are very useful when gaming on the go. It also means people can crowd around you and see what you're doing, so any embarrassing deaths or crashes will be for public consumption, as I found out when playing Half-Life 2 on the Edge with a group of my friends.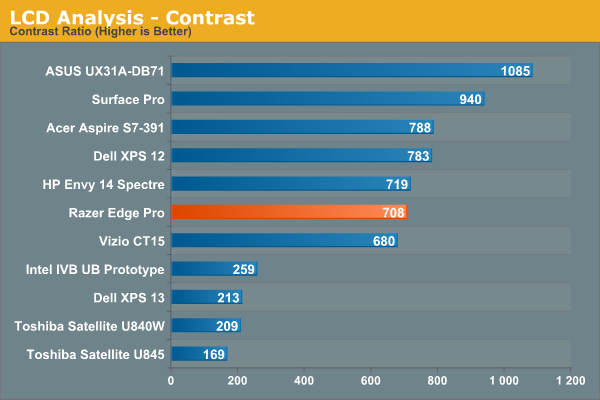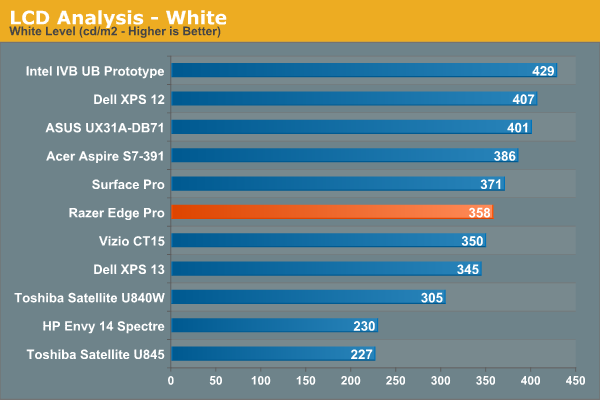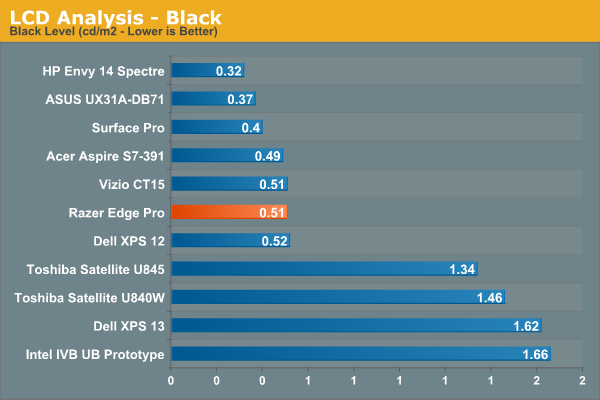 Conclusion
It was actually hard for me to finish this review on time. Every time I started working on it, I ended up gaming on the Edge. Every time, without fail. It's a lot of fun to use.
There's a few things to think about with the Edge. It's a real technical accomplishment, and as an engineer I can appreciate the challenges John Wilson and his design team must have encountered in creating a stable, polished mobile gaming device that packs this much power. And for a starting price of $999, this is actually a pretty good value for a system that holds a very unique position on the market. There's nothing else quite like it on the market – you either have to give up the dedicated GPU or the tablet form factor. The relatively low resolution panel ensures that GPU performance won't be an issue, but long term these types of devices will need higher res panels and better GPUs to really be taken seriously.
Ultimately that's where the Edge finds itself today - stuck between the promise of a really cool future, and a decent but very specific present. The Edge is practically guaranteed to find a following in the enthusiast niche that is looking for a dedicated gaming tablet today, but its widespread appeal will be limited until the hardware has a chance to evolve. In this regard, Razer finds itself facing similar challenges to Microsoft with Surface Pro. We believe in the concept, but for broader appeal the hardware (and software) need more iterations (and more power efficient silicon).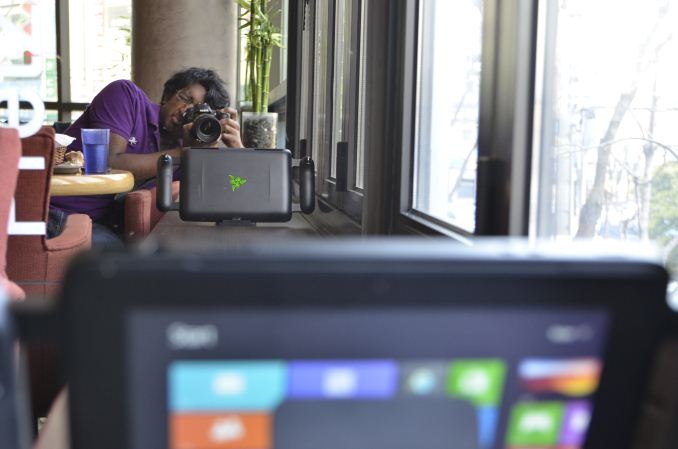 The Edge hardware has some flaws – battery life, like with many (all) other Ivy Bridge tablets, is an Achilles heel, and the scarcity of ports is somewhere between annoying (no SD card slot) and ridiculous (no video out). And I seriously believe that devices like the Edge and Surface Pro absolutely should have Thunderbolt as a mandatory feature. But these are mere quibbles, things to improve in the next generation (Haswell starts to address many of the IVB's idle power draw issues), not problems with the concept. Surprisingly, price isn't one of the issues – the $999 base cost is actually a pretty good deal relative to the competition, considering the GPU horsepower on tap, and the upgrade costs are pretty reasonable, too.
The accessories are kind of a double edged sword – on one hand, they're awesome; on the other, they don't come cheaply. The gamepad is obviously a must-buy, it'd be nice to have twice the battery life for any kind of mobile gaming, the HDMI dock is also necessary if you want any kind of video out, and pretty soon you're talking about $420 in accessories before you even mention a keyboard or mouse of any kind. It's not inexpensive, and it's hard to think about buying more than one or two of the accessories without feeling your mental wallet run away and hide. The idea of paying $1499 for the 128GB Edge Pro and gamepad controller bundled together is fine and I suspect that to be the most popular combination, but when considering that the full kit sent to me rings in at a hair under $1900, it seems a little bit ridiculous.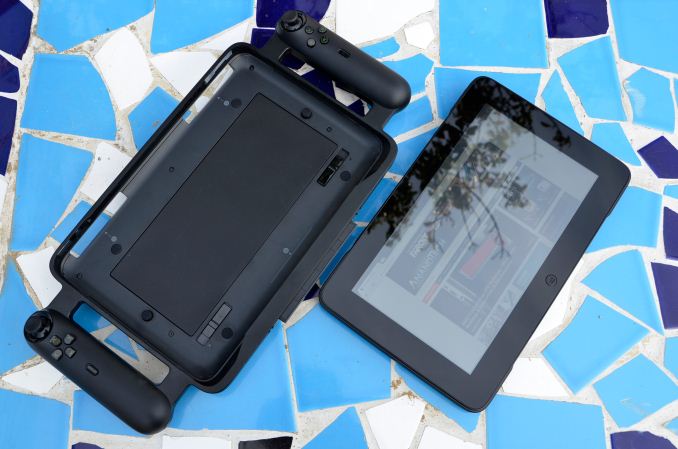 So in essence, the hardware is awesome, but it'll cost you if you want to really unlock the full potential of the Edge. The impact it will have on mobile gaming going forward is going to be interesting – Razer has shifted the question from one of performance limitations to one of experience. The Edge has the computing power it needs to succeed as a gaming portable, and future generations will only get thinner, lighter, and more power efficient. The real difference maker here is the ability to take your PC games on the road and play them anywhere, not just where you can find a stable platform with space for a keyboard and mouse. I can go sit in a coffee shop and play any game I want exactly as I would on my M18x. It's the same gaming experience you get on a regular PC, but completely untethered – from mice, keyboards, power cords, desks, convention, you name it.
I've had portable gaming machines before – my interest in notebooks started with small 12-13" gaming notebooks and I still have an undying love for systems like the Clevo W110ER. But those are all small notebooks with big GPUs, offering nowhere close to the mobility or flexibility of the Edge. This, this is different. The Edge feels like a PC-iPad-PSP mashup from the future, and it's incredibly exciting. As much as it was hyped up with all the CES awards and social media marketing push, Razer has created a fascinating gaming machine that could change the way we view portable gaming going forward.