Original Link: http://www.anandtech.com/show/6900/corsair-obsidian-900d-case-review-think-big-thats-only-half-as-large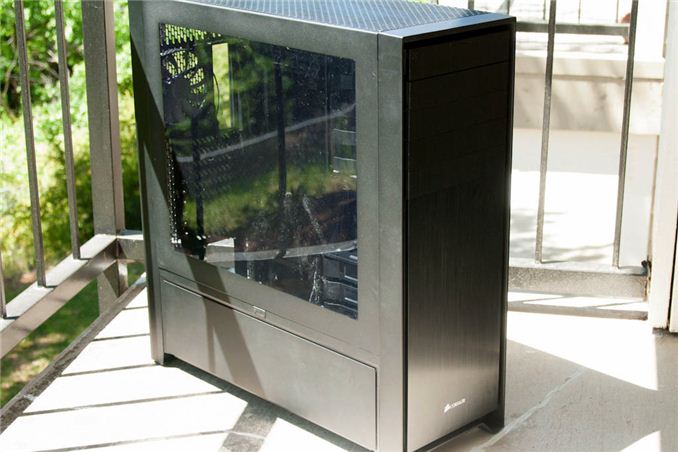 An enclosure built from the ground up for custom liquid cooling loops is actually a fairly rarefied thing. Why wouldn't it be? Building a custom loop is expensive and time consuming, which would make that type of enclosure the very definition of niche. Yet Corsair has come forward with the Obsidian 900D for one big reason: to fill that niche.
And "big" is definitely the operative word. Riding high on their liquid cooling legacy with the popular Obsidian 800D, Corsair has developed a positively massive enclosure that's designed essentially to hold the most powerful desktop machine you can conceive of while providing ample space to mount radiators and all the accoutrements of liquid cooling.
Before we get too much further into this review, I want to be absolutely clear about how the Obsidian 900D is being evaluated, because it's a very different beast from most cases. It superficially looks and is built like an overgrown ATX case, but at an MSRP of $349 it's about as premium as it gets. When you see the way Corsair designed it, you'll be able to tell like I did that it's destined for much more than a garden variety build.
What that also means is that while I have to put it through our conventional testing, that conventional testing is going to be primarily academic. Unfortunately it's much harder to tell how good an enclosure will be at its job when that job will vary from person to person in much more significant ways than just choosing which air cooler and graphics cards to use. What you're going to want to pay attention to are the feature set, ease of assembly, and overall design, and how they're going to suit your purposes. That's assuming you're in the market for a specialized case like this, and a lot of you won't be.
Corsair Obsidian 900D Specifications
Motherboard Form Factor
Mini-ITX, Micro-ATX, ATX, E-ATX, XL-ATX, HPTX
Drive Bays
External
4x 5.25"
Internal
9x 3.5"/2.5" (support for two additional cages for up to 15x 3.5"/2.5")
Cooling
Front
3x 120mm intake fans (1x additional internal 120mm fan mount behind drive cage)
Rear
1x 140mm exhaust fan
Top
4x 120mm fan mounts (supports 3x 140mm)
Side
8x 120mm internal fan mounts (four per side, PSU blocks two of your choice)
Bottom
-
Expansion Slots
10
I/O Port
4x USB 2.0, 2x USB 3.0, 1x Headphone, 1x Mic
Power Supply Size
ATX
Clearances
HSF
170mm
PSU
280mm
GPU
500mm
Dimensions
25.6" x 9.9" x 27.2"
649.6mm x 252mm x 691.6mm
Weight
41 lbs. / 18.6 kg
Special Features
USB 3.0 via internal header
Multiple removable drive cages
Secondary power supply bay
Removable filters on all fan intakes
Price
$349
Corsair's press materials highlight the fact that the case is designed for liquid cooling, but you've probably figured that out given how much I've repeated it. What you're going to want to know now are the radiator clearances, and they're a doozy.
The top fan mounts have a 110mm clearance from the roof of the case to the top of the motherboard and you can intrude on the top 5.25" bay. Unfortunately in the front of the case, there's a slight spacing between the topmost 120mm fan and the two bottom ones, so that essentially means you can only install a single 240mm radiator; there does appear to be space to install a single 140mm radiator and fan instead if you're so inclined. The back of the case supports a single 140mm radiator in the exhaust fan slot. Corsair keeps the other bulk of radiator potential in the bottom of the enclosure, where you can theoretically install a 480mm radiator on one side and a 240mm radiator on the other, with 110mm of radiator clearance to the PSU. Note that installing a radiator in the bottom chamber does mean sacrificing those drive cages.
In and Around the Corsair Obsidian 900D
I'll cut right to the chase, this thing is enormous. It was shipped to me freight, on its own pallet of one, and the FedEx guy bellyached constantly about getting it up to and into my apartment. And it's absolutely huge. Just to give you some idea of the scale, this is the 900D's box hanging out next to the unboxed BitFenix Shinobi XL I use for cooler testing. Please forgive the mediocre cameraphone quality.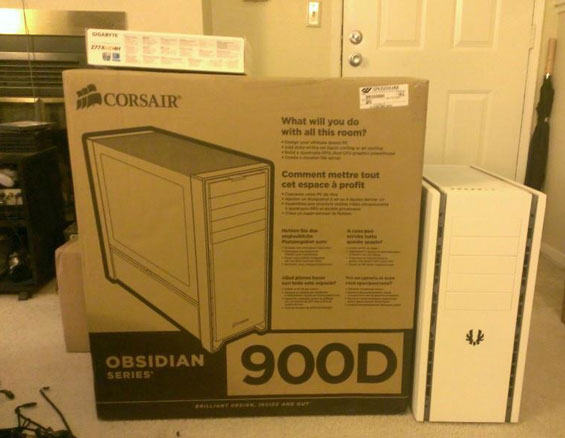 Yeah, they're not screwing around. If you're a particularly tiny man (like, for example, me), know what you're getting into. Thankfully it's only 40 pounds, and I say that knowing that it could be worse.
Corsair uses a combination of aluminum and steel for the chassis that's both attractive and sturdy. The brushed aluminum is on the front fascia of the 900D, and it's very thick and really demonstrates the best qualities of using aluminum for a chassis. The top 5.25" segment of the case is a drop-down door that hides the USB and headphone connectivity along with the reset button; the notch above the door is the power button, and the power and activity LEDs are embedded in it. The shields for the four 5.25" segments below it are secure, but easily removed from the interior, and when removed there's an attractive finish surrounding them (you'll see in assembly later on.) Below all of those is a single panel that pops out to reveal the front fan mounts along with their removable filter. That filter has enough space inside it to comfortably fit around a radiator.
The top of the 900D is much simpler: a large, removable filtered grate bookended by steel on either side. Corsair has done a good job of producing something dense enough that the fan mounts beneath it aren't unsightly while allowing air to pass through easily enough. Interestingly, there's virtually nothing on the bottom of the 900D. Though the 900D is able to stand a healthy distance off of even a carpeted floor, Corsair elected not to offer cooling options on the bottom of the case. This isn't a mark against the case, just something worth noting.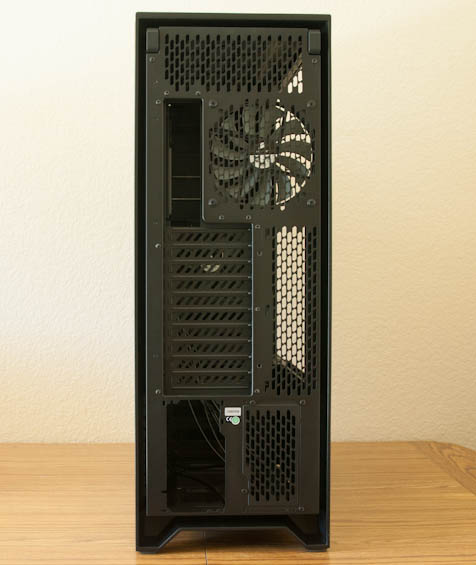 Get to the back of the 900D and you'll see it's almost all ventilation, but the patterns are tasteful and stylish, and it's obvious there's a lot of room behind the motherboard tray for routing cables. You can see the two power supply bays in the bottom, but I think Corsair missed an opportunity by not also allowing the user to install a power supply in the top of the case. The clearance is there, and though it would intrude on the radiator space somewhat, it would also free up radiator space in the bottom. Note that near the top are two wedges on either side; these are buttons that release the latches holding the side panels on, similar to the Obsidian 550D.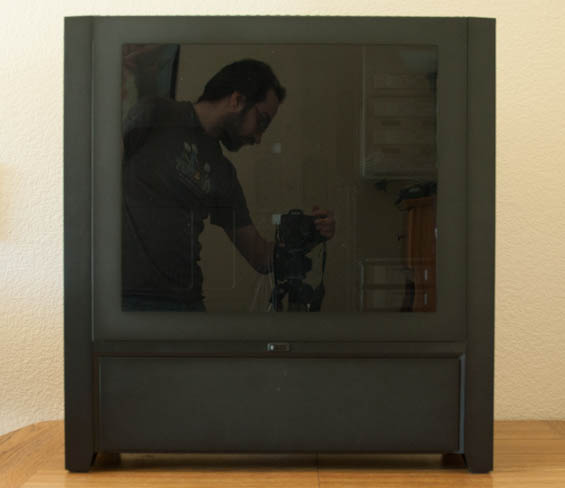 Big case, tiny photographer.
The sides of the 900D are a dual door affair. There are side panels for the top chamber that are hinged at the bottom, and the left panel has a large window. Ordinarily I'm on the fence about windows, but with something like the 900D I think it would be ridiculous not to have one. These hinged panels are easy to remove, secure when in place, and a godsend for builders. Meanwhile, the two bottom doors are also hinged at the bottom, and though they don't come off, they're easily pushed open from behind. In the photography they're blocked off, but they actually have magnetic filters behind them, and the blocked off panels can be removed to turn them into vents if you install radiators and/or fans in the bottom chamber.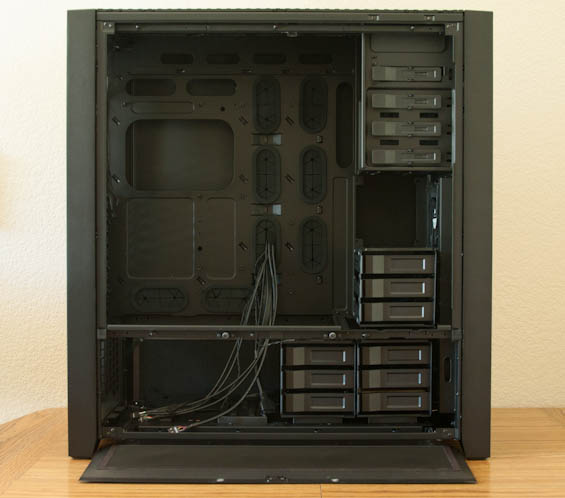 Open up the 900D and Corsair has a heck of a lot going on with effectively a smart two chamber system. The 5.25" bays are toolless (and pretty secure), and the drive cages are all some degree of removable; they're all held in place by screws behind the motherboard tray. Corsair only includes three cages with three trays apiece, but you can order two more directly from them to fill the whole thing out. The bottom right cage also includes a SATA backplane and the trays themselves will line up both 3.5" and 2.5" drives to connect to it. To use the fan/radiator mounts in the bottom chamber you'll have to remove both cages, though; do so, and then there's a panel of mounts that flips up from the bottom.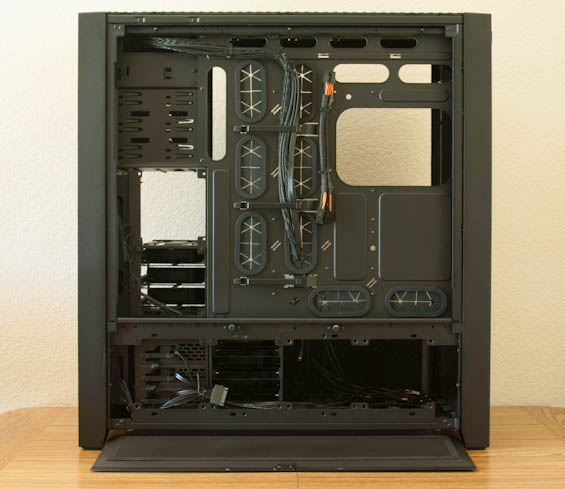 There are plenty of well-placed holes in the motherboard tray for routing cables, and Corsair very smartly sets the one for connecting SATA cables to the motherboard a couple of millimeters out. This corrects for the extra clearance that side-oriented SATA ports require, something few case manufacturers actually account for. Finally, behind the motherboard tray, Corsair actually includes latches for cable routing.
The Corsair 900D is ultimately an exceptionally well built enclosure. It's sturdy and fairly thoughtfully designed for its intended purpose, though not totally flawless. The four fans Corsair includes are all revisions of their popular AF120 and AF140 case fans. As a whole, the package screams quality and I don't get the sense that Corsair ever really cheaped out.
Assembling the Corsair Obsidian 900D
Assuming the Corsair Obsidian 900D is right for you, be ready for a workout. I've only tested one or two other cases in its weight class, and manipulating a case that's copious in both weight and mass is tiring to say the least. Thankfully Corsair has made working with their giant case very nearly as painless an affair as possible.
As I've come to expect, the 900D comes with standoffs for a standard ATX board already installed in the motherboard tray, along with a guiding stud for the center of the board. That made getting our test board into the case a breeze, and with the healthy amount of space on virtually all sides, screwing in the board was easy and done with minimal scratches or abrasions.

Installing drives proves to be a very simple matter as well. I removed the drive cage from the primary chamber (held in place by a rail and four thumbscrews behind the motherboard tray) since there were still six drive bays in the bottom chamber. The 5.25" bay shields are easily removed; pinch the wedges on the backs of them from inside the case and they pop out. From there, Corsair uses a toolless mechanism to hold the 5.25" drive in place and it works well. The individual drive trays are almost cages unto themselves; they feature four pins that pop into the sides of the 3.5" drives, and you can remove one of them to screw a 2.5" drive into the bottom of the tray. All very simple and easy to do, and they lock into place securely in a fashion similar to the SilverStone FT02.
While mounting the power supply was a non-issue, expansion cards prove to be the 900D's achilles heel when it comes to usability. Because of the way the side of the case's frame overhangs the expansion slots, you have to use an included (and frustrating) L-shaped screwdriver to loosen the thumbscrews. Expect to take off about a layer of skin from your fingerprints and about a year of useful life from your wrist. I'm not sure how Corsair could've made this easier; perhaps some kind of locking mechanism instead of the garden variety thumbscrews?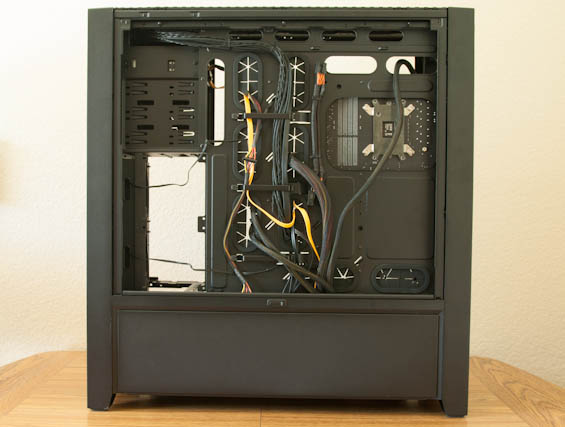 Wiring up the 900D is comically simple. Part of this is because the backplane for one of the drive cages has the three SATA data leads coming out of it along with a single SATA power lead, but the rest has to do with how easy it is to latch cables into place behind the motherboard tray, as well as the gap between the back of the motherboard tray and the crossbar that separates the two chambers. None of this should surprise you; Corsair cases are historically among the cleanest and easiest to build on the market, and the 900D continues that fine tradition. Where I do think they missed an opportunity is with the fans, though; Corsair doesn't include a fan controller (which given the nature of the 900D is probably an appropriate omission), but they don't include any molex adaptors for the fans either, which meant stretching the cables for the front fans to the connectors on the motherboard.
Assembling a liquid cooling system in the 900D will undoubtedly be more complex, but the case is spacious and fairly modular, and Corsair did a lot of work to make it as easy as possible. The most confusing part may actually be figuring out how to remove the top panel; you press up on a notch from inside the top of the case and then slide the panel towards the motherboard side. As a whole, though, I'd be surprised if end users had much trouble getting a system installed in the 900D beyond the typical difficulties.
Testing Methodology
For testing full ATX cases, we use the following standardized testbed in stock and overclocked configurations to get a feel for how well the case handles heat and noise.
Each case is tested in a stock configuration and an overclocked configuration that generates substantially more heat (and thus may produce more noise). The system is powered on and left idle for fifteen minutes, the thermal and acoustic results recorded, and then stressed by running seven threads in Prime95 (in-place large FFTs) on the CPU and OC Scanner (maximum load) on the GPU. At the end of fiteen minutes, thermal and acoustic results are recorded. This is done for the stock settings and for the overclock, and if the enclosure has a fan controller, these tests are repeated for each setting. Ambient temperature is also measured after the fifteen idle minutes but before the stress test and used to calculate the final reported results.
For the "full fat" testbed, the GTX 560 Ti is swapped out for a pair of GTX 580s, and three hard disks are added to fill out the case.
Thank You!
Before moving on, we'd like to thank the following vendors for providing us with the hardware used in our testbed.
Noise and Thermal Testing
As I mentioned in the introduction, doing our standard noise and thermal testing on the Corsair Obsidian 900D is primarily an academic affair. When you're dealing with a liquid cooling system, optimal airflow design becomes slightly less important. This isn't an air cooling case the way, say, a SilverStone FT02 might be.
Ambient temperature was 21C during testing.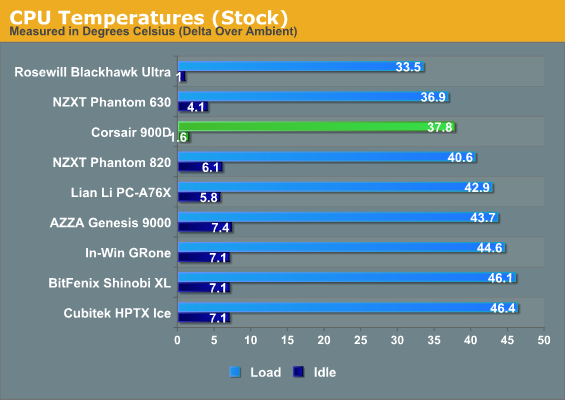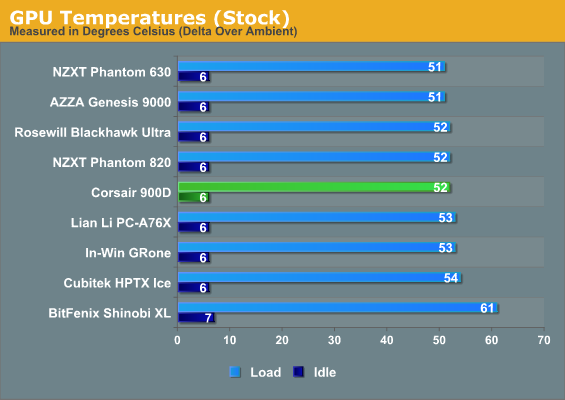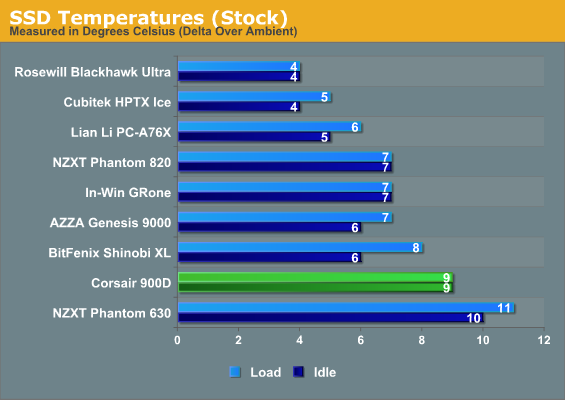 In its stock configuration, the 900D is closer to the middle of the road. This isn't a tremendous surprise; the stock fans are about as basic as a $349 case is going to get.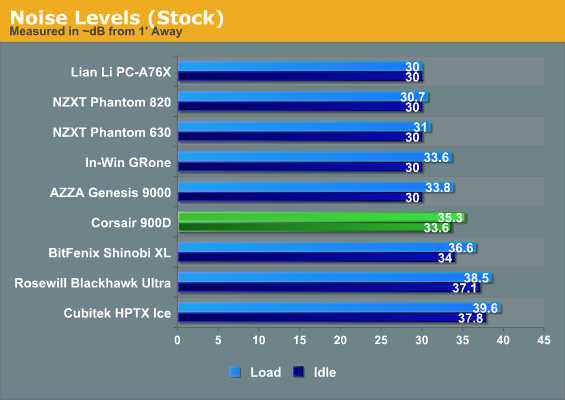 Because the 900D doesn't include a fan controller, the fans included push the case's bare minimum noise level to 33.6dB.
Overclocking the system should produce fairly similar results.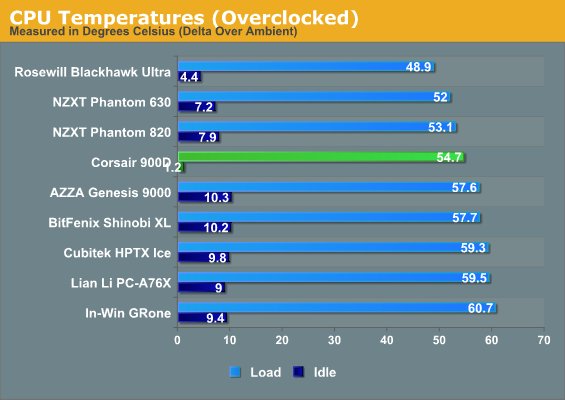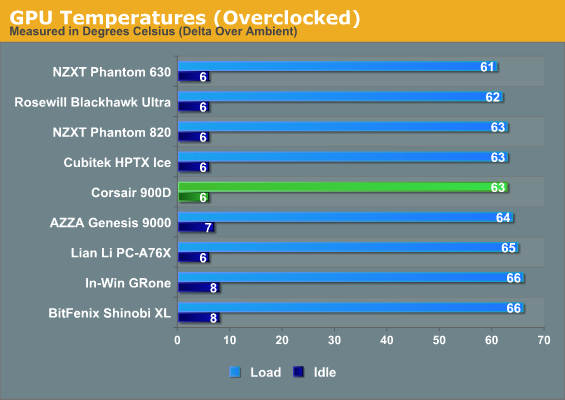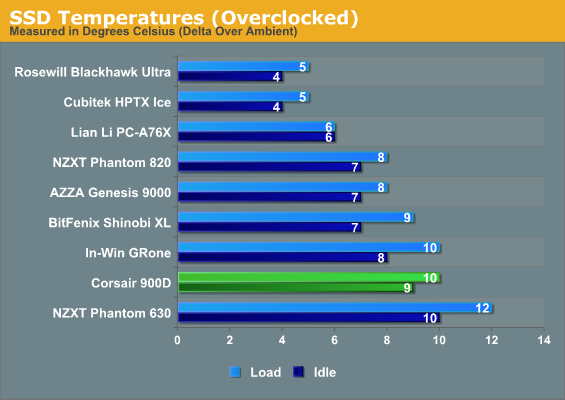 Again, the 900D produces...acceptable results as an air cooling case.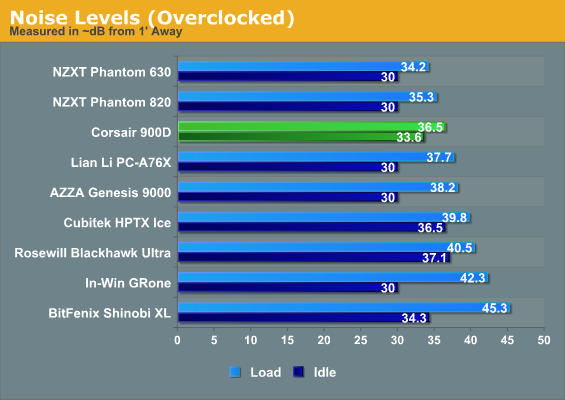 Noise continues to be an issue due both to the lack of a fan controller and the lack of any acoustic padding in the enclosure itself. While we're not judging the 900D on the terms it's meant to be judged by here, I do think omitting noise dampening material may have been a poor decision on Corsair's part.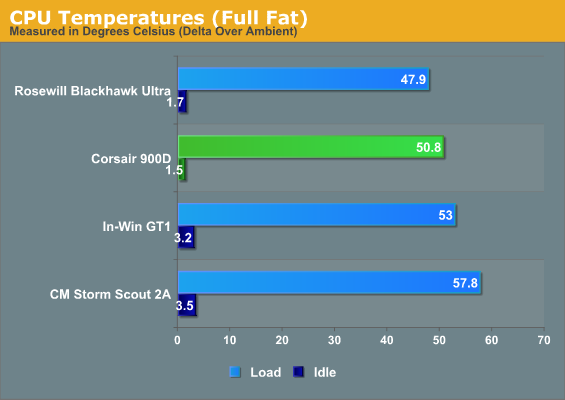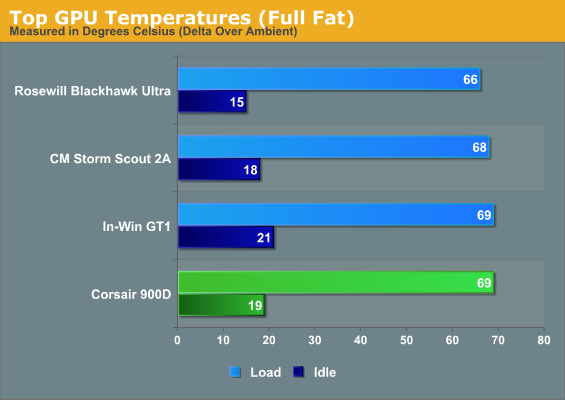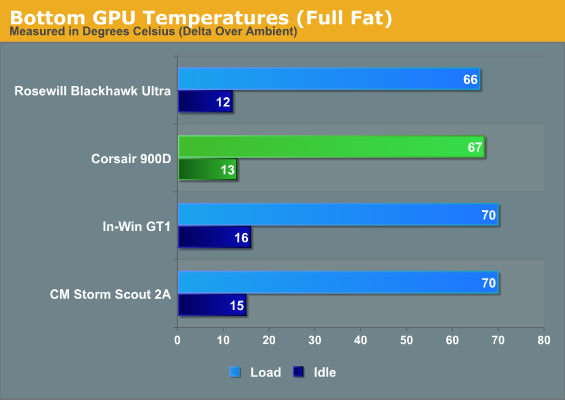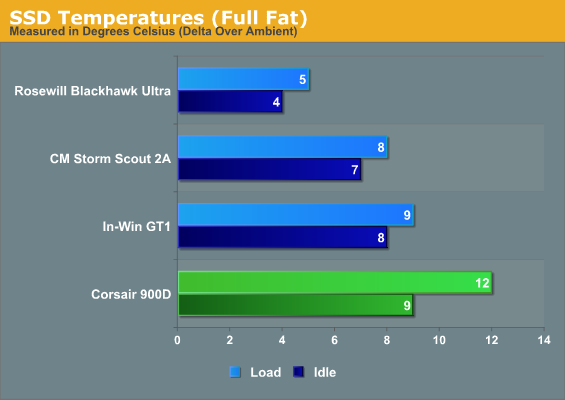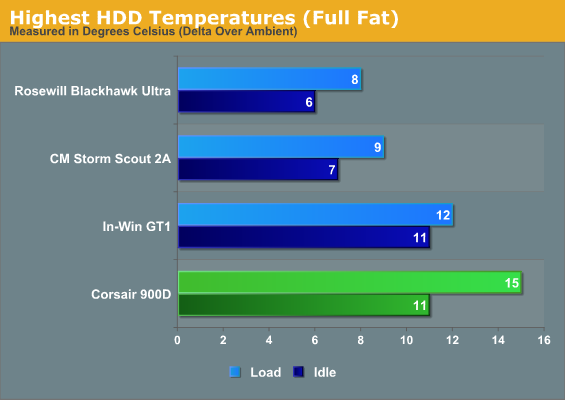 Up until this point drive thermals have been fairly poor, but please note that even under the worst circumstances we're still talking about being 10-15C below spec for these drives at least. They're still running cool, it's just not the aggressive over-cooling a lot of enthusiast cases do.
That said, stock air cooling continues to be fairly underwhelming. This is one place where the competing Rosewill Blackhawk Ultra does have an edge: it includes a stock air cooling design that's pretty aggressive and effective.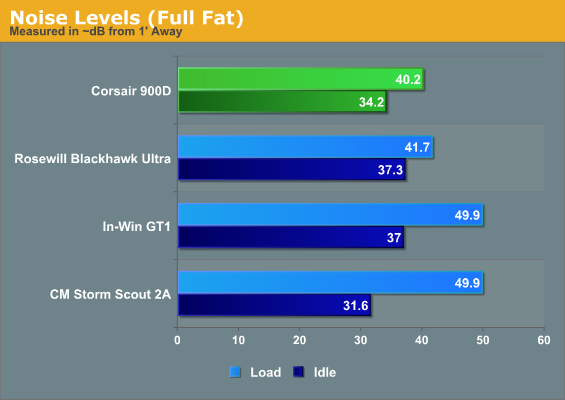 Despite the lack of a fan controller, under our most stressful test the 900D is able to run quieter than any of the other cases we've reviewed since adding the "full fat" testbed.
Conclusion: Highly Priced and Highly Specialized
It should go without saying at this point that Joe Everybuilder isn't going to be interested in spending $349 to cool his single CPU, single GPU, air-cooled build. The Corsair 900D positively dwarfs our full fat testbed and really, it would take serious work to fill up this case anyhow.
My primary concern when reviewing most cases is ultimately how they perform thermally and acoustically, with aesthetics taking a bit of a backseat. If a case is hideous but does its job really well (looking at you, Antec GX700), and the price is right, sacrifices can be made. The 900D is a different beast entirely, though; airflow design and stock performance just aren't part of the equation, and anyone who buys the 900D and then uses it in its stock configuration is someone who has more money than sense. I can tell you that with the pair of closed loop coolers I've installed in my Nanoxia Deep Silence 1 (Swiftech H220 on the CPU and Arctic Accelero Hybrid on the GTX 680), Nanoxia's airflow design and fan control became somewhat less important. Note that this design, coupled with a Noctua fan wherever I could put one, allows my ~$109 case to very effectively cool a 4.6GHz i7-3770K and a GTX 680 overclocked as far as the silicon itself will allow under NVIDIA's voltage spec. I bring all of that up to give you perspective on the 900D and its potential position in your computing life.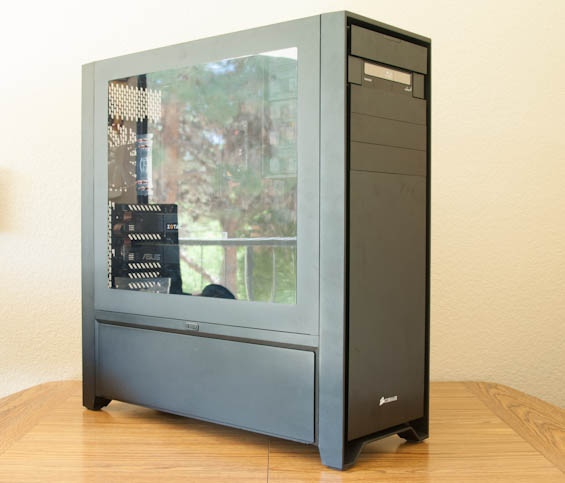 The 900D is exceptionally well built, and outside of the expansion slots, it's easy to assemble. At $349 it prices itself right out of contention for the vast majority of users, and the fact that it's an underwhelming choice for air cooling further shrinks its niche. That makes it a strange sort of halo product and while liquid cooling enthusiasts will probably love it, they were already reasonably well served by the 800D. At $49 more it's not unreasonable to just make the jump to the 900D if you were going to buy the 800D in the first place. I do think for the price Corsair could've sucked it up and included the other two drive cages, but I have a hard time sweating the case still shipping with nine cages.
If I'm a bit ambivalent about the 900D, it's for two reasons: one, I had to actually build and move the thing, which wasn't fun, and two, I'm not really sure anyone really needed it. The 800D was already popular and doing well on its own, so Corsair just made a better one. That's fine, but the majority of their case line is going unaddressed. A little birdie told me I'll be seeing something new and exciting from them soon, but they're at the point now where they need to start actually refreshing and improving existing designs. More than that, air cooling has always been a weak point in Corsair's portfolio, and it's something that desperately needs to be addressed.
This is another one of those cases where you already know if you want it or not. Whether or not it's worth the money is subjective; I feel like if I were a liquid cooling enthusiast, the Corsair Obsidian 900D would be pretty close to the holy grail. I'm not sure I'd fork over the cash for it, but in its weird way I don't think the price is actually even part of the discussion. If you do pony up for it and you know what you're planning to do with it, I think you'll be happy with the 900D.