Original Link: http://www.anandtech.com/show/6909/fractal-design-define-mini-case-review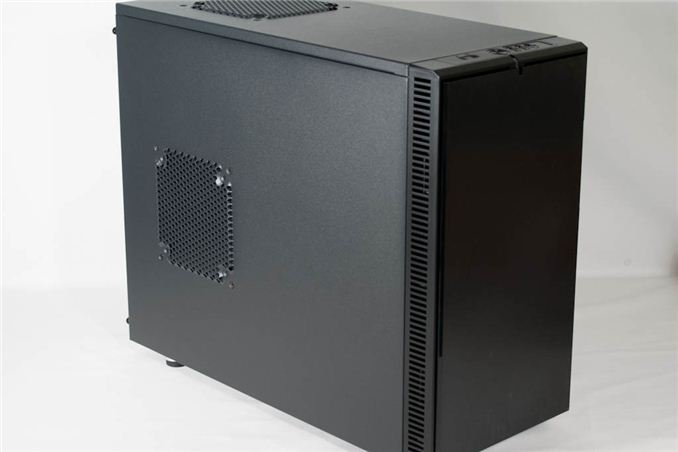 Introducing the Fractal Design Define Mini
Good micro-ATX enclosures have actually been frighteningly rare of late; manufacturers seem to be going big or going home, and only letting either beefy XL-ATX cases or diminutive mini-ITX cases out to play. It's a weird situation when the micro-ATX form factor seems to be ideal for the majority of end users. Enter Fractal Design and their Define Mini.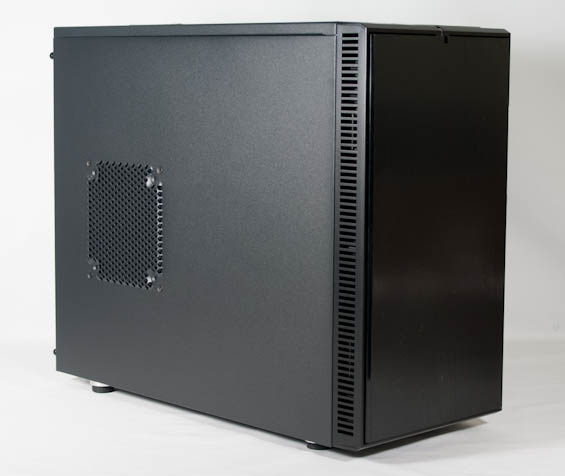 The Define Mini has actually been on the market for about a year, but with few contenders really materializing in recent months outside of SilverStone's SG09 and Rosewill's Line-M, good options for micro-ATX builders have been somewhat wanting. That's why I sought out the Define Mini; Fractal Design's Define line of enclosures has always been a little wanting for air cooling performance, but they're attractive and popular, and they're easy to build. Getting some of that sweet acoustic padding in a smaller package is an enticing proposition.
Fractal Design Define Mini Specifications
Motherboard Form Factor
Mini-ITX, Micro-ATX
Drive Bays
External
2x 5.25" (includes 5.25"-to-3.5" adaptor)
Internal
6x 3.5"/2.5"
Cooling
Front
1x 120mm intake fan (supports 2x 120mm)
Rear
1x 120mm exhaust fan
Top
1x 120mm/140mm fan mount
Side
1x 120mm/140mm fan mount
Bottom
1x 120mm fan mount
Expansion Slots
4+1
I/O Port
2x USB 2.0, 1x USB 3.0, 1x Headphone, 1x Mic
Power Supply Size
ATX
Clearances
HSF
160mm
PSU
160mm with bottom fan installed; 200-220mm without
GPU
260mm with top drive cage installed; 400mm without
Dimensions
8.3" x 15.6" x 19.3"
210mm x 395mm x 490mm
Weight
21 lbs. / 9.5 kg
Special Features
USB 3.0 via internal header
Removable drive cage
Removable filters on front and bottom fans
Three-channel 3-pin analog fan controller included
Acoustic padding
Price
$99
If you've been keeping track with the Fractal Design Define series of enclosures, there are no surprises in the Define Mini. Rather than integrating it into the case, Fractal Design includes a separate three-channel fan controller and a fifth expansion slot horizontally aligned above the fourth standard ones to mount it in. Fractal Design's "ModuVent" is accounted for, as well, but I'd've liked an extra vent in the top of the case and support for a 240mm radiator.
Finally, there's the acoustic padding we've come to expect and appreciate. The more time I've spent with the similarly padded Nanoxia Deep Silence 1 (and I have seriously pimped this particular ride), the more I've come to understand the role acoustic padding fundamentally serves and its relationship with case design at large. A good thermal design is absolutely essential to a silent case as the acoustic padding proves all for naught, but end users should also be careful to design with these limitations in mind. Acoustic padding doesn't muffle noisy components, but it will bring quiet ones down to even more comfortable volumes, and that makes it a desirable feature.
What does all this mean? It means that the Fractal Design Define Mini could theoretically serve a purpose that the other micro-ATX enclosures on the market can't.
In and Around the Fractal Design Define Mini
If you're used to seeing the other Fractal Design Define enclosures, looking at the Mini may actually hurt your brain a little bit. The Define XL, Define R4, and Define Mini all look fundamentally the same in terms of style and aesthetic, but each one goes a little funhouse mirror in the process. Without examining its dimensions or putting it next to another enclosure, it might be hard to appreciate the slightly smaller form factor of the Define Mini.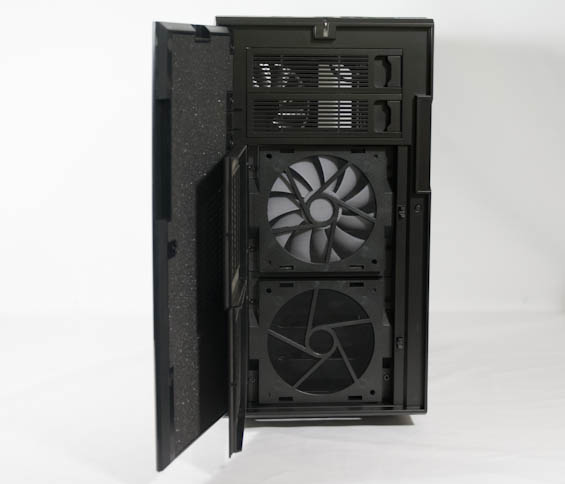 The front of the Define Mini sports a padded door that swings open to the left along with ventilation on both sides of it to allow air to flow into the intake fans (and thus into the case) without letting the noise from the intakes escape. There's the familiar LED notch and ring just above it, along with the power button and I/O cluster, all right on the front edge just like the other Defines. Fractal Design hides the reset button behind the door, next to the pair of 5.25" bays. Below those bays are the two intake fans, with doors of their own that swing open to allow you to both change out the fans but also remove their filters for cleaning.
Examining the top, sides, and back of the Define Mini reveals few surprises. The left side includes the traditional ModuVent removable panel to allow the end user to install a 120mm or 140mm side intake fan, while the right side is blank. Meanwhile the top of the case has another 120mm/140mm ModuVent. I'm never really unhappy to see this feature in a case, especially as it's proliferated. Something like this adds flexibility to the case design. Finally, the only hiccup in the back is the fifth expansion slot aligned vertically, presumably for mounting the included fan controller.
Fractal Design uses a pair of thumbscrews to hold each side panel in place, and unfortunately the side panels are notched instead of hinged. I'm never happy to see this, but the Define Mini is at least small enough to prevent the panels from being too difficult to replace.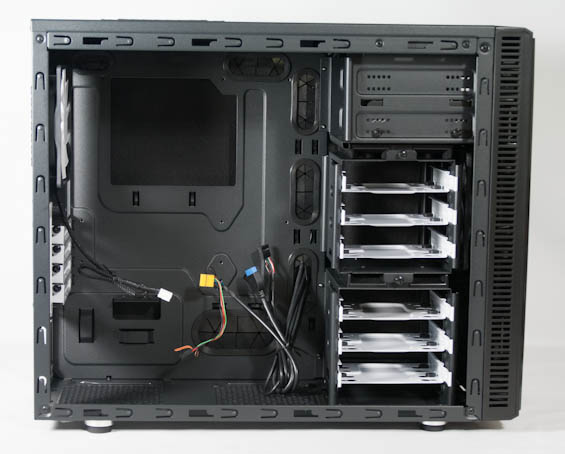 The motherboard tray is business as usual, with fairly smartly laid out routing holes for cabling. Unfortunately we're only looking at about 160mm of clearance above the motherboard, which makes installing any radiator in there a tight fit; the 120mm exhaust fan also means you'll have to orient any radiator carefully with the hoses above or below the mount.
Everything else inside the Define Mini is Fractal Design par for the course. Of the two drive cages, the top one is removable, but inexplicably, the bottom one is not. Fractal Design opted to use rivets instead of screws to mount the bottom cage, but there's no real reason not to make this something the end user could remove. Thankfully they continue to use their metal drive trays, which are among the best and most secure I've seen.
While the Define Mini is really surprise free for anyone familiar with Fractal Design's cases (and thus knowing what to expect), there's one tremendously goofy wrinkle: only one USB 3.0 port. It uses the full internal motherboard header, but every time I see something like this it seems like such a waste, especially when there's obviously space in the fascia to include a second. Outside of this, though, the Define Mini is at least superficially what you expected and were hoping for.
Assembling the Fractal Design Define Mini
The Fractal Design Define Mini may be a year old, but it's design feels like it's at least two or three, unfortunately. Certain conveniences we've come to appreciate in recent designs are absent, and Fractal Design hasn't shown any sign of learning about them in the intervening period between the Define Mini's launch and their most recent case, the Define XL R2.
Once again, no standoffs or studs are included to line up motherboard installation, so it's back to screwing in standoffs manually for you. A high end micro-ATX motherboard uses the same number of standoffs as a standard ATX board, so even the smaller form factor won't save you. For what it's worth, the motherboard lined up well, and the case headers were all long enough to connect with no problems.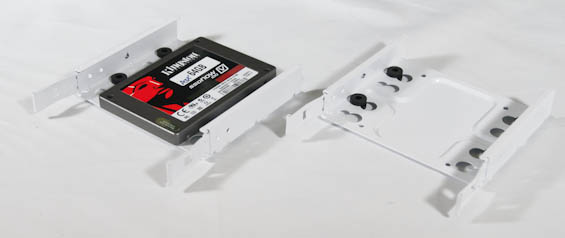 Installing a 5.25" drive is basically toolless (and painless), but my review unit had the cables from the top I/O cluster hanging in the top bay. That meant a lot of struggling to get them routed the way they're supposed to; if they're not, you won't be able to fit an optical drive in here, and you'll run into the same idiotic problem the Nanoxia Deep Silence 1 unfortunately suffers from, where badly routed cables actually prevent you from using the bay. The installation itself required no latches or anything of the kind; Fractal Design includes special thumbscrews with smaller heads appropriate to the mounting holes of an optical drive.
3.5" and 2.5" drives require the use of a Phillips head screwdriver, but I'm mostly okay with it due to how sturdy and rigid the drive trays themselves are. You'll need the special screws included for the rubber grommets used to insulate the 3.5" drives from vibration; 2.5" drives just screw directly into the tray proper.
Mounting the power supply was a painless process, but expansion cards and the fan controller are a little more complicated. That owes almost entirely to the fan controller actually; if you use the extra expansion slot, it makes turning the thumbscrews for the primary four slots much more difficult, and that's ignoring the fact that I needed pliers for the fifth slot's thumbscrew anyhow. So if you're stupid enough to install the fan controller in the fifth slot first like I was (and keep in mind I needed pliers to get it comfortably secure), you just made life a lot harder on yourself. This is more advice to the end user and less a critique of Fractal Design, who were thoughtful enough to include that fifth slot in the first place.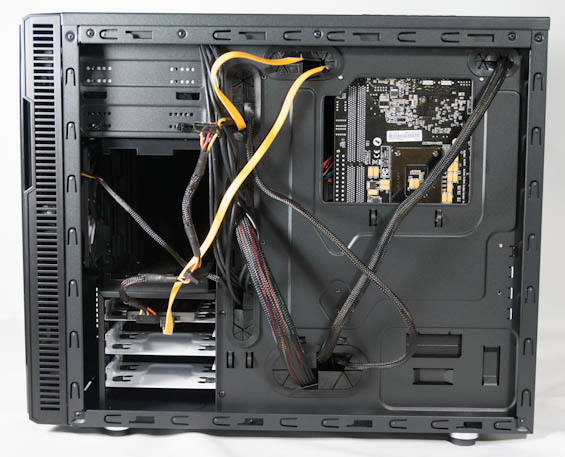 Things start to go a little off the rails when you get to cabling, though. Most of the routing holes are well placed and work perfectly, but that fan controller seriously hampers any attempts at a clean cabling job. It uses a molex connector, and all of its leads are too short to route behind the motherboard tray. The leads on the case fans themselves are also too short to route, so you'll have fan leads stretching across the interior of the case. I'm absolutely dire at cabling systems, but this just makes things worse. Space behind the motherboard tray is at a premium as well, making the rear panel difficult to replace.
The Fractal Design Define Mini is ultimately reasonably easy to build in, but it lacks modern conveniences, and things go haywire (no pun intended) when you start running the necessary leads. This isn't catastrophic by any measure, and the case as a whole is very sturdy, but it's further evidence of Fractal Design being just a breath behind Corsair and now NZXT in usability.
Testing Methodology
For testing Mini-ITX and Micro-ATX cases, we use the following standardized testbed in a stock configuration as well as with add-on graphics cards to get a feel for how well the case handles heat and noise. As we've retired our Micro-ATX board from the testbed, Micro-ATX enclosures will be using the Mini-ITX testbed.
Each case is tested with just the Core i3's integrated graphics as well as with a discrete graphics card. The system is powered on and left idle for fifteen minutes, the thermal and acoustic results recorded, and then stressed by running four threads in Prime95 (in-place large FFTs) on the CPU, and OC Scanner (maximum load) is run when the dedicated GPU is installed. At the end of fiteen minutes, thermal and acoustic results are recorded. If the enclosure has a fan controller, these tests are repeated for each setting. Ambient temperature is also measured after the fifteen idle minutes but before the stress test and used to calculate the final reported results.
We try to maintain an ambient testing temperature of between 22C and 24C. Non-thermal test results aren't going to be directly comparable to the finest decimal point, but should be roughly comparable and give a broader idea of how the enclosure performs.
Thank You!
Before moving on, we'd like to thank the following vendors for providing us with the hardware used in our testbed.
Noise and Thermal Testing
In a bid to focus on providing only useful information and keeping things clean, simple, and to the point, I've culled idle thermal test results from this review (and will from reviews going forward). Idle thermals are borderline irrelevant, and only important when they're comically high; at idle, the most important statistic is noise.
As I mentioned on the Testing Methodology page, due to retiring the micro-ATX board from the primary testbed, micro-ATX cases will now be tested with the mini-ITX testbed. That means that I can't compare the Fractal Design Define Mini directly against the SilverStone SG09 and the Rosewill Line-M. As it turns out, that may not be as big of an issue as it first appears.
The Fractal Design Define Mini was tested with the included fan controller at its lowest and highest settings. Ambient temperature ranged between 22C and 25C during testing.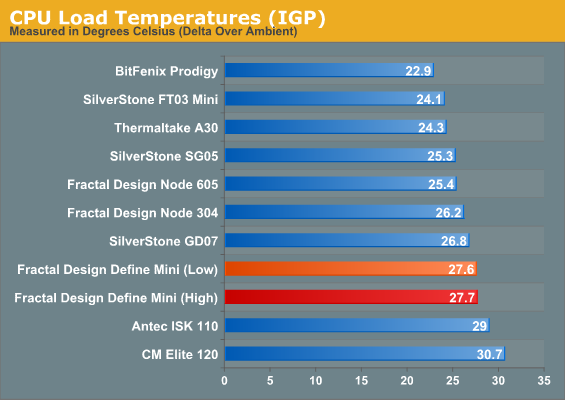 Already things aren't looking that great for the Define Mini. Changing the fan setting doesn't do a whole lot fo the CPU, but the system just isn't very good at keeping the CPU cool. In Fractal Design's defense, this case looks better suited to a tower-style cooler, but as you'll see later, the problem may not be simply a cooler not being right for the case.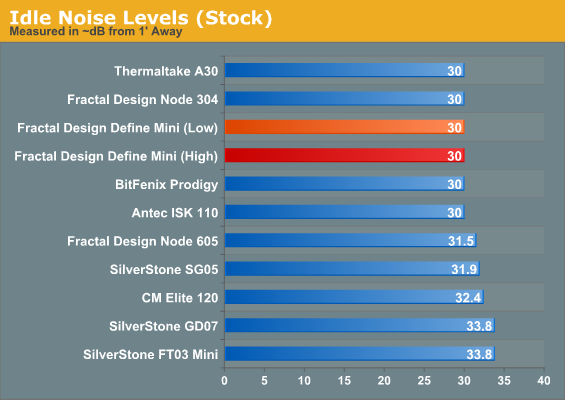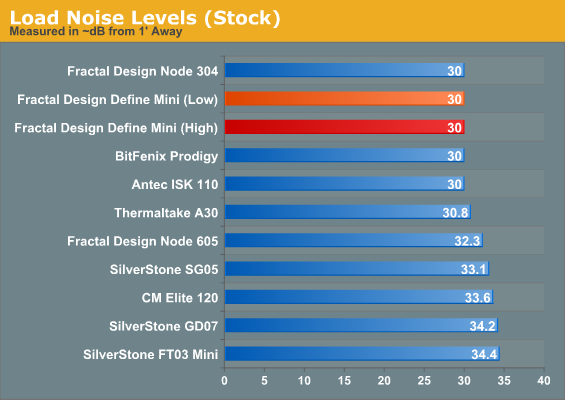 While the highest fan setting is definitely louder than the lowest, it's not tremendously slow, and it's still below the 30dB floor of our sound meter. If nothing else, in our barebones stock configuration, the Define Mini is very quiet.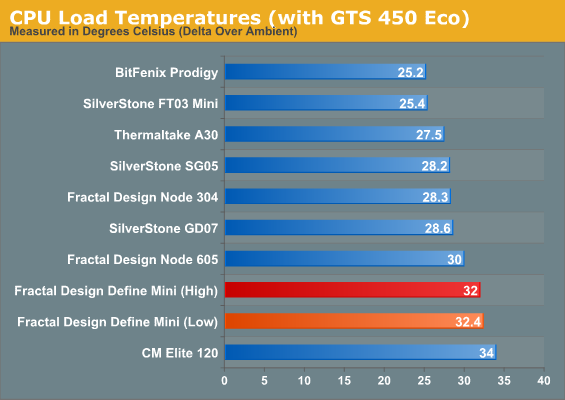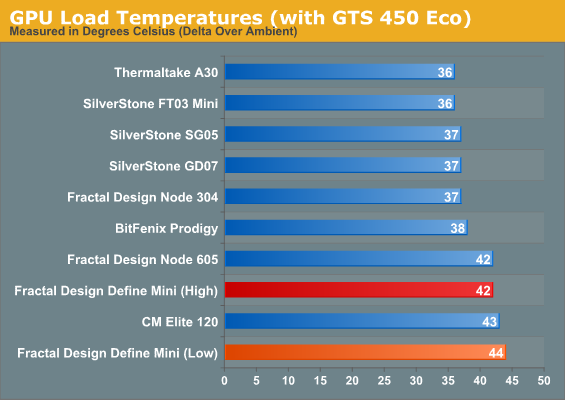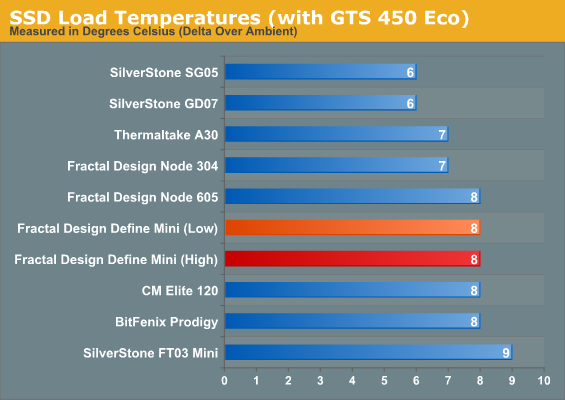 Ordinarily adding a dedicated graphics card will bump the CPU temperatures up a couple of degrees (sometimes it actually can reduce them a little since the IGP is no longer in use). Not so, here. The GTS 450, typically a model citizen, just makes a bad situation worse. And despite having direct airflow from the front intake, it still runs hotter than the bulk of the cases tested.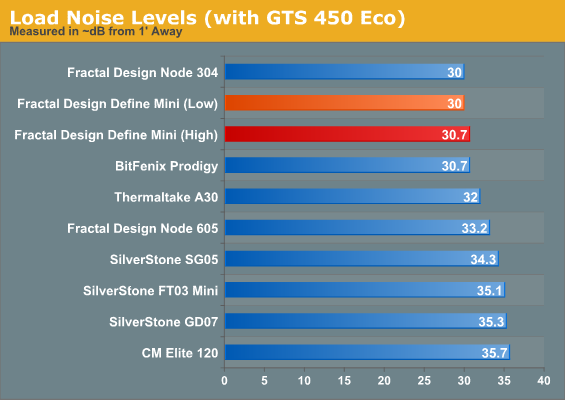 Noise levels continue to be low, but they can't really make up for the consistently poor performance of the stock fans in the Define Mini. Bumping the graphics card up to a bigger monster like the GTX 560 Ti does seem to help at least a little, though.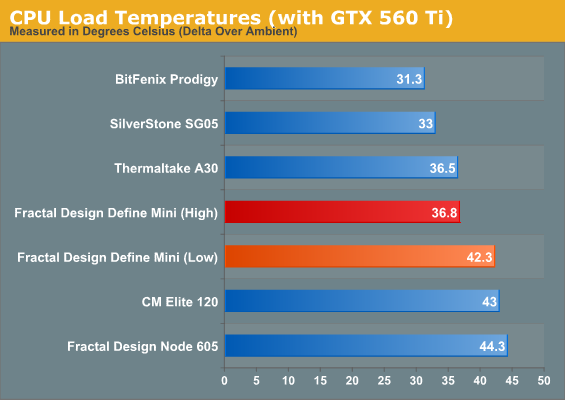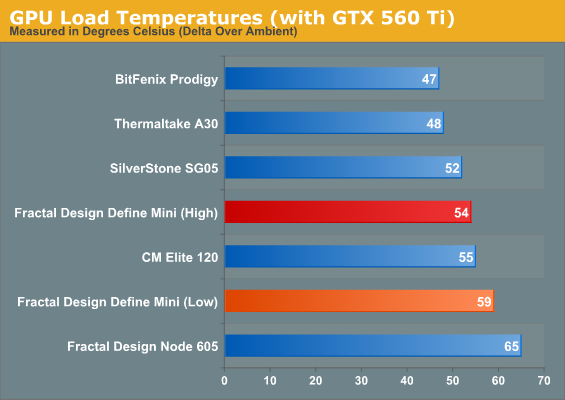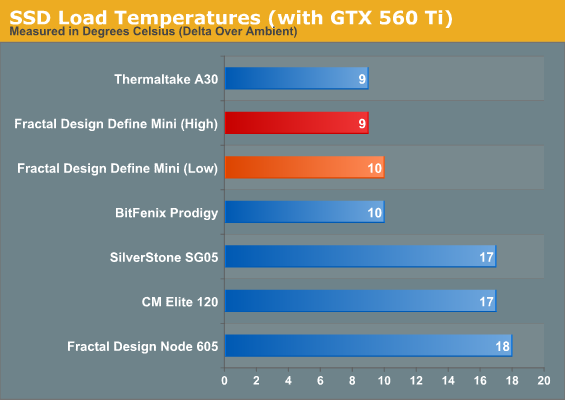 Comparative performance improves some and the two fan settings start to really separate. While not strictly comparable to results from the main testbed (which has an extra 30W of CPU heat to dissipate alongside the 560 Ti), the graphics card's performance is now at least competitive. CPU thermals continue to underwhelm, though, with the highest fan setting being required to produce decent results.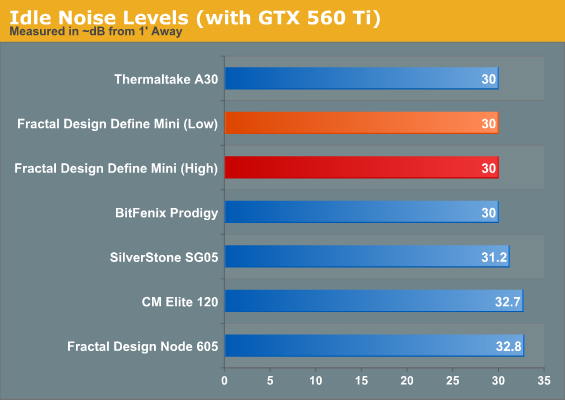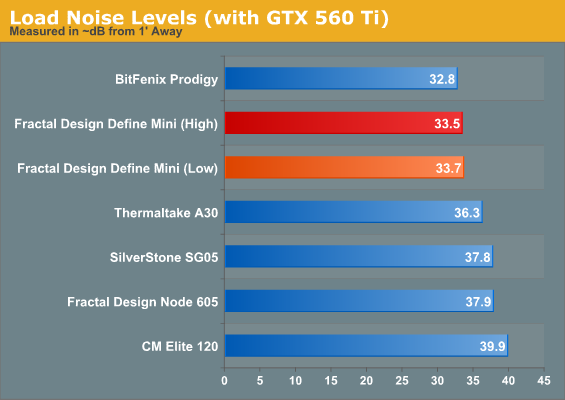 The Define Mini does a strong job of proving its worth once the noise results come in, though. Things are running pretty warm, but they're reasonably quiet, too. At idle the system remains inaudible, while load noise is fairly low. This is one of those instances where a higher case fan speed can actually produce lower noise, though, as the graphics card's fans don't need to spin as fast to move cool air over the GPU.
Conclusion: The Only Game in Town
I keep feeling like Fractal Design is what would happen if Corsair were a European company. They share a lot of the same strengths, but they also share a lot of the same weaknesses, and that's fairly evident with the Define Mini. One thing Corsair consistently does better, though, is convenience. Their cases are typically much easier to build in and make a lot of allowances for the end user.
The Define Mini isn't a bad enclosure by a longshot. 21 pounds for a micro-ATX case seems a little bit much, but this is a lot of steel being used to dampen noise in addition to the acoustic foam. That makes the case both sturdy and capable of containing noise. The white trays and white expansion slots continue to be signature for Fractal Design and reliably sturdy and secure, the lighting is minimal and attractive, and it's frankly a nice case for the $99 price tag.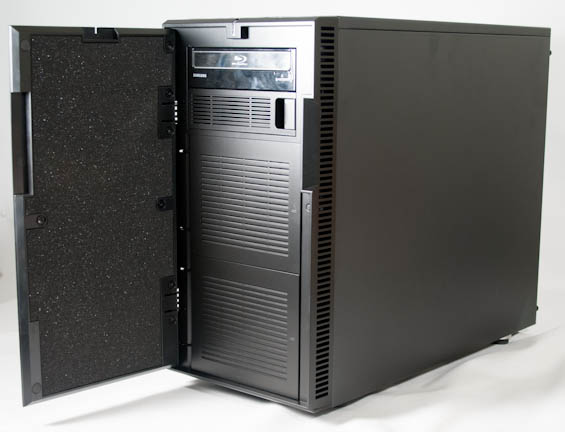 Where I think things start to fall apart for the Define Mini is its thermal performance. Liquid cooling in general is an excellent avenue for getting good cooling performance for internal components without generating a ton of noise. This is something that makes the Nanoxia Deep SIlence 1 such a strong contender, but unfortunately the Define Mini misses the boat. That wouldn't be so bad if the case was a solid performer with air cooling, but the included fans at least seem to be pretty inefficient. It's difficult for me to actually peg exactly why the Define Mini is such a weak performer where thermals are concerned, but it is.
I don't think all is necessarily lost with the Define Mini. It has some very strong points to its design and a smart builder could produce a competitive machine with it. The noise dampening does a fantastic job of keeping the system quiet, too. There are just missed opportunities here: a couple of allowances here and there for liquid cooling solutions could go a long way. Alternatively, better fans (probably ones comparable to Nanoxia's) or even bigger fans might be the order of the day. You're not getting a 140mm exhaust fan into this bad boy unless you widen the chassis by at least 10mm, but you can definitely get a pair of 140mm intakes in if you redesign the front, and those would help tremendously. The Define Mini is practically screaming for an R2.
Until Fractal Design comes up with a Define Mini R2, you're going to have to be okay with the trade-offs inherent to this version of the Define Mini. Alternatively, you may want to wait for Corsair's impending Obsidian 350D and see what they're planning to bring to the table where micro-ATX is concerned. The Fractal Design Define Mini isn't a bad case, but it does need some tender loving care, and it's not as great as it could be. It's the only micro-ATX case designed for acoustics, though, and if that's what you're looking for, the Define Mini's about the best option on the market.