Original Link: http://www.anandtech.com/show/6910/origin-genesis-review-triple-titan-terror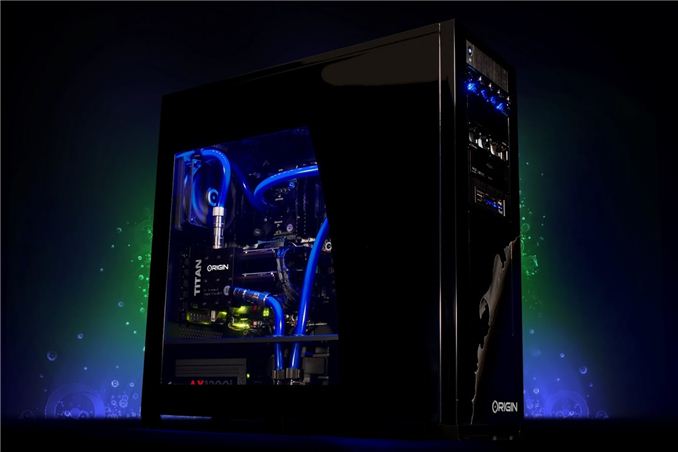 As some of you might recall, as part of NVIDIA's GTX Titan launch NVIDIA not only sent out individual cards, but also some custom concept systems to showcase the unique aspects of Titan. Specifically its high quality construction and how its blower-style cooler means it can be exploited to pack high performance systems into relatively small spaces. NVIDIA shipped us two such concept systems, a small form factor (SFF) Falcon Northwest Tiki, and at the opposite end of the spectrum was the obscenely powerful tri-SLI Origin Genesis.
Of course that was almost two months ago, and there's no getting around the fact that as the reviewer assigned to the Genesis I've ended up turning in this review very late. An initial delay to focus on the Titan launch turned into a serious illness, followed by not one but two conferences, two more video card launches, and some other fun stuff in between. So living up to the motto "better late than never", now that everything has settled down (relatively speaking) I can finally pick back up where I left off and finish our look at Titan with the final piece of the puzzle: Origin's monster gaming machine.
With the Genesis the idea was that Origin would put together a triple Titan system to showcase just how quiet Titan's blower-style coolers were even when the cards were tightly packed together. Instead Origin unexpectedly exceeded NVIDIA's specifications and was able to get three Titans hooked up to water in time for the Titan launch. The end result somewhat defeats the original purpose of sending the system out – we can't tell you what three stock Titans sounds like – but in the end we got something far more interesting: three Titans hooked up to water, creating a tri-SLI system effectively unrestrained by heat and cooled by one of the only things quieter than NVIDIA's blowers. Ultimately if one Titan on its own is powerful, then three Titans is nothing short of obscene. This is the same sentiment behind the Origin's Genesis system we're reviewing today.
In Origin's product lineup, Genesis is Origin's brand for their line full-tower computers. As a boutique builder, Origin uses a number of different configurations on their Genesis lineup, offering multiple CPU/motherboard combinations and multiple cases under the same Genesis heading. As a result Genesis spans everything from relatively simple systems to XL-ATX monsters.
The Genesis system we'll be looking at today is positioned at the top end of that lineup, and is intended to be the fastest thing that can be put together in an ATX form factor. Sparing no expense, Origin has assembled a Genesis system that packs in Origin's best components, best cooling, greatest overclocks, and highest price tag. Based around the combination of a Corsair Obsidian 800D case, NVIDIA's GTX Titan, and Intel's X79/SNB-E platform, it's a luxury computer like no other.
With that thought in mind, let's take a look at just how a $9,000 luxury gaming computer is built and configured.
Origin Genesis (2013) Specifications
Chassis
Corsair Obsidian 800D
Processor
Intel Core i7-3970X
(6x3.5GHz + HTT, Turbo to 4.0GHz, 4.9GHz Overclock, 32nm, 15MB L3, 150W)
Motherboard
Intel DX79SR(X79 Chipset)
Memory
4x4GB Corsair Vengeance DDR3-1866 (expandable to 64GB)
Graphics
3x NVIDIA GeForce GTX Titan 6GB in SLI
3x (2688 CUDA cores, 837/6008MHz core/RAM, 952/6208MHz Overclock, 384-bit memory bus)
Storage
2x Corsair Neutron GTX 120GB SATA 6Gbps SSD (LAMD), RAID-0
Western Digital Caviar Black 1TB 7200-RPM SATA HDD
Optical Drive(s)
Hitachi-LG 14x BD Burner
Power Supply
Corsair AX1200i
Networking
2x Intel 82579L Gigabit Ethernet
Audio
Realtek ALC892
Speaker, mic/line-in, surround jacks, optical out for 7.1 sound
Front Side
Optical drive
40-In-1 Media Card Reader
2x USB 2.0
2x USB 3.0
IEEE 1394a
Headphone and mic jacks
4-channel fan controller
Koolance RP-401X2 Reservoir
Top
-
Back Side
4x USB 3.0
6x USB 2.0
Optical out
IEEE 1394a
2x Ethernet
Speaker, mic/line-in, surround, and optical jacks
6x DVI-D (3x GTX Titan)
3x HDMI (3x GTX Titan)
2x DisplayPort (3x GTX Titan)
Operating System
Windows 7 Ultimate 64-bit SP1
Dimensions
24" x 9" x 24"
(609.6mm x 228.6mm x 609.6mm)
Extras
Card reader
Custom liquid-cooling loop, CPU & GPU
Custom LED lighting
80 Plus Platinum PSU
Warranty
1-year parts, 45 days shipping, lifetime labor and 24/7 support
Pricing
As configured: $8,499 (+$479 paint job)
Component Selection and Build Quality
The skeleton of the Genesis, Corsair's Obsidian 800D follows in the footsteps of Corsair's other Obsidian cases. It may only be a full-tower ATX case, but there are few words to describe it other than "beastly." The 800D is built out of a mix of aluminum and copious amounts of steel, making it heavy and strong. And did we mention it's big? Among the 800D's more spacious accommodations is a backplane-driven 3.5" HDD hot-swap cage that orients the hard drives along the length of the case rather than the width. Origin of course puts all of this space to good use; the case's 5 5.25" bays are all filled with drives, card readers, water reservoirs, and fan controls, while the internals house the liquid cooling setup and components, while still leaving plenty of room to allow for neat & tidy cable routing.
Once inside of the 800D, it's hard to miss Origin's "Cryogenic" liquid cooling loop that occupies much of the internal volume. With upwards of 1200W of heat to absorb and expel, Origin has outfit every single fan mount with a radiator setup in a push-pull configuration. Altogether there's 1 140mm radiator at the bottom intake, another 140mm radiator at the rear exhaust, and another massive 3x120mm radiator at the top exhaust that has been reversed to serve as another intake. This entire loop is then hooked up a coolant reservoir, and of course the blocks that cover both the CPU and the GPUs. On that note the fact that Origin was able to get blocks for the Titan in time for its launch is something of a marvel on its own; EK Water Blocks apparently put those blocks together on a very short turnaround.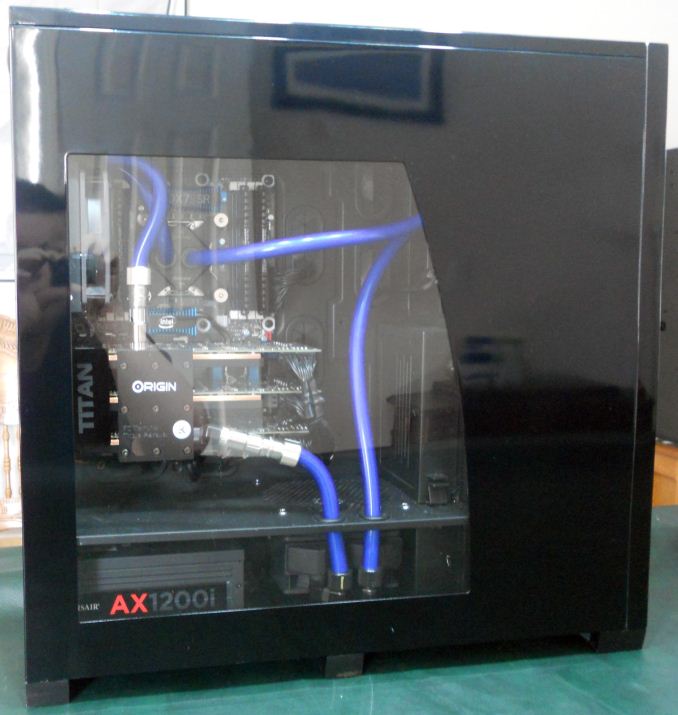 All of that cooling hardware is of course necessary if you want to cool three overclocked Titans and a heavily overclocked CPU at the same time on a single loop. The CPU itself, an Intel Core i7-3970X, has been massively overclocked from 3.5GHz to 4.9GHz (ed: Origin's factory overclocking service doesn't guarantee any specific clockspeed, but rather a range of 4.5GHz to 5.2GHz depending on what the CPU will do). This required 1.485v to achieve, making liquid cooling an absolute necessity for this Genesis system, as power consumption (and heat output) by our reckoning more than doubles to over 300W. A voltage over 1.4v is unusual for a SNB-E processor, but our in-house overclocking guru, Dr. Ian Cutress, tells us that even a voltage this high is safe due to the use of water cooling.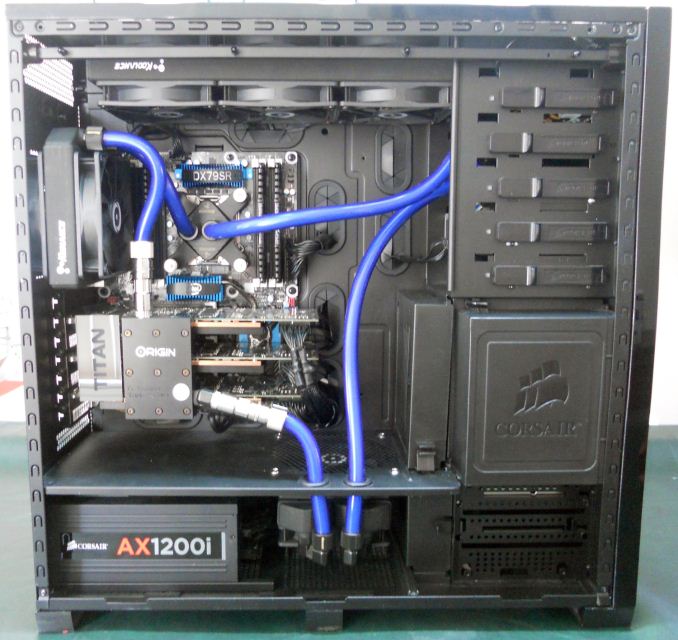 The other half of the cooling is of course for the Titan video cards in this system. As a crème de le crème system Origin has also overclocked these GPUs – something that's easy to get away with since the liquid cooling will keep temperatures well into the safe zone – pushing them from 837MHz to 952MHz for a 115MHz (14%) core overclock, while the memory clockspeed has been increased by 400MHz (7%) from 6GHz to 6.4GHz. With temperatures held under 70C due to the water cooling, the speed of these cards is ultimately held back by what the GPUs can clock to on stock voltages, along with NVIDIA's 106% (265W) TDP limit.
Moving on to the Genesis' storage system (practically the only thing not liquid cooled), it is composed of a pair of 120GB Corsair Neutron GTX SSDs organized in RAID-0, and a Western Digital Caviar Black 1TB for higher capacity storage. The use of 2 120GB SSDs instead of a 240GB drive is something of an odd choice; RAID-0 improves raw read/write performance much better than a denser SSD, so the Genesis can push more than 600MB/sec sequential read/writes. But because this is an X79 platform, this means we're using Intel's RSTe drivers that don't support TRIM in RAID. So maintaining drive performance is reliant on LAMD's garbage collection routines.
Rounding out the system, Origin throws in a Corsair AX1200i as the system's PSU, and the optical drive is a 14x LG Blu-Ray/DVD burner. Origin also throws in a few accessories, split between functionality and sheer looks. On the functionality side, the top and rear fans are hooked up to a 4 channel Lamptron analog fan controller mounted into one of the 5.25" bays, allowing those fans to be turned up and down as necessary. As for looks, along with the blue tubing for water cooling, the case is also equipped with remote controlled multi-colored (RGB) case lighting system, allowing the inside of the case to be lit-up in practically any of the major primary/secondary/tertiary RGB colors. Meanwhile on the outside, our sample system also comes done in one of Origin's most intricate paint jobs, their aptly named "shreader blue".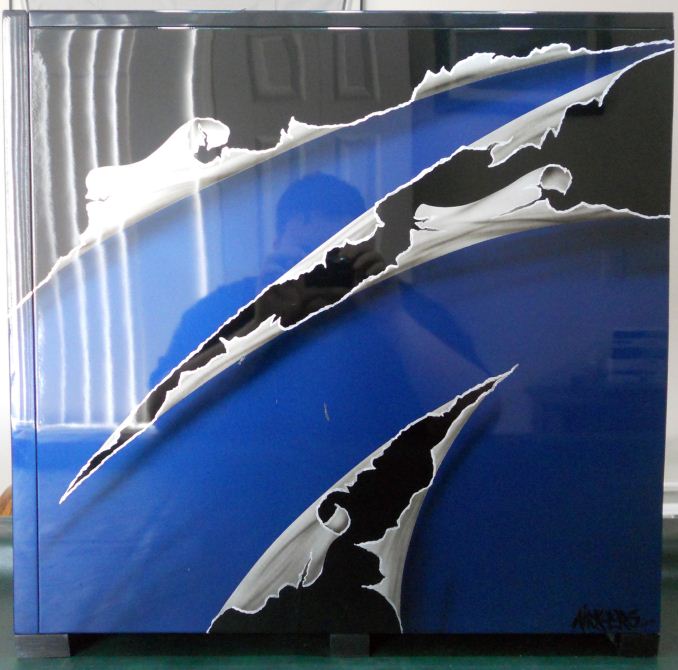 "Shredder Blue" paint job; the scratch was our idea
Taken in altogether, sometimes I forget just how well built a good OEM/boutique system can be. Not unlike Anand, I've typically always built my own PCs; so even with the occasional repair jobs for friends I rarely see a truly well built system. Origin takes full advantage of the 800D case, and for the most part the only cables you'll ever see without very close examination are the PCIe power cables for the Titan cards themselves. Every cable has been neatly tucked away, and the liquid cooling tubing cut such that there's no more slack than is necessary for any of the bends. The build quality is of course greatly helped by the solid feeling of the 800D case itself, which being composed mostly of steel is extremely durable and clearly won't be getting loose or otherwise falling apart anytime soon.
With that said, this Genesis is clearly a set it and forget it computer. The water cooling system and tight cabling means that modifying the case or otherwise expanding it beyond adding hard drives is difficult at best. Even adding RAM would require at least unmounting a radiator to access some of the DIMM slots, while much more than that would require draining the system. Of course with 3 Titans occupying all of the available expansion slots there's not much more you could do anyhow. Ultimately the Genesis is a complete system meant to live out its life as-is – the 70lb+ weight of the system means that owners won't want to move it anyhow – with the only real work left being the periodic refill of the reservoir.
Finally, Origin offers a few different warranties with the Genesis. All of the warranty options involve lifetime labor and free 24/7 support; the difference is how long the parts are warrantied for, and whether shipping is included. The base warranty is 1 year on parts and 45 days on shipping, followed by full 1 year ($70), 2 year ($170), and 3 year ($270) warranties. Frankly given the sheer weight of the computer any option that includes shipping should more than pay for itself if something does happen. Coupled with the fact that this is an open loop water cooling system, there's a very strong incentive for grabbing an extended warranty.
Application and Futuremark Performance
Though our Genesis system is primarily intended for gaming, with gaming being such a resource-intensive hobby it tends to follow that the Genesis is also an incredibly high performer at virtually everything else. The 4.9GHz SNB-E processor is as fast as they come right now, and with the triple Titans and RAID-0 SSDs backing it up, it's clear there are very few computers that will come anywhere close to the Genesis.
As such our standard application and Futuremark benchmarks are here mostly because they're obligatory. We simply haven't reviewed any prior systems, even other SNB-E systems, that are as powerful as the Genesis. It takes the top spot in everything.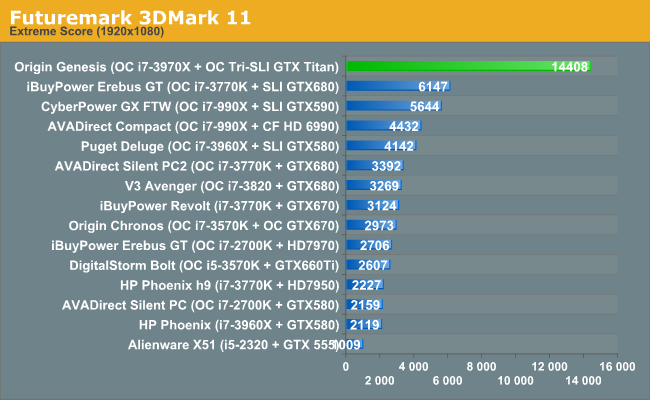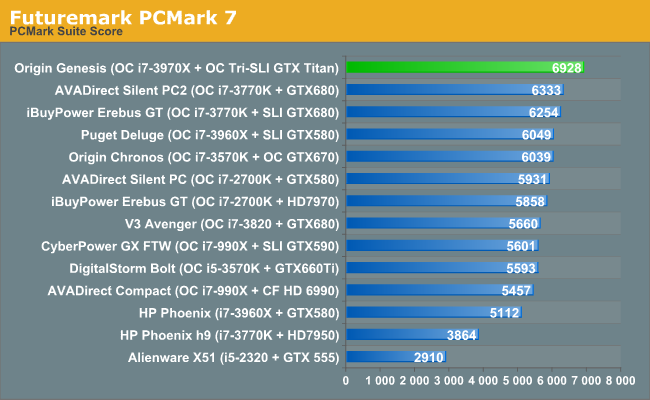 The Genesis more than doubles the 3DMark performance of the next-fastest system we've reviewed, an overclocked IVB + GTX 680 SLI configuration. Meanwhile the PCMark scores are much closer since most of the PCMark score is determined by CPU and storage performance rather than GPU performance, but thanks to the hefty overclock on its i7-3970X processor, the Genesis is still almost 700 points ahead of the next-closest system.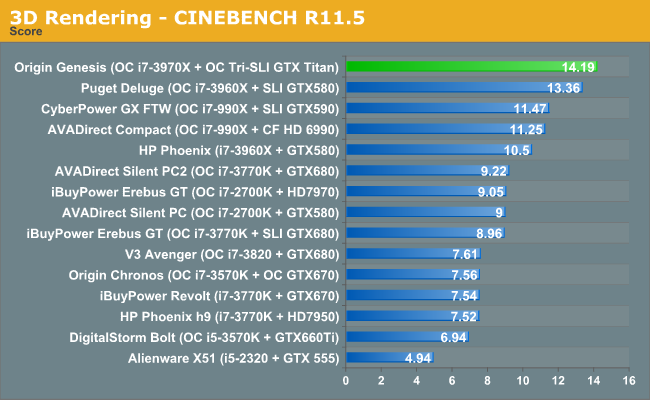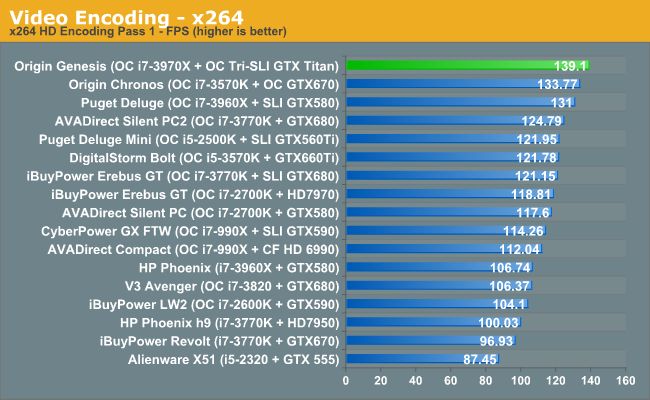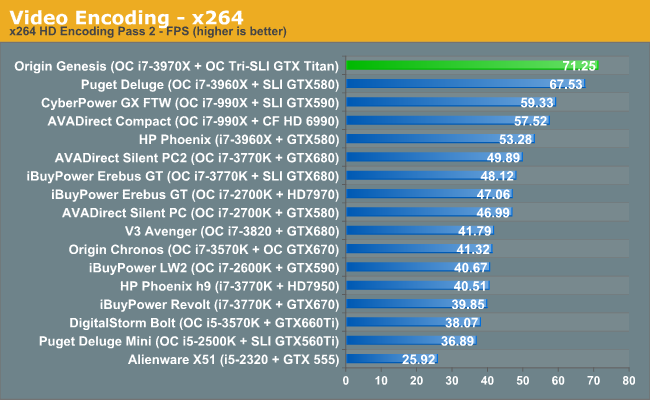 Diving into our CPU-dependent benchmarks, the story is much the same. Thanks to the CPU overclock, the 4.9GHz SNB-E processor means the Genesis pushes past even other SNB-E systems in both Cinebench and x264 encoding. At this point the Genesis is approaching the limit for what any kind of single-socket consumer system is going to be able to achieve.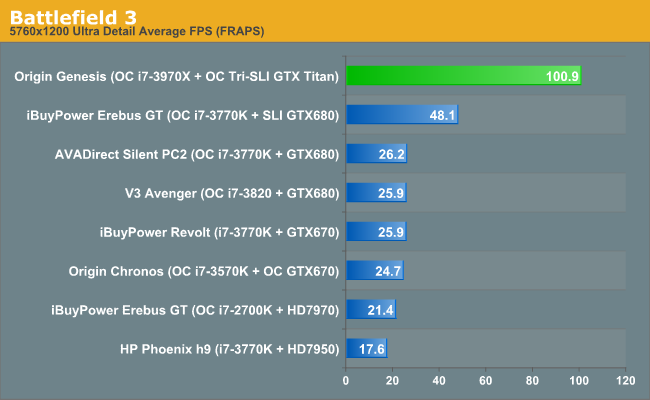 Finally, we're throwing in one of our standard gaming benchmarks before going into tri-SLI Titan's performance in-depth. Even at 5760x1200 with Ultra settings, Battlefield 3 is hard-pressed to keep 3 Titan cards occupied, with the Genesis delivering 100fps. 3D Surround BF3, anyone?
Titan Tri-SLI In-Depth: Letting Titan Spread Its Wings
Having taken a quick look at overall system performance, it's time to get down to the real meat and potatoes of this review and of the Genesis' existence: gaming.
The Genesis fundamentally exists for two reasons: you're either playing on a triple monitor 2D/3D surround setup, or you're playing Crysis 3. There is simply no other scenario where three Titan cards are necessary, as we'll see. Genesis was meant to play games, and it was meant to do so at the highest resolutions with the highest settings; no compromise gaming at its finest.
To illustrate this point, we've run our Genesis system with 1, 2, and 3 Titan cards enabled to look at not only what its shipping performance is, but what scaling is like from 1 GPU to multiple GPUs. As we've discussed before, using multiple GPUs is not a foolproof way to improve performance due to the inherent limitations of AFR, but when we're up to a single Titan card this is the only way to further improve performance.
We're also throwing in numbers from our GPU testbed, where available. Since we can't control for the differences in the testbed (not the least the cooling differences) we can't hold the two of them equal. But we can at least showcase the difference between our testbed and the Genesis due to configuration, cooling, and CPU differences.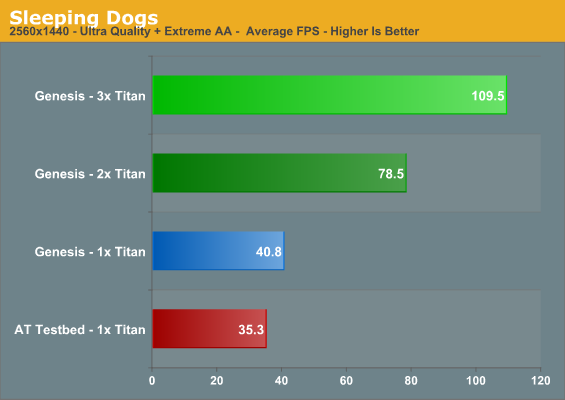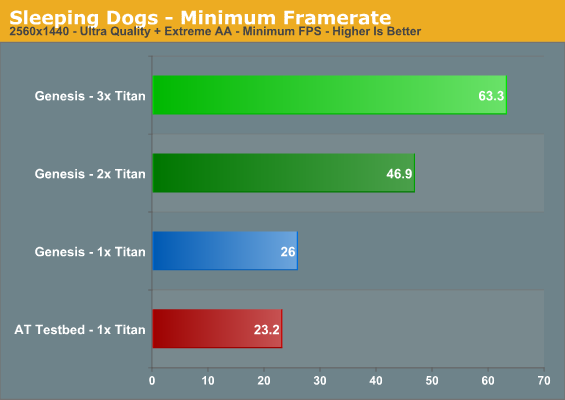 Sleeping Dogs' benchmark doesn't work correctly at 5760, so we're stuck looking at 2560x1440 here. But even so it presents an interesting case study since Sleeping Dogs' highest settings involve super-sample anti-aliasing nearly the entire screen, a performance-brutal but very effective method of eliminating jaggies. 1 Titan can't do the job here while keeping average framerates above 60, so 2 are necessary. But to keep the minimum framerates above 60fps becomes a task for no less than 3 Titans.
Scaling ends up being very good here. 1 to 2 Titans is a 92% increase in performance. Meanwhile 2 to 3 Titans is not as great at 39% (out of 50%), but there's also a very real possibility we're hitting CPU limits here. As we'll see, tri-SLI Titans can be very hard to feed even with a 4.9GHz SNB-E processor.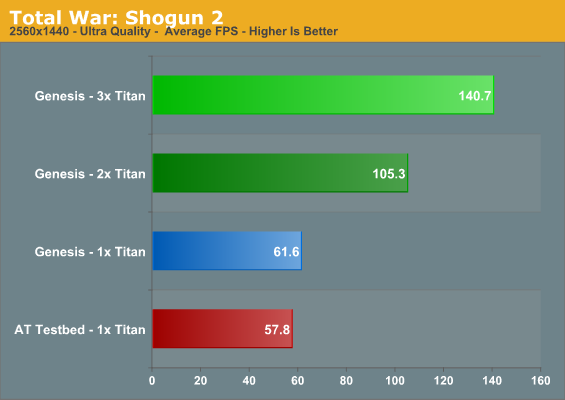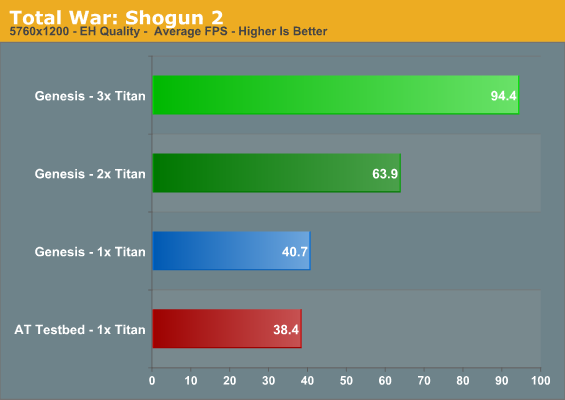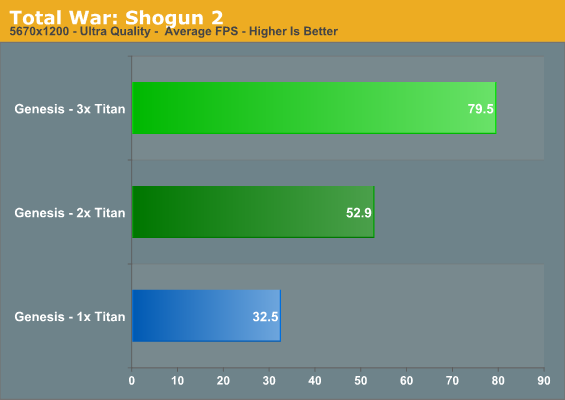 Total War 2 also scales up well with multiple Titans, though as a turn based strategy game there isn't the same need for incredible performance here as there is with our action games. At 2560 even 1 Titan is more than enough, and at 5760 with absolutely everything cranked up, 1 Titan is still above 30fps. Still, you technically need 3 Titans to get ahead of 60fps. Oddly enough, at times the gains from a 3rd Titan are closer to the theoretical gains we'd expect than adding the 2nd Titan.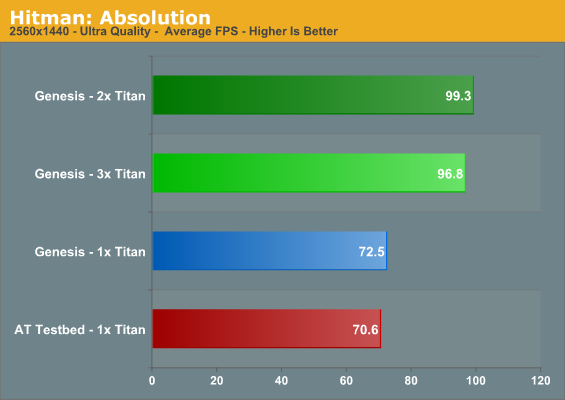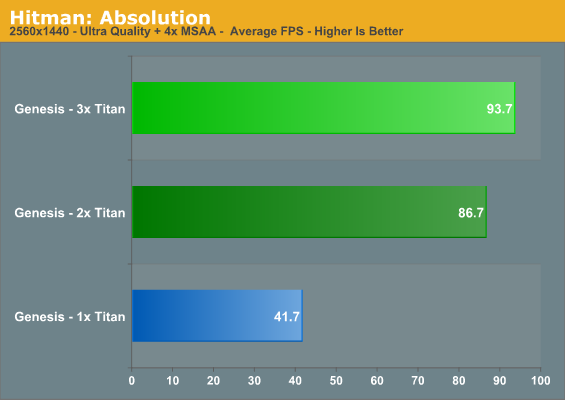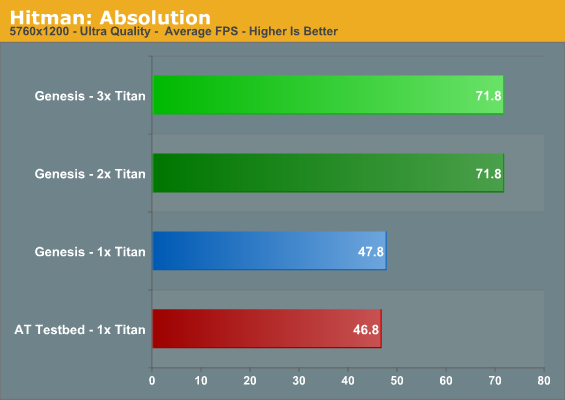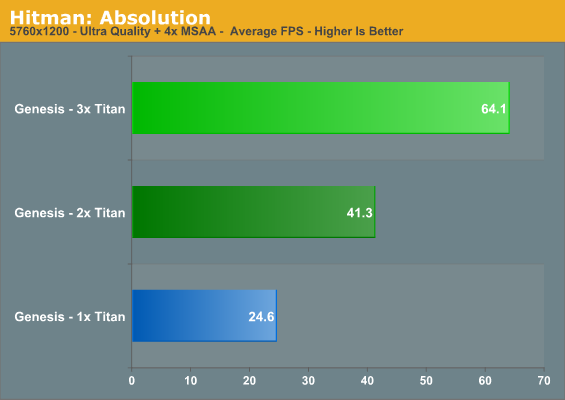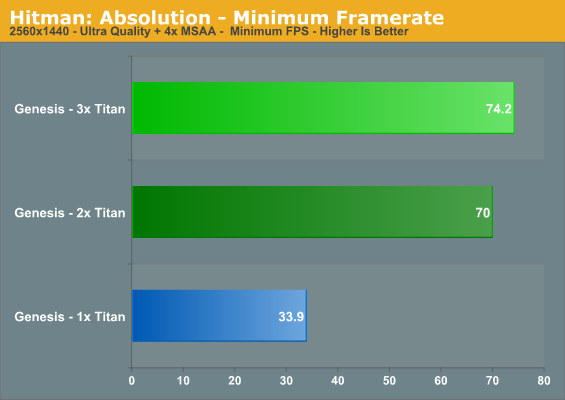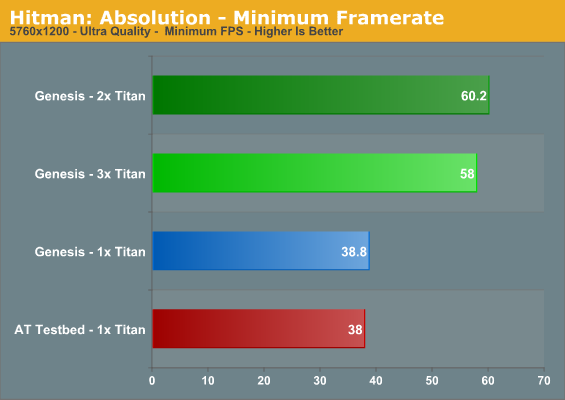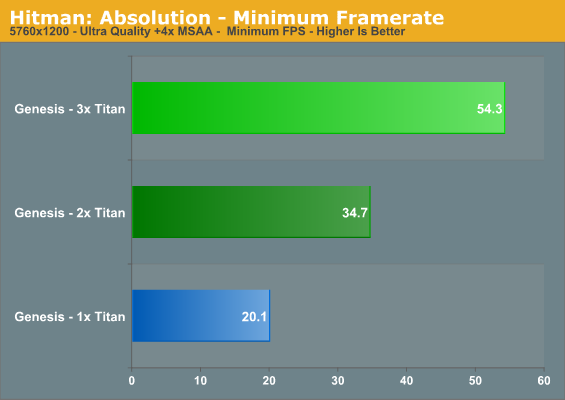 Hitman is our first good example of being CPU limited, which is a big problem any kind of multiple-Titan computer faces, including the Genesis. Thanks to the embarrassingly parallel nature of graphics rendering, the GPU side of the equation gets faster at a much greater rate than the CPUs feeding those GPUs, so it's easy to get CPU bottlenecked, and even easier when dealing with multiple GPUs. Our in-game experience isn't quite the CPU limited for the most part, but especially at lower resolutions the performance it's hard to feed multiple Titans.
Overall anything short of 5760 with 4x MSAA fails to make a 3rd Titan worthwhile. On the other hand, you do need at least 2 Titans to handle MSAA even at 2560, with the 3rd making itself felt at 5760. So there is a use for 3 Titans even in a more CPU limited scenario, but it will require the highest resolutions with anti-aliasing, reinforcing the fact that the Genesis' capabilities are best suited to driving a surround setup.
Letting Titan Spread Its Wings, Cont
Moving on, let's take a look at 3 of our most intensive games: Battlefield 3, Far Cry 3, and Crysis 3.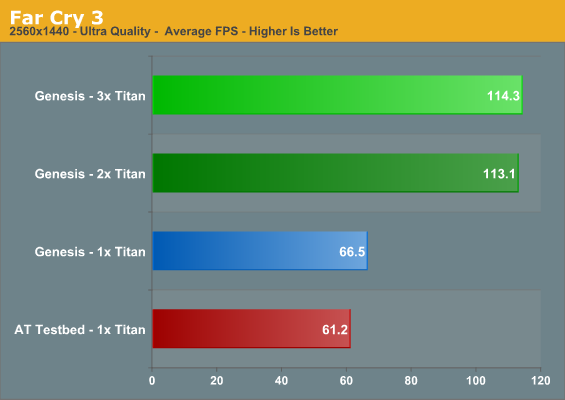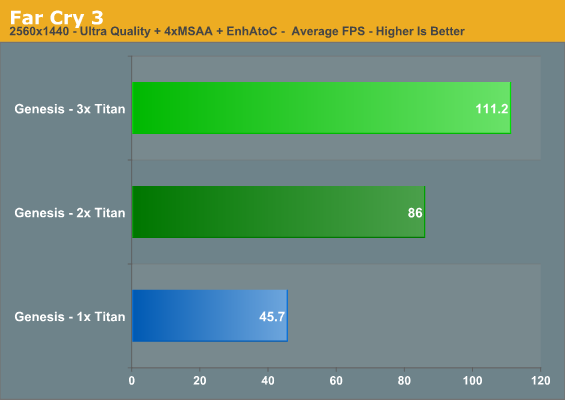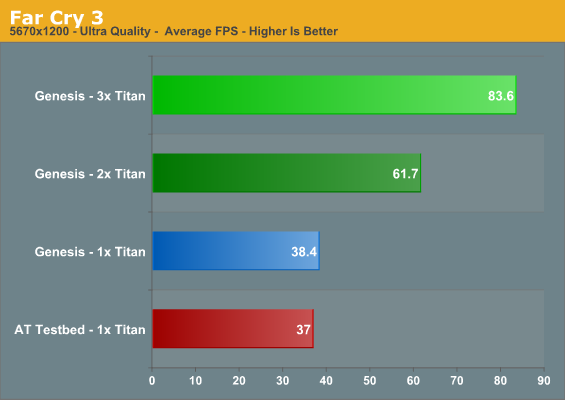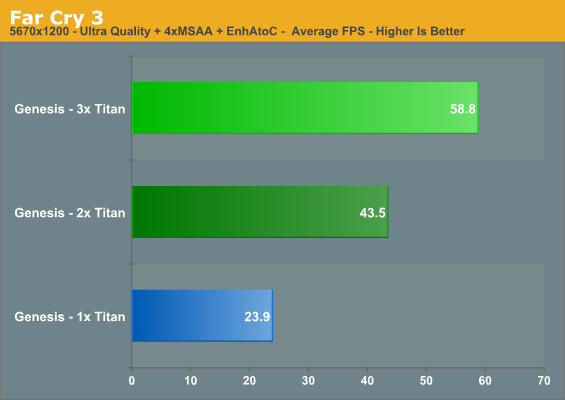 Far Cry 3 is another game that highlights the difficulty in keeping all 3 Titans fed. We have to go to 5760 before a tri-SLI setup isn't being held back by the CPU. Once we're there however, additional Titans make a clear difference. At least 2 are required to keep average framerates above 60fps at 5760 without anti-aliasing, and with the AA cranked up even 3 Titans can't quite crack 60fps. This may be for the best though; for some reason the input lag at 5760 with 3 Titans is especially bad, and this is likely a further artifact of Far Cry 3's quirks.
At the very least scaling is once again fairly good. At 5760 with AA moving from 1 to 2 Titans improves performance by 82%, and 2 to 3 Titans by another 35%.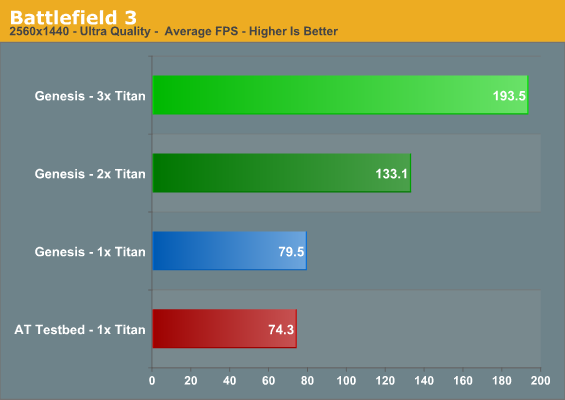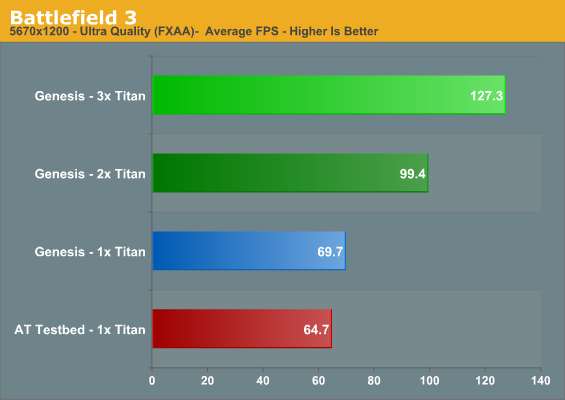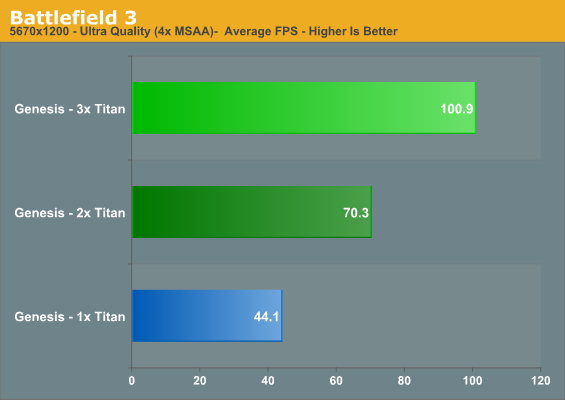 Battlefield 3 isn't appreciable CPU limited, but it does present something of a scaling issue for Titan. Scaling with 1 display is only 67% for the 2nd Titan, and 45% for the 3rd. And with multiple displays at 5760 with MSAA that becomes 59% and 43% respectively. Oddities aside of scaling being relatively better with the 3rd Titan than the 2nd, even with MSAA we're seeing an average of 70fps with 2 Titans at 5760, so minimum framerates are still above 30fps. So the practical advantage of the 3rd Titan is limited to minimum framerates, or otherwise doing 120Hz gaming.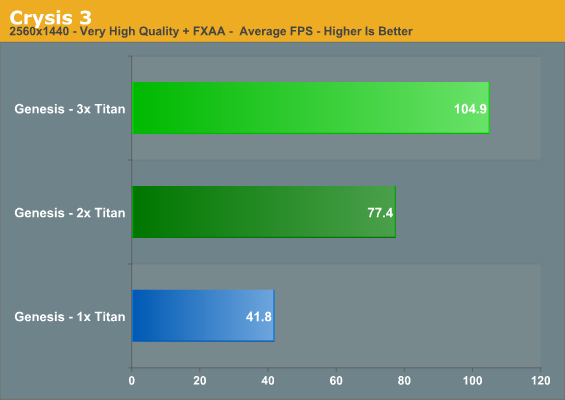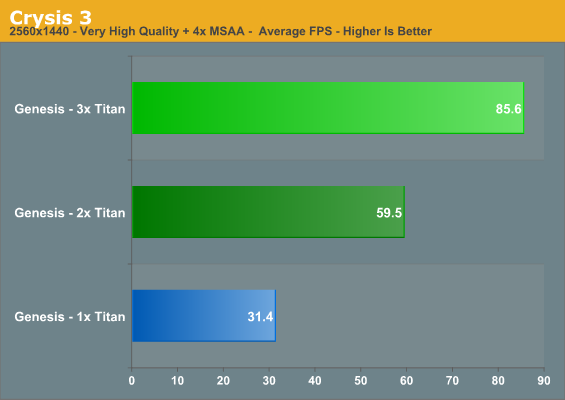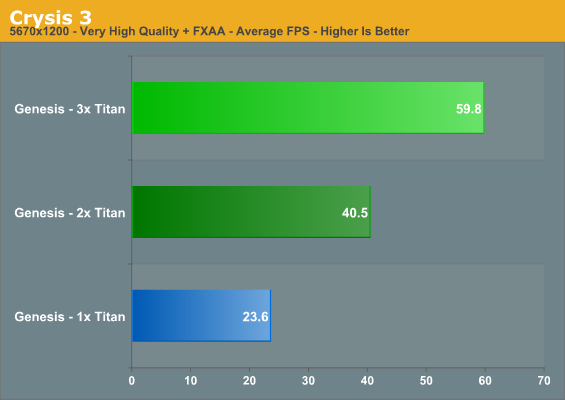 Finally we have Crysis 3, which is first being used here before rolling it into our larger benchmark suite. Taken from the intro level (Post-Human), Crysis 3 was meant to kill GPUs and it shows. 1 Titan can't break 60fps at 2560 even with FXAA, and 2 Titans are just short if we add MSAA. Move to 5760, and even 3 Titans won't break 60fps with FXAA. So while the rest of the games in our suite need multi-monitor resolutions to really take advantage of a tri-SLI setup, even 1 2560 monitor can drag a tri-SLI setup back down to earth when it comes to Crysis 3. Even if it's not game of the year, just as in past years Crysis 3 will move high-end video cards; of that there's no doubt.
Looking at Titan scaling again, Crytek and NVIDIA have clearly done their homework for single-monitor resolutions. At 2560 with MSAA scaling is 89% from 1 card to 2, and 44% from 2 cards to 3. Unsurprisingly, scaling does taper off at 5760 due to the performance hit of keeping multiple display buffers across multiple cards organized. 1 card to 2 cards is just 72% here, but adding a 3rd card adds another 47% in performance.
Across our 6 games we can see that 3 Titans generally pays off, but a big part of this is using resolutions and settings that can shift as much of the burden onto the GPU as possible. With the exception of Crysis 3 almost everything plays fine on just 2 Titans, with the 3rd Titan necessary to hit 5760x1200 with the best quality settings. On the other hand the fact that even Crysis 3 is almost at 60fps at 5760 with everything short of MSAA turned up is quite a change of pace. NVIDIA told us they wanted tri-SLI Titan to be a no-compromise gaming setup, and indeed they've delivered on that.
The only way we'd be able to push a tri-SLI Titan setup harder would either be to use a 2560x1440 surround setup – which admittedly isn't outside the realm of possibility when we're talking about pairing it with a $9000 computer – or otherwise going outside the lines and using SSAA on the titles that support it. It may come off as hyperbole, but "I have 3 monitors and the Genesis still isn't slow enough" was a very real problem putting this article together. To that end it's surprising that we weren't CPU limited more often than we were; it's still a concern, but for the most part in surround gaming the CPU can stay ahead of the GPU, at least if it's as heavily overclocked as the Genesis' 4.9GHz SNB-E.
Power, Temperature, and Noise
Be it a system review or a GPU, last but certainly not least is a look at power consumption, temperatures, and noise. The Genesis is essentially a sealed system so there's no real choice as far as temperatures go, but we can easily quantify the power consumption and try to get a baseline on the noise produced.
On paper the peak power consumption for the Genesis is somewhere around 1175W at the PSU; 265W for each Titan, an estimated 300W for the CPU, and around another 75W for the motherboard and pumps. In practice this isn't too far off the mark.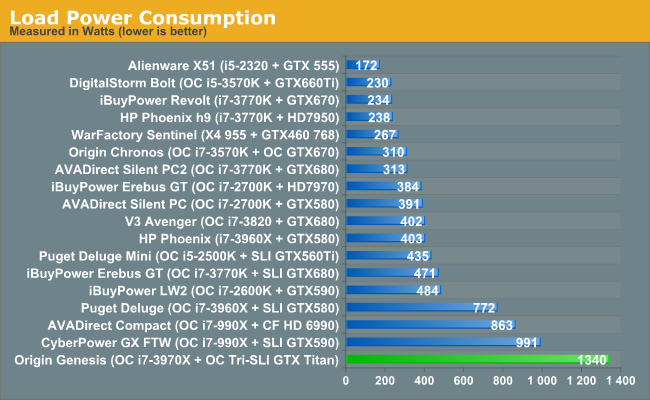 With the Genesis fully loaded down with both CPU and GPU burn-in programs, we measured a staggering 1340W at the wall, which if Corsair's documentation is correct about PSU efficiency being just under 90% here, we're looking at just under 1200W actual power consumption. It should come as no surprise that 3 Titans and a heavily overclocked CPU take their toll, and untold gaming power comes at the price of untold wall power. It goes without saying that 20nm can't come soon enough.
Meanwhile, though we don't have a metric for "average" power consumption, the Genesis does highlight the fact that there's a big difference between peak and average, mainly that the CPU and GPU will never in practice be slammed as hard as they are in our extreme testing. The highest we saw power consumption hit in a regular test while waiting on a benchmark was 1042W, nearly 300W below the peak.
Anyhow, all of this ends up being something buyers will have to keep this in mind if they intend to pick up a similarly configured Genesis. 1340W at the wall is over 11 amps; we're not to the point where the Genesis needs a dedicated circuit, but that's the majority of a 15 amp circuit right there. And we've still yet to factor in monitors. Genesis should best not share a circuit with another high-draw device such as another high-performance computer or an air-conditioner.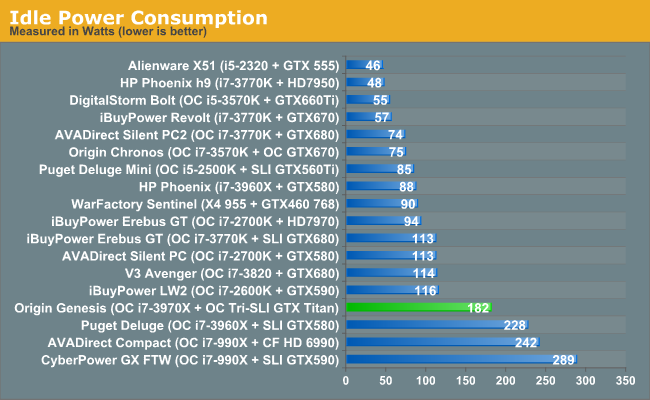 Idle power on the other hand is surprisingly decent. To be sure it's still drawing 182W doing virtually nothing, but compared to some of our historical systems this is still 40W+ less than some of them, showcasing how much progress has been made in reducing idle GPU power consumption in the last few years. The biggest limit here is actually that Origin isn't using an offset voltage on the CPU but rather a fixed voltage, so the idle and light-usage voltages remain high. Next to that are the pumps, and then finally the three Titan cards. Other than using an offset voltage, there's not much different Origin could have done here. It's simply the cost of powering nearly 2000mm2 in silicon right now.
Moving on to temperatures, it's probably best to preface this with the fact that it's hard to set any kind of baseline expectations with a system such as the Genesis. On the one hand it's water cooled, and on the other hand it's running 3 Titans and a heavily overclocked CPU on the same loop. With GPUs and their standard coolers it's easy to set a baseline, but for CPU temperatures I really don't know what's good for a system like this.
Genesis Temperatures
CPU
GPU
Load
81C
66C
Idle
37C
30C
Looking at the all-important load temperatures, all we can really say is that Origin is giving their cooling loop a run for its money when it comes to the CPU. 81C is 10C below TjMax for SNB-E, so it's not running into any kind of temperature ceiling. But at the same time the heavy overclock and high voltage have effectively offset the benefits gained from water cooling. Getting a system this fast requires pushing everything to the limit, and that's what Origin has done here.
As for our GPUs, the load temperatures there are very good, even despite the fact that it's 3 Titans (795W) in serial. The hottest card reaches just 66C, and this is under the highest load we can throw at it. This ends up being 28C below Titan's boost limit (when overclocked), which means these cards can boost full-time any time, TDP permitting.
Idle temperatures meanwhile are not amazing by air standards, but they're still solid. 30C for the Titan cards is the same thing we get on air, while 37C for the CPU is to be expected given the high idle voltage. Overall the cooling system on the Genesis has no problem with idle, as it was dissipate over 1000W more.
While we're on the subject of temperature, it's interesting to note what Origin has done as far as airflow is concerned on the Genesis. In an air cooled configuration the Corsair 800D case is deigned to have cold air taken in from the bottom, and then hot air exhausted out of the rear and the top. Origin has partially inverted this, turning the top exhaust into a top intake.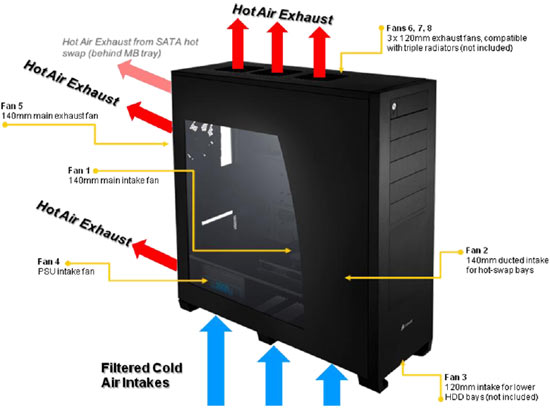 Corsair 800D Default Cooling Configuration. Top inverted by Origin for use as intake
The advantage of doing this is that the largest radiator (3x120mm) is pulling in fresh air as opposed to air that's made a complete trip through the case. The disadvantage of this is that all of the exhaust duties have now been shunted to the rear of the case, specifically to the 140mm fans and the radiator also attached there. For a completely water cooled setup this is generally considered the best method, but it does mean there's some 1200W of heat coming out of the rear of the case; it gets toasty, to say the least.
Finally, moving on to noise this is a good time to bring up the fact that noise is essentially fixed to the system, and variable by the user's hand. The bulk of the fans – the 8 fans that compose the top intake and back exhaust – are manually controlled by the fan controller at the front of the computer. Meanwhile the other fans are either wired directly into the PSU, or connected to the motherboard. As a result there's a distinct noise floor, while load noise is all about how high those other fans are turned up.
To test system noise, I'm resorting to running a sound level meter at ear level, with the Genesis at the floor next to my office desk (the same place the GPU testbed normally resides). To provide some contrast, I'm also throwing in our GPU testbed under the same scenario; the testbed is an X79 system with 1 Titan, cooled by a Corsair H100 closed loop cooler, inside a Thermaltake Spedo Advanced case.
Genesis Noise
Genesis
AT Testbed
Load, Max Fan
51dB
N/A
Load, Medium
43.1dB
44dB
Idle
42.8dB
38.9dB
With all of the fans cranked up the system puts out 51dB at ear level. This is quite loud and not at all where you'd typically want to run the Genesis on a day-to-day basis. Turning down the user-controllable fans to 66% (a bit more than the minimum voltage necessary to operate the fans) greatly reduces the noise to 43.1dB under full load. At these speeds the Genesis still has plenty of airflow for just about everything, but we would not recommend replicating our 1340W load testing at anything less than full speed since it was at these settings that we hit 81C under full load.
Idle noise meanwhile was at 51dB with all of the fans cranked up (so regardless of load), or 42.8dB at 66% fan speed. At this point the noise is coming from the rest of the fans, followed by the pumps.
As compared to our GPU testbed, this is both better and worse. The idle noise is unquestionably worse; 38.9dB versus 42.8dB is almost a 4dB difference, and there's simply no mistaking which is the Genesis. The Genesis at idle is not loud, but it's very noticeable. Even our testbed is distinctly heard, but it's the difference between being able to hear most subtle noises in the environment and when it's clear there's a computer a foot or two from you.
The tradeoff here is that the equipment necessary to liquid cool 1200W of heat just isn't going to be all that quiet under load. This general experience is consistent with past liquid cooled systems we've looked at so it's by no means unique to the Genesis, it's just the kind of tradeoff that has to be made. It's a fine tradeoff for a gaming system, it just means that web browsing and other low-impact activities will be louder than with competing, quieter systems.
Load on the other hand is actually in the Genesis's favor. With our Genesis at 66% fanspeed, it's actually a bit quieter than our testbed, 43.1dB versus 44.0dB. Unlike with idle noise it's not an immediate and apparent difference, particularly due to the difference in fans and the pitch of the resulting airflow, but it's still an advantage for the Genesis and its liquid cooling. Or perhaps to put it another way, despite the extra hardware and much greater performance of the Genesis, it's still a bit quieter than our air/liquid testbed. Still, the Genesis is best used with headphones to muffle the noise, or at least put farther away from the user.
Ultimately I'm left wondering – if it were possible – would automatic fan and pump control on the Genesis result in better noise? The manual fan control effectively locks you into either picking a position and sticking to it, or remembering to turn the fans up before doing something that would put it under significant load.
Final Thoughts
Though it didn't go as initially intended, our time evaluating Origin's Genesis ended up being enlightening for entirely different reasons. It's one thing to look at a tri-SLI system, but it's extremely rare that we get to look at any kind of liquid cooled GPU system, let alone one packing 3 cards as fast as NVIDIA's GTX Titan. NVIDIA told us that they wanted to showcase tri-SLI Titan in an interesting manner, and though this isn't quite what they had planned Origin has unquestionably done just that.
The Genesis, simply put, is obscene. With a heavily overclocked Core i7 processor, 3 overclocked GTX Titans, RAID-0 SSDs, liquid cooling throughout, and a number of other smaller touches, the performance of the Genesis is on a level all its own. Which almost presents us with a problem, since so much of the review process is comparative. The Genesis is essentially the fastest thing you can build in an ATX form factor, packing some of the most powerful components available today and built in a case heavy-duty enough to flatten someone ACME style. What can you even begin to meaningfully compare that to?
At nearly $9,000 for our system as equipped, the Genesis stands alone in every possible way. Perhaps it's fitting then that it's a lot like the GTX Titan itself: expensive, powerful, and impressive. With Titan NVIDIA set out to create a luxury video card, and the Genesis is the logical conclusion of that process, bringing Titan into a luxury computer. A $9000 gaming computer isn't economical by any definition of the word, but for the few that can afford such a toy, there simply aren't any other toys like this.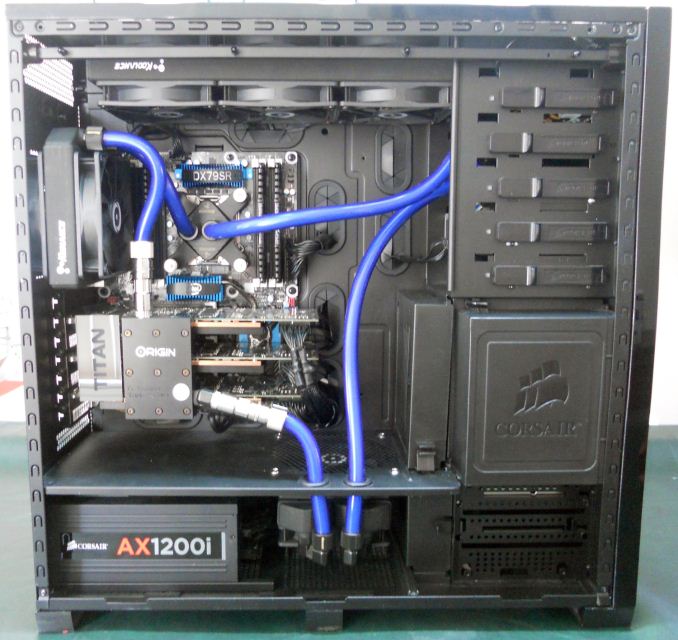 Ultimately in evaluating the Genesis it's not a question of value for its potential customers, but rather a question of needs and tradeoffs. 3 Titans in tri-SLI offers a level of gaming performance that exceeds all but the most challenging games, and while even 2 Titans may be necessary to drive a single display, with 3 Titans it's simply a foregone conclusion that it's intended to drive surround gaming. It takes something this powerful to unlock the ability to run at the highest quality settings at the highest resolutions.
The tradeoff for all of this is that powerful systems consume a lot of power themselves, and the Genesis is no exception. The Genesis is built to consume 1200W in power and expel it as 1200W in heat, something it does extremely well thanks to the liquid cooling system. That liquid cooling system is always active however, so if the Genesis does have one drawback it's that while it sings under load, that cooling system is singing under idle, too.
As for Titan itself, though Anand and I agreed in our look at Falcon Northwest's Tiki that the SFF is the most interesting application of Titan right now in this age of power efficiency and quiet computing, tri-SLI Titan is a stark reminder that there are benefits for going big, too. Once you get past the hump of SLI versus the multi-monitor performance penalty, SLI scaling is at least solid on everything we've tested. And despite our concerns about being CPU limited, at multi-monitor resolutions and backed by a bleeding edge CPU there's still plenty of room for Titan to soar. Tri-SLI Titan can handle everything we throw at it and then-some. Ultimately it's serving a niche of a niche (of a niche), but the performance is there for a price.