Original Link: http://www.anandtech.com/show/6914/samsung-galaxy-s-4-review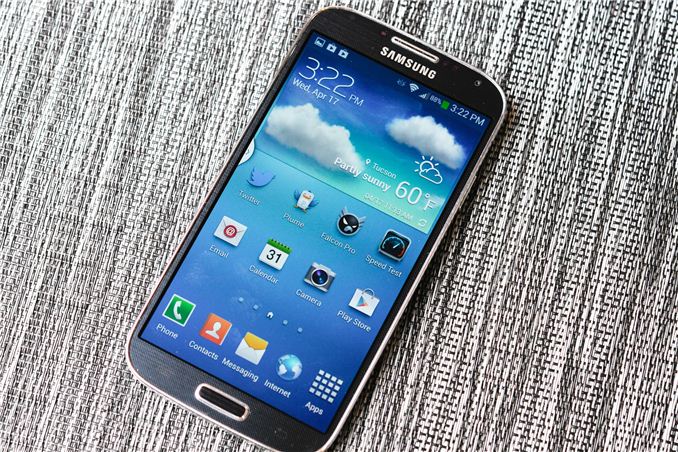 It's no secret that Samsung enjoyed huge success with Galaxy S 3 (henceforth SGS3 and SGS4 for Galaxy S 4). In many markets, SGS3 was easily the Android handset to beat, even as faster and arguably better hardware became available during the life of its product cycle. Samsung nailed the branding, marketing, and consistency battles with its third generation of Galaxy smartphone, and now we're a year later and facing down SGS4.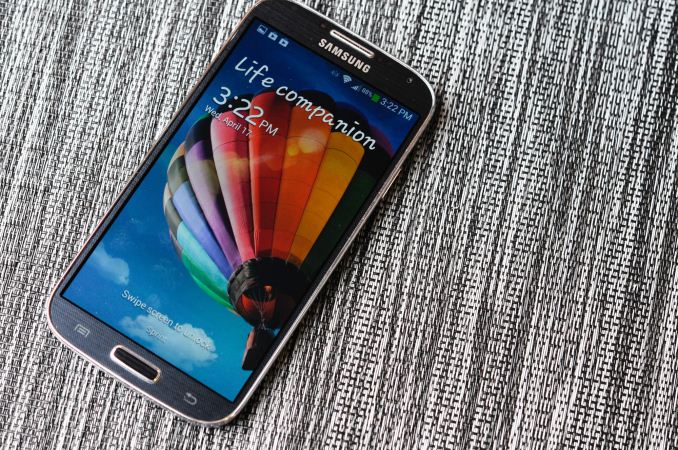 There's always that question about how you follow up something that was wildly successful with another product, and carry over what was good about the previous generation that made it successful. There's no denying that Samsung is in an interesting position here, facing opposition from players desperate to get more market share against the now well-established player that is Samsung. At the same time Galaxy S 4 is by very name an iterative product.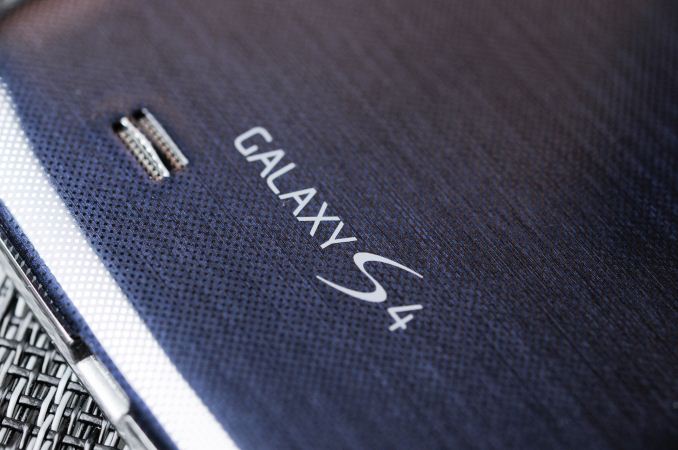 Putting together an Android flagship is superficially a pretty easy thing to do, and the story of the Galaxy S 4 starts out much the same as any other Android flagship from this generation. There's a 1080p 5-inch display on top, the latest and greatest CMOS sensors for front and rear facing cameras (2MP and 13 MP respectively), a powerful Snapdragon 600 SoC (which is really APQ8064AB, but more on that later) with four Krait 300 CPUs running at up to 1.9 GHz and an Adreno 320 GPU at up to 450 MHz, 2GB of LPDDR3 RAM, microSD in addition to built in storage, and removable 9.88 watt-hour battery. On the connectivity side of things we get LTE connectivity in the appropriate markets courtesy of the ubiquitous MDM9x15 LTE/WCDMA/CDMA2000/GSM multimode baseband, WLAN and Bluetooth from the latest and greatest BCM4335 802.11ac/BT 4.0 LE combo chip, and NFC from Broadcom's BCM2079x chip. There's also a new generation of touch controller inside from Synaptics, and Audience's latest eS325 noise rejection and suppression voice processor for calls. Long story short, SGS4 is packed full of absolutely the latest and greatest everything on basically every axis possible.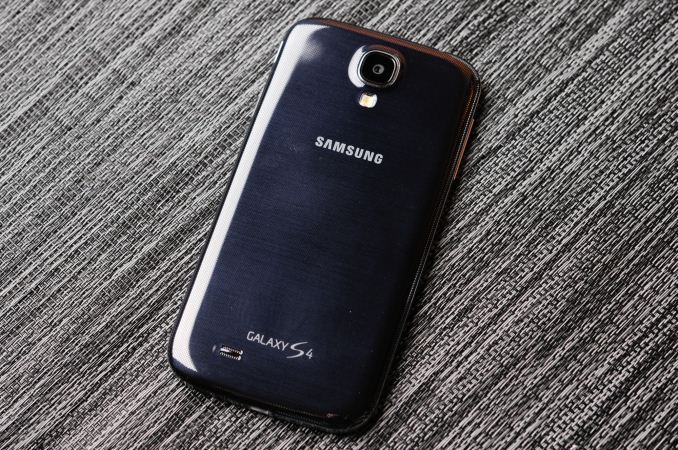 Samsung has done a good job of answering most of the questions we've had about the Galaxy S 4 prior to ever getting our hands on final hardware. From our earlier preview and experience with the device we got a good feel for the software customizations, as well as what hardware we should expect to see under the hood. Today, armed with final hardware and final software (Android 4.2.2 and TouchWiz atop it), we can try to fill in some of the remaining blanks.
I like to start with aesthetics and hardware. There's no doubt that superficially the SGS4 shares almost all of its industrial design language with SGS3 and the Galaxy Note 2, which themselves are iterations of the design path that Samsung started down arguably with the T-Mobile SGS2 (SGH-T989) and AT&T SGS2 what feels like an eternity ago. At first the "inspired by nature" motif made sense with the rounded appearance on SGS3, with SGS4 it's obvious this is a refresh which capitalizes on everything that made the SGS3 popular. This is the iPhone school of thinking — you have an industrial design now that is borderline a trademark, it's selling well, and if you have something that's popular, why change it?
That's not to say there aren't changes, the SGS4 feels shockingly different in the hand than the SGS3. The SGS3 previously had a very tapered backside with a large radius of curvature. The SGS4's profile is now more squared off basically everywhere. The result is a handset that feels thicker because it is — at the points which previously were thinnest on the SGS3.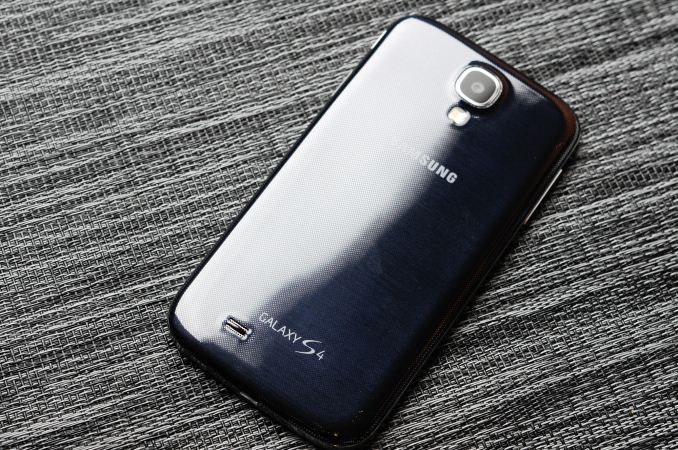 Samsung continues its liberal use of its favorite thermoplastic with SGS4, but what's always intriguing to me is how much it tries to make its thermoplastic exteriors look like something else. The SGS3 undoubtedly tried to mimic a faux aluminum appearance, with SGS4 there's now a faux carbon fiber motif going throughout, with a diamond checkerboard pattern that prevails on the front and back. The edge lip is still a faux brushed chrome metal material which I thought we had moved past with SGS3.
Much debate has been made around Samsung's continued use of plastic vs. metal in the industrial design of its smartphones and tablets. Unfortunately, the Galaxy S 4 isn't exempt from this debate. Samsung's public stance has always been that it optimizes its material choice to keep weight as low as possible. That's a noble way to take things, although the unmentioned benefit is that it obviously keeps costs low as well. The weight argument is an interesting one. If you compare the all-plastic Galaxy S 4 to the all-metal HTC One, there's a difference of 13 grams. Whether or not the weight difference is noticeable really depends on the user, but it's clear that cost reduction is just as big of a factor (if not more) in Samsung's affinity for plastic than simply saving weight. There's no getting around the fact that other OEMs are bringing increasingly sophisticated materials choices to bear with their designs, and this is an obvious weak point for SGS4.

What has improved dramatically with SGS4 are the buttons, which now are surprisingly awesome. There's a beveled edge around the outside, which makes them sharp and locatable with a finger instantly. I have to admit I always loathed the rounded glossy buttons on the SGS3 which blended into the equally glossy shiny plastic around it. Even the physical home button gets this treatment, and feels much more communicative and clicky. Also worry not, they're all still in the same places, with the power button about three fourths up the right side, volume rocker three fourths up the left side. Samsung's capacitive menu and back buttons are unchanged, Samsung still hasn't gotten around to reading Google's "Say goodbye to the menu button" post, which still is a hilarious read in the context of the release and review of what will probably be 2013's most popular smartphone, which still carries a menu button. Or maybe Google just can't enforce this particular decree? Either way, for SGS3 users upgrading to SGS4 all of the buttons and human input outputs will be familiar territory.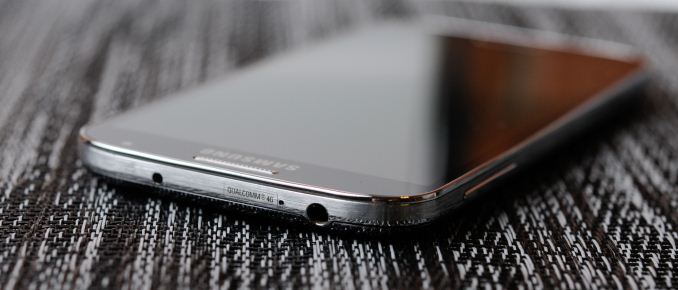 Up top there's the earphone jack, secondary microphone port for noise cancelation and stereo audio in video recording, and an IR port. I can't emphasize enough how happy I am that we finally are getting IR back in devices.
At bottom in the middle is microUSB, we're long past this being at the top or some other weird place. Next to that is the primary microphone.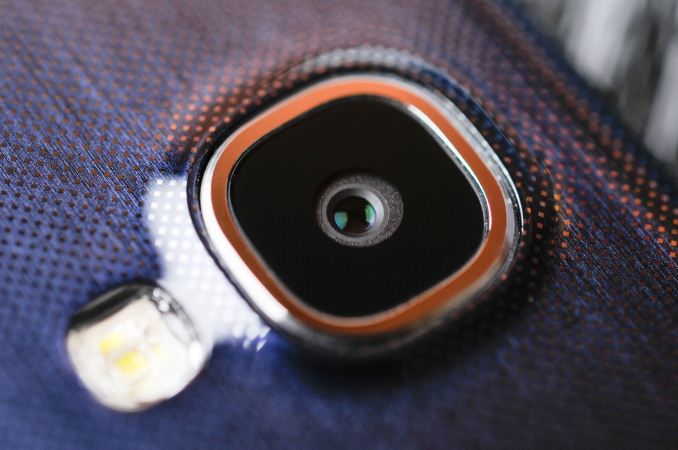 On the back the SGS4 starts to look a lot different from the SGS3. The flash is now below the camera module, and the camera port and black region is now correspondingly much larger, with a bit of a pronounced bump. There's no Sprint branding on this particular variant, just Samsung at the top and Galaxy S 4 (no IV, no Roman numerals, it's 4 this time) at the bottom. At bottom left is a cutout and small raised bump for the speakerphone.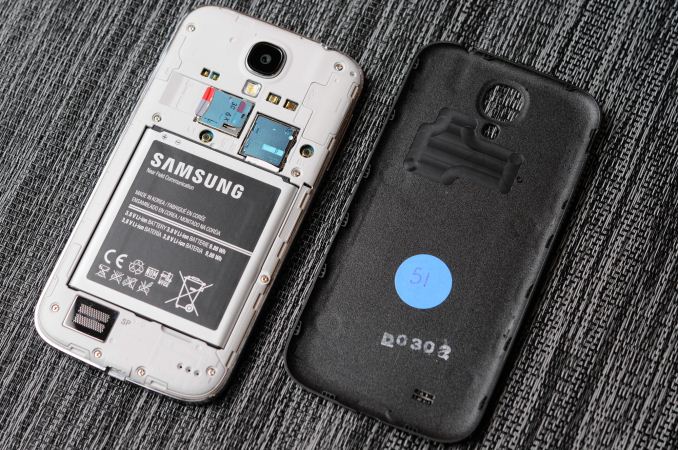 Samsung continues to differentiate its phones by including a removable back cover, and underneath it, removable battery, microSD expansion, and microSIM card tray. I'll admit that I instantly popped in my SanDisk Ultra microSDXC UHS-1 64 GB card when I got the SGS4 just because I can.
The reality is that inclusion of even these basic features overrides any industrial design tradeoffs for many shoppers, so it's probably something which will continue to be a dominant feature on Samsung flagship handsets. Along with that obviously comes the ability to run an extended battery with a different, accordingly larger battery cover.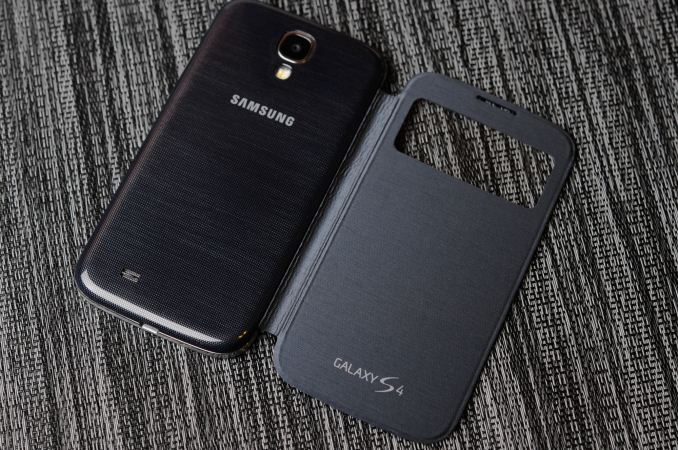 That brings me to the S View Cover, which is perhaps one of the cooler new additions on SGS4. This is an improvement on the flip cover which debuted with SGS3. What's different is that now the cover both unlocks the phone when opened and no lock screen password or code is set, and also there's a small window up top which includes information like notifications, the clock, status bar, and call screening information. It's an awesome feature and one of those things that only Samsung can do with SAMOLED.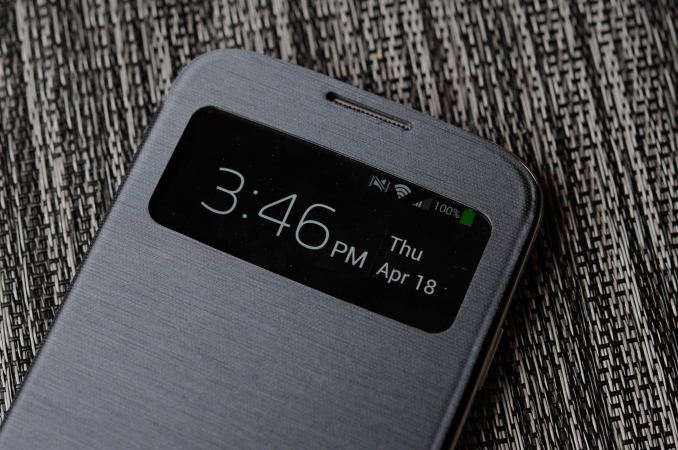 When it comes to software, I'm grateful that Samsung is running Android 4.2.2 on the SGS4, even if the next version of Android is just around the corner.
The TouchWiz story is really a short one — it's still there, and it's fundamentally unchanged, there's just more of it. The launcher, widget panels and home screens are all the same as they were in previous iterations. Messaging looks superficially different, and SwiftKey now seems to power some parts of the stock keyboard's correction engine, even if the stock Samsung keyboard for me still is difficult to use with its very conservative autocorrection settings.
What gets a big change on SGS4 is the notification panel, which builds on the stock 4.2.x feature with a ton more toggles (19 of them). It's almost overwhelming at first, of course you can still get to these by scrolling the top settings pane left and right just like in the previous version. These are also customizable.
Also present are Air View which works with the new generation of Synaptics touchpad to detect a finger hovering over some part of the display. Basically all of the first party Samsung applications have some sort of Air View functionality, exposing either additional information, a preview, or zooming (in the browser) content when you hover your finger over a region for an extended period of time. I find it difficult to hover my finger over the screen without touching it, but in the gallery and sock browser it is admittedly sometimes useful. Smart pause and Smart scroll also are new features which build on the eye and head tracking features built into the hardware and exposed previously as Smart stay. I found that Smart scroll does work in the browser surprisingly well for scrolling content, you have to look pretty fiercely at the bottom or top regions, but it works. Smart pause works, but I sometimes had issues with it pausing while I was still looking at video, either in YouTube or the gallery. Of course both of these rely on the front facing camera and need your face to be well exposed.
I think credit is due to Samsung for at least trying to convey a useful software and feature side of the story for the hardware – after all, if it's there, you need to demonstrate it.
I also like that the multi window functionality carries over to SGS4. My use case frequently involves looking at twitter and the web side by side, which is perfect with the official Twitter client and Chrome, or Falcon Pro and Chrome. I wish my IM client of choice (imo.im) worked with this feature so I could have chat side by side with another application, that would really sell me on TouchWiz delivering something which functionally changes my use patterns above other variants.
I should say that despite our limited time with the device, Samsung took a step in the right direction by giving us a week with the Galaxy S 4. I still believe that flagship devices need about a month of real use for a complete evaluation, but at least we had more than a couple of days with the Galaxy S 4. There's still a lot more we want to do on SGS4 and even though this is our review there's still more that needs to be fleshed out. For now, think of it as a part one of sorts. There's also the Exynos 5 variant of the SGS4, which is the device both Anand and myself are really interested in.
Now for the bad news. According to Samsung PR, in an effort to get us a device as soon as possible an unusual sacrifice had to be made: our Galaxy S 4 review sample operates exclusively on the Sprint network. AT&T, T-Mobile and Verizon review units would soon follow (apparently there were a handful of T-Mobile review units set aside for specific sites at the behest of T-Mobile), but for now all we've got to review is the Sprint Galaxy S 4. Like the 3rd generation model that preceeds it, the Galaxy S 4 ships with identical specifications across all US mobile operators - so the hardware here should be identical to what you'd get on AT&T or any of the other operators. The downside is that it's near impossible to use the Galaxy S 4 as a stand-in for any other device in our normal day to day usage thanks to just how bad Sprint's cellular performance is on 3G/EVDO, especially in my market: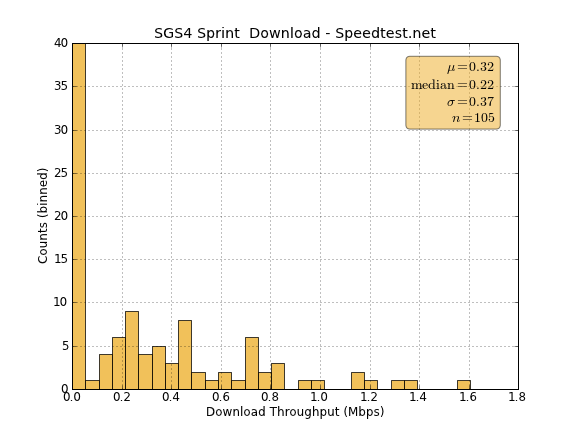 Obviously in areas where Sprint has LTE deployed the situation should be better, but as we found in our early testing of Sprint's LTE network that is not necessarily the case - not to mention the bigger issue being that Sprint LTE just isn't widely available at this point. None of this really matters to the Galaxy S 4 as a device, but it does prevent us from investigating a lot of the things we normally would in the process of reviewing a flagship smartphone, to say nothing of impacting the ability to offer our thoughts about using it as a real daily driver.
Battery Life and Charge Time
The Galaxy S 4 features a removable 9.88Wh battery with 3.8V chemistry. The battery design is par for the course for any high end smartphone, but the fact that it's removable remains a staple of the Galaxy S design. Whether or not the bulk of consumers actually use the flexiblity offered by a removable battery is up for debate, but there's no doubt about the fact that Samsung has a strong following of users who appreciate the feature.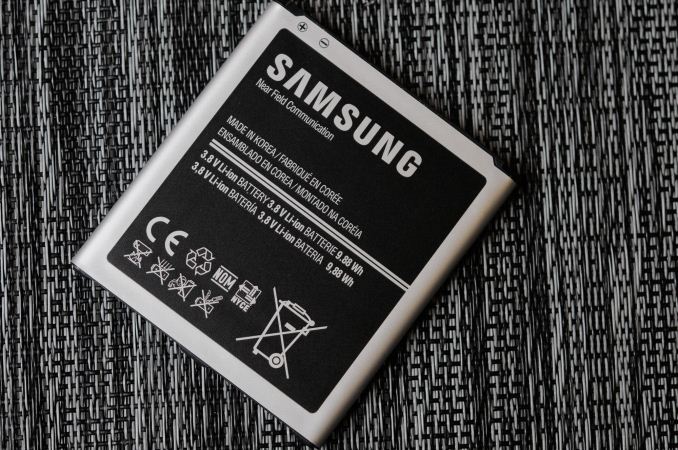 Unfortunately, only having access to the Sprint version of the Galaxy S 4 to review, most of our battery life tests on the cellular network aren't all that useful. The good news is that our WiFi tests should at least give you an idea of how well the SGS4 will compare to the HTC One when both are on the same network. We're using the latest revision of our smartphone battery life test to compare performance of all the key players here. This is now our sixth revision of the battery life test, and we feel is the optimal balance between challenging workloads and idle time. The basic overview is the same as the previous test — we load webpages at a fixed interval until the handset dies, with display set at exactly 200 nits as always. Power saving features are disabled if they turn on automatically, and background account sync is disabled. The test is performed over both cellular data on all available air interfaces and over WiFi in an environment with good signal levels. The new test has decreased pause time between web page loads and added a number of JavaScript-heavy pages. I sat down with some UMTS RRC (Radio Resource Control) emulator tools and also made sure we had a good balance of all the RRC states (DCH, PCH if possible, FACH, IDLE) so we weren't heavily biased towards one mode or the other.
As the most relevant comparison of platforms we have today, we'll start with the WiFi version of our web browsing test:
On WiFi the Galaxy S 4 falls behind the HTC One by an appreciable amount, however there's still an improvement in battery life compared to the Galaxy S 3. The Galaxy S 4's battery life isn't bad by any means, but do keep in mind that this is a large phone with a large display and a very powerful SoC. For much of the past year we've been talking about an increase in dynamic range in total platform power of high end smartphones and the Galaxy S 4 is no exception. Run it at full brightness or keep many cores running in their maximum performance states for a considerable period of time and you'll be greeted by a phone that's quickly in need of a power outlet.
As I mentioned earlier, we only have access to the Sprint version of the Galaxy S 4 at this point which unfortunately means that our 3G results aren't all that comparable to other devices here.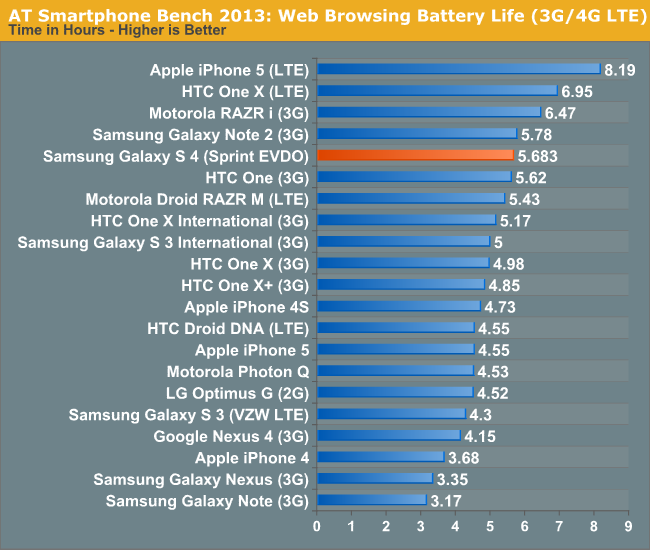 Even on Sprint, the Galaxy S 4 does surprisingly well.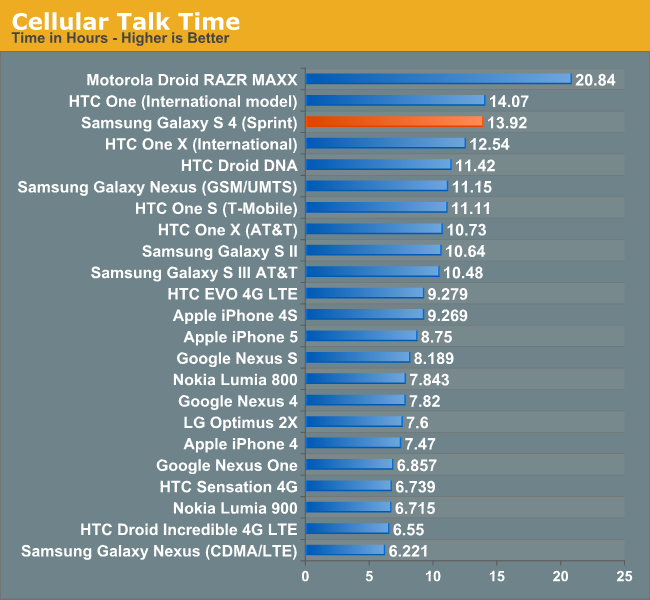 Talk time is excellent on the Galaxy S 4, with the phone delivering effectively the same battery life as the HTC One. Without having to power on that huge display, the Galaxy S 4 can last for a very long time on a single charge.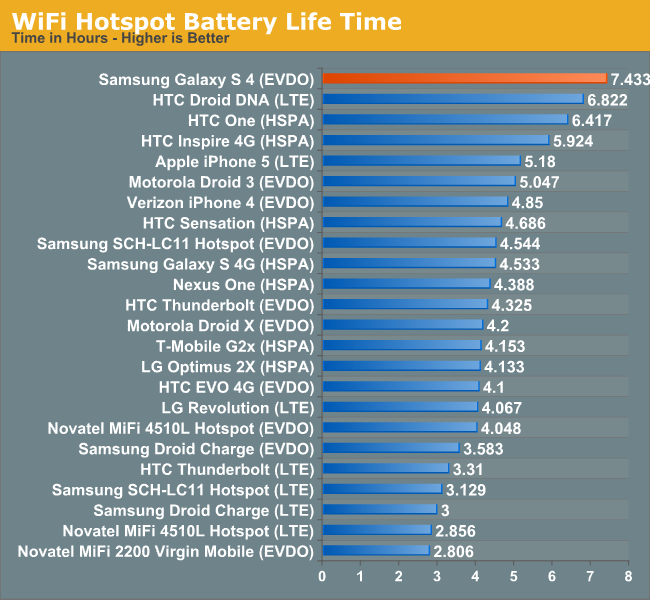 A combination of the Sprint network and the fact that the Galaxy S 4's display remains off during our hotspot test resulted in great battery life here as well. Again, this data isn't all that useful if you're not on Sprint but Samsung tells us we should be able to get our hands on an AT&T SGS4 in the not too distant future.
Charge Time
Samsung appears to implement Qualcomm's Quick Charge specification in the Galaxy S 4 and its bundled charger. I realize we haven't done a deep dive into what Quick Charge is and how it works, but I'll try to go through a quick explanation here. Most conventional chargers are linear, they take a fixed amount of input current (at 5V) and pass it along to the device being charged. The problem is that at deeply discharged states, the device's battery might be at a substantially lower voltage. A traditional linear charger won't change the current supplied based on the voltage of the battery being charged, and as a result can deliver sub-optimal charge times. When implemented, Qualcomm's Quick Charge technology can vary output current based on the voltage of the battery being charged, which results in less power being dissipated as heat and more being delivered to charging the battery itself. The table below helps illustrate the savings:
Quick Charge, at least in its currently available 1.0 specification, is still bound by the 5V limits of the USB BC 1.2 specification. The next revision of Quick Charge will enable higher voltage operation for even faster charge times.
Qualcomm Quick Charge 1.0, Theoretical Example
Input Current @ Voltage
Input Power
Output Current @ Discharged Battery Voltage
Output Power
USB BC 1.2 - Linear Charger
475mA @ 5V
2.375W
475mA @ 3V
1.425W
Qualcomm Quick Charge 1.0
475mA @ 5V
2.375W
700mA @ 3V
2.100W
The non-linear nature of Quick Charge significantly shortens charge time, particularly in the very early stages of charging when the device's battery is presumably fully discharged. As the device's battery voltage increases, current delivery tapers off and the QC advantage is no longer as great as a standard USB BC 1.2 solution. The end result though is significantly improved charge times.
The graph below shows the benefits of using Samsung's own charger vs. a standard charger that implements the USB BC 1.2 specification. When used with the bundled charger, the Galaxy S 4 recharges much faster than HTC's One, despite using a larger battery. Obviously the Galaxy S 4 will charge with any USB charger, but the charge time will simply be longer. Samsung uses a voltage divider and signals the presence of their own charger by sending 1.2-1.3 V across the D+ / D- pins, this is similar to what Apple does with 2.0 or 2.8 V across the pins for various USB chargers they've shipped over the years. This signaling is essentially Samsung's proprietary tablet charging signaling which they've employed on the Galaxy Note 2 and now SGS4, in fact the two use the same exact charger, so it's worth tossing out your old ones and getting the appropriate one to take advantage of the faster charging.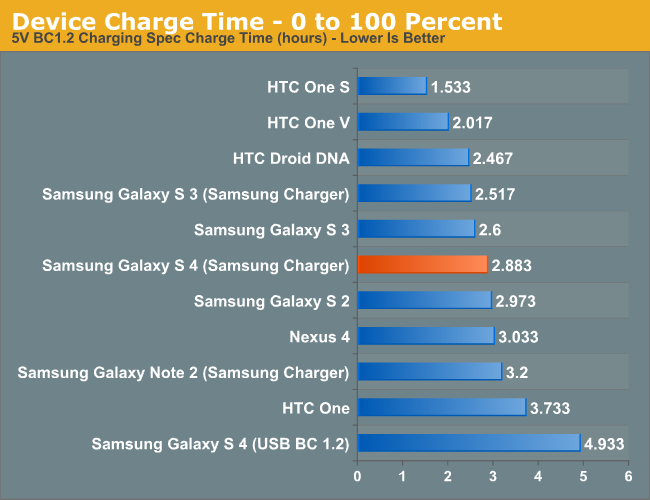 Galaxy S 4 - Powered by a Better Snapdragon 600 (APQ8064AB)?
At a high level, Samsung's Galaxy S 4 integrates Qualcomm's Snapdragon 600 SoC. From what Qualcomm told us about Snapdragon 600, we're dealing with four Krait 300 cores and an Adreno 320 GPU. The Krait 300 cores themselves are supposed to improve performance per clock over the original Krait CPU (Krait 200) through a handful of low level microarchitectural tweaks that we've gone through here. The Krait 300 design also allegedly improves the ability to run at higher frequencies without resorting to higher voltages. This isn't the first time we've talked about Snapdragon 600, but since then a few things have come to light.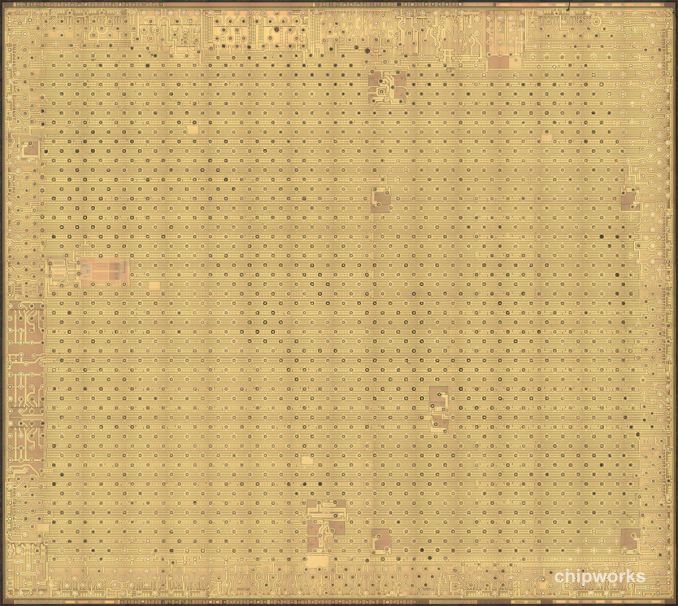 Snapdragon 600 from HTC One - Chipworks
For starters, Chipworks got their hands on a Snapdragon 600 SoC (from an HTC One) and delayered the SoC. In its investigation, Chipworks discovered that Snapdragon 600 had the exact same die area as the previous generation Snapdragon S4 Pro (APQ8064). Also, although you'd expect APQ8064T markings on the chip itself, the part carried the same APQ8064 label as previous S4 Pro designs.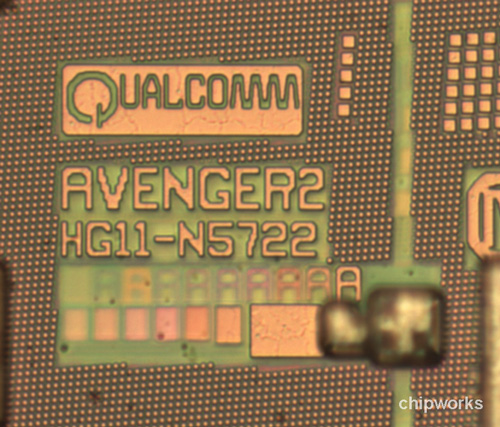 Avenger 2 Markings on Snapdragon 600 die from HTC One - Chipworks
Chipworks did note however that there were some subtle differences between a standard APQ8064 and the Snapdragon 600 SoC from the HTC One. The Snapdragon 600 from the One is labeled with an Avenger2 codename rather than Avenger, the latter was apparently present on prior APQ8064 designs. Chipworks also noticed differences in the topmost metal layer, although it's not clear whether or not they stopped there or found no differences in lower layers.
All of this points to a much more subtle set of physical differences between APQ8064 and the earliest Snapdragon 600s. Metal layer changes are often used to fix bugs in silicon without requiring a complete respin which can be costly and create additional delays. It's entirely possible that Krait 300 was actually just a bug fixed Krait 200, which would explain the identical die size and slight differences elsewhere.
That brings us to the Galaxy S 4. It's immediately apparent that something is different here because Samsung is shipping the Snapdragon 600 at a higher frequency than any other OEM. The Krait 300 cores in SGS4 can run at up to 1.9GHz vs. 1.7GHz for everyone else. Curiously enough, 1.9GHz is the max frequency that Qualcomm mentioned when it first announced Snapdragon 600.
Samsung is obviously a very large customer, so at first glance we assumed it could simply demand a better bin of Snapdragon 600 than its lower volume competitors. Looking a bit deeper however, we see that the Galaxy S 4 uses something different entirely.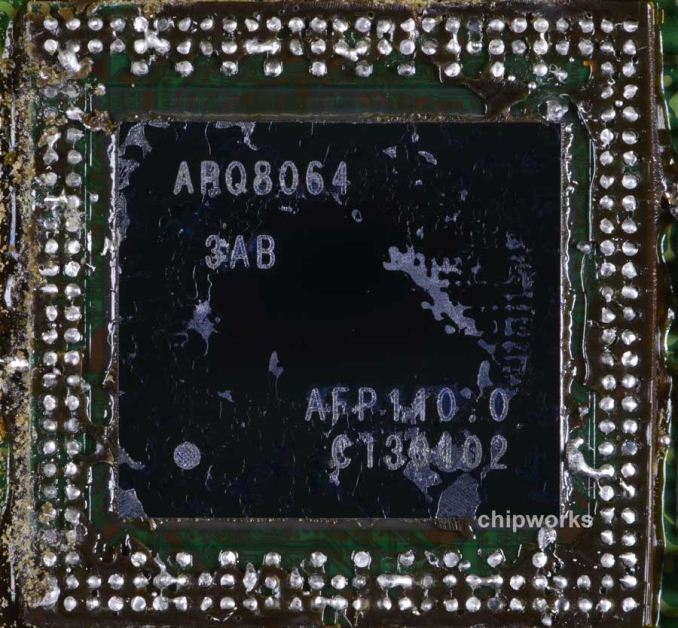 APQ8064 from a Snapdragon 600 based HTC One - Chipworks
Digging through the Galaxy S 4 kernel source we see references to an APQ8064AB part. As a recap, APQ8064 was the first quad-core Krait 200 SoC with no integrated modem, more commonly referred to as Snapdragon S4 Pro. APQ8064T was supposed to be its higher clocked/Krait 300 based successor that ended up with the marketing name Snapdragon 600. APQ8064AB however is, at this point, unique to the Galaxy S 4 but still carries the Snapdragon 600 marketing name.
If we had to guess, we might be looking at an actual respin of the APQ8064 silicon in APQ8064AB. Assuming Qualcomm isn't playing any funny games here, APQ8064AB may simply be a respin capable of hitting higher frequencies. We'll have to keep a close eye on this going forward, but it's clear to me that the Galaxy S 4 is shipping with something different than everyone else who has a Snapdragon 600 at this point.
CPU Performance
For our CPU analysis we're left with our usual browser based benchmarks. Again this isn't an ideal list of tests but it's the best we've got for now. Where necessary we'll show results using both stock and Chrome browsers. We did notice a single case of thermal based throttling under SunSpider 0.9.1 (the benchmark alone is ine, but running it after a bunch of others caused throttling), so we're once again presenting results in our standard test environment as well as inside of a freezer to show peak performance. Although the Galaxy S 4 managed to throttle in one of our tests, the device never felt all that warm to the touch. We could be seeing some of the same aggressively set thermal governors that we saw back with the Nexus 4. It's also worth pointing out that we're simply in an era of pushing the limits of just how fast you can go at 28nm LP in many of these smartphones. The mobile SoC vendors also need to do a better job of power management, enabling controlled bursting to these high frequency states vs. sustaining the higher frequencies until there's a serious enough thermal issue that the CPU cores have to throttle themselves significantly.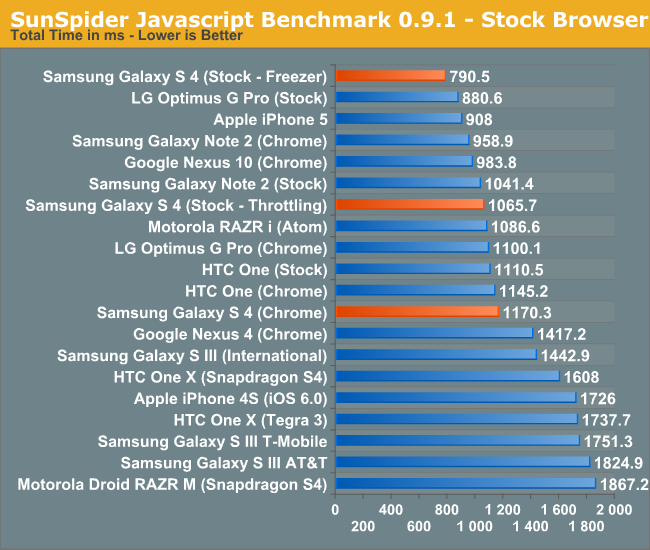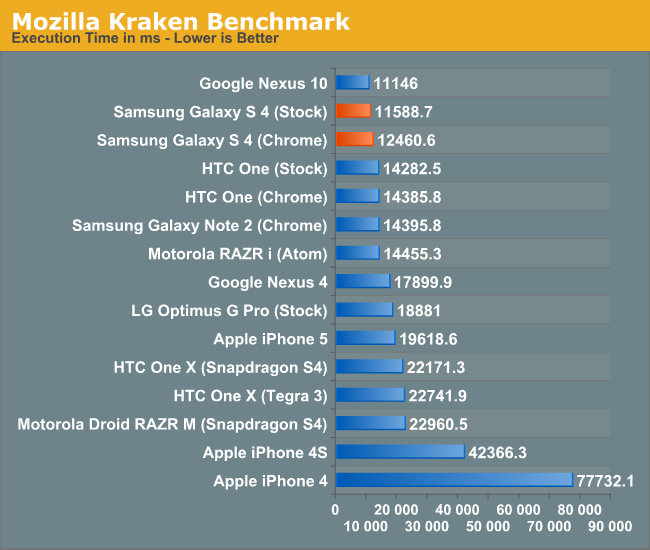 Under Kraken in particular we see a measurable improvement in performance over the 1.7GHz S600 used in the HTC One. Qualcomm still can't attain the peak performance of ARM's Cortex A15, but once again we're looking at a much lower power profile.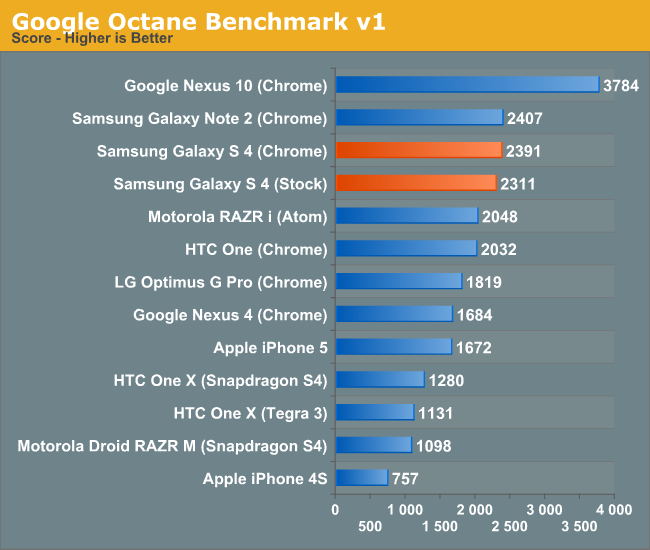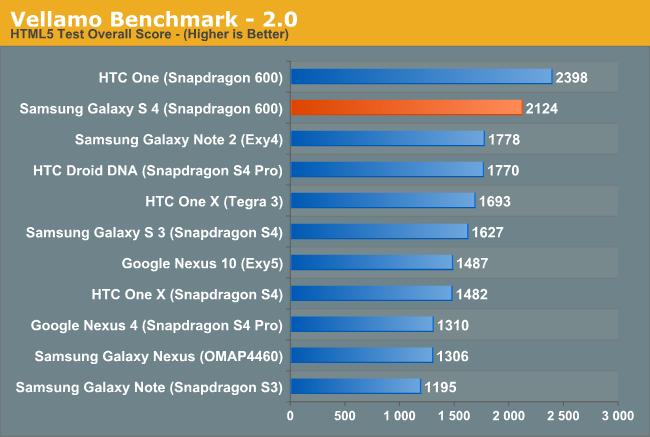 GPU Performance
Both CPU and GPU clocks are higher on Samsung's version of the Snapdragon 600 (APQ8064AB). While the Snapdragon 600 used in HTC's One (APQ8064T) features a max GPU frequency of 400MHz, in the Galaxy S 4 the max frequency moves up to 450MHz. The increase in max frequency alone is modest (~12.5%), but the gains in GLBenchmark are far more pronounced for whatever reason.
As always, we'll start with low level analysis beginning with GLBenchmark's fill rate test: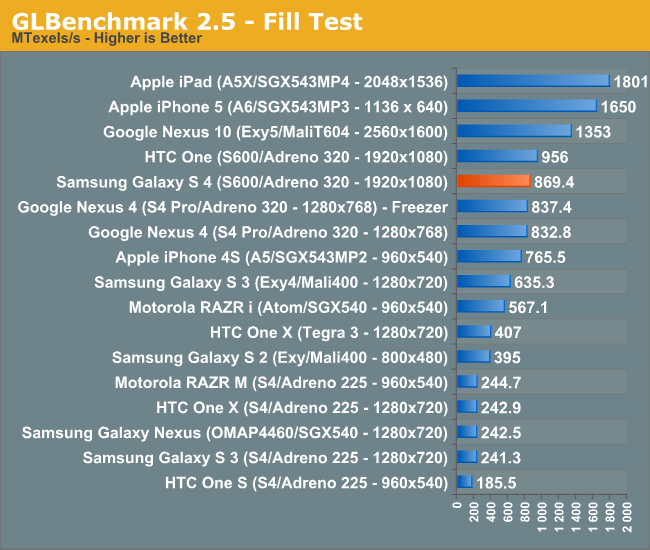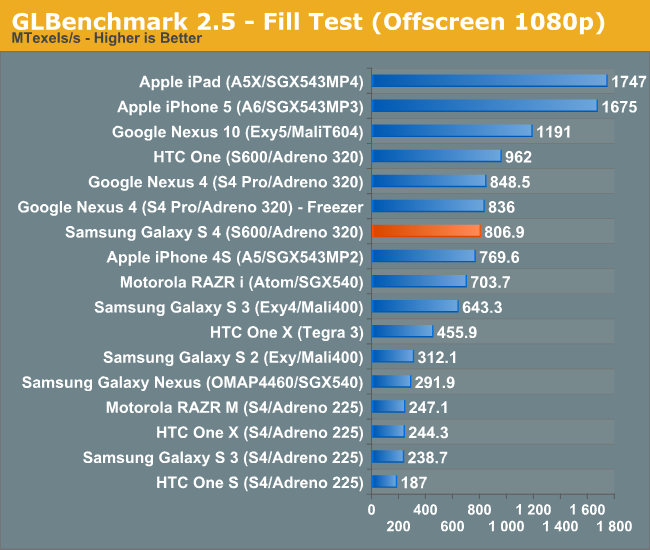 Interestingly enough, fill rate is actually lower than on the HTC One. With so many variables at work here it's difficult to say exactly why this is, but the lowest hanging fruit is to blame it on memory bandwidth differences. Without getting inside the Galaxy S 4 (or more extensive poking around) it's unclear what speed Samsung is running its memory at, which could explain the differences here. We tried tossing the Galaxy S 4 in the freezer and re-running the test but performance didn't improve substantially. Note that GLB's fill rate benchmark is the only one that did not show the Galaxy S 4 ahead of HTC's One in raw performance.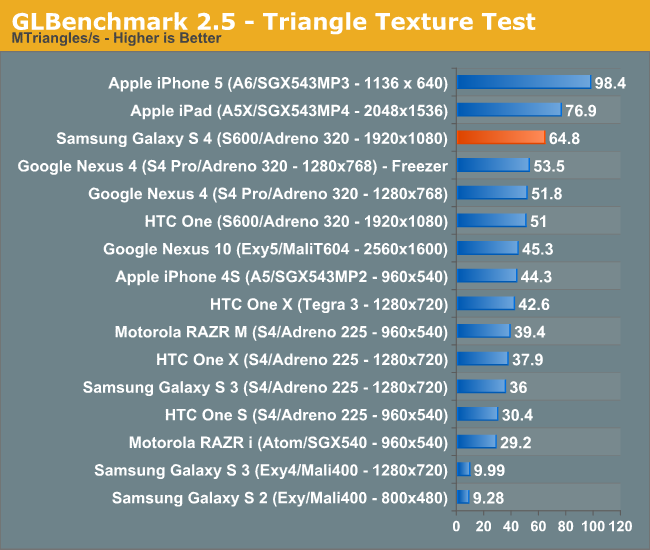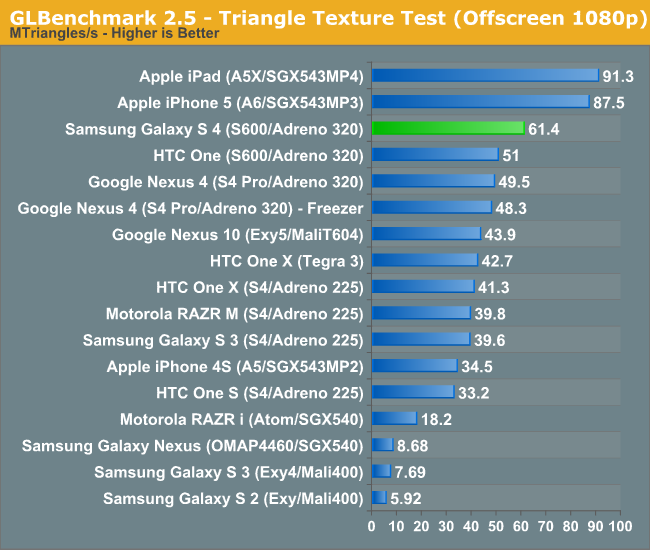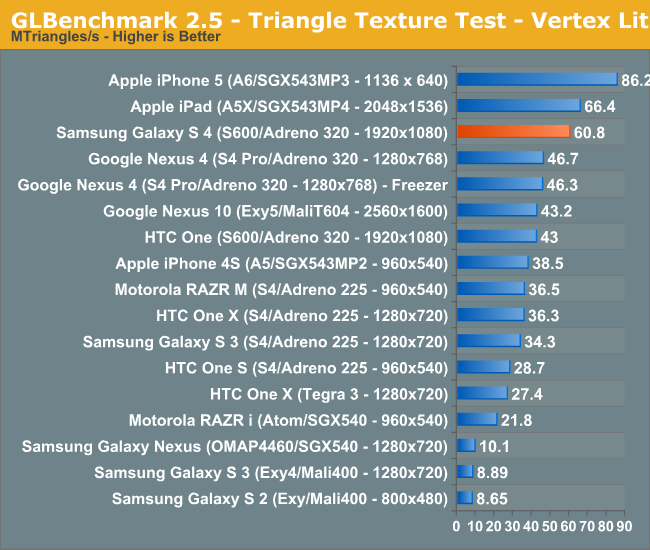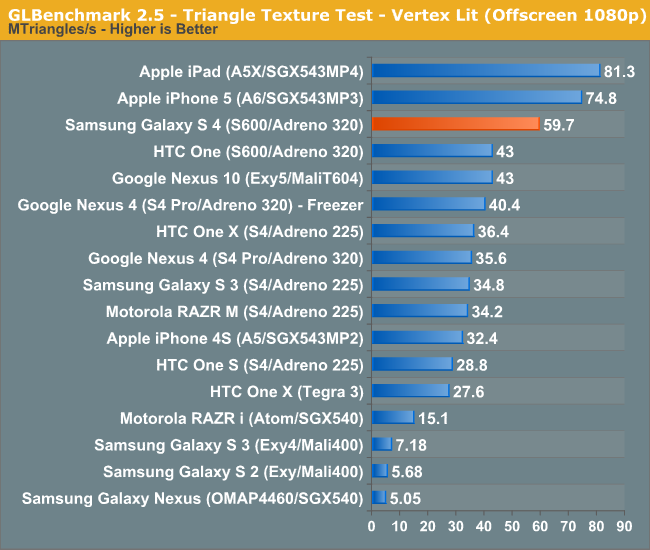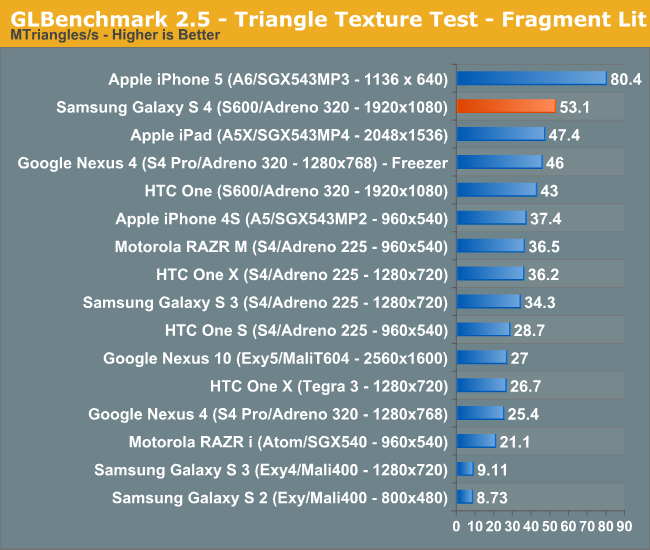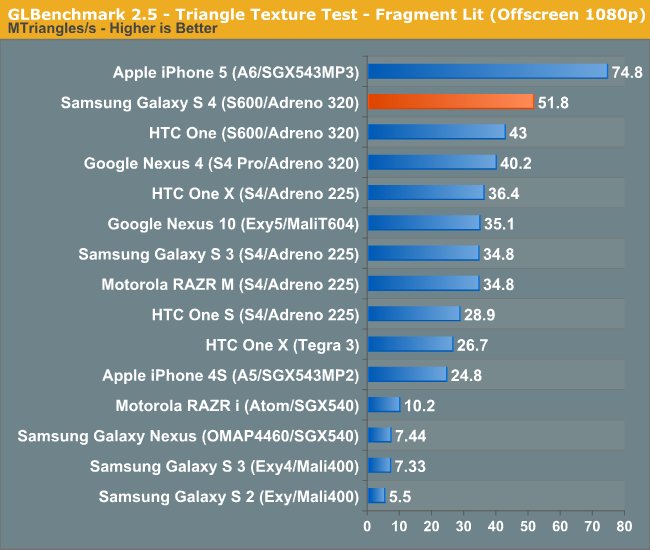 The low level triangle tests all show significant performance gains over the only other Snapdragon 600 based phone we have (HTC One). Again, I'm not really sure what's going on here with APQ8064AB but the gains here are greater than what clock speed alone can be responsible for. Samsung could be running at higher GPU frequencies more aggressively than HTC or it could have software advantages (a newer Adreno driver perhaps?) or there could be more to this APQ8064AB mystery than we realize.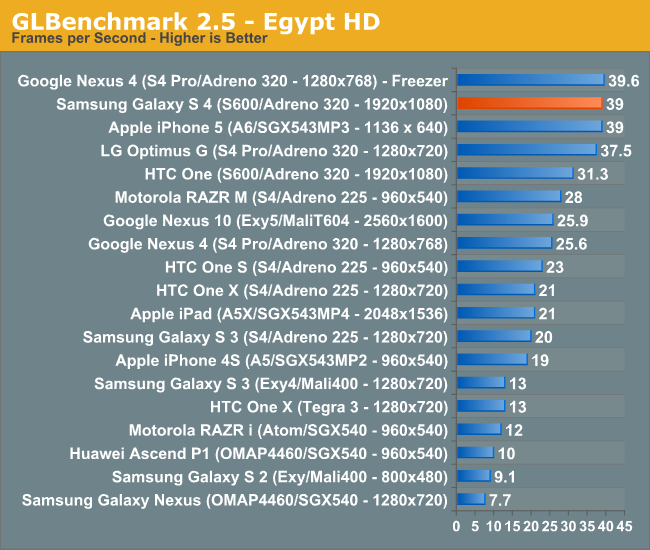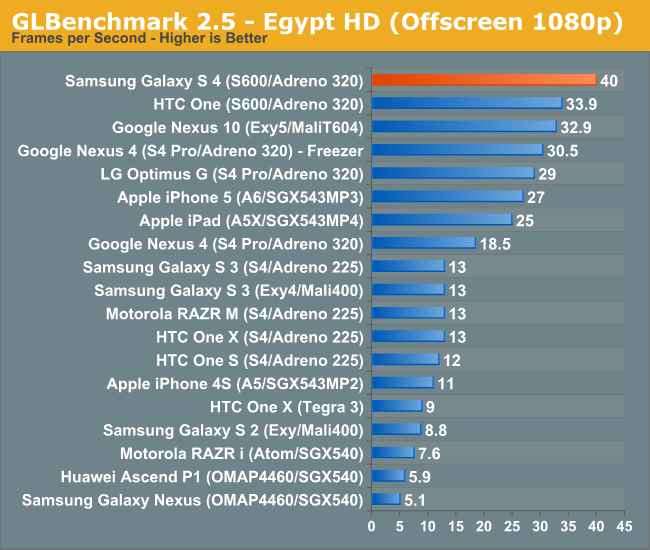 Egypt HD delivers a fairly sane number however. The Galaxy S 4 manages to outperform the HTC One by around 17% here. Again it's unclear why we're seeing greater performance than clock scaling alone would provide but the net is that the Galaxy S 4 does deliver better GPU performance than other Snapdragon 600 based devices today.
NAND Performance
The Galaxy S 4 ships with either 16GB or 32GB of NAND on-board, but allows for expansion via a microSD card slot. The latter is a quickly disappearing feature on modern smartphones, but it remains a point of differentiation offered by Samsung. We were sampled a 16GB version of the Galaxy S 4, which arrived with 9.62GB of usable space after the OS and app pre-load.
As always we're using Androbench (with modified settings) to quantify NAND performance. Thankfully NAND performance has been steadily improving on modern smartphones/tablets, and the Galaxy S 4 is no exception. Sequential read performance actually sees a tremendous boost compared to most of the other devices in our charts here. Optimizing for sequential read performance makes a lot of sense, but it's good to see Samsung being competitive on all fronts here.
It is worth pointing out that NAND is treated very much as a commodity in these devices, and it's entirely possible that you'll see performance deviate from what we've shown here depending on what controller/NAND/firmware combination you get in your device.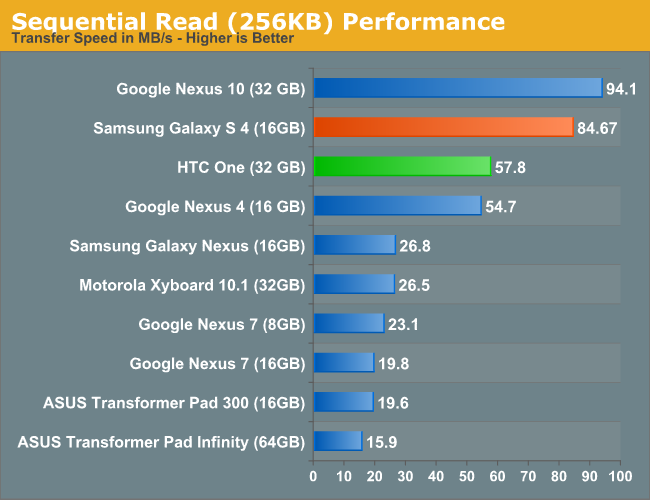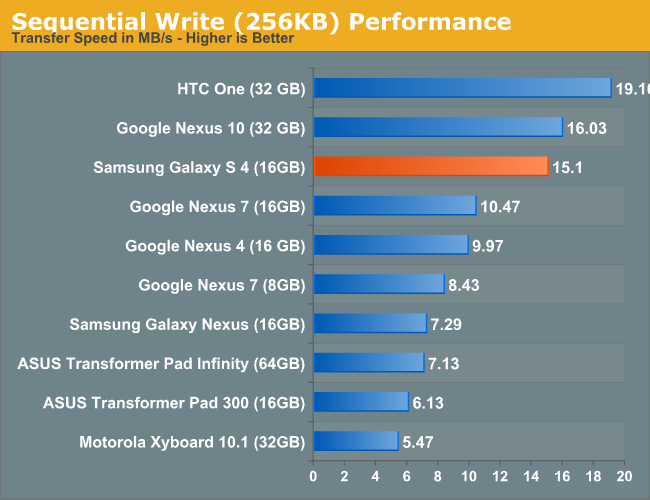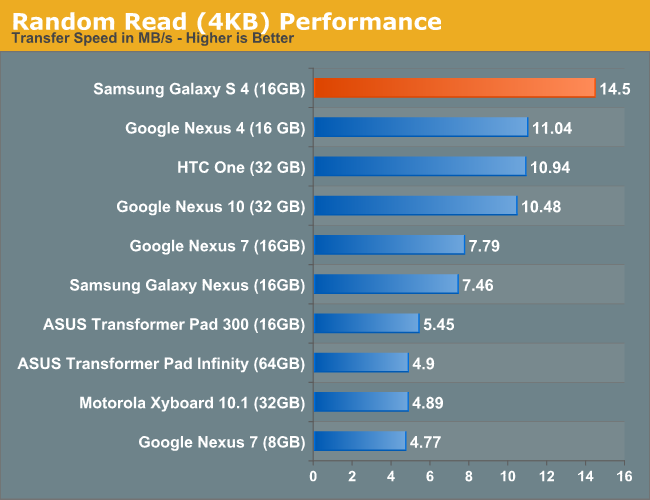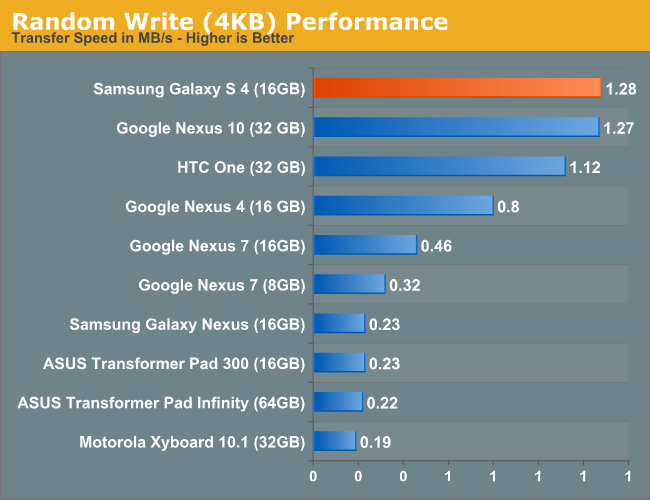 Camera on SGS4
On the camera side Samsung is in an interesting position. The industry trend is overwhelmingly to go to more pixels and push the megapixel count up from 8 MP where most flagships sat last year to around 13 where they will sit this year. Samsung has to push that number to keep itself in a defensible and marketable position and at the same time deliver a camera experience that's better than the previous year.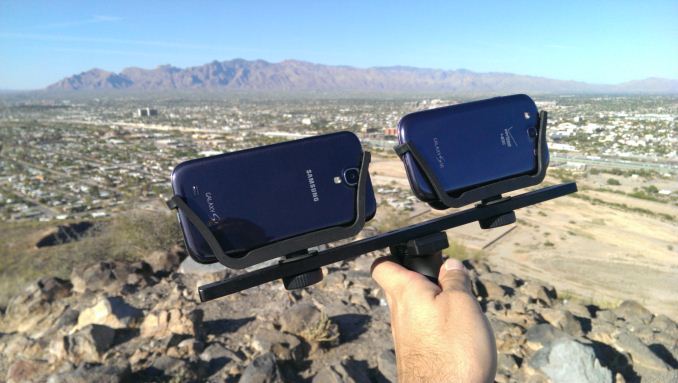 I published a table in the One review with the camera specifications from the previous generation. I've filled this in with confirmed information from the SGS4 review unit I have been taking samples with. With SGS4 Samsung does make some pretty considerable improvements, many of which undo some of the regressions that I described with SGS3. Focal length is now quite a bit longer, from the very wide SGS3 which was around 26mm in 35mm effective numbers, to 31 mm. This is a notable difference if you're shooting with the two side by side, the SGS3 was always shockingly wide for a rear facing camera.
Smartphone Camera Comparison - 2013
HTC One
Samsung Galaxy S 2
Samsung Galaxy S 3
Samsung Galaxy S 4
Front Camera
2.1MP
2MP
1.9MP
2MP
Front Camera - CMOS
OV2722
(1.4µm, 1/5.8")
-
S5K6A3
(1.75µm, 1/6")
S5K6B2
(1.34µm, 1/6")
Front Camera - Focal Length
~1.59mm
2.73mm
2.7mm
1.85mm
Front Camera - Max Aperture
F/2.0
F/2.8
F/2.8
F/2.4
Rear Camera
4MP
8MP
8MP
13MP
Rear Camera - CMOS
ST VD6869
(2.0 µm, 1/3")
S5K3H2YX
(1.4µm 1/3.2")
Sony/Samsung
(1.4µm, ~1/3")
IMX091PQ
(1.12µm, 1/3.06")
Rear Camera - Focal Length
3.82mm
(28mm eff)
3.97mm
(30mm eff)
3.7mm
(~26 mm eff)
4.2mm
(31 mm eff)
Rear Camera - Max Aperture
F/2.0
F/2.65
F/2.6
F/2.2
At the same time, F-number has improved dramatically, from the F/2.6 or 2.65 (I've seen both at times) aperture on the SGS3 to a much faster F/2.2. This dramatically improves the light collection abilities of the camera, by essentially a half stop. It's difficult optical design to both keep the module thin enough to fit in the device without creating a huge bump (there's a camera bump on SGS4, it's there), increase focal length, improve F/#, and improve MTF for a better sensor all at the same time.
On the rear facing camera we see a Sony CMOS who continues to dominate the space, this time with an IMX091PQ sensor. On the front we Samsung's own sensor, the S5K6B2 get used. Samsung also continues to go with a dedicated Fujitsu ISP inside the SGS4, this time it's a new M10MO family which there isn't a whole lot of information about. I suspect this continues to be done to mitigate the differences in SoC ISP between the APQ8064ab variant and Exynos 5 version and make tuning easier on Samsung's camera team.
Imaging is increasingly a key differentiator for smartphones since it's that device you always have on your person to take images with. For SGS4 camera is more of an emphasis this time around than it was with SGS3, which largely kept everything the same and just added software features. SGS4 brings better hardware and additional software features to do something with the hardware.
Outdoors in bright light the increased spatial resolution afforded from going from 8 MP to 13 MP helps. Samsung still does a lot of sharpening and there are halos around a ton of different features if you know where to look, but that's the tuning they have opted for. I suspect we still are outresolving the sensor here, but I'm impressed with what I see with enough light. I took a lot of photos side by side with SGS3 and find SGS4 a notable improvement, but I'm not sure whether that's just more damning commentary on SGS3 than anything else. I haven't had time to put together many side by sides with buttons yet. I've been shooting with the HTC One on −2 sharpness since I prefer it that way, note that I accidentally left it this way with when making comparisons here since that's still my daily driver until I can get an AT&T or T-Mobile SGS4 to use.
In lower light unsurprisingly we see the SGS4 offer better results than the SGS3 but still not quite as good as the HTC One. Samsung recently introduced low light shot on the SGS3 and Note 2, this feature carries over to the SGS4 but gets renamed back to Night Mode, even though behavior appears superficially to be the same. The SGS4 also introduces an auto night mode toggle, although this ships by default turned off. The mode automatically switches on night mode when it senses that you're going to underexpose using the auto presets, I would advise basically leaving this on all the time. Unfortunately night mode introduces huge shot to shot latency that seems to be on the order of seconds — tap the button, capture runs, then there's a progress bar that pops up while multiple exposures are ostensibly recombined into one image. You also have to be exceptionally steady to get an image without blur since it appears that this mode takes multiple images to get to the end goal — a better exposed image without tons of noise.
In the end there's really no free lunch for anyone — you can temporally oversample (Samsung low light shot, or longer exposures with OIS like Nokia), or increase the size of your sampling area (larger pixels a-la HTC One), or do nothing and just give up unless you're in a bright outdoor setting.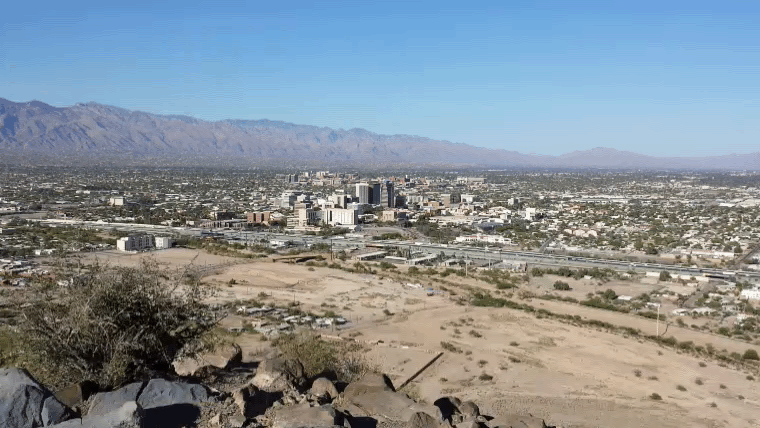 Samsung has introduced a bunch of new photo modes in the software on the SGS4, a number of which are actually pretty functional and awesome. There's the ability to create animated gifs from right in the camera, for example, where users paint a mask around the region they want animated from a short capture. This is essentially the same as Nokia's cinemagraph Lens from the Lumia 920, but it's still quite cool.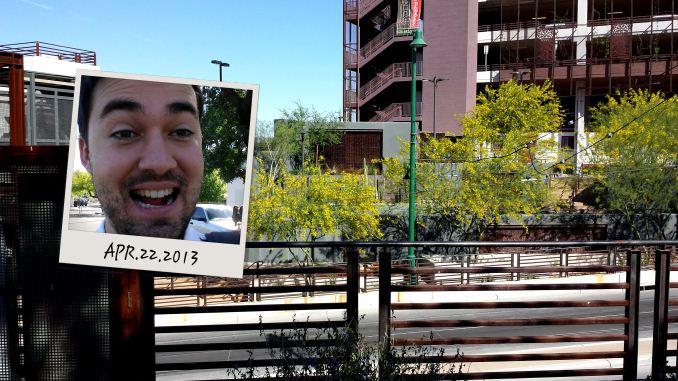 There's also dual camera, which lets you include a small overlay of the front facing camera atop the rear facing camera image. It initially struck me as a bit gimmicky but actually can be hilariously fun to share your face atop images to friends. It is also quite possibly the stuff of nightmares.

Panoramas on the SGS4 also are nicely put together and integrate continuously rather than get combined from a number of discrete images. The result is quite nice.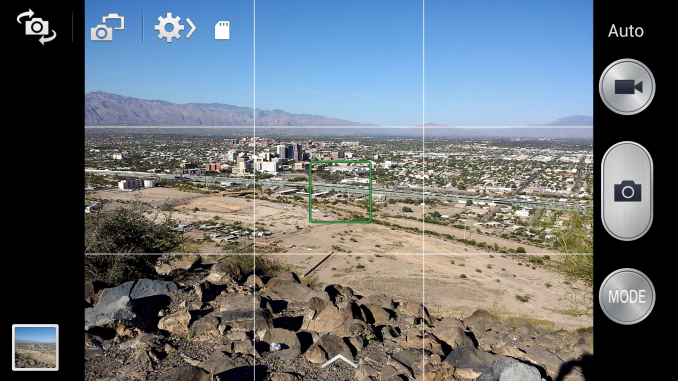 The user interface on SGS4 is a departure from the interface which has been present on previous Galaxy smartphones, and instead takes much UI/UX from the Galaxy Camera. Gone are the customizable toggles on the left side, instead options are in an expandable menu at the very top, and then another separate window. I got used to it pretty quickly but do miss the ability to customize the quick settings buttons on the left side and used to think that Samsung had the most powerful camera interface around. Things are moved around generally in a logical fashion however and I can understand how much this works to make transitioning between Galaxy Camera and SGS4 easy.
Video
When it comes to video, the SGS4 is records 1080p30 video at 17 Mbps H.264 High Profile.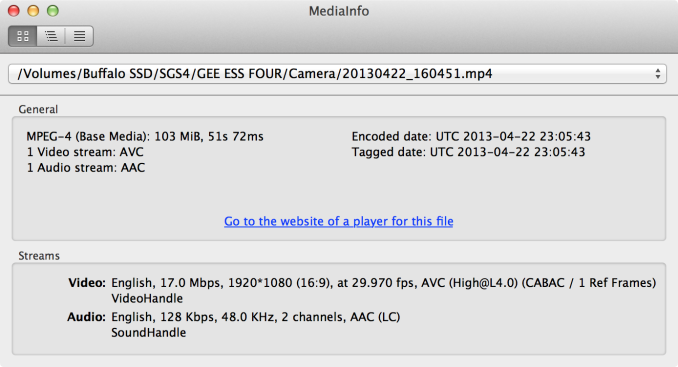 I've done the usual thing and uploaded a sample to YouTube as well as our own servers for your inspection.
Video quality looks really nice and sharp on SGS4 from what I can tell by default. Anti shake (EIS in this case) is disabled out of the box, enabling it pops up a box warning you that stills captured during video record will be a different field of view.
Display
We wrote about how we suspected that SGS4 would go to a 5-inch 1080p SAMOLED display just after CES. Turns out that was spot on, as the SGS4 includes a 5-inch 1080p Full HD SAMOLED panel, the latest in Samsung's AMOLED roadmap. Samsung's naming stays true, and there's no Plus tacked on at the end, so we get another non-RGB stripe subpixel geometry with SGS4. The last few Samsung AMOLED variants we've seen have had different subpixel grids, and the one on the SGS4 is possibly the most interesting to date. There's still a bias toward more green subpixels than blue or red, this isn't an RGB stripe at all, but instead of the previous RG,BG layout we see this offset pattern with green on one line, then blue and red on another line. Interestingly enough the blue subpixel appears to be a square, and red and green appear to be circles, with the difference in area possibly offsetting the luminous efficiency of each material. Whatever the reason (Samsung has never been official or forthcoming any of these subpixel patterns each time they've changed them) it's present on the SGS4.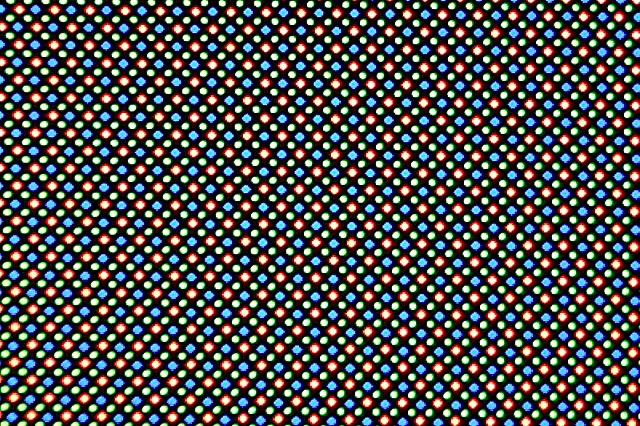 At this size however I have to admit that I find the pursuit of the subpixel geometry more of an educational one than something which affects users. While I could occasionally see it on the SGS3, I definitely do not see it on SGS4. The subpixels are now small enough that whatever the pattern, it all looks like a homogenous light-emitting surface, which was the goal after all. I could bring up the visual acuity discussion again but just trust me that it's small enough to not be visible even with actually perfect (not legally perfect, which is different) vision.
So resolution is great and up to par with all the other LCD-bearing flagships this year, lack of RGB stripe notwithstanding. There's that remaining question about brightness, contrast, outdoor visibility, and of course calibration and the saturation issue that has persisted with AMOLED from generation to generation.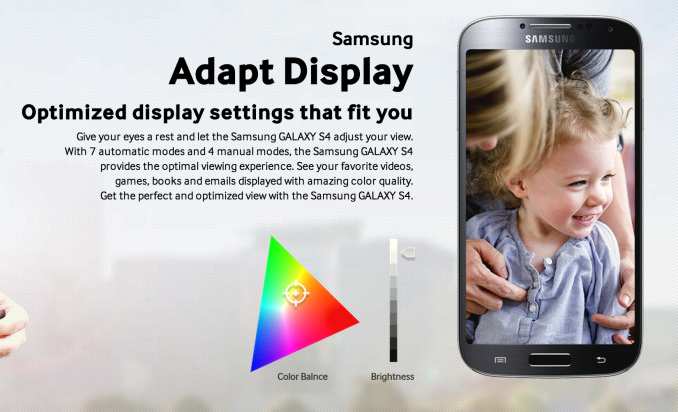 On the brightness front, the SGS4 includes dynamic contrast functions that cannot be disabled and change as a function of what is being displayed. There's an "auto adjust screen tone" checkbox under display but don't let that fool you, that doesn't disable dynamic contrast, just white point. Under screen mode are the mDNIe toggles we've seen on countless other previous Samsung Android phones with AMOLED panels, only here we notice something interesting. There have always been four toggles as long as this option has existed, only what's different is now, one of them is named "Professional photo." Reviews of other regional variants of the SGS4 have included the same button but marked "Adobe RGB." Oddly enough it seems that the North American versions at least have this renamed for some reason, but undoubtedly the function is the same. Many speculated that this is now a toggle for some full CMS (Color Management System) which "fixes" the inherent color space issues with AMOLED and oversaturation that occurs when looking at sRGB content on such devices. Unfortunately, I can confirm that my initial suspicions that this is just a continuation of the mDNIe (lite) settings from previous generation is in fact correct. I reverse engineered what I could of these settings from both kernel messages while changing the toggles, and looking at the kernel sources. Turns out that 'Professional photo' mode is actually the 'Natural' mode renamed from previous versions.
So the question was whether the color space or white point actually does change with this mode enabled. I ran the SGS4 through our display tests in each of the modes and think the full color space plot tells the story. The sanest of them all really ends up being the strangely-named 'Movie' mode. Professional photo gives the big gamut with a white point closer to 'Movie,' which is to say around 7000K, but it doesn't fundamentally change the still-present oversaturation or color management issue that exists in Android with these wide gamut displays. Most users admittedly don't care however and just see "bright" colors. Theres' an Auto mode as well which the device ships with that basically has a matrix of mDNIe settings for targeted applications (for example the Gallery, Browser, Video playback) and so forth get settings, which you can see in the kernel.
CalMAN Display Comparison
Metric
iPhone 5
iPhone 4S
HTC One X
SGS3
Samsung Galaxy Note 2
Google Nexus 4
HTC Droid DNA
HTC One
SGS4
Grayscale 200nits Avg dE2000
3.564
6.162
6.609
4.578
5.867
7.686
6.738
5.391
7.511
CCT Avg (K)
6925
7171
5944
6809
7109
8506
8108
8118
7020
Saturation Sweep Avg dE2000
3.591
8.787
5.066
5.460
7.986
8.517
5.856
3.365
7.823
GMB ColorChecker Avg dE2000
4.747
6.328
6.963
7.322
8.185
7.531
6.687
4.656
7.440
In the "Movie" mode things are better controlled than the Note 2 on the GMB color checker card test, which is the most important one for me. White point is also no longer the crazy 8000K that we saw before, 7000K is commendable for Samsung at this point. Keep in mind that maximum brightness changes in each mode as well as we effectively clamp things, I measured a maximum of 319 nits in Dynamic mode, 311 nits in Movie mode, and 255 nits in Standard, for example.
Running the display at maximum brightness for too long will also get you into an overheating or thermal protection mode as well, which we've seen on countless other AMOLED variants. Most of the time I suspect users will run on Auto brightness however which keeps brightness down to a much lower level to save battery and prevent that from becoming a problem.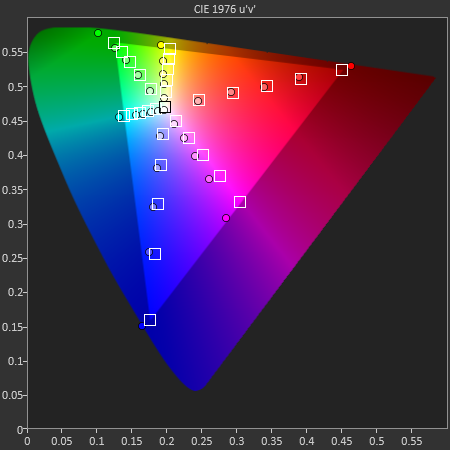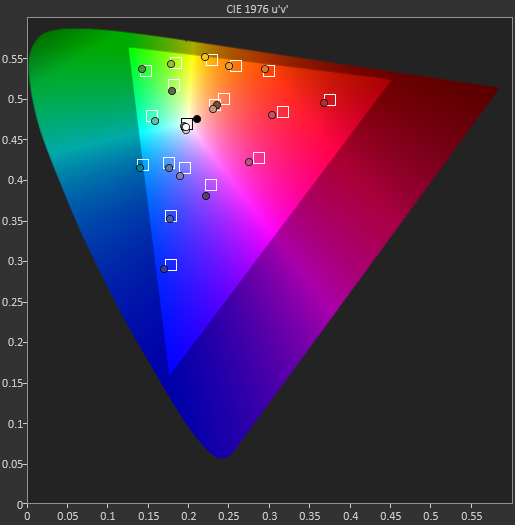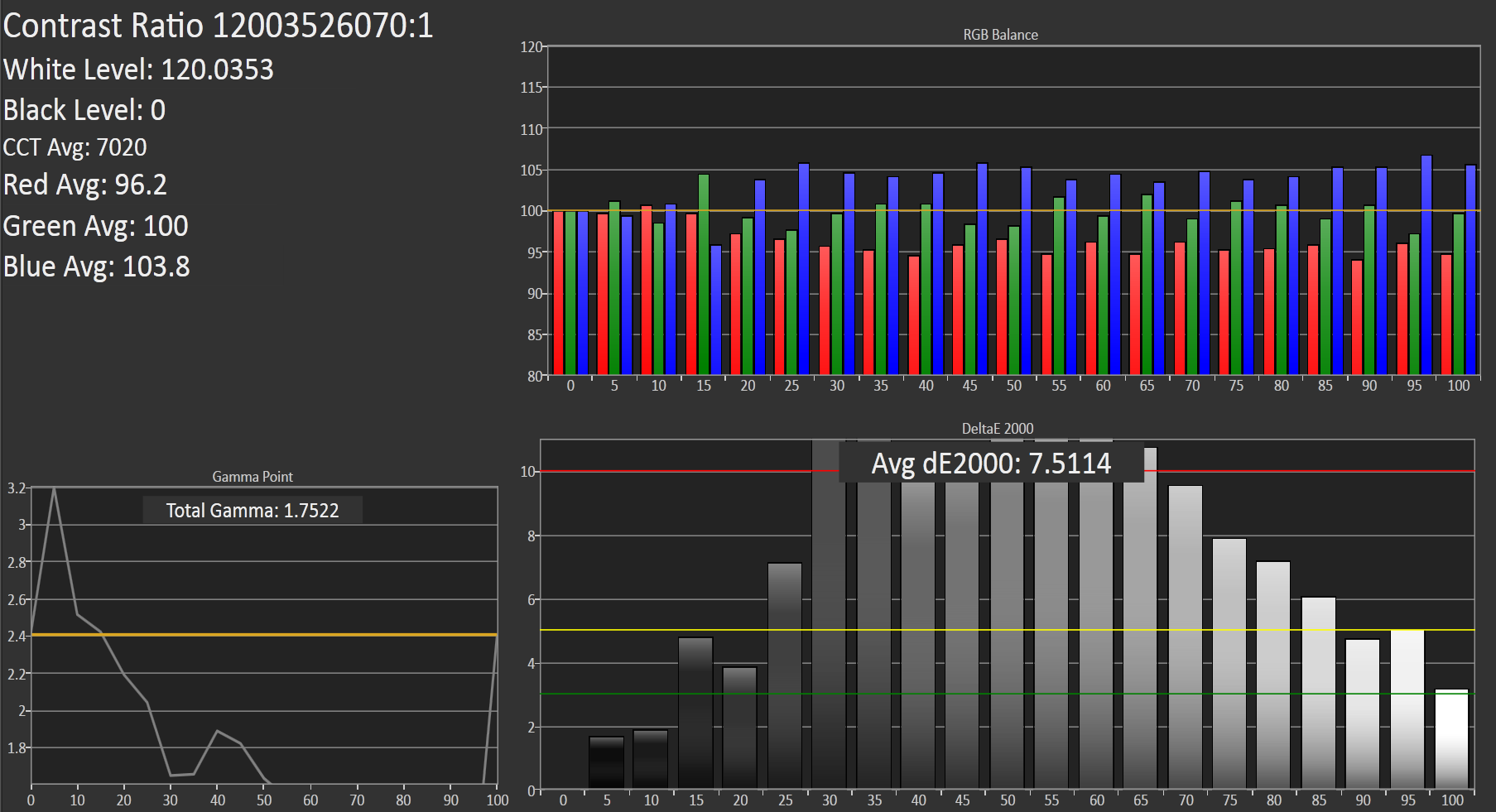 Because "Movie" was the closest to sRGB of all the modes, I selected it for the actual results that I'll present in the table. Admittedly this mode does tighten things up a bit, but it still isn't perfect and I'd still like to see Samsung do something to reign this in at some point.
Final Words
Samsung has done a tremendous job creating a global following not only for its brand, but also for its software. In studying Samsung and its devices it becomes quite clear that although many enthusiasts yearn for pure, unadulterated Android, there are seemingly big pockets of the market who have grown used to (and maybe even desire?) Samsung's TouchWiz user experience. It really is a very clever strategy on Samsung's part. If you deliver products that your users appreciate, and deliver a uniquely different user interface at the same time, you begin to create an appreciation for that user interface as well. All of this flies in the face of what we as reviewers normally seem to prefer, but Samsung's success is proof of the fact that not everyone absolutely detests OEM customized Android.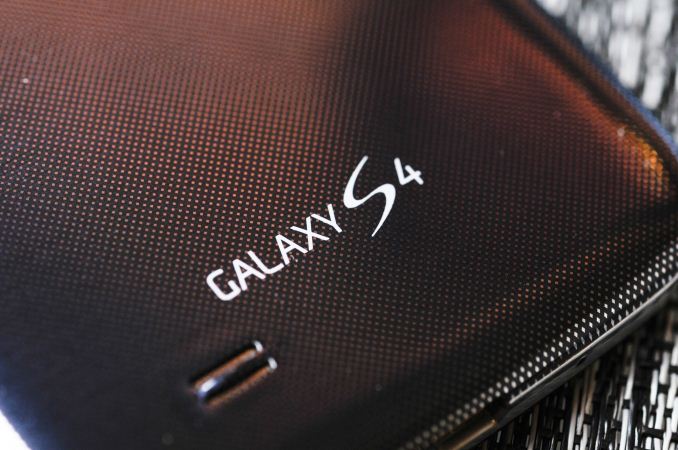 Samsung's existing user base is likely the easiest to talk to about the Galaxy S 4. Compared to any previous Galaxy S device, the SGS4 is a clear step forward in all of the right areas. The display is higher resolution, the SoC is significantly faster, there's better WiFi (and connectivity depending on what generation of Galaxy S you're talking about) and obviously the Galaxy S 4 runs the absolute latest version of Android. Even on the camera side, Samsung has improved imaging performance over the Galaxy S 3 this generation thanks to its use of a wider aperture lens system. If you're a happy owner of a Samsung Galaxy S/S2/S3, you'll likely be a happy owner of a Galaxy S 4.
It's when you compare the Galaxy S 4 to its chief technical competitor, the HTC One, that the discussion becomes more complicated. HTC and Samsung take very different approaches to nearly every aspect of their flagship smartphones. Whether it's display (LCD vs. Super AMOLED), camera (low light vs. well lit performance), or software (subtle Sense 5 or feature filled TouchWiz), you couldn't pick two more different players in the Android space. So which is better?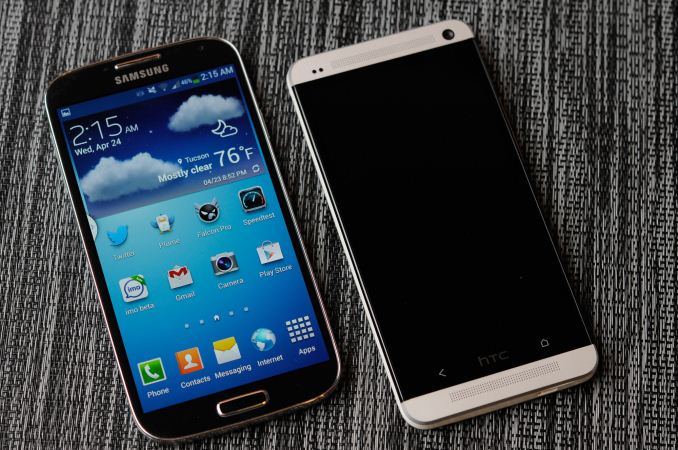 It really depends on what you value more. The One's camera delivers better low light performance, while the Galaxy S 4's camera delivers better performance in well lit (e.g. outdoor) scenarios. The One's software customizations are definitely more subtle and out of your way, while Samsung's approach is much more feature overload and in your face. It's difficult to say for sure given our Sprint review unit, but HTC likely gets the slight edge in battery life based on our results here today (although these two devices can be close competitors depending on the workload). Samsung does integrate the faster SoC, despite both the Galaxy S 4 and HTC One shipping the same Snapdragon 600 platform. Samsung and HTC remain on opposite sides of the removable battery/microSD fence, if those two things matter to you then Samsung is the obvious choice. Finally there's a question of how much you value/desire an all-metal smartphone. For some, Samsung's choice in materials is going to continue to be a very big issue.
At the end of the day, the Galaxy S 4 is an evolution of the Galaxy S 3 in pretty much all of the areas you'd expect it to be. Whether or not that's what you wanted in a new Android smartphone is going to vary from one person to the next. The good news is that you at least have a choice.