Original Link: http://www.anandtech.com/show/6920/oppo-find-5-review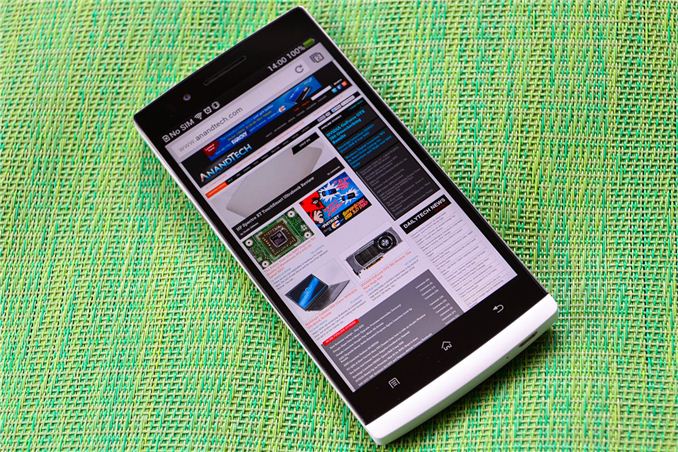 The Android landscape of today is dominated by a handful of different product lines - Galaxy, Nexus, One, Optimus - both in terms of marketshare as well as mindshare. So it's nice to be sent a smartphone from a smaller device OEM, particularly one with top shelf specs, a good design, and an interesting plan for actually selling it.
And such arrives the OPPO Find 5. The 5 in the name refers to the 5" 1080p display, which you'll notice is roughly the same as what you'll find in the HTC Butterfly and Droid DNA, Sony's Xperia Z and ZL, the ASUS Padfone Infinity, and a handful of other notable devices from ZTE (Grand S), Huawei (Ascend D2), and LG (Optimus G Pro, Japanese variant). And like the HTC and Sony handsets, the Find 5 comes with Qualcomm's APQ 8064 SoC, which features four Krait cores clocked at 1.5GHz and an Adreno 320 GPU. Also exciting is the pentaband DC-HSPA+ and the fact that OPPO is offering the Find 5 up for sale on their website in fully unlocked, contract-free form (third-party resellers are also selling it on Amazon). Pricing starts at $499 for the 16GB model, with a 32GB SKU commanding an extra $70. On paper, this is a device that I've been excited for since I caught wind of it late last year.
Brief history lesson time. OPPO Mobile has made exactly one smartphone in the past: the Finder, which was a pretty interesting phone in its own right. That device's main claim to fame was its 6.65mm frame, which was paired with a Snapdragon MSM8260 SoC and a Samsung-sourced 4.3" SAMOLED+ display (roughly the same panel as the international Galaxy S2) to create a nice looking and well rounded handset, albeit one that received almost no attention in the western hemisphere. It was never marketed or officially sold here, so that's not a surprise. The Find 5, on the other hand, is meant to be a global handset, with real US and EU distribution centers and full international support from OPPO. It even went up for sale on Amazon in mid-March and got an official European launch this past Monday.
From a silicon standpoint, the Find 5 isn't on the bleeding edge, as we've since seen the debut of Snapdragon 600 and devices based around it (Optimus G Pro, Padfone Infinity, Galaxy S4 (US), and the HTC One). Given the relative newness of Snapdragon 600/APQ8064T handsets, I'd consider APQ8064 is still more than respectable - it's still the second most powerful SoC available in Android phones until the quad A15 SoCs show up in volume shipping handsets. There's also 2GB of LPDDR2 RAM, 16GB or 32GB of onboard NAND, and a skinned version of Android 4.1.2. The Find 5 uses Sony's latest 13 megapixel Exmor RS CMOS, with on-sensor HDR for both stills and video, 120fps video recording, and a bright f/2.2 lens. It's worth noting that there is no LTE on-board, meaning that the Find 5 is only really useful if you're not near AT&T or T-Mobile LTE. This still describes plenty of T-Mobile users though, and paired with WCDMA on the AWS band, the Find 5 is a pretty attractive piece of high end hardware.
OPPO Find 5 Specifications
Device
OPPO Find 5
SoC
1.5 GHz Snapdragon S4 Pro
(APQ8064 - 4 x Krait 200 CPU, Adreno 320 GPU)
RAM/NAND/Expansion
2GB LPDDR2, 16/32 GB NAND
Display
5.0-inch LCD IPS 1080p, 443 ppi
Network
2G / 3G / 4G DC-HSPA+ (Qualcomm MDM8215)
Dimensions
141.8 x 68.8 x 8.9mm max, 165 grams
Camera
13.0 MP (4208 × 3120) Rear Facing with 1.12 µm pixels, 1/3.06" CMOS size, F/2.2, 22.85mm (35mm effective), 1.9MP (1080p) front facing
Battery
2500 mAh (9.5 Whr)
OS
Android 4.1.1 with custom OPPO UI
Connectivity
802.11a/b/g/n + BT 4.0, USB 2.0, GPS/GNSS, MHL, NFC
But it's not just the internals - the OPPO is designed really well. Or, as my best friend put it, "This phone looks awesome, especially considering I've never heard of it before." We've been talking a lot about smartphone materials recently, both in reviews as well as the podcast and even just conversations between AT staffers on the topic. A lot of it centers around premium feel of materials like aluminum and glass being important to creating a flagship level device today. And the top of the Android market today shows you an interesting contrast in styles - the One is completely aluminum and more polished than any smartphone that doesn't have a fruit logo, while the Galaxy S4 sticks to the tried and true Samsung method of a wholly plastic device, this time with a thin polycarbonate battery cover similar to SGS3. I've been critical of Samsung's design direction in the past, and I firmly believe the S3 and S4 just don't feel like high end handsets (and really, other than the S2 and original Note, I can't think of a Samsung flagship that's felt particularly premium relative to its contemporaries).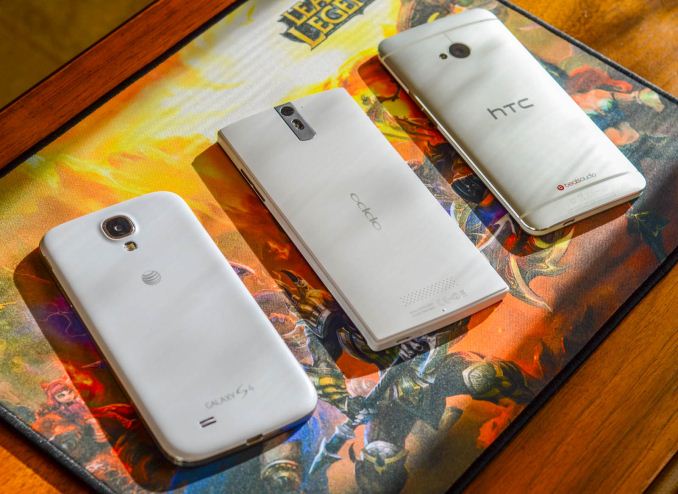 But it's definitely important to note that it's more than possible to create a high-end hardware experience using a thermoplastic polymer, a perfect example being the polycarbonate designs Nokia has been putting out for the last two years with great results. The Find 5 isn't quite there yet, but it's definitely closer to the Lumia side of things than the Galaxy side of things. Obviously, this comes with a certain amount of additional weight and the Find 5 is a large, hefty brick of a phone. It's not on the level of the Lumia 920, which is 20% thicker and 20 grams heavier, even though it has a smaller footprint and display; dimensionally, it's most similar to the HTC Droid DNA (a millimeter taller, two millimeters narrower, a millimeter thinner), except that the OPPO weighs 25g more.
The industrial design is pretty squared off, and in combination with the extra weight it really does feel like a brick in your hands. The white polycarbonate unibody is solid, and is actually somewhat reminiscent of Nokia's recent efforts. The design language really seems to take inspiration from both Nokia and Sony's Xperia line, both in terms of look and feel the handset I've thought of most has been the Xperia S from last year, though the 920 isn't far behind. Considering how much I liked the industrial design language of the 2012 Sony devices, that's a very good thing. Regardless of the flaws those devices had (silicon, software), they were aesthetically and ergonomically very well done.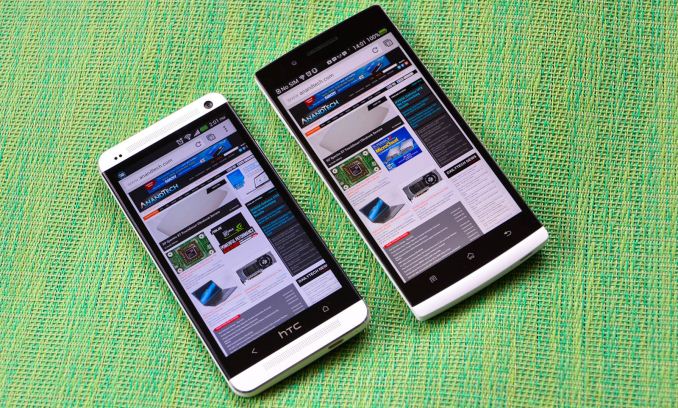 The front face of the Oppo is almost entirely covered by a single piece of glass that goes edge to edge in three directions, with a half centimeter of the plastic unibody exposed at the bottom. The top edge and bottom edge have a mild curvature, as does the back of the device. The back is pretty clean, with a small aluminum camera surround and discreet OPPO badging being the only real features, along with the speaker and FCC logos at the bottom. The aluminum piece is brushed and not polished like Nokia, thankfully, so you don't need to worry about scratching it. The back and sides meet in an interesting ogee edge profile that goes all the way around the edge. Ogee refers to an S-shaped double curve, sometimes found in kitchen edgework and the like. In the Find 5, the S-profile is squared off, so it feels like the back surface is slightly raised above the edge. It adds a bit of low-key visual and tactile interest, though it's not really the most refined looking detail in the world.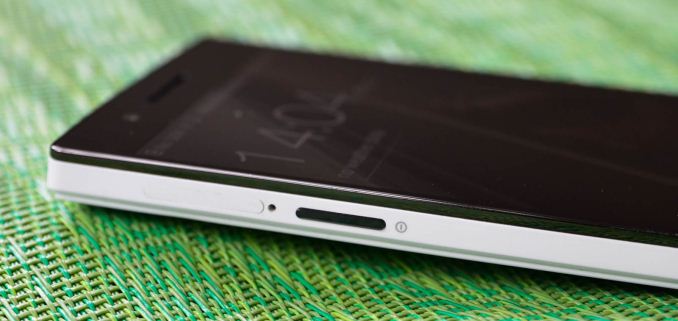 The sides house the usual buttons and ports, though the orientation and layout are a bit odd. The power button is on the left side and volume buttons on the right side, 4/5ths of the way up. Note, this is flipped from how you find it on the current Samsung, Nexus, and Nokia devices (to name a few). Thankfully, pressing the volume keys wakes the display, so as disorienting as the switched buttons are, it's not a total loss. I'm used to switching between phones and carrying multiple devices with regularity (I am probably almost as bad as Brian in this regard) and typically can adjust between the various button layouts without too much difficulty.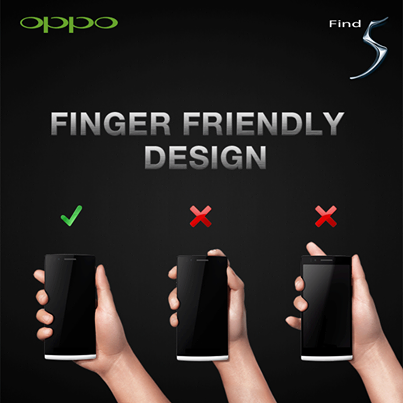 But for some reason, I just couldn't get get comfortable with the Find 5's switched buttons, even after a couple of months using the thing. I personally feel like the best button layout is still the one employed by Apple - headphone and power on the top corners, volume on the top left, USB/IO centered on the bottom edge - but the right-side power button is pretty natural now after years of various Samsung devices and the Nexus 4. This is just something else entirely; OPPO touts it as finger-friendly design, even going to their Facebook page to champion the ergonomic decision, but I'm just going to call it counter-intuitive to anyone who is familiar with using a smartphone. I don't think I've ever used a phone with a similar layout and just between you and me, I've owned or used almost all of the relevant smartphones released over the past 36 months.
The headphone jack is at the top left corner, the micro-USB on the bottom right, and three capacitive buttons (menu, home, and back) underneath the screen. I still don't like the inclusion of the menu button, but developers haven't fully moved to a soft action overflow key, so the hardware menu button still has a place in modern Android devices. The left side power button is the chief ergonomic offender though, without question. I don't understand why that was thought of as a good idea by anyone on the product design team.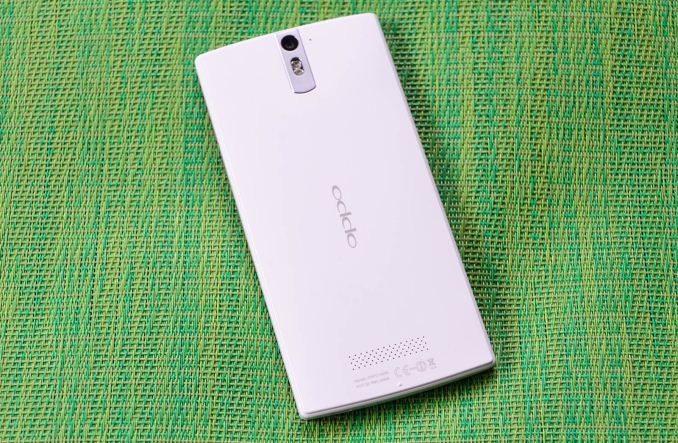 The speaker, as mentioned, is on the back, located near the bottom. It's loud, much more so than devices like the Nexus 4 or Galaxy S3/S4, but very tinny. And the stereo speakers on the HTC One are just an unfair comparison in terms of speakerphone quality. The vibration module is also pretty harsh, and can cause the phone to rattle in a manner that sounds a bit cheap. These are really nitpicky issues, but it's really things like this that remind you how much attention to detail matters in offering a truly premium hardware experience.
Overall though, other than the slightly odd ergonomics, the OPPO hardware is pretty impressive, both in terms of size as well as general competence. It wasn't something I expected to like nearly as much prior to actually getting one, so I was pleasantly surprised. But the OPPO is solid, and the weighty in-hand feel lends an air of quality to the hardware that's sometimes hard to find in Android handsets, no matter how highly specced.
The next part of the user experience to touch on is the software. The software side of the Find 5 is probably what I'd consider its biggest issue, and the reason this review has taken so long is that it took a few updates for the device to really feel finished. The first firmware revisions just didn't feel stable or polished enough, and even after that, I saw pretty big performance and battery life improvements with updates. I must applaud OPPO's software engineers for religiously updating the device every four weeks or so; the device I got in February is very different from the one I'm holding now, and seeing the evolution has been a nice change from some of the larger device makers that essentially leave their phones out to dry post launch. This isn't to say that the updates are perfect, as some of the issues I had with the software back then are still present, particularly on a UI/UX design level as well as some real bugs with the firmware. OPPO has a completely new UI in the works, but I'll get to that.
The Find 5 ships at present with a skinned version of Android 4.1.1, which I'm actually okay with. 4.2 hasn't added enough features to consider the lack of it a significant issue really. The biggest experience level differences are the notification drawer power toggles and the trace feature in the stock Android keyboard. Most of these features are present in modern skins, and if not, are easy to add later with apps. The keyboard is just the stock Android 4.1 keyboard, and as long as you don't need a trace/Swype feature, it's one of my favorite keyboards out there.
Aesthetically, the skin is a mess. The icons are forced into a square shape, and to achieve this, all downloaded app icons are put on a gray square background to fit the visual style. Common applications like Facebook, Netflix, Instagram, Spotify, etc. have this style of icon built into the system (a very recent addition in the latest software update) but more niche applications still look terrible. Confusingly, all of the Google system applications (Gmail, Maps, Play, etc) retain their usual iconography, so a homescreen like mine just looks like a mishmash of different design goals all failing to be met simultaneously. The widgets are ridiculous looking, they were clearly created by a designer but they appear unnecessarily cartoonish. Compared to the flatness of Holo and the stock Android interface, the visual style here has a lot of superfluous visual chrome and it just looks inelegant overall.
The lockscreen opens with an animation resembling a rotating window (OPPO calls it "Glass Board"), which would be cool if the framerate wasn't so low. Also, I found myself in way too many situations where the phone decided that I didn't swipe with enough velocity and then returned the window to its original place. There's also a more traditional slide to unlock option, referred to as Slider unlock. The normal Android 4.x style lockscreen (and the slide circle outwards to unlock method) made an appearance in a late April update, with the Weather lockscreen option. It's a bit different from the stock one, with an animated clock and weather details, along with a camera shortcut (sorely lacking in the other two lockscreens). The animations are well done, the one place in the UI where the framerates aren't choppy.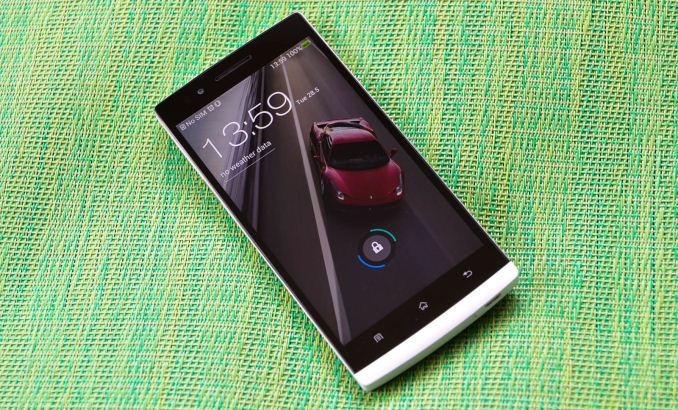 The lack of smoothness in the UI is a recurring theme with the current Find 5 skin, as scrolling in the multitasking menus and other parts of the UI just drop tons of frames. Multitasking is now a card-based system, somewhat reminiscent of MeeGo in visual style, and you can flick the cards upwards to close apps. The settings menu is another major change, with four categories that can be scrolled through horizontally. Certain pages within the settings menu have been changed or removed, with the puzzling elimination of the useful battery usage page being chief amongst the flaws.
OPPO has added a couple of gestures, such as double tap on the menu bar to scroll to the top of a list (the way iOS does it) and easy answer (just put the phone close to your ear when ringing and it will answer automatically, using the proximity sensor). Double tap barely works, to be honest, though easy answer is a bit less buggy. It's a cool feature when you remember to use it - accepting calls on a smartphone is a very ingrained reaction, so skipping that step and just putting the phone to my ear required a conscious effort. I had issues with the phone automatically answering itself in my pocket though, so overall it ends up being more trouble than it's worth to keep the feature enabled.
The phone application has similarly styled categories for the dialer, contacts, groups, and favorites, with a recent calls list showing up under the dial category. Messaging looks just about as you'd expect, though there's a huge flaw with the application. The messaging app ignores the numbers in parenthesis if your contact is saved with a number formatted like 1 (425) 555-0900 or 1-425-555-0900. The number that ends up getting texted is 15550900, which obviously leads to nowhere. Numbers saved like 14255550900 are fine, but considering that in the US and other countries, parentheses and dashes are pretty common, this was a massive issue. Basically, to get around it, you either need the other person to text you first and then reply in the thread, or quickly memorize the 10 digit number and enter the number sans hyphens or parenthesis. And even then, sometimes the Find 5 wouldn't connect the number you've texted with the saved contact. This is 2013, how the hell does a phone have issues parsing parentheses or dashes in saved phone numbers? It's a blatantly unacceptable issue to be having.
There's also some other weird bugs, like a private incoming number showing up as the last incoming contact. I've answered phone calls which according to the Find 5 are coming from my best friend, but actually are coming from my father. This is after a multitude of updates, too - the SMS bug was there since basically the beginning, and while some earlier bugs were squashed, this incoming number one has cropped up in a more recent update. It's odd, and the entire thing just feels unfinished.
Otherwise, the OPPO works as you'd expect Android to, nothing more and nothing less. But it's safe to say that the shipping software just isn't very polished or pleasing to use, and for quite some time was a turn off to me, especially the texting issue as well as framerate dips in conspicuous places like the lockscreen and multitasking. And for someone as design conscious as I tend to be, the mismatched visual style basically killed me every time I turned the phone on.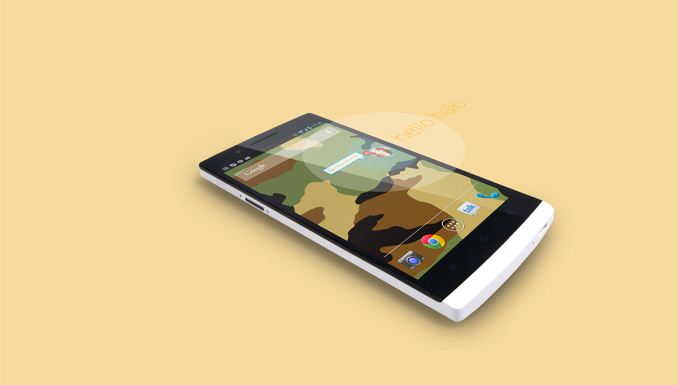 I said this to our contact at OPPO early on in my review process, but honestly, the easiest way to fix a majority of my issues with the Find 5 would be a stable, solid CM10 port. That's really all I needed (I'm easy to please), so it was exciting to see mostly stable CM10.1 4.2.2 nightlies hit the Find 5 recently. OPPO seems to be doing their utmost to help third party developers, such as giving dev units to the Paranoid Android development team to get the Find 5 officially supported by the ROM, a relative rarity for non-Nexus devices. Getting headlining ROM developers on board with the platform is a big step for OPPO, especially as it's become clear that the software is a major Achilles heel for the Find 5. Perhaps OPPO should just pay Cyanogen or Paranoid Android to build the shipping ROM on their next handset.

OPPO has their own completely overhauled firmware in the works, as well. They have launched a new ROM for the Find 5 called Project Firefly, and they call it their "new focus on smartphone software and user experience, built together with the community." (That community referring to a team of private beta testers on the official OPPO Forums). It's still early in the development of the project - the ROM is still in private beta and OPPO advises that it isn't meant for daily use - so it'll be some time before stable releases are available publically. Based on what we've seen thus far, the design aesthetic has been radically redesigned, and now looks somewhat MeeGo-ish due to the new style of iconography. The homescreen scrolling animations are pretty cool, and the entire system comes in a white and green theme that really cleans up the notification drawer, settings menu, and phone application (amongst other core system apps). The animations are smoother and now come with sound, there's a new keyboard, fullscreen widgets, UI themes, and overall the level of polish just seem like they are on a completely different level than with the current Find 5 UI.
The latest updates to the Find 5 solves some of the critical issues I had with the platform (after months of suffering) and the new lockscreen seem to point towards a good design direction going forward, which makes me hopeful that Project Firefly will solve the issues I have with the current Find 5 software. At the very least, it's important to note that OPPO has been very rigorous in offering up software updates for the Find 5, both in terms of adding features as well as fixing bugs, with a new update cropping up every few weeks. It's good to see this much commitment to improving a device post-launch, as it's something we typically don't see from larger Android device vendors.
We're pretty familiar with APQ8064 by now, it's just quad-core Krait (or Krait 200 in the new Qualcomm branding scheme) and Adreno 320. Five months ago, this was world class, though obviously now outclassed by Snapdragon 600-based handsets. Phones are iterating very quickly nowadays, so it's hard for any one SoC to stay on top of the market for more than 6 months at a time. Snapdragon S4 Pro devices started hitting shelves in November, and by the end of April, handsets with the next generation Krait were already hitting market. Even now, there are a multitude of quad-A15 handsets as well as Snapdragon 800 right around the corner. Ah yes, the never ending iterative cycle of the smartphone world.
Krait 200 doesn't count as slow, but it clearly isn't as fast as Krait 300 on a per-clock basis, and the higher frequencies of the newer Snapdragon parts gives those a solid performance edge. I don't really have much else to say - this isn't a new SoC, and we've seen it a few times - so I'll just post the benchmarks. I, like Brian and Anand, am none too thrilled about the state of CPU benchmarks on Android, since they're all browser-based, but until we get something better, this is what we have to work with.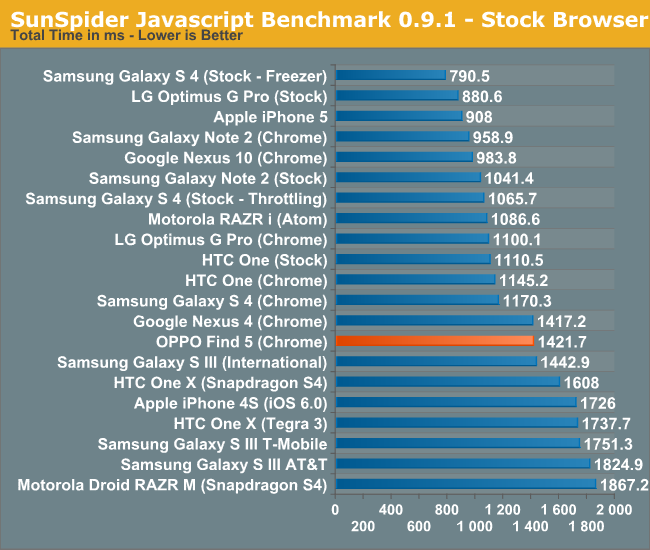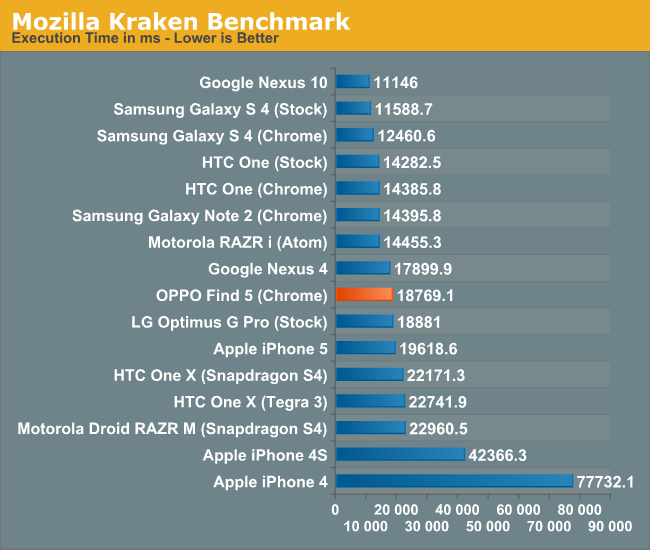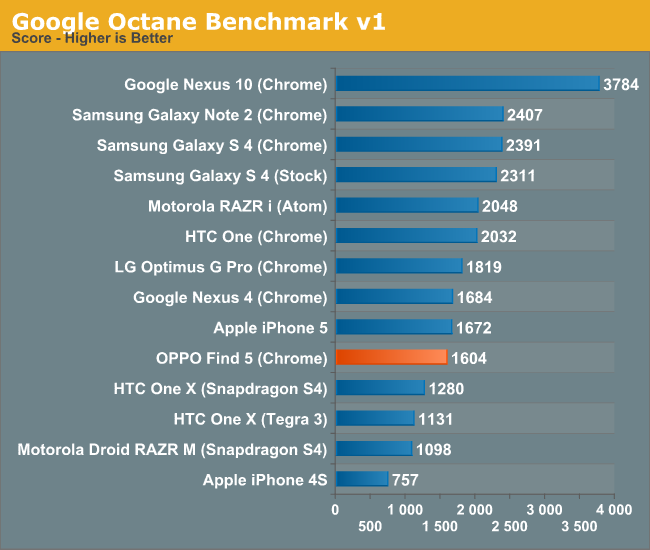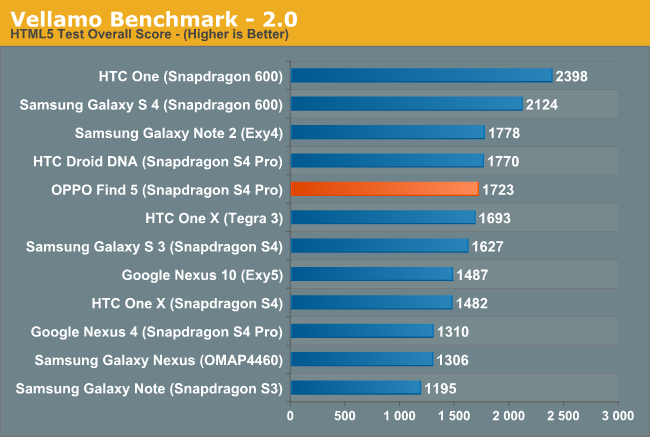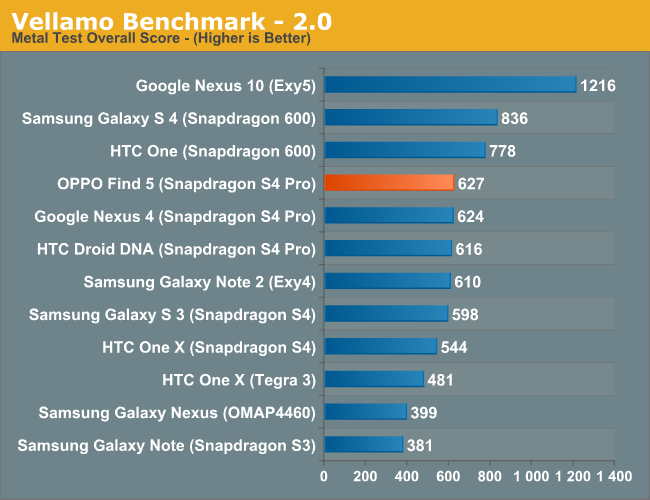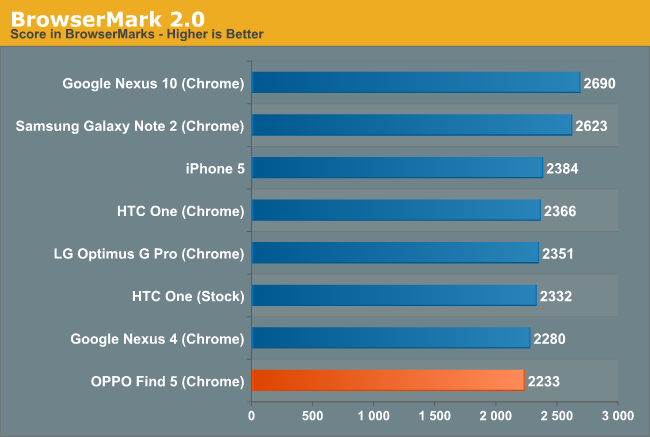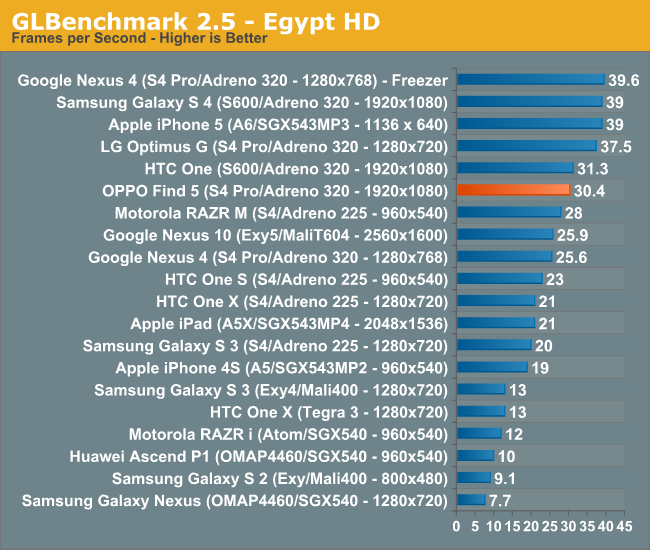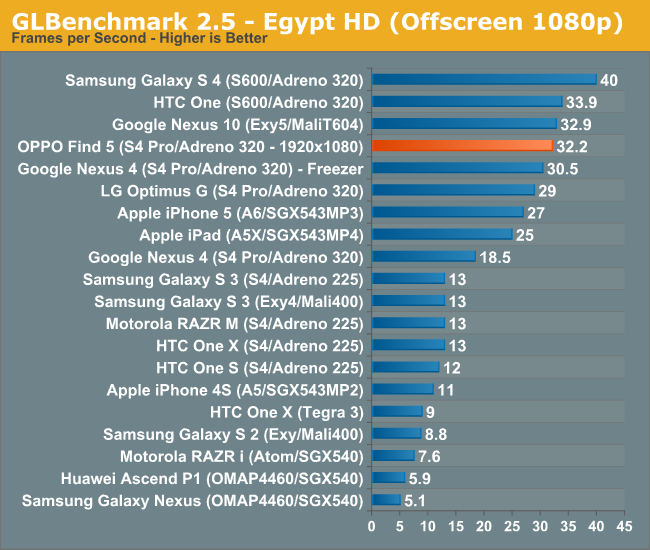 Power management is handled by Qualcomm's PM8921 PMIC, which we've also seen in the Nexus 4, amongst others. The hardware here is actually pretty similar to what we see in the latest Nexus device (other than the display, camera, and baseband, which I'll get to), which is another potential reason why it's seen surprisingly quick adoption by third party developers (especially getting official support from Paranoid Android, who usually start with Nexus devices and let others port to more mainstream handsets like the Galaxy S3).
Throttling is becoming a big deal with phones, and it's important to address it. The throttling thresholds for the OPPO start at 72C, at which point the maximum frequency of the cores drops to 1.18GHz, then 810MHz at 75C, eventually clocking all the way down to 384MHz at 90C. The eventual shutdown is triggered at 120C. I'm not sure what exactly I'd have to do to a phone to get it to 120C other than literally throwing it into a fire, but there you have it. In day to day use, I didn't see it throttle, even when running benchmarks. I did induce a throttling scenario when using a high-current tablet brick to charge the Find 5 and running GLBenchmark to stress the system, but it's nowhere near the Galaxy S4 in terms of throttling frequency. I never had a problem with throttling on either of my personal Nexus 4s, though we all know how much trouble Brian had on his evaluation unit, so your mileage may vary here.
Obviously, battery life is a huge concern for any high-end Android phone. We've been at the point where handsets have to be charged daily unless you're willing to turn off a lot of things - my father has been running his Galaxy S3 on EDGE just to squeeze two days of runtime out of it and while that's an extreme case, that's just where phones are right now. The main difference seems to be that sometimes, you end up with phones that don't actually get a full day out of the battery. The OPPO is one of those phones.
The Find 5 has a 2500 mAh li-poly battery that has a nominal voltage of 3.8V, giving it a 9.5 watt-hour capacity. That's pretty much what we're seeing in high-end handsets these days, slotting in right between the 9.88Wh SGS4 and the 8.74Wh HTC One. Runtime slots in between the Nexus 4 and the Droid DNA, nearly exactly where the Galaxy S3 was and not far off the S4, but well behind the comparatively stellar battery life of the One.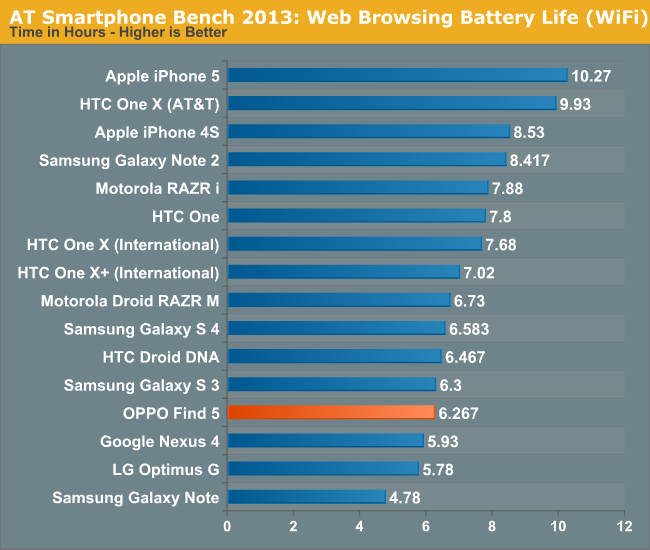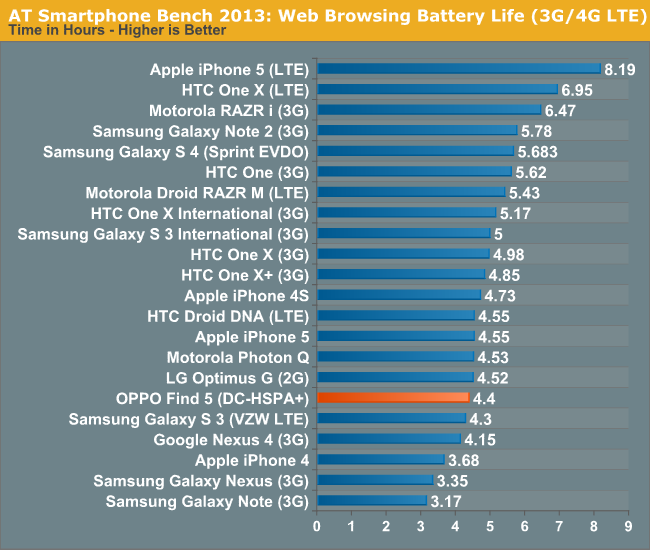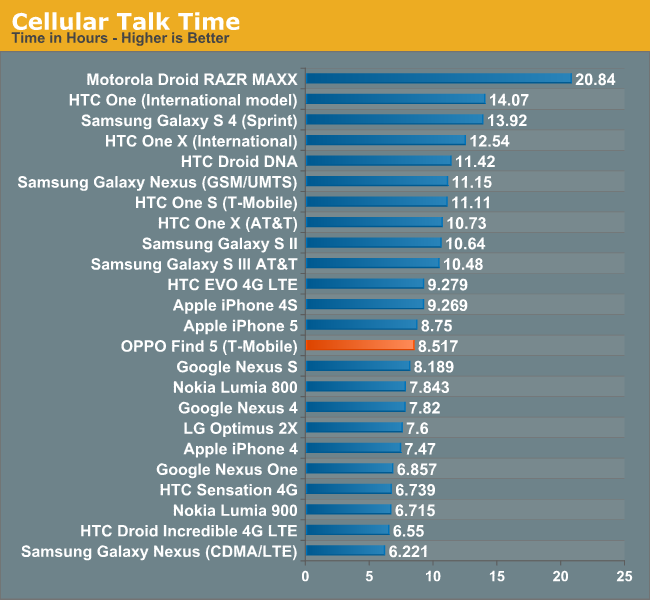 That's not too bad, but it's important to note that the battery life has improved significantly with newer firmware revisions. My first battery life tests with the Find 5 were in the 3.5-4 hour range, numbers that I honestly didn't even think were possible. My first reaction was that I had set up the test wrong or that the phone had shut off partway through the test with battery still remaining. Subsequent revisions have improved that, and the ~6 hours of battery life we're seeing now is much more in line with what I had originally expected. In the process, I had the Find 5 die on me during the day more often than almost any phone that I can remember. It's more reasonable now, but battery life still isn't something I would call good. Tolerable, more like.
OPPO ships the Find 5 with a 5V, 1A charger that's pretty small for a device with a battery this large. It takes 5:31 to charge fully, and I really think that the output of OEM charging bricks needs to increase to match the near-doubling in battery capacity over the last three years. I've been charging my phones with more powerful tablet power bricks for as long as I can remember, because that's the only way to get reasonable charging times with the devices that have 10Wh of battery capacity onboard.
The Find 5 relies on Qualcomm's Fusion 3 platform, which in this case is a combination of APQ8064 and MDM8215M for cellular and voice communication. We're pretty familiar with the 28nm MDM9x15, after seeing it in basically all of the Krait handsets last year. The MDM8215 is also a 28nm baseband, with the primary difference being the lack of LTE capability in the DC-HSPA+ only MDM8215. That's the primary ding against the Find 5 hardware, though for a phone that was designed for Asian markets (except Korea), this is unsurprising as LTE networks have yet to hit China and the coverage is still very limited in India. Also on board are the WTR1605 radio transceiver (with GPS, GLONASS, and BDS) and Qualcomm-Atheros' WCN3660 802.11abgn dual-band 28nm WiFi chip.
Like most of the rest of the Find 5 internally, the cellular hardware is pretty similar to the Nexus 4. Other than MDM8215M in place of the LTE-capable MDM9215M, much of the list reads identically. The network band support is also very similar, with the international/North American model of the Find 5 supporting 850/900/1800/1900 MHz GSM/EDGE and 850/1700/1900/2100 MHz WCDMA. It's interesting to note that the Find 5 doesn't have pentaband WCDMA, with Band 8 (900MHz) missing on both the international as well as the Chinese domestic models. The primary hardware difference between the two is the presence of Band 4/AWS WCDMA in the international model, which as a T-Mobile user makes me happy (though almost the entirety of the Seattle area has T-Mobile PCS WCDMA coverage at this point).
No pretty speed graphs this time around, because I forgot to send the Speed Test results to my email before wiping the phone during one of the software updates and I didn't want to run another 100 speed tests. Suffice to say though, performance was right where I'm used to in this area; T-Mobile's DC-HSPA+ network is faster around here than it is in Tuscon, where Brian does a majority of his testing. The averages were right around 12Mbps down and 4Mbps up, with some expected variance due to environmental factors as well as quirks in T-Mobile signal strength in my area - the bottom two floors of my apartment building have terrible T-Mobile signal and always have (and the garage and elevator don't get T-Mobile signal at all). The entirety of the Seattle area is consistently excellent, but my building specifically somehow is awful.
What is probably the most important thing to talk about with regards to the OPPO's lack of LTE. The decision makes sense, as the largest regional market for this phone basically doesn't have any LTE networks, but in terms of using it in the US where most devices have LTE these days, it's a bit of a hard sell. If you use AT&T and live in an LTE-covered area, I'd recommend against. AT&T's 16QAM HSDPA 14.4 network is not the greatest (Brian's podcast rants about the lack of AT&T DC-HSPA+ are the stuff of legend) and network throughput absolutely pales in comparison to LTE. If you're on T-Mobile, this isn't a problem for now - DC-HSPA+ is pretty solidly quick and the LTE network is only just being rolled out. If you're not in one of the 7 LTE regions, it's not a bad idea, though it's worth noting that Seattle, San Francisco/Bay Area, and New York City, amongst other major metropolitan markets for T-Mobile, will likely get these networks sooner rather than later (and in Seattle particularly, we've seen the LTE lit up for a week or two earlier this year). So think pretty carefully about your choice of air interface and how important you think LTE capability is for you before picking the Find 5.
The Find 5 was noted to be using Sony's Exmor RS branded 13MP camera sensor pretty early on, with OPPO releasing preview images taken on a preproduction device way back in December of last year. This sensor, the Sony IMX135, is the next generation version of the IMX091PQ sensor found in devices like the Optimus G and the Galaxy S4, and can also be seen in Sony's own Xperia Z. The two sensors basically cover the who's who of current flagship smartphones between them, other than the HTC One. IMX135 is a 1/3.06" stacked CMOS with 13.13 effective megapixels and on-sensor HDR. The stacked structure part means that the pixel and circuit sections of the sensor are layered, as seen in the Sony-provided diagram below.
This layering replaces the supporting substrates used in conventional backside-illuminated CMOS sensors, allowing for a much more compact overall image sensor size. It's definitely an interesting piece of tech, though the use of this sensor definitely points to an emphasis on megapixel count. As Brian has covered many times in the past, sensors with more densely packed pixels have less light sensitivity and dynamic range than sensors with larger pixels, so the presence of on-sensor HDR capability for both stills and video is definitely an important one given the 1.12um pixels in IMX135. The front facing camera uses the Samsung S5K6A3 sensor, which can also be found in the Galaxy S3 and Galaxy Note 2.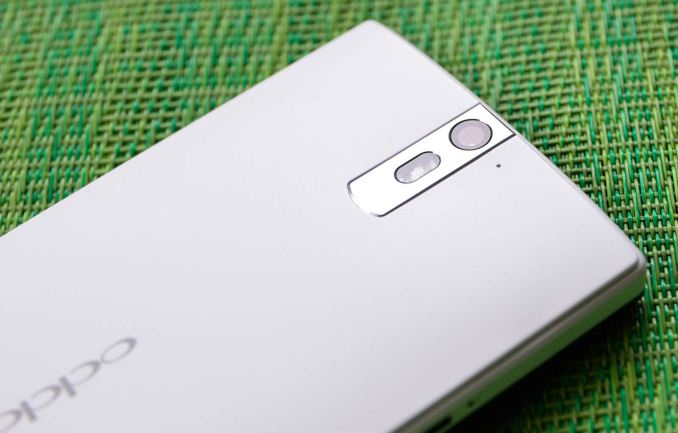 Optically, the Find 5 also has an F/2.2 lens and a focal length of 3.85mm. It shares a lot of the imaging characteristics of the Galaxy S4, which makes sense given the hardware-level similarities. The image processing is different, but it's still a sensor with a very high spatial resolution that does a great job in well lit situations and seems to suffer when light sensitivity or dynamic range is important.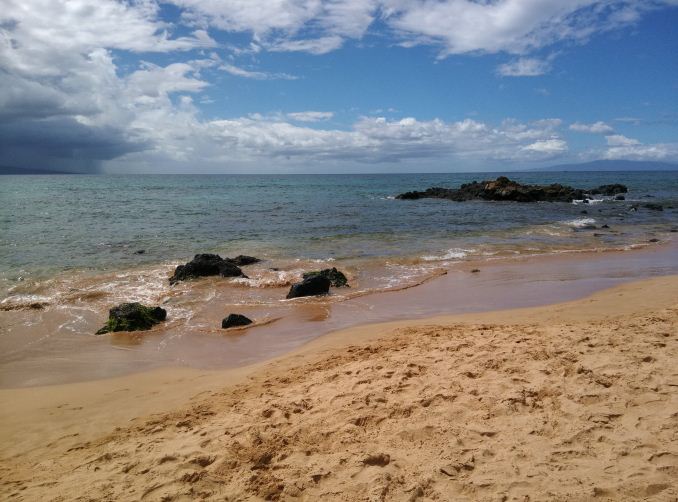 I took the Find 5 with me on a spring break trip to Hawaii and used it as my primary camera. It was pretty solid, but low light is a problem, particularly when objects are far enough away to not be impacted by flash. It's impressive, when you look casually at the pictures coming out of modern smartphones in the right situations, to consider how far we've come in the last few years.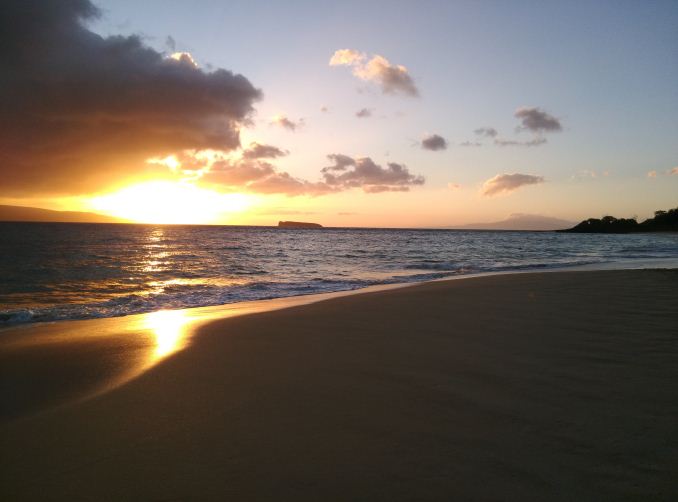 Compared to the HTC One, the OPPO is pretty competitive in bright outdoor shots, and definitely better when looked at 1:1. The low light story is a bit different - the One is just a lot better, and the lack of a night mode on the OPPO hamstrings it even further. Even shooting with HDR, the OPPO isn't close. The dual LED flash is okay indoors and particularly with nearby subjects (within 5 feet) it does quite well, but relying on it outdoors in the dark will result in a near-useless picture.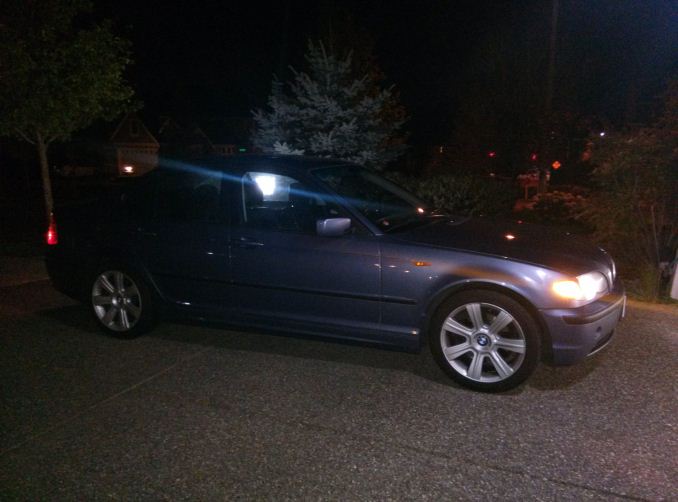 Taken at night with the OPPO Find 5, Normal shooting mode with flash.
The lack of advanced camera settings really doesn't help here. The camera interface is pretty simple, with a brushed metal feel and clearly laid out controls, but you don't get access to critical functions like shutter speed, white balance, ISO, etc. The exposed settings are resolution, self-timer, face detection, geotagging, and a grid overlay for the UI. Other than that, you get the three shooting modes (normal, HDR, and panorama), as well as a flash control and toggles for front/rear camera and photo/video recording. It's pretty light on settings, though for the purposes of most smartphone camera users it's adequate. From a camera control perspective, this is not much better than Apple in terms of how little of it you actually get. The other disappointing thing about the camera interface is that the preview image runs at roughly 20 fps, which is a noticeable but mild annoyance while taking stills.
As mentioned previously, the sensor is capable of recording HDR video at 1080p. The HDR mode records video at 23.976 fps, with a bitrate of 10.8 Mbps H.264 base profile with one reference frame. A minute of 1080p24 HDR video takes up 78.4 MB of space. The standard, non-HDR setting records at 30fps and a 12.0 Mbps bitrate (also H.264 base), requiring 87.5 MB of storage per minute of video. In both cases, audio is recorded in 96 Kbps stereo.
Honestly, HDR makes a noticeable difference when taking video - you can look at the two video captures, taken back to back at the same intersection, to see how the narrow dynamic range of the sensor really affects the video quality of the non-HDR video sample. The first sample is with HDR.
The second sample, taken in the default non-HDR mode, is basically fully saturated, and you can see the brightness of the entire scene change depending on the colour of the cars passing by - for example, when a white car passes by, the car is very overexposed at first, then the entire picture darkens to account for the brightness of the car, and then lightens again when the car passes through the field of view. It's makes for a very uneven-feeling video as a result, one that is quite sensitive to both the subject as well as any movement.
I honestly think that HDR should be the default video mode, the increase in video quality is easy to perceive even without detailed comparison. It's a little bit unfortunate that HDR video recording is limited to 1080p24, since that framerate difference is one of the few downsides to always shooting in HDR (it's also not the best for capturing fast movements, due to some artifacting in such situations.)
Like many recent flagships, the OPPO comes with a 5" 1080p AH-IPS display produced by JDI. It's pretty similar to the one you can find in the Droid DNA and other phones with this screen dimension and resolution, except for the Galaxy S4, which of course uses Samsung's own 1080p SAMOLED panel. All of these displays share the 443 PPI pixel density, which is incredibly high, especially in the displays that have a full RGB stripe subpixel matrix. It's hard to ask for anything more than this in a display, and the differences in sharpness and density in this panel versus the HTC One's 468 PPI display (1080p on a slightly smaller 4.7" panel) are almost academic. We're well beyond the point where one can see individual pixels with the naked eye, as on even most 720p displays were (notable exception: Galaxy S3).
The touch controller is provided by Synaptics, with the Find 5 utilizing the same ClearPad Series 3 S3202 as the HTC One and One X, with 10 points of multitouch detection. Even without in-cell touch, there's not much of a perceptible gap between the LCD and the glass, and the display does quite well outdoors (as there isn't much reflectiveness added due to air gap).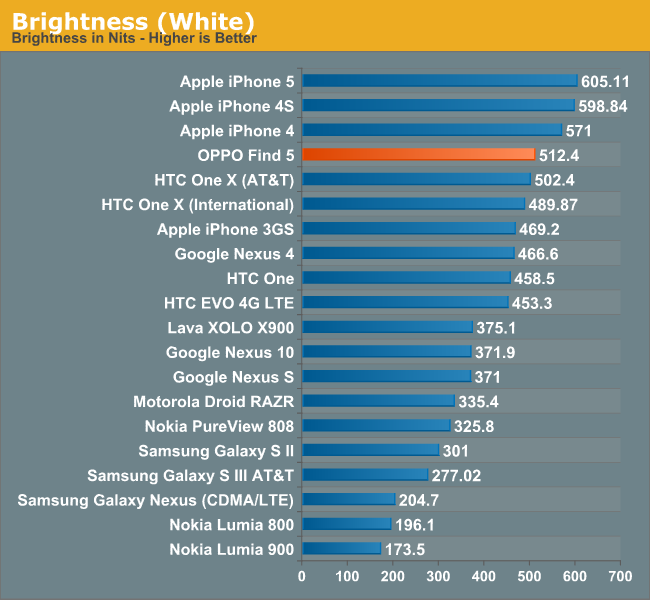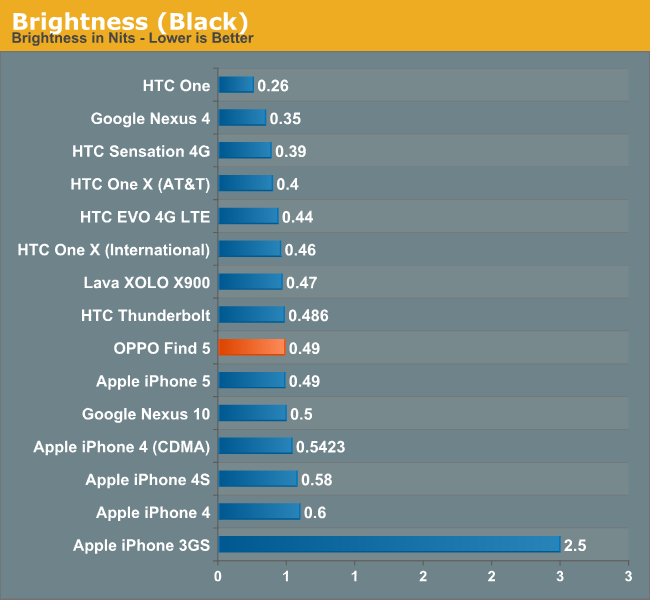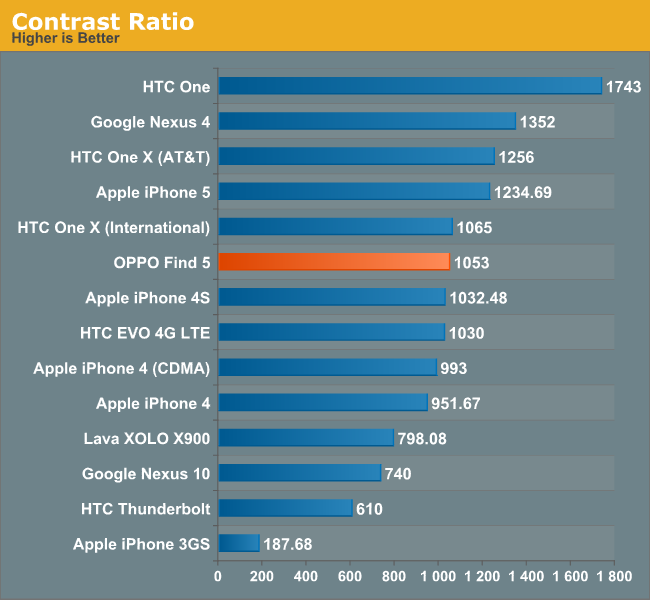 The display is really bright, one of the brightest Android devices we've ever tested. Contrast ratio, at just over 1000:1, is very good, but nothing special and well short of the HTC One's 1750:1 contrast panel. The colour temperature of 6432K is very close to the 6500K we consider to be neutral, and the panel calibration overall seems to be decent though not as good as we've come to expect from manufacturers like Apple or HTC.
I think 4.7" is the sweet spot for display size, something that was reached with the last generation of handsets. There's not really any benefit to going with a 5" panel over a 4.7" panel beyond just having a bigger number - it's not like jumping to a Galaxy Note-sized 5.5" or larger display, where the device ends up being more of a phablet than a handset, but it does add just enough bulk to be on the cumbersome side.
I like the OPPO Find 5. When I first got it, it was a frustrating, buggy mess of a phone, but over time the firmware has gotten more stable (with much more promising software options currently on the horizon), I've gotten used to the random quirks, and the good stuff - the performance, display, and overall quality of the design - have really endeared the phone to me. It's a nice, solid handset and that's truly an accomplishment for a relative unknown like OPPO. It's found itself a decent community of followers with an active enthusiast forum, and the manufacturer support and development for the device seems to closely follow the advice and feedback from owners and testers. That's pretty rare to see these days, especially the post-launch software support. Maybe I'm still a little bit skittish since my days with LG's scarce and often extremely late software updates - the Optimus 4X HD, a flagship device in summer 2012, only got the Jelly Bean update three weeks ago - but it's definitely valuable to note that the Find 5 isn't a device that hits market and then gets abandoned by OPPO's firmware engineers.
As a loyal T-Mobile customer and someone who loathes the American network operator subsidy model, I'm a huge fan of this sales model. I'm a similarly huge fan of how Google is selling their cellular-enabled Nexus devices, and it's nice to see it start to catch on. I think the next step in this is for handset prices to go down - $500 is still too much, I'd like to see the Find 5 drop by $50-100 to bring it closer to the Nexus 4 from a pricing standpoint. It's admittedly cheaper than you'll find the One, SGS4, or Xperia Z selling off-contract, though not by enough to really call the Oppo a low-cost alternative in the vein of the Nexus 4, which is still, eight months later, one of the best values on the smartphone market.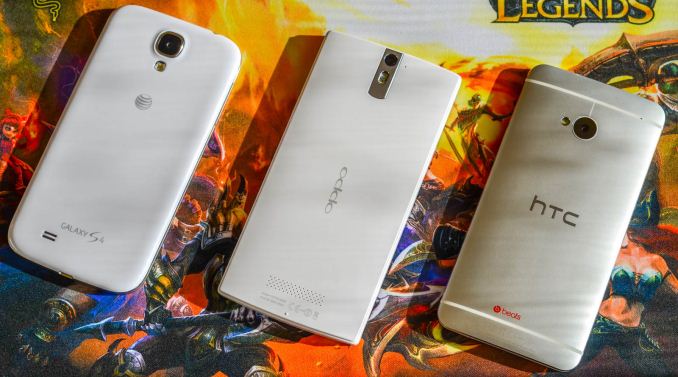 The Find 5 and the Nexus 4 have pretty similar internal hardware, as noted throughout the review. The main benefits you get with the OPPO over the Nexus are the display and the camera - both are solidly better, and the camera particularly is a definite Achilles heel for the Nexus 4. (Does Google have a rule to never ship a Nexus device with a competitive camera? It absolutely mystifies me why this is a knock against every single Nexus handset. But I digress.) The Nexus 4 display wasn't bad though, it was one of the best 720p panels we saw last year, and overall it feels like a more complete, finished device. Nothing can touch the Nexus 4 from a software standpoint - it will always be the first to get updates and always a completely AOSP experience, plus it's the easiest to find third party ROMs for. The OPPO on the other hand has some major flaws in the shipping software, and that really can't be ignored, even if the development picture does look encouraging.
Even priced equally, I'd probably take a Nexus 4 over the Find 5 - let's say 6 or 7 times out of 10. The camera experience of the Find 5 is way better than the Nexus, and that accounts for the other 3-4 times. Toss in the $150 price difference (though really it's closer to $110 after you factor in tax and shipping from the Play Store), and the choice is clear. The Nexus is a thinner, lighter, easier to handle phone with similar silicon in addition to software that's just miles ahead of where OPPO is right now. The price difference on top of that is almost like a bonus. This is obviously less of a factor in Europe and Asia, where the prices are more equivalent (the Nexus 4 is a phenomenal value in the US through the Google Play Store, but less so in the rest of the world), and at that point, it becomes a more interesting question. The OPPO is definitely a more unique device, not something you'll come across with regularity, but that comes with things that are both good and bad.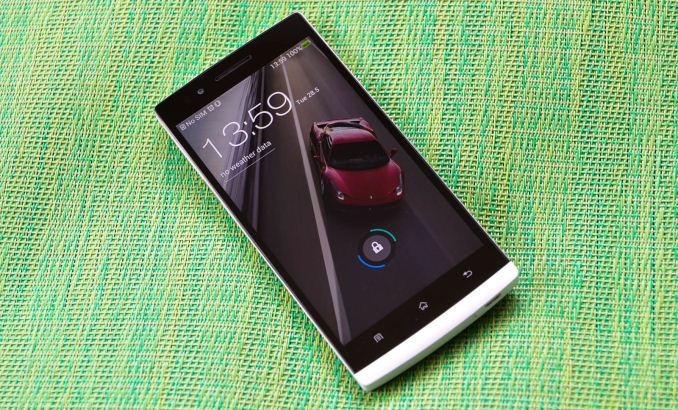 But let's not take anything away from OPPO here. The hardware is honestly excellent, particularly considering the fact that it came from a small company with little previous awareness. I was very impressed with the design-level polish, and even if the industrial design was inspired by Nokia and Sony, at least OPPO did a good job integrating the various design touches into the Find 5's design. The ergonomics are still a little questionable, but I'm willing to let it slide. The rest of the hardware package is great, with solid build quality and a top-notch display. From an imaging standpoint, this is basically as good as you're going to get with a conventional high-resolution sensor. It's not as premium feeling as devices like the One, Xperia Z, and iPhone 5, but it's definitely a step above the Galaxy S4 and pretty much on par with the Lumia 920. When you think of hardware being on par with the best of what comes out of an elite design house like Nokia, you realize just how ambitious the Find 5 is from the standpoint of the engineering and development teams. It's honestly a real accomplishment for the Find 5 to be even mentioned with those devices, and for that OPPO needs to be recognized. I'm excited to see where they can go with their next generation devices, particularly if they can get their software ducks in a row.