Original Link: http://www.anandtech.com/show/6923/asus-zenbook-ux51vz-great-laptop-high-price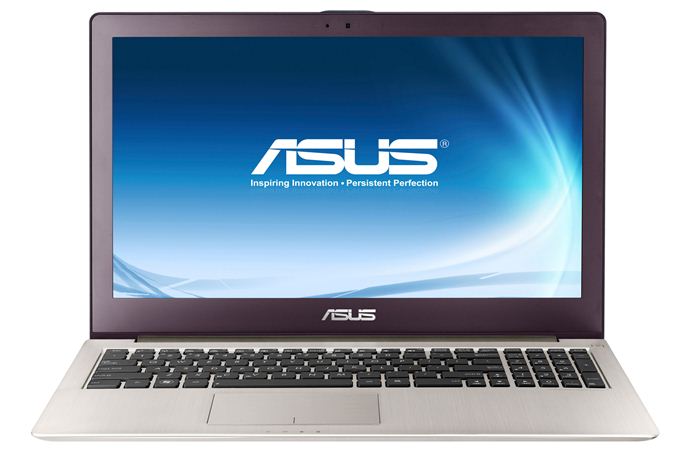 Meet the ASUS Zenbook UX51VZ
I have quite a few laptops that have been languishing in a non-fully-reviewed state for a while. The New Year has been a bit crazy, and in the midst of trying to update the benchmark suite and some other items, the time for a full review is long since passed. We're finally done with our 2013 Mobile Benchmark Suite, and as we'll have a variety of laptops to review in the coming weeks, I thought the UX51VZ was a good start for our new test suite. I won't include every chart in this short review, but here's the quick summary.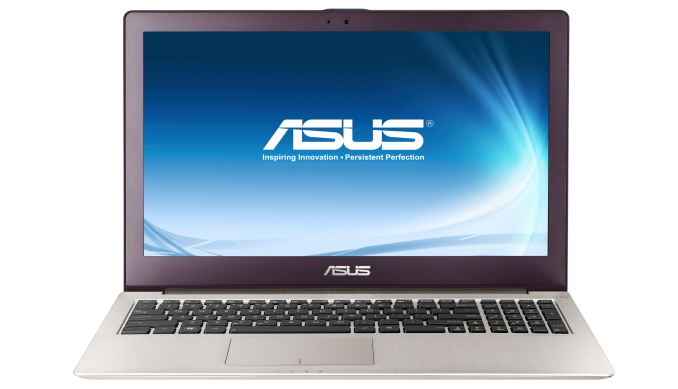 The ASUS Zenbook UX51VZ is a nice looking laptop that takes the core of the thicker N56V type chassis and thins it out, at the same time going for an aluminum chassis. At the same time, ASUS has upgraded the LCD to a nice quality IPS 1080p panel (anti-reflective, no less!), which is about as good as you're going to find in Windows consumer laptops right now—though I suspect laptops like the soon-to-launch Toshiba KIRAbook may have something to say about that shortly.
As you might guess from the "[xxx]book" names, these laptops are gunning for Apple's MacBook Pro (Retina) in terms of overall experience. While I personally feel they fall short in some areas (the Retina still has a better LCD that's factory calibrated to deliver good color accuracy), they're also less expensive and they're designed from the ground up to run Windows. That won't be sufficient to win back users who have switched to Apple, but it might be enough to entice those contemplating the change to stick with Windows a while longer.
Overall, ASUS has a great laptop in the UX51VZ, with an excellent display, good build quality, and good sound. This isn't the best sounding laptop I've heard, but it's better than most, and the mini subwoofer ASUS includes definitely helps of you're willing to tote it around. The keyboard and touchpad are also decent and don't make me complain too much (though I still wish the keyboard were a bit wider with a standard 10-key instead of the half-size "0"). Finally, the specs are good if not exceptional, and really the only sticking point for most people is going to be the price. Here's the quick overview of our test configuration:
ASUS Zenbook UX51VZ-DH71 Specifications
Processor
Intel i7-3612QM
(Quad-core 2.10-3.10GHz, 6MB L3, 22nm, 35W)
Chipset
HM77
Memory
8GB (2x4GB) DDR3-1600
Note: 4GB RAM is soldered onto motherboard
Graphics
NVIDIA GeForce GT 650M 2GB
(384 CUDA Cores @ 835MHz, 4GHz GDDR5)

Intel HD 4000
(16 EUs, up to 1100MHz)
Display
15.6" Anti-Reflective 16:9 1080p (1920x1080)
(LP156WF4-SPB1)
Storage
2x128GB SanDisk SD5SE2 SSDs in RAID 0
Note: Custom SSDs are not user replaceable
Optical Drive
N/A
Networking
802.11n WiFi (Intel Advanced-N 6235)
(Dual-band 2x2:2 300Mbps capable)
Bluetooth 4.0 (Intel)
Audio
Realtek ALC275
Stereo Speakers + External Subwoofer
Headphone/Microphone combo jack
Battery/Power
8-cell, ~72Wh
90W Max AC Adapter
Front Side
N/A
Left Side
1 x USB 3.0
1 x USB 3.0 (Powered when Sleeping)
HDMI (Full size)
Gigabit Ethernet
AC Power Connection
Right Side
Headphone/Microphone Jack
Flash Memory Reader (MMC, SDHC)
1 x USB 3.0
Mini-DisplayPort
Mini-VGA Port
Back Side
N/A
(Exhaust vents into LCD hinge)
Operating System
Windows 8 64-bit
Dimensions
14.96" x 10.02" x 0.78" (WxDxH)
(380mm x 254.5mm x 19.7mm)
Weight
4.53 lbs (2.06kg)
Extras
HD Webcam
102-Key Backlit Keyboard
External Mini-Subwoofer
Warranty
1-year limited warranty
Price
Starting at $1843 online(4/29/2013)
Originally, the price of the 256GB SSD version of the UX51VZ was closer to $2200, which puts it dangerously close to MacBook Pro Retina 15 territory. I can argue that a native Windows laptop is better than a MacBook running Windows (because it is—better battery life, driver support, and working Optimus Technology to name a few items), but based purely on the hardware the Retina 15 wins out—better LCD, faster CPU, and most will agree the build quality is better as well. When the price difference grows to $400 or more, however, the UX51VZ doesn't look that bad.
The MBP 15 Retina's glossy 2880x1800 native resolution is still impressive, but the DPI is such that you can't actually use it without scaling and other tricks, so it ends up being more like a really nice 1920x1200 LCD, at least in Windows. On the other hand, the initial MBP 15 Retina is currently available for $1900, making the decision much more difficult once again. For most people willing to spend this much money on a laptop, it comes down to a question of whether you prefer Windows (buy the ASUS), OS X (MBP), or if you're interested in trying OS X and like the idea of dual-booting Windows (MBP again).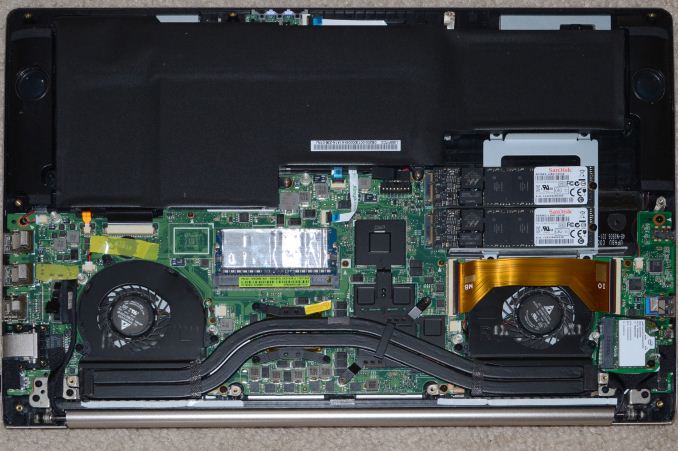 In terms of upgrading the hardware, getting at the UX51VZ internals is relatively painless (T-5 Torx screwdriver required), but the only item you're likely to upgrade is the single SO-DIMM, as most of the other parts are pretty much the best current option (e.g. upgrading the CPU and GPU isn't really practical, as the i7-3612QM/3632QM is faster than any of the other 35W dual-core options, and the GPU is non-upgradeable). The SSDs as far as I can tell are also a proprietary form factor, so unless you can find someone selling a supported upgrade (2x256GB models are available), you're stuck there as well.
Aesthetically and from a design standpoint, I like a lot of what ASUS has done with the UX51VZ; there's even a touchscreen version available now if that's what you're after. No doubt ASUS will have an updated Haswell release in the near future, but if you want a good thin and light laptop and are willing to go with a 15.6" screen chassis, as I noted a couple weeks back it's near the top of my list. Today, I can provide the full benchmark results with our new test suite to help potential buyers know what they're getting.
Let's See the Benchmarks
Many of our tests should be familiar by now, as we've just updated a few items along with switching to an almost completely new gaming suite. All of the benchmarks we use are now the latest versions, which is some cases makes the results slightly different from earlier versions (e.g. PCMark 7 may be up to 5% faster/slower now compared to the original release). Here's the short list of application and gaming results; the full suite is visible in Mobile Bench, and as we review more laptops with the new test suite we'll include the UX51VZ in the charts.
Starting with the general performance, there's really nothing particularly surprising to report. The quad-core i7-3612QM delivers performance that will be plenty fast for all but the most demanding users. Yes, it's a bit slower than the standard voltage quad-core parts, but the UX51VZ seems to cool well enough that maximum Turbo Boost is usually in effect. As for the graphics scores, the only thing I have to go on right now are iGPU results from Ultrabooks, and the 2x-3x performance gap is about what you'd expect from GT 650M vs. ULV HD 4000. This is one area where Haswell may not make as big of a dent in the lead as I'd like, as the TDP on the ULV parts means even if GT3 is present, it's likely to run into throttling situations, so dGPUs will be desirable for anyone serious about gaming.
Speaking of which, here are the gaming results—we'll be adding GRID 2 and Metro: Last Light to our gaming suite when those launch, so for now we have five titles to work with. Skyrim is the sole holdover of our last suite, mostly because we couldn't find an RPG we felt was a better option (and MMORPGs tend to introduce too many variables to make them good benchmarks). Keep in mind that this list is for laptop only, where gaming performance is merely one of numerous elements we test.
Also of interest is that our current gaming suite has three AMD Gaming Evolved titles (and GRID 2 will make a fourth) while the only NVIDIA The Way It's Meant to Be Played title will be Metro: Last Light—Skyrim and StarCraft II remain DX9 games that are GPU vendor agnostic. We tried to stick to games that were well received and if possible both demanding on the hardware and easy for us to benchmark. The second aspect is why Crysis 3 and Far Cry 3 didn't make our list, and we figured at seven titles (with four already being FPS/shooters) we could skip adding two more. If you'd like to see more GPU comparisons with games, please refer to our GPU benchmarks where we have ten titles and at present three overlap our mobile test suite.
Gaming performance on the GT 650M is decent but not exceptional. In most instances, High detail settings at 1080p are playable, but typically not with antialiasing. Our Enthusiast settings meanwhile prove too much for the GPU in four of the five games, with Skyrim being the only passing grade. Based on their predecessors (Metro 2033 and DiRT: Showdown), I'm betting our Enthusiast settings will likely prove unplayable on most laptops for the time being.
Closing Thoughts and Other Items
I really like the UX51VZ, but there have been a few flies in the ointment. One is that WiFi connectivity is intermittent—there's a workaround that involves disabling Bluetooth support, but while I can live with that it's not ideal for many people. Pricing is a second concern, and even at the now-reduced pricing I still feel the UX51VZ is priced a couple hundred dollars too high for most. It's a premium product at a premium price, sure, but ASUS is not Apple, and Apple is notorious for their high profit margins.
Battery life is also somewhat middling, considering the 72Wh battery—I was expecting to see more like seven or eight hours of useful battery life, but perhaps the IPS display draws a bit more power than TN displays. And speaking of the display, while it's better than any TN in my opinion (thanks to the viewing angles), color accuracy and color gamut aren't particularly noteworthy, with out-of-the-box colors that are too red and too blue.
The final concern is thermal throttling. While there are two fans in the UX51VZ, the CPU, chipset, and GPU are connected to both fans via heatpipes. That's good for instances when the CPU is loaded and the GPU isn't, or vice versa, but when you put a full load on both the CPU and GPU at the same time, the cooling system shares the heat between all the parts. That can lead in some cases to a bit of throttling. I didn't see this with pure gaming workloads, but if I put a heavy load on the CPU (e.g. run x264 HD on three of the cores) and then run a game, GPU usage in some cases does appear to drop down in order to control temperatures. On the other hand, without the extra CPU load I was able to run the GPU at 970MHz/5GHz core/RAM (that's the full GPU Boost clock and a 25% bump in memory clock) for an extra 10-15% performance without any noticeable problems. Depending on the climate you're in, your performance may vary.
With the concerns above, let me end again by reiterating the good. ASUS provides a good IPS display that I'd like to see become the minimum standard for a quality laptop in 2013. The build quality and industrial design are both good, performance ranges from acceptable to great depending on what you're doing, and the only way to get a substantially faster laptop is to abandon the thin and light/Ultrabook market entirely and grab something that's at least 50% thicker and 25% heavier than the UX51VZ. Yes, you can get similar and even slightly better performance from ASUS' own G55VW for $1156 (don't forget to add an SSD!), but I'm not sure anyone would argue the G55VW looks better than the UX51VZ.
If you can wait a bit longer, there will always be something newer and better. I don't expect Haswell to offer substantially better performance in most cases, but if nothing else I expect better battery life than Ivy Bridge on laptops. More importantly, I expect ASUS will have a revised UX51VZ that will address the WiFi issues and perhaps improve in other ways as well. If you can wait, there's almost never harm in doing so—we're not talking about a stock where prices might jump up 50% or more if you fail to act! If you want a good "large Ultrabook" right now, though, there really aren't any others that I can immediately recommend. Next month, I might be singing a different tune; in the meantime, welcome to Mobile Bench 2013.