Original Link: http://www.anandtech.com/show/6941/toshiba-kirabook-ultrabook-review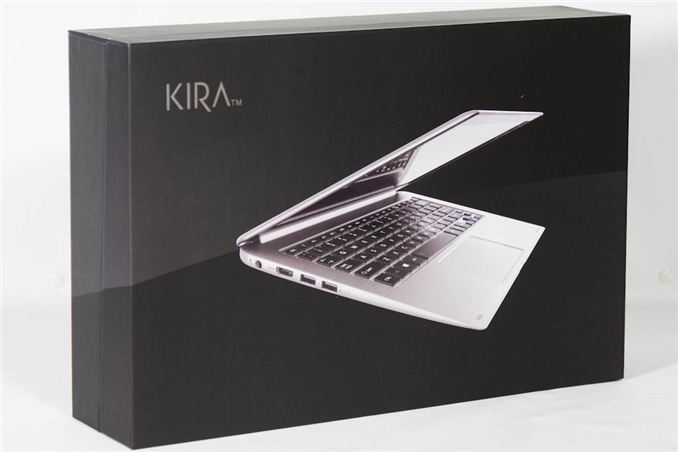 Introducing the Toshiba KIRAbook
As a notebook and now ultrabook manufacturer, Toshiba has always had an odd streak. I mean that in the most affectionate way possible; while their budget notebooks have been generally solid offerings for a good price (and typically preferable to similar kit from backsliding leaders like HP and Dell), their middle and high end kit has shown a willingness to experiment that includes pre-ultrabook notebooks like the Portege R700, ultra-widescreen kit like the Satellite U845W, and if you're willing to go back far enough, their now defunct Libretto line.
What we've been missing, though, is a genuinely high end, flagship ultrabook from Toshiba. HP has their Folio line, Dell has their XPS ultrabooks, ASUS has their Zenbooks, and even Acer has a pretty broad range of ultrabooks to serve everyone from the most cash-strapped customer to the user looking for a premium computing experience. Toshiba did well with their Portege Z835 in the first wave of ultrabooks, but that had more to do with the low entrance price. To satisfy premium customers, Toshiba is launching a premium line of ultrabooks, and they start with today's KIRAbook.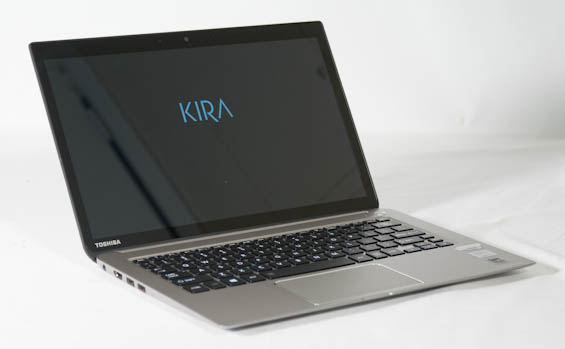 KIRAbook isn't just the name of this notebook, it's the start of a new brand within Toshiba, and it's a brand they've desperately needed. Satellite serves mainstream customers, Tecra serves business, Qosmio serves gamers, and Portege serves the ultraportable market, but none of these brands outside of maybe the Qosmio line is really "premium." With the KIRAbook and the KIRA branding, Toshiba's actually opening an entire wing of business just dedicated to supporting notebooks under this brand. The KIRAbook comes with a 2-year "platinum warranty" standard; KIRAbook owners don't go through Toshiba's primary customer support channels but instead have access to their own 24/7 help line along with rapid repair service and other perks.
None of that would matter if the product itself isn't worth the expense and effort, though, and while I don't feel like Toshiba has a homerun on their hands, they do have a pretty strong start. The real fly in the ointment is the impending launch of Haswell; I suspect the KIRAbook launching with Ivy Bridge hardware on the eve of Intel's next generation is akin to Dell's launch of the XPS 13 shortly before Ivy Bridge became available. I think Toshiba is getting their foot in the door with this brand and at the same time decoupling it from Intel's cadence out of the gate.
Toshiba KIRAbook Specifications
Processor
Intel Core i7-3537U
(2x2GHz + HTT, Turbo to 3.1GHz, 22nm, 4MB L3, 17W)
Chipset
Intel HM76
Memory
2x4GB integrated DDR3-1600
Graphics
Intel HD 4000 Graphics
(16 EUs, up to 1.2GHz)
Display
13.3" LED Glossy 16:9 2560x1440 IPS Touchscreen
SHP5108
Hard Drive(s)
256GB Toshiba THNSNF mSATA 6Gbps SSD
Optical Drive
-
Networking
Intel Centrino Wireless-N 2230 802.11b/g/n 2x2
Bluetooth 4.0
Audio
Conexant CX20751/2 HD Audio
Stereo speakers
Single combination mic/headphone jack
Battery
4-Cell, 52Wh (integrated)
Front Side
-
Right Side
SD card reader
Mic/headphone combo jack
USB 3.0
Left Side
AC adaptor
HDMI
USB 3.0
Back Side
-
Operating System
Windows 8 Pro 64-bit
Dimensions
12.44" x 0.7" x 8.5" (WxHxD)
316mm x 18mm x 216mm
Weight
2.97 lbs
1.35kg
Extras
HD Webcam
SSD
Bluetooth
Backlit keyboard
harman/kardon speakers
Corning Concore Glass touchscreen
Adobe Premiere and Photoshop Elements 11 included
Norton Online Backup, Internet Security, and Anti-Theft 24-month subscription included
2560x1440 IPS display
Warranty
2-year limited "Platinum Service"
Pricing
Starts at $1,599
As configured: $1,999
The starting price of $1,599 stings mightily, but at least that model is likely to be the preferable one. That "entry level" KIRAbook has an Intel Core i5-3337U (1.8GHz) which has lower turbo frequencies and a 200MHz lower nominal clock speed than the top-end model, but the only other sacrifices are the touchscreen and the Windows 8 Pro license. Everything else is the same as the spec table above, and it's at least a lot more palatable, especially when you take into account that Toshiba notebooks routinely sell for $100-$200 cheaper when they hit retail channels.
For your money, though, you do get an awful lot of notebook. The star of the show is going to be the 2560x1440 13.3" IPS display, which is essentially the highest resolution display currently available in a Windows notebook. The 16:9 aspect ratio means you lose 160 pixels of vertical resolution compared to Apple's 13" Retina MacBook Pro, but it's tough to complain too much when most of the Windows notebook market is still stuck in the 1366x768 stone age.
Backing up the beautiful display is a fairly snappy 256GB Toshiba SSD; I'm having a hard time discerning if it's using a third-party controller or one of Toshiba's own, but either way, it's fast enough to get the job done. It has to be, since nothing in the KIRAbook is user-serviceable, including the 8GB of RAM and the battery. Where Toshiba fails and fails hard is the wireless card, which is bargain basement Intel and doesn't feature 5GHz connectivity. In 2013, and especially in a premium-class notebook, this is inexcusable.
Toshiba has also gone the distance with the included software. While the boatload of Toshiba software included is on the bloated side, everything else actually makes sense. Full versions, not trials, are included of Adobe Premiere Elements 11 and Photoshop Elements 11, while the subscriptions to Norton Online Backup, Internet Security, and Anti-Theft basically cover the warranty length of the KIRAbook. The only trial software included is one month of Office 365.
In and Around the Toshiba KIRAbook
I'm of two minds when it comes to the design of the Toshiba KIRAbook. On the one hand, it's definitely an attractive ultrabook, manufactured primarily out of pressed magnesium alloy that Toshiba claims is stronger than the aluminum alloy used for the MacBook Air. On the other hand, while the KIRAbook certainly photographs well for Toshiba's site and there was clearly attention paid to the fit and finish, there's still something weirdly chintzy about the build quality.
First, the good parts: while the display uses a glossy coating, it's still very beautiful and the hinge is extremely sturdy. That at least allows you to use the KIRAbook's touchscreen without being too dainty or delicate about it and worrying about tipping the notebook over. The body of the KIRAbook is also borderline flexproof, and there's no flex in the keyboard. The white LED backlighting for the keyboard is also attractive, and the keyboard action is about as good as you're likely to find on a sub-14" ultrabook. I think I still ever so slightly prefer Dell's XPS 13 keys, but the KIRAbook has a much smarter keyboard layout.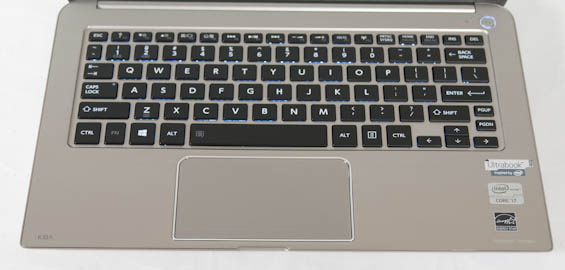 So why am I not completely on board with the KIRAbook? Because for $1,599 and up, there shouldn't be any flex in the screen or lid, especially not this much, and my thumbs shouldn't be able to bow the bottom panel of the notebook. The clickpad is serviceable, but it absolutely pales in comparison to the clickpads used on HP's EliteBooks. Finally, the silver and black with chrome trim has been kind of done to death. This was one place where I feel like Dell really nailed it with their XPS line by going almost entirely black. What about gunmetal? What about bronze? What about even going back to white? There are other aesthetics to work with, and Toshiba does the KIRAbook a disservice with such a conservative look.
Thankfully the overall experience of using the KIRAbook is a positive one. I don't ordinarily point out audio branding in the spec table because it's almost never actually relevant; notebook speakers generally suck, and no amount of Beats Audio or harman/kardon branding does much to change that. Yet the KIRAbook does appear to actually have specially designed speakers, and I bring this up because audio resonates from it loudly and surprisingly clearly. The low end is always going to suffer, but these really are subjectively the best speakers I've ever heard in anything short of a 17" notebook. Though they're down-firing, they actually produce more body and sound better on a flat surface than they do when they're clear, and I can only assume they were engineered that way.
I'm also not sold on touch in notebooks (and even less so on Windows 8's Modern UI in general), but the implementation in the KIRAbook feels like a solid one, owing at least partially to that well-designed screen hinge. The problems with the user experience of the KIRAbook, at least where Windows is concerned, have virtually nothing to do with the quality of the hardware and display and more with the pitfalls of Windows itself. Modern UI is productivity hell, yet it demands a touchscreen. Meanwhile, the traditional desktop is well suited to productivity, but touch is a total disaster there. The high resolution display also looks spectacular, but third party applications have always interacted horribly with Windows scaling, resulting in a series of compromises. None of this can be blamed on Toshiba; they're giving us what we've been asking for in the first place.
System Performance
The Toshiba KIRAbook may be using the current "entry level" low voltage Intel Core i7, but it's still an extremely fast processor. The Ivy Bridge-based i7-3537U features a nominal 2GHz clock speed and is able to turbo up to 2.9GHz on both cores or even 3.1GHz on a single core, power and thermals depending. The HD 4000 graphics are also able to jump to 1.2GHz, but that advantage is likely to be much more modest. Finally, the SSD in the KIRAbook is a very capable one and should help it out in PCMark.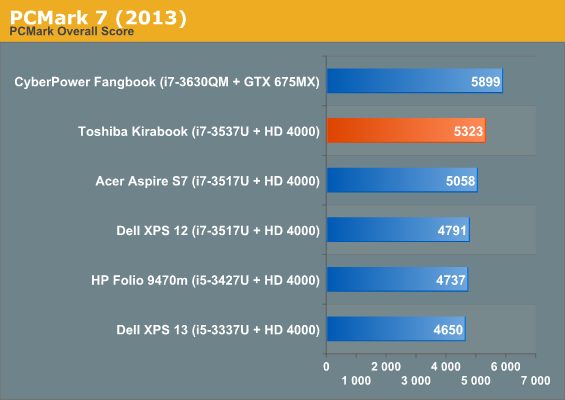 PCMark 7's leanings towards SSDs are essentially correct; as a whole, the i7-3537U in the KIRAbook is faster than any of the other ultrabooks tested, and the SSD is definitely snappy. It's remarkable that the vastly more powerful CyberPower Fangbook (which includes a 256GB Samsung 840 Pro) doesn't bludgeon the KIRAbook harder.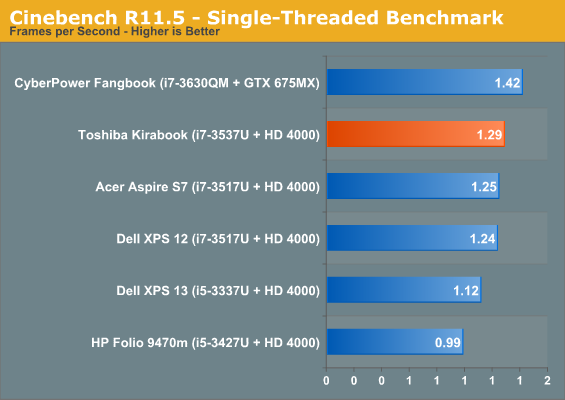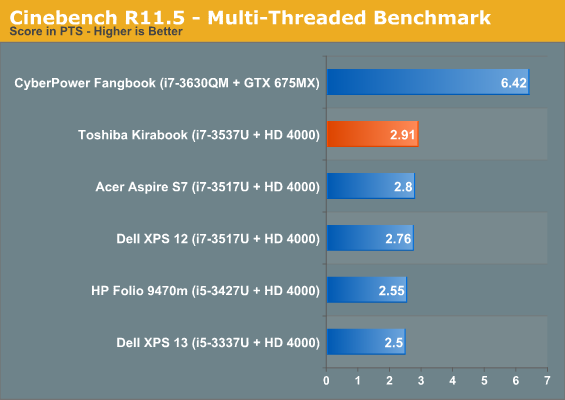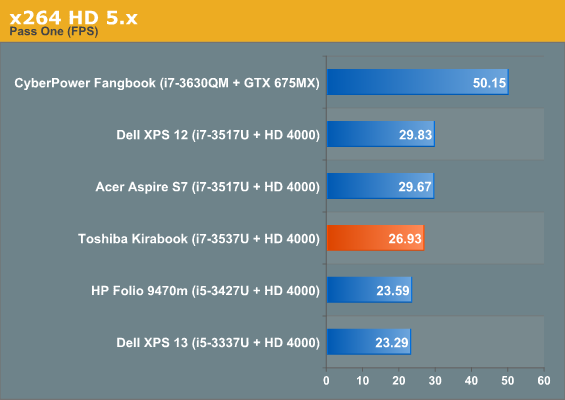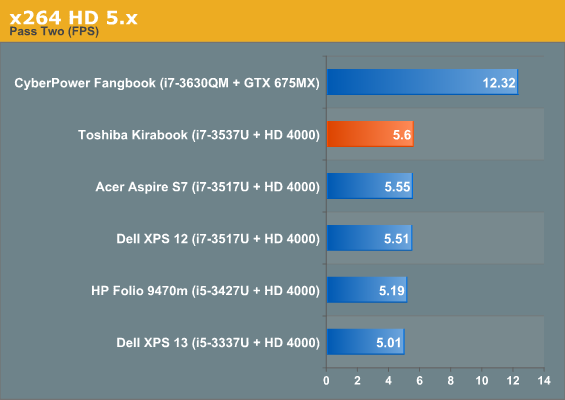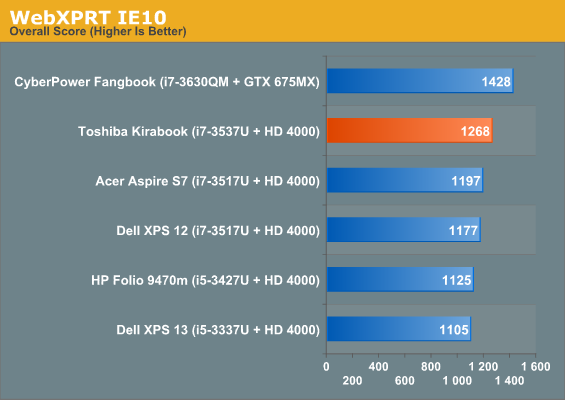 CPU-centric benchmarks are also mostly in the KIRAbook's favor, but the first pass in x264 isn't as strong as it ought to be. The entry KIRAbook will be equipped with the same CPU as the Dell XPS 13 in these charts, so you're looking at a measurable decrease in CPU performance going that route. If the extra $400 for the upgrade to our review unit meant more than just Windows 8 Pro, a touchscreen, and the i7-3537U it might be easier to justify, but the i5-3337U is still a totally serviceable CPU.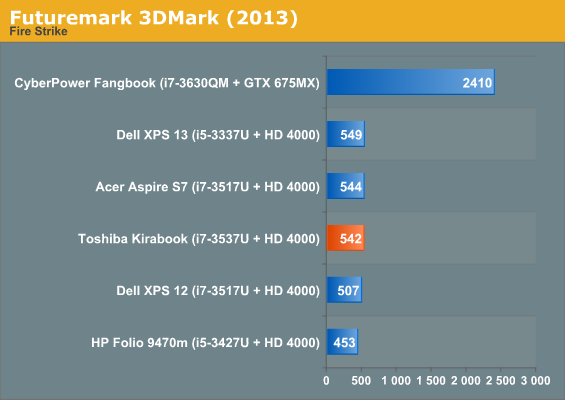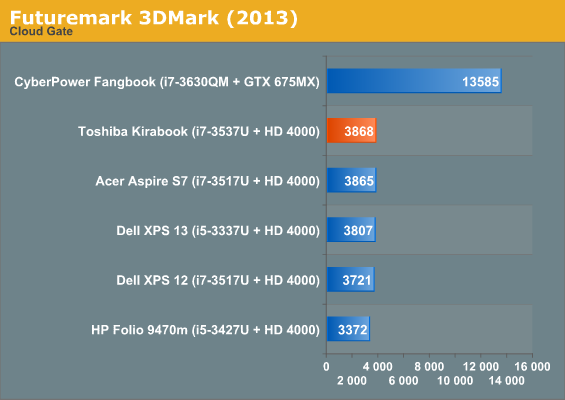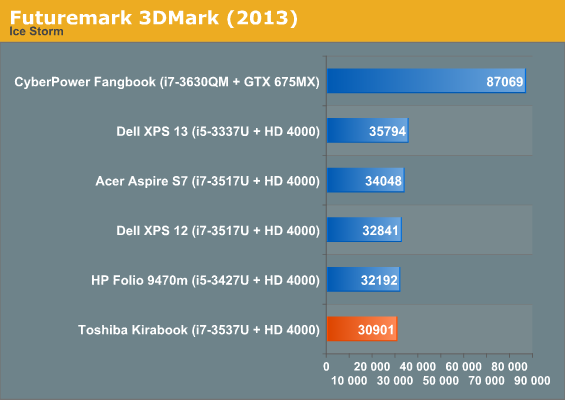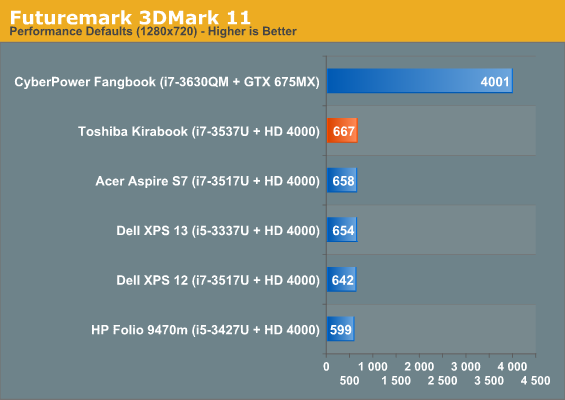 3DMark performance of the KIRAbook is pretty much par for the course; any differences between the ultrabooks listed can probably be chalked up to thermal design differences between individual chassis rather than differences in the CPUs themselves.
Display Quality
The Toshiba KIRAbook's claim to fame is its 2560x1440 13.3" IPS display, and that display really is a beauty. Viewing angles are excellent as one would expect, but there are two very minor issues. First, response time is good, but not great, and there's minor ghosting when dragging a window or the start screen. There's also backlight bleed on the edges of the display that's fairly typical of an edge-lit panel. Neither of these are dealbreakers and I'd still very easily take the KIRAbook's display over just about any competing notebook's, including the 1080p IPS stunner in the Dell XPS 13.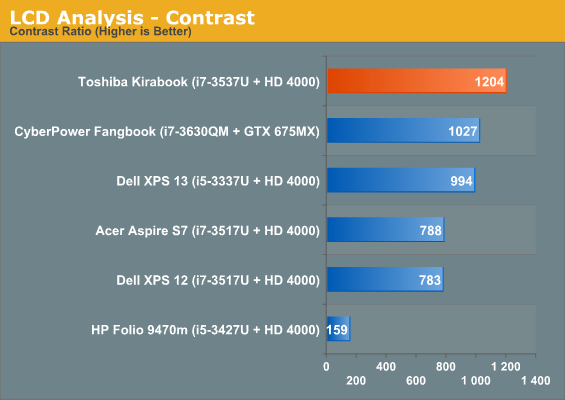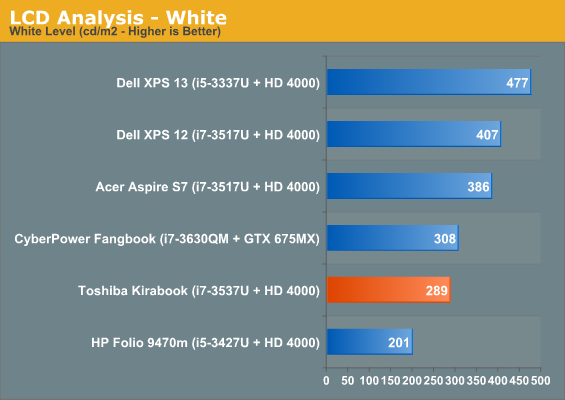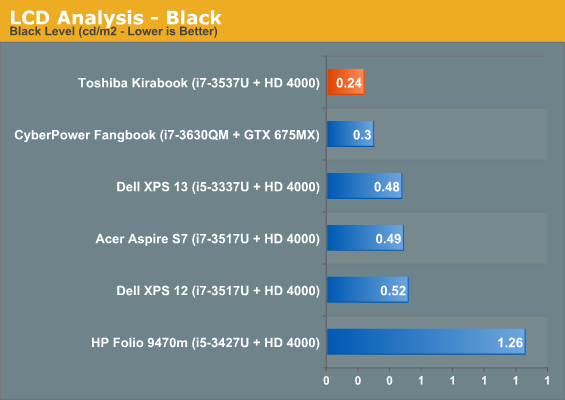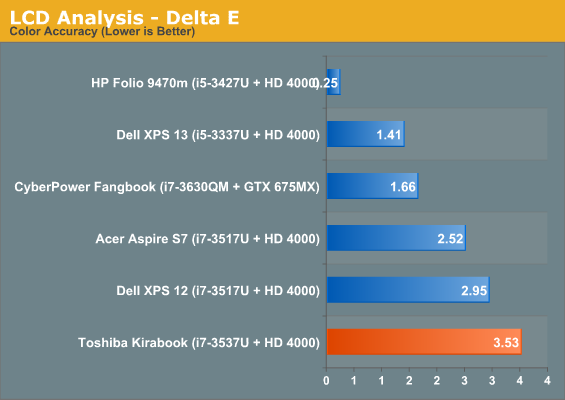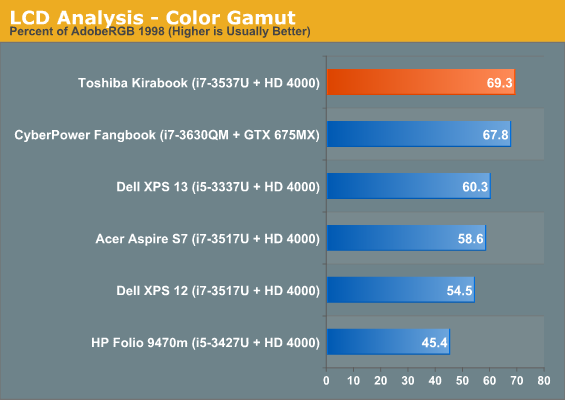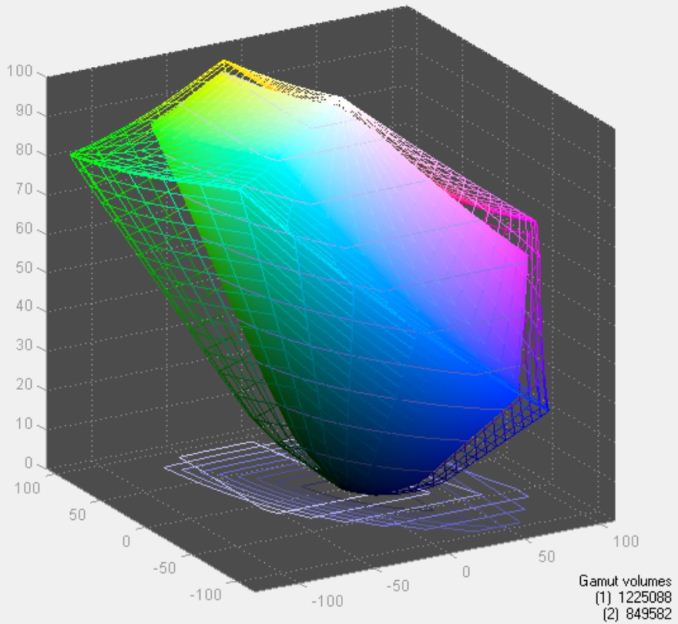 Everything about the KIRAbook's display screams quality except the measured delta-E, but in practice I found the display color to be plenty accurate and certainly worthy of the packed-in Adobe Photoshop Elements. Color gamut's quite good, brightness is beautiful without being excessive, and black levels are stellar. It's difficult not to be impressed with this panel.
Battery Life
When dealing with a high-resolution IPS panel, especially one as bright as the KIRAbook's, it can be hard to predict just how the battery life will play out. That's compounded by the fact that space for battery cells inside an ultrabook is always at a premium. The 52Wh integrated battery is at least slightly above average, though.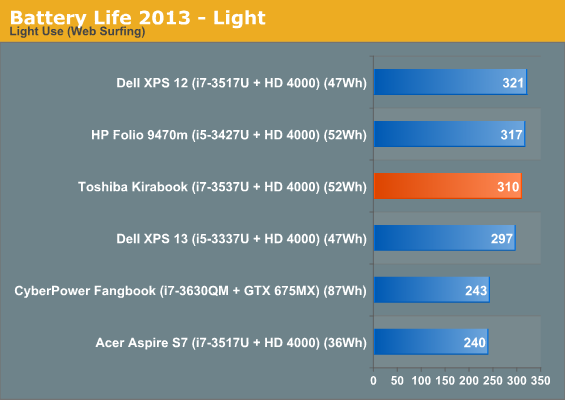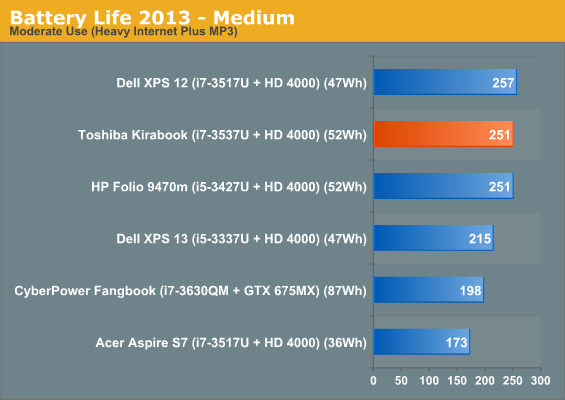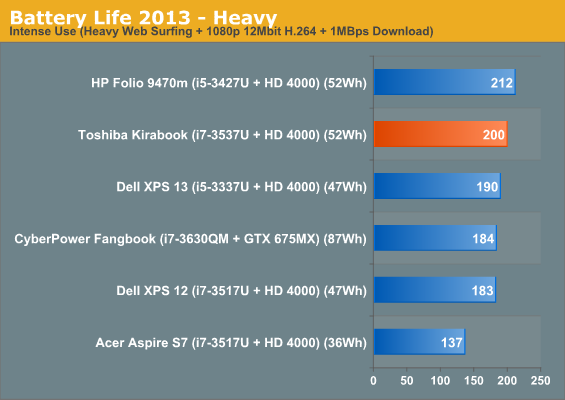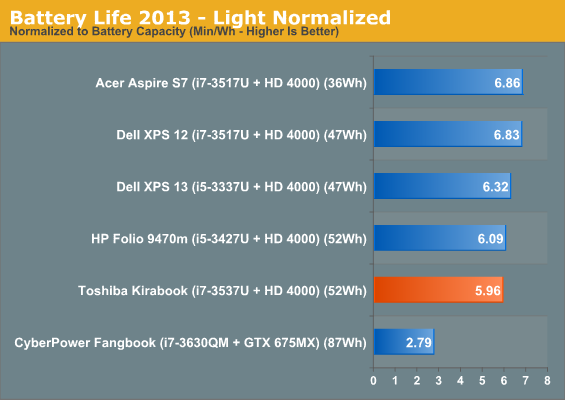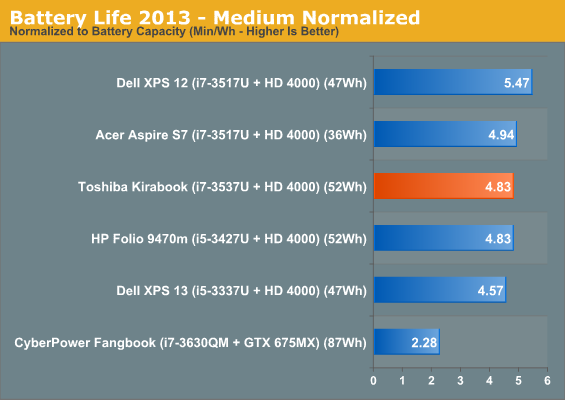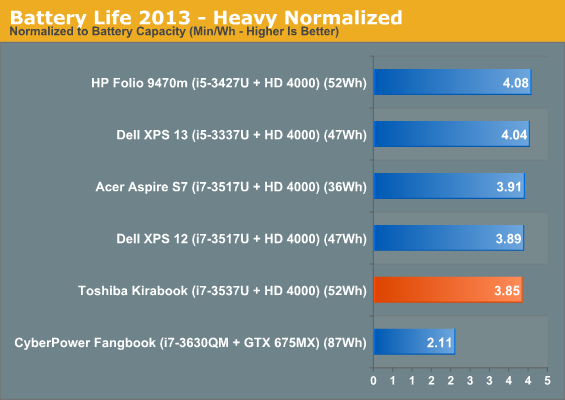 In broader terms, the KIRAbook produces battery life competitive with other ultrabooks in its class. When you normalize it, things look slightly worse, but not substantially so. There's clearly a very minor trade-off taking place to get that better display quality. That trade-off is largely negated by the slightly larger battery and substantially superior panel.
Heat and Noise
Toshiba made a big deal about the KIRAbook's cooling mechanism, but in practice this cooling system is essentially identical to the one in the Portege Z835. That worked out great for the Portege when we reviewed it, which featured a turbo-free Sandy Bridge low-voltage Core i3, but the KIRAbook has a harder time dealing with the horsepower of the i7-3537U.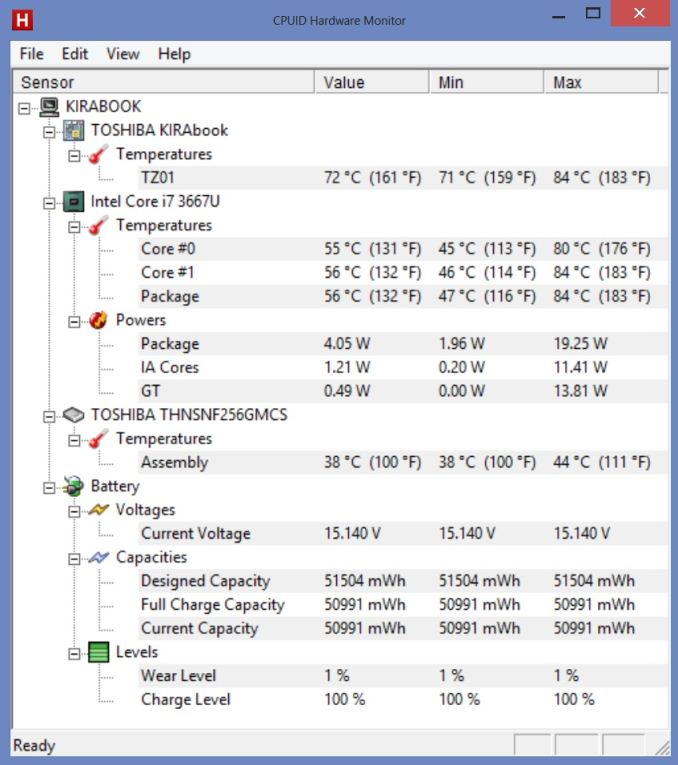 Thermals under load are quite good, but noise is much less so. Idle noise is stellar; the KIRAbook is basically inaudible. Sustained load hitting the CPU causes the fan to spin up gradually, and again I lament the bottom-intake fan. During Cinebench R11.5 testing the i7-3537U spent most of its time at 2.3GHz, and it did take a good minute or so before noise the fan started spinning up, and a low narrow whooshing was eventually accompanied by a slight whine. Thankfully surface temperatures never got uncomfortable, though I'd recommend against touching the area near the hinge on the inside of the notebook.
A far as cooling systems go, this isn't necessarily a bad one, but I'd almost give up some of the ports on one side of the KIRAbook just to get side-oriented cooling. The Acer Aspire V5-171 I reviewed was a budget notebook just a touch too fat to get the ultrabook branding (to say nothing of the dismal stock hard drive), but that extra girth also allowed it to integrate a vastly superior cooling system that made it much more practical in the long run.
Conclusion: So Very Close
Without having personally tested any of the ASUS Zenbooks, which at least around the "office" (disclaimer: there is not an office) are generally regarded as among the best ultrabooks on the market, I can't really speak too greatly on how the Toshiba KIRAbook measures up competitively. I can definitely tell you how the user experience measures up to the myriad non-ASUS ultrabooks I have tested, though.
The essential ingredients to any PC computing experience are the keyboard, the mouse/touchpad, the display, and responsiveness. Other factors only become relevant when they're extremes; an unusually fast GPU or CPU, or unusually high thermals or noise. When it comes to the user experience, Toshiba's KIRAbook offers one of the best you can have with an ultrabook. That needs to account for the slightly poorer keyboard quality stemming from the lack of thickness as well as the propensity for clickpads, both of which are compromises made when switching to an ultrabook. Yet Toshiba is able to eke halfway decent depth out of the keys, and the clickpad is serviceable if not mindblowing.
The big wins are the responsiveness and the display. Toshiba's SSD and healthy 8GB of RAM keep the KIRAbook running very smoothly, and the lack of bloatware is immensely appreciated. Display quality is, as I mentioned, absolutely stunning. There was also the pleasant surprise of the speakers, which are really as good as ultrabook speakers are going to get.
So why isn't the KIRAbook a slam dunk? The biggest reason is actually the price, because a starting price of $1,599 forces the KIRAbook into a class it has a much harder time competing in. If the entry level KIRAbook manages to appear in retail at $1,399 or even $1,299, it'll be a wicked deal and easily recommended. But starting at $1,599 and only going north produces some problems and throws design issues into sharp relief.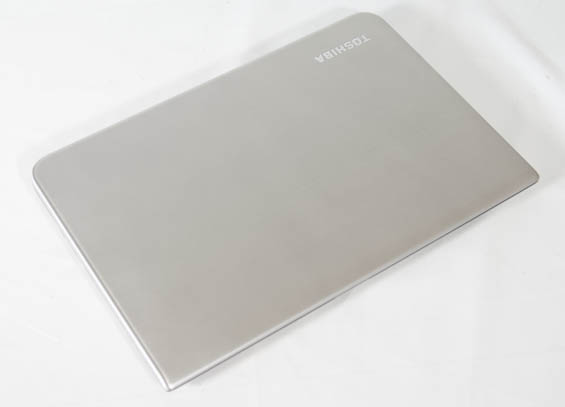 First, the lid flex is inexcusable at this price point, full stop. It's not horrible, but it's unnerving enough when you're dealing with a display as beautiful as this one is. The magnesium alloy that Toshiba is using also tragically doesn't look that great; it's not unattractive, but it looks like high rent plastic, which we can all agree wasn't what Toshiba was going for. Whether or not it's more sturdy than the aluminum alloy Apple uses (as Toshiba claims) becomes less relevant because it doesn't actually look better.
As far as the specs go, Toshiba did an admirable job and then inexplicably cheaped out with a vengeance on the wireless connectivity. Whether or not 5GHz connectivity is important may depend on the individual, but anyone spending $1.6k on a notebook probably shouldn't be using a cheap, $50 2.4GHz router and dealing with the interference of everyone else's cheap 2.4GHz routers. My smartphone does 5GHz, and a genuine dual band wireless card from Intel only adds $10 or so to the BoM, if that, so there's no excuse for this.
I also have a hard time recommending any model of the KIRAbook but the entry one. The $1,799 one is a joke; you're paying $200 just to add touchscreen capability to the KIRAbook. At least the $1,999 model (as reviewed) offers a faster processor and the expanded feature set of Windows 8 Pro, but the $200 price jumps are tough to justify.
Finally, the biggest fly in the ointment may actually be the impending launch of Haswell. If you pre-order and buy the first generation KIRAbook you're probably going to regret it in a few months; Haswell promises roughly 10% better IPC, and the low voltage models will enjoy a 2W lower TDP. It's tough to argue with better performance and less heat (and thus less noise), and hopefully in the refresh Toshiba will update the wireless card to something from the last year or two.
Is the KIRAbook a bad product? No, not at all, quite the opposite actually. But it's a good product that has a questionable price and poor timing, and that's ultimately where things go south. Price wise it's actually competitive with the PC market, but has a much rougher time competing with the 13.3" Apple Retina MacBook Pro, which actually starts at $100 less. That's the hard lesson PC manufacturers still haven't quite learned: you don't compete with Apple. You can make something that's ostensibly better than an Apple product, but if it's running Windows, you need to charge less for it. The best case scenario for the first generation KIRAbook is a fire sale after the Haswell-based refresh materializes, and that's a verdict I'm not at all happy to deliver for such a promising product.