Original Link: http://www.anandtech.com/show/6945/the-chromebook-pixel-review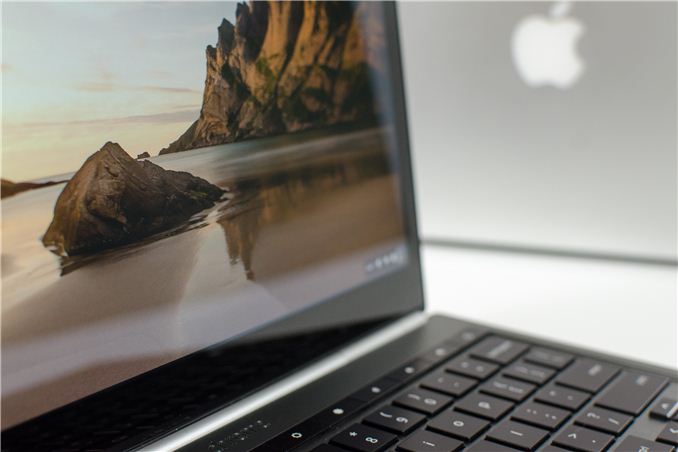 Context
Nothing exists in a vacuum, certainly not any of the products we review. The context of our subjects has a lot to do with what's expressed in our reviews, eve
n in the stark light of data. Scores alone are never enough, we juxtapose the latest widget to hit our bench against its most likely competition, against its predecessors, and against anything else that might make sense. We think about the era in technology, the trends that pervade the market, and where they'll take us in the coming months and years. We ask what the market's demands are, and where they're going to be later, and discuss how the subject handles those present and future demands. That's no different here, but we could almost imagine foregoing the Pixel's context and telling its tale absent its past, so disparate it seems from the Chromebooks that came before. But then we'd miss some of the most interesting bits.
Status
Utility
Every time we revisit Chrome OS we ask ourselves "Can we work with it?" As a writing tool, there's no question. The hardware and software limitations of earlier Chromebooks was like slipping blinders on. No distractions, just you and a writing web app. That's not all you can do with Chrome OS, though; web apps are becoming more powerful and appeal to users because of their ubiquity. Any modern device with a browser can run a web app and offer the same experience no matter the device context. The appeal is currently primarily for developers who don't have to worry about keeping separate branches of their code updated and optimized on different platforms. As HTML5 and Java progress, the apps built with them will both be more capable, and better able to tap into local resources for compute and data. You could almost imagine a chart that parallels Intel's "Compute moves to zero" chart, where instead of measuring size, you're measuring the limitations of browser-based code. So, once anything can happen in a browser, why not live entirely in the browser? Simply put, because we're not there yet.
Why not Android?
The argument goes something like this: Google has a great browser, and a great app platform, they should combine them in a laptop. Thus, the Chromebook should become the Androidbook. It comes up every time a new Chromebook is announced. It's an idea not entirely without merit. Android runs on ARM and x86 chipsets. It runs Chrome. It has an enormous stable of apps. But that all misses a key fact: laptops aren't phones or tablets. Chrome OS works because the PC is an utterly different user experience than mobile. And Google believes the conceits of a desktop environment can be best served by just one app: Chrome.
Utility Continued
The Memory Issue
Display
Starting with this review, we're introducing the Color Comparator tool from CalMAN, which they just introduced into version 5.1 of their software. Most often in reviews you will see the DeltaE value for colors that we are sampling, which provides a numerical idea of how far off from ideal a sample is. Anything below 1 you can't see when they are side-by-side, and anything below 3 you can't see while in motion. While this is a very useful tool to see how accurate a color is, it doesn't provide someone with a visual idea of the error.

The color comparator tool shows the ideal colors right next to the actual colors, so you can see where the errors are. Even with an uncalibrated display you can get a good idea of the amount of error that is present. Of course, the more accurate your display is, the more accurate the differences will appear to be, but it still provides a more real-world example. It also lets you possibly compare two displays where the dE values might be 0.7 and 1.0 and see if you can actually tell a difference, or if you are splitting hairs at that point. More information can be found on this tool here http://store.spectracal.com/colorcomparator but hopefully this proves useful to our readers.
Input
Performance
A friend saw me using the Pixel and asked if he could give it a try. After admiring the design and hardware he opened it up and said, "But this is basically just an iPad with a keyboard, right?" I didn't know how to answer the question. I'd never considered the comparison, indeed I didn't even think to include the iPad 4 as a point of reference in this review. How is the Pixel like an iPad? It took me a while to process, but I think what my friend was getting at is that the Pixel is primarily for consumption, in the same way as the iPad. Different approaches to the future of computing, with the same pitfalls. I got the same feeling from reading Anand's Surface Pro review. Microsoft is so convinced that this hybrid strategy is the way to go, but in their case the hardware falls short, providing an imperfect tablet and notebook experience. Meanwhile, the aforementioned iPad has excellent tablet hardware and software, but trying to get work done on one is mostly folly; chock it up to a form factor that doesn't hold up for lots of typing and a UI that's better suited to the unitasking of media consumption than the multitasking of even the full GMail/GTalk website.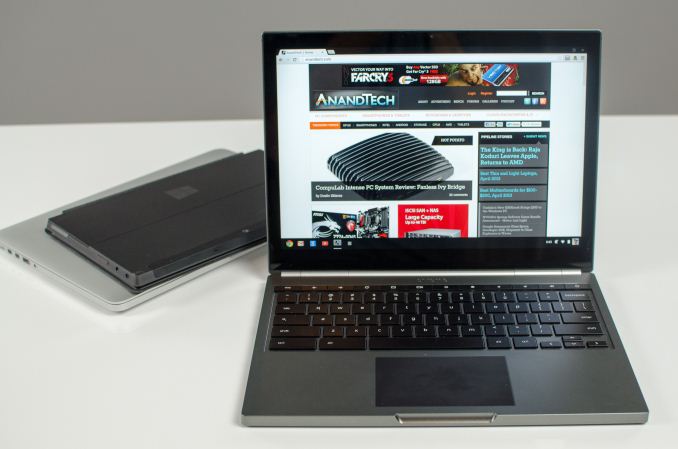 Battery Life
Conclusion
Something magical happened during the course of this review. I know many of you have been waiting for it, and we apologize for the delay. But truth be told, it was worth it. I'd already spent a few weeks with the Pixel when it entered the bowels of Anand's lab to have its display characterized. I used that time to put together much of what you're about to read. My conclusion was somewhat complex but came to this: If you want Chrome OS to succeed, can put it to good use now, and have Retina MBP class money to spend, you should get it. Philosophically the flaws of Chrome OS are its assets, and its assets are occasionally flawed. And once I'd retrieved the Pixel from Anand's labyrinth (you thought I meant laboratory didn't you?) I opened it up to give it one last look, and something magical had happened. It got better.
Operating systems change and improve, that's nothing new. Bug fixes are and point updates are released that buff up the design, smooth out the dings and add functionality. This is generally something that trickles out over months, if not years. Yet in just a few weeks, Google's team had brought to the Stable release more fixes and features than I was prepared for, and which sent much of my review back to square one. And, perhaps, that's the perfect introduction to this review; a testament to the fact that if nothing else, when you buy a Chromebook, you're buying something that's getting better faster than any other operating system you've used before.
The user experience remains limited. Some have joked that Chrome OS should have a giant Beta tag on its side; indeed, these naysayers may have a point. If that is the case, the value of your $1300 lays not with the silicon, lithium-ion cells, metal chassis, nor that display; the true value of the Pixel comes in the potential that comes with a platform given nearly all the hardware features we could ask for. Chrome OS continues to improve, with frequent updates that affect every aspect of the software. Packaged apps, Native Client and asm.js are all new techniques for bringing more immersive, beyond-the-browser style apps; while APIs like WebRTC, WebGL and WebAudio enable more complex applications to be built entirely within the browser, and leveraging hardware resources for performance. Indeed, Chrome OS's future seems ever more fortified by the preponderance of web apps being introduced by Google at I/O this year. Some of the most exciting things that surfaced during the keynote were services that span across all platforms. Multiplayer games that can be played on iOS, Android or any Chrome browser. Notifications that can be responded to or cleared in your browser, and register as acted upon on your phone. All enabled through services and incorporated with no user intervention.
Frontiers aren't for everyone, though. There'll never be many buyers for the Pixel, and Google was always going to be okay with that. Though they built this to serve a particular sliver of the market, it faces competition even there. The stiffest competition comes from an unsurprising place: the 13" MacBook Pro with Retina Display. Starting at $1499, it is just a hair above the LTE model we're testing today, and not so far from the base Pixel to leave them in distinct price categories. And for your extra cash, you get a capable operating system with an existing application ecosystem able to serve the most discerning of users. And that's the real clincher, any app you'd like (even Chrome), not just the promise of a bright future of web apps. Google's content to bring all of Chrome's features to every platform, so that the success of the web as a platform can be available to all. So, if you're not ready, consider the rMBP. If, on the other hand, you're ready to leave all other platforms behind, and set forth with only Chrome by your side, then you'll find no better option than the Chromebook Pixel.