Original Link: http://www.anandtech.com/show/6951/nzxt-h630-silent-case-review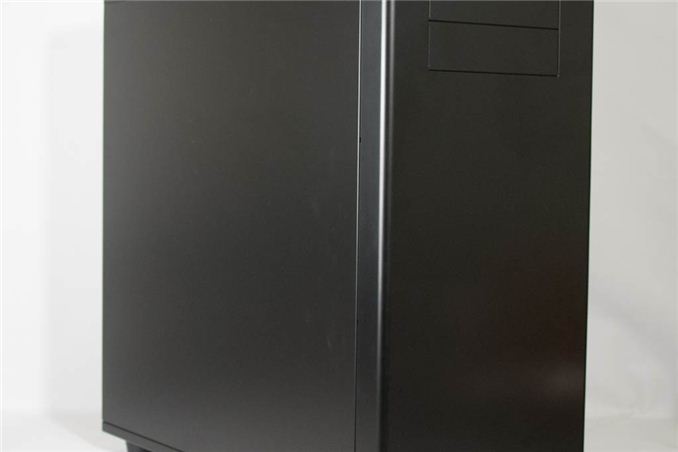 Introducing the NZXT H630
I had a chance to check out the NZXT H630 in its prototype stages a couple of months back, and I was suitably impressed. It seems simple to think about, but understand that breaking with accepted tradition can be a very unusual thing. Companies like SilverStone have their own traditions in and of themselves, and they live on the fringe of design, and NZXT is slowly plotting a course to those same outer reaches. What I'm getting at here is something I don't feel like other vendors have seriously considered: a silent case...without a door.
It's kind of a funny thing to think about. Nanoxia's Deep Silence 1 heavily tweaked the whole "door" concept by splitting it in two, but NZXT's new H630 eschews having a door entirely, and their logic is sound. If you ask why a door is needed, it's hard to come up with a really good answer. The door will certainly block noise from a spinning optical drive, but optical drives themselves are a dying breed, and gamers largely don't even need them anymore.
There's a lot of that "why didn't anybody think of this before" kind of mentality going on with the H630, and when you couple it with an incredibly striking modern aesthetic, you wind up with something that's fairly familiar at first but is remarkably progressive in the details.
NZXT H630 Specifications
Motherboard Form Factor
Mini-ITX, Micro-ATX, ATX, E-ATX, XL-ATX
Drive Bays
External
2x 5.25"
Internal
8x 2.5"/3.5", 2x 2.5"
Cooling
Front
1x 200mm intake fan (2x 200mm fan mounts, or 2x 140mm, or 3x 120mm)
Rear
1x 140mm exhaust fan (supports 120mm)
Top
2x 200mm/140mm or 3x 120mm fan mounts
Side
-
Bottom
2x 140mm/120mm fan mounts
Expansion Slots
9
I/O Port
2x USB 2.0, 2x USB 3.0, 1x Headphone, 1x Mic, 1x SD card reader
Power Supply Size
ATX
Clearances
HSF
190mm
PSU
280mm
GPU
354mm
Dimensions
9.65" x 21.54" x 22.32"
245mm x 547mm x 567mm
Weight
30.9 lbs. / 14 kg
Special Features
USB 3.0 via internal header
Integrated SD card reader
Multiple removable drive cages
Integrated fan hub
Rear I/O lighting
Sound-suppressing foam
Price
$149
With NZXT there has been a gradual evolution in terms of feature sets. Many Taiwanese manufacturers make the mistake of just including a boatload of features regardless of whether or not they add value to the product, and oftentimes they'll shortchange the actual design of the enclosure in the process. NZXT's cases have been more frequently integrating authentically useful features, and there's a clear train of thought that goes into these inclusions. The switchable I/O lighting around the expansion slots and I/O ports in the back is unique to NZXT but seems like a no-brainer, and the integrated SD card reader is so obvious it's mystifying why other manufacturers aren't including it.
In and Around the NZXT H630
The exterior of the NZXT H630 is a wonderfully simple, beautiful thing. They asked me if I wanted a black model or the two-toned white and black version; I think the white and black is beautiful, but at the end of the day, black goes with everything. Where I suspect users may take some issue with the H630 is in its use of a predominately plastic shell, but the plastic actually makes sense for the design from at least a practical perspective. Keep in mind that the chassis itself is built of sturdy steel (essential for producing a vibration-free and silent enclosure). My mistake, the outer shell is also steel.
As I mentioned in the introduction, NZXT eschews using a door for the H630; instead there are just two 5.25" bays on the front of the case, with the NZXT logo at the bottom and a dim white activity LED at the top right. The unusual contour at the top of the front fascia blends with the contour on the top of the case itself, creating a beautiful accent. Unfortunately, I feel like NZXT didn't quite capitalize on the opportunity to add a little bit of discreet ventilation here. On top of the case is the power button and a recessed reset button, and the ring around the power button glows a soft white when the system is powered on.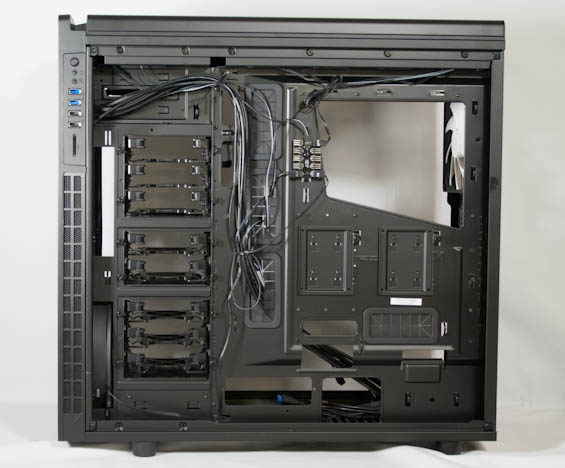 If you take a tour around the case you're going to see a lot of flat surfaces, but the way the case is vented is slightly unusual. The right side of the case sports the switch to toggle the I/O lighting along with the audio jacks, USB ports, and the integrated SD card reader. Beneath this cluster is a patch of fairly inconspicuous ventilation, but that ventilation is not mirrored on the opposite side. That's a tough judgment call to make; I understand why the opposite side isn't vented, but I do think it would've been a reasonable sacrifice to make for potentially superior airflow. Around the top rim of the H630 is more similarly discreet ventilation. Note that like the chimney on the Nanoxia Deep Silence 1, this ventilation does not correspond to headroom for fans or radiators.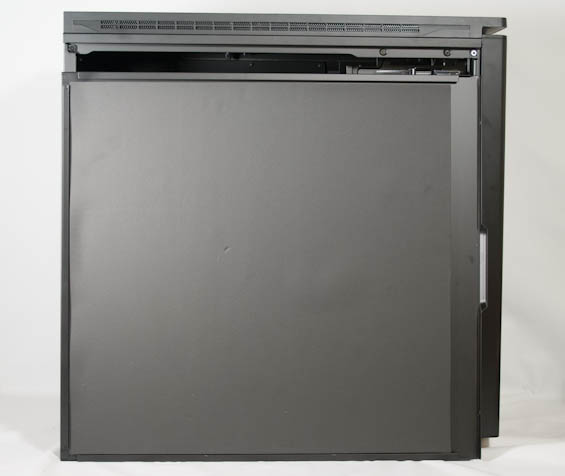 The two side panels are held in place by thumbscrews, and mercy of mercies, they're hinged. The top and front panels are also designed to pop off, but on my pre-production review unit, the front panel is borderline impossible to remove. This is a recognized flaw in the review batch of cases and it's my understanding that it will be corrected in retail. I personally find the choice of dampening material particularly interesting; NZXT opted for 7mm thick sheets of closed cell foam on the insides of the side panels along with the interior of the top panel.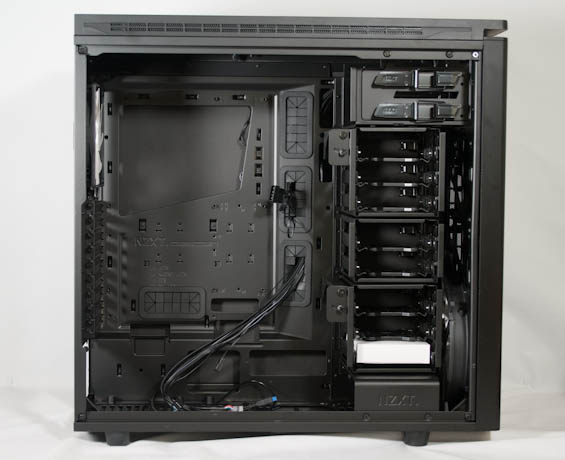 When you do reach the H630's interior, it's pretty traditional NZXT. There's a slight incline surrounding the motherboard tray to aid in cable routing, but I was disappointed to see the modular drive cage design doesn't inherit the brilliance of the Phantom 630's 1-2-3 stacking. Instead there's a 3-2-3 combination. Note that there are also two 2.5" trays docked behind the motherboard tray; this area gets toasty, but it's totally reasonable for SSDs and is a great way to free up space in the interior proper.
While I'm fond of the H630's design overall, and I believe the plastic shell was actually a smart design choice given the case is still 30 pounds, the interior isn't quite as progressive as the Phantom 630's was. I get the sense that NZXT definitely still has room for improvement here. Externally, though, I think it's absolutely stunning and breathes new life into the "black monolith" case aesthetic. That, and while I've never been a big fan of the "stormtrooper" look of NZXT's Phantom cases, the H630 is stunningly and wonderfully tasteful and sleek.
Assembling the NZXT H630
While we're still not quite at Corsair levels of obscene ease of assembly, NZXT's designers are still pretty clearly thinking about the end user and how to make their life as easy as possible. That means an included fan hub with both of the included fans already connected and carefully wired, motherboard standoffs already installed, and smartly routed header cables. With all of that in mind, it should come as no surprise that assembly went mostly smoothly.
Popping the I/O shield in was a non-issue, and about the only thing NZXT has left to do to make motherboard installation easier is to place an alignment stud at the center mounting point as Corsair has taken to doing. Clearance around the testbed board was good, and the right-angled SATA ports were easy to connect without issue. The H630 is a pretty decently sized case, but that size is mostly well utilized.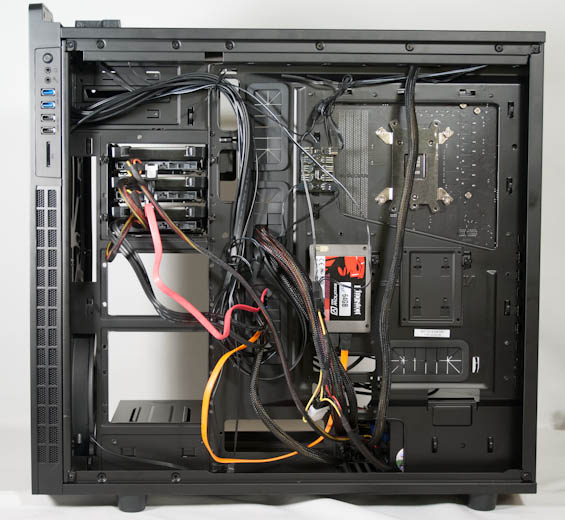 I'm not completely sold on having the drive sleds oriented to enter from behind the motherboard tray instead of above it. NZXT's logic is that you'll only really use them when you're installing and removing drives and thus need to cable everything anyhow, and their logic is sound. At the same time, the area behind the motherboard tray is almost always a no man's land in any case, and when I tinker with my desktop (and I tinker often) I typically avoid removing that side panel at all costs. So while I prefer having the drive trays slide out from above the motherboard tray, I can see where they're coming from.
The 2.5" drive trays that hang out behind the motherboard tray are a fantastic addition and perfect for SSDs, though. These are held into place on rails and a single thumbscrew each, and they're very secure. I've chided NZXT for their flimsy 3.5" trays in the past, though, and I regret to inform you that those flimsy trays are still present in the H630. The modular drive cages themselves are all held in place by four thumbscrews each, and they're on rails. For review purposes I removed the bottom two to clear airflow from the 200mm intake fan. Due to the way drives enter the drive cages, a right-angled SATA connector can't be used for the bottom-most drive in the cage, and clearance for bending SATA power leads is far less than ideal.
As I mentioned, the front panel on my review unit just wasn't coming off, so unfortunately I can't comment on how easy or difficult a 5.25" drive would be to install. The shields for the 5.25" bays are actually screwed into place, which I appreciate for security's sake but it does make my job a little bit more difficult.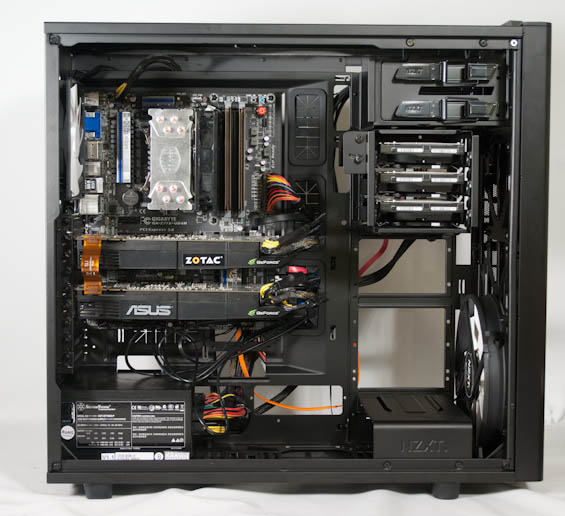 Finally, installing the expansion cards and power supply and then wiring everything up was for the most part pretty easy. I think NZXT runs into a little trouble with routing the AUX 12V lead, as the holes in the motherboard tray for routing that cable are narrow. I'm also concerned that while the H630 should support 360mm radiators in both the front and the top of the enclosure, clearance in the top may be problematic. Since the fan mounts are hidden by the top panel, it would've made more sense to either increase the height of the case or shift the 120mm and 140mm mounts closer to the outside of the case rather than dead center. As it stands a radiator or fans will run the risk of butting up against VRM cooling or RAM slots; our testbed has enough clearance, but it's extremely tight.
It's hard to complain too much about the H630's interior, but this isn't quite the kind of progress we saw when NZXT moved to the Phantom 630. The H630 is using essentially the same internal chassis as the Phantom 630, but the Phantom's more elegant drive cage system is missing. It honestly seems like NZXT wasn't entirely sure what to do with the extra real estate afforded by dropping down to two 5.25" bays when it came time to design the drive cages.
Testing Methodology
For testing full ATX cases, we use the following standardized testbed in stock and overclocked configurations to get a feel for how well the case handles heat and noise.
Each case is tested in a stock configuration and an overclocked configuration that generates substantially more heat (and thus may produce more noise). The system is powered on and left idle for fifteen minutes, the thermal and acoustic results recorded, and then stressed by running seven threads in Prime95 (in-place large FFTs) on the CPU and OC Scanner (maximum load) on the GPU. At the end of fiteen minutes, thermal and acoustic results are recorded. This is done for the stock settings and for the overclock, and if the enclosure has a fan controller, these tests are repeated for each setting. Ambient temperature is also measured after the fifteen idle minutes but before the stress test and used to calculate the final reported results.
For the "full fat" testbed, the GTX 560 Ti is swapped out for a pair of GTX 580s, and three hard disks are added to fill out the case.
Thank You!
Before moving on, we'd like to thank the following vendors for providing us with the hardware used in our testbed.
Noise and Thermal Testing
I've mentioned before that when I go into actually testing a case, I generally have a decent idea of how it's going to perform. That wasn't true with the NZXT H630, though; most silent cases use some combination of 120mm or 140mm fans for the front intake and then a single one in the rear. In the H630, on the other hand, NZXT used a massive 200mm intake fan. At the same time, though, I was skeptical as to whether or not the ventilation in the front would really be adequate.
Our stock testing configuration is in many ways a best case solution (no pun intended) for testing silent cases, as the hardware isn't being pushed too hard and the sound-dampening materials are allowed to do their job. Unusually, NZXT doesn't include fan control with the H630, instead opting to just try to include quiet fans in the first place.
Ambient temperature was roughly 23C during testing.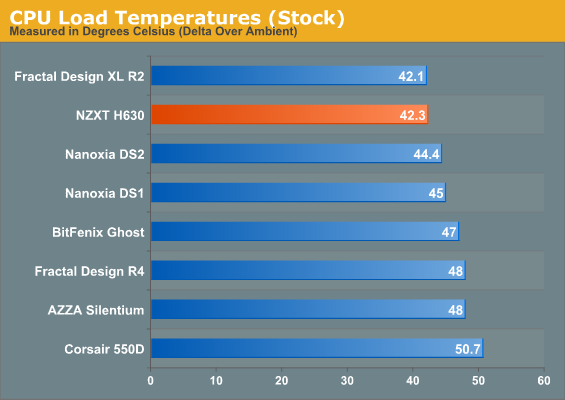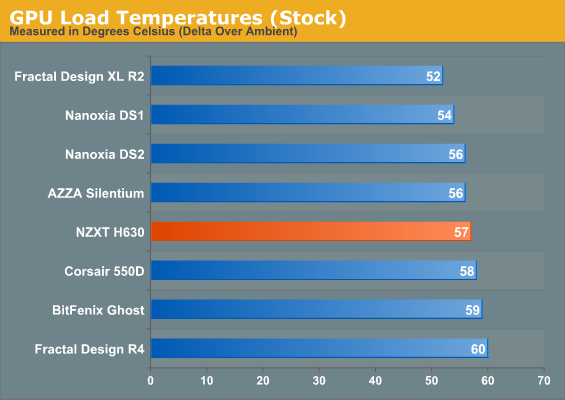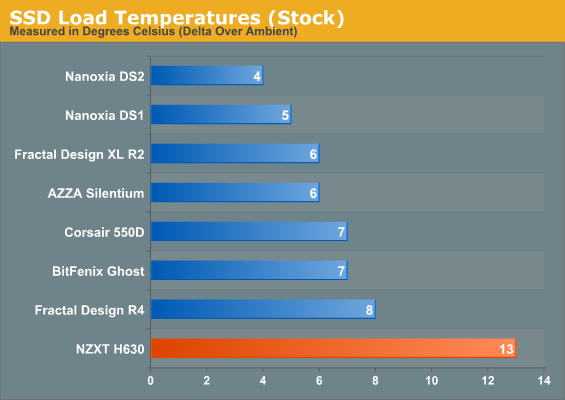 Stock thermals are generally good. The SSD is running toasty, but it has no direct airflow behind the motherboard tray, and it's still well below spec. The queen bee that NZXT has to contend with is the Nanoxia Deep Silence 1 (as well as the Deep Silence 2); while the DS1 doesn't offer exceptional performance in the standings, it has a stellar blend of thermals and acoustics and handles that balancing act very well.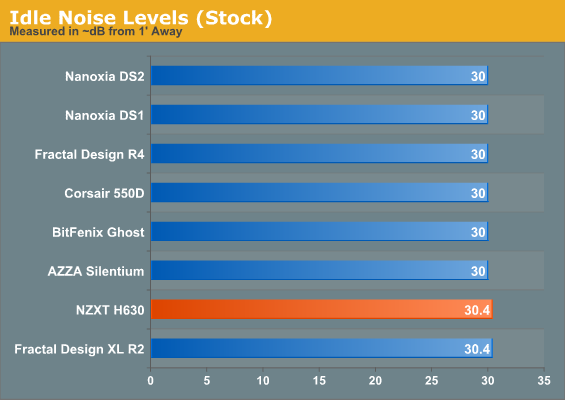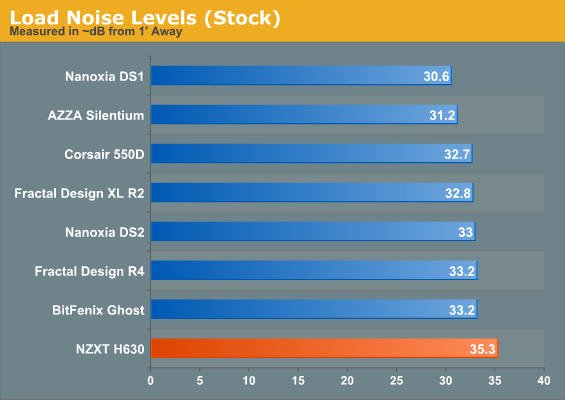 Unfortunately, fan noise is a real problem for the H630. Interestingly, though I was of the impression that there wasn't enough ventilation for the H630, I might have been wrong. The H630 is the loudest "silent" case I've tested under load. This is one of those places where Nanoxia's Deep Silence 1's chimney turns out to be a killer feature; the design of it muffles noise without crippling airflow.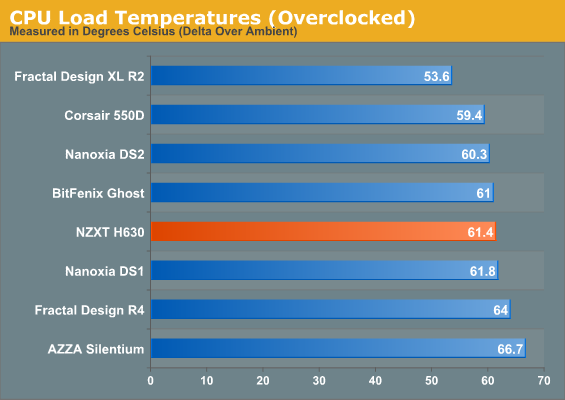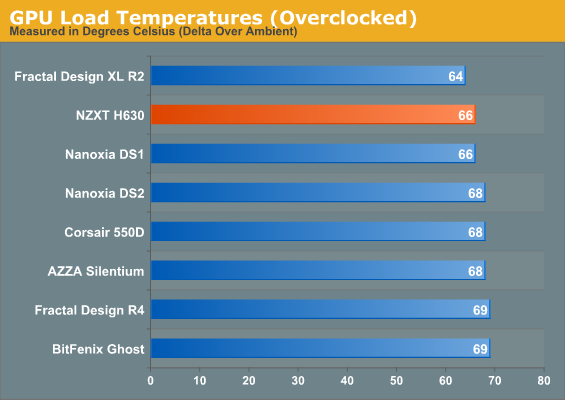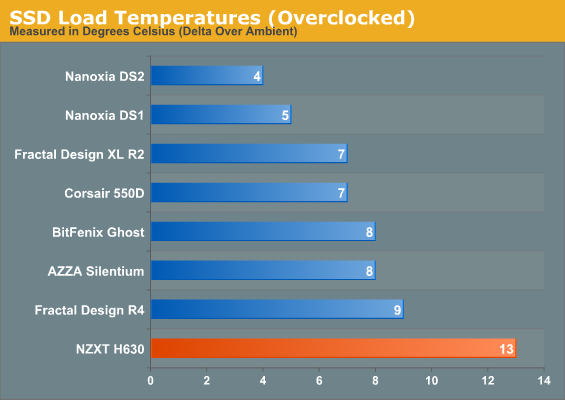 Our overclocked testbed's thermals are where the screws start really getting put to the H630. Thermally it keeps pace with the Deep Silence 1, though Fractal Design's competing Define XL R2 puts in a much stronger showing.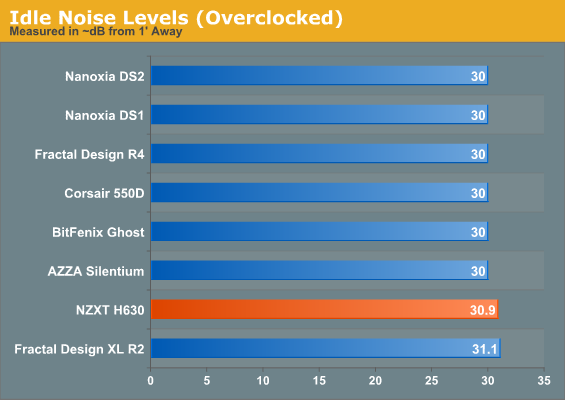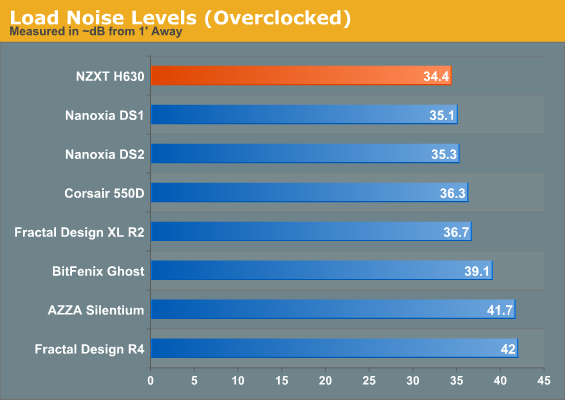 Interestingly, the H630's fortunes turn when noise levels are measured. While idle noise remains less than ideal, load noise is surprisingly strong, even performing slightly better than the Deep Silence 1 and 2.
Unfortunately I don't have results for any of the silent cases we've tested using our freshly minted "full fat" testbed, so we'll have to see how the H630 fares against the other cases that were tested after we put together that bed. This is for all intents and purposes not a fair fight, but should at least be somewhat educational.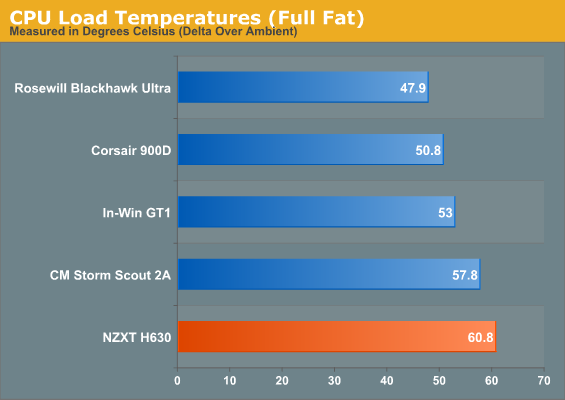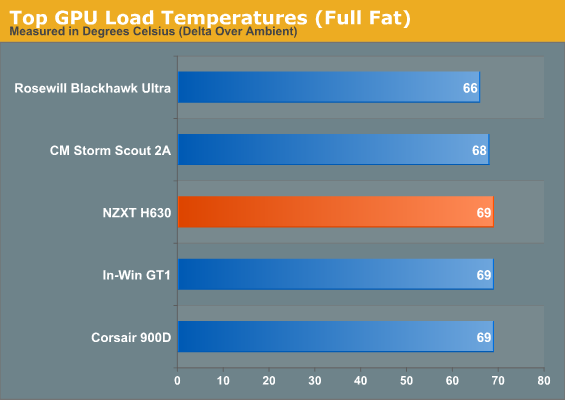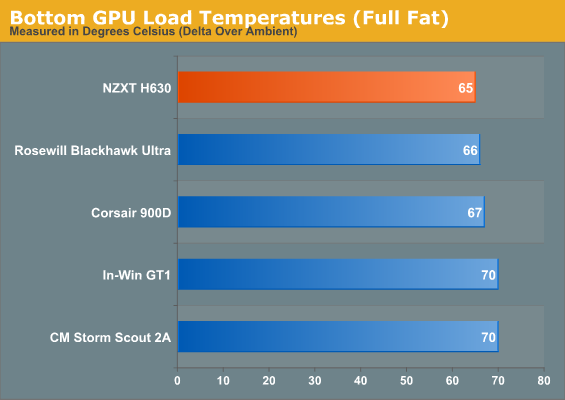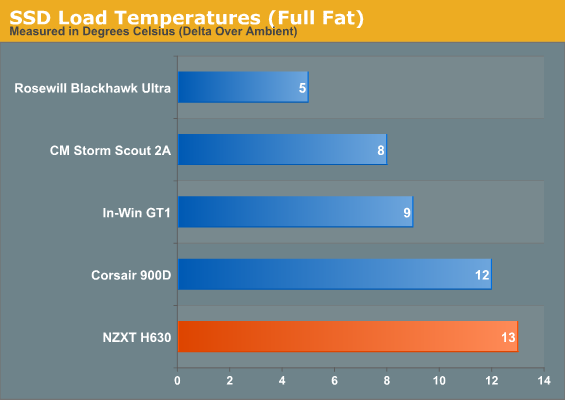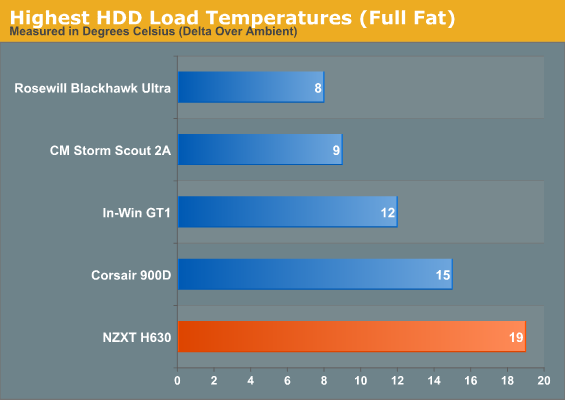 Results aren't great but they're not completely terrible either, and under the circumstances the H630 actually performs pretty admirably. Note that the hard drive thermals are a product of a conscious decision to employ the topmost hard drive cage instead of the bottom. I elected to keep airflow clear for the rest of the case as opposed to having cool air directly flow over the hard drives, and a small heat pocket does develop in the top without active air flow.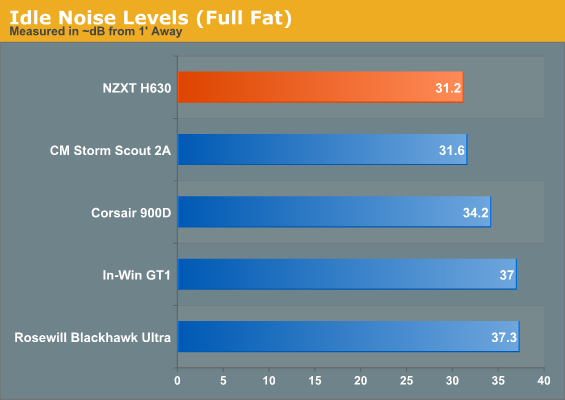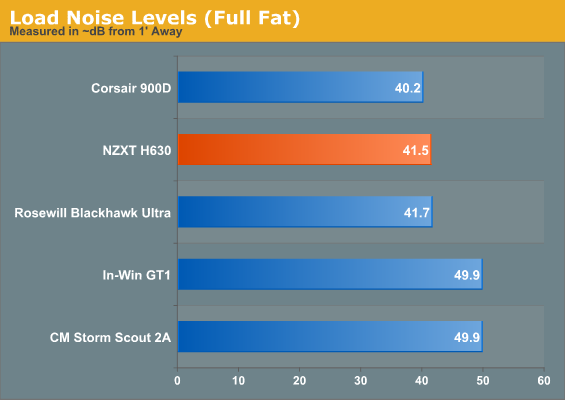 Noise levels aren't great, but they're actually very competitive, all things considered. NZXT targets the H630 for cooling and silencing high-powered components, and while it seems to have had at least some trouble doing that (as have the other competitors), it at least has potential.
Conclusion: Different Beast
I'm of a hundred different minds when it comes to evaluating the NZXT H630. When I saw the prototype illustrations toward the end of March, I immediately envisioned an amazing enclosure. Yet like any great imaginary love affair, my ideal for the H630 was very different from the reality. That's not to denigrate the H630, but it can be difficult to separate the product that is from the product that could have been.
Keeping with tradition, we'll evaluate the product that is on its own merits. First, I'm incredibly taken just by the way the H630 looks. From any vendor this aesthetic would be a pleasant surprise, but from NZXT? The "stormtrooper" styling of the Phantom cases has always been just this side of gaudy (though it does shrink down amusingly for the 430), and though the Switch 810 has been a solid performer for NZXT it's still had a hard time reconciling asymmetry with genuine style. The H630 gets it.
Build quality is, drive sleds notwithstanding, uniformly excellent. The case is 30 pounds to begin with, I can't in good conscience ding them for using a plastic shell that keeps it from being any more needlessly heavy. That, and again, it's obviously not a major detriment or even really a minor one. It's how good plastic should look and feel. This is a strong, sturdy case, with smart material choices all around, and outside of the excessively difficult front panel that came with my pre-production model, it's easy to build in and has almost all of the features I could ask for. (Cue gripe about the lack of an integrated fan controller.)
Where the H630 runs into trouble is the same place most acoustically-geared cases tend to: cooling. Thermal performance is good, but acoustics could actually be greatly improved. I'm not ready to suggest closing off the top ventilation to try and keep noise from escaping, but I think the H630 really brings to light the same problem that plagues NZXT's Kraken coolers: NZXT fans are kind of middling. The fans Nanoxia uses on the Deep Silence 1 and 2 are extremely efficient, but they're also so quiet that fan control isn't really needed on those cases (though it's available.) Running a 200mm intake fan in the H630 is a smart idea, but it needed to be slower and less audible.
Alternatively I'd almost suggest NZXT take the hit to the wallet and include two 200mm intakes at lower speeds, as I imagine it could only improve performance, potentially substantially. Good airflow is in many ways key to keeping noise levels down, as it keeps internal cooling from having to work too hard. Really, though, NZXT needs to source or design more efficient fans for all of their product lines. They don't need to start courting Noctua, but this is one place where there's real room for improvement.
As for the chassis itself, it's a very strong first outing for what's actually a somewhat unconventional approach to silent cooling. The H630 doesn't feel like quite the knockout that the Phantom 630 was, but there's a tremendous amount of potential here. NZXT needs to figure out a proper balancing act for this case, as I can see a revision being an absolute terror to compete with.
At $149 the H630 isn't bargain priced, but it's not at all unreasonable for what you get either. Until the Deep Silence 1 becomes more readily available in the United States again, you're looking at an unusual split of recommendations. For most users I think the still readily available Deep Silence 2 is going to be the value champion; at $89, it's practically a steal for what you get. The H630's real competitor may be the Fractal Design Define XL R2, and I can see arguments for going in either direction. Personally, I think the H630 is more forward thinking and has more potential than the XL R2, though the XL R2 definitely has its own merits. Evaluate your own needs, but if you think the H630 is what you're looking for, I'd say buy it with confidence.