Original Link: http://www.anandtech.com/show/6969/mythlogic-callisto-1512-clevo-w550eu-ultrabook-review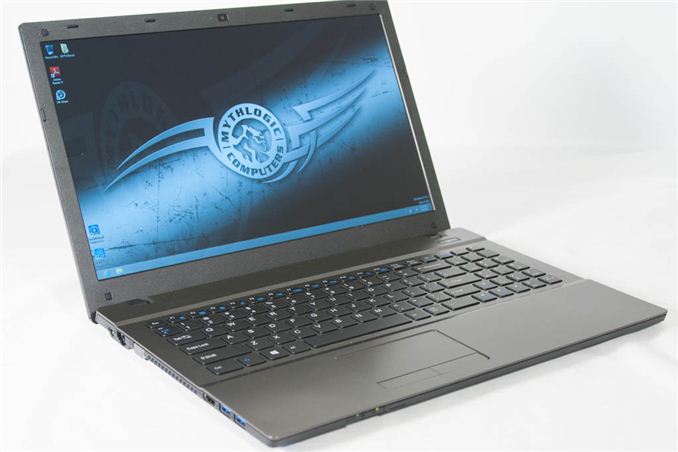 Introducing the Mythlogic Callisto 1512 (Clevo W550EU)
While boutiques and SI's have traditionally had a pretty decent stronghold where the consumer desktop was concerned, the notebook market has been a lot more unstable. Vendors like AVADirect, CyberPowerPC, iBuyPower, Puget Systems, and today, Mythlogic, are all essentially at the mercy of primary ODMs like Clevo, Compal, and MSI to give them whitebooks they can custom build for their customers. With ultrabooks gaining traction, that puts serious pressure on these vendors, as conventional 13.3" and under ultrabooks are much harder to offer in a customizable shell. Intel's 20mm or less thickness spec means socketed CPUs aren't an option, and what you're really left with, if you're lucky, is the ability to customize wireless connectivity, memory, and storage. Slim pickings.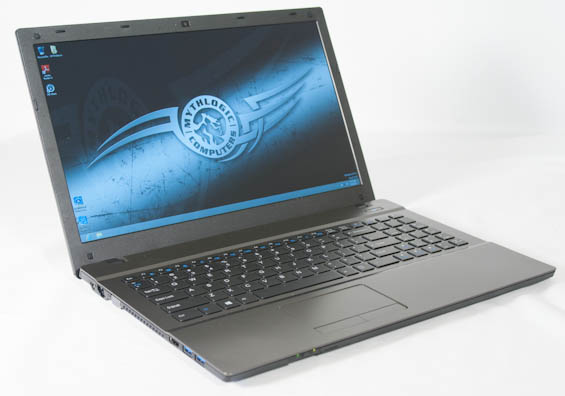 The expanded ultrabook definition gives boutiques a little more breathing room, though, and that's how we end up with a review unit like Mythlogic's Callisto 1512, based on Clevo's W550EU. Essentially what we're looking at is a much thinner 15.6" notebook that still offers the boutique the ability to customize the processor, and we get a 35W or even 45W CPU instead of the reduced voltage and wattage 17W Ivy Bridge chips in most ultrabooks from bigger vendors. And while these Clevo/Compal/MSI notebooks may sometimes not be as well built as their retail counterparts, they tend to offer the superior display options that the bigger vendors often won't.
Mythlogic Callisto 1512 (Clevo W550EU) Specifications
Processor
Intel Core i5-3340M
(2x2.7GHz + HTT, Turbo to 3.4GHz, 22nm, 3MB L3, 35W)
Chipset
Intel HM77
Memory
2x4GB Patriot DDR3-1600
Graphics
Intel HD 4000 Graphics
(16 EUs, up to 1250MHz)
Display
15.6" LED Matte 16:9 1920x1080 IPS
LG LP156WF4-SLB5
Hard Drive(s)
Samsung 840 Pro 256GB SATA 6Gbps SSD
Optical Drive
TSSTCorp SU-208DB DVD+/-RW
Networking
Realtek PCIe Gigabit Ethernet
Intel Dual Band Wireless-AC 7260 802.11ac
Bluetooth 4.0
Audio
VIA VT1802P HD Audio
Stereo speakers
Mic and headphone jacks
Battery
6-Cell, 62Wh
Front Side
SD card reader
Right Side
Mic and headphone jacks
2x USB 2.0
Optical drive
Kensington lock
Left Side
AC adaptor
Ethernet
VGA
Vent
HDMI
2x USB 3.0
Back Side
-
Operating System
Windows 8 Pro 64-bit
Dimensions
14.72" x 9.92" x 0.55-1"
374mm x 252mm x 14-25.4mm
Weight
4.85 lbs
2.2kg
Extras
Webcam
SSD
Bluetooth
Warranty
Lifetime labor, 1-year parts
Pricing
Starts at $1,063
As configured: ~$1,334
Unfortunately, the exact configuration we were shipped for review can't be built on the Mythlogic site yet. The Intel Core i5-3340M is a refresh of Ivy Bridge not currently listed; you can either drop 100MHz and go for the i5-3320M, or gain 100MHz and go for the i5-3360M. Either way is probably fine; the incremental CPU options are appreciated but not strictly necessary. It's worth pointing out just how much of a performance jump you get going to standard voltage, though: top-end ULV Ivy Bridge runs ~2GHz before turbo, but the i5-3340M in our review unit starts at 2.7GHz and goes up from there. That the W550EU can support quad core CPUs suggests there's a good amount of thermal headroom here, too, so the i5-3340M will be much more liable to spend a lot of time at high turbo speeds.
Paired with it is 8GB of DDR3-1600 courtesy of Patriot, and handling storage duties is a 256GB Samsung 840 Pro SSD, plenty for most users. Should that somehow not be adequate, the W550EU also features an mSATA slot, so if you need more storage you can pop a 256GB SSD into the mSATA slot and use the 2.5" drive bay for a 1TB mechanical hard disk. I'm disappointed the only optical drive option available is a standard DVD writer, though; an optional blu-ray drive would've been appreciated.
Of course the major selling point here is the 1080p matte IPS display. While Clevo offers a version of the W550EU that uses a bog standard (and probably hideous) 1366x768 TN panel, Mythlogic wisely doesn't even offer it on their site.
Eagle-eyed readers will note that this review unit features Intel's 802.11ac adapter. While I didn't have enough time to test it with a proper wireless-ac router, I will say that in its present state it's...definitely functional, but I found the range on it is somewhat lacking. About fifteen feet from my router and through two walls, signal strength was actually on the low side. On casual inspection, performance appeared strong and stable, but wireless networking is admittedly not my jurisdiction.
In and Around the Mythlogic Callisto 1512
In my introduction, I pointed out that SIs like Mythlogic are at the mercy of ODMs like Clevo, MSI, and Compal for notebooks. Sometimes we get compelling products; there's been an ebb and flow in the primary retail sector where none of the major vendors were really serving the customers that boutiques could. Vendors weren't shipping notebooks that had decent graphics hardware or quality displays, and this was where boutiques could make up the difference. While it's still largely true, there are enough solid offerings from companies like ASUS, Samsung, and Dell to cover these bases that Clevo can't get away with just showing up anymore.
I can't throw Mythlogic under the bus when the problem is (and historically has been) Clevo. The Clevo W550EU that Mythlogic sells as the Callisto 1512 is the same hardware-in-a-candy-shell that Clevo chassis often are. Dull, gunmetal gray matte plastic is used for the entire shell save the bottom and the display bezel, which employ garden variety black matte plastic. I can at least be thankful there's no glossy plastic to be found anywhere on the W550EU. The lid has a brushed aluminum pattern to it that belies the dreary interior, and the silver Mythlogic logo is attractive without being ostentatious.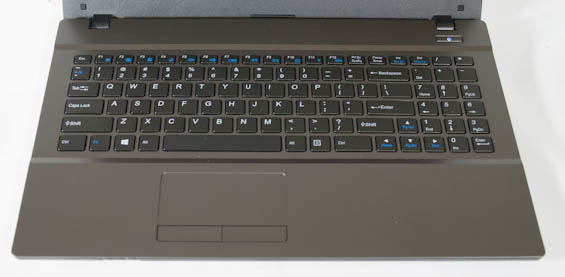 As I said, though, the interior of the W550EU is utterly devoid of style. This is an inherent problem all the Taiwanese ODMs have: either obscenely bland, chintzy, and style-free (Clevo and Compal), or gaudy to the point of delerium (MSI). Clean, elegant, attractive designs are rarefied. We're also stuck with the old style Clevo keyboard, but its sins are compounded by mushy tactile response that's somehow worse than many of the thinner ultrabooks I've recently tested. That's despite having enough Z-height to allow for better key action. The touchpad itself is, as I often lament, part of the same piece of plastic as the inner shell, just slightly bevelled. Thankfully it's not a clickpad; we get two dedicated mouse buttons.
I don't like dragging Mythlogic or any other boutique through the mud. They need to offer a product, this is what they've been provided by the ODMs, and the best way to lose the game is not to play. I just wish they could collectively go back to the ODMs and dress them down a bit. It's unfortunate there's nothing they can really do, and while the W550EU isn't terribly built, it's hard to recommend it when Dell is willing to sell you a far better designed and assembled XPS 15 for around the same price.
Application and Futuremark Performance
The overwhelming majority of notebooks we've tested with Ivy Bridge have been either based on ULV parts or 45W quad core parts, leaving us with a gap in our information. Thankfully, the Mythlogic Callisto 1512 shipped to us with a 35W dual core chip that starts at a higher nominal clock speed than the ULV kit but also is able to turbo up to higher speeds on the integrated graphics. This should result in a modest performance increase for the HD 4000 and a much more noticeable one on any tasks that are CPU bound.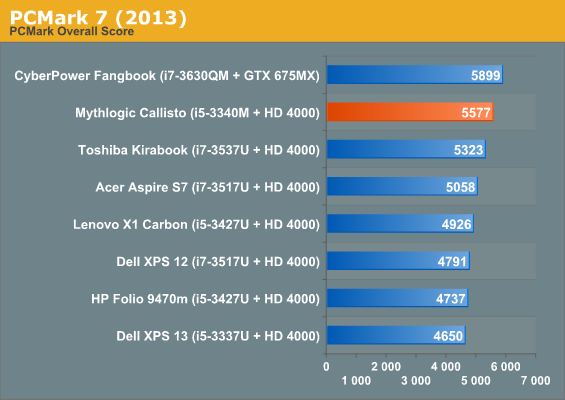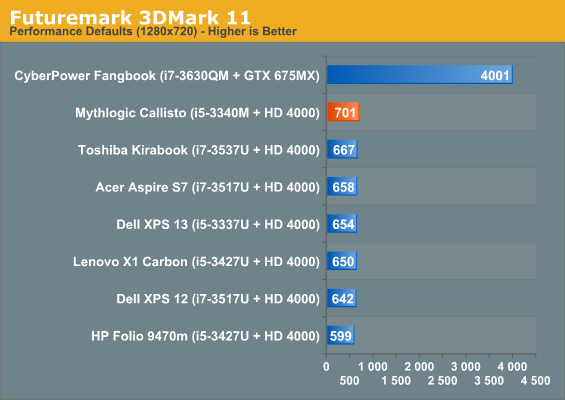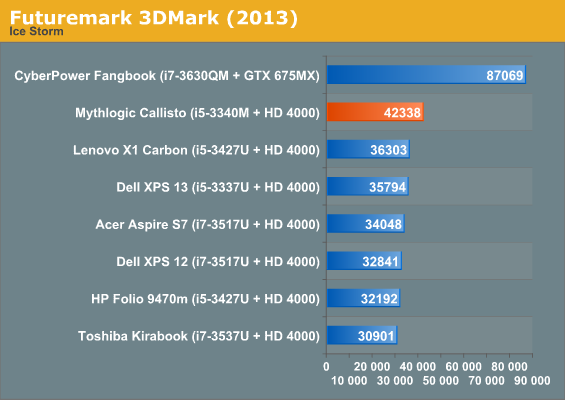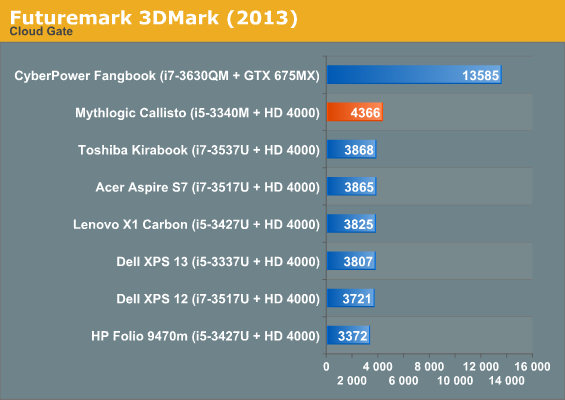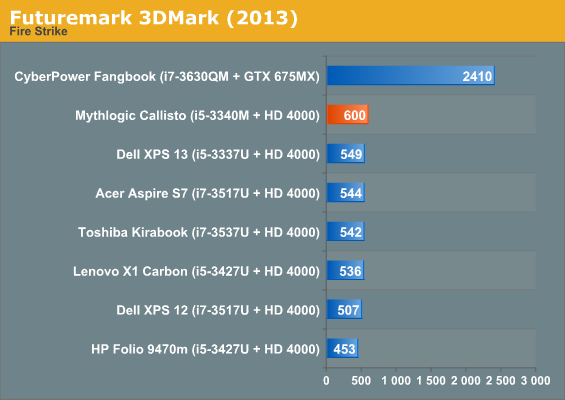 The Futuremark results bear this out. The extra thermal headroom allows the HD 4000 in the standard voltage i5 to run at higher speeds and for longer, giving us a roughly 10%-15% improvement in performance. PCMark 7 benefits from both the stunningly fast Samsung 840 Pro SSD and the increased CPU speed.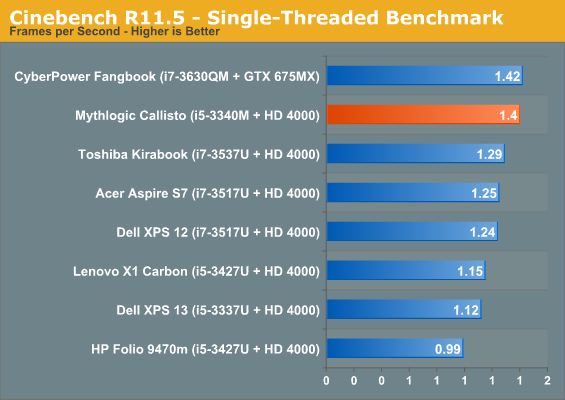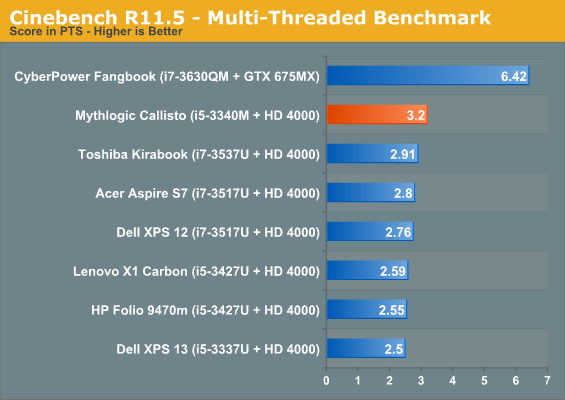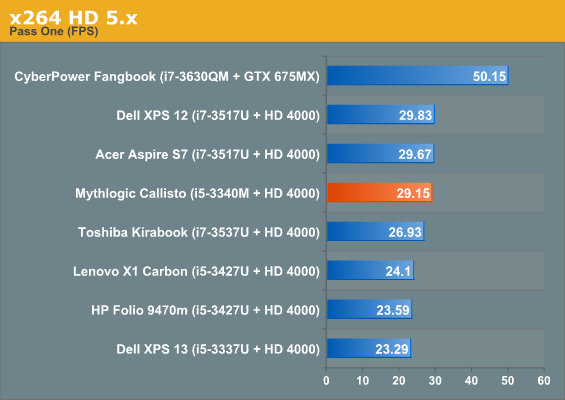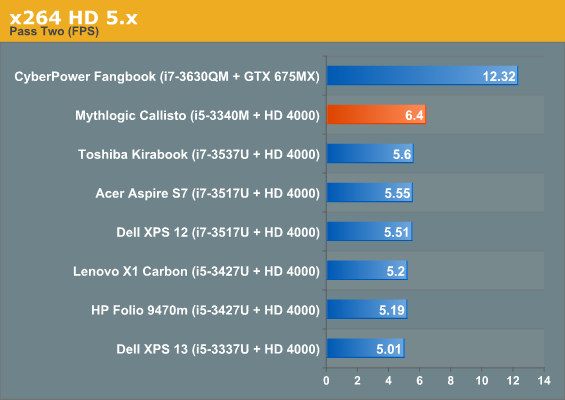 Bounce over to our CPU-limited tests, and the only one that doesn't show a healthy improvement is the first pass of our x264 test. That first pass generally doesn't put the squeeze on the CPU quite as aggressively as the second one does, giving the ULV chips a little more thermal headroom. Once the second pass starts, the standard voltage i5 breaks away.
Display Quality
One of the things boutique releases of ODM notebooks typically can offer over the notebooks on retail shelves is a superior display panel. As I mentioned earlier, Mythlogic doesn't even offer the W550EU with a garden variety TN panel; the only option is the 15.6" 1080p IPS, and that's something I actually appreciate. That it's a matte panel may be an even bigger selling point for some, though it isn't touch enabled as increasing numbers of modern displays are.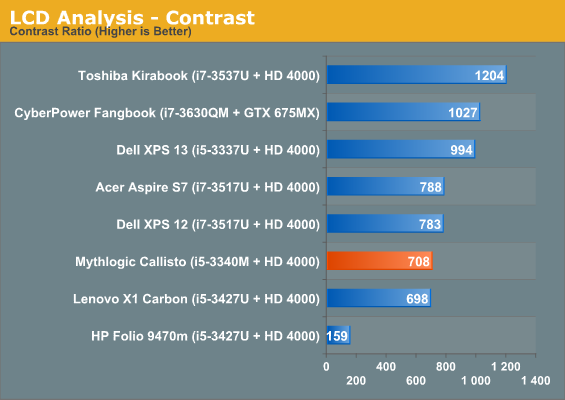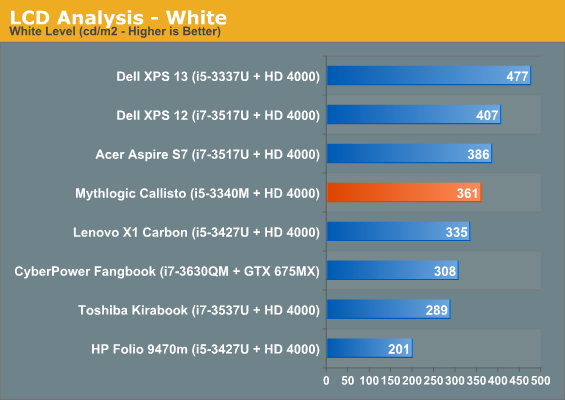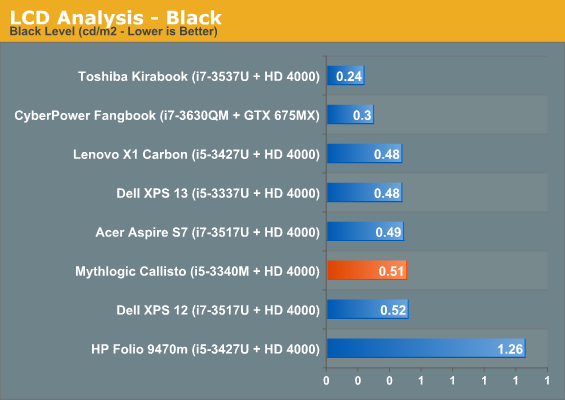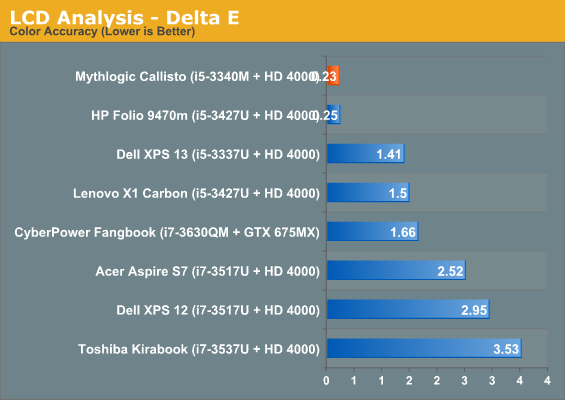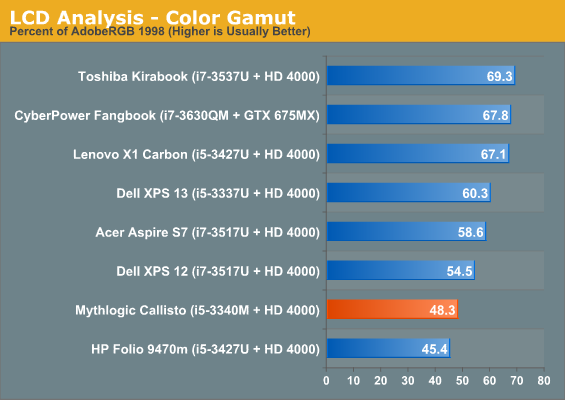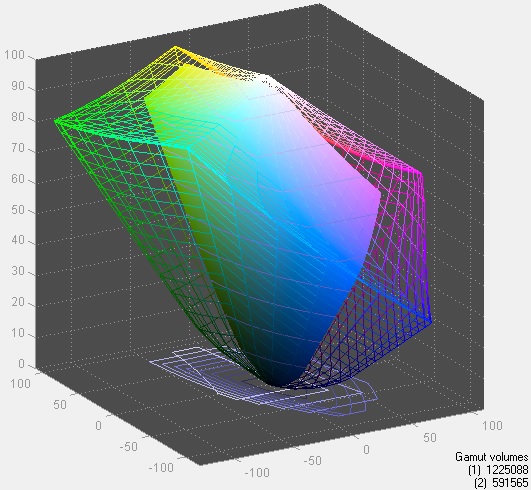 While the display is comparatively attractive and still ranks well above a garden variety TN panel (as evidenced by the HP Folio's dismal performance), color gamut is unusually poor for an IPS display. This isn't something immediately evident in regular use and would probably only be noticed with the kind of testing we do, but it is nonetheless worth mentioning. Contrast and brightness are excellent, however, and any way you slice it, it's a massive improvement on a low-resolution TN panel.
Battery Life
Unfortunately, these ODM units are oftentimes poor performers when it comes to battery life. For one reason or another they're just not particularly well optimized to run off of the mains, and the result is reduced mobility overall. The Clevo W550EU sadly doesn't buck this trend.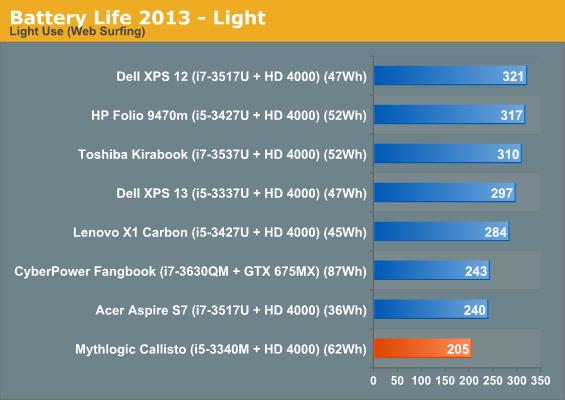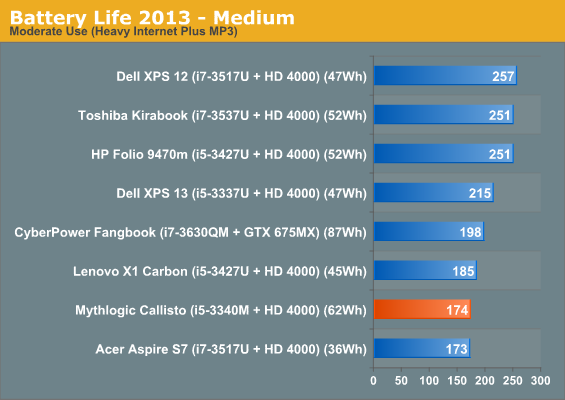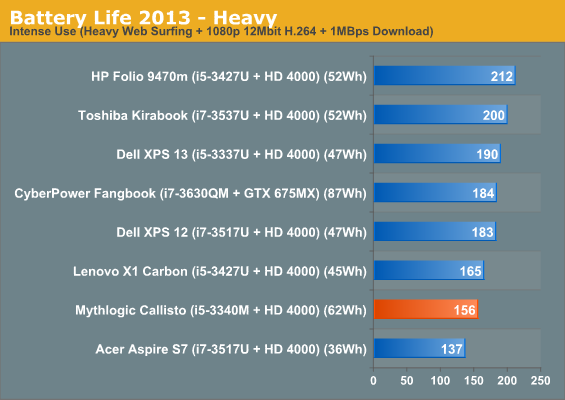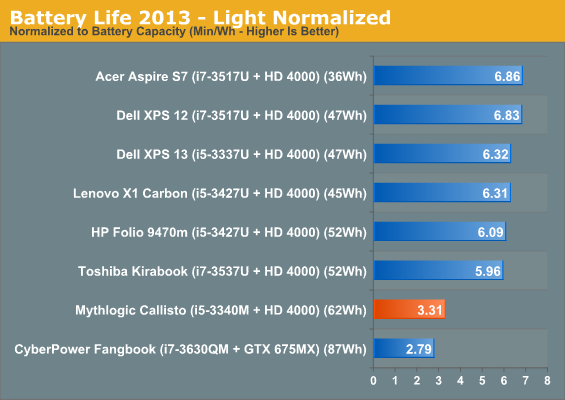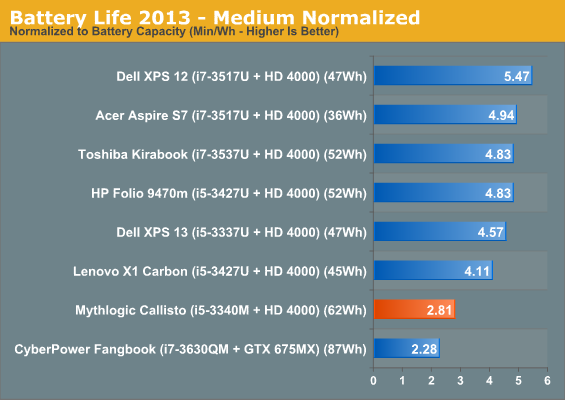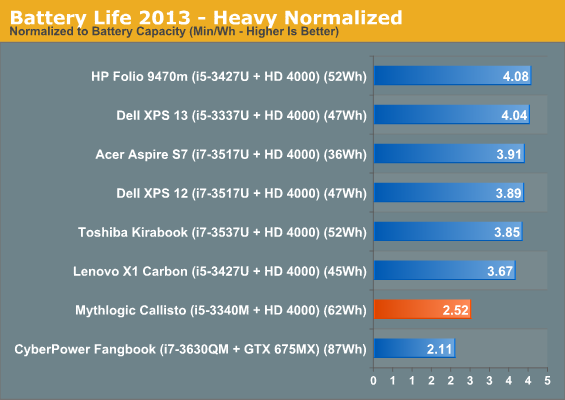 Running time off of the mains, even normalized, is fairly poor. It takes a quad core CPU and dedicated graphics (albeit running on Optimus) to put in a worse showing, and even then you're looking at essentially another ODM machine. The 62Wh battery is basically essential to get useful battery life out of the W550EU; Clevo offers a smaller one but that seems to be another component Mythlogic opted to just sweep under the rug in favor of the superior option.
Heat and Noise
The one thing these larger ultrabooks tend to do better than their smaller counterparts is cooling: more space for cooling often means lower temperatures and/or lower noise. Even with the 35W CPU, the Clevo W550EU gets most of this right, but I'd caution against configuring this notebook with a quad core CPU.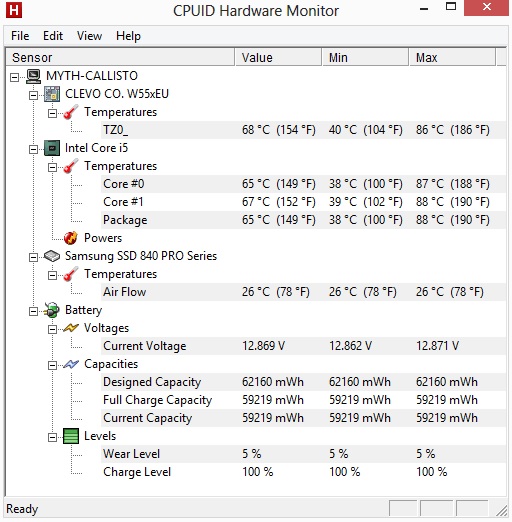 Even under sustained load, the W550EU is relatively quiet, but the CPU does get fairly hot and the left side of the notebook (next to the vent) actually gets pretty warm. If you routinely find yourself resting a fingertip or two on the bezel surrounding the keyboard, you're going to feel it. So while Mythlogic does offer quad core options with the Callisto 1512, the only one I would recommend is the 35W i7-3612QM.
Conclusion: Best of a Bad Situation
With the Callisto 1512, Mythlogic has essentially done the best they can with what they've been given by Clevo. The W550EU offers plenty of options for boutiques, but if you'll pardon my expression, Mythlogic basically cut out the crappy ones. Nobody wants a low resolution panel or a low capacity battery, so Mythlogic simply doesn't offer them.
As far as the notebook itself goes, the shell is unappealing and efficiency leaves something to be desired, but despite the low gamut, the display will continue to be a strong selling point. 1080p IPS in a 15.6" form factor really needs to be the standard, and it's the kind of standard that only occurs when everyone gets on board. And while higher resolution notebook displays are very slowly beginning to appear in the marketplace, high resolution matte displays are still rarefied. If that's your top priority, the W550EU may be one of your only options.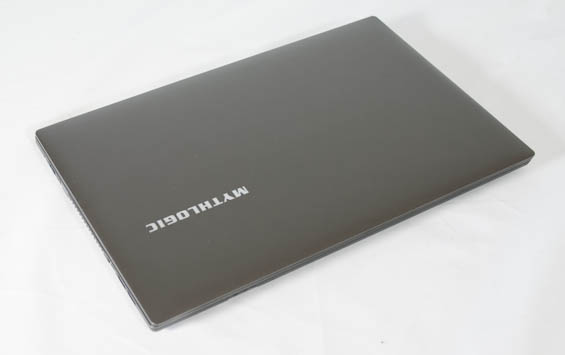 Mythlogic has also done a good job of keeping both their website and their options modern, neat, and orderly. This is in comparison to the almost fire sale, Sunday paper double-page ad style of CyberPowerPC and iBuyPower's sites, and the overabundance of confusing options available on AVADirect's site. They're not wasting time with underpowered or questionable value propositions; as far as I'm concerned, the mobile Core i3 should only be an absolute last resort for anyone. Linux fans also take heart: Mythlogic will sell you the W550EU either with no OS installed or with Ubuntu.
Presently, Mythlogic is about one of the only places you can get the W550EU, so that scarcity gives them some leeway. Under the circumstances their Callisto 1512 is probably going to be more desirable than a "sleekbook" from HP or a Dell Inspiron 15z, but you're hanging out in dangerously close proximity to the infinitely more desirable XPS 15, which features standard voltage CPUs but a far superior fit and finish along with dedicated graphics hardware. You're also in the neighborhood of HP's Envy Spectre notebooks, complicating things further.
It's tough not to be ambivalent about the notebook itself. If you're willing to make the compromises, Mythlogic will cut you a good deal at a fair price. The one year warranty seems stingy, but it's really no worse than you'll get at any major vendor, and they'll cut you loose completely after one year as opposed to at least offering tech support. I think Mythlogic has done about the best they can with the W550EU, but the ball continues to remain in Clevo's court to produce notebooks that can compete directly.