Original Link: http://www.anandtech.com/show/6970/haswell-z87-motherboard-preview-50-motherboards-from-asus-gigabyte-asrock-msi-ecs-biostar-and-evga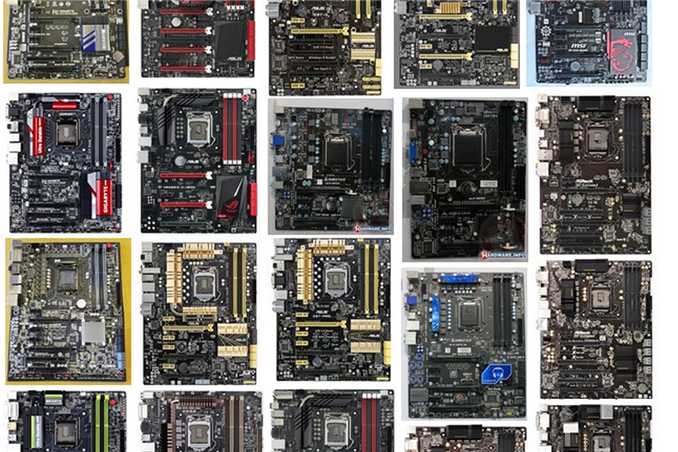 With time quickly approaching the launch of Haswell, leaks on both motherboards and CPU performance are coming out of the woodworks. Similar to our advance Ivy Bridge coverage, here is a current roundup of everything we were allowed to show or is currently in the public domain.
Fun with Z87
So as you would expect, reviewers like Anand and I are knee deep in getting Haswell coverage and testing ready for launch. We cannot tell you what we are testing, or what is coming in our repertoire, but we try to match what our readers want to see. As a general rule, in order to receive media kits from Intel, we sign a company-wide NDA, and then if we want kit from other companies (motherboards, pre-release systems), then they may request NDAs from specific people as well. I know I have personally signed a few in recent months leading up to the release.
So What Is In This Preview Then?
So some manufacturers have decided to release data to media like AT in order to boost coverage before launch. Others have had leaks from media events posted online, and here we have tried to collate that information. Everything you see in this post we have permission to post from the various manufacturers, or the information is already in the public domain. Some information has been from Intel itself, such as Beijing IDF presentations released on the internet.
Much like our Ivy Bridge preview, we will be going through the motherboards expected to be released – either final ES images or retail ones. We have the big four up ready to bat – ASUS, Gigabyte, ASRock and MSI, with appearances by ECS, Biostar and EVGA as well.
AnandTech's Haswell Coverage
At AnandTech we have been hot on the heels of Intel, attempting to understand what is behind the new silicon. We have covered the following topics so far:
Intel's Haswell Architecture Analyzed: Building a New PC and a New Intel
Intel Haswell Architecture Disclosure: Live Blog
Intel Details Haswell Overclocking at IDF Beijing
Making Sense of the Intel Haswell Transactional Synchronization eXtensions
Haswell: Up to 128MB On-Package Cache, ULV GPU Performance Estimates
Intel Haswell GT3e GPU Performance Compared to NVIDIA's GeForce GT 650M
IDF 2012: Haswell GT3 Running Skyrim
Intel Haswell Architecture Slides (IDF 2012)
Haswell at IDF 2012: 10W is the New 17W
Pricing
In previous years, motherboard launches have ranged the full gamut from the $60 to over $200 at launch, even reaching $400 as the platform develops. Within that is the cost for the chipset (a not-insignificant cost), the production, the modules, the extra controllers and all the licensing for extra features such as SLI or HDMI. Of course no manufacturer wants to announce pricing just yet, but like the Sandy Bridge and Ivy Bridge launches, we at AnandTech are hoping for a motherboard roundup of around $200 (+/- 10%) to go live at launch.
Details regarding pricing led us to Chinese websites: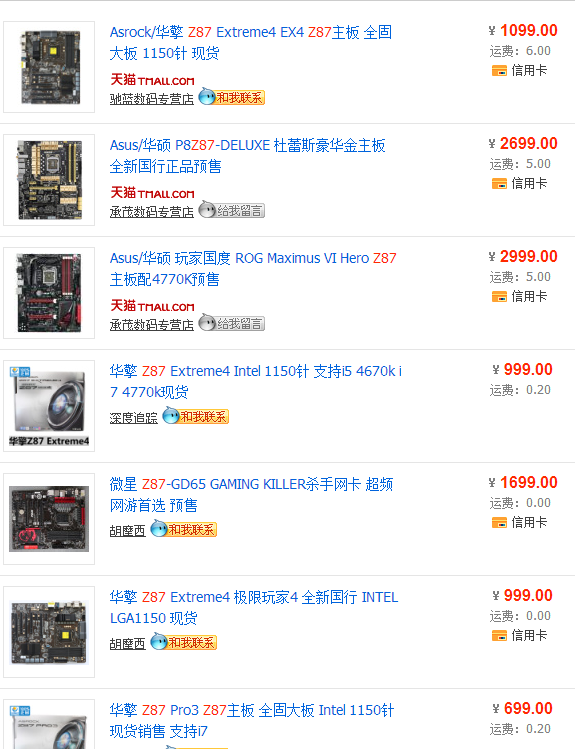 At current exchange rates, this puts the pricing at the following:
ASRock Z87 Extreme4: ¥1099/999 = $179/$162
ASUS P8Z87-Deluxe: ¥2699 = $439
ASUS ROG Maximus IV Hero with a 4770K: ¥2999 = $488
MSI Z87-GD65 Gaming: ¥1699 = $276
ASRock Z87 Pro3: ¥699 = $114
Personally I believe that this pricing is a bit high, indicating 'put your order in early' for when stock actually arrives. There is not any import tax (most if not all these motherboards are made in China), and sales tax / VAT is technically 17%.
But for now, let us look at what motherboards have actually been on display.
ASUS Z87
First in our motherboard preview is ASUS, who recently sent all technology media their media pack of motherboards with permission to publish. From the media pack, we have the following models:
ASUS Z87-C
ASUS Z87-A
ASUS Z87-Plus
ASUS Z87-Pro
ASUS Z87-Deluxe
ASUS Z87-WS
ASUS Z87-ITX (mITX)
ASUS Sabertooth Z87
ASUS Gryphon Z87 (mATX)
ASUS ROG Maximus VI Hero
ASUS ROG Maximus VI Gene (mATX)
ASUS ROG Maximus VI Extreme
ASUS Color Scheme
Moving away from the blue color scheme of the old channel motherboard range, ASUS has gone with an off-gold/yellow-gold and black livery for all but the gaming and ultra-low-end models. Typically that might ring bells, thinking back to ECS Golden boards, but ASUS are not necessarily trying to move into that way of thinking. The color scheme is obvious and yet subtle without going too overboard. In an industry that is shrinking (reports state the motherboard industry will shrink 5% in 2013), manufacturers are always looking to new markets. The market that likes a yellow/yellow-gold color is the Middle East, which could be a potential growth area.
ASUS Z87-C
The Z87-C is designed to be one of the models down the channel chain, typically with a notch above something like the Gigabyte Z77-HD4 we reviewed recently. ASUS like to maintain a level of consistency through the range, so most if not all the software on the high end Z87-Deluxe board should be on the Z87-C.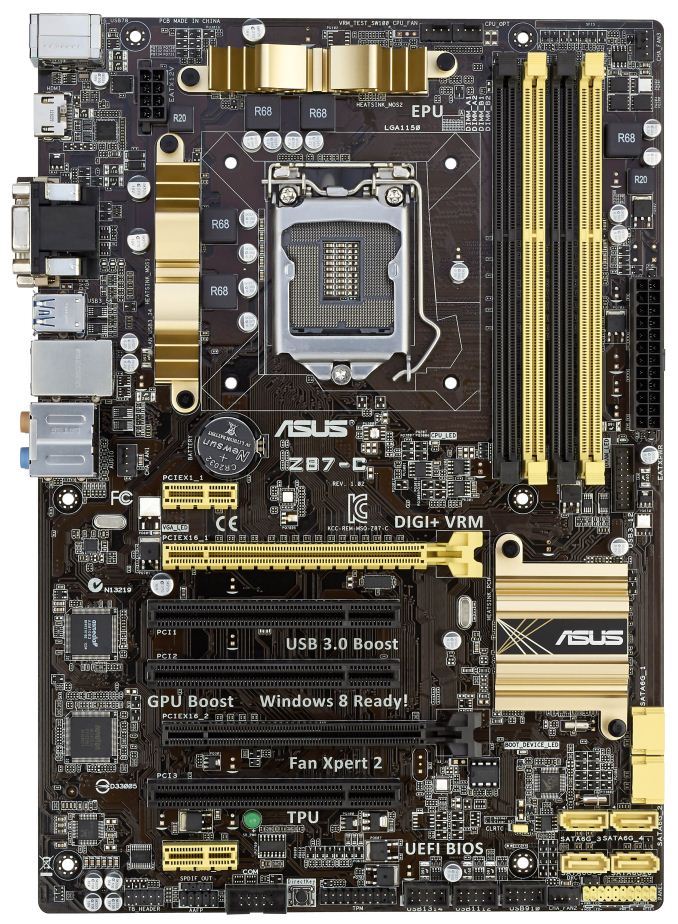 The Z87-C has five fan headers on board, six SATA 6 Gbps ports what looks like an x16 or x8/x8 PCIe lane allocation, and PCI slots. PCI was not part of the specifications for Z77, so I would not expect it part of the Z87, meaning we have a bridge chip in play. Users will also note a TB_Header, a COM header, and a TPM for the industries that need TPM. While no rear IO shots were provided, we can see some USB 3.0 (USB 3/4 written on the board), a Realtek audio codec, a HDMI port and a VGA/DVI pairing.
ASUS Z87-A
The Z87-A is the one above the C, suggesting a higher price point and a few more features.
Over the Z87-C we have a trio of full length PCIe (either x16+x4, x8/x8 + x4 or x8/x4/x4 we would presume), and six SATA connectors. It looks like that most of them are only one connector high, which might help drive down cost of production (at the expense of extra routing). Below the SATA connectors we have a new TPU switch, with two settings: I and II. This could be a switch for a light or a heavy overclock. On the Rear IO we can spot a mini-DP port. It is worth noting we do not have power/reset buttons or a two-digit debug yet at this price band.
ASUS Z87-Plus
Next up the chain is the Plus, which features a power button!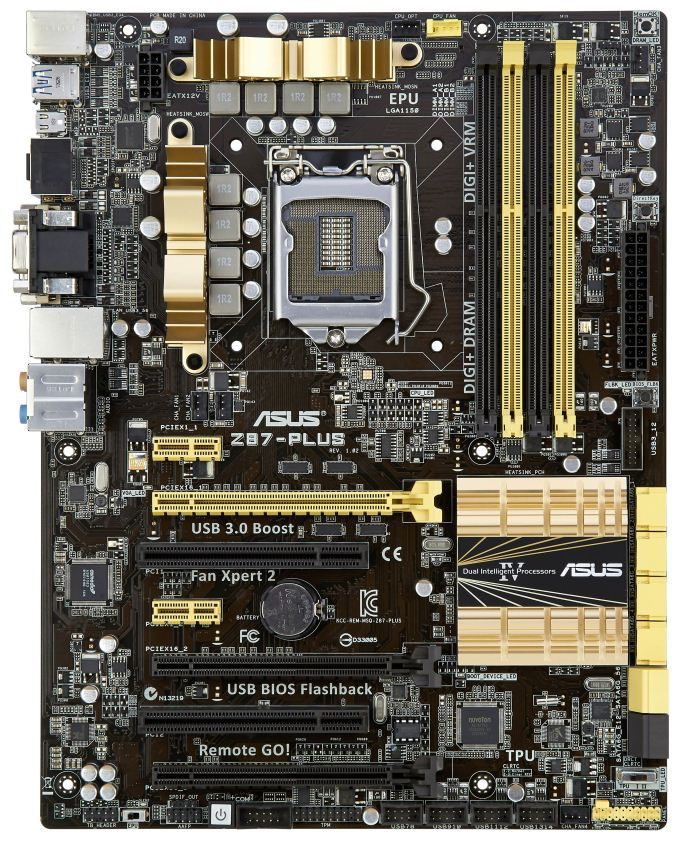 Over the Z87-A we still get the dual stage TPU and the six SATA 6 Gbps ports, but we now get an additional controller for two more SATA 6 Gbps. We also have six fan headers, all four pin, and the DirectKey button is moved up to near the 24-pin ATX power connector. Again the mDP connector makes a showing.
ASUS Z87-Pro
The middle of the channel range motherboard is the Z87-Pro, which we expect to be one of the main sellers in the ASUS range.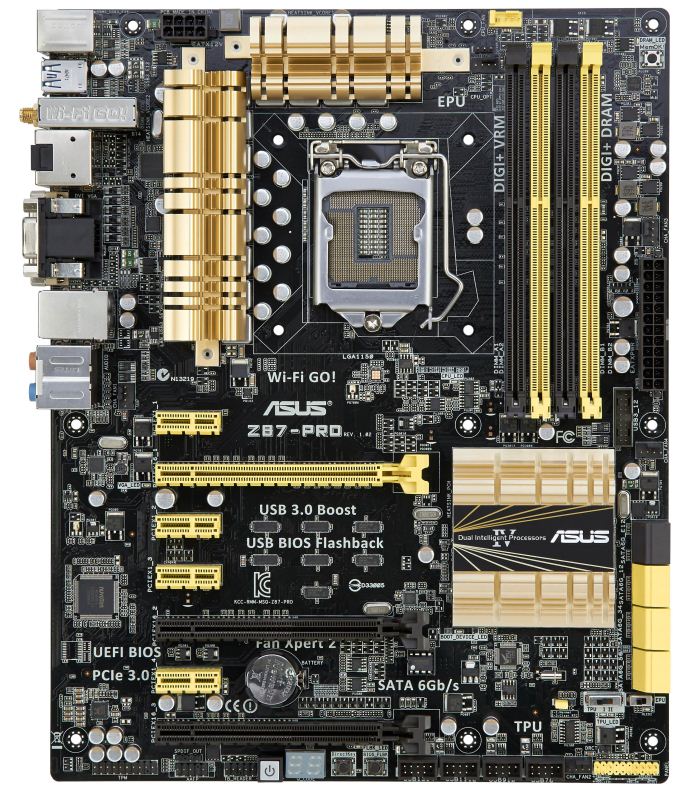 First thing to notice is the heatsink arrangement is more substantial, covering a bigger phase power solution. Like the Z87-A and the Z87-Plus we have single side latch memory slots, and like the Z87-Plus we get 6+2 SATA 6 Gbps ports. We lose the PCI slots in the PCIe layout for more x1, and we also gain a two-digit LED debug (still no reset button). Users will also note a BIOS Flashback button on the south of the IO. In terms of USB 3.0, some of the text on the board states USB3_56, meaning we get at least six USB 3.0 ports, as well as a USB3_E12 which suggests an additional controller. On the rear IO it seems like 'Wi-Fi Go!' gets an update with its own EM shield.
ASUS Z87-Deluxe
One of the high points of the ASUS range is going to be the Deluxe, aiming at the high end enthusiast. Previous ASUS Deluxe models have been well received at AnandTech.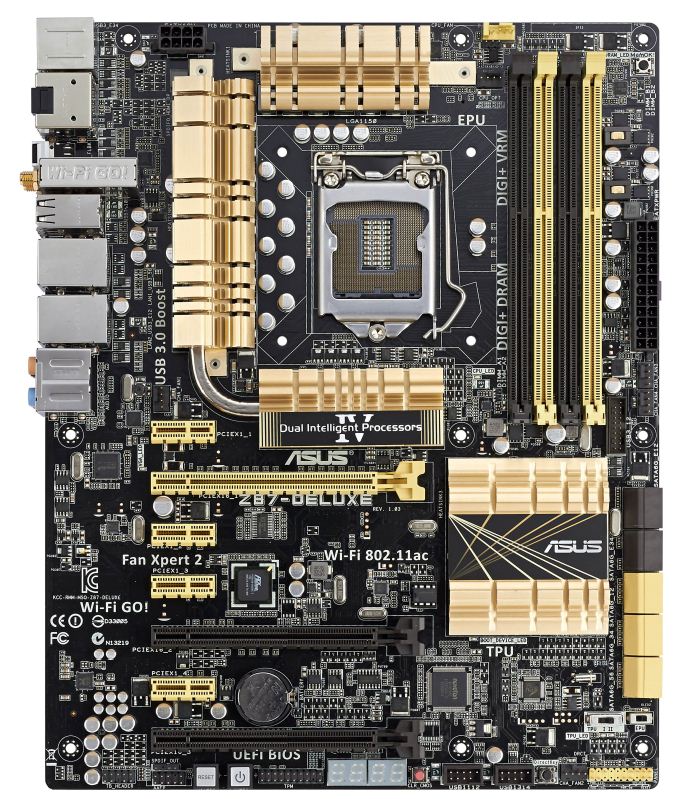 Up the range we are getting bigger heatsinks still, with another smaller heatsink below the socket connected via heatpipe to the power delivery. Typically this area below the socket is for the PLX 8747 chip used to increase lane counts, so it is quite possible that ASUS are going for an x16/x8/x8 arrangement on the Deluxe rather than x8/x4/x4 or any other variant. Users will also notice the big 'Wi-Fi 802.11ac' logo on the motherboard, which means AC is coming to desktops! I am not sure as to the price premium that this brings, but I expect that it will not be as cheap as we would like. ASUS are one of the few manufacturers with an AC router, meaning they would have more access than most (hopefully).
Elsewhere on the board we have a TPM, which means that ASUS are filling out more of the range with TPM headers. We get six SATA 6 Gbps from the chipset and a four extra SATA 6 Gbps from controllers (the black SATA ports), and also power/reset buttons and two 2-digit LED debug displays. There has been a fair bit of praise to motherboards that have included the two-digit display in temperatures, and I think ASUS here might want to help by displaying GPU temperatures as well.
On the board are labels for two LAN ports, and judging by older Deluxe models these are most likely both Intel NICs. If we zoom into the motherboard, the Realtek audio NIC says 'ALC1150', meaning that the audio codec ASUS used on their P9X79-E WS is making its way into the high end channel motherboard. We also see a PLX 8608 chip in the middle, commonly used to split one PCIe 2.0 lane from the chipset into four – this could be used for extra PCIe x1 lanes or controllers.
ASUS Z87-WS
The Workstation model attempts to cross that line between a server motherboard and a prosumer motherboard by incorporating features from both. As a result we would expect the WS to have full Xeon support, as well as the variety of RAID and other PCIe cards available, maximizing ports and features for throughput and compute such as Tesla and Xeon Phi.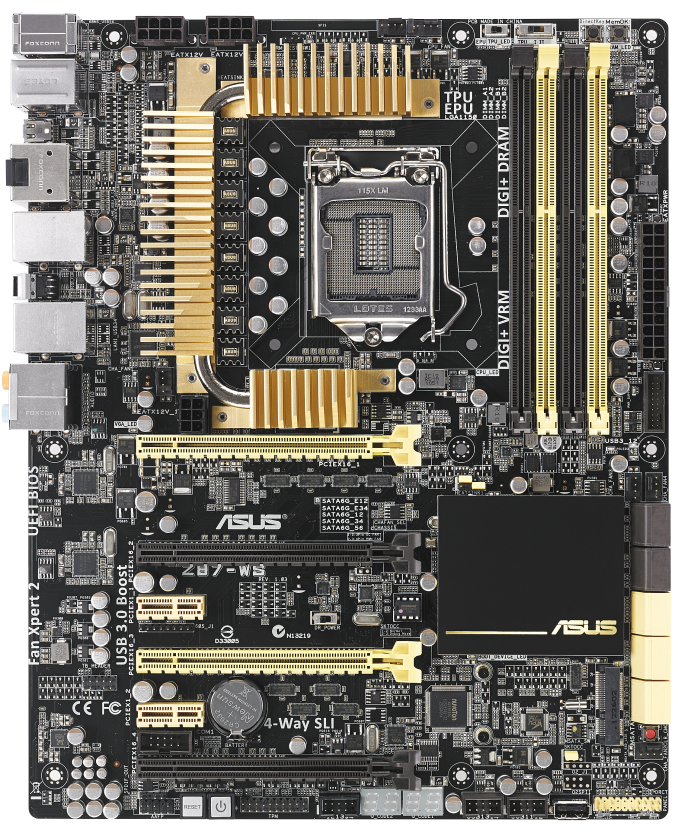 From the outset we can see support for four-way SLI, meaning that a PLX 8747 chip is definitely underneath the heatsink below the socket. The power delivery is using a newer type of choke, presumably to compete with the high end efficiency afforded by the IR3550s seen on competitors motherboards. Users are spoilt for choice on the WS, with two 8-pin 12V CPU power connectors, six four-pin power headers, a total of 10 SATA 6 Gbps ports (6+4), an additional mSATA port, a USB port out of the PCB, dual two-digit debug and power/reset/ClearCMOS buttons. There is also a small switch in the middle labeled 'DR_POWER', also demoed on the P9X79-E WS, which allows the user to detect power supply health.
Interestingly enough what we do not see on the WS is Wi-Fi Go!. It seems that this part of the consumer package is not particularly needed with the WS market.
ASUS Z87-ITX
We go a little bit out of order now, with the mini-ITX model of the channel range. The mITX shots were leaked from an ASUS press event rather than supplied directly, but there is plenty of information to disseminate: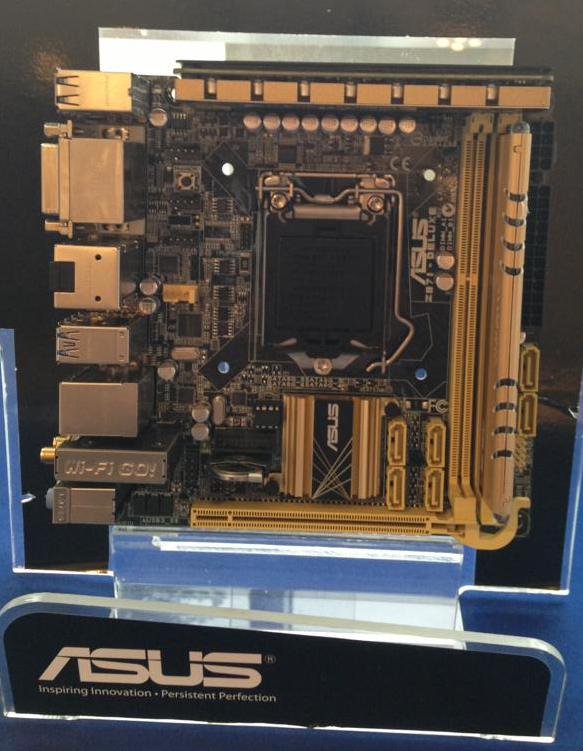 In typical 17cmx17cm form factor, we see an evolution from the P8Z77-I Deluxe we reviewed earlier in the year. The VRM is on a daughter board attached to the top, giving more PCB space for extra controllers and things, but there are several enhancements. Firstly, the 24-pin ATX and 8-pin 12V CPU power connectors are now on the edge of the board. In the last round of mITX boards, a large number of manufacturers insisted on putting the CPU power connector right in the middle, so I am glad it makes its way to an easier location. Also of note is the PCIe latch – the extended curved design I presume is to make it easier to remove a PCIe card.
On board we also get six SATA 6 Gbps, all single ports coming out of the board but ASUS have made sure you can remove locking cables individually rather than having to unlock several cables to get to the one you want. We also have Wi-Fi Go on the bottom left of the board, and what would appear to be the IO for all four video outputs. The memory in this board is color co-ordinated, and seems to be using an Avexir LED style, suggesting that ASUS have teamed up with Avexir for a new line of memory and lighting.
ASUS TUF Sabertooth Z87
The Sabertooth continues the evolution of the hard wearing philosophy, and the thermal armor is, as always, pretty substantial.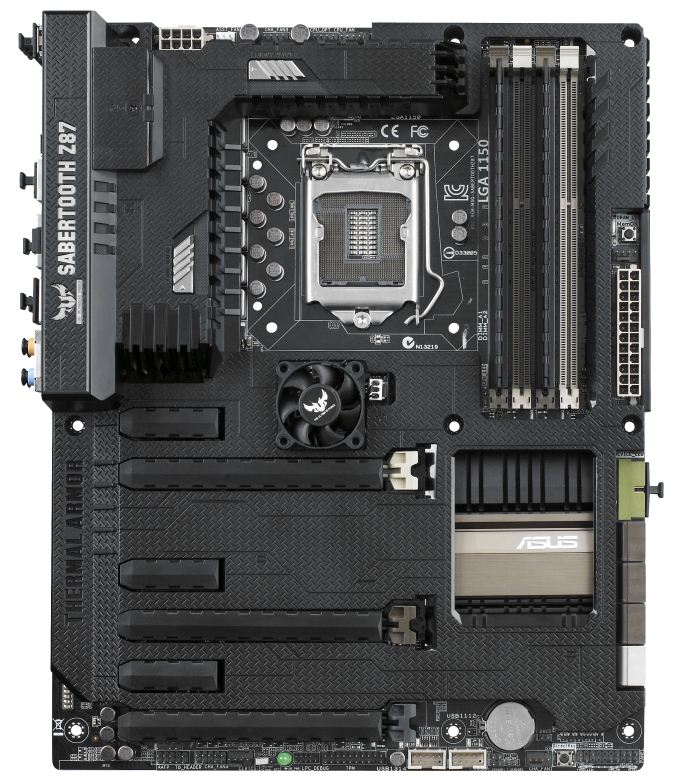 Because of the armor we obviously cannot see too much, except that the rear IO and USB 3.0 ports near the SATA ports have protective covers, and a TPM is on the south end of the board. What we do know though, according to ROG Nordic's FB page, is that the Sabertooth will come with a rear shield.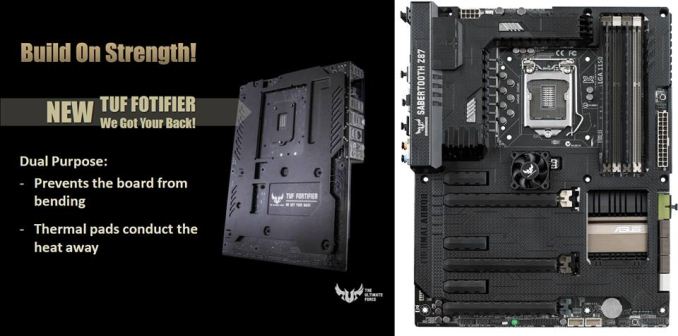 ASUS TUF Gryphon Z87
The new member to the TUF range is a micro-ATX board with all the Sabertooth features filtered down: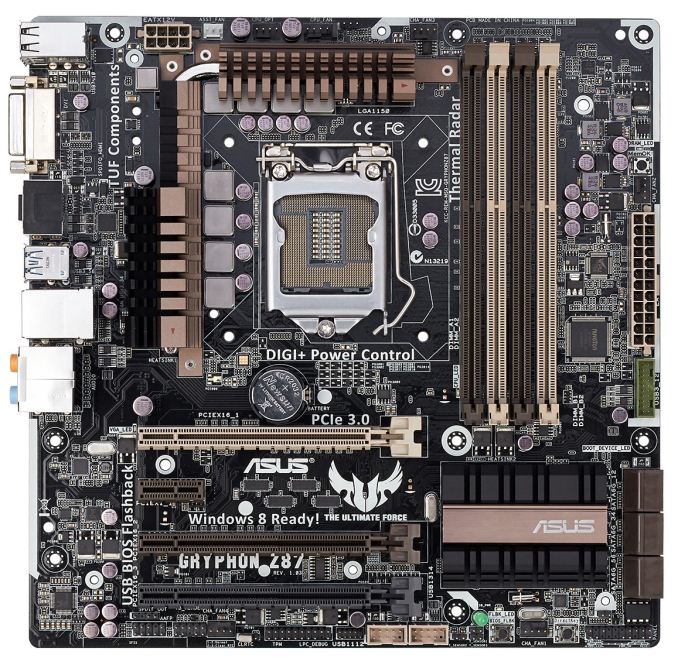 Without an armor kit, we can see the board is still the grey/brown army-style color scheme, with TPM, six SATA 6 Gbps ports, seven fan headers (on a mATX!), and all the regular ASUS features we have come to expect. Additional to the Gryphon, ASUS will be selling an armor kit to make it more like the Sabertooth: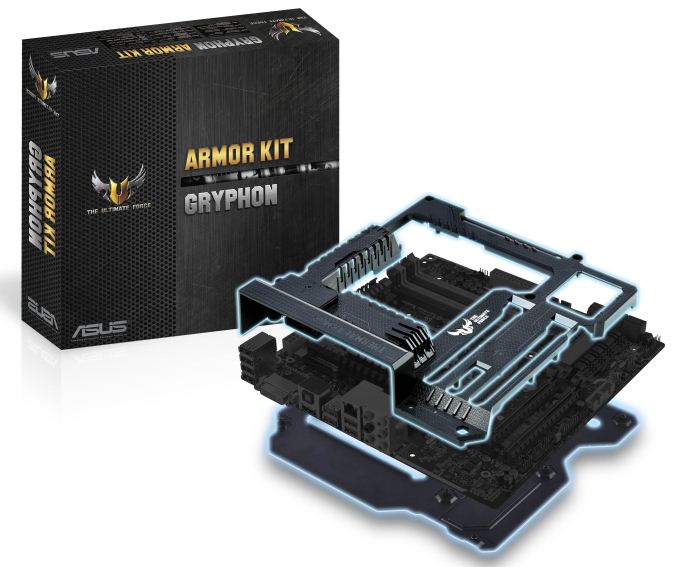 This would seem to include a front plate, back plate, and additional guards for all the slots. We can also see on this picture the IO of the Gryphon, sporting DVI and HDMI connectors as well as a few USB 3.0 and USB 2.0.
ASUS ROG Maximus VI Hero
Another new addition to the non-channel range motherboards is the ROG Maximus VI Hero (M6H). Over recent generations ASUS has been pushing the Gene as the entry level board into the ROG range, and I was expecting ASUS to think about a mini-ITX board, but apparently demand was enough for users to think about a full size ATX but perhaps slightly cheaper than the Formula. The Hero comes in as the new entry level model parallel to the Gene for sure, but still has all the ROG finesse: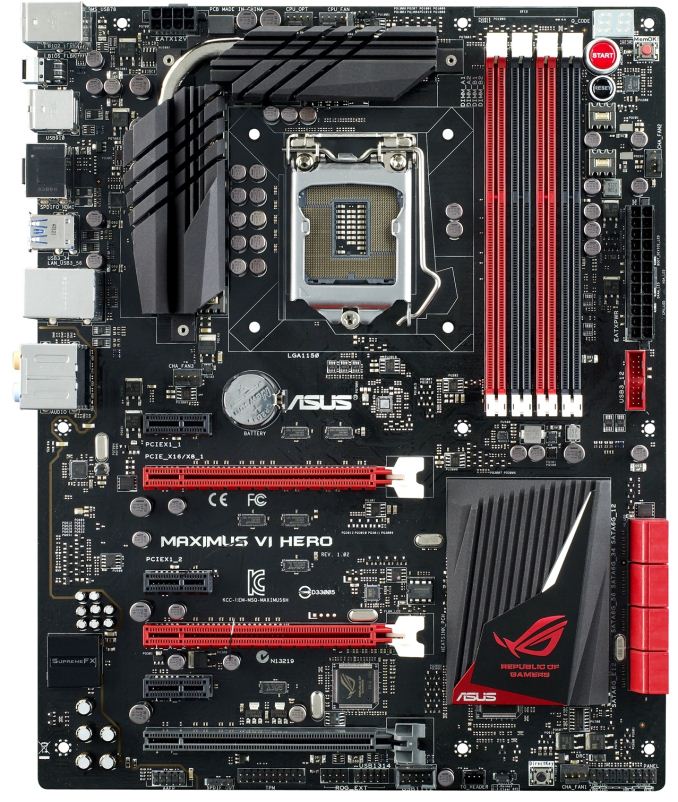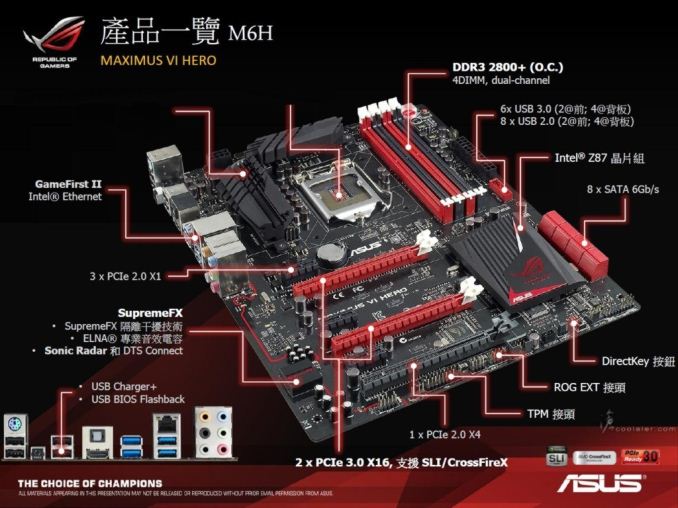 As one of the entry ROG, we still get a motherboard aimed at gaming – full x8/x8 support on the GPUs, SupremeFX audio, extra SATA ports, but the one of the differences will be in the hardware/software support. As an ROG owner, you get ROG specific software and a BIOS unlike others, as well as support via the ROG forums to get the best out of your system. It is worth noting that under the heatsink we can see those high end VRMs we saw on the Deluxe, meaning that the 'entry ATX ROG' is still waiting to pack a punch.
ASUS ROG Maximus VI Gene
The M6G continues the evolution of the ROG range, with a few features putting it above the Hero to counteract the smaller stature:
The thing that sticks out for me is the mPCIe Combo II, which seems to be an evolution of the mPCIe Combo we have seen on the Ivy Bridge range of motherboards. The rear IO also looks a little more substantial than that of the Hero, but the Gene comes with an obvious backing for USB 3, HDMI and I would presume an Intel NIC. Some of the onboard text says 'USB3_E1~4' as well as 'USB3_56' suggesting we have ten USB 3.0 ports on the Gene.
Also of note is the ROG_EXT header on the bottom of the board, which we will come to later.
ASUS ROG Maximus VI Extreme
The top of the line ROG motherboard is always the Extreme. As mentioned in our previous reviews of Extreme motherboards, this is the one that gets the attention for innovation, and as a result come in at almost no-holds barred in terms of cost. Back at the X79 range, I was quoted that the X79 Extreme took account for 80% of the ROG X79 sales, meaning this is the board to focus on.
Alongside the 4-way GPU configuration, we can tell that behind the power delivery heatsink we get a PLX8747 chip, and the higher end VRM solution of the Deluxe. There is additional CPU power (8-pin + 4-pin) than normal for overclockers to take the board through sub-zero temperatures, as well as eight fan headers. A few of the normal M6E features seem to be missing: sub-zero sense, VGA hotwire, OC Key. This is because we are getting something a little extra with the Extreme, courtesy of a release from ROG Nordic's Facebook page:
The OC Panel is essentially your all in one overclocking station. With an LCD screen it folds away into a 5.25" bay as a monitoring tool, or overclockers can put it on its stand and use the menus to navigate through. As it says in the slide above, the OC Panel integrates the overclocking features such as Subzero Sense, VGA Hotwire, Slow Mode, Pause Switch and VGA SMB. This bit of kit is clearly what goes into the ROG_EXT header on board, and compatible with other ROG boards.
Source: Coolaler
ASUS Z87 UEFI
Courtesy of another facebook leak, we also have slides demonstrating the new ASUS UEFI: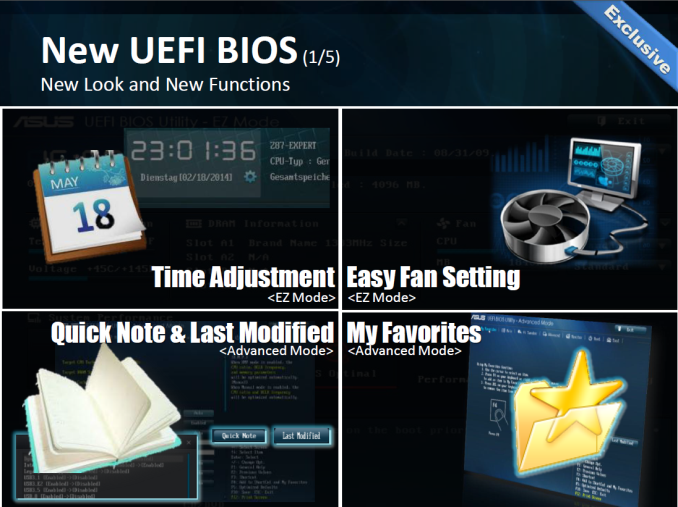 It seems we still have an Easy and Advanced Mode, though the Quick Note, Last Modified and My Favorites features look interesting.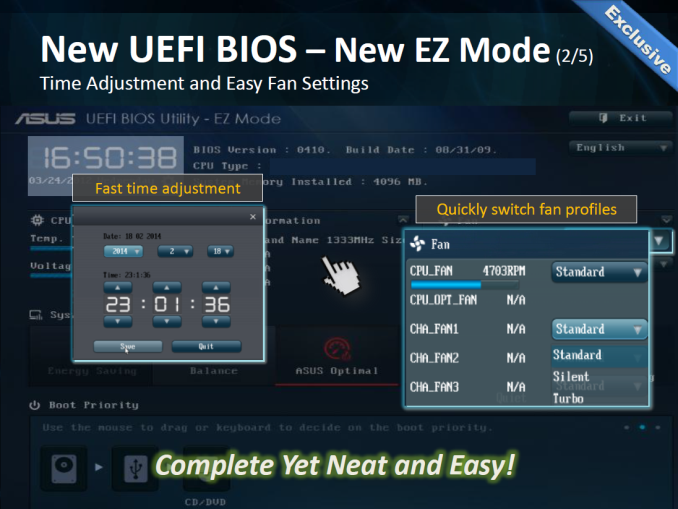 ASUS are bringing more fan control options to Easy Mode, with a drop down menu on individual fans at the click of a button.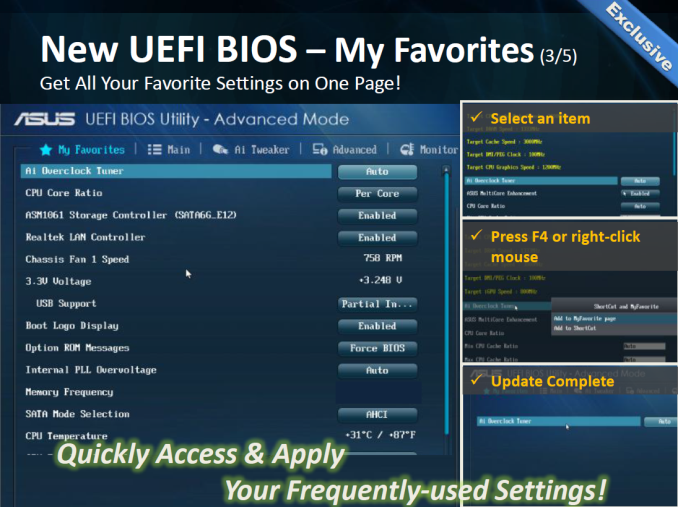 Now this is going to be a good feature for overclockers – if you only want several settings to adjust, you can put them all in a My Favorites menu which comes up at BIOS entry. This allows quick and easy adjustment of CPU multiplier and voltages without churning through a few menus to do so. My hope is that it keeps the options in between BIOS flashes or Clear_CMOS presses.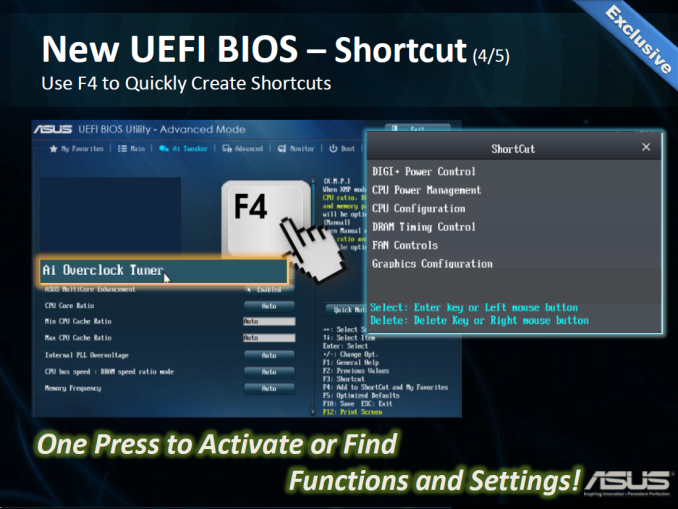 One of the features added in previous BIOS implementations was the shortcut menu – ASUS has also now made this configurable.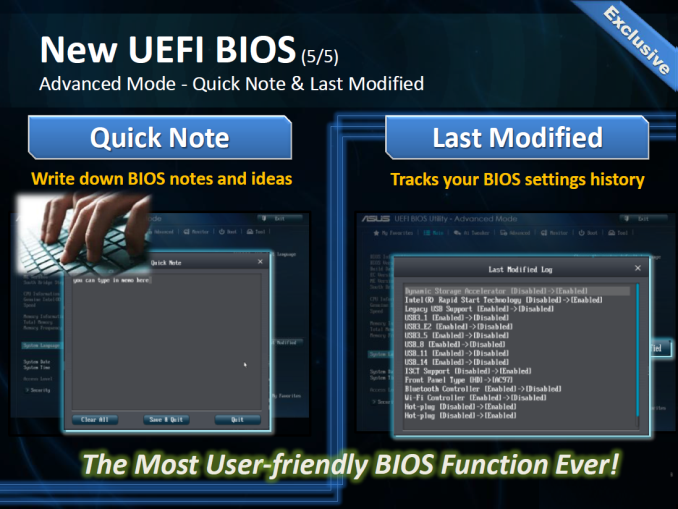 The last feature in the slide deck leaked online is the Quick Note and Last Modified. This would seem to allow users to write notes in the BIOS regarding preferred settings (handy for overclockers over multiple benching sessions) and Last Modified acts as a last sanity check before applying various settings.
Gigabyte Z87
While Gigabyte has not released anything officially, we have had a variety of leaks from press events, IDF Beijing, and on the official Facebook pages from the main Gigabyte page as well as their Tech Column and UK pages, showing off static images of motherboards in the office. We can determine the following models will be on offer, amongst others:
Gigabyte B85-HD3
Gigabyte Z87-D3HP
Gigabyte Z87X-D3H
Gigabyte Z87X-UD4H
Gigabyte Z87X-UD5H
Gigabyte G1.Sniper 5
Gigabyte G1.Sniper M5 (mATX)
Gigabyte Z87X-OC Force
Gigabyte Z87X-OC
Gigabyte Z87N-WiFi (mITX)
Gigabyte B85-HD3
Our recent review of the Z77-HD4, and requests for some of the cheaper models to be reviewed, means that motherboards like the B85-HD3 are definitely on our radar for future reviewing. This was snapped up at Beijing IDF: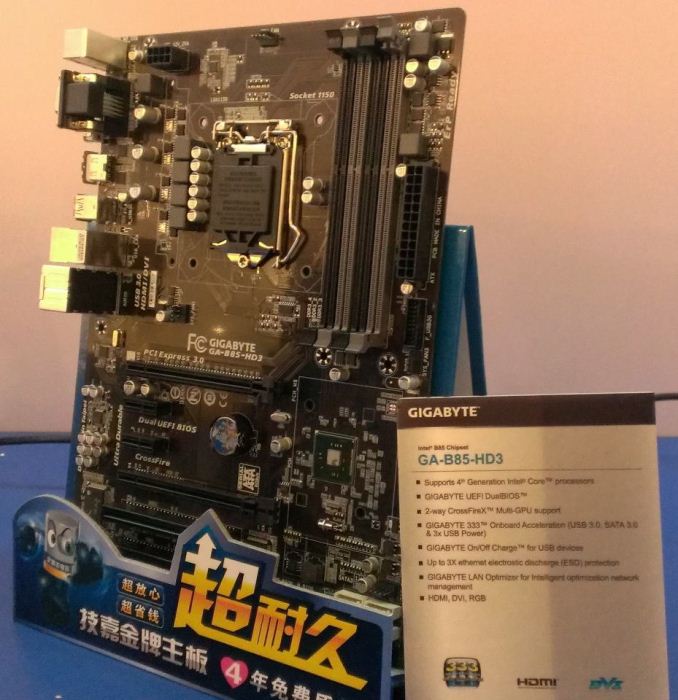 Much like the HD4 we had in, the motherboard is not SLI certified but will support two GPUs in Crossfire – though as we discovered if that second card is at x4 it might not perform to its full capability. The HD3 shown does not have VRM heatsinks on board, so is probably a final revision sample until some of the heatsink get worked out. There is also a shot of the B85 silicon on show, with lines marking out the chipset heatsink area.
Gigabyte Z87-D3HP
Onto the full Z87 models now, and the D3HP is still lower down the range (the important number being '3'), but I would assume the H stands for HDMI, and P might be for Performance. From the board shot we can tell that this motherboard comes in an x16/x4 configuration, but does have an Intel LAN: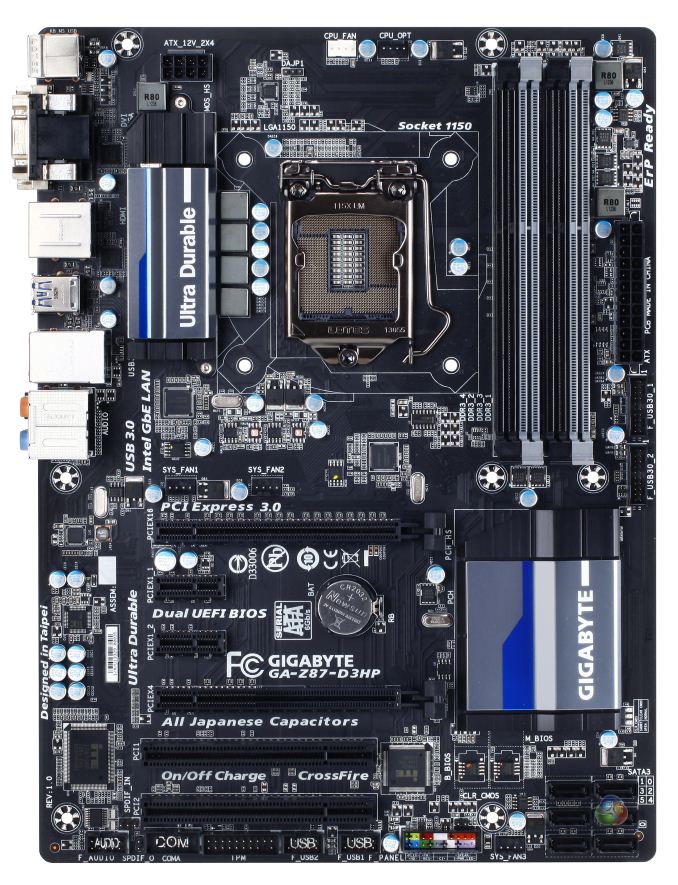 Like the –C and –A from ASUS, we get PCI slots and the SATA connectors on the D3HP are at right angles to the motherboard as they are unlikely to get big PCIe cards in the way. Gigabyte still sticks with their DualBIOS at this end of the spectrum, and it is worth noting that the two USB 3.0 headers on board might suggest that the in-the-box package comes with a front USB 3.0 panel. Although slightly blurry, the audio chip is definitely a Realtek ALC88x, probably the 889.
Gigabyte Z87X-D3H
The X series of motherboards is where Gigabyte starts to organize PCIe lanes to benefit multi-GPU users, and as such the D3H is x8/x8 on the SLI front. It seems that we also get a PCIe 2.0 x4 at the bottom, and a PCI slot. Intel NICs seem to be a prominent feature up and down the Z87 range from Gigabyte, which is always a plus.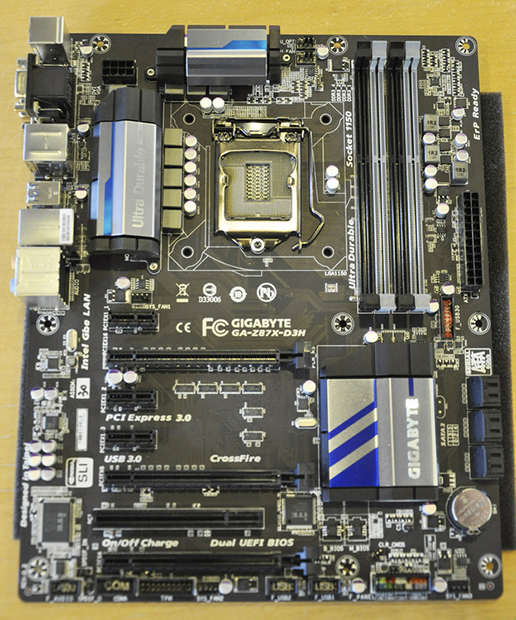 At this level we do not see any extra SATA 6 Gbps or USB 3.0 ports, either from IO organization or controllers. As before this looks like a preview board, hence the lack of VRM heatsinks.
Gigabyte Z87X-UD4H
The board that gets the most visual makeover from Gigabyte is the UD4H, which sits in the middle of the range. We have not got shots of the UD3H, but the UD4H comes in with a red styling, a good sized heatsink, Intel NIC, extra SATA 6 Gbps ports and what looks like an x8/x4/x4 PCIe setup.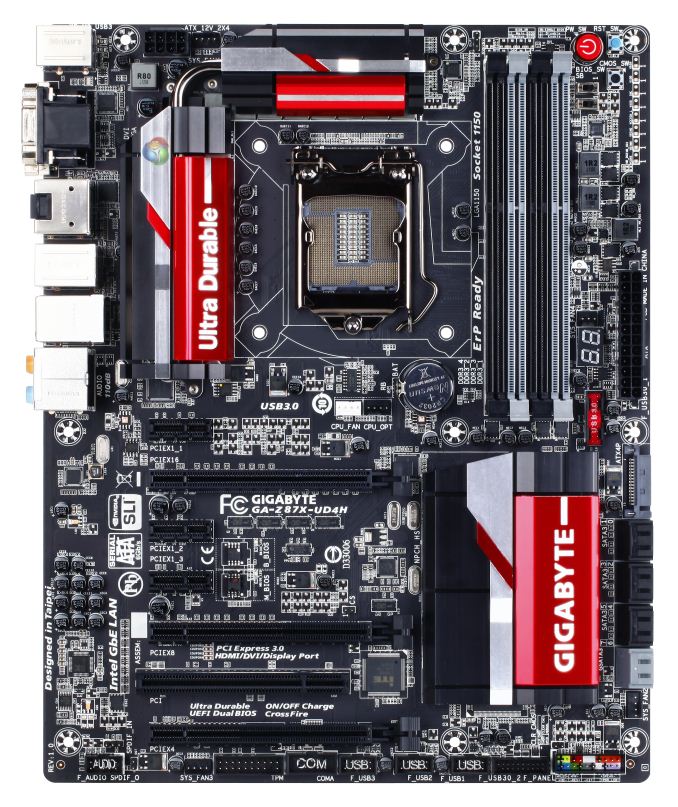 On the top right we have our trio of power/reset/CMOS switches, alongside a pair of DIP switches. These DIP switches help users by changing how the system sees the DualBIOS – whether it sees one or two BIOSes, and which BIOS is being used. Further down the board we have a two-digit debug and a SATA power input for extra VGA power. Audio is rated at 110 dB SNR, which suggests a Realtek ALC89x audio chip.
Gigabyte Z87X-UD5H
One of the favorite boards we tested in the Z77 range was the UD5H, sitting pretty at $180, and it stands to reason that Gigabyte are wanting to do something similar with the UD5H. Our image is a blurry IDF shot, but nonetheless tells us of some of the feature set.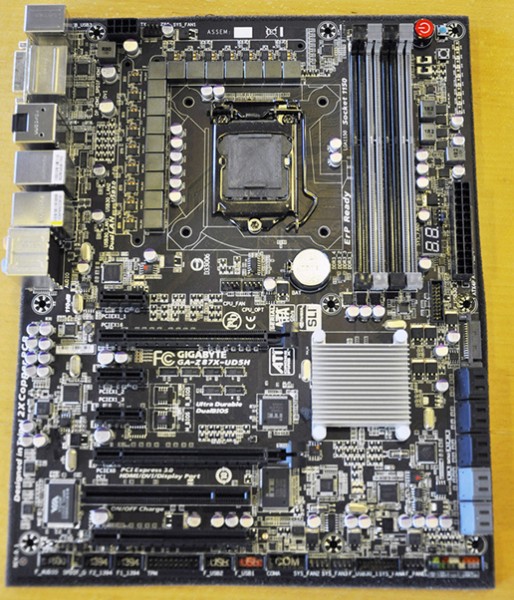 We are still rocking the PCI, along with ten SATA 6 Gbps ports (4 from controllers). While it is obvious from this shot the heatsinks are not final, there seems to be a substantial power delivery system in place and a full rear IO. I would expect to see a UD5H WiFi version on sale as well, also a UP5 soon after release with fewer IR3550s.
Gigabyte G1.Sniper 5
Sitting at the top of the gaming range for Gigabyte will be the G1.Sniper 5. This is the UD5H on steroids: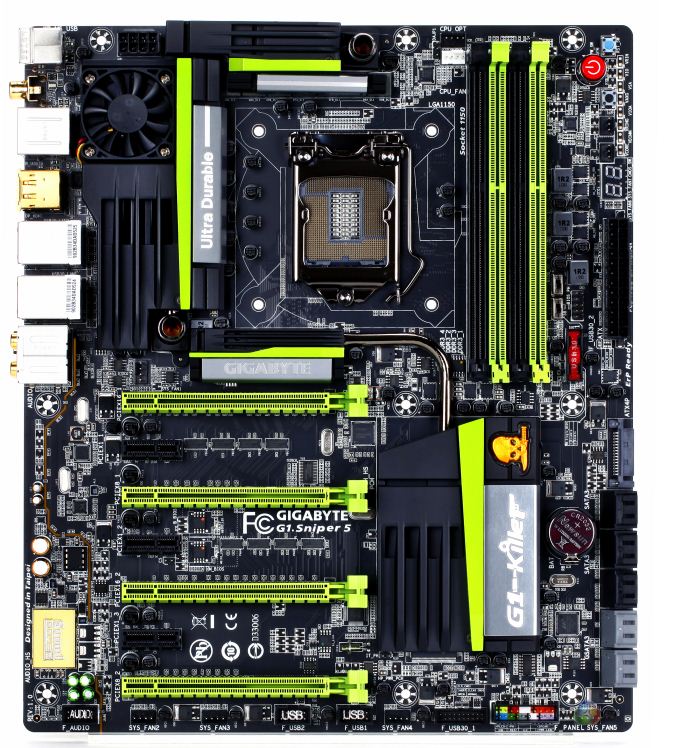 The VRM heatsink, with additional small fan, extends around the VRMs into the middle of the board (covering a PLX 8747) and onward onto the chipset. The PLX chip on board means that the layout will be x16/x16 to x8/x8/x8/x8 depending on the number of PCIe devices in use. We also get ten SATA 6 Gbps ports and Sound Core 3D audio, and I also notice two USB 3.0 headers on board which means that there are some controllers for USB 3.0 on the rear IO. I also spy six fan headers.
The audio solution on the G1.Sniper 5 is also a little different – a slide deck from Gigabyte has been released online which features a new OPAMP for audio enthusiasts:
With the motherboard comes two ICs (OPA2134 installed, LM4562NA in the package) and an upgrade kit with an additional three will be available for purchase in selected markets.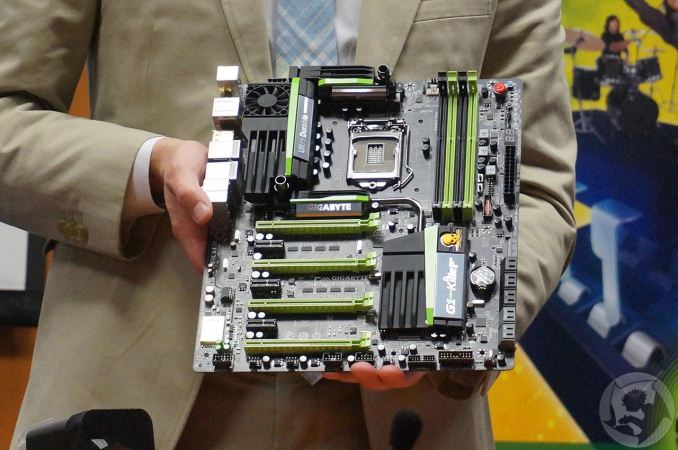 Sources: HardwareHeaven, TweakTown, KitGuru
Gigabyte G1.Sniper M5
Continuing on from the G1.Sniper M3, the M5 takes some of the Sniper 5's features such as the OpAmp and puts it into the micro-ATX form factor.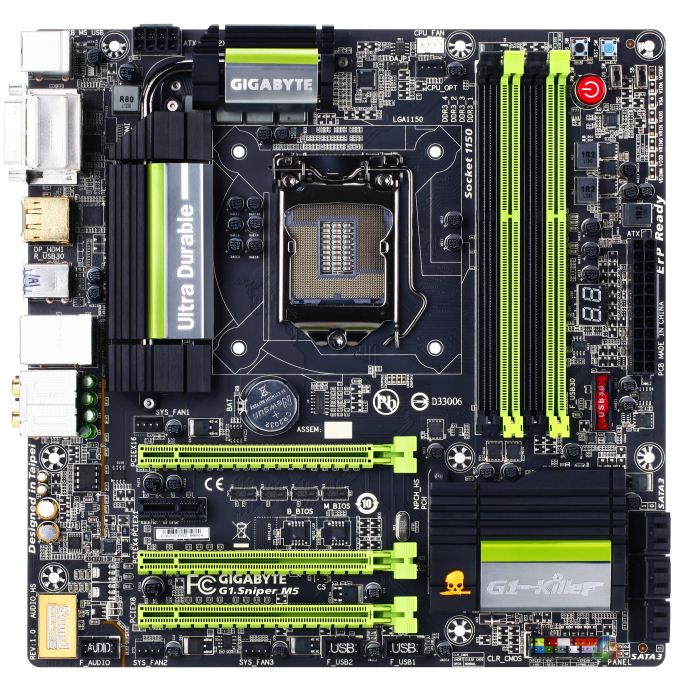 Like the M3, we get the x16/x4/x8 PCIe configuration to allow for two triple slot cards, as well as our six SATA ports and USB 3.0 ports. Interestingly enough the socket area looks relatively clear apart from a couple of caps, which may make it nice for overclockers to insulate. I also like the single sided latches here.
Gigabyte Z87X-OC
Instead of retaining the UP7 name from Z77, it seems that Gigabyte want to resurrect the OC moniker for a pair of orange overclocking motherboards. First up is the Z87X-OC.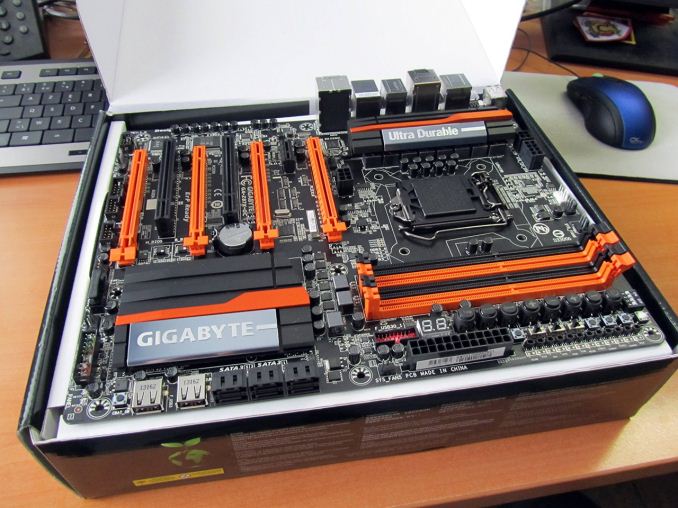 Even though all we have is this oblique camera shot, it is clear that Gigabyte is catering to the prosumer overclocker, especially when we compare this to the OC Force below. Nonetheless we have a vast array of OC Touch buttons next to the DIMMs, as well as DIP switches and voltage read points. Next to the SATA ports are two USB ports, ideal for overclockers that want to remove their screenshots without having to fiddle with the back panel (also for mice/keyboards). The PCIe layout is also a little different – notice how we do not have a PLX 8747 chip, but there is still slots for 4-way GPUs. This must mean that Gigabyte is applying a PCIe 3.0 x8/x4/x4 + PCIe 2.0 x4 arrangement, with the final x4 from the chipset. This means the board will go up to 4-way Crossfire, but only 2-way SLI (you need at least an x8 for SLI) – but scaling on that final x4 might be a bit of a stretch for all but compute that does not need the bandwidth.
Gigabyte Z87X-OC Force
The OC Force will be the UP7 equivalent for Haswell. We get that PLX 8747 chip for x8/x8/x8/x8 on the PCIe, along with what looks like a bypass lane to run x16 on a single card without the PLX. A trend in motherboard manufacturers is to now have a VRM heatsink with an integrated water cooling pipe, and now Gigabyte have this model: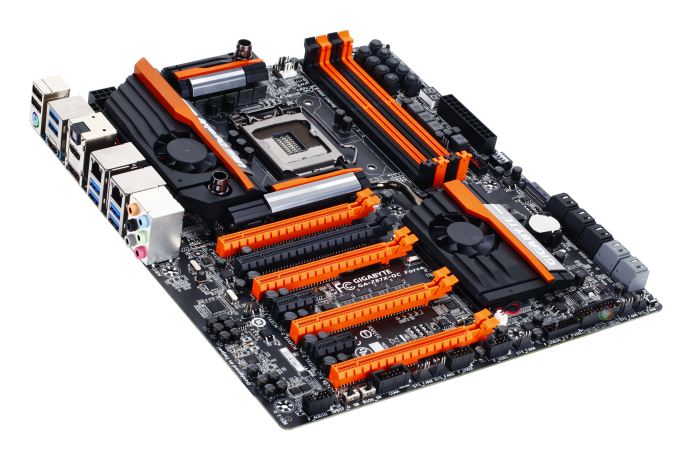 Chipset fans are a feature of the model, but I would assume they can be adjusted in the software. Like the OC, we get OC Touch buttons along the side, but instead of USB ports we have 10 SATA ports, and at least 10 total USB 3.0 ports. On the rear IO it looks like dual HDMI with DP, as well as dual NIC.
Gigabyte Z87N-WiFi
Everyone likes a good mITX board, and Gigabyte are creating a new version of the Z77N-WiFi (we reviewed the H77 model last September). On the face of it we have a pretty middling mini-ITX board, with a clear spot for a WiFi card, and four SATA 6 Gbps. The memory is right up against the edge, meaning the 4-pin CPU connector is in the middle of the board, causing cables to reach over components.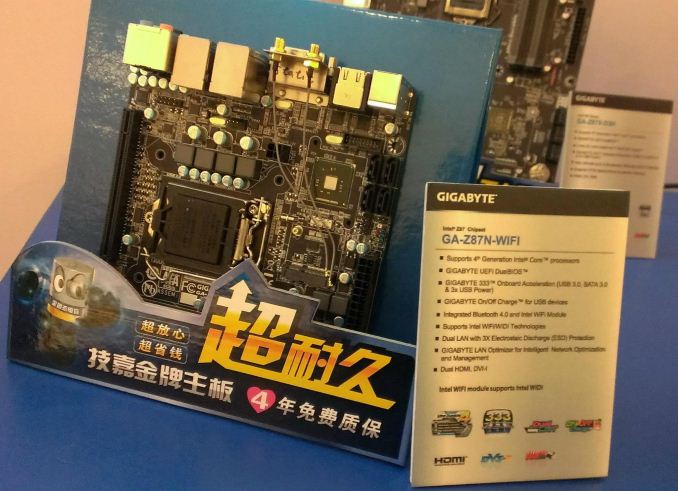 Gigabyte BIOS
There have been some leaked shots of the Gigabyte BIOS, which looks like a big update from the '3D BIOS' of old: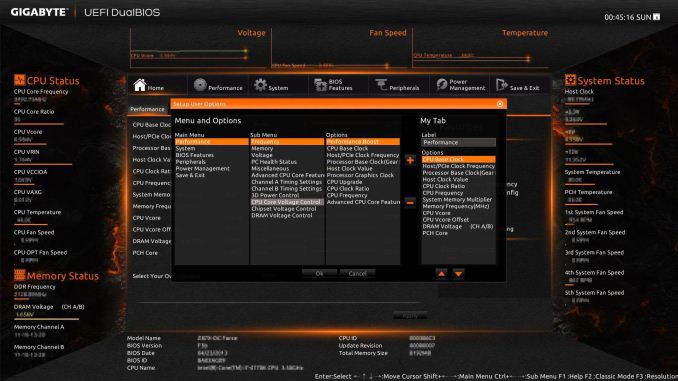 Zooming out we can see this is BIOS F3B for the Z87X-OC Force, as well as a few voltages. But this seems great – we have all the information regarding the motherboard in the front screen all the time. I have been going on and on about this since the start of UEFI, and I am glad this is part of the evolution!
Gigabyte Software
A few images have also come through regarding the new version of EasyTune:
In the past I have been critical of the way that Gigabyte handles the fan controls in ET6, but this new version looks good, with a few more automatic overclock options as well.
ASRock Z87
We are luckily enough one of the first few (if not the first) to showcase the ASRock Z87 range in all its glory. ASRock have a series of motherboards lined up for users, following the normal naming structure we have come to expect:
ASRock Z87 Extreme3
ASRock Z87 Extreme4
ASRock Z87 Extreme6
ASRock Z87 Extreme6/AC
ASRock Z87 OC Formula
ASRock Z87 OC Formula/AC
ASRock Z87 Professional
ASRock Z87E-ITX
ASRock Z87M Extreme4
ASRock Z87M OC Formula
The big thing to notice is the use of AC in the name of a few of them, which should mean 802.11ac support, and would signify that ASUS and ASRock are both in the game for placing the high end WiFi on their motherboards.
A-Style
For a lot of their high end range of products, ASRock are applying something they call A-Style. This combines features such as upgraded sound, a HDMI input (tablet -> PC -> Monitor for control or gaming), 802.11ac, 'Waterproof by Conformal Coating' (perhaps some superhydrophobic coating) and Home Cloud. As we get nearer the launch date ASRock will be updating their microsite with more information. The one that interests me most as a classically trained chemist and an overclocker is the waterproof coating:
It looks too good to be true. I understand the physics behind the lotus effect (superhydrophobicity), and it is something being applied to mobile phones to protect electronics from being dropped into water, but it would clearly be interesting to see in action beyond the PR video.
ASRock Z87 Extreme3
It has been known in the past that the cheaper end of ASRock's Extreme range offers a little extra for the price point. Insert the Extreme3, which looks like a fully functioning ATX motherboard: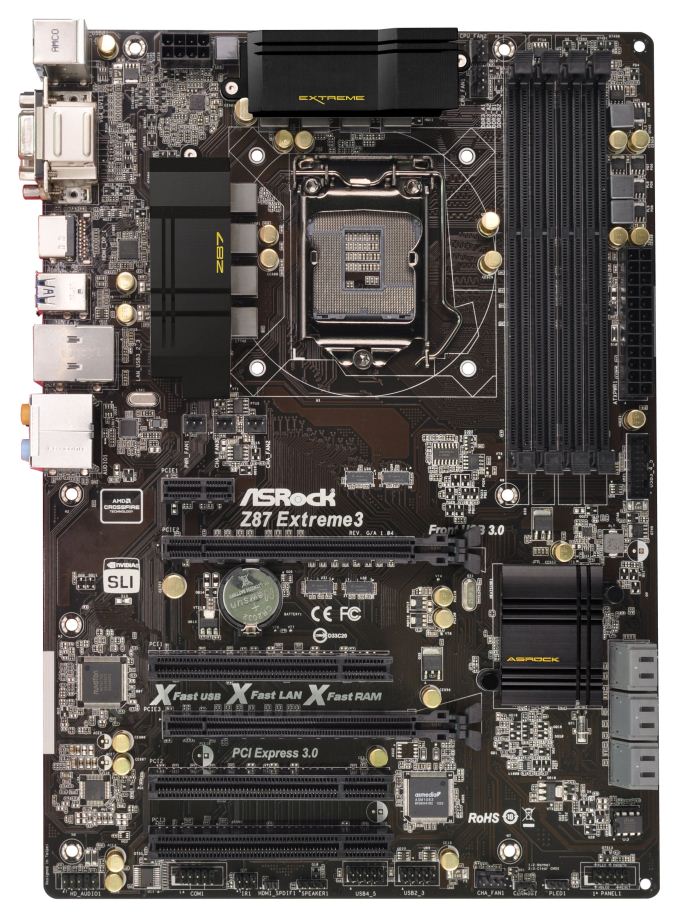 At this price point we do not get single-sided latches for the memory, but we do have what looks like a full SLI capable motherboard, featuring an x8/x8 layout and a few PCI slots. ASRock have also adorned this motherboard with six can headers, and we get what seems to be a standard six SATA ports and six USB 3.0 ports. It is worth noting there is no DisplayPort.
ASRock Z87 Extreme4
Whereas the Extreme3 is for the low end of the channel range, the Extreme4 is usually a nice middling product to look at for a few extra features.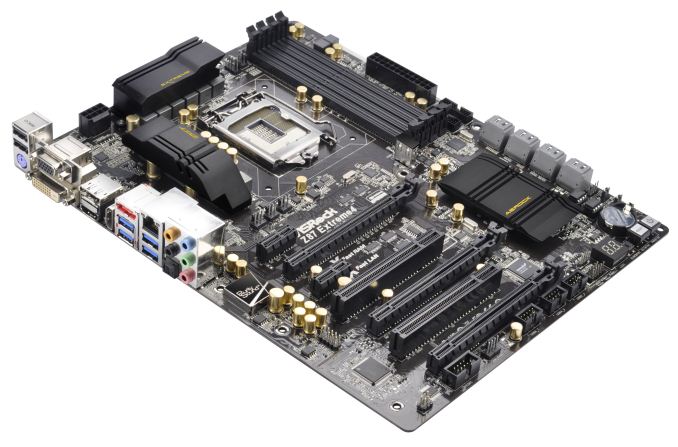 From the Extreme4 on we get a sound solution that ASRock are calling Purity Sound, which according to the ASRock microsite is a Realtek ALC1150 under an EMI shield with a pair of TI NE5532 amplifiers for 600 ohm headphone support. The system also moves up to three full length PCIe slots, supporting what looks like x8/x4/x4 with the traces. ASRock are using ASMedia controllers for extra SATA ports and extra USB 3.0 ports – we have 8 of each. Also onboard are power/reset buttons and a debug LED.
Users will note on the rear IO what looks like two HDMI ports, as well as all the other video outputs we might find on a Haswell system. One of these ports is a HDMI in, allowing users to use a pair of HDMI cables and a quick toggle to move between tablet/smartphone and PC. Personally I think I would prefer a front panel HDMI for this feature, but then again I cannot see myself ever wanting to HDMI in to my monitor via my TV – I have enough access to do it direct from the monitor to my mobile device.
ASRock Z87 Extreme6 and Extreme6/AC
The Extreme6 and Extreme6/AC are the same board; all that differs between the two is that onboard the AC model is an AC WiFi card: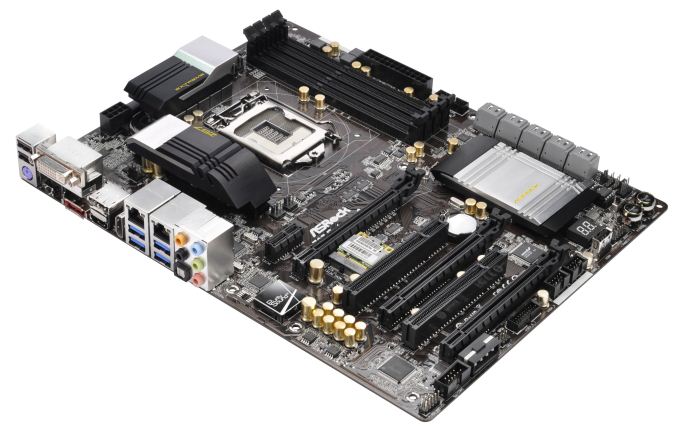 Aside from the 802.11ac card, the Extreme6 builds further upon the concept of the Extreme4. We now have a large set of 10 SATA ports, dual NIC, HDMI in (again), and a 4-pin molex connector for extra VGA power suggesting a definite x8/x4/x4 setup. There is also a USB port sticking out of the board, Purity Sound, two onboard BIOSes (switchable) and a total of 8 USB 3.0 ports. I will note that one of the features other motherboard manufacturers are using is a matte coating to disguise where the traces are. This obviously carries a small cost, which ASRock are foregoing here.
ASRock Z87 Extreme9/AC
The top end model of the ASRock channel range at launch will be the Extreme9/AC. I have a sneaky suspicion that a non-AC model may be launched, as well as an Extreme11 (with an LSI 2308 SAS chip and a pair of PLX 8747 chips) at a later date. Nonetheless, the Extreme9/AC is well kitted out to potentially be one of the top Z87 motherboards: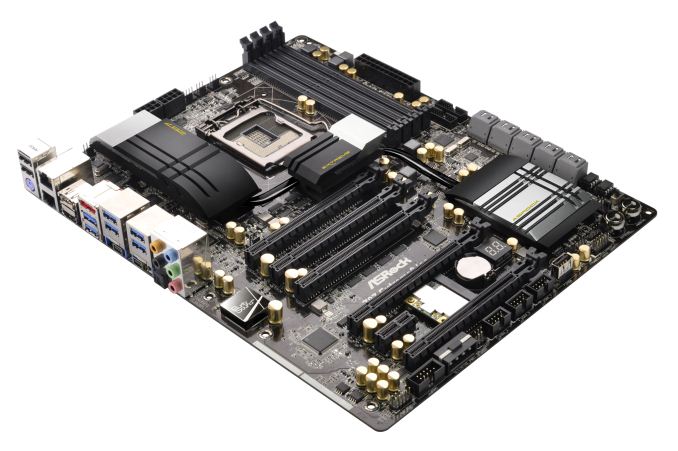 To start we notice the extended heatsink going around the board, which we would assume covers up a PLX 8747 chip for x8/x8/x8/x8 lane allocation. Having three full-length PCIe at the top, and the second one being wired in for x16, suggests that ASRock are also looking at making the second slot bypass the PLX chip for better single GPU performance. We also have two CPU 8-pin power connectors for overclockers who want to push the motherboard. Alongside all the Extreme6 features that have made their way here (10 SATA ports, USB port sticking out, single side latches, dual NIC, Purity Sound), we can see 10 USB 3.0 ports all in, as well as what looks like a Thunderbolt chip. This seems to be a dual port chip, judging by the two mDP ports on the side, but on the board itself is a significant sized chip with wavy traces indicative of a TB.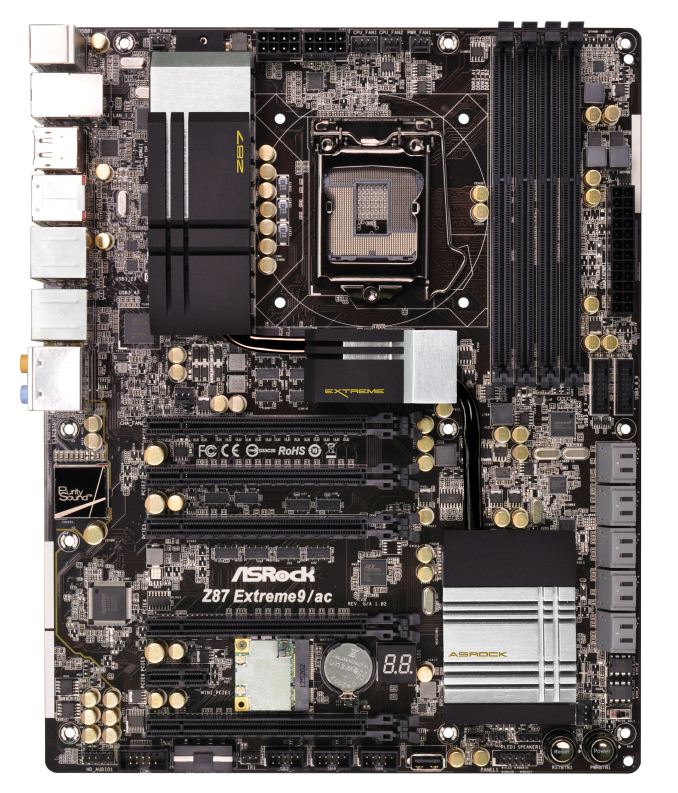 ASRock Z87 OC Formula and OC Formula/AC
When I reviewed the Z77 OC Formula from ASRock earlier in the year, I was pleasantly surprised on many fronts. Here we had a motherboard for enthusiasts – it was easy to use, had a positive user experience, and showcased that ASRock can deliver good products and ones that can perform at the top of the game. The Z87 OC Formula then has to be a platform whereby ASRock can step up to the plate and get another base hit, and it looks a bit good: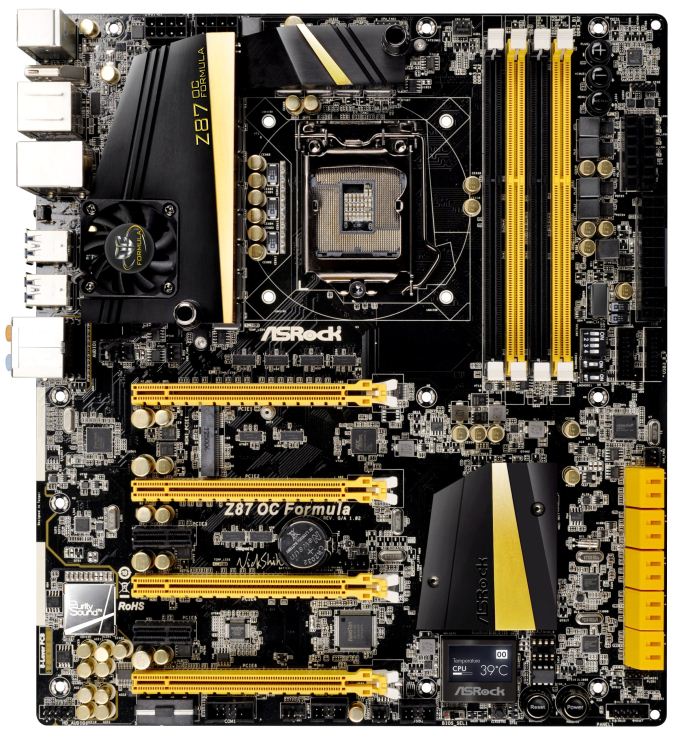 I hope you all see this image correctly, because there seems to be something fairly magical underneath the chipset heatsink. Yes, that is an LCD screen! Judging from the Waterproof video at the top of the page, it seems this is an add-on unit that will hopefully come with the box. It currently shows CPU temperature, but I think it will also be used for POST codes as well as other features (your own message, voltages, temperature from other sensors, etc).
Elsewhere on the OC Formula we have upgraded features from the old model – we now get four way GPU usage, though clearly without a PLX chip. This seems to be like the Gigabyte Z87X-OC which uses an x8/x4/x4 + x4 layout – that final x4 being PCIe 2.0 from the PCH. We get ten SATA ports, Purity Sound, a total of 12 USB 3.0 ports (two onboard headers and eight on the rear IO, and the combination VRM heatsink + water cooling apparatus as seen on the last OC Formula.
The OC Formula also gets an LN2 switch and a Slow mode switch, as seen on ASUS boards, and a double set of voltage read points alongside a trio of OC buttons. We only have a single NIC, but the AC edition will come bundled with an 802.11ac card. I also note we are using double sided latches on the DIMMs, whereas I would have expected the single side latch mechanism like on the Z87 Professional.
ASRock Fatal1ty Z87 Professional
Since I started reviewing, I have been fairly critical of Fatal1ty boards. My general feeling is that the motherboard industry does not need celebrity endorsement, especially one where we are not too clear if they have had any input in the design at all. At least when Jenson Button endorses hair care products, you can be pretty sure he uses them, but I would not bet he had any input into the chemistry behind it. The Z87 Professional carries on the Fatal1ty moniker and styling, so it clearly is beneficial to ASRock's sales: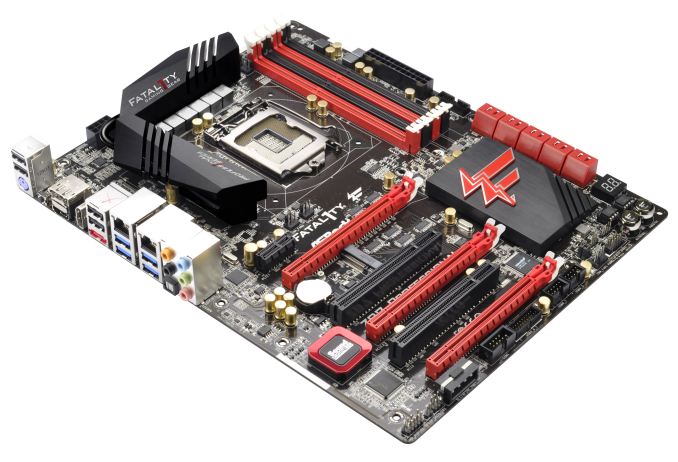 Putting this motherboard next to the Extreme6 and we get almost an identical board with a few changes. We still have a trio of PCIe slots, 10 SATA ports, a two digit debug, some USB 3.0 and a HDMI in. The major changes are out with the Purity Sound and in with the Creative Sound Core3D, and the Fatal1ty specific BIOS/software package with the mouse software for 1000 Hz support.
ASRock Z87E-ITX
ASRock are coming out of the gate with at least one mITX SKU, and given that we recommended the Z77E-ITX, it will be interesting to see how it has developed over time for the new platform.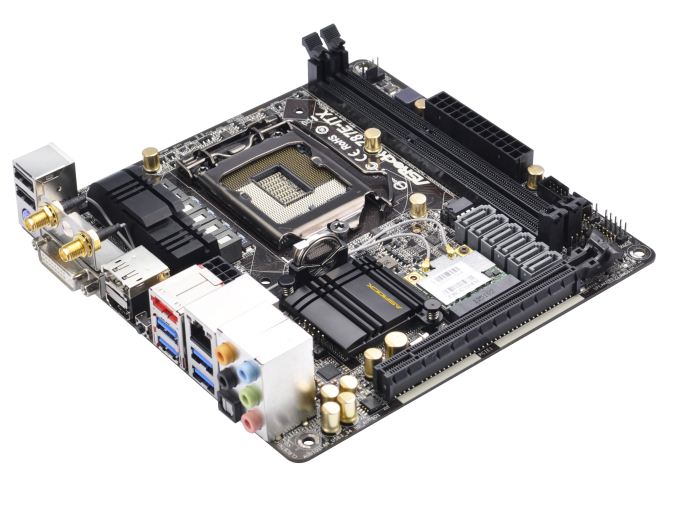 At this point I am going to be overly critical on a number of points. Firstly, the CPU 8-pin connector is in the middle of the motherboard, when it really needs to be on the edge. Next, the six SATA 6Gbps connectors are all up against each other, which means with locking SATA cables if you need to take the one at the bottom out then the user will have to take out the other five, in order, first. On a positive note we see that the socket has plenty of room to move north and south for coolers, and like the Z77E-ITX, we get an mSATA on the rear of the motherboard: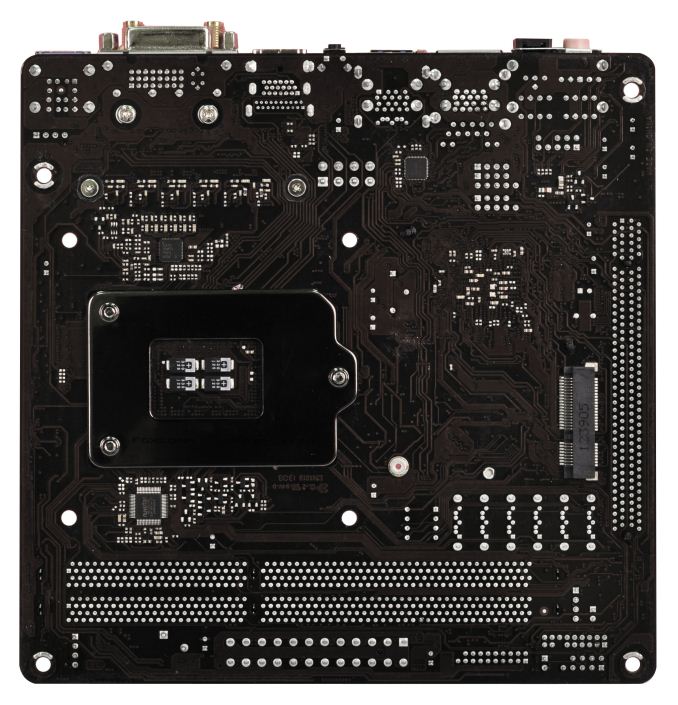 Also worth noting that the board does come with WiFi, but due to no AC in the name we could postulate that it would be 802.11n rather than 802.11ac.
ASRock Z87M Extreme4
With every chipset release ASRock does like to come out with a microATX board in the middle of the range, and this time it is the Z87M Extreme4.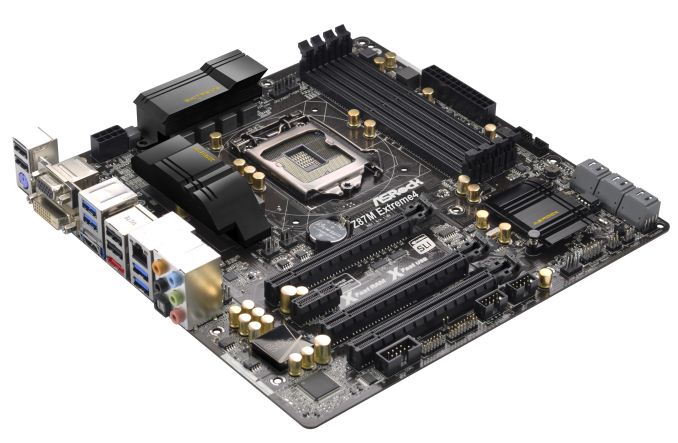 At hand we have the A-Style still present in the form of Purity Sound, but overall it seems more like a stripped down Extreme3 but with SLI capabilities. On board are six SATA ports and six USB 3.0 (like the Extreme3), no DisplayPort (like the Extreme3) , an x16/x1/x8/x4 PCIe layout and a TPM. Nothing ultimately stands out at me looking at the motherboard images, except the front panel audio has been shifted up towards the IO rather than on the south of the motherboard.
ASRock Z87M OC Formula
A new addition to the lineup is the mATX version of the OC Formula. On one hand we know this is going to be having the software and BIOS package like the bigger brother, but the hardware needs to be comparable as well.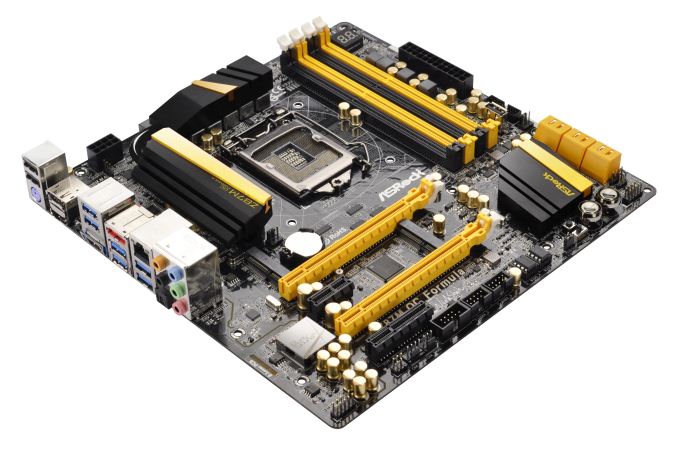 At first glance it looks a little strange – sure we get Purity Sound, and x8/x8 PCIe combination, an LN2/Slow Mode pair of switches, but there is no combined air/water cooler and no mini-LCD screen. The system uses a two-BIOS methodology, but we have six SATA ports and what looks like an mPCIe and an mSATA on board. USB 3.0 ports number 8 in total, but at least there is the single sided latch DIMM slots, as well as Power/Reset buttons and a two-digit debug.
MSI Z87
MSI have kept their cards relatively close to their chest on this one, except for one microsite detailing the core of their gaming and overclocking range. So far we have details on:
MSI Z87-GD65 Gaming
MSI Z87 MPower
MSI Z87 MPower Max
MSI Z87 XPower
It seems that the Big Bang moniker is finally gone, with MPower being the mid-range overclocking motherboard and the XPower being used for those sub-zero extremists.
MSI Z87A-GD65 Gaming
It was not too long ago that we had a look at the Z77A-GD65 Gaming, whereby MSI described to us that the Gaming range was initially intended for Haswell launch, but due to the extra delay added on by Intel they decided to forge ahead with a Z77 model. Back with that model, there was various limitations on what they could do (either physical or temporal), but Z87 has brought some of them out. Looking at the board we see larger heatsinks for the VRM and the Dragon, as well as Audio Boost: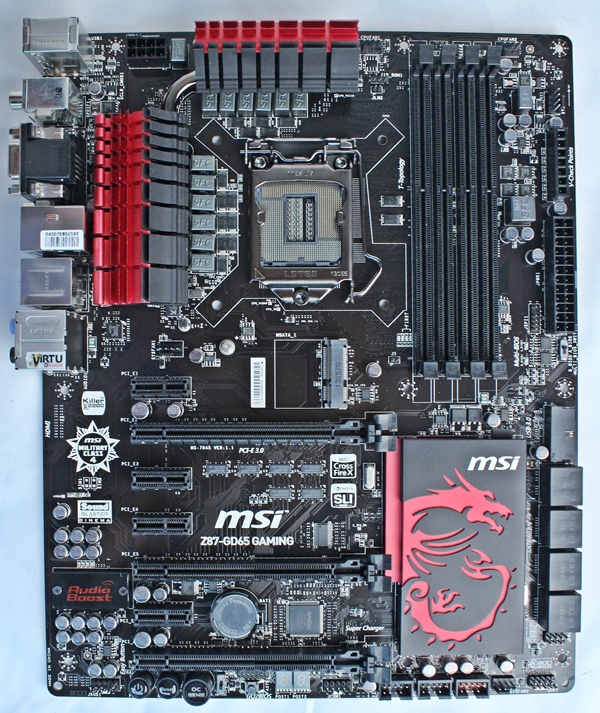 I was initially fooled by the lines on the board with the mSATA, thinking it was something special, but the fastener for the screw means that it is only an mSATA port. The big thing on the left hand side of the board is obviously Audio Boost, which given the motherboards already seen in this preview I would hazard a guess at an ALC1150 hiding under an EMI shield. The microsite states support for 600 ohm headphones as well.
On the board itself we see MSI voltage checkpoints, eight SATA 6 Gbps (it seems all are coming from the chipset?!), the classic OC Genie, also Go2BIOS for Windows 8 users/overclockers. Multi-BIOS also makes an appearance, selectable by a BIOS switch.
MSI Z87 MPower / MPower Max
Source: 59hardware, PC Authority
MSI seems to be splitting their overclocking motherboards into two groups – MPower for the lower cost 24/7 overclocking, and XPower for extreme overclock users. For the MPower, two versions are being released – a normal version and a MAX version. These two boards look very similar, and without close inspection we might miss the differences between them.
The MPower Max: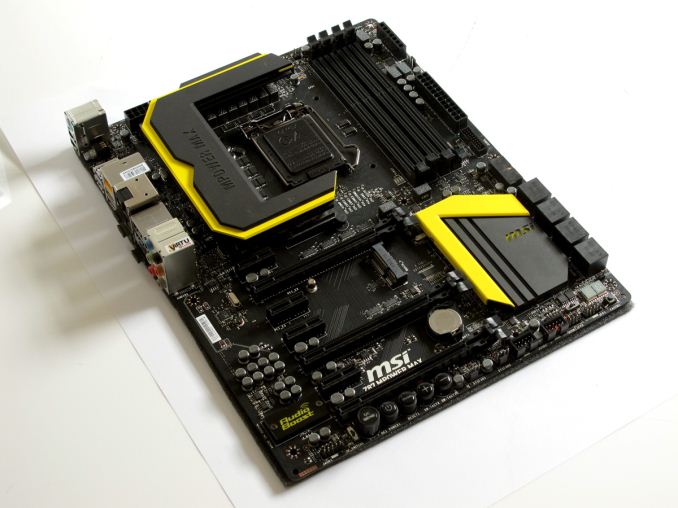 The MPower: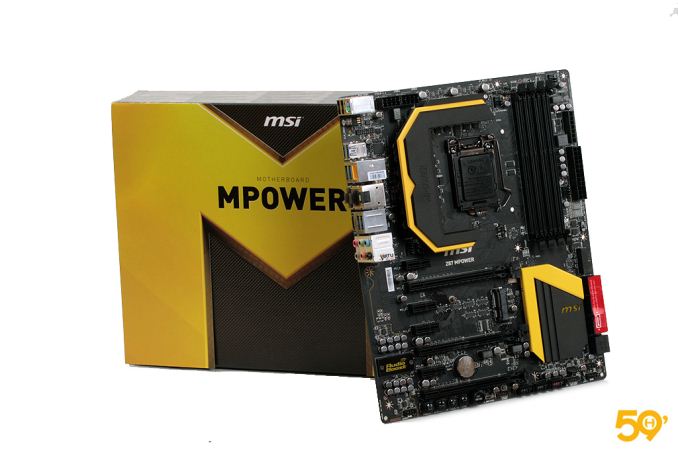 The differences I can fathom are a slightly rearranged audio layout, moving the two-digit debug from the corner to below the 24-pin ATX connector, the fan headers being slightly rearranged and the OC Genie button moved. Nevertheless on both boards we get Audio Boost, voltage check points, eight SATA ports, what looks like an x8/x4/x4 PCIe layout, an mSATA in the idle of the board, a ClearCMOS button at the back and what looks like space for an extra card on the rear IO. In fact some of the images on the MSI Microsite suggest that this is an 802.11n card – this means the Max might have the card and the normal MPower may not as a price point differentiator.
MSI Z87 XPower
MSI have kept the Z87 XPower very close to their chest. The only images we have are mild corner or socket focused images, but nonetheless it offers potential. At least we can see a big yellow X on there: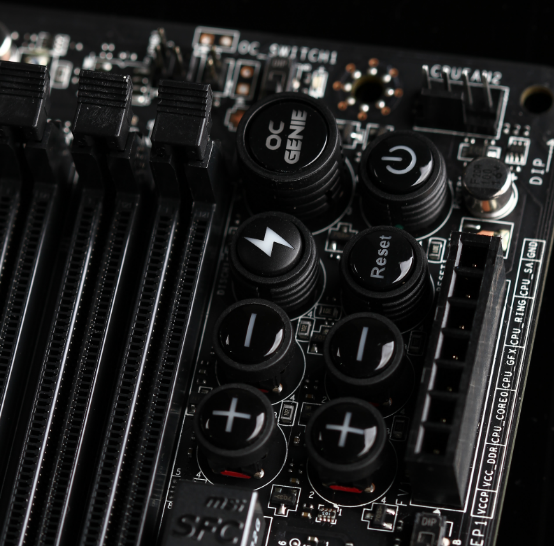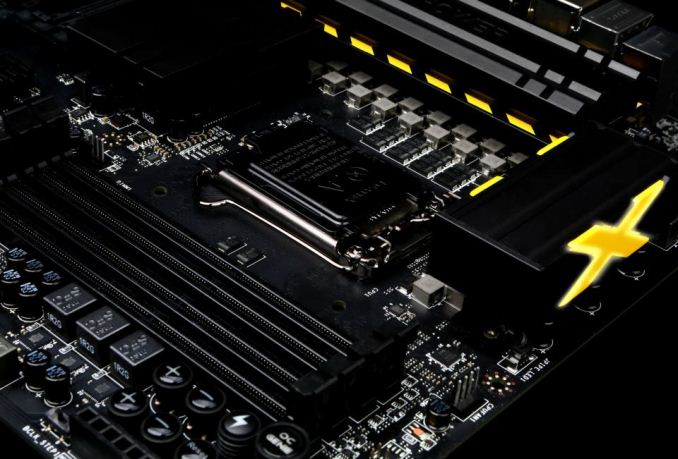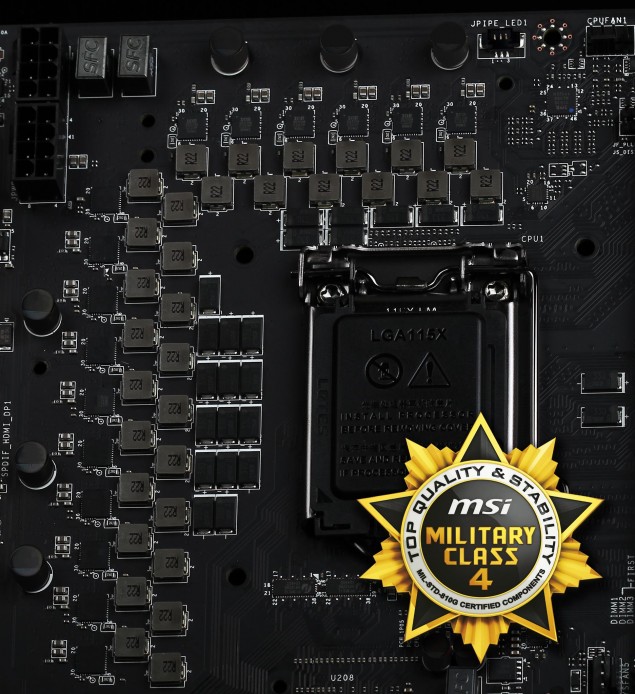 Source: WCCFTech
Biostar Z87
Source: GamersNexus, Hardware.info
During our time on Z87, Biostar never really jumped into the picture. There were murmurings of their Puro audio solution, using pairs of large caps to help filter out analog signals. When it comes to the new Haswell generation, we got wind of several boards coming to market:
Biostar Hi-Fi B85S3 (mATX)
Biostar Hi-Fi H87S3+ (mATX)
Biostar Hi-Fi Z87W
Biostar Hi-Fi Z87X 3D
Gone are the years of orange Biostar boards – whereas everyone seems to be moving away from blue, Biostar are bringing it back with their higher end range.
Biostar Hi-Fi B85S3
First up is a B85 board in a micro-ATX form factor: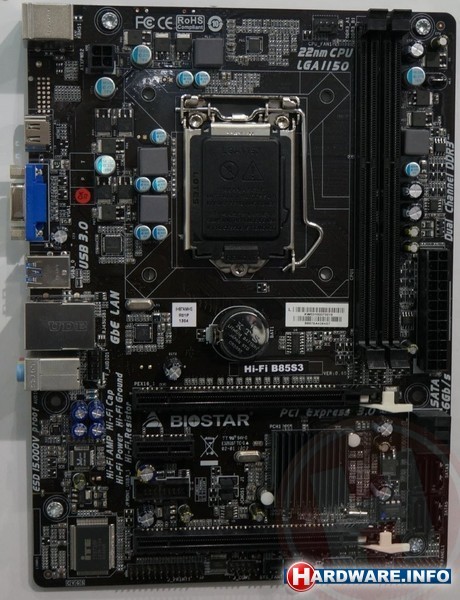 While Biostar are keen to announce the use of USB 3.0, the LGA1150 socket, PCIe 3.0, SATA ports and DDR3, the text relating the audio interests me more. Here we have 'Hi-Fi AMP', 'Hi-Fi Cap', 'Hi-Fi Power', 'Hi-Fi Ground' and 'Hi-Fi Receiver', which could mean we have a half decent audio solution on a cheap end board, but I would not hold my breath – judging by the three audio outputs we probably have an ALC889 onboard.
The PCIe layout suggests an x16/x1/x1/x4 layout due to the B85 chipset, and the SATA ports have two upright and four coming out of the board. The Rear IO looks a little bare but we clearly have a HDMI, VGA, and a few USB 3.0 ports.
Biostar Hi-Fi H87S3+
Moving up the chain to H87 we have a similar looking board to examine, especially in terms of IO.
The PCIe lane allocation is sporting a PCI connector at the bottom, and the SATA ports (there seems to be six under the logo) are all coming out of the board. The audio solution still looks like an ALC889 however. On the IO the VGA looks like it is now above a DVI connector.
Biostar Hi-Fi Z87W
The full ATX models from Biostar are starting to actually look nice, rather than the orange of yesteryear. The Z87W comes in focused all within the Puro Hi-Fi: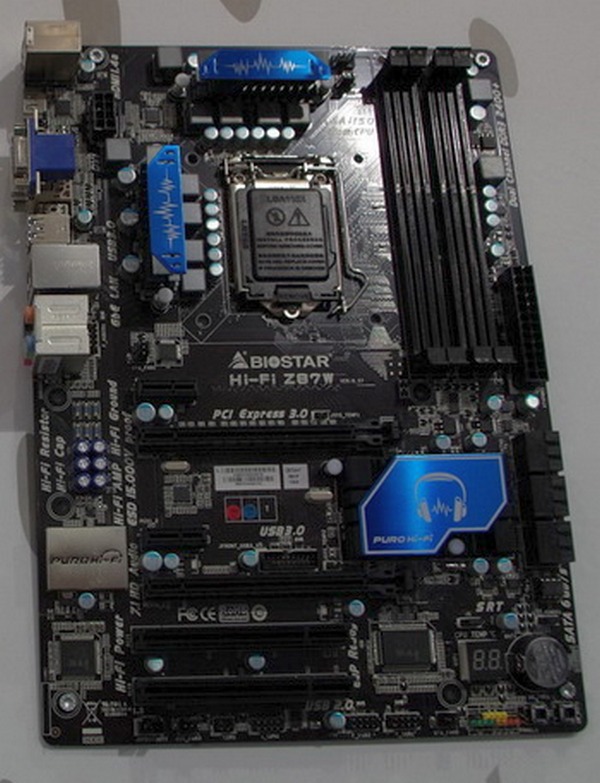 So Puro was on Z77 but unfortunately we did not have a deep look at it. With Z87 I do hope they are using the ALC1150 as well as supporting 600 ohm headphones, though without technical specifications I can only speculate. Biostar have never been one for multi-GPU setups, but we get what looks like an x8/x8 allocation on the GPUs, as well as power/reset buttons and a two-digit debug LED.
Biostar Hi-Fi Z87X 3D
Another step up the ladder and we get a clear shot of the next motherboard up the range, the Z87X 3D.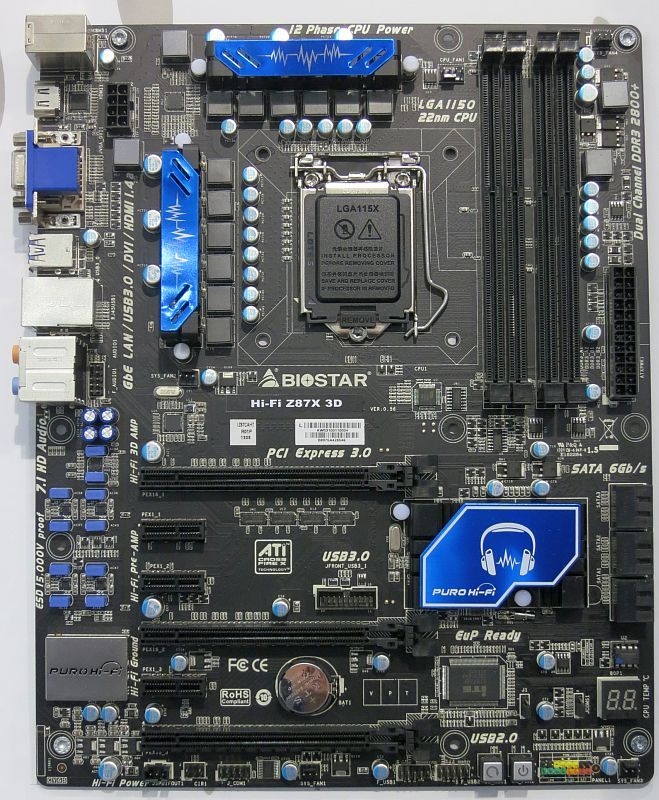 We can see Biostar are slowly upping the number of phases for the CPU (it states on the top of the board 12), and the Puro Hi-Fi takes up a good portion of the left hand side of the board. PCIe allocation looks like an x8/x4/x4 (or x8/x8 + x4), and we get proper power/reset buttons this time around. It is worth noting the very strange location of the USB 3.0 connector – right in the middle of the motherboard. This means a cable stretched across the board, and no luck if you decide to use a triple slot GPU or large PCIe x1 card.
EVGA Z87
With most of the recent releases, EVGA has not been a big player on release day, typically only releasing one or two products with up to three or four motherboards per chipset in total - for example on Z77 we had the FTW and the Stinger. I was lucky enough to catch one of Jacob Freeman's tweets today showing off their Z87 motherboard: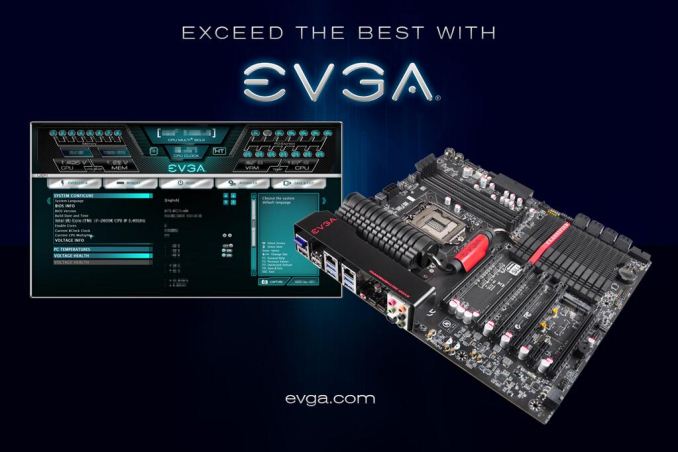 It looks like we have a new BIOS, that the EVGA board is, as always, looking substantial in terms of heatsinks and PCIe. EVGA employ K¦ngp¦n, one of the world's top overclockers, who constantly uses EVGA boards to break overclocking world records when he can. Of course I would like to see what EVGA have up their sleeve for this generation.
ECS Z87
When I started writing this preview, I had neither seen nor heard from ECS in many months. There was not an emphasis on talking to me about Haswell and pre-launch information, but between the time I started writing this preview and this sentence, ECS just so happened to launch their 8-series microsite. This microsite lists around 10 motherboard models , covering Z87 as well as B-/H-/Q- series chipsets with various tabs still with options 'to be released'. Needless to say I got on to the email and asked my ECS contact for details. What came through was a series of high definition images and a list of most of their release SKUs:

ECS Pro Z87H3-AX Golden
ECS Pro Z87H3-A2X Golden
ECS Pro Z87H3-A2X Extreme
ECS Pro Z87H3-A2
ECS Deluxe Z87H3-A4
ECS Deluxe H87H3-M4
ECS Deluxe H87H3-M3
ECS Deluxe H87H3-M
ECS Deluxe H87H3-TI
ECS Essentials B85H3-M
ECS Essentials B85H3-M4
ECS Essentials B87H3-M3
ECS Essentials H81H3-A3
ECS Essentials H81H3-M4
ECS are splitting their range of motherboards up into the Pro, Deluxe and Essentials names. While the final SKU names might not have these in the end, it at least in part splits the model numbers up such that users can determine that the Pro boards are the high end boards. Though at first look it is possible to be confused about the Pro/Deluxe naming, given that with ASUS the Deluxe is a higher model than the Pro but with ECS it is the Pro that is the higher range.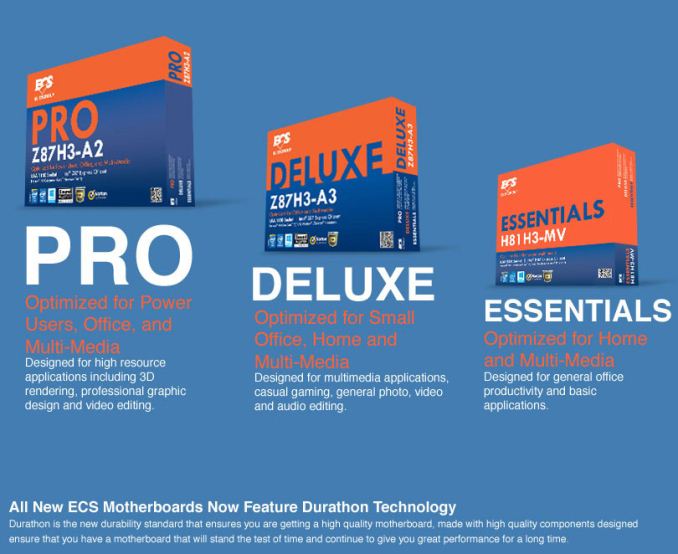 At this point in time, we have access to the images of only several of these models. More will come in time and we will update accordingly!
ECS (Pro) Z87H3-AX Golden
Those unfamiliar with ECS' naming scheme may be able to determine from the list above that A means ATX, the higher the Ax or Mx number the lower down the chain, and special boards get an additional moniker such as Golden or Extreme. At the top of this list is the Z87H3-AX Golden, another proponent of the Golden series. Now we took a look at the ECS FM2 Golden motherboard and it was fairly dazzling. ASUS have done something a lot more subtle, and now ECS is also scaling it down a touch: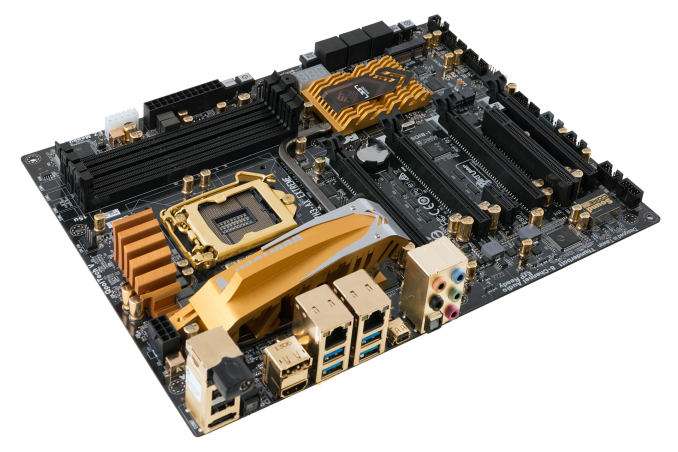 It is worth noting that the common misconception on the ECS Golden range is that the color is actually real gold – for the most part it is not, just a golden finish. ECS have had features in the past where some of the connectors have more gold in them to help with insertion rates and resistance, but for the most part it is just a color. While we still have a large gold heatsink and IO panel, it does feel a little toned down from the past.
In terms of features on the AX, we notice a dual NIC, integrated WiFi on the IO, and four-way GPU without a PLX (thus an x8/x4/x4 + x4 scenario like the Z87X-OC and OC Formula). New to the ECS range is a series of voltage check points, but around the SATA ports we see something rather interesting. There are at least five different buttons (two of which are power/reset), and a three-digit LED debug. Now I am quite interested in seeing what they have planned for these!
ECS Z87H3-A2X Golden
Moving down the SKU stack and the A2X is reduced in part down to three-way GPU usage. We still have the golden heatsinks connecting through to the chipset, and the button options are now located in a tight corner on the bottom right of the board.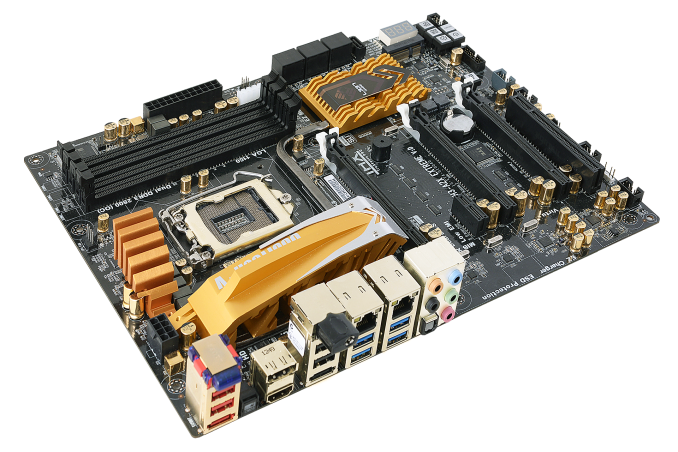 There is a Bluetooth module on the rear IO, as well as 8 SATA ports total (with one mSATA). It is worth noticing that while other manufacturers are pushing audio this generation, ECS is more focused on that array of buttons in the corner.
ECS Z87H3-A2X Extreme
For users not too keen on the golden color, it seems ECS are making a range in red as well. I can see the chipset heatsink is marked with 'LEET Gaming', which most likely means a tie in with a gaming clan, although there are several clans with the designation LEET Gaming.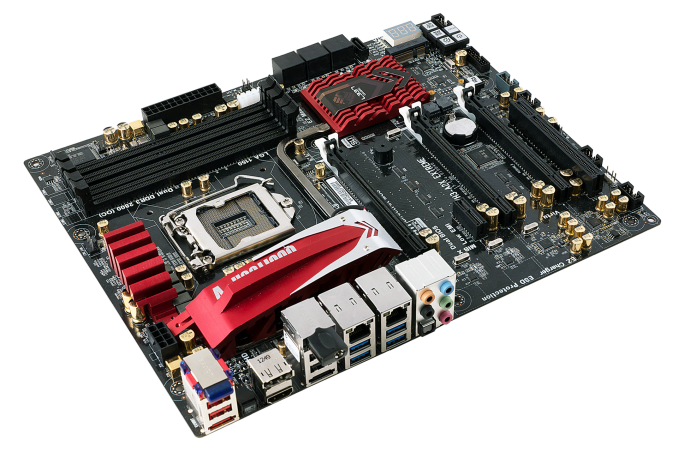 ECS Z87H3-A4
The A4 is a more budget oriented board, more like the ECS we are used to. This is a single GPU board with an x16+x4 PCIe configuration with six SATA ports, an mSATA, two PCI slots, a single NIC, all four video outputs, and a copper shield to protect the CPU…?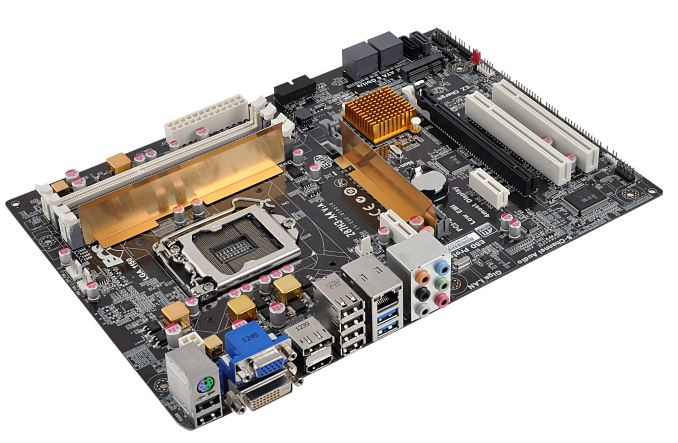 ECS call this an anti-dust shield (ADS). I am not entirely sure what use, if any, the shield would be – if the board is vertical in a case then it would catch some dust perhaps. It is worth noting that we are down to a few phases on this model of board.
Other ECS Motherboards
The ECS microsite has listed several more models: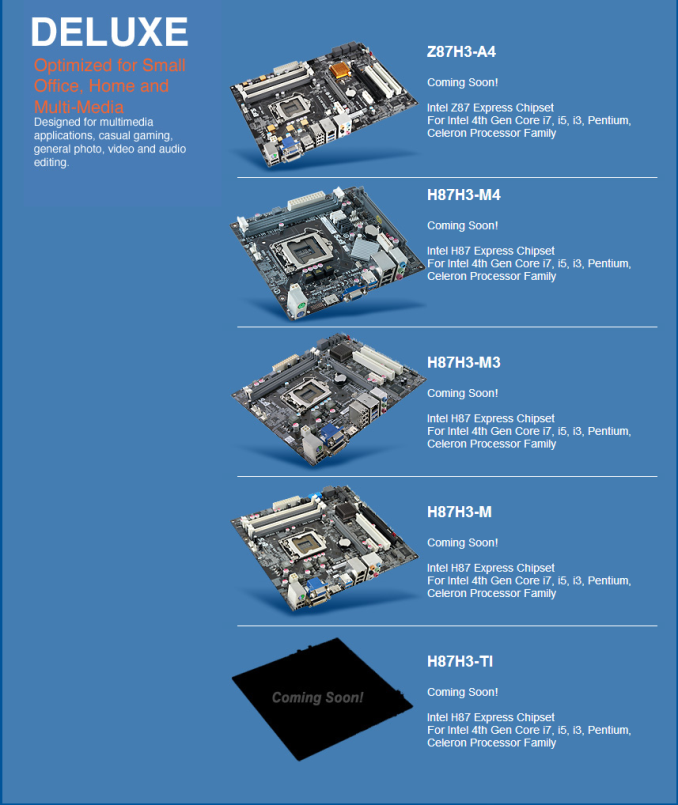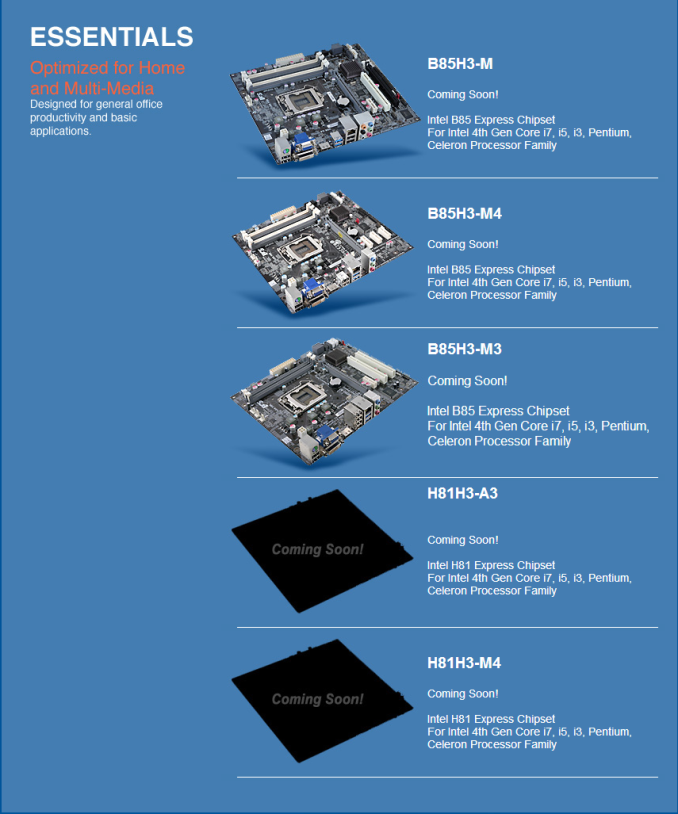 We expect to have information on these boards soon!
In an industry where Intel is continually putting more elements onto the CPU, the motherboard manufacturers have to innovate to differentiate themselves from each other. As a result we now have a number of gaming ranges and overclocking ranges to choose from. Of course motherboard manufacturers also have SIs to consider, some of which require specific connectors on various models.
There are a number of features I want to get my hands stuck into. Having the first motherboards with 802.11ac is going to be interesting for sure. Other features such as the ASUS OC Panel, the Maximus VI Hero, the Gigabyte OPAMP and x8/x4/x4 + x4 PCIe layout, the ASRock Waterproof coating and LCD screen, the MSI XPower, the EVGA one, and those ECS buttons are all piquing my interest.
We are not long to Haswell. What are you most interested in?