Original Link: http://www.anandtech.com/show/6983/hp-spectre-xt-touchsmart-ultrabook-review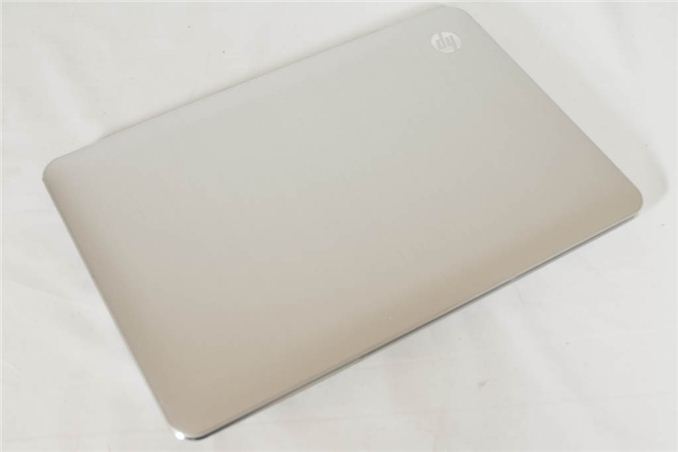 Introducing the HP Spectre XT TouchSmart
As we saw last week with Mythlogic's Callisto 1512, ultrabooks in the 15.6" form factor are strange beasts. It's pretty clear the industry as a whole is moving towards thinner, lighter notebooks at every traditional size; Intel's ULV processors aren't as fast as the standard voltage parts, but they're close enough that it can be difficult to justify the added bulk of a thicker machine. Couple this industry transition to slightly slower but much more power frugal parts with the increased emphasis on touch interfaces that Windows 8 brought and you end up with the most upheaval in notebook design we've seen in a long time.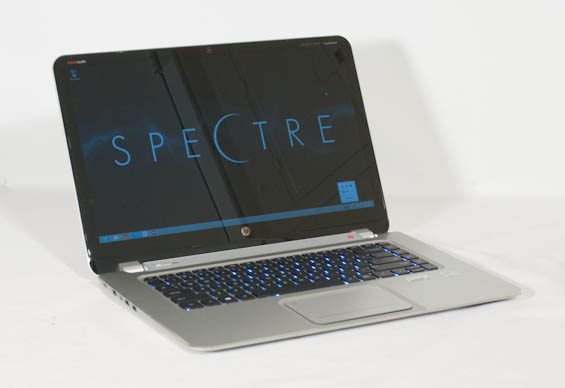 With that upheaval we also get unique designs like the one we have on hand today, the HP Spectre XT TouchSmart. Spectre is essentially HP's premiere notebook brand until you get into their enterprise-class hardware, and so the Spectre XT TouchSmart is destined to be the absolute cream of the crop. The aluminum finish, glass touchpad, and 1080p IPS display are evidence enough of that. Yet while HP may have buffed the value proposition in a lot of places, the Spectre XT TouchSmart is unfortunately not without potentially severe compromises.
HP Spectre XT TouchSmart Specifications
Processor
Intel Core i7-3517U
(2x1.9GHz + HTT, Turbo to 3GHz, 22nm, 4MB L3, 17W)
Chipset
Intel HM77
Memory
2x4GB DDR3-1600
Graphics
Intel HD 4000 Graphics
(16 EUs, up to 1150MHz)
Display
15.6" LED Glossy 16:9 1920x1080 IPS Touch
LGD039A
Hard Drive(s)
Seagate Momentus Thin 500GB 5400-RPM SATA 3Gbps HDD

Samsung PM830 32GB mSATA 6Gbps SSD (used as cache)
Optical Drive
-
Networking
Realtek RTL8168 Gigabit Ethernet
Intel Centrino 6235 802.11a/b/g/n 2x2
Bluetooth 4.0
Audio
IDT 92HD99BXX HD Audio
Quadrophonic speakers
Combo mic/headphone jack
Battery
4-Cell, 48Wh
Front Side
-
Right Side
SD card reader
Combo mic/headphone jack
USB 2.0
AC adapter
Kensington lock
Left Side
Ethernet
HDMI
Thunderbolt
2x USB 3.0
Back Side
Vent
Operating System
Windows 8 64-bit
Dimensions
14.87" x 10.01" x 0.87"
378mm x 254mm x 23mm
Weight
4.96 lbs
2.25kg
Extras
1080p IPS touch display
HD Webcam
SSD cache
Bluetooth
BeatsAudio quadrophonic speakers
Thunderbolt
Backlit keyboard
Warranty
1-year limited parts and labor
Pricing
$1,299
Chances are if you've been paying attention, two things popped out at you from the spec sheet: the Thunderbolt port, and the SSD caching. One of these additions is a fantastic value add; the other almost seems like a sad joke. Understanding that there are a lot of premium features on the Spectre XT TouchSmart, and that Thunderbolt isn't inexpensive to add, being stuck with an SSD cache backing up a dismally slow 5,400-RPM mechanical hard drive in a $1,299 notebook is inexcusable.
It's frustrating because the rest of the design is firing on all cylinders. The Intel Core i7 CPU is more than fast enough for the majority of tasks, HP includes the requisite 8GB of DDR3-1600 to guarantee a comfortable Windows experience, and 5GHz wireless networking is accounted for. Connectivity is healthy with USB 3.0 support alongside Thunderbolt, there are four speakers with BeatsAudio branding, and the display is even a quality 1080p IPS panel. So why hamstring the build with Intel Smart Response Technology instead of just installing a 128GB SSD minimum? Was the cost savings really worth it?
In and Around the HP Spectre XT TouchSmart
If nothing else, the HP Spectre XT TouchSmart is a looker. While it's hard not to feel a little bit of fatigue at all the designs essentially aping the MacBook Pro aesthetic, at least HP is doing it right with the Spectre XT TouchSmart. This is a good-looking, well built ultrabook.
The majority of the Spectre XT's shell is comprised of sturdy brushed aluminum, with the HP logo tastefully etched into the lower corner of the lid. The interior surfaces are brushed aluminum as well, excluding the display and bezel, and the bottom of the shell enjoys a soft touch coating that I think is actually a better choice than simply wrapping the whole thing in garden variety brushed aluminum.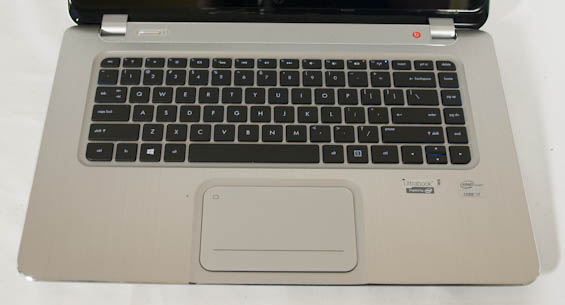 On the interior of the notebook, there's a glossy edge-to-edge finish for the touchscreen display. Under the hinge is the first pair of speakers, with the second set hiding on the edges of the underside of the notebook. The keyboard is HP's traditional chiclet style layout and white LED backlit; they've eschewed the 10-key, but I've been told 10-key is going to be coming back in the next product cycle for notebooks in this size class. Typing action is pretty good, but it's about time for HP to retire or revise this design.
Meanwhile, I've become a pretty big believer in glass touchpad surfaces. Toshiba's Kirabook sports one, and the ones HP has been using on their higher end consumer notebooks and in their EliteBooks are frankly stellar. While I still don't care for clickpads, we're at least finally getting to the point where they make sense. Windows 8's edge gestures make a solid case for them, and HP's implementation here is a sound one.
Unfortunately, the Spectre XT TouchSmart comes a bit loaded with bloatware like a relic from a bygone era. Including PowerDVD is pointless on a notebook that has no optical drive, and WildTangent has been infecting HP hardware for too long. The touch experience is fine, but the system as a whole isn't that snappy, and you can feel the difference between a mechanical hard disk with SSD caching and a true SSD storage solution. As is becoming an unpleasant tradition with the ultrabook movement and the need for thinner, lighter form factors, the Spectre XT is not user serviceable; you're stuck with the configuration you buy.
System Performance
Whether the result of bloat, the result of HP's software being almost impossible to disable, the result of the slow storage subsystem, or the result of an underlying BIOS setting, the HP Spectre XT produces performance that is behind the curve of competing notebooks virtually across the board. I've checked clocks, run tests multiple times, but in the end still been left with a notebook that's just slower than it should be.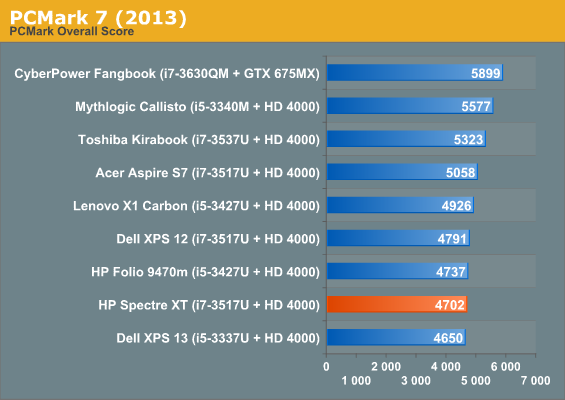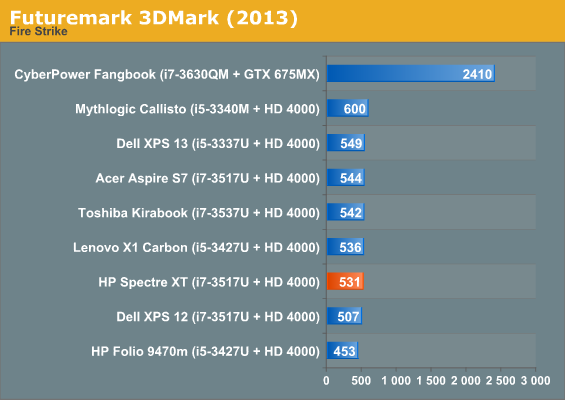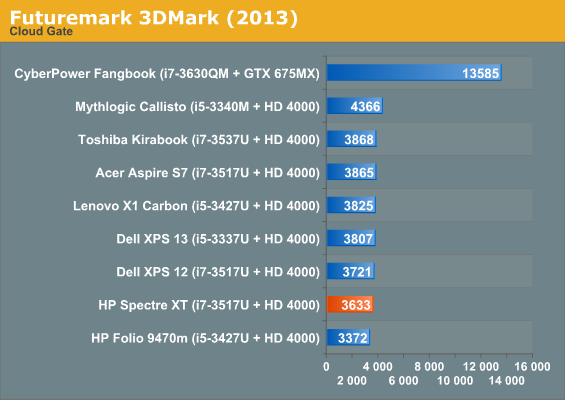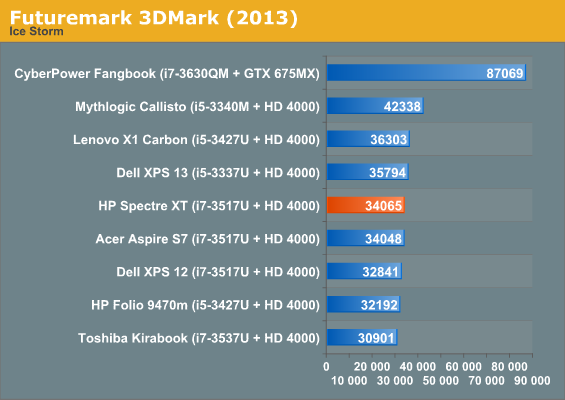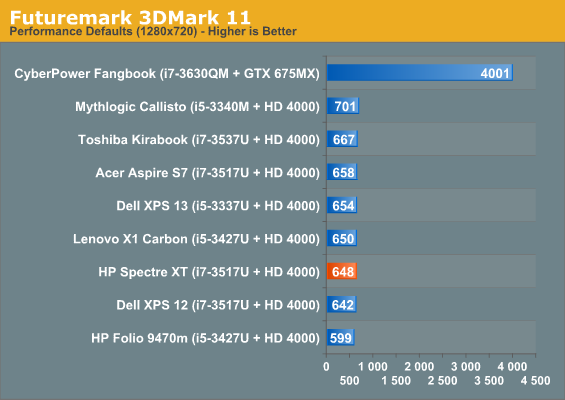 Futuremark test results range from competitive to slightly behind the curve. When we hit the CPU itself more aggressively, things take a turn.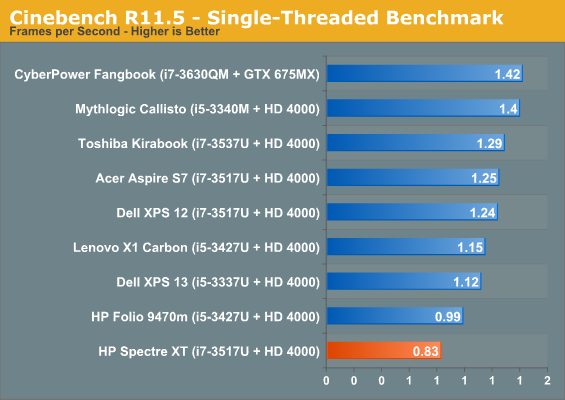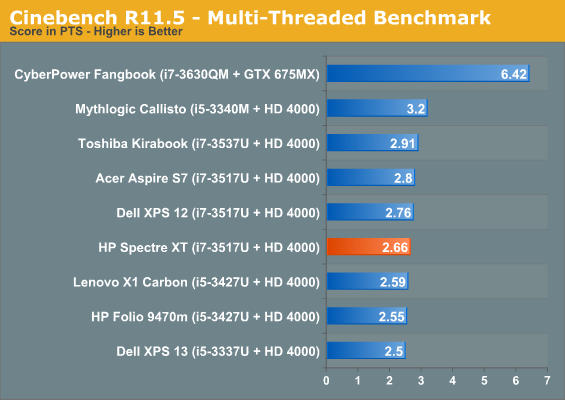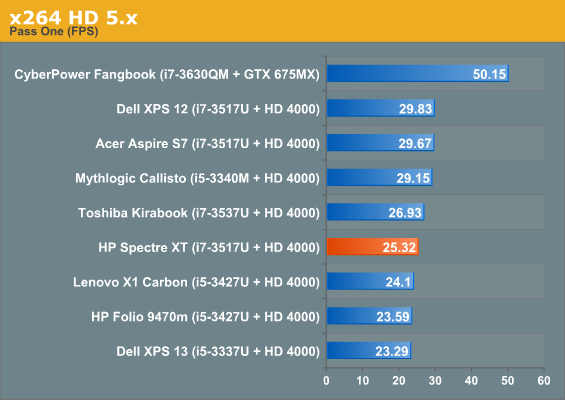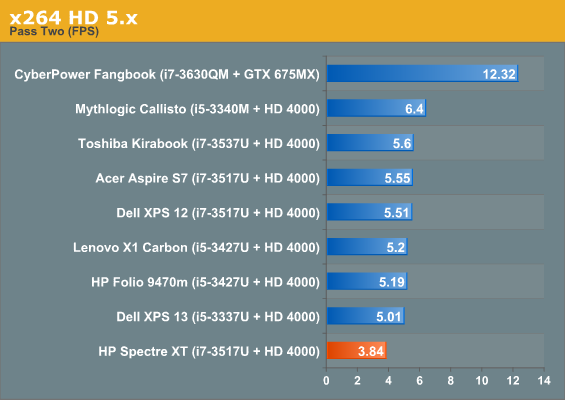 The benchmarks that hit the CPU hardest also leave the Spectre XT looking the worst. Results continue to range from competitive to bottom of the pack, and it's difficult to pin down exactly where HP's system is going wrong. This isn't performance so terrible as to render the computer unusable, it's just failing the sanity check and not where it should be.
Display Quality
While I'm overjoyed to be getting a series of notebooks in featuring panels with decent resolution and quality, I remain at least a little mystified by the IPS panels used in the Mythlogic Callisto 1512 recently reviewed and now the one in HP's Spectre XT TouchSmart. You'll see that while contrast and brightness are both excellent, color gamut is unusually low.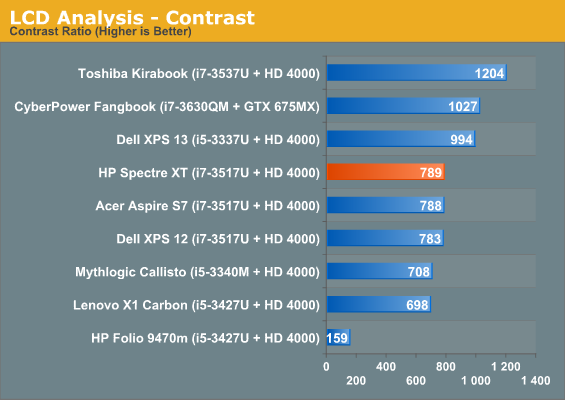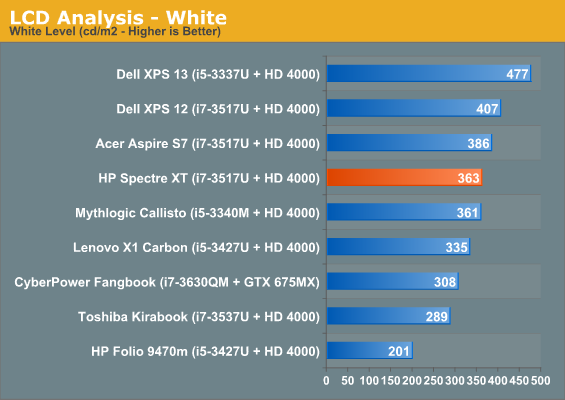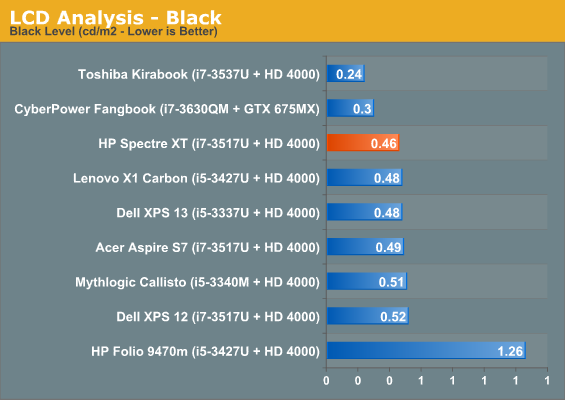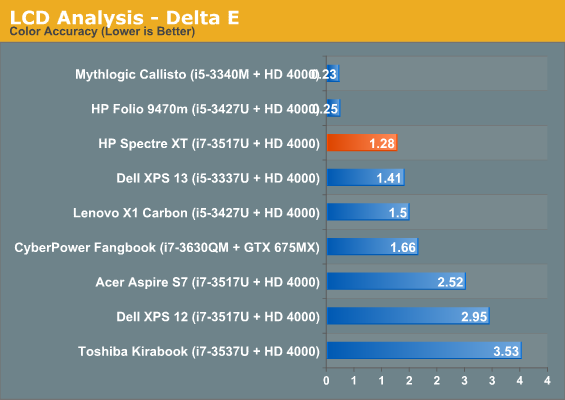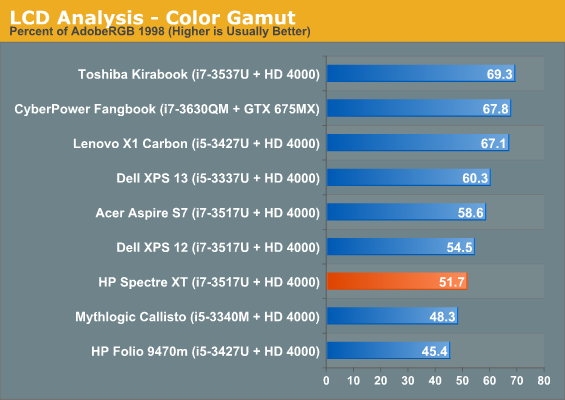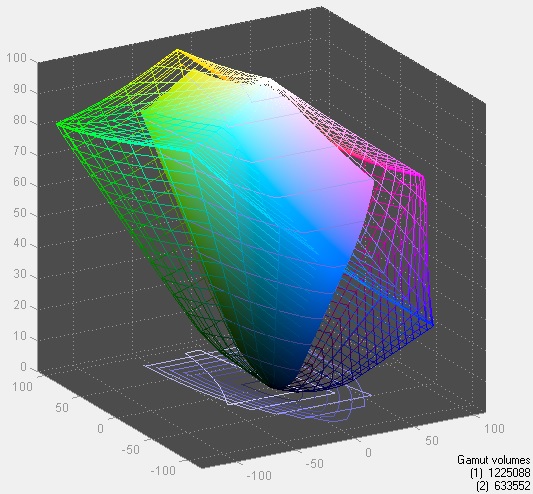 I'll take an IPS panel over a conventional TN panel any day of the week, even if it means sacrificing some of the color gamut, but it's still perplexing as to why that sacrifice is being made in the first place. Gradient testing reveals banding, but not a particularly significant amount and certainly competitive with entry-level desktop e-IPS panels. Subjectively at least, the panel on the Spectre XT is attractive and feels like where I wish notebook panels would start as opposed to being a premium item.
Battery Life
There's more bad news with the HP Spectre XT TouchSmart. HP rates the notebook for up to three hours and 45 minutes of battery life, which is a very unattractive number for a modern notebook with a 48Wh battery. Our testing unfortunately corroborates this; you can run the Spectre XT off the mains, but battery life will underwhelm.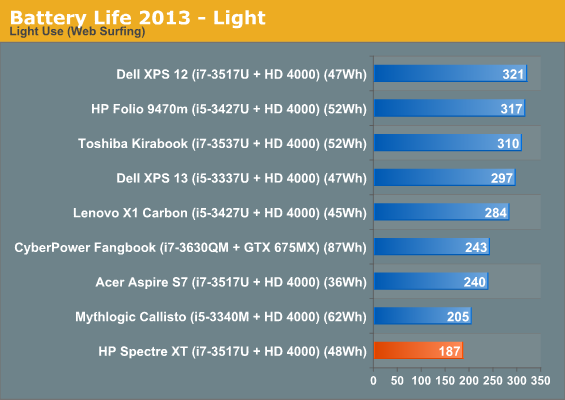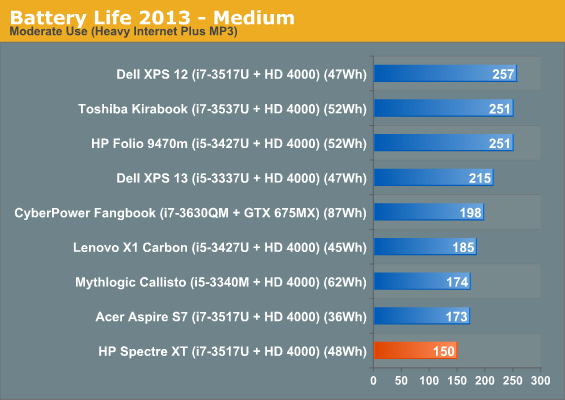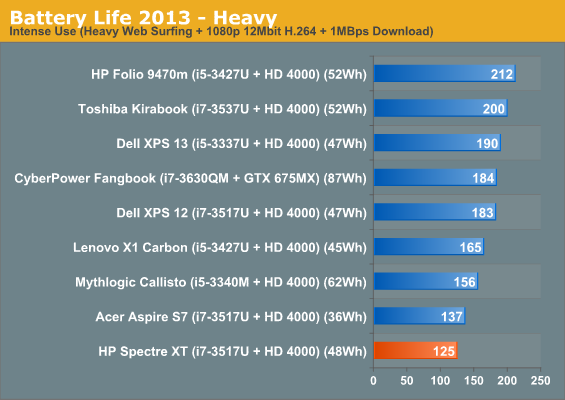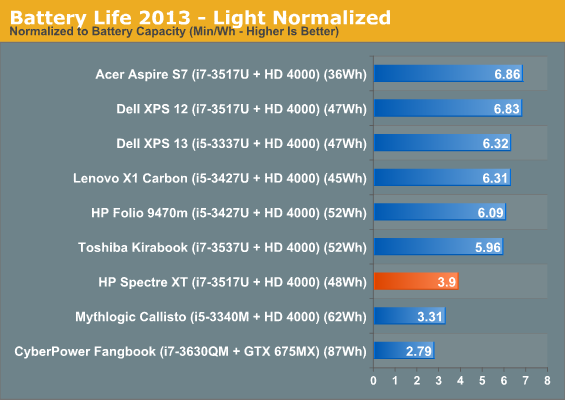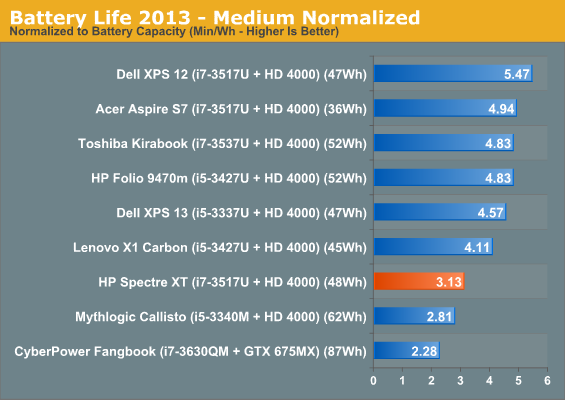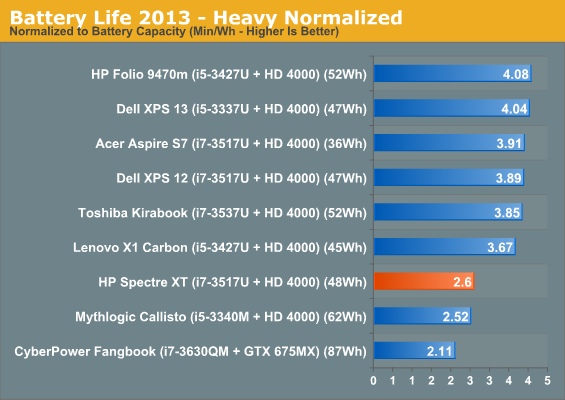 Despite the full voltage processor, Mythlogic's Callisto 1512 pulls comparable or better battery life. Part of this certainly owes to the larger battery, but it doesn't really excuse how far behind the Spectre XT's normalized battery life is by comparison. Two hours of battery life in our "heavy" test isn't just bad, it's embarrassing.
Heat and Noise
I've repeatedly cited that one of the benefits of a larger chassis, even if it's still thin, is increased cooling capacity. You can put a full voltage chip in and work the cooling system over, or you can go ULV and benefit from the increased headroom by not having to run the cooling as hard. The HP Spectre XT opts for the latter.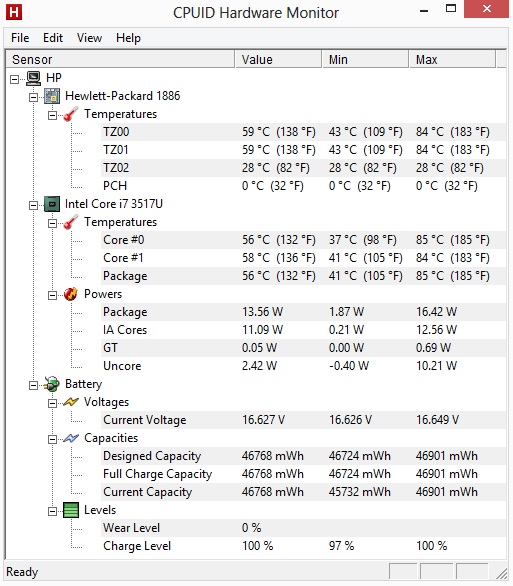 You can see the Spectre XT is clearly tuned for acoustics before thermals. There's a healthy amount of thermal headroom on the Ivy Bridge processor still, but I appreciate how relatively quiet the notebook is even under load.
Conclusion: The PC Compromise
My esteemed colleague Brian Klug tweeted recently that PC manufacturers can't seem to produce anything that doesn't have some horrible flaw. Everything could be perfect except for one thing that was cheaped out on, and it threatens to bring the whole thing down, and unfortunately his assertion holds water here. The Spectre XT TouchSmart has the makings of a solid ultrabook, but it's let down by miserly decisions on HP's part.
The frustrating thing is that the shortcomings could've largely been avoided. If you gut the Spectre XT TouchSmart, you have an attractive shell, a practical and inobtrusive cooling system, a solid speaker system, great clickpad, workable keyboard, and a beautiful display. From a purely physical standpoint, this notebook is aces. I'm not sure what could really be done to improve the battery life, but that's something I think I'd be willing to take on the chin if it meant everything else was stellar. I'm not a big proponent of Thunderbolt, but the inclusion is going to at least raise an eyebrow for someone.

Yet it seems like a bean counter took this beautiful shell and just fouled the whole thing up to save a couple bucks here and there. The unit we've tested is a retail configuration, but it's buried in software bloat. HP's Support Assistant seems like a good idea but the execution is a little bit lacking and worse, it's intrusive. You get a free 2-year subscription to Norton, which may or may not be your cup of tea, and I keep wishing WildTangent would just disappear. I'm not sure the bloat is responsible for the system's overall poor hardware performance, either.
Even if a clean reformat would correct the CPU performance issue, you still have to contend with the dire storage subsystem. I'm not a fan of SSD caching and at this price, the Spectre XT should be shipping with a 128GB SSD minimum, full stop. If it were easy to just pop the notebook open and upgrade these things, that would be wonderful, but it's not.
If you're attracted to the Spectre XT TouchSmart, your best bet is going to be doing a custom configuration on HP's site, but even then the upgrade prices are exorbitant. $75 to go to 8GB of DDR3 isn't too bad, but $170 for a 128GB SSD and a staggering $370 for a 256GB SSD is just offensive. I can't help but get the persistent feeling that this was a solid product systematically ruined by a bean counter. The old adage that there are no bad products, only bad prices is certainly true here, but it's compounded by a series of cuts that undermine the product itself every step of the way. Hopefully the Spectre XT TouchSmart is refreshed when Haswell arrives with a more sensible configuration.