Original Link: http://www.anandtech.com/show/7085/the-2013-macbook-air-review-13inch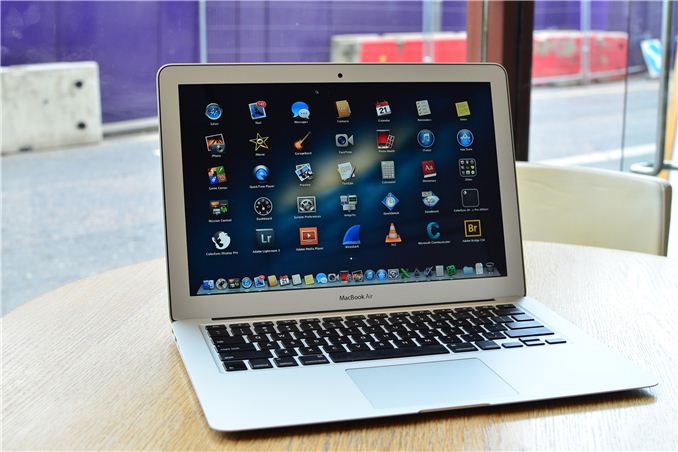 Things didn't go exactly as I'd expected at WWDC. I spent the week before the show at Computex, talking to PC OEMs, who had all just launched their Haswell ULT based Ultrabooks. With a couple of exceptions however, the bulk of Haswell ULT systems weren't scheduled to ship until later this year. Even the Acer S7 I snagged while in Taipei was still a pre-production unit, with final hardware due out in the next month. Based on what I saw in Taiwan, and Intel having seeded me an Iris Pro machine the week before, I assumed that the MacBook Pro with Retina Display is what would get the Haswell treatment first. Obviously, that didn't happen.
In hindsight, the move makes sense. Apple will sell far more MacBook Airs than rMBPs. The Apple/Intel relationship is looking very healthy these days, so it's also not surprising that it would have supply and early enough access to Haswell ULT to launch the MBAs at WWDC with almost immediate availability. The Haswell ULT shift didn't require a new chassis for Apple, which meant a less complex development process.
From the outside, the new MacBook Air looks nearly identical to its predecessor. There's a second mic opening on the left side of the machine now, but otherwise you'd be hard pressed to tell this year's model apart from the previous generation. Internally, nearly everything has changed.
The battery is higher capacity, with no increase in weight. Making better use of that larger battery is Intel's new Haswell ULT silicon. Since we're talking about a ULT part, the PCH moves from the motherboard to the CPU package - creating an emptier motherboard than we've seen in previous years:

The 2013 13-inch MacBook Air Motherboard, Courtesy iFixit
It's clear to me that the MBA is due for a more significant redesign, but this is not the year for that.
Alongside Haswell comes a brand new PCIe SSD, 802.11ac support and LPDDR3 memory. All at a price equal to, if not less than last year's models:
2013 MacBook Air Lineup
11.6-inch
11.6-inch (high-end)
13.3-inch
13.3-inch (high-end)
Dimensions

H: 0.11-0.68" (0.3-1.7cm)
W: 11.8" (30cm)
D: 7.56" (19.2cm)

H: 0.11-0.68" (0.3-1.7cm)
W: 12.8" (32.5cm)
D: 8.94" (22.7cm)

Weight
2.38 lbs (1.08kg)
2.96 lbs (1.35kg)
CPU
1.3GHz dual-core Core i5
1.3GHz dual-core Core i5
GPU
Intel HD 5000
RAM
4GB LPDDR3-1600
SSD
128GB PCIe SSD
256GB PCIe SSD
128GB PCIe SSD
256GB PCIe SSD
Display Resolution
1366 x 768
1440 x 900
Ports
Thunderbolt, 2x USB 3.0, headphone jack
Thunderbolt, 2x USB 3.0, SD card slot, headphone jack
Networking
2x2:2 802.11ac
2x2:2 802.11ac
Battery
38 Wh
54 Wh
Price
$999
$1199
$1099
$1299
We've been over the MacBook Air chassis thoroughly in the past so I won't go through it again here. Build quality remains excellent. The clickpad and backlit keyboard never give me any troubles either. It's sad that we're still having clickpad issues elsewhere in ultraportables but this is one area where Apple's vertically integrated advantage is apparent (as is the company's willingness to spend a little extra on even the little details).
The only thing that hasn't changed, that perhaps should have is the display. The MacBook Air retains the same 1366 x 768/1440 x 900 panels from last year, while much of the competition has moved to at least 1080p IPS in the 13.3-inch form factor. This year at Computex we saw a number of systems move to 2560 x 1440 13.3-inch panels, at least as an option, however I'm expecting those systems to be priced more in line with the 13-inch rMBP rather than the MacBook Air. Admittedly, I don't know the right solution here.Ultra high resolution panels drive cost and power consumption up, the latter which can be offset by going to a larger battery - but then you have a 13-inch rMBP. Perhaps the right move for the MacBook Air would be for Apple to move to IPS panels at least? Or maybe we see a merger of the 13-inch MBA/rMBP, and something new entirely replace the 11-inch model.
The CPUs
Apple keeps things simple across the 2013 MacBook Air lineup by configuring both 11 and 13-inch models with the same base CPU: a Core i5-4250U.
To understand Apple's CPU choice, you have to understand that Apple is primarily concerned about improving battery life this generation. The line between MacBook Air and MacBook Pro has to be well defined. The Air is about portability, while the Pro is about performance. When faced with a power/performance tradeoff, it's clear on which side of the fence Apple will fall whenever the MacBook Air is concerned.
Apple 2013 MacBook Air CPU Comparison
1.3GHz dual-core
1.7GHz dual-core
Standard On
11 & 13-inch MBA
Optional on Both
Intel Model
Core i5-4250U
Core i7-4650U
Base Clock Speed
1.3GHz
1.7GHz
Max SC Turbo
2.6GHz
3.3GHz
Max DC Turbo
2.3GHz
2.9GHz
L3 Cache
3MB
4MB
TSX-NI
No
Yes
TXT
No
Yes
AES-NI
Yes
Yes
VT-x/VT-x EPT
Yes
Yes
VT-d
Yes
Yes
TDP
15W
15W
Processor Graphics
Intel HD 5000
Intel HD 5000
GPU Clock (Base/Max)
200/1000MHz
200/1100MHz
The lower base clock alone shouldn't mean much, but the max TDP of the CPUs in the new MacBook Air falls as well - from 17W down to 15W. The thermal limit is even more dramatic since with Haswell ULT, the 15W includes the CPU/GPU as well as the on-package PCH. In Ivy Bridge the PCH was off package and wasn't included in the 17W TDP.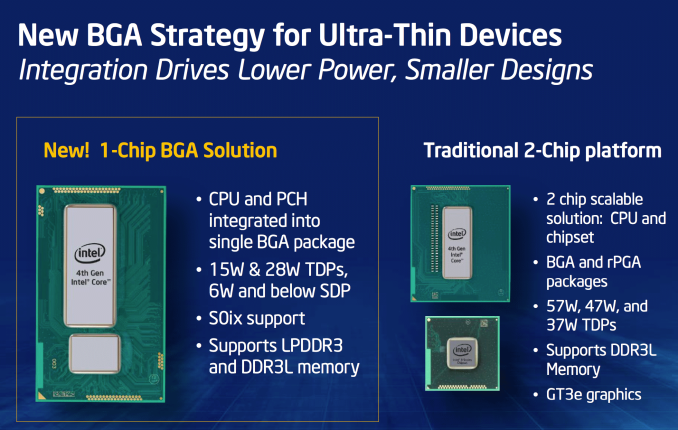 Max turbo clocks are identical between the Haswell ULT CPUs Apple picked this round and the Ivy Bridge models before, but with a lower TDP it'll be harder to always sustain the same frequencies given the right workload.
Haswell does feature a not insignificant gain in IPC compared to Ivy Bridge, which should help offset the power constraints that could otherwise force a larger regression in performance.
Both 2013 MBAs ship with the same CPU by default, and both can be upgraded to the same higher end SKU: a Core i7-4650U. The 4650U retains the same 15W TDP as the i5-4250U, but it increases its base clock speed to 1.7GHz and max turbo to 3.3GHz. The L3 cache also grows from 3MB to 4MB. All in all, this should be a very healthy upgrade in performance. Intel likely maintains the same TDP by binning for power; the i7-4650U is probably capable of running at higher frequencies without any appreciable increase in voltage. The max GPU clock also goes up by 10%.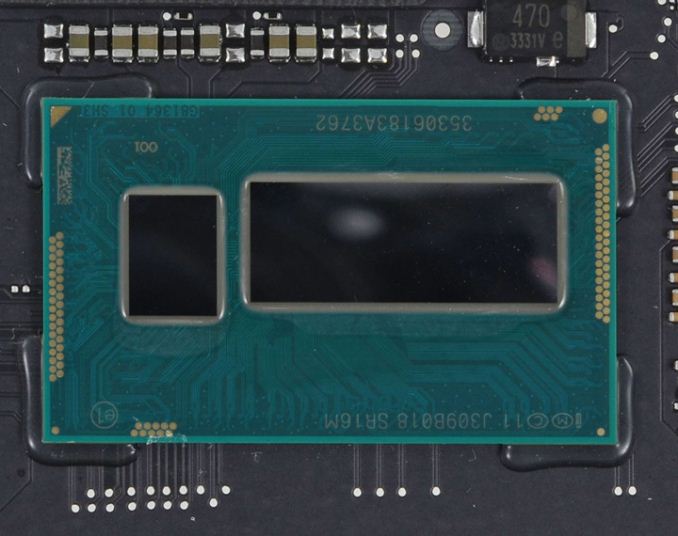 Haswell ULT, Courtesy iFixit
What's arguably coolest about the i7-4650U is it enables Haswell's Transactional Synchronization Extensions (TSX-NI), a feature which is unfortunately disabled on the i5-4250U. I don't suspect this will matter much for most MBA users, but anyone looking to play around with Haswell's TSX instructions will want to opt for the higher end SKU. The upgrade costs $150 regardless of base model. Intel charges $454 for the i7-4650U and $342 for the i5-4250U, a difference of $112; Apple is adding another $38 onto the 1KU pricing, which isn't unreasonable.
Many have asked me what the impact of the i7 will be on battery life. I'm hoping to get my hands on an i7 based machine when I return from the UK in a week, but for those of you making immediate decisions I'll offer the following. Sustained operation at higher frequencies will likely draw more power, and negatively impact battery life. Light to medium workloads will enjoy a mix of race to sleep benefits as well as higher power consumption under load. Idle power should be roughly similar between the parts however. For most workloads I'd expect a modest impact to battery life, but it won't be enough to regress to 2012 levels of battery life. All of this is said without knowing key details like operating voltage for most 4650Us. I plan on addressing that shortly.
CPU Performance
To measure CPU performance we begin with a fairly standard measure of system responsiveness: boot time. With the last generation of upgrades to 6Gbps SATA, we saw a good decrease in boot time over the previous generation platforms. The new 13-inch MBA's PCIe SSD takes the crown as it boots ever so slightly quicker than last year's setup. In practice the difference is subtle, but something you can appreciate as the 2013 MBA's IO is just snappier all over.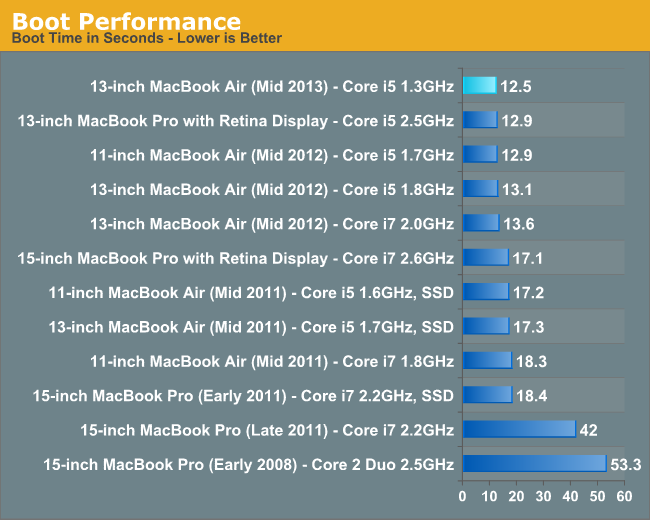 These next two charts look at single and multithreaded floating point performance using Cinebench 11.5. This test also gives us the rare opportunity of comparing to some older Mac Pro hardware as well from 2008 - 2010. Single threaded performance remains extremely important to overall system responsiveness, so it's always good to look at. As we found in our initial look at the new MBA, the 1.3GHz Core i5 CPU ends up performing about the same as last year's 1.8GHz part. I'd like to say it's all because of cooling and turbo boost, but in all likelihood Apple is trading some of Haswell's IPC gains for frequency here - enabling identical performance, at lower clocks thanks to Haswell's more efficient architecture.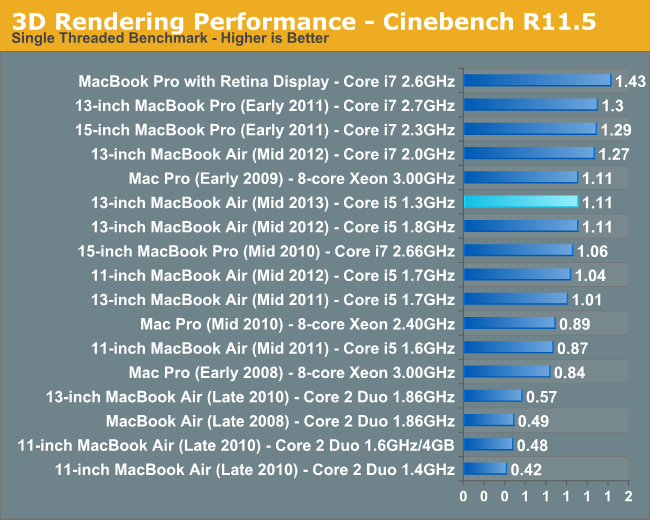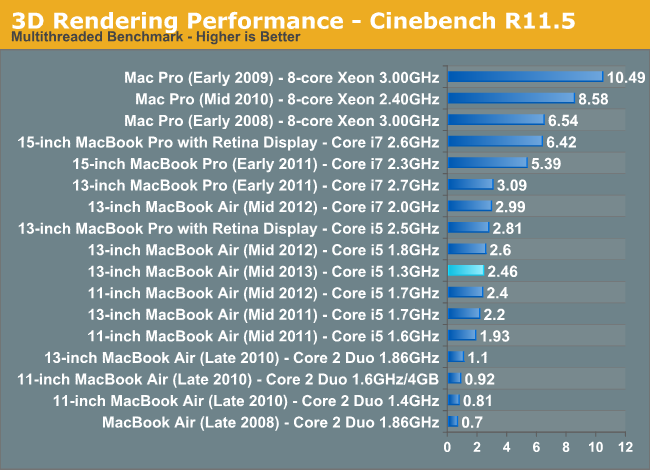 The multithreaded performance story is a bit different. The 1.3GHz i5 regresses in performance by about 5%. Overall performance is still quicker than the 2011 models, as well as the i7 based 11-inch MBA from 2012. Here we're simply seeing the 15W TDP limits come into play. Sharing both PCH and dual-core CPU power in a lower thermal footprint than last year's CPU alone is responsible for what we see above.
Video transcoding is really best suited for the higher end machines, but that doesn't change the fact that it's done on MacBook Airs as well. We'll start by looking at performance under iMovie. Here we're importing 1080p video from a Nikon D7000 and optimizing it during import.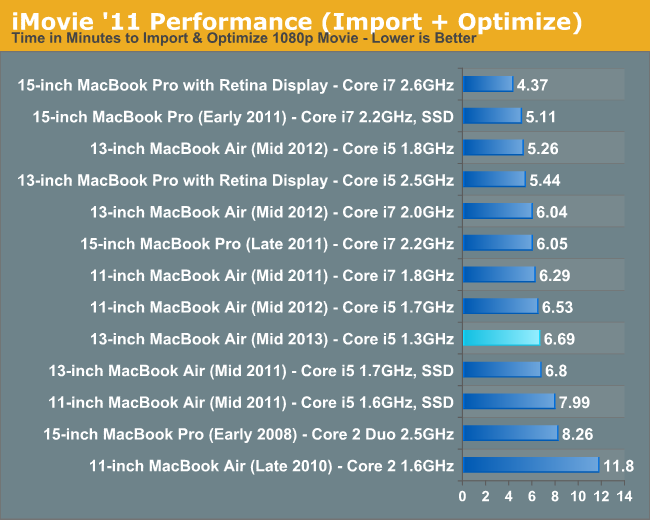 The 13-inch 1.3GHz Core i5 configuration performs similarly to last year's 11-inch 1.7GHz config. It's an interesting comparison because the 11-inch 2012 model is more thermally constrained than the 13-inch 2012 model, which is exactly what we see when we compare the 2013 13-inch MBA to the 2012 13-inch MBA. In this case the 2013 model is a hair quicker than the 2011.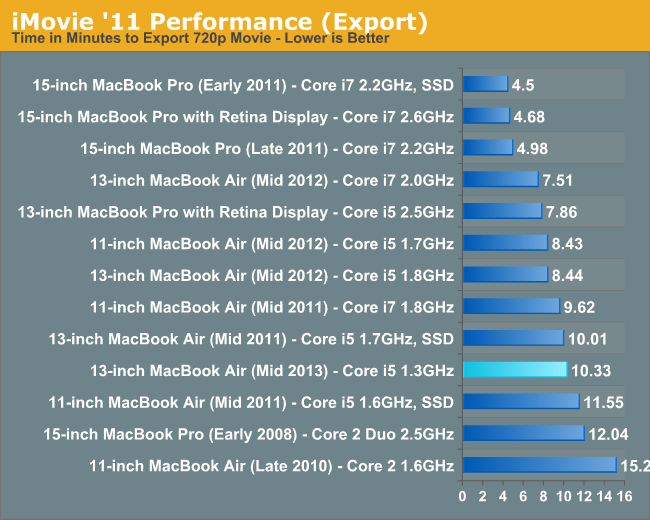 We see a similar story for a full video export. The 1.3GHz 2013 MBA slots in behind the 2011 model in this CPU bound test.
Final Cut Pro X falls on the professional end of the video production spectrum. The test file is the same here, but the workload is far more strenuous.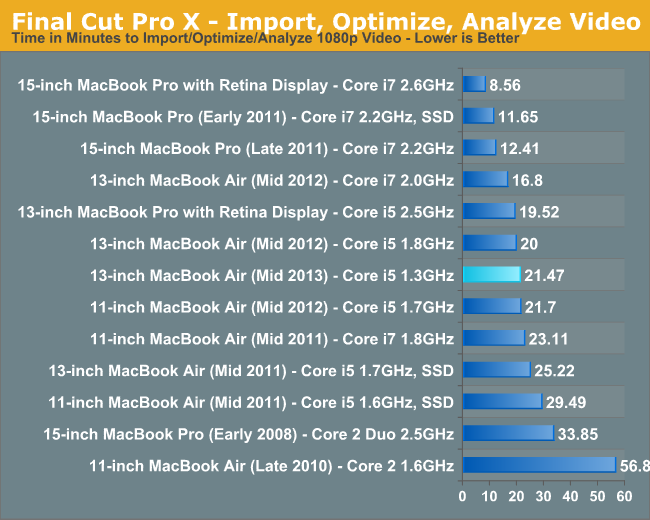 Once again, we see roughly the same performance from the 13-inch 2013 1.3GHz i5 as the 11-inch 2012 MBA. Here we do see substantially better performance than the 2011 models.
Our two photo workloads generally agree with what we saw in the video tests. The 1.3GHz Haswell part is definitely slower than th e previous generation 1.7/1.8GHz SKUs: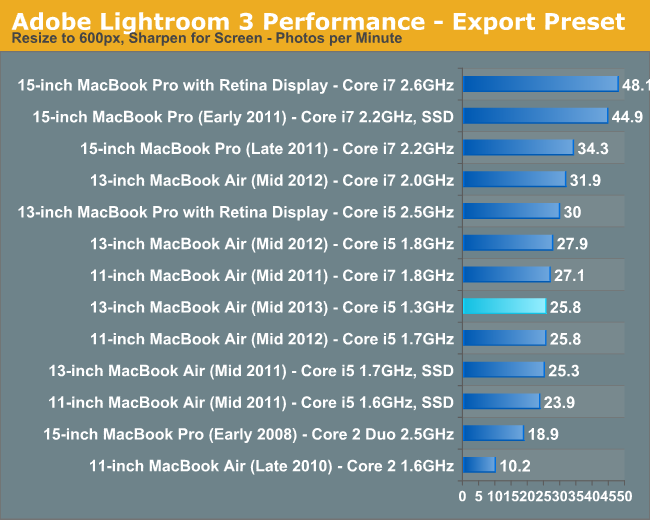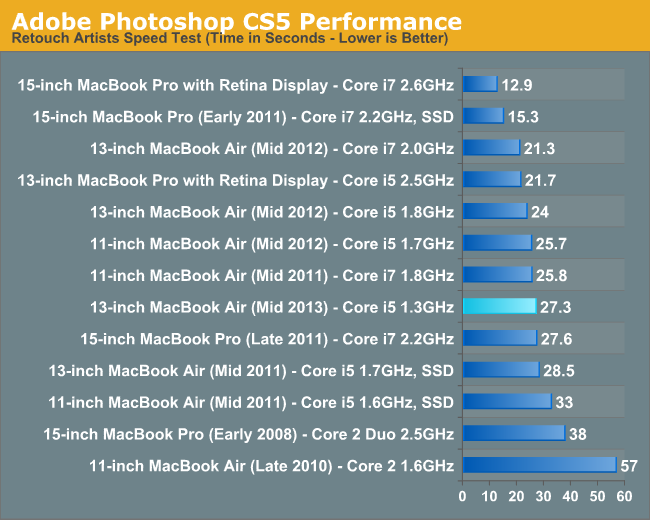 In our desktop review of Haswell I noted that performance in our compile test improved tremendously with the new architecture. As it's quite obvious that Haswell's IPC advantages don't surface all that much in our traditional suite, I wanted to see if perhaps things would be different in something that might lend itself better to Haswell's IPC improvements. I repeated our Firefox build test but under OS X. It's a multithreaded compile, with the number of threads set to 2x the number of cores (not threads) in a system. Unfortunately I came up with this bright idea while traveling, so I only had access to three machines: the 2013 13-inch MBA, the 15-inch rMBP and a 2GHz Core i7 2012 13-inch MBA. I'll add more results later, but I'm expecting this to be a part of our test suite going forward.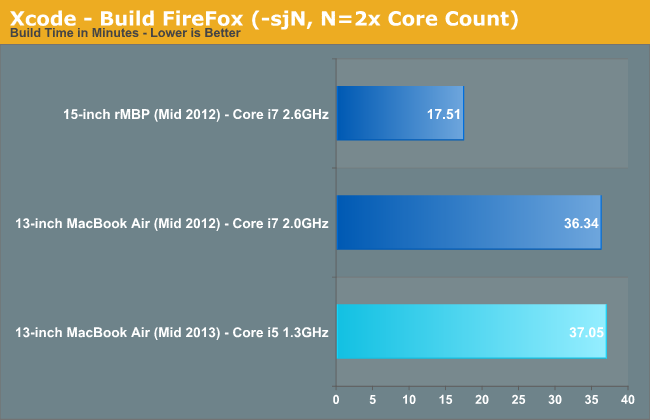 The combination of Haswell and a really fast SSD appears to help narrow the gap between the much higher clocked 2012 model and the base 2013 13-inch MBA. Here the faster Ivy Bridge CPU is less than 2% quicker. I'll reserve final judgements until I get my hands on the 1.7GHz Core i7 model, but my guess is this is an example of the best case scenario for Haswell where you get equivalent performance to a higher clocked Ivy Bridge part but with much better thermal/noise/battery life characteristics. For example, the fan was never audible on the 2013 MBA while running this test compared to running at a very noticeable volume on the 2012 Core i7 model. The same goes for temperatures. The i7 2012 model tends to run about 5% warmer along the bottom of the chassis compared to the 2013 i5.
The GPU: Intel HD 5000 (Haswell GT3)
Hire enough ex-ATIers and you'll end up really caring about GPU performance apparently. It's good to see that Apple still views increasing GPU performance as non-negotiable, even at the MacBook Air level. Discrete GPUs are out of the question in the MacBook Air, so all models ship with Intel's on-die processor graphics. More importantly, all CPU choices integrate the largest GPU offering: Intel's HD 5000 (aka GT3).
Clock speeds alone prevent the 40 EU GPU implementation from being called an Iris 5100. Given the 15W TDP limit, Intel wouldn't be able to do the Iris name justice even if it tried.
It's hilarious that Intel refused to give out die photos for anything other than quad-core Haswell GT2, citing competitive concerns, yet at Apple's WWDC launch of the new MacBook Airs we got to see the first die shot of a dual-core Haswell GT3. Update: I stand corrected. Intel posted its own shot here.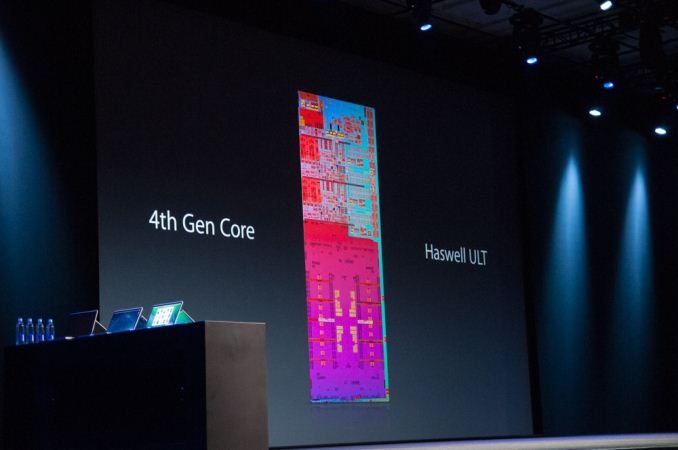 From the die photo it's very obvious that like the quad-core Haswells with Iris Pro, the dual-core GT3 parts are over half GPU. Here's the only Haswell die shot Intel PR officially released by comparison, a quad-core GT2 part that's mostly made up of CPU cores: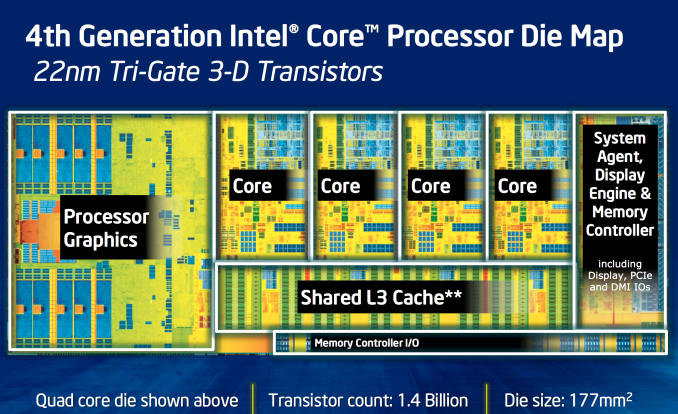 Similar to the CPU discussion, on the GPU front Haswell has to operate under more serious thermal limits than with Ivy Bridge. Previously the GPU could take the lion's share of a 17W TDP with 16 EUs, now it has 15W to share with the PCH as well as the CPU and 2.5x the number of EUs to boot. As both chips are built on the same 22nm (P1270) process, power either has to go up or clocks have to come down. Intel rationally chose the latter. What you get from all of this is a much larger GPU, that can deliver similar performance at much lower frequencies. Lower frequencies require lower voltage, which in turn has a dramatic impact on power consumption.
Take the power savings you get from all of this machine width, frequency and voltage tuning and you can actually end up with a GPU that uses less power than before, while still delivering incrementally higher performance. It's a pretty neat idea. Lower cost GPUs tend to be smaller, but here Intel is trading off die area for power - building a larger GPU so it can be lower power, instead of just being higher performance.
A Historical Look at MacBook Air GPU Performance
2011
2012
2013
GPU
Intel HD 3000
Intel HD 4000
Intel HD 5000
Manufacturing Process
32nm
22nm
22nm
Frequency
350/1150MHz
350/1050MHz
200/1000MHz
Cores
12
16
40
Peak GFLOPS
165.6 GFLOPS
268.8 GFLOPS
640 GFLOPS
TDP
17W
17W
15W
This is an even bigger deal because few of the other OEMs seem interested in paying for the larger die. Acer's S7 uses Intel's HD 4400 (Haswell GT2, 20 EUs), as do most of the other Haswell Ultrabooks that have been announced thus far. Armed with a 2011, 2012 and 2013 MacBook Air as well as Acer's 2nd generation S7, we now have the ability to compare everything from Intel's HD 3000 (Sandy Bridge) all the way up to HD 5000. It's important to keep in mind that with the exception of HD 3000, everything here is built on the same 22nm process, and with HD 4400/5000 TDPs actually went down. In other words, post Ivy Bridge, any GPU performance gains were very hard to come by.
I'm splitting up the GPU performance data into three sections. The first is a look at some games/settings that are actually playable on processor graphics. The second is comparison data for laptop Bench. The deltas here are academic at best since nothing slower than Iris Pro can really deliver playable frame rates in our high-end notebook GPU tests. The final section focuses on synthetic performance, which should help characterize the peak theoretical gains you can expect from HD 5000.
All of the gaming tests were run under Boot Camp/Windows 8. I think it's time to retire the HL2/Portal testing under OS X.
Playable Gaming Performance
There's a surprising number of games that are actually playable on Intel's HD 5000 in the MacBook Air. You have to be ok with the fan spinning quite loudly, but it's possible to get some ultra portable gaming in if you're up for it.
For all of these tests I stuck with 1366 x 768 so I could run comparable data on the only HD 3000 equipped MBA I had, an 11-inch model. I also threw in data from Inte's HD 4400 using the new Haswell equipped Acer S7. I'll start with GRID 2, a brand new racer, running at relatively low quality settings.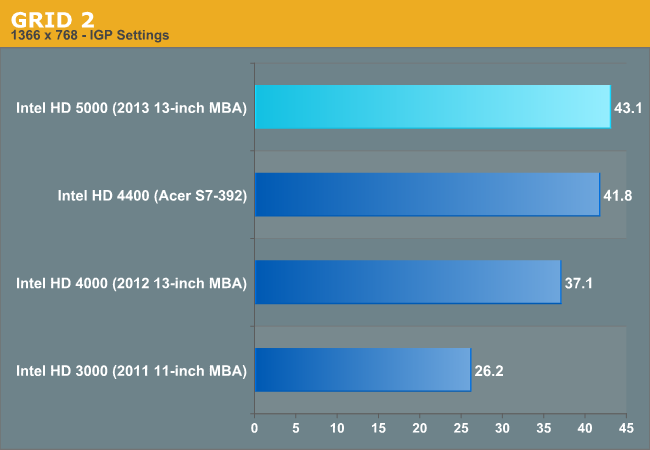 GRID 2 is absolutely playable on the new MacBook Air. At 43.1 fps it's 16% faster than last year's HD 4000 model. A 16% gain without increasing TDP on the same manufacturing process is pretty impressive. The gains over the 2011 MBA are substantial. GRID 2 goes from almost playable to fast enough where you can actually turn up some of the quality settings if you wanted to.
Next up is Borderlands 2. Again, a fairly modern title, but one that's really optimized for current generation consoles - making high-end processor graphics more than up for the task. While a higher TDP implementation of Haswell's integrated graphics wouldn't have an issue here, things are a little more difficult with a 15W TDP.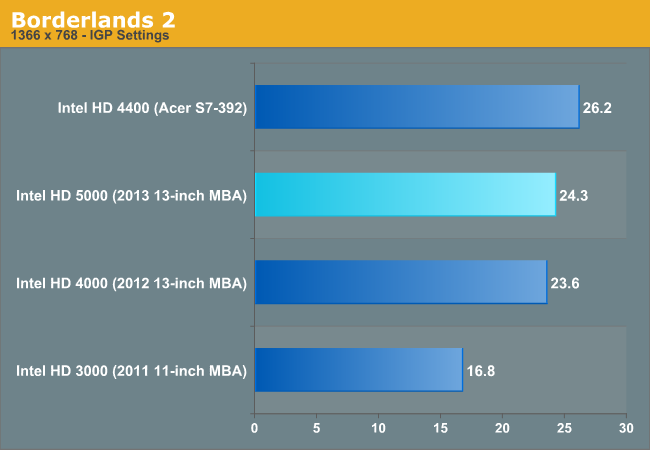 We see a marginal improvement over the HD 4000, we're clearly thermally bound at this point. What's interesting is the HD 4400 on the S7 is actually quicker here. The difference could be cooling or how Apple decides to scale back on GPU frequency when faced with thermal limits. A quick look at Haswell's power reporting confirms that while running my Borderlands 2 test the GPU was already exceeding the PL1 (Power Limit 1) of 15W:

Remember, with Sandy Bridge Intel introduced Turbo Boost 2.0 that effectively allowed for two separate power limits - one equal to the processor's TDP (PL1) and one higher than the processor's TDP (PL2) that could be hit as long as the die temperature doesn't get too high.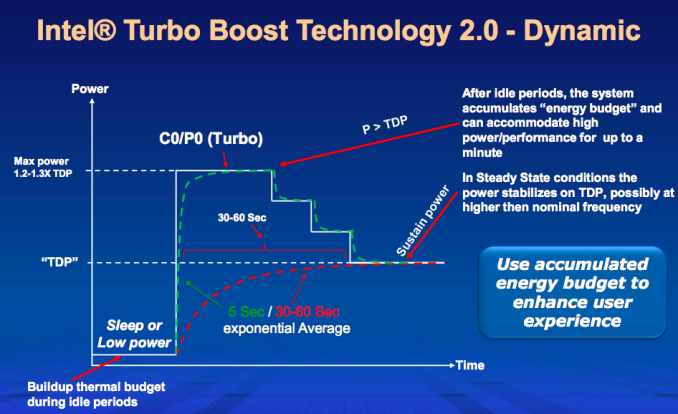 Despite the sub 30fps frame rate in this benchmark, Borderlands 2 was definitely playable on the HD 5000. It wasn't always smooth but if you need your single player fix, it'll suffice.
I've had a few requests to bring back our Minecraft benchmark. We ditched it from our higher end GPU reviews since it's no longer stressful enough, but for 15W TDP iGPUs it's perfect.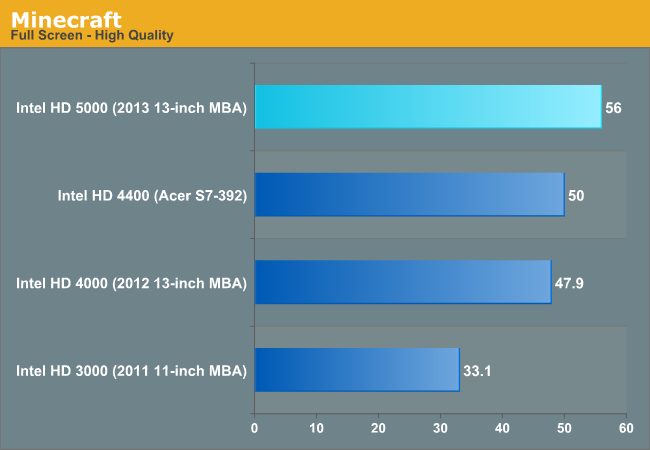 Once again we see almost a 17% increase over Intel's HD 4000. The HD 4400 comparison is also very impressive with a 12% increase in performance vs. what most MBA competitors will be using.
When I was a kid all I wanted was a console that could play arcade quality ports of Street Fighter II and Mortal Kombat II. These days, even the latest Street Fighter title has no issue playing on free graphics: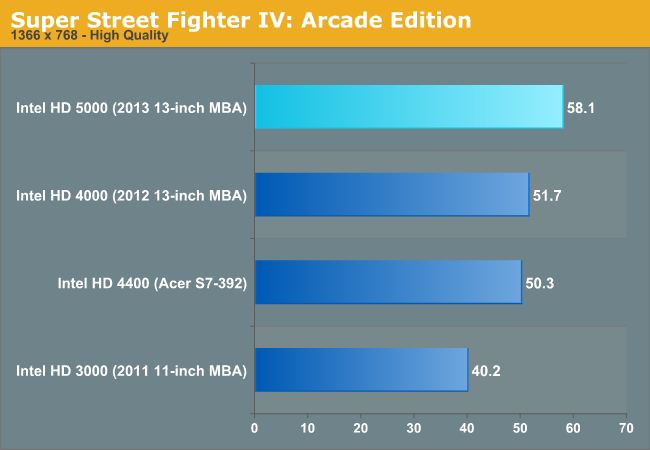 16% seems to be the magic number as that's exactly how much faster HD 5000 is compared to HD 4000. Given the lower TDP this year, that's a pretty reasonable gain. Looking at the sheer number of transistors that had to be used to get there however gives you good insight into just how hard it is to improve performance without a corresponding process node shrink.
More GPU Performance Numbers
The next set of benchmarks are taken from our 2013 Laptop Bench. Here we're comparing to HD 4000 and HD 4400, both using Acer S7s. Compared to HD 4400 the HD 5000 in Apple's 2013 MBA ends up being around 15% faster in most tests. Compared to Ivy Bridge/HD 4000 the gap ranges from lower single digits in thermally constrained environments to 25% or 40% in the best case scenarios.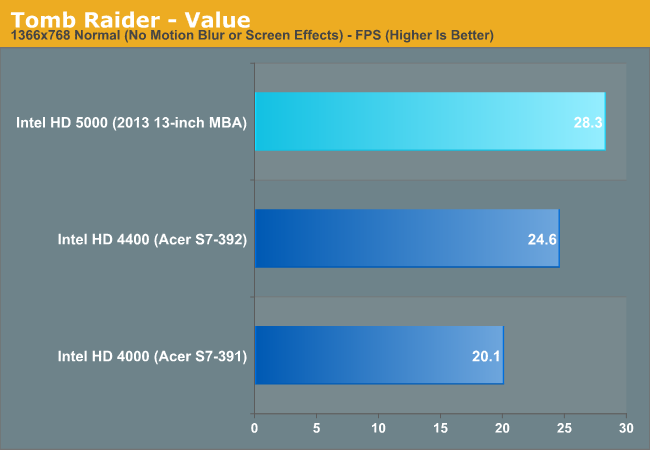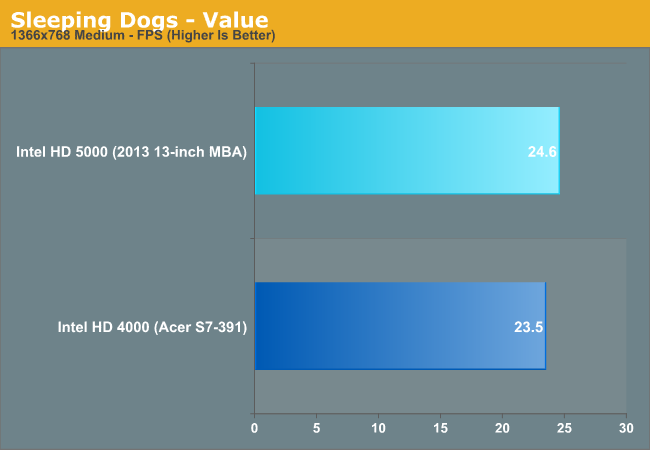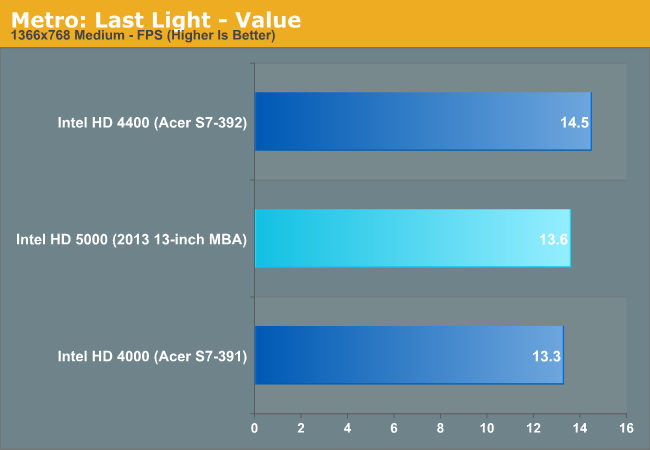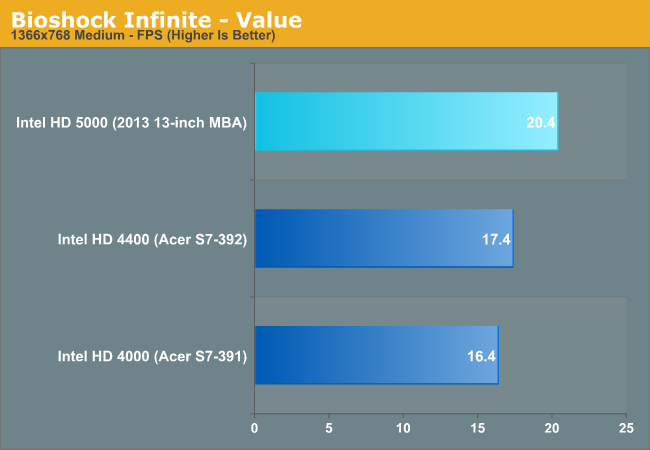 3DMark GPU Performance
We close out our look at Intel's HD 5000 performance using a historical collection of 3DMark data. The comparison gives us some more data points to characterize Intel's HD 5000. The data here is all best case scenario for HD 5000 as there are no situations where we hit thermal limits.
On average, Intel's HD 4400 ends up being 18% faster than HD 4000, while Intel's HD 5000 is 31% faster.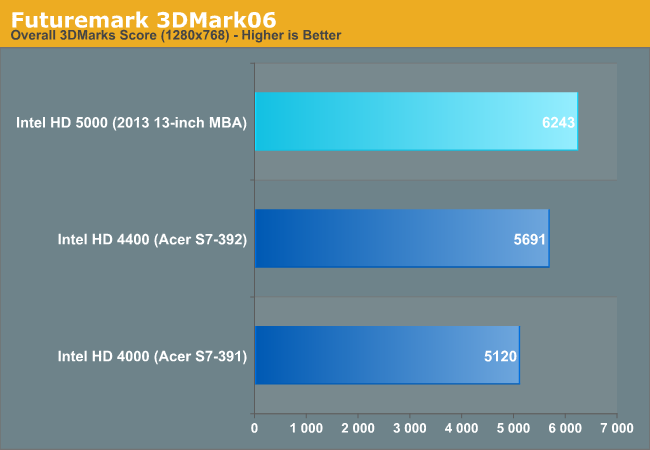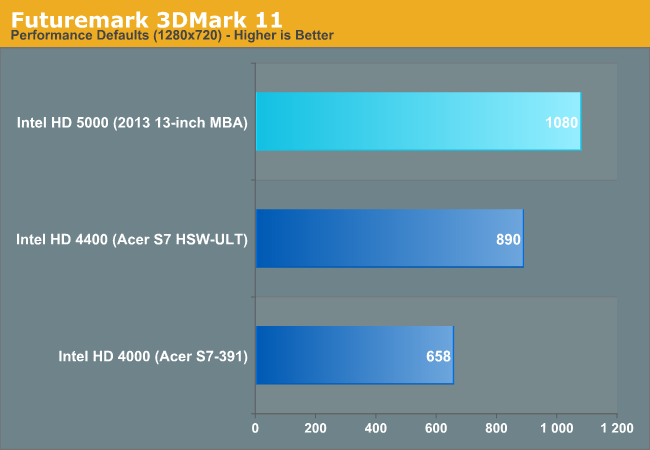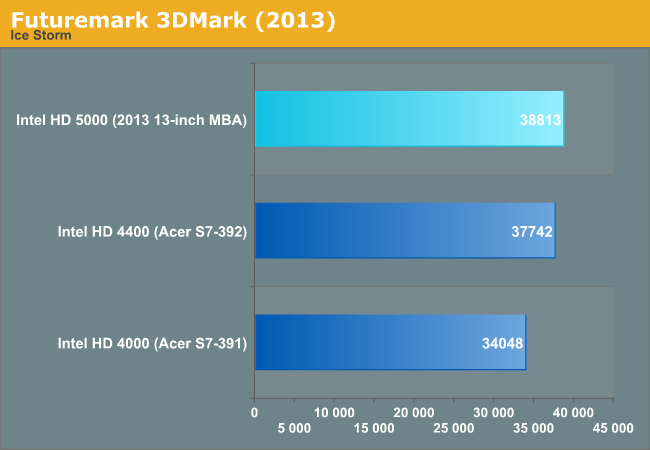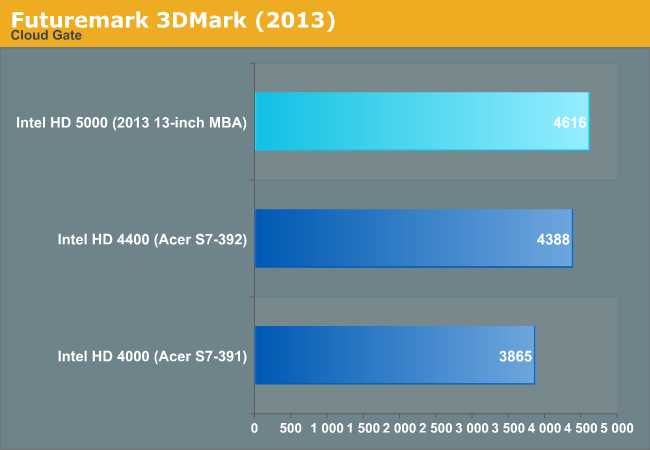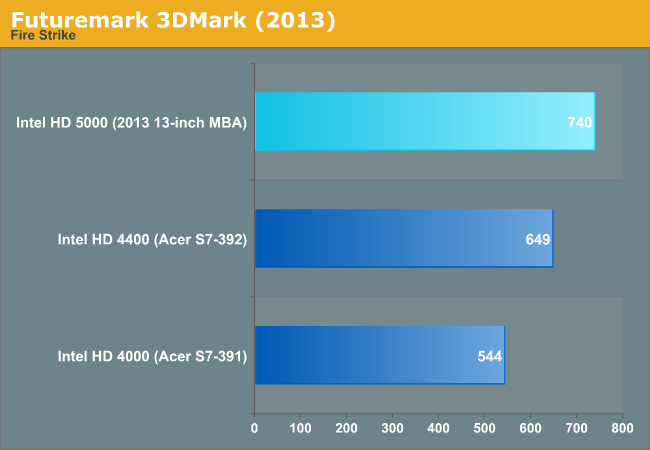 Absolutely Insane Battery Life
With Haswell ULT, Intel aggressively focused on driving down total platform power consumption. It turns out that although Intel did a wonderful job of driving down CPU power consumption over the years, it did nothing to make the rest of the platform keep up. With Haswell ULT, all of that changed. Intel is being frustratingly cagey with giving up real details on exactly what's going on with Haswell ULT, but here's what I've been able to piece together.
For starters, Haswell ULT brings the PCH (Platform Controller Hub) on-package. The PCH is responsible for all SATA, USB, PCIe 2.0 and other rest-of-system interfaces. Bringing it on package reduces the amount of power needed to drive traffic between the CPU and PCH, which in turn helps reduce platform power.
The PCH also moves down to 32nm, helping further reduce power consumption. Haswell ULT silicon itself is binned for lower voltage/power operation. The combination of Haswell ULT CPU and PCH are both included in the new 15W TDP (there's a 28W version as well but not used in the MacBook Air).
Haswell ULT supports lower power sleep states (up to C10) than the standard mobile or desktop parts (C6/C7).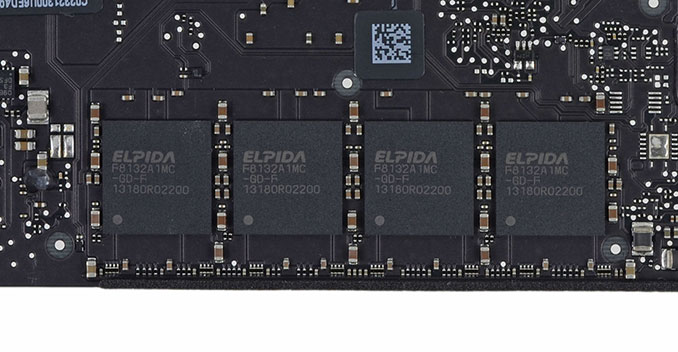 Image Courtesy iFixit
The other big change, and one that Apple is among the first (only?) to take advantage of is Haswell ULT's support for LPDDR3. Standard DDR3 operates at 1.5V, while low-voltage DDR3L drops that down to 1.35V - the two standards are otherwise identical. LPDDR3 on the other hand drops voltage even further (1.2V) while introducing architectural features to drive power down even lower. LPDDR3's power advantage is why it's frequently used in smartphones vs. DDR3L. The biggest downside is cost. Apple has historically not had an issue with spending a bit extra to get a better overall experience, so it's not surprising to see the MacBook Air ship with LPDDR3.
Overall bandwidth remains unchanged despite the move to very low power memory. We're still dealing with a 128-bit wide memory interface with a 1600MHz datarate. Note the impact this has on DRAM device layout on the PCB itself. Last year's model required 16 DDR3L devices, compared to 4 x 32-bit LPDDR3 devices here. Anyone else smell laptop/tablet convergence coming this way?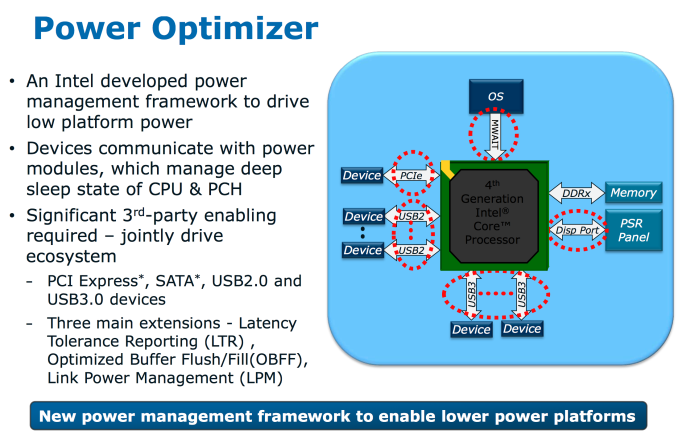 Haswell ULT also enables support for Intel's Power Optimizer framework. I've talked about this extensively over the past several months, but it's effectively a messaging system that allows all devices/controllers within a system to coordinate going into sleep states during periods of idle time. Of all of the platform power optimizations, this is the only one that isn't currently taken advantage of in OS X. You'll have to wait for OS X Mavericks to realize these gains.
Apple also boosted overall battery capacity on the MacBook Airs by roughly 8%. The increase in battery capacity had no impact on weight. Although it's not immediately apparent, I would assume that Apple's new SSDs also support DevSleep (DEVSLP) and Runtime D3.
The result of all of this is a downright tremendous improvement in battery life. OS X already did very well in the idle power department. Haswell's FIVR (Fully Integrated Voltage Regulator) can more quickly/aggressively enter and exit low power states. The combination of which is really the perfect storm for increasing battery life.
On the 13-inch MBA, Apple claims up to 12 hours of usage on a single charge.
Apple even revised its own testing in order to make its quoted battery life numbers more realistic. Previously it ran all of its own battery life tests at 50% brightness, but starting with the MacBook Air Apple's quoted battery life numbers are at 75% brightness. Our tests by comparison are at 81.5% (200 nits on the MBA). Apple's changes to its battery testing methodology actually tend to unintentionally mirror ours. Our first Mac battery life tests ran at roughly 50% brightness (100 nits).
So how did the MacBook Air fare in our testing? To find out I turned to our updated 2012 battery life test suite, first introduced with the 15-inch rMBP review.
The light and medium suites are inherently related - they use the same workload and simply vary the aggressiveness of that workload. The light test hits four different websites every minute, pausing for nearly the entire time to simulate reading time. Flash is enabled and present on three of the sites. The long pause time between page loads is what really makes this a light test. Web browsing may be the medium for the test but if all you're doing is typing, watching Twitter update and maybe lazily doing some other content consumption this is a good representation of the battery life you'll see. It's a great way of estimating battery life if you're going to be using your notebook as a glorified typewriter (likely a conservative estimate for that usage model).
The medium test hits the same webpages (Flash and all) but far more aggressively. Here there's less than 10 seconds of reading time before going onto the next page. It sounds like a small change but the impact on battery life is tremendous.
Both the light and medium tests are run in their default state with processor graphics enabled, as well as with the discrete GPU forced on. I run with the dGPU on as well because it's far too often that a single application open in the background will fire up the dGPU and contribute to draining your battery. The goal here is to deliver useful numbers after all.
The final test is very similar to our old heavy multitasking battery life tests, but with some updates. Here I'm downloading large files at a constant 1MB/s from a dedicated server, while playing back a looped 1080p H.264 movie (the Skyfall trailer) all while running the medium battery life test. The end result is a workload that gives you a good idea of what a heavy multitasking usage model will do in terms of battery life. I've found that OS X tends to fire up the dGPU anyway while running this workload so I saw no reason to run a separate set of numbers for processor and discrete graphics.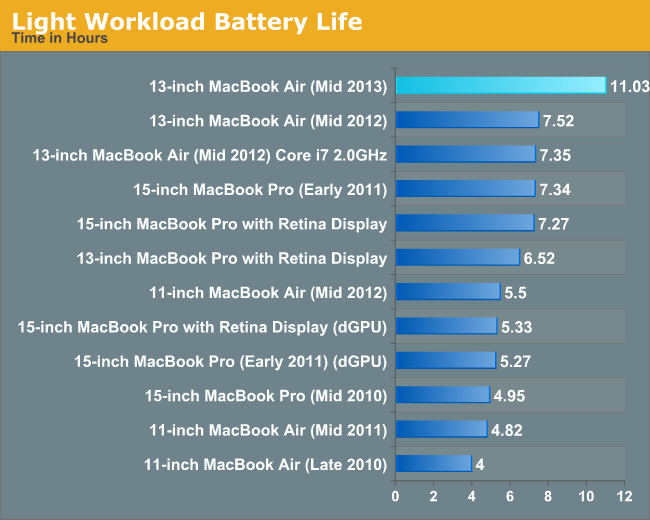 This is just ridiculous. Apple claims 12 hours, we tend to test a little more strenuous than Apple does and ended up with just over 11 hours of battery life on a single charge. These highly idle cases end up dominated by display power, which is why we actually see the smallest improvement in battery life over the previous generation here (~35%, normalized for battery capacity). If you drop brightness down to something more reasonable (~100 nits) you'll get some truly insane numbers: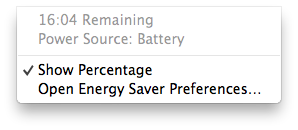 I remember owning a Transmeta Crusoe based Sony Picturebook (C1VN) with an extended battery and being able to break 14 hours of battery life. I had to give up so much performance and usability to get that sort of battery life back then; with the new MacBook Air, I don't have to.
Now this is really the sort of battery life you can expect when using the 13-inch MBA as a glorified typewriter. What happens if you start using the system a bit more aggressively?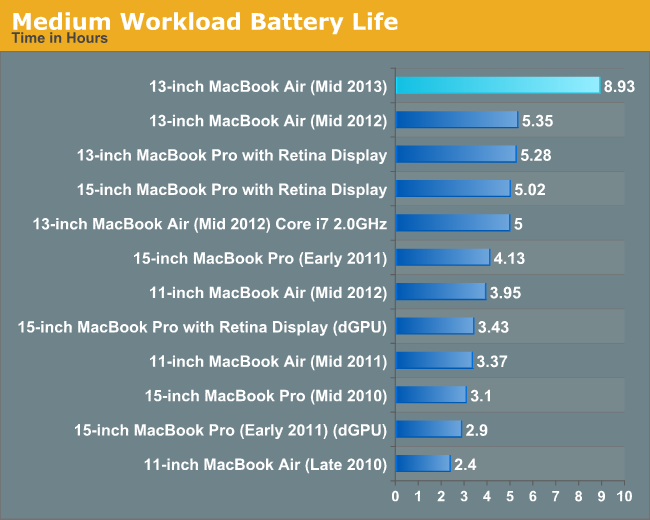 Just under 9 hours on a single charge, an increase of 54.5% when you normalize for battery capacity. What the world would've done if Haswell ULT hit prior to the creation of the iPad...
The reason I create/present three different battery life tests is to showcase a range of expected battery life. No one number is going to characterize what you can expect out of the system, but my hope is you'll get a good idea of range by looking at the numbers here. The heavy test used to provide a good look at worst case scenario, but I'm beginning to wonder if I need something even more stressful: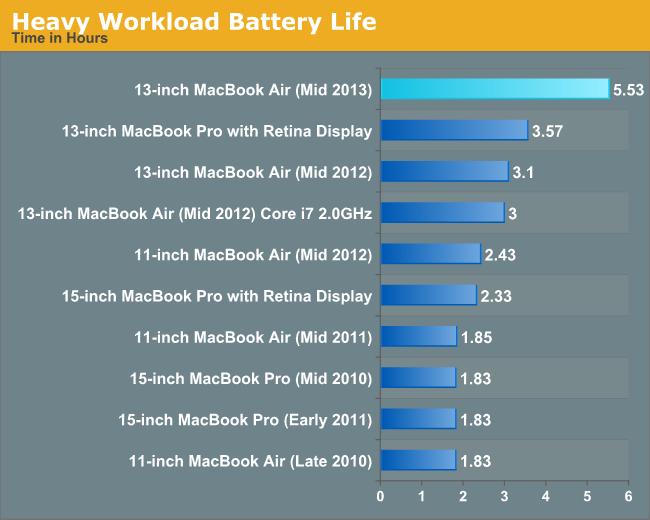 Even normalizing for battery capacity changes, the new 13-inch MacBook Air increases battery life by 65% over the previous model.
Under really heavy use (think tons of video/photo editing work) you can go even lower than what our heavy workload numbers show. In my experience I found that around 7 hours of battery life on a single charge is reasonable for most of my workloads, but when doing a lot of work (tons of Flash tabs open, compiling a project in the background and heavy multitasking) I could kill the 13-inch MBA in under 4 hours.
The benefit of the new MBA is really in its ability to extend its battery life when needed. Close Safari windows, turn down the brightness, and you've got a machine that can last for a very long time without needing a wall outlet. There's a good reason that OS X Mavericks focuses so much on putting background tasks/apps to sleep, maximizing idle time is really the key to getting this insane amount of battery life.
A Custom Form Factor PCIe SSD
In the old days, increasing maximum bandwidth supported by your PATA/SATA interface was always ceremonial at first. Hard drives were rarely quick enough to need more than they were given to begin with, and only after generations of platter density increases would you see transfer rate barriers broken. Then came SSDs.
Not only do solid state drives offer amazingly low access latency, but you can hit amazingly high bandwidth figures by striping accesses across multiple NAND Flash die. A 256GB SSD can be made up of 32 independent NAND die, clustered into 8 discrete packages. A good controller will be able to have reads/writes in flight to over half of those die in parallel. The result is a setup that can quickly exceed the maximum bandwidth that SATA can offer. Today that number is roughly 500MB/s for 6Gbps SATA, which even value consumer SSDs are able to hit without trying too hard. Rather than wait for another rev of the SATA spec, SSD controller makers started eyeing native PCIe based controllers as an alternative.
You can view a traditional SSD controller as having two sides: one that talks to the array of NAND flash, and one that talks to the host system's SATA controller. The SATA side has been limiting max sequential transfers for a while now at roughly 550MB/s. The SATA interface will talk to the host's SATA interface, which inevitably sits on a PCIe bus. You can remove the middle man by sticking a native PCIe controller on the SSD controller. With SATA out of the way, you can now easily scale bandwidth by simply adding PCIe lanes. The first generation of consumer PCIe SSDs will use PCIe 2.0, since that's what's abundant/inexpensive and power efficient on modern platforms. Each PCIe lane is good for 500MB/s, bidirectional (1GB/s total). Apple's implementation uses two PCIe 2.0 lanes, for a total of 1GB/s of bandwidth in each direction (2GB/s aggregate).
The move to a PCIe 2.0 x2 interface completely eliminates the host side bottleneck. As I pointed out in my initial look at the new MacBook Air, my review sample's 256GB SSD had no problems delivering almost 800MB/s in peak sequential reads/writes. Do keep in mind that you'll likely see slower results on the 128GB drive.
Users have spotted both Samsung and SanDisk based PCIe SSDs in the 2013 MacBook Airs. Thankfully Apple doesn't occlude the controller maker too much in its drive names. An SM prefix denotes Samsung: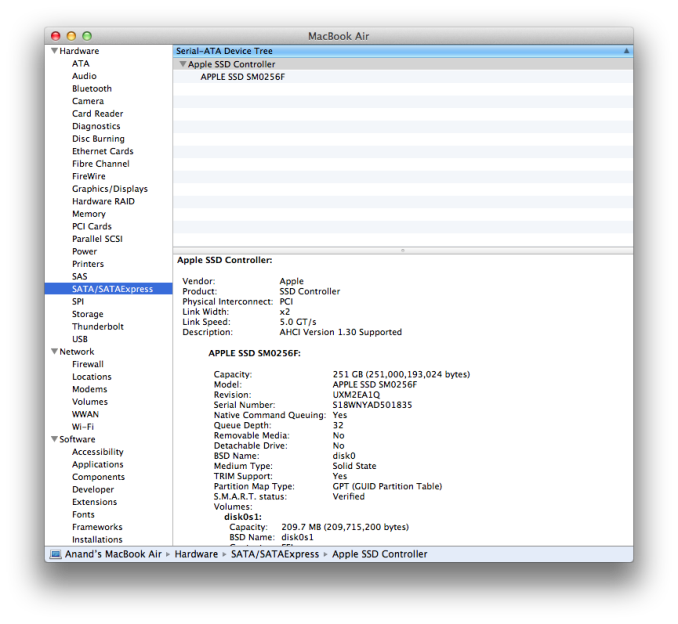 My review sample featured a Samsung controller. There's very little I know about the new Samsung controller, other than it is a native PCIe solution that still leverages AHCI (this isn't NVMe). Within days of Apple launching the new MBAs, Samsung announced its first consumer PCIe SSD controller: the XP941. I can only assume the XP941 is at least somewhat related to what's in the new MBA.
The Samsung controller is paired with a 512MB DDR3 DRAM and 8 Samsung 10nm-class (10nm - 20nm process node) MLC NAND devices.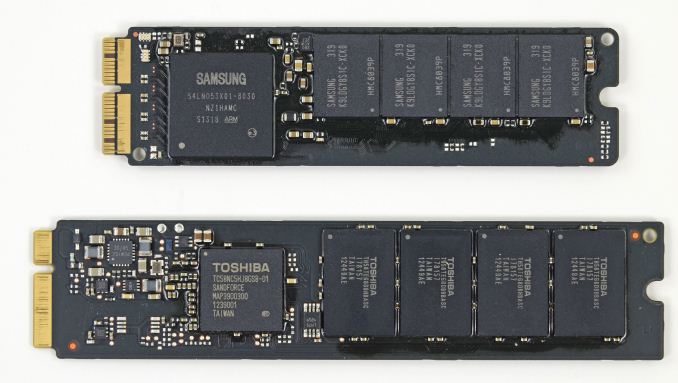 New PCIe SSD (top) vs. 2012 MBA SATA SSD (bottom) - Courtesy iFixit
Despite moving to PCIe, Apple continues to use its own proprietary form factor and interface for the SSD. This isn't an M.2 drive. The M.2 spec wasn't far enough along in time for Apple to use it this generation unfortunately. The overall drive is smaller than the previous design, partially enabled by Samsung's smaller NAND packages.
PCIe SSD Performance
I created a Boot Camp partition of around 120GB and ran our client iometer benchmarks to put the new PCIe SSD's performance in perspective.
Peak random read performance is roughly comparable to the previous-generation Samsung controller. Random write performance took a bit of a hit but it's still more than fast enough for client workloads. Sequential speeds are much improved but the gains are really only visible at high queue depths. Low queue depth sequential transfers can't be split up enough in order to really require PCIe.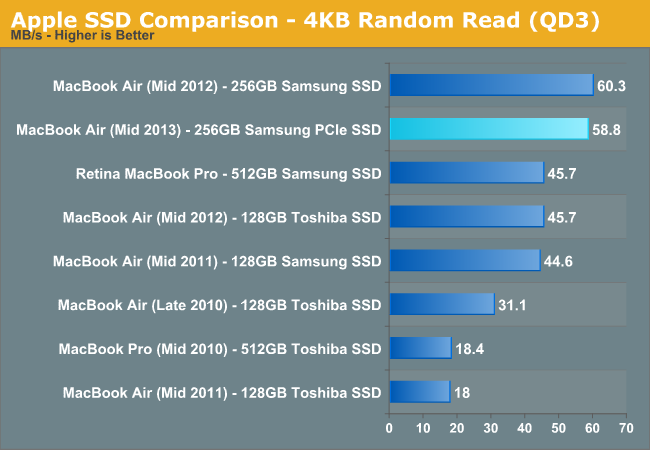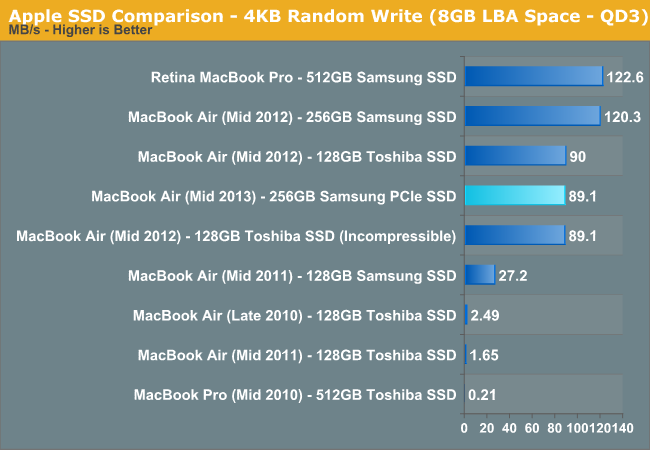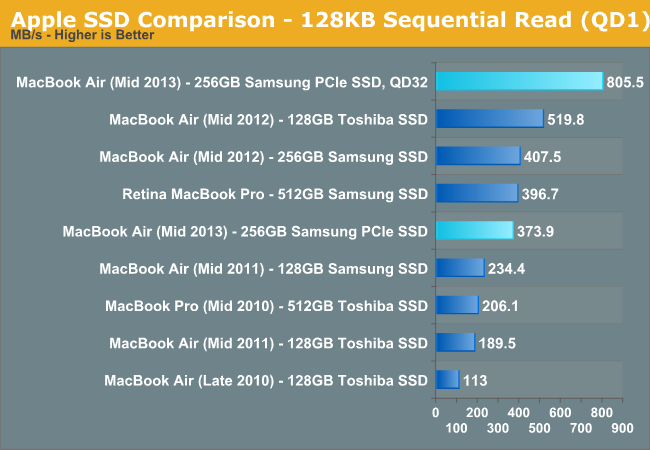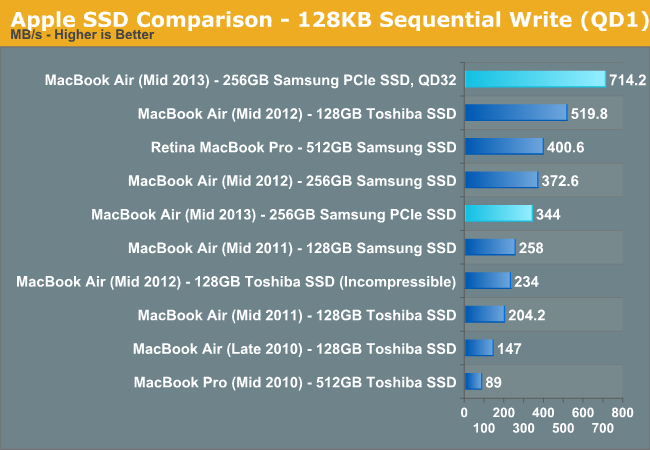 What does this mean in the real world? The new SSD is definitely snappier in system use. Wake from sleep is a bit quicker, as are application launches. The funny thing is that with the exception of high-speed Thunderbolt arrays, most external sources aren't fast enough to even stress the new storage subsystem in the MacBook Air. Large file copies confined to the drive itself benefit a bit as well. I saw roughly 300MB/s reads and 300MB/s writes when copying a large dmg from/to the MacBook Air's PCIe SSD (compared to roughly 200/200MBps on the old Samsung SATA SSD from the rMBP15).
If you have an external Thunderbolt array with at least a couple of drives, you should have no issues matching the MBA's internal SSD performance.
Seeing as how this is our first experience with Samsung's PCIe SSD controller, I wanted to get a feel for how the drive behaved under extended high queue depth random writes. I ran a modified version of our IO consistency test. The test was modified to run in a 91GB space on the MBA's Boot Camp partition. I made sure to fill the rest of the drive completely, but the random writes were effectively constrained to 91GB of LBAs. When I get back from the UK I'm going to try setting up an external boot drive and will do some more extensive testing on the drive.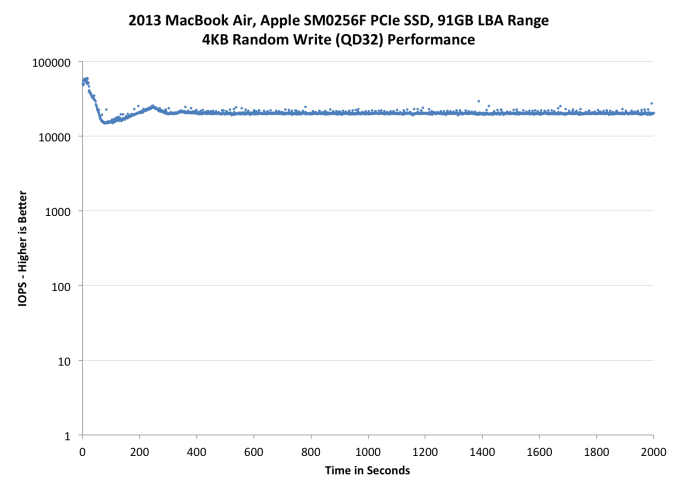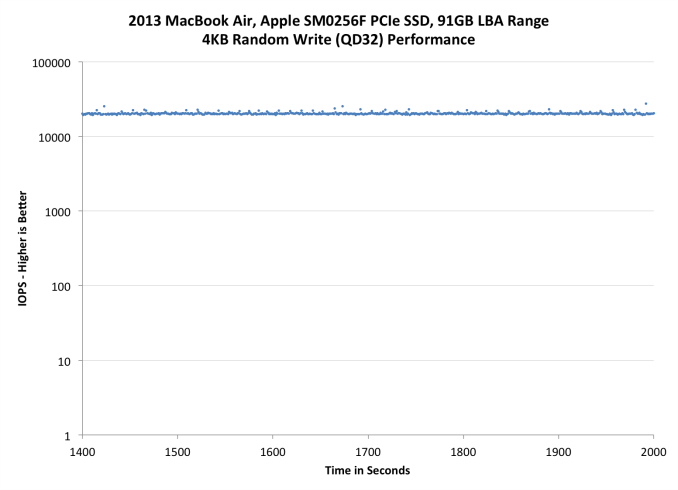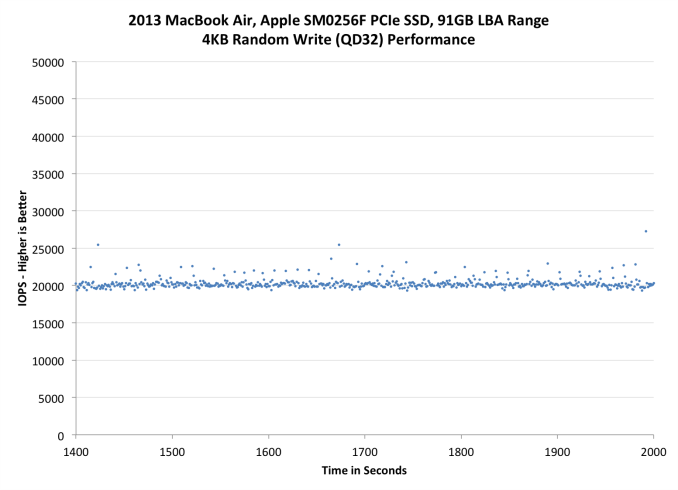 The IO consistency results, at least within a somewhat constrained space actually look really good. I have a feeling that Samsung might have improved its IO consistency story with this generation, but I'll wait on saying for sure until I've had a chance to do some more work with the controller. For the vast majority of users however, solid random write performance like this over a 91GB space on a full drive is actually very good news.
802.11ac: 533Mbps Over WiFi
Haswell isn't all that's new with the 2013 MacBook Air, Apple also integrated support for 802.11ac. I wrote a primer on 802.11ac last year, but I'll provide a quick recap here. 802.11ac is a 5GHz-only WiFi standard, with support for wider channels (80/160MHz vs. 40MHz in 802.11n) and better spatial efficiency within those channels (256QAM vs. 64QAM in 802.11n). Today, that means a doubling of channel bandwidth and a 4x increase in data encoded on a carrier, which are responsible for the significant increase in bandwidth. Usable bandwidth should also see improvements on 802.11ac as high-end access points are all expected to ship with beam forming enabled.
The first 802.11ac implementations we saw were on the smartphone side with HTC's One and Samsung's Galaxy S 4. Both of these devices were single antenna/single spatial stream implementations with 80MHz channels and 256QAM, resulting in a max PHY rate of 433Mbps. In his review of the HTC One, Brian documented peak performance using iPerf and a TCP transfer. In a smartphone, such high bandwidth from WiFi is really useful for improving battery life (race to sleep). In a notebook, you get the same potential improvement in battery life but there's one more: a wireless alternative to Gigabit Ethernet.
In a 3-stream configuration given what's available today, we're talking about a 1.33Gbps PHY rate. Assuming better link efficiency on a notebook compared to what we've seen in smartphones thus far, we could be talking about a real alternative to Gigabit Ethernet - at least close to an AP. While wired GbE is always going to give you a more consistent experience, the vast majority of homes aren't pre-wired with Gigabit Ethernet. In living situations where you can't just run a bunch of Cat6 everywhere, but still want high speed networking, 802.11ac could be a real alternative.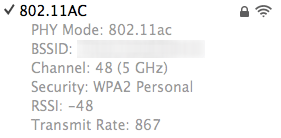 The 2013 MacBook Air adds support for 802.11ac via Broadcom's BCM4360. The controller is capable of supporting up to 3 spatial streams, but in its implementation in the MacBook Air we see a maximum of 2 used. I fully expect the 2013 rMBPs to use a third antenna to leverage all 3 streams. BCM4360 supports 80MHz channels, 256QAM and short guard intervals. The result is a max PHY rate of 867Mbps.
ASUS sent me its RT-AC66U based on the same BCM4360 silicon (coincidentally the same controller that's in the new Airport Extreme), which I promptly used for testing the new MacBook Air. The ASUS router and MacBook Air combination worked perfectly. In the same room as the AP, I had no issues seeing the maximum 867Mbps PHY rate (above).
Within about 5 - 8 feet of the AP, I saw an average of 533Mbps using iPerf. That's real data sent over TCP: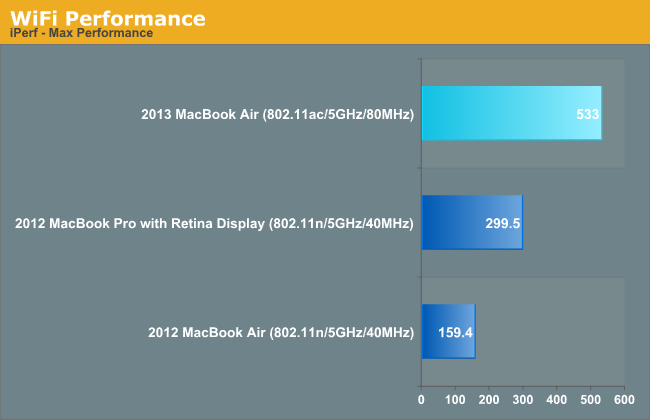 A 3-stream solution could definitely rival wired GbE, at least for short distances.
I then went about characterizing 802.11ac performance vs. distance to get an idea for how performance fell off as I moved away from the AP. My desk and test area is in the corner of my office, which is where I put the ASUS 802.11ac router. Performance around my desk was always up around 533Mbps.
Move around 18 feet away but remain in the same room and measured performance dropped to 450Mbps. One set of walls and another 10 - 15 feet dropped performance to between 250Mbps - 340Mbps. Another set of walls without moving much further and I was looking at 200Mbps. When I went one more set of rooms away, or dropped down to a lower level, I saw pretty consistent falloff in performance - dropping down to 145Mbps. Note that my setup is pretty much the worst case scenario for longer distances. The AP isn't centrally located at all. If I were setting up an 802.11ac network for max coverage, I'd probably see 300 - 400Mbps in most immediately adjacent rooms.
So 802.11ac on the new MacBook Air is pretty awesome, there's just one issue...
Real World 802.11ac Performance Under OS X
A good friend of mine recently bought an older house and had been contemplating running a bunch of Cat6 through the crawlspace in order to get good, high-speed connectivity through his home. Pretty stoked about what I found with 802.11ac performance on the MacBook Air, I thought I came across a much easier solution to his problem. I shared my iPerf data with him, but he responded with a totally valid request: was I seeing those transfer rates in real world file copies?
I have an iMac running Mountain Lion connected over Gigabit Ethernet to my network. I mounted an AFP share on the MacBook Air connected over 802.11ac and copied a movie over.
21.2MB/s or 169.6Mbps is the fastest I saw.
Hmm. I connected the iMac to the same ASUS RT-AC66U router as the MacBook Air. Still 21.2MB/s.
I disabled all other wireless in my office. Still, no difference. I switched ethernet cables, I tried different Macs, I tried copying from a PC, I even tried copying smaller files - none of these changes did anything. At most, I only saw 21.2MB/s over 802.11ac.
I double checked my iPerf data. 533Mbps. Something weird was going on.
I plugged in Apple's Thunderbolt Gigabit Ethernet adaptor and saw 906Mbps, clearly the source and the MacBook Air were both capable of high speed transfers.
What I tried next gave me some insight into what was going on. I setup web and FTP servers on the MacBook Air and transferred files that way. I didn't get 533Mbps, but I broke 300Mbps. For some reason, copying over AFP or SMB shares was limited to much lower performance. This was a protocol issue.
Digging Deeper, Finding the Culprit
A major component of TCP networking, and what guarantees reliable data transmission, is the fact that all transfers are acknowledged and retransmitted if necessary. How frequently transfers are acknowledged has big implications on performance. Acknowledge (ACK) too frequently and you'll get terrible throughput as the sender has to stop all work and wait for however long an ACK takes to travel across the network. Acknowledge too rarely on the other hand and you run the risk of doing a lot of wasted work in sub optimal network conditions. The TCP window size is a variable that's used to define this balance.
TCP window size defines the max amount of data that can be in flight before an acknowledgement has to be sent/received. Modern TCP implementations support dynamic scaling of the TCP window in order to optimize for higher bandwidth interfaces.
If you know the round trip latency of a network, TCP window size as well as the maximum bandwidth that can be delivered over the connection you can actually calculate maximum usable bandwidth on the network.
The ratio of the network's bandwidth-delay product to the TCP window size gives us that max bandwidth number.
The 2-stream 802.11ac in the new MacBook Air supports link rates of up to 867Mbps. My iPerf data showed ~533Mbps of usable bandwidth in the best conditions. Round trip latency over 50 ping requests between the MBA client and an iMac wired over Gigabit Ethernet host averaged 2.8ms. The bandwidth-delay product is 533Mbps x 2.8ms or 186,550 bytes. Now let's look at the maximum usable bandwidth as a function of TCP window size:
Impact of TCP Window Size on 802.11ac Transfer Rates, 533Mbps Link, 2.8ms Latency
Window Size
Bandwidth-Delay Product
TCP Window/BDP
Percentage
Link Bandwidth
Max Realized Bandwidth
32KB
186550B
32768/186550B
17.6%
533Mbps
93.6Mbps
64KB
186550B
65536/186550B
31.1%
533Mbps
187.2Mbps
128KB
186550B
131072/186550B
70.3%
533Mbps
374.5Mbps
256KB
186550B
262144/186550B
140.5%
533Mbps
533Mbps
The only way to get the full 533Mbps is by using a TCP window size that's at least 256KB.
I re-ran my iPerf test and sniffed the packets that went by to confirm the TCP window size during the test. The results came back as expected. OS X properly scaled up the TCP window to 256KB, which enabled me to get the 533Mbps result: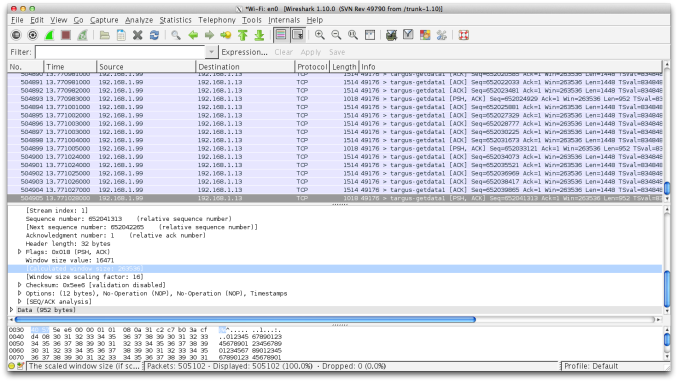 I then monitored packets going by while copying files over an AFP share and found my culprit: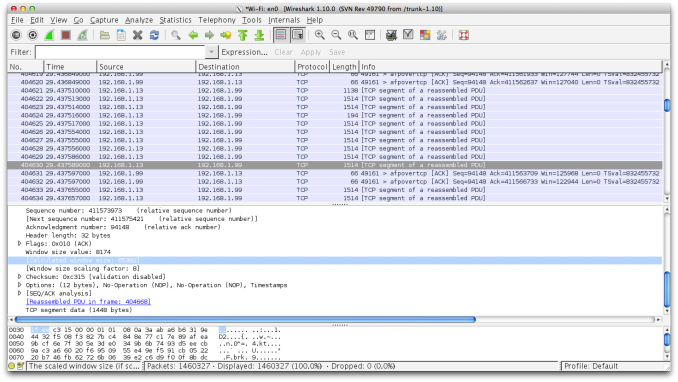 OS X didn't scale the TCP window size beyond 64KB, which limits performance to a bit above what I could get over 5GHz 802.11n on the MacBook Air. Interestingly enough you can get better performance over HTTP or FTP, but in none of the cases would OS X scale TCP window size to 256KB - thus artificially limiting 802.11ac.
I spent a good amount of time trying to work around this issue, even manually setting TCP window size in OS X, but came up empty handed. I'm not overly familiar with the networking stack in OS X so it's very possible that I missed something, but I'm confident in saying that there's an issue here. At a risk of oversimplifying, it looks like the TCP window scaling algorithm features a hard limit in OS X's WiFi networking stack optimized for 802.11n and unaware of ac's higher bandwidth capabilities. I should also add that the current developer preview of OS X Mavericks doesn't fix the issue, nor does using an Apple 802.11ac router.
The bad news is that in its shipping configuration, the new MacBook Air is capable of some amazing transfer rates over 802.11ac but you won't see them when copying files between Macs or PCs. The good news is the issue seems entirely confined to software. I've already passed along my findings to Apple. If I had to guess, I would expect that we'll see a software update addressing this.
Display
When I reviewed the 13-inch MacBook Pro with Retina Display, I viewed it as the true Retina MacBook Air that everyone was waiting for. With modest increases in thickness and weight, the rMBP13 gave you a much better screen and a larger battery to drive it. Apple's lineup made sense.
After being in Taiwan earlier this month and checking out all of the 13.3-inch 2560 x 1440 displays being used on notebooks similar in size to the 13-inch MBA, I was beginning to reconsider my position.
To hit an aggressive schedule, you have to mitigate risk. In the case of the 2013 MBAs, Apple kept the chassis spec unchanged in order to do just that. As a result, the displays too, remained unchanged. We're talking about TN panels (admittedly higher quality than most) and traditional pixel densities. Compared to the Retina Displays deployed across the rest of Apple's product lines, these panels just aren't as good. Compared to what you typically find elsewhere, they're still among the best.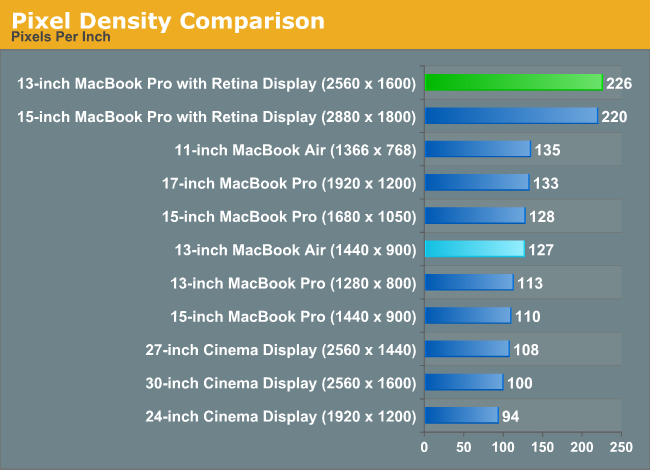 There are two aspects to deploying a Retina Display in a MacBook Air that are worth discussing. The first is power consumption. Greater pixel density requires a more powerful backlight to drive the panel at the same brightness, which in turn reduces battery life. Apple's solution is to deploy Retina Displays on products it can outfit with a sufficiently large battery. I'd argue that given the battery life of the 2013 MBAs, Apple could move to a Retina Display and still deliver reasonable battery life - but it would be a regression.
The second thing to consider is price. I don't know just how much more a Retina Display would add to the cost of a MacBook Air, but it's clear it would be non-negligible.
There's no real solution to the first problem, but the second one should be less of an issue as panel prices come down. I don't know where Apple will eventually land on all of this, but today what happens is we get a well defined separation between MacBook Air and MacBook Pro with Retina Display.
Professional users who need greater color accuracy and/or additional desktop resolution really should go for the MacBook Pro with Retina Display. If you don't need either, the MacBook Air will suffice.
In practice, the MBA's display isn't bad by any means. I've been staring at it non-stop since WWDC and don't mind using it at all. The biggest visual issue for me is actually the shifting contrast at off-center vertical angles. It's not a problem once you properly adjust the display angle but it's something you don't have to deal with on the rMBPs. When I'm not in crazy work mode, the lack of resolution isn't a huge deal - but when putting together big articles like this one, I find myself missing the rMBP quite a bit. I guess that's why the rMBP has Pro in the name.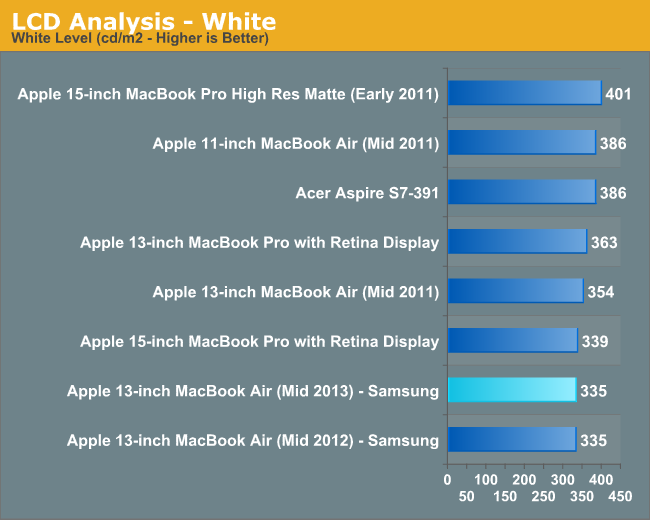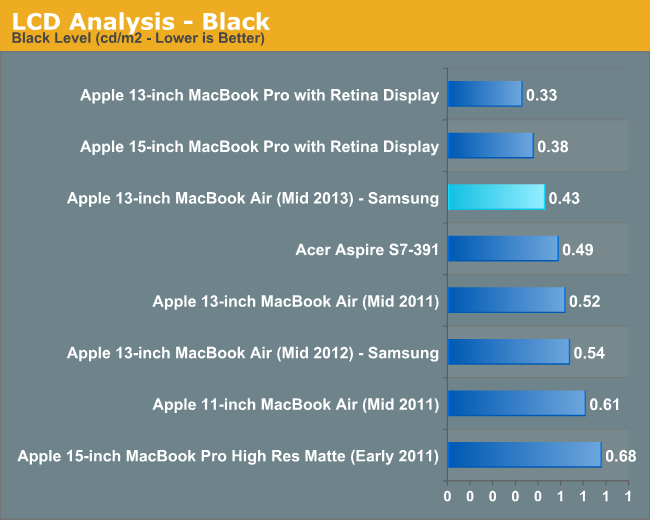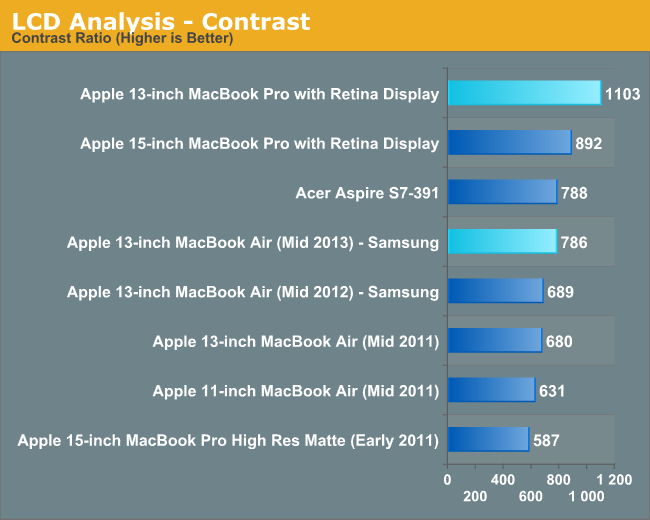 My review sample featured a Samsung panel (LSN133BT01A02), although I'm sure the usual panel lottery is in full effect this generation as it has been in the past. Brightness and contrast are both comparable to what we had last generation (my Samsung panel this year was a bit better than last year's). The brightness/contrast results are very comparable to Acer's 1080p S7, just to show you how far Ultrabooks have come.
I ran the 2013 MBA through Chris Heinonen's new display workflow using CalMAN to give you an idea of color accuracy vs. the rMBP: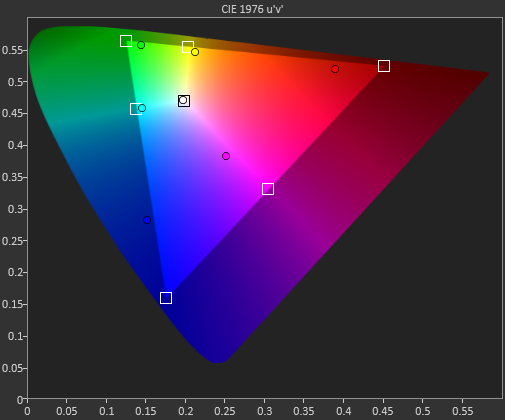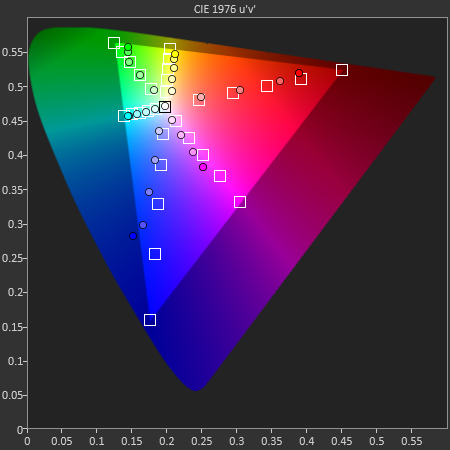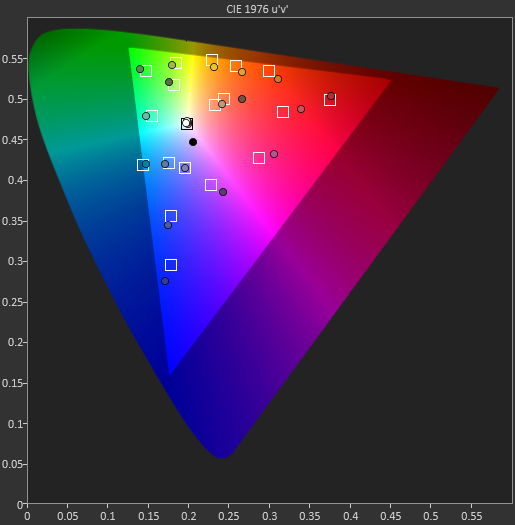 CalMAN Display Comparison
Apple iPad (3rd gen)
Apple iPhone 5
13-inch rMBP (uncalibrated)
13-inch 2013 MBA (uncalibrated)
Google Chromebook Pixel
Grayscale 200 nits Avg dE2000
3.7333
3.564
1.7825
3.348
7.132
CCT Avg (K)
6857K
6925K
6632K
6809K
6442K
Saturation Sweep Avg dE2000
3.193
3.591
2.1663
5.3608
7.0927
GMB Colorchecker Avg dE2000
3.0698
4.747
2.4521
3.9883
5.7664
The 13-inch MacBook Air isn't bad, but Apple's Retina Display is just better.
Final Words
Five years after its introduction, the MacBook Air really has grown into a very polished, mature platform. The 2013 model is really the epitome of what Apple set out to build back in 2008, we just finally have the right hardware available to realize the vision. Nearly every component has been perfectly selected. The chassis remains excellent. The keyboard and trackpad are non-issues. CPU performance is good for a mainstream PC and GPU performance is literally the highest you can offer in a 15W TDP. The SSD is no compromises, and Apple has implemented the fastest WiFi available as well. Only the display is beginning to show its age, not because it's substantially behind the similarly priced competition but because Apple has given us Retina Displays nearly everywhere else.
The MacBook Air's display really defines whether or not this notebook is for you. I suspect for most users it's fine. What you lose compared to the rMBP is a bit of color accuracy, more extreme vertical viewing angles and the ability to run at higher scaled resolutions. The perfect combination of portability and high display resolution for a workhorse remains the 13-inch rMBP in my opinion. If you don't need the resolution though, the MBA's weight/size really can't be beat.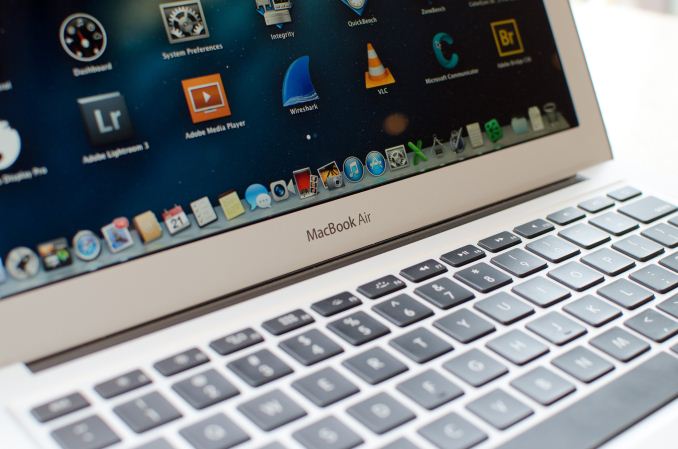 Rarely in these reviews do I get the chance to talk about OS X, but that really is such a big part of the experience here. OS X remains my work OS of choice and it's really evolved quite nicely. With the announcement of OS X Mavericks earlier this month, it's good to see continued improvements to the platform. That being said, I have noticed more bugs in Mac OS X over the past couple of releases; something I assume is related to an increased focus on iOS. Apple needs to be very careful here not to slip too much on the OS X front. Windows 8 may have gotten off to a rocky start, but I'm expecting things to only get better over the next couple of releases.
Quite possibly the most controversial aspect of the new MacBook Air is its CPU performance. Just as it has in the past, Apple made a conscious decision to forego improving CPU performance this generation in lieu of delivering better battery life, GPU performance and overall experience. MacBook Air pricing in 2013 either stayed the same as in 2012 or went down, but look at the laundry list of improvements: 802.11ac, PCIe SSD, and the largest dual-core Haswell die Intel offers. Intel's pricing on the CPU alone is 50% higher than the default i5 in last year's model. All of this comes at a cost: the 2013 MacBook Air ranges from just as quick as the 2012 model, to a bit slower, in CPU bound tasks. I wouldn't consider the degree of performance regression obviously noticeable, but it's there. Annual upgraders who demand a performance upgrade each time will have to opt for the admittedly reasonable $150 Core i7 CPU upgrade. This is only really an issue for those who upgrade anually though. Anyone using anything older than a 2012 MacBook Air will move not only to a faster CPU, but a much faster overall platform. Haswell continues to be an interesting performer. In some of our tests the 1.3GHz Core i5 couldn't keep up with last year's 1.7GHz part, while in others it was less than 2% off of the 2012 2.0GHz upgraded SKU. Haswell does boast higher IPC than Ivy Bridge, which when it surfaces can do more than make up for any differences in clock speed.
I'm glad to see Apple spend the extra money on Intel's HD 5000 across all of its MacBook Air CPUs. What's most interesting about Haswell GT3 in a 15W power envelope is just how hard the chip has to work in order to get added performance without running into thermal limits. In order to get a 15 - 30% increase in performance on the same process node, at a lower TDP, Intel had to more than double the size of the GPU. I don't think there's ever been such a perfect example of how power limited we are these days than looking at HD 5000 vs. HD 4000. Although the story at relatively unconstrained TDPs is one of multiple times better GPU performance than Ivy Bridge, in a chassis like the MacBook Air we're seeing gains that are far more modest. In terms of actual usefulness, the added performance of HD 5000 vs. HD 4000 is noticeable but don't expect it to dramatically change the type of titles that are playable on the MBA.
The move to 802.11ac feels like a game changer once more notebooks get there. The 2x2:2 implementation in the 2013 13-inch MacBook Air is capable of up to ~533Mbps if you're close to your 802.11ac AP. Speeds in immediately adjacent rooms should still top the rMBP's 3x3:3 802.11n implementation with peak rates well over 300Mbps. Anyone looking to splurge and move to a full blown 802.11ac setup with the 2013 MacBook Air should hold off though - OS X doesn't presently support 802.11ac transfer speeds over AFP/SMB shares. I'm expecting we'll see an OS X update in short order here to address the issues I found but until then you'll be limited to 802.11n speeds for copying files over your new 802.11ac network.
I'm very pleased with Apple's PCIe SSD, at least based on Samsung's new PCIe controller. Sequential performance is up considerably over last year's 6Gbps SATA drive. Go back any further and the difference will be like night and day, especially if you were one of the unfortunate few with an older Toshiba drive. Internal transfers are quicker, but to actually use the new SSD to its potential you'll really need a very fast external Thunderbolt array - even USB 3.0 can't completely tax it. There's still a lot more investigating that I want to do on Samsung's new controller, but my early results look very promising. It's sort of crazy that Apple now ships a mainstream consumer notebook with a PCIe SSD capable of almost 800MB/s. Now that Apple is off SATA, scaling storage performance should be much easier to do going forward.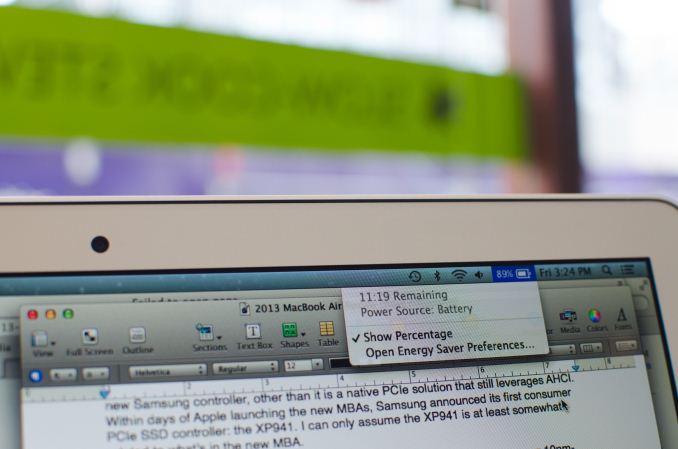 The increase in battery life is intoxicating. For light work, I'm so much less worried about running out of power during the day on the new 13-inch MacBook Air. As a writer's aid, the new MBA's battery life is perfect. Last year I spoke about blurring lines within Apple's MacBook lineup, but now I'm beginning to see those lines blur between MacBook Air and iPad...
Once you start diving into heavy photo and/or video work, the difference between generations shrinks quite a bit. I can't stress enough how important it is that you pay attention to Apple's wording in its battery life estimates. Up to 12 hours is just that, a maximum. It's all about matching the notebook to your usage model. It's through exploiting periods of platform idle time that Haswell ULT and the MacBook Air can hit its lofty battery life claims. Until OS X Mavericks arrives, you'll have to make sure to pay attention to things like background web browser tabs running Flash from killing your battery life.
Can I also add that I'm beyond excited for the new 13-inch rMBP? If Apple indeed is using Intel's 28W Haswell ULT part (with on-package PCH), we might really get the best of both worlds with that notebook - incredible battery life and a Retina Display. Admittedly I do fall into more of the pro user category. For its customers looking for a good, mainstream notebook PC, the new MacBook Air is really quite awesome. Even I'm tempted by the machine thanks to its battery life alone. If I didn't feel like we were a few months away from an rMBP update and wasn't so hell-bent on sticking with a single machine as my notebook and desktop, I'd probably cozy up to a new 13-inch MacBook Air.