Original Link: http://www.anandtech.com/show/7107/htc-one-and-samsung-galaxy-s-4-google-play-edition-review-nearly-nexus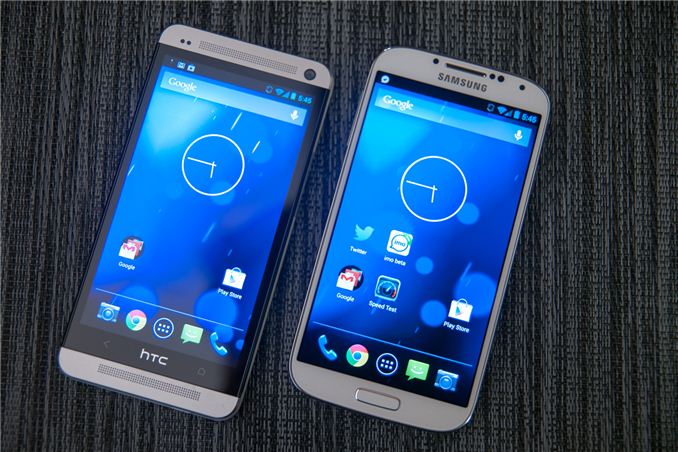 Back at Google I/O, the search giant announced the Samsung Galaxy S 4 with Nexus User Experience, a device which combined Samsung's SGS4 hardware and the stock Android experience atop it. Later on, HTC made an announcement of its own about an upcoming HTC device with the same exact promise – unadulterated HTC One hardware running unadulterated Android. Both devices originally didn't have formal names, they're now the Samsung Galaxy S 4 Google Play edition and HTC One Google Play edition, respectively (henceforth SGS4 GPe or HTC One GPe).
Google I/O went on to be a not so subtle breakdown of Google's strategy to de-couple more of the platform from the primary point releases of Android to get more consistent user experiences and APIs across the ecosystem. While many expected new hardware and a new version of Android, although both were teased, the real big news was primarily Google solidifying more of the experience consistency for developers and users alike. If you look at that theme from a higher level, you can see how Google also clearly wants to extend this to hardware through an ambitious new Google Play edition initiative which starts with the HTC One and Galaxy S 4 Google Play editions. The hardware is already a known entity – we've reviewed both the HTC One and the Snapdragon 600-based Galaxy S 4 – the question is how that experience works with stock Android.
The obvious goal of both Google Play editions is simple – the Nexus phone isn't on a fast update cadence, so taking advantage of the flagship smartphone hardware from both HTC and Samsung is an easy way for Google to keep its offerings fresh. The promise is the combination of smartphone hardware that will remain the best of the best through Fall 2013 and the latest and greatest Android software release (4.2.2 right now and later on probably 4.3 like I've previously speculated) updated in a timely fashion.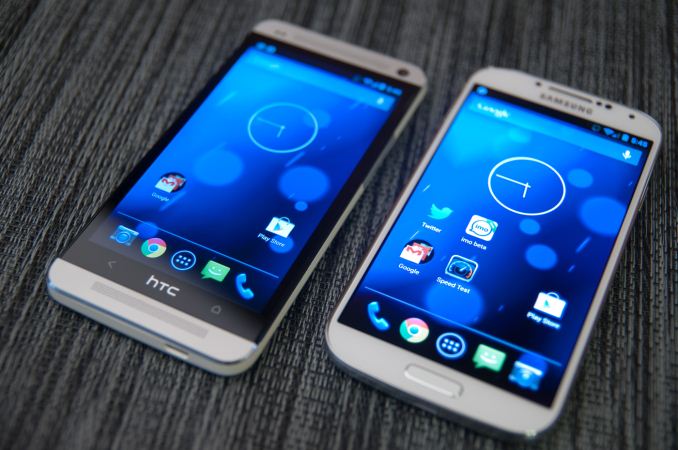 There's a precedent for Google doing some this under the umbrella of "Google Experience Devices" with the Motorola Xoom and TI PandaBoard. The new phrase at Google I/O was "Nexus User Experience," but interestingly enough the final one is "Google Play edition," distancing it a bit more from being canonical Nexus. It's clear that Google's Nexus strategy isn't going away, it is however clearly changing. We'll touch on the software update and who-builds-what side of things in the appropriate section.
Anyhow the HTC One and SGS4 are both known entities, and the hardware here should be familiar to anyone who has read those reviews or any others. The fact that both are Google Play edition simply means they carry no operator branding. There's no AT&T logo etched into the back of the HTC One nor SGS4, no operator adulteration anywhere. The GPe versions won't fundamentally change anyone's mind about whether the HTC One or SGS4 is the better hardware, since the intrinsic properties of both are unchanged. Likewise there's still a microSD card slot and removable battery on the SGS4, and the HTC One still has its phenomenal metal unibody construction and UltraPixel camera. What is and isn't enabled really comes down to software, but again more on that in the appropriate section.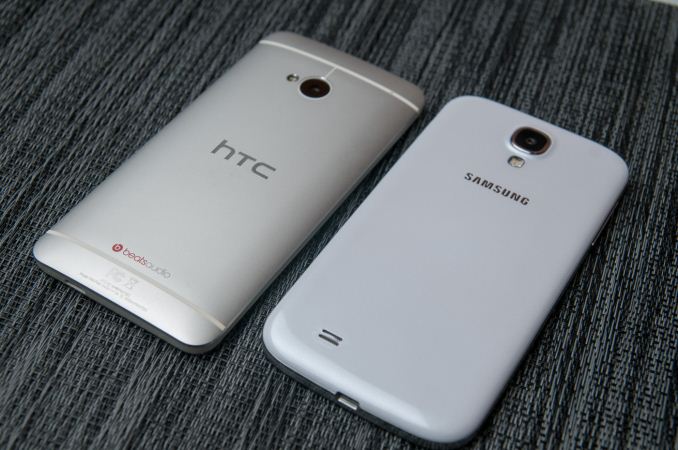 The pricing announcement for the SGS4 GPe drew audible booing from the crowd during Google I/O, something that struck me as odd and shocking for what should be a reasonably savvy audience. The reality is that there's no way Google, Samsung, or HTC would massively undercut flagship device pricing mid-cycle with prices either near cost or offset with an invisible subsidy. This isn't a Nexus 4, it's another OEM's hardware running software Google has dictated, and as a result the two phones come in at around typical unsubsidized pricing. That translates to $599 for the 32 GB HTC One and $649 for the 16 GB SGS4. Both are live on the Play Store (link below) as of this posting.
The GPe versions are aimed at the US market and variants with the appropriate banding were selected for this purpose. Google didn't (and for timing reasons basically cannot) make Samsung or HTC craft new variants, thus existing ones were used. In the case of the HTC One GPe, that's the AT&T USA (M7#UL ATT), same as the factory unlocked and developer editions. In the case of the SGS4 GPe this translates to the T-Mobile USA variant (SGH-M919) which is the same as the AT&T (SGH-I337) variant but without the pointless and arbitrary operator-requested RAT locks that prevent Band 4 WCDMA from working. Likewise I find myself wishing that HTC would disable those locks which prevent Band 4 WCDMA from working on their developer edition, unlocked edition, and GPe, though that would require FCC involvement since it lacks certification.
Anyhow the layman's translation is that the SGS4 GPe and HTC One GPe work out of the box on AT&T and T-Mobile LTE. The SGS4 GPe will work on all of T-Mobile and AT&T HSPA+, HTC One GPe will work on all of AT&T HSPA+ but only Band 2 (1900 MHz) T-Mobile HSPA+. The HTC One GPe will not work on T-Mobile's Band 4 HSPA+, only its Band 4 LTE. If you're on Sprint or Verizon CDMA/LTE and care about having Nexus phones you're again on the wrong side of the fence and probably will be for the foreseeable future. I tested both T-Mobile and AT&T personal SIMs in both devices, and had no issues with them attaching flawlessly to LTE and HSPA+ on the respective networks.
Stock Android is, like almost everything mobile related, a polarizing thing. I don't know why that seems to be the case with everything, but it just is, and there's certainly not a subject over which more words have been writ than the stock versus skinned discussion for Android smartphones. The OEMs contend that their customizations, skins, and software enhancements add value to the platform for both operators and regular users. Things like better onboarding and initial setup, support for additional features, custom camera UI, and of course visual appearance. Enthusiasts seem to be the loudest about wanting the Android platform to work something like the desktop – free of preinstalled programs, features, or skins. Arguing over which is "better" is really a semantic debate, since they each serve very different goals for very different audiences.
Let's talk about updates first. When I first saw the SGS4 GPe slide go up at Google I/O, I immediately began wondering how this would work from a software support and update point of view. There's a lot involved with supporting a handset, and it seemed unlikely that Google was going to do its own bringup of the linux kernel and all the various hardware idiosyncrasies on both phones on their own. It only takes glancing at the About page to verify that my suspicions were correct – the GPe phones run kernels supplied by the respective OEMs, Google supplies the build of Android that runs atop it.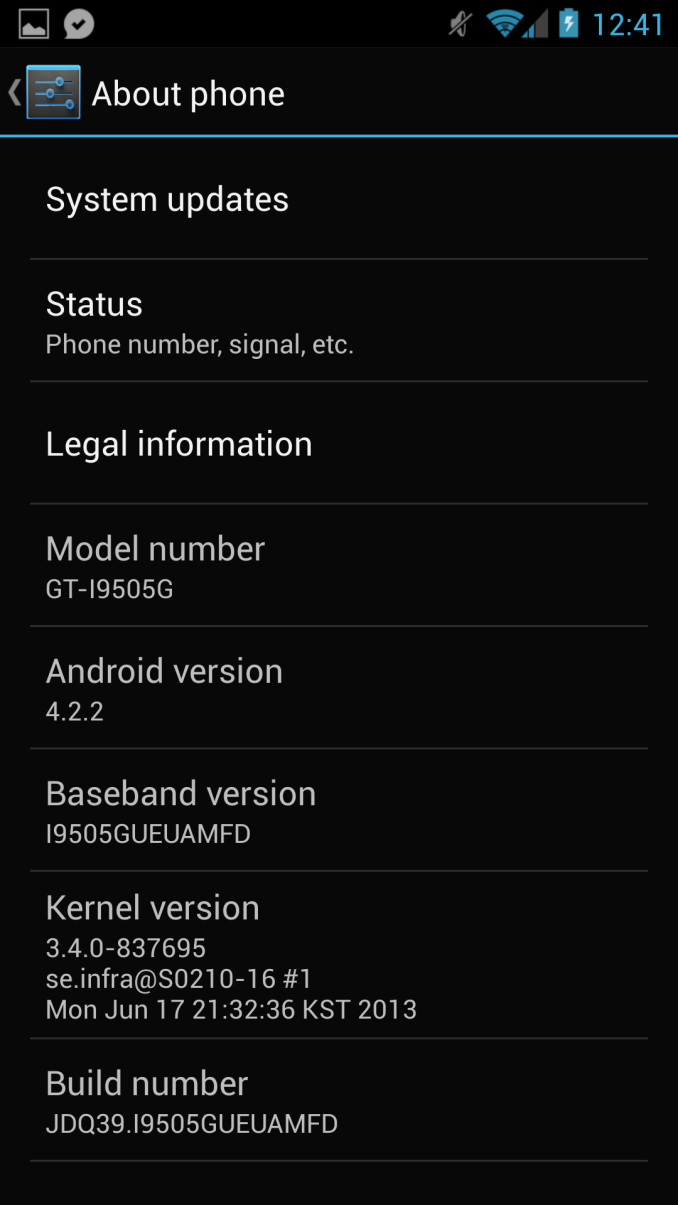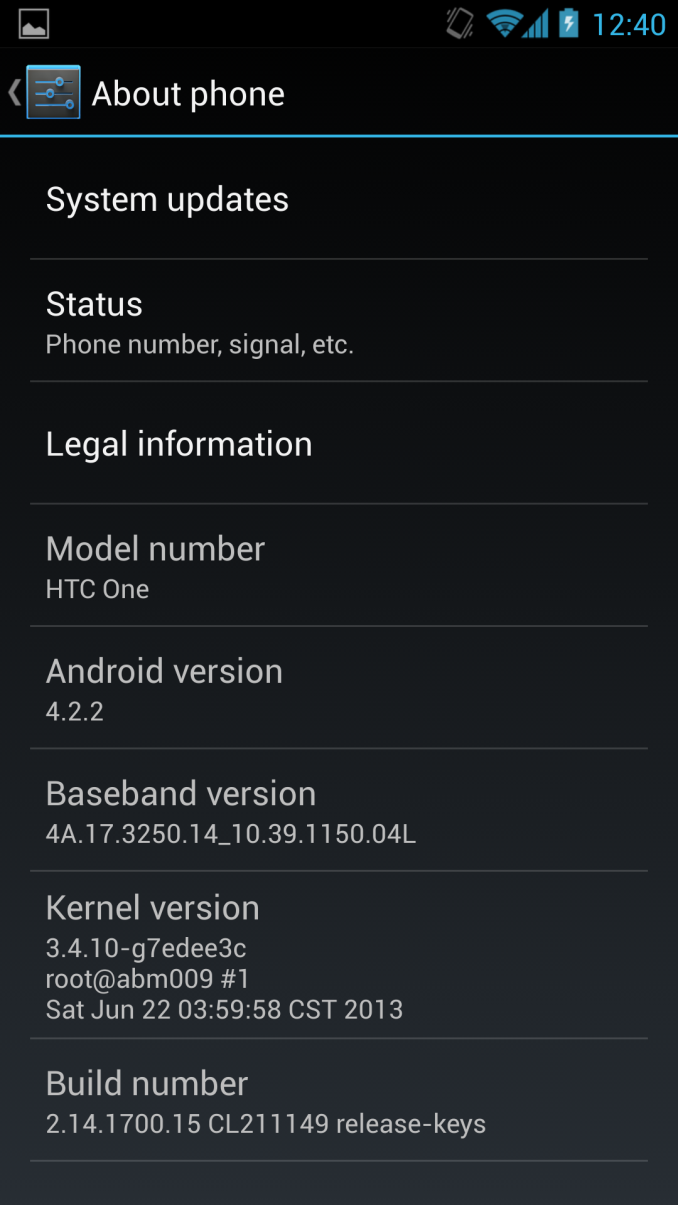 SGS4 GPe (Left), HTC One GPe (Right)
The result is probably the best combination of OEM and Google software, since OEMs ostensibly know their hardware best and can bundle everything required to make the phone work, and Google knows its Android platform best. The result is that ultimately the OEMs are in fact responsible for updating these Google Play experience phones through successive Android releases, but through Google's infrastructure. That might sound confusing or disappointing, but I wager that this means GPe devices will lag behind their canonical Nexus counterparts at most on the order of days or weeks rather than months thanks to the emphasis being placed on them and the end-run around somewhat pointless at this point US operator update testing (remember that both GPe phones are US operator tested and approved hardware, they're just running different software).
The software preferences between stock and skinned end up being a largely subjective thing. I can't help but admit that when I'm on a purely stock Android device I simply cannot shake the pervasive feeling that there's something missing. There's some truth to the continual OEM refrain that "there's a lot you need to do to Android to make it a phone for regular consumers." At the same time I've had a lot success handing out Nexus 4 phones to the Android-uninitiated and have never once heard back anything but that it's the best phone they've ever used. Don't get me wrong, I don't think stock Android is for everyone, but it seems to be less of an issue than it's made out to be.
Meanwhile when I'm on a skinned device I find myself wishing for pure stock implementation in various places. I'm vastly more comfortable with the new flat visual appearance of HTC's Sense 5 than I am Samsung's TouchWiz, which looks dated with its Android 2.3-inspired green on black theme that pops up throughout. TouchWiz is home to lots of bright atop black UI elements, which is unsurprisingly a conscious effort by Samsung to optimize against the strengths of its AMOLED displays (black pixels draw no current). What's interesting is that even on the SGS4 GPe, the gradients behind elements throughout much of the UI are gone, leaving just solid black. Compare the About page screenshots above and you'll see exactly what I am talking about. Is that not stock enough for the purists out there? I'll let you be the judge.
What strikes me most about using the SGS4 and HTC One GPe devices is how much speedier the UI feels on them. This is especially apparent for me compared to the SGS4 with TouchWiz, which as I've stated before has a number of gratuitous animations which seem to slow things down in a way benchmarks don't and can't convey. The HTC One feels a bit faster, but the difference isn't as dramatic, and I'm not sure how much of that is 4.1.2 vs 4.2.2 or Sense 5 vs stock.
The reality is that both devices aren't completely stock, they are a combination of Nexus, Samsung, and HTC features. I'm surprised by how well Google struck a balance between the features unique to each phone that needed to be exposed and their commitment to Nexus-feel. Anyhow let's talk about what's different between the two phones running this Google Play experience and their original software load.
Samsung Galaxy S 4 GPe
As mentioned before the SGS4 GPe includes a few subtle UI changes beyond completely stock. In addition to the black background with no gradient thing, it also supports the S-View Flip Covers, which necessitates a different lock screen. I noticed this almost immediately since it isn't styled at all like the stock lock screen with its heavier weight hour digits and centering. The tradeoff is the same behavior with the flip cover as the normal SGS4 which is perhaps one of the coolest new features of the device. I tested with my Flip Cover and everything worked like I remember it working on the normal SGS4.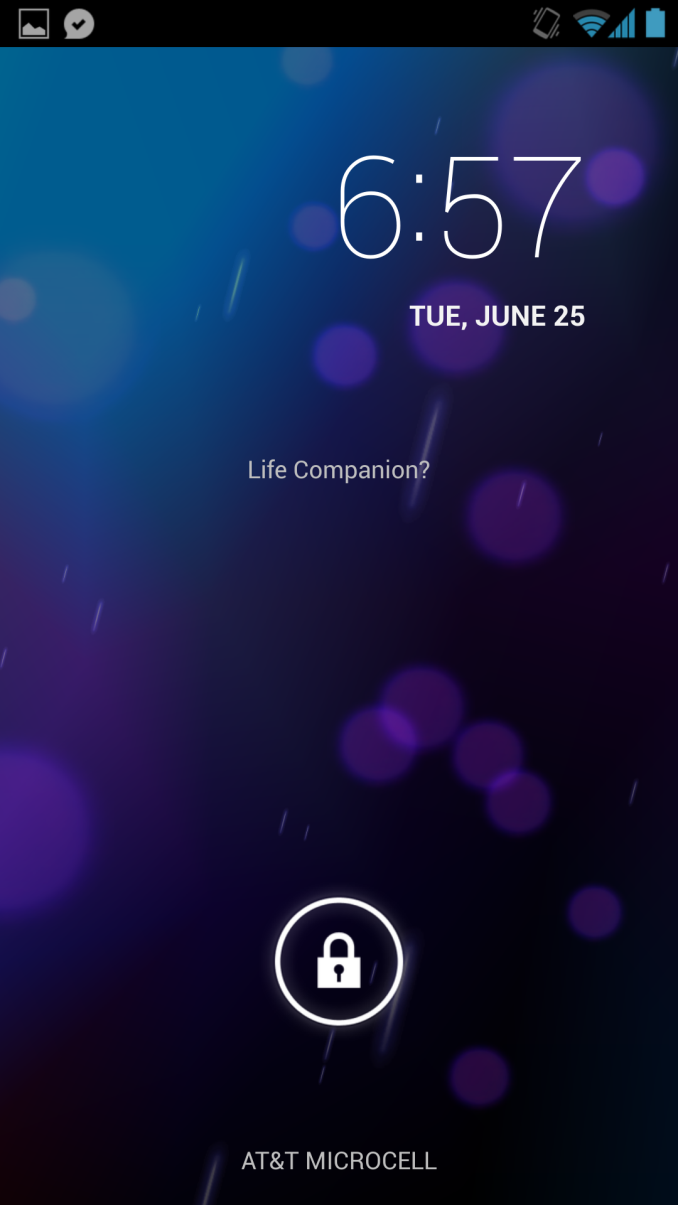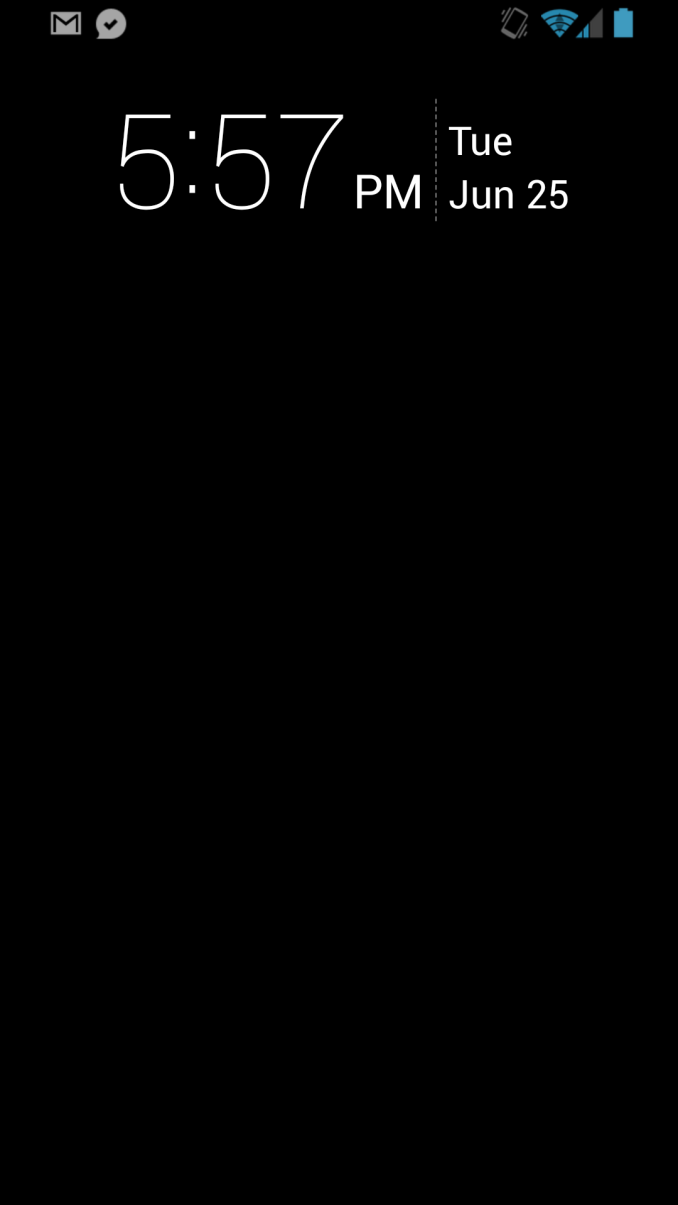 SGS4 GPe's lock screen is a bit different (Left) but works with the View Flip cover (Right)
Something that isn't noted but shared between the two is a feature which I know will make a few people happy. Samsung's ServiceMode (*#0011#) Field Test application is still thankfully present, which exposes all of the network connectivity details I'm craving, like LTE channel bandwidth, band, RSRP, RSRQ, and a few others.
Oh also the temperature, humidity, and barometer sensors are all still there. I know this was something a few speculated would be gone, but there they are.
What's Missing
The features that are unique to the SGS4 that I haven't mentioned aren't there. Obviously all the Samsung-specific features which require Samsung apps like Air View, Air Gesture, and S Beam are gone. Likewise there's no Smart Stay or Smart Scroll or Multi Window. None of that should be a surprise since it isn't a part of AOSP and thus wasn't ever going to get included. I can't say I miss any of that.
Likewise the display mDNIe settings are absent on SGS4, there's no adapt display screen mode settings or auto adjust screen tone settings, and no toggle for high touch sensitivity. The tradeoff is that I honestly kind of always loathed the mDNIe settings and auto screen tone slider and overaggressive brightness policing that Samsung included.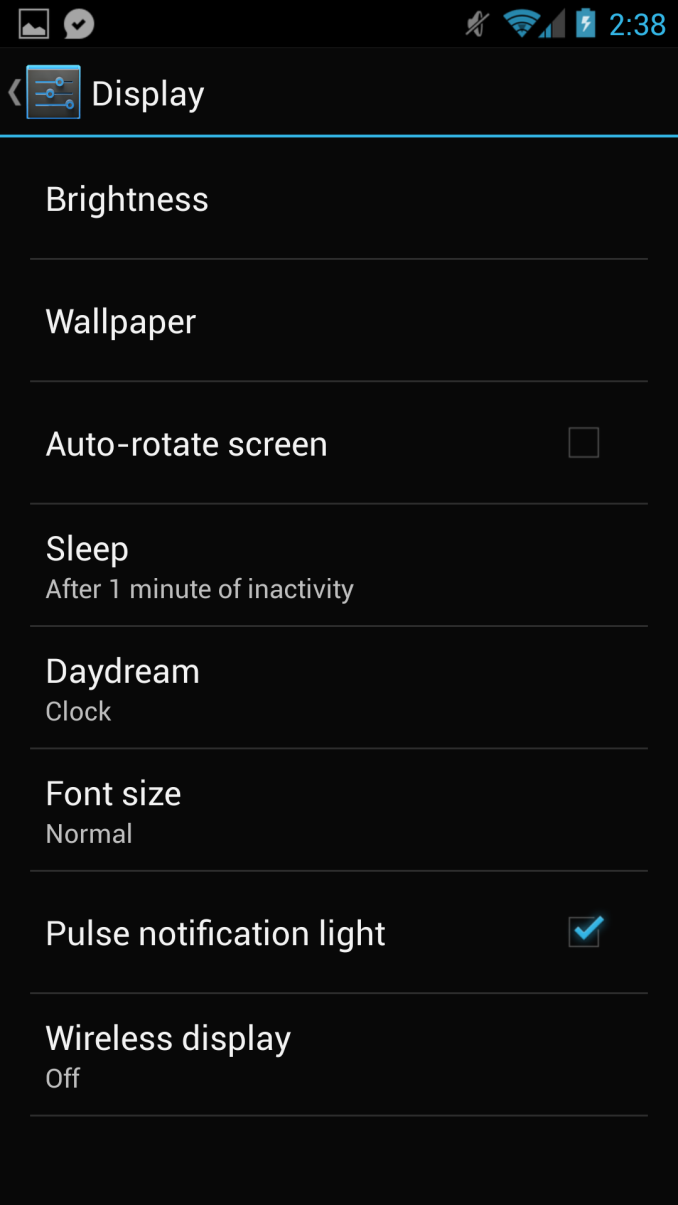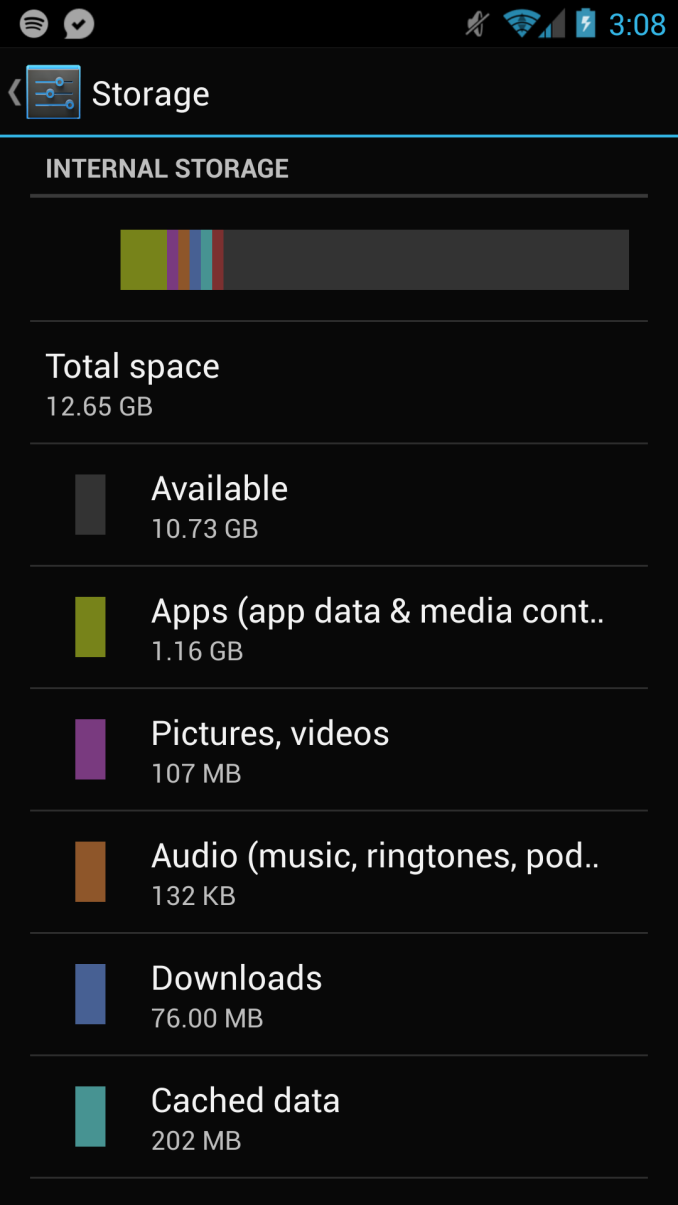 No fancy display settings (Left), less of that 16 GB of storage consumed by features (Right)
Although the SGS4 GPe includes a functional microSDXC card slot, the balkanization of SD card support on Android leaves it only marginally useful here. The stock camera app for example cannot choose the SD card as a storage target, which is my major use case for it beyond acting as a Spotify offline cache. Likewise application location is how it was before the recent SGS4 update that enabled moving apps to SD cards – it's not there. Basically if you want to use the SD card you're left to third party applications and use as a dumb storage location for movies and other offline media. That said the big improvement on the storage front is a lightweight preload compared to the bloated SGS4, with 12.65 GB of the 16 GB usable on SGS4 GPe.
I miss Samsung's camera application, but more on that later.
A curious change between the SGS4 and SGS4 GPe is the behavior of the physical home button. Long pressing on the button triggers the multitasking app switcher interface on the stock SGS4. Doing so on SGS4 GPe triggers Google Now. To get into the app switcher you have to quickly double tap the home button. It's taking me a while to get used to that button change, so much so that right now every time I want to use the multitasking window I inadvertently launch Google Now. Google apparently feels strongly enough about Google Now being long-press Home that it's willing to mix that behavior up. Also absent are the power saver options which change the governor on the CPU.
Finally support for the IR Tx/Rx functions and BT 4.0 APIs that are Samsung's own are not there. BT 4.0 (Smart Ready) will no doubt come with the next release of Android as discussed during I/O. Lastly there's different vibration unit tuning of course and notification LED colors for some things.
HTC One GPe
One of the headliner features of the HTC One is the Beats experience, branded as BoomSound. The BoomSound experience really is the branding for everything audio on the HTC One, but what thankfully is surfaced on the GPe One is the Beats toggle under Audio. This software component controls the DSP and software features, and things like impedance matching for Beats headsets.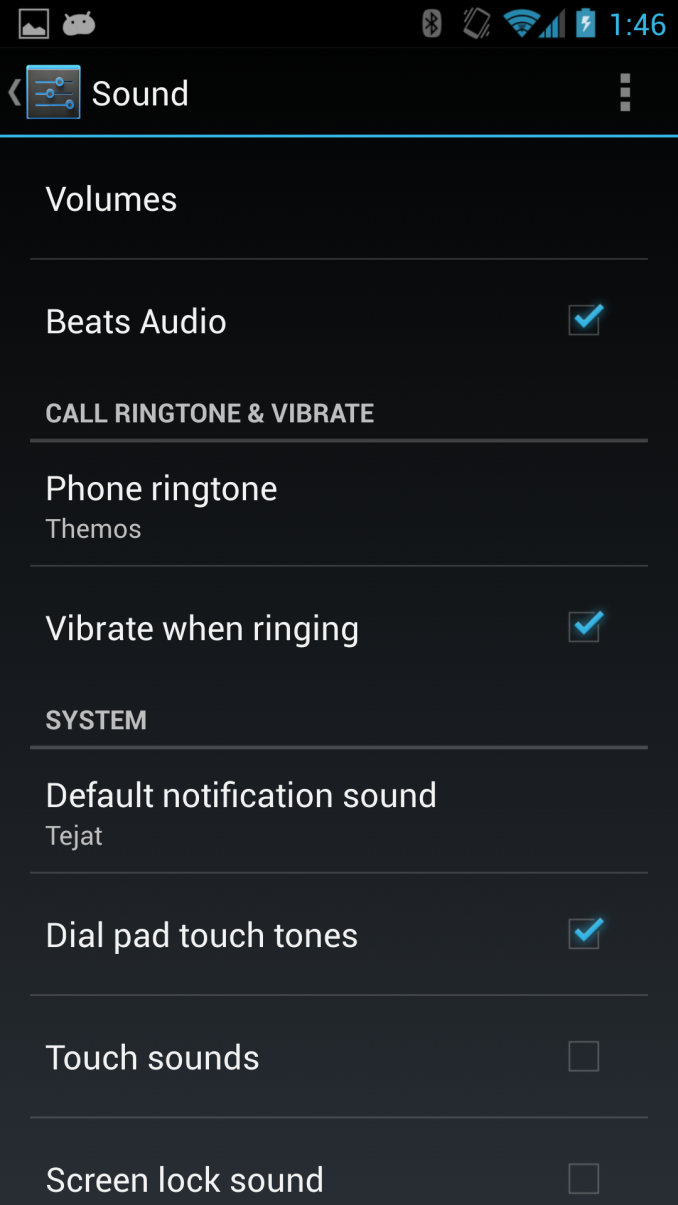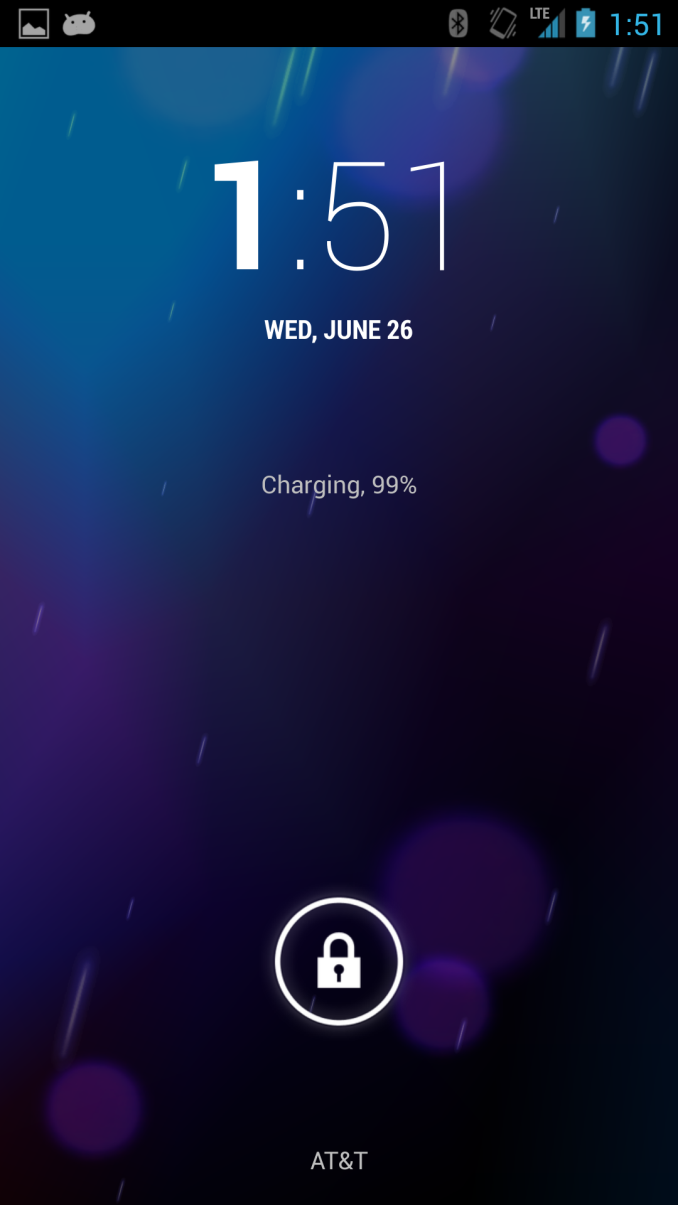 Beats Audio toggle under Sound on HTC One (Left), Stock lock screen (Right)
HTC's UltraPixel camera tuning and features like OIS are likewise enabled. This isn't super surprising since that's largely a matter of kernel support and the right hardware, which is unchanged. HTC's camera tuning is there however.
What's Missing
The features that are unique to Sense 5 are obviously absent. BlinkFeed which was useful from time to time (even though I always changed my home screen to a widget pane rather than BlinkFeed) is not there. Obviously all the Sense 5 UI styling (widgets, themes, icons) are gone as well. The custom gallery with Zoes and the Highlights reel, a huge part of the HTC One imaging experience isn't there either. Auto Sleep display timeout isn't included, nor are the backup features which HTC made.
I definitely miss the Sense 5 camera application, but again, more on that later.
Likewise the power saver and sleep mode options which I used religiously on the normal HTC One is obviously gone on the HTC One GPe. The result is a possible battery life delta between the two. I never noticed much of a performance difference with it ticked, and appreciated the increase in battery longevity.
Finally just like the SGS4 GPe, support for the IR Tx/Rx functions and BT 4.0 APIs that are HTC's own are not there. BT 4.0 (Smart Ready) will no doubt come with the next release of Android as discussed during I/O. I'm not sure what Google's plans are to address the API situation for IR Tx/Rx. I'm not totally positive, but I believe support for Bluetooth A2DP Apt-X codec is absent as well. Lastly there's different vibration unit tuning of course and slight behavior changes to the LED color during the charging curve.
Perhaps one of the most surprising features onboard the Google Play edition SGS4 and HTC One is the new camera UI. This UI was previously leaked as coming with the next version of Android, so it's a bit interesting to see it crop up here in 4.2.2 on these devices. I suspect there was some element of – we're going to have to do tuning and make sure the interface works twice otherwise, so why not just do it now – at play here.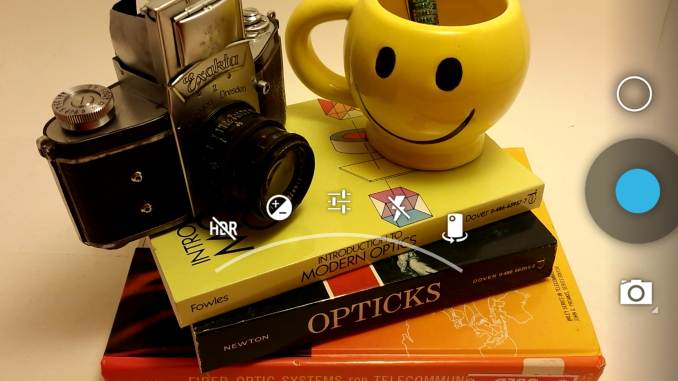 The fundamental set of features remains largely the same. What's different is there's a new settings menu which works by sliding your finger up through settings panes. Previously the settings switcher was a circular menu, this new one moves up and down through a hierarchy of drill-down settings panes. This can be activated either by long pressing anywhere in the preview or tapping the settings circle. The first level has HDR, manual exposure control, flash settings, and rear/front facing camera switcher. Tapping on Settings gets you into more options with location, countdown timer, color temperature, photo size and scenes. Another new addition is that the volume rocker (up or down) acts like a shutter button. There's also unsurprisingly no way to change the default storage location from internal to the SD card for the SGS4 GPe, as I touched on earlier.
Beyond that nothing is really all that different in this new version of the interface. I still want control over ISO, and I still am dismayed at Google's decision to fit the camera preview to the viewport in their camera application – it's like this bold surreal statement that composition doesn't matter when taking a photograph. For example, the preview is a 16:9 crop of a 4:3 aspect ratio image on the SGS4, it's just a lucky coincidence that the 16:9 preview on the HTC One is accurate since it has a 16:9 aspect ratio sensor. The result is an interface that trades appearance for functionality, and I'm totally dismayed by it.
Of course, the benefit of the platform including the stock camera application is that you get the ability to shoot PhotoSpheres and 360 Panoramas from the application on both devices.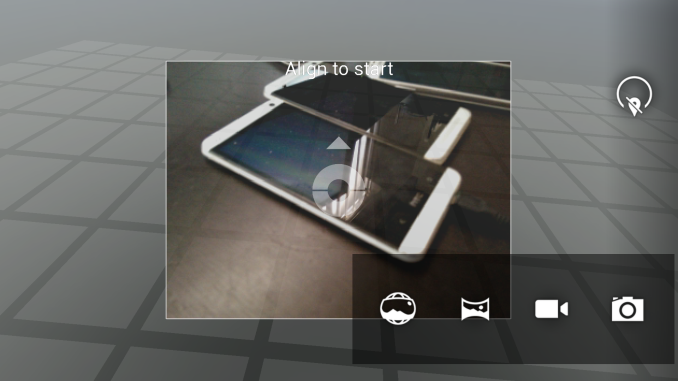 The big concern with the GPe versions some people had is what happens to image quality. I wasn't too worried about image quality since this is all stuff upstream of the camera application itself and the UI that dictates image quality, and that's still the responsibility of the respective OEMs to tune and get right. The concern is lack of control over the camera thanks to the simplified stock Android camera UI and how much control translates between the two. We've already evaluated and hopefully settled the debate between the two cameras in the respective reviews. This is just a matter of checking to see if there's anything different.
I took pictures on a stock international version HTC One and the HTC One GPe alongside it in normal test scene light, low light, and low light with night mode to check if these three corners of the camera tuning check out. Thankfully, they do line up like expected almost identically. The "Night" scene mode in the settings menu lines up with the 0.3 second, ISO 800 night mode in the stock UI, the rest of the performance produces results in line with the stock version. A big difference is that it seems as though sharpening is turned way down, maybe even off, on the GPe variant, a thoughtful change.
I performed the same sanity checks with the SGS4 GPe and discovered that thankfully this also reflects basically the same tuning as the stock version. Better still, the Night scene mode in the stock UI corresponds exactly with the Low Light Shot shooting mode on the stock SGS4 with the same performance. I purposefully pushed the dark scene for both the HTC One and SGS4 to the extreme to see if they have the same cutoff behavior.
You can also see what I'm talking about with the stock Android camera UI clipping off the top and bottom of the image. By default it shoots 13 MP 4:3 stills, which is awesome, just be warned that there's more field of view both above and below the cutoffs in the frame which need to be framed to. I've said my part already about how blowing up the preview to fill the frame and cutting those regions off is so, so wrong. Again, composition when taking a photo is important, giving me a preview that isn't a lie is also important.
I'm glad that both devices have no degradation in image quality from what I can tell. This is again not a surprise given the abstraction of those stages in the image processing pipeline away from the core Android software platform.
I checked out video encode to see if those settings were preserved between both platforms. On the SGS4 and SGS4 GPe the 17 Mbps 1080p30 H.264 High Profile encode is the same. Unfortunately on the HTC One video encode drops from the promised 20 Mbps 1080p30 H.264 High Profile of the stock version to 12 Mbps H.264 High Profile. I'm guessing this is just a configuration error. I should mention that Video HDR is another thing missing between stock and GPe versions.
This wouldn't be a proper device review without a section on performance on battery life. Performance is particularly interesting since this is the first time we can take a look at direct comparisons between the same hardware running the stock AOSP interface, and the OEM's skinned platform with all of its features. In theory there shouldn't be that big of a difference since the majority of the platform performance is governed by the kernel, background tasks, obviously silicon and how much memory the base platform occupies. In practice the results are a bit more interesting, though we are comparing the HTC One which is 4.1.2 at present against 4.2.2.
Performance
The first look at performance is our usual assortment of CPU performance benchmarks. Android remains difficult to benchmark in a meaningful manner that tracks well with subjective performance but is getting better. We're using a mix of browser based tests, alongside Java and Native apps (AndEBench, Vellamo).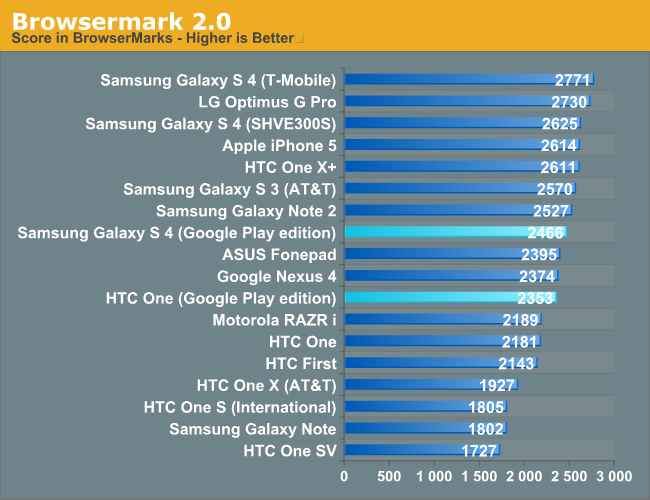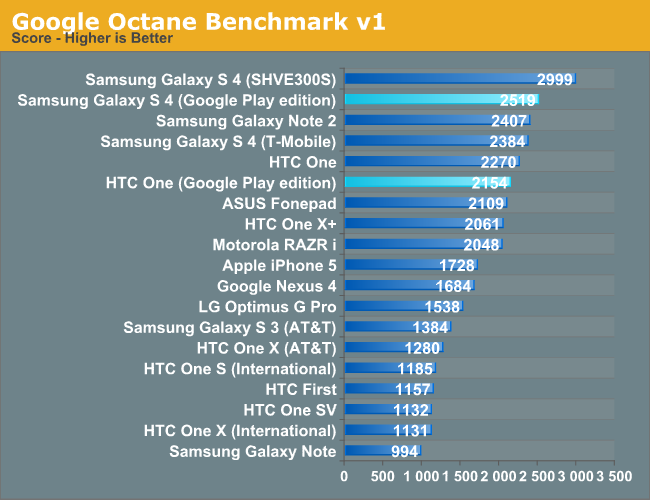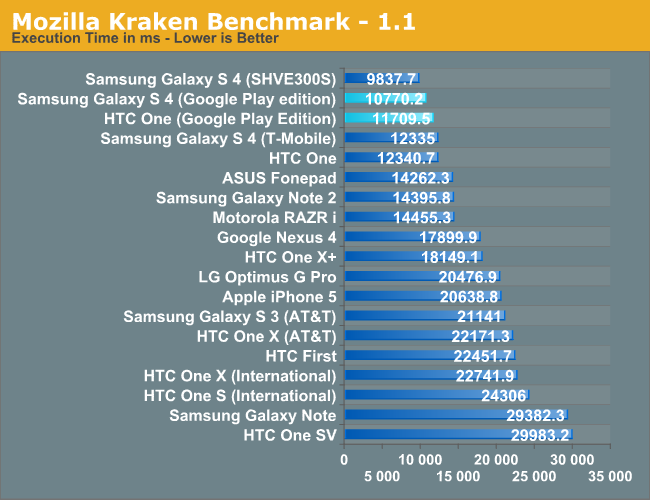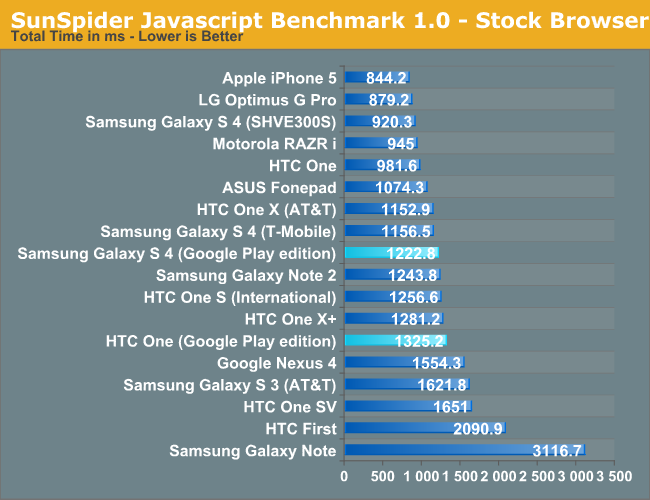 We're using the stock browser for these tests, which means the browser that gets platform optimizations from OEMs through the SoC vendors. For example Samsung builds their own browser, LG and HTC likewise make their own with customizations and use the optimized JavaScript V8 libraries from Qualcomm or whatever silicon vendor whenever possible. On the HTC One and SGS4 GPe versions there's no stock browser per-se beyond Chrome (stable) which remains slower through some these tests than the stock, OEM-built counterpart. As a result the HTC One and SGS4 trade places back and forth with the stock and GPe version each leading in some tests, but not others.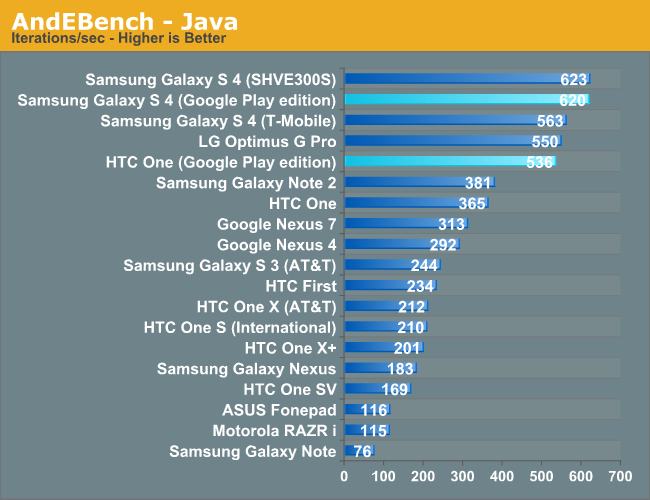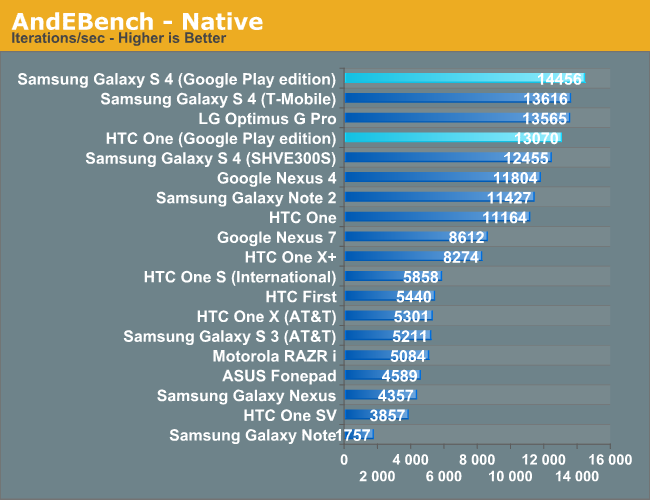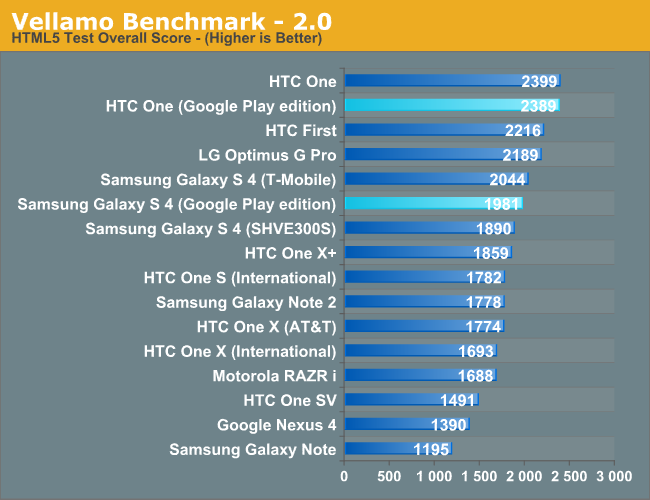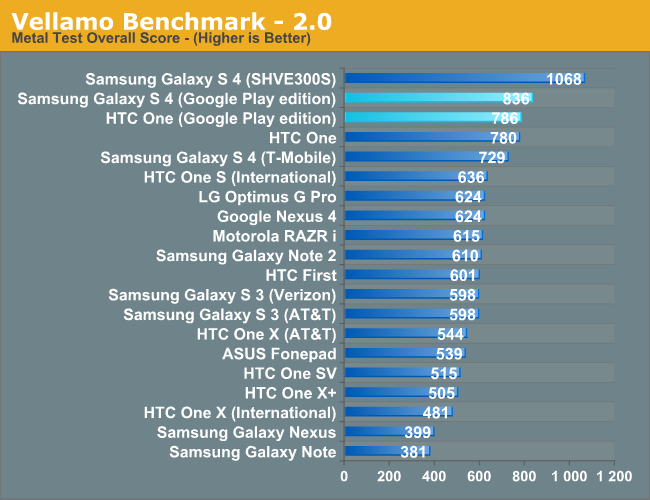 AndEBench rewards the HTC One GPe with a nice lead over its 4.1.2 counterpart, meanwhile the SGS4 also shows a bit of improvement over its stock version.
In Vellamo HTML5 we see both GPe versions of the phones move south of their stock counterparts, again likely due to the not as optimized stock WebView. In the metal test however both get a small boost. In the bits of the platform that we can test, it seems as though having a lighter weight software payload running on the device does grant some performance advantages. Subjectively as I noted before the GPe versions feel speedier.
3DMark for Android features the Ice Storm benchmark and uses OpenGL ES 2.0. Ice Storm is divided into two graphics tests and a physics test. The first graphics test is geometry heavy while the second test is more pixel shader intensive. The physics test, as you might guess, is CPU bound and multithreaded. The overall score takes into account both graphics and physics tests. The benchmark is rendered to an offscreen buffer at 720p/1080p and then scaled up to the native resolution of the device being tested. This is a very similar approach we've seen by game developers to avoid rendering at native resolution on some of the ultra high resolution tablets. The beauty of 3DMark's approach here is the fact that all results are comparable, regardless of a device's native resolution. The downside is we don't get a good idea of how some of the ultra high resolution tablets would behave with these workloads running at their native (> 1080p) resolutions.
For these benchmarks we stuck with the default presets (720p, normal quality).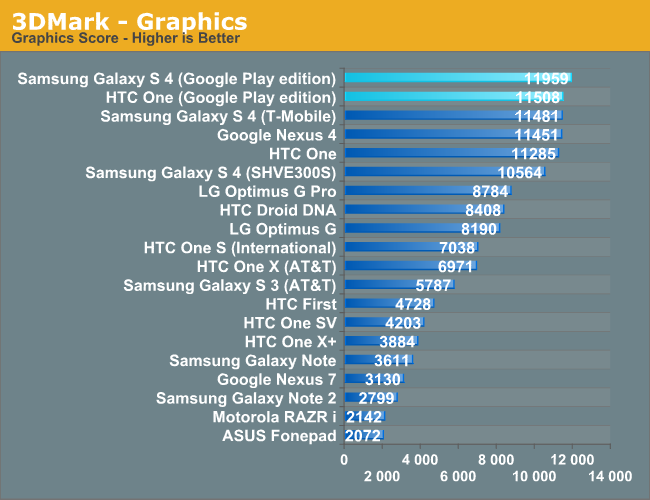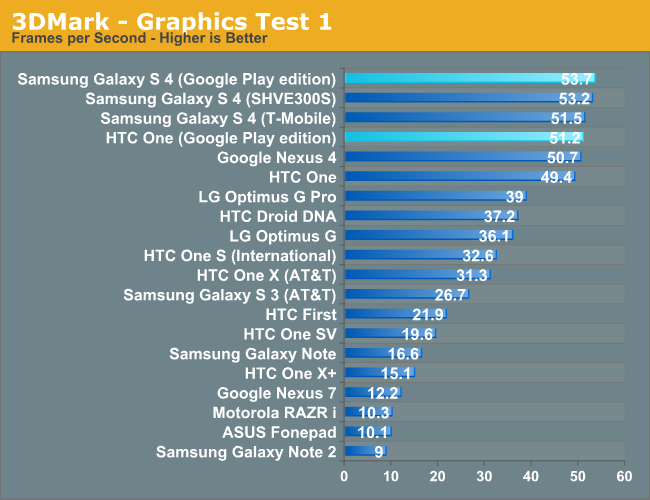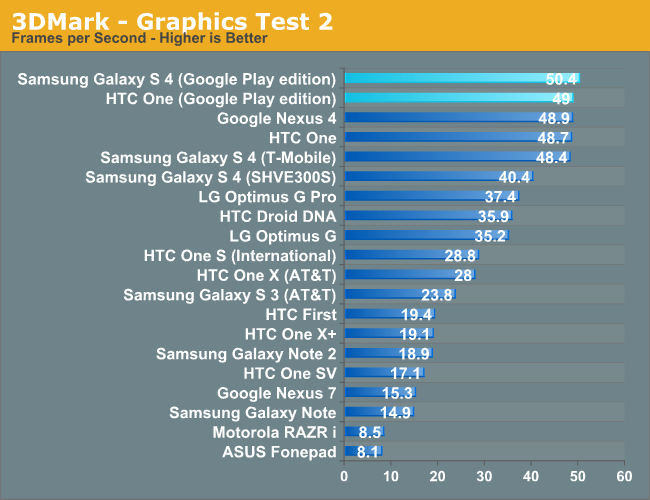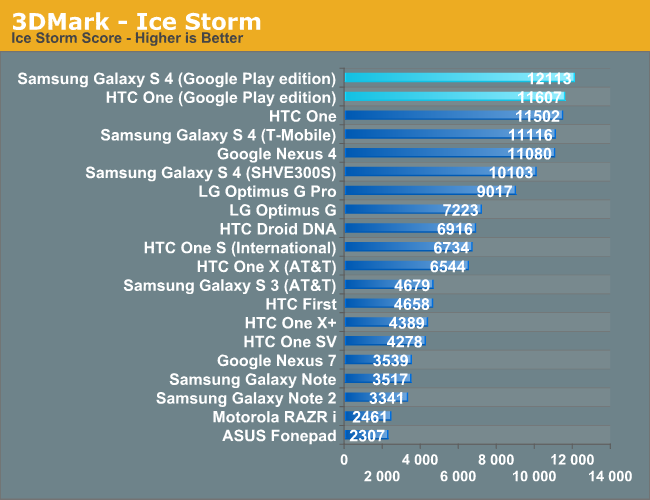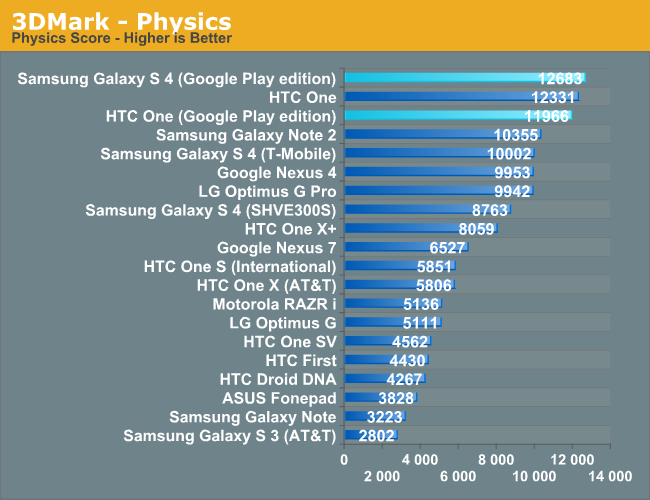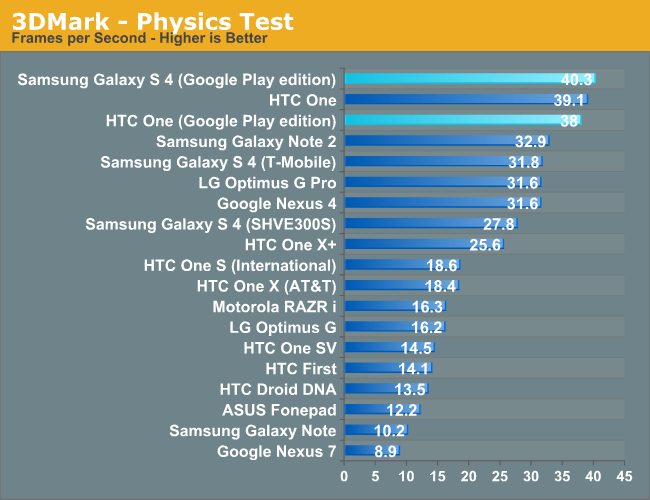 The GPe devices perform favorably in 3DMark for Android, with the SGS4 GPe posting a small but notable lead over its stock counterpart. It's possible there's a driver update lingering in here that's responsible for the small uptick in performance. HTC One sees a boost in the 3D related tests, but doesn't move much in the CPU-focused Physics test.
Up next is GFXBench (formerly GLBenchmark), which is a regular staple in our tests for evaluating 3D performance.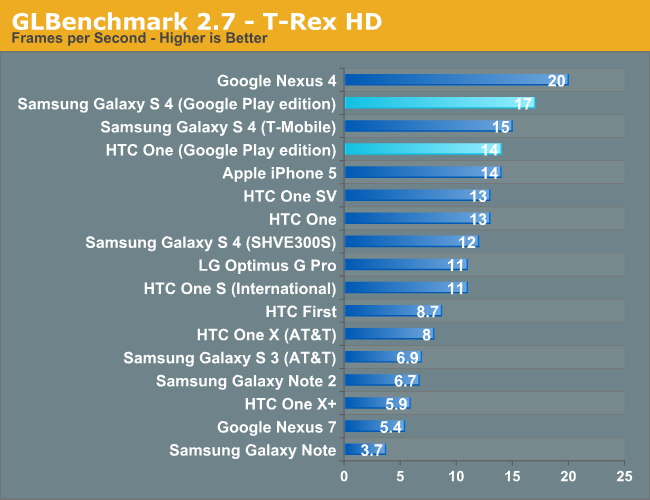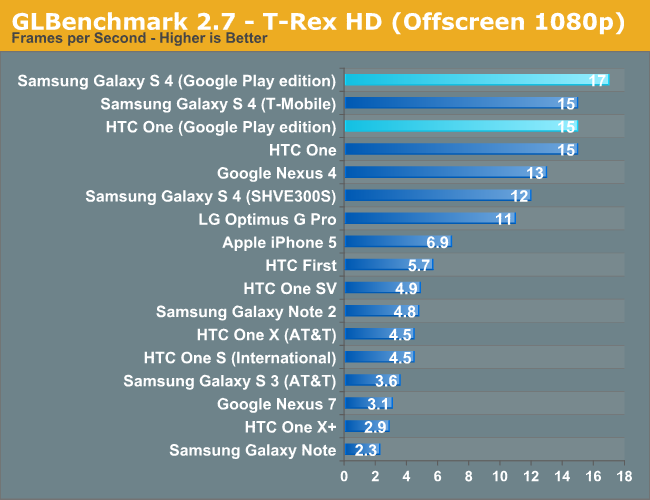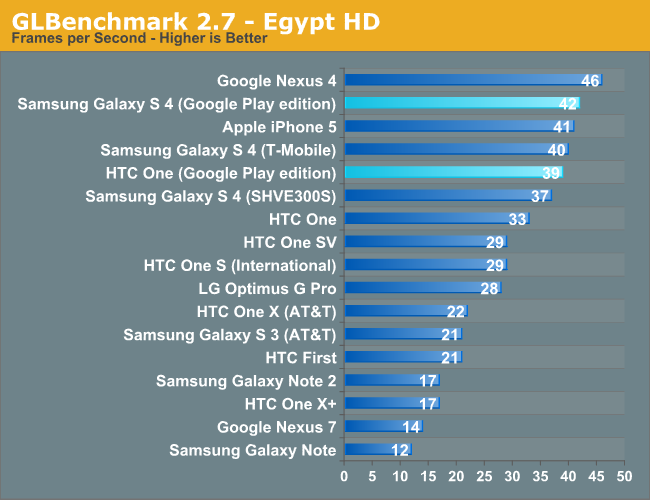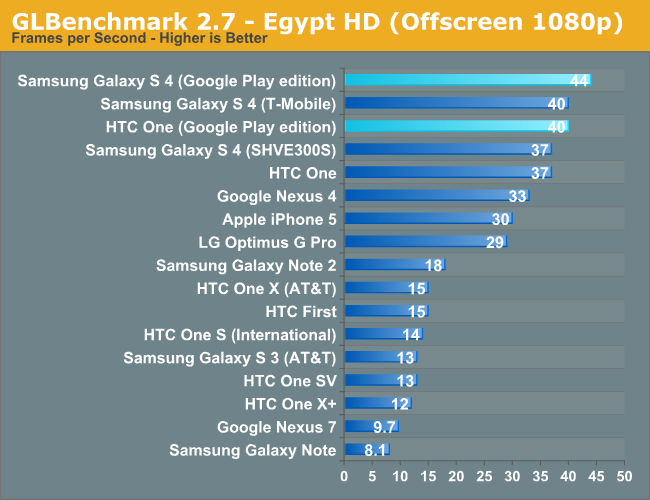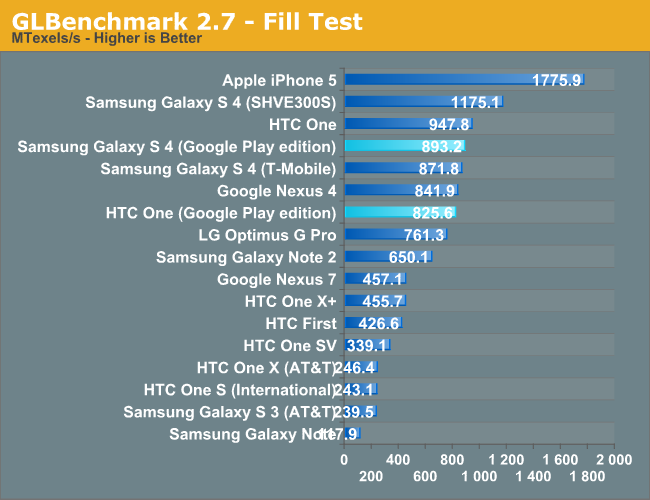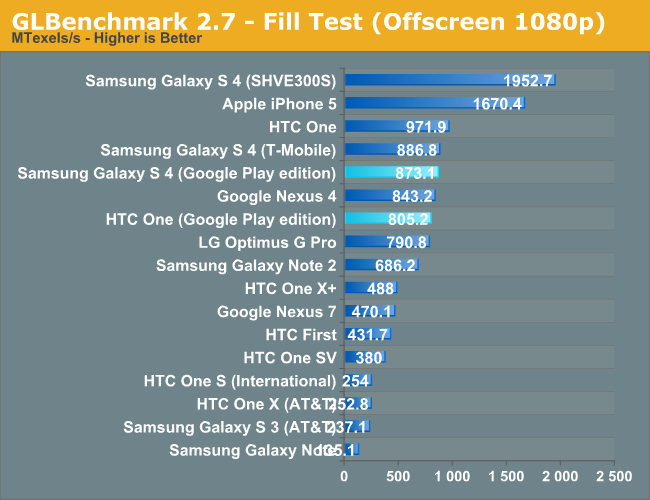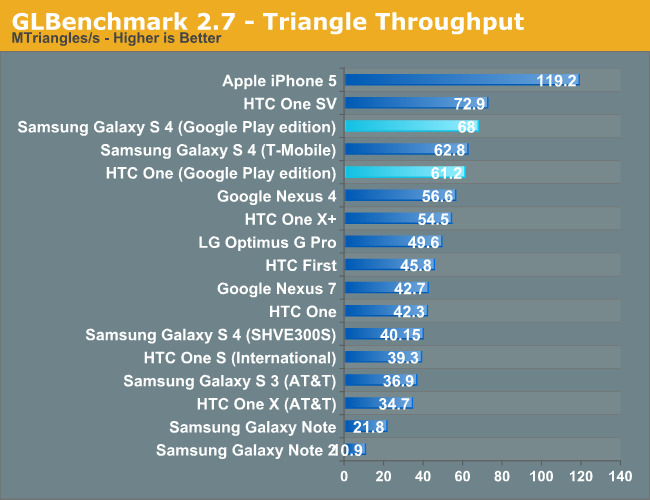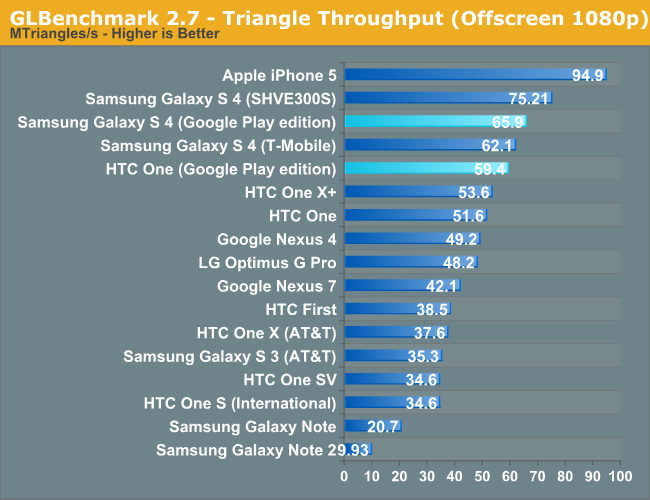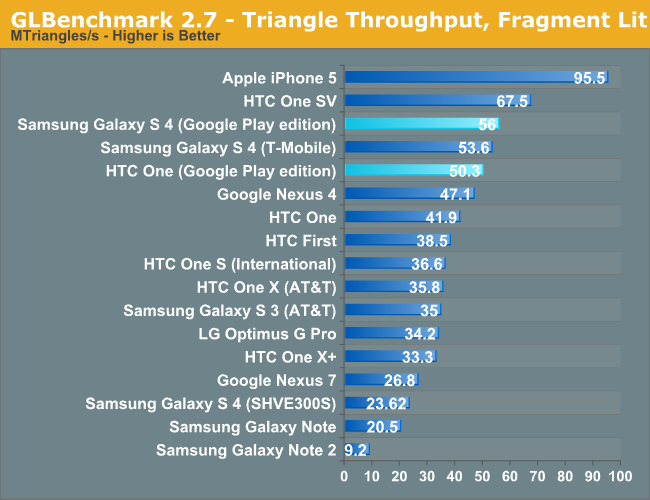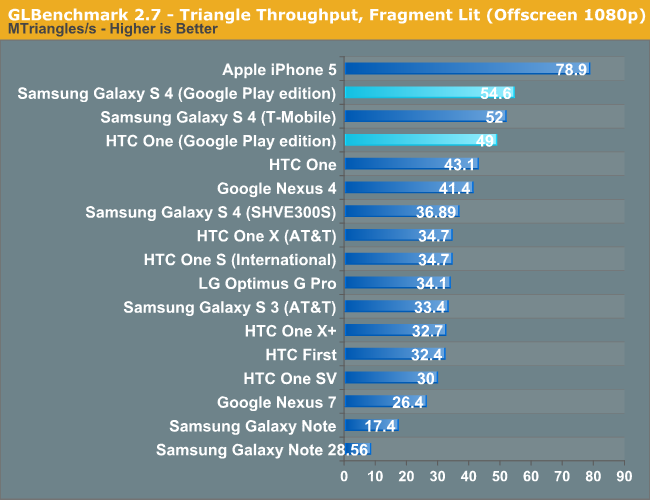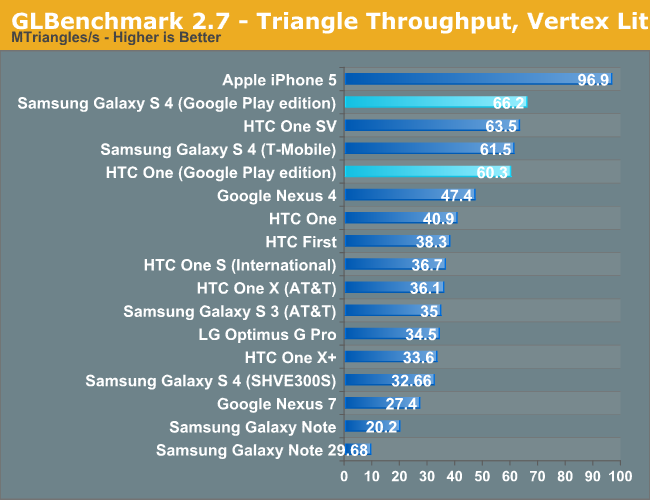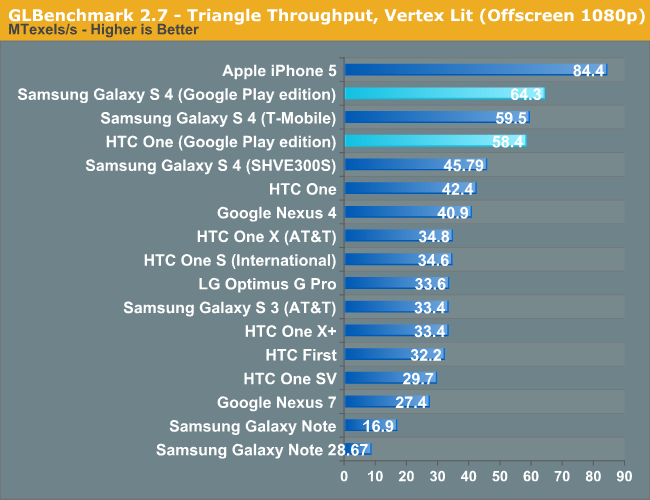 I honestly didn't expect GFXBench to show much of a change at all between the normal and GPe variants of the HTC One and SGS4, and although the T-Rex game simulation test doesn't show much movement, there's an uptick in Egypt HD and a few of the subtests (especially triangle throughput on the HTC One). I suspect newer platform software seriously helps out here, and these improvements will probably carry over to the Sense 5 version with the 4.2.2 update that's coming for it. Still pretty interesting.
Basemark X is a new addition to our mobile GPU benchmark suite. There are no low level tests here, just some game simulation tests run at both onscreen (device resolution) and offscreen (1080p, no vsync) settings. The scene complexity is pretty high, so frame rates are pretty low.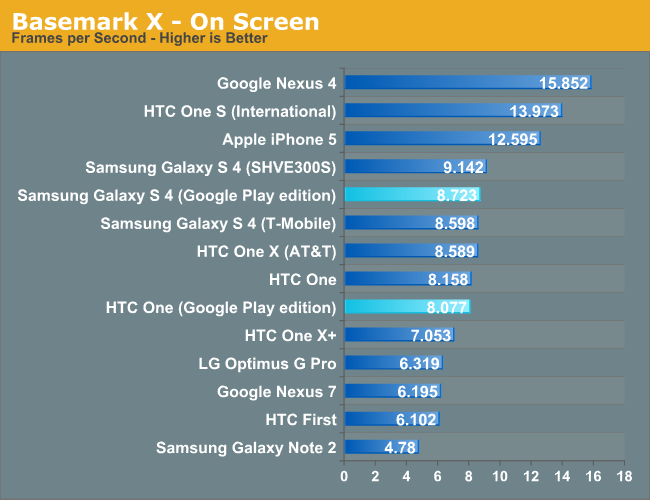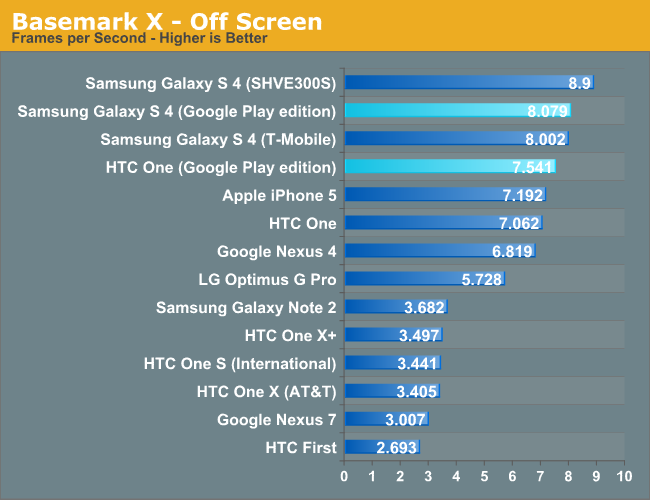 Epic's Citadel benchmark gives us a good indication of lighter workload, v-sync limited performance at native resolution. The new Ultra High Quality test makes this an actual meaningful lighter workload, although there is no easy resolution independence so all these tests run on-screen at device resolution.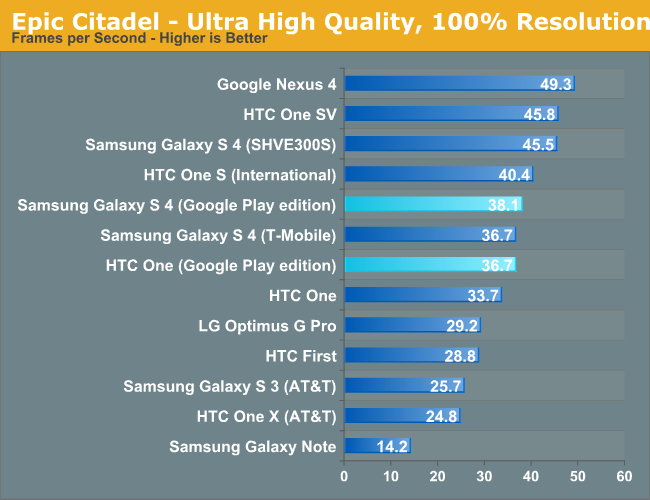 Here we also see some gains for both the SGS4 GPe and HTC One GPe over the normal versions. Again it seems that some combination of the newer platform software afforded by this release and AOSP vs skinned software helps these platforms perform a bit better than otherwise they do otherwise.
Battery Life
Battery life testing remains a big concern for everyone; for this we turn to our usual battery life test suite. The basic overview is the same as it has been for a while now — we load webpages at a fixed interval until the handset dies, with display set at exactly 200 nits as always. Power saving features are disabled if they turn on automatically, and background account sync is disabled. The test is performed over both cellular data on all available air interfaces and over WiFi in an environment with good signal levels. The new test has decreased pause time between web page loads and added a number of JavaScript-heavy pages. I sat down with some UMTS RRC (Radio Resource Control) emulator tools and also made sure we had a good balance of all the RRC states (DCH, PCH if possible, FACH, IDLE) so we weren't heavily biased towards one mode or the other.
I've had both the HTC One GPe and SGS4 GPe for a very limited amount of time, so battery life testing is ongoing and will have to be updated later with the WiFi and call time tests. I have only had time to complete one run of the HTC One GPe on T-Mobile LTE. The result is just narrowly ahead of the Sense 5 HTC One on T-Mobile LTE; I suspect strongly that we'll see the same on the SGS4 GPe on the same network.
Update: I've finished running the SGS4 GPe on T-Mobile LTE, we can see the result crept down slightly but still is in the ballpark of results for the other SGS4s. Also I've included WiFi test results, where oddly enough the results are notably further south of the Sense 5 and TouchWiz counterparts.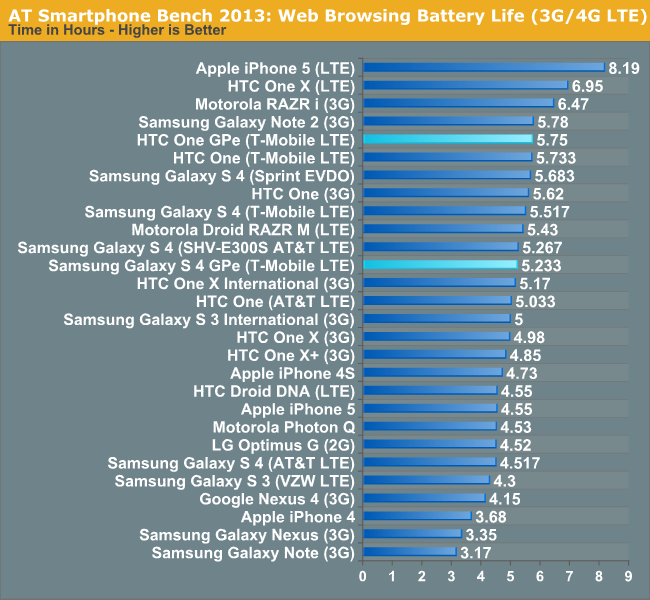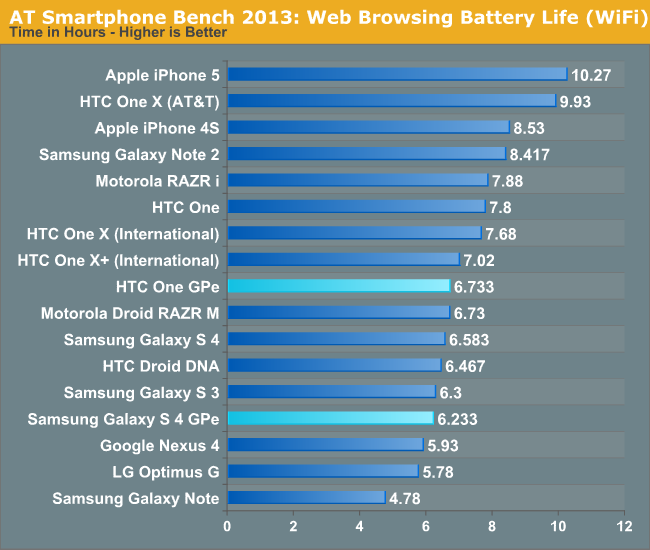 The thing I do miss on the GPe devices are the power saver options which change the CPU governor max CPU frequency and do help make a difference over a day. I haven't measured whether this gets reflected in our battery life test as much as it seems to subjectively, but that's one difference right away you can point to between the normal and GPe versions.
Choice – that's really what it comes down to. If you know what AOSP stands for without having to Google it, you probably want to buy the Google Play edition of whichever phone suits you most. If you don't care or don't know (which seems unlikely if you're an AnandTech reader and made it this far), or need an operator subsidy, the skinned versions of both phones offer a user experience arguably better suited to the masses. It's really that simple. That's the advice I'm sticking to, at least.
The Google Play editions of the HTC One and SGS4 don't fundamentally alter what made the respective hardware great, nor does it help sway me one way or another on the issue of deciding which of the two is the better phone, it's just a breath of fresh air. At the same time it's an interesting way for Google to sort of refresh its devices-with-stock-Android lineup, even if neither the HTC One nor SGS4 are canonical Nexus hardware. It sounds weird, but it's awesome to see Android 4.2.x assets in 1080p on these two phones after spending so much time on the 1280x768 Nexus 4.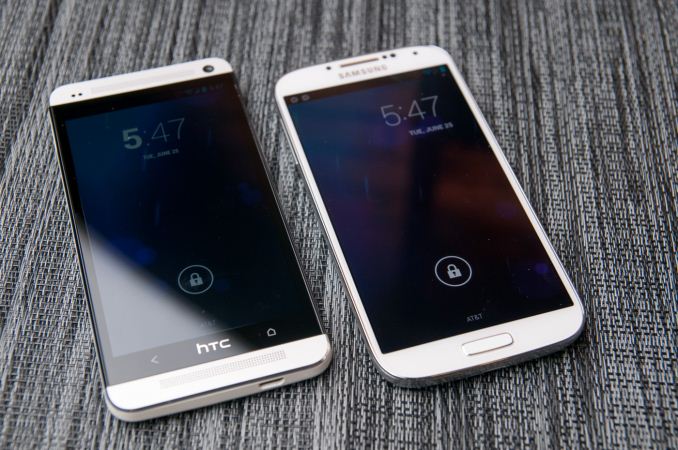 I like the idea of Google getting popular Android devices and making Google Play editions with their own version of the software atop them, as this seems like an ideal way to combine some of what the OEMs do best (hardware) with what Google does best (Android). Along those lines, I hope Google continues this with other future devices and OEMs, something they've stated they're hoping to do. I think it's easy to see this new device strategy paying off as it appeases the most vocal enthusiasts who want that pure Android option while at the same time allowing for faster access to newer hardware.
The only remaining concern is one of timing. It's a bit unfortunate to see these options come months after the release of the normal versions of each phone. HTC is mitigating some of that with the option for users to flash the GPe ROM on their Developer Edition and Factory Unlocked phones, with the option to even go back to the Sense 5 version, but those who went and got an operator subsidized handset will have to resort to alternative means.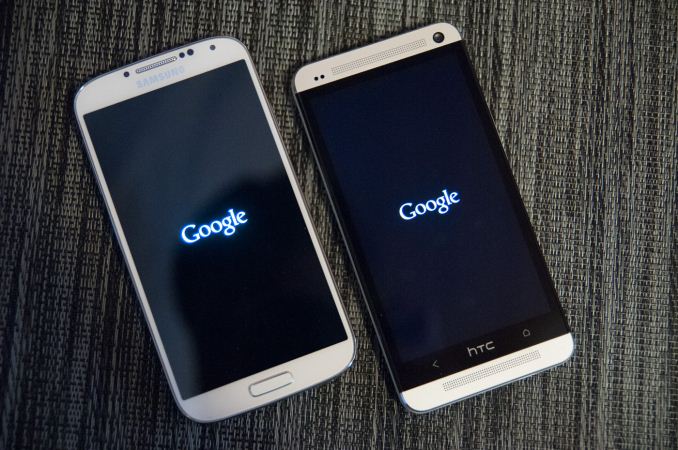 Although unadulterated Android is great, as I mentioned earlier I still can't shake that there's-something-missing feeling when using it. There's usually just more that I wind up installing and tweaking to feel at home on those devices. Even though I regularly critique OEM skins and software decisions, there's an undeniable certainty that HTC and Samsung respectively do add a lot to their software that makes things better. I ended up enjoying HTC's Sense 5 and found that it addressed a number of friction points, and even though I harp on TouchWiz a lot I do make frequent use of their notification center settings shortcuts and appreciate their camera UI. I keep going back to the Android camera UI since it remains, in a word, disappointing, and this is one of the places every OEM spends considerable time tweaking and changing things.
For now at least, shoppers and Android enthusiasts have a choice between skinned and stock, and I'm all for it.