Original Link: http://www.anandtech.com/show/7111/amds-a105750m-review-part-2-the-msi-gx60-gaming-notebook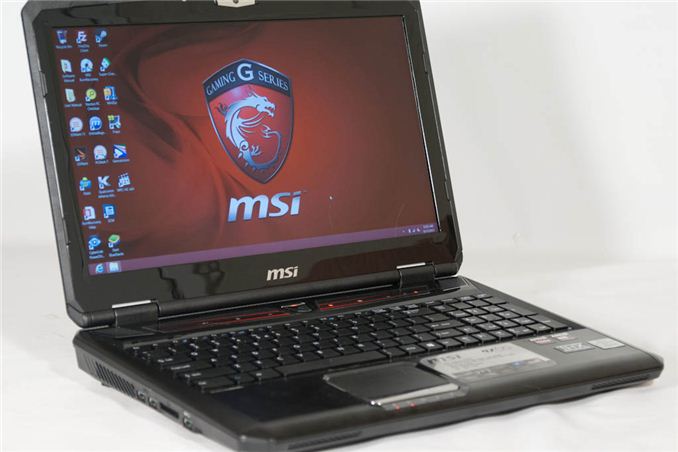 Introducing the MSI GX60
Gaming notebooks are increasing in popularity, but getting affordable gaming hardware can still be a challenging task. While midrange parts like NVIDIA's GeForce GT 740M and 750M or AMD's Radeon HD 8600M line aren't bad options and will definitely do the job in a pinch, having a good gaming experience generally requires more muscle. Whether you want to boost minimum framerates for smoother play or just turn on all the bells and whistles, a strong GPU is critical. Unfortunately, a strong GPU also costs money.
MSI introduced its first-generation GX60 gaming notebook some time towards the end of last year as a way to bridge the gap. If you were willing to take a hit in CPU performance by using a Trinity-based AMD A10-4600M, you could be served by a very powerful AMD Radeon HD 7970M on the graphics side. Budget gamers on the desktop will often cut CPU budget if it means getting a faster graphics card, and that's the principle MSI is operating off of.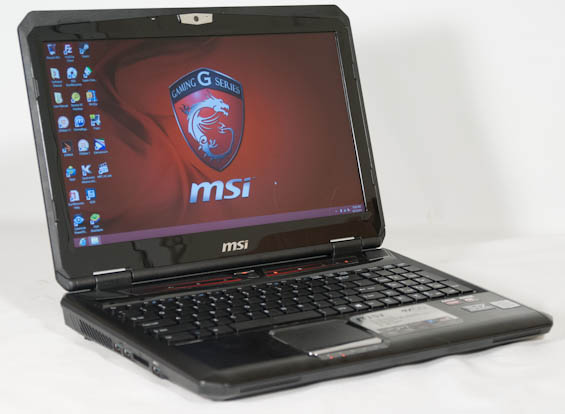 The fly in the ointment is that the gaming landscape has changed substantially since the first GX60. Games like Far Cry 3, Crysis 3, and Tomb Raider are all true next generation titles, requiring a healthy amount of CPU horsepower along with their substantial graphics requirements. As we saw in the first part of our review of the AMD A10-5750M, AMD has made some headway in CPU performance compared to last generation's Trinity chips, but we're still dealing with fundamentally the same silicon.
MSI GX60 (2013) Specifications
Processor
AMD A10-5750M
(4x2.5GHz, Turbo to 3.5GHz, 32nm, 4MB L2, 35W)
Chipset
AMD Hudson-3
Memory
1x8GB A-Data DDR3-1600
Graphics
AMD Radeon HD 8650G
(VLIW4; 384 cores; 533/720MHz base/turbo frequencies)

AMD Radeon HD 7970M 2GB GDDR5
(GCN; 1280 cores; 850MHz/4.8GHz core/memory; 256-bit memory bus)
Display
15.6" LED Matte 16:9 1080p
LGD0259
Hard Drive(s)
Western Digital Scorpio Black 750GB 7200-RPM SATA 3Gbps HDD
Optical Drive
TSSTCorp SN-406AB BD-ROM/DVDRW
Networking
Killer Networks e2200 PCIe Gigabit Ethernet
Atheros AR9485WB-EG 2.4GHz 802.11b/g/n
Bluetooth 4.0
Audio
Realtek ALC892 HD audio (THX TruStudio Pro)
2.1 speakers
Mic, headphone, line-in, and line-out jacks
Battery
9-cell, 87Wh
Front Side
-
Right Side
Mic, headphone, line-in, and line-out jacks
1x USB 2.0
Optical drive
Left Side
Vent
3x USB 3.0
SD card reader
Back Side
Kensington lock
AC adapter
Ethernet
D-SUB
Mini-DisplayPort
HDMI
Vent
Operating System
Windows 8 64-bit
Dimensions
14.97" x 10.24" x 1.77"
380mm x 260mm x 45mm
Weight
7.7 lbs
3.49kg
Extras
Webcam
USB 3.0
Card reader
THX TruStudio Pro audio
Killer Networks wired networking
SteelSeries keyboard
Warranty
2-year parts and labor
Pricing
$1,199
As far as mobile AMD chips go, the A10-5750M is about as fast as it gets. Trinity and Richland did away with the 45W parts you could find in the Llano generation, so we're essentially hoping that the pair of Piledriver modules running at a 2.5GHz nominal clock speed can pick up enough slack to power the AMD Radeon HD 7970M.
That Radeon HD 7970M is essentially the MSI GX60's reason for being. MSI went all-in on the graphics side, and an updated model of the GX60 is due soon that bumps the 7970M to an 8970M. The 7970M is based on AMD's Pitcairn desktop chip: it features 1,280 of AMD's GCN cores running at a healthy 850MHz clock rate, along with 80 texture units and 32 raster operators. Our review unit features 2GB of GDDR5 on a 256-bit memory bus running at 4.8GHz. If you're concerned our test results with the 7970M are going to be outdated when the 8970M-enabled GX60 lands, fear not: the only difference is a 50MHz boost clock on the 8970M. The chip is otherwise identical. Performance-wise, the 7970M and 8970M should stack up somewhere between the desktop HD 7850 and 7870, leaning more towards the 7870.
Where I'm a bit frustrated with the MSI GX60 is in both the memory configuration and the storage configuration. All told this is basically a smaller version of the GT70 chassis, less the backlit keyboard, but MSI opted to only include one DIMM instead of two for the memory, and we're stuck with a mechanical hard disk for storage duties. Thankfully you can get the GX60 for $1,199, which is a pretty good deal for a system with such a powerful GPU at its heart, and that does take some of the edge off.
Since the first part of the Richland review focused on the AMD A10-A5750M with dual-channel memory enabled, we have an opportunity now to compare those CPU results to the stock results of the GX60, which runs in only single-channel mode.
In and Around the MSI GX60
I'll say this for MSI: they've kept a pretty uniform aesthetic for their gaming notebooks. I'm actually of the opinion that the slightly smaller 15.6" form factor serves it better than the outsized 17.3", and the cooling system designs between the GX60 and its larger cousin are basically uniform. In fact, almost everything between the two chassis is uniform, making any kind of detailed analysis almost redundant. Just about everything I said about the iBuyPower Valkyrie CZ-17's chassis design applies here.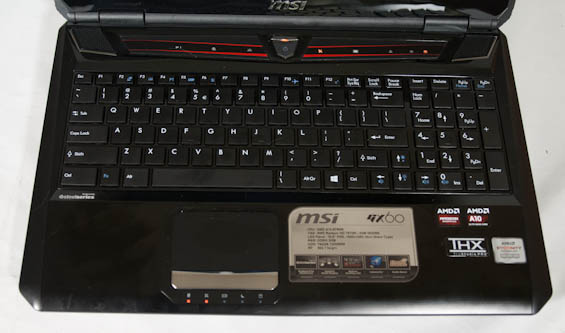 We're looking at black plastic used for essentially the entirety of the MSI GX60. The touchpad continues to be a sticking point; it was abnormally small on the Valkyrie, CyberPower FangBook, and the GT70 Dragon Edition, and the slightly smaller GX60 has the same issue. The SteelSeries licensed keyboard loses the backlighting (likely sacrificed to bring the price down) but retains both the excellent key action that makes it such a strong choice and the baffling layout that utterly undermines it for American consumers. Even the L-shaped access panel on the bottom is similar.
For reference, this is the internal layout of the CyberPower FangBook, which uses the last generation cooling design for the GT70: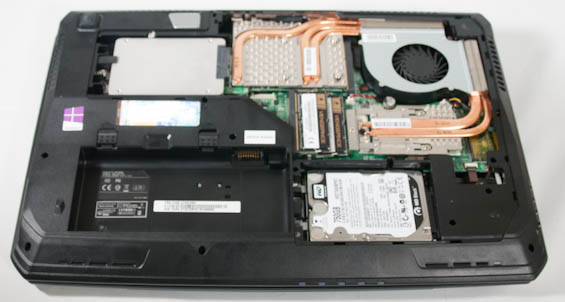 Now, here is the internal layout of the MSI GX60. Remember that the GX60 is a 15.6" notebook and thus a couple pounds lighter than the 17.3" FangBook/GT70: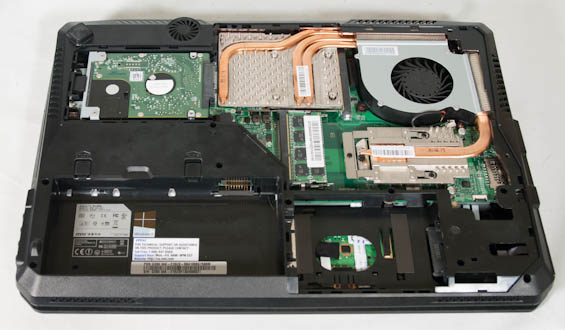 And, just for reference sake, the interior of the recently reviewed GT70 Dragon Edition: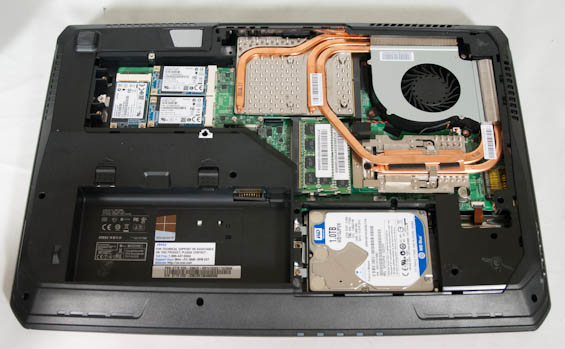 Apart from very minor differences in the heatpipes on the CPU coldplates, MSI appears to be using essentially identical motherboard layouts and cooling systems between their 15.6" and 17.3" lines. Eyeballing it, I have a hard time believing much, if any, cooling capacity is added moving up in the line. That means that the only reason to buy a 17.3" gaming notebook from MSI would be because you want the larger display. Not higher resolution, just larger. The keyboard size is identical, port layouts are almost identical, cooling systems are almost identical. While there are no stock GT60/GX60 units that sport 32GB of memory, iBuyPower's 15.6" Valkyrie (based off of this chassis) can be configured with up to four 8GB DIMMs.
It's a commodity design and like a lot of MSI's decisions, it seems predominately geared towards being as frugal and cost-effective as possible. That's not necessarily a bad thing, but sacrificing specialization of any kind is damaging. The most brutal thing about the GX60 may be the existence of MSI's own GE60, which trades the APU for an Intel i7-4700MQ and the Radeon HD 7970M for an NVIDIA GeForce GTX 765M. I'm in the process of testing a notebook that has a 765M, and its performance is almost on par with the outgoing GeForce GTX 675MX. That's still slower than the 7970M, but you gain a boatload of CPU performance.
System and Futuremark Performance
There's a lot of information that we can cull from our standard suite of system benchmarks when it comes to the MSI GX60 in its stock configuration. We can place its performance against the last generation GX60, featuring an almost identical configuration save a theoretically slower APU, we can determine how much of a performance hit there is from only having single-channel memory operation, and we can get an idea of how much performance is getting left on the table by using an AMD A-series APU instead of an Intel i7 quad core CPU.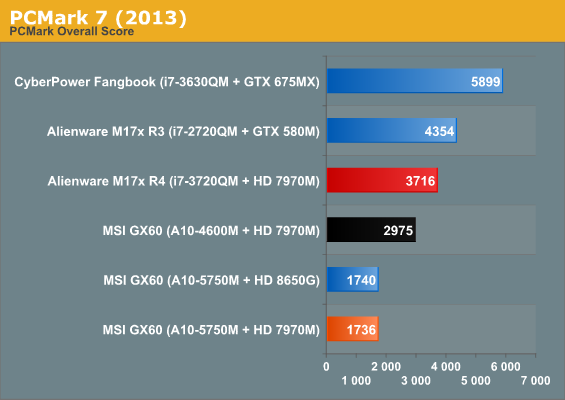 PCMark 7 will always favor systems with SSDs, so there's not a whole lot to learn here unless you compare the GX60 with the 7970M to the IGP and dual-channel memory (listed as the A10-5750M + HD 8650G). On the CPU side there's either almost nothing lost, or the 7970M is picking up slack.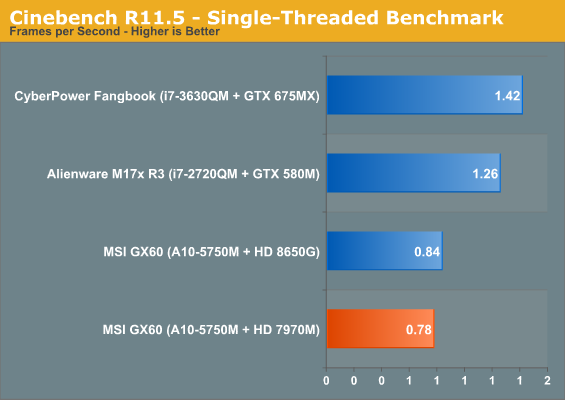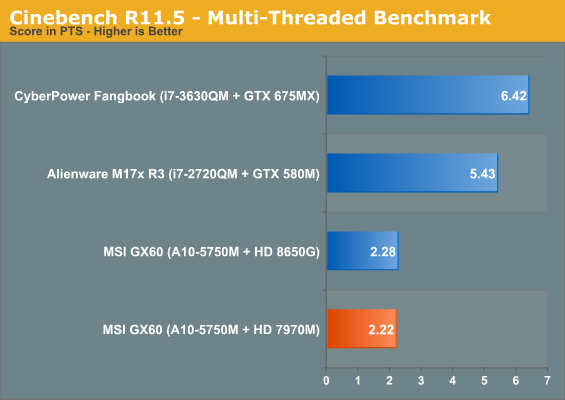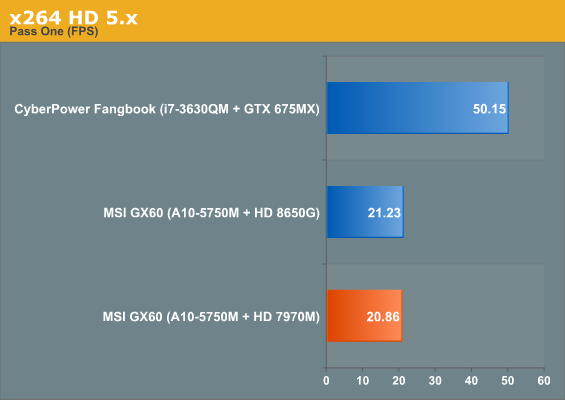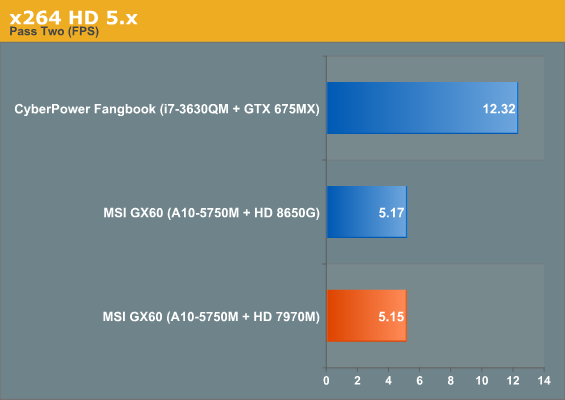 MSI was right in that the single-channel memory operation doesn't really impact the GX60 in CPU-isolated tasks. It's consistently slower, but just barely so. Unfortunately we also get to see just how rough the drop down to an A10-5750M from an entry-level Ivy Bridge quad core really is; the i7-3630QM is never less than twice as fast as the A10. It's true that the i7 is rated to draw ~30% more power, but it gets at least 100% more performance.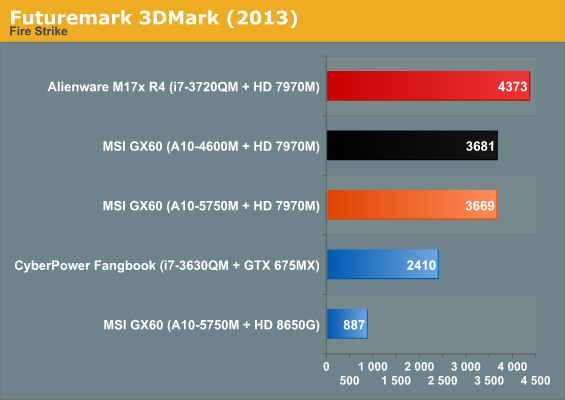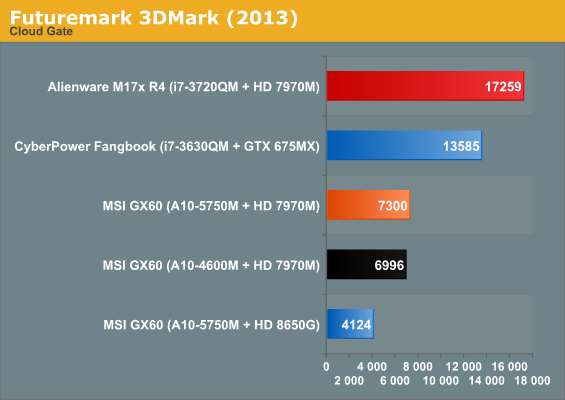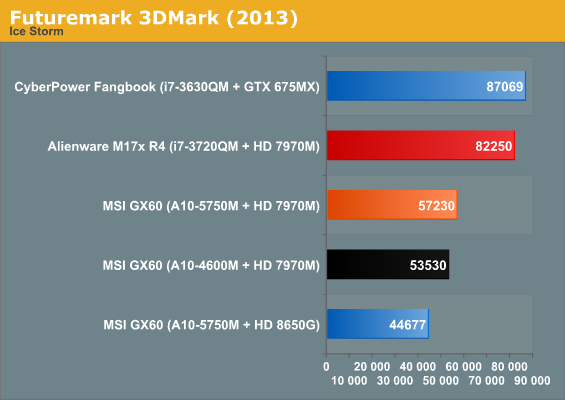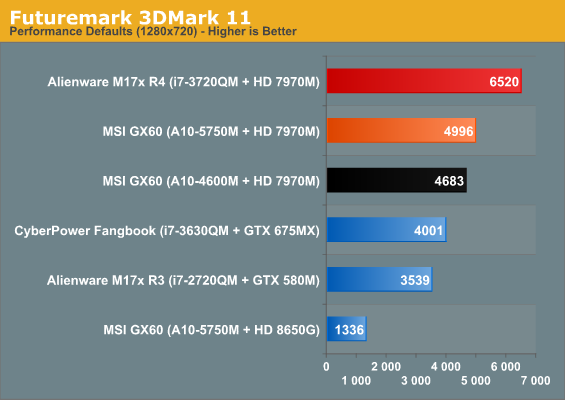 Even when trying to isolate GPU performance with 3DMark, it's pretty clear the AMD APU is holding back the Radeon HD 7970M. The newer generation GX60 is able to eke out a fairly consistent, measurable lead over its predecessor, but a substantial amount of the 7970M's performance is clearly being left on the table. I'd say the 7970M is just too much GPU for the A10-5750M, but unfortunately AMD doesn't have any good substitutes for the 7970M/8970M; the 7870M and 8870M are both based on Cape Verde, which has half the GCN cores and memory bus width the Pitcairn-based 7970M/8970M does. And there's no 7950M/8950M based on the cut-down Pitcairn used for the desktop 7850, nor even any mobile chips based on Bonaire (HD 7790).
This highlights a glaring hole in AMD's mobile lineup; NVIDIA's only using the GK104 in their top end chips (GTX 680M and 780M), but they have the beefy GK106 to fall back on. Bonaire needs to make its mobile debut in a hurry.
Gaming Performance
Given that the AMD Radeon HD 7970M is the fastest mobile GPU that AMD offers, I'd ordinarily eschew including our "Value" benchmark results for the MSI GX60. Under the circumstances, though, those numbers might be enlightening. When a system is heavily CPU-limited, gaming benchmark results will often be flat or show very little performance loss as you move up in resolution and settings. It's reasonable to assume we'll see that kind of phenomenon here.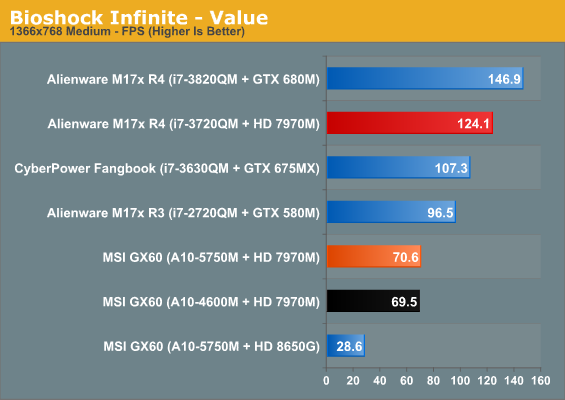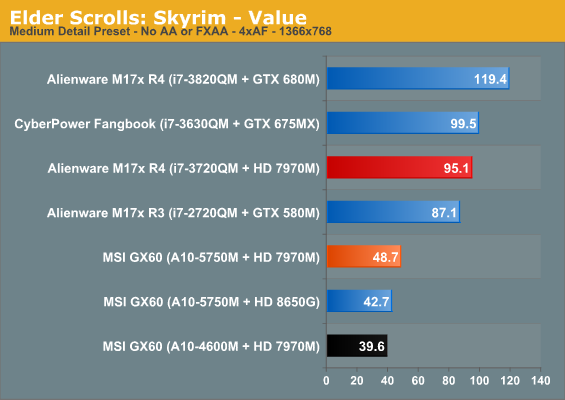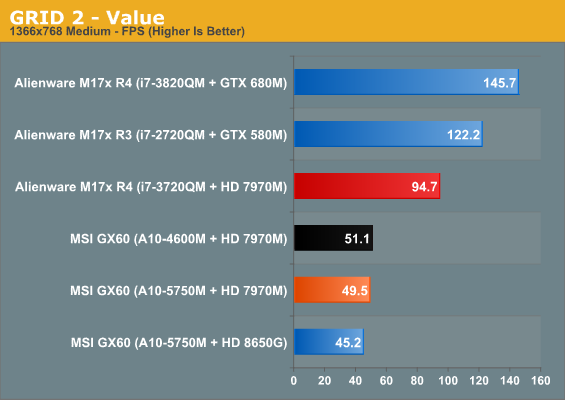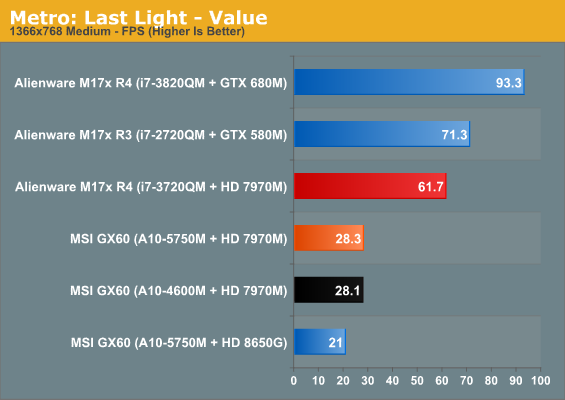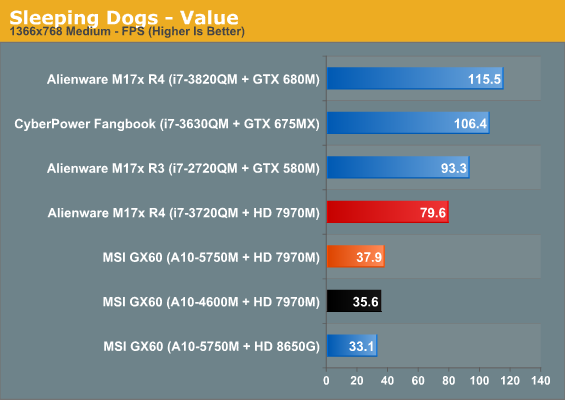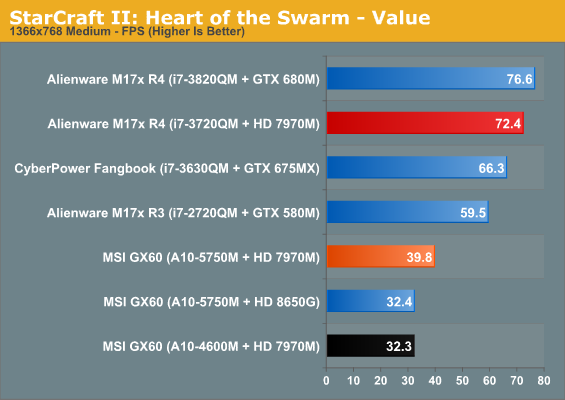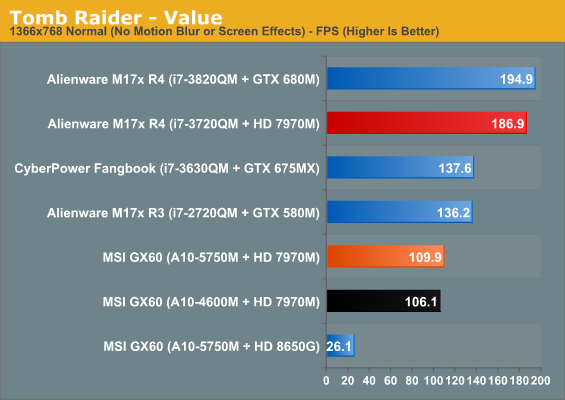 At our "Value" settings, it's clear Richland is giving the 7970M at least a little more performance headroom, but the gulf is massive compared to the way Ivy lets it stretch its legs. Metro: Last Light seems to be a bit of a bizarre outlier, though. Metro 2033 used to hammer the GPU almost exclusively, but times seem to have changed with the new release.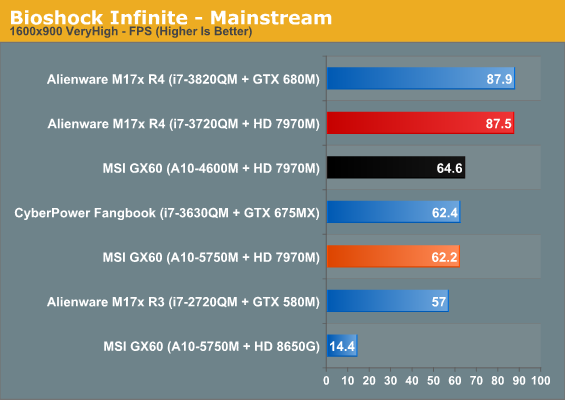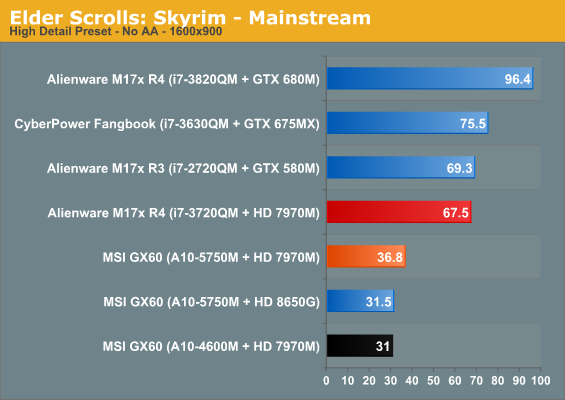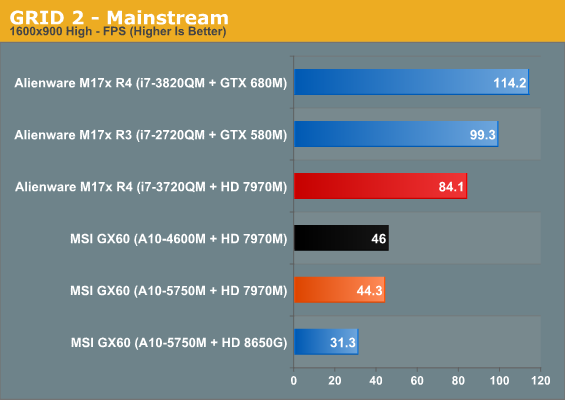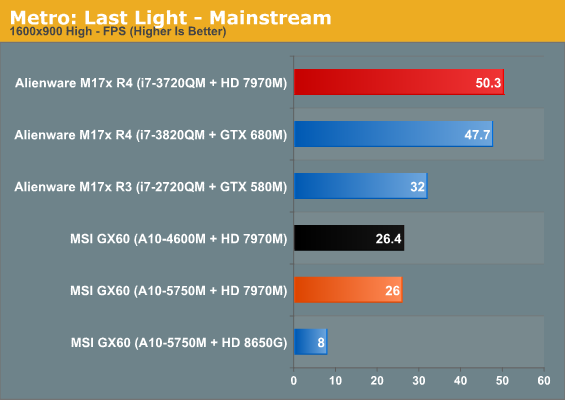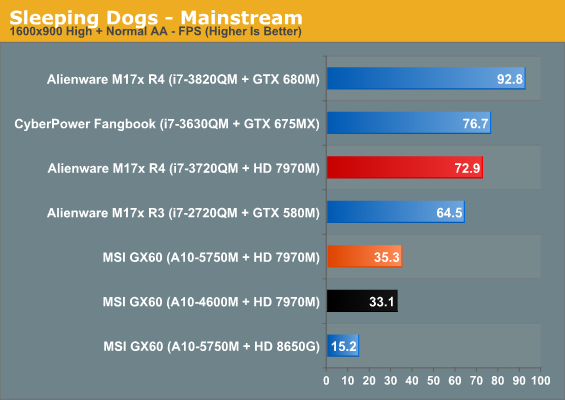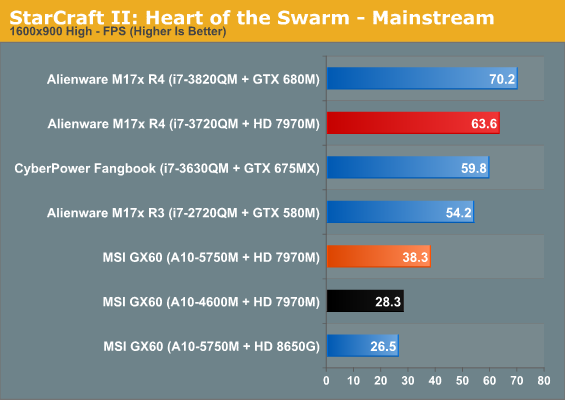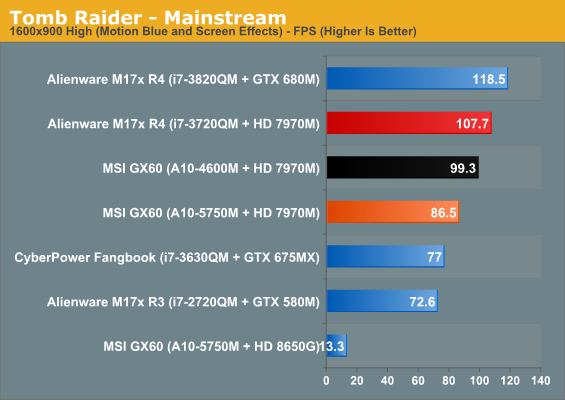 Mainstream performance actually demonstrates the same kind of weird wash between Trinity and Richland that I experienced testing using the IGP. It's only Tomb Raider that takes a bath with Richland, though, and even then it's still very playable. While our settings here help close the gap between the Alienware M17x R4's 7970M and the MSI GX60's, we're still obviously leaving a lot of performance on the table. Metro: Last Light in particular continues to be unplayable.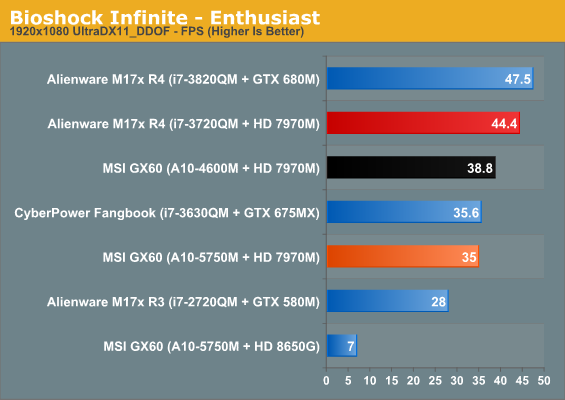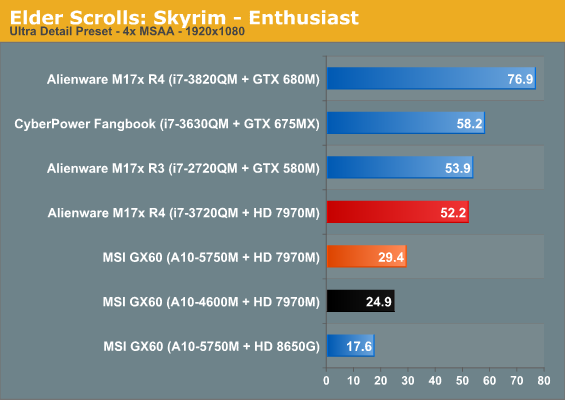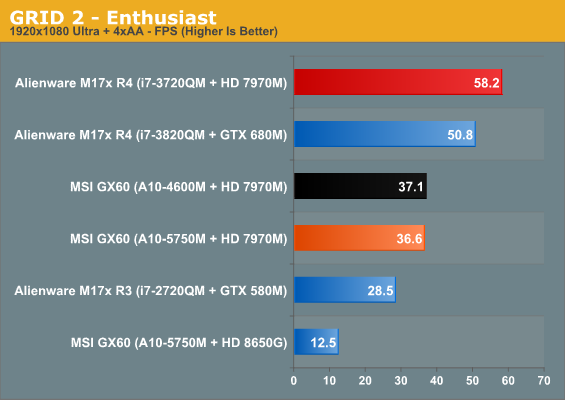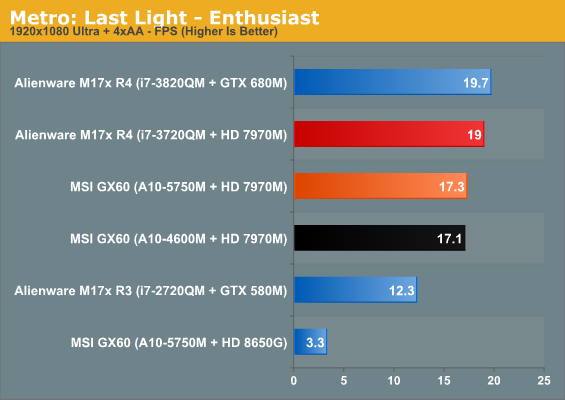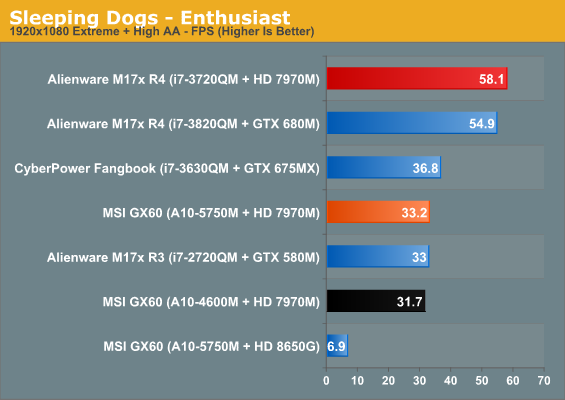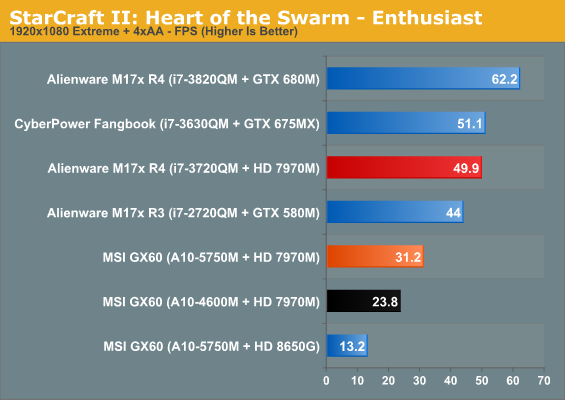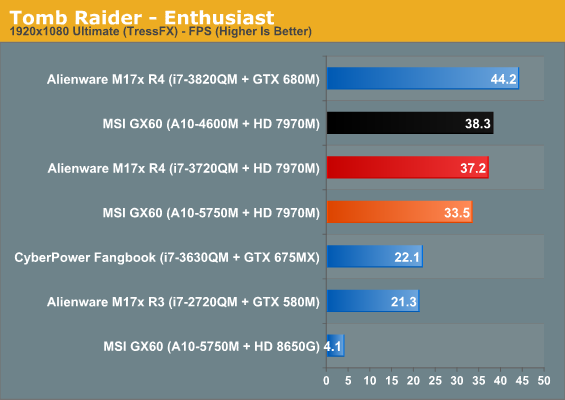 In some cases, enthusiast settings allow the GX60's 7970M to come within striking distance of the M17x R4's. Generally speaking, though, we still have a lot of performance left on the table, and it's sometimes even the difference between a game being playable and not. In situations where we're severely GPU limited (Tomb Raider with TressFX, for example), the GX60 makes a very strong case for itself. The problem is that in other situations, the GTX 675MX (and by extrapolation, the slightly slower GTX 765M) winds up producing a better experience because the CPU isn't bogging it down.
Display Quality
High dpi displays, even if they're TN panels, tend to perform fairly well, and the 1080p 15.6" panel on the MSI GX60 is at least a healthy one. I feel like at long last we're finally starting to come out of the dark ages of 1366x768 panels; virtually none of the notebooks I've tested recently have had bad or low-resolution panels. With tablets pushing pixel density ever higher and TN panels only showing up on the cheapest of the cheap, the notebook industry has been running out of excuses to fob crappy displays on us. You'll still see them at the lowest and most mainstream price points, but the trickle-down mercifully seems to have begun.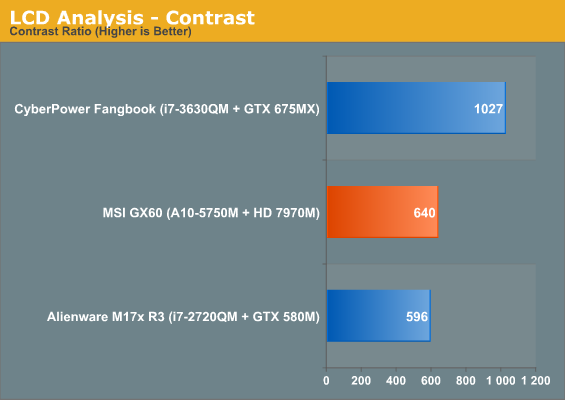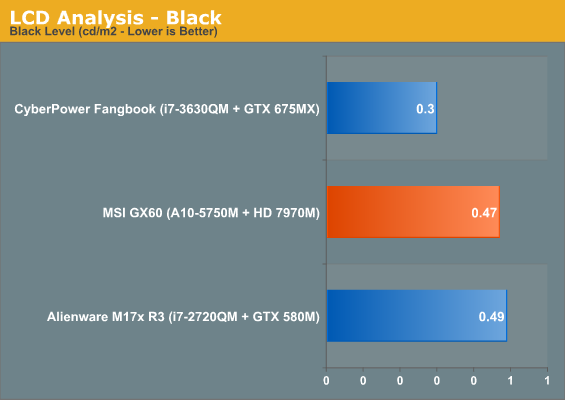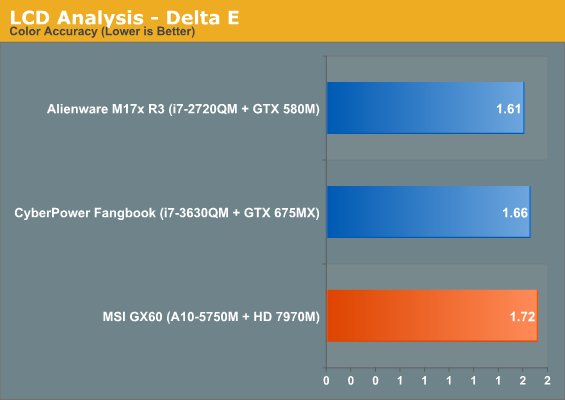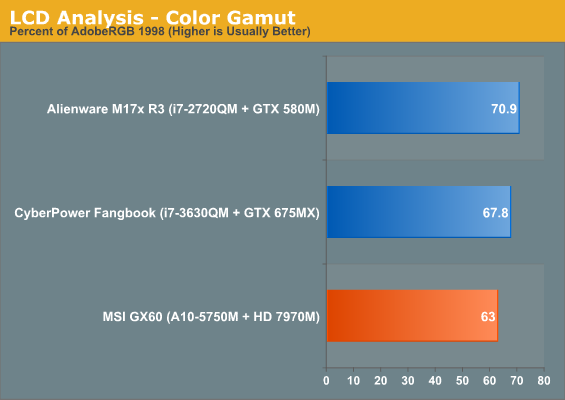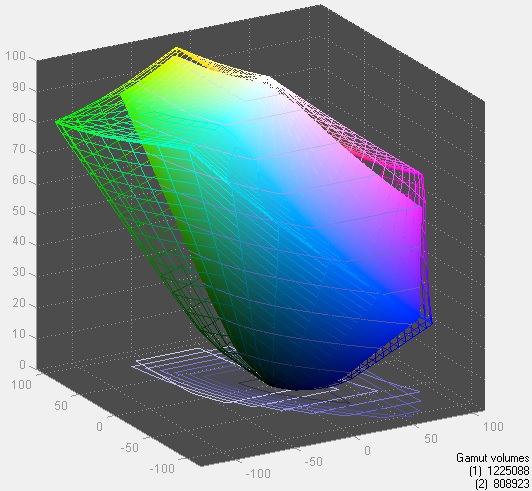 The panel MSI uses for the GX60 isn't exemplary, but the contrast ratio is a far cry from the sub-300 or even occasional sub-200 TN panels of the entry level market. If nothing else, the 1080p display is more than adequate for both gaming and any basic work, and I appreciate that MSI has stuck with the trend in the gaming notebook market of moving towards matte panels. Alienware was the last holdout, but their refreshed line of notebooks doesn't feature glossy displays either.
Battery Life
Unfortunately, perhaps frustratingly, we weren't able to get battery running time results for the original Trinity-based GX60, so MSI's new Richland-based model is stuck in the wilderness. Jarred has also reported continued issues with AMD's Enduro technology, but my experience with it on the GX60 was actually pretty painless. Enduro's interface is still miles behind NVIDIA's Optimus, but I at least have hope now that AMD will be able to compete and level the playing field. As it stands, NVIDIA hardware has been ubiquitous in the notebook space. While that's good for them, consumers need choice and competition.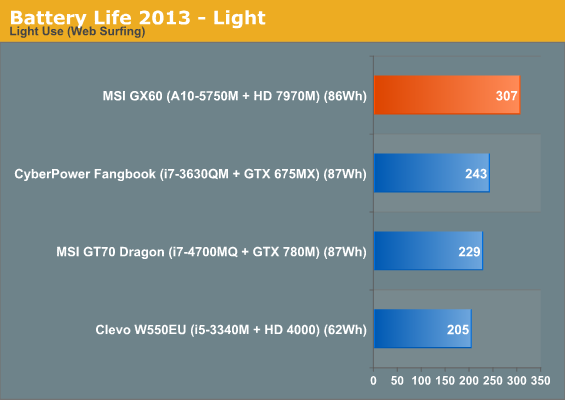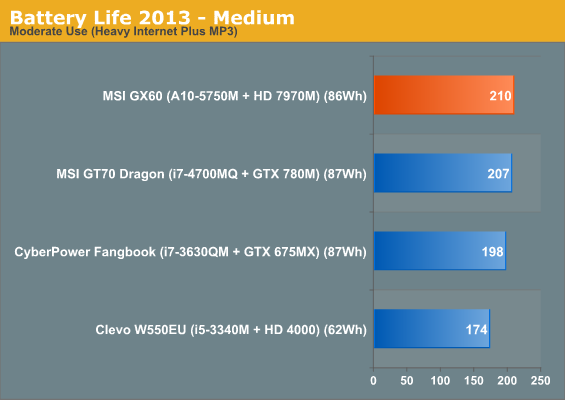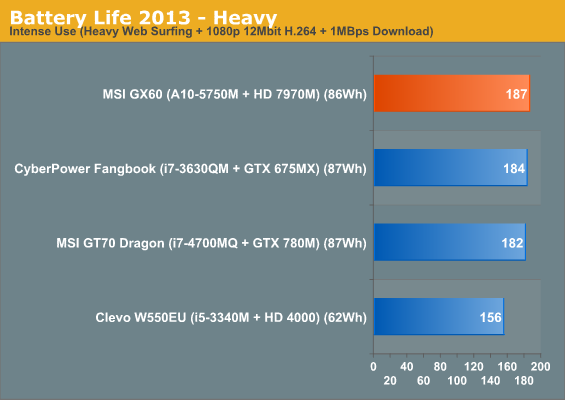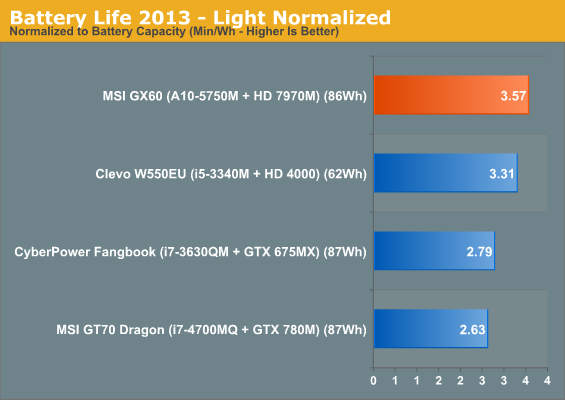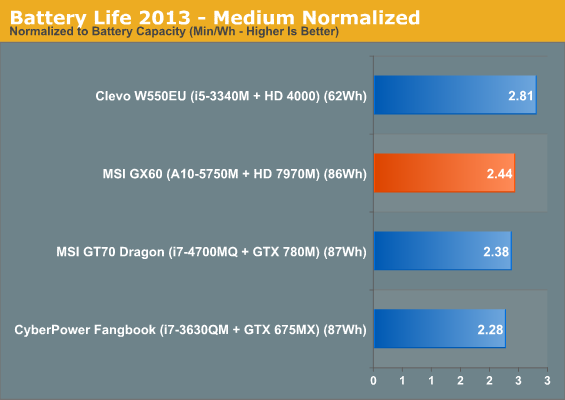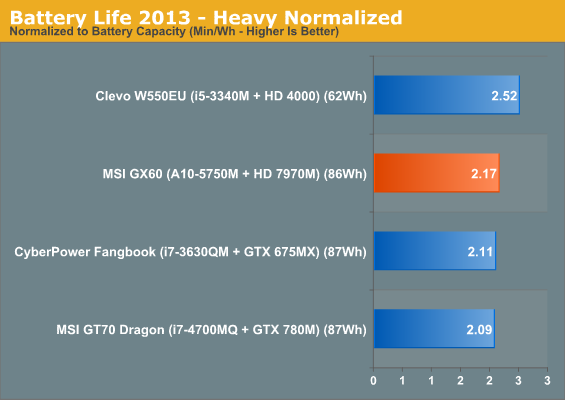 Compared to the other gaming notebooks tested and even the lone Clevo ultrabook, the MSI GX60 is able to actually produce pretty excellent battery life. If all you're doing is casually surfing the internet, the Richland-based APU powering the GX60 can give you a solid five hours of running time.
Heat
While the larger GT70 Dragon Edition had trouble managing its thermals (hopefully fixed with a BIOS update, more on this to come soon), the GX60's dealing with a much lower thermal load. The Intel Core i7-4700MQ coupled with the GeForce GTX 780M results in a peak power draw of almost 150W between the CPU and GPU, while the GX60 tops out at 110W.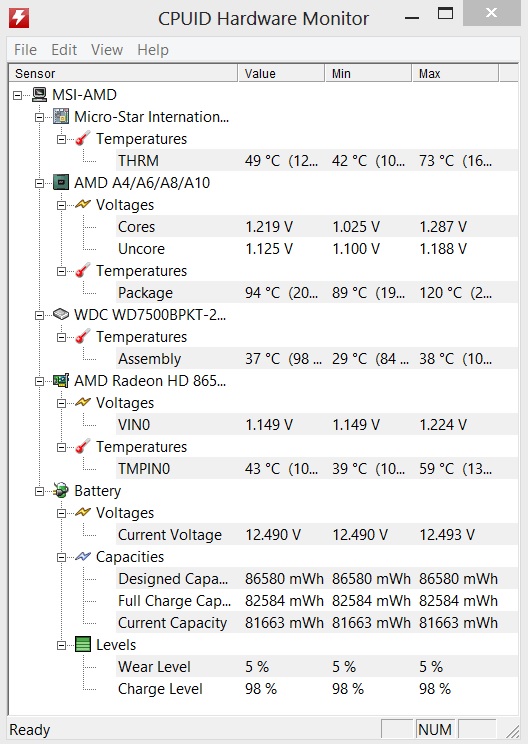 I'm not sure what HWMonitor is reading as the "package" temperature, but I can tell you that's not what the APU is running at. For a better idea of how hot the system is running, take a look at the "THRM" value and the temperature value under the Radeon. The GX60 has no trouble dissipating the heat from the A10-5750M and Radeon HD 7970M.
Conclusion: The Value of Balance
On paper, the AMD-powered MSI GX60 had to seem like a good idea, and I'm not even convinced it actually isn't one. Using a less expensive CPU to force the price tag down and going whole hog on the GPU isn't that uncommon among custom built desktop PCs, so as long as the gaming performance is there in a notebook, it's certainly worth a shot. The A10-5750M is nowhere near as powerful as an Ivy Bridge quad core, let alone a Haswell, but if it doesn't need to be, that's not an issue. Of course, it does need to be, but we'll get to that.
I feel like I've reviewed this chassis a hundred times by now, but at least shrinking it down to a 15.6" gives me both a better perspective and feels different. Knowing what I know now about how MSI seems to be designing and building their gaming notebooks, I can't under any circumstances recommend their 17.3" notebooks. The only reasons to buy one are if you somehow find a better deal than on its 15.6" equivalent, or if you just really want that larger display. You're not getting more pixels or better thermals, you're just getting two more pounds of bulk. But the hardware is almost identical.
There's the sweet and the sour. The chassis is bulky but at least reasonably tough, and the SteelSeries licensed keyboard really is very comfortable to type on if you can get used to MSI's goofy layout. They're able to cram a healthy amount of power and cooling potential into a 15.6" chassis as well, and you still get two 2.5" bays.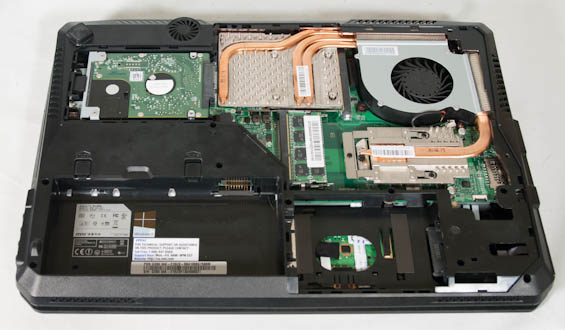 The AMD model of the GX60 is cute in concept, but in practice has problems. The single biggest reason not to buy it is that for the same price, MSI will sell you a Haswell-based system with an NVIDIA GeForce GTX 765M. While that GPU is most definitely slower than the AMD Radeon HD 7970M, the brakes the A10-5750M APU puts on the 7970M keep it from hitting its true performance potential, and as a result I suspect the more well-rounded GE60 will ultimately make a lot of end users much happier. While $1,199 is a fantastic deal for an AMD Radeon HD 7970M, you're not really getting one. Looks fantastic in marketing material, though, no doubt.
What the GX60 really needs to be is a $999-or-less gaming notebook. That potentially means cutting the 7970M, but we need a more balanced combination of CPU and GPU anyhow. The 7970M is far too powerful for the A10, but a Radeon HD 7870M/8870M would be a more appropriate companion. Ideally AMD would release a mobile Bonaire GPU, which would be perfect for the A10-5750M. At that point the value proposition kicks in hard. GPU performance won't hit those outside highs, but under most circumstances neither part should hold the other back too much, and the end user doesn't wind up wasting money on more GPU than they could ever hope to use.
As for the A10, it's not a bad chip, but Intel has been driving prices down hard in the mobile space and AMD doesn't have much latitude to work in. I can see an all-AMD gaming notebook potentially working if Kaveri lives up to expectations. In the meantime, the GX60 is a cute idea in theory, but the inescapable fact is that as I said before, you're not really getting an AMD Radeon HD 7970M for $1,199. The GPU is there, but it's leashed. There are better alternatives.