Original Link: http://www.anandtech.com/show/7119/razer-blade-14inch-gaming-notebook-review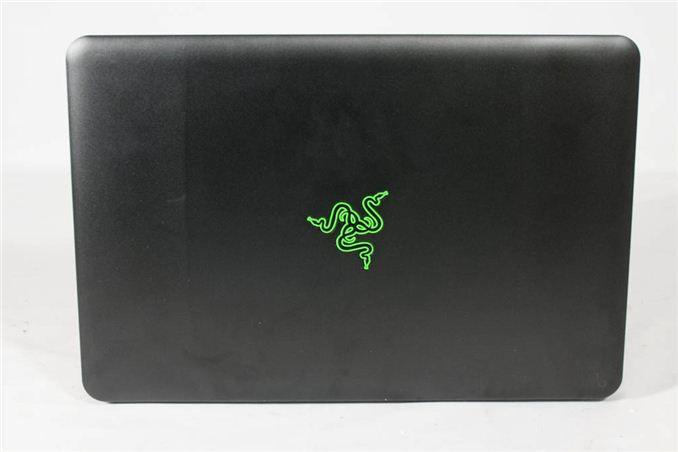 Introducing the Razer Blade 14-Inch
Despite arguably still being a market that supports growth, the gaming notebook arena has remained relatively staid over the past few years. At the highest end we're still looking at just Alienware and Clevo, with MSI, ASUS, and the odd Toshiba picking up the slack. Risking using a buzzword that makes most journalists froth over with rage and irritation, this is a market that's fairly ripe for innovation but hasn't seen a tremendous amount of it.
Razer's entry into the gaming notebook arena wasn't a total game changer, but it was definitely an eyebrow raiser. The original Razer Blade was an ultrathin gaming notebook, featuring an industrial design rivaled only by its profound inability to handle the tremendous heat generated by its components and its nearly impossibly high price tag. The second version did a lot to ameliorate those complaints, but I suspect it's really going to take the combination of Haswell and Kepler to get this concept where it wants to be (price notwithstanding). Thankfully that's what Razer is offering in their third generation of gaming notebooks.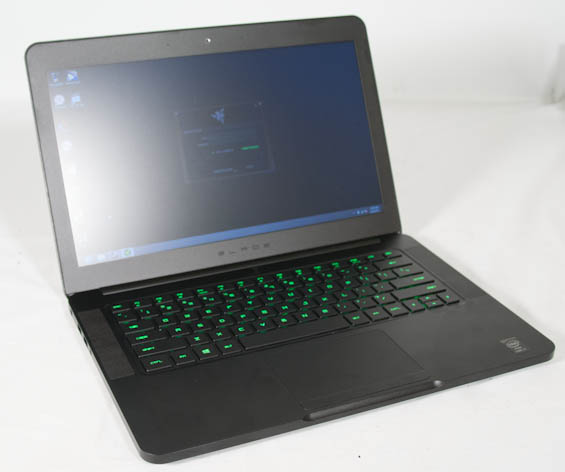 Splitting the line into two models, the newest revision of the 17.3" Razer Blade gets dubbed the Razer Blade Pro, with the non-Pro nomenclature falling to the brand new 14" model. At the risk of being premature, I suspect the 14" Razer Blade is going to be the more desirable of the two notebooks: hardware specs are virtually identical between the Blade and Blade Pro, with the primary differentiators being the 1080p display and Switchblade panel in the Pro. Cutting down the Pro to a slightly more conventional 14" gaming notebook has left Razer with an attractive machine that's hard not to compare to Apple's MacBook Pro.
Razer Blade 14-Inch Specifications
Processor
Intel Core i7-4702HQ
(4x2.2GHz + HTT, Turbo to 3.2GHz, 22nm, 6MB L3, 37W)
Chipset
Intel HM87
Memory
8GB DDR3L-1600
Graphics
NVIDIA GeForce GTX 765M 2GB GDDR5
(768 CUDA cores, 797MHz/863MHz/4GHz core/boost/memory clocks, 128-bit memory bus)

Intel HD 4600 Graphics
(20 EUs, up to 1.15GHz)
Display
14" LED Matte 16:9 900p
AU Optronics AUO103E
Hard Drive(s)
Samsung PM841 256GB mSATA 6Gbps SSD
Optical Drive
-
Networking
Killer Wireless-N 1202 dual-band 2x2 802.11a/b/g/n
Bluetooth 4.0
Audio
Realtek ALC269 HD audio
Stereo speakers
Combination mic/headphone jack
Battery
70Wh
Front Side
-
Right Side
USB 3.0
HDMI 1.4a
Kensington lock
Left Side
AC adapter
2x USB 3.0
Combination mic/headphone jack
Back Side
-
Operating System
Windows 8 64-bit
Dimensions
13.6" x 9.3" x 0.66"
345mm x 235mm x 16.8mm
Weight
4.1 lbs
1.88kg
Extras
Webcam
USB 3.0
Killer Networks wireless networking
Backlit anti-ghosting keyboard
Warranty
1-year limited
Pricing
$1,799
As configured $1,999
It's hard to feel like any compromises have really been made in terms of the Razer Blade 14-inch's internal hardware. The Intel Core i7-4702HQ CPU boasts a healthy 2.2GHz nominal clock speed across four cores and is able to turbo up to as high as 2.9GHz on all four or 3.2GHz on a single core. This is the situation that Haswell is ideal for: a thin portable chassis with somewhat limited cooling capacity.
Despite being essentially a refresh of extant silicon, NVIDIA has actually made some fairly impressive strides with the second generation of Kepler mobile GPUs. The GK106 chip has turned out to be a solid desktop offering, but like Haswell, its true destiny may very well be in mobile. That chip powers the Razer Blade's GeForce GTX 765M, the same mobile GPU you're going to find in Alienware's competing 14-inch notebook. It's a slightly cut down GK106 chip, sporting 768 CUDA cores at a nominal 797MHz clock speed, and it comes with NVIDIA's Boost 2.0 enabled. That should allow it to hit speeds as high as 900MHz during gaming, thermals depending. 2GB of 4GHz GDDR5 is attached to a 128-bit memory bus.
Meanwhile, storage is handled by Samsung's 840 series SSD, shrunk down to an mSATA form factor. This is the only differentiator between the three models of Razer Blade 14-inch: $1,799 will get you 128GB of storage, $1,999 will get you 256GB, and $2,299 will get you 512GB. While your gaming needs may vary, I've found that 256GB is pretty much the minimum for all my stuff plus the games I need on the go. Individuals looking to use the Blade as their primary system (and it's totally feasible) may actually want to make the jump to the 512GB.
Where Razer does come up short with the 14-inch Blade is connectivity. Three USB 3.0 ports and an HDMI port should theoretically be enough to cover the most basic needs, and I'm even willing to forgive the lack of a card reader on a notebook that's geared exclusively towards gaming. Lacking wired gigabit ethernet is a more bitter pill to swallow, though. The Killer Wireless-n ameliorates this somewhat, but it doesn't replace it. For serious online play there's just no substitute for a stable wired connection.
In and Around the Razer Blade 14-Inch
As I mentioned previously, it's hard not to compare the Razer Blade 14-inch to Apple's MacBook Pro. That's not really a problem, though; I'm not an Apple user or an Apple fan, but it's hard to really argue that Apple's ID and general notebook quality have yet to find a good match in the Windows space. If you're going to crib from anyone's design playbook, that would probably be the one.
The Razer Blade 14-inch enjoys an aluminum chassis from head to toe. There are two slight ridges on the lid to give it class and character (and probably a tough of rigidity), and the Razer logo glows when the system is powered on. The body itself seems to be a unibody aluminum chassis, but what I'd like to draw attention to is the internal design.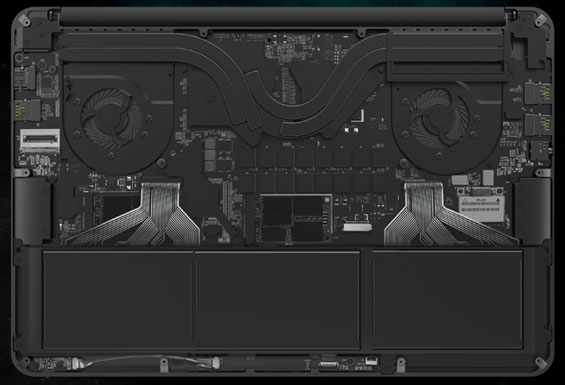 Source: Razer Blade website.
There's some incredibly smart engineering at work here to get the system this thin, but there are compromises made, too. Razer employs a pair of small fans that intake air from the bottom and exhaust it through heatsink arrays hidden in the hinge. The result is a chassis with virtually no visible ventilation yet still has actual cooling potential.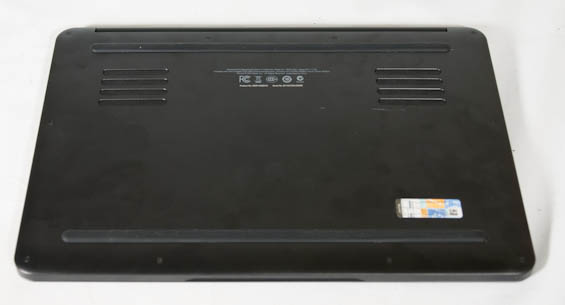 A look at the bottom of the notebook reveals exactly that. Two ventilated intakes for the fans, no visible exhausts. The tradeoff with this design is a tremendous amount of heat above the keyboard. Razer does a fantastic job of managing noise, but the panel of aluminum above the keyboard, where the power button is, gets extremely hot and unpleasant to the touch.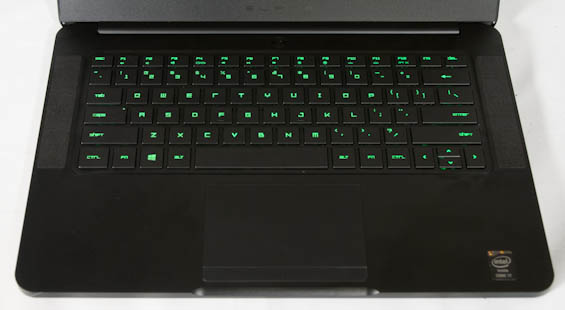 With the chiclet keycap design this radiant heat won't be a major issue during prolonged gaming sessions, but it's something to be aware of. The internal thermal design means the palm rests never get too warm, though; it's all actually pretty slick.
Users who aren't enamored with Razer's Switchblade panel in the larger Blade Pro unit will be overjoyed to see a spacious touchpad complete with two dedicated mouse buttons. As for the keyboard itself, it's plenty comfortable, though for some bizarre reason I found myself frequently fat-fingering it despite a lack of actual fat fingers. I suspect this problem will be unique to me and maybe a couple of other users; the keyboard still has plenty of travel and depth and it's tough to find any real fault with. In fact my only real complaint is the lack of any indication that the document navigation keys are mapped to Fn combinations with the arrows. That's a sacrifice made for the sake of ID, though, and I have a hard time complaining too much.
For the past two Razer Blade reviews, it was easy for me to sit back and quibble with Vivek's enthusiasm over the industrial design of the Blades at the expense of the notebook's actual practicality. Yet with the 14-inch Blade, it's hard not to see his point. Even if Razer has essentialy created the RazerBook Pro, they still cribbed from the right playbook. The Blade is for anyone who wanted the MacBook Pro in black (which does go with everything), and it's for anyone who has gotten more than a little tired of ostentatious, gaudy gaming notebook designs. It's a shot fired across the bow of vendors like Alienware, stating in no uncertain terms that you can have a powerful, performance gaming notebook in a sleeker form factor. The Blade's ID feels like gaming for grown-ups.
System and Futuremark Performance
Despite being remarkably slim, the Razer Blade 14-inch is afforded remarkable capacity for performance thanks to its well-designed cooling system. The result is that despite fitting squarely in Intel's ultrabook category, there's a tremendous amount of horsepower on tap. Razer benefits from advances in Intel's Haswell design by employing the 37W Core i7-4702HQ, a quad-core processor which moves the chipset on package. Meanwhile, they can leverage the increased parallelism of an NVIDIA GK106 (as opposed to GK107 in the last generation of Blades) without substantially higher thermals.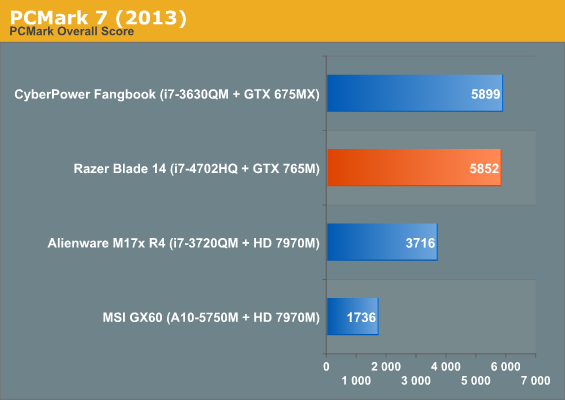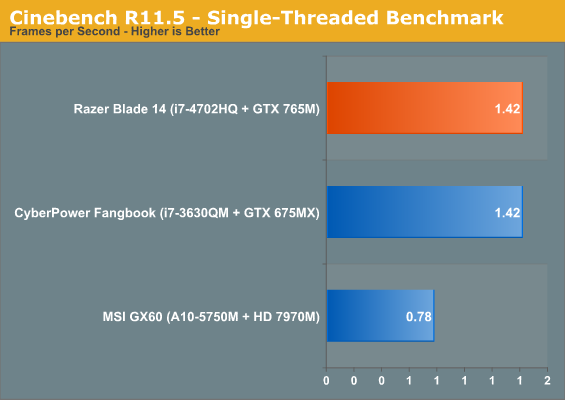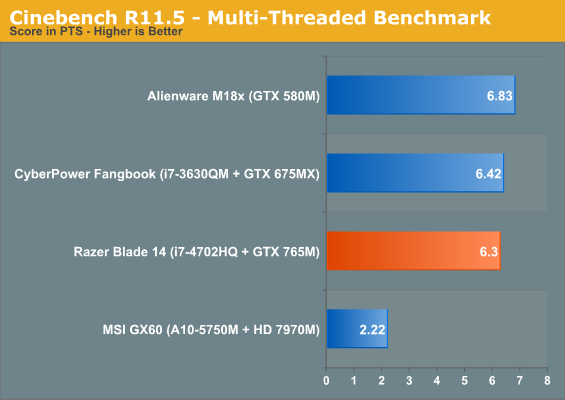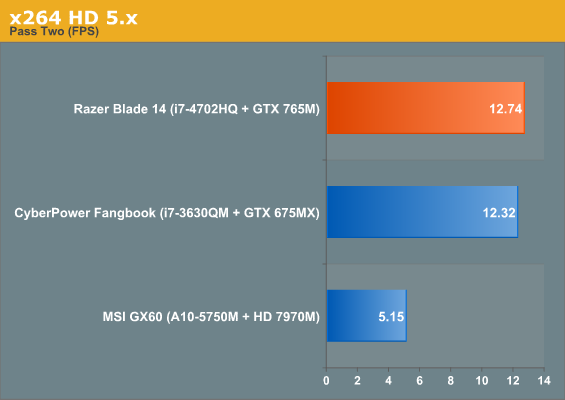 Just how fast is the Blade 14? Fast enough. The i7-4702HQ is able to meet the last generation i7-3630QM's performance without much issue, and ensures that CPU bottlenecks won't be much of an issue during gaming sessions.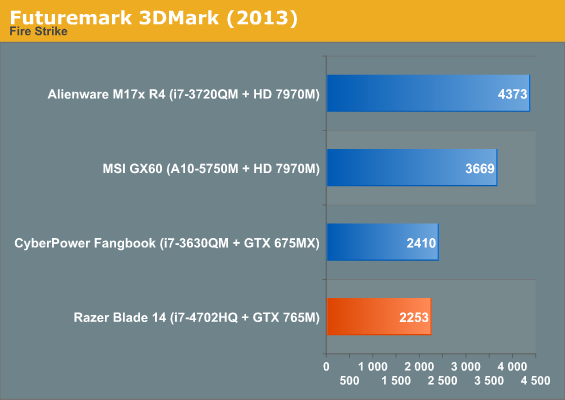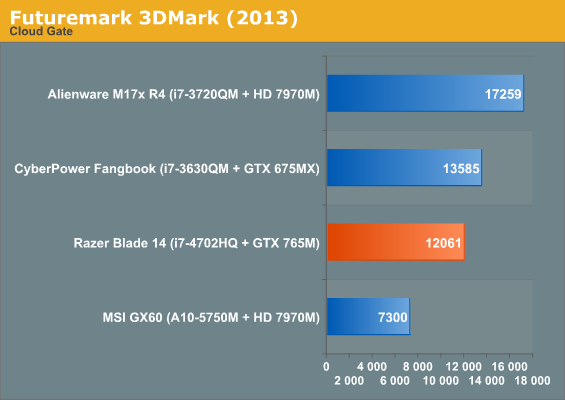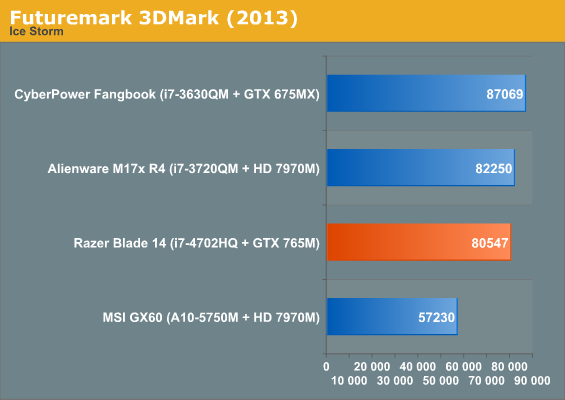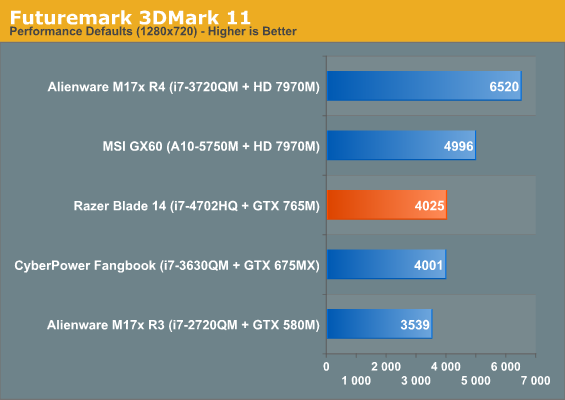 The Razer Blade 14-inch isn't knocking it out of the park in 3DMark, but it doesn't need to. What's impressive is how close it is to the GeForce GTX 675MX; that chip is a full GK106 with 960 CUDA cores and a 256-bit wide memory bus, but the substantially higher clocks on the GTX 765M help make up the difference. What you're going to see as we move forward is that the 765M is actually hampered only by its 128-bit memory bus; shader power is largely present for this chip, and the 1600x900 panel resolution in the Blade 14-inch may actually be the sweet spot for performance.
Gaming Performance
What struck me while testing the Razer Blade 14-inch in gaming was just how fast it actually was. The NVIDIA GeForce GTX 765M is an unusually powerful part for this class, and in circumstances where it isn't limited by its 128-bit memory bus, it's actually capable of performing faster than last generation's GeForce GTX 580M. Getting the performance equivalent of a GTX 580M (or desktop GeForce GTX 560) in a 14-inch notebook is remarkable.
We're also benefitting from NVIDIA's GPU Boost 2.0; while the nominal clock of the GTX 765M is 797MHz, I monitored GPU clocks with GPU-Z during gaming and found that the core never dropped below 901MHz. The thermal design of the Blade also proved itself, with the GPU running at a remarkably low 74C.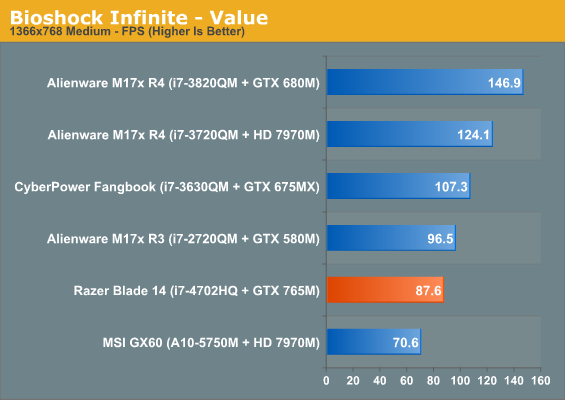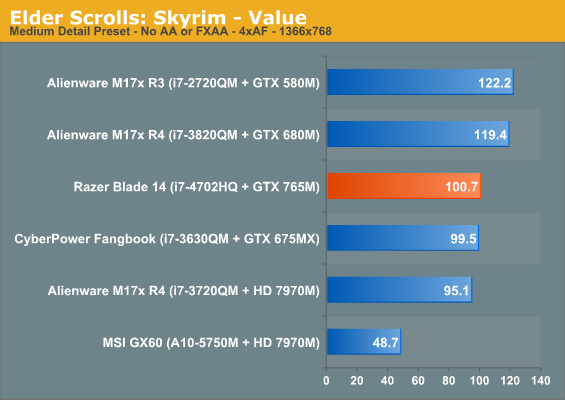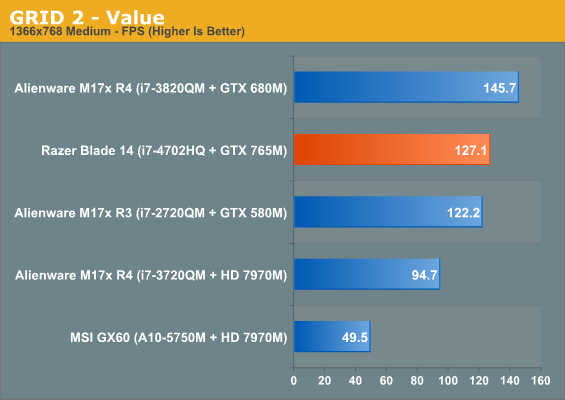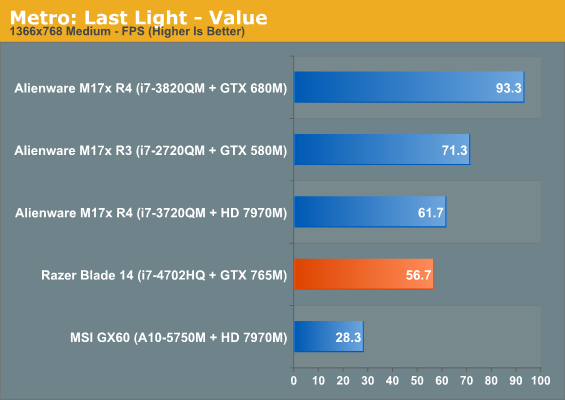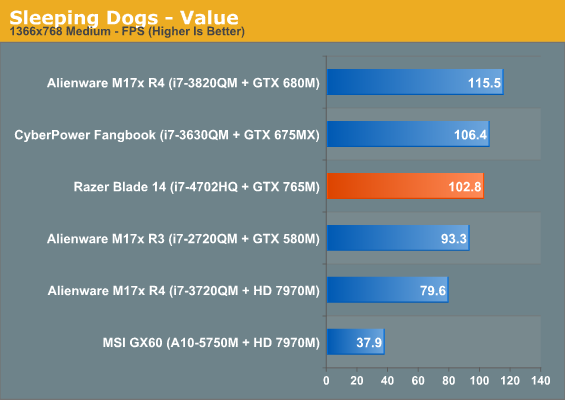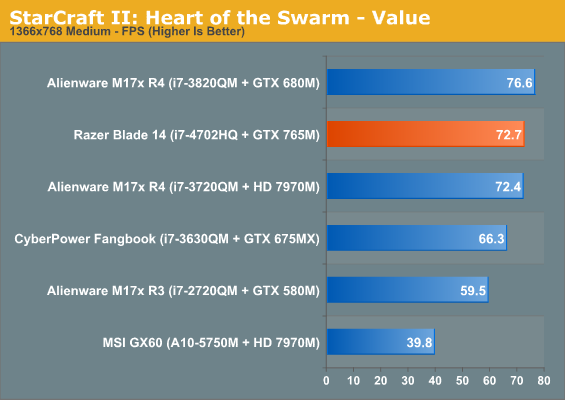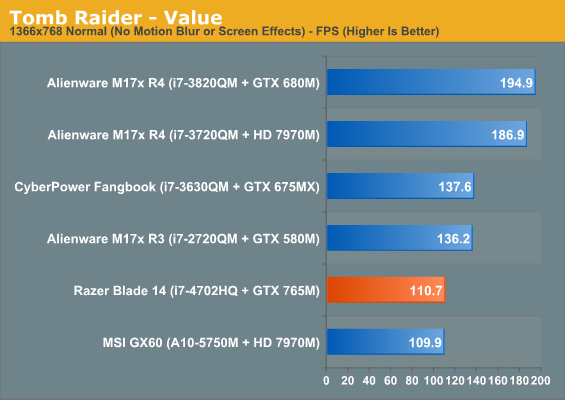 Obviously with a dedicated gaming system there's very little reason to run at our "Value" settings, but this is more to create a frame of reference for the "Mainstream" and "Enthusiast" settings. It's interesting to see the 765M sort of "dance around" the Value charts.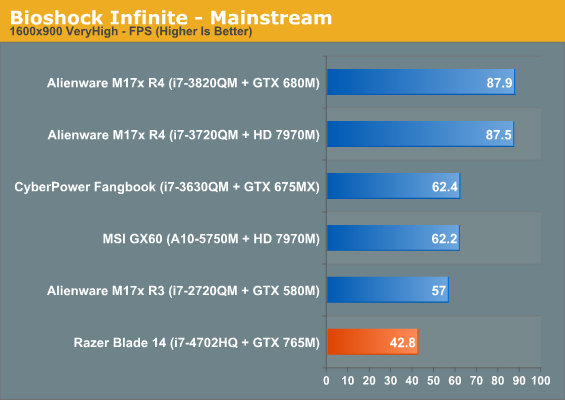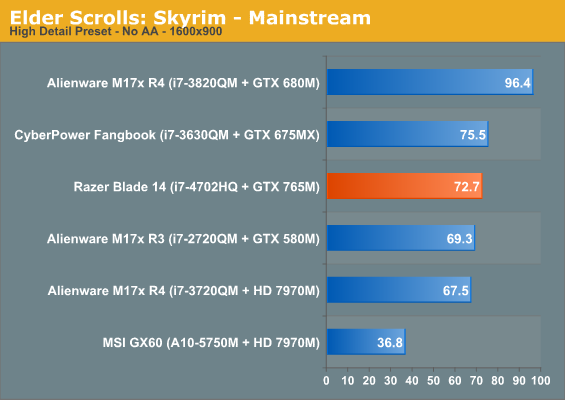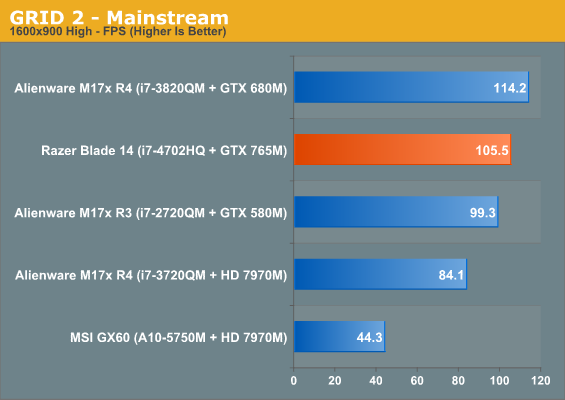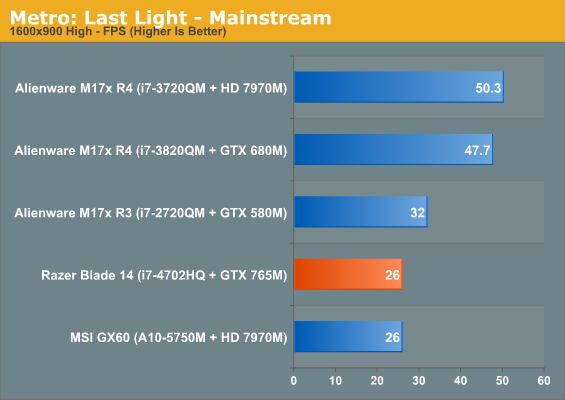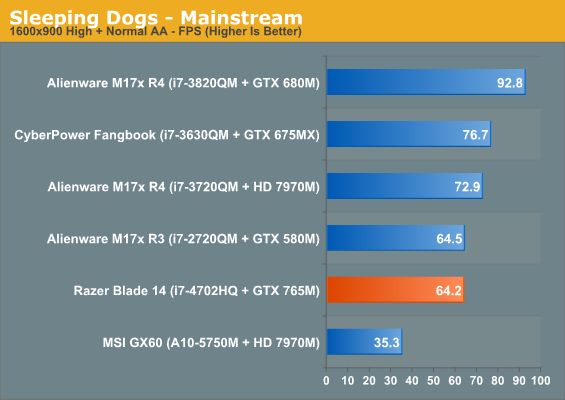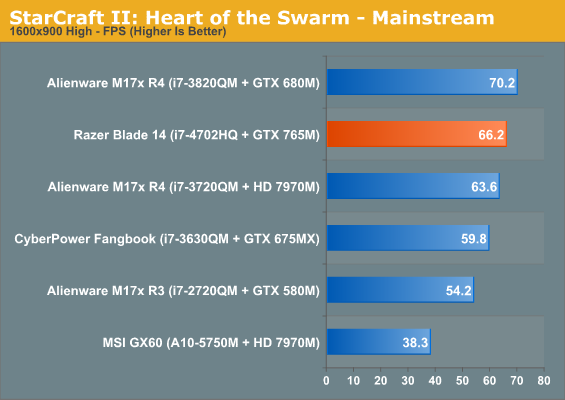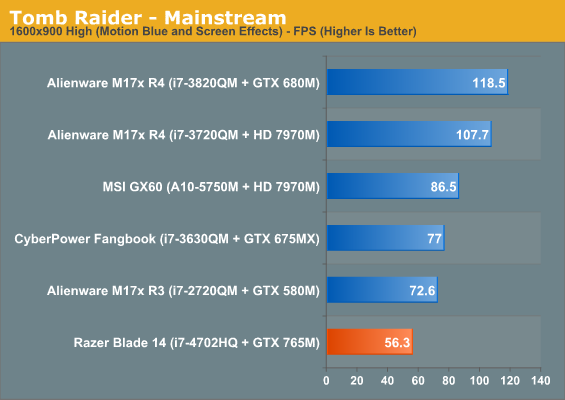 Get to our mainstream settings and it's easy to see the places where the 765M is starting to buckle. It provides playable performance in every game, but certain ones seem to be hitting up against the limited memory bandwidth.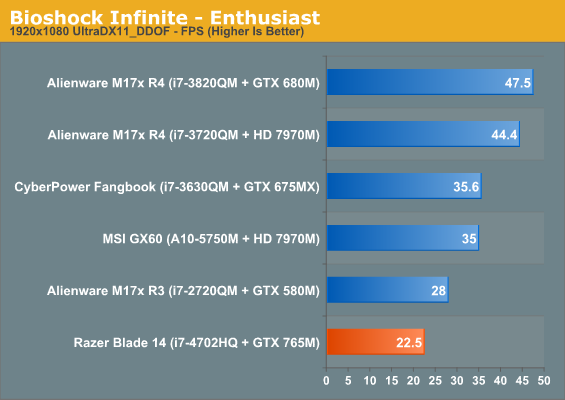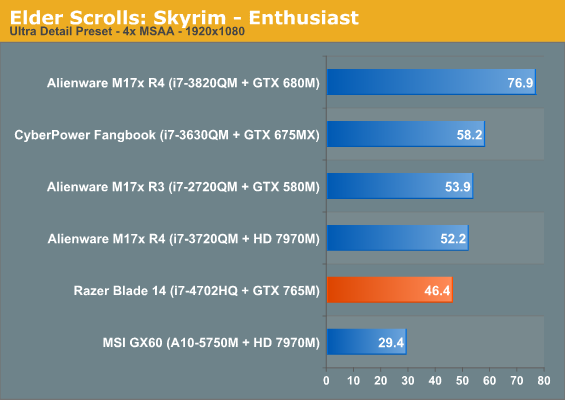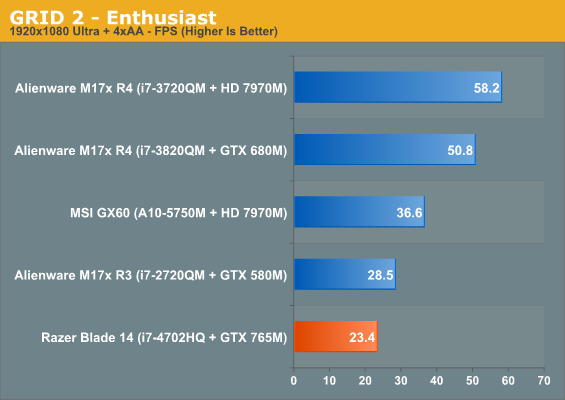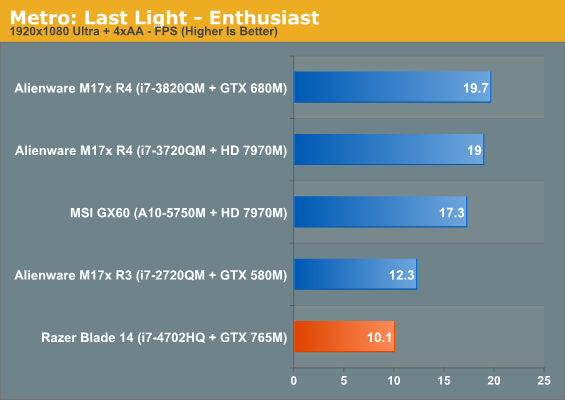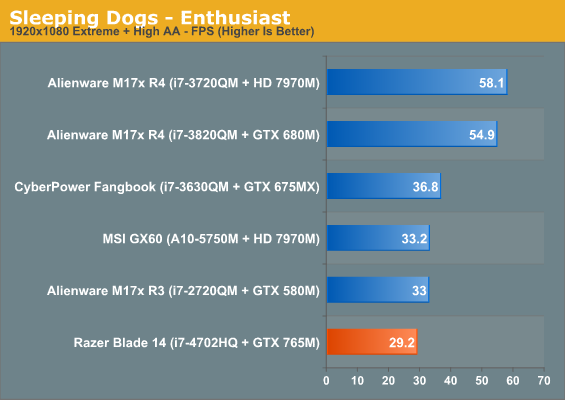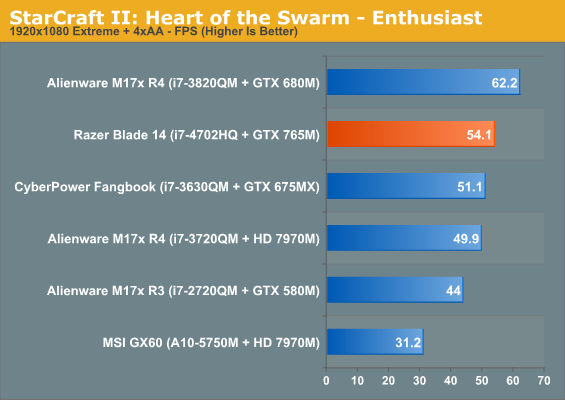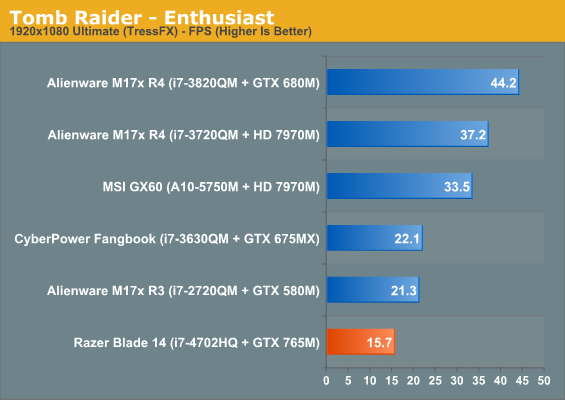 Unsurprisingly, bumping the resolution and adding anti-aliasing murders performance. At this point the memory subsystem is definitely overloaded and can't handle the demands being made upon it. 1080p gaming should be possible in most titles on the 765M if you're willing to cut anti-aliasing and reduce some settings, though.
Display Quality
It's unfortunate that one of the hallmarks of Windows notebooks seems to be that the vendor can get almost everything right, and then have one massive, gaping flaw. Unfortunately this remains true of the Razer Blade 14-inch as well. While the Blade has incorporated some of the best elements of Apple notebook design, they neglected to include one of the biggest and most important reasons why people will buy MacBooks: display quality.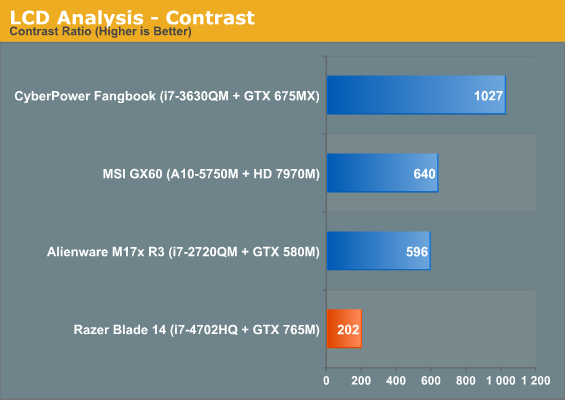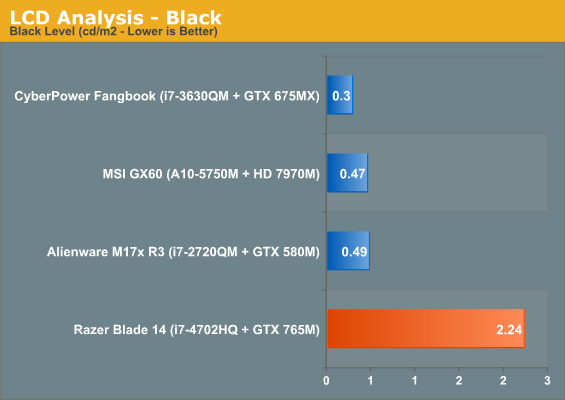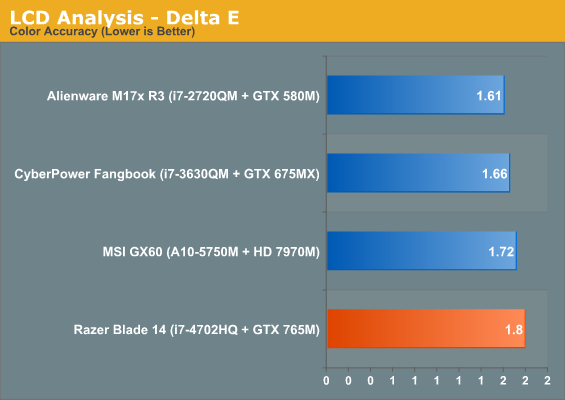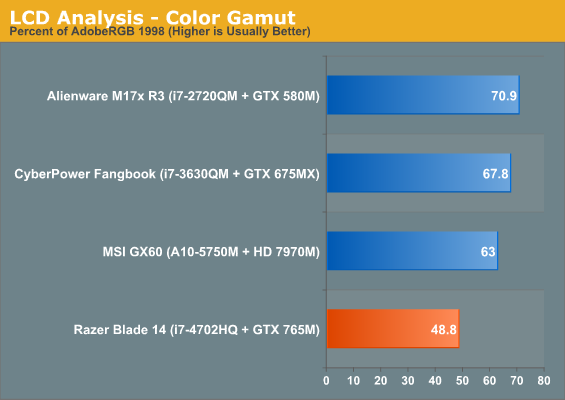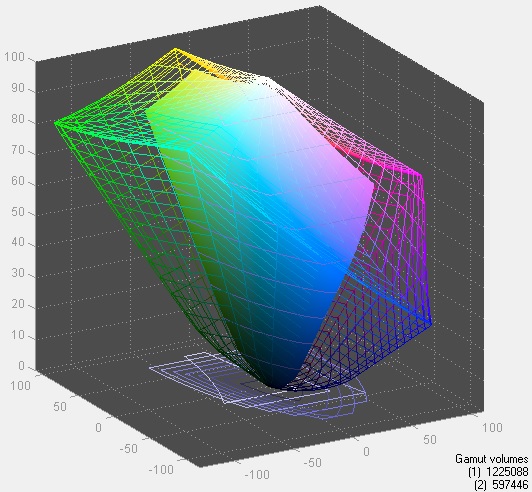 The Razer Blade 14-inch may be enjoying a 1600x900 resolution that's perfect for the gaming hardware included within, but the panel itself is atrocious. Razer was able to jack up the brightness to a respectable 453 nits, but it's a linear boost: the black level is a heinous 2.24 nits. There's just no excuse for this; Lenovo was able to get a 14", 1600x900 panel in their X1 Carbon that walks all over the Blade's. And Alienware is offering a 1080p IPS panel on their Alienware 14, a notebook that may be thicker but offers the same GPU, an optical drive, and a faster CPU. I was stunned by the Blade's beautiful design, and I was equally stunned by its dire screen quality, which suffers from the same nasty "no correct viewing angle" problem that cheap TN panels typically do.
Battery Life
It's hard to generate much enthusiasm for the Razer Blade 14-inch after discovering how poor the display quality on it is, but the flipside is that the battery life on it is pretty impressive. Razer was able to cram a 70Wh battery into the Blade, and leveraging the 37W quad-core and NVIDIA's Optimus allows them to eke out a healthy amount of mobility.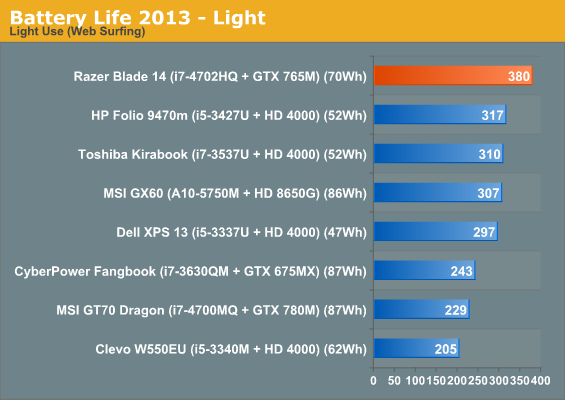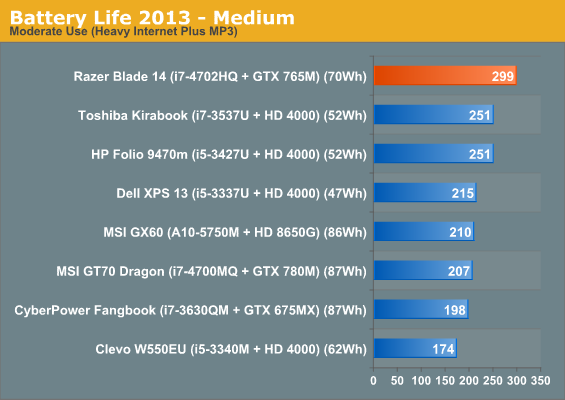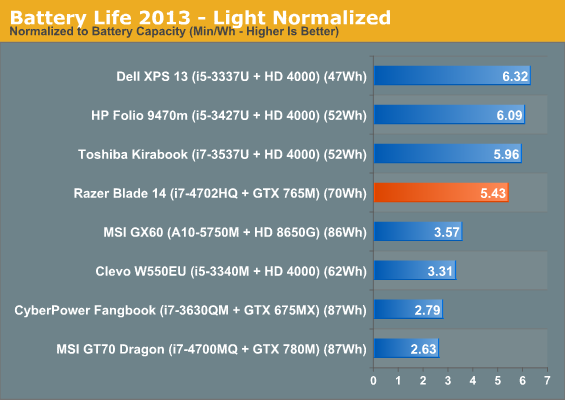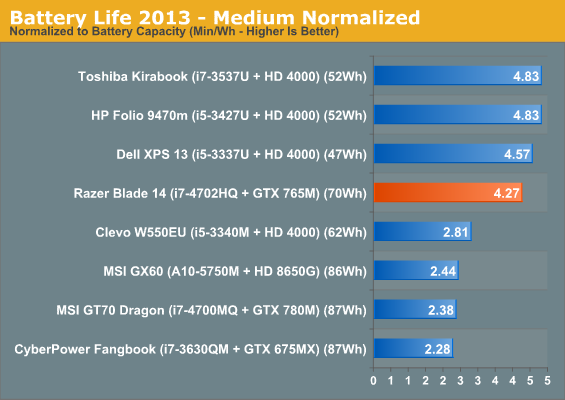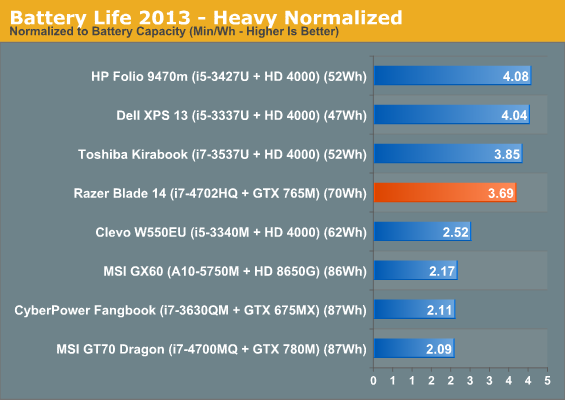 This is, without a doubt, a gaming ultrabook. Normalized power consumption is practically in line with full-on ultrabooks from the last generation sporting ULV processors, but Razer is able to do it with a full quad-core CPU and a beefy GPU (that turns off when not in use, naturally).
Heat and Noise
Razer was able to handle the balancing act of heat, noise, and chassis bulk with remarkable skill. I'm not sure they hit the absolute sweet spot, but they're awfully close to it. Fan noise is sub-40dB under load, which is actually pretty excellent for a gaming notebook. They're definitely playing "Thermal Chicken" with the surface temperatures, but unless you mash your giant hand down on the keyboard or keep poking the hinge with your fingertip (where most of the heat is), you're not going to be too uncomfortable.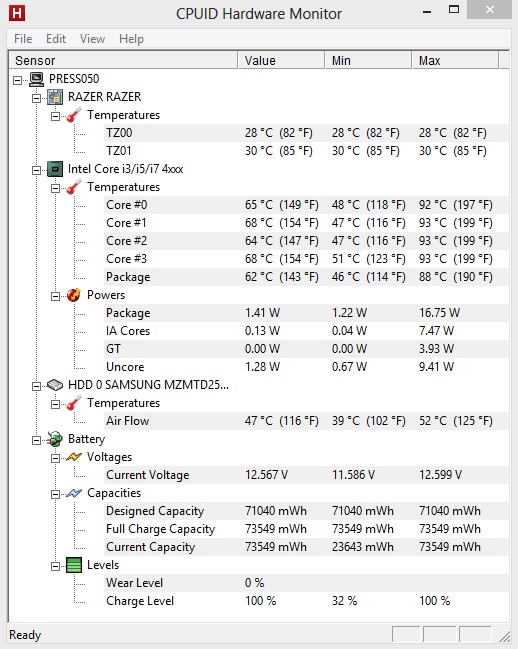 The CPU temperatures definitely get up there and Razer is pretty close to playing with fire here, but in practice I found the system was ultimately able to handle thermals fairly well. If anything I feel like Razer has some room to improve here; I think they could spin up the fan on the CPU without having too negative an impact on system noise. Heat density is going to be much higher in the i7-4702HQ than it is in the GTX 765M; the 765M has 2.54 billion transistors on a 28nm process, and a good chunk of those transistors have been shut off. Meanwhile the i7-4702HQ 1.4 billion transistors on a 22nm process, and that's ignoring the marginal heat that's going to be produced by the on-package chipset.
I think there's still a little room for improvement here, and I'm never happy to see CPU core temperatures in the 90s, but it's not hitting throttling temperatures. Just remember that this notebook must take cool air in from the bottom. Other ultrabooks I'm a bit more critical of when they have bottom-intake cooling systems, but the Blade is handling 100W+ of silicon.
Conclusion: So Close, Yet So Far
I went into reviewing the Razer Blade 14-inch skeptical, and I came out of it largely a believer. Razer has done a million things right with this notebook design, and I actually have a very hard time understanding why a user would spend up for the 17-inch Razer Blade Pro. This 14-inch unit has almost everything you want and very little you don't, and it is the definitive gaming ultrabook. There simply isn't anything else out there like it that can compete, and impressively, Razer did a heck of a job with it right out of the gate.
Performance-wise, the Blade is hanging out in a very comfortable space. 8GB of DDR3L is the sweet spot for Windows and gaming, and the quad-core processor and GeForce GTX 765M are able to produce a well-rounded performance profile. The Blade will play any and all modern games at high settings at the notebook's native resolution. While heat is a constant compromise, Razer has handled it with aplomb. I appreciate the attention to acoustics, and I think they actually have a bit of wiggle room in bumping the CPU fan speed without significantly destroying the otherwise solid noise profile.
As much as I enjoy ribbing Vivek for waxing philosophical about industrial design, with the Razer Blade 14-inch, I absolutely get where he's coming from. This is a gorgeous notebook, top to bottom. The fit and finish is stunning, and the only real downside to it is that the black aluminum picks up fingerprints like no other. After reviewing this notebook, it's damn hard for me not to want one of my very own.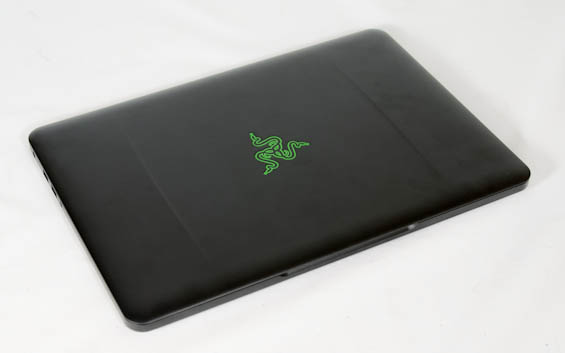 But it's not perfect. I'm actually not going to grill Razer too hard on the price tag; the $1,799 model isn't, I think, really an option for most users as the 128GB SSD is pretty inadequate. If you want to try your luck with a torx screwdriver and an aftermarket mSATA SSD, be my guest. At $1,999, the review system isn't cheap, but it's mostly competitive. Razer has to fight the Alienware 14 here; Alienware's offering is much larger, but for $1,799 you can get a slightly faster CPU, the same video card, a 1080p IPS display, a slot-loading DVD writer, 802.11ac wireless, and a 750GB HDD to go along with the 256GB mSATA SSD. But you pay in portability: the Alienware 14 is also two pounds heavier, and frankly, it's just not as aesthetically pleasing.
Where Razer threw the game is the display. Almost everything else about the Razer Blade 14-inch goes so, so right, and then there's the dismal 1600x900 panel. The resolution isn't the issue; 1600x900 is actually just right for the GTX 765M. It's the panel quality that kills. After loving up on the fit and finish of the Blade at every other step, paying attention to every detail, they turned around and seriously crippled the notebook with a lousy screen that threatens to undermine the whole operation. I can't fathom what the thought process was behind this decision, but it wasn't worth it. We're at a price point where an extra $100 for a display that doesn't suck wouldn't be a big deal.
I really like the Razer Blade 14, and I'd be sorely tempted to try and hold on to the review unit as long as humanly possible. On any other notebook, a mediocre display would just be par for the course, but on a system that's otherwise so well-designed, it's an offense that borders on blasphemy. Razer's designers made the Mona Lisa of gaming notebooks, and then drew a moustache, goatee, and monocle on her. The price tag means it's a luxury item and I honestly don't have much of an issue with it, but if you're going to make a luxury item, why the hell would you make this cut? As it stands, the 14-inch Blade still has a lot going for it and if you want the thinnest, sleekest gaming notebook out there, this is your one stop shop. I just can't understand how a company would get this close to nailing a design, only to blow it to save a few bucks.