Original Link: http://www.anandtech.com/show/7144/msi-ge40-review-a-slim-gaming-notebook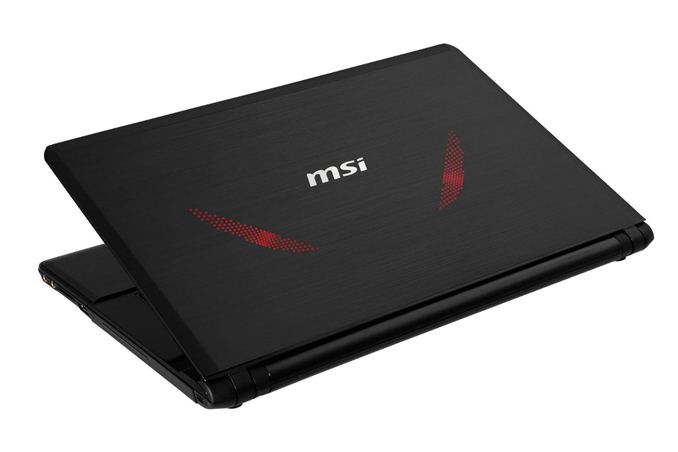 With Intel's Haswell launch officially behind us, we're getting a steady stream of new notebooks and laptops that have been updated with the latest processors and GPUs. MSI sent their GE40 our way for review, a gaming notebook that's less than an inch thick and pairs a Haswell i7-4700MQ with NVIDIA's new GTX 760M GPU. At first glance, it has a lot in common with the new Razer Blade 14-inch laptop that we recently reviewed; on second glance, it has even more in common.
The basic premise is quite simple: pack as much performance as possible into a relatively small laptop, and if you do it right you've got a bona fide gaming notebook that doesn't weigh eight pounds. In this case, MSI has managed to fit a full-blown quad-core Core i7 processor and an NVIDIA GTX graphics chip into a chassis that's less than one inch thick. The performance is definitely there, with most games easily handling high detail settings at the LCD's native 1600x900 resolution. Unfortunately, just like the Razer Blade 14, the GE40 has at least one major flaw: the LCD is junk. Yes, it's a better resolution display than some laptops give you, but we're talking about a $1400 notebook; we shouldn't have to compromise on the display.
Before we get into the details of this review, here's the quick overview of the specifications.
MSI GE40 2OC-009US "Dragon Eyes" (MS-1492) Specifications
Processor
Intel Core i7-4702MQ
(Quad-core 2.2-3.2GHz, 6MB L3, 22nm, 37W)
Chipset
HM87
Memory
1x8GB DDR3-1600 (11-11-11-28)
(Second SO-DIMM slot available)
Graphics
GeForce GTX 760M 2GB
(768 cores, 627MHz + Boost 2.0, 4GHz GDDR5)

Intel HD Graphics 4600
(20 EUs at 200-1000MHz)
Display
14.0" Anti-Glare 16:9 HD+ (1600x900)
(AUO B140RTN03.0)
Storage
128GB mSATA SSD (SanDisk X110 SD6SF1M128G)
750GB 7200RPM HDD (Hitachi HTS727575A9E364)
(One free mSATA port on this model)
Optical Drive
N/A
Networking
802.11n WiFi (Realtek RTL8723AE)
(2.4GHz 1x1:1 150Mbps capable)
Bluetooth 4.0 (Realtek)
Gigabit Ethernet (Atheros AR8161)
Audio
Realtek HD (ALC269)
Stereo Speakers
Headphone and Microphone jacks
Battery/Power
6-cell, 11.1V, 5900mAh, 65Wh
90W Max AC Adapter
Front Side
N/A
Left Side
2 x USB 3.0
Gigabit Ethernet
1 x VGA
1 x Mini-HDMI
Exhaust Vent
AC Power Connection
Right Side
Headphone and Microphone
Flash Reader (MMC/SD)
1 x USB 2.0
Optical Drive/HDD Bay
Kensington Lock
Back Side
N/A
Operating System
Windows 8 64-bit
Dimensions
13.35" x 9.42" x 0.87" (WxDxH)
(339mm x 239mm x 22.1mm)
Weight
4.4 lbs (2.0kg)
Extras
720p HD Webcam
87-Key Keyboard
Pricing
MSRP: $1400
Online: $1269
Interestingly, the dimensions are virtually identical to the AMD Kabini system that we reviewed a couple months ago, only the MSI GE40 weighs quite a bit more. Naturally, it's also substantially more powerful, but at three times the price it ought to be. Everything that we've come to expect from a modern notebook is present, and at least on the higher end 2OC-009C model that we're reviewing, we get hybrid storage with a 128GB SSD and a 750GB hard drive. The MSRP for this model is $1400, but you can currently find it online for $1269.
Outside of the slightly slower graphics card, plus the optional SSD+HDD storage, this is basically a significantly less expensive version of the Razer Blade we recently reviewed—the base model Blade comes with a 128GB and GTX 765M for $1800. We'll see in a moment how the two compare in terms of performance, though it almost goes without saying that the Blade also has a level of style that the GE40 isn't going to touch.
There are other differences as well, like the fact that MSI includes gigabit Ethernet. That's a good thing too, as the included Realtek wireless adapter is the bare minimum single stream 802.11n 2.4GHz solution. Elsewhere, we get two USB 3.0 ports and a single USB 2.0 port (which can be useful for installing operating systems), VGA, and HDMI. The GE40 isn't geared toward connectivity aficionados, but it should suffice for most users.
Cracking open the chassis requires the destruction of a super lame "warranty sticker—void if tampered" on the bottom of the laptop. So let me get this straight: MSI is shipping with a single 8GB SO-DIMM and leaving a second SO-DIMM slot open (not to mention the empty mSATA port), and the only way you can get at any of the parts is to void your warranty? If MSI actually enforces that option, we're extremely disappointed; please get rid of the warranty void sticker—if you need to put one in there, put a couple on the CPU and GPU screws and at least let end-users upgrade RAM and storage options!
Other than the sticker, getting at the internals is pretty easy. There are five screws on the bottom cover to remove, and that's about it—though you have to deal with plastic latches all around the edge of the cover, and my experience is that if you remove/replace the cover more than about five times you're probably going to end up breaking one or more of the plastic clips. If you want to remove the 2.5" drive (where you could optionally have a slim optical drive it looks like, assuming you can find a compatible model), there's one more screw underneath the cover that you have to remove. It should be possible to upgrade the RAM, storage, and CPU if you feel the urge. You could try to upgrade WiFi as well—I don't know if there's any device whitelisting in the BIOS by MSI; hopefully not, as slapping in a better 802.11ac WiFi adapter would be a handy upgrade.
MSI GE40 Subjective Evaluation
There are generally two ways of looking at laptops like this: either you want as much performance as possible in the smallest form factor possible at the lowest price possible, or else you're looking for a reasonably balanced system but you still care about things like the keyboard and touchpad. Over the years, I've come to realize that while I can get by with just about any keyboard and touchpad in a pinch, they're actually critical elements in the overall experience that are very easy to get wrong. Thankfully, MSI actually does quite well with the GE40 in the keyboard area and slightly less so in the touchpad. Where they fall short is in the same place where the Razer Blade fell on its face: the LCD quality is poor, which is a shame as almost everything else works quite well. But I'm getting ahead of myself; let's start with the overall build quality and impressions.
The most succinct way of putting things is that there's nothing particularly out of the ordinary with the MSI GE40; it's a slightly dated design aesthetically speaking, but it gets the job done. The bottom of the chassis is made out of plastic, with brushed aluminum veneers on the top and palm rests. Unfortunately, there's still glossy plastic on the display bezel and around the keyboard. As far as the idea that "black goes with everything", I'm ready to leave black behind now as it's very good at picking up fingerprints, particularly on the brushed aluminum (you can see this in the above gallery, and that's after wiping the surfaces down with a microfibre cloth). This is where the decision to use silver by Apple and ASUS (and others as well) ends up scoring points in my book. Considering that MSI did the right thing and equipped the GE40 with a matte LCD, I do wish they would get rid of the glossy plastic at least; it's simply unnecessary.
Build quality is serviceable but not exceptional as well. The LCD cover is a little flimsy—not so bad that you're afraid you're going to break it, but it's definitely not as rigid as you might find in higher quality laptops. Looking at the back of the LCD, we also find the "Dragon Eyes" (also referred to as "Devil Eyes" in some places, like on the palm rest sticker)—lightly glowing orange LEDs that attempt to add some visual flair. I don't necessarily mind the idea, but I'll be honest: they don't shine nearly as brightly as you would expect when looking at MSI's photos, and they're more orange than red. I suppose all they had to do was put some red plastic on the back of the LCD backlight and poke some holes in the cover, so no harm done, but that also means there's no way to turn off the "eyes".
Moving over to the input side of things, opinions on what makes for a good keyboard vary from user to user; personally, I really like having dedicated document navigation keys. Several years ago, the most common layout placed the document navigation keys in a column on the right of the keyboard, but for some reason we've moved away from that standard. Sometimes progress doesn't actually move us forward, and I'm happy to see that MSI uses the tried-and-true layout. (In this case, MSI's lack of aesthetic "enhancements" actually helps.) We are dealing with a chiclet keyboard, perhaps with a very slight amount of flex but nothing I'm overly concerned with. Key travel is good, the keys are reasonably sized, and about the only omission on the keyboard side is that there's no backlighting. Backlighting would've taken this keyboard from being "good" to "great", but it's still far better than many of the laptop keyboards I've used in the past few years.
As for the touchpad, MSI uses ELAN hardware with rocker-style buttons below the touchpad surface. It supports all the usual multitouch gestures, including (in theory) the Windows 8 "side-swipe" gestures. While two-finger scrolling gestures work well enough, the Windows 8 swipe gestures are a different matter. Swiping in from the right hand side works properly most of the time, but try as I might I never could get the left swipe or top swipe to work. I don't know if that's a glitch with the drivers or something else, but since the first thing I usually do with Windows 8 is to install Classic Shell so that I have a real start menu, I'm okay touchpad experience. If you're the type of user that wants the Windows 8 gestures to work properly, however, short of a driver update I cannot recommend the current touchpad implementation.
We will get to the LCD numbers later, but while the 1600x900 resolution works well enough in games, the contrast is quite poor, and viewing angles are bad even by TN standards. Maximum brightness levels are also pretty limited; we measured around 250 nits, whereas the Razer Blade was able to hit 450 nits. For the most part such high brightness levels are only truly useful if you're going outside, but battery life when the GPU is not engaged is such that the GE40 could easily be used all day.
One last item to address before we get to the benchmarks, the GE40 has a built-in amplifier to improve the quality of audio when you're using a headset. I definitely didn't find the audio bad when I had headphones on, but I will say that the Sound Blaster Cinema software isn't able to hide the fact that the built-in speakers are pretty anemic. There's no subwoofer, so bass response is lacking at best; if you're looking for a laptop with awesome built-in audio, you'll probably need to look elsewhere.
Now that we're finished with the visual inspection and kicking the tires, let's start this puppy up and see what it can really do.
MSI GE40 General Performance
The GE40 sort of straddles the line between being a gaming notebook and a standard laptop, but we'll start off with a look at the general performance. Since the model we received has a 128GB SSD, PCMark 7 scores should only be compared with other SSD-equipped laptops to be meaningful. The remaining benchmarks on this page will look more at CPU and GPU performance. We also ran PCMark 8 (1.01—currently available for press use but not quite ready for the public), but we don't have scores from most of the other notebooks. For the interested, the GE40 scored 4085 in the Home test (and 4108 in Home with the GTX 760M selected for OpenCL 1.1 tasks), 3855 in the Creative suite, 4873 in Work, and 4874 in Storage. As we run PCMark 8 on more notebooks, we'll eventually include graphs, but for now the full scores are listed in Mobile Bench.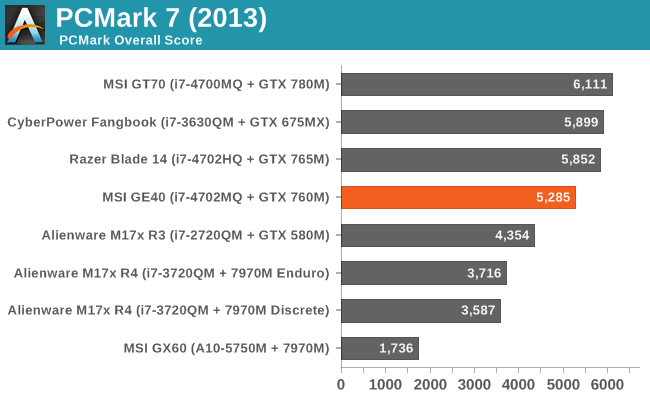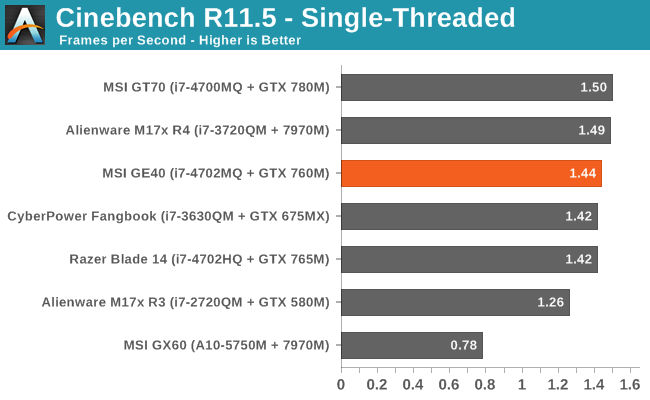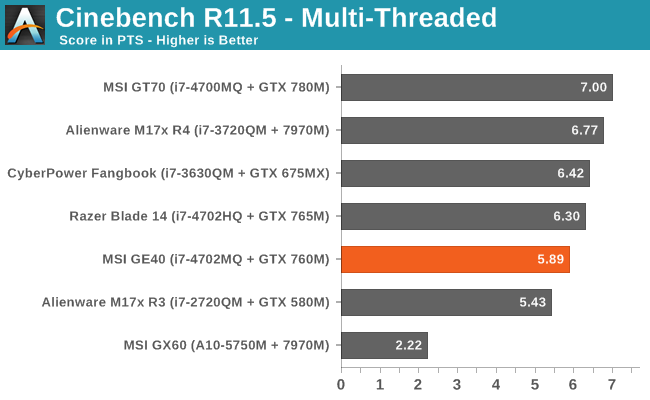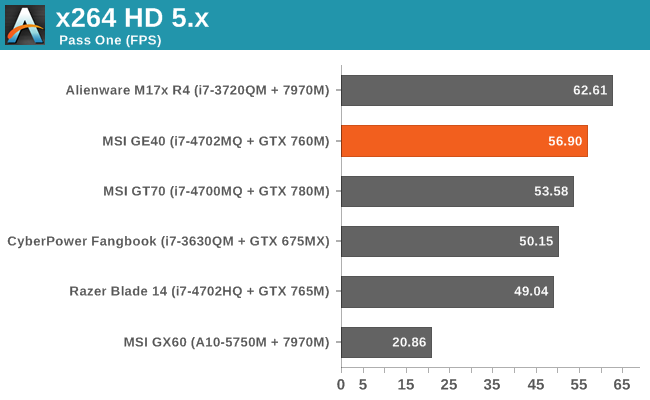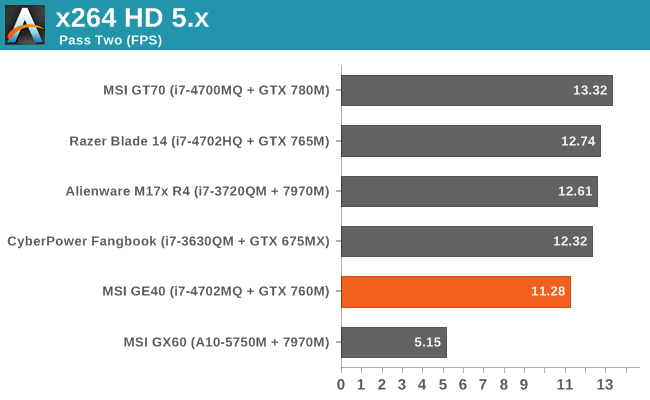 PCMark 7 places the Razer Blade 14 slightly ahead of the GE40, which is interesting as other than the SSD both are running similar hardware—the GPU shouldn't matter much for PCMark 7. The Cinebench scores are also a bit odd, with the GE40 placing slightly ahead of the Razer Blade 14 in the single-threaded workload but quite a bit slower in the multi-threaded workload. X264 HD 5.0 continues that pattern with the GE40 beating the Razer by over 10% in the first pass, but then it falls behind by over 10% in the second pass. Given the newness of the HM87 chipset and Haswell processors, we are likely seeing minor variance caused by those factors. The GE40 also uses a single SO-DIMM, so potentially memory bandwidth plays a role as well, but outside of iGPU workloads we generally don't see much scaling of performance with dual-channel memory. Whatever the case, all of the notebooks here (with the possible exception of the GX60) are "fast enough" for all of these tasks, so let's move on.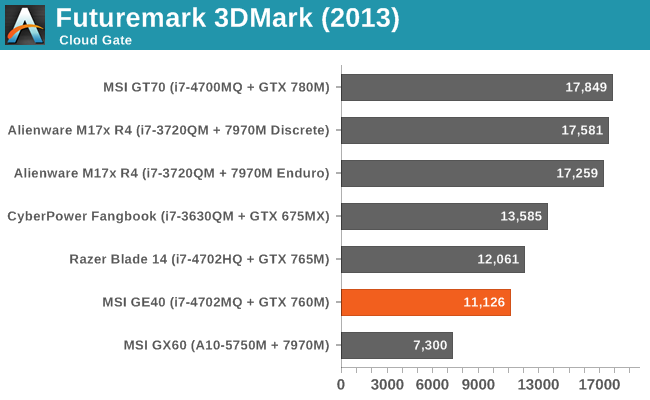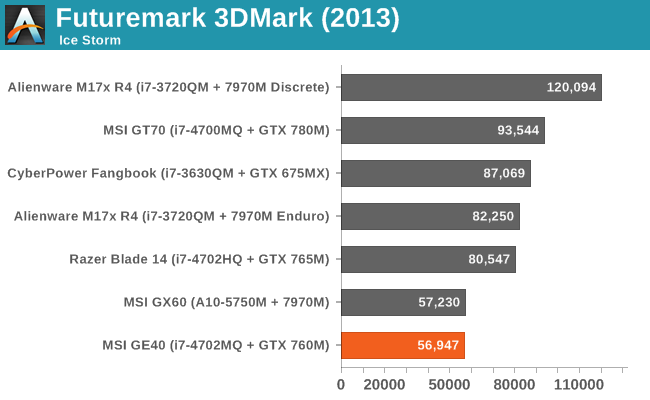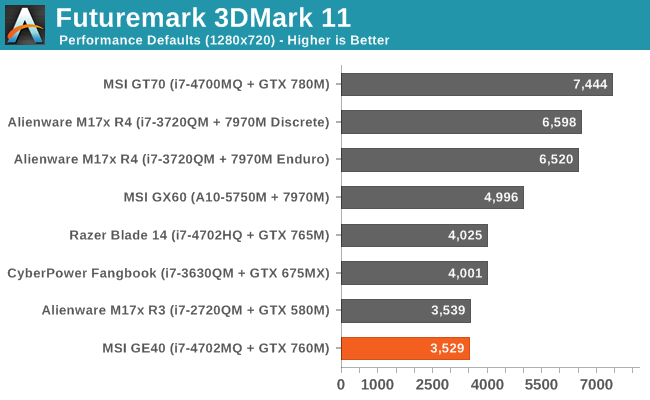 Looking at graphics performance, we start to get a hint of what the gaming benchmarks will tell us. In the mostly GPU-limited Fire Strike test, the GTX 760M places at the bottom of the charts, slightly behind the Razer Blade. Interestingly, while the GE40 is also at the bottom of the Ice Storm chart, it's now basically tied with the GX60 and the Blade is 40% faster, which is more than the theoretical performance difference so we're again seeing some discrepancies—possibly the single-channel RAM is to blame, or more likely the GE40 firmware isn't fully optimized. Finally, in the Cloud Gate benchmark the CPU appears to be more of a factor and the GX60 falls well off the pace set by the Intel-equipped laptops. 3DMark11 on the other hand has yet another set of results, where this time the Sandy Bridge i7-2720QM and GTX 580M tie with the GE40. We don't have results from the GTX 680M for the various 3DMark tests, though, so let's see how things look there.
MSI GE40 Gaming Performance
Our notebook gaming suite is now set for 2013, and I'm toying with the addition of Company of Heroes 2 as a second RTS/strategy data point. We're still collecting performance results for CoH2, however, so for now I'll refer you to Mobile Bench for those numbers. Let's just say that the game can bring even powerful notebooks to their knees.
We've also got the GTX 680M courtesy of the Alienware M17x R4 in the gaming charts, along with the other notebooks from the previous page. Here are the charts, and please take the time to read the commentary before trying to draw too many conclusions as there's more going on than may at first be apparent. We'll start with the Value charts, where the CPU becomes even more of a factor, and then move on to the Mainstream charts.
Notebook "Value" Gaming Performance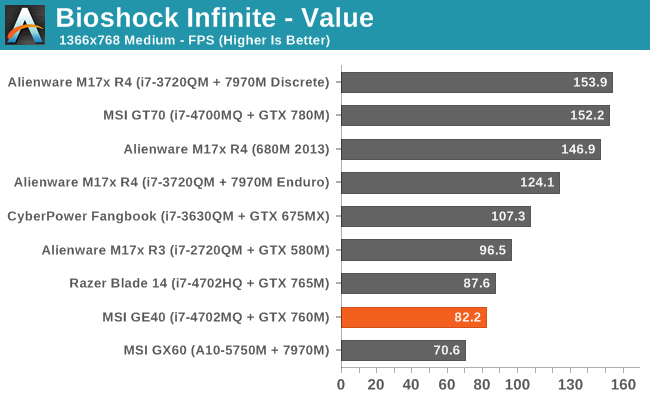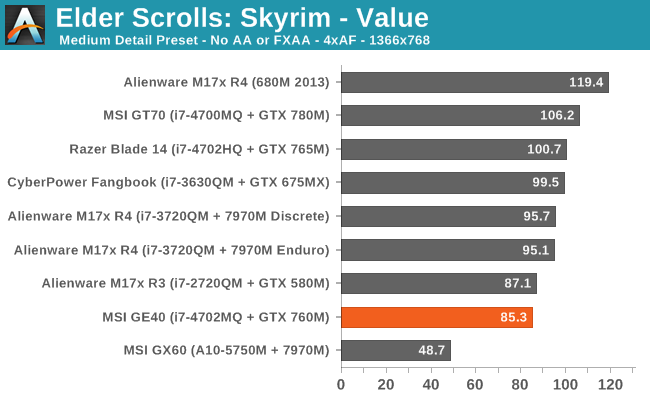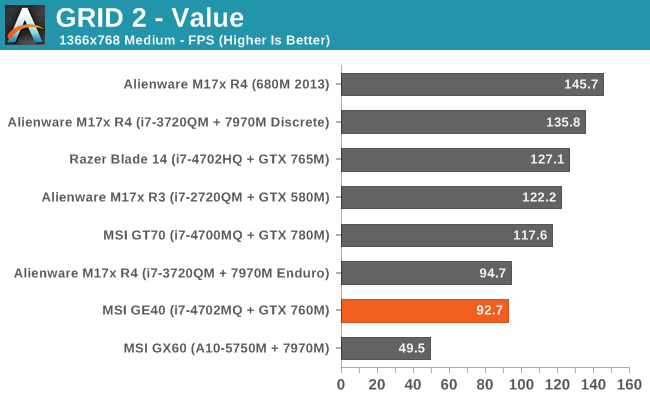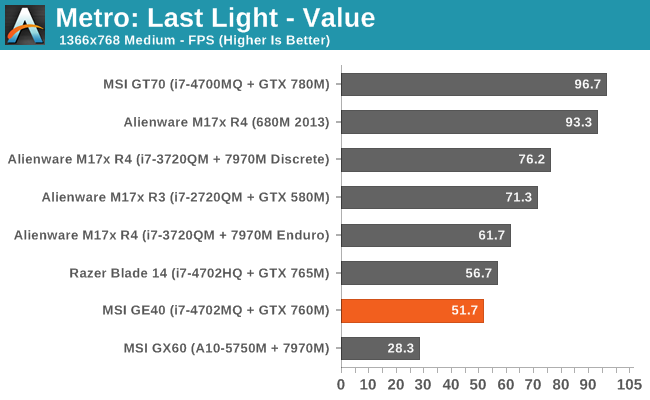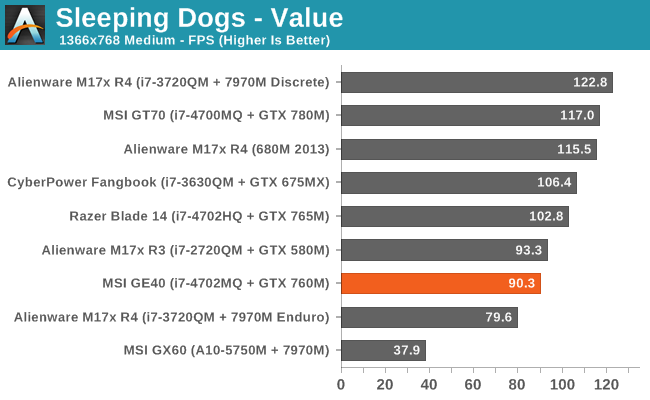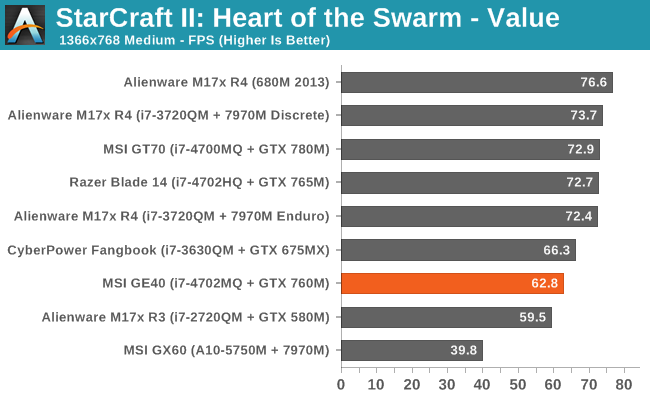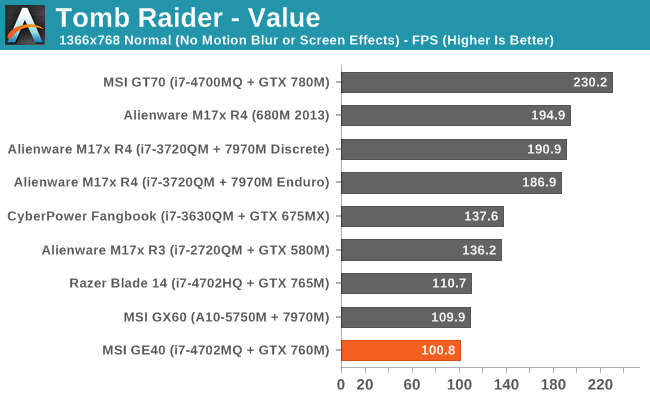 Notebook "Mainstream" Gaming Performance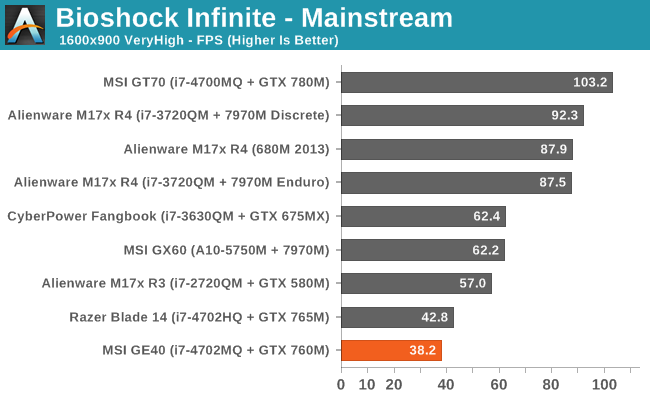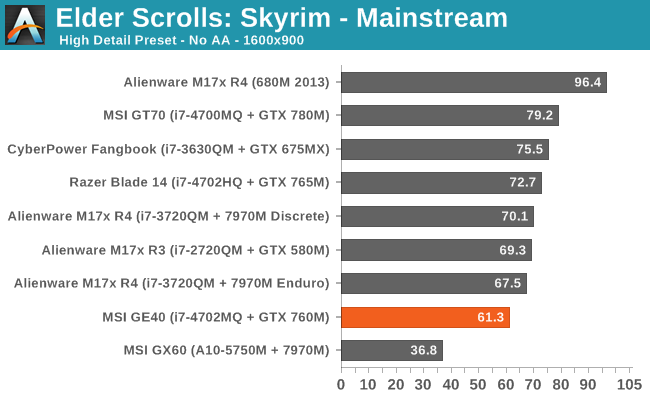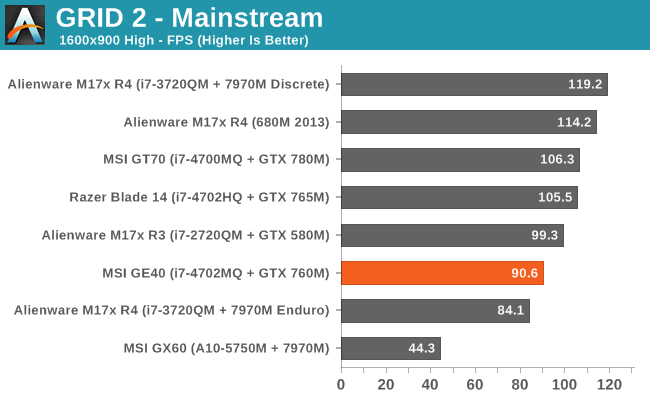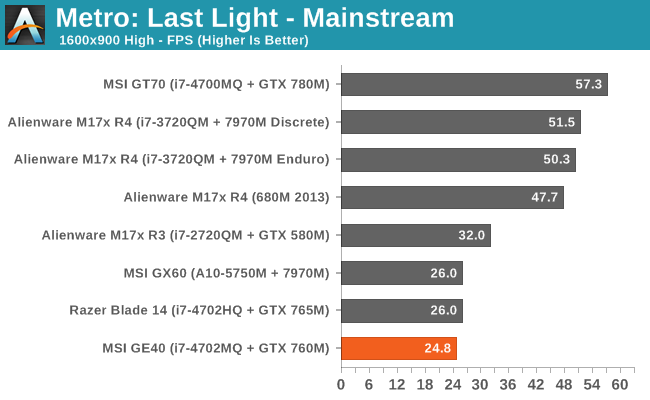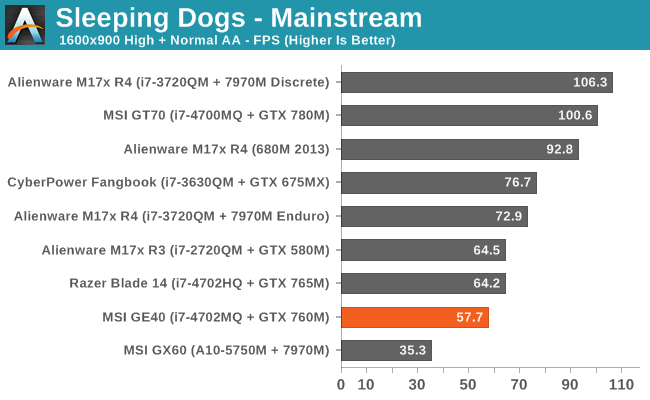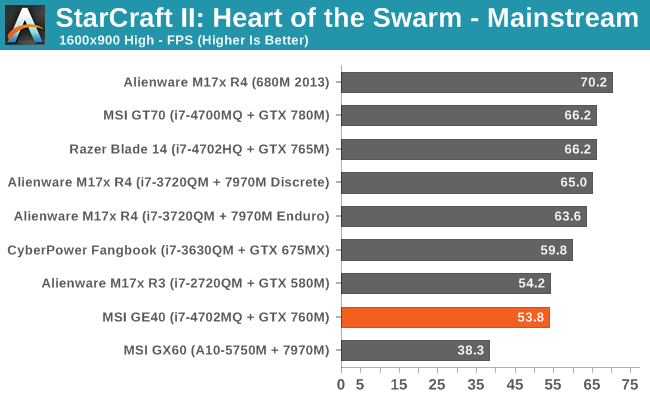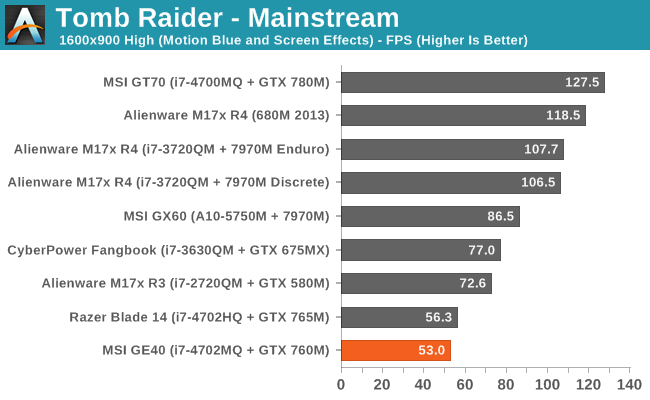 First, let me get this out of the way: the GTX 780M performance looks rather poor in many of these gaming benchmarks. The reason isn't that our benchmarks are inherently flawed or even that the MSI GT70 is a "lemon"; rather, we're looking at lower quality settings where the CPU plays a much greater role. We have another laptop (Clevo P157SM) with i7-4700MQ and GTX 780M, and while it's sometimes up to 7% faster than the GT70, there are also instances where the GT70 wins by 5%; on average, our P157SM numbers average out to 0.01% faster at our Value settings and 1.3% faster at our Mainstream and Enthusiast settings.
The long and short of it is that the GTX 780M needs more CPU to really stretch its legs in some games; we'll have a full review and investigation of CPU scaling with the GTX 780M in the future, but no matter how crazy it might seem, the results from our GT70 review aren't far off of what you can expect in the games we've benchmarked at the settings we've used. Certain titles in particular are very CPU limited (Skyrim and StarCraft II), even at higher quality settings, and the i7-3820QM ends up being faster than the i7-4700MQ by a decent margin. (Note that the i7-4700MQ is really the replacement for the i7-3610QM, so the 3820QM is two steps above the 4700MQ.)
We can get a better idea of where the CPU matters most and where it matters least by looking at the performance of the MSI GX60. The HD 7970M is definitely faster than the GTX 760M and GTX 765M in most disciplines (e.g. look at the M17x 7970M discrete results; on average it's 29%/41% faster than the 765M at Value/Mainstream and 50%/61% faster than the 760M), so when it loses—especially by a large margin—to the GE40, we're looking at CPU bottlenecks. The only Value benchmark where the GX60 beats the GE40 is Tomb Raider; elsewhere it's anywhere from 14% (Bioshock) to 58% (Sleeping Dogs) slower, and on average the GE40 runs through our Value suite 47% faster than the GX60! At the more demanding Mainstream settings, the gap narrows and the GX60 now claims wins in Bioshock, Metro: Last Light, and Tomb Raider; the GE40 is still 15% faster on average, with large wins in Skyrim, GRID 2, and Tomb Raider. It's only at our Enthusiast settings that the GX60 starts to win in a majority of the games we're testing. (Those scores aren't shown here but they're available in Bench—we figure with a 1600x900 panel and moderate GPU we didn't need to show maxed out 1080p performance, but it's still interesting to see how the GTX 760M handles those settings.)
Other than the GTX 780M "oddities", the MSI GE40 places about where we'd expect. It's always behind the Razer Blade 14, though again there appear to be cases where the Blade is hitting higher CPU turbo speeds. On paper the GTX 765M should at best provide 30% more performance than the GTX 760M (thanks to the higher core clocks). The average lead of the Razer Blade is 16% at our Value settings and 14% at our Mainstream settings, but the GRID 2 Value result is 37% faster on the Blade. Considering the increase in cost, though, that's probably a performance tradeoff many would be willing to make.
Overall, the GE40 gets more than 60FPS in nearly every title we tested at 1366x768 Medium settings, and more than 30FPS at 1600x900 High settings. The one exception from our graphs: Metro: Last Light, where you can expect reasonable frame rates at 1600x900 Value settings but our Mainstream settings prove to be too much. Company of Heroes 2 is another brutal game, with Medium/Low 1366x768 settings getting a paltry 29FPS on the GE40 while the High/Medium 1600x900 results drop down to 23FPS. Hopefully a patch or new drivers will improve CoH2 performance—sooner rather than later—because right now the built-in benchmark can make even a GTX 780M struggle (e.g. 55FPS at our Value settings, 51FPS at Mainstream, and 23FPS at Enthusiast).
Great Battery Life, LCD Sadness, Temperatures, and Noise
We wrap up our performance evaluation with a look at battery life and LCD quality, along with temperatures and noise. Here we get one winner and a few losers. It's really unfortunate, as a better LCD could have warranted a reward of some form. We'll start with the good news first, though: battery life is quite excellent, all told. Our Light, Medium, and Heavy battery life tests range from surfing the Internet to intense browsing while listening to music, with the Heavy test adding in a constant 1MBps download via local FTP with intense web surfing and 12Mbps 1080p H.264 playback. Gaming off the mains will be even more demanding, but otherwise the results below should represent a typical result as well as worst-case. The LCD was set for ~200 nits, which on the MSI GE40 ended up being 80% (two steps down).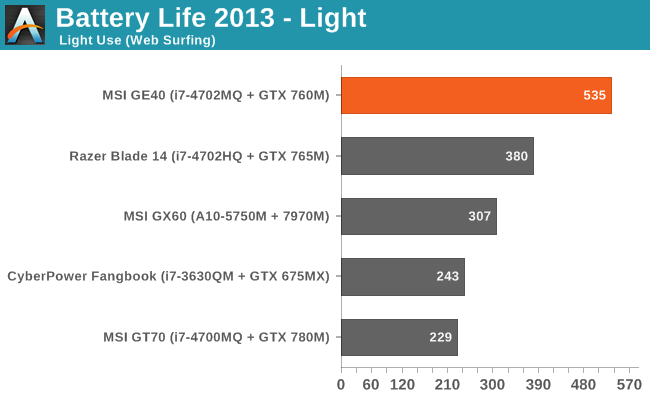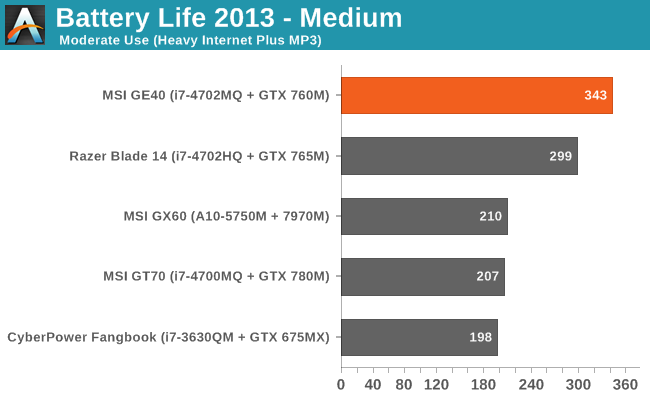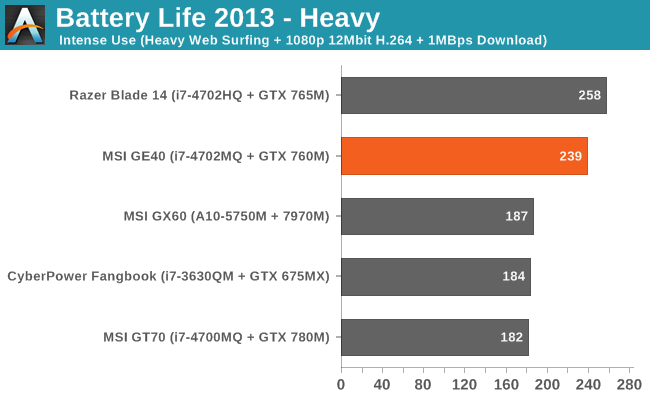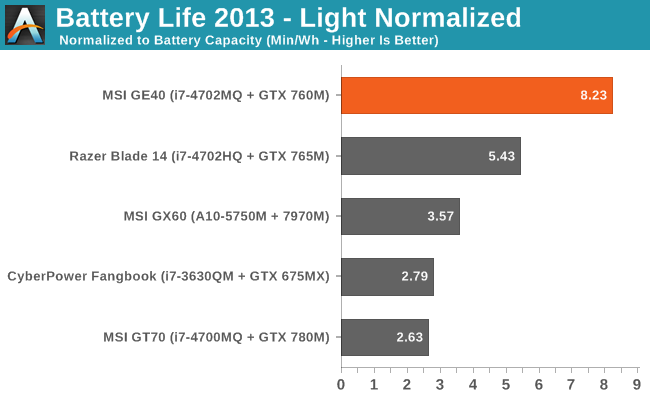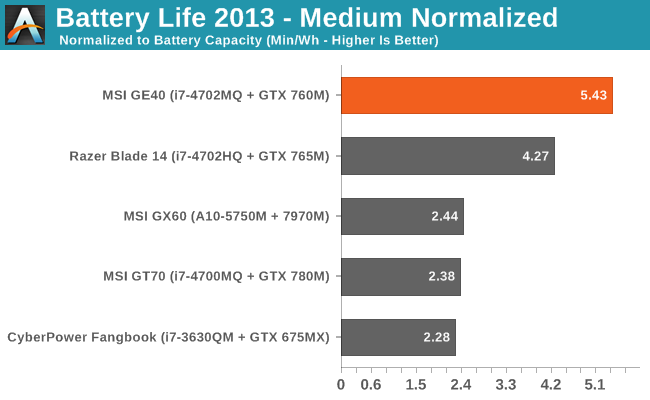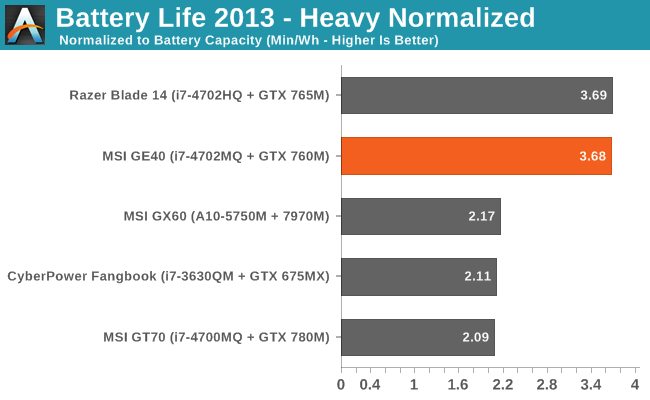 Haswell is a mobile-focused architecture, and it shows. It may not be much faster than Ivy Bridge in many cases, but seeing a viable gaming notebook pull off nearly nine hours of useful battery life is quite impressive. That drops quickly as you put a heavier load on the GE40, with around 5.75 hours of moderately heavy use and four hours of heavy use possible. If you just want to watch 1080p H.264 video, you can expect closer to five hours of battery life. Normalized battery life ends up equaling the Razer Blade in our heavy test while soundly trouncing all contenders in the light and medium tests.
But what about gaming on battery power? I ran a test as requested in the comments, and the results aren't particularly promising. First, battery life while gaming (running Skyrim) ended up at 104 minutes, still well short of the two hour mark. What's potentially worse is that even with all the settings tweaked for higher performance, NVIDIA's drivers (or MSI's BIOS/firmware) throttle GPU performance while on battery power. Plugged in Skyrim was running at a steady 60-70FPS, but once the power cord was unplugged it dropped down to 30-32FPS (with some dips into the low 20s on occasion). It looks like the notebook is shooting for 30FPS and no more when on battery power; I'll see if I can coax any better performance out of it in the morning, but even in the reduced performance mode you're still not going to be gaming for long while unplugged.
"What good were eyes to me? Nothing I could see could bring me joy."
Perhaps that's a bit too strong, but if you take the poor LCD from the Razer Blade 14 review and then limit the maximum brightness to 250 nits instead of 450 nits, you have the GE40's LCD. Viewing angles are as bad as you'll ever get with TN panels, and while it's still possible to play games and not feel too bad, any photo editing is best done elsewhere. Here are the numbers: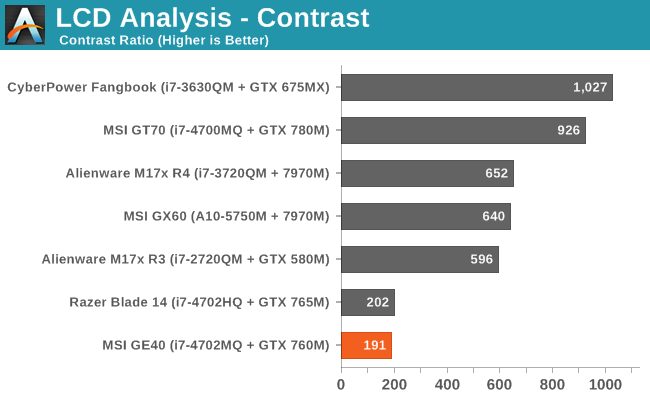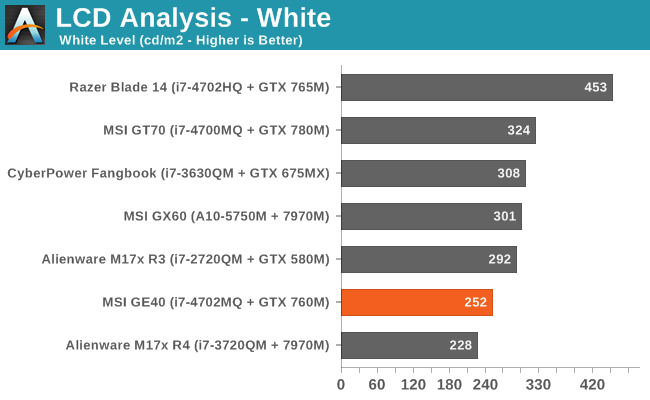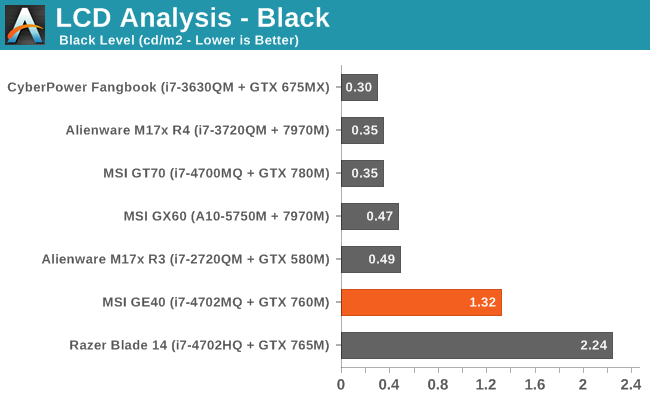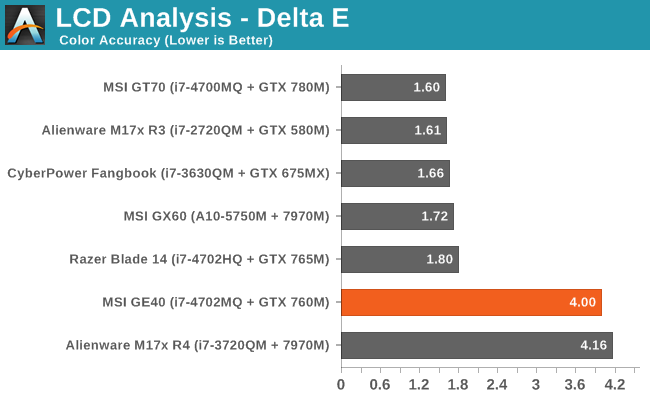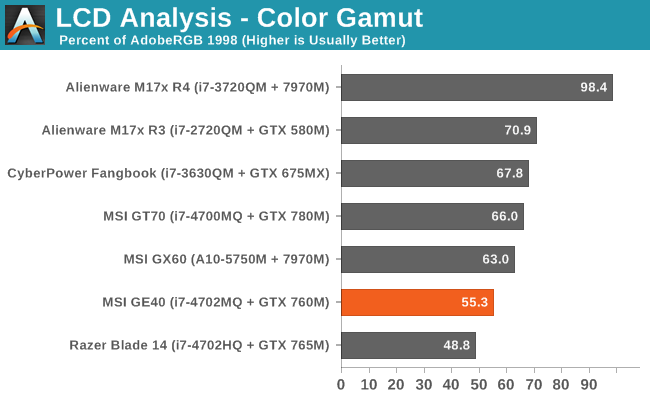 A contrast ratio below 200:1 is simply unacceptable in today's market. This is the sort of display that will continue to drive users over to tablets. I do worry that something has gone wrong with my i1 Display2 colorimeter, as the DeltaE on the GE40 and M17x R4 are both much higher than I'd expect, so take those figures with a grain of salt until I can confirm my colorimeter is still working, but even if it's off by a factor of two there's nothing good to say. Average color accuracy without calibration is far worse, of course: I measured 17.4 average dE with the best result being 8.4 and the worst being 25.5—basically the same as what you see with many Android tablets I guess. Color gamut is also low, but really the contrast needs to be improved before we even worry about color gamut or accuracy.
Too Hot to Handle?
I ran some extended stress testing of the GE40, just to see what might happen. Under a full load, it took about ten minutes before the CPU and GPU had reached more or less equilibrium. It's a bit warm here in WA right now, and I don't have AC, so ambient temperatures were around 80-85F (27-29C), but even so the maximum CPU temperature of 98C is a concern. The GTX 760M didn't have as much trouble, maxing out at a still-toasty-but-not-horrible 80C.
In practice, these figures aren't even unusual; an extended session of Metro: Last Light looping our Value settings at 1600x900 hit 98C/84C on the CPU/GPU (average temps of 95.5C/81.4C), so the GPU actually got a bit hotter when the CPU wasn't fully loaded. Idle temperatures at least are good, sitting around 46C/34C, and the surfaces of the GE40 for the most part are not too hot—one of the benefits of using plastic on the bottom of the chassis. The only real hot spot is on the left hand side near the exhaust, as you would expect. Still, the cooling is definitely pushing the limits of what we would deem "acceptable"—a year or two down the road when the cooling fins have a fine layer of dust and grime on them and we could easily be talking about an overheating notebook.
It's Also Relatively Noisy
We haven't had a lot of time with Haswell so far, so it's difficult to say whether the temperatures in the upper 90s that we're seeing under sustained load are normal or problematic. It's very hard to get good thermals, high performance, and low noise levels in the same package, particularly if that package is less than an inch thick like the GE40. We've seen that thermals are definitely pushing the limit of what we're comfortable with, but noise isn't all that great either. At idle, we measured noise levels of 34.7dB while pretty much any reasonable gaming workload increased that to a maximum of 44.4dB; even under light loads (e.g. surfing the web), the fan will often spin up a bit to the 37dB range. Our full-load stress testing didn't increase the noise, and even covering the exhaust with my hand didn't create any additional noise (though that was mighty hot!), so the fan is basically topped out when gaming.
MSI GE40 Closing Thoughts: Give and Take
We've frequently discussed the balancing act that needs to take place when manufacturers are designing a laptop, and that balancing act gets even more difficult when you're creating a thin and light gaming notebook. If you simply throw caution to the wind, it's definitely possible to create an awesome notebook that runs fast, performs well, and looks great—but it's going to cost you. The Razer Blade notebooks are perfect example of this, except that the Razer Blade 14 basically drops the ball when it comes to the LCD. MSI tries to pick up the fumble with their GE40, but unfortunately their display happens to be even worse than the Razer Blade 14 panel! Here's the thing: a somewhat mediocre display with a reasonable resolution isn't the end of the world. If you're able to overlook the LCD and its poor contrast ratio, the GE40 hits a lot of the right notes.
For starters, the CPU and GPU pairing are just about ideal. The 37W i7-4702MQ isn't the fastest CPU on the block, but it's generally fast enough to keep the GTX 760M happy. The GTX 760M is also a good pairing for the 1600x900 LCD resolution—it might be able to handle 1080p without antialiasing in some titles, but there are also going to be instances where you'll need to drop down to high or even medium detail levels to get acceptable performance (e.g. Metro Last Light and Company of Heroes 2). NVIDIA's top-of-the-line GTX 780M in some cases offers nearly three times the performance of the GTX 760M, at least at our Enthusiast settings; at our Mainstream settings, in quite a few titles we don't even see a 2X performance increase. Finally, in light use we were able to hit nearly nine hours of battery life with the GE40, and if you're willing to lower the LCD brightness further you should be able to exceed that mark.
It's not just about performance either; I won't say that the GE40 is the greatest looking notebook I've ever seen, but it also seen worse. Get rid of the black glossy plastic, and perhaps switch to a neutral silver color instead of black, and aesthetically the design would move up from a middle-of-the-road six out of 10 to a solid eight. The keyboard on the other hand is definitely better than average these days, with the only real omission being keyboard backlighting. I like the inclusion of dedicated document navigation keys on a 14-inch laptop, and having those keys in a column on the right is my preferred layout. Frankly, I'm still a little baffled why most modern 13.3-inch and 14-inch laptops have abandoned this layout. The touchpad also has actual buttons rather than integrating those into the touchpad surface; I know some people prefer the latter, but I'd rather have buttons.
Take all of the above and slap on a $1270 price tag and we're talking about a viable and reasonably priced slim gaming notebook. (The model without an SSD costs about $100 less, but that's not a compromise I'd recommend.) Without jacking up the price, about the closest alternatives I can come up with that offer a similar or perhaps slightly better gaming experience are much bulkier: ASUS G75VW (last-gen IVB CPU and 670M GPU), MSI GX60 (faster GPU, much slower CPU), the Lenovo IdeaPad Y500 series (i7-4700MQ with SLI GT 750M), or MSI's own GE60. Depending on what you're after, one or more of those might be a better choice, but they're not clearly better in every area.
What it really boils down to is this: are you willing to turn down detail levels a bit in order to get acceptable gaming performance, are temperatures in the 80s and 90s "safe", and can you live with the mediocre LCD? It's a shame you're forced to make that kind of decision, but at least the price is more palatable than the Razer Blade 14. Hopefully MSI can release a revised model that fixes some of the oversights: give us better cooling, keyboard backlighting, a silver chassis (or at least something less prone to collecting smudges and fingerprints), and a good LCD and this would be a winner.
The truth is, we're probably still a couple years away from seeing this level of performance in a laptop this size that runs truly cool and quiet (<75C and <40dB); physics can be such a drag that way. But the Razer Blade 14 runs a bit cooler and quieter while boasting better performance, and slightly larger notebooks are faster, cooler, and quieter. The GE40 ends up being reasonably fast with temperatures that are a bit higher than we'd like but still technically within spec, and the price is quite reasonable. Fixing the LCD would go a long way towards earning an outright recommendation; as it stands, we can only sigh and think about what might have been.