Original Link: http://www.anandtech.com/show/7154/nzxt-phantom-530-case-review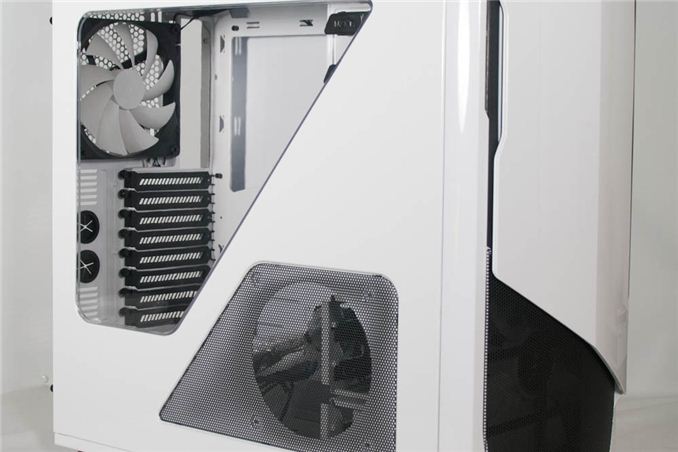 Introducing the NZXT Phantom 530
NZXT has been on a bit of a tear with new case releases this year. The last addition to their Phantom family, the Phantom 630, turned out to be something of a grand slam: it was in virtually every way a better case than its slightly bigger, more expensive predecessor, the Phantom 820. Meanwhile, the entry-level Phantom 410 had turned out to be a surprisingly solid little offering in and of itself. Seemingly intending to have a Phantom at virtually every price point, NZXT now offers the Phantom 530. At $129 this full ATX enclosure definitely offers a healthy amount of value, but I'm getting the feeling the Phantom brand is starting to get oversaturated.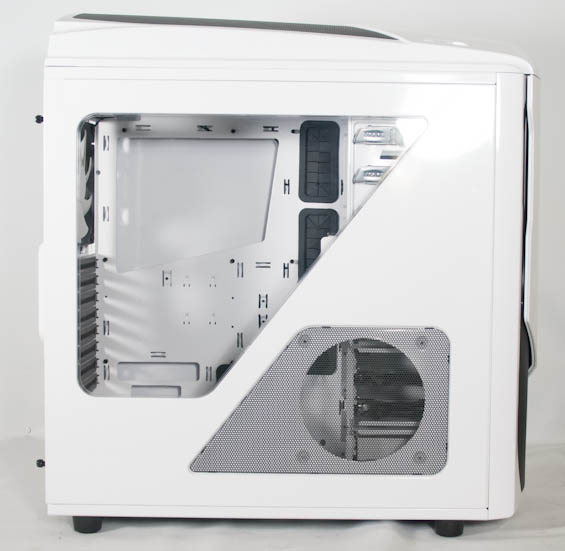 It's not really any great mystery as to why the Phantom brand would be aggressively pursued by NZXT; it's been good to them. Phantoms are distinctively designed and very feature rich cases, and NZXT has done a fine job distilling the essence of the aesthetic into cleaner and more attractive products. With the 530 we're another step more accessible, and NZXT has definitely played an intriguing balancing act in terms of bringing features and performance to a lower price point.
NZXT Phantom 530 Specifications
Motherboard Form Factor
Mini-ITX, Micro-ATX, ATX, E-ATX
Drive Bays
External
3x 5.25"
Internal
6x 2.5"/3.5", 1x 2.5"
Cooling
Front
1x 200mm intake fan (supports 2x 120mm/140mm), 1x 120mm/140mm interior fan mount
Rear
1x 140mm exhaust fan (supports 120mm)
Top
2x 200mm/140mm or 3x 120mm fan mounts
Side
1x 140mm fan mount
Bottom
2x 120mm fan mounts
Expansion Slots
8
I/O Port
2x USB 3.0, 1x Headphone, 1x Mic
Power Supply Size
ATX
Clearances
HSF
170mm
PSU
180mm with bottom fan installed
GPU
310mm with drive cage / 444mm without
Dimensions
9.25" x 22.52" x 21.38"
235mm x 572mm x 543mm
Special Features
USB 3.0 via internal header
Supports 360mm radiator in top
Three-speed, eight-channel fan controller
Rear I/O LED lighting
3-2-1 modular drive cages
Price
$129
Given the $129 price point, NZXT has managed to cram a tremendous amount of useful features into the Phantom 530. My support of integrated fan control is well documented, but I'll admit to being a little bit surprised they opted to exclude their traditional SD card reader. Given the raft of other features and generally high build quality it's tough to be too disappointed, though. Watercooling enthusiasts looking for a less expensive entry point may very well find their needs met by the 530, though anyone spending enough money to build a custom loop might just be better served with either the more expensive Phantom 630 or the much more flexible and only slightly more expensive H630, which supports 360mm radiators in both the top and front of the case.
In and Around the NZXT Phantom 530
Up until this point I'd been pretty bullish about new NZXT enclosures, and with good reason. NZXT's designs have displayed a new vitality since the Phantom 820; these cases have focused with almost laser precision upon being both extremely to use and build inside and rich with features that aren't just checkboxes but legitimately useful. The integrated fan hub/controller is practical, the LED lighting for the rear I/O is handy, and NZXT's shuffling of internal storage bays has been fairly innovative.
Yet despite all of this being carried over to the Phantom 530, I can't help but feel like they've gone to this well too many times. The Stormtrooper aesthetic continues to carry over with the 530; a white LED lighting strip is next to the door that sits in front of the 5.25" drive bays (where the reset button is also smartly hidden) while a black mesh shields the front intakes. The top of the case sports the power button, rear I/O lighting toggle, fan control, and USB and audio connectivity, and a black mesh extends to the back.
Users who appreciate the Phantom's traditional unusual side panel design will feel right at home here; there's an angled window and a vented fan mount, but the fan mount's placement is actually kind of unusual. It half-hangs over the drive bays, yet it doesn't seem to be high enough to adequately feed the graphics card(s). The side panels are thankfully hinged, and both are held in place with thumbscrews.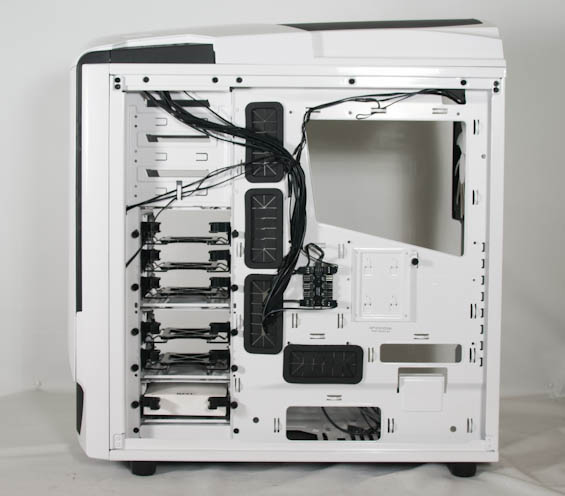 Remove them, and you find pretty robust clearance behind the motherboard tray, along with a slightly angled indentation around the tray for cable routing. NZXT is sticking with having the drive trays slide into the case from the rear of the tray, which does make sense for connecting hard drives. I'm also happy to again see a behind-the-motherboard 2.5" drive sled, and the fan controller/hub comes with two fans already connected, two extension cables, and then four additional empty connectors, all side-mounted.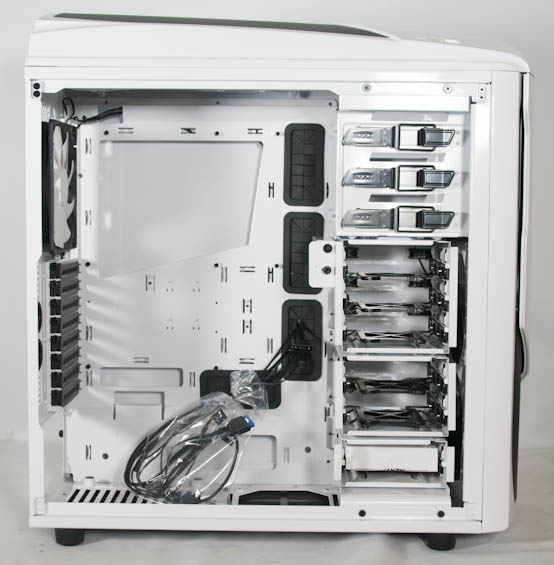 Meanwhile, the interior proper of the Phantom 530 is very familiar to anyone who's already seen the 630. NZXT again employs their slick trio of modular drive cages: one holds three drives, one two, and one a single drive, allowing you to only use as many cages as you actually need with no wasted space. There's an internal 140mm fan mount to direct airflow, toolless clamps for the 5.25" drive bays, and the motherboard standoffs come preinstalled.
Undoubtedly I'm going to be too rough on NZXT for the Phantom 530; the design brings a lot of features and quality to the $129 price bracket, but nothing here feels new. After a slick refinement like the Phantom 630 and an outside-the-box take on silent chassis design with the H630, the Phantom 530 feels incredibly staid. When Corsair was filling out their product line, they still took each iteration to gradually advance their designs, but with the Phantom 530, NZXT is playing things safe. It's not a knock on the case itself, but an expression of disappointment in seeing NZXT take the conservative route and plumb this brand harder instead of trying to strike out with a new brand.
Assembling the NZXT Phantom 530
I'm sure it's not going to surprise anyone to learn the NZXT Phantom 530 is a very easy case to assemble. NZXT has taken pains to ensure the case is as modular as you need it to be, and the reality is that unless we're looking at a radical redesign on par with what SilverStone tends to do, convenience should be expected in a modern enclosure by now.
About the only thing NZXT is missing for the motherboard is an alignment stud for the center mounting hole of the board itself; they have the motherboard standoffs pre-installed for ATX boards, and snapping in the I/O shield then lining up the board didn't take a whole lot in the way of effort. NZXT also includes all of the different types of screws in individual baggies to make sure you don't have to waste time flitting through one big pool of screws looking for what you need.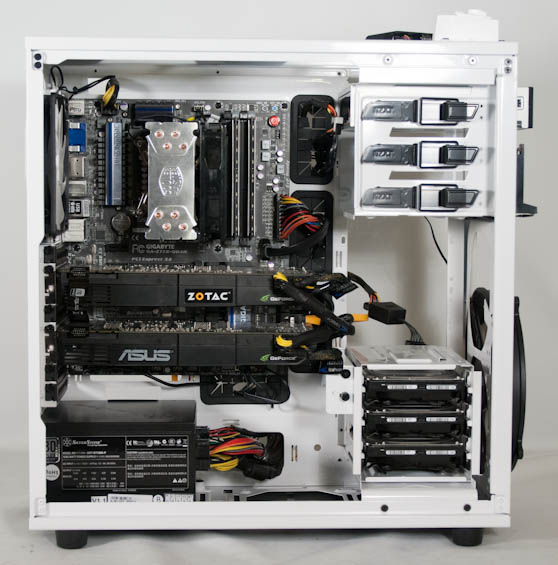 Two of the three modular drive cages are held in place with four thumbscrews each; the third, single-sled cage just uses two. It's good to have a power screwdriver handy to expedite the process and get you down to just what you need. From there, snapping a hard drive into one of the 3.5" trays is a breeze and these trays at least feel like they may be a bit stronger than the ones NZXT normally uses. A 2.5" drive can be installed in a sled behind the motherboard tray; it'll run hotter than usual due to proximity to the motherboard but still well within spec. Finally, the toolless clamps on the 5.25" drive bays are as sturdy as they've ever been.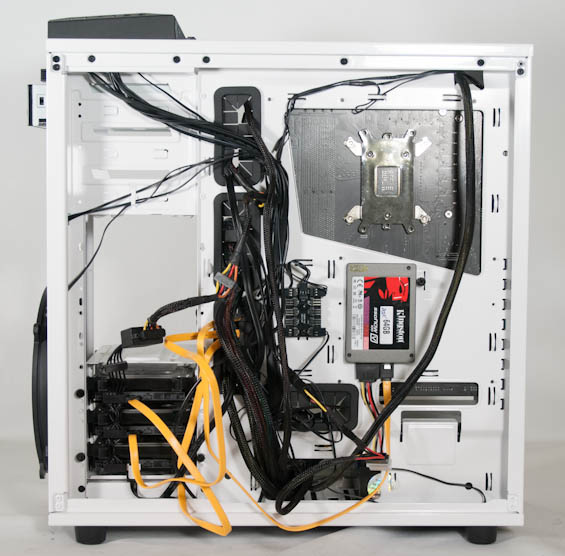 Honestly, the assembly of the NZXT Phantom 530 is incredibly uneventful, and that's a good thing. Expansion cards go in easy, as does the power supply which is amply supported from beneath. Cable routing holes are where they need to be, and the fan controller goes a long way towards making things easier. NZXT opts to use a 4-pin molex power connector for it to ensure enough power is available. Headroom around the power leads for the motherboard proper is plentiful, too. My only real complaint is that because of the way the drive sleds are designed, it can make routing power cabling between multiple 3.5" drives a little bit difficult.
Testing Methodology
For testing full ATX cases, we use the following standardized testbed in stock and overclocked configurations to get a feel for how well the case handles heat and noise.
Each case is tested in a stock configuration and an overclocked configuration that generates substantially more heat (and thus may produce more noise). The system is powered on and left idle for fifteen minutes, the thermal and acoustic results recorded, and then stressed by running seven threads in Prime95 (in-place large FFTs) on the CPU and OC Scanner (maximum load) on the GPU. At the end of fiteen minutes, thermal and acoustic results are recorded. This is done for the stock settings and for the overclock, and if the enclosure has a fan controller, these tests are repeated for each setting. Ambient temperature is also measured after the fifteen idle minutes but before the stress test and used to calculate the final reported results.
For the "full fat" testbed, the GTX 560 Ti is swapped out for a pair of GTX 580s, and three hard disks are added to fill out the case.
Thank You!
Before moving on, we'd like to thank the following vendors for providing us with the hardware used in our testbed.
Noise and Thermal Testing
However I might feel about NZXT sticking with the "tried and true" for the Phantom 530's design, there is at least one important benefit: it performs. Despite only having a 200mm intake and 140mm exhaust, test results for the Phantom 530 proved to be extremely positive, with the conventional ATX design actually giving Corsair's Carbide Air 540 a run for its money.
The Phantom 530 was tested at all three fan settings.
Ambient temperature was a pretty steady 22C throughout testing. Oh California, you and your wacky weather patterns.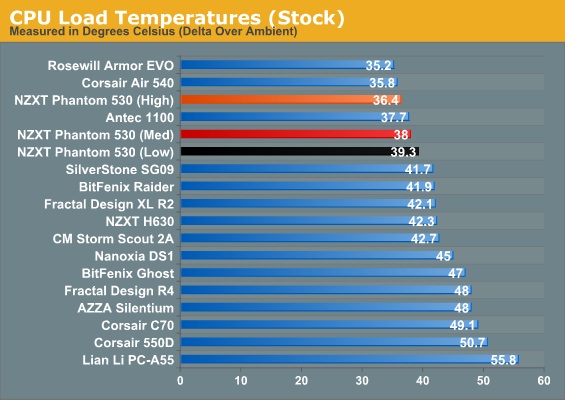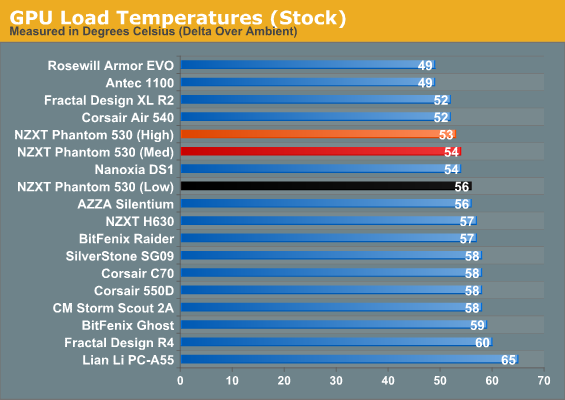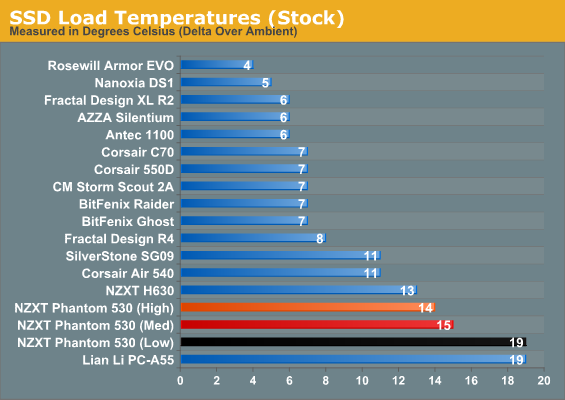 The SSD temperatures give me a little bit of pause, but keep in mind that you can simply opt to use one of the standard drive sleds instead of the special one located behind the motherboard if you're concerned your SSD is running too hot. Otherwise, cooling performance in our stock configuration is actually stellar.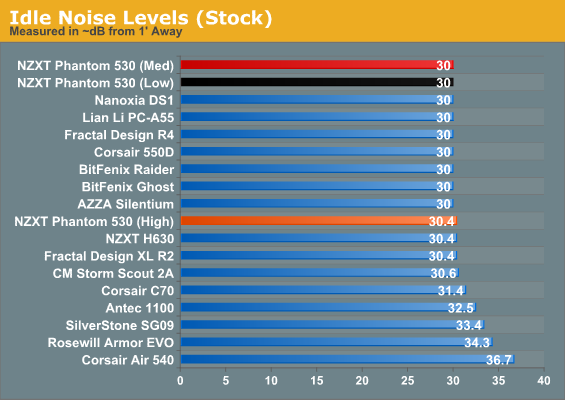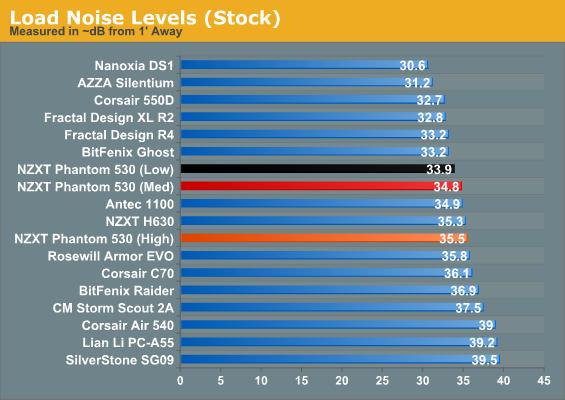 Noise levels aren't ideal, but they're at least competitive, especially when the Phantom 530's performance is taken into account.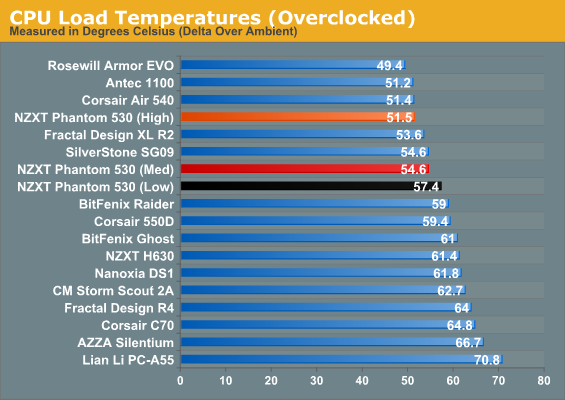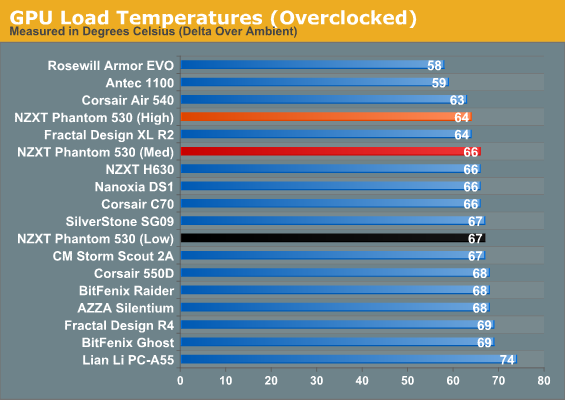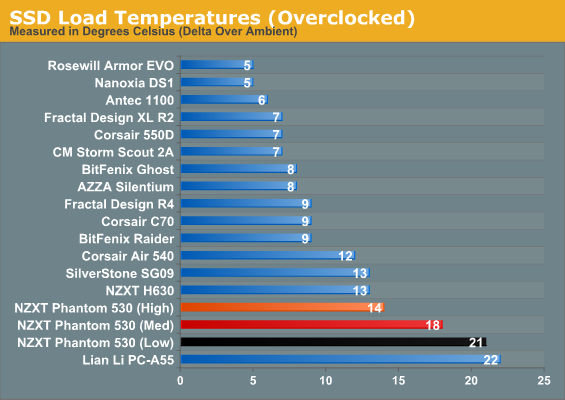 Overclocking the testbed causes the Phantom 530 to lose a little bit of ground, but not much. It's still one of the best air cooling cases in its class for pure thermal performance.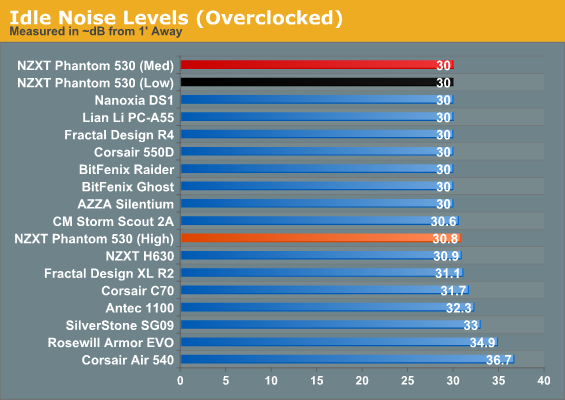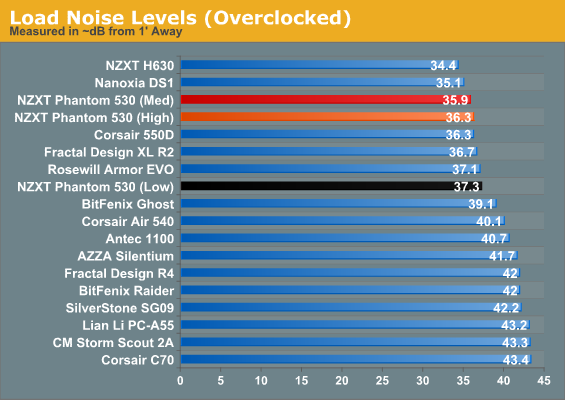 The Phantom 530 also turns out to be one of the most acoustically efficient cases in its class, too. Moving up to the overclocked testbed results in continued solid thermal performance, but other cases now have to run louder to really compete with it.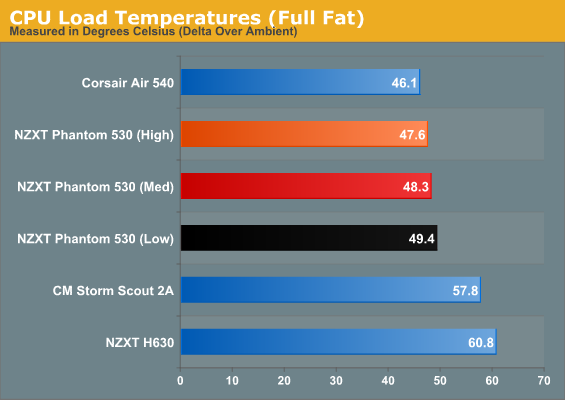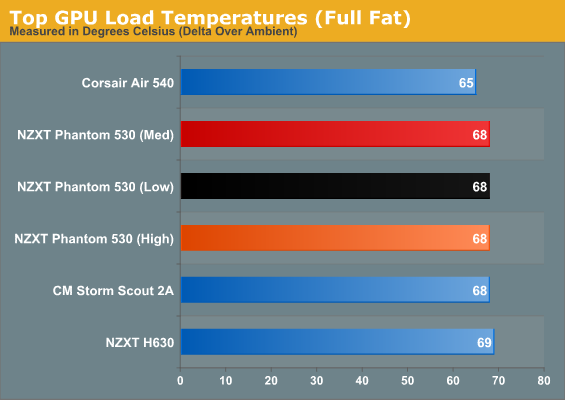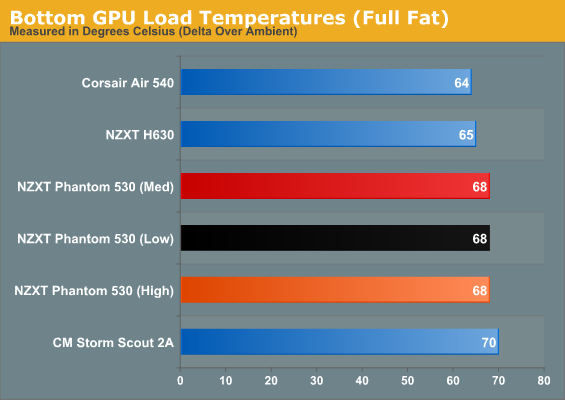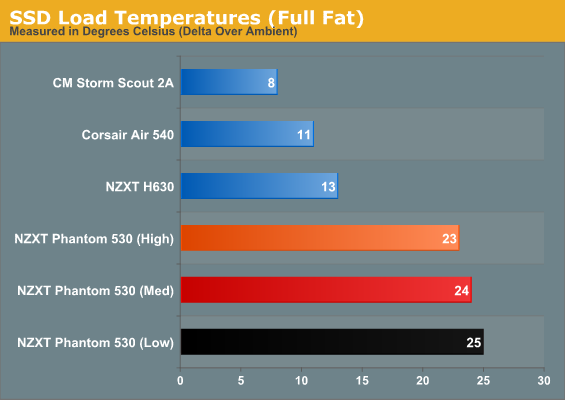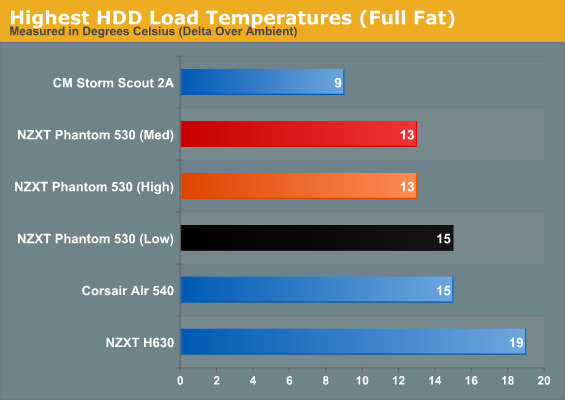 The full fat testbed essentially continues to be a stronghold for the NZXT Phantom 530. Any way you slice it, the case is going to be one of the best options available in its class.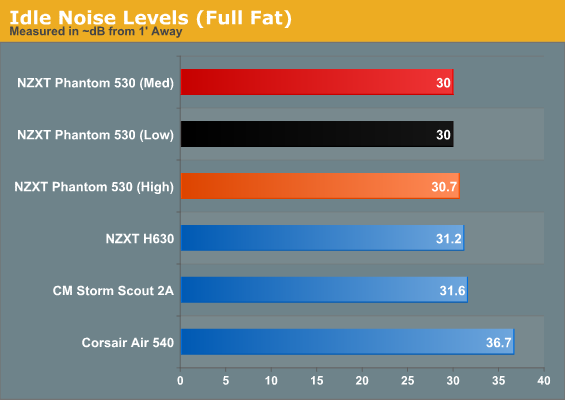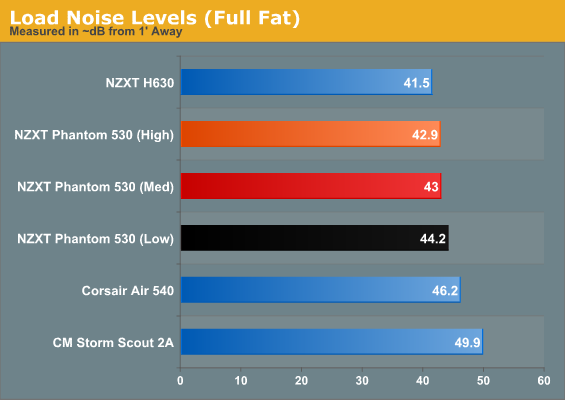 Noise levels are excellent for the performance. Our full fat testbed is a noisy beast, but the Phantom 530 is able to keep it to at least a comparatively low volume.
Conclusion: It Just Works
However I feel about NZXT's too frequent recycling of the Phantom aesthetic and design, it's still very hard to argue with results. I'm reluctant to fawn over the Phantom 530 because it feels extremely iterative instead of progressive. When the Phantom 630 was released, it was almost directly superior to the Phantom 820; NZXT created a great case in the 820, and then boldly obsoleted it not long after. It's too much to ask that they do that again going from the 630 to the 530, but the 530 itself has no sizzle. You were already essentially able to buy this case, now you can just buy it cheaper if you're willing to sacrifice a feature here and there.
All my can't change the fact that at $129, the Phantom 530 is practically bulletproof. NZXT was able to execute effectively on a very tenuous balancing act in bringing the 630 down to a very accessible price point. Thermally it nips at the heels of Corsair's wonderfully outlandish Carbide Air 540, but acoustically it surges past. Anyone who feels like the ATX design standard is long in the tooth, and I include myself in that lot, would probably do well to give the Phantom 530 a second look.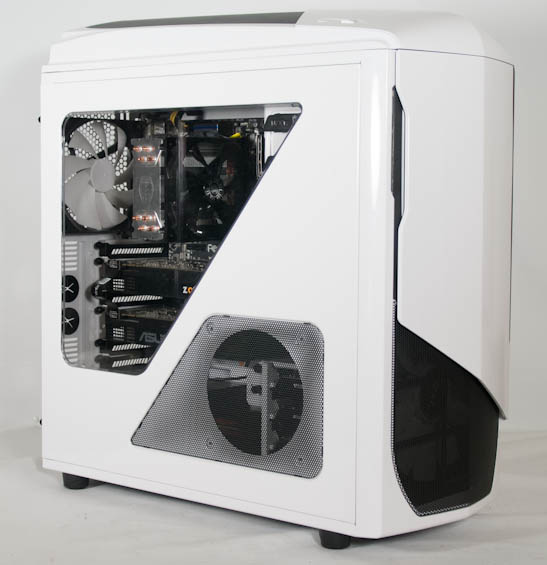 Of course, there's a fly in the ointment. Despite the Phantom 530 review samples being out to media right now, the case itself doesn't actually become available in retail for a month and a half. NZXT runs the risk of losing business in the interim; users who are willing to make some compromises can get an Antec Eleven Hundred for $99 on NewEgg right now, while people looking for something with great performance that they can tinker with will be able to snap up the Corsair Carbide Air 540 at the end of the month. A month and a half is a long wait, especially for a component that's not easily upgraded, and NZXT may have seriously jumped the gun here.
Either way, though, when it does come out, the NZXT Phantom 530 is going to be tough to beat for the money. I wish they'd taken the design a little further, but if you're looking for performance and features, this is pretty much it.