Original Link: http://www.anandtech.com/show/7158/bitfenix-ronin-case-review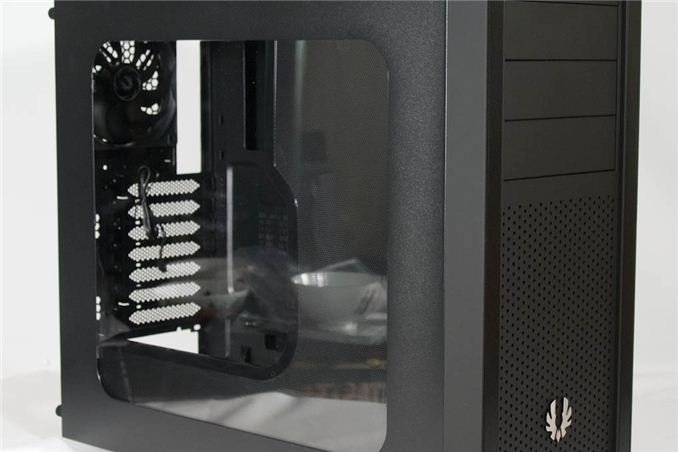 Introducing the BitFenix Ronin
I've been championing BitFenix as a stellar brand for builders on a budget (hooray alliteration) for some time now. Cases like the Shinobi are attractive options in their price bracket, and the Merc series enclosures are almost unbeatable for the money. There's also the incredibly popular Prodigy, a case BitFenix has had a hard time even producing enough of, that helped bring enthusiast level mini-ITX performance to market at a very reasonable price.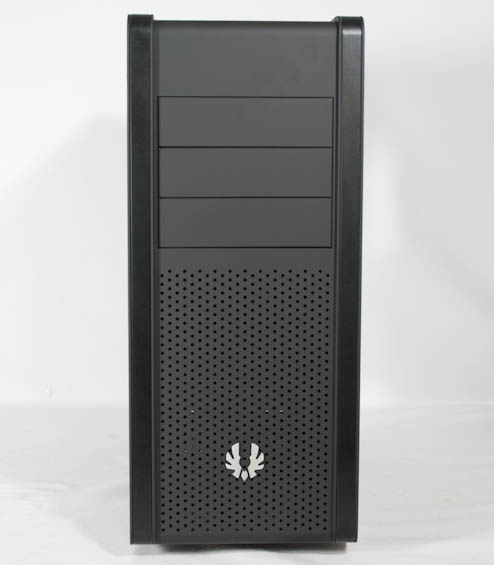 In the midst of these successes, BitFenix is releasing the Ronin, a more standard ATX enclosure with a couple of interesting wrinkles. Superficially it looks pretty similar to the Shinobi, but BitFenix has made a few changes internally and raised the price accordingly. The problem with the Ronin is unfortunately that at $99, it prices itself largely out of BitFenix's prime real estate and worse, it has a hard time justifying its existence alongside superior (and less expensive) options in BitFenix's lineup. That's before heavyweights like the Antec Eleven Hundred hit sales and get to $99 or less.
BitFenix Ronin Specifications
Motherboard Form Factor
Mini-ITX, Micro-ATX, ATX
Drive Bays
External
3x 5.25"
Internal
6x 2.5"/3.5"
Cooling
Front
1x 120mm intake fan (supports 2x 120mm)
Rear
1x 120mm exhaust fan
Top
2x 120mm/140mm fan mounts
Side
-
Bottom
1x 120mm fan mount
Expansion Slots
7
I/O Port
2x USB 3.0, 2x USB 2.0, 1x Headphone, 1x Mic
Power Supply Size
ATX
Clearances
HSF
170mm
PSU
220mm
GPU
310mm with drive cage / 420mm without
Dimensions
8.07" x 19.02" x 19.88"
205mm x 483mm x 505mm
Special Features
USB 3.0 via internal header
Supports 280mm radiator in top
Interior component shield
Modular drive cage
Price
$99
Not every case needs to be a giant, powerful cooling monstrosity, and the Ronin is definitely on the small side for full ATX cases. It's not even necessarily the number of fans included, it's the quality and placement of the fans themselves, and the way the airflow is engineered. Yet with these considerations, it's hard not to feel like the Ronin is a little bit light for a $99 enclosure. BitFenix has up to this point offered pretty healthy value with their cases, but $99 for a case with two 120mm fans and a side window is hard to justify.
In and Around the BitFenix Ronin
Where BitFenix has been consistently successful in my opinion is their ability to produce cases that are aesthetically pleasing and look more expensive than they are. The soft-touch surface treatment goes a long way in differentiating their products from conventional steel boxes, and the Ronin is no exception. Also atypical is their tendency to avoid gaudy enclosure designs and styles; BitFenix is one of those rare companies able to produce a distinctive black box. If absolutely nothing else, the Ronin is at least a looker.
The front and top panels of the Ronin feature black mesh trims along the sides that sandwich a perforated soft-touch shell that allows air to flow in and out of the enclosure. At the front of the top panel are a pair of USB 3.0 ports, a pair of USB 2.0 ports, and the traditional mic and headphone jacks. The power button is large; the reset button tiny and recessed, and the power LED and IDE activity LED are blue and red respectively. It's a clean and simple design and it works. Both panels also pop on and off easily enough, but require just enough force that they feel secure when in place.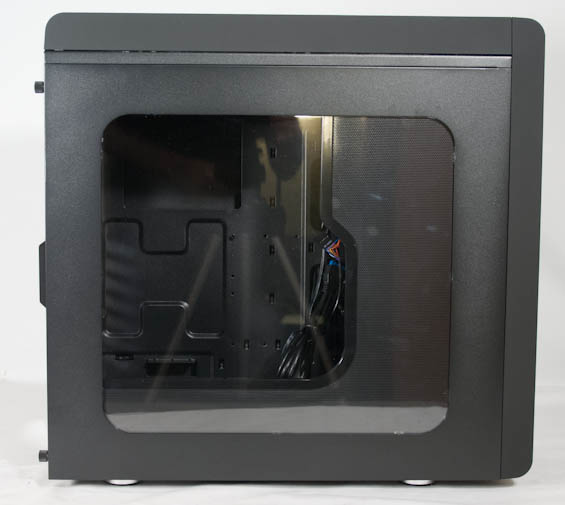 BitFenix differentiates the Ronin from other cases through the use of their "Stealth Cover"; there's a large window on the left side panel, but the stealth cover hides cabling and drives and endeavors to provide a fairly clean look at the case interior. While I'm used to dealing with reflective case windows, the one on the Ronin seems to be particularly reflective, so my apologies there. The stealth cover itself is an interesting wrinkle, though.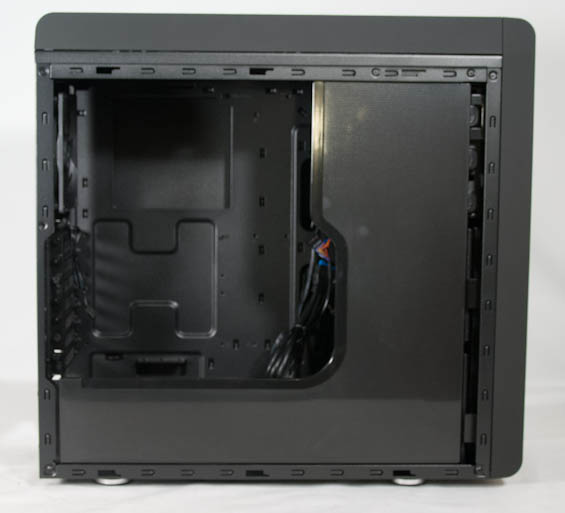 The side panels are held in place with thumbscrews, but unfortunately they're notched instead of hinged. This is less of an issue on a case this small; on larger cases it can be difficult to properly apply pressure everywhere it needs to be to get the notches to line up. The stealth cover is held in place with three snaps.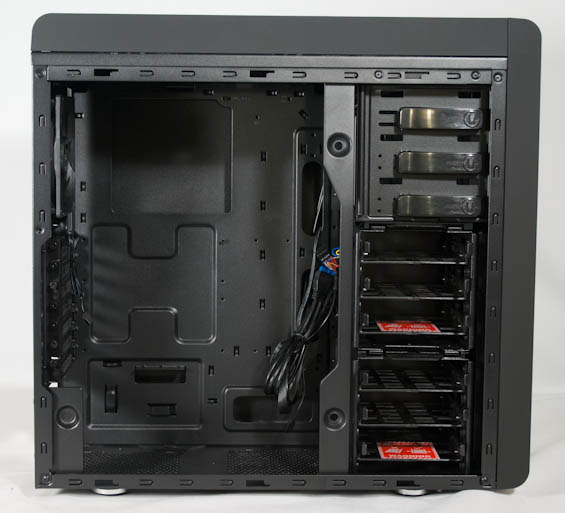 Once you're inside, there isn't anything too exciting to report. The cage housing the top trio of drive sleds is easily removable, and BitFenix's traditional toolless mechanisms for the 5.25" drive bays are in place. Of some concern are the slightly narrow cable routing holes, the extremely small one where the AUX 12V line would go, and the unusually small cutout in the motherboard tray for cooler backplates. You'll want to pay attention to this when we get to assembly.
As I mentioned before, the Ronin is ultimately on the smaller side of ATX cases. That's a trade-off individual consumers will have to make; the reduction in case width means 120mm fans are the order of the day during a period when many manufacturers are transitioning to 140mm fans. The two fans are placed in the rear exhaust and the top front intake, leaving the bottom one unoccupied. Whether or not the stealth cover is appealing is for the individual user to decide, but it's at least unique to the Ronin and I can see its purpose.
Assembling the BitFenix Ronin
There are a few reasons to go with larger cases if you're assembling a full ATX system: a larger ATX case will typically offer support for larger fan sizes (which can move more air at lower fan speeds and thus run at lower noise levels), and it's liable to be less cramped when you're working on it. That's not to say the BitFenix Ronin is particularly cramped, but it's definitely a change when you consider the last case I assembled was the NZXT Phantom 530.
Installing the motherboard could've been a little more convenient; there's no alignment stud like Corsair typically includes, and only two standoffs come preinstalled in the tray. BitFenix at least includes a socket with a phillips head to make tightening the standoffs easier. I've taken to connecting SATA leads and case headers at this step as the dual GeForce GTX 580s hang over the SATA ports on our test board, and found that the routing holes in the motherboard tray are just a little on the small side.

Where I think BitFenix made a really brilliant design choice is in the toolless drive trays. Typically there have been two ways to go about designing these: bendable plastic ones that snap around the 3.5" drive and don't feel secure but don't require tools, or firm steel ones (like the ones Fractal Design employs) that use screws but also feel secure as a result. Enter a third way: BitFenix's trays actually separate about a half inch, then close around the drive. These are really the best of both worlds; they feel secure while being toolless, and it's a very slick bit of engineering. You'll have to screw 2.5" drives into the trays still, but 3.5" drives go in easy. Meanwhile, the toolless clamps on the 5.25" drive bays are the standard BitFenix ones and get the job done nicely.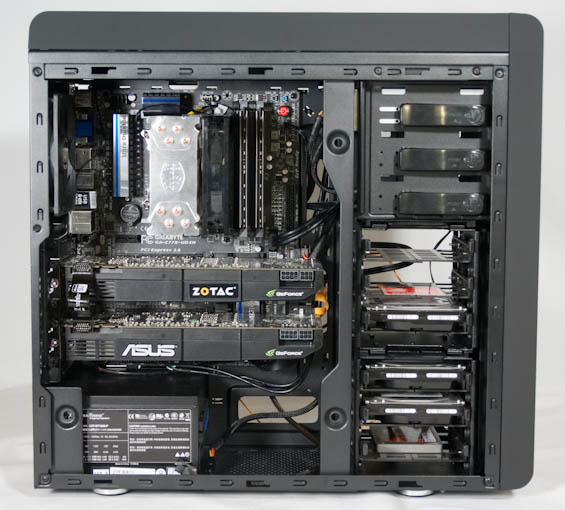 Lining up the power supply is easy enough, but if you're building a multi-GPU system the space for the cards is going to feel cramped. If I'd planned things a little more carefully I might have been able to do a better job of routing the power leads for the two 580s, but you can see in the photo above that we're really working with a fairly limited amount of space. If you put a high performance system in the Ronin, it's going to look and feel full.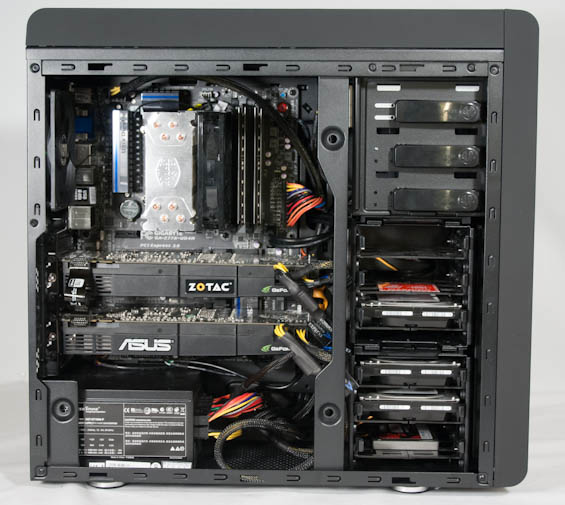 That problem gets compounded with cabling. There's a limited amount of space to route cables, and the hole for the AUX 12V line above the motherboard is just too small for the lead. Recognizing that I'm unusually daft when it comes to clean cabling jobs, it should nonetheless be evident that the reduced dimensions of the BitFenix Ronin will make it extremely difficult to do a clean build if you're installing a high performance system. Thankfully there's enough space behind the motherboard tray that getting the rear panel slotted back on wasn't too difficult, but I have to wonder if there wouldn't have been some way to make organizing cabling a bit easier.
Testing Methodology
For testing full ATX cases, we use the following standardized testbed in stock and overclocked configurations to get a feel for how well the case handles heat and noise.
Each case is tested in a stock configuration and an overclocked configuration that generates substantially more heat (and thus may produce more noise). The system is powered on and left idle for fifteen minutes, the thermal and acoustic results recorded, and then stressed by running seven threads in Prime95 (in-place large FFTs) on the CPU and OC Scanner (maximum load) on the GPU. At the end of fiteen minutes, thermal and acoustic results are recorded. This is done for the stock settings and for the overclock, and if the enclosure has a fan controller, these tests are repeated for each setting. Ambient temperature is also measured after the fifteen idle minutes but before the stress test and used to calculate the final reported results.
For the "full fat" testbed, the GTX 560 Ti is swapped out for a pair of GTX 580s, and three hard disks are added to fill out the case.
Thank You!
Before moving on, we'd like to thank the following vendors for providing us with the hardware used in our testbed.
Noise and Thermal Testing
The BitFenix Ronin unfortunately enters noise and thermal testing a bit hobbled. While I would've appreciated a fan controller, it's not strictly necessary. BitFenix is using two of their Spectre fans in the Ronin, and these fans are incredibly quiet. That's the upshot.
The downside is that there are only two quiet 120mm fans tasked with keeping the Ronin cool, and that plays hell on performance. You'll see Ronin fall into the same trap that a lot of silent cases do: without adequate airflow, internal cooling has to pick up the slack and runs louder as a result. Silent computing is a difficult balancing act and one that the Ronin is unable to get a good handle on.
Ambient temperatures were between 23C and 24C for testing.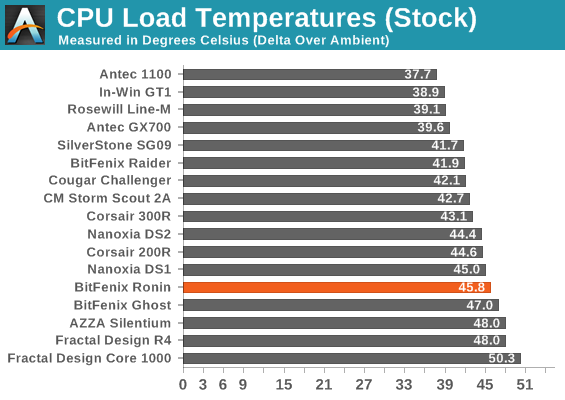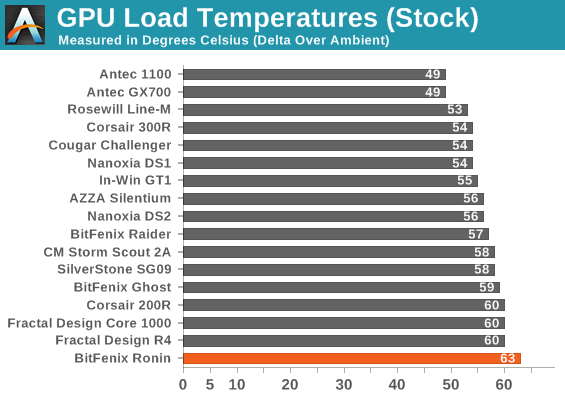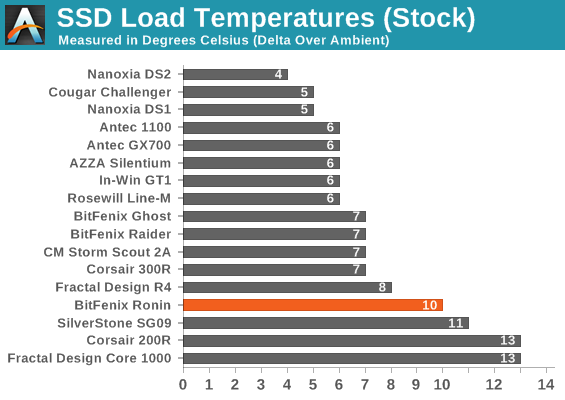 You can see stock cooling performance is pretty poor and easily bested by other, less expensive cases.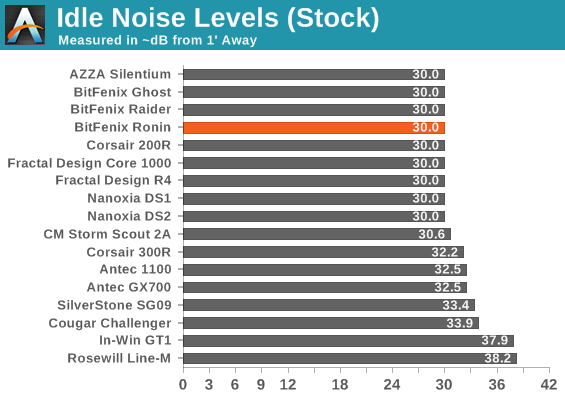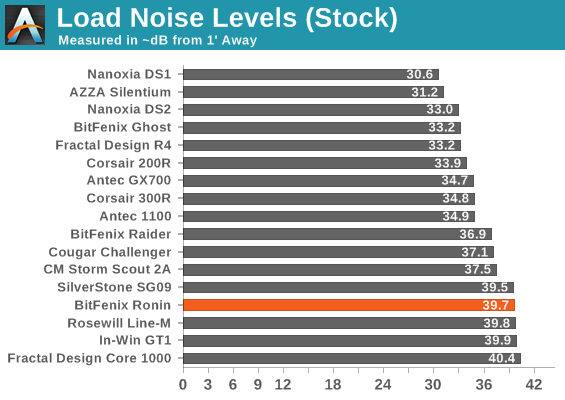 The poor thermal performance could at least be justified if the Ronin did a better job with noise, but it's just not there in any capacity and it only gets worse when you overclock the testbed.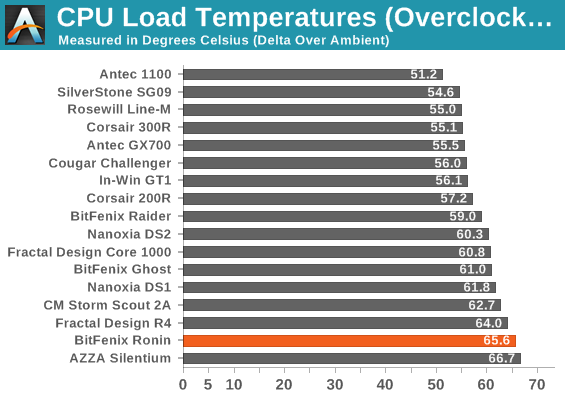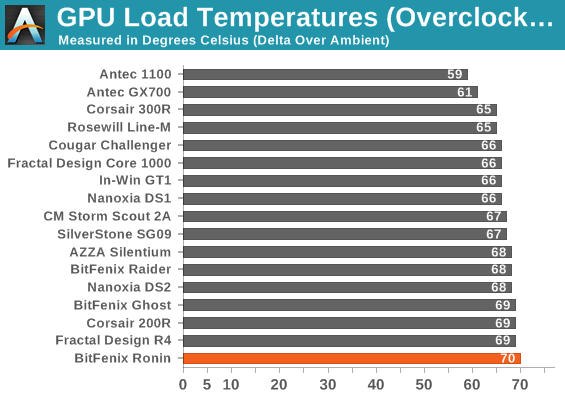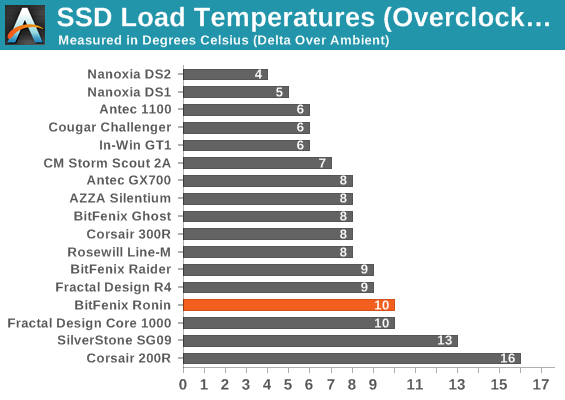 Overclock the testbed and suddenly the Ronin is finishing dead last. The two Spectre fans just aren't up to the task of keeping the system cool. Low case volume and low airflow are a deadly combination.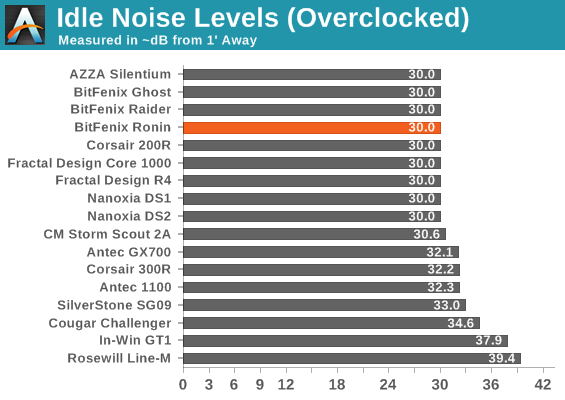 Noise levels are unfortunately unsurprising. The Ronin just runs hot and loud under load.
It's hard not to feel at least a little disheartened by these results, and I went into full fat testing with some trepidation.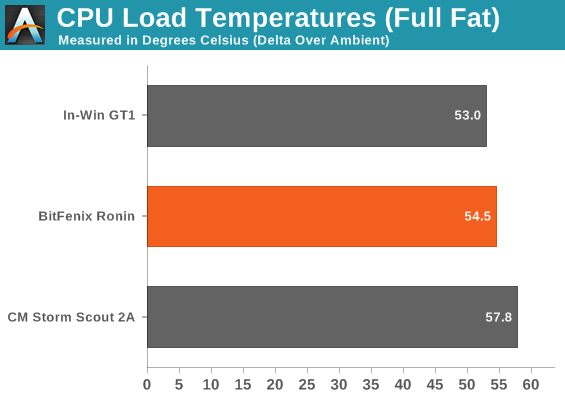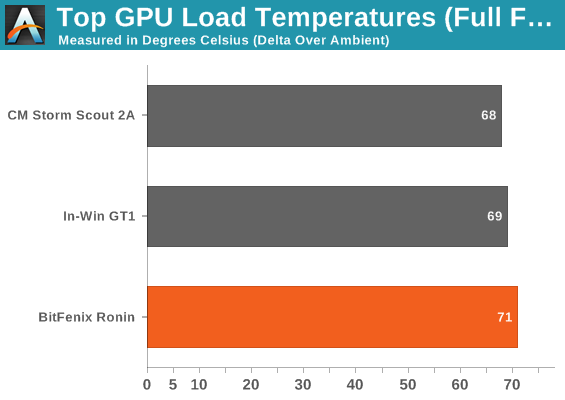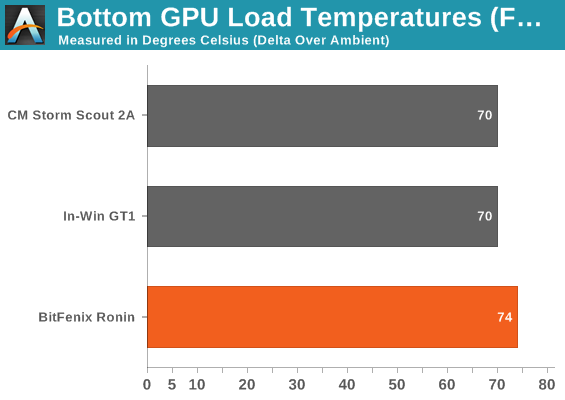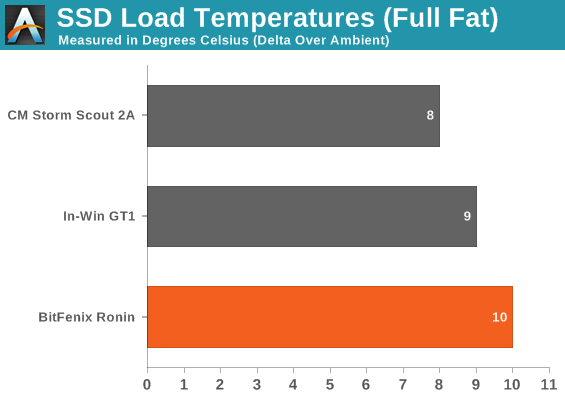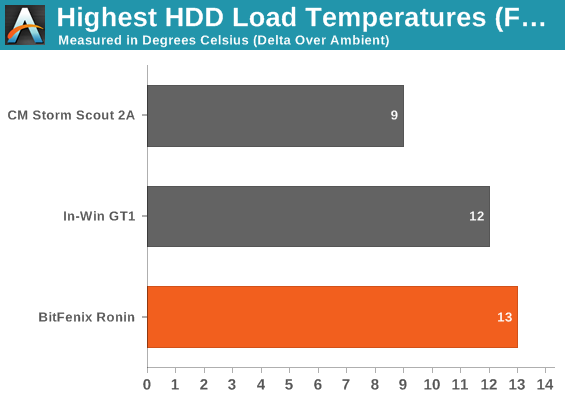 Note that the CPU runs hotter under load in our basic overclocked testbed than in our full fat despite the fact that it's running at the same voltage and speed in both. The GTX 580 blower-style coolers are able to pull much more weight than the GTX 560 Ti's open air cooler, keeping the Ronin from cooking the CPU. Unfortunately, the GPUs are running toasty in the process, hitting the 90s under load and actually maxing out their fan speeds.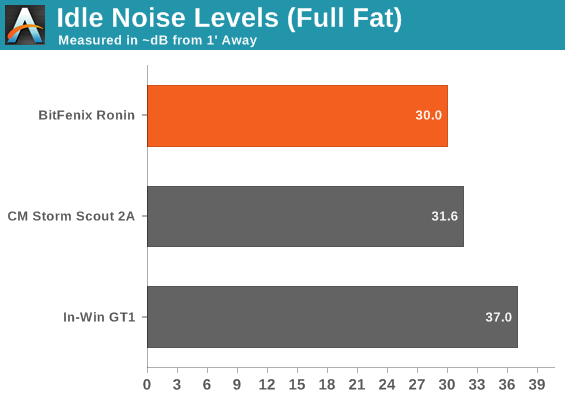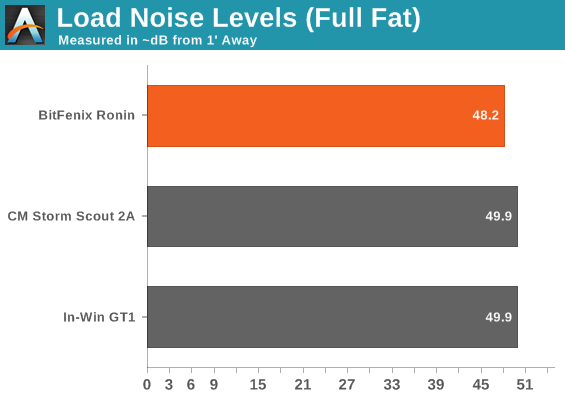 It's "quieter" than the other cases in its class, but that's not saying much. The fact remains that airflow is a serious issue in the Ronin.
Conclusion: A Miss
Writing a negative product review for AnandTech is very different from, say, writing a negative movie review or a negative video game review. It's not a task I particularly enjoy, especially not when the product comes from a company like BitFenix that we've developed a good working relationship with. Historically I've been very fond of BitFenix's products, and they've been gracious enough to provide hardware for testing whenever we've needed it. That makes this review a difficult one to write, because frankly, the Ronin is a bust.
Visually it's at least aesthetically pleasing, and as I mentioned before, this is one place where BitFenix typically excels. The Ronin is an attractive piece of kit, and the soft-touch finish really does contribute to a feeling of value. I'm also not convinced the stealth cover is a bad idea; I wish the side window were a little bit less reflective, but that's neither here nor there. Suffice to say that the Ronin is at least a very good-looking enclosure.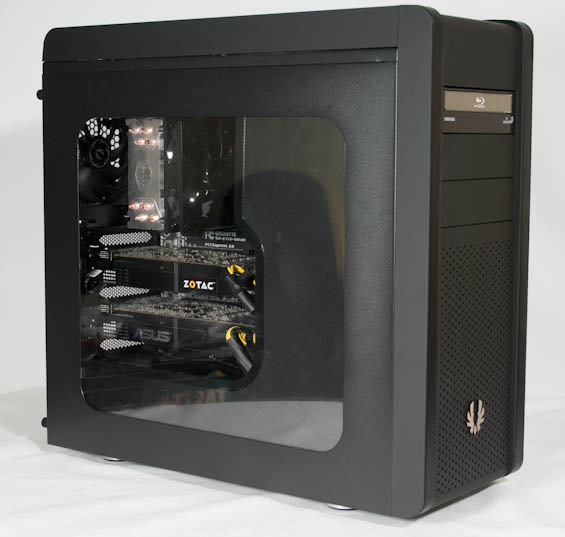 Unfortunately aesthetics are largely where the upsides of the Ronin end. Barring the stealth cover and brilliant snap-shut drive sleds, there isn't a whole lot of original thinking going on inside the Ronin. BitFenix has severely hamstrung the Ronin with just two 120mm fans, and the case has serious issues with airflow. Those fans are quiet, but they're not moving anywhere near enough air to make up for the low case volume. Since the Ronin doesn't feature any acoustic padding or other allowances to keep noise down, we're hit with the dreaded double whammy: it's hot and loud.
The killing blow for the Ronin is its price tag: at $99, it's just too expensive. At virtually any price tag it might have been getting by on looks, but $99 is especially egregious coming from a company that ordinarily is able to offer pretty solid value. The net result is that we have a case that looks good, but that's it; it's too expensive, it's too hot, and it's too loud. Even the best companies have the odd miss here or there and the Ronin seems to be BitFenix's. On the bright side, I hear you can pick up a Shinobi Window for just $79 on NewEgg, and that's a case I can happily recommend.