Original Link: http://www.anandtech.com/show/7177/nokia-lumia-521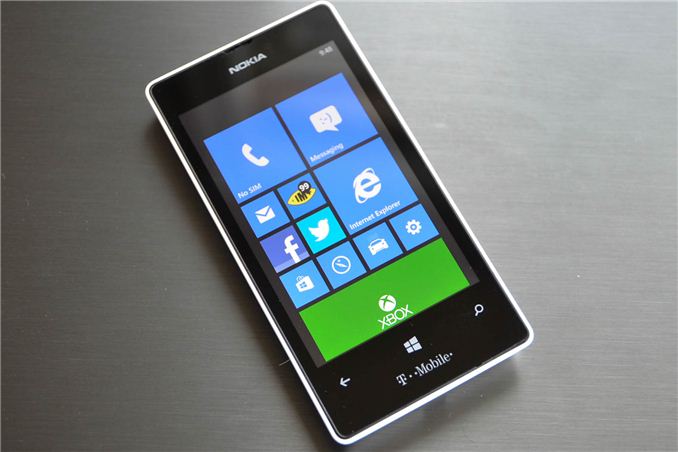 Microsoft is in a difficult place with regards to the smartphone market. After delivering a very innovative interface and overall promising platform with Windows Phone 7 in late 2010, the platform stagnated, with mediocre hardware, slow updates, and not much progress in terms of sales. Bringing Nokia on board in 2011 gave Windows Phone a bit of a boost, particularly after the Windows Phone 8 launch with the success of the Lumia 920, but it's still hard on a lot of levels to recommend a high-end Windows Phone versus the price-competitive iPhone and Android equivalents. But where I've long felt that Windows Phone devices make sense is with lower-end hardware.
And in that context, the Nokia Lumia 521 is very interesting. It's the T-Mobile US version of the Lumia 520, and ships with AWS HSPA+ for just $129 sans contract or subsidy. It's nearly identical to the 520 save for very minor dimensional differences and T-Mobile branding. AT&T gets the 520 in its original form as part of their GoPhone prepaid lineup for $99.99, no contract. The specsheet reads pretty respectably given the budget—Qualcomm's MSM8227 SoC with dual-core Krait at 1GHz clocks, Adreno 305 graphics, 512MB RAM, 8GB of onboard NAND plus a micro SD slot, a 4" WVGA IPS panel, and a 5MP camera with an f/2.4 lens. And of course, this being Nokia, you're assured of a pretty decent design and build. Nokia has always excelled at building durable, inexpensive handsets that didn't feel cheap, which is one of the things that has propelled them to success in developing markets.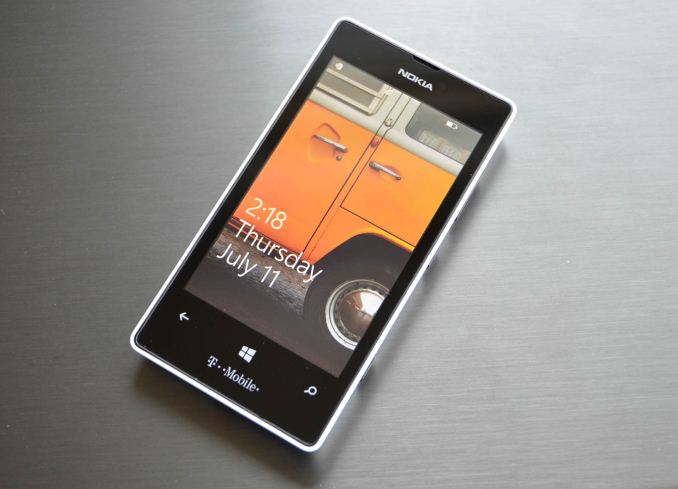 Microsoft's insistence on keeping user experience consistent between devices as much as possible has led to some budget WP handsets that have been nearly as good as their more expensive brethren, so the potential has always been there, but this is the first time we've seen a Windows handset release at the floor-sweeper price point. So naturally, the Lumia 521 is interesting. The promise of a real smartphone at legitimately accessible price points, without the need to tie yourself into a contract or binding agreement of any kind, is fantastic. Tied in with T-Mobile's BYOD-friendly no contract plans, this is actually a pretty credible handset for the tight of budget. AT&T's $99 520 is even more ridiculous considering it doesn't even break the century bill mark.
The only real difference between the 520 and 521 externally is the latter being 4.1mm taller in order to fit the T-Mobile logo at the bottom of the front face (124.0mm for the 521 versus 119.9mm for the international and AT&T versions of the 520). Beyond that, they share the same width, thickness, overall design and construction, and specs.
Physical Comparison
Nokia Lumia 521
Nokia Lumia 520
Nokia Lumia 920
HTC 8X (International)
Height
124.0 mm (4.88")
119.9 mm (4.72")
130.3 mm (5.13")
132.35 mm (5.21")
Width
64.0 mm (2.52")
64.0 mm (2.52")
70.8 mm (2.79")
66.2 mm (2.61")
Depth
9.9 mm (0.39")
9.9 mm (0.39")
10.7 mm (0.42")
10.12 mm (0.4")
Weight
124 g (4.37 oz)
124 g (4.37 oz)
185 g (6.53 oz)
130 g (4.59 oz)
CPU
1 GHz MSM8227 (Dual Core Krait)
1 GHz MSM8227 (Dual Core Krait)
1.5 GHz Qualcomm MSM8960 (Dual Core Krait)
1.5 GHz Qualcomm MSM8260A (Dual Core Krait)
GPU
Adreno 305
Adreno 305
Adreno 225
Adreno 225
RAM
512 MB LPDDR2
512 MB LPDDR2
1 GB LPDDR2
1 GB LPDDR2
NAND
8 GB NAND with microSD slot
8 GB NAND with with microSD slot
32 GB NAND
16 GB NAND
Camera
5.0 MP, f/2.4 lens
5.0 MP, f/2.4 lens
8.7 MP, dual LED Flash + 1.3 MP front facing
8 MP, LED Flash + 2.1 MP front facing
Screen
4" 800x480 LED backlit IPS LCD
4" 800x480 LED backlit IPS LCD
4.5" 1280 x 768 IPS
4.3" 1280 x 720 SLCD2
Battery
Removable 5.29 Whr
Removable 5.29 Whr
Internal 7.4 Whr
Internal 6.8 Whr
The 521 speclist hits a few major points that I'd consider pretty important in delivering a satisfactory mobile experience—IPS display, fast lens, a reasonably powerful SoC, expandable storage (in lieu of a sizeable amount of onboard NAND). Notable omissions include DC-HSPA+, a front-facing camera, a flash module, NFC, and wireless charging, but on paper it would seem that Nokia didn't cut too many corners in their pursuit of a bargain smartphone.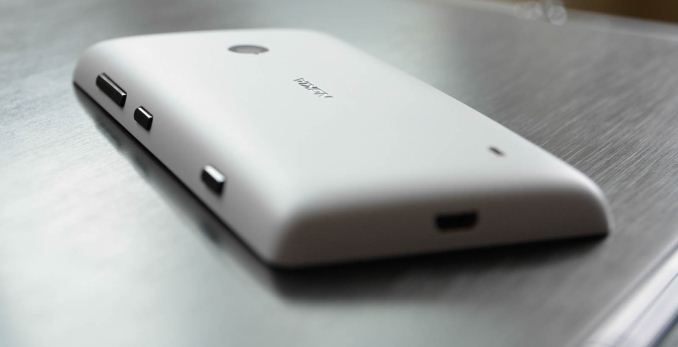 The 521 is a good looking phone, with a wraparound battery cover that fits around the main body of the phone. Conceptually, it's pretty similar to how the HTC 8X is put together, except that the entire thing is meant to come apart, giving users access to the battery as well as the micro SIM and micro SD card slots. Nokia has used this construction before with the 820 and 620, so it was no surprise to see it on the 520 and 521. The design language is very Nokia, with an organically contoured back and an elegant simplicity to the overall aesthetic. It manages to be understated without feeling plain, which Nokia has gotten very good at. It's really not much of a question, but Nokia's team of designers and engineers is truly world class—Nokia is the only company with the hardware level design chops to match Apple (though recently, HTC and Microsoft have shown promise as well).
In hand feel is actually really great—the 521 isn't the thinnest handset in the world, but the 4" display gives it a very compact frame that's a nice change from the 4.5-5" flagships of late. The ergonomics of the curved back are good, the phone just fits into your hand very well. The phone is light, but not unnaturally so—at 125g, it's pretty reasonable for the size. It's a bit odd to look at the 521 next to the brick-like Lumia 920, which has a 4.5" display and weighs a kind of ridiculous 185g; there's very little family resemblance between the two. (It's actually even more shocking to look at the 920 versus the svelteness of the same design language on the Lumia 800 and MeeGo-based N9, but that's a different matter.)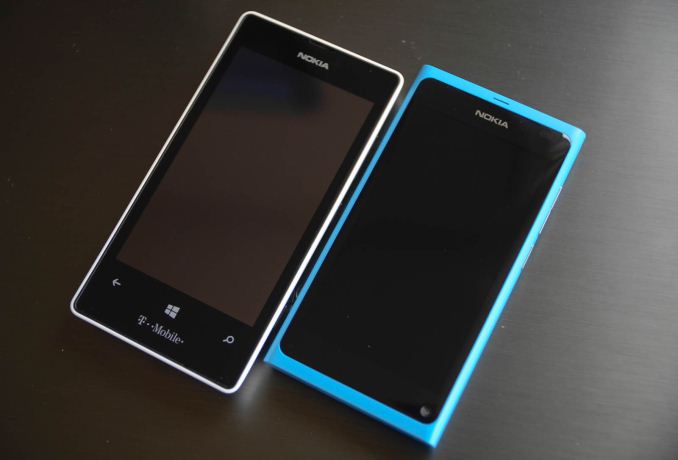 The battery cover is a matte polycarbonate shell, in this case white. The 520 battery cover is offered with five different color shells—the classic Nokia cyan, yellow, red, black, and white—though due to the height difference, those shells won't fit the 521 (I was heartbroken when I discovered this). There has been no word on any colored shells being offered for the 521 thus far, so I wouldn't hold my breath.
The shell has the glossy black buttons attached to it, laid out in the traditional Lumia style of volume, power, and camera all on the left side of the handset. I've actually never really liked the setup in the past, because the flush chrome buttons on the side of the Lumia 800 and 900 were easy to mix up on accident. This got fixed to some degree with the 920, which added more space between the buttons, but the 521 goes a step further with generously-sized buttons that stick out from the sides by about a millimeter. It's very easy to grab the right one by feel, and the buttons actuate with a positive click. There's more travel to the buttons, which is nice and refreshingly old-school. The camera button, particularly, is awesome—it's rare to find good two-stage camera buttons these days; this is probably the best I've seen in a couple of years. It sticks out a bit further than the other buttons and offers good feedback for both clicks.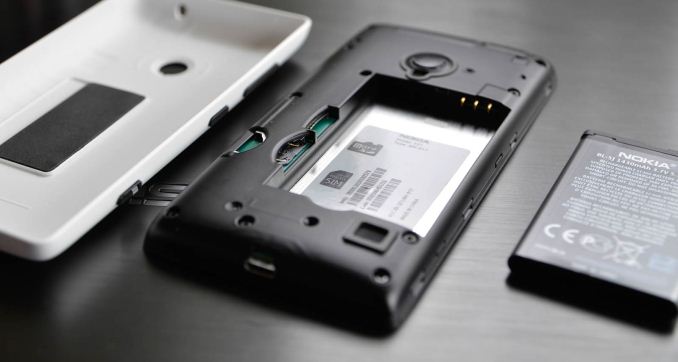 The battery cover peels off the back of the phone pretty easily, exposing the sparse guts of the phone. There's a hole in the shell for the camera lens, with some rubber padding in various places (around the camera module, speaker, and battery) to quell vibrations and offer a bit of protection. The interior of the phone is shockingly plain, with nary an extra screw, sticker, or plastic feature in sight. Penny pinching also probably led to the odd SIM-card insertion method—it isn't spring loaded (neither is the microSD card slot), so you need to push the SIM card out from the plastic cutout. It's not a problem, but it's just evident that places like this are where every last cent had to be saved to hit the $129 price point.
Overall, the design is very pleasant. It's clearly not high-end hardware, but it doesn't try to be. It's very solidly a budget handset, but a few cuts above what you get from Huawei and the like at this price point. This is Nokia at its best—focusing their hardware prowess on quality devices that don't break the bank. The smartphone is a niche that has yet to be fully tapped in the emerging world, and offering a compelling handset like the 520 is key to Nokia's future.
There are a lot of things about this phone that remind me of the legendary Nokia brick phones of old. Battery life is absolutely not one of them. This is the first time I'm getting the chance to fully test battery life on a Windows Phone 8 device. Until now, I haven't seen the option to set display timeout to "never" on one of the Nokia devices—the maximum was 5 minutes on the 920, 820, and 810. The 521 has a 1430 mAh 3.7V battery, putting it at 5.29 Wh—a far cry from the 9+ Wh batteries we see in a lot of higher end phones these days. This results in battery life being...not great—easily one of the poorest results we've seen in the 2013 Smartphone Bench after the original Galaxy Note and the notoriously short-lived Galaxy Nexus.
It's worth noting, too, that the 521 is using single-carrier HSPA+ as the air interface during our mobile broadband test. That's technically 4G, but obviously offers less bandwidth than the DC-HSPA+ we're used to seeing on T-Mobile.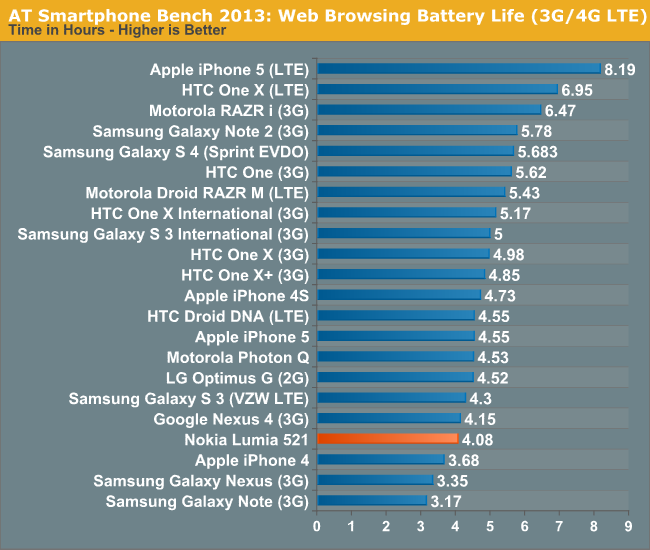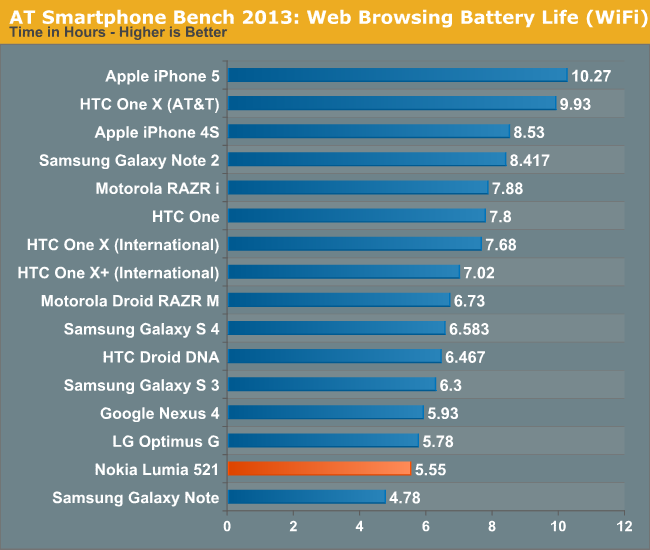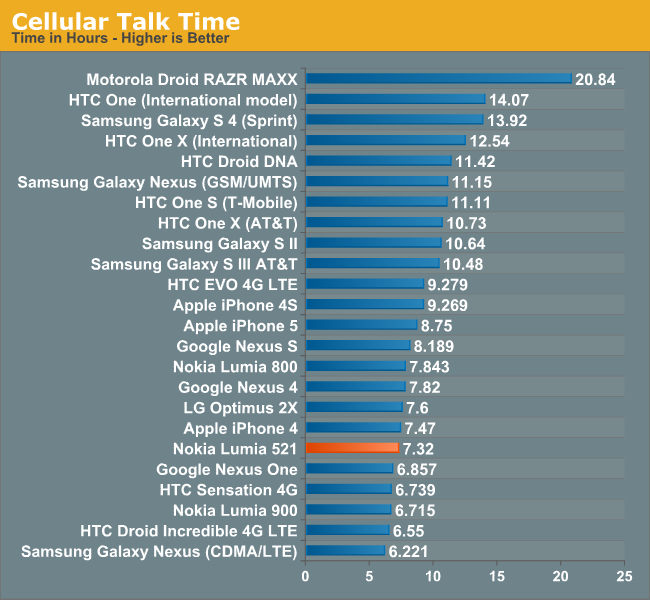 I did the battery life testing at the medium brightness setting (191 nits), since that was the closest to the 200 nits we use as the baseline and well within the margin of error. Talk time is a bit more respectable, indicating that the display and backlight are perhaps a bit less efficient than in other devices.
When you think about these results in the context of the battery capacity, the 521 is actually pretty efficient from a power standpoint. Obviously, with a dual-core CPU clocked so low combined with a relatively small display, this makes sense; I just wish that Nokia had specced at least a slightly larger battery to get more competitive runtimes.
Our smartphone benchmarks are centered around browser-based tests, and this is one area that really shows how far behind Internet Explorer 10 Mobile is relative to the mobile versions of Safari and Chrome. The other part of this is looking at Krait 200 at 1GHz versus the higher-clocked parts we see in the more expensive Windows Phones, which allows us to look at relative performance on the same software platform.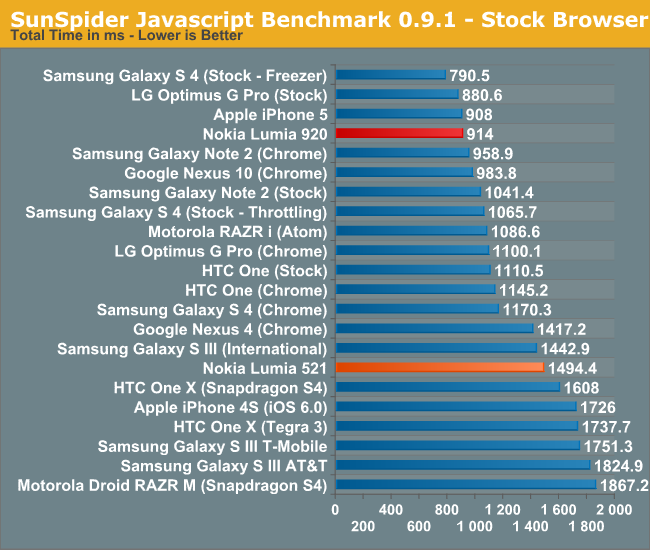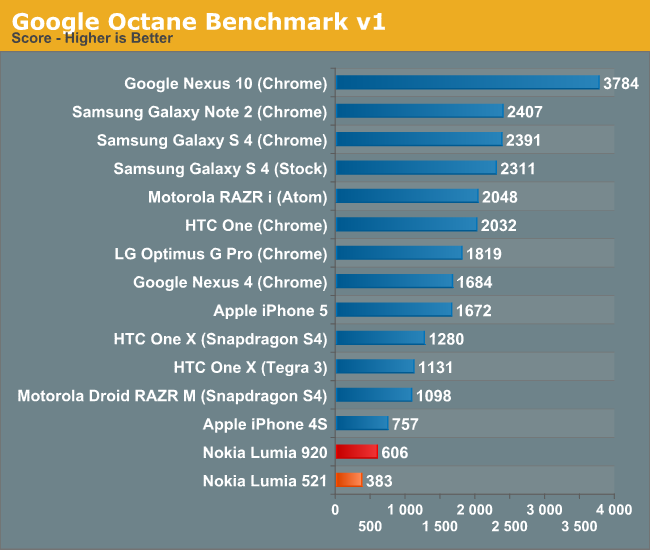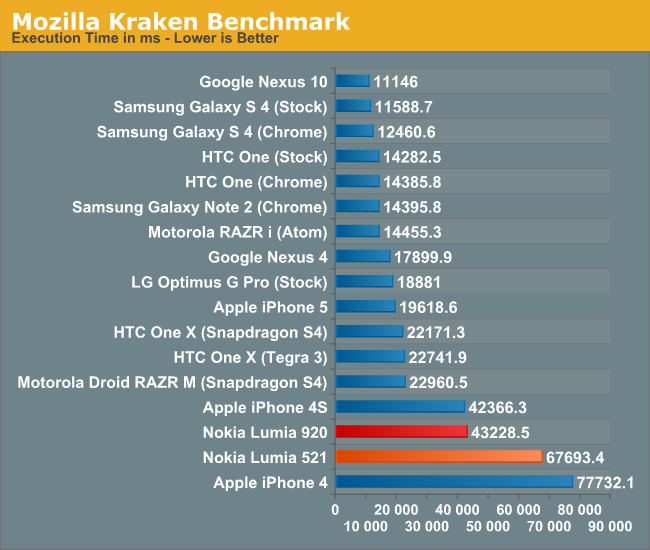 Sunspider performance is actually quite good, especially compared to other Krait 200-based devices like the One X and AT&T Galaxy S3. Where it falls off is in everything else—Kraken and Octane performance is just horrendous in comparison to the modern smartphone platforms. I didn't think it was actually possible to see numbers that high in the Kraken benchmark until I ran it a half-dozen times on my 521 review unit as well as a friend's Lumia 920. Microsoft clearly optimized for Sunspider, as we've seen over the years, and while that lets them stay competitive in that one benchmark, it doesn't really mean anything as far as having decent or even acceptable browser performance. It's just sad.
Between the 920 (MSM8960, so dual-core Krait 200 @ 1.5GHz and Adreno 225) and the 521, there's a definite performance delta. Obviously, this comes through in roughly 50% faster benchmark numbers across the board, but in day to day use, it mostly makes itself felt in slower application loading and multitasking/task switching, which is also related to having just 512MB RAM instead of the 1GB of the 920. Multitasking in Windows Phone has never really sat well with me, because it's not really multitasking in the traditional sense—the need to completely close and rehydrate tasks makes resuming applications exceedingly slow. Microsoft has always seemed to have an issue with app load times with ARM devices—this has been true since day one with Windows Phone, and is a problem with Windows RT tablets too—so the resulting combination can really kill any desire to run more than one task on your phone at a time.
I couldn't run GFXBench (DXBenchmark) on the 521 because it didn't meet the 1GB RAM requirement necessary to run the benchmark. I actually wasn't even aware that GFXBench had such a requirement in place until I tried to install it on the 521. In the grand scheme of things, I suppose it doesn't matter too much—we're pretty familiar with Adreno 305 by now, and it seems to be the go-to GPU for Qualcomm's new series of dual-core Krait 200 SoCs. In a platform that deemphasizes silicon performance in the end user experience as much as Windows Phone seems to, I'm not sure that the performance delta between this and Adreno 225 makes too much of a difference, particularly with a far lower-res screen. We're starting to see the more 3D intensive games require 1GB of memory to run, so this isn't the device for the hardcore gamers. It does fine with the typical slate of casual games though—Fruit Ninja, Angry Birds, and the like.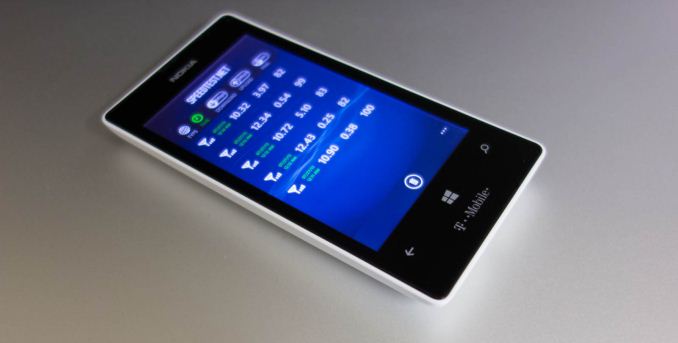 The air interface is probably something you could point to and say is a bit lacking—in this day and age, dual carrier HSPA+ is almost an expectation on T-Mobile and international non-LTE devices. But honestly, you don't end up missing it much. T-Mobile's HSPA+ network is quite robust both in Seattle as well as in Silicon Valley, the two places I spent time testing the 521, so 10+ Mb/s was basically the norm.
I couldn't figure out how to get the Windows Phone SpeedTest app to email a CSV of the test results, so no graphs with binned speed tests like we have on Android reviews. We've had a lot of experience with T-Mobile's HSPA+ network over the years though, and it tends to be very good in most metropolitan areas. Obviously, there's a significant jump in speed between HSPA+ and LTE, but the real-world difference between single and dual-carrier HSPA+, at least on T-Mobile, seems to be much harder to discern perceptively. The lack of DC-HSPA+ is still a bit of a disappointment, but I'm not nearly as cut up over it as I was when I saw it on the specsheet.
I was surprised to see that the 521 (and 520) had an IPS display when the specs were finalized, because I fully expected the display to be one of the biggest sacrifices made for the sake of the budget. I suppose it's not too much of a surprise, given that the 620 has quite a good display.
In person, the 521 display is pretty middling. It's not a bad panel, but it's not that fantastic either. Maximum brightness isn't that great at 342 nits—that's decent enough for most situations though not quite bright enough for comfortable viewing in broad daylight. The black levels aren't anything to write home about either, so contrast ratio is pretty low by the standards of the phones we typically look at, though its worth pointing out that we focus primarily on far higher end smartphone hardware. Compared to a contrast ratio chart from a couple of years ago, the 521 is about average. The white point of 6336K is very close to neutral, and color reproduction is pretty solid as well.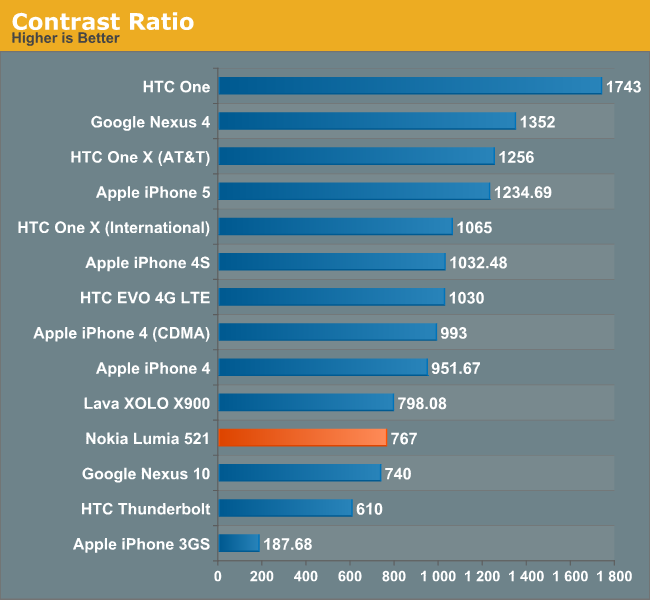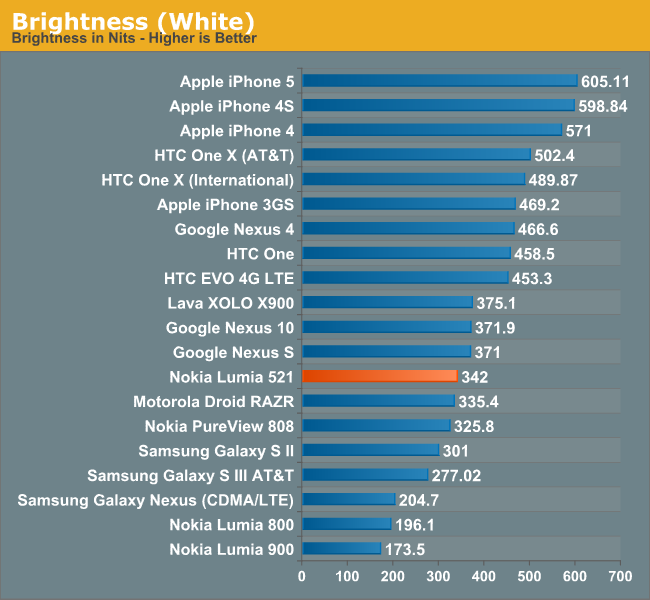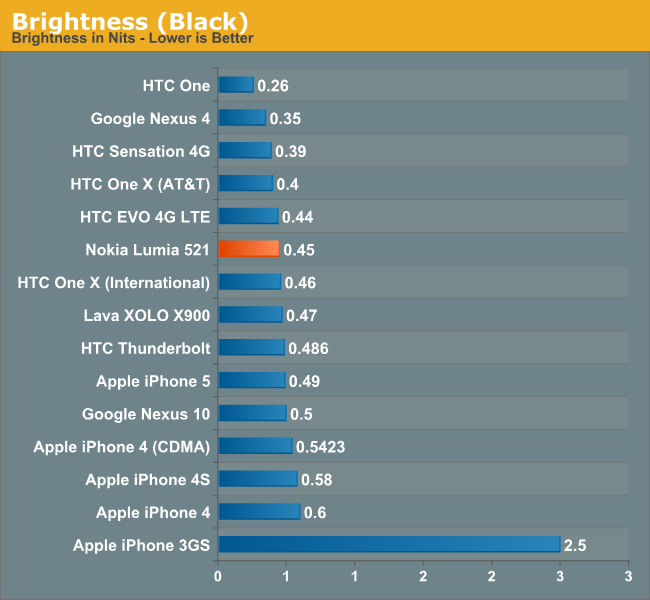 What kind of kills the 521 display experience though isn't the panel itself, since that's pretty decent; it's the gap between the LCD and the glass. That turns what would be a very respectable viewing experience into an ultra reflective mess anytime you venture outdoors. As a result, you end up wanting to crank the display brightness higher than normal (which is why I rarely used the automatic brightness setting). The extra glare brought on by the air gap is rather distracting and ends up being quite the downer in a lot more usage scenarios than just outdoor. In office-style overhead lighting, too, the glare can be quite terrible and generally ends up degrading display quality by a noticeable amount.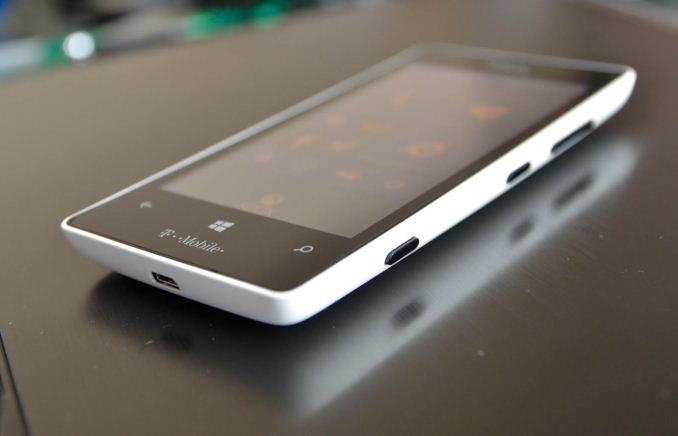 Given the price point, it's hard to fault the 521 too much and I must admit that I have somewhat of a skewed perspective. When you're used to carrying a One, an S4, or another device with a screen of that caliber, the step down to a far lower quality WVGA panel seems pretty drastic. But the colors are vibrant, viewing angles are predictably stellar, and overall the panel looks pretty good, so there are a lot of positives to focus on.
The brightness controls for Windows Phone are a bit finicky—you only get four options: low, medium, high, and automatic. The brightness steps are pretty reasonable, starting with low at 74 nits, medium at 191 nits, and high at 342 nits. There is no iOS or Android style brightness slider, so you're basically stuck trusting the light sensor or one of the three presets.
The camera, on paper, looks pretty competitive. The 5MP resolution won't blow anyone away, but as we've noted recently and before, resolution isn't the biggest deal in the world. The plastic optical system with a f/2.4 lens indicated some promise, though. This being Nokia, obviously the natural expectation is for the imaging system to hold its own.
And for the most part, it actually does. The image files by default are 16:9 aspect ratio, with a resolution of 2592x1456. This isn't exactly 16:9 actually—that would be 2592x1458—but it's near enough to make no difference. The rest of the camera interface is pretty much the same as what we're used to in most other Windows Phones, with the exposed manual control options being limited to ISO, exposure, white balance, aspect ratio, and four scene modes. And I know I covered this before, but I really liked the camera button; it's a shame that more phones don't have solid two-stage camera buttons with good, positive feedback.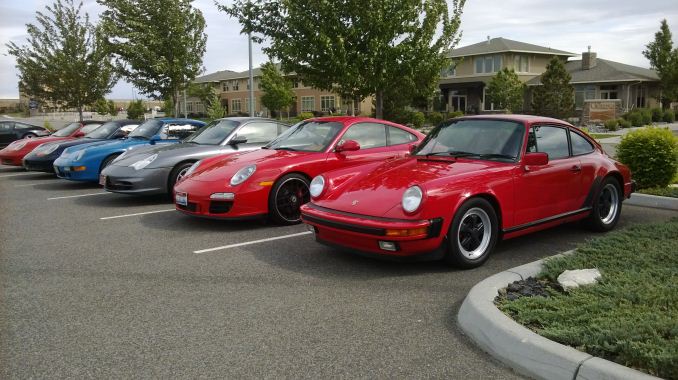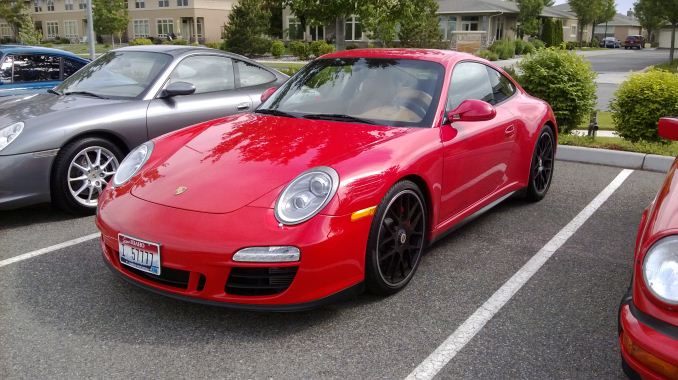 In well-lit scenarios, image quality is pretty solid, with good colors and reasonable sharpness. It won't blow anyone away, but this is easily on par or ahead of where we were in terms of smartphone imaging before the Galaxy S2 and iPhone 4S came out in the latter half of 2011. What actually surprised me was that the images looked pretty solid when viewed at 1:1 on my 30" display (the 2560x1600 resolution is very close to that of the image output, which made it easier). Definitely much better than I was expecting, and actually better than many of the smartphone camera stills that I've accumulated over the years, particularly ones more than a year old.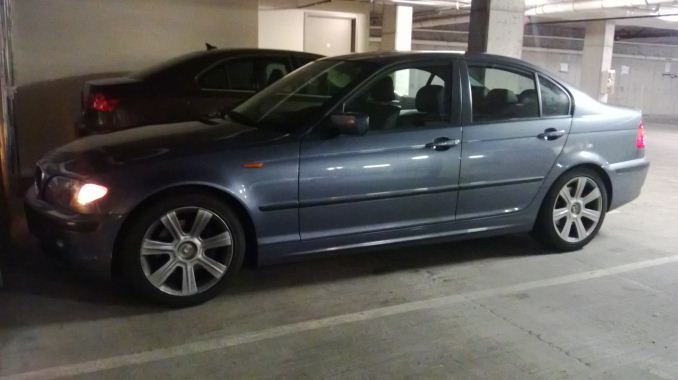 The low light story is mixed. On the one hand, the lens is bright enough to give you pretty reasonable images in dimly lit situations, with good detail and not as much of the grainy mess I was expecting. It's worth noting that in dimly lit scenarios, the shutter speed is a bit slow so it's pretty easy to end up with blurry images if you aren't careful. These are usable, social media-worthy photos though, and that's really all that can be asked from a phone like this. On the other hand, there's a distinct lack of fancy features. Like a flash. Yeah. So while the 521 is a decent low light camera, if low light is really closer to no light, you're out of luck.
As noted before, there's no front facing camera either. It's not a huge deal for me, because I rarely make use of the feature—Skype video calls from my phone just aren't part of my normal usage model—but it's something that could count as a pretty big omission for some people, particularly internationally. I think an LED flash and a front facing camera probably could have been included for not that much more, perhaps an increase of $10 on the price would have covered it, but I can understand why Nokia would be so hesitant to increase BoM costs on a device like this.
While I enjoy the visual style, I've long been critical of Windows Phone as a platform, particularly when it comes to high-end devices. I really, truly believed in it when it launched in 2010, and actually spent a fair amount of time on a few different Windows Phones in the year following that. It had a lot of potential—and still does—but a few years later there are still some pretty glaring flaws, and that's not a particularly encouraging sign.
As much as the Windows Phone interface has been lauded, I don't think that's necessarily accurate. It's beautiful, yes—the Metro design language looks fantastic on the mobile form factor, and the animations have always been sleek and smooth, even on the slowest hardware. Everything visual about this interface has been finely crafted, and we're left with an elegant, minimalist platform with bold shapes and vibrant colors. It's a thoroughly modern visual style, and we've seen both Google and now Apple embrace the flat UI concept since Microsoft rebooted their mobile platform in 2010.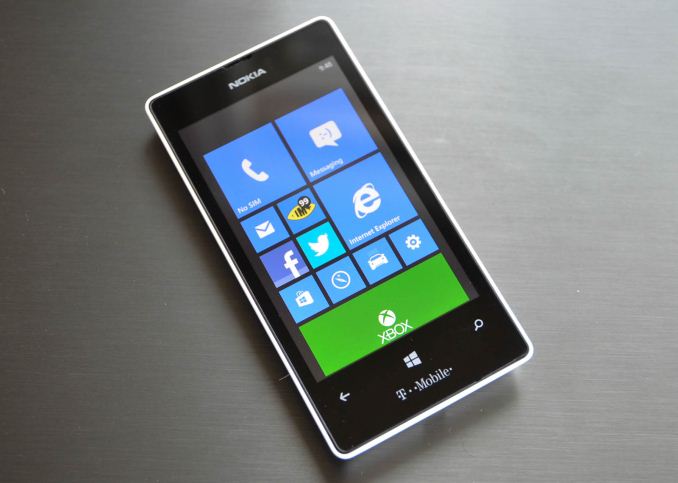 But from an interactions standpoint, I'm less sure about how Windows Phone goes about its business. Microsoft still hasn't gotten the balance between visual sparseness and presenting information effectively. Far too often, you see important functions and options pushed into random corners of the interface, buried deep in some menu. Sometimes, they just don't exist because a design decision was made in order to eliminate visual clutter. I can understand the complaints that Android has a cluttered or even convoluted interface, but Microsoft definitely seems to have gone too far in the other direction.
This is even more true with third party applications that try to adhere to the Metro UI design guidelines. Open the WP8 Facebook application and compare it to the Android and iOS versions to see what I mean. When the focus on visual minimalism impacts the usefulness and usability of the interface, there's something wrong. We see this with Windows 8 applications as well, but there it's less of an issue because there's more screen real estate—and because you can just go back to the good old Windows desktop if all else fails. I don't think anyone has managed to approach Apple's balance of UI elegance and functionality, especially now with the interface improvements found in iOS 7.
I'm also tired of being told to wait for the next version of Windows Phone—first it was wait for copy/paste (NoDo), then wait for multitasking (Mango), then wait for WP8 to bring the NT kernel and fix everything, now wait for 8.1/Blue to bring it closer to feature parity. Microsoft cannot expect to gain back market share after this many years unless they're willing to aggressively ramp their development cycle the way Google did with Android a few years ago—something they have thus far shown no indications of doing. They just haven't iterated quickly enough, and I can't think of a single time when I picked up a Windows Phone and thought it was feature competitive with Android and iOS. It's not even because I use Google services; there are just a number of things that are legitimately missing from the platform.
At the flagship level, this becomes a problem—how do you sell a phone that's theoretically competitive with the iPhone 5, Galaxy S4, and HTC One even though it doesn't have real multitasking, a notifications center, a competitive browser, or much in the way of instant messaging support? Other than imaging, where Nokia is obviously a market leader, it's hard to think of any compelling reasons to pick a high-end Lumia over one of the previously mentioned handsets. But at this price point and on a handset like the Lumia 521, a lot of those issues become forgivable.
$130 is on the border between high-end featurephones and the lowest of the low-end smartphones. We're talking two year old devices—stuff like the Samsung Galaxy Exhibit II 4G (MSM8255 and Android 2.3) and the Sony Xperia tipo (tiny 3.2" display and MSM7225A with dual-core Cortex A5, but it does have Android 4.0). These are handsets that are either outdated, clearly flawed, or both. In comparison to those, the Lumia 521 comes out looking pretty good.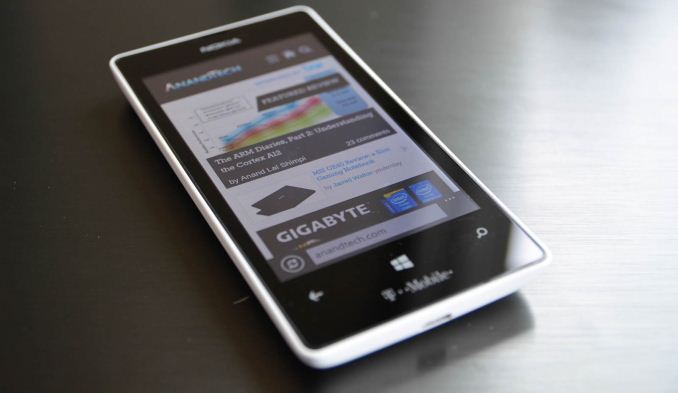 The best alternative in the Android world I've come up with is to spend a bit more to grab the prepaid LG Optimus L9 on T-Mobile for $179. That's not an insignificant increase, but the L9 was a pretty great entry-level smartphone last year with specs that are still mostly respectable—a 4.7" qHD IPS display, OMAP 4430, a 5MP camera, and Jelly Bean 4.1.2—so the price delta is justifiable...ish. Of course, if you're willing to go used, $150 can buy you basically any two year old flagship you want. I've seen the LG G2x and HTC Sensation regularly go for less than that on Amazon and Craigslist, though the Galaxy S2 has retained a bit more value and runs a bit more than that. The mid-to-late 2011 flagships remain pretty competitive with the budget handsets of today, but typically have better designs and end up being more complete all-around handsets because they weren't subject to aggressive penny pinching.
It's interesting to compare the 521 to the last Windows Phone I had for testing, the Lumia 810. That was the first Nokia WP8 device to hit T-Mobile, essentially just an operator customised variant of the Lumia 820. That was a good phone, if a bit dull design-wise and overshadowed in basically every way by the headlining 920. What strikes me as interesting is that the 521 is nearly as good as the 810 despite existing at a price point that's less than half of what the 810 was. I'm definitely not the only one that feels this way, as the 810 was EOLed by T-Mobile earlier in the spring and replaced with the 521 (the high-end crowd will be served by the 925).
Beyond the display, which was one of the better parts of the 810, the day to day experience is rather similar, making it a bit hard to justify spending so much more for higher end hardware if you aren't particularly concerned with the imaging side of things. This consistency across hardware platforms regardless of price point is really one of the strongest points of the Windows Phone platform with one caveat. This really benefits the lower-end devices, and the 520 and 521 are a really clear example of this, but at the same time, it's a bit hard to explain paying four times more for a 920 or 925. Yes, the camera and display are better, and yes it's a bit more powerful, but is it really worth paying that much more for something with many of the same software limitations? I'm not as sure. You can make a far better case for the 1020 (hereby dubbed the smartphone to end all connected cameras), but that's a different article entirely.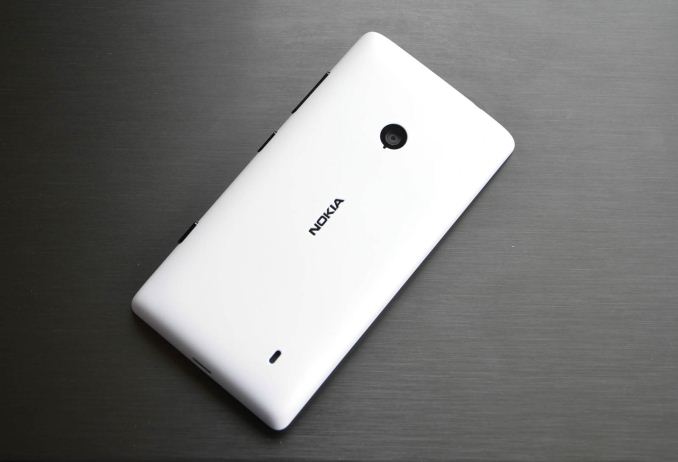 Nokia tried their hand with budget Windows Phones last year with the 510 and 610, but the 520 seems to be a better thought out product and has so far been a hit in countries like India, where Nokia seems to be advertising quite a bit (based on the Indian television I've watched recently—this is what happens when I spend too much time around my parents). Samsung has used a similar formula in the past to great success with the Galaxy Ace, a phone that did have a major foothold in the Indian market despite running an ARM11-based SoC (which was laughable for a handset released in 2011). So it's hard to complain too much about the 521 not having the greatest display or the longest list of features.
This is about providing a credible modern smartphone experience at the lowest of budgets, and in that sense, the Lumia 521 more than delivers, with a modern microarchitecture, generally decent specs, and a very solid no-frills design. Nokia is one of the world's most respected handset manufacturers, a truly elite hardware design center. The Lumia 521 is one of their most compelling handsets in recent memory, and it's difficult to give it more praise than that.