Original Link: http://www.anandtech.com/show/7178/rosewill-throne-case-review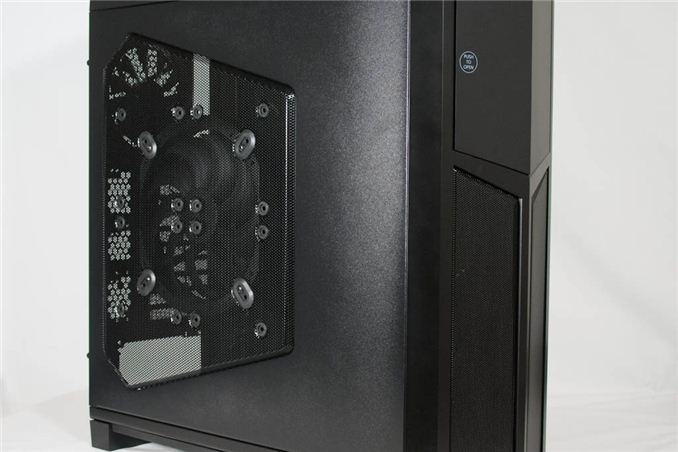 Rosewill's higher end enclosures seem to traditionally occupy a unique and special niche among their competitors: while their build quality may not quite be up to the level of competing cases, thermal performance tends to, if you'll pardon the expression, blow right past them. There are definitely tradeoffs to be made in the process, but beasts like the Thor v2 and Blackhawk Ultra provide borderline unparalleled thermals in their respective markets. If you're looking to build a beastly machine but want to save a few bucks on the case, there's a good chance Rosewill will have what you need.
That trend continues with the release of the Throne. First glimpsed at CES 2013, Rosewill's Throne comes with a tremendous amount of bells and whistles and like its predecessors, a price tag to match. We're still well into enthusiast case territory here and end users looking to save more scratch will probably want to keep sticking with the Thor v2, but at $159 (though currently out of stock at NewEgg), the Throne may be a case to shortlist for your next build.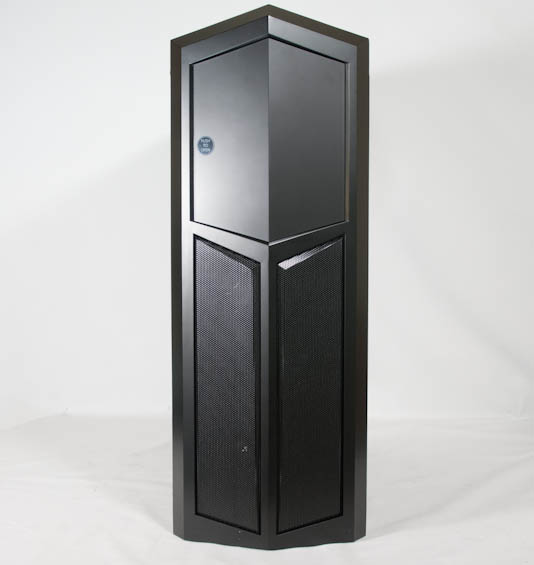 Unfortunately, this review does need to come with an advance warning. My case is a preproduction unit that doesn't have quite the fit and finish of units that are available in retail; alignment of optical drive bays with the fascia was off by about 2mm (you'll see later), and there was a short in the power button lead that created some problems during testing. Rosewill's reps confirmed the preproduction nature of my review case and none of their retail cases in-house had the same issues, and reviews of the case on NewEgg do corroborate their claims. If I were buying the Throne from NewEgg I might have a raised eyebrow, but honestly I'm confident those specific issues I ran into are going to be unique to this unit.
Rosewill Throne Specifications
Motherboard Form Factor
Mini-ITX, Micro-ATX, ATX, SSI CEB, SSI EEB, XL-ATX, E-ATX
Drive Bays
External
3x 5.25" (includes one 5.25" to 3.5" converter)
Internal
10x 2.5"/3.5"
Cooling
Front
2x 140mm intake fans (supports additional 2x 120mm/140mm fans internally behind drive cage)
Rear
1x 140mm exhaust fan
Top
2x 140mm exhaust fans (supports 2x 120mm)
Side
1x 230mm intake fan (supports 4x 120mm)
Bottom
1x 120mm/140mm fan mount
Expansion Slots
10
I/O Port
2x USB 3.0, 4x USB 2.0, 1x Headphone, 1x Mic, 1x 2.5"/3.5" hotswap bay
Power Supply Size
ATX
Clearances
HSF
180mm
PSU
330mm
GPU
330mm
Dimensions
9.14" x 22.84" x 21.89"
232mm x 580mm x 556mm
Special Features
Supports 280mm radiator in top
Dual 3-channel fan controllers
Hotswap drive bay
Toggleable red LED lighting for front fans
Open-and-close top vent
Price
$159
As far as features go, pretty much all the Throne is missing is an SD card reader, though I take some issue with the lack of filters on any of the fans but the bottom (where the only fan in most builds is going to be the one in the power supply). This isn't uncommon for Rosewill's cases but it's something that does need to be addressed; over time a Thor v2 will build up a tremendous amount of dust, and it stands to reason the same may happen with the Throne.
The Throne continues Rosewill's brute force approach to cooling, but the sliding fan controllers can at least take some of the edge off. Specific to Rosewill's beefier designs is the inclusion of a 230mm intake fan on the side panel; while I've sometimes waffled on the value of side intakes, it's pretty hard to ignore the positive impact one this massive can have.
Where I think Rosewill has made major progress from the Thor v2, and to a lesser extent the Blackhawk Ultra, is in the aesthetics of the Throne. The Thor v2 is an incredibly powerful case with a fairly goofy look to it; the worst I can say about the Throne is that it reminds me of the Shredder from Teenage Mutant Ninja Turtles.
The front of the Throne is actually pretty slick in my opinion. While Rosewill cuts costs using a plastic fascia for the front and top panels, it doesn't look terrible. There are two large vents that allow the front intake fans to breathe, and then a door hides the reset button, the toggle for the red LED lights in the two front fans, and the three 5.25" drive bays. The door opens to the right by default but can actually be removed and rotated, a welcome addition.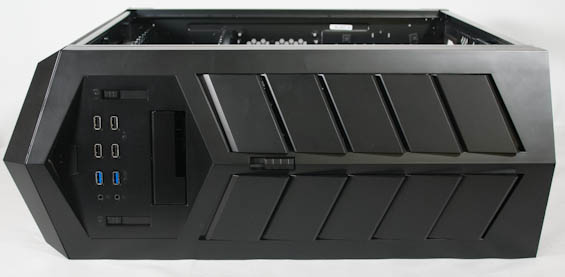 Get to the top of the case and you see the Throne's bread and butter: a flat tray indented into the panel holds the six generously spaced USB ports (two 3.0 and four 2.0) along with the hotswap drive bay, audio jacks, power button, and sliding fan controllers. There's also a sliding vent mechanism similar to what we saw on the Thor v2.
The right side panel is solid steel while the left side panel includes plenty of ventilation and a beefy 230mm intake fan, which blows pretty much directly over the expansion slots. Note that this fan is thick; the power leads for the video cards I installed cleared it, but only just. If you're using an unusually tall enthusiast card (think EVGA Classified or ASUS Mars) you may very well run into problems with the intake.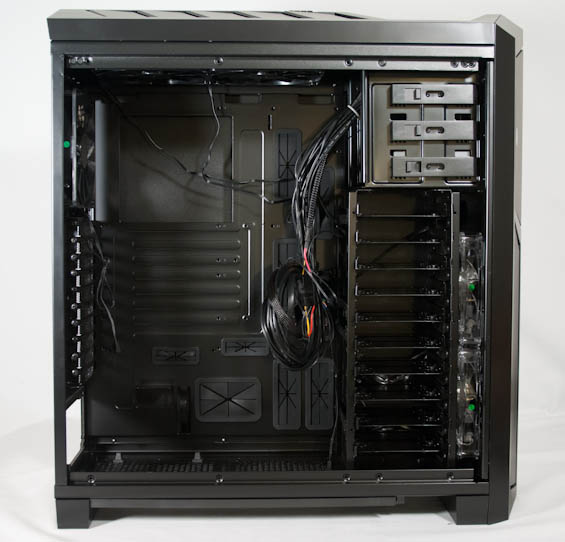 Removing the side panels is easy; they're both held into place by two thumbscrews, and they're hinged. When you get inside the Throne, everything is pretty business as usual. This is an extremely standard ATX enclosure design. With no swappable drive cages, the ten drive trays will undoubtedly feel at least a little excessive, but the Throne is designed to hold just about everything. I think it's interesting how much 5.25" drive bays have been deprecated; there are only three, all with toolless clamps. Meanwhile, space behind the motherboard tray isn't copious but it's acceptable, and the hinged side panels ensure it never becomes a serious issue.
What I appreciate about the Rosewill Throne is its clarity of purpose. The cooling design isn't especially elegant but I don't get the feeling it was ever intended to be; this is a design that's about getting as much air into and through the case as humanly possible. Similar to the Thor v2 and Blackhawk Ultra, we're again dealing with a brute force approach to cooling. I'm still not entirely sold on the fit and finish and build quality, but you don't buy Rosewill cases for aluminum front panels, you buy them because you need a lot of cooling power at a good price.
Honestly, the biggest problem with assembling a system in the Rosewill Throne is the fact that the case weighs thirty pounds. Add in hard drives, beefy video cards, aftermarket CPU cooling, and a power supply, and watch that weight jump really fast. If you're not a ninety pound weakling like I am you'll have a somewhat better go of it, but there's no denying that the case is big and heavy.
Building your system with the Rosewill Throne isn't going to yield many surprises due to its bone stock garden variety ATX case design. You'll unfortunately have to install the motherboard standoffs yourself, a task that's actually becoming less and less common with modern enclosures. Likewise, while the 5.25" drive bays are toolless, the steel drive sleds most definitely are not.

3.5" and 2.5" drives alike screw into the bottoms of the drive sleds, which are then inserted into the drive cage from the motherboard side of the enclosure and connect behind the tray as is typical of most case designs these days. While I'm not necessarily heartbroken about this design, I feel like this is one place where other designers are making great strides in innovating. It may complicate things somewhat, but toolless 2.5" drive solutions are the direction things are headed. There's nothing inherently wrong with the design here, but there's also definite room for improvement.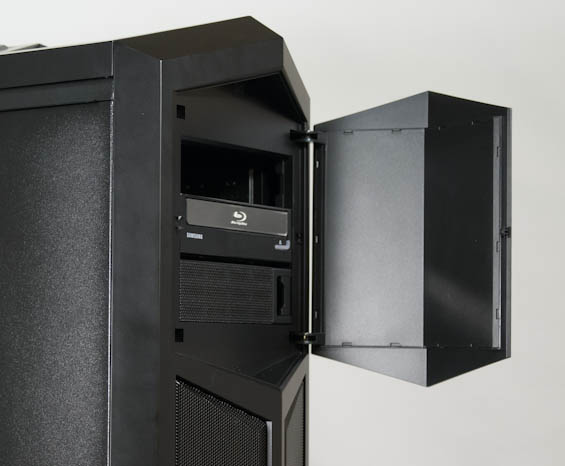 As I mentioned in the introduction, I ran into an alignment issue with the front fascia of my review unit due to its preproduction nature, and that's pictured above. It shouldn't affect test results and my understanding is that it's totally unique to my test unit, but it bears mentioning nonetheless.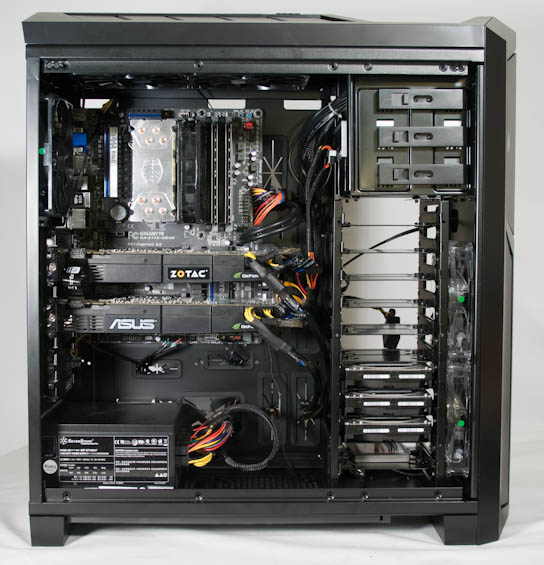 Installing the expansion cards and power supply was relatively painless, but where the Throne runs into trouble is cabling. It doesn't look so bad from the primary side, but reach behind the motherboard tray and experience a rat's nest of wiring that's incredibly difficult to sort out before you've even installed your hardware.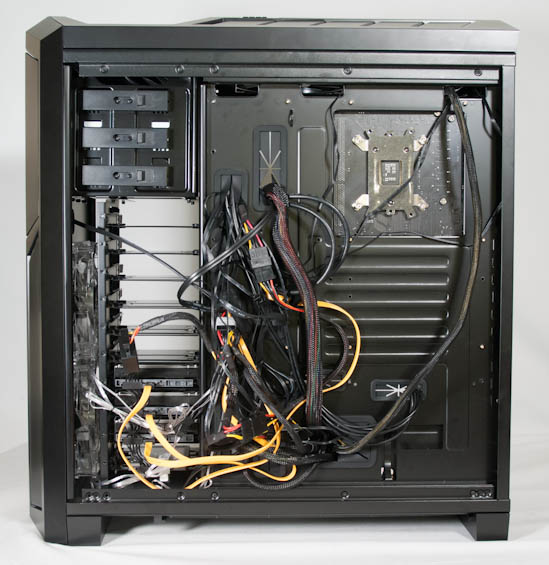 I'm not sure how much it can be helped; due to the massive amount of connectivity and control in the top of the case, you're looking at a tremendous amount of wiring just for the case alone. Before you even get to hooking up indicator LEDs of the power or reset buttons, you have two USB 2.0 headers, one USB 3.0 header, one SATA cable for the hotswap bay, one molex cable for the hotswap bay, the HD audio header, another molex line for the fan controllers, and then eight fan headers in total for the fan controllers. In some ways, the Throne is already a full house, and if you're lousy at cable routing and organization like I am, things will get very ugly very fast.
The reality is that as with most Rosewill cases, you're making some very specific tradeoffs. If the reviews on NewEgg are any indication, most users are pretty comfortable making those tradeoffs, but it's nonetheless important that you be aware of them. The Throne doesn't have quite the level of cable organization as a competing NZXT Phantom or Corsair Obsidian, and the relative lack of fan filters mean dust will be an issue sooner rather than later. What you get in exchange is a big, roomy enclosure with a whole lot of airflow.
For testing full ATX cases, we use the following standardized testbed in stock and overclocked configurations to get a feel for how well the case handles heat and noise.
Each case is tested in a stock configuration and an overclocked configuration that generates substantially more heat (and thus may produce more noise). The system is powered on and left idle for fifteen minutes, the thermal and acoustic results recorded, and then stressed by running seven threads in Prime95 (in-place large FFTs) on the CPU and OC Scanner (maximum load) on the GPU. At the end of fiteen minutes, thermal and acoustic results are recorded. This is done for the stock settings and for the overclock, and if the enclosure has a fan controller, these tests are repeated for each setting. Ambient temperature is also measured after the fifteen idle minutes but before the stress test and used to calculate the final reported results.
For the "full fat" testbed, the GTX 560 Ti is swapped out for a pair of GTX 580s, and three hard disks are added to fill out the case.
Thank You!
Before moving on, we'd like to thank the following vendors for providing us with the hardware used in our testbed.
It should go without saying that the cooling style Rosewill employs with cases like the Throne is going to be less efficient than more esoteric designs like the Corsair Carbide Air 540 and SilverStone's Raven RV-04. But the importance of efficiency is fairly relative and unique to the individual consumer; if the case gets the job done, who cares how it gets there? The Throne doubly benefits from the inclusion of a fan controller that allows individual users to determine where their ideal balance of thermals and acoustics lies.
The Rosewill Throne was tested with both its highest and lowest fan settings at an ambient temperature of ~24C.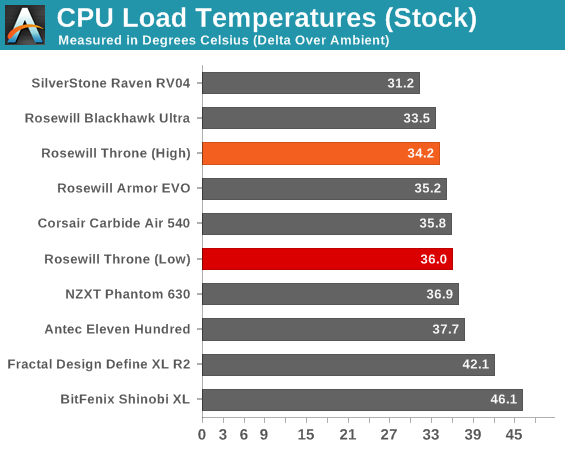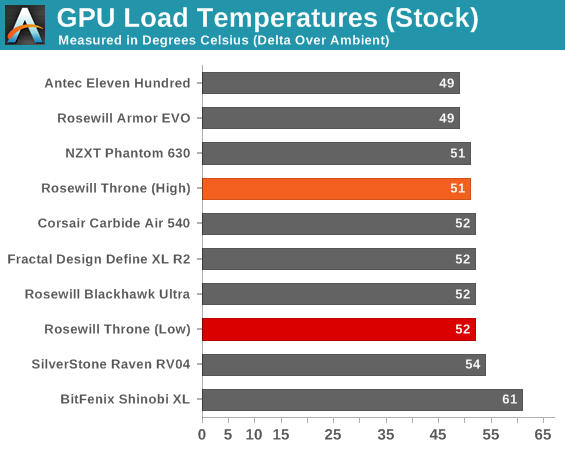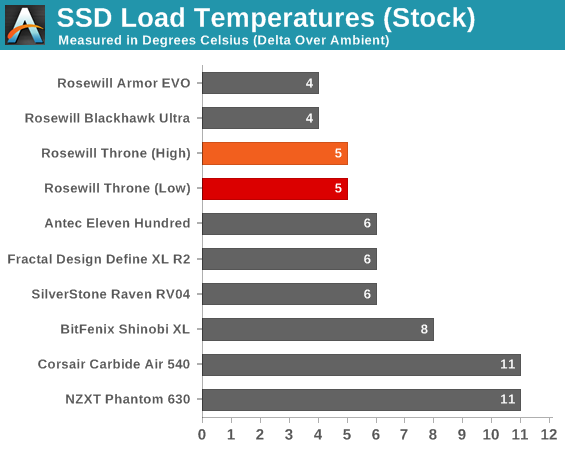 Load temperatures aren't super exciting, but they're competitive and certainly among the better cases we've tested. The competing cases we've listed are pretty much the cream of the crop, so the fact that the lowest fan setting doesn't have to yield too much performance and still hangs in the game is compelling.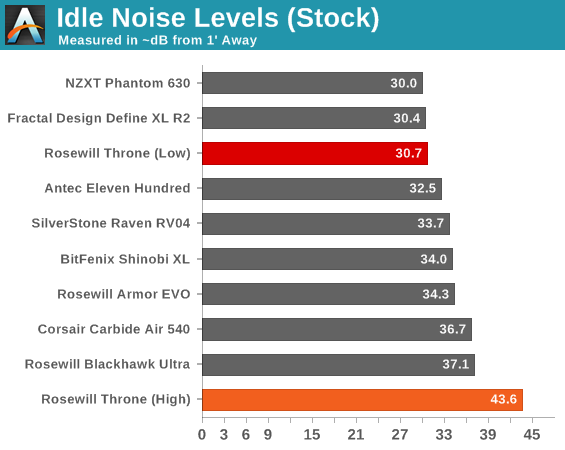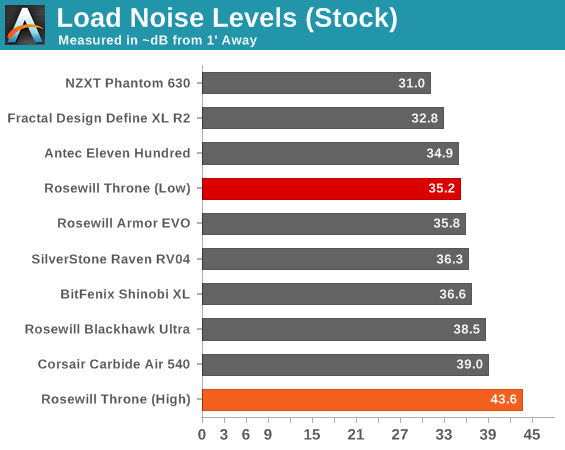 It's pretty obvious the highest fan setting just isn't worth it; the copious amount of airflow in the Throne ensures that even running at the lowest gets the job done. The flipside is that other competing cases are still able to do the job more quietly; some tuning may be necessary to get just the right amount of airflow, and your mileage will vary.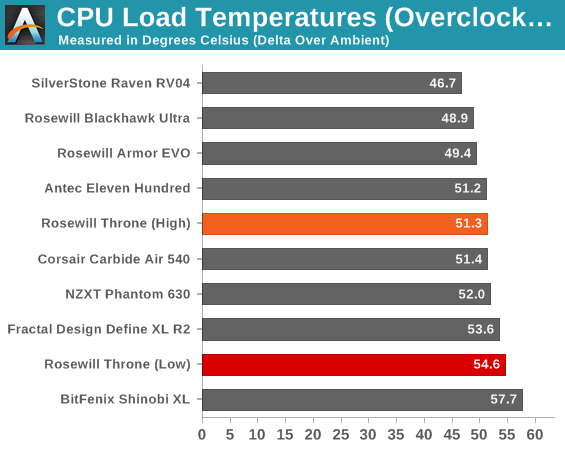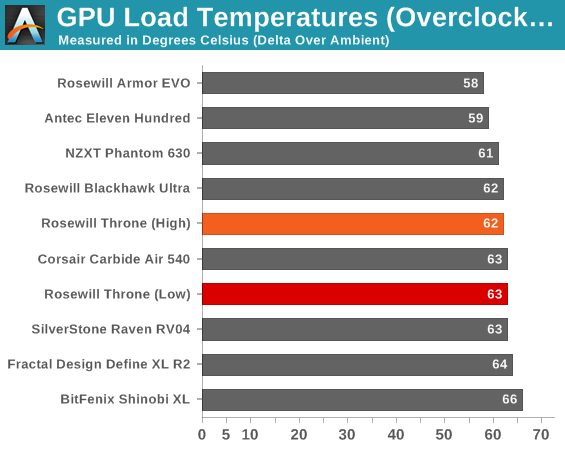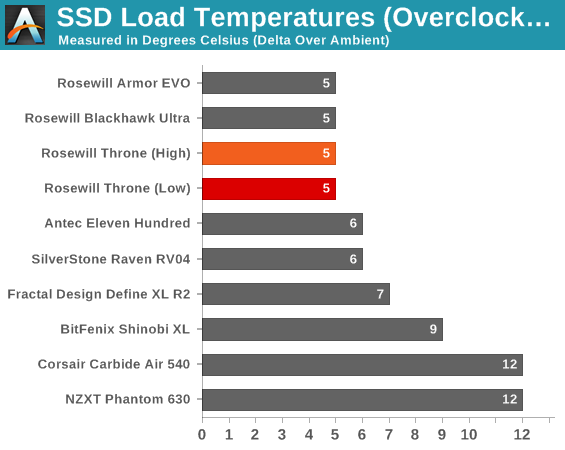 With overclocking applied, the Throne starts to demonstrate a clear benefit from a little more airflow than the minimum setting.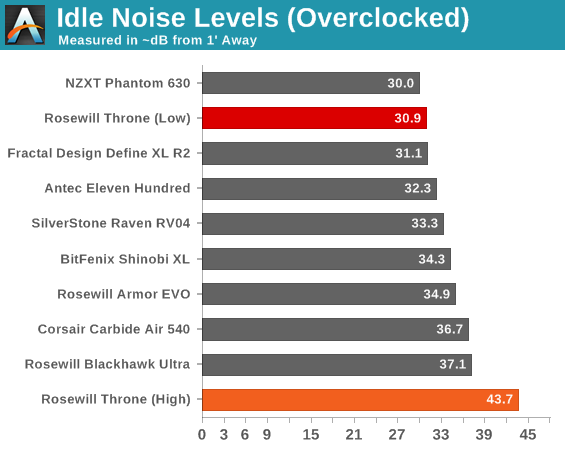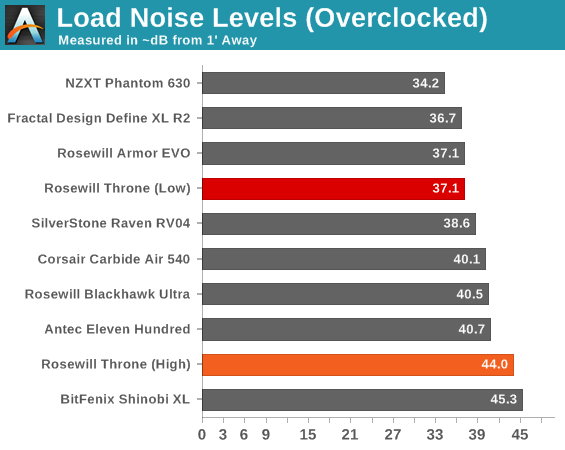 Depending on how much tweaking you're willing to do, it shouldn't be too much trouble coaxing the right amount of thermal performance out of the Throne without causing noise levels to spike in the process. The problem is that the Editor's Choice Award-winning NZXT Phantom 630 is able to compete aggressively on both levels, and if you catch it on sale you can have it for the same price as the Throne, if not cheaper.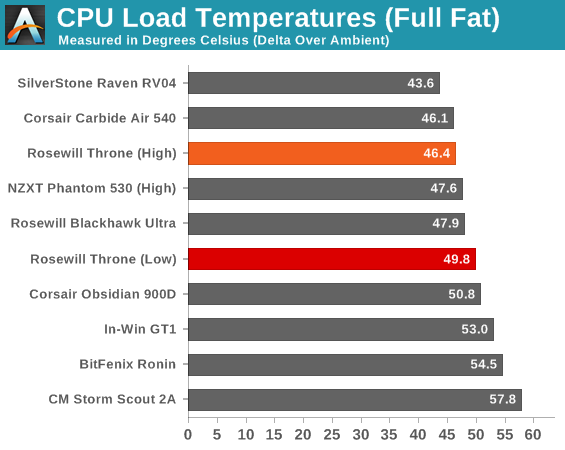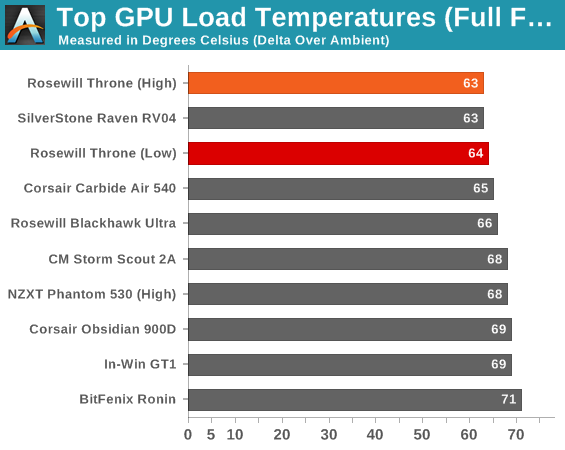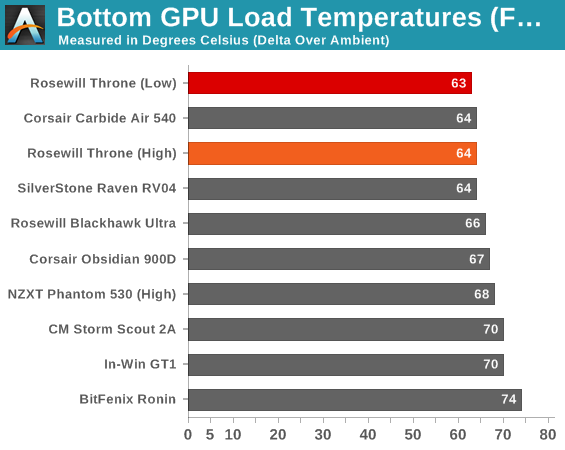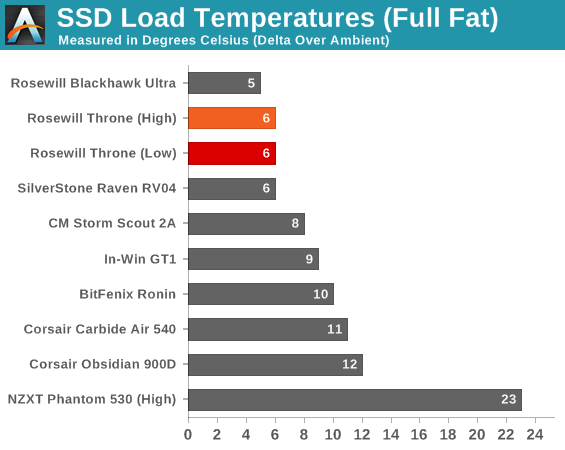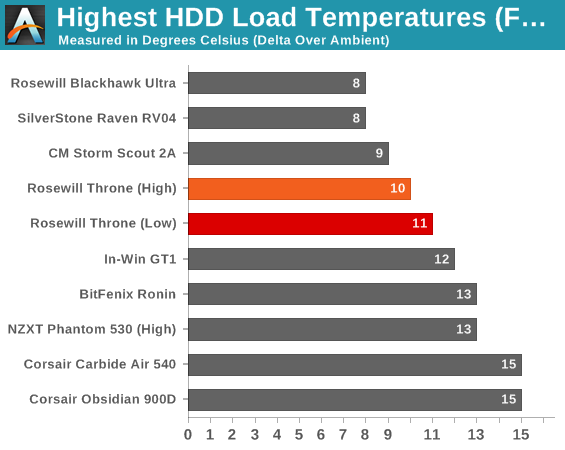 Performance with our brutal full fat testbed remains competitive. Note that the Throne is able to put up a good fight against Rosewill's own flagship Blackhawk Ultra. The full fat testbed tends to be a pretty tough race, and test units will spread out further when acoustics are taken into account.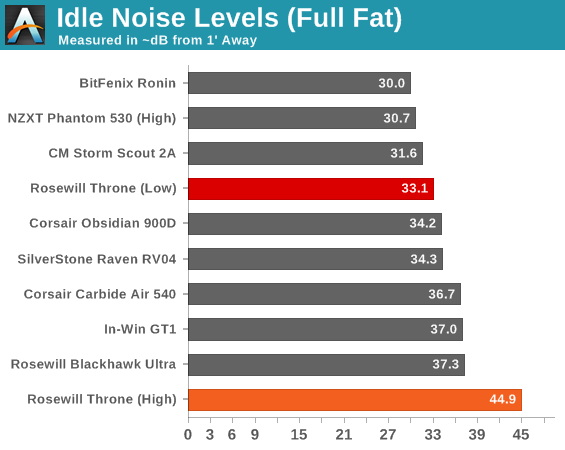 Now that we're trying to dissipate 600+ watts of heat under stress, the Throne's noise characteristics don't look quite as bad. Idle noise with the fans cranked up is pretty horrendous as it has been up to this point, but load noise benefits from the tremendous amount of air the Throne moves.
While my experience with the Rosewill Throne was admittedly colored somewhat by the quirks of my review unit, testing has nonetheless left me with mixed feelings all around. Life is simpler when you can recommend a product without hesitation, and that's unfortunately not a possibility here.
First, we'll talk about what's good about the Throne. Rosewill has once again produced a fairly solid value contender. $159 isn't cheap per se, but you're getting a case that will hold pretty much any motherboard spec and system you want to build without issue and offer tremendous cooling performance to boot. You get fader-style fan controls; I'm a huge fan of these because the traditional 5V, 7V, and 12V steppings of switchable fan controls can often miss the inflection point on fans where additional rotation and noise offers very little performance gain.
You also get a beastly amount of connectivity in the top of the case; I personally feel four ports is about the right number, but I'm not going to complain about having six. Whether or not the hotswap bay is a selling point will depend on the individual user; I know I installed one in my Nanoxia Deep Silence 1, so take that for what it's worth.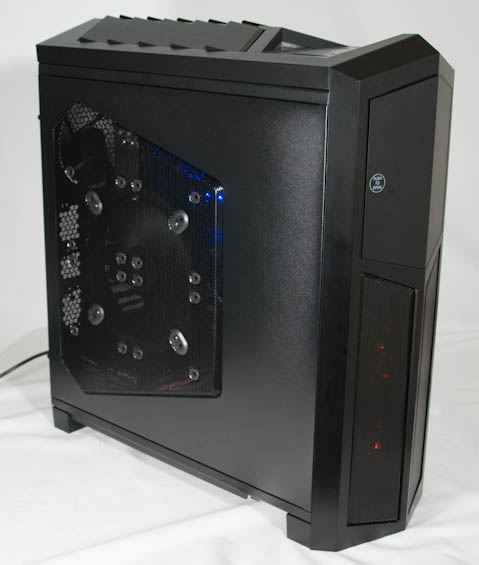 The problem the Throne has is that it's not entering the same market the older Thor v2 entered. If you explicitly need the oversized form factor then it's settled, and I'd take the Throne over even Rosewill's flagship Blackhawk Ultra. But if you're still hanging out in ATX territory, the Throne suddenly looks far less compelling, and Rosewill loses their budget edge. At that point they're competing with the beastly NZXT Phantom 630, which offers comparable thermals at substantially lower noise levels. The Throne is easier on the eyes than SilverStone's oddly goofy Raven RV-04, but the RV-04 can do with two fans what the Throne needs six to do, and it's a lot quieter to boot. Finally, down at $129, the unique and completely awesome Corsair Carbide 540 serves as a major spoiler, offering competitive thermals and a slicker chassis at a lower price.
No option here is strictly superior to another (except, arguably, the Throne to Rosewill's own burly Blackhawk Ultra), so it does come down to what you feel like you need. If from this review and from the specs, the Rosewill Throne looks like the best fit for your build, I can recommend it without much hesitation. Just be sure to weigh your options carefully; most standard ATX builds are going to be better off with the NZXT Phantom 630 at the same price. And hey, if you're on a budget, the Thor v2 is still around.