Original Link: http://www.anandtech.com/show/7235/moto-x-review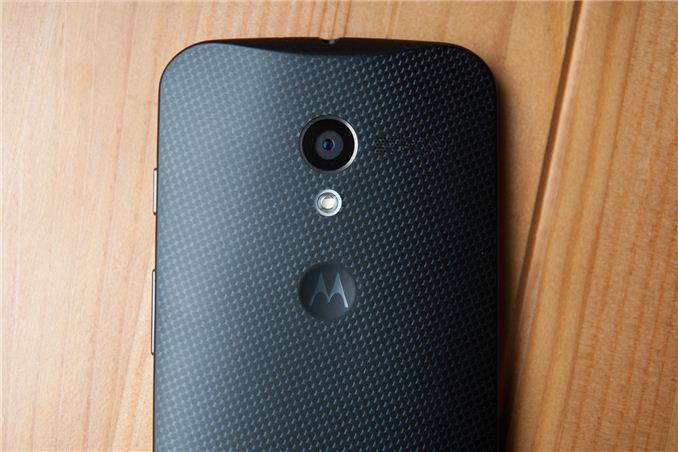 It has been a long time since I've seen a smartphone so fervently rumored, discussed, hyped, and finally announced like the Moto X has been. The level of buzz surrounding the Moto X slowly built to nearly messianic levels just before the official announcement, after which point we were given the device for a hands on and initial impressions. Hype aside, Motorola built considerable attention for the Moto X, now the question is how the device really stacks up to the competition.
For Motorola, the Moto X is a hugely aspirational phone. If the name doesn't already make it somewhat obvious, this is literally the device that Motorola is relaunching itself under. Greater still, the Moto X is the first device built and released under its new Google ownership. While it's obvious that Google didn't buy Motorola solely for its product portfolio, it's still an important data point for its mobile strategy, to say nothing of how closely the rest of the Android hardware vendors are probably watching this launch. Motorola did an awesome job timing its announcement and release window, giving us just short of a month of time with the Moto X before release date crept up, something I wish more handset makers would do instead of the usual 1 week rush.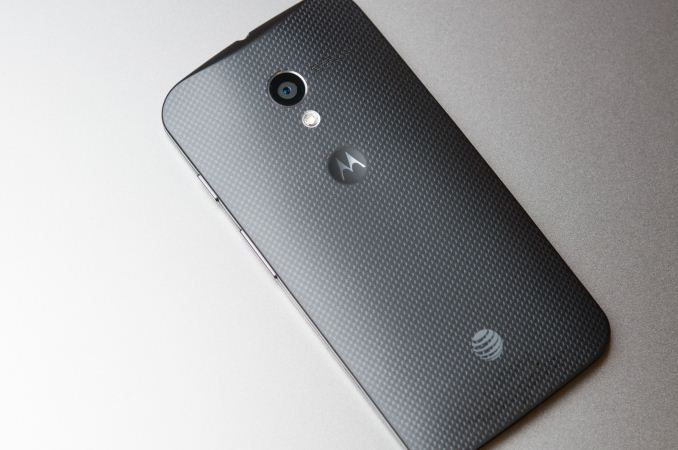 For me, reviewing Motorola phones seemed to be a constant affair up until the acquisition and Motorola quieting down. The breadth of its handset portfolio seemed to dwindle down to essentially only Droid branded handsets for Verizon, to the point that many considered Motorola a de-facto Verizon handset ODM. That's not to say Motorola didn't make interesting phones, like the RAZR i or M for example, but it certainly quieted down.
All of that changes with the Moto X, which will launch on the five major wireless network operators in the USA (Verizon, AT&T, Sprint, T-Mobile, US Cellular), in addition to a version sold on Google Play, and two Developer Editions (one for Verizon Wireless, another general North American WCDMA/LTE version) with unlockable bootloaders direct from Motorola. Motorola now effectively joins Samsung and HTC in the Android space by getting its branding and device portfolio consistent and uniform across the operator landscape. There are still a lot of variants of the Moto X, but the upside is that almost all the possible combinations are covered for the US, Latin America, and Canada.
Physical Impressions
There's been a narrative lately about smartphones and their ever increasing size. It's shocking to me that this far into the mobile device surge, the industry hasn't quite settled down on one clear optimal display size, with flagships getting bigger each successive generation. I'd posit that the optimal size is somewhere just shy of 5-inches diagonal, say between 4.7 and 5, but this is a subject of heated debate.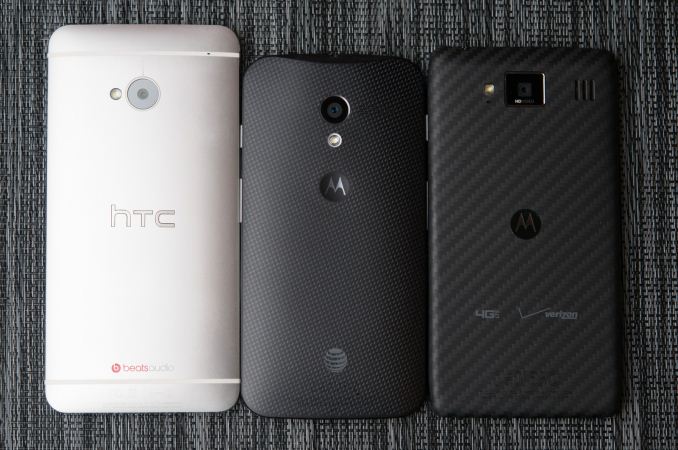 HTC One, Moto X, RAZR MAXX HD (Left to right)
While there are definitely smaller phones out there, the problem is that handset makers divide up their portfolio along display size lines. Smallest ends up being low end, medium ends up being midrange, and the largest devices end up being the flagships. If you want that midrange sized phone, that ends up putting you squarely in midrange territory, and therein lies the problem - smaller shouldn't automatically connote midrange.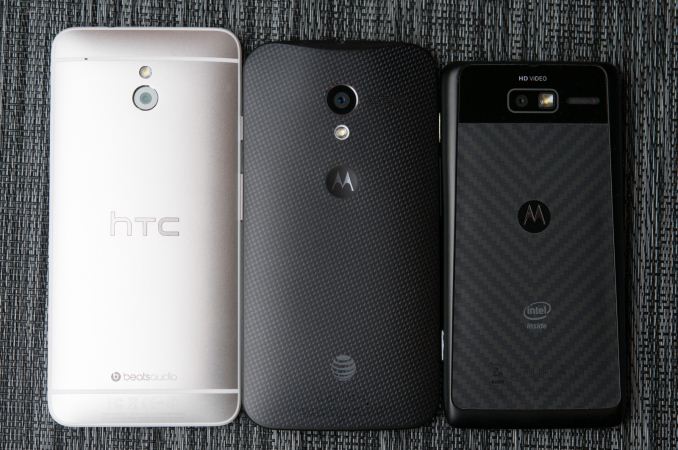 HTC One mini, Moto X, RAZR i (Left to right)
The Moto X is positioned as an Android handset that fills exactly that niche - a flagship phone with a still quite big display (4.7-inch diagonal) but not quite as big as the 5-inch flagships, and overall smaller 2D dimensions, all while being flagship. Or at least, that's one part of the unstated goal of the Moto X. Size is kind of a tired discussion at this point, so much so that I feel like a broken record talking about it each device, but the Moto X is clearly on the smaller side of the spectrum right now.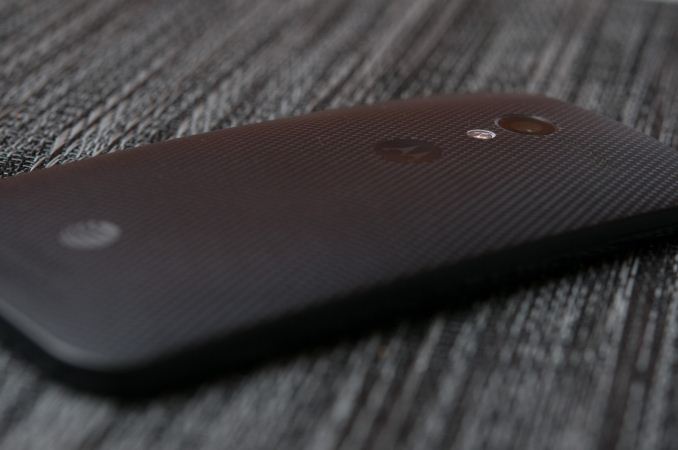 The easiest thing to talk about is the in-hand feel of the Moto X. The short version is that the rounded backside of the Moto X is more ergonomic than most, but the plastic it gives way to halfway along the lip makes it feel like relatively standard fare. After you get over that plastic on the front, however, the shape is great and there aren't any sharp edges to get hung up on or cause discomfort when held to the face during a call.
The long story is that the Moto X design allegedly reflects Google's data-driven approach to just about everything. Google's guidance to Motorola on the Moto X was something along the lines of - go get a statistical sampling for device size and shape, do a user study and gather feedback, and then build the phone that optimizes for positive feedback.
I'm not sure what the size of Motorola's sample was, but it clearly was enough to convince Google. I've always wanted to design a phone something like that - get 3D data on a huge number of human hands, then empirically derive the optimal size and shape for a device, and engineer a phone around those constraints. The reverse of that is most often what happens during device design - the display I want to fit inside has this aspect ratio, I have to fit this much board area for the platform inside, and then fill the resulting empty space inside the cube with battery. The mechanical engineering, industrial design, and RF design of a smartphone are really three competing things all pulling different ways.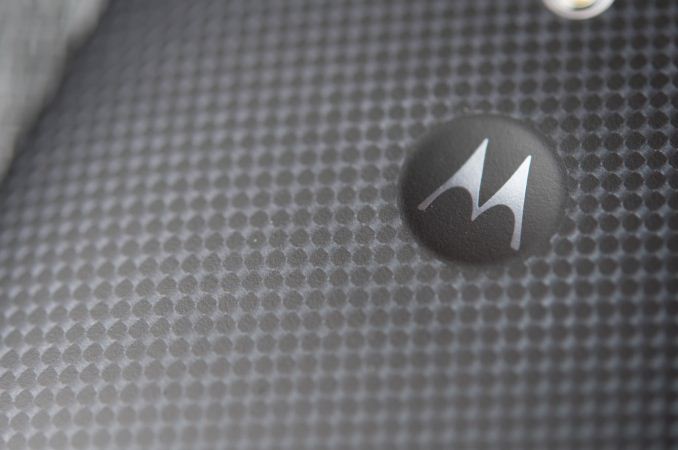 The result of that data is the Moto X's unique backside curve, which isn't a spherical or cylindrical shape but rather a more complicated quadratic one. Holding the phone, you can see how this plays out - the Moto X is thicker at the top than it is at bottom, with the thickest point peaking at the Motorola dimple. Similarly, the rolloff in thickness from side to side changes depending on height. It's a really hard to describe curve that seems much more organic than the extruded rectangle shape of traditional devices. I can't deny that the Moto X shape seems almost natural when held in the hand during normal use or when held to the head during calls. The Motorola-logo dimple also does double duty by serving as a great way to tell if you've pulled it out of your pocket in the right orientation.
Like other vendors with a curved back shape, Motorola fills as much of this volume as possible with components required for a phone. HTC chose to fill its rounded devices with a stack of battery, then PCB, Motorola goes for a monolithic single-sided PCB (a regular design staple for Motorola instead of the double-sided L shaped PCB), then tops it off with a stepped battery made by LG. So much of in-hand feel is a byproduct of the internal construction, and putting that the volume formed by the rounded section to use with a stepped, stacked battery is critical.
Materials are the other axis of in-hand feel and quality. Here Motorola continues to use composites with the default woven white and woven black. If you've held the Kevlar Droid RAZR or the composite-backed RAZR HD, you'll know exactly what I'm talking about, as that seems to be the same material as what's employed here. One of the other material choices is a more traditional polymer with soft touch, which is the case of the different colors available if you go the customization route through Moto Maker which we'll talk about later. Last are wood options which won't be available at launch but rather sometime later in Q4 - teak, bamboo, rosewood, and ebony will be choices. The wood is sealed with a clear layer, to both prevent damage but also stop water from being absorbed and causing unintended attenuation of RF signals.
I'll say that I'm spoiled and colored by my time spent using metal phones as of late, but the composite-backed Moto X still seems of higher quality than the plastic used by some of the Korean handset makers.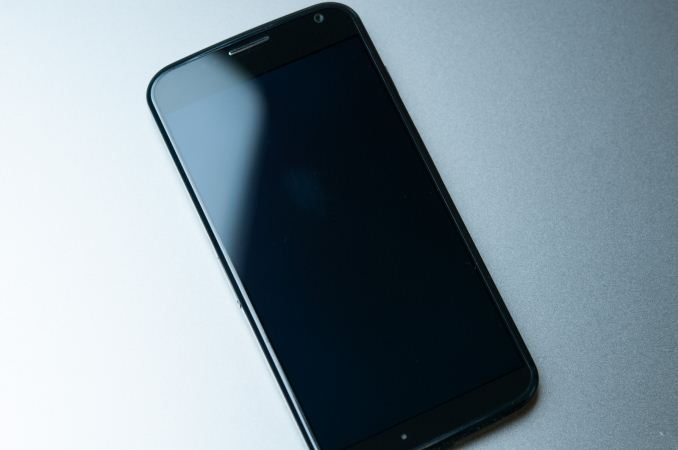 Motorola's unique materials story continues on the front with a fused glass-plastic layer. The front glass and touch panel are fused into the plastic lip which rings the top side of the Moto X. They're not separate parts, but literally fused together into one. Motorola is very proud of this feature since it results in one unbroken surface instead of the usual pressure-fit plastic ring affair with a raised section or gap. I can still detect a bit of a seam where the glass-plastic interface is, but it's so much less than what I normally encounter on other devices.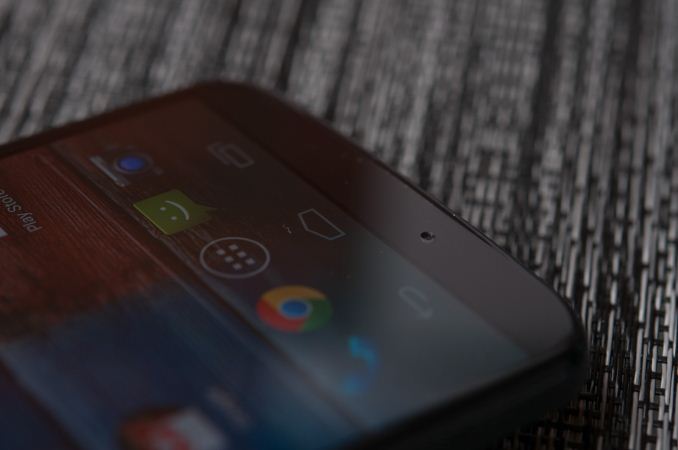 The top and bottom of the Moto X also have a small raised plastic lip, which lets you lay the phone front-down on a surface without the display glass resting coplanar and picking up scratches from any dirt or dust in-between. This is a subtle but important feature given the Active Display feature and the display-down emphasis that's part of it. The Moto X also feels great held to the head with this rounded unbroken curve - a lot of other handsets with sharp edges really start to hurt after a while on long conference calls, and the Moto X feels notably better than the competition in this regard. The front facing camera is off to the extreme right, the earpiece is a small centered slit, and to the left is the ambient light and proximity sensor.
There are three microphones on the Moto X for ambient noise reduction on calls and for ASR (Automatic Speech Recognition). One on the front at bottom just off-center, one on the back facing out, and one at top next to the headphone jack. Motorola was the first to put three microphones on its devices, and this continues with the Moto X, even if I suspect this is still a beamforming system that uses the microphones in pairs.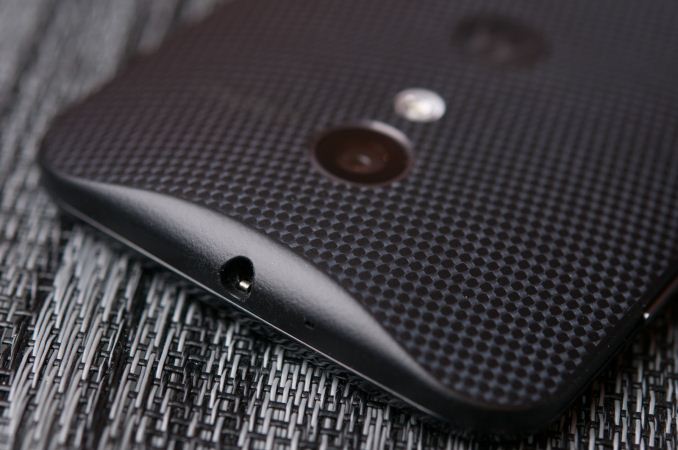 At the bottom is a microUSB port, at top in the thick region at center is the headphone jack.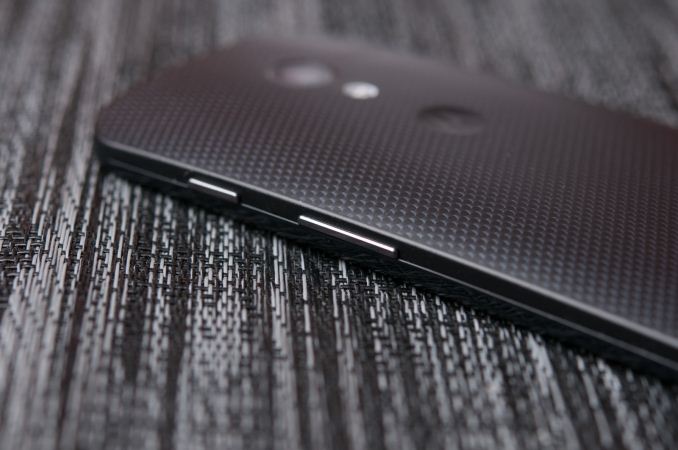 The left side is home to the Moto X's nanoSIM tray, which makes it one of the few new devices embracing nanoSIM besides the iPhone 5. At right is the single piece volume rocker and power button above it. The buttons feel positively clicky and are easy to locate, but can be pushed around up and down and rattle slightly.
The backside is again home to a secondary microphone, rear facing camera and LED flash, speakerphone grille, and Motorola logo. The speakerphone is a series of small holes to the right of the camera aperture and rather traditional mono. The backside also carries AT&T branding at the bottom, which is rather unfortunate. The upside however is that there isn't any on the front of the Moto X.
The Moto X ends up being a uniquely shaped device that lends it great in-hand presence, and makes it incredibly pocketable. I also have to applaud Motorola for its above average material quality. The Moto X is not small by 2012 standards, but smaller than most of the 2013 competition, something that it plays off as a positive rather than a negative. It truly is crazy to think that a device the size of the Moto X is now considered on the smaller side of the spectrum.
Moto X
SoC
Qualcomm Snapdragon S4 Pro (MSM8960Pro) 1.7 GHz
Motorola X8 System (SoC+NLP Processor+Contextual Processor)
Display
4.7-inch AMOLED (RGB) 1280x720
RAM
2GB LPDDR2
WiFi
802.11a/b/g/n/ac, BT 4.0
Storage
16 GB standard, 32 GB online, 2 years 50 GB Google Drive
I/O
microUSB 2.0, 3.5mm headphone, NFC, Miracast
OS
Android 4.2.2
Battery
2200 mAh, 3.8V, 8.36 Whr
Size / Mass
65.3 x 129.3 x 5.6-10.4 mm, 130 grams
Camera
10 MP Clear Pixel (RGBC) with 1.4µm pixels Rear Facing
2 MP 1080p Front Facing
Price
$199 (16 GB), $249 (32 GB) on 2 year contract
Moto Maker - A Customized Moto X
A large part of the Moto X story is the ability for users to order their own customized variants with different color combinations and an optional customized engraving (at a later date) and line of text at boot. Initially exclusive to AT&T, the Moto Maker customization tool manifests itself as a web portal where shoppers can select from 18 different back colors, 7 accent colors, and a black or white front at no additional cost. In the future there will be additional patterns and materials available, for example additional textures and the wood materials I touched on earlier later in Q4.
The workflow is simple, either shoppers go online to Moto Maker directly, or (at launch) go into an operator store, see color samples, buy a 16 or 32 GB Moto X Moto Maker pass, and then either complete the Moto Maker customization option on a kiosk at the store or later from the comfort of their home. Motorola then assembles the custom Moto X in Fort Worth, Texas and ships to anywhere in the USA with a 4 day turnaround time. Shoppers who want to walk out of an operator store with a device in hand will have to opt for the woven white or black options as mentioned before.
The initial AT&T exclusivity is disappointing if you're on one of the four other major wireless operators in the USA, however I expect the other operators to get brought in immediately after the exclusivity period ends, but there's no word how long that is for AT&T. The Moto Maker part of the customization experience is also exclusive to the USA given the four day window Motorola is shooting for, so that means Canada, Latin America, and other markets get left out.
Motorola gave us a chance to play with Moto Maker before the Moto X launch and order a customized Moto X of our making just to try it out. I settled on a combination of olive back, white front, and silver accent color, plus the customized line of text on the back, for an overall somewhat tactical look (the "olive color" winds up being like a lighter olive drab, it'd be cool if Motorola had flat dark earth available). Anand went with a completely yellow lemon colored unit that looks very striking. The tool works very well and presents a 360 degree view of the device as you step through the process, it's all very compelling, even if choosing a combination from the wealth of back colors and accents is somewhat daunting. I went through about 5 different permutations of Moto X colors before settling on the one I finally pulled the trigger on.
Motorola didn't exactly nail the 4-day delivery window for either Anand's or my own customized Moto X, and my back didn't get the customized line of text on it, although Anand's did. Mine ended up taking a little over a week to get delivered, but a large part of that was because they essentially built two Moto Xes in that timeframe due to the engraving issues they discovered. I'm willing to acknowledge that this first set of customized Moto Xes we were given the opportunity to order were technically during a "Beta" release of the Moto Maker, so hopefully kinks like the customized line of text not being present and the turnaround time are sorted out quickly.
Anand's customized Moto X looks great in pictures, and I'm pleased with the way mine came out as well. It definitely adds something to the experience to be able to choose out your own color combination.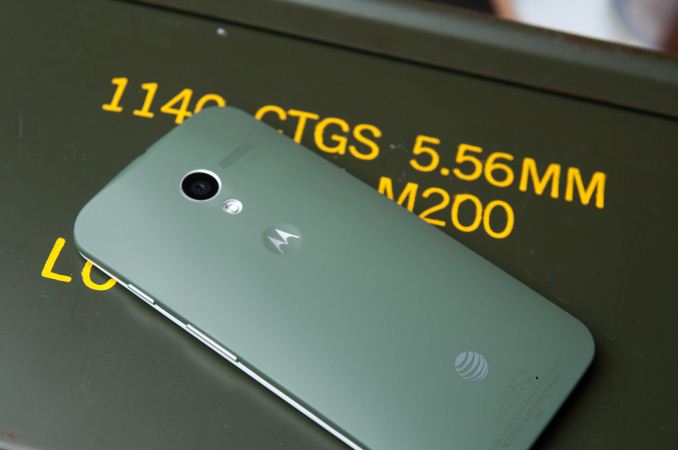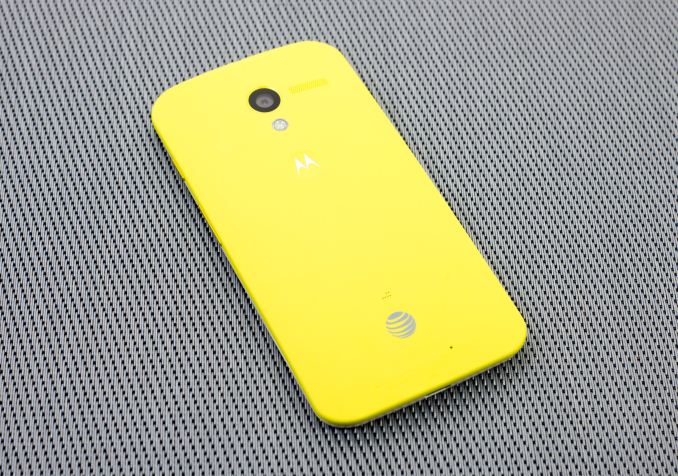 The customization options are great for users who want to differentiate their devices from the uniform black or white squares that are pretty standard fare these days, and I expect the Moto Maker route to be a popular option given how loud Motorola will be about the customization aspect of the Moto X. After all, at no additional cost (unless you go for wood, more storage, the optional matching headphone accessories or a case) there's really no reason you shouldn't go for something custom or unique looking.
For some, the Moto Maker tool is probably enough to sell the device on its own, but customization options only go so far towards closing a sale. What Motorola has done however by offering an easy to use tool and quick turnaround is both awesome and unprecedented.
Somewhat Stock Android
One of the first things that changed for Motorola under its new Google ownership was the final nail through the coffin for Motoblur, with OTA updates for some of its handsets gradually scaling back customized features in favor of stock ones. I joked with Anand that Google paid $12.5 billion for Motorola just to kill the beast that was Motoblur. Truth be told the presence of largely-stock Android 4.x UI is perhaps one of the best qualities of the Moto X.
ro.build.version.full=Blur_Version.139.9.51.ghost_att.ATT.en.US
The Moto X at launch runs Android 4.2.2, which isn't quite bleeding edge Android, but close. This is essentially an intentional side effect of the Google / Motorola firewalling that we've been told is in place. I'm not entirely surprised, but I had hoped the Moto X would differentiate itself by somehow launching with 4.3 considering other handset partners had the Jelly Bean MR2 (4.3) update a while ago, clearly Motorola should've as well. I know that Qualcomm had the BSP (Board Support Package) for 4.3 ready for MSM8960Pro at the same time as it did APQ8064, so I can't think of any technical reason. Again I'd wager Moto X launching with 4.2.2 is entirely political, to say nothing of the usual operator testing nonsense in the USA.
Anyhow the homescreens (widget panels), launcher, settings menu, notification shade, dialer, and default applications are basically unadulterated Android. I say largely unadulterated because to say that the Moto X is entirely stock is still not quite true – there's the operator name in the top left of the notification bar all the time, and the branded network status indicator (the cartoonish looking AT&T "4G" and "4G LTE" logos) on my AT&T unit. Unnervingly, the network status logo and bars are also a different shade of blue than the battery and time icons adjacent to it.
There's also AT&T address book preloaded which cannot be removed, which is a huge annoyance. There's also a provisioning check for bluetooth and WiFi tethering, another indication of an operator-touched device. There's also AT&T my Wireless and AT&T's visual voicemail app loaded, but those are pretty understandable.
The Moto X also has a few UI changes that definitely aren't stock. The status bar has different spacing for the cellular and WiFi indicator logos which carries over as a result of Blur (the spacing issue is just the "4G LTE" or similar status logo disappearing when on WiFi). Also the on-screen android buttons sometimes appear transparent, showing what's under, which definitely isn't a stock implementation.
My definition of stock is just that, totally stock – no branded logos, operator names everywhere, or any preloaded apps. Truth be told the Moto X isn't stock, it just has the stock UI on top of a relatively standard Motorola software build, but it does have a heck of a lot less of the operator preload crapware that normally shows up on Android phones sold with a subsidy these days. Android's visual style is now mature and appealing enough that it really doesn't need customization or modification to look good, rather it just needs to be left alone as much as is politically possible. If there's one thing the Moto X does that every other handset maker should take to heart, it's exactly that.
If you're on a wireless operator that can't work with the newest Nexus phone or Google Play edition devices (like the CDMA ones in the USA – Verizon, Sprint, US Cellular), the Moto X might be the closest you can get to stock, even if it technically isn't completely so. I suspect this will attract a lot of enthusiasts who are on other operators for their own reasons, even if the longer term solution really should be to vote with your wallet and move to an operator that's open and compatible with those devices.
X8 Mobile Computing System
One of the most talked about things on the new set of Motorola phones is a computing architecture that Motorola is calling the X8 mobile computing system, with the 8 in X8 connoting 8 "cores": 2 CPU cores (Krait 300 at 1.7 GHz), 4 GPU cores (Adreno 320 has 4 cores inside), 1 contextual awareness core, and 1 natural language core. I put core in quotes since core really should mean a unit cell that's replicated n times rather than some arbitrary count of totally dissimilar and unrelated things. I don't really know what a "core" is anymore, and it's shocking to me that Motorola didn't start counting DSP cores inside the SoC as cores while it was at it, after all there are 3 QDSP6V4 DSPs inside an 8960, two for the modem, one for apps. So really you could make the case it should be X11, but then that's a window system and not a mobile computing system.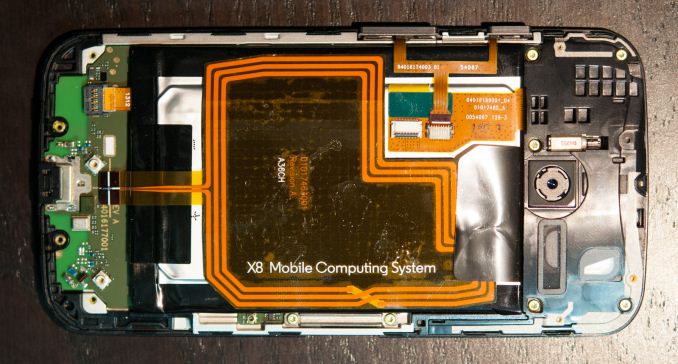 Anyhow Motorola was quick to clarify that X8 isn't a custom SoC but rather a combination of silicon from other parties and its own software running on the two custom cores.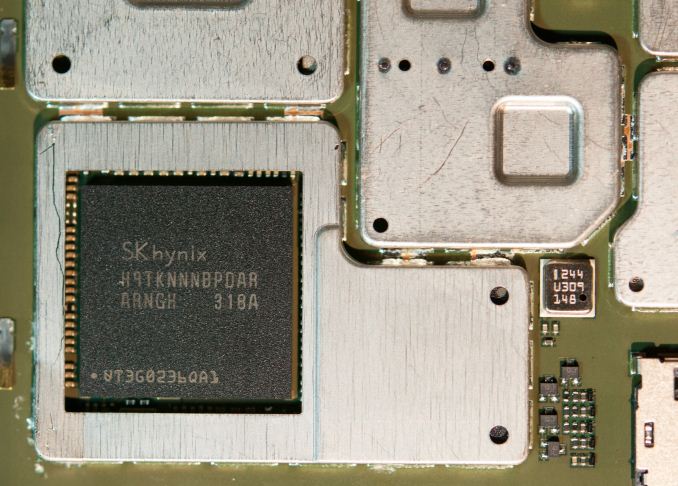 Underneath that PoP memory is an 8960Pro SoC
Ever inflating core count and more-is-better marketing seems to have been some of Motorola's concern here with the messaging for Moto X. While making an end run around the dual-core MSM8960Pro SoC story of the Moto X with an "octacore" computing platform might dissuade mainstream audiences, the side effect is that core now means even less in the grand scheme of SoC marketing. We'll talk about SoC and system performance later in that section but for now let's talk about the two other which enable a few features that are unique to the Moto X. I should also add that this architecture and features are also common to the new Motorola Droids, which share the exact same hardware platform.
Active Display - Contextual
There are two main differentiators for the Moto X which aren't a part of stock Android. The first of these is the contextual awareness feature which is a combination of sensor fusion from the sensors onboard the device, and a display feature called Active Display.
Active Display works as a notification delivery feature that sits on top of the Android platform, and displays notifications on the display in a lower power mode. AMOLED's power consumption features (only pixels that are on are consuming power) lend itself natively to this mode as well.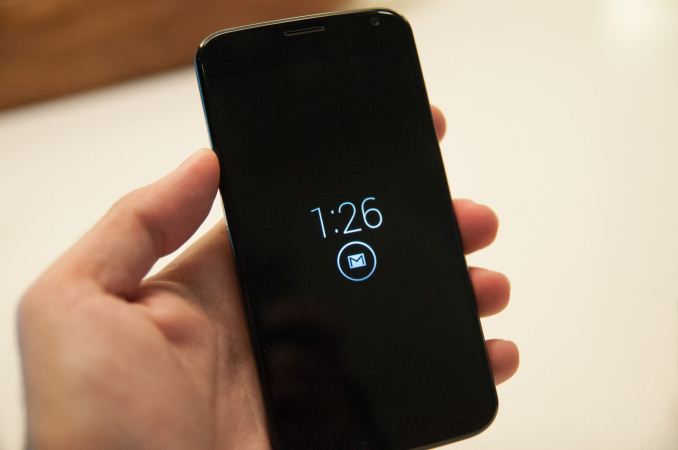 Active display is on by default and manifests itself as a digital clock readout and lock symbol if you don't have any notifications. Dragging down then unlocks the device like a lockscreen. If you do get a notification however, the app's status bar icon will show inside the circle, and dragging up will give you a preview - release and the app that triggered it launches, drag to the side and it'll be cleared.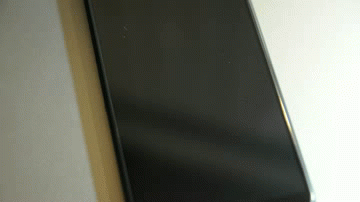 Active Display essentially surfaces notifications that would normally appear in the status bar in this view that exists outside Android. It works with essentially any application that works this way, and there's of course customization over which apps can deliver messages. If you have a PIN set you can of course hide notifications from showing altogether. In addition there's a night mode enabled by default to prevent active display from lighting up during normal sleeping hours.
The sensor fusion part of active display is how and when it chooses to light up the display. Pull the phone out of your pant or suit pocket for example, and the active display interface lights up. Flip it from face down to face up, and it will light up. If you have a bag or purse, the same applies. Leave it face up on a table, and it will breathe with the status indicator periodically.
This stowage and contextual awareness detection comes through fusion of the accelerometer, gyro, and ambient light sensor data on a TI MSP430 controller which enables most of the active display features from what I can tell. These then are exposed as flat down, flat up, stowed, docked, and the camera activation (flick) gesture. The MSP430 also surfaces its own temperature sensor to the rest of Android, which is nifty (the Moto X has an accelerometer, gyro, pressure sensor, compass, and the MSP430's temp sensor).
Active display is handy on the Moto X and does discreetly surface notifications well, it's clear that this feature is something users already want since people are building custom lock screens and lock screen widgets that do a similar thing.
Touchless Control - NLP
Moto X includes another custom feature called touchless control, which enables always-on voice recognition activation on the Moto X. It really boils down to Google Now with a specialized voice activated power-on feature. Say "OK Google Now" with the phone in any state, even screen off (standby with screen off, powered on with screen on, just not fully turned off) and it'll activate and give you a voice prompt. From here the interface is just Google Now, which we've talked about a lot and works as a voice-driven virtual assistant. I'm a huge fan of Google Now and Google's ASR product as a whole, which works surprisingly well on every Android device I've encountered.
What's unique again about the Moto X is just that you can power on the device and activate this feature without having to touch the phone thanks to an always-on listening feature. The big challenge in mobile is always how you enable features like this without killing battery, or in the case of MSM8960Pro, which doesn't have Qualcomm's voice activation feature (that's coming with MSM8974 Snapdragon 800 and WCD9320 audio codec that has the always listening component) how to do it without keeping the application processor awake all the time.
Touchless control requires an initial setup process to train itself to your voice, though it's more of a matter of it tuning to your cadence of saying "OK Google Now" rather than person-specific voice lock. There's a menu in the settings pane titled touchless control which enables access to the training features. You need to be in a pretty quiet room to do training, the first time I ran it I was in a silent hotel room with the A/C turned off, and had to go into the bathroom and close the door before it was quiet enough. Say "OK Google Now" three times and you're good to use the feature. There are options for disabling the call while locked functionality and a confirmation feature.
The activate on voice feature works, but as all things voice, it's contingent on the scenario being just right for it to work well. Having three microphones to do ambient noise cancelation is a big deal, and the voice activation part works in surprisingly loud locales – I've tried it in a number of louder bars, restaurants, and a ton of airports to a good level of success, or at my desk with music playing. Other times voice activation doesn't work even if you're in a quiet room if the Moto X is just too far away. However just because the "OK Google Now" phrase was recognized doesn't ultimately mean that the Google Now ASR part of the feature will be able to hear anything more that you say. Motorola seems to know this as the screen will give cues like "it was hard to hear you" or "you'll have to speak louder" after passing the activation step.
As for accuracy, it's pretty good but not perfect. You have to get the "OK Google Now" cadence just right or it won't activate, which means sometimes saying it a few times. You have to also be close by, Moto X isn't going to turn on when you're across a big room, for example. In addition I've noticed that for some reason there are some odd false positives. One time sitting at my desk listening to ambient music with no lyrics I saw the Moto X turn on like I had said the phrase which shall not be uttered, another time at a restaurant with the Moto X out face up on a table and discussion not involving the phrase either. I also placed one voice call inadvertently from Moto X while it was in my pocket, I'm not sure how, but I've since turned off the call while locked feature.
While active display is a feature I thoroughly enjoy and would miss on another device, I can't honestly see myself using touchless control that much on the Moto X. As with most voice activated features I would rather just use my hands and get perfect accuracy than potentially spend more time doing the same task just because I'm lazy. I don't use Siri (it's turned off on my iPhone) and passively use Google Now just for the cards – Moto X won't change that. If you're going to use the voice activation feature, the Moto X is probably within arm's reach anyways.
Anyhow I spent some time tracking down what is responsible for the voice activation feature as well, and it turns out there's a TI C55x family DSP onboard the Moto X, probably one similar to this. It's easy to see the MSP430 references without much digging, the C55x references are referenced in an aov_adspd (activate on voice, dsp daemon?) application, and then inside the two aonvr1,2 firmware files that are loaded presumably onto the C55x at boot. The C55x runs this lower power (sub 1 mW) voice recognition service and wakes up the AP when it hears it, I believe it also does noise rejection.
Motorola was a diehard TI SoC user up until their SoC business imploded with OMAP5, so to see TI on the BOM with the two major differentiating features isn't that much of a stretch or surprise for me. I guess TI still lives on in the smartphone space, at least for a little while longer with these features and some other contract jobs as a PMIC supplier.
Display
Moto X is intriguing since it includes a relatively large 4.7-inch display in a form factor that isn't nearly as big as other devices including similarly sized displays. Motorola has always been one to try new display technologies (I still remember when it tried an RG,BW LCD display), and in the Moto X moves to a Super AMOLED panel with the same subpixel unit cell as the Note 2. That's pretty standard for Motorola, as Samsung will sell panels made on its n–1 AMOLED process to OEMs, and that's exactly what we get here in the Moto X.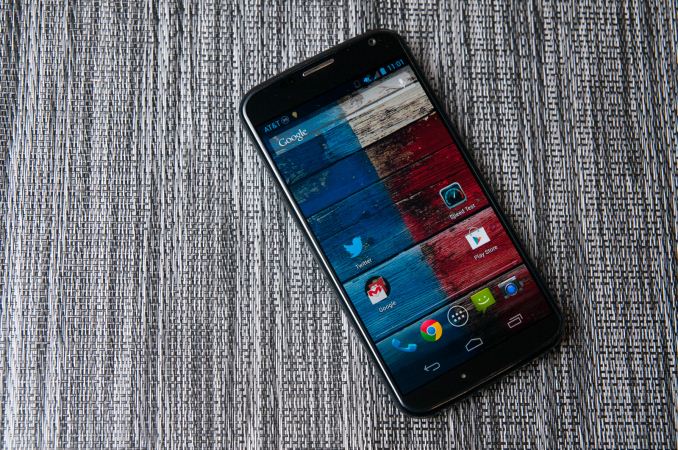 The Note 2 and Moto X display have a subpixel unit cell which includes a stacked red and green pixel, and adjacent blue pixel. The unit cell includes a full three subpixels per pixel (RGB), avoiding the loss of spatial resolution and color artifacts that arise from the other two subpixel per pixel unit cells we've seen in the past (RG,BG). As I wrote in the Note 2 review display section, I heard that this particular subpixel arrangement was called S-Stripe and was going to be branded, but it never was given an official name. Either way, the point of these alternative subpixel arrangements was always to offset the difference in luminous efficiency of the three subpixel types, and the resulting nonuniform geometry required to get the same luminance from each subpixel type. It does the job well and gives a full three subpixels per pixel. Samsung has also shrunk the size of subpixel unit cell down in order for Motorola to get 720p out of a 4.7-inch display.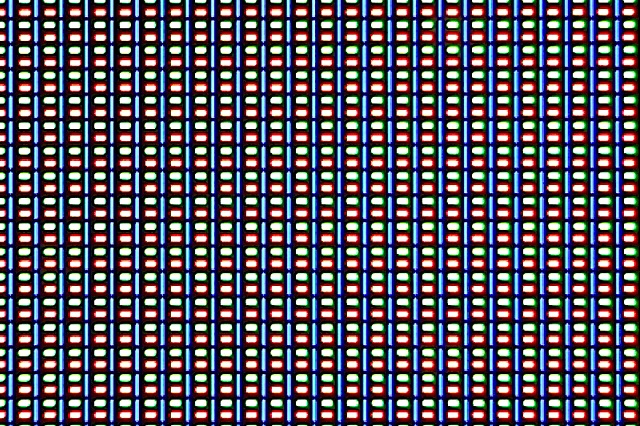 We've seen displays that are 1080p become the new bar for flagships in 2013, so the Moto X's 720p display might initially sound like a minus. Including three subpixels per pixel however helps the Moto X out, enough for it to come in at 0.917 arcminutes per full pixel at 12 inches viewing distance, which is sufficient enough to beat normal human visual acuity of 1 arcminute. It's a PPI of 312, which isn't as crazy as the 450+ displays that are out now, but no slouch by any means. I can detect a difference between the Moto X and the really high DPI displays like the HTC One and SGS4, but it isn't something that bothers me when using the Moto X.
CalMAN Display Comparison
Metric
iPhone 5
iPhone 4S
HTC One X
SGS3
Samsung Galaxy Note 2
Google Nexus 4
HTC Droid DNA
HTC One
SGS4
Moto X
Grayscale 200nits Avg dE2000
3.564
6.162
6.609
4.578
5.867
7.686
6.738
5.391
7.511
3.782
CCT Avg (K)
6925
7171
5944
6809
7109
8506
8108
8118
7020
6873
Saturation Sweep Avg dE2000
3.591
8.787
5.066
5.460
7.986
8.517
5.856
3.365
7.823
6.268
GMB ColorChecker Avg dE2000
4.747
6.328
6.963
7.322
8.185
7.531
6.687
4.656
7.440
5.771
Motorola doesn't seem to mess around too much with dynamic everything features for display that I really don't like, nor does it have a crazy auto brightness curve. I still will personally take an LCD display over AMOLED, but the characteristics of this panel are relatively well behaved. Only if you force brightness to absolute zero does there start being visible purple color shift, something which long has been an issue for AMOLED panels. The days of mura (luminance irregularities which looked like grain) and splotches however are gone, there's none of that in the Moto X display.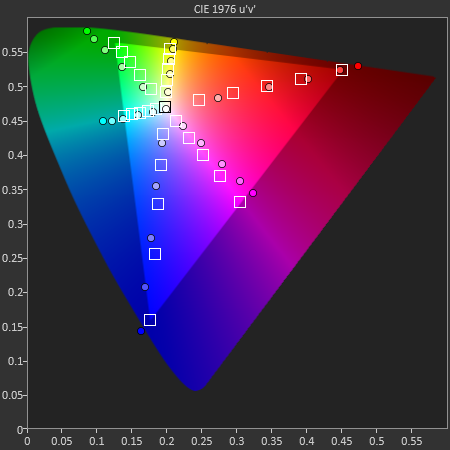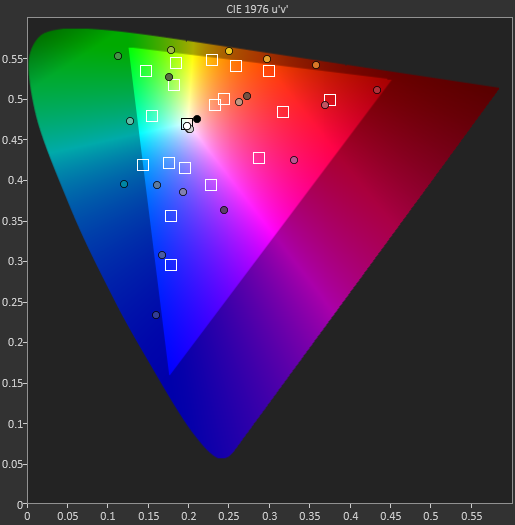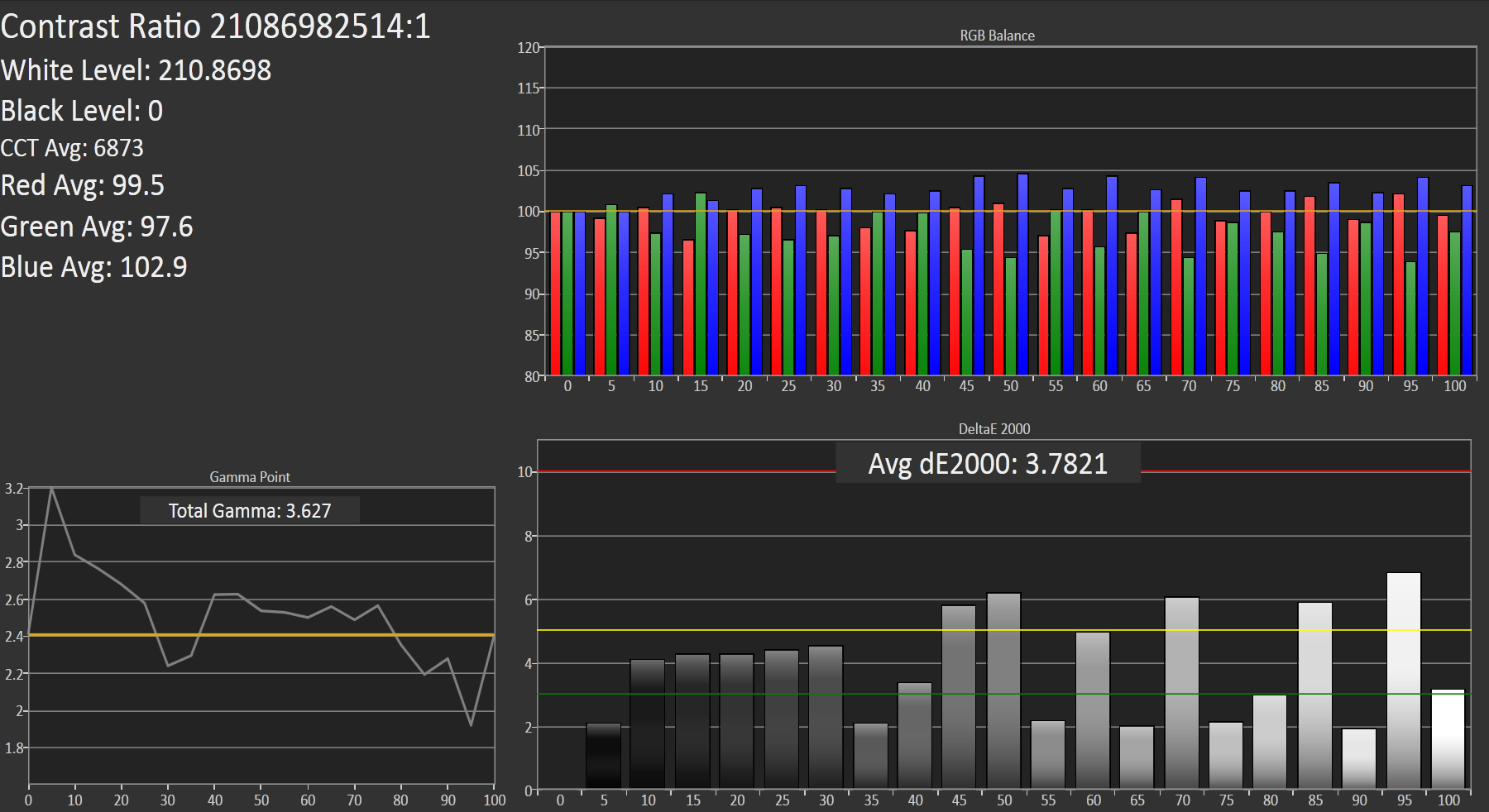 I measured the Moto X in our display suite and unfortunately the other axis of AMOLED, oversaturation, still continues here. The Moto X display is wildly oversaturated, with saturations that blow past the sRGB values we expect or want. On the upside, the color temperature is controlled and not the usual blue that we see with AMOLED, at an average of 6800K across the greyscale it's not bad at all by comparison, though it does get slightly above 7000K at 100 percent white. Subjectively however it isn't the annoying level of blue that I am used to seeing. Also the greyscale delta-E surprised me from the Moto X, it's not very high at all.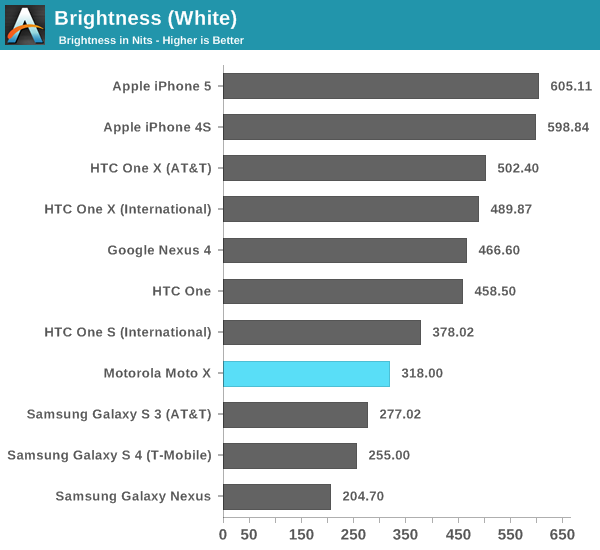 The Moto X display is an interesting one which leaves me feeling mixed. It uses a new, smaller pixel pitch version of the subpixel arrangement we saw with the Note 2, and it's better behaved than the Samsung calibration of that panel. At the same time the color space issues persist along with power draw, but Motorola deserves kudos for not having annoying dynamic brightness functions. I personally still will take a high DPI, well tuned LCD display over AMOLED, and like the 1080p LCDs we've seen from JDI and Sharp in recent devices, but I understand that Motorola had to go AMOLED here for the active display feature to not absolutely destroy battery life. The matter of resolution also still is there, but 720p at this size with a solid 3 subpixels per pixel isn't a deal breaker.
Sound
Lately I've been getting more and more jaded about line out quality on devices. There's something about close proximity to a transmitter and the confined spaces in a smartphone that makes getting good clean audio a challenge for everyone. That said I was impressed by the sound quality on the Moto X both on line out, on calls, and on the speakerphone. I'm doing subjective reviews of audio line out quality until we get a new testing methodology from our Display (and Audio guru) Chris Heinonen, after he gets access to a new test bench. I listened to a lot of music while traveling on the Moto X using my Shure SE535 IEMs and came away pretty impressed. I've heard a lot of smartphones that either lacked a lot in the mids, had discernable noise, or various issues driving IEMs at low volume, but I didn't encounter anything negative on the Moto X.
On phone calls, I was actually shocked by how good the Moto X sounded. I had no problems hearing people on the other end, and found myself wanting the Moto X when I wasn't using it. The rounded top and sides also make the Moto X very comfortable to hold to the face. I am still surprised by the fact that I'm drawn to the Moto X because of how much different in a positive way it sounds from some of the other handsets I've played with recently, especially when on conference calls. I heard positive feedback from the terminating side of the call as well, that I sounded good on both speakerphone and handset mode.
Oddly enough though the Moto X didn't do too well in my ambient nose rejection test which consists of a babble distractor track played at volume that ramps up and then back down. There's still a lot of background noise that leaks through in that test, although when I called from a few loud locales and asked for feedback I always heard that noise level was acceptable.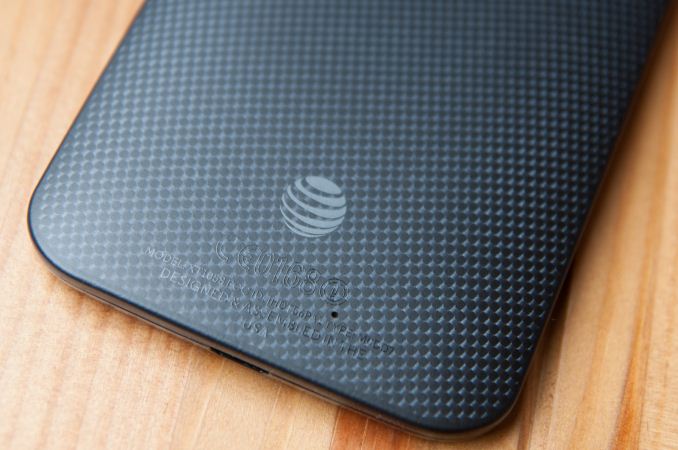 The Moto X undoubtely uses a beamformer created by the front microphone and back microphone, used in a pair, with the top microphone reserved for speakerphone mode and stereo audio when recording videos.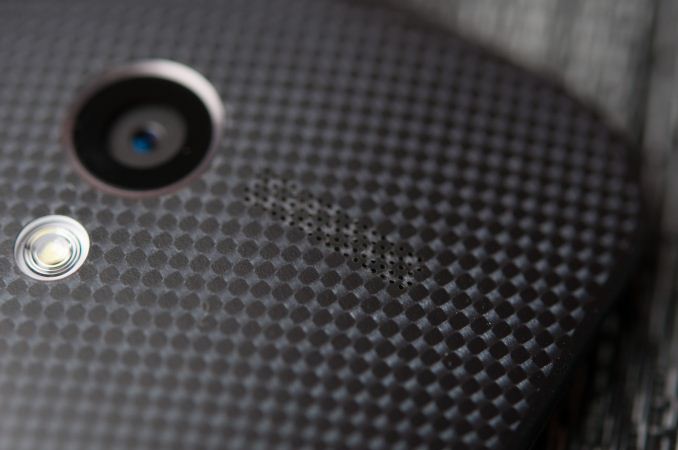 The speakerphone goes very loud as well, without distorting. The Moto X includes an NXP TFA9890 speakerphone driver with boost and active protection. We've seen this and similar solutions get used a lot to good effect this generation, and the Moto X reflects that loudness in our speakerphone test. I was frankly shocked how loud the thing goes. The downside is that it's still mono (so the HTC One is still a better choice for music) and seems to have different behavior for music, but on calls the speakerphone goes very loud without distorting.

Battery Life
Battery life is a huge concern in the smartphone space these days, especially as phones get bigger and more powerful. The Moto X includes a unique 2200 mAh, 3.8 V (8.36 Whr) stacked battery made by LG chem, which maximizes battery volume given the Moto X's rounded form factor. Motorola was very vocal about the battery life of the Moto X, and made the claim of up to 24 hour of mixed use with the device in addition to up to 13 hours of call time. Given the smaller (albeit AMOLED) display and dual core SoC, the Moto X was an easy target for the narrative that higher end specs and quad core SoCs are killing smartphone battery life, which many immediately latched onto and parroted claims of amazing battery life.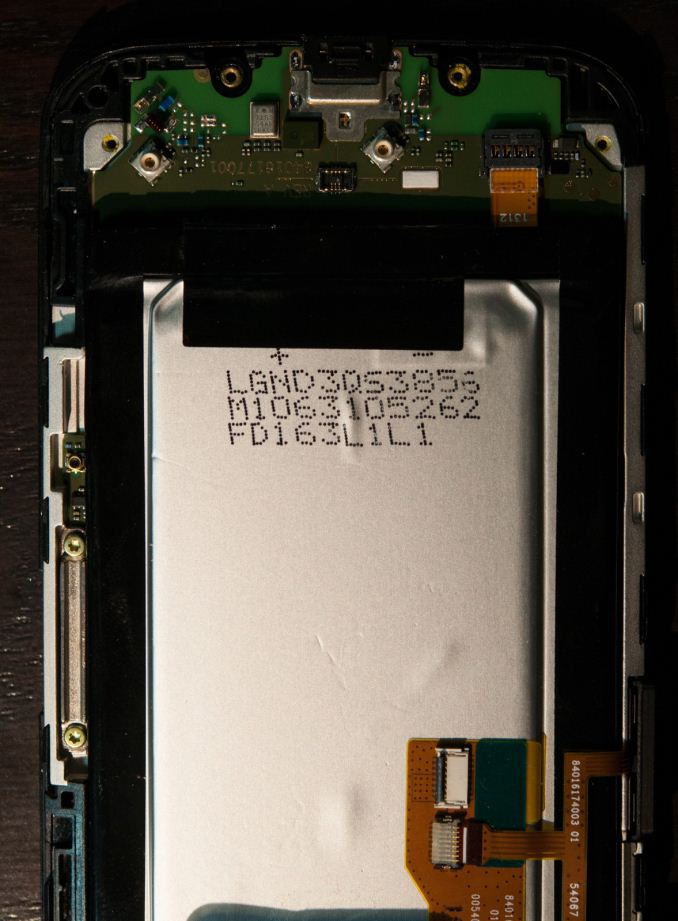 The Moto X's stacked battery
Of course, the real question is how the Moto X stacks up to the competition in our objective tests. I have to admit that my initial subjective impressions of the Moto X battery life were not all that great. My first time daily driving the Moto X was after getting it in NYC and flying home – I left the hotel with it fully charged, spent 4 hours in a plane with it in airplane mode, and Moto X still died in the baggage claim before I could make it home. The second time I daily drove the Moto X, I also managed to kill it doing nothing out of the ordinary before I got back home. I honestly can't remember the last time I drained a phone completely actually using it. Since those couple of times I haven't had problems making it through a full day when I've daily driven the Moto X, but that's with my usual opportunistic charging from every available wall socket and USB port, and my mixed use definitely isn't 24 hours, rather closer to 8.
Our objective battery life tests are unchanged so I'm not going to go through all of it in excruciating detail again – you can read any previous review and get the details. At a high level we calibrate the display to exactly 200 nits, then run through a bunch of webpages with content every dozen or so seconds until the device dies, on both cellular, and WiFi. The call test is self explanatory – there's voice at both the originating terminal and terminating terminal, and we time how long the call goes for until the device dies.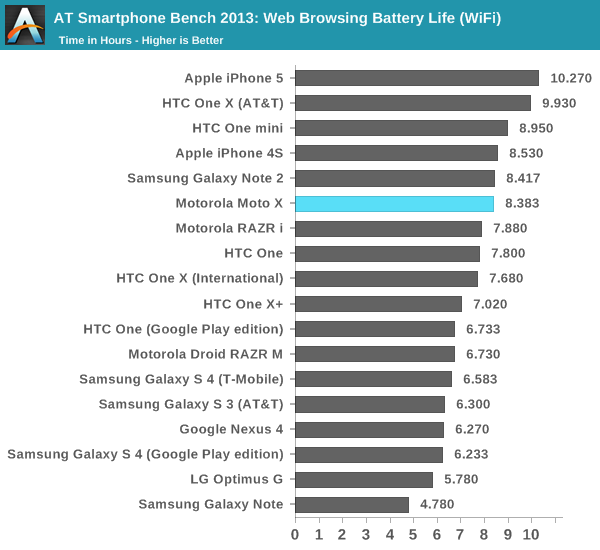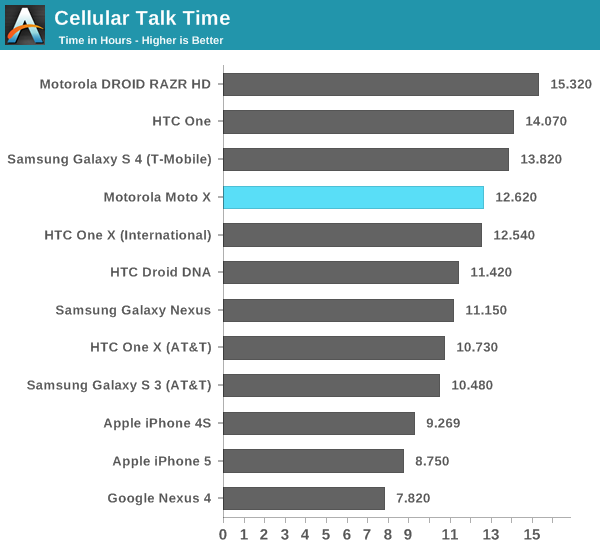 Battery life on the Moto X doesn't turn out to be all that much different from the other flagships based on APQ8064 on LTE. In fact, it's about par. That's not too surprising for me considering compared to the HTC One and SGS4 it's the same CPU (Krait 300) and process (28nm LP). For better battery life we'll need better efficiency, which will come either through newer process (28nm HK-MG variants at TSMC) or even more efficient CPU architecture.
In reality, having fewer cores here means in something multithreaded like our battery test (Chrome is very multithreaded) it needs to send the Moto X's two cores to a higher frequency and voltage state than the four on the other devices. I'm not surprised at all to see invalidation of the "fewer cores translates to better battery life" narrative others have crafted. The only validation is that having two fewer cores does translate to less dynamic range in power use. It all becomes a matter of how you're using the device at that point, however. On WiFi the Moto X does do pretty well, and Motorola has always had very good talk time.
One thing I will note is that the Moto X does have a power saver mode, but it appears to just disable background sync and put the data connection to sleep aggressively. It doesn't change the governor so that the max CPU frequency is lower (say the 1.1 GHz state) like a lot of other OEMs power savers do, which seems like a missed opportunity.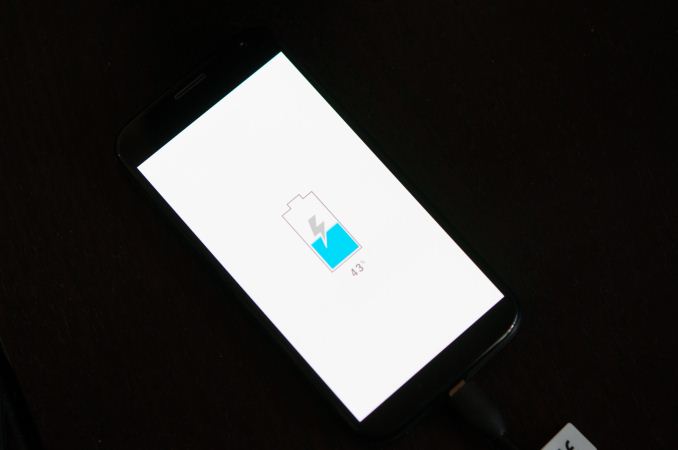 The Moto X comes with a dual-USB port 850 mA charger, like the previous revision of Motorola devices. In practice I've seen the Moto X reliably pull closer to 1 A from the Moto X bundled charger.
What's interesting however is that the Moto X can charge up to the maximum BC1.2 rate of 1.5A. If you use that kind of charger, it charges impressively fast, around 2.3 hours.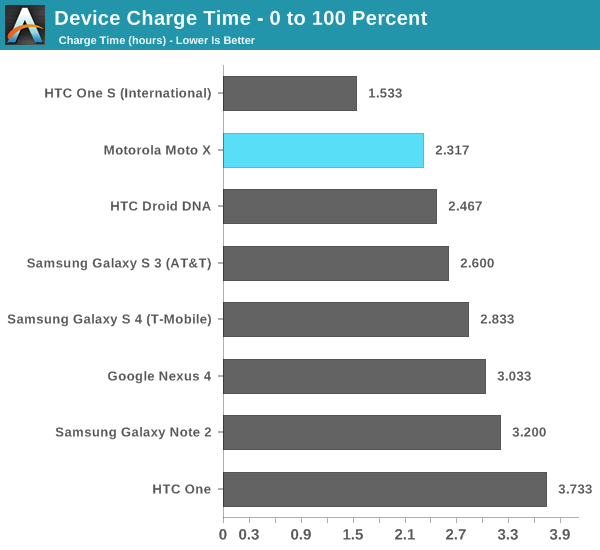 CPU Performance
by Brian Klug & Anand Shimpi
I already touched on it, but inside Moto X is Motorola's X8 Mobile Computing System, which consists of a 1.7 GHz Qualcomm Snapdragon S4 Pro MSM8960Pro SoC with two Krait 300 CPUs running at 1.7 GHz alongside Adreno 320 graphics. The two other parts are a TI MSP430 for sensor fusion and active display and a TI C55x DSP for voice activation. There's a total of 8 "cores" in there, which is where the 8 in X8 comes from, but beyond that there's no getting around the fact that there's an 8960Pro inside the Moto X responsible for actually powering the OS.
The elephant in the room is of course the fact that Motorola has gone to great lengths to both avoid talking about the dual core SoC, but instead wants to talk about its "8-core system", which is curious, since it simultaneously plays its dual core SoC choice as a strength. There was nothing wrong with 8960, it was a great SoC and appeared in countless flagship phones in 2012, and its respin with 8960Pro presents a number of good upgrades. Qualcomm's 8960Pro includes Krait 300 instead of 200, bringing a jump in clocks from 1.5 to 1.7 GHz and higher IPC at the same time, and the Adreno 225 graphics are out and replaced with Adreno 320 which is considerably faster and OpenGL ES 3.0 compatible. 8960Pro is fine, but it's an SoC just short of high end even by Qualcomm's own roadmaps, even though the Moto X is positioned and priced at launch like a high end phone.
"Why would anyone pay $199 when they can get latest SoC-based gear for that much."
That's the question which was posed to me, rather eloquently, by another AnandTech editor. I found myself wondering the same thing when I heard the $199 on-contract pricing at the Moto X announcement. Given prior information about the Moto X including an 8960Pro, I assumed a different price point entirely than the usual, and still expect it to come down in price rather quickly. There's obviously more to a device than just what silicon is inside, but this is the performance section after all. Trading off two CPU cores for integrated modem with 8960Pro does likely help Motorola to make a smaller device and spend less money on silicon, it's ultimately a tradeoff.
If we look at SunSpider, Octane and Kraken, you wouldn't be able to tell that the Moto X used a dual-core Krait 300 vs. a quad-core offering. In all three benchmarks the Moto X delivers performance similar to the quad-core HTC One and Samsung Galaxy S 4 (US model) despite having half the cores. The other two "cores" in the X8 system are dormant in these tests, so that's not why the Moto X is so competitive. I also tried running Chrome on the SGS4 and still saw remarkably similar performance.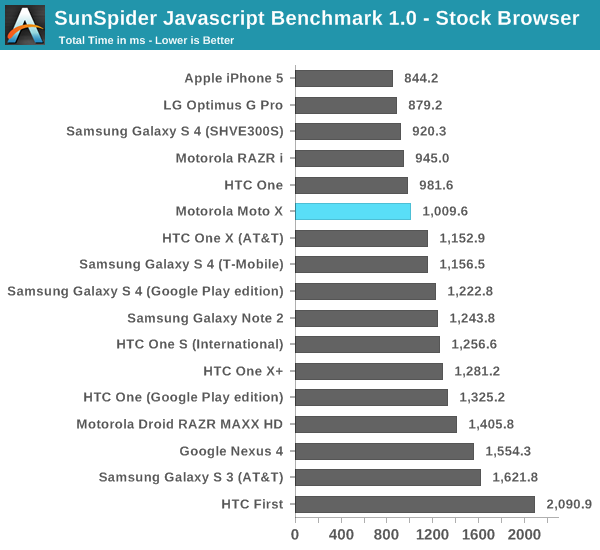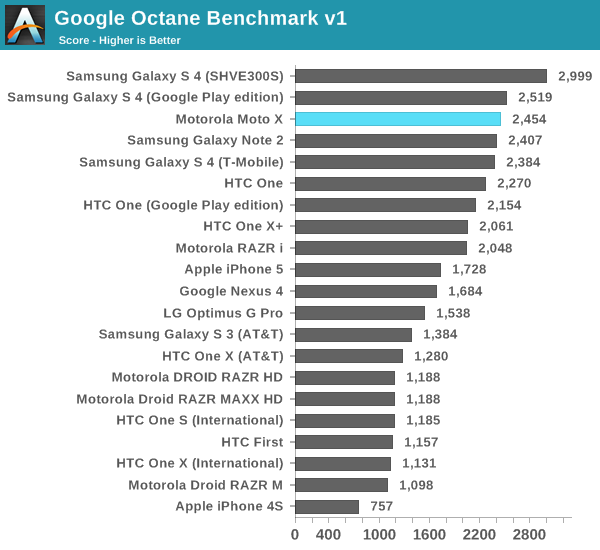 In our Nexus 7 review I pointed out that the SGS4's 1.9GHz top frequency wasn't consistently attainable. The end result was a smaller than expected difference in performance between its 1.9GHz Snapdragon 600 and the 1.5GHz Snapdragon 600 used in the Nexus 7. I wondered if something similar might be happening here with the Moto X.
To find out I profiled CPU frequency of each core on the Moto X and Galaxy S 4 while running Kraken and SunSpider: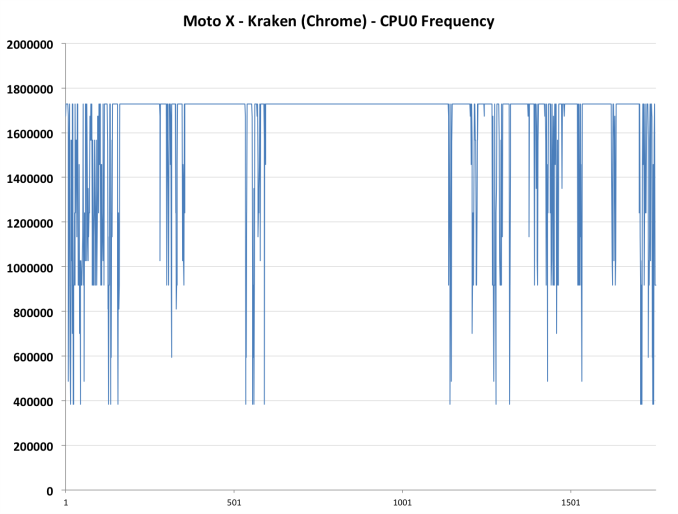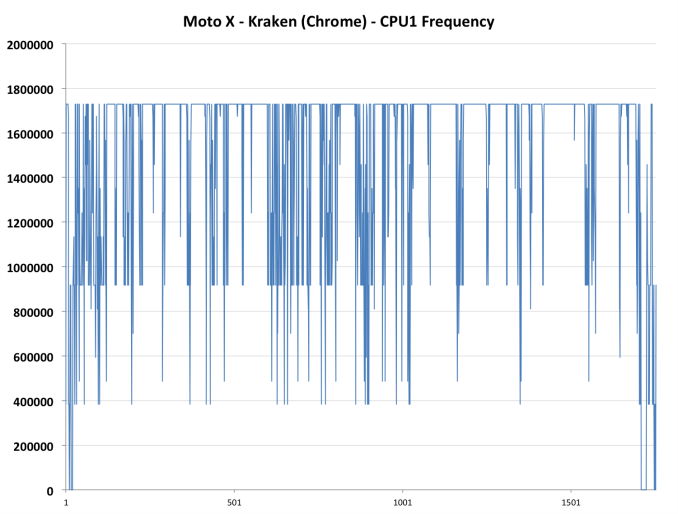 Looking at the first core on the Moto X we see that it's active almost all of the time, and almost always running at its top speed of 1.7GHz. The second core is also active but we see it regularly alternating between ~950MHz and 1.7GHz.
Now let's look at the quad-core SGS4: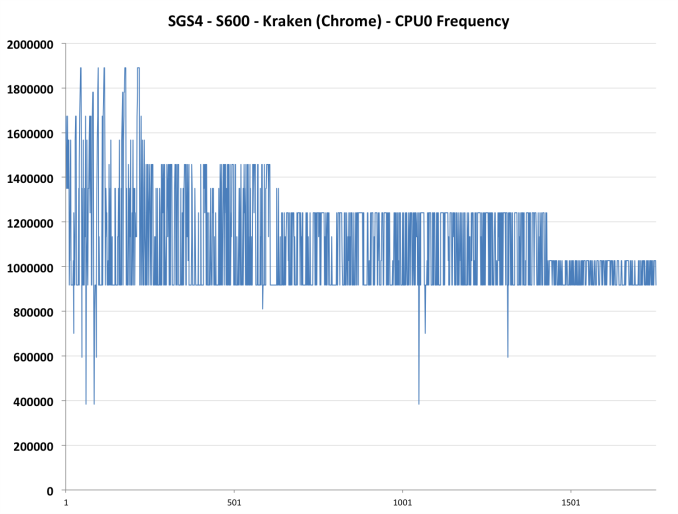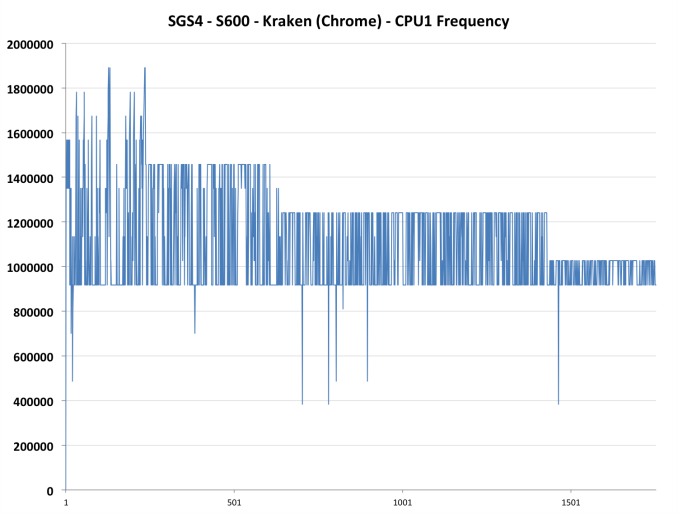 Max CPU frequency tops out at 1.9GHz, as it should, but it's sustained for only a very short period of time. Instead we see the first core step down to 1.5GHz, then again to 1.25GHz before eventually settling down to around 1GHz. We see the same pattern on the SGS4's second core.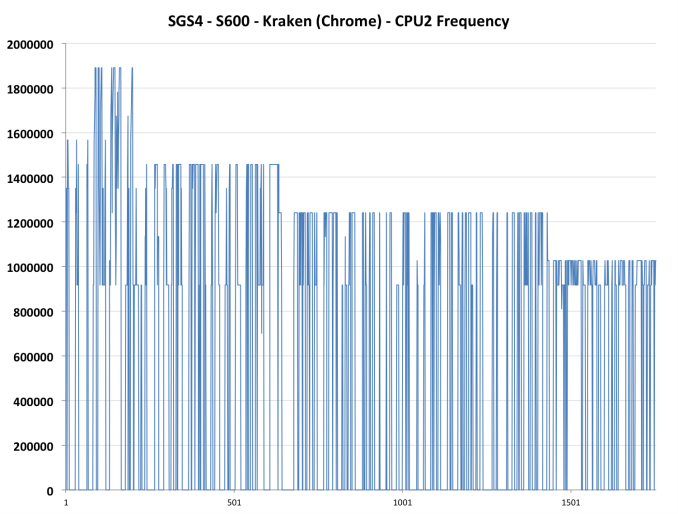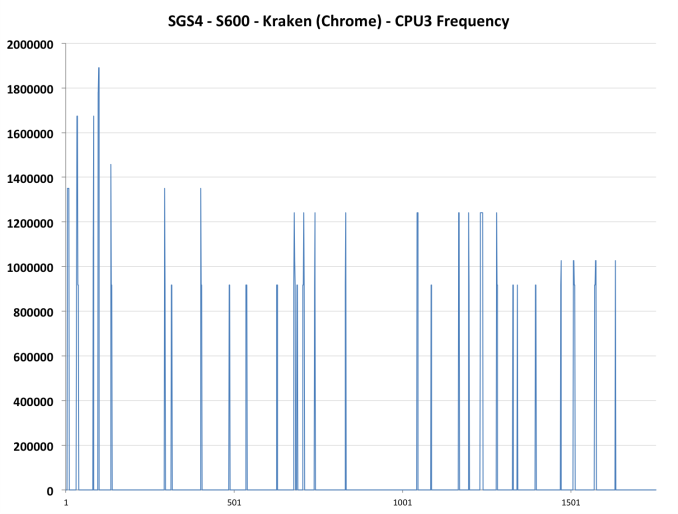 Looking at the third and fourth cores we see why the first two cores are more frequency limited. There's fairly regular use of the third core, which eats into the SoC's overall TDP and seems to force clock speeds down of the first two cores. The fourth core gets less use but it also contributes to driving frequencies down across the board.
We see the same sort of behavior in SunSpider, with the Moto X regularly hitting 1.7GHz while the SGS4 has more active cores, running at lower overall frequencies.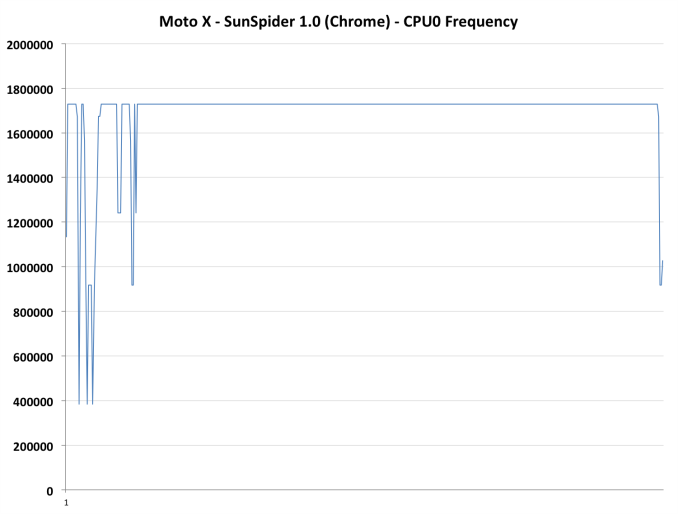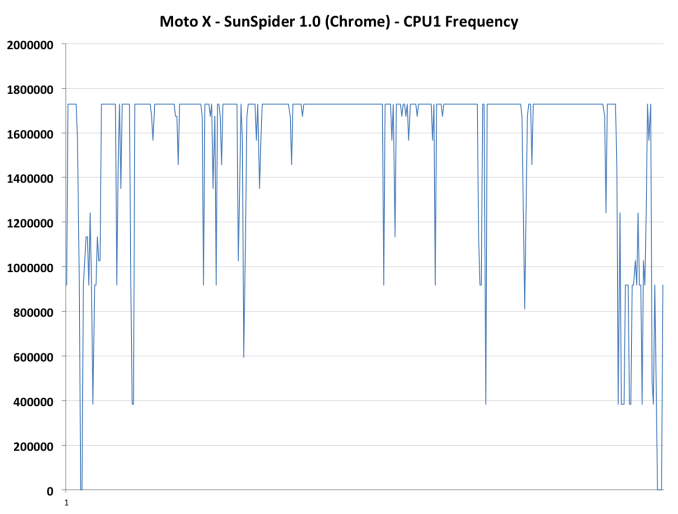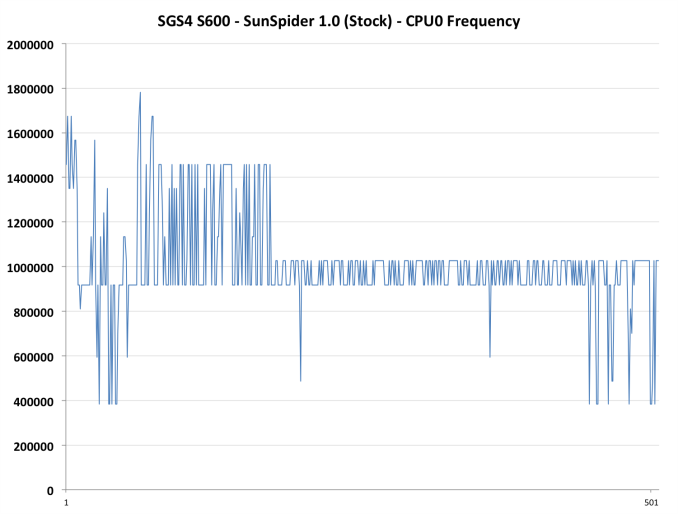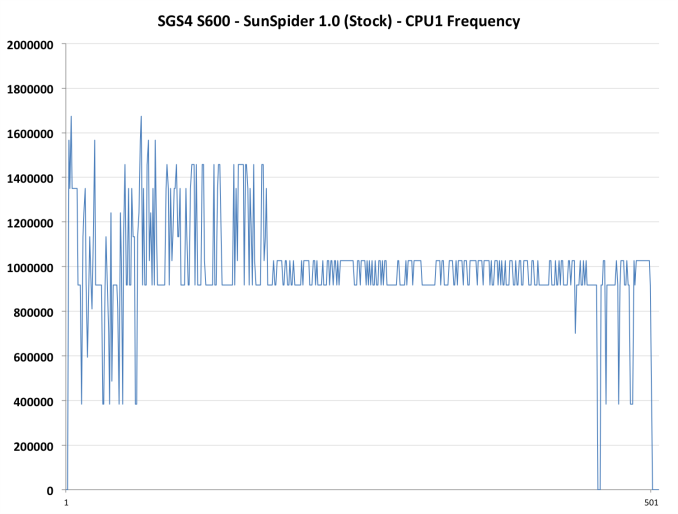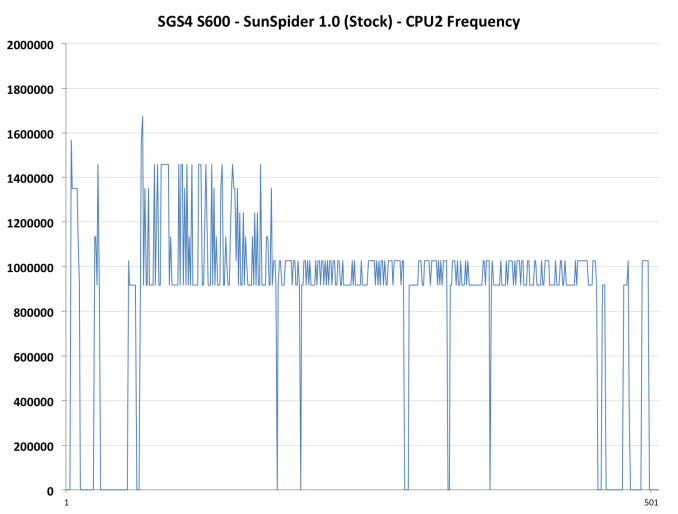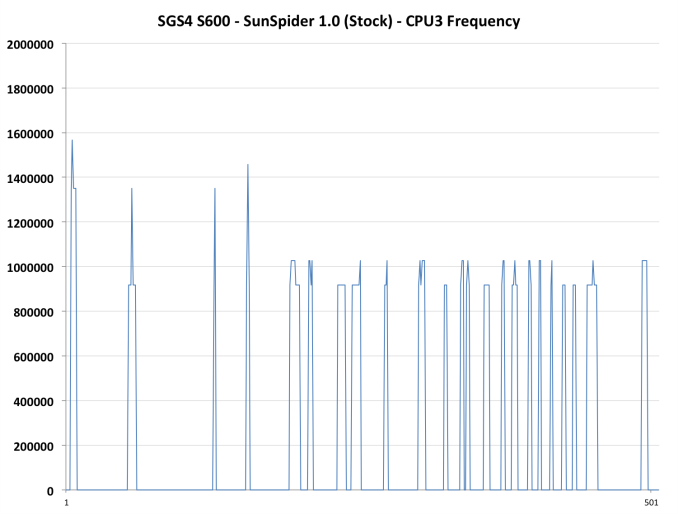 The tradeoff is an interesting one. Single threaded performance tends to govern system responsiveness (at least within a given application) more than multithreaded performance. However, running one core at 1.7GHz will require a higher voltage than running four cores at closer to 1.2GHz. Depending on the workload, four cores running at lower frequencies/voltages could actually end up being more power efficient than running two cores at their max frequency/voltage.
I actually wonder if that might be why we see worse battery life on the Moto X in practice compared to the HTC One/SGS4. Heavier workloads that keep all four cores active, but not pegged, might actually run more efficiently on the quad-core Krait 300 platforms.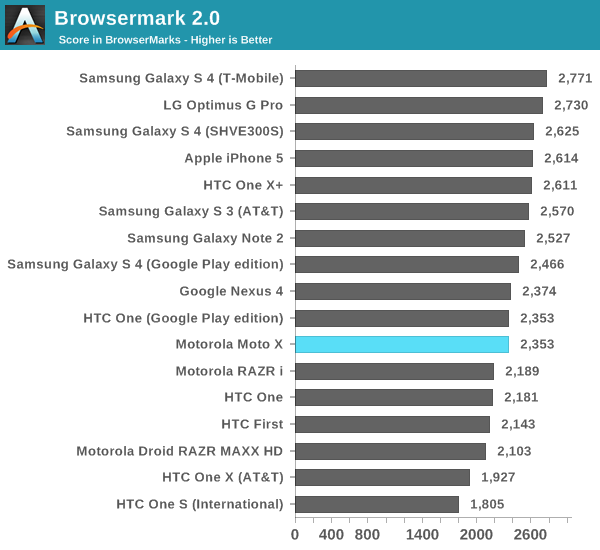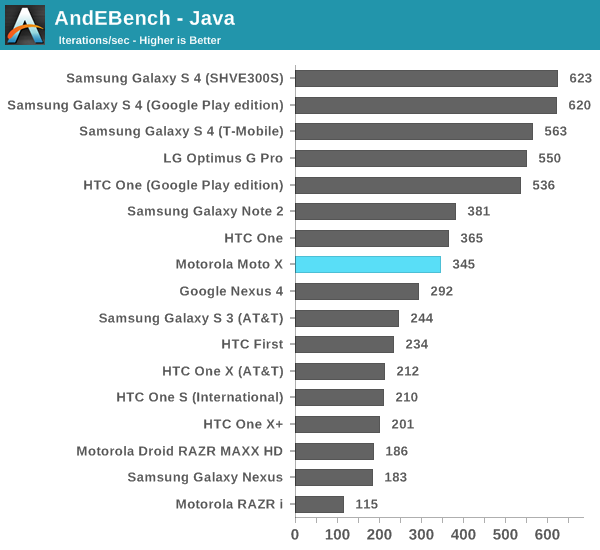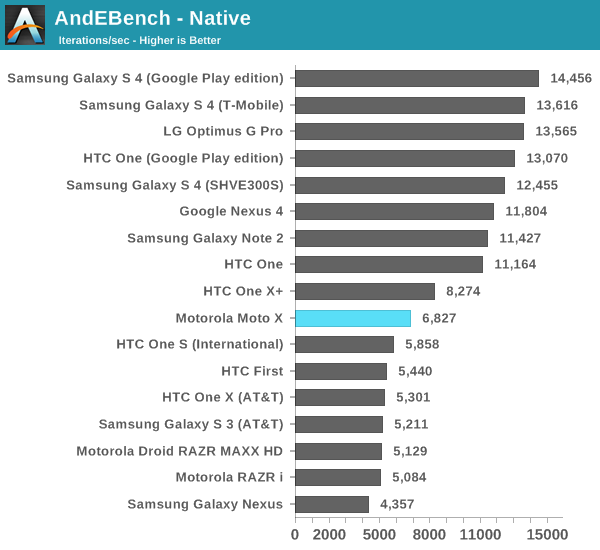 AndEBench includes a multithreaded component, which presents a different picture of the Moto X vs. the quad-core competition. In practice I find the Moto X's performance is really quite good. Depending on your usage model you may or may not notice the difference between it and a quad-core offering because of the higher sustained one/two core frequencies. The downsides are potentially lower battery life as it typically takes a ton of voltage to run these cores at their max frequency, and the fact that Motorola doesn't pass along any of the cost savings from going with a cheaper SoC/platform to the end user.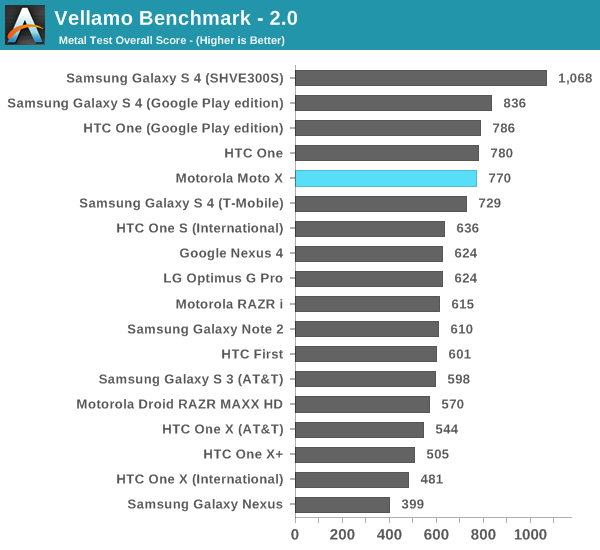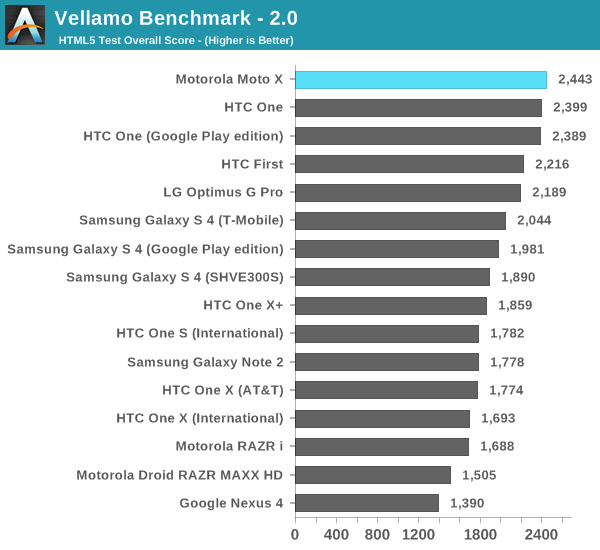 GPU Performance
By Anand Shimpi
Although there's a CPU core count difference between the MSM8960Pro and the APQ8064 Snapdragon 600 platforms we've tested, on the GPU front both use the same IP block: Adreno 320.
The max GPU frequency on the Moto X is 400MHz, compared to 450MHz for the APQ8064 Snapdragon 600 based Galaxy S 4. The difference in GPU frequency is small, and Android games typically have a large CPU bound component so it isn't totally unfeasible for the Moto X to be among the fastest Adreno 320 phones on the market.
Looking at 3DMark we see just that. The Moto X is the fastest Android phone we've tested here. The advantage has nothing to do with GPU frequency however, if we look at CPU frequency over time it's clear what's going on.
3DMark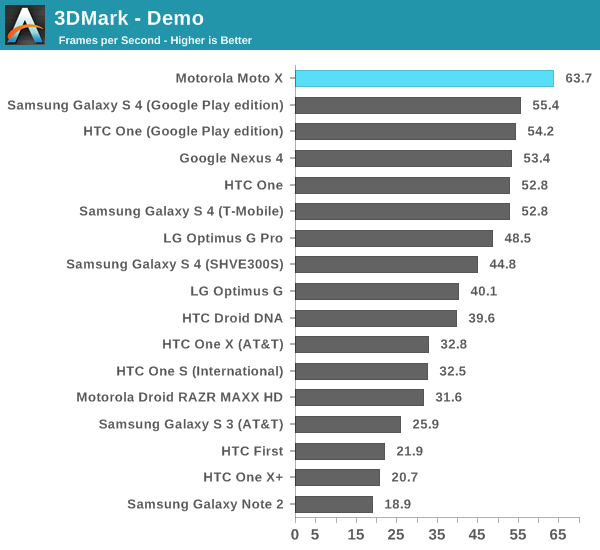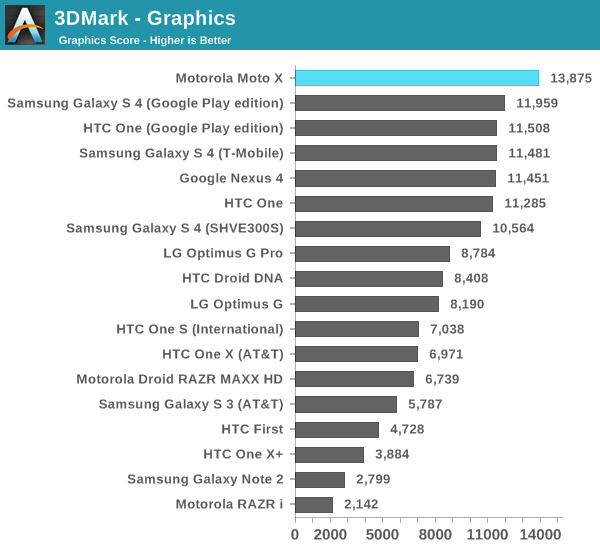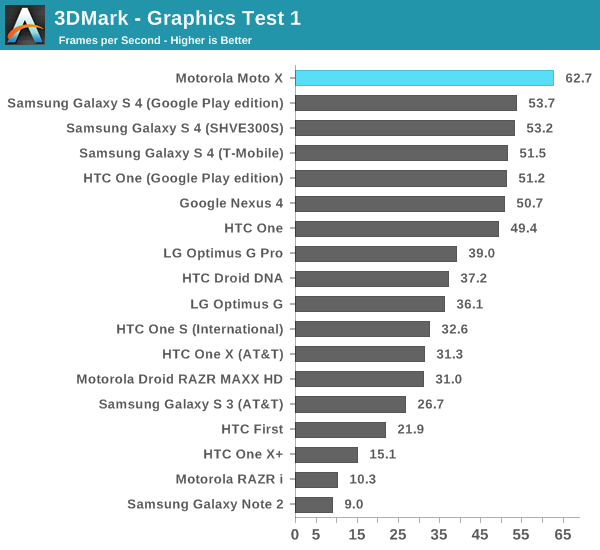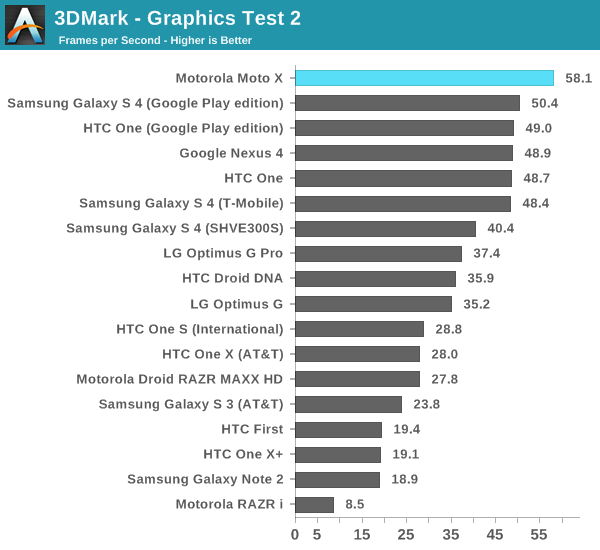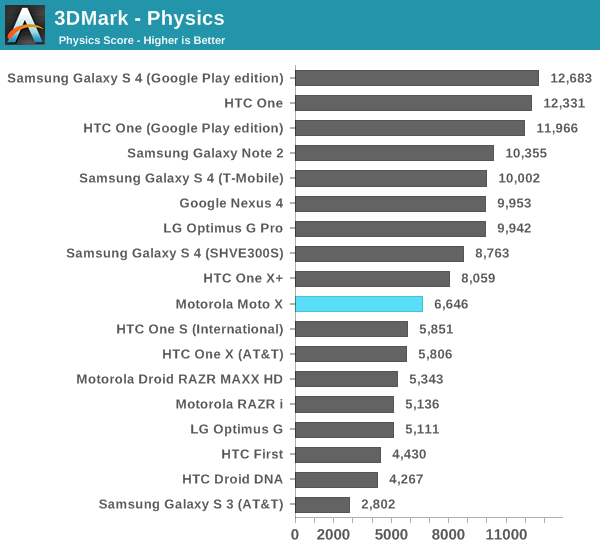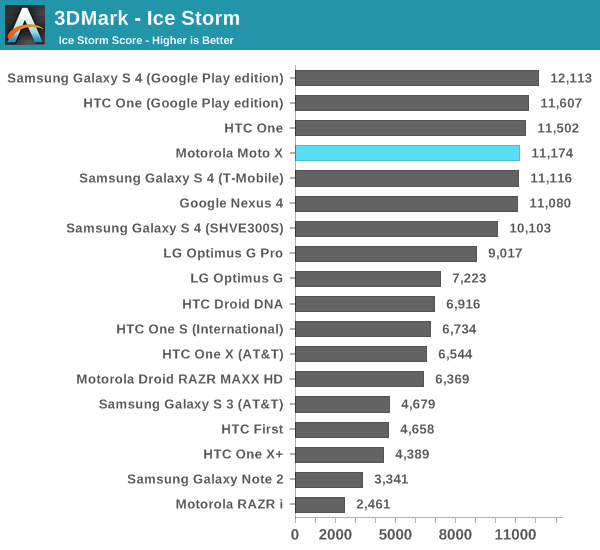 The graphs below show a full 3DMark Ice Storm run, including demo, graphics and physics tests (in that order):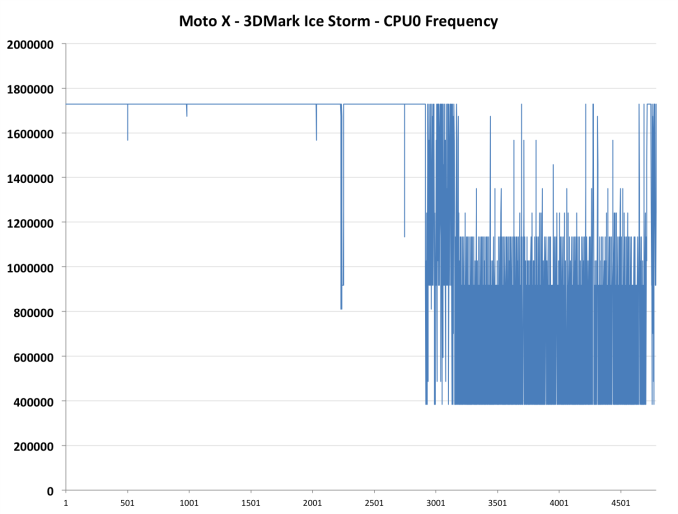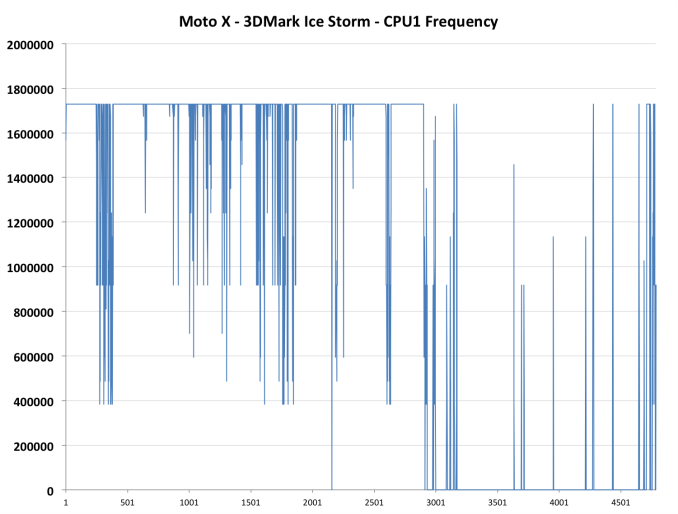 The Moto X's CPU cores are running at 1.7GHz for all of the 3D tests, and only drop down to lower frequencies during the physics test. The SGS4 by comparison has more cores, running at ~1GHz for most of the benchmark. Given the more CPU bound nature of 3DMark, the Moto X manages to pull ahead.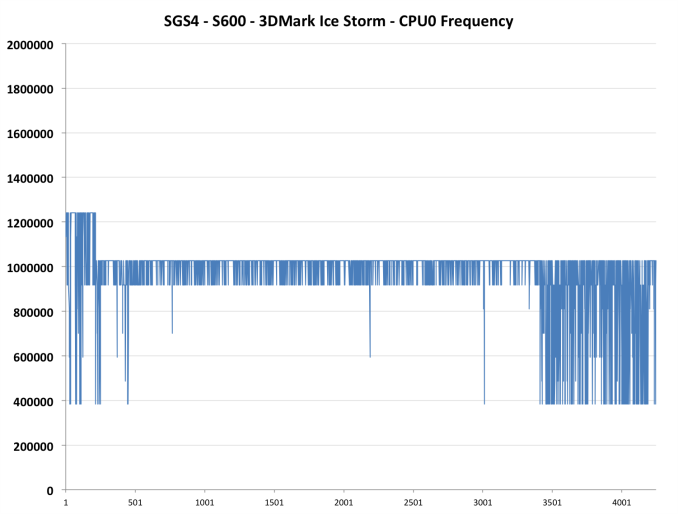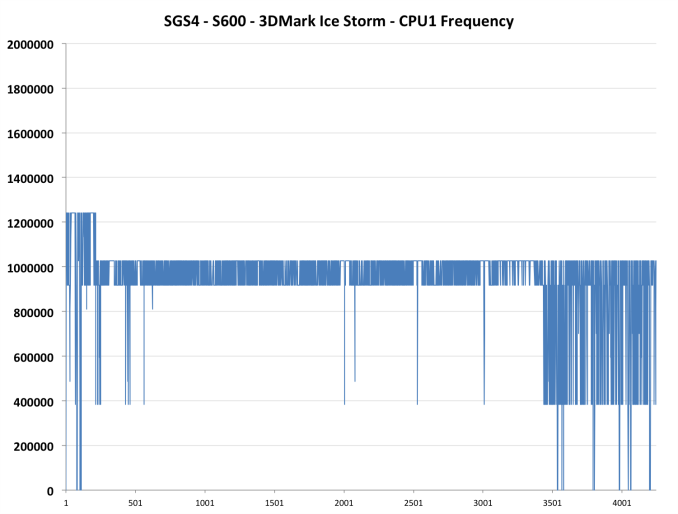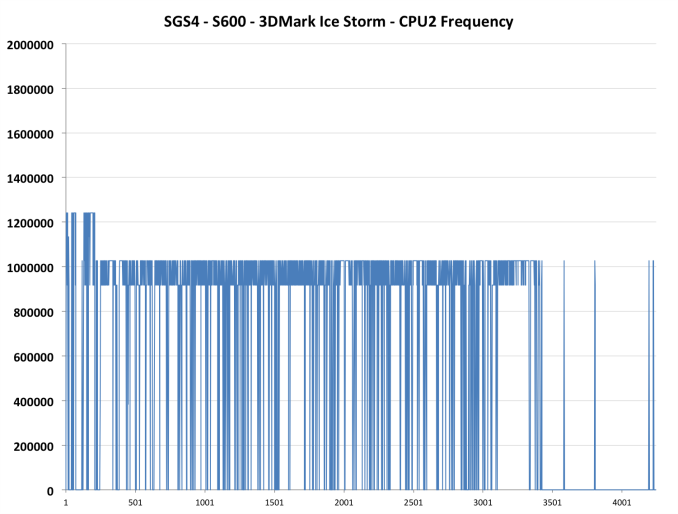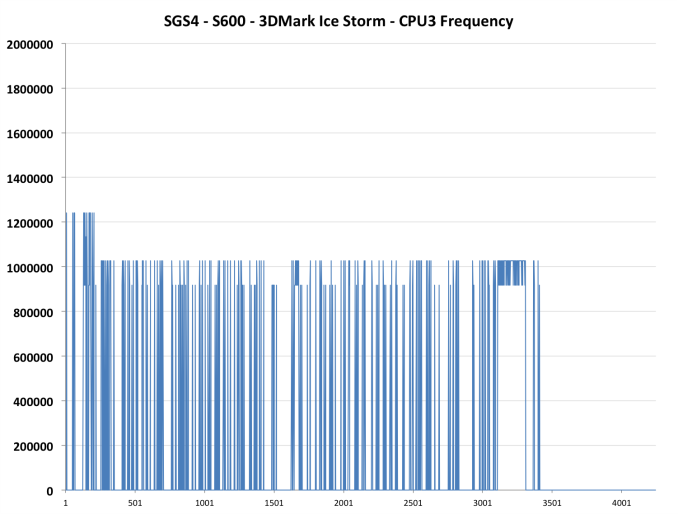 GFXBench 2.7
BaseMark X and GFXBench 2.7 on the other hand shift the workload to a more GPU bound workload, and we see the Moto X take a couple of steps back.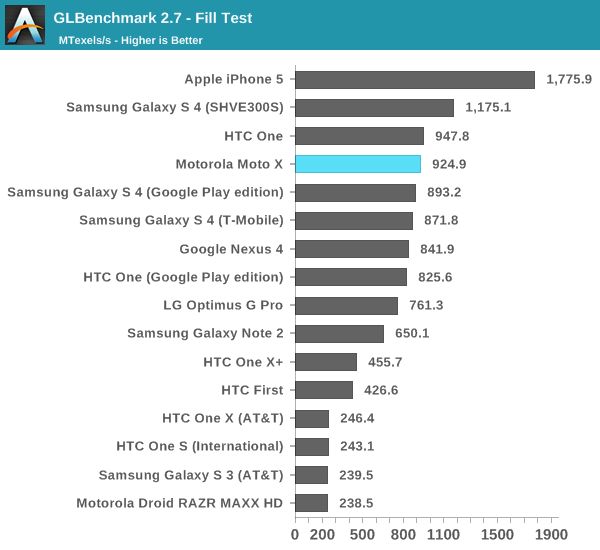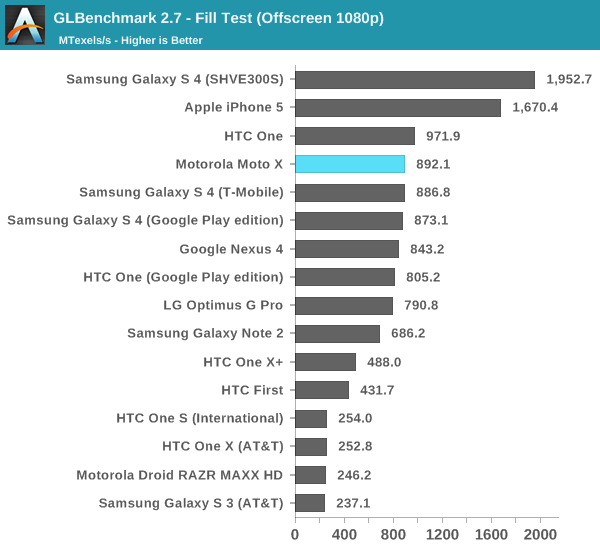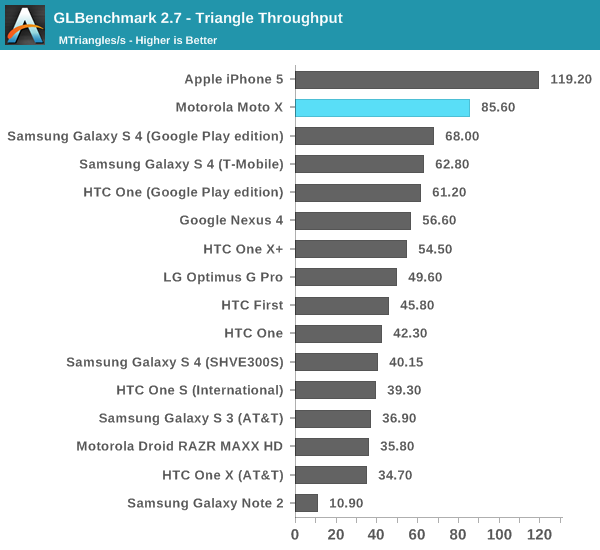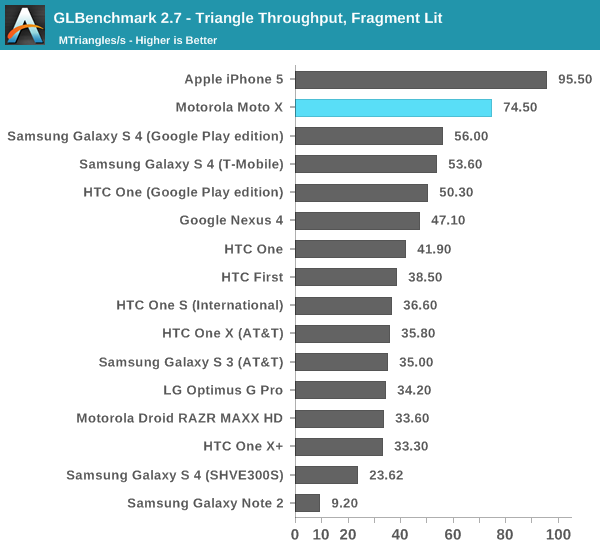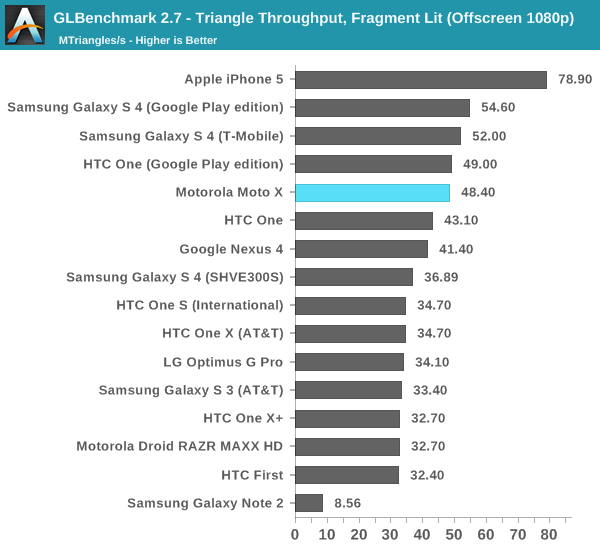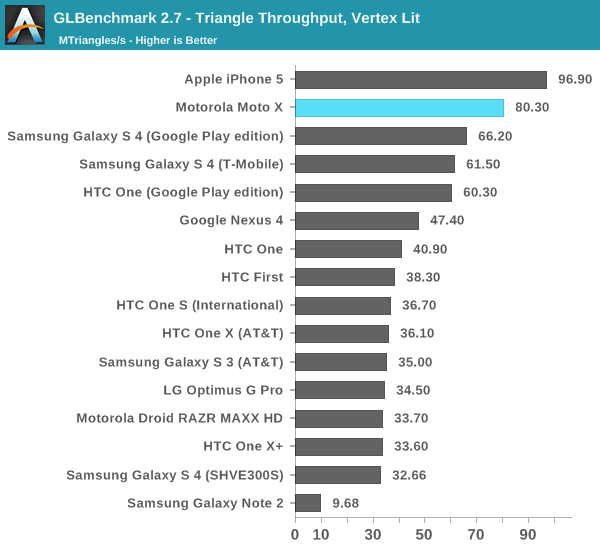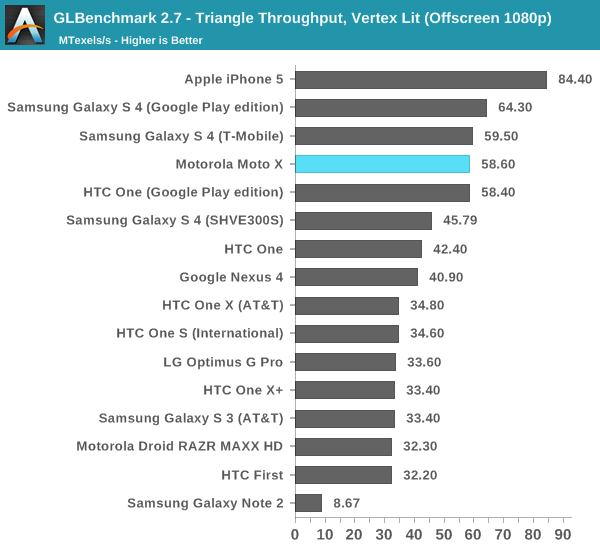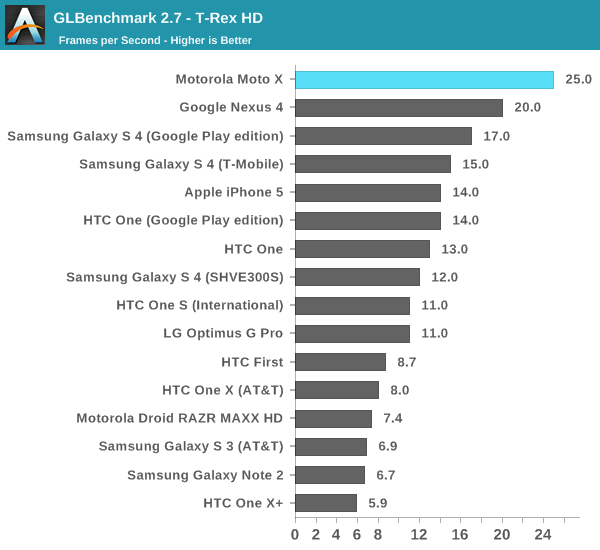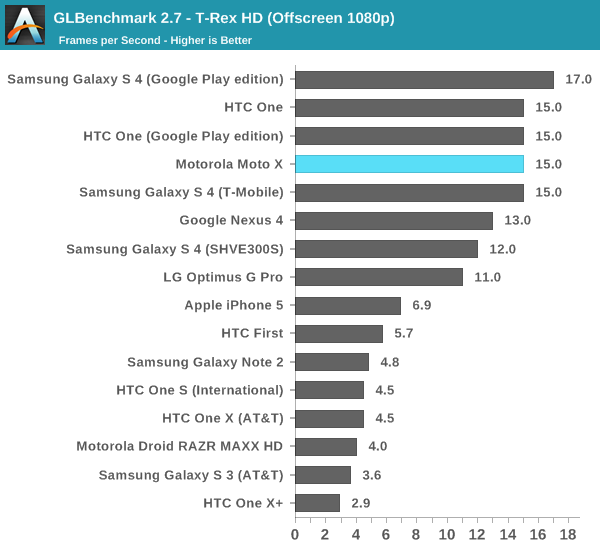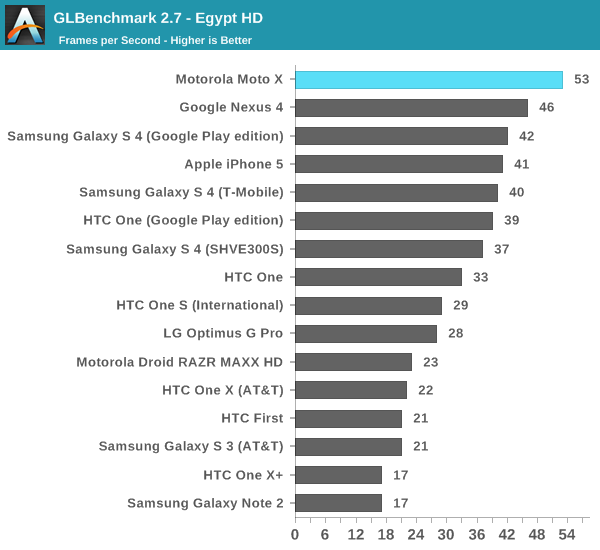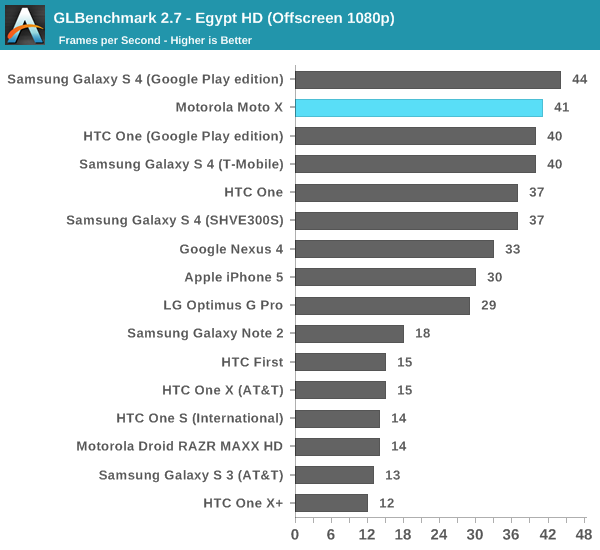 Basemark X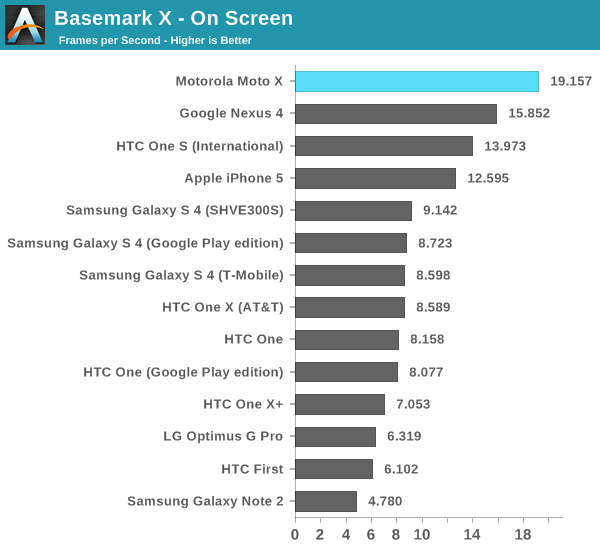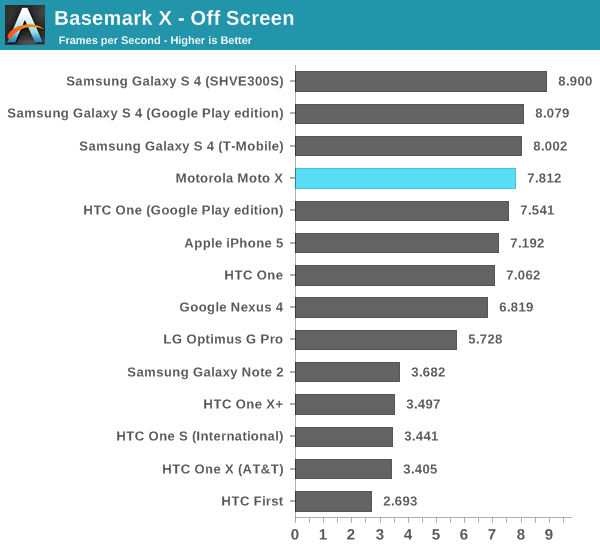 Epic Citadel
Epic Citadel and other native resolution benchmarks benefit from the 720p panel, in addition to the CPU frequency advantages.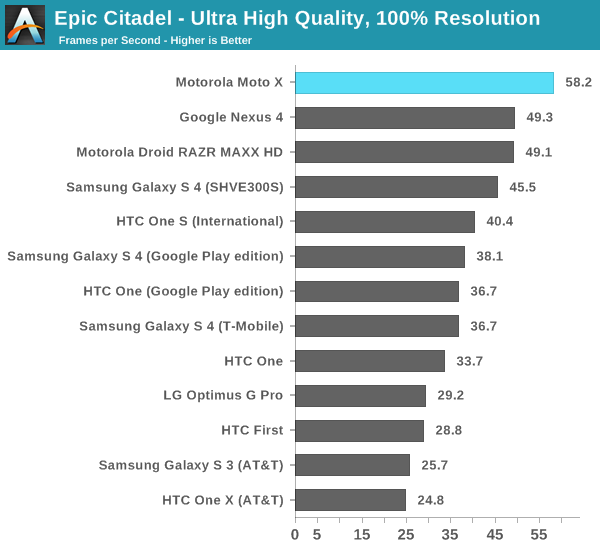 Internal Storage Performance
by Anand Shimpi
Stock Android deployments use ext4 formatted partitions for OS and user data. The Moto X's pseudo-stock Android 4.2.2 uses ext4 for all partitions with the exception of user data storage, which uses F2FS (Flash Friendly File System):
/dev/block/platform/msm_sdcc.1/by-name/system /system ext4
/dev/block/platform/msm_sdcc.1/by-name/fsg /fsg ext4
/dev/block/platform/msm_sdcc.1/by-name/customize /customize ext4
/dev/block/platform/msm_sdcc.1/by-name/modem /firmware ext4
/dev/block/platform/msm_sdcc.1/by-name/userdata /data f2fs
/dev/block/platform/msm_sdcc.1/by-name/cache /cache ext4
/dev/block/platform/msm_sdcc.1/by-name/persist /persist ext4
/dev/block/platform/msm_sdcc.1/by-name/pds /pds ext3
/sys/kernel/debug /sys/kernel/debug debugfs
/dev/block/platform/msm_sdcc.1/by-name/userdata /mnt/shell/emulated f2fs
/dev/block/platform/msm_sdcc.1/by-name/userdata /storage/emulated/legacy f2fs
/dev/block/dm-0 /mnt/asec/com.cgollner.systemmonitor-1 ext4
As its name implies, F2FS is designed to be better optimized for use on NAND flash based storage - like the integrated eMMC solution used in the Moto X.
Unlike ext4, F2FS is a log-structured file system. A log-structured file system mixes data and log writes together in an attempt to serialize all writes. Ext4, by comparison, is a journaling file system that keeps track of all file system changes in a journal. A centrally located journal basically means all writes end up looking pseudo-random from the perspective of the storage device, since all writes involve writing the actual data as well as updating the journal located somewhere else in storage space. Log-structured file systems attempt to write both data and file system updates sequentially, as a circular log.
The serialization of writes alone is enough to seriously improve performance (look at the ratio of sequential to random write performance on solid state storage), but F2FS also includes some other features that make it very flash friendly. At a high level, F2FS seems to implement many of the same architectural features we see within solid state drives. As long as there's enough free space, all new writes happen to empty blocks rather than previously used addresses (as a result, real time garbage collection is necessary). There are even similarities down to the underlying organizational structure of F2FS partitions and SSDs, with counterparts existing for flash pages, blocks and planes. Wear leveling obviously isn't a concern of F2FS, but largely mirroring what happens internally to the eMMC/SSD definitely helps keep performance high. There's also apparently some file system/storage hardware awareness baked into F2FS as well. TRIM is not only supported, but it appears to be supported on file delete rather than operating as an idle time task as in Android 4.3 with fstrim.
The Moto X uses F2FS on user data partitions, which has tremendous impacts not only on performance but device behavior over time. For starters, the Moto X boasts better random write performance than any other Android device we've ever tested: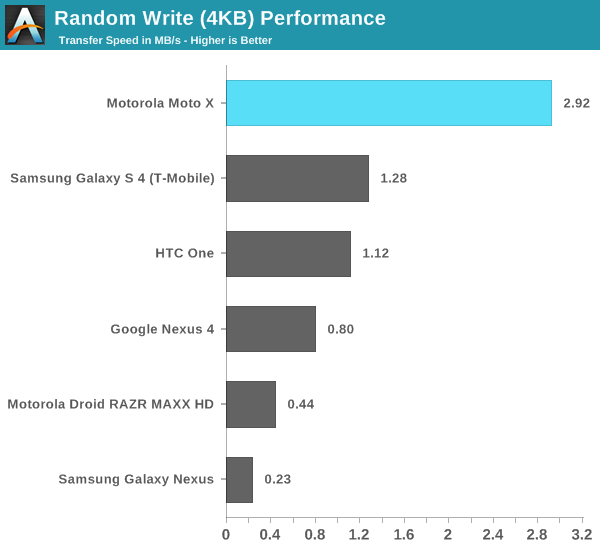 My guess is the advantage we're seeing here has more to do with F2FS serializing log updates rather than Motorola simply implementing better eMMC hardware, although that is still possible as well.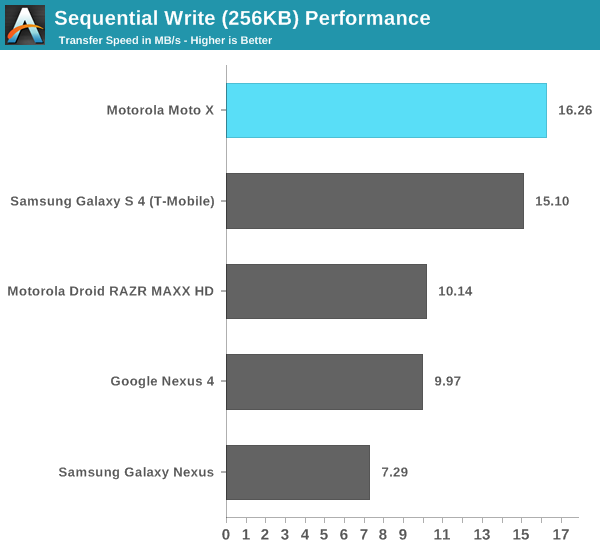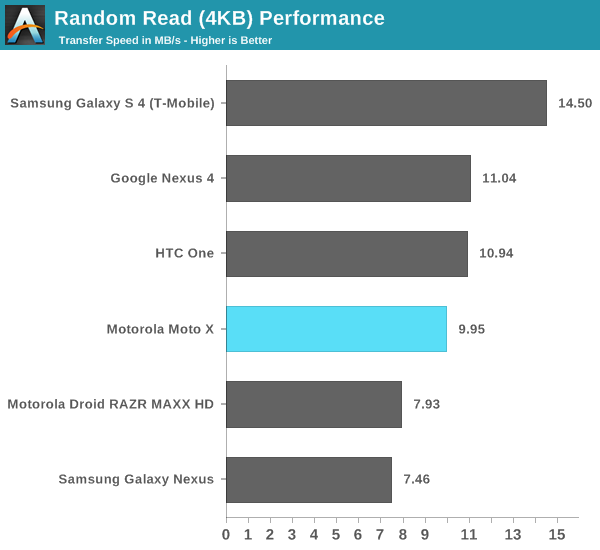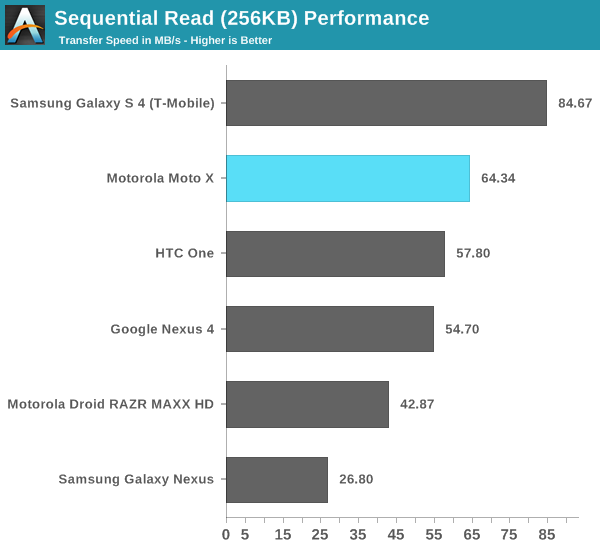 Sequential speeds are competitive, although random read performance is a bit lower than on the Galaxy S 4. Between Brian's two review units we have seen the performance of both SanDisk and Toshiba eMMC devices in the Moto X:
Moto X Storage Performance
Sequential Read
Sequential Write
Random Read
Random Write
SanDisk 16GB
64.34 MB/s
16.26 MB/s
9.95 MB/s
2.92 MB/s
Toshiba 16GB
64.28 MB/s
11.48 MB/s
12.79 MB/s
2.94 MB/s
Random write performance is near identical, but there are some significant differences in sequential write and random read performance. I've always wondered just how much of a difference exists between various eMMC component suppliers within a given hardware platform, so it's good to have some idea with the Moto X. The Toshiba drive's sequential write performance is substantially less than what SanDisk offers, although random read performance favors the Toshiba solution over SanDisk. I have a hunch that most usage models aren't bound by random read performance, which would make the SanDisk solution the better one, but that's speculation on my part.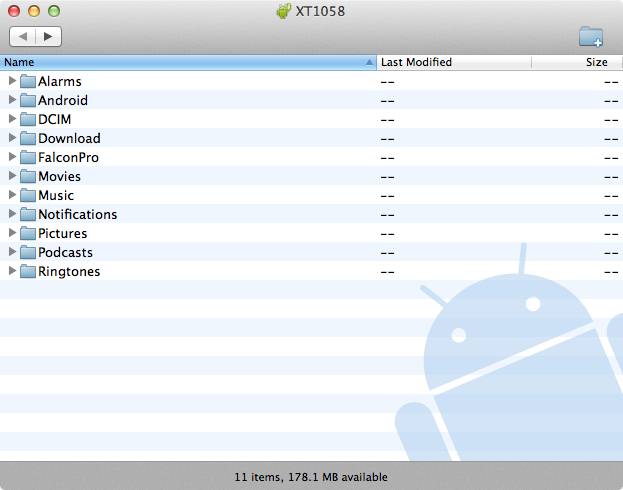 To really stress the eMMC implementation and F2FS, I filled my 16GB Moto X's roughly 12GB data partition with sequential data. I left less than 200MB free on the device, and then ran our standard 100MB span of read/write tests. This is the same procedure that left the 2013 Nexus 7 with ~0.1MB/s random write speeds, but in the case of the Moto X we saw a small but nowhere-near-as-bad performance degradation:
Moto X Storage Performance
Sequential Read
Sequential Write
Random Read
Random Write
New Condition
61.99 MB/s
11.49 MB/s
12.90 MB/s
3.17 MB/s
1st Run After Fill
60.52 MB/s
9.42 MB/s
13.33 MB/s
2.38 MB/s
2nd Run After Fill
62.54 MB/s
10.24 MB/s
13.05 MB/s
2.43 MB/s
3rd Run After Fill
62.00 MB/s
10.42 MB/s
13.38 MB/s
2.24 MB/s
4th Run After Fill
61.90 MB/s
10.12 MB/s
13.03 MB/s
2.04 MB/s
5th Run After Fill
61.16 MB/s
10.01 MB/s
12.92 MB/s
2.40 MB/s
At worst I saw a 50% decrease in random write performance, while still delivering an order of magnitude better performance than the worst case on a 2013 Nexus 7. The combination of eMMC hardware and F2FS appears to give the Moto X relative immunity to the sort of significant slowdowns we've seen with other Android eMMC implementations. In other words, based on this data, you could run your Moto X at or near full capacity without significantly compromising user experience.
It gets even better.

I then deleted all of the files I wrote to the F2FS partition to find out if I'd see an immediate improvement in performance. I did:
Moto X Storage Performance
Sequential Read
Sequential Write
Random Read
Random Write
New Condition
61.99 MB/s
11.49 MB/s
12.90 MB/s
3.17 MB/s
1st Run After Fill
60.52 MB/s
9.42 MB/s
13.33 MB/s
2.38 MB/s
2nd Run After Fill
62.54 MB/s
10.24 MB/s
13.05 MB/s
2.43 MB/s
3rd Run After Fill
62.00 MB/s
10.42 MB/s
13.38 MB/s
2.24 MB/s
4th Run After Fill
61.90 MB/s
10.12 MB/s
13.03 MB/s
2.04 MB/s
5th Run After Fill
61.16 MB/s
10.01 MB/s
12.92 MB/s
2.40 MB/s

Delete ~12GB of Data, Free up Space

1st Run After Delete
61.69 MB/s
12.08 MB/s
12.98 MB/s
3.62 MB/s
2nd Run After Delete
61.90 MB/s
12.06 MB/s
12.56 MB/s
3.96 MB/s
3rd Run After Delete
62.26 MB/s
11.98 MB/s
12.93 MB/s
3.95 MB/s
I waited a few seconds after deleting the ~10GB of data I wrote to the drive before running our storage tests. Apparently that wasn't long enough as there was a several second pause while writing my 100MB test area to the eMMC device. I suspect the eMMC was still TRIMing the recently freed blocks, causing the pause. Once the test started running however, performance shot up past my first run on the Moto X.
It seems like the Moto X implements TRIM on delete, at least on the F2FS partition. My guess is that TRIM on delete is fairly easy to implement with F2FS given the file system's SSD-like garbage collection.
Motorola's decision to include F2FS on the Moto X appears to be a great one from a performance standpoint. The Moto X is the first Android device I've used that should be able to keep its performance relatively high while operating in a (nearly) full partition state.
F2FS seems to mirror a lot of the fundamental architecture decisions of high-end SSDs, but at the file system level in software. As eMMC controllers tend to be fairly limited in performance, and eMMC firmware architectures are equally disappointing, leveraging the host OS to do things a little better makes a lot of sense. For the past couple of years I've been wondering what the path will be to improve storage performance in mobile devices. I'd previously assumed that we would simply see steady increases in storage performance/complexity, but perhaps we'll instead see the burden shared by both mobile hardware and the underlying OS/file system.
What are the downsides to F2FS? The big one for me is that I don't have much experience with the file system. There are always concerns about doing something different, particularly when it comes to trying new file systems on user data. Keep in mind, none of my analysis here has anything to do with reliability or the ability of F2FS to maintain data integrity.
Camera Analysis - One Clear Pixel
The camera on Moto X is an interesting and unique thing to talk about. Motorola has completely changed its camera interface around dramatically, added an interesting camera activation "flick" gesture, and the camera system itself is likewise a unique one, as it is the first to include a clear pixel in its color filter array.
Let's start with the UI and activation changes. Previously, Motorola had a relatively pragmatic camera interface with an expandable menu bar at the bottom, some breakout options, and on screen capture button. I have to be honest and say that although I lived with it, I was never a huge fan of the interface. The Moto X does away with all of it completely, and corrects towards a very simple interface and interaction pattern catered to users who want something that just takes pictures without any fussing with settings. This is another place where the Moto X is not canonical stock Android, but thankfully so.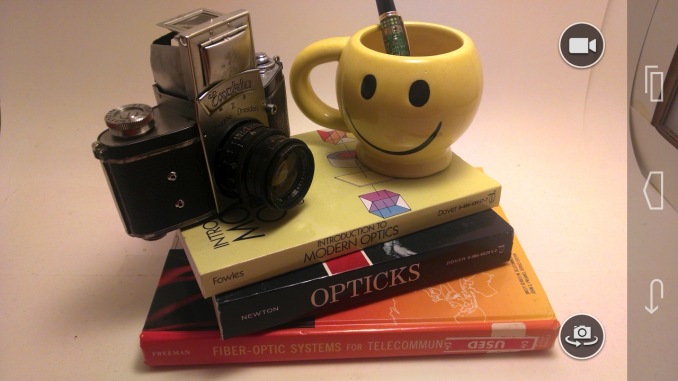 By default, the Moto X decides where to focus and constantly runs AE and AF, tapping just causes image capture – there's no tap to focus and expose, then capture – it's just capture on tap. To get tap to focus back, you need to go into settings, which works by dragging from the left side in towards the center. This exposes a ring menu that scrolls and has camera options on it. Options on the ring settings menu include: HDR, flash, tap to focus, slow motion video capture (720p60), panorama, image geotagging, shutter sound, and the flick to launch camera gesture. What's absent is any control over the image size or video size, manual exposure or ISO, and of course Google's photospheres.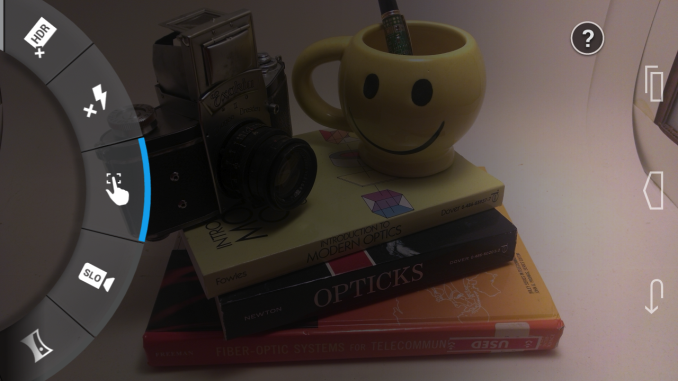 Dragging up and down changes digital zoom, dragging in from the right side goes into the gallery. There's a toggle at the bottom for switching between front and rear facing cameras, and a button which immediately starts video capture.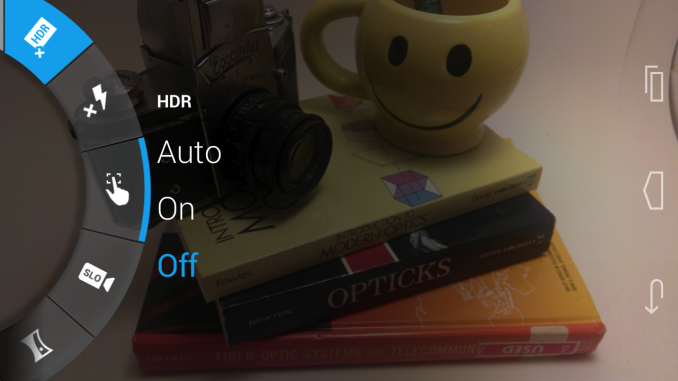 I immediately turned tap to focus back on, though it's more like tap to focus and capture rather than tap to focus, since tapping anywhere with this enabled will trigger a full AF search and then capture. Exposure seems to come from the average of the whole scene instead of the spot where you tapped.
I understand what Motorola is doing with the Moto X camera interface and catering to users who don't want to mess with settings. I have also heard the rationale that 'most users don't use those features' countless times from every OEM when I ask for direct control over various sliders like I now can get from the Lumia 1020, and my thoughts are unchanged – I obviously still want them. That said I'm glad Motorola did something and took a side here with the Moto X interface, and anything is better than the stock Android interface. Motorola nails the resolution of the image preview, which is excellent and seems to be 1:1, and the preview framerate is nice and high.
Flick to Activate
The next part of what's unique about the Moto X is its camera activation gesture, which launches the camera with the phone even when it's in a display-off, standby state. The best way to describe the gesture is to hold the Moto X like you would in portrait mode, pretend you're holding a screw driver, and half rotate, half flick the Moto X.
After two or three flicks, there's a vibrate and then the camera interface launches. I thought this would be really awkward in practice and lead me to flick the Moto X across rooms or off buildings, but it turns out the camera activation gesture is easy to internalize after a few tries. The downside is that I suspect I have launched the camera with the Moto X in my pocket at least four times now, one time while riding the subway (where it took 10 quick pictures in the pocket of my shorts), and another time while walking around (it took 3 pictures), and a few other times I pulled my phone out of my pocket only to be greeted by the launched camera (it had been going for who knows how long eating battery). When that happens, your gallery will look something like this: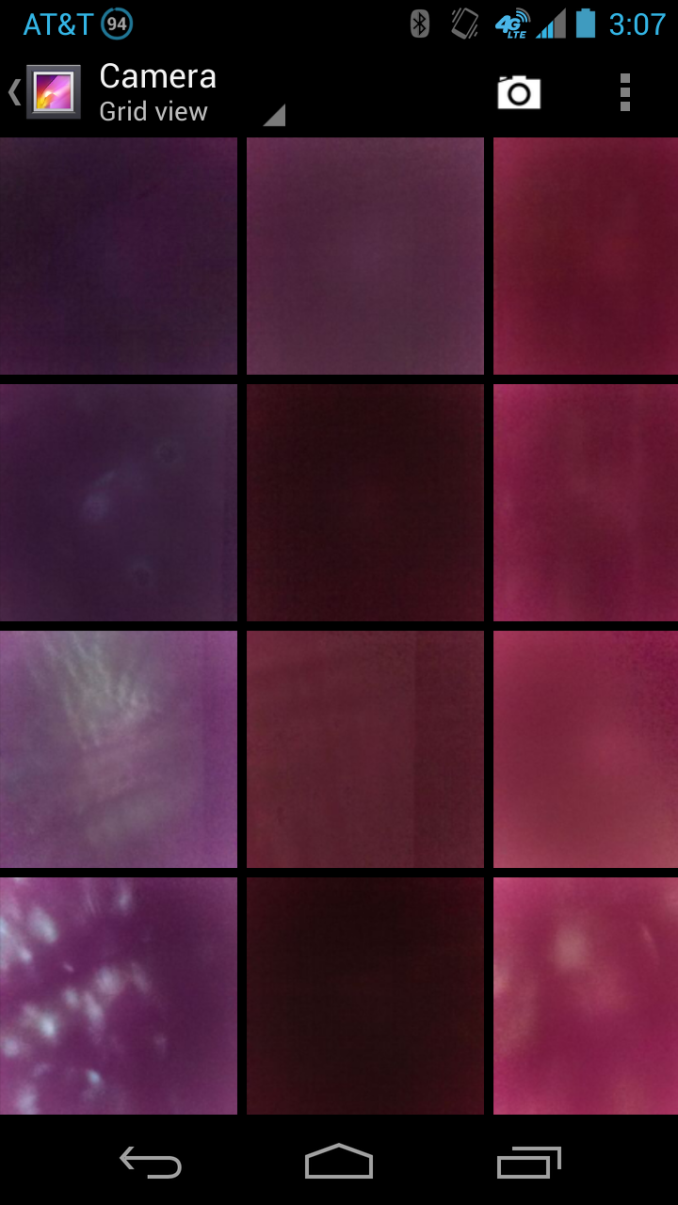 I'm not sure how during those occurrences the accelerometer data happened to look the same way to the sensor fusion intelligence as a camera flick gesture, but they definitely happened. I wouldn't say it's a big issue, but that at least two times I was surprised to come back to a few black photos in my gallery. I guess the upside is that you can turn it off, but I still keep it on, even with there having been a few false positives.
RGBC - One Clear Pixel
The Moto X camera system is definitely an interesting one. Digital camera sensors don't sample color at each photosite, instead to detect color, you need a filter, or in this case a filter array, and then an algorithm to interpolate the color of each pixel from its neighbors. The Moto X is the first smartphone system I'm aware of to use a different color filter array from the traditional Bayer RGGB. Bayer has been the de-facto color filter array of choice for digital cameras essentially since their inception for a few reasons. It's a 2x2 unit cell that goes RGGB, which works perfectly since human visual sensitivity peaks in the green. In addition the algorithm to interpolate the two other colors at each photosite, and the filter wavelengths themselves, have been perfected for over 20 years. The problem with using filters is of course that you lose light, and with smartphone pixel sizes getting smaller and sensitivity not going up as much, there's been a lot of attention directed at alternative color filter arrays, either 2x2 or 4x4, with clear pixels of some kind to increase sensitivity in low light situations. Sony famously tried an RGBW (white, clear, RGBC) arrangement before bailing out and going back to Bayer, Aptina has another RC,CB subpixel pattern it believes is even better, and others have tried 4x4 grids as well. There are tradeoffs involved – sampling green less means less spatial resolution in that color channel, and thus introducing color artifacts which occur from the demosaic algorithm that tries to infer the other colors at the other sites.


Aptina's pattern comparison table is pretty close to the mark
The Moto X anyhow includes a CMOS sensor topped by a color filter array with a single clear pixel in the place of what would otherwise be a green pixel in Bayer land, and claims a 75 percent gain in sensitivity as a result. Motorola has long been an OmniVision customer, for about as long as I've tracked them. The Moto X continues that trend with a 10 MP OV10820 rear facing CMOS sensor, which is a variant of OV10810 that includes a clear pixel. That rear facing sensor includes 1.4µm pixels and thus ends up notably bigger than the 13 MP sensors with 1.1µm pixels with a format of 1/2.6". The sensor array is 16:9 aspect ratio, with an image size of 4320x2432, which sort of gives away its real design intention – a 4K (UHD) image sensor, though obviously the Moto X can't shoot 4K video.
Atop the Moto X sensor is a relatively fast F/2.4 system with 4.5 mm focal length, which gives it around a 30mm (35mm effective equivalent) focal length. I still would love to see more phones come in around 35, but 30 is still a bit longer than the 28 and below I see starting to become more common to get the stack thinner.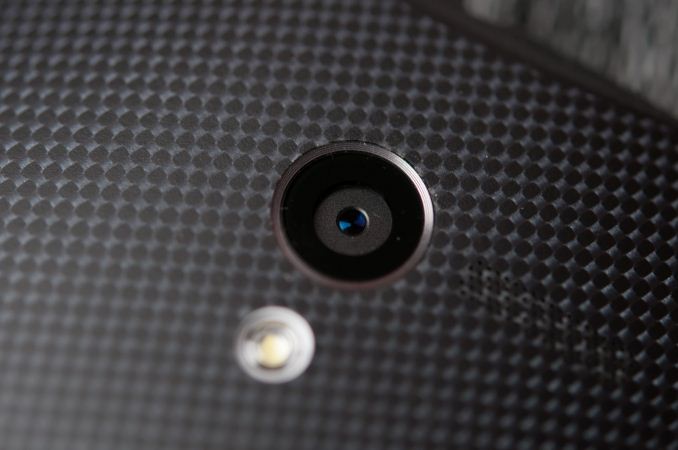 The front facing camera is a Samsung S5K5B3G 1920x1080 CMOS image sensor, 1/4.5" in size, with 1.75µm pixels and frontside illumination.
An interesting thing to talk about is the consequence of using a CMOS sensor with a clear pixel 2x2 pattern alongside an SoC whose ISP is optimized for Bayer, and Bayer only. I'm not privy to exactly how much of Qualcomm's ISP onboard MSM8960Pro isn't fixed function, but either way Motorola either didn't invest the engineering resources or the ISP simply can't do anything other than Bayer, and thus needs an RG,BC to Bayer domain conversion step somewhere. For this, Omnivision includes an OV660 coprocessor, which does the conversion. I don't have visibility into the entire imaging pipeline for the Moto X, but I would bet OV660 takes a lot of the ISP burden as a result.
So how does the Moto X actually fare as a camera? For this we turn to the normal combination of tests at a few locations, comparison images taken with multiple cameras at the same place, and in a lightbox of a scene and of test charts. As a reminder only locations 3,4,5 and 7 remain available at the smartphone camera sample bench location, that one effectively starts here.
Test Charts:
Test Scene:
Smartphone Bench:
Moto X Shooting Samples: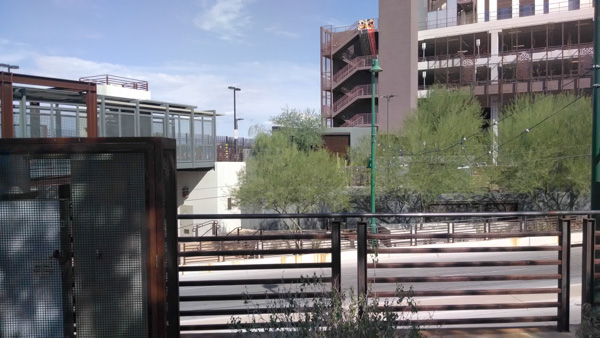 Moto X: 1/2700, ISO 160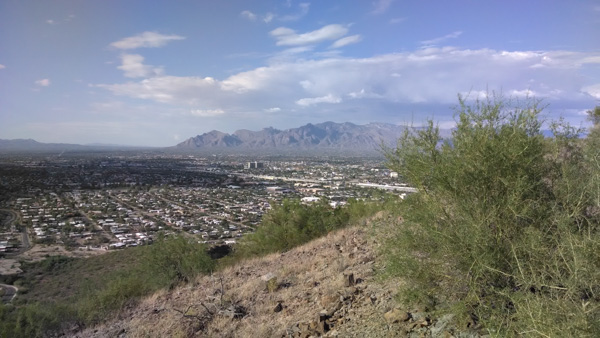 Moto X: 1/2703, ISO 160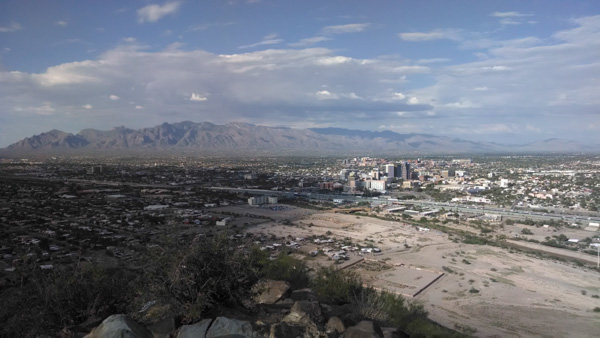 Moto X: 1/3448, ISO 160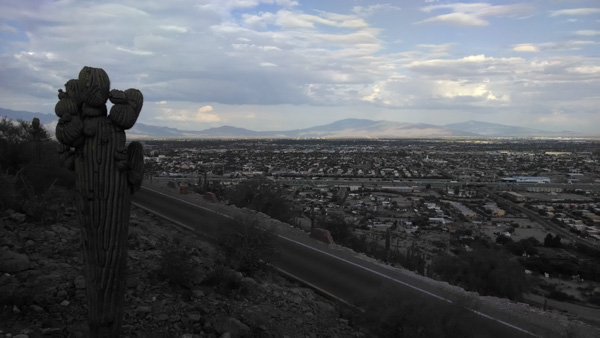 Moto X: 1/2041, ISO 160
HDR Comparison: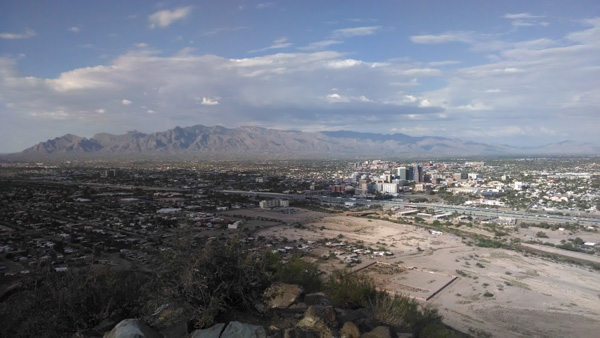 Moto X: 1/3226, ISO 160
Quite honestly, performance seems to be very bimodal. In well lit scenes the Moto X is quite capable of making some surprisingly good photos, in fact I was initially surprised by how good some of the photos I took right out of the gate with the Moto X turned out. The clear pixel does however give you color artifacts if you start challenging it with patterns with lots of spatial detail, which I noticed with some of the first photos I took on the Moto X of a brick wall across from the hotel room I was working in.
The clear pixel also definitely seems to have a spatial frequency tradeoff, which isn't entirely surprising. The Moto X is capable of taking good photos outside in bright light, there's just an occasional haziness, but that's a common problem for phones these days as stray light becomes an increasingly big problem. Image saturation is also a bit lower than what I'm used to from phones, exacerbating that washed out look when compared side by side with other cameras. The one upside is that white balance in the controlled test scene seems to be much better, which is what leads me to suspect that OV660 is doing a lot of the ISP duties instead of 8960Pro.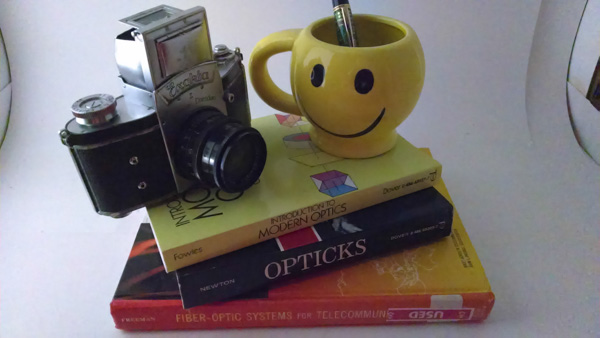 Moto X: 1/15, ISO 3200
When I say the Moto X camera performance is bimodal, I really mean it. It seems to have a night mode that automatically kicks in after about 3 seconds and dramatically changes the camera tuning on the device. Integration time is longer, but also the demosaic algorithm seems to change as well, to something which ostensibly uses the luminance channel from the clear pixel a lot differently than it gets used in the other mode. When this happens there's also honestly a lot of splotchiness that appears from noise reduction algorithms running. Motorola will send ISO very high, up to 8000 on the Moto X, which helps it keep exposures from running above what seems to be the imposed limit of 1/15 seconds. It's possible to get the shot, and there is a gain in sensitivity, but detail really suffers at those configurations. From an academic perspective I'm intrigued by the Moto X camera just because of the clear pixel.
Video Analysis
On the video side, the Moto X records in 1080p30 by default, again there aren't any options for changing bitrate or size, it's just always maximum, which I have no issues with. The encode settings end up being 17 Mbps H.264 High profile with 1 reference frame for video at a solid 30 FPS with no dropped frames, and 128 kbps stereo audio.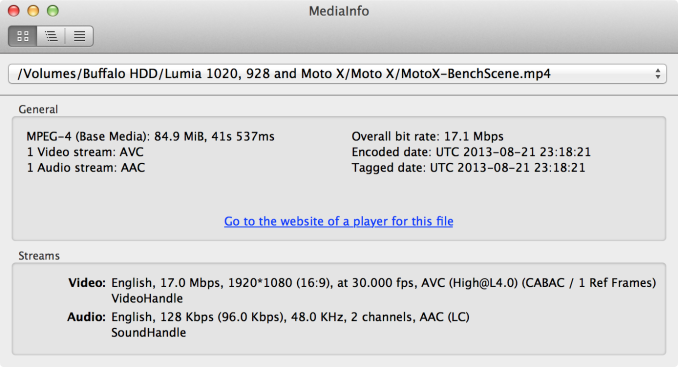 The slow motion video mode I was really hoping would be 1080p60 and was inititally told it would be. This obviously was a case of someone misspeaking since it actually is a relatively mundane (read: standard) 720p60 which gets encoded at 720p15. If you speed playback up 4x, you'll get the fluid 60 FPS look I'd actually prefer to an artificial slow motion mode that seems to be popular for Android handsets. Video encode is H.264 High profile at 5 Mbps
I've done the usual thing and uploaded a zipped copy of the videos I took on the Moto X to our server for your viewing without the annoying YouTube transcode and quality loss, in addition to YouTube for quick analysis. Video on the Moto X is smooth and doesn't drop frames or stutter, and there aren't many visible compression artifacts, which is excellent. Sharpness inside the video is ok but it still seems like it could be higher, which is surprising considering the sensor's 4K design. I suspect that Motorola is doing a subsample of the sensor in order to get video output that the SoC can handle, rather than downscaling the 4K native output that the sensor is capable of.
Final Thoughts & Conclusion
Prior to the Moto X, since being acquired by Google, the execution strategy for Motorola wasn't entirely clear. Google talked about there being a firewall between the two companies, and Motorola described its own situation as being analogous to YouTube's. The first result of that strategy is effectively a re-launch of the mobile part of Motorola, and its first device, the Moto X.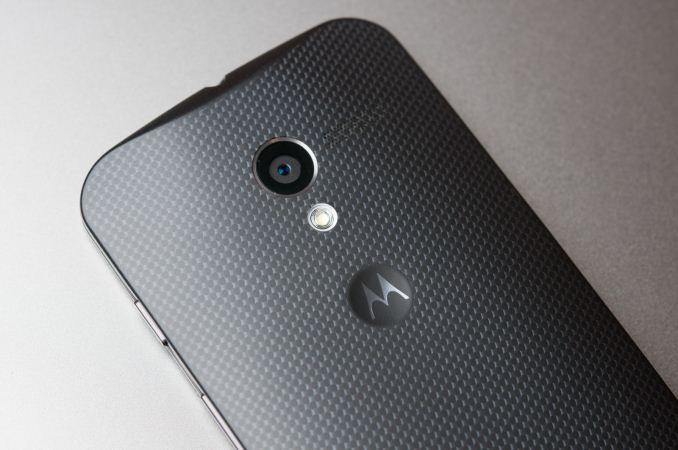 I finish the Moto X review feeling very differently about the device than I did initially, in a positive way. I have to admit that I went into the Moto X review very skeptical for a few reasons. Initially the amount of hype surrounding the Moto X was somewhat off-putting, as if many expected the Moto X to instantly eclipse Nexus and all other Android phones entirely because of the Google involvement. The second thing was the weird octacore messaging and dilution of the word "core" even further, and the SoC choice itself, but I understand better now the choices behind that platform and messaging. While there's still no getting around the fact that having a dual core SoC in a world of quad core devices is difficult to explain away, in this case having 8960Pro with two CPU cores helps Motorola run them at higher frequency more of the time versus the throttling that goes on with current 28nm LP quad core parts. The other performance aspect is obviously how using F2FS helps the Moto X have comparatively very fast random read and write performance, and storage I/O will start to become a big consideration for performance.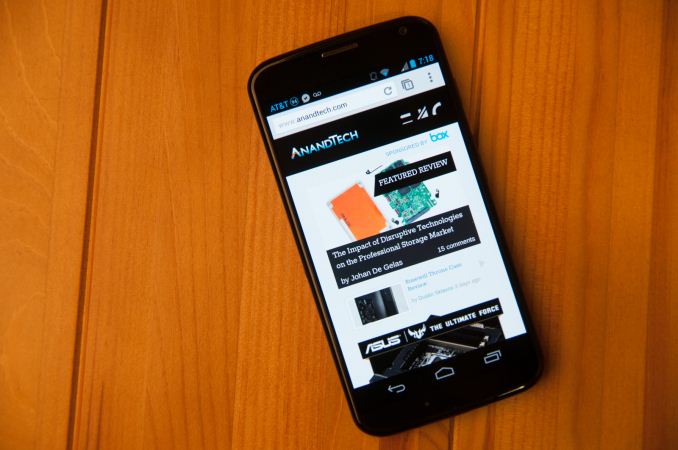 The features Motorola has enabled through the addition of a TI MSP430 for sensor fusion (its contextual awareness processor) and TI C55x family DSP (its natural language processor) are indeed major unique and novel features for the Moto X. Active display is probably my favorite feature out of the things enabled by the X8 Mobile Computing System and the combination of these two extra TI components (err... "cores"). It's useful for quickly being able to just glance at what's new or why your phone vibrated in your pocket, or if it even vibrated at all. It also is perhaps one of the best uses of AMOLED I've seen, for doing something other than just displaying a clock and battery status when the phone is in standby.
The other two features are novel but not something I can't live without. Touchless control works, but I still think that if you're within speaking distance of your Moto X you probably could just pick up the phone and use it. The upside is that the feature doesn't affect battery life (I tested with it enabled and disabled) and can be convenient, the downside is that activate on voice still has some false positives. Likewise, the camera activation gesture definitely has some false positive issues and occasionally presents me with a gallery page full of photos of the inside of my pocket. Launching the camera that way is more natural than I thought it would be, so I still use it, but occasional activation in your pocket is just something to be wary of.
Including a primarily stock UI is also a huge step in the right direction, and perhaps the most positive result of the Google interaction. With Android 4.x, the platform really doesn't need much custom tailoring and smoothing over except for the camera UI. Being able to use the stock UI makes the Moto X feel almost like the Google Play edition HTC One and SGS4 I was used to before switching to the Moto X. The ability to use the stock UI will be a huge selling point for users who are on CDMA networks (and refuse or unable to switch) and can't use a Nexus or GPe phone.
The Moto X is an interesting flagship product thanks in part to its smaller size and shape. There's a market out there for a flagship smartphone that isn't gigantic, and at present it's really served almost entirely by the iPhone. While I have gotten gradually used to larger and larger phones, I have to admit it is refreshing to use the Moto X and I have an easier time doing one-handed swipe typing on the Android keyboard and navigating around apps. The rounded shape and lack of cheap-feeling glossy plastic really helps the Moto X feel like a premium smartphone.
The Moto X is without a doubt the closest thing we have in the Android handset space to a smaller flagship device - one that isn't positioned as a midrange phone against a larger hero device. I've described the Moto X as being on the smaller side, but it still includes a relatively large 4.7-inch display, the Moto X just wastes less of the space around that display.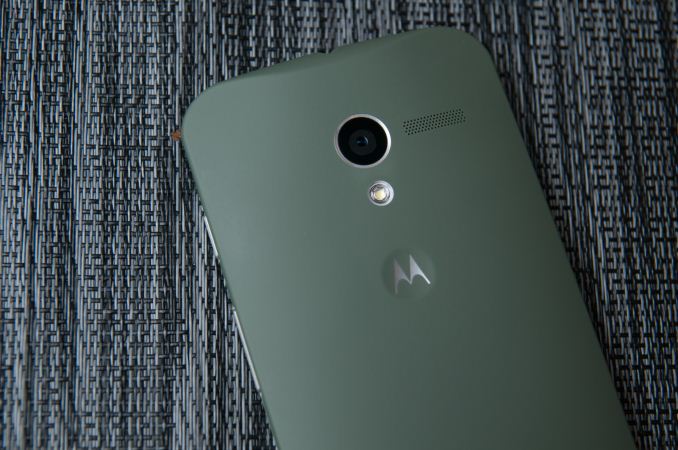 While Motorola suffered a few hiccups with Moto Maker and getting our Moto Xes out on time, I have no doubt the build-your-own customization aspect of the device will be very popular. I'm very pleased with how my device turned out, and having something which looks different, and I specified, really does make me want to use it more. I'm still more excited about the upcoming wood-backed options as well, I just wish they were available at launch and not coming some time in Q4 2013.
The camera on the Moto X nails it on paper – it's a comparively big sensor, with 1.4µm pixels instead of the 1.1µm kind that has been the industry trend, and F/2.4 optics. In practice however the Moto X camera has somewhat bimodal behavior – it can be good, it also can be bad, and a lot of that comes from the clear pixel color filter array which trades off some resolution for sensitivity and introduces color artifacts. In bright scenes I saw some great results from the Moto X camera, but indoors and in darker scenarios the device seems to use different processing that changes behavior entirely. Motorola deserves credit for doing something different, however.
The Moto X does a lot of things right – the size, shape, stock UI, customization. I enjoy using the Moto X a lot more than I thought I would, and think Motorola hit a home run with the Moto X in the size and shape department. Its only Achilles heel is its price, which comes in at $199 on a 2 year contract and $579 off contract at AT&T. There's still no word on Google Play edition or Developer Edition pricing, but I expect they'll be around the same. I still feel like that's too high considering the platform choices, although I expect the Moto X will come down in price pretty rapidly once MSM8974 phones start hitting the market. At the right price the Moto X could be a very big deal, almost disruptive. It's just a matter of getting it there.