Original Link: http://www.anandtech.com/show/7238/acer-v7482pg9884-review-everything-you-need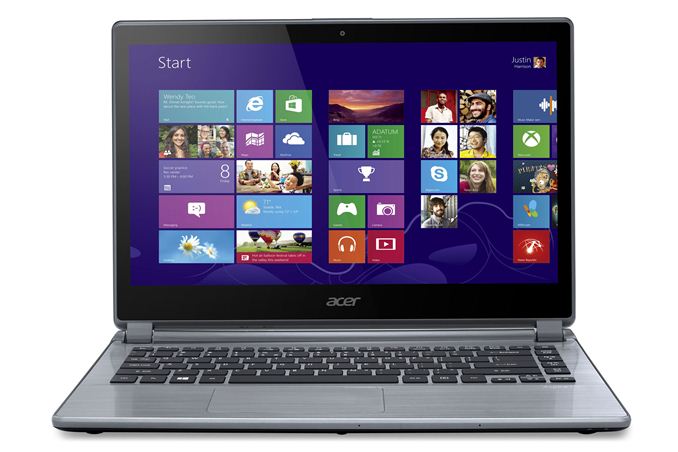 Meet the Acer V7-482PG-9884
There's a careful balancing act that needs to be maintained when putting together any system. Cooling requirements need to be kept in check by size constraints, performance ties into both of those as well, and let's never forget the almighty dollar. Various other elements are also at play like build quality, aesthetics, and other extras. Generally speaking, it's impossible to build a single product that will get every area right for every person out there, and so we end up with the usual give and take. Acer's Aspire V7 laptop is an interesting mainstream offering that won't be the fastest system out there, and it's not the lightest laptop you'll find either; in fact, the list of what it's not is almost as long as the list of what it is. The sum however ends up being greater than the value of the parts, and overall it's a good laptop.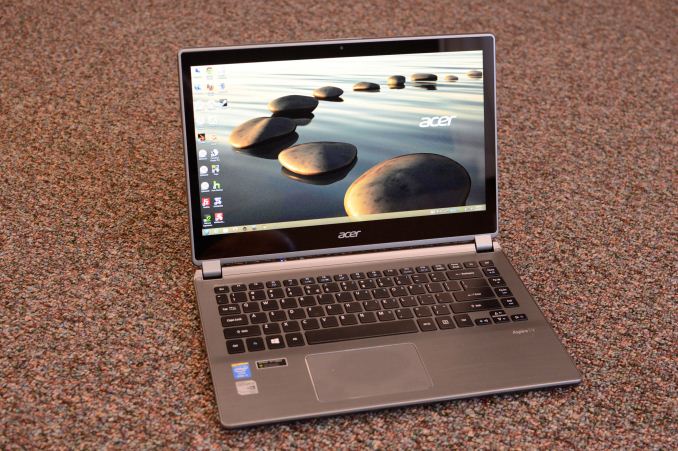 Acer spent a couple decades chasing the budget sector, with every new release appearing—at least to me—to go ever more after cutting BoM costs with little to no regard for quality. We've complained about this, sometimes vigorously, and we're happy to report that it seems like finally we're starting to get something new out of the company. Sometimes the results are good and sometimes not, but at the very least we won't fault the company for trying.
Look at the Acer S7 Ultrabook and their R7 hybrid to get an idea of what we're talking about. The keyboard on the S7 didn't win me over, but damn was that a thin laptop, and overall quality was quite good as well. As for the R7, the Ezel hinge and 15.6" quality 1080p display are something new and different, and though battery life was on the low side the concept of sliding the keyboard forward and moving the touchpad back in order to bring the touchscreen into the limelight is something at least a few people really liked (and others despised). But not all of Acer's laptops have been quite so revolutionary; to discuss the V7-482PG we really need to go back a couple generations to the Acer M3.
The Acer Timeline U M3 was the first chance we had to play with an NVIDIA Kepler GPU, which launched first on a mobile device. It delivered reasonable graphics performance and was a decent looking laptop overall, but there was a problem: the display was YAGTNP: Yet Another Garbage TN Panel. Seriously, the situation has become so dire over the past ten years that we need an acronym to describe the problem! And Acer's not alone in using these displays—ASUS, Dell, HP, Samsung, Sony, Toshiba, and pretty much every other laptop vendor has done the same thing at one time or another. And it's not just the low quality TN panels. Shipping 1366x768 resolution displays might not be too bad on an 11.6" laptop, even though I'd really prefer to ditch the 16:9 aspect ratio and go back to 16:10; I might even excuse 1366x768 on a 12.1" screen. But at 13.3" and 14" I really think we need to at least have more options for something slightly higher resolution, and by the time we're looking at 15.6" displays we absolutely should see 1600x900 at a minimum.
Acer followed the M3 that combined a ULV Sandy Bridge Core i5 processor with GT 640M DDR3 with the M5, which upgraded the CPU to Ivy Bridge Core i5 and changed the GPU to the GT 640M LE GDDR5. In practice, performance went up a bit and battery life improved slightly more, but the display remained a glossy 1366x768 TN panel. Acer had several other variations on this theme with their V3/V5/V7 value lines, where you got differing levels of CPU and GPU performance but most of the time continued to get mediocre (at best) LCDs. Today, we've got the high water mark for the new V series, the Aspire V7-482PG. What's special about this laptop becomes pretty obvious as soon as we look at the spec sheet:
Acer Aspire V7-482PG-9884 Specifications
Processor
Intel Core i7-4500U
(Dual-core 1.8-3.0GHz, 4MB L3, 22nm, 15W)
Chipset
Haswell ULT
Memory
12GB (4GB onboard, 8GB SO-DIMM, 12GB Max)
(DDR3-1600 11-11-11-28 timings)
Graphics
NVIDIA GeForce GT 750M 4GB DDR3
(384 CUDA Cores at 967+ MHz, 1800MHz DDR3)

Intel HD Graphics 4400
(20 EUs at 200-1100MHz)
Display
14" Glossy AHVA 1080p Touchscreen
(AUO B140HAN01.1)
Storage
1TB 5400RPM HDD (WD WD10SPCX-22HWST0)
24GB SSD Cache (Kingston SMS151S324G)
Optical Drive
N/A
Networking
Gigabit Ethernet (Realtek RTL8111/8168/8411)
802.11n WiFi (Intel Wireless-N 7260)
(Dual-band 2x2:2 300Mbps capable)
Bluetooth 4.0 + HS (Intel)
Audio
Realtek HD
Stereo Speakers
Headset combo jack
Battery/Power
4-cell, ~15.1V, 3560mAh, 53.6Wh
90W Max AC Adapter
Front Side
N/A
Left Side
1 x USB 2.0
Power Button
AC Power Connection
Right Side
Headset jack
Flash Reader (SD)
1 x USB 2.0
Back Side
2 x Exhaust Vent
Gigabit Ethernet
1 x USB 3.0 (Powered)
1 x mini-VGA
1 x HDMI
Kensington Lock
Operating System
Windows 8 64-bit
Dimensions
13.31" x 9.33" x 0.84-0.92" (WxDxH)
(338mm x 237mm x 21.4-23.4mm)
Weight
4.3 lbs (1.95kg)
Extras
HD Webcam
86-Key Keyboard
Pricing
MSRP: $1300
The core idea is the same is the Acer Timeline U M3 (which was later updated to the M5-481TG-6814): use a ULV/ULT processor with a midrange NVIDIA GPU to deliver a nicely balanced Ultrabook that can handle games while at the same time delivering good battery life, and package all of this into a thin and light chassis. We've looked at a few other laptops that try to do something like this; the Razer Blade 14 is all about the design and build quality, and Razer stuffs a 35W quad-core processor and a GTX 765M into a chassis that flirts with Ultrabook specifications. MSI's GE40 has lower build quality and a slightly slower GTX 760M GPU in a thicker chassis, but it shaves about $600 off the price of the Razer Blade 14 in the process. Both laptops unfortunately have a major flaw: they have low contrast, low quality TN panels. That might be permissible on a budget laptop, but on premium devices we demand more.
Acer's V7 isn't going to be as fast as the Blade 14 or GE40, what with the dual-core i7 ULT processor and GT 750M DDR3 GPU, but the display trumps the other options in a big way—and it's even a touchscreen, though that still comes with the usual caveat that if you use the touchscreen you're going to have to deal with lots of fingerprints. Basically, it's a refined M5, with a Haswell upgrade, and the build quality is far better than you might expect from Acer. Or alternately, it's a smaller, sleeker version of the Aspire R7 without the Ezel hinge and with the keyboard and touchpad in their proper locations, which means while I had issues with the R7, the V7 ends up being far better. And like the R7, it's possible to open the chassis and upgrade the RAM and storage if you want – this time without any Torx screws hiding under the rubber pads silliness.
The biggest drawback? The price is no longer even remotely budget; the M3 and M5 could be had for around $900, while the V7 is going to set you back $1300 – and that doesn't even get you pure SSD storage, instead going with a slow 1TB 5400RPM HDD and a 24GB SSD cache using ExpressCache from Condusiv (which in our opinion continues to be not as good as Intel's Smart Response Technology SSD caching). Right now, the only place I can find the V7-482PG is at Acer, and even that can be a bit tricky (it's not directly accessible without searching the web in my experience); hopefully when we start seeing retail outlets carrying the laptop, the price will come down.
If you're after Ultrabook portability but want the option to handle games at moderate detail settings, there really aren't too many viable alternatives. ASUS might update the UX32VD with a Haswell variant, but I'd be surprised to see anyone manage to put something faster than the GT 750M into a current generation Ultrabook, and the i7-4500U is about as fast as you're likely to see as well (with the i7-4550U offering HD 5000 Graphics as an alternative for around $50 more). Let's also not forget the 12GB of RAM this time—Acer went from 4GB soldered onto the M3/M5 generation and got dinged for it, so this time they've skipped 8GB and gone straight to 12GB, which thanks to Intel's Flex Memory should provide the same performance as matched 4GB DIMMs while being better equipped for memory intensive workloads.
Acer V7-482PG: Subjective Evaluation
As you might guess from the introduction, I'm quite enamored with the overall experience on the Acer V7-482PG-9884 (which I'm just going to refer to as the V7 going forward, though as always Acer has many slightly different V7 models). I really hate seeing a laptop that gets most things right and then falls flat on its face when you get to an important element like the display, keyboard, or even the touchpad. Performance can be excellent but subjectively you may end up hating a laptop if it really misses in one of these areas; conversely, moderate performance coupled with a great display and at least a good keyboard and touchpad will generally keep me happy. There are other potential "gotchas" as well, like WiFi performance, battery life, sound quality, or just general aesthetics and build quality. I'm happy to report that Acer gets just about everything right, with my only complaint being more personal preference than serious problem (though some people might feel strongly enough that they would shy away). Let's take everything in turn.
Starting with the build quality and aesthetics, I'm actually getting more than a little tired of the black brushed aluminum laptops. Black isn't necessarily a bad color choice, but it does show oily fingerprint marks a lot more than other colors. Acer uses a gun metal color instead (silver/grey if you prefer), and while you can still see fingerprints on the palm rest and cover, they're not nearly as obtrusive as what you get with black laptops. It's a nice color choice I think, though maybe "too boring" for some. The bottom of the chassis has a soft-touch coating that gives you a better grip when holding or carrying the laptop. Build quality is very good overall—not at the level of a unibody aluminum chassis like the Razer Blade or MacBook Air/Pro, but the V7 feels reasonably rigid and the only real complaint is that the seams are visible all around the borders of the chassis. The display doesn't bend or twist much, probably in part thanks to the thicker construction for the touchscreen. The V7 is simply a really good build from Acer, a company not always associated with such things.
The screen is probably one of the best and most surprising aspects, and I suppose it has more to do with this being the V7 model (as opposed to the V3 or V5), so keep that in mind. Acer uses an AU Optronics B140HAN01.1 panel, with AUO's AHVA technology (Advanced Hyper Viewing Angle), which is basically a variation on the IPS/PLS technology seen in other LCDs. As the name implies, AHVA gives you wider viewing angles than TN, though colors and overall quality still depend on the backlighting used. AUO uses standard WLED backlighting in this case, which results in merely average color quality, but the contrast ratio and viewing angles at least are what they should be. For a higher end laptop, this is a good fit, and while touchscreens aren't going to be everyone's favorite way of interacting with a laptop, I'd say it's better to have one and not use it than to not have one and need it. I do wonder how much having a touchscreen really adds to the BoM, though; if it's a significant expense, I'd love to see a lower cost V7 without the touchscreen and with a good quality matte panel instead…but that's just me being greedy. Overall, I have no complaints with the display quality.
Sound quality is actually surprisingly good, far better than I was expecting. The Acer R7 also has good audio quality for a laptop, but that's a 15.6" screen chassis, so getting the same quality from a 14" screen laptop is far from my normal expectations. If you're the type of person that uses your laptop's speakers regularly to listen to music or watch a movie, the V7 is better than any other 14" or smaller laptop that I can think of—other similar sized laptops might match its audio quality, but I can't come up with any that clearly sound better.
The one area where I start to have some complaints is with the input devices – and locating the power button on the side of the laptop just doesn't work for me; I hit it once when trying to insert a USB stick, and that was one time too many! Back to the input devices, Acer uses a Synaptics ClickPad v8.1 touchpad, and they're basically the best option in my experience. However, there's still variation in how the touchpad feels even with the same core hardware—the size of the touchpad as well as the surface material and design of the laptop can have an impact. In the case of the V7, I get periodic accidental activation of the touchpad while typing, even with all of the usual features to mitigate such things cranked to maximum. It's not unusable, and some of this may just be my personal style of typing, but it can be a bit annoying at times. When I'm sitting down and actually typing on the V7 (like right now), it's often easier to simply disable the touchpad with the Fn+F7 shortcut—and the touchscreen remains active, so if you don't mind the occasional screen smudges you can get the "best" of both worlds.
The keyboard is a slightly more difficult item to judge. I like the layout a lot—it's basically the same layout as on MSI's GE40. In that review I noted, "Opinions on what makes for a good keyboard vary from user to user; personally, I really like having dedicated document navigation keys. Several years ago, the most common layout placed the document navigation keys in a column on the right of the keyboard, but for some reason we've moved away from that standard. Sometimes progress doesn't actually move us forward, and I'm happy to see that MSI uses the tried-and-true layout." Acer's layout is the same, give or take minor differences, so I don't have any issues there. The problem is that where the MSI GE40 had reasonable key travel, the travel on the V7 is definitely shallow—bordering on "too shallow" for some, I'm sure.
I admit that having done some serious scrambling of my typing brain over the past six months with the TECK, Kinesis Advantage, and ErgoDox has resulted in me being more forgiving of keyboard oddities, but at the same time I still like more key travel than what you get on the V7. I've also noticed that on laptops where the display comes into contact with the keyboard when closed, you can get some smudges/residue on the LCD over time, and while I don't see that on the V7 right now I expect it will happen eventually—a slightly higher lip around the display or a recessed LCD could alleviate this, but the V7 has neither of those. Anyway, shallow key travel is something we've noticed on numerous Ultrabooks since they first started showing up, and while it's not a personal showstopper, this is a keyboard that some users may not like.
Rounding things out, battery life is excellent, considering Acer equips the V7 with a 4-cell 53Wh Lithium-polymer battery (which is actually a pretty high capacity for a 4-cell battery). In our Light testing (moderate surfing of the Internet), we came in just shy of seven hours with the LCD set to 200 nits, and while I've been typing in Word for the past several hours I've only used 28% of the battery charge, with an estimated 6 hours and 10 minutes remaining, so light word processing and such at lower LCD brightness could easily get you into the 8-9 hour range. The wireless solution in the V7 is decent in my experience, though I'm saddened that Acer chose to go with Intel's Wireless-N 7260 instead of the Wireless-AC 7260. I don't know how much Acer saved by omitting 802.11ac support, but having now tasted of the 802.11ac goodness it's hard for me to go from real-world transfer rates of 30-50MBps down to 10-20MBps. Thankfully, Acer still manages to include Gigabit Ethernet, so for LAN parties you shouldn't have to worry about the all-too-common WiFi issues.
In terms of performance, obviously we're not expecting something that can handle anything and everything without batting an eye. The ULT processors are plenty fast for most home and office tasks, but demanding video editing or computational task can be a bit slow. Video transcoding with any application that uses Intel's Quick Sync technology will thankfully not be a problem. I've already mentioned the hybrid storage as being a bit of a downer, but you can open the chassis and upgrade the mSATA and/or 2.5" HDD if you're so inclined. Last but not least, there's the GPU, and this is one other area where I just want to scream, "WHY!?"
The GT 750M should be reasonably fast, and past experience with other 384 CUDA core Kepler GPUs suggests it will handle 1366x768 without a problem, but 1600x900 with higher quality settings might be asking too much. The real issue however is that instead of higher bandwidth 4GHz GDDR5 memory, Acer opted for 1.8GHz DDR3 RAM—less than half the bandwidth, all told. The kicker is that Acer gives you 4GB of DDR3 for a GPU that has no business using more than 2GB – it's simply not powerful enough to warrant having that much RAM.
Basically, the combination of a good 1080p display with a midrange mobile GPU and DDR3 RAM isn't ideal for gaming; you'll either need to run at Low/Medium 1080p or else drop the resolution to 900p or even 768p and run at Medium/High. While neither option is ideal, personally I'd rather have a laptop that gets everything else right and comes with a quality LCD then to get a faster GPU with a lower resolution/lower quality display. Granted, 2GB GDDR5 might only be 10-15% faster in most cases, but it's a far more sensible configuration for the GT 750M than 4GB DDR3. Despite my complaints, however, with the V7 it's important to remember that there's always the option to run at lower settings/resolutions to be playable. A "good fit for the GPU" 1366x768 LCD that ruins the experience outside of games would be worse overall (in my opinion at least); this was one of our major complaints with the earlier M3 and M5. Laptops like the MSI GE40 and Razer Blade 14 are going to be much faster gaming systems, but the displays make them less desirable for just about any other use.
For those of you who you prefer a more concise subjective evaluation, here you go. The Acer V7 delivers the goods when it comes to the LCD, build quality, aesthetics, keyboard layout, performance, and battery life. The WiFi and touchpad are okay, though I had periodic accidental activations of the touchpad (which is easy to disable for longer typing sessions if necessary). My biggest complaint is with the keyboard key travel, and I'm sure some will also raise an eyebrow or two at the price. Overall, however, this is a very solid offering from Acer. Now let's see how it actually performs.
Acer V7-482PG General Performance
We'll start with the usual selection of system benchmarks to show how the V7 handles everyday tasks. I don't have a full set of results for some things, but let me just start with some general OS numbers. The V7 boots reasonably quickly – 23 seconds from power on – and it resumes from hibernate faster – around 15 seconds. Shutdown/hibernate times are typically 11-13 seconds, but unless you need to make sure the system is off before walking away/stowing it in a bag, or if you're rebooting, I don't find the time to shut off/hibernate to be particularly important. The boot times are definitely one area where Windows 8 has greatly improved over previous versions of the OS.
Moving on, before we get to the graphs I want to provide a quick overview of our comparison points. As usual, you can find all of the benchmark results for the V7 in Mobile Bench, along with previously tested laptops, so you can always make your own comparisons. Our selection of laptops this time is a bit more varied, as the V7 is both an Ultrabook as well as a potential gaming laptop. From the Ultrabook side of things, this is actually our first full review of a Haswell Ultrabook, so we have to return to Ivy Bridge for most of these comparisons. I'll include the numbers that we have from the Acer S7-392 preview, but it's not in all the charts; I'll also include the Acer R7, Clevo W550EU, HP Spectre XT TouchSmart, and Toshiba KIRAbook. From the gaming side, we'll include the MSI GE40, MSI GX60, MSI GT70, and the Razer Blade 14; all of these are higher-end gaming notebooks that don't necessarily compete directly with the V7, but it's sometimes useful to see what you give up – or in some cases don't give up – in performance.
Overview of Comparison Laptops
Laptop
CPU
GPU
Storage
RAM
LCD
Battery
Acer R7-571-6858
Intel Core i5-3317U
HD4000
500GB HDD + 24GB SSD
1x4GB + 1x2GB
15.6" 1080p Glossy AHVA Touchscreen
4-cell 54Wh
Acer S7-392-9890 (Preview)
Intel Core i7-4500U
HD4400
2x128GB RAID 0 SSDs
2x4GB
13.3" 1080p Glossy IPS Touchscreen
4-cell 46Wh
Acer V7-482PG-9884
Intel Core i7-4500U
GT750M DDR3 / HD4400
1TB HDD + 24GB SSD
1x4GB + 1x8GB
14" 1080p Glossy AHVA Touchscreen
4-cell 54Wh
Clevo W550EU (Mythlogic)
Intel Core i5-3340M
HD4000
256GB SSD
2x4GB
15.6" 1080p Matte IPS
6-cell 62-Wh
HP Spectre XT TouchSmart
Intel core i7-3517U
HD4000
500GB HDD + 32GB SSD
2x4GB
15.6" 1080p Glossy IPS Touchscreen
4-cell 48Wh
MSI GE40
Intel Core i7-4702MQ
HD4600 / GTX760M
128GB SSD + 750GB HDD
1x8GB
14" 1600x900 Matte TN
6-cell 65Wh
MSI GT70 Dragon
Intel Core i7-4700MQ
HD4600 / GTX780M
128GB SSD + 750GB HDD
4x8GB
17.3" 1080p Matte TN
9-cell 87Wh
MSI GX60
AMD A10-5750
HD8650G / HD7970M
750GB HDD
1x8GB
15.6" 1080p Matte TN
9-cell 87Wh
Razer Blade 14
Intel Core i7-4702HQ
HD4600 / GTX765M
256GB SSD
2x4GB
14" 1600x900 Matte TN
6-cell 70Wh
Toshiba KIRAbook
Intel Core i7-3537U
HD4000
256GB SSD
2x4GB
13.3" 2560x1440 Glossy IPS Touchscreen
4-cell 52Wh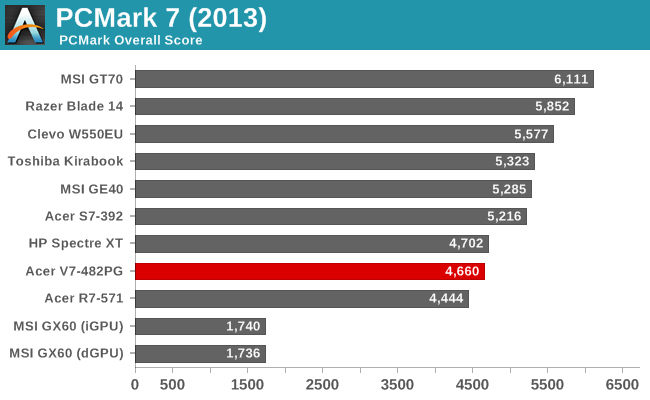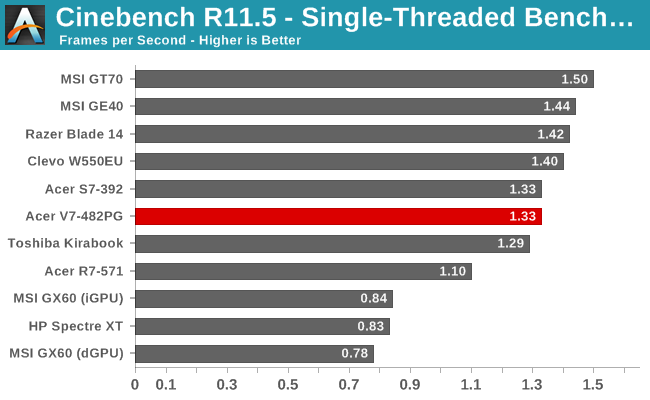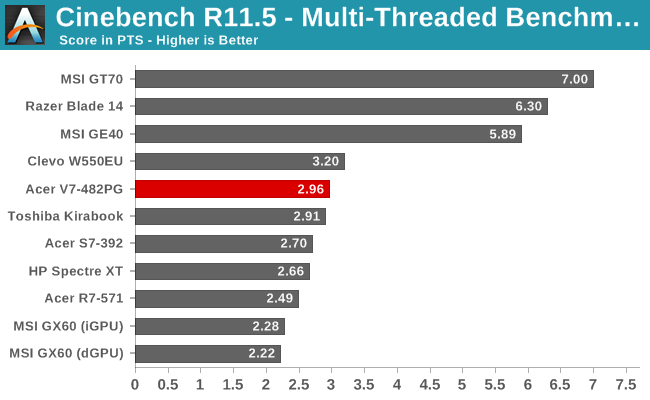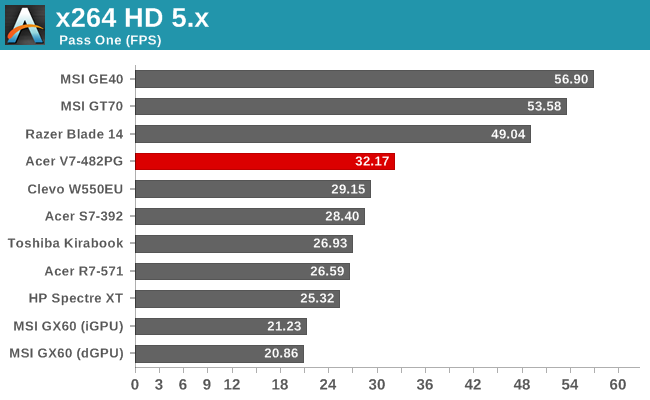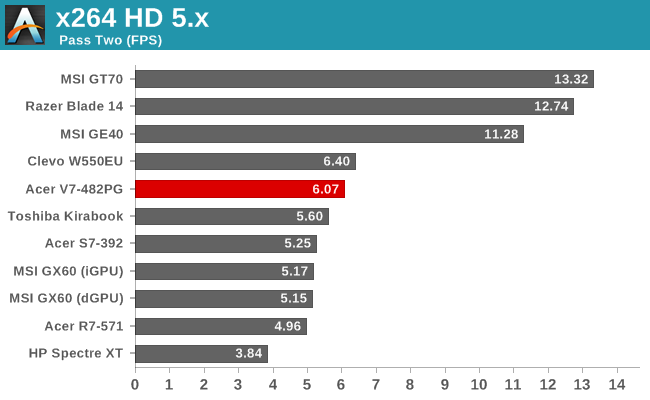 Starting as usual with PCMark 7, obviously the MSI GX60 is seriously penalized by not having a solid state drive. The rest of the systems all come together, with quad-core SSD systems at the top, followed by the dual-core SSD systems, and bringing up the rear we have hybrid SSD + HDD laptops like the Aspire V7. Personally, I find that hybrid storage feels a little closer to pure HDD than it does pure SSD, and benchmarks like PCMark 7 tend to paint a rosier picture than reality. Still, hybrid storage is far better than not having any solid state storage at all. For general use, the fact is that just about any modern system is more than fast enough – and other than a few specific use cases, a solid state drive doesn't make your system two or three times faster, but it's still definitely something I want to have in any modern system.
Our next set of performance benchmarks put more of the strain on the CPU, and here we see something that most of us already expected: Haswell isn't substantially faster than Ivy Bridge. It seems like cooling and thermal throttling (or in other words, bios and firmware optimizations) can have a larger impact on performance than the choice of CPU. For example, the Toshiba KIRAbook and HP Spectre XT have virtually the same Core i7 Ivy Bridge CPU, but the Spectre XT ends up being substantially slower. In terms of where Haswell sits, the i7-4500U comes out ahead of all of the Core i7 ULV Ivy Bridge CPUs, but the difference ranges from a negligible 2-3% in Cinebench to a slightly more noteworthy 8-20% in x264 HD. How much of the difference in x264 is from IPC improvements and how much of it is just a question of BIOS/firmware differences is difficult to say – keep in mind that the Acer S7-392 has the same CPU, so firmware is probably the bigger factor.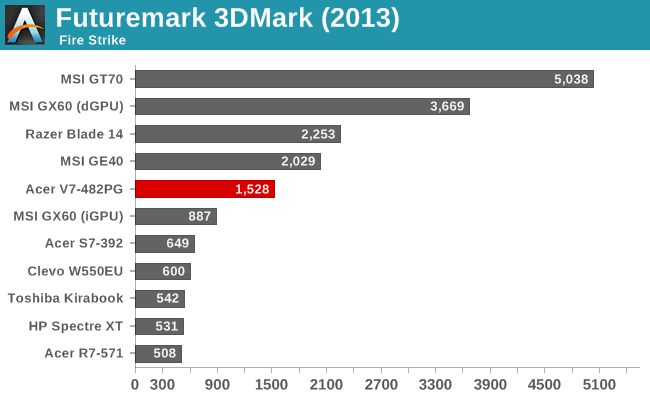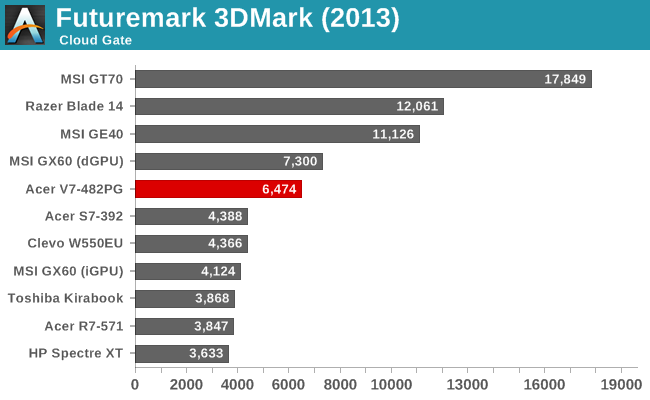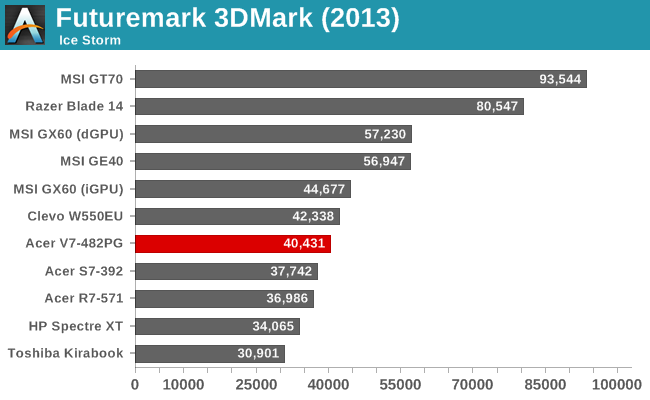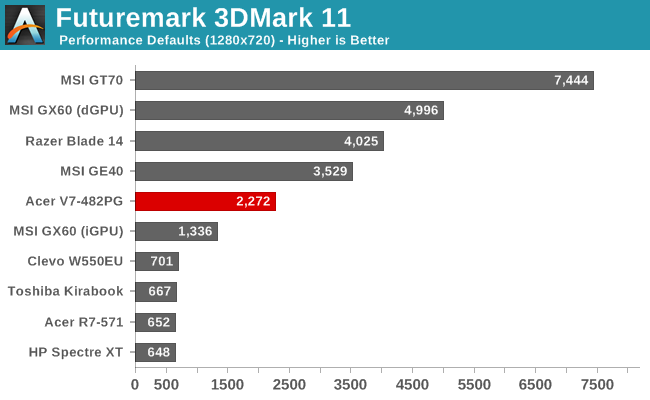 In terms of graphics performance, using 3DMark as our baseline estimate, there's clearly a pecking order established: high-end GTX and HD 7900 GPUs, moderate GTX 760 GPUs, the GT 750M used in the V7, AMD's Richland/Trinity iGPU, and then all of the Intel integrated graphics solutions. I'm still surprised that the GT2 implementations of Haswell haven't really improved over the GT2 Ivy Bridge iGPU, but variations in clock speed certainly play a role. We should also be getting our first Crystalwell (Haswell GT3e) laptop in the next week, which of course will improve performance quite a bit but at a pretty hefty price. Depending on how much OEMs have to pay NVIDIA for something like the GT 750M, and considering the lack of GT3e on dual-core parts, I suspect we might end up waiting for Broadwell for a truly compelling mainstream iGPU from Intel.
And with that said, let's move on to gaming benchmarks.
Acer V7 Gaming Performance
Our focus for gaming performance is going to be on our Value and Mainstream settings, although we've also run our Enthusiast settings and as usual you can find the results in Mobile Bench. The short summary is that in most cases, the Aspire V7 easily handles the Value settings and typically gets above 30 FPS on the Mainstream settings; what that means for 1080p gaming is that medium detail should suffice, but anything more and you're often going to drop below 30 FPS. I'll save additional commentary for after the graphs break….
One other item to discuss before we get to the gaming benchmarks is the 4GB DDR3-1800 RAM used on the GT 750M. I commented earlier that the amount of RAM is overkill, and the decision to use DDR3 instead of GDDR5 would likely reduce performance quite a bit. There are of course ways to mitigate this, as well as investigate how much the GPU memory bandwidth limits performance. I installed MSI Afterburner 3.0 Beta 14 (gotta love the monthly betas that keep expiring...), and proceded to overclock just the RAM. Initially I tried for DDR3-2500, but that resulted in a frowny-faced BSOD (Windows' 8 has a much nicer BSOD, apparently). DDR3-2300 failed as well, but without the BSOD, while DDR3-2200 ran through all of our gaming benchmarks without issue. That represents a 22% overclock of the RAM, and I've included the results in the charts below.
Value Gaming Performance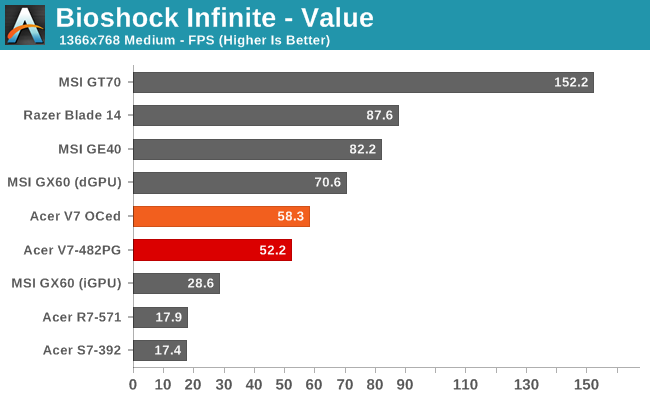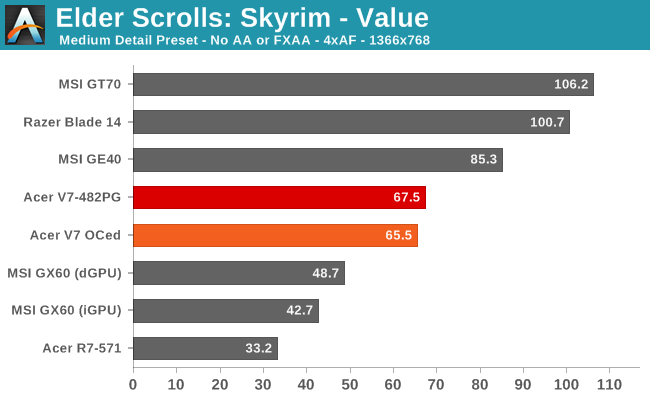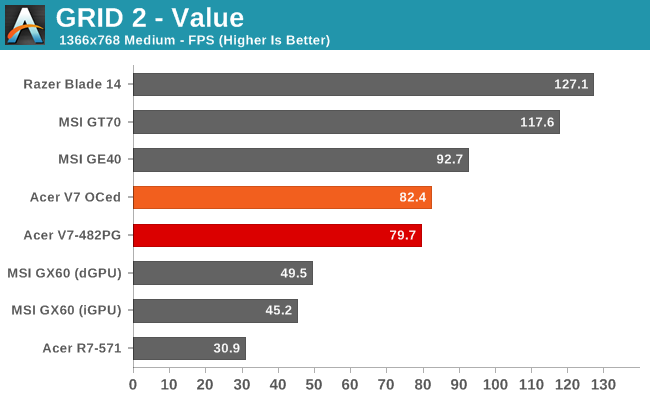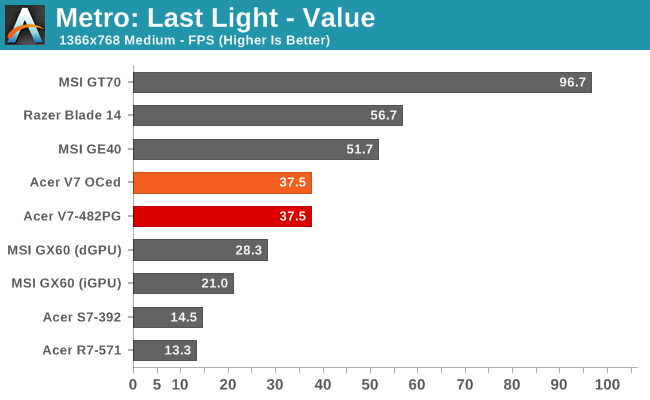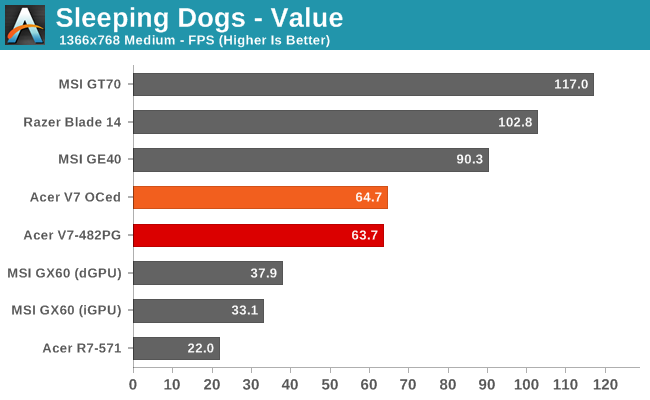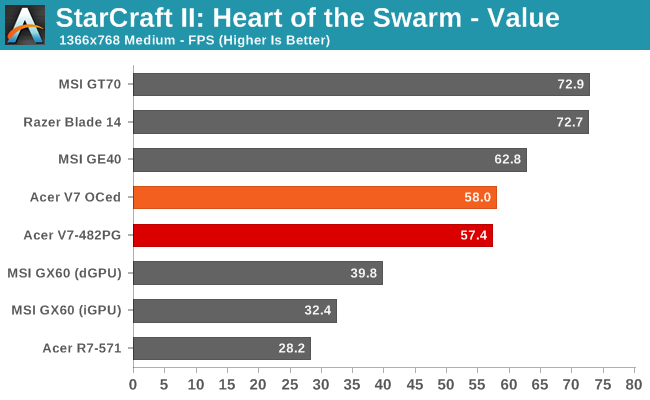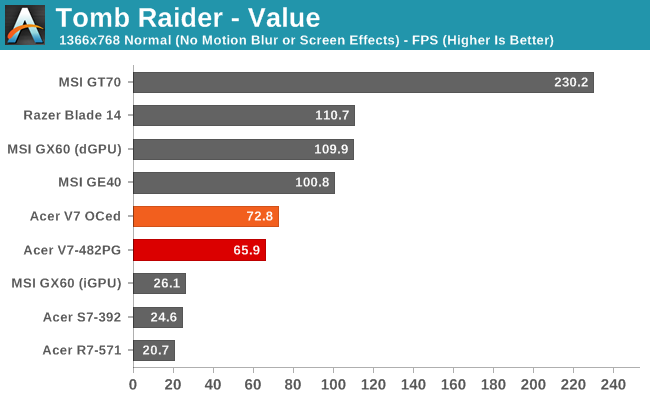 Mainstream Gaming Performance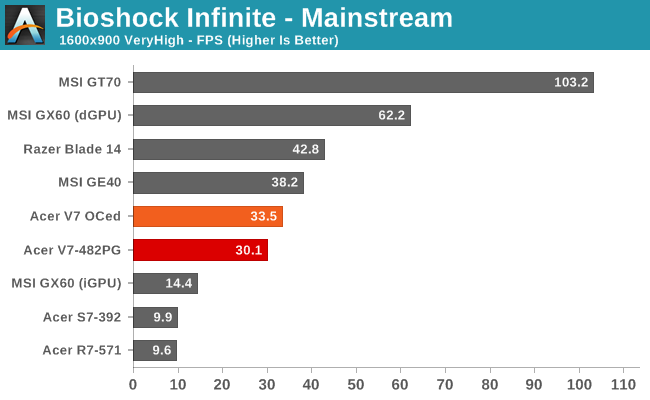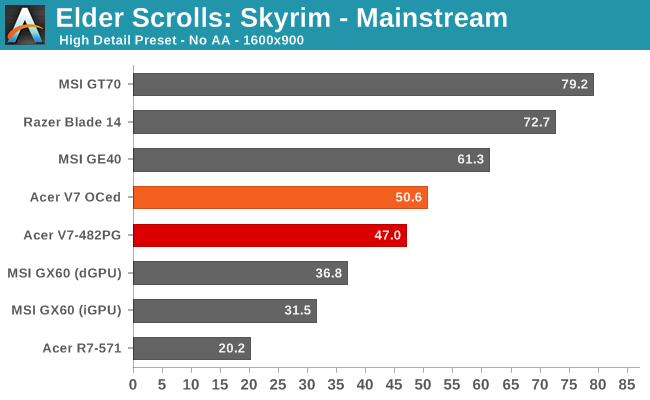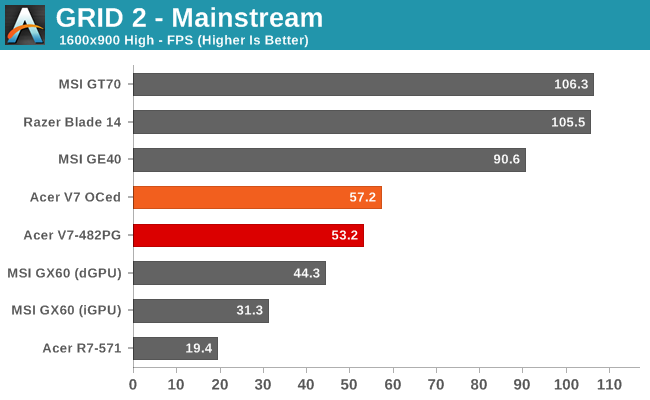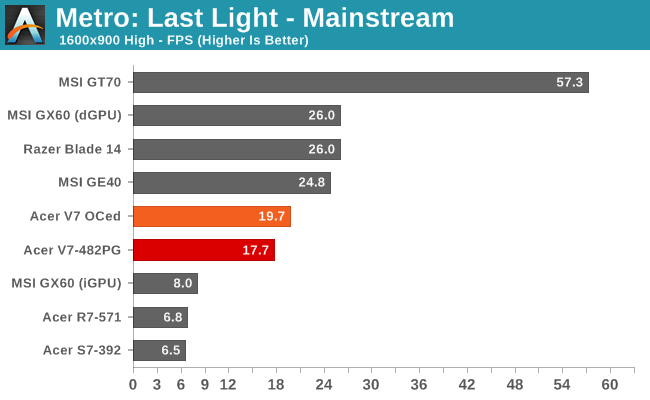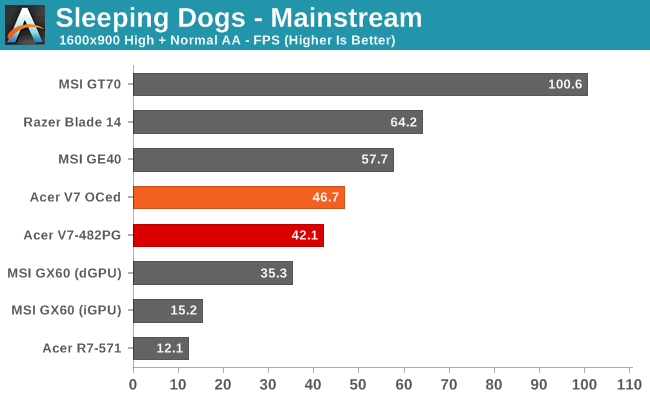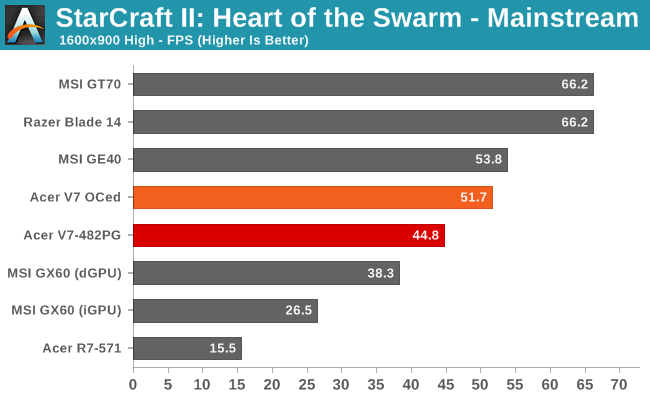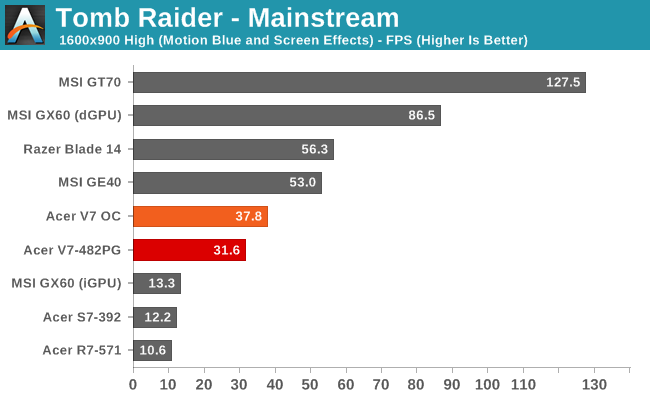 The two most demanding games in our test suite right now are Metro: Last Light and Company of Heroes 2 – I didn't include graphs for the latter above, simply because we've only run it on three laptops so far, but it ends up being the slowest running game in our suite by far to the tune of 23.7 FPS at 1366x768 medium/low settings. It's basically the opposite of StarCraft 2: Heart of the Swarm, where it apparently pounds the GPU (shaders) and doesn't require as much of the CPU. Speaking of which, Skyrim and StarCraft 2 are in the interesting camp of being more CPU limited, so we actually see better numbers from the Aspire V7 with GT 750M than we get from the MSI GX60 with HD 7970M, even at our Mainstream settings. Somewhat surprisingly, GRID 2 and Sleeping Dogs also fall into that category, at least if we limit ourselves to the Mainstream settings.
It all goes back to what I was talking about in the introduction: balance. The Acer V7 is certainly not the fastest laptop on the block, and the GT 750M really has no business outperforming an HD 7970M. The problem is the CPU-GPU balance in the GX60 is just way off. In some games like Tomb Raider and Bioshock Infinity, even moderately slow CPUs are fast enough; in other cases, however, more (single-threaded) CPU performance is required. In an Ultrabook like the V7, I think the GT 750M is a pretty good fit for a Haswell ULT CPU.
My only wish is that Acer had equipped the GPU with 2GB GDDR5 memory; I don't know exactly how much that would have helped, but simply overclocking the DDR3 memory by 22% produced some interesting results. At our less demanding Value settings, the overclock only improves performance by 3.6% on average, and in one game at least (Skyrim) it was actually slightly slower. The reason for the lack of improvement is that Value settings tend to be more CPU constrained, so increasing the GPU performance doesn't always help much; still, Bioshock and Tomb Raider both improve by over 10%. Move up to the Mainstream settings and the increased memory bandwidth becomes far more useful. There we see an average performance increase of 11.5%, and only Skyrim and GRID 2 fail to post double digit percentage improvements.
If all of this can be achieved with a 22% overclock of DDR3 RAM, what would more than doubling the bandwidth with GDDR5 accomplish? It definitely wouldn't reduce performance, and I wouldn't be surprised to see an extra 15-30% performance increase at our Mainstream settings for a relatively minor change in BOM costs. Even without GDDR5, though, the Acer V7 posts respectible numbers and can handle most games at 1080p and Medium detail. It's not a gaming enthusiasts dream laptop, but for less demanding gamers it's more than sufficient.
Acer V7 Battery Life
So far we've looked at CPU and GPU performance metrics, but perhaps more important on any laptop is going to be battery life. Improving power use/battery life was one of Intel's key goals with Haswell, and so far we've seen clear evidence of that in the Haswell laptops that we've reviewed. The Acer Aspire V7 confirms that trend, boasting some of the best (normalized) battery life figures that we've seen from a Windows laptop.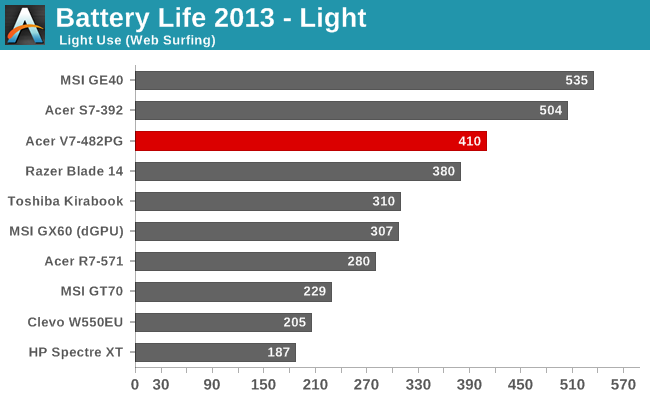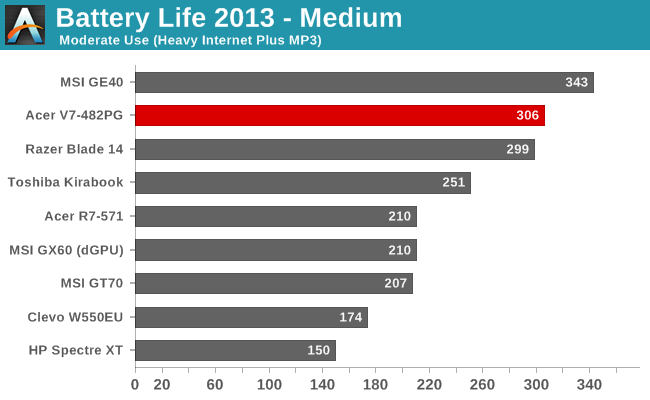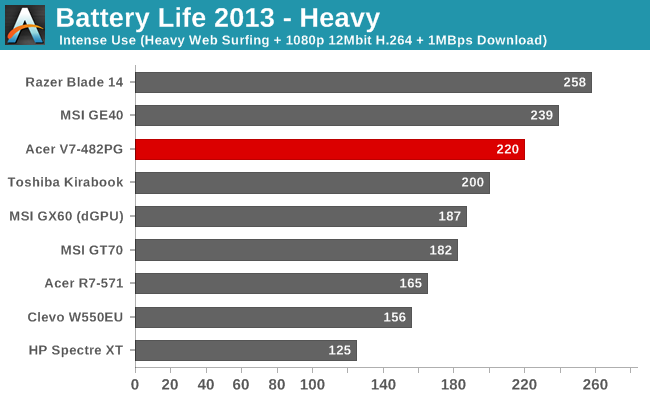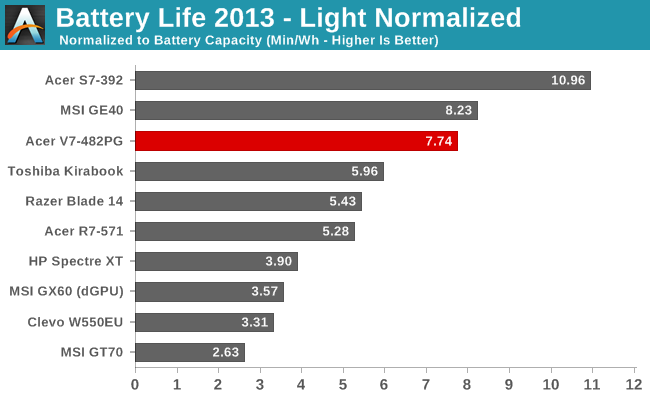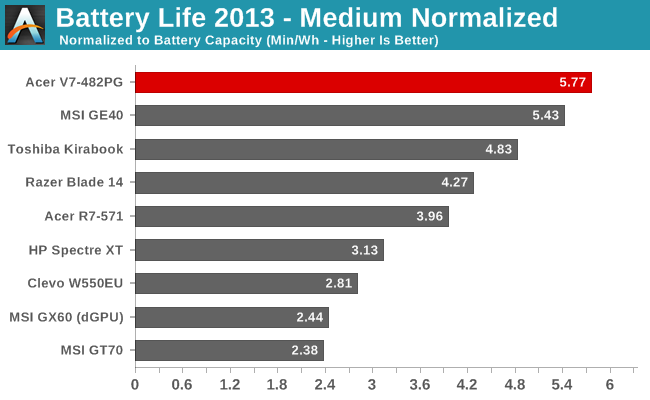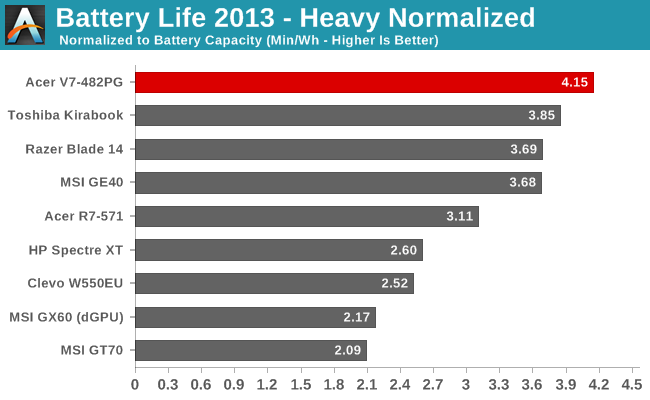 The 53.6 Wh battery isn't the highest capacity battery you'll find on market, but it's the same capacity that Apple uses in the MacBook Air 13 (2013). What's not the same is the battery life that you get with Windows compared to OS X. With Haswell, the Aspire V7 basically matches what Apple was able to do with the MacBook Air 13 (2012): around seven hours of battery life in our light workload. For reference, the new MBA13 delivered 11 hours in the same test. Still, the Haswell laptops are all posting significant gains over the previous generation Ivy Bridge laptops.
And thanks to NVIDIA's Optimus Technology, even laptops with discrete GPUs like the MSI GE40 and Acer V7 don't take a hit to battery life – at least when the GPU isn't active. Power up the GPU and run a game, on the other hand, and the story changes quite a bit: we measured just 98 minutes of battery life looping 3DMark11 on the Acer V7 (with the GPU set to "prefer maximum performance" in the control panel and using the Balanced power profile). That might seem terrible, and it's certainly not great, but higher performance GPUs are almost always throttled on battery power, regardless of what settings you use – the MSI GE40 delivered slightly less battery life in our simulated gaming test, with roughly the same performance as the Acer V7 under the same conditions. So basically, on battery power the GT 750M and GTX 760M aren't all that different, despite the latter having twice as many shaders and substantially more memory bandwidth.
Getting back to the battery life aspect, the V7 posts good results certainly, but I was hoping for even a bit more from our first complete Haswell Ultrabook review. Perhaps the 14" touchscreen is part of the issue, as it could be sucking down precious milliwatts. Other components are also likely a factor, as the Acer S7-392 is quite close to the MBA13. Ultimately, we're looking at average power draw for the entire laptop of around 7.7W in our Light test on the V7 compared to roughly 4.8W for the MBA13 in the same test under OS X; the S7 Haswell Ultrabook measured 5.4W, which is pretty close to the same sort of gap we've seen in the past. As for the V7, coming up with items to account for almost 3W is difficult.
I'm frequently amazed at how much better battery life is with Apple hardware under OS X. We've seen in the past that Apple usually optimizes (in a good way) quite heavily in their OS to achieve good battery life, and when you switch to Windows via Boot Camp you lose a lot of battery life. Anand didn't test Windows battery life with the new MBA13, but I wonder what it's like, because the usual 30% drop would put it on equal footing with something like the V7. I suspect with Haswell, the opportunities to further tune the OS and hardware for improved battery life are even greater, though, so we might see a 50% drop in battery life with the MBA13 under Windows.
If you need 10+ hours of battery life in Windows, it looks like you've got a couple options right now: get a system that's not as fast (e.g. the V7 has a discrete GPU and hybrid storage with 12GB RAM while the S7 is iGPU only, pure SSD, and 8GB RAM), or find something with a higher capacity battery or a slice battery. For seven hours of useful work – and potentially eight or more if you turn the LCD brightness down a few more notches and don't constantly surf the Internet – the V7 should be sufficient for most users.
Temperatures
What happens to a slim, reasonably light, and reasonably powerful laptop when you put a sustained heavy load on the CPU and GPU? This is an area where we've seen quite a few laptops fall short; either they throttle CPU and/or GPU performance to cope with the heat (e.g. Dell's XPS 15), or they get really hot – sometimes both! Logging CPU and GPU temperatures (and clock speeds) while the Aspire V7 runs a game (Tomb Raider), we get the following chart. (Note that the measurements are sampled at two second intervals, but the distance between hash marks on the x-axis is closer to one minute.)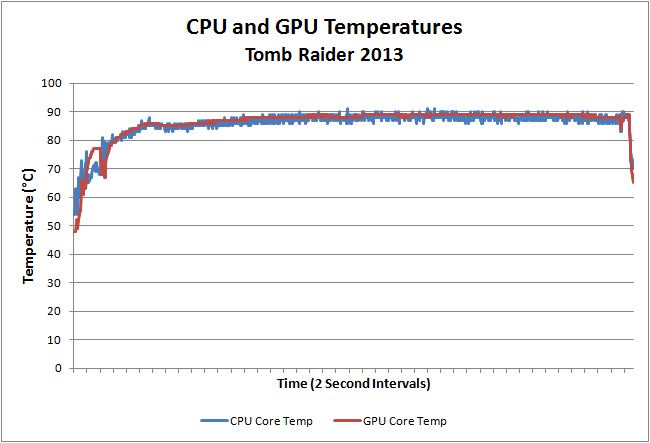 Under most common gaming loads, in a matter of 10-15 minutes the V7 will reach the point where temperatures and clocks stabilize. In this case, the CPU and GPU temperatures are typically just under 90C, though the CPU did peak at 91C. That isn't spectacular but it's actually not too bad compared to other Ultrabooks that we've tested – Ultrabooks that didn't have a dGPU. As far as clock speeds are concerned, the GPU stayed at a steady 1162.7MHz core/1800MHz RAM throughout the testing, so there's no throttling on that part. Meanwhile, the CPU started at 2700-3000MHz (maximum Turbo Boost was achieved), and after a few minutes it settled into a comfortable 2400-2500MHz. (On a related note, stress testing with OCCT on the GPU caused the GPU to throttle down to a 758MHz core clock, so it was actually less strenuous than running a game like Tomb Raider.)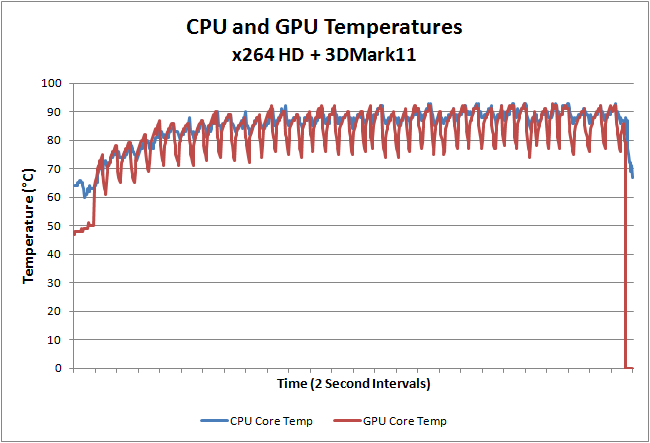 For our next stress test, we ran the x264 HD 5.0 encode on one CPU core (two threads) and 3DMark11 looping the four graphics tests on the GPU. This isn't necessarily a worst-case stress test, but it's the sort of load that we expect any well-designed system to handle without CPU temperatures breaking 95C (and preferably staying under 85C). The V7 does manage to stay under 95C, but just barely; we see temperatures of 93C on the CPU and 92C on the GPU within 10 minutes of launching our stress test, at which point the system basically enters steady-state – the GPU cools off a bit during scene transitions (analogous to level loads), and the CPU clock speeds range between 2100 MHz and 2700 MHz. So again the CPU isn't running at maximum Turbo speed the whole time, but it does stay above the minimum guaranteed 1.8 GHz.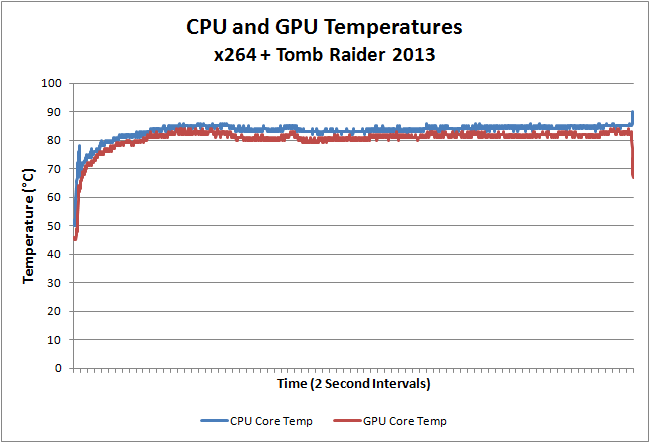 As a final stress test, the above is a plot of temperatures while running x264 HD with Tomb Raider – there's no loading of levels this time, so the GPU is under a continuous load. The result is actually less demanding than the above stress test, at least in terms of temperatures, so apparently 3DMark11 manages to hit the GPU harder than Tomb Raider. Without the breaks between 3DMark11 scenes we don't see any cyclical cooling down of the CPU and GPU, but the CPU clocks settle down at 2000-2100MHz this time while the GPU stays at the same 1163/1800MHz. The maximum temperature of the CPU this time is 87C – it actually gets hotter without the load on the GPU. The GT 750M meanwhile tops out at 84C.
I discussed overclocking of the GPU RAM a couple pages back, and you might be wondering what that does to the core temperatures. The answer: surprisingly little. I logged temperatures and clock speeds while running through our entire gaming suite, with very little idle time in between benchmarks. Throughout the entire set of benchmarks, the maximum CPU temperature was 87C and the maximum GPU temperature was 88C. I'd expect maybe a couple of degrees more than running at stock clocks, but GPU Boost may back off a little at times due to the increased power/heat from the GPU RAM, resulting in pretty much no significant change.
In the end, while we'd be happier with lower temperatures than what we're seeing, the V7 still manages to deliver very good performance in a compelling form factor. The dual cooling fans with shared heatpipes appear to cope with the heat levels well enough for sustained use, though I'd recommend keeping the laptop on a desk or other flat surface when gaming or doing other computationally intensive work as the bottom of the V7 gets fairly toasty under load (mostly in the back-center area). Having the V7 on your lap will also tend to block the air intakes that are located on the bottom, right where the laptop would be resting on your thighs. It's not a problem for casual use, but under load it's pretty warm.
Noise Levels
There's generally a close relationship between temperatures and noise levels; some laptops spin their fans faster and generate more noise in order to keep temperatures down, while others let the CPU and GPU get a little warmer in the hopes of reducing noise levels. The Acer V7 is better than most laptops in that maximum noise output during stress testing and gaming is 38.3dB, while at idle the laptop is generally silent (or at least below the 30dB noise floor of my equipment and location). The use of two apparently lower RPM fans instead of a single fan helps here as well.
I did cover both of the vents while running Tomb Raider to see if I could trigger a higher fan speed, but I was unable to do so – for better or worse, the fans appear to be maxed out at 38dB. Even temperatures weren't any worse with covered vents; instead, the GPU clocks dropped slightly to 967MHz, which apparently was enough to keep the system below 90C. If you happen to be in a hotter environment (like Brian in Arizona during the summer), the V7 may run a bit slower to deal with the added heat, but it's not a major concern. For reference, my testing location in Washington ranged from 60-90F (15-32C), so while a 50C ambient temperature would be far less accommodating, I can't say that shag carpet with a towel covering the exhausts is any better suited for running games on a laptop.
Acer V7 LCD Analysis
A big part of what made both the Razer Blade 14 and the MSI GE40 so frustrating was that with all the good elements, both laptos botched the LCD. Thankfully, the V7 doesn't have to come with that caveat. The LCD is a good quality AHVA panel from AU Optronics, and while colors aren't perfect, they're better than many alternatives. I wish that PC manufactures would start factory calibrating their displays, though, as out of the box the color accuracy is substantially lower than what our charts below show – I tested uncalibrated color accuracy and measured average Delta E of >10 out of the box. The color shift that happens when you load the calibrated profile is pretty drastic. Anyway, here's how the LCD stacks up, post-calibration: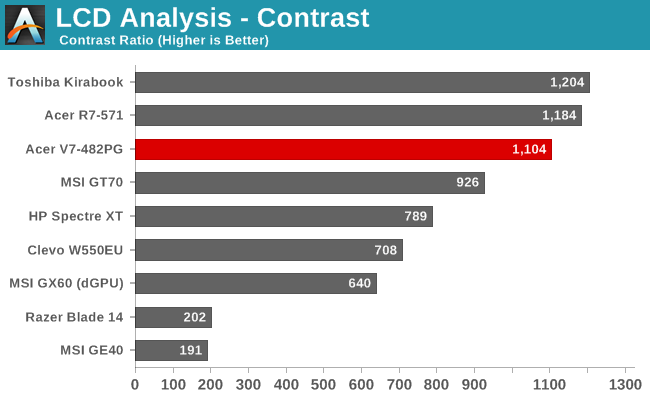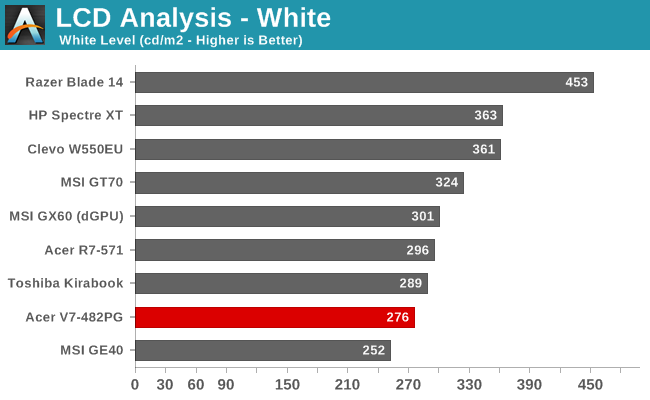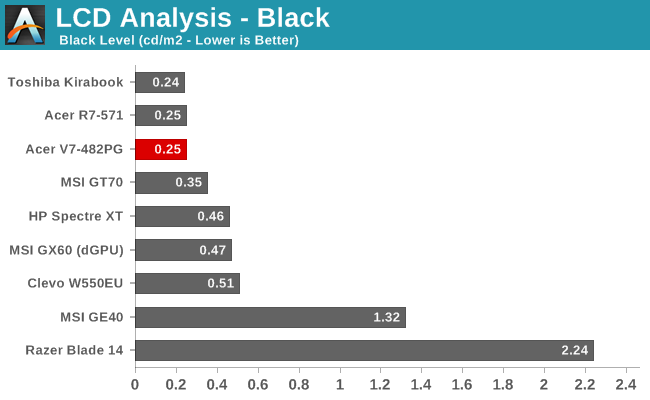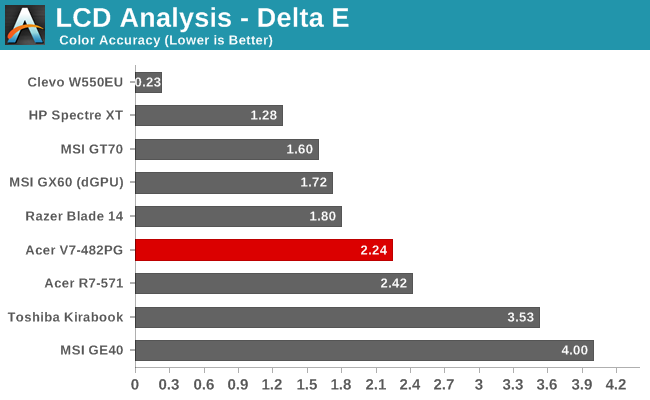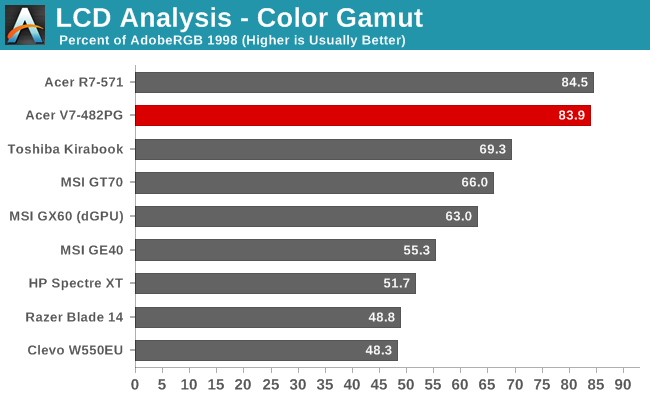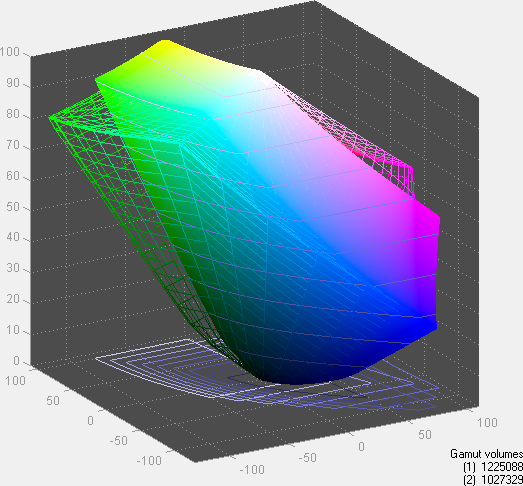 The contrast is excellent, which is one of the most noticeable things for most users, so that's always good to see. Maximum brightness unfortunately is again lower than I'd like – I feel like we need at least 400 nits for laptops, particularly if they have glossy panels. You can use the V7 outdoors or in brightly lit environments, sure, but it's less than ideal. As for color accuracy, my results are merely okay, and while gamut appears quite good, like the R7 I want to note that the greens are undersaturated while blues and reds are oversaturated.
The important thing is that the LCD at least delivers a good overall experience and won't garner too many complaints. Compared to the many low quality, low resolution TN panels we've seen over the years, this is a great display. And if you use the touchscreen, I hope you remember to bring along a microfiber cloth for cleaning it….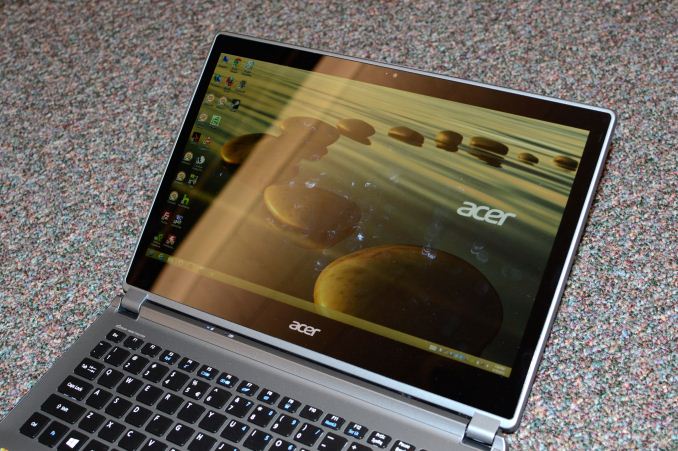 Seriously, as much as people may laud touchscreens, until we get displays that don't show every little fingerprint, I'm more than happy to stick with a mouse/touchpad and keyboard. You don't even want to see what a touchscreen looks like after a three year old is finished playing with it!
Conclusion: A Fine Balancing Act
As I mentioned in the introduction, every computer and laptop ends up being a balance between various goals. If you want a faster CPU and GPU, price will inevitably go up but so will the cooling requirements, which in turn means a heavier laptop. Touchscreens also add weight relative to regular displays, and the choice of materials for the chassis affects the weight as well as the durability and cost. It's basically impossible to create a laptop that will be ideal for every single user out there – if you make a lightweight laptop, power users might want more performance; a fast and lightweight laptop might be possible, but then budget minded users will think it's too expensive; etc. Acer goes for a middle-of-the-road approach, providing a decent level of performance with good build quality and an attractive aesthetic, with what I consider to be a reasonable price. There are certainly laptops that cost less, but in this case you get what you pay for.
The Acer Aspire V7 is quite possibly my favorite Acer laptop of the past five or more years. We've joked before that every PC laptop tends to come with (at least) one critical flaw; in the case of the Aspire V7, I can't think of any clear failures. Some areas could be better, but there's not a single element where I want to pull my hair out and groan, "What were they thinking?" The display is good, the speakers are good, the keyboard layout is good (even if I would prefer a gap between the backslash and enter keys), the laptop is built well, and the performance is certainly sufficient for most users. In short, I really like the Aspire V7.
So what areas could still use improvement? Probably my biggest complaint is with the lack of key travel on the keyboard. It's not so bad that you can't type on it, but it's far from the most comfortable laptop keyboard I've typed on. I also wish that Acer had used at least a 128GB SSD in place of the 24GB SSD cache, as that provides a better overall experience in my opinion. Acer should have included 802.11ac WiFi, and that's something I'll say of any laptop costing over $800 going forward. Oh, and whose idea was it to move the power button to the side of the laptop? It might look nice to not have it on the keyboard area, but I managed to accidentally power off the V7 (and R7 and S7) at least a few times during testing in just a few weeks. The edge of a laptop is not a good place for such a button.
The final concern is the pricing; Acer is asking more than you'll pay for a base MacBook Air 13, and even though performance is quite a bit better than the Air in some areas, the only company that can get away with charging Apple prices is Apple. So then we look at the $1300 MSRP and that's the same price as the upgraded MBA13; however, Acer is tossing in a Core i7 processor, three times as much RAM, a GT 750M graphics chip, and a good quality 1080p touchscreen; Apple counters with arguably better build quality and a 256GB SSD. It may not have the same cachet as an Apple laptop, but it's hardly a poor bargain. Hopefully we'll see retail prices drop a bit further, down to $1200 or less, but $1300 seems like a reasonable price.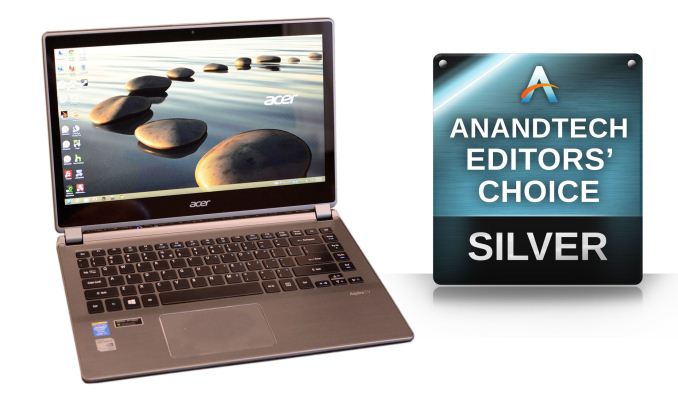 When we look at all of the things that the Acer V7 gets right, I end up doing something I rarely do. The Acer Aspire V7 warrants an Editor's Choice Award, not because it's perfect but because it's about as close as I've seen in recent years. It's really heartening to see Acer eschew their usual budget-minded compromises in order to provide a better overall experience, and I can only hope that the market will let them know that they've made the right decision in not cutting too many corners. We're giving it our Silver Editors' Choice Award, leaving room for improvement and potentially better products down the line (giving the GPU GDDR5 and having better keyboard travel would have likely pushed it up to Gold), but as far as mainstream laptops go I can't immediately come up with a more compelling alternative that doesn't have its own share of flaws.
Acer also has other V-series laptops available, and while I wish that they had the same sensibilities as the V7-482PG reviewed here, just looking at the spec sheets I can see that's not the case. The V7-582PG-6421 has a 15.6" 1080p IPS display, but the CPU is a Core i5-4200U and the GPU is a rather questionable GT 720M (that's 96 Fermi cores with a 64-bit bus, if you're wondering); at least the price is $250 lower than the 482PG. Meanwhile the V7-582PG-9478 upgrades the CPU to an i7-4500U but drops to a TN 1366x768 display and a price of $1000. In short, while the core chassis may be similar, many of the extras that make the V7-482PG-9884 stand out seem to be lacking. So shop carefully, because there's a fine line between greatness and mediocrity, and a few too many "minor" changes will often find you on the wrong side of that line.