Original Link: http://www.anandtech.com/show/7247/silverstone-fortress-ft04-case-review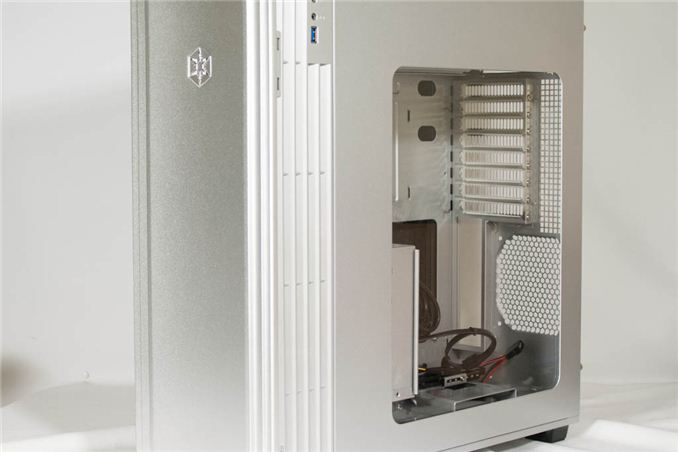 SilverStone's Raven RV04 and Fortress FT04 have had a very storied history making the transition from the CES show floor to the retail floor. We've already reviewed the Raven RV04 and found it to be a fantastic performer in practice but hung up on a couple of poor engineering decisions; since the Fortress FT04 shares the same basic internal framework, it's going to inherit those issues by default. There are differences in the outer framework worth mentioning, though.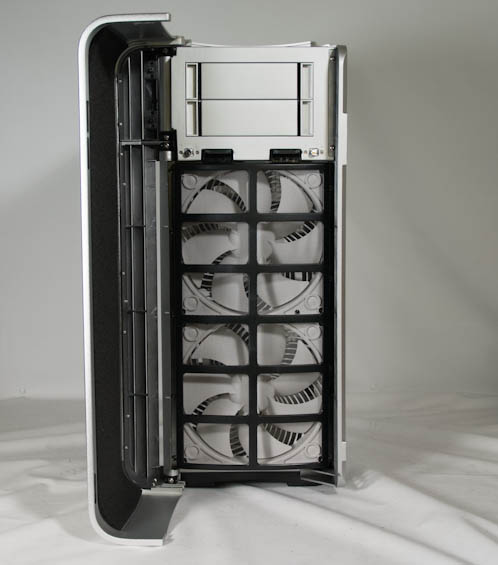 The RV04's biggest problem was its front door. The unusual curve wound up being incredibly problematic in practice; the hinge wasn't going to snap, but the natural flexibility of the material meant it was difficult to actually line the closed door up properly. Switching to an aluminum fascia (and doing aluminum the right way) and giving the side vented lips instead of leaving them open improves the problem tremendously, but doesn't actually solve it. SilverStone has apparently had a difficult time getting this door machined properly, and honestly it should've been considered a lost cause, scrapped on the table, and radically redesigned. We just don't need the door. No matter what surface the case sits on, the bottom of the door will lightly scrape against it. It catches on short carpet, it catches on the white fabric used for the photography backdrop, it catches.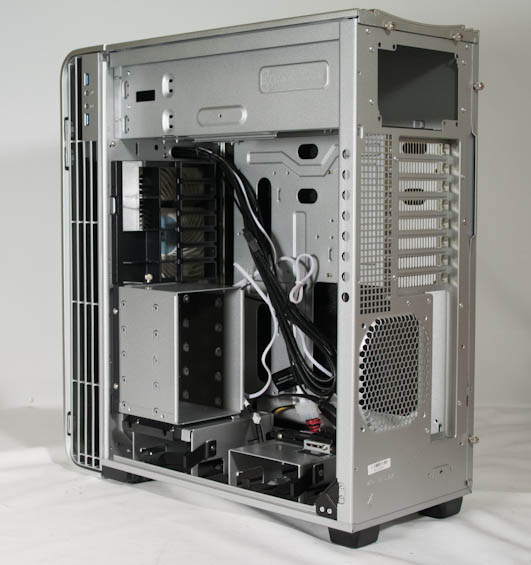 The rest of the exterior matches that attractive aluminum face, but the interior is, for better or worse, nigh identical to the Raven RV04. There are boatloads of features: a plastic rack (with included struts) for supporting graphics cards, an adjustable support for the CPU cooler in the bottom of the case, straps for better securing drives in the bottom bays, and one bay even has a plastic hotswap clamp and SATA backplane. And we still get the removable motherboard tray, and all the drive cages are removable.
So what's the problem? The problem is that all these features turn the interior of the FT04 into a mess, and they all require varying degrees of effort to employ. SilverStone cases are typically engineered differently than other vendors' designs; that's part of their appeal, and when a SilverStone design works, it works well. But the interior of the FT04 is haphazard; you could make a case for the graphic card and CPU cooler supports, but the lack of symmetry with the drive cages isn't just visually unappealing, it's work.
SilverStone Fortress FT04 Specifications
Motherboard Form Factor
Mini-ITX, Micro-ATX, ATX, E-ATX, SSI-EEB, SSI-CEB
Drive Bays
External
2x 5.25"
Internal
7x 3.5", 4x 2.5"
Cooling
Front
2x 180mm intake fan
Rear
1x 120mm fan mount
Top
-
Side
-
Bottom
-
Expansion Slots
8
I/O Port
2x USB 3.0, 1x Headphone, 1x Mic
Power Supply Size
ATX
Clearances
HSF
165mm
PSU
~200mm with optical drive
GPU
338mm
Dimensions
8.62" x 21.5" x 18.98"
219mm x 546mm x 482mm
Special Features
USB 3.0 via internal header
Removable drive cages
Analog adjustable speed intake fans
Support struts for CPU fan and graphics cards
Window or windowless models
Price
$229
Component support remains essentially the same, and although two of the 3.5" drive bays are listed as "hotswap" on SilverStone's site, only one actually has the SATA backplane. The analog adjustable speed fans are, in my opinion, this case's killer feature beyond the thermal design. While the interior of the case is disorderly to a fault, we've already demonstrated that it's incredibly thermally efficient.
If you read my review of the SilverStone Raven RV04 (and you should go back and do so since it's going to be a fairly regular reference point), everything here is going to be very familiar. Assembly of the FT04 is essentially identical, although "features" turn into oddball hiccups here and there. As I said, there's really a lot of unneeded complication in this internal design that makes it unnecessarily difficult to work with.
It starts with the removable motherboard tray. Ordinarily I'd be gung ho about a removable motherboard tray, but in the FT04 it's essentially unnecessary. You're going to need to remove the primary drive cage to install 3.5" drives into it anyhow, and that's the only internal component that really obscures the motherboard tray itself. I think it's unfair to actively cite the removable motherboard tray as a point against the FT04, but I do think it's also emblematic of the essentially overengineered nature of the case as a whole. With all that said, getting the motherboard in is still pretty easy; SilverStone has six of the motherboard standoffs preinstalled, and the rest is gravy.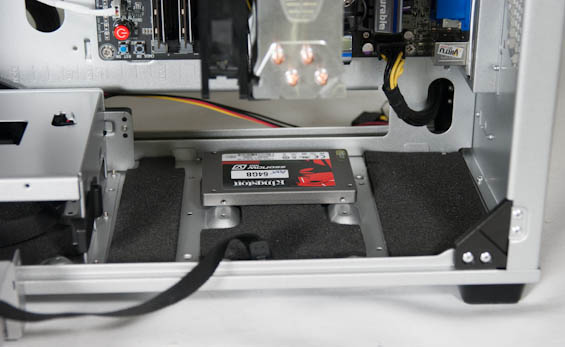 The instruction manual suggests you wire up as much of the case as possible before moving on from this point, and I agree. Installing drives really is the stuff of nightmares, though. You have the remove the top panel of the case to install a 5.25" drive and the power supply; that's not the problem. The problem resides with 3.5" and 2.5" drives. 2.5" drives must still be lined up inside the two bottom cages of the case and screwed into the bottom. That means removing the cage surrounding the mounts, which is held in place with five screws. 3.5" drives can be installed in the bottom cages, but it's almost easier to just remove the primary 3.5" cage and install them in there.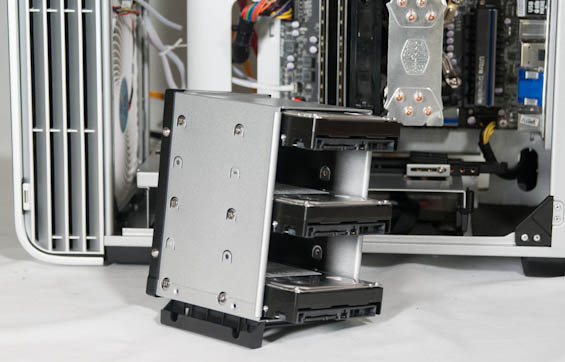 Of course that presents its own set of problems. Drives are screwed into the cage, but the cage itself is held in place with three screws, none of which are particularly easy to remove and replace. There's a thumbscrew that goes into the top and has to be removed with either your fingers or pliers as there isn't clearance for a conventional screwdriver. The two screws that go into the bottom plastic lip of the cage are easy enough to remove but require some doing to replace so you don't drop them into that tray. These are minor nuisances but minor nuisances are really the Achilles' heel of the FT04/RV04 assembly. It didn't need to be this complicated.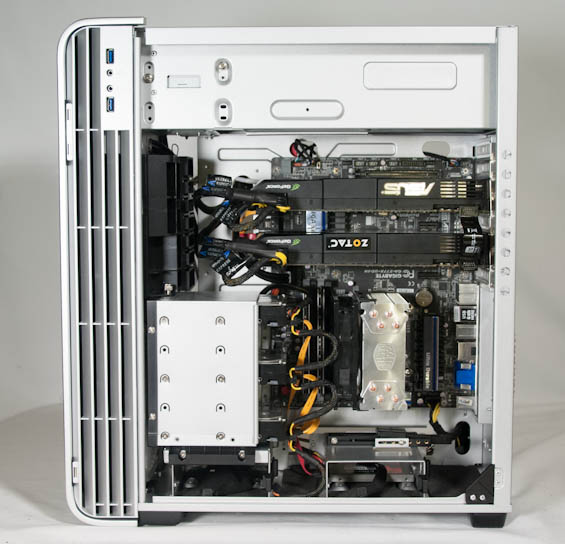 Finally, while the power supply installs easily enough, expansion card installation is again needlessly complicated. And again, it's a small nitpick that is adding up with the rest of them. If you look on the right side of the photo, you can see that the right-hand lip of the case hooks around and there are holes in it to slot a screwdriver through. That's appreciated, but again, I'm not sure it's entirely necessary. Other case designs have gotten on fine with not having the lip extrude so far you'd need to cut holes in it. Now you're working with both hands around this small but vaguely irritating obstruction when the simpler solution would've been to either cut an indentation into that entire area or just allow the lip to simply be shorter than it is.
If it seems like I'm nitpicking the FT04's assembly to death, it's only because these nitpicks accumulate over the course of assembly. I found myself progressively more annoyed with decisions that made no sense to me, when the interior of the case could've been substantially streamlined without losing thermal functionality. I do want to be clear, though: this is the primary drawback of the FT04.
For testing full ATX cases, we use the following standardized testbed in stock and overclocked configurations to get a feel for how well the case handles heat and noise.
Each case is tested in a stock configuration and an overclocked configuration that generates substantially more heat (and thus may produce more noise). The system is powered on and left idle for fifteen minutes, the thermal and acoustic results recorded, and then stressed by running seven threads in Prime95 (in-place large FFTs) on the CPU and OC Scanner (maximum load) on the GPU. At the end of fiteen minutes, thermal and acoustic results are recorded. This is done for the stock settings and for the overclock, and if the enclosure has a fan controller, these tests are repeated for each setting. Ambient temperature is also measured after the fifteen idle minutes but before the stress test and used to calculate the final reported results.
For the "full fat" testbed, the GTX 560 Ti is swapped out for a pair of GTX 580s, and three hard disks are added to fill out the case.
Thank You!
Before moving on, we'd like to thank the following vendors for providing us with the hardware used in our testbed.
The Fortress FT04 and Raven RV04 both inherit the concepts of their thermal design from SilverStone's incredibly popular and successful Temjin TJ08-E. That enclosure is a micro-ATX affair, but the principles that drive that case (and its excellent thermal performance) are present here. It's something that other vendors still seem to be struggling with: direct airflow over the hot components. Not this bottom-front to top-rear airflow, just a straight line. And thus, SilverStone does with two incredibly powerful 180mm fans what takes other vendors a lot more effort.
There's a tremendous amount of adjustability with both integrated fans; they can run whisper quiet at a low speed or as loudly and powerfully as a pair of Deltas, so much so that they were rattling the blinds in my room from five feet away after going through the case. Ordinarily I'd test at the lowest and highest settings, but I tried to modulate a middle setting as well. The reality is that you can easily adjust and get as little or as much performance as you want from these fans, so take the test results as a sort of starting point.
Ambient temperatures during testing hovered between 23C and 25C.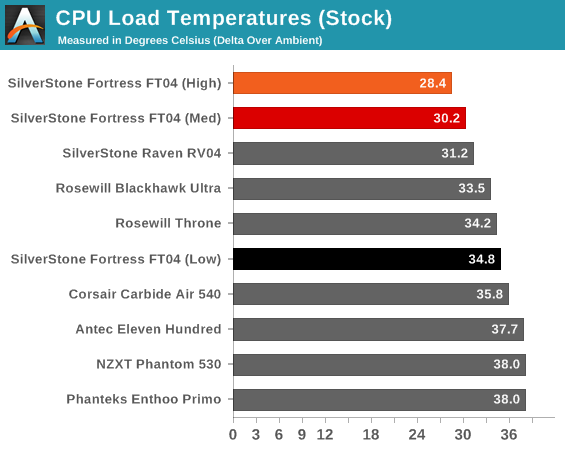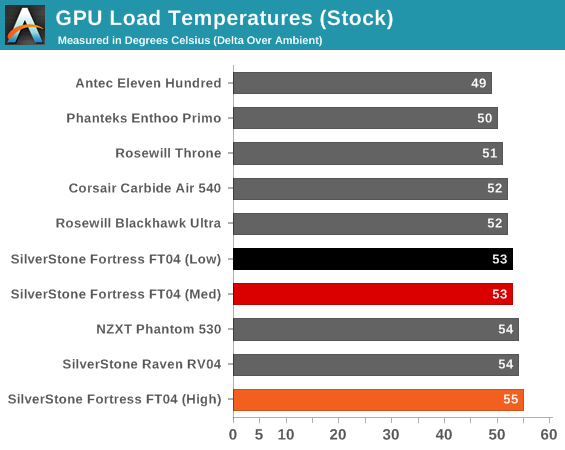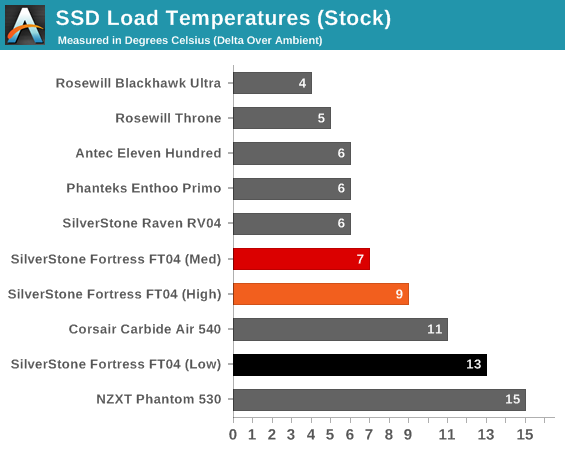 CPU performance is great, but one place where that diagonal airflow situation does seem to perform slightly better is with open-air graphics card coolers. The results on our GTX 560 Ti aren't awful, but they're merely competitive. Compare that to the CPU performance, which is basically bulletproof.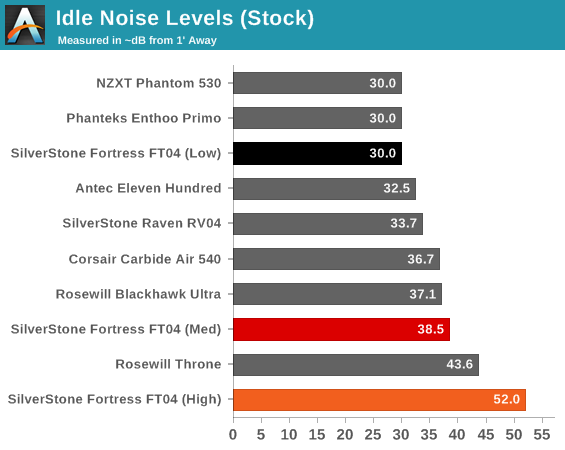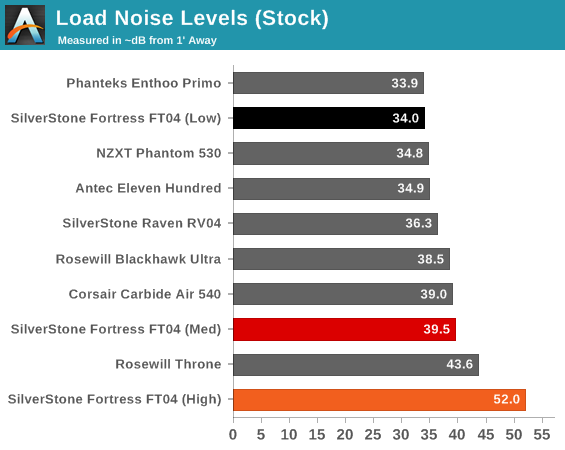 Noise levels are less than ideal, but remember, the minimum fan setting is really the worst case scenario. Look at how massive the gulf is between each fan setting.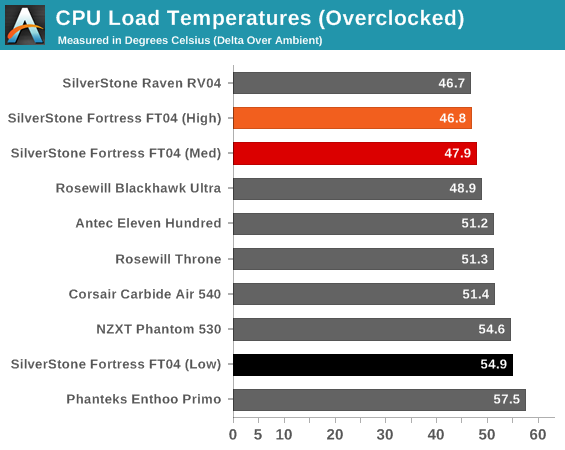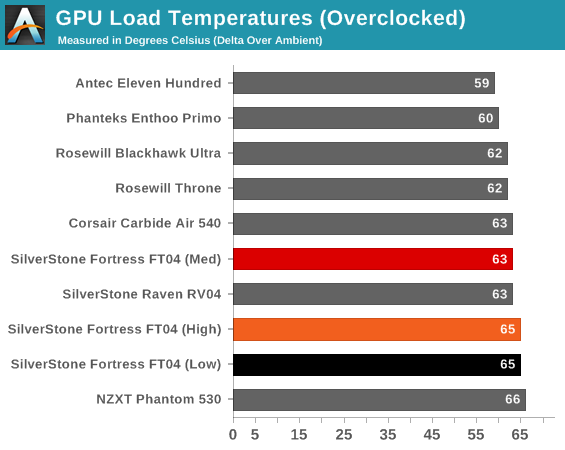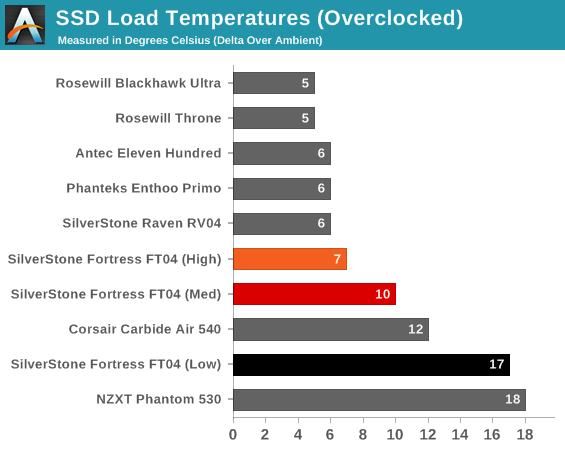 Overclocking is very kind to the FT04 on the CPU side, less so on the GPU. SilverStone even recommends blower style coolers for the FT04 and RV04 in the manual, and I wholeheartedly agree.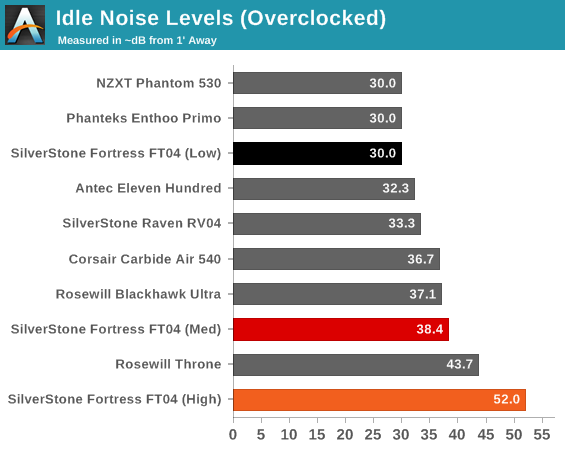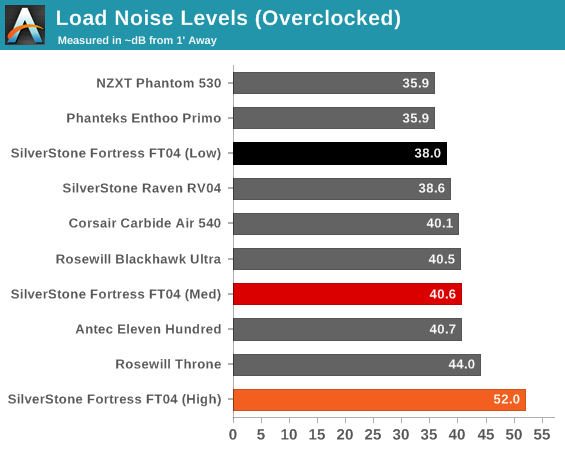 Noise levels are again tricky, with the FT04's highest fan setting basically cancelling out any internal noise. It would've taken some time and tuning to find an ideal fan setting for our testbed and again, it's going to depend on your build.
Finally, where the FT04 really shines is with the full fat testbed.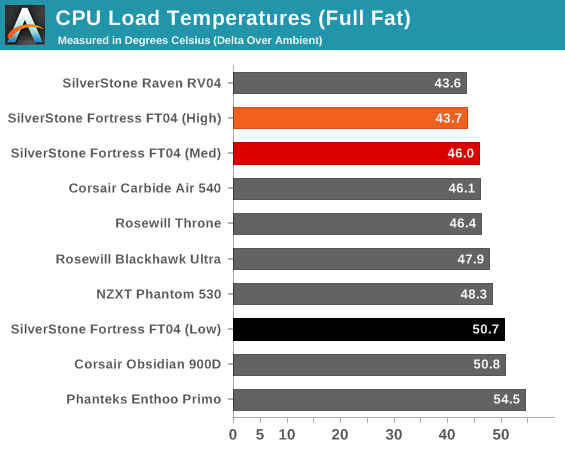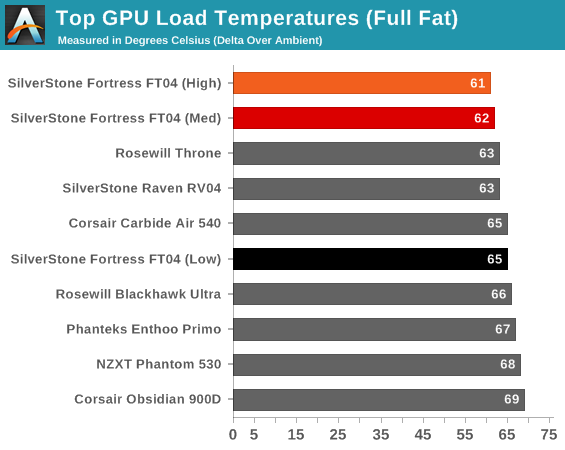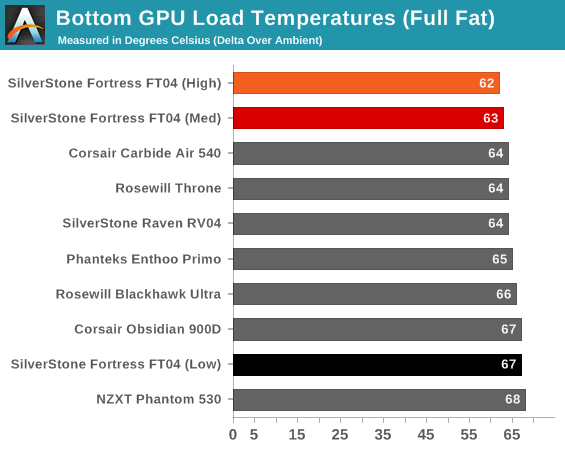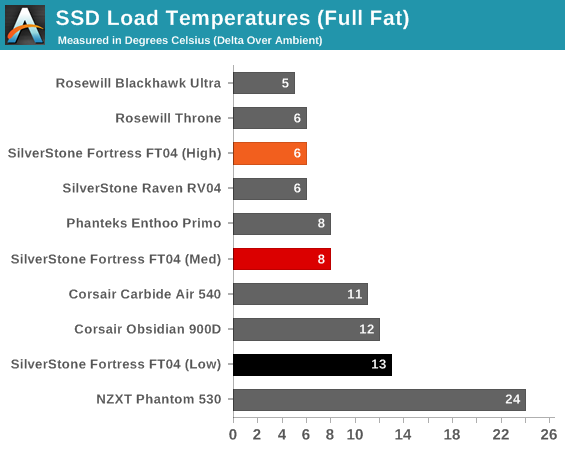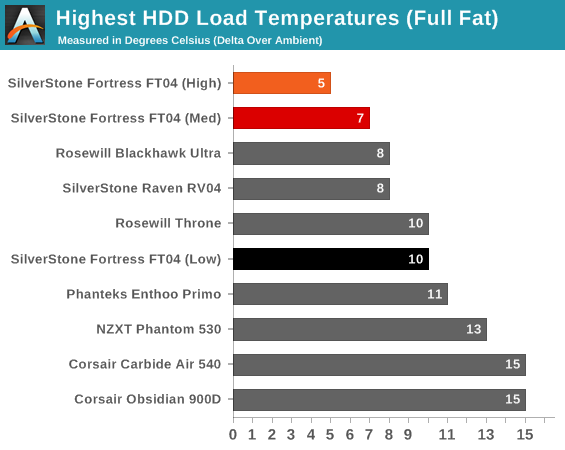 The blower-style coolers are exactly in the FT04's wheelhouse. This is the best possible scenario for this case and it, like the old FT02, is a borderline ideal enclosure for air-cooled multi-GPU systems.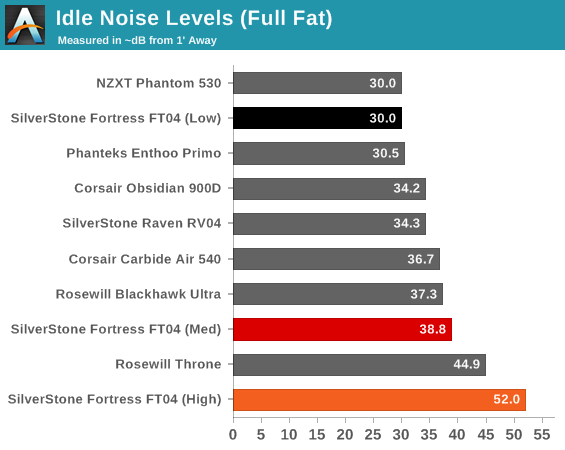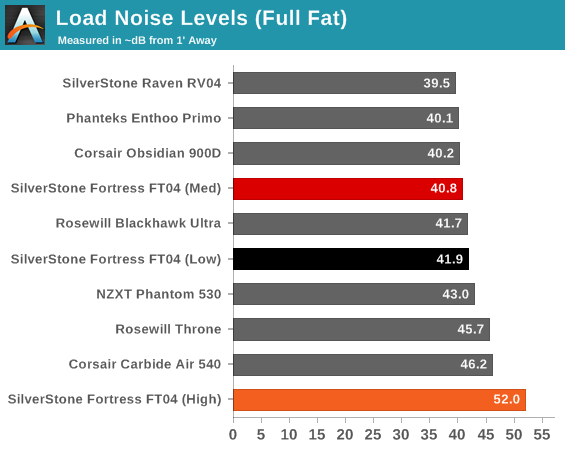 Once again, noise levels aren't excellent, but there's obviously wiggle room here. The FT04 is as powerful or as quiet as you need.
As with their Raven RV04, I'm left with mixed feelings about the SilverStone Fortress FT04. In terms of build quality and adjustability, I think it's worth the premium over the Raven RV04, and frankly as far as air-cooling cases go I have a hard time really suggesting anything better. I think I still slightly favor the old school Fortress FT02, but it's bigger, bulkier, more expensive, and comes with its own idiosyncrasies when it comes to assembly.
If performance is your only concern and you plan to stick with air cooling instead of more exotic options, the Fortress FT04 is basically your weapon of choice. Closed loop cooler support is limited to 120mm options, but exists. This case pretty much demands a multi-GPU configuration with blower-style coolers on the cards, and you're going to get almost exactly the performance you want out of it thanks to the broad range the two included speed-controlled fans are able to run at.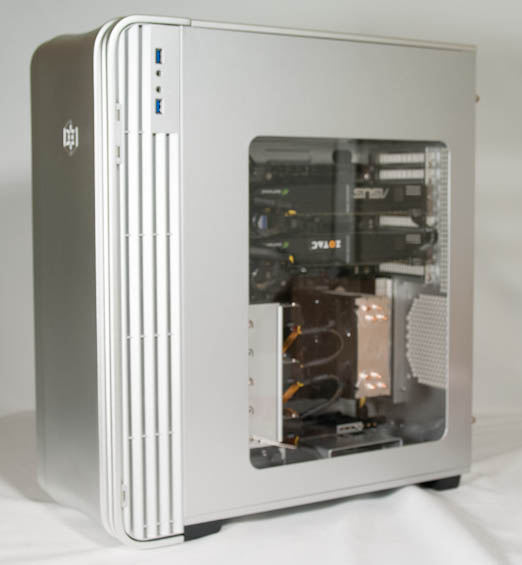 Yet the Fortress FT04 and its sibling, the Raven RV04, is frustrating. Incredibly so. It's obvious where SilverStone was going, but the process of adapting the brilliant Temjin TJ08-E to a full ATX form factor wound up becoming incredibly fraught. This feels like a case that was stubbornly pushed further and further into production even when it proved to be potentially more trouble than it was worth, and really, the chimera that this case became should've been killed and rebooted early on. At some point, someone should've said "no, this is getting too complicated, we need to start over." I can't imagine it's particularly easy or cheap to manufacture the chassis itself, let alone the fascias, but it could've been simplified without losing the essence of what makes it work.
I've spoken to a lot of case designers since I started covering enclosures here at AnandTech, and my number one piece of advice has almost always been "pay attention to what SilverStone is doing." If I were designing a case right now I'd take a very hard look at the FT04's chassis and start thinking about how I could refine it into something cleaner, simpler, cheaper to produce, and easier to work in. If you're willing to put up with its myriad quirks, the FT04 is a dynamite performer. I just find myself too caught up in "what could've been" to be happy with what "is."