Original Link: http://www.anandtech.com/show/7251/lg-g2-and-msm8974-snapdragon-800-a-quick-look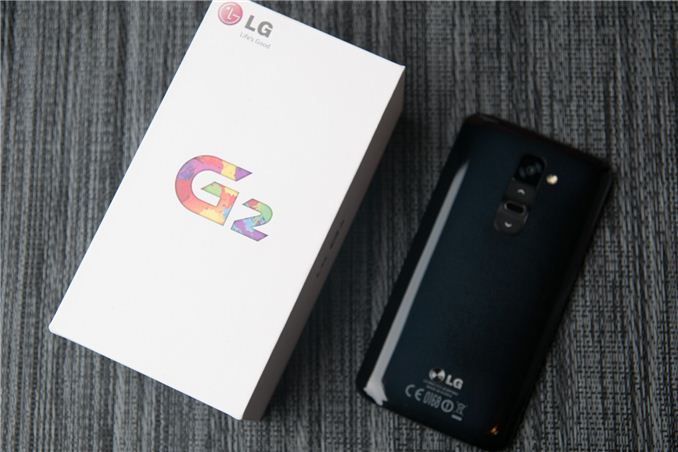 The LG G2 is the spiritual successor to the Optimus G, a device that we looked at last year and eventually went on to become the Nexus 4. LG dropped the "Optimus" branding this time, but the G2 is without a doubt still LG's flagship smartphone, and includes a number of unique LG features – stacked 3000 mAh (11.4 Whr) battery with SiO+ anode, 5.2-inch 1080p LCD from LG Display, and 13 MP rear facing camera with OIS (Optical Image Stabilization). It's an impressive combination of features that make the G2 a standout device. At the same time the G2 is our first chance to get a look at the 2.3 GHz bin of Snapdragon 800 inside a shipping device and get a look at performance and battery life.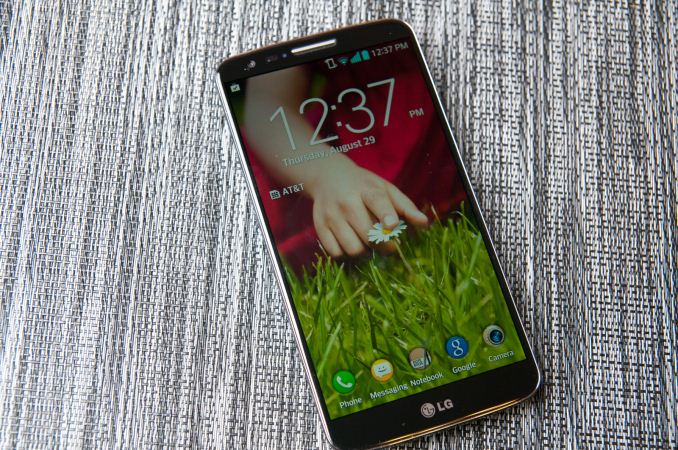 We took a quick look at the G2 at the announcement event, now we have our hands on a G2 and have been putting it through its paces, benchmarking it, and running battery life tests on it for a little under a week and wanted to share some thoughts.
Hardware Impressions
The G2
marries a curved backside shape with front glass that slightly curves at the edges and has a very narrow side bezel. The G2 a
lso opts for on-screen buttons rather than the discrete capacitive kind or physical buttons that went out of favor a while ago. The reality is that Google does have a fair amount of input into at least this part of the Android ecosystem, and its guidance seems to be that on-screen buttons which use display real estate to draw the buttons is the recommended way to go. The G2 does afford the ability however to add Quick Memo buttons or the notification shade pull down/pull up buttons to the bar, but oddly enough there's no multitasking button option available.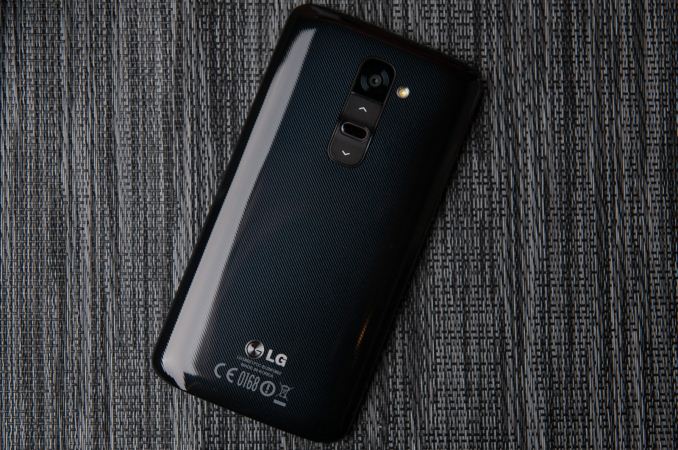 The G2 manages to include a large display without width that's much different from other devices I've been using lately, like the HTC One. Part of getting the edge bezel small was a reduction in volume required on the sides for volume and power buttons, which are instead moved to the back of the G2, perhaps its most striking and initially even alarming design change.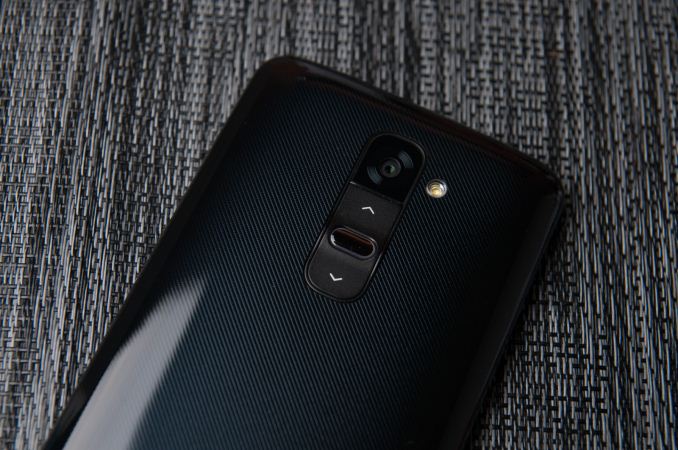 Holding down the volume down button launches you into the camera, pressing the center button powers on the phone, and holding down the top button launches QuickMemo. Up and down are volume up and down otherwise. There's a hard raised lip on both sides of the button too, so the G2 when laid backside down on a surface makes contact there instead of on the button – it won't inadverntely turn on when pressed against a table. I found the backside buttons easy to adapt to after my first few interactions with the G2, and they actually become second nature after a day or so. The raised bump for the power button makes it easy to locate with the index finger, and I haven't smeared or accidentally put my finger on the sapphire camera cover yet. If the power button on the back is still difficult to get used to, the G2 has a double tap to turn on feature it calls "knock knock" – double tap on the display, and the G2 will turn on, repeat the double tap on the status bar or in an empty part of the display when it's on, and it turns off. I find myself using the double tap gesture quite a bit to turn the G2 on and off. I believe this functionality uses the sensors onboard and the DSP inside 8974 to detect when the taps occur.
The G2 I was sampled is a dark blue color which has a slight pinstripe on the back as shown in the photos above. The material is however the same kind of glossy plastic I'm used to seeing out of the Korean handset makers of note, and picks up fingerprints and hand oil very quickly unfortunately. I like the shape of the device and LG's innovations, it's just puzzling to me that materials hasn't picked up yet, I'd even take glass from the Optimus G over plastic. I'll save you the huge discussion on device size as well, I'm fine with the larger smartphones that aren't quite phablets, and the G2 for me is totally usable and I appreciate the increased display size. It definitely isn't phablet size, but it is on the larger high-end smartphone side of things.
LG G2
SoC
Qualcomm Snapdragon 800 (MSM8974)
4x Krait 400 2.3 GHz, Adreno 330 GPU
Display
5.2-inch IPS-LCD 1920x1080 Full HD
RAM
2GB LPDDR3 800 MHz
WiFi
802.11a/b/g/n/ac, BT 4.0
Storage
32 GB internal
I/O
microUSB 2.0, 3.5mm headphone, NFC, Miracast, IR
OS
Android 4.2.2
Battery
3000 mAh (11.4 Whr) 3.8V stacked battery
Size / Mass
138.5 x 70.9 x 9.14 mm
Camera
13 MP with OIS and Flash (Rear Facing)
2.1 MP Full HD (Front Facing)
Display
We've been very pleased with what comes out of LG Display as of late, and the G2 doesn't disappoint. It's a 5.2-inch diagonal LCD with 1920x1080 resolution for 423 PPI density. Of course, it isn't just resolution that matters, but of course calibration, viewing angles, and other quality measures. What's interesting about the G2 is that it has two discrete touchscreen matrices which get routed to the top and bottom and out two different connectors. LG says this allows it to get the bezels on the G2 down to 2.65mm. I find a lot of what constrains device size lately is really width rather than height, and maximizing the amount of the front area used by display helps devices include bigger displays without getting too large.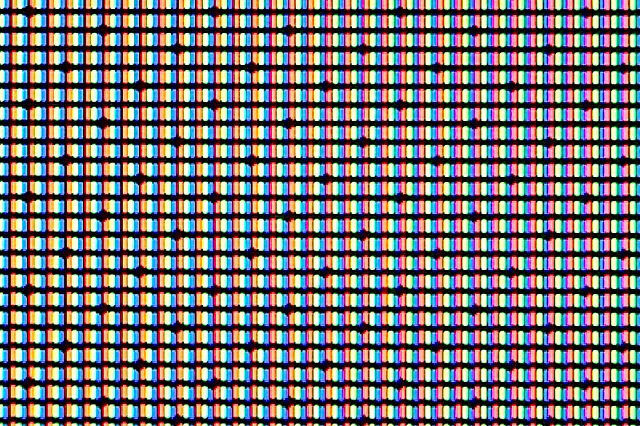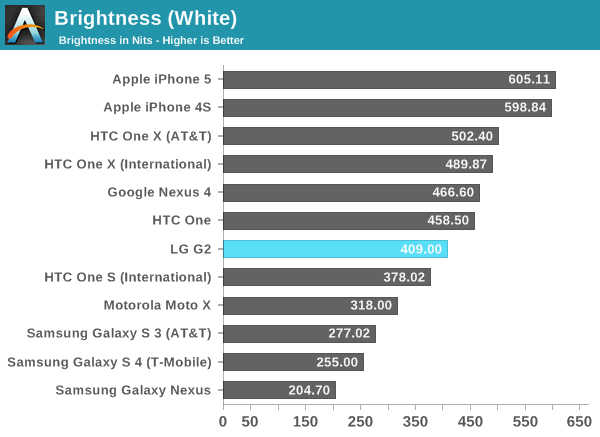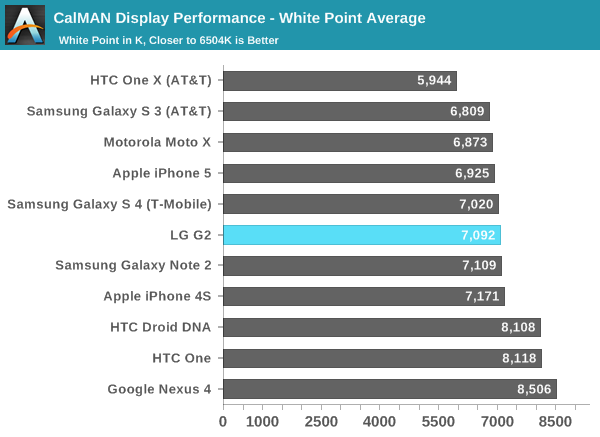 Saturations: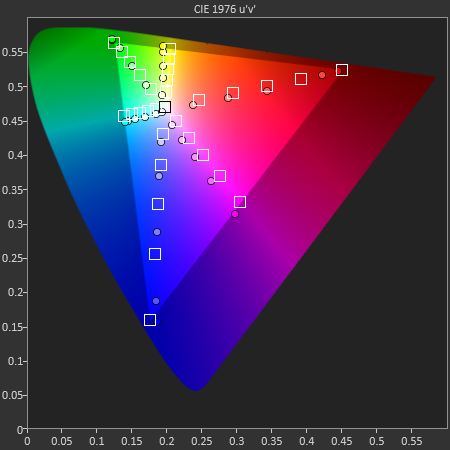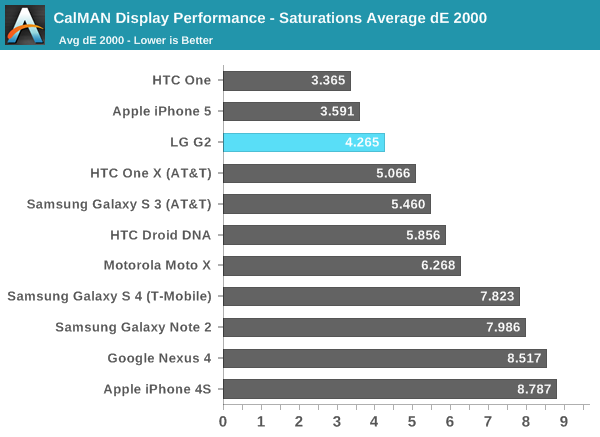 Grayscale Sweep: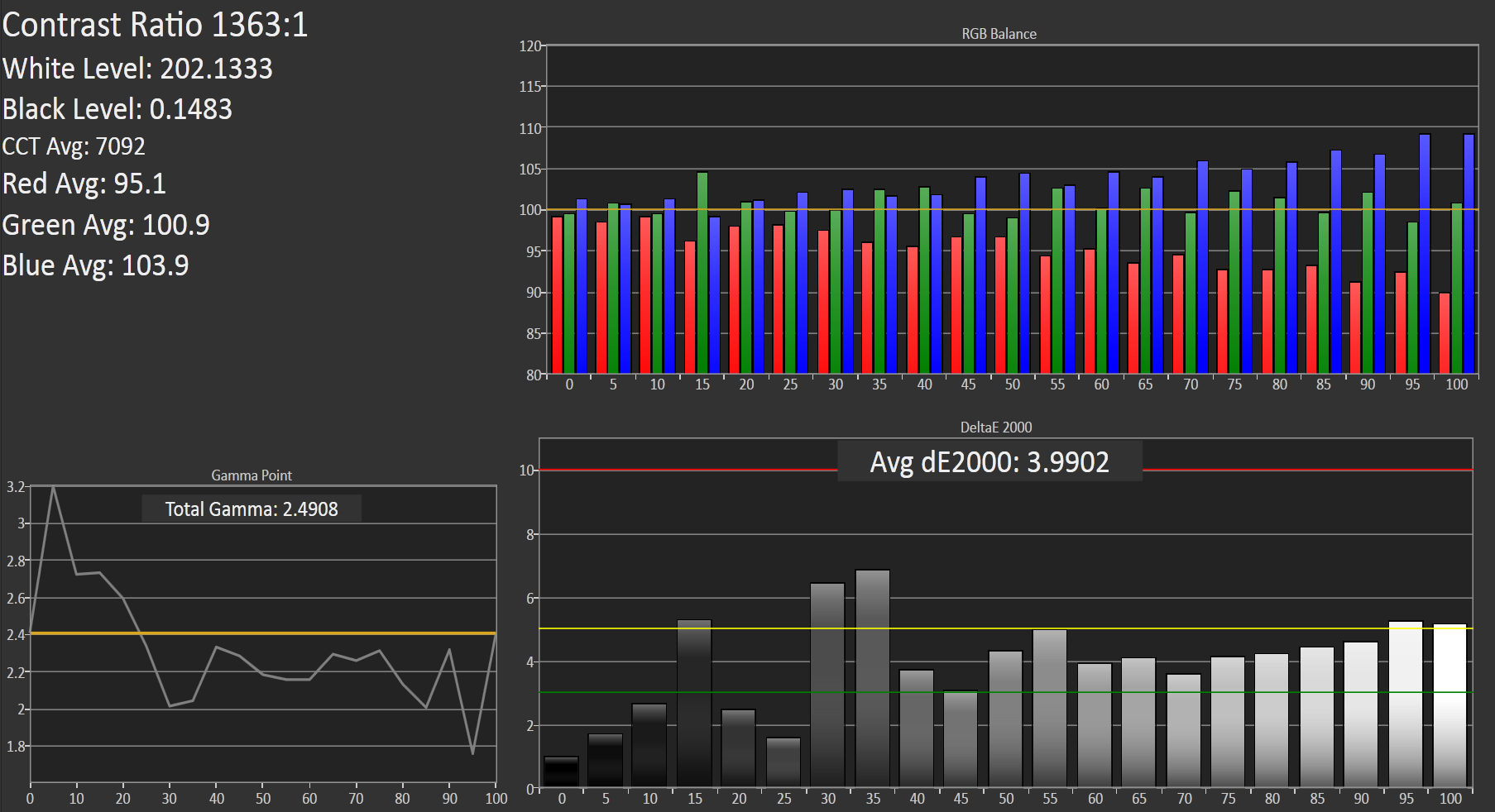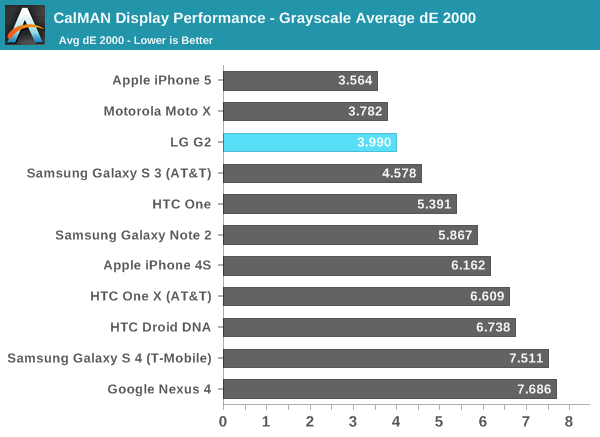 GMB Color Checker: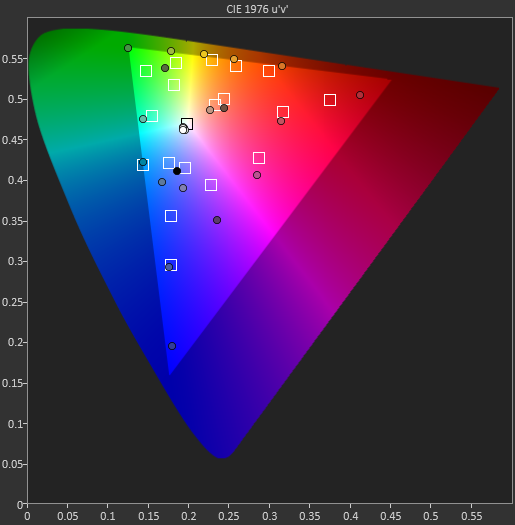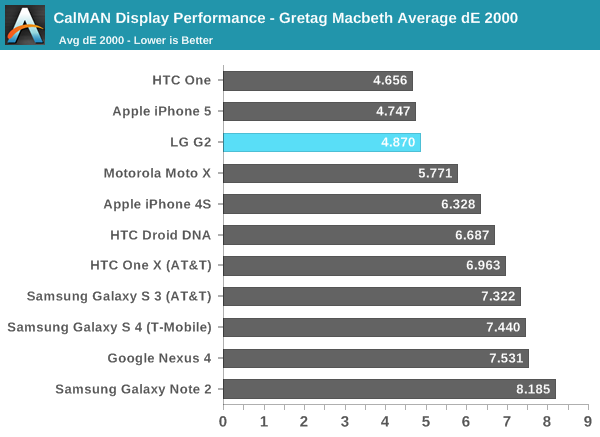 I measured the G2 display and was very impressed with how things turned out. The panel goes nice and bright (around 400 nits) but not quite as high as the 460 from the 720p LG Display panel from the Nexus 4. On the bright side however it comes in close to 6504K in temperature, and has some of the lowest DeltaE 2000 scores we've seen, with the iPhone 5, HTC One, and G2 clustering together in the GMB color checker test and saturations sweep.
Battery Life
One of the things Qualcomm promised would come with Snapdragon 800 (8974) (and by extension the process improvement with 28nm HPM) was lower power consumption, especially versus Snapdragon 600 (8064). There are improvements throughout the overall Snapdragon 800 platform which help as well, newer PMIC (PM8941) and that newer modem block onboard as well, but overall platform power goes down in the lower performance states for Snapdragon 800. In addition the G2 has a few unique power saving features of its own, including display GRAM (Graphics RAM) which enables the equivalent of panel self refresh for the display. When the display is static, the G2 can run parts of the display subsystem and AP off and save power, which they purport increases the mixed use battery life case by 10 percent overall, and 26 percent compared to the actively refreshing display equivalent. In addition the G2 has a fairly sizable 3000 mAh 3.8V (11.4 watt-hour) battery which is stacked to get the most out of the rounded shape of the device, and utilizes LG's new SiO+ anode for increased energy density compared to the conventional graphite anode.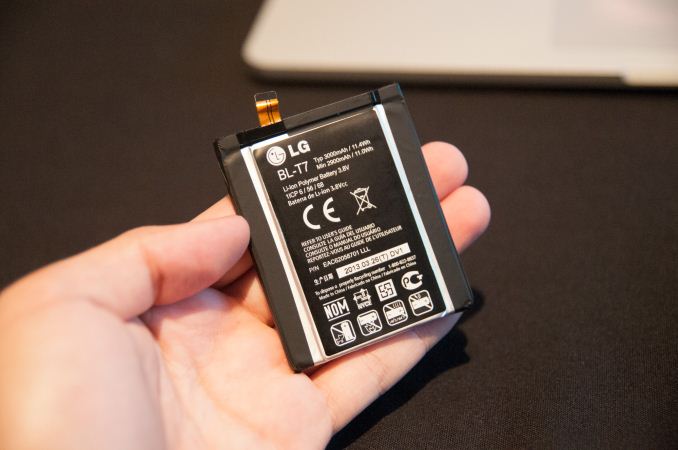 Our battery life test is unchanged, we calibrate the display to exactly 200 nits and run it through a controlled workload consisting of a dozen or so popular pages and articles with pauses in between until the device dies. This is repeated on cellular and WiFi, in this case since we have an international model of the G2 that lacks the LTE bands used in the USA, that's 3G WCDMA on AT&T's Band 2 network. I've tested 3G battery life on devices concurrently for a while now in addition to LTE though, so we still have some meaningful comparisons. The most interesting comparisons are to the Optimus G (APQ8064) and HTC One (APQ8064T) previous generation.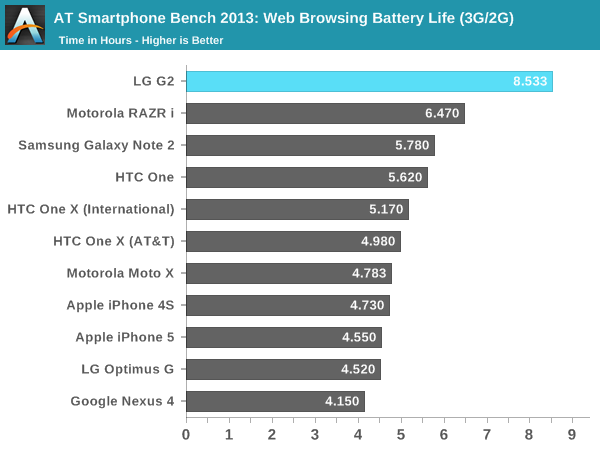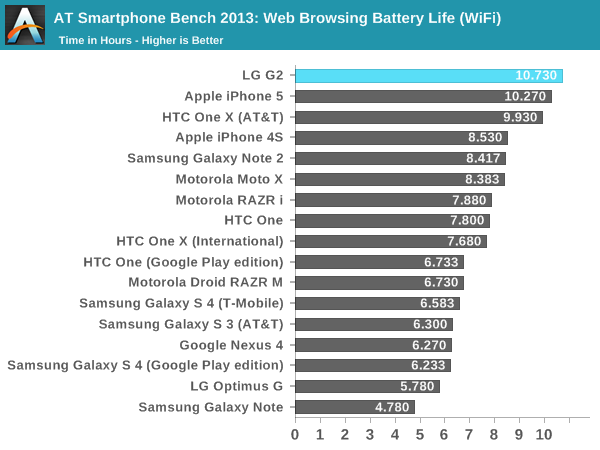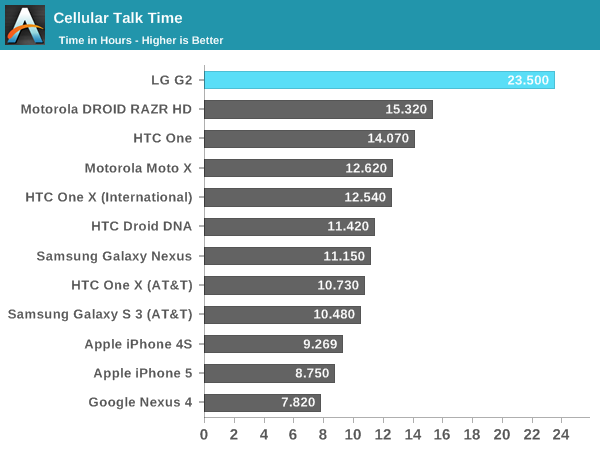 The LG G2 battery life is shockingly good through our tests, and in subjective use. The combination of larger battery, GRAM for panel self refresh, new HK-MG process, and changes to the architecture dramatically improve things for the G2 over the Optimus G. While running the two web browsing tests I suspected that the G2 might be my first phone call test to break 24 hours, while it doesn't break it it comes tantalizingly close at 23.5 hours. I'm very impressed with the G2 battery life.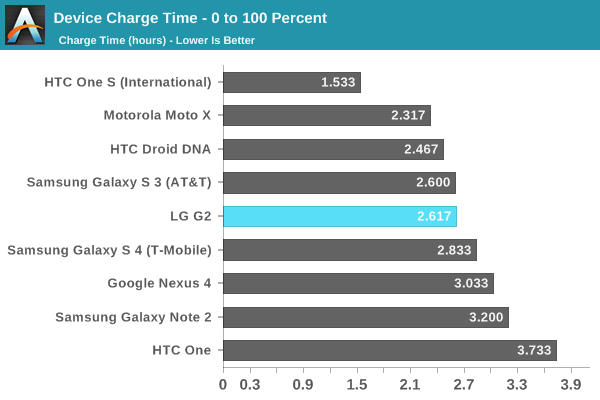 The G2 also charges very fast for its battery size. I've been profiling charging behavior and current for devices for a while now, since I strongly believe that battery life and charging speed are complementary problems. You should always opportunistically charge your smartphone, being able to draw as much while you have access to a power outlet is critical. The G2 can negotiate a 2A charge rate on my downstream charge port controller and charges very fast in that mode. Of course the PM8941 PMIC also includes some new features that Qualcomm has given QuickCharge 2.0 branding.
CPU Performance
LG's G2 features a quad-core Snapdragon 800 SoC (MSM8974). For a quick refresher, Snapdragon 800 features four Krait 400 cores running at up to 2.3GHz courtesy of TSMC's 28nm HPM process. The 2.3GHz max clock speed comes at a surprisingly low voltage thanks to the low power HPM process. Gone are the days of 1.4V to hit near-2GHz frequencies it seems, instead 8974 will hit 2.3 GHz at around 1V. Krait 400 improves L2 access latencies over Krait 300 (which is at the heart of Snapdragon 600 and S4 Pro) and is optimized for higher frequency operation, but Krait 400 is otherwise architecturally similar to Krait 300. Make no mistake, MSM8974 is the new high-end, pushing Snapdragon 600 and S4 Pro parts further down into midrange category. There are other SoC level enhancements as well, including things like a new version of the Hexagon DSP and obviously Adreno 330 vs. Adreno 320 (which I'll get to later). We already ran through a performance preview of Snapdragon 800/MSM8974 using Qualcomm's 8974 Tablet Mobile Development Platform, but today we get to do the same with the G2.
LG was pretty eager to get us a G2 sample as early as possible, unfortunately that comes at the expense of software maturity. LG made it very clear to us that the International G2 sample (LG-D802) we received has nowhere near final software, and as a result may not deliver performance indicative of what we'll see when the device shows up later this month. This puts us in an interesting situation as we want to see how close shipping Snapdragon 800 devices come to the Snapdragon MDP/T we tested back in June. Software maturity aside, there's no skirting the fact that the G2 simply has a smaller chassis and perhaps lower thermal limits than the tablet MSM8974 MDP/T we tested previously.
The most interesting comparison points here will be to LG's Optimus G Pro which ships with a Snapdragon 600 (4 x Krait 300 running at 1.7GHz), the Exynos 5 Octa based Galaxy S 4 (SHVE300S) and to the MDP/T. As always, we'll start with a look at CPU performance.
The state of CPU performance testing under Android is unfortunately still quite broken. We're using a mix of browser based tests with Java & Native apps (AndEBench).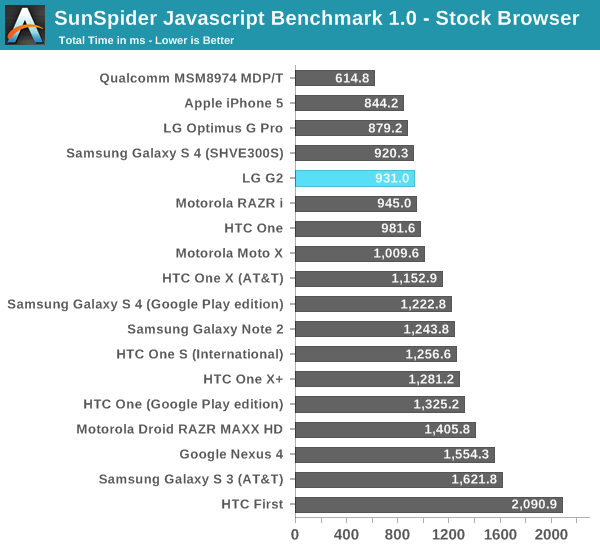 SunSpider has quickly become an exercise in browser optimization rather than platform performance. Qualcomm's browser optimizations are clearly good for showing off Snapdragon 800's potential, however the G2 doesn't appear to have the same optimizations in place (yet). Performance isn't bad, but it's merely on par with Snapdragon 600 and ARM's Cortex A15.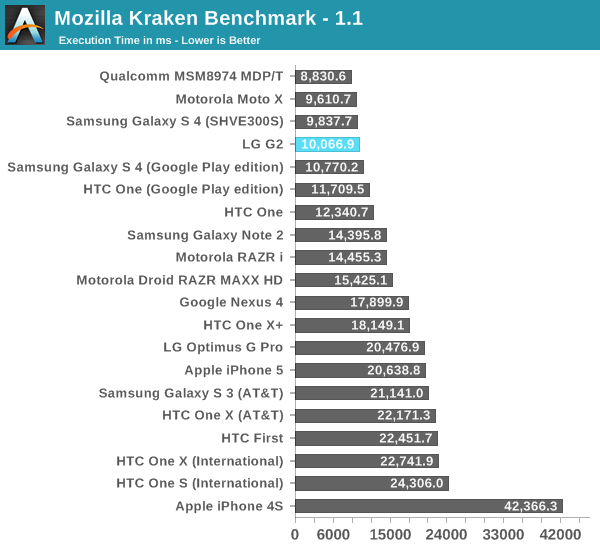 Kraken is an interesting test as it has (thus far) remained less of a browser optimization target. Kraken is also a physically larger and longer benchmark, which provides results that I tend to be a little happier with. The G2 once again falls short of Qualcomm's MDP/T, but given its early software I'm not too surprised. Performance is roughly on par with the Exynos 5 Octa, and slightly behind the very high clocked Snapdragon 600 in the nearly stock Moto X.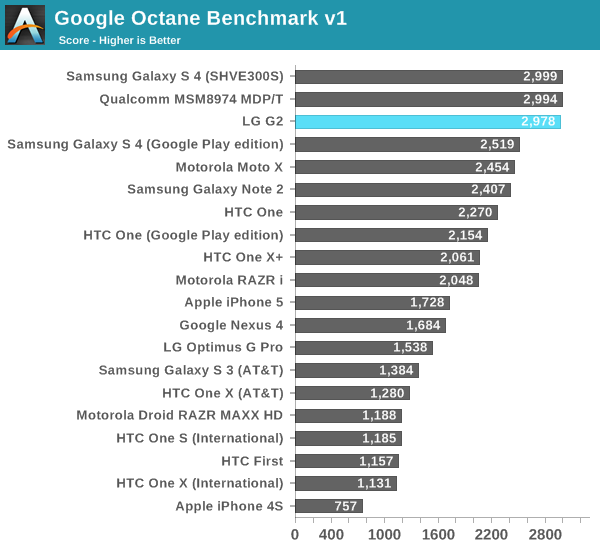 Octane is the first benchmark where we see the Snapdragon 800 flex its potential. Here the G2 not only ties the Snapdragon 800 MDP/T, but it also roughly equals the performance of the Cortex A15 based Exynos 5 Octa. Ultimately that's the comparison that Qualcomm will be most interested in winning. If Snapdragon 800 can deliver better performance (or at least perf per watt) than the Cortex A15, it'll be a definite win for Qualcomm.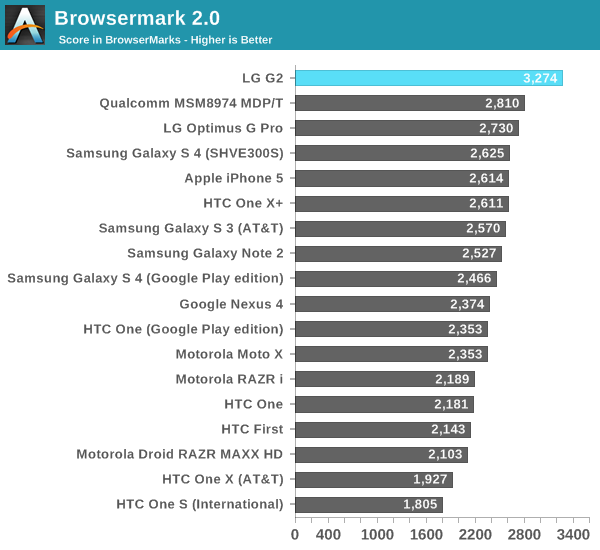 If Octane had the S800 in the proverbial passing lane, Browsermark 2.0 shows the G2 in the clear lead. Here LG was able to even outperform Qualcomm's own reference design by 16%. I suspect this has more to do with browser optimizations than anything else though, as the S600 based Optimus G Pro also does extremely well.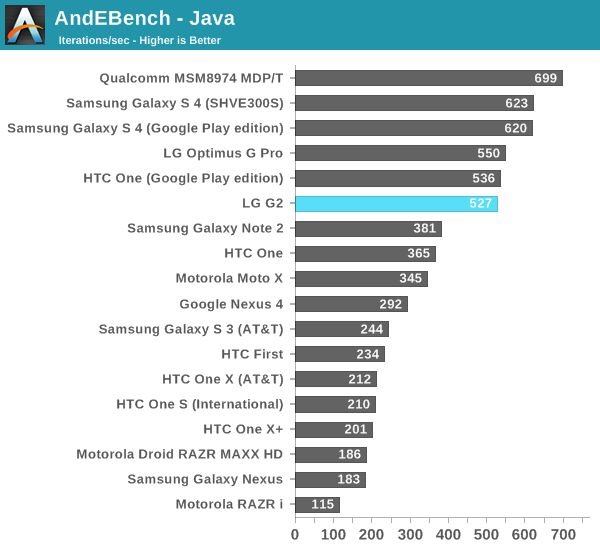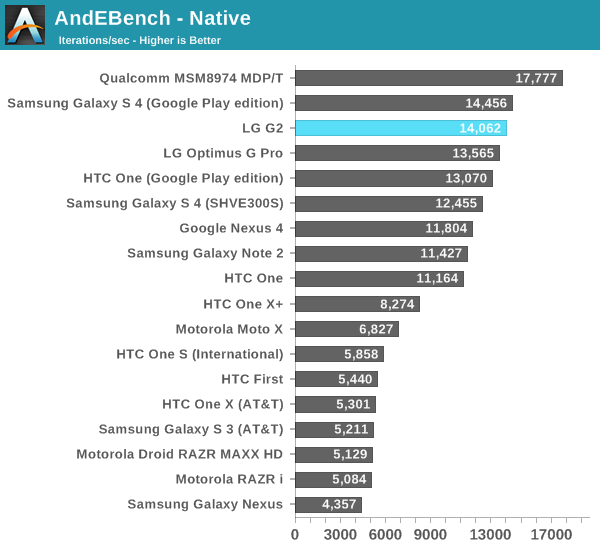 AndEBench provides us with very low level look at SoC performance. I'm not a huge fan of these types of tests, especially ones that aggregate a bunch of microbenchmarks and attempt to present a single performance number. AndEBench is unique (and useful) in that it presents performance in both native code and Dalvik interpreted states. The G2's native performance here is quite good, but it's actually equalled by the Galaxy S 4 GPe and not far ahead of the Optimus G Pro. I suspect we're once again seeing the limits of early software rather than a full understanding of Snapdragon 800's performance in a retail device. Dalvik performance is a bit worse. The relatively high ranking of the Google Play Edition devices points to software optimization being a culprit here.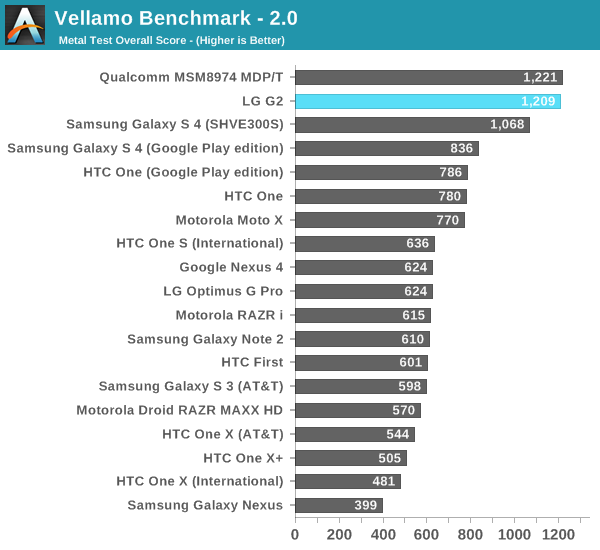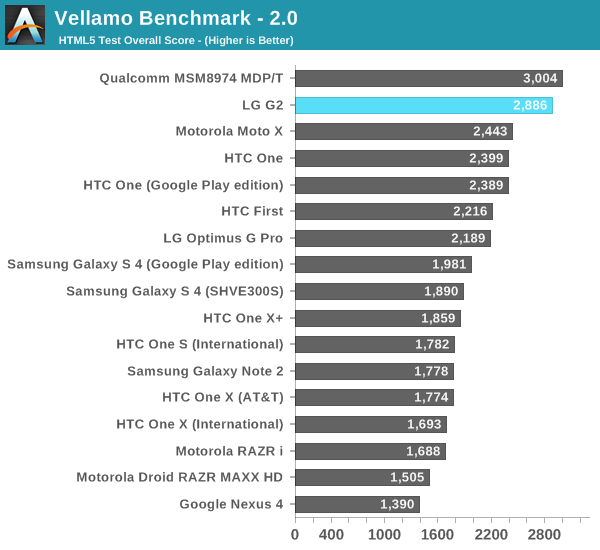 Both Vellamo tests put the G2 on par with Qualcomm's Snapdragon 800 MDP/T.
GPU Performance
Snapdragon 800 features Qualcomm's Adreno 330 GPU. Qualcomm hasn't stated publicly how Adreno 330 compares to Adreno 320 featured in Snapdragon 600, but it's almost certainly a larger GPU. The 8974 implementation in LG's G2 clocks the Adreno 330 GPU at a maximum of 450MHz, yet we see better performance than the 450MHz Adreno 320 in Snapdragon 600 - lending credibility to the idea of having more execution resources. There's also an 8974AB variant which includes a 100 MHz bump in GPU clocks up to 550 MHz.
3DMark
3DMark for Android features the Ice Storm benchmark and uses OpenGL ES 2.0. Ice Storm is divided into two graphics tests and a physics test. The first graphics test is geometry heavy while the second test is more pixel shader intensive. The physics test, as you might guess, is CPU bound and multithreaded. The overall score takes into account both graphics and physics tests. The benchmark is rendered to an offscreen buffer at 720p/1080p and then scaled up to the native resolution of the device being tested. This is a very similar approach we've seen by game developers to avoid rendering at native resolution on some of the ultra high resolution tablets. The beauty of 3DMark's approach here is the fact that all results are comparable, regardless of a device's native resolution. The downside is we don't get a good idea of how some of the ultra high resolution tablets would behave with these workloads running at their native (> 1080p) resolutions.
For these benchmarks we stuck with the default presets (720p, normal quality).
3DMark performance generally fell very close to Qualcomm's MSM8974 MDP/T, with one exception. The CPU bound physics tests had the G2 far lower down the list than I would've expected. Given that test is mostly a multithreaded CPU benchmark, it's entirely possible that the G2's thermal/frequency governors are set more conservatively there. The performance gains elsewhere over Snapdragon 600/Adreno 320 are huge, but 3DMark can be very influenced by CPU performance so it's not clear how much of this advantage is due to Adreno 330 or Krait 400.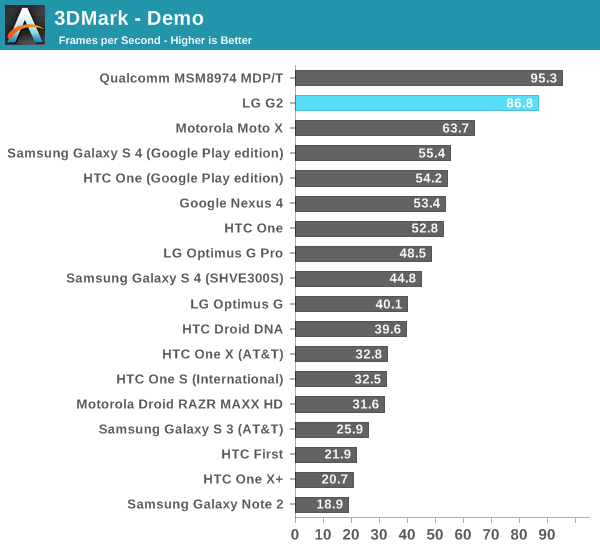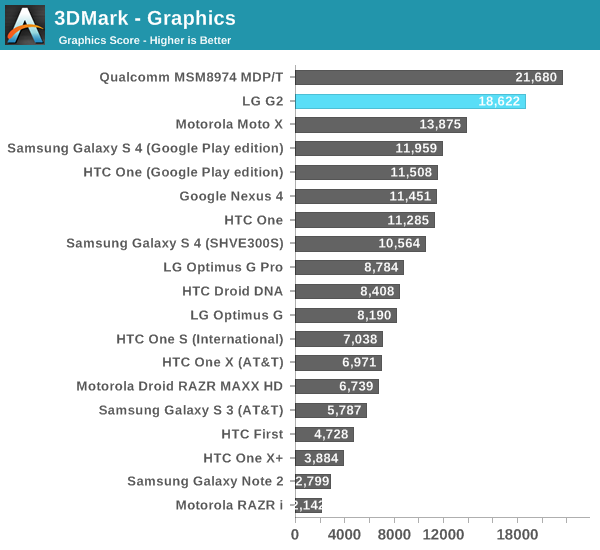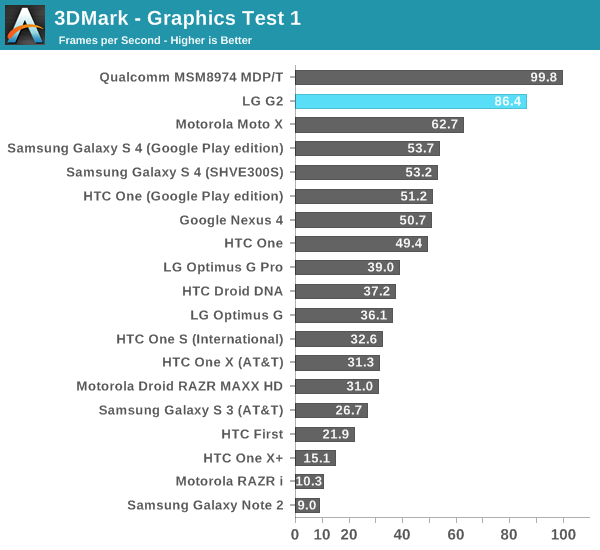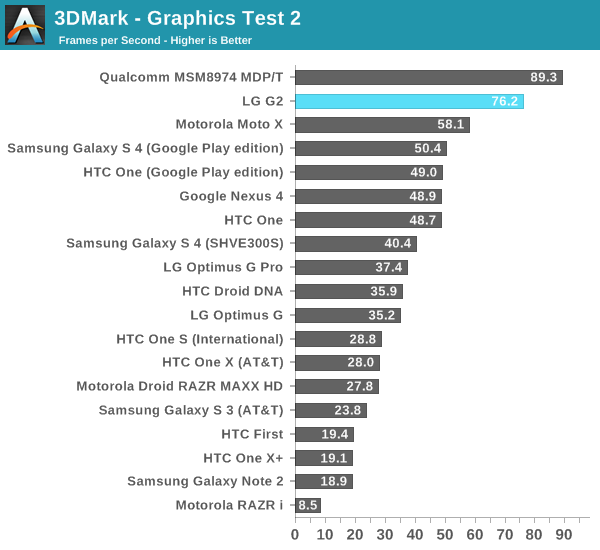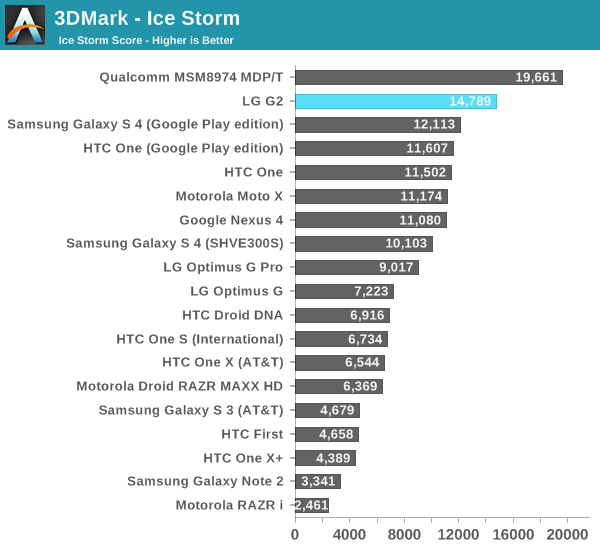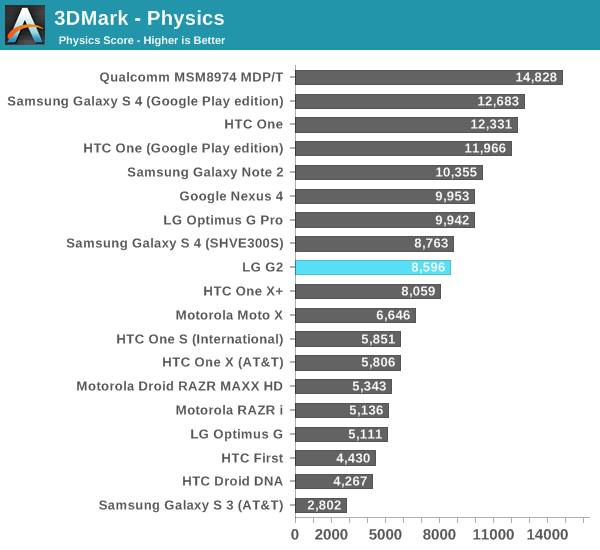 GFXBench 2.7
GFXBench (formerly GLBenchmark) gives us some low level insight into these platforms. As usual, we'll start with the low level tests and move onto the game simulation benchmarks: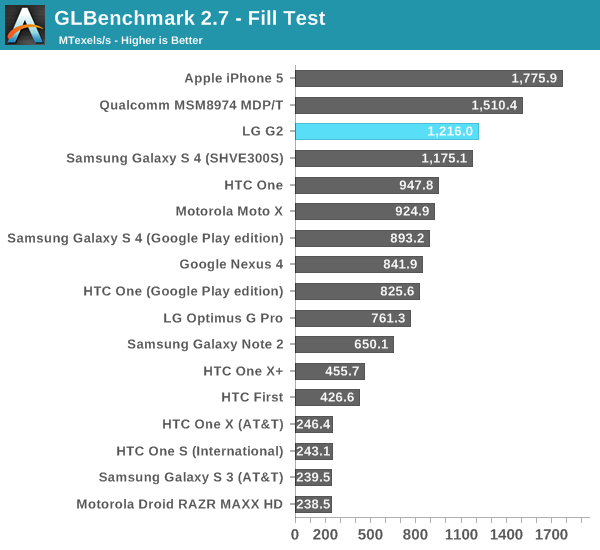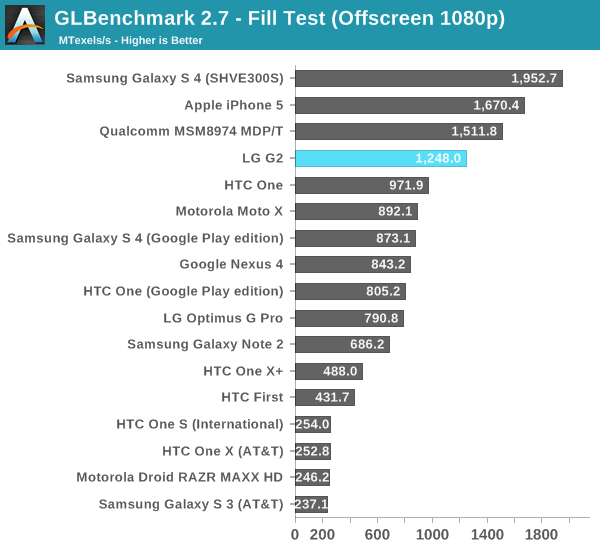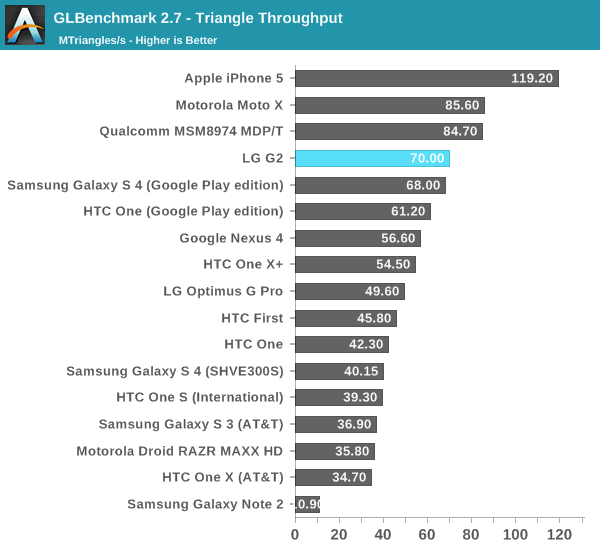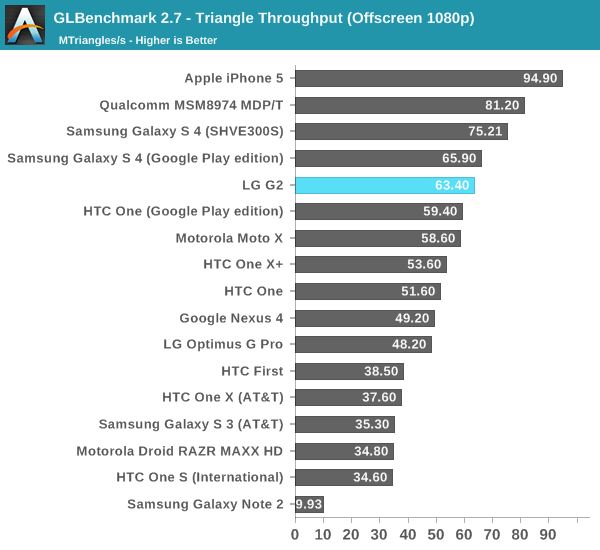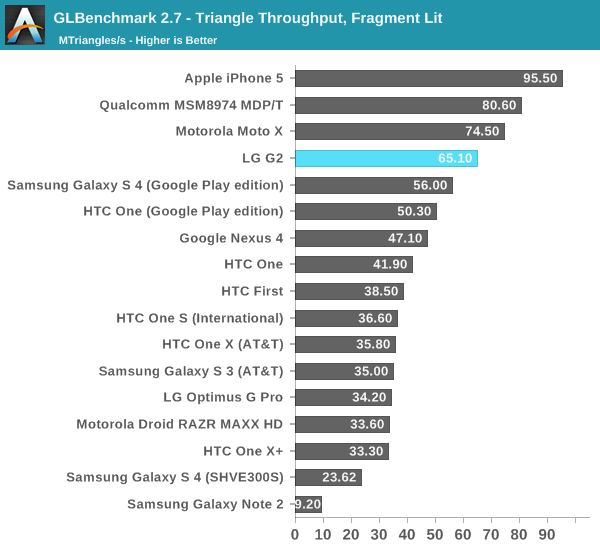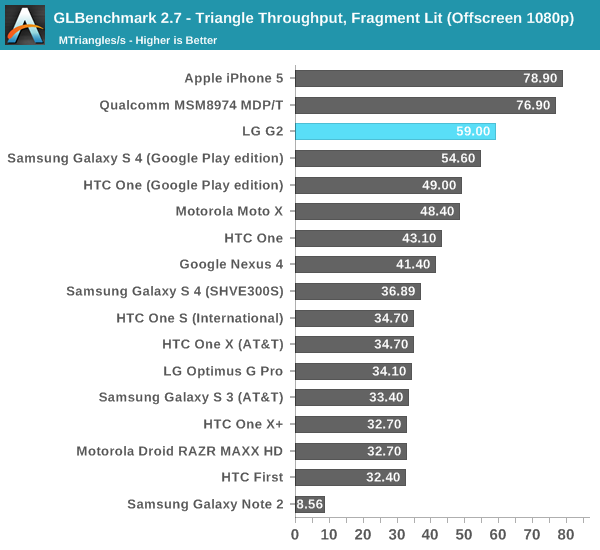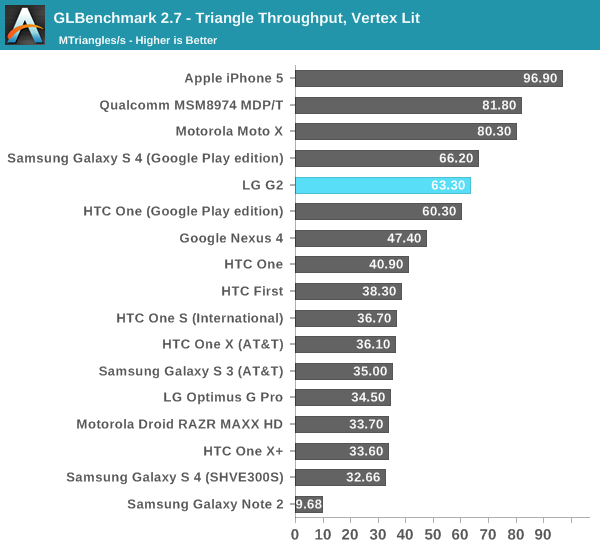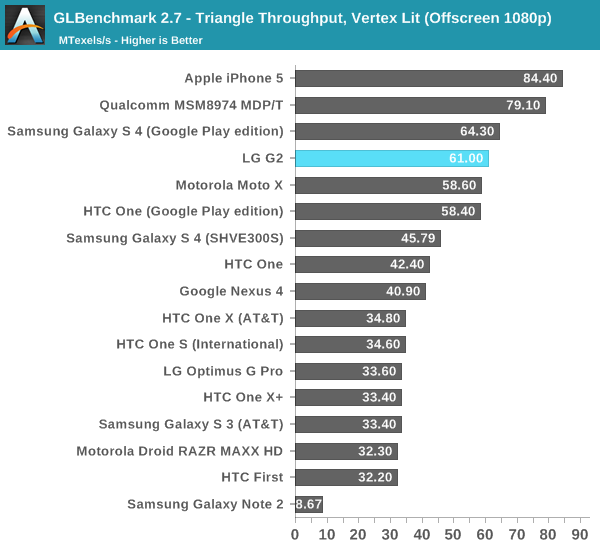 The low level tests put the G2 closer in performance to some of the Snapdragon 600 based devices than the MDP/T, again early software at work here. The T-Rex HD performance looks pretty good, putting the G2 between the S600 devices and S800 MDP/T.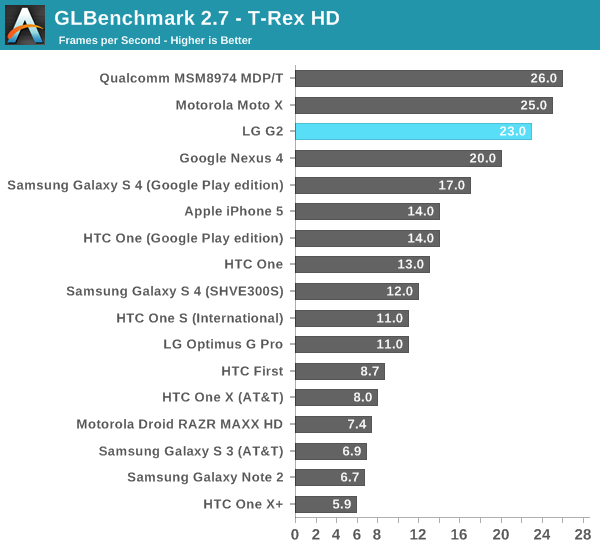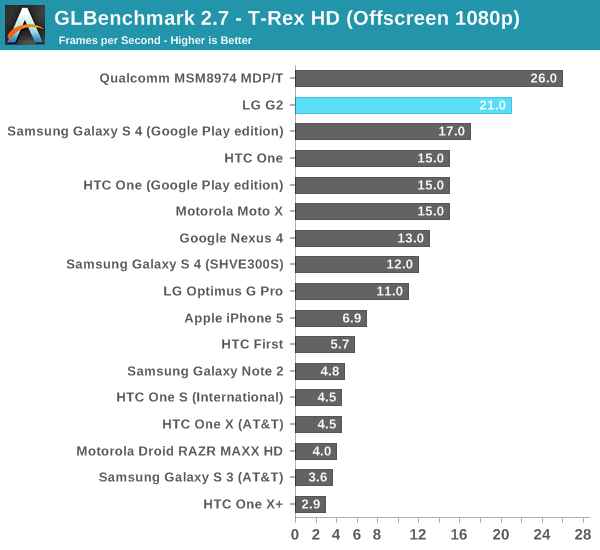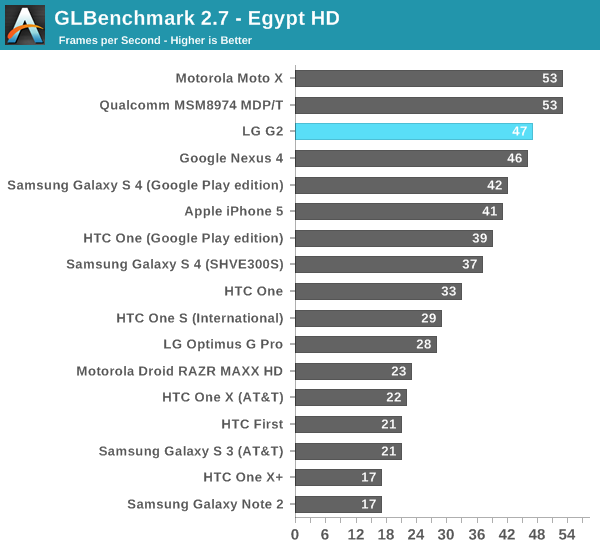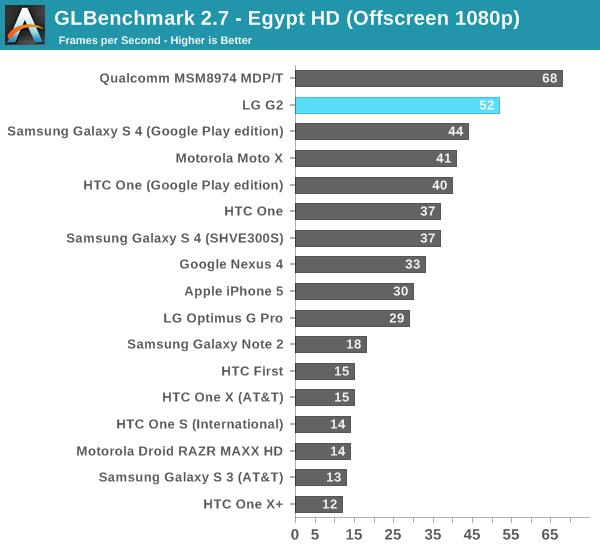 Basemark X
Basemark X is a new addition to our mobile GPU benchmark suite. There are no low level tests here, just some game simulation tests run at both onscreen (device resolution) and offscreen (1080p, no vsync) settings. The scene complexity is far closer to GLBenchmark 2.7 than the new 3DMark Ice Storm benchmark, so frame rates are pretty low:
Basemark X performance tracks with what we saw in the GFXBench T-Rex HD test. Performance is clearly higher than on any other device, but not quite up to MDP/T levels. I wonder how much closer the final device will get.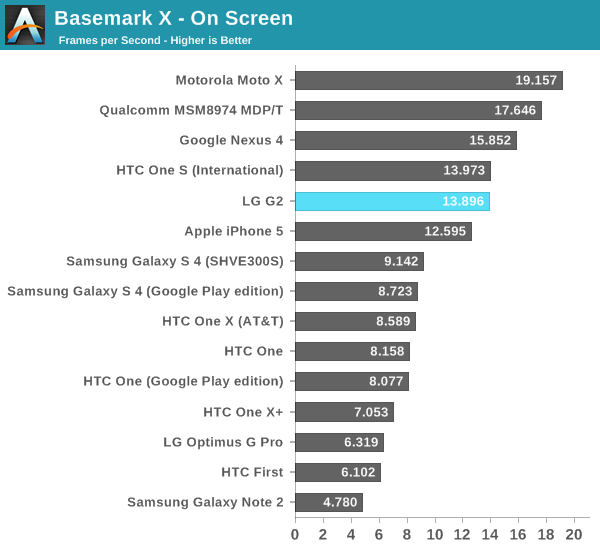 Epic Citadel
Epic's Citadel benchmark gives us a good indication of lighter workload, v-sync limited performance at native resolution. At 1080p, the Snapdragon 800 MDP/T offers over 50% better performance than the Snapdragon 600 based platforms. Granted we're comparing to smartphones here so there's some thermal advantage playing to the 800's favor.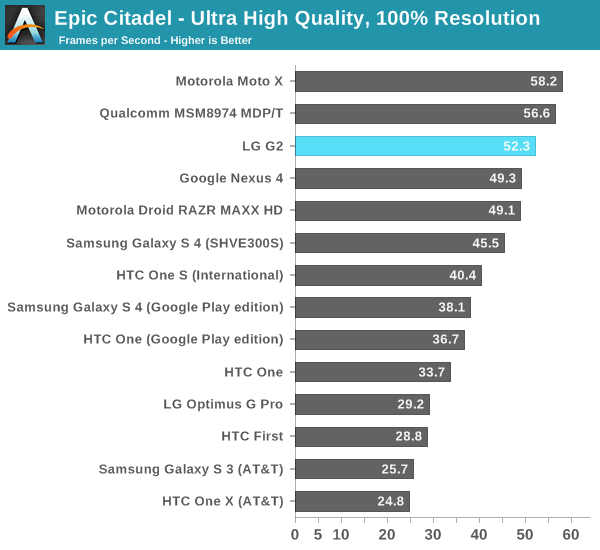 NAND Performance
The G2's NAND performance is relatively decent in random read and sequential read/write tests. Sequential read performance in particular is extremely good for a smartphone. Unfortunately random write performance is nothing special, and can't hold a candle to the Moto X thanks to Motorola's use of F2FS instead of ext4 for the user data partition.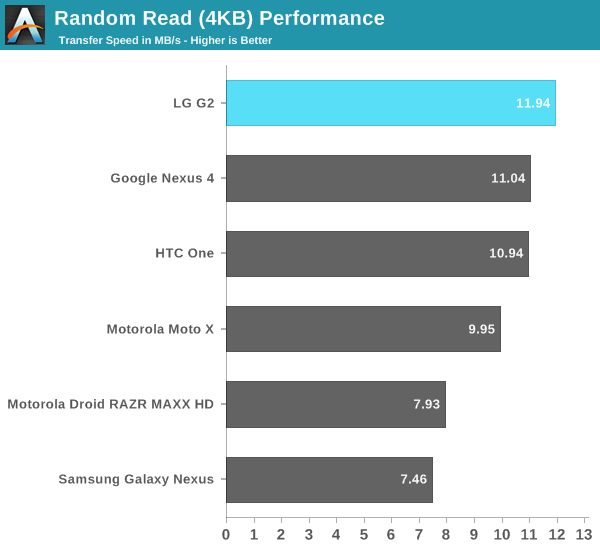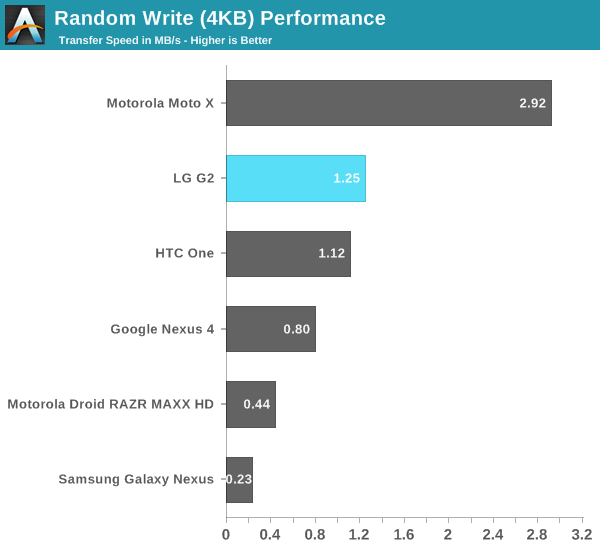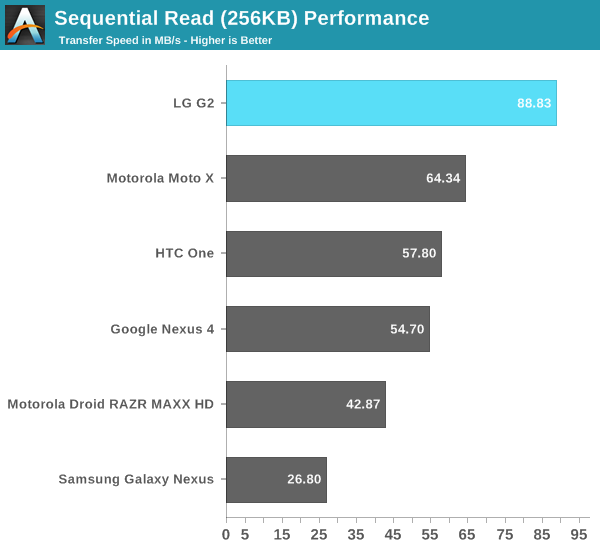 Camera
The G2 joins an exclusive group of smartphones that include optical image stabilization (Lumia 920, 925, 928, 1020, HTC One). This works by physically moving the optical stack around inside the camera module to counteract hand shake and movements during image or video capture, using orientation data from a nearby gyroscope. The goal is to eliminate shakes during video capture and also to enable longer exposures during low light scenarios.
The G2 includes a 13 MP Sony IMX135 Exmor RS CMOS sensor with 1/3.06-inch size and 1.12µm pixels. We've seen this CMOS in a lot of other devices, what's different is the optical system (in this case F/2.4 with 4.0mm focal length, for around 29mm in 35mm equivalent numbers) and of course the new module which includes OIS.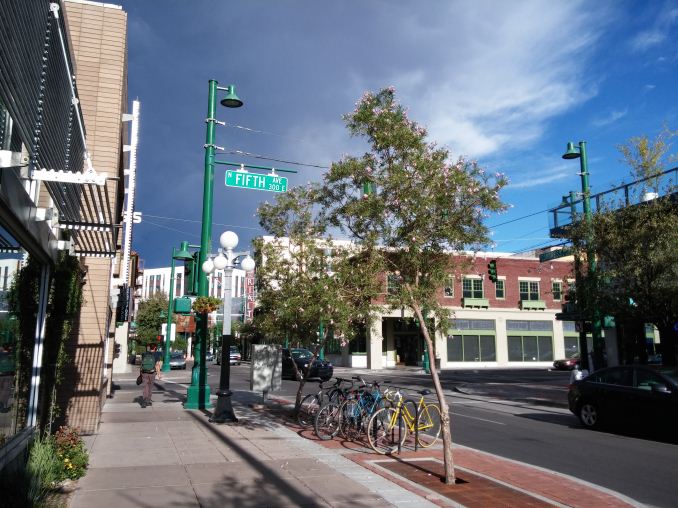 I'm still working on a big analysis of the G2's performance, but so far I'm very impressed with the resolution that this affords and the G2's ability to still produce decent results indoors where light isn't so good and outside at night. I've only been able to use the G2 as a daily and take pictures with it for a short time, but including OIS is definitely a step in the right direction if the industry wants to adopt 1.1µm class pixel pitches.
I had a chance to get photos with the G2 at our camera bench locations, of which 3, 4, 5, and 7 remain, and inside the lightbox with the lights on and off, and of our test patterns. I also took one in low light replicating the low light lightbox tests I've done before.
The G2 seems to have a low light mode it kicks into automatically regardless of whether you're in the normal mode or night mode from the scenes menu; when it's in this mode it doesn't record shutter time or ISO in EXIF, just like Galaxy S4, so I can only assume that LG is also combining multiple exposures. It makes it a little hard to figure out just how far you can push OIS in the G2, but the result does look very good.
In addition the G2 can record 1080p60 video, something I've been waiting to see a mobile device do for a long time. The video encode block onboard 8974 can do up to 120fps 1080p video or 30fps 4K video (analogous since 4k is just 4 1080p frames), LG just chose to enable the 1080p60 route since the sensor can handle it. This 60 FPS video is encoded at 30 Mbps H.264 high profile instead of the 20 Mbps for 30 FPS.
Because YouTube can't play back 60p content quite yet (nor can anywhere else online I'm aware of, the sample above is at 30 FPS) you'll have to download the two video samples and look at them side by side to gauge the difference. The change in temporal resolution is dramatic; I've been spoiled by 1080p60 from the GoPro Hero 3 Black for some time, getting this from a smartphone is a killer feature for the G2.
OIS on the G2 is noticeable, but it isn't as dramatic as it is on some other smartphone platforms. I've been trying to understand the differences in maximum deviation / accommodation angle and cutoff frequencies for the various OIS systems that LG, HTC, and Nokia have devised, and there's a fair amount of difference in performance.
To help me gauge some of the differences, I went out with my dual device mount and shot video on a few OIS platforms and current devices with EIS for comparison purposes. Because I'm simultaneously working on the Lumia 1020 review, I used that as the reference point. I walked a small circuit around the place where I normally take bench photos and recorded video, and shook the devices at the end of the walk each time.
The video really shows the differences in how much vibration each system really can damp out. What's crazy to me is how well the Lumia 925 does compared to everything else – the original goal was to compare the different OIS systems Nokia was using, but we can also gauge OIS performance across the spectrum here. The G2 can't quite damp out all the big jerky movements, but it does absolutely help when trying to do something like record a video standing still, walking around continues to be a very challenging test case.
Conclusions
I've been using the G2 as my daily since getting it, and have been really quite impressed with the device. LG's battery size is large, and the battery life tests back up the subjectively long longevity that I've noticed. Obviously the process improvements from 28nm HPM and power saving features in the G2 like GRAM/PSR make an improvement here. It seems like with Snapdragon 800 we may be ushering in a new generation of battery performance, despite the lack of a traditional process node shrink. It just goes to show you that there can be benefits other than more performance from using a high-end phone. The G2 is the first device we've seen with 28nm HPM silicon inside, which Qualcomm will be on for while.
There are, of course, performance benefits to talk about as well. Qualcomm's Snapdragon 800 (MSM8974), delivers solid improvements relative to Snapdragon 600 (APQ8064T). Although in some tests the G2's performance isn't quite near the MDP/T we tested a while back, that's due in part to the thermal constraints of being in a phone and also the still not quite final software on the G2 that LG wanted to get to us quickly.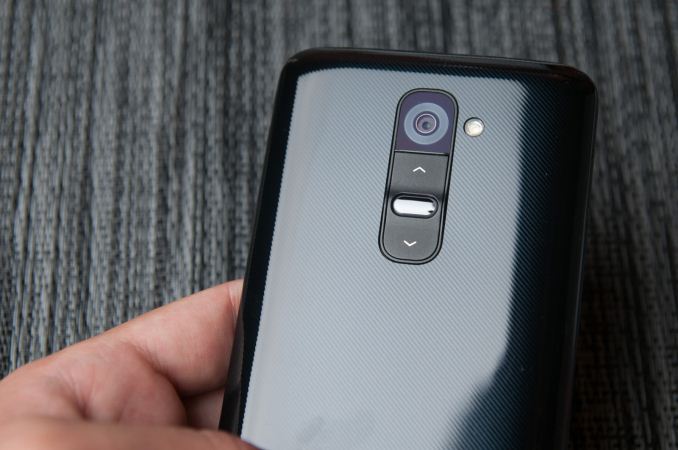 LG took a bold risk by putting the volume and power buttons on the back of the G2, something I initially suspected would be awkward and cumbersome. However it actually makes a lot of sense and allows the G2 to further decrease the edge bezel thickness and prevent the device from getting too wide, which is what I find affects in-hand fatigue quite a lot. After a day or so the back buttons are basically second nature, and I've been using the volume down to launch camera shortcut quite a bit. I'd take a back mounted power button over a top mounted power button anytime after using the G2.
The G2's large display doesn't really add to the overall dimensions of the device, thanks to its unique design decisions. The panel also seems to come reasonably well calibrated out of the box, generally equaling the color accuracy we've seen from the iPhone 5 and HTC One. I can't help but be happy that we're finally seeing color accuracy taken seriously by some Android vendors.
On the camera side, having another Android phone with OIS is an awesome bonus. I love that we're getting more devices now with OIS and better emphasis on camera, and the results out of the G2 with the combination of that feature and 13 MP CMOS look very impressive in all but challenging low light situations. There's definitely OIS performance differences between the players that have it now, and room for further tuning and improvement, but it's already a huge help especially in handheld video. Likewise, finally having 1080p60 on a flagship device is absolutely awesome, now if only YouTube and other sharing mediums would follow suit with 60 FPS support.
Overall LG's G2 is surprisingly good. It's built on a great platform, with great battery life and includes a number of design decisions that show honest to goodness innovative thinking on LG's part. We'll wait to give our final recommendation on the G2 until we get an LTE version with final software, but if you're looking for an Android phone with a ~5" display this fall the G2 looks like it could be high on your list.