Original Link: http://www.anandtech.com/show/7282/amd-center-giveaway-acer-v5-116-quadcore-temash-notebooks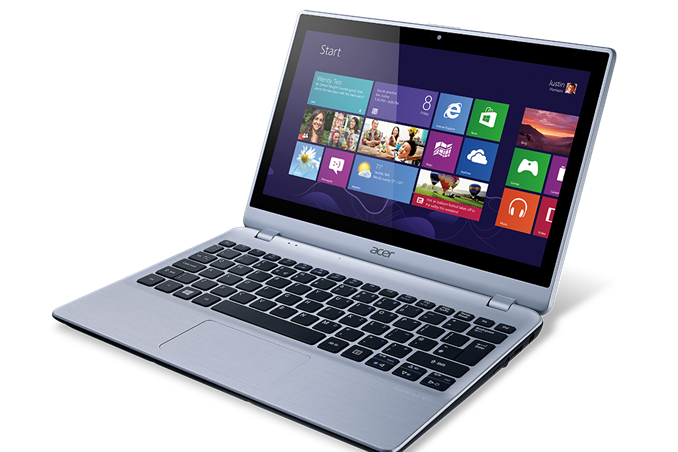 Today we launched the AMD Center, a portal on AnandTech that aggregates all of our AMD content in one place. Thanks to AMD's sponsorship you'll get a cleaner interface on all AMD articles, as well as reduced advertising on those pages. The portal will also serve as a way for AMD to reach out to you all directly as we're pulling in AMD tweets and have a feed of AMD's own blogs on the right hand side. AMD also wants to hear from you, and we've got some opporuntities to help with that going forward. Finally, the AMD Center serves as a destination for a bunch of pretty awesome AMD giveaways we've got planned. With AMD's support we've got better prizes and more of them to give away. We're kicking off the giveaways with three ultra thin 11.6-inch notebooks: Acer's V5.
The V5 features a touch enabled 11.6-inch 1366 x 768 IPS display, 4GB of DDR3L memory (2GB on board, 2GB in a single SO-DIMM slot, expandable to 6GB total) and normally ships with a standard SATA hard drive. I asked AMD if they would be willing to swap out the hard drives for SSDs and they agreed - so if you win, your V5 will ship with a 128GB Samsung SSD 840 drive (you can thank me later ;)).
The 2.65 pound Acer V5 features AMD's quad-core A6-1450 APU. That's four Jaguar cores running at 1GHz (1.4GHz max turbo) with a Radeon HD 8250 GPU. It's a nice little system with a very power efficient APU.
Here's the deal. To enter, simply post a comment below (US residents only, please only make a single post, contest requirements below) explaining your current PC setup and why you want, or need to win a V5. What I'm looking for here is an understanding of what you currently own in terms of computing devices (PCs, notebooks, tablets, etc...), how you use them and how winning a V5 would change/improve your current setup. Make your entries good as they may come in handy for some other stuff we've got planned in the future.
If you win, AMD wants your feedback on the machine after you get it. You'll be asked to provide a short review (a paragraph or two) talking about your experience with the system. Do a good job and your feedback may even be featured on AnandTech.
Good luck!