LEPA is basically an offshoot of Enermax, created by Ecomaster – the US distributor for Enermax PSUs (or at least that's how I understand it). They were sharing a booth with Enermax, and had some PSUs and cooling devices on display. On the "crazy levels of power" scale, their new MaxPlatinum PM line of power supplies is of course 80 Plus Platinum certified, but more importantly you can get them in 1050W (yawn), 1375W (getting interesting…), and 1700W (now we're talking!) capacities. What would you need a 1700W power supply for? Other than five GPUs hashing Litecoins or extreme overclocking, I couldn't tell you, and I don't know the expected price either other than "more than I want to pay". For those not into...
LEPA Technology (closely related to Enermax) is launching two 80 Plus certified power supply lines along with a non-80 Plus certified budget line. The GM-MaxGold power supplies are certified 80...
6
by Dustin Sklavos on 9/9/2013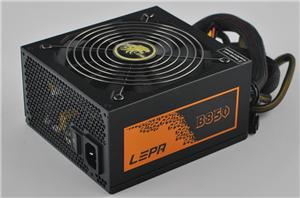 This is our first look at a power supply from a relatively new company, Lepa. We'll be looking at their B850 (850W) model, that looks to target the upper...
14
by Martin Kaffei on 12/15/2011