Back when I did my Qualcomm modems and transceivers piece, I gained a deeper understanding about the cellular RF engineering side of the handset puzzle. Specifically, how an OEM can enable LTE on some bands and not enable WCDMA on those very same bands. The interesting and relevant takeaway from the whole exploration is that all ports on the transceiver are created equal, and that if an OEM implements LTE on a particular band, that usually means that the device design can inherit support for 3G WCDMA on that same band, given the right power amplifier. I alluded at the end of the article to the fact that if you see an OEM implement band 4 on LTE and not band 4 on WCDMA...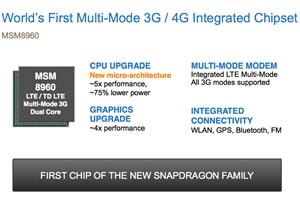 Last year Qualcomm told us about the MSM8960, its next-generation Snapdragon SoC based on a brand new microprocessor architecture. Today Qualcomm announced some more details on the architecture behind...
14
by Anand Lal Shimpi on 2/14/2011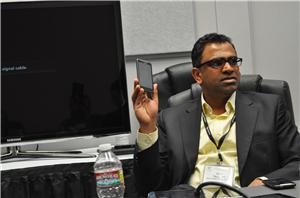 Qualcomm used CES to showcase their new dual-core Snapdragon parts, and they invited a group of bloggers to get their thoughts on the new chips. Qualcomm gave us a...
37
by Vivek Gowri on 1/12/2011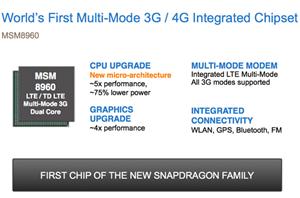 Earlier today Qualcomm briefed analysts on its Snapdragon SoC roadmap. The current Snapdragon is available in both 65nm and 45nm versions integrating a single Scorpion CPU core running at...
44
by Anand Lal Shimpi on 11/17/2010